Allardyce: My players gave up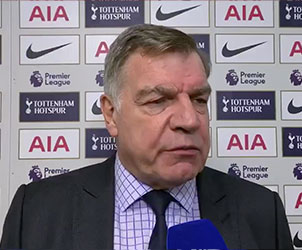 Sam Allardyce admits that he saw for the first time the propensity for the Everton side he inherited to throw in the towel as he watched the Blues crumble to a 4-0 defeat against Tottenham today.
Harry Kane scored twice, albeit from an offside position for one of them, in between goals from Son Heung-min and Christian Eriksen as Spurs romped to victory in the second half, exploiting abysmal defending from Allardyce's men who also failed to register a shot on Hugo Lloris's goal at the other end.
Allardyce, who oversaw four wins out of five to begin his tenure as Everton boss, has now failed to pick up a victory in any competition for six matches now and his team's display plumbed new depths under his tenure at Wembley.
"We were OK first half and looked pretty confident," Allardyce said. "Tottenham didn't have too many chances to score. Then, when the second goal goes in and it's probably offside, that doesn't allow us to throw the towel in for me and not do the right things.
"You've got to make sure you defend even better against [the likes of] Tottenham when they go 2-0 up and not relinquish that defensive responsibility, otherwise you get what what we just got.
"Too many of our players just decided not to defend any more when Tottenham had the ball and when you do that against the quality of these players, they will cut straight through you.
"But for Jordan Pickford they would have had more today so I'm hugely disappointed in the professionalism of my players. I think that's really out of order to relinquish that responsibility just because you go 2-0 down two minutes into the second half.
"It shocked me, to be perfectly honestly with you. I hadn't seen it since I got here. I've seen it now and it's probably what was apparent before I got here. I've got to cut it out, starting tomorrow, really.
"The defending basics have gone out of the window and it is a question about being a bit more boring than we were today.
"I would sooner see us at the back end of Match of the Day than the front end.
"I reverted back to our Liverpool performance, and this was basically the same team that played at Liverpool. If you can play like that at Liverpool and just at the death get beat, surely you can come here to Tottenham and deliver the same performance and maybe get a result.
"Maybe I have a bit of responsibility by playing too much attacking-minded players and not as many defending-minded players.
"I should have got back to being a bit more boring and a bit less adventurous."
---
---