Allardyce not prepared to 'gamble' on left-back signing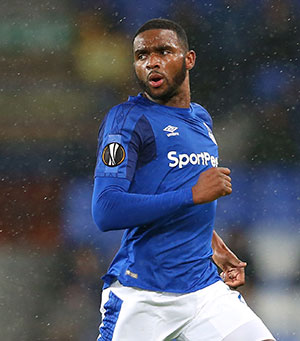 Cuco Martina looks likely to continue at left back against Leicester on Wednesday and perhaps beyond
Sam Allardyce has played down the chances of Everton signing cover for Leighton Baines before Wednesday's transfer deadline, citing a lack of options.
The Blues have been exposed at left-back ever since Baines fell victim to what has become a medium-term calf problem back in November when he had to come off less than half an hour into the defeat at Southampton.
Cuco Martina, a right-footer signed primarily as an option at right back during Seamus Coleman's absence with a broken leg, has deputised for Baines with mixed success in the interim.
Hopes were high that this month's transfer window would provide an opportunity for the club to finally address a glaring deficiency in the squad but Allardyce told the media today that he doesn't see that as being possible.
"We have looked at many left-backs and obviously we can't find the right left-back that we're looking for," he said.
"There's obviously a great shortage of quality players throughout the world who can play in the Premier League, I don't have any doubts about that - so to try and find one in this window means that you would be taking a gamble.
"The ones who are available, and there aren't that many, are mostly what other teams don't want. "I think Cuco Martina is a far better player than he is being given credit for, and that's because defensively he is very solid," he added.
"[A]t the end of the day, when we are conceding goals like we are, you want a good steady full-back in that position."
Allardyce has been running the rule over Luke Garbutt, a player who filled in very ably for Baines during Roberto Martinez's time at Goodison Park but who has found it difficult to establish any momentum in his career since.
He has had an injury-affected spell at Fulham and a brief stint with Wigan Athletic but has been back with the Blues U23s this season and, together with Seamus Coleman, he will be in the first-team squad to face Leicester on Wednesday.
---
---