Allardyce not putting a timeframe on Sigurdsson's return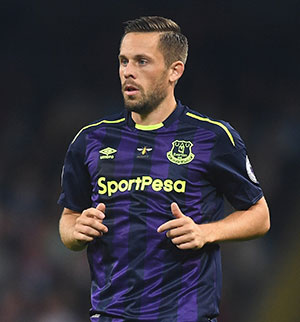 Sam Allardyce says he and his team are taking a wait-and-see approach with regard to Gylfi Sigurdsson's knee injury rather than confirm that the Icelandic star will be out for up to eight weeks.
Sigurdsson sustained the problem in the first half of last weekend's home win over Brighton and while he went on to complete the full 90 minutes, he underwent scans that revealed some damage, albeit not as bad as was first feared.
The prognosis that was revealed by Everton via the official website pegged Sigurdsson's recovery time at between six and eight weeks, a timeframe that Allardyce contests.
"It's an unfortunate trauma injury and when you can't avoid an injury like this, you have to look at the recovery time. Hopefully, Gylfi's recovery time can be shorter than we might expect," he said in his pre-match press conference ahead of Saturday's trip to Stoke.
"Medical specialists always try and give a conservative view and you try and beat that. It could be less than [eight weeks] — whoever gave that statement out is going to get a bollocking today! I've always felt it wrong to tag an injury with time limits.
"You cannot predict a length of injury in its entirety because you have people who heal quicker. We have qualified medical people and equipment to try and speed up any injury [recovery].
"Along with James McCarthy and [Eliaquim] Managala who did his knee, I think it''s been a tough time all year with injuries and that has certainly had an effect on away performances and results."
Sigurdsson's absence opens up a vacancy in attacking midfield in the "number 10" role in which he has sometimes been deployed this season. Wayne Rooney would be an obvious candidate to move forward into that position, something that Allardyce acknowledged in his presser.
He was also asked if the loss of Sigurdsson provides a window of opportunity for Davy Klaassen who made his first Premier League appearance since October when he came off the bench late against Brighton.
"It may do," the manager replied, somewhat doubtfully. "It's been a struggle for Davy since he arrived. I think that if he gets an opportunity… the players at home who have got an opportunity have done very, very well. Sometimes the players away from home have not lived up to the expectation.
"If he does get the opportunity, hopefully he will shine and show what he achieved at Ajax but at the moment we have a squad of players who are hopefully eager and looking forward to the game against Stoke.
"At the end of the day, it's not just [Davy] that's struggled in his first season in the Premier League. Like many players that arrive in this country, the first year can be the hardest for them and once they've had their first season under their belt and they come for a new season where they know where it's all about then they've got a big opportunity to show what they're made of.
"With today's prices, the expectation starts right from the very beginning and that sometimes makes it difficult to achieve your best performances in a season where you've arrived in a new culture, new environment and new league.
---
---