Sigurdsson reports good progress on recovery front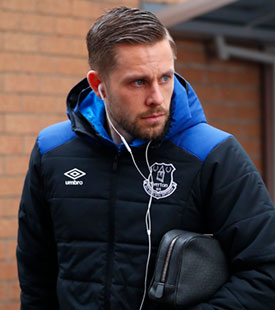 Lynne Cameron/Getty Images
Gylfi Sigurdsson says he is feeling the benefits of his rehabilitation work as he bids to recover from the injury he sustained earlier this month.
The Iceland international damaged his knee during the home win over Brighton & Hove Albion but managed to play the full 90 minutes before learning the extent of the problem.
Scans revealed no significant ligament tear but the initial prognosis by Everton's medical team, one contested by manager Sam Allardyce, was pegged at between six to eight weeks.
That means he stands a good chance of being fit for the World Cup in Russia and could, perhaps, play for the Blues before the Premier League season is out.
"It is going well and I am steadily making progress each day," Sigurdsson told evertonfc.com. "I have not had any setbacks, I am off the crutches and out of the brace and almost back to walking normally.
"The medical team have been really good and kept me busy in the past few weeks, they want to get the work in.
"We have been working on getting the swelling down and the fluid out of the knee – and getting some movement back into the knee.
"I am seeing the specialist in London next Tuesday, he will reassess me and we will take it from there."
Everyone has injuries during their career and you just have to get through it.
"I am not very patient, I have to be honest. I like to get things done quickly. But I know this is going to take time and I will have to be patient and make sure I am not rushing it.
"The body will take its time to recover and I have to listen to it. I have been very lucky with injuries in my career and, hopefully, I will come back stronger and fitter than ever."
---
---