Allardyce: We dealt with the chaos at Everton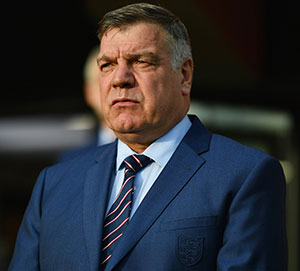 Sam Allardyce says he and his staff successfully rescued struggling David Unsworth back in November and cites his arrival as the catalyst for that important home win over West Ham.
The 63-year-old has been talking with the media ahead of today's meeting with Newcastle United at Goodison Park and is still facing questions from the media in relation to a survey that Everton sent to season ticket holders last week asking them to rate their trust in the ability of various components of the club, including the manager and his coaching staff.
His relationship with the club's fans, one which hasn't improved on the basis of the fact that many of them barracked him from the stands at the Liberty Stadium as the Blues gave up a 1-0 lead to draw 1-1 with Swansea nine days ago, is also a regular topic when he speaks with the press.
Allardyce reiterated his belief that the only way to keep the supporters onside was to win games, something his team has managed just five times in 17 Premier League fixtures since the last time they played Newcastle. He blames the challenges posed by a poor squad for the unspectacular results since he came on board while also seeking to augment his record by claiming credit for the 4-0 win over West Ham which was the highlight of David Unsworth's difficult interim spell in charge.
"You win fans over by winning football matches and winning them in style," Allardyce said in The Telegraph. "You can only do what you do and work as hard as you possibly can with the squad and the players you have got to deliver what you can. That has been a difficult challenge.
"We have managed to overcome the chaos. Even David Unsworth said he could not wait for the new manager to be appointed. He was in for (eight) games and he was saying before the West Ham game, 'get me out of this position, get a new manager appointed because I am struggling to cope and these players have got no confidence'. That is where I came from.
"I came in for West Ham and spoke to the players," he continued. "It helped have a positive affect. David does the last game and he gets the win. We both benefit from that and move forward. Where we have gone from there, I consider it my contribution, which is 30 points from 21 games, rather than 13 games, 12 points.
"I had a contribution to play in the victory over West Ham that day. I spoke to the players before the game. The players reacted. I'm not saying they reacted to what I said but they certainly reacted to a new manager on the door.
"When a new manager comes in, even if he hasn't taken a coaching session, the players go out and respond to it. They think, 'I have got to prove that I deserve my place in the side'. That contributed to what was a great victory."
---
---