Allardyce: We could have earned a draw
Sunday, 13 May, 2018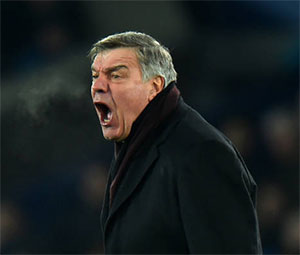 Sam Allardyce cited a great performance from West Ham goalkeeper Adrian as the reason for his team's defeat the London Stadium today while also admitting for the first time that he is not sure whether he will see out the remainder of his Everton contract.
Though the Blues went down 3-1 in their final game of the season, they held on to eighth place thanks to Leicester City's defeat to Tottenham Hotspur but there has been plenty of press speculation that there could be further managerial change at Goodison Park in the coming days.
Allardyce said he was pleased with the way his side responded to his change of formation in the second half after they had fallen behind to Mario Lanzini's opener but was frustrated by the form of the Hammers' goalkeeper who made crucial saves to deny Oumar Niasse before and after the Senegal striker eventually scored to make it 2-1 and also from substitute Theo Walcott.
"It's disappointing [to lose on the basis] that the chances we missed were better than the chances they scored with," Allardyce said after the game, "but then you have to give a huge amount of credit to Adrian in their goal who was absolutely outstanding with three top-class saves. At any other time, all three should have gone in.
"And then the two goals West Ham scored were pretty good efforts. Jordan's pretty disappointed he didn't stop at least one and that was the difference in the end.
"I thought we played an awful lot better in the second half than we did in the first. I had to change the system at half time and that suited us better, we controlled midfield better.
"Unfortunately, the second goal that went in got them 2-0 up and we could've recovered from that with the goal from Oumar. We had chances when they were 3-1 up to get 3-2 and make a game of it.
"There was no point in sitting back; more than anything else we were trying to go all out to try and get at least a point out of it.
"At the end of the day, eighth is a really good finish from where the beginning was. For me it's been a great journey that the players have taken the club on from now and until then because I've had other clubs where I've had to wait very nervously til the last one or two games of the season — Blackburn, Sunderland, Crystal Palace — but the Everton boys have taken us out of trouble with many weeks to go.
Allardyce was less amenable to taking questions during his sit-down press conference a few minutes later. The inevitable questions over his future were raised during a brief, three-minute exchange.
After reiterating that he has a contract for another year, the 63-year-old was asked if he was confident of seeing it out.
"Confident?" he replied. "I can't quite say after all the rumours I'm reading in the paper because generally there's something and there's no smoke without fire. But I'll wait and see when we meet up this week.
When he was quizzed over when any meeting with Everton's chairman, Bill Kenwright, and major shareholder Farhad Moshiri might take place, he retorted: "I wouldn't be telling you if I did."
---
Reader Comments (47)
Note: the following content is not moderated or vetted by the site owners at the time of submission. Comments are the responsibility of the poster. Disclaimer
Danny Broderick
1
Posted 13/05/2018 at 20:16:11
We've heard it all before. West Ham were clearly the better team and deserved the victory. Moshiri, please put Sam, and us, out of our misery! 5 at the back with 2 holding midfielders? Plus taking Tosun off when bringing on Walcott when we were supposed to be chasing the game? Thank God this season has ended...
Kunal Desai
2
Posted 13/05/2018 at 20:33:53
On ya bike your delusional joker. Your correct on one thing and that is there is no smoke without fire and you'll be getting sacked very very soon. Won't be looking so smarmy then.
Jimmy Hogan
3
Posted 13/05/2018 at 20:35:09
It's all gravy eh Sam?
Jim Bennings
4
Posted 13/05/2018 at 20:35:42
West Ham were everything that we were not.
Energetic, decisive, quick and basically much better at just doing the simple things.
I'm struggling to recall the last time Everton genuinely outclassed an opponent.
Earlier in the season we got damn lucky with all the penalties we got late in games and the ones missed against us, it's clearly contributed to us getting 8th but we have never in any game all season looked that much better than any opponents
A midfield trio of Davies, Gueye and Schneiderlin should never never ever be used again in the Premier League, it offers absolutely nothing nothing nothing!!
The old guard needs putting out to grass now, they aren't going to get any better.
We need a better front three that can actually look threatening from time to time.
Basically we need a bloody miracle!!!
Brian Williams
5
Posted 13/05/2018 at 20:38:04
Vote for Rooneys goal v WHU at Goodison for goal of the season on BBC sport. Let's win somethimg this season ffs!!

Gerard Carey
6
Posted 13/05/2018 at 20:38:43
Bye bye Sam, that's all that needs to be said.
Ken Kneale
7
Posted 13/05/2018 at 20:45:15
I posted on the other thread for the game but repeat here - any method of communication any of us have with the club we must use to get change - from gutless player to coaching staff and managers who are incompetent and employed on a sycophantic basis to strategic level positions within the club where they could not strategize opening an Easter Egg let alone getting this club back to where it should be
James Hughes
8
Posted 13/05/2018 at 20:59:29
I was offered a free ticket to the game, declined as I was decorating (sad) and also would be in with the Hammers.
Caught up with the gents about 6.30 for a swift couple. The news will be no surprise, we are just shite and about the the worst team they have seen all season. The worst away team !! A poor game all round was the home fans opinion.
Both managers got barracked all game, by both sets of fans was the only thing worth reporting. Bye Bye Sam
Bill Gienapp
9
Posted 13/05/2018 at 21:01:37
Time for Sam to go - do not pass go, do not collect $200.
He made a lot of noise about finishing the season unbeaten and getting to 54 points. Instead we bowed out with a pair of utterly limp performances. If that was his case for getting another season, there's truly nothing more to be said. Moshiri should have pulled the trigger already.
Gordon White
10
Posted 13/05/2018 at 21:26:11
Thank God the season's over. I only hope the transfer business we need to do isn't left to the last minute again.
Can we have a decent manager please. And as for Mr Walsh . I think he can take the same taxi as the other two muppets.
Ian Hollingworth
11
Posted 13/05/2018 at 21:36:18
Bye, shut the door behind you but only if Bill and half the players have followed you out of the door.
I really really worry for our club.
Nicholas Ryan
12
Posted 13/05/2018 at 21:41:45
No, Sam, We could have GOT a draw, but it would not have been EARNED!
Eddie Dunn
13
Posted 13/05/2018 at 22:01:21
So he made the switch to a back four, but he didn't explain why he started with a back 5 and 2 defensive mids, when it has clearly failed on several previous occasions. West Ham deserved the win.
Jerome Shields
14
Posted 13/05/2018 at 22:21:00
Big Sam's objective every game is to aim for a draw and hopefully nick a goal. Unfortunately, his predictable and out-of-date tactics don't work. Because he knows nothing else, he would say "We could have had a draw" ... Maybe he is influenced by the new Sport Phycologist.
If anyone can find the Phycologist,we need to sack him first, then the Football Director and finally Big Sam.
What drivel he comes out with.
Craig Mills
15
Posted 13/05/2018 at 22:30:34
Danny @ no.1 . Not sure if you went today but taken Tosun off was the best thing Sam could have done, he was absolutely woeful today . Niasse worked his arse off and the chances he got fame from his own hard work, Tosun doesn't work hard - hence Sam hauled him off
Peter Fearon
16
Posted 13/05/2018 at 22:40:09
Can someone tell me where I can get tickets to the matches Allardyce is watching? Because they sound a lot better than the ones I and tens of thousands of other Evertonians have been forced to watch over the last few months. Before the West Ham game he was talking about the magnificent achievements of the squad and so on. What parallel dimension are those games played in? Now he says we were controlling the game in the second half. The man is delusional.
John Ronnie
17
Posted 13/05/2018 at 22:47:36
Sam, please! Really!?!
Please just go, please just bloody go, you are a clown.
Danny Broderick
18
Posted 13/05/2018 at 22:57:00
Craig (15),
Yes I was there today. To be honest, everyone seemed baffled by that sub, not just me. The whole away end started booing!
We were getting beat and he took a striker off for Walcott, who was asked to cut in from the left. I would have preferred him to keep the 2 strikers on, and Walcott to have played on the wing. It would have been nice to have a go at them - it was only West Ham after all.
Jim Bennings
19
Posted 13/05/2018 at 23:00:16
I don't think you can argue with the Tosun substitution because he was shit!
People might say he wasn't getting service but he needs to learn to get himself involved in games more, a bit like Niasse who is limited but makes himself a nuisance.
Tosun needs to start making bad balls into good balls and showing a bit more hold up play and mobility.
Brian Cleveland
20
Posted 14/05/2018 at 00:11:24
It's now 11 minutes into Monday, enough time for the dust to settle... where is that vote of no confidence?
Brian Wilkinson
21
Posted 14/05/2018 at 00:11:59
James@8 should have let us know earlier, could have joined you to watch the paint dry.
Shame the bbc got rid of the testcard with the girl doing noughts and crosses, would have made better viewing.
Thank god this season is over with.
Si Cooper
22
Posted 13/05/2018 at 00:16:08
More nonsense twaddle from the language mangler. Both of Adrian's saves were what you would expect (but Pickford should have done better) and Oumar Niasse scored from the corner straight after his first effort was thwarted, so hardly the decisive moments Allardyce is trying to claim.
Some people seem to think the manager deserves a pat on the back for what he has done. I definitely don't disagree with that, but if anyone can't see that he has also been preening and angling to be kept on then they haven't been watching the same stuff as me.
Ta very much and pat on the back for not getting relegated, now off you pop (with your £6 million bonus) and vacate the role for someone who might take the team (and the club) to the next level.
Soren Moyer
23
Posted 14/05/2018 at 00:35:16
No, we could NOT get a draw as your team had been setup for a draw you Fat *******!
Ed Prytherch
24
Posted 14/05/2018 at 00:35:22
It was obvious that many of our players had no interest in the game and were waiting for the final whistle. These same players had the same attitude under Koeman. I worry that they have given up on the club and even an outstanding manager will not get a good day's work out of them. I hope that I am wrong.
Mike Gaynes
25
Posted 14/05/2018 at 00:36:01
Make it happen, folks. We Yanks want to wake up tomorrow morning -- if we sleep at all -- to some good news. Some FOFS (Fuck Off Fat Sam) news.
Can't wait to write off this whole screwed-up season as a Mulligan and start over.
Darren Hind
26
Posted 14/05/2018 at 01:38:59
He's on sky sports tonight Mike . .Hope he doesn't already know something
David Barks
27
Posted 14/05/2018 at 01:42:45
Jim,
That's brilliant. If only Tosun would make all the bad balls into good balls, then there would be no such thing as a bad ball!! It's so simple. Reminds me of Zoolander, "the files are INSIDE the computer, it's so simple".
Tosun had nothing to feed on because the buffet was never set out by Sam. He set up with 5 at the back, and yes it was 5 at the back and not 3, with 2 defensive midfielders and Davies expected to be the creative source. Davies is not that player, at all, in any way. We were useless. We had no midfield to bridge back to front. Tosun had every right to be angry as should all of us.
At one point we ended up with 4 central midfielders on the pitch, Niasse up top and Walcott just lost. It was a joke, zero tactical awareness of planning at all. How Sam wasn't sacked and just left in London is beyond me.
Dennis Stevens
28
Posted 14/05/2018 at 02:14:35
"the Everton boys have taken us out of trouble with many weeks to go" - aye, probably because we were only in 13th place when You took over Sam!
Saurabh Mhatre
29
Posted 14/05/2018 at 02:54:59
yeah! A draw would have saved our season!
Sad end of the sad season... Sam has to go.
Jay Harris
30
Posted 14/05/2018 at 03:42:30
Mike,
I think you will have seen why I don't rate Keane.
He has the turning speed of the Titanic and the awareness of its captain.
Thought NIasse and Davies had decent games thought.
The rest of em should have the same question marks as the coaching staff.
Are they good enough???
David Price
31
Posted 14/05/2018 at 07:42:49
sack sam,get the best available manager Raffa and I know all you die hard Everton fans will go nuts,and play omar as he has proved he will die for the beloved shirt half the pricks in that squad don't deserve to wear.overpaid wankers who should be sacked never mind sold.sick off the whole thing thank god for the new owner when he gets total control the sooner the better.
Jim Bennings
32
Posted 14/05/2018 at 08:11:39
David27#
Watch Vardy and Kane last night for what top strikers do mate!
Not every ball is on a sixpence to the forward is it?
Compare yesterday Tosun and Niasse.
Niasse is limited but he has a habit of making him a pest, a nuisance and getting chances.
Tosun didn't do enough yesterday to warrant staying on in my opinion, he needs to show more for a £27 million pound player.
A simple observation mate that's all!

Rob Birks
33
Posted 14/05/2018 at 09:14:48
Jim Bending I agree with your opinion about Tosun. You don't even have to compare him to vardy and Kane to highlight your point.
Arnoutovic yesterday made his own space and finished well. Tosun needs to knuckle down and watch a few videos of how it's done in the EPL
Rob Birks
34
Posted 14/05/2018 at 09:16:24
Sorry about the spelling Jim Bennings. Predictive text!
Michael Lynch
35
Posted 14/05/2018 at 09:34:15
I'm also with the Tosun bashers today. I think he's been pretty decent since he arrived, putting in a shift in every game, but he just doesn't seem to cause any real problems to either defenders or goalkeepers. Niasse doesn't look like a footballer, but he always causes problems and his goal was taken sharply yesterday. He runs at defenders when he has the ball, which they don't like, and he's a nuisance the whole time.
Clearly Niasse is not the long term answer but, of our current strikers, he's the one I'd keep - as an impact sub mostly. DCL I'd loan out, Tosun I'd move on. That's assuming we buy a first choice, quality striker in the summer. Siggi at no 10, Lookman on the left, new boy in the middle, Walcott on the right.
Jim Bennings
36
Posted 14/05/2018 at 10:02:42
That's it isn't it?
Not everyone is Kane or Salah but even when the team is playing poor it's about trying to get yourself in a game and again going back to Niasse, it was only when he came on last week against Southampton we began looking a bit of a threat with movement and that their defenders started looking a bit like "hang on this geezer looks a pain in the arse".
It's sometimes about nuisance factor.
A master of the nuisance factors were Tim Cahill and Steven Naismith and those lads didn't do too badly.
Derek Knox
37
Posted 14/05/2018 at 12:16:00
I thought my detestation of Koeman could not be surpassed, but Allardyce has totally bucked that trend, I absolutely despise this piece of pond life.
I am also truly hoping, as I'm sure are many others, that his days with us are numbered, (single digits) at least we can breathe fresh air, as opposed to the stench of this cretin.
As many have alluded, Allardyce is basically the tip of an iceberg, with problems at all levels within the structure of the Club. I obviously include Moshiri, why did he knee jerk and appoint this greed-fuelled charlatan in the first place?
Then having made that error, compounds it by giving him an 18 month contract, I understood he was supposed to be a savvy businessman, yet displays the actions of a drowning desperado!
Many are calling too, and quite rightly so, for a wholesale clear-out of playing staff. The problem here is they are all on lucrative contracts and most will rather just twiddle their thumbs and await any unlikely offers.
Like I have mentioned before, staff either playing, coaching or even at Board level, do come and go, with more than commensurate remuneration.
We, as fans have more passion and commitment than any of them, yet we are the ones truly demoralised after a defeat like the one yesterday, devoid of any passion or application on the field.
The next appointment is gladly anticipated, I just hope it is the correct one to gradually get back to where we should be.
Jeff Spiers
38
Posted 14/05/2018 at 13:23:09
Derek. I personally think Moshiri did try other managers but they didn't want to touch us. He basically went on bended knee to Allardyce . Cue 18mth contract. Allardyce had us by the balls. I, like yourself, want a big clear out. But it will take time
Geoffrey Williams
39
Posted 14/05/2018 at 13:24:17
Still no news. Why the delay? Sack the man.
Steve Ferns
40
Posted 14/05/2018 at 13:26:50
You're another wearing that refresh button out eh Geoffrey?
David Hallwood
41
Posted 14/05/2018 at 13:49:38
Regarding 5 at the back with 2 DM.s.
Just googled Allardyce and prozone and I got this "Sam Allardyce's passion for sports science, statistics and psychology" So I did my own analysis; we have played the formation 7 times this season, and it's P7 W0 D2 L5 GoalsFor 5 Against 16 Pts 2.
Well if he's a master of stats, analysis etc he didn't pay too much attention to them when he was picking the team yesterday.
I've got a good stat for you Sam..with £6 million you'll pocket being our manager you'll never have to work again, so your retirement beckons..fuck off now.
John Pierce
42
Posted 14/05/2018 at 14:56:51
Every hour that goes by without the club binning him, is making me more agitated, increasingly animated than any of the games have.
The delay with Brands, Allardyce and the rest of the board only serve to make me more doubtful of Moshiri.
Ruthless and decisive is the required leadership set not dithering and dopey which despite his business record he doesn't exude.
An accountant at heart, USA risk adverse person suited to owning a football club?
Paul Kossoff
43
Posted 14/05/2018 at 14:58:42
Pickford let at least one of those goals in, if he didn't, then he's not right in the head! I'm sure one of them he pulls his hands out of the way of the ball. I've watched it a dozen times slowed down, no way should the second have gone in, also at fault for the other two!
But if the team planned to lose to get S A out then hopefully it works.
It's not like this bunch haven't downed tools before.
Paul Kossoff
44
Posted 14/05/2018 at 15:04:33
Rob 34, Jim bending! Is he now? Mmmm, well I never!!!😁
Jim Bennings
45
Posted 14/05/2018 at 15:13:12
Paul 43#
I sincerely hope you are wrong but I have seen that Pickford attempt on the second goal and I admit I did raise that question myself of "did he let that in on purpose?".
I doubt Pickford would be ever be unprofessional, at least I hope he wouldn't be because if that ever was the case of the overpaid prima donnas throwing matches deliberately to quicken the sacking on any manager then I'd never want that character representing my club again no matter who it was.
It probably was just a terrible error of judgment on Pickford's part, it can happen, it's something he needs to work on and his concentration needs it too at times, but I'm certain with age that will come.
As is well known goalkeepers don't blossom until late 20's to 30's.

Joe Foster
46
Posted 14/05/2018 at 18:51:41
Sam is live on sky sports news at 7pm.
Joe Foster
47
Posted 14/05/2018 at 19:12:37
I don't think they are going to touch on his future.

Add Your Comments
In order to post a comment, you need to be logged in as a registered user of the site.
Or Sign up as a ToffeeWeb Member — it's free, takes just a few minutes and will allow you to post your comments on articles and Talking Points submissions across the site.