Allardyce: We could have earned a draw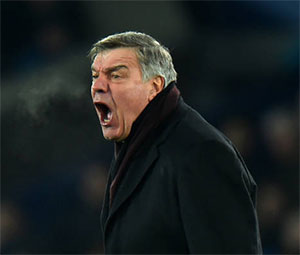 Sam Allardyce cited a great performance from West Ham goalkeeper Adrian as the reason for his team's defeat the London Stadium today while also admitting for the first time that he is not sure whether he will see out the remainder of his Everton contract.
Though the Blues went down 3-1 in their final game of the season, they held on to eighth place thanks to Leicester City's defeat to Tottenham Hotspur but there has been plenty of press speculation that there could be further managerial change at Goodison Park in the coming days.
Allardyce said he was pleased with the way his side responded to his change of formation in the second half after they had fallen behind to Mario Lanzini's opener but was frustrated by the form of the Hammers' goalkeeper who made crucial saves to deny Oumar Niasse before and after the Senegal striker eventually scored to make it 2-1 and also from substitute Theo Walcott.
"It's disappointing [to lose on the basis] that the chances we missed were better than the chances they scored with," Allardyce said after the game, "but then you have to give a huge amount of credit to Adrian in their goal who was absolutely outstanding with three top-class saves. At any other time, all three should have gone in.
"And then the two goals West Ham scored were pretty good efforts. Jordan's pretty disappointed he didn't stop at least one and that was the difference in the end.
"I thought we played an awful lot better in the second half than we did in the first. I had to change the system at half time and that suited us better, we controlled midfield better.
"Unfortunately, the second goal that went in got them 2-0 up and we could've recovered from that with the goal from Oumar. We had chances when they were 3-1 up to get 3-2 and make a game of it.
"There was no point in sitting back; more than anything else we were trying to go all out to try and get at least a point out of it.
"At the end of the day, eighth is a really good finish from where the beginning was. For me it's been a great journey that the players have taken the club on from now and until then because I've had other clubs where I've had to wait very nervously til the last one or two games of the season — Blackburn, Sunderland, Crystal Palace — but the Everton boys have taken us out of trouble with many weeks to go.
Allardyce was less amenable to taking questions during his sit-down press conference a few minutes later. The inevitable questions over his future were raised during a brief, three-minute exchange.
After reiterating that he has a contract for another year, the 63-year-old was asked if he was confident of seeing it out.
"Confident?" he replied. "I can't quite say after all the rumours I'm reading in the paper because generally there's something and there's no smoke without fire. But I'll wait and see when we meet up this week.
When he was quizzed over when any meeting with Everton's chairman, Bill Kenwright, and major shareholder Farhad Moshiri might take place, he retorted: "I wouldn't be telling you if I did."
---
---