Onyekuru fails to make the cut for Nigeria squad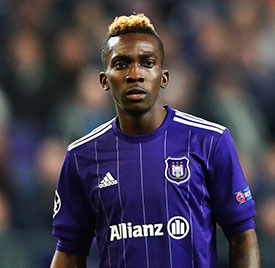 Henry Onyekuru and Everton's hopes that the young striker might be included in Nigeria's party for the World Cup have been dashed after he was omitted from the provisional 30-man list of players.
Onyekuru, an £8m signing from KAS Eupen last summer, has been on loan at Anderlecht this season but suffered a serious knee injury that has sidelined him since December.
He recently returned to fitness in a late bid to catch Nigeria's eye but has not been selected by the Belgian club, leading some conspiratorial intrigue in his home country.
According to a source quoted by ScoreNigeria, there are fears Anderlecht have deliberately withheld him from the team.
"Onyekuru not playing since his full recovery from injury is not funny. He has not been played for Anderlecht's main team after his recovery not because he is not fit but because of what I will call selfish interest.
"The club want him to stay for another season and know Henry will get a work permit to play for Everton if he features at the Russia 2018 World Cup. I think the coach is trying to prevent that from happening.
"Henry has played for the reserve team and it was obvious in those games he is fully fit. In fact the club's fans are not happy because Anderlecht lost in the championship to Standard Liege at home. They were given impression Henry is not fit but they know he is okay now."
Belgian media, on the other hand, report that Onyekuru has suffered a relapse of his knee problem, one that at one stage looked like it might require corrective surgery.
With the player needing to play a certain percentage of matches before he can qualify for a work permit to play in the Premier League, it looks as though he will need to remain out on loan in Europe next season, be that with Anderlecht or another club.
Quotes sourced from ScoreNigeria via SportWitness
---
---