DC United "close" to finalising Rooney deal
Monday, 14 May, 2018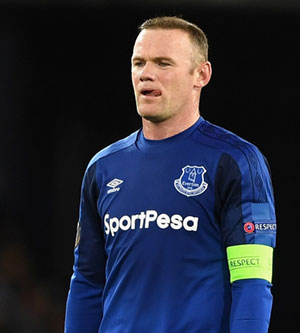 Negotiations between Wayne Rooney's representatives and DC United are progressing, with one source indicating that the transfer could be agreed by next week.
News that the 32-year-old was in talks with the MLS club broke in the Washington Post last week and they are now reporting that the two parties "have resolved major issues in their negotiations".
Rooney, who rejoined Everton last summer after 13 years with Manchester United, was reported by Sky Sports to have said his goodbyes to players and staff at USM Finch Farm on Saturday after being ruled out of the final match of the 2017-18 season by a knee injury.
Separate reports have suggested that the player was seeking clarification over the future of Sam Allardyce as the Toffees' boss but it would appear from the sources "close to the talks" with DC United cited by the Washington Post that Rooney is pressing ahead with his move to America regardless.
The report also claims that he and wife Colleen have already begun house hunting in the area.
Should he successfully conclude a deal with DC, Rooney's switch from Goodison Park would officially come into effect on 10th July when the MLS transfer window opens.
---
Reader Comments (33)
Note: the following content is not moderated or vetted by the site owners at the time of submission. Comments are the responsibility of the poster. Disclaimer
Darren Hind
2
Posted 14/05/2018 at 18:37:10
Relief tinged with a sense of "if only".
It's the right thing to do
Good luck lad, but if the Yanks on here are only half right, you'll need to take a new set of lungs with you.
Mark Tanton
3
Posted 14/05/2018 at 18:50:27
It's been an odd one, Rooney. It's almost like he's made a completely neutral contribution - yes he's scored some goals, but the price of those goals has been an incredibly slow side and a lot of sideways passing.
Dave Ganley
4
Posted 14/05/2018 at 18:57:38
Originally thought it was a backward step to bring him in last summer but then I thought if played in the right position he could bring the runners into the game by spraying passes across the field. As it was, both Koeman and Allardyce had no idea how to get the best out of him, both managers did away with any runners and Rooneys passing for most part has been shocking so it's relief for me he's going.
Colin Glassar
5
Posted 14/05/2018 at 19:07:56
Wrong place, wrong time perhaps? Wayne came just as the Koeman regime was beginning to crumble so I don't blame him for the outcome. I'm sure he came back full of optimism but found himself in a shitstorm not of his making.
Good luck Wayne.
Rob Dolby
6
Posted 14/05/2018 at 19:08:06
Does this mean another year of FOSA.
Bill Gienapp
7
Posted 14/05/2018 at 19:09:31
The Rooney/Everton reunion is difficult to evaluate, to say the least. History will likely condemn it as a bust, given how disappointing this season was, but he *was* on-pace for a 20-goal season at the midpoint, which is nothing to sneeze at.
Faded badly over the second half of the campaign, though Sam's dino-tactics certainly didn't help matters. Part of me would be sorry to see him go, though ultimately I think the attempts to accommodate him too often came at the expense of the team.
Jim Bennings
8
Posted 14/05/2018 at 19:26:51
So for the second summer in succession we are selling our top scorer?
No matter what you think of Rooney or whether it's a good move or not it's still a valid point isn't it?
A sad reflection on the team as a whole ( yes the team that have failed under how many managers now?) that our top scorer a 32 year old midfielder with 10 goals and hasn't scored since December 18th.
Another sadder reflection is Everton never won a single game this season without Rooney in the side.
All a measure in my opinion of just how shite our current squad is but continue to hide behind whoever is in charge taking the flack.
Phil Walling
9
Posted 14/05/2018 at 19:27:08
I've a suspicion that Allardyce had far less idea of how to accomodate him than Koeman. OR simply decided to work him out of the team.
This is the mad, mad world of Everton 2018.
Steve Ferns
10
Posted 14/05/2018 at 19:45:48
That didn't win a game without him statistic is a very worrying one. I feel Rooney with Davies and Gueye to back him up, can still play a big part.
However, it's either him or Sigurdsson for me and I think everyone would agree Sigurdsson is the better of the two and so Rooney is just on the bench.
Therefore, can we really keep him on the bench when he's on £150,000 a week, and we could even get £10m for him.
Minik Hansen
11
Posted 14/05/2018 at 19:47:12
Jim Bennings nice point. What Rooney brought here is attention to our club to the football world of all ages. Kids like players, so probably got a lot of attention from the lot?
Michael Lynch
12
Posted 14/05/2018 at 19:53:00
My feeling is that last season was the one when we would get the most out of him. So move him on if he wants to go.
He was signed as a striker anyway, and he couldn't play in that position cos of the booze and fags, so let's save on his wages and get a younger player in.
Martin Nicholls
13
Posted 14/05/2018 at 19:53:11
Jim#8 - this is not Moyes' team if that is what you're inferring. It has failed to entertain under Koeman and Allardyce but the remnants of the Moyes era (Seamus, Jags and Bainesy) are not the root cause of that failure.
Johnny Rainford
14
Posted 14/05/2018 at 19:55:00
Goin to be a bit controversial I know but I'm not sure if even Moyes knew where to play him first time round. Don't believe in coincidence so how come Marcus bent came in as an out and out striker and did a job for us which arguably paved the way for champs league qualification. (Before he was binned on for beattie.. enough said)
Paul Tran
15
Posted 14/05/2018 at 20:14:45
If he's going, good luck to him. Best move for all parties.
Eddie Dunn
16
Posted 14/05/2018 at 20:46:38
It is surprising that a player with such football intelligenceand good technique should fade badly in the second half of the season, and be unable to command either a striking role or a midfield role.
I recently saw some stats showing his appearances in recent seasons and it seems that 27 or so has been his average for a few years.
He has either been burnt-out by his early start and his workload or has failed to look after his body well enough.
Perhaps it is a combination of the two.
I wish him well. A man gifted with rare skills, and a fierce determination.
He has, of course achieved greatness in his career, but it is sad that he couldn't have stayed a little longer at the beginning, and perhaps picked up a trophy for us.
The PL is physically demanding, even bellow the top 6, and Wayne is no longer able to compete.
Perhaps he should have come here 3 years ago?
Keith Monaghan
17
Posted 14/05/2018 at 21:03:24
He made it clear what he thought of our club by jumping ship 14 years ago after about 1 season's service - should never have been brought back - contributed little and created problems for the club, all very predictable - clear off quick please!
Loads of players have contributed far more to the club than he's ever done e.g. Kendall, Ball, Harvey, Cahill, Pienaar, Arteta, Watson, Wilson, Labone, Baines, Coleman & plenty more.
Paul Birmingham
19
Posted 14/05/2018 at 21:18:36
I still think he's worth a squad number, he's go5 a football brain but he can't do 55 mins and that's not even going flat out, so I think a good result all around, but what ifs remain.. to be in tune pre Chrimbo and then go out with th Chrimbo lights almost, suggests some thing changed.
It's been a toxic vile season and the club starting with the board must start fresh ASAP.
Good luck Wayne if your going stateside but I think it will be interesting to see what happens.
Brian Williams
20
Posted 14/05/2018 at 21:20:27
He "jumped ship" to win 5 premier league winners medals, a Champions league winners medal, a Europa league winners medal, an F A Cup winners medal, 4 league cup winners medals.
Of course while he was winning all those he missed us winning............ oh yeh the sweet sum of fuck all.
But you're not bitter are yer?
Ian Burns
21
Posted 14/05/2018 at 21:34:48
I reluctantly voted "No" on the Rooney ToffeeWeb Poll.
I think he should go but I wish he had had the benefit of a season with a decent manager who could understand where he should be playing and use him accordingly.
Maybe its all too late but how I wish Koeman had a brain but my only wish for Allardyce is to follow Rooney out of the door.
James Stewart
22
Posted 14/05/2018 at 21:35:12
I think many often overlook the fact Rooney was playing at EPL level from 16yrs old. He was an absolute freak of nature and one of a kind.
Sold too early, brought back too late. I would keep him around for another season personally if only for his experience and mentoring of our younger lads.
When was the last time we sold our top scorer two years in a row?
Ian Riley
23
Posted 14/05/2018 at 21:36:23
If Wayne Rooney could offer more Manchester united would not have let him go. Feel his best days there were coming to an end when Sir Alex Ferguson tenure was coming to a close. Wayne Rooney has played top flight football from the age of sixteen. So in terms of age he is thirty four or five years old in terms of games played. In his prime he gave all every game. He can play football but he struggles with the pace of the premiership.
Manager's may be blamed for not fitting him in different positions but we are not good enough to carry players. We have had moments of genius from him and yes he is no legend at our club. It will always be what could have been? He left for reasons he and the club know. I wish him well but we must move on.
Tony Abrahams
24
Posted 14/05/2018 at 21:44:32
Loads of players have contributed more to Everton, Keith, I agree, but I don't think any one player has ever done more for the chairman though. Maybe that's why there was so much sentiment for Kenwright once Rooney came back?
Adam Scott
25
Posted 14/05/2018 at 21:53:17
Ian (23) sums up my view entirely. It was a decent twelve months and a great story. He is a player though that at times we are carrying. On his wages and with his resputation, 30 mins off the bench won't be an option. Lacking many skills to play CM. Apparently unable to play CF. Realistically where does he fit? Give him a good send off and allow him to go with his reputation intact
Tom Bowers
26
Posted 14/05/2018 at 21:59:41
Adam Scott you said it perfectly.
It's a great pity we didn't get him a few years before when the writing was on the wall at Manure but anyway he didn't do too badly especially early in the season and it is obvious that he now has limitations and will do well in the MSL for a season or two.
Paul Dewhurst
27
Posted 14/05/2018 at 23:05:56
Glad he's gone (fingers crossed) remember a 1/4 of the goals came against West Ham and another 1/4 by penalties and penalty rebounds.
The first headlines he created he when back at the club was getting caught with a slapper while his wife was pregnant!
Should never have let him back!
Mike Gaynes
28
Posted 15/05/2018 at 02:19:18
Adam #25, I don't think his reputation is quite intact after that little incident in the VW Beetle, and playing with DC United isn't going to refurbish his reputation one bit. It's the worst franchise in MLS, always has been. One win this season, bottom of the league. They spend money with an eyedropper, and except for the stadium itself, their facilities are college-level.
Wayne got used to first cabin, and now he's going to be flying sub-economy. Hard to see him being contented for long.
James Hill
29
Posted 15/05/2018 at 11:48:52
Get rid over the hill mercenary
Johnny Rainford
30
Posted 15/05/2018 at 12:29:56
Tony #24 nailed it mate. The second spell was all theatre... Prodigal son... Etc. Kenwright is a romanticist Luvvie which is why he's such a bad businessman outside his comfort zone and everyone can now see the second coming for what it was... Smoke and mirrors. Kenwrights speciality.
Justin Doone
31
Posted 15/05/2018 at 15:54:24
I'm only interested in the footballer not his personal habits off the field, money or age. Yes I'm sure they interfer but that's life.
He's the one true top class player with proven ability and winning mentality. He's not at that level now but no one is at our club. I'd like him to stay for another season foremost because he's one of our best players but also attracts other talented players and media coverage that we need.
I can only think of 2 players that have played better and more consistent than him, Pickford and Gana, with Jags not far behind.
There's no point in getting rid until we bring in better no matter what age. If there good enough they deserve to play.
A good coach, manager, tactician would get the best out of him. We aren't good enough at keeping the ball in advanced positions. Forwards like Rooney want to be involved. He's not sulking and standing still waiting for a ball, he'll come deep and create to be involved.
He and Walcott could be the two central forwards instead of wasting their talent playing out wide and too deep, especially against the teams that keep a high line.
Walcott has the pace in his legs, Rooney the pace in his football brain. Work on their partnership.
Karen Mason
32
Posted 15/05/2018 at 18:18:43
Yeah Justin at #31. Love where you are coming from. Agree with you totally. I'm sure that he could offer so much more than he currently does under this (mis) Manager. Sure a decent coach/manager could use his undeniable talent, even though he may lack a little pace. And as you point out, his influence in bringing talent to our club could be invaluable. After all, what other 'big name' do we have to entice talented players to come to play at our club. For that alone, we should give him another season. I really hope he stays, now that we know Allardyce is on borrowed time as Manager.
Chris James
33
Posted 15/05/2018 at 18:39:09
Shame it wasn't the triumphant swansong we all wanted, but I think moving to a less competitive league makes sense (not 100% sure the fitness levels demanded in the US will be an ideal fit, but I guess its more of a marketing move for DC really and his footballing brain should see him through).
Rudi Coote
35
Posted 16/05/2018 at 14:21:15
He might not go now that Allardyce has been sacked.
Steve Ferns
36
Posted 21/05/2018 at 22:44:27
DC United have listed Rooney as a "featured player" according to reports on Twitter. Confirmation he's gone?
Add Your Comments
In order to post a comment, you need to be logged in as a registered user of the site.
Or Sign up as a ToffeeWeb Member — it's free, takes just a few minutes and will allow you to post your comments on articles and Talking Points submissions across the site.