Allardyce heading for Everton exit
Monday, 14 May, 2018
Mark Robinson/Getty Images
Sam Allardyce's tenure as Everton manager looks to be over amid reports that the club will relieve him of his duties within the next 48 hours.
The 63-year-old was due to meet with major shareholder Farhad Moshiri at some stage this week where it was expected he would be informed that he will not be retained beyond the end of the current season.
It appears, however, based on the proliferation of news reports tonight, that the decision has already been taken and the media briefed that the search for his replacement is already underway. Marco Silva, the former Hull City and Watford manager, is the supposed favourite ahead of his countryman Paulo Fonseca who, late-breaking reports say, interviewed with West Ham United this afternoon.
ESPN led with claims from their sources that Allardyce would be leaving Everton later this week and that was followed by corroborating suggestions by Andy Hunter (which will be on the back page of tomorrow's print edition of The Guardian), and the majority of the other news outlets.
It could mark the beginning of a series of significant changes at Goodison Park this summer that may include a new director of football in the form of Marcel Brands, the departure of the club's highest earner in Wayne Rooney, and a new chief executive.
Brands's arrival from PSV Eindhoven has been mooted for weeks now and confirmation from him either way is due any day now. Rooney, meanwhile, appears to be in the final stages of making a switch to DC United of Major League Soccer.
Current CEO Robert Elstone is leaving Everton after 10 years at the commercial helm to take up a similar role heading up Rugby's Super League.
With Everton seemingly in free-fall last autumn following the sacking of Ronald Koeman and amid David Unsworth's struggles to right the ship, Moshiri sounded out renowned Premier League firefighter, Allardyce, along with Silva and Fonseca as potential replacements.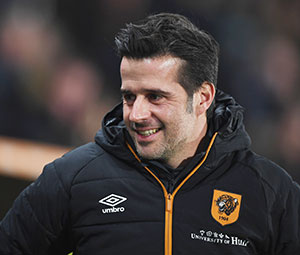 Marco Silva, Farhad Moshiri's top target last November, is apparently still at the top of the shortlist to become the new Everton boss.
After both Watford and Shakhtar refused to allow their coaches to speak with the Blues and as fears of a prolonged fight against relegation set in following crushing defeats to Atalanta in the Europa League and Southampton in the Premier League, Moshiri felt compelled to go back to Allardyce at the end of November with a compromise arrangement.
The former Bolton, Blackburn, Newcastle, West Ham, Sunderland and Crystal Palace boss, who had left the England post a year earlier in disgrace, eventually agreed to an 18-month term worth a reported £6m.
He guided Everton into the top half of the table and to within six points of Champions League-chasing Tottenham by mid-December but could not sustain a consistent run of form to mount a challenge for Europe. The Toffees eventually clung on to eighth place despite losing their final game of 2017-18 at West Ham.
Criticised for negative tactics, a lack of attacking adventure, a chronic shortage of goals, and some heavy defeats to teams in the top six, Allardyce failed to win over Blues fans and was the subject of increasingly vocal chants from the stands calling for his dismissal over the final weeks of the season. That, combined with a desire on Moshiri's part to kickstart his stalled project with a fresh appointment has led to the decision to cut ties this month.
The reports suggest that Silva's appointment may not be entirely straightforward, with the Portuguese still in a legal dispute with Watford over £750,000 he feels he is owed due to premature dismissal from the Hertfordshire club in January.
The Hornets board may still pursue legal action against Everton if they hire him for what they deemed an illegal approach for Silva in the first place last November, despite the fact that the Blues offered them upwards of £15m to part with him.
---
Reader Comments (404)
Note: the following content is not moderated or vetted by the site owners at the time of submission. Comments are the responsibility of the poster. Disclaimer
James Hopper
1
Posted 14/05/2018 at 22:09:01
Yeeeeeesss!
Clarence Yurcan
2
Posted 14/05/2018 at 22:18:13
This guy was really getting paid 6 million?
Paul Kernot
3
Posted 14/05/2018 at 22:18:48
That headline might as well read 'Reports that the pope will pray today'. He's been a dead man managing for at least a month. The real news i.e. who will replace him will hopefully follow shortly, followed by who's coming & who's going to improve our play next season.
Chris Gould
4
Posted 14/05/2018 at 22:21:13
If BK also departs, and takes his sentimentality with him, then these changes could be significant.
It certainly allows us a little optimism for the first time since this miserable season commenced.
Kunal Desai
5
Posted 14/05/2018 at 22:25:51
All change, all change. Moshiri starting to flex those muscles. Positives signs. Very positive. I'd like him to also increase his shareholding and buy out Woods and Kenwright to. We are in desperate need of new blood not just on the playing field and at managerial level but it's also of crucial importance at board level.
An injection of fresh ideas, strategic planning and a pragmatic framework in place to assess goals and objectives each season is a must, together with improving and maximising revenues including the best commercial deals.
James Hill
6
Posted 14/05/2018 at 22:27:17
Ha ha are truly the laughing stock of the league. Reckon well play a great style of football, all the way to the championship with Marco Silva. Can't wait to read this site next year.
Paul Smith
7
Posted 14/05/2018 at 22:31:40
What do we keep saying about managers who have been relegated ? Martinez this all over again.
Uninspiring if true.
Mike Gaynes
8
Posted 14/05/2018 at 22:31:47
Thought it would happen today. Aw, well, I suppose I can wait a few more days.
Andy Crooks
9
Posted 14/05/2018 at 22:32:42
That's the spirit, James. Get the boot into a man who has not even been appointed. Do you want Sam to stay?
David Connor
10
Posted 14/05/2018 at 22:33:12
Fair play to Sam. He did what he had to do and bled us for another year's payout. Let's hope this next new dawn isn't as false as the last couple we've had. Thanks, Sam and goodbye...
Jay Harris
11
Posted 14/05/2018 at 22:34:48
Not overexcited at the prospect of Silva but pleased that Moshiri is being decisive after seeing some people waste his money on no marks and has beens.
I think we will see a much tighter ship now with Kenwrights interference diminishing.
NSNO.
Lyndon Lloyd
12
Posted 14/05/2018 at 22:35:14
Paul (7), the difference with Silva being that Martinez took Wigan down, Silva couldn't keep Hull up with a 27-point shortfall to make up to achieve 40 points in 18 games.
I'm undecided if Silva is the answer (I'll support him 100% if he's appointed, though) but let's not treat the two situations as if they were equal.
Frank Sheppard
13
Posted 14/05/2018 at 22:36:11
Glad he is going. He achieved the objective he was given, and how many managers can say that? The main point is, how did we get ourselves in such a position that he was needed? Much better decisions need to be made this time.
Andy Crooks
14
Posted 14/05/2018 at 22:36:19
Paul, who do you want that we can realistically get? Or, would you too like to keep Allardyce?
Jim Wilson
15
Posted 14/05/2018 at 22:38:57
Silva too big a gamble for me Andy
Andy Crooks
16
Posted 14/05/2018 at 22:40:03
I agree, Lyndon. If Wigan had any other coach in the Premier League they would gave survived. They were relegated because of the vanity of the appalling Martinez. Comparing Silva to him is ludicrous.
Jon Bentley
17
Posted 14/05/2018 at 22:46:05
Quote from Lardiola tonight ""Our start from when I came in, right the way through to the end has been absolutely magnificent."
WTF!!!! 🙈🙉🙊
Matt Butlin
18
Posted 14/05/2018 at 22:46:31
A forward thinking manager is what is needed. That's just part of it though. The right recruitment, ethos and leadership from the owner down too. If Mark O'Silver is the new manager, I'm fully behind him. Let's get the rest right as well.
Eddie Dunn
19
Posted 14/05/2018 at 22:47:50
Howe please.
Jay Harris
20
Posted 14/05/2018 at 22:48:54
Andy while his record is good in the minor leagues it is not good in the prem.
We gave his Watford side a 2 goal lead and beat them 3-2 when we were absolutely rudderless.
It seems to me he starts well and then falls away like the guy at Swansea and Martinez.
I really hope you and Steve Ferns are right because this is a much bigger challenge than Hull or Watford. The whole club needs a revolution not just the coaching.
Sam Hoare
21
Posted 14/05/2018 at 22:55:31
Silva has improved the results at every club he's been at!
That was categorically not the case with Martinez. Comparisons between them are lazy at best, uninformed at worst. Or is that the wrong way round?! If Silva had been in charge that whole year at Hull then I could understand but cmon...context people!
Tom Bowers
22
Posted 14/05/2018 at 22:56:17
Whoever comes in will face a big task. We Evertonians, so long without anything to be proud of will naturally be impatient for a big improvement.
When Moyes went many of us were relieved but when Martinez came in there was a lot of apprehension.
Despite his appointment the team started playing some decent football but alas it didn't last.
Then along came Ronald and we then felt that this guy was the real deal and again he quickly proved to be a dud.
Things got desperate and Unsy may have done better with some more time but it wasn't to be and Allardyce proved how adept he was at making the team even more lethargic than it had ever been despite finishing eighth.
What next we are asking ? Moshiri needs to do his homework if he hasn't already started and dig deep again to hopefully get the right man.
Paul Birmingham
23
Posted 14/05/2018 at 22:57:32
I hope and hope we get some one whose a proven winner, whose achieved success already.
No time and possibly reduced budget this preseason.
For me likely Silva has been on a retainer .Still with EFC who knows. It surely must get better, this week.
Ian Riley
24
Posted 14/05/2018 at 22:57:59
Martinez struggled every season at wigan and finally relagated them. Then what? Everton appoint him and go from a stable mid table team to relagation becoming a possibility. Let's give our next manager a chance. If Marco Silva, then he would have watched us for six months and know what is required. The reality is our list of managers to choose from is not as long as we think it is.
William Gall
25
Posted 14/05/2018 at 22:58:23
I just hope they have someone lined up who can start next week. .We certainly can not have another fiasco,like we had when we let the last manager go.
Jon Withey
26
Posted 14/05/2018 at 23:00:25
At this stage I reckon appointments above the manager might be more important. Can the club be turned around over a summer ?
James Hopper
27
Posted 14/05/2018 at 23:00:40
If Allardyce does indeed go, Marco Silva and Paulo Fonseca seem to be the front runners but I wonder if Brands will have a different view.
Silva did okay but didn't cover himself in glory at Hull. He had a decent half-season at Watford. I don't see why we seem to be so interested. His record abroad has high points and low points but that's true of many other managers.
Fonseca has done a good job at Shakhtar but is untried in the Premier League. Again, it's another punt.
Why are the the following names seemingly not in the mix:
Sean Dyche
Eddie Howe
David Wagner
Unai Emery (now available!)
Ralf Rangnick
Laurent Blanc
Roberto Mancini
Manuel Pellegrini
I'm not suggesting any of the above are the right answer but surely they have to be considered alongside the two known candidates?
Andy Crooks
28
Posted 14/05/2018 at 23:04:39
Jay @ 20, I am not quite as evangelical about Silva as Steve but I have been impressed with his arguments. To me, it is anyone but Allardyce. My own choice would be the admirable Eddie Howe but it seems unlikely. I'll be 100 % behind whoever it is. As I was with Koeman almost to the end.
Paul Corbishley
29
Posted 14/05/2018 at 23:05:28
Unai Emery, just been let go by PSG. Why don't we go out and spend the money you would spend on a Bolasie or Sigurdsson over 5 years including transfer fees and get a top level manager in, give them £10-15 million a year in wages. You might think we don't have the war chest for it but we do, especially if we spend it on 3 or 4 players. Get the manager an the rest will follow
Don Alexander
30
Posted 14/05/2018 at 23:13:16
The reality is that the football world, including Moshiri, see us as an upper mid-table club with a possibility of scraping Europa League qualification at a pinch (and OK, that's my opinion rather than a fact). That is deeply unattractive to any manager whose record and ambition already include victories in the actual Champions League because failing to qualify us in the latter competition will definitely tarnish his reputation and career.
So, we seek someone who's maybe got the Pochettino touch, the only problem being the squad he inherited was way more equipped than ours is. That's why I'm grimly prepared to welcome Silva and his entourage of coaches, and he only works with HIS entourage of coaches thus far.
He's a man whose Hull and Watford squads were enthused by his ability to actually get on the training field and physically move their body positions into the optimum position to make it best for their team's tactics, to the cost of their opponent's and, you know what, he might have saved Hull had he had a just few more games.
I shake my head and wonder just why adult "professional" millionaire footballers these days need to have someone teach them, one-to-one, something as basic as the best position for them to stand/posture/present but there it is. From what I expect he'll find at FF he'll have his work cut out though.
On the positive side, in his down-time he'll no doubt be given the "A to Zed" on pigeon training from "the legend" Ferguson as the breakfast fry-up is plonked in front of them all.
Simon Smith
31
Posted 14/05/2018 at 23:14:47
Surely it's time for a poll, and with Emery now out of a job after PSG dumped him I'd hope he would be considered before Silva if Sam sorry, WHEN Sam gets the chop !!
Paul Smith
32
Posted 14/05/2018 at 23:15:30
Sam has to go (wonder what the poll would be now) but not convinced by Silva and it looks like the Fonz has other suitors, yes it's a gamble, but I'd give Rogers a go afterall he almost won the league with them until Stevie Me's slip - if he'd come that is.
Scott Phelps
33
Posted 14/05/2018 at 23:15:31
I'm all for positive change. but Since Moshiri has come in I've got a sense this guys doesn't really know how to run a football club.
Wasted millions on over priced players.
Giving a two year contract to a manager who was clearly a short term appointment.
Chasing Marco Silva who relegated Hull and who won a few games for Watford before getting the sack. If we appoint this guy then he clearly is clueless.
And now being linked to using the parasite super agent Raiola*
Steve Ferns
34
Posted 14/05/2018 at 23:16:25
Paul, you do know that Emery has been let go because PSG feel he is not good enough at the top level. Time and again the PSG decision makers have felt he has been outmanoeuvred in the Champions League. Last season Jardim's Monaco beat them to the title. This season Monaco sold all of their best players, and PSG romped to the title unopposed but still bowed out tamely in the Champions League.
There is a lot of criticism of his coaching from players. Neymar seems to be on a personal mission to get him sacked. However, I believe Neymar is really after a move and his agent is using the press to criticise Emery to get that move. PSG acted by getting rid of Emery as they are determined to keep their star man, the player they believe is behind only Messi and Cristiano Aveiro.
I do believe that Emery would do an excellent job at Everton, but I feel people call for him simply by looking at the jobs he's had and the trophies he's won, without knowing why he won them and how he won them and so what he actually can offer Everton.
I feel that if you actually broke down Emery's skillset, that he is a great man-manager, but this is called into question at PSG. He is a good tactician. But you also need to bear in mind that Seville never broke the top 3 in Spain, they often struggled to 4th or 5th in La Liga, and that PSG underachieved last season.
I don't think he is the best man for the job, despite his talents, but more importantly, he will demand and get a club in the Champions League.
Edit: sorry Emery was only in charge this season. It's been so long it felt like two.
Dave Cook
35
Posted 14/05/2018 at 23:16:27
I hear a certain Mr Moyes may be available
Steve Ferns
36
Posted 14/05/2018 at 23:21:07
Don, numerous old coaches have remarked that the current generation of players are less able to think for themselves. They say the academy system turns them into robots and so they need to be told what to do, otherwise they are incapable of doing it for themselves. Which is why Allardyce and his, I let the players figure it out for themselves approach to attacking has left us ranked 19th in the Premier League.
Jim Bennings
37
Posted 14/05/2018 at 23:28:10
Looks like it's going to be Silva who was the first choice in the beginning.
I'm not sure it's going to be met with universal appraisal and I just hope it's not another case of fans wanting him gone by November if he's not hit the ground running.
Personally I think we have a squad of shite that needs massively overhauling and it's currently a squad of ageing players who their best years have long gone and young players who just aren't Premier League class, at least not yet anyway .
I fear it will need a massive overhaul of playing staff regardless of who gets this job, and that's the one thing I doubt will happen this summer so we'll be stuck with this same unbalanced squad of underperforming wasters.
Bill Watson
38
Posted 14/05/2018 at 23:30:16
The crux of this season's problem was the spending spree that left us with an unbalanced squad, no playmaker, no proven goal scorer, no experienced cover in defence and lacking pace all over the pitch.
Over to you, Mr. Walsh!
Gavin Johnson
39
Posted 14/05/2018 at 23:33:12
Very lazy to compare Silva to Martinez. Silva did an amazing job at Hull and accrued plenty of points on what was already a sinking ship. Did a great job at Watford. Their form dropped off significantly but I put that down to the Everton links. That might be Silva's motivation, but also players not working for a manager they knew wanted to leave.
I can accept that some don't want him but it's bemusing when some of the said posters say they want Fonseca. They have very similar managerial paths. If anything wouldn't it be better to go for the man who has premier league experience and did a decent job at smaller clubs?!
Emery could be a shout but his English is very poor.
Bill Gienapp
40
Posted 14/05/2018 at 23:42:37
You were right the first time Steve - Emery's been in charge for two seasons at PSG. He presided over last year's Champions League clusterfuck against Barcelona.
Steve Ferns
41
Posted 14/05/2018 at 23:48:43
Yes, I checked properly Bill. So that's losing the league to Monaco and two disappointing Champions League campaigns. However, I still think he's a good coach, and he will get another CL club.
Steven Carmichael
42
Posted 14/05/2018 at 23:48:50
Allardyce saying he was glad West ham won what a tit big Duncan manager now

Jackie Barry
43
Posted 14/05/2018 at 23:49:18
I'll take Wenger over Silva, please
Paul Corbishley
44
Posted 14/05/2018 at 23:51:51
Steve I understand what you are saying but the top level that you are talking about is PSG, Real, Barca, Juventus and take your pick from our league, we are not at that level yet so we need someone from the next level down
If you want to talk about big names then how about Ancelotti, great player, great manager also let go because he was under achieving at Bayern, apparently their star player Robben hated him. Just for the record I don't think Ancelotti would be a good fit for Everton.
But I do think Emery would. Mangers just like players have their levels, we have all seen the limitations that existed with David Moyes. If we can get a manager in who is in the champions league bracket but still has a point to prove then we will be having a good start. Add to that a manager who's Seville team pressed with intensity and hit teams on the break, I really believe he is the manager we need.

Mark Wynne
45
Posted 14/05/2018 at 23:53:42
Absolutely chuffed. I can't say I'm all that bothered which of the fellas listed who I'd want, as long as that arrogant shite and his Mini Me get shown the door. Elstone's gone with Keith Harris being brought in. Even if Orville was to be our next manager it would be cause to crack open a cold one.
Thank fuck this dire episode in our history is about to draw to a close. I thought the dark days of Walter Smith were bad, but Allardyce made me reminisce for those times like it was a holiday in the Seychelles. Good riddance to him!
Steve Ferns
46
Posted 14/05/2018 at 23:58:56
Paul, Carlo Ancelotti's reputation is in the dustbin right now. If we thought Koeman was lazy, then Ancelotti takes it to a whole new level. The guy is a master man-manager. He was a top coach, but his recent jobs have drawn nothing but criticism of his lax attitude to coaching, the fitness of his players, and unpreparedness for games. Those connected with Bayern do not have a good word to say about him.
Everton need a workaholic coach, not a big name to drift in and out and say a few words and try to do it all on match day. Carlo was one of the best, his CL trophies point to that, but his hunger is long gone. He wouldn't take a job like Everton, and seems destined for international management to me. However, he does love London, lives there and seems to want another job in the capital.
Brian Williams
47
Posted 14/05/2018 at 00:02:33
Silva gained 23 points from 19 games at Hull.
Is that an amazing job?
Statistically that's mid to lower mid table performance.
Is it amazing simply because it was Hull he did it with because otherwise I "honestly" can't see it.
Laurie Hartley
48
Posted 14/05/2018 at 00:08:57
James Hopper # 27 - a reasonable question regarding your list of potential managers. The name that jumps out at me from your list is David Wagner. He comes across to me as a very sound character.
It is a bit too early for him to leave Huddersfield at the moment, he needs another season with them in the premier league but I think he will become a very successful manager. I will be watching his progress with interest.
As has been said, whoever gets the Everton gig, has a huge rebuilding job in front of him and he is going to need more money from Moshiri.
I think the signings of Walcott and Tosun will work out OK but we still need a dominant left sided centre half, a midfield Dynamo, and another striker and left back. That will test Farhad Moshiri's nerve.
Mind you, the £131m he will receive in TV money for this season will help.
Steve Ferns
49
Posted 15/05/2018 at 00:09:50
Brian, don't you understand what Hull where? They were the side expected to beat the lowest points total ever.
Steve Bruce was knocking on the door of the lunatic owner, you know the guy, he wants to change Hull City into Hull Tigers (surely that's a rugby league side?). He asked him for funds as he needed players to make them competitive. He was told no. Hull were not ready for the PL and they had no plans to stay there.
So in came Mike Phelan. At first he was caretaker and they got a couple of wins. So he got the job. He then had Hull doing what everyone expected and they were rock bottom, and whilst they would not have a record breakingly bad season, they would not break 25 points. So in came Silva, with Hull bottom and all but doomed. Then as we all know, they beat the RS, they beat Utd, they were in a Cup Semi, and they won a load of games.
So maybe 42+ points over a season is crap, but it's a bloody miracle with that Hull side. And that's the point. He made a Championship level side, with no decent players, and a load of misfits like Niasse, competitive and come oh so close to staying up, and he did it all in a few months.
I wouldn't say he did an amazing job at Hull, but their fans still rave about him, so do their players, and they are all grateful for his efforts and wish he'd never left.
Steve Ferns
50
Posted 15/05/2018 at 00:12:10
Laurie, I agree. He looks promising. It is early for him. And I will also watch with interest.
That Huddersfield side are the worst team in this division. I have no doubt about that. They should have been bottom, and the fact they were not is all down to him. He's done well the last two seasons, let's see if he can make it a third.
Paul Corbishley
51
Posted 14/05/2018 at 00:12:19
Steve I completely agree about Ancelotti, maybe he can float in and out of an international job whilst remaining in London.
You mention a workaholic manager but it has to be in the right areas.
Roberto was obsessed with football completely 24/7, to the extent that he had extra TV screens in his living room so he could watch football whilst he was sitting on the same couch as his Missus but ultimately he neglected certain areas of the game, player fitness and he thought ball retention was enough to defend, if they don't have it they can't score.
Everyone thinks Roberto wanted to be like Guardiola, he didn't he wanted to be like Cruyff but without the players, he was so idealistic about it that eventually it done for him (he might still win the world cup mind as he will have fit players to play for him)
Brian Williams
52
Posted 15/05/2018 at 00:17:16
Steve Ferns. Thanks for the explanation.
Anthony Murphy
53
Posted 14/05/2018 at 00:22:48
Seems fans are split 50-50 on Silva. I worry given the lack of patience in the modern game and the general unease at the club, that this guy might feel the heat quite soon unless he gets off to a flyer. A bad run of results or some less than attractive play will see doubt quickly creep in. Evertonians have had to be patient a long time, but patience is quire rightly wearing thin. I think it would help if Kenwright, Elstone and Woods exit the club as fans will then embrace him and Brands as symbolising a new start and will naturally give them time. I still would have liked for us to have least sounded out one or two others (Wenger, Emery perhaps), but looks like Mosh is dead set on Silva. Let's hope he's made the right call.
John Boon
54
Posted 15/05/2018 at 00:25:42
If Allardyce goes I am so relieved that I don't have the energy to participate in the discussions about who should take over. Before we come to that hurdle I just want some mental rest.This means that I never again have to watch Senile Sam chewing on what ever in in his much misguided mouth while my beloved Everton serve up the worst football I have ever seen in seventy years of watching them. He actually had the nerve to say that we have had a good season. I hope this is his departing message as he vanishes into "DELUSION LAND".
Steve Ferns
55
Posted 15/05/2018 at 00:30:32
Guardiola is a disciple of Marcelo Bielsa. His football philosophy is all based on pressing. However, once he wins the ball, his team is not to lose it. This he gets from Cruyff and Barcelona.
Martinez never pressed the ball in the Bielsa way. So yes, I agree his style is very different. It's based on retaining possession. However, I feel Martinez is a better coach and manager than many on here give him credit for. Many just dismiss the 72 point haul, the two Semi finals, and the European Quarter final as nothing, despite the fact that only one Everton manager can beat those feats.
Silva is a workaholic manager in the stlye of a (young) Mourinho and a (young) Benitez. Martinez watched football with his wife, watching two TVs. Benitez and Mourinho and now Silva watch football in an office, studying tape of the opposition diligently and analysing weaknesses and all three focus on defence from those tapes. There can be no comparison with Martinez in that regard.
Silva's default tactic is a counter attacking 4231, in the Mourinho mould. You cannot successfully counter attack if you cannot successfully defend. So again, he's the opposite of Martinez.
Silva likes to play attacking football in that he presses high up the pitch, in the Bielsa way, to win the ball in dangerous areas and attack the goal quickly before the defence has recovered their shape. This means a much more direct style and less possession based as his teams will play through balls, rather than looking for a square pass.
However, Silva has twice been in charge of top sides. Olympiacos and Sporting. These sides were head and shoulders better than the other teams in their league (with the exceptions of Benfica and Porto), and so he had to play a possession based style whilst teams looked to sit deep against him. That said, his teams scored a lot of goals from a devastating counter attack system, which is where that quote about Olympiacos giving the ball away so they could counter attack comes from, though it is very much tongue-in-cheek and should not be taken so literally.
A player who faded badly after Silva left Watford is Nathan Cleverly. If ever a player is a walking advert for Silva's coaching it is him. He looked like Zidane under Silva.
If we are to play a 4231, then expect something like:
Pickford
Coleman Jagielka Keane Baines
Gueye Davies
Walcott Sigurdsson Lookman
Tosun
However, Silva might prefer the much quicker Calvert-Lewin up top. His fullbacks do not attack as much as we might like. There is always that double pivot (two defensive midfielders) and Sigurdsson will be expected to do a lot of closing down. Tosun would be expected to "start the press" meaning he would be responsible for setting the tone of the closing down, which is why I suspect that Calvert-Lewin might get the nod. Silva would look for goals from the front 4, rather than just the striker.
Gordon Crawford
56
Posted 15/05/2018 at 00:34:26
I don't want silva as manager as I believe we can get better in manchini or Wenger, fonseca etc and I'm not even sure about fonseca. I truly think our club lacks ambition. Anyhow if silva is appointed I'll back him.
But I'll be delighted to see Sam go.
Steve Ferns
57
Posted 15/05/2018 at 00:35:24
Gordon, Mancini is the new Italy manager.
Steve Ferns
58
Posted 15/05/2018 at 00:51:59
Players I do not believe will fit into Silva's system:
Baines - too slow
Schniederlin - too static, needs a mentality change to adapt
Rooney - too slow to be a striker and far too slow and static to be a midfielder
Those players who play midfield need to be able to tackle and burst forwards quickly. The defensive midfield two cannot just sit deep, they need to make runs and get past the playmaker, ie Sigurdsson. There's no way Rooney can play in this system.
The striker is the key position for me, Silva wants a combination of Calvert-Lewin and Niasse's qualities. He will settle for someone like Walcott getting the goals. The two wingers will be expected to be in the box a lot, and if Calvert-Lewin is leading the line, Walcott will be expected to be getting past him regularly, and so will have the majority of the goal-scoring opportunities.
Karl Masters
59
Posted 15/05/2018 at 01:02:19
Steve Ferns: isn't Nathan Cleverley a Boxer? Surely you mean Tom Cleverley??
How about Julian Nagelsmann at Hoffenheim? 4th in the Bundesliga last season, pushing for Europe again now (thrashed Red Bull Leipzig inc Ademola Lookman) 5-2 at the weekend. He's only 30, but has radical training ideas and would be a breath of fresh air!
Gordon Crawford
60
Posted 15/05/2018 at 01:13:23
Well that's one down then. Thanks for letting me know.
Jay Wood
[BRZ]
61
Posted 15/05/2018 at 01:15:06
What does the Financial Services Authority advise investors before handing over their hard-earned...?
"Please remember that past performance may not be indicative of future results."
The same applies to incoming players and managers.
We can speculate and analyze all we like. Yes, the odds see-saw in your favour with proven quality players and managers with decent track records.
However, in both categories, successful players and managers have failed at clubs you would expect them to succeed at.
No incoming player or manager comes with gilt-edged guarantees. It is always a lottery how it will pan out.
I continue to opine changing the manager alone will not magically and totally change our fortunes. Other far-reaching changes are needed as well.
Ernie Baywood
62
Posted 15/05/2018 at 01:16:20
I won't celebrate if he goes as he should never have been here. Getting rid won't restore order - it just gets us back to the same chaos.
So a new start. Hopefully they've spent the last few months working with Brands and wording up managers and will be ready to announce straight away.
Any delay will indicate a lack of planning. Not a perception that Moshiri can afford... again.
Bill Watson
63
Posted 15/05/2018 at 01:19:25
Forget all the names being bandied around. I want Moshiri to give Steve Ferns the job.
Steve: your insights suggest you really know your stuff and are really thought-provoking. What's your analysis of Eddie Howe?
Richie Rich
64
Posted 15/05/2018 at 01:47:45
Good bye, Sam, your playing style will not be missed!
Whoever comes in needs a boatload of money to get us fighting for top 6. I'd be selling half the squad asap and getting in pacey quality replacements.
The only players a new manager should keep in their starting 11 are Pickford, Coleman, Gueye, Sigurdsson, and Walcott.
James Stewart
65
Posted 15/05/2018 at 01:52:56
With Emery, Fonseca, Wenger and Conte all available it is highly underwhelming to still be chasing Silva while the likes of West Ham are interviewing Fonseca already.
Typical Everton.
Steve Ferns
66
Posted 15/05/2018 at 01:55:46
No you wouldn't, Bill. I'd be worse than Walker!
It's harder for me to assess Howe. You can't see enough of him on the training pitch to get an idea of how he would actually do the job.
Howe has done well with Bournemouth, but he has struggled at Burnley before. I think he'd need time to bed his ideas in and for us to see the changes. I Don't think we'd give him time though.
Also, he would need a complete overhaul of the squad to suit his tactics and a lot of players would have to be bought. Our midfield quite simply lacks good passers of the ball, and the players are not fit or fast enough to play the pressing game Howe tries (doesn't work as well as other managers) to play.
I've always had reservations with Howe, and I feel he needs to step up slightly, perhaps West Ham would be a good fit for him. Then we can see a bit better as to how he'd do. The risk the being that he then proves himself for a top 6 job. So, if anything, we'd to gamble on him now.
Steve Ferns
67
Posted 15/05/2018 at 01:58:18
James, we've already interviewed Fonseca and Silva according to reports. Forget which paper, I just read all the websites, and one said we'd already interviewed both. Apparently, Moshiri is settled on Silva though. The problem seems to be that we "made an illegal approach" and so Watford will seek excessive compensation, despite sacking him.
Eric Myles
68
Posted 15/05/2018 at 02:06:46
Sam #21, didn't Martinez improve our results in his first season?
Jim Harrison
69
Posted 15/05/2018 at 02:41:26
Just a thought
If Brands does come in, given the timeline of negotiations with him, wouldn't he know the candidates for the management position now? Would be a bit of a hard sell otherwise?
In which case, if both Brands and Silva do come in, the new director of football would in some way at least be comfortable with the incoming manager?
That thought gives me a degree of comfort, as it would mean the appointment of Silva wasn't just Moshiri's pick. Pure speculation on my part.
Laurie Hartley
70
Posted 15/05/2018 at 02:52:48
John Boon # 54 - 70 years following the blues - take a bow. That takes dedication and resilience.
Steve - I am getting a bit worried, your enthusiasm is starting to affect me and I have been down that road before with Roberto. His sin miedo period had my head in the clouds.
If it is to be Silva I wouldn't have thought Watford could claim that much as they have been going through a manager a year for the last 10 years. Either way if Moshiri wants him it won't stop him hiring him - he seems to be about to flex his muscles.
Darryl Ritchie
71
Posted 15/05/2018 at 03:30:46
Is there anyone in the conversation to replace Elstone? The CEO, with the stadium and other projects, is very important for the future of the club. Moshiri has to get this one right.
Terry Farrell
72
Posted 15/05/2018 at 06:23:28
Amazed that Wenger is still being mentioned on here. He is past it bitter and twisted, stubborn, partially sighted and I couldn't think of anyone worse to be our new manager!
Stewart Lowe
73
Posted 15/05/2018 at 06:30:04
Step up the Portugese Roberto Martinez, Marco Silva.
An OK 4 month's at Watford warrants being the next Everton Manager.
If this happens, I'm taking a year out of football, as a we are going to be here yet again in a year, baying for his blood. Silva knows as much about defending than Martinez did. We will be the laughing stock if the media world when they tell us we got the entertaining football we wanted going forward, yet having to score 3-4 goals to win a game because our defence is like a sieve.
The best Managers know how to defend and attack in equal measure where one is not compromised by the other. Silva and Martinez simply do not know how to defend, whereas Allardyce is scared to press teams.
Ancelotti for me is the right fit at the right time for Everton. Out of work, won it all.
Darryl Ritchie
74
Posted 15/05/2018 at 06:34:05
Terry, Wenger's said that he will never manage a premier league team, because he doesn't ever want to manage against Arsenal. So while your argument is sound; your point is moot.
Colin Glassar
75
Posted 15/05/2018 at 06:36:03
Happy days are here again,
The skies above are clear again
So let's sing a song of cheer again
Happy days are here again.
Piss off fat Sam!
Jamie Evans
76
Posted 15/05/2018 at 06:47:03
Thank the maker.
John Malone
77
Posted 15/05/2018 at 06:48:10
Rafa benitez is the best candidate available forget the LFC ties he would love a move to us with his home still being on the wirral and us having fund's in the bank.
It's a no brainer the man has won league title's and european cup's and has made Newcastle a half decent side on a shoe string budget in a short space of time.
Marco Silva could be something special but is a real gamble why would take that risk when there is proven guy's out there!
Brian Porter
78
Posted 15/05/2018 at 06:58:56
Just to show how out of touch the so-called pundits are, this is Paul dickhead Merson's end of season managerial review of Fat Sam at Everton.
Paul Merson on Sam Allardyce: "I think he's done a great job, I really do. At Southampton they looked all over the place and didn't look like they were going to win another game. Let's put it this way, if he'd gone to Swansea, West Brom or Stoke at that time, they'd have stayed up. You cannot knock the job he's done in my opinion."
For God's sake, a great job? Really? Has Merson actually watched an Everton match under Allardyce? I doubt it very much. Ffs, get rid quick so we can stop reading this type of media garbage.
Jim Harrison
79
Posted 15/05/2018 at 06:59:21
Would Rafa work well with a DoF?
He also has a habit of getting a bit flouncy when he doesn't get his way.
He would undoubtedly be a fine candidate for the job though. Can't see it happening.
Guy Hastings
82
Posted 15/05/2018 at 07:14:58
Moshiri might well have a world beating strategy when it comes to getting us a new ground. I happen to think he's clueless when it comes to the playing side of the club. I have grave reservations about Silva, unless he fits in with Brands from the off. If we were originally being nudged towards Silva by Walsh then I'm doubly doubtful about his appointment.
Kevin Moorcroft
83
Posted 15/05/2018 at 07:15:16
Merson is right, by the way – Sam Allardyce did the job he was asked to do. Some ungrateful people will always complain and God help who comes next if things don't go rosy.
It's been a lesson, especially for Moshiri, which has had to be endured but we could be in The Championship now all be it for the hated one.
There will be plenty going on this next couple of weeks if we're to get going before the World Cup, which is important. Hopefully a move will be made for Benitez or Howe as an outsider for the post.
And we need to get Lookman back on board!!!!!
Jerome Shields
84
Posted 15/05/2018 at 07:17:36
I'm glad he is going, he was damaging the Club. Walsh is paying the price for backing Big Sam's appointment. Koeman had to go for the same reason.
I'm glad Rooney is going also. His season with Everton and transfer to America was predictable when he was signed. I am still convinced that Unsworth would have done as well, with less damage.
We need a five-year plan now. Next season will be a rocky one, whoever comes in, but hopefully at last we are heading in the right direction at least.
The three main problem to be sorted are: the legacy of Koeman's unstructured Summer transfer window; the Youth development decimation by Big Sam; and the aged squad.
This is a big job. Everton's ability to attract a suitable manager and players who are willing to take a career chance will be decisive.
Philip Bunting
85
Posted 15/05/2018 at 07:23:14
Silva far too Risky for me. If this goes tits up by Nov who on earth do we turn to?. Eddie Howe would be a far better bet long term and has a lot to offer...proven also in premier league and this would naturally be his next step. Other than that Rafa would be seen as a good appointment. Silva to me is like playing Russian roulette
Stephen Jones
86
Posted 15/05/2018 at 07:32:20
Benitez is a no brainer for me.
Sound tactician. Proven winner.
Has proved he can do it on a limited budget by turning a poor Newcastle around.
Plus he may be able to entice Shelvey and Matt Ritchie to join him.
Unfortunately some fans would not countenace him because of his previous association with Liverpool and his 'small club'
comments.
Pity.
Ian Jones
87
Posted 15/05/2018 at 07:40:09
I could also see Steve Ferns as managerial material but would need to check up on his analysis of Tom Cleverley. He did fade away after Silva left but to be fair to him he has missed the last 3 months of the season with a hamstring injury
His penalty at Goodison is my highlight.
:)
Marc Hints
88
Posted 15/05/2018 at 07:41:25
This is some extracts from players Marco Silva has managed:
I for one will give him backing if he becomes manager.
Panama's Tony Taylor was a team-mate of his at Estoril and recalls how Silva "switched the whole thing around" upon being promoted to manage the club. From second division strugglers, Silva even took Estoril into Europe. "His training was just so good," Taylor tells Sky Sports. "He was tactically sound and very attentive to the details."
Estoril's captain Steven Vitoria could hardly have been clearer about who was the catalyst for the club's rise. "Even now, if you asked anyone involved in the recent history at Estoril to point to the one person who was responsible for all of this, whether it was players, staff or fans, they would all come up with the same name," he tells Sky Sports. "It was Marco Silva."
At Olympiakos, Silva won the title and impressed his players once again with his work on the training ground. "It was amazing," Pajtim Kasami tells Sky Sports. "We won 17 times in a row. You could see right there that he was a manager with a big future. He is very intelligent tactically. He devotes a lot of time to the details.
"He is like a genius."
Marc Hints
89
Posted 15/05/2018 at 07:45:58
Phil Bunting #85
Nobody at Arsenal had heard of Arsene Wenger when he took over and no proven premiere league experience and look at what he did so not sure how you can say to risky.
Sorry I think Premiere league experience is irrelevant, if your a good manager you should be able to manage in any league.
Andrew Ellams
90
Posted 15/05/2018 at 07:59:32
Paul Smith @ 32. Now I want Fonseca to get the job just so we can refer to him as the Fonz
Ed Curry
91
Posted 15/05/2018 at 08:05:11
I think some on here would have an issue of pep became our manager. That's what's so good with us armchair managers.
Chris Donnelly
92
Posted 15/05/2018 at 08:07:33
Paulo Fonseca... please, give him a season to adjust, give him the resources to change the feeling in the club, he has a personality that brings good feeling to a club.
If Pep rates him, who are we to argue? The one person who took the league by the scruff of the neck and gave football that we can only dream of at Goodison Park.
If Moshiri is serious about his investment in our club, he should break the chains and bring back the years of triumph.
A complete overhaul and direction is what we all want and Fonseca and Brands will be our saviours.
Len Hawkins
93
Posted 15/05/2018 at 08:07:55
Marc Hints #88 It is all very well players telling us about the way Silva goes about his job, but there are butchers bakers and candlestick makers on here who know far more than any player could ever know. Left to them NO ONE other than the usual candidates riding the Failure in Football Management Roller Coaster would get the job.
Adam Scott
94
Posted 15/05/2018 at 08:16:03
Stuart 73. Sorry, but that is just really lazy analysis. His whole football style, as Steve Ferns points out, is totally different.
He is being appointed on his reputation as a man manager and coach. Wonders at Estoril, trophies at Sporting and Olympiakos, and a really good 23 points in 19 games with one of the PLs most dysfunctional and sorry teams in Hull.
Opinions are fine, but when it is based on total fallacy it really undermines the point.
John Keating
95
Posted 15/05/2018 at 08:23:05
Agree with John Malone at 77.
If we have a chance I would approach Rafa Benitez to see if he would be interested.
A winner, experienced, knows the British game inside out, to me there's no risk if he came here.
Regarding his past over the road, well, if we can't get over that then we'll forever be an also ran.
We haven't done too bad with past members of the RS have we?
Rob Dolby
96
Posted 15/05/2018 at 08:30:07
I wouldn't touch 'Rafa' with a shitty stick. The small club comments whilst managing the media darlings over the road are enough for me to say no.
Bring someone in who has hunger for the role and sees us as a step up.
Marc Hints
97
Posted 15/05/2018 at 08:41:47
Len #93
Yes agree we all seem to be experts on who the best manager is. I can only read what is said on the internet and like to think that footballers who have worked with managers know a bit more about them than we all do. I do like Silva as from what I can understand is he likes to man manage and take training which I think Everton needs right now with the crop of players we have.
Paul Smith
98
Posted 15/05/2018 at 08:44:14
If Allardyce had 19 games at Everton & we got relegated he'd get dogs abuse but Silva has 19 at Hull and its not his fault - bit of cognitive dissonance here.
We are where we are: a mid table team who can't atttact a top manager. As soon as we can accept it we might move on. We must gamble as we don't have the luxury of certainty.
Andy Codling
99
Posted 15/05/2018 at 08:51:16
I wonder if Duncan Ferguson will be fucked off as well or will he be kept as part Kenwrights sentimental team, including the other gobshites Jeffers and Baxter!
Bobby Mallon
100
Posted 15/05/2018 at 08:57:44
I am going to buck the trend here and say we need to get that young Hoffenheim manager arsenal are after ASAP
Ray Jacques
101
Posted 15/05/2018 at 09:03:33
Ferguson, Jeffers, Baxter all employed by EFC. Says a lot about what a farce our club is.
Paul @ 98 what a great post.
ps: I don't want Marco Silva as manager.
Steve Ferns
102
Posted 15/05/2018 at 09:05:45
Bobby, I've put forward Julian Nagelsmann's name a few times. He's a top candidate but it seems he's unlikely to leave Germany just now.
Frank Key
103
Posted 15/05/2018 at 09:12:33
I view the sacking of Allardyce being left this long as an easy opportunity lost to bring disenchanted fans back on side.
After the shite he spouted about the survey, the gruel served up on the pitch (even after we were safe), and general contempt shown towards the fans, he should have been sacked weeks ago.
Instead, the saga rumbles on alongside the lack of clarity on the CEO, DoF, Rooney and Bramley Moore.
With the exception of our excellent work in the community, we are an absolute shower of shite in every other respect both on and off the pitch at the moment.
Michael Lynch
104
Posted 15/05/2018 at 09:22:57
I'm slightly surprised that both Fonseca and Emery are ahead of Silva in our poll so far, with Rafa only one point behind Marco.
As far as I'm concerned, it's a bit of a lottery. But Steve Ferns has done due diligence on Silva and he sounds worth a punt over the others from my perspective. As Jay Wood (BRZ) said above, past performance may not be indicative of future results etc, and whoever comes in as manager will still have to work with our mediocre squad and clueless structure, but I see it quite simply really. Which man on the touchline come August 11th will mean I take my seat with a thrill of anticipation of what's to come? I'd probably say Silva, with maybe Fonseca and Wenger as next on the list. Rafa would really worry me (not that I think he's a realistic choice) - I mean, imagine what the atmosphere would be like if we're struggling under him? It would make the way we've treated Allardyce seem like a guard of honour.
Phil Walling
105
Posted 15/05/2018 at 09:29:20
Well, everyone has heard of Marco Silva, Marc @88. He's the guy who supervised Hull City's relegation and then fucked up Watford by courting the job at Everton !
He might be good at'man-handling players into position on the training field' but his Premier record stinks. If he's the best that the useless Moshiri can come up with, I'm finished with what's left of a onc great club !
James Marshall
106
Posted 15/05/2018 at 09:37:38
Can we please drop the Eddie Howe thing - his teams are useless defensively. Bournemouth conceded 61 goals this season just past. Yes they play neat & tidy football and won a few against the top teams, but seriously, look at the bigger picture.
I'm not keen on SIlva either, but the way Everton has been run over the last 30 years I (strangely) can't muster the enthusiasm for any new manager at the moment.
It all just feels as though whoever comes in is going to have a hard time given the level of many players in our squad, and the clubs standing in the game these days. We don't support a top team anymore, and there isn't a current player alive that's ever seen us win anything or even compete at the top.
Mark Palmer
107
Posted 15/05/2018 at 09:40:43
I'm not sure what kind of club some people on this forum want. Or, how they think we can compete with richer clubs by buying success. How many millions have been wasted on poor decisions? What is our identity? We seem lost and scratching around for something to be proud of once more.
Remember the bad feelings aired against David Moyes at the end of his tenure? He wasn't good enough for us.
Then the incredulous amazement at the football we were suddenly playing under Roberto Martinez when we were a joy to watch and winning regularly. But, decent man as he is, he was also slated at the end by some of our fickle fans. He wasn't good enough for us.
Give me Rafa Benitez all day. Who really cares about a comment made years ago? He was the Liverpool manager verbally abused at every opportunity by Everton fans. So he gave a little back. So what? His candidacy, should he even want to come, would be stronger than anyone else's and for good reason.
Whilst we're pontificating over who's going to be our next manager, our neighbours are preparing for another major final.
A list of English club trophy winners in the last 20 years does not contain the name Everton. Benitez is a winner.
Sam Hoare
108
Posted 15/05/2018 at 09:44:29
Eric@68, I mean before he came to us. Wigan's league results were no better under Martinez than under Bruce, in fact they were worse. One of the many reasons why comparisons to Silva are lazy and inaccurate. Silva improved Hull and Watford's results, Martinez had not.
There are a few interesting options:
The pipe dreams: Emery, Simeone, Conte, Ancelotti, Wenger(less so but he's signalling he want international football)
The 'safe' options: Howe, Dyche, Benitez, Moyes(?!), Keeping Allardyce (?!!)
The left-field options: Nagelsmann, Arteta, Viera, Laurent Blanc, Cocu.
The Portuguese flava: Silva, Fonseca, Sergio Concecaio, Villas-Boas(?), Rui Vitoria.
Beyond the pipe dream options my choice is Silva.
All new managers have an element of risk but I feel that him and Brands could usher in a new, forward moving era at Everton. Make no mistake we have squad that is no-where near the top 5 and I don't expect could be for at least a couple of years. But a strong, hard working coach with an intelligent, capable, forward-looking DOF could utilise some of the potential we have with the kids and blend a team that plays entertaining football that is capable on their day of beating anyone.
I think whoever takes over that next season, 5th-7th, with good football, some big scalps (a derby win?!) and maybe a cup run would represent success. It's got to be a long term plan with incremental improvement. The gap is too big and we are a mess currently. Hi ho Silva for me.
Rick Tarleton
109
Posted 15/05/2018 at 09:51:49
I'm not sure how what Silva did at Hull and Watford makes him a better choice than Dyche, Howe, Hughton and Wagner(alphabetical order) but I prefer any of the five to Allardyce.
Salim Rehman
110
Posted 15/05/2018 at 09:55:13
Can someone tell me why the likes of Dyche & Howe keep getting mentioned at Everton and not at WHU, Gunners, Chelsea?
What exactly have these two managers done that some of the Everton fans want them especially Howe?
Howe team leaks goals just like Martinez team did, and Dyche well... remember boring boring Arsenal? Exactly.
If Everton are to compete in the top 6, and this will not happen overnight, give it a 2-year timespan with a manager someone like Conte, Benitez, Pellegrini, Pellegrini & Arteta (combo) or Wenger & Arteta (combo), but not Howe, he doesn't excite me at all (sorry).
Paul Mackay
111
Posted 15/05/2018 at 09:56:21
I don't want Silva and I'm worried that so many other fans are not keen on him either. My worry is that that fans will turn on him quite quickly if he does not deliver quick results.
Personally, I'd like to see Howe given a chance.
However, I think we would all give a big name manager more time to improve the team.
With Silva I can see the "he was never my choice anyway" comments by xmas.
Laurie Hartley
112
Posted 15/05/2018 at 09:56:26
Settle down Phil - life is full of surprises - we are due a few.
Brian Williams
113
Posted 15/05/2018 at 10:01:25
Sacked tomorrow! Not long now lads.
Bobby Thomas
114
Posted 15/05/2018 at 10:03:54
James Marshall #106
Agree on Eddie Howe who I feel the term, "he's another Martinez" applies to the most.
Eddie Howe had done a really good job at Bournemouth, and he deserves massive credit for keeping them up and then riding out the bad start they had to the season. They could have sank.
However the long and short of it is that at times Bournemouth can be absolutely woeful. One dimensional and defensively shambolical. As Martinez found out here when the going got tough, the difference between managing a club like Everton and a Wigan, or Bournemouth, is night and day. Just as Koeman did, in fact.
Michael Lynch
115
Posted 15/05/2018 at 10:05:08
Worst case scenario is we go for Silva and Watford starting bleating again. The lawyers get involved, and the whole thing becomes a long drawn out saga like the Siggi business last summer. We need to have a new manager and DoF in place before May is out, otherwise we're playing catch-up and we only have til August 9th to sort it out, with a world cup in between. Transfer window opens June 9th, we need to hit the ground running.
Bobby Thomas
116
Posted 15/05/2018 at 10:11:38
Rick Tarleton #109
If Sean Dyche went by the name Seanio Dychio then Moshiri would probably have appointed him by now.
If Kenwight was still calling the shots I think he'd already be here.
Marc Hints
117
Posted 15/05/2018 at 10:14:46
Phil #105
Cheer up, I am only stating what I read on the internet from players who has worked with him.
I like yourself have no idea if he will be the best candidate or not, he may have had a crap time in the premiere league so far but his record before that is very good.
I just thing think he is young, hungry to succeed and wouldn't mind at all if he was appointed but that is just my opinion.
Terrance Keating
118
Posted 15/05/2018 at 10:15:40
Just read an article in the express sighting Conte, Unai Emray and Rafa Benitez as potential replacements for David Moyes.
I understand it could all be media spin, but slightly concerning they don't think linking such names to Everton would be as believable as linking them to a side who narrowly avoided relegation!? How is this the case?
Seb Niemand
119
Posted 15/05/2018 at 10:30:12
48 hours? That's 48 hours too long!
Jerome Shields
120
Posted 15/05/2018 at 10:30:57
I think Fonseca is the best replacement. I am worried about Silva, but was a bit more reassured having read Lyndon analysis.
The important thing is that the new Manager has a five-year plan to get into the top four. Everton fans will recognise it when they see it. Everyone is prepared for a rocky next season.
There has been a lot of harm done these past two seasons; Martinez left Everton in better shape than Allardyce football-wise. The remnants of Moyes's glass ceiling mentality in the form of now aged players was never addressed.
With Moshiri taking more financial control, this would suggest that there is enough money to cover costly mistakes to learn and move on.
Hopefully, Brands is in place early since we need someone to attract the right players. Walsh was all right getting the odd good player, but when it came to the big buys, he was out of his league and hadn't the necessary presence, going along with the follow-up.
The team we need is defensively minded, who can quickly change to offensive play and be relentless in attack. I remember being at Tottenham at the end of the season. Only they could stop Everton winning the league. Tottenham looked good, but Everton persistently came back at them with a vengeance. Those were the days.
Lennart Hylen
121
Posted 15/05/2018 at 10:35:28
Marco Silva :(:(:( Is that the best we can get? Oh my good!!!

Mark McDonald
122
Posted 15/05/2018 at 10:35:44
Fans will turn quickly on "any" manager who does not deliver quick results. Every new manager is fully aware of this. It shall be a huge challenge, whoever it is, after the season we have had, so it is vitally important the board gets this new appointment right.
I have my own personal favourite candidate but I shall firstly wait for the announcement with sheer joy, that Allardyce has gone followed by the naming of our new manager, shortly after.
Tony Everan
123
Posted 15/05/2018 at 10:43:38
Watford won't get a penny, they have probably made more back door approaches for managers than any club in existence.
Tony Abrahams
124
Posted 15/05/2018 at 10:45:06
Once Allardyce goes, I want Moshiri, to take his time, and get this next appointment right.
The lack of urgency makes me feel that Brands, has been lined up to work with Silva, for a while, but football is full of surprises so who knows?
I also think Huddersfield are one of the worst premier lge teams I have ever seen, so that's a good call off Laurie, and shows how much there should be to consider, when making such an important decision on selecting a new manager?
Andrew Ellams
125
Posted 15/05/2018 at 10:45:34
Michael @ 115, Watford sacked Silva. I'm not sure they'd have much of a case if we employed him.
James Marshall
126
Posted 15/05/2018 at 10:45:42
I think there's a fair few of us who just feel that Silva is another failed manager who's only managed smaller PL clubs ala Martinez.
Yes there are cases for/against him, and plenty of people have put forward convincing arguments for the all his positives and history before his PL years, which I think are as valid as the negatives.
As per my first paragraph, it just feels like we're bottom-feeding again, which given Everton's status as a club these days, might well be all we're entitled to.
George Cumiskey
127
Posted 15/05/2018 at 10:54:59
James Hill and Paul Smith must be gutted, they've been banging the drum for Allàrdyce ever since he's been here.
Tony Abrahams
128
Posted 15/05/2018 at 10:55:35
This fella could be anything though James? To take over a team that was rooted to the bottom, and nearly keep them up whilst being lauded by the fans, isn't really a failure imo.
Watford, had a nearly new team once again, and only once Everton, turned their managers head, did there results really suffer. I thought they were the much better team at Goodison, before our crowd got really engaged for the only time this season, but maybe defence his this managers Achilles heel?
I remember Watford tearing Chelsea to shreds at Stamford bridge this season, with football I haven't witnessed for a long time off an Everton team. Full of pace, movement, forward passing, but very bad finishing, which might have possibly contributed to them losing the game more than bad defending
Steve Brown
129
Posted 15/05/2018 at 10:56:29
Rule of thumb should be that if the new manager shares any characteristics with either Martinez, Koeman or Allardyce then we discount them.
I actually think the initial paper links to Silva were just the usual lazy journalism. He was the guy they were after last time, so let's start with him. Winning one game in eleven before getting the sack is a relevant data point. But then, this is Everton and we hired a manager who had just got his team relegated!
Chris Jones [Burton]
130
Posted 15/05/2018 at 10:59:47
It occurs to me Sam has financed his own sacking.
When he took over we were 13th, and he dragged us up to 8th. The difference in prize money between those finishing positions is circa £10 million.
So after paying Sam off, that leaves us with almost enough to finance the sacking of the next guy as well :)
Tony Abrahams
131
Posted 15/05/2018 at 11:02:14
Steve, Allardyce has only lost two of his last nine games yerno!
Derek Thomas
132
Posted 15/05/2018 at 11:03:56
In the poll I flip flopped about 8 times between Fonseca and Silva, with the odd Wenger thrown in for good measure.
In the end I went with Silva based on Steve Ferns's in depth piece. But all said and done, Fonseca, Silva or anybody else...its still a gamble.
We have to hope Moshiri gets it right
Tony Everan
133
Posted 15/05/2018 at 11:05:47
The TW managers poll highlights that there is no clear best option according to the fans.
It also means that whoever gets the job will have fans moaning, "I wanted Emery"
"Howe is 4th after 3 games, we are 14th!"
"Silva has got West Ham into the top 6and we are stuck with this Koeman mk2"
It is a plain, bald fact .It will go on and on, whoever we choose.
It is difficult for Moshiri to please everyone, when the best showing in the poll is 16%
84% prefer someone else, and about 90% don't want their preferred candidate either!
Whoever gets it I will give 100% support to. After Koeman and Allardyce any of them on the list will be a better option.
My vote goes for Silva, even though 87% would rather have someone else.
The massive differences of opinion will probably mean that whoever comes will get criticised to within an inch of his life on here. Non stop.
Can Evertonians be patient ? Can we accept dips in form and incremental progress?
You will have to .
Derek Knox
134
Posted 15/05/2018 at 11:05:59
Confused dot com. I think most of us are, the more names that get suggested, the more questions and more doubt creep in.
Any appointment represents a gamble in my eyes, there are no guarantees, each potential candidate probably has few failures or bad seasons on their C.V. as well as the successes.
Different Leagues, different players and different pressures can all contribute to success or failure in equal measure.
At the end of the day, Moshiri will appoint who he thinks is the right man for the job, what we think as fans, or who we want will have little or no influence on that.
Many of us, and quite rightly so have questioned Steve Walsh's recommendations and signings, and querying why he hasn't been given the boot already. Quite simply, he was Moshiri's choice, so dismissal would be an admission by Moshiri that he had goofed big style.
Maybe he is waiting for the alleged, and much anticipated arrival of Marcel Brands, to assist him in making, what will be key decisions in the forthcoming week or so.
Which is equally worrying if the next Manager is down to him alone, as he has more than proved he knows little about Football, and even less about Everton Football Club.
Chris Mason
135
Posted 15/05/2018 at 11:11:40
Should this happen, we should make a move for Benitez. Experienced in the Premier League, great man-management and has a name players across the world respect.
Yeah, he was a red... but so is little Sam and besides. Benitez has managed several clubs since those RS days.
Fran Mitchell
136
Posted 15/05/2018 at 11:14:32
Hopefully if it is Silva, he won't have spent the last 6 months drinking by the beach and working as a pundit on some portuguese sports channel, but that he will have been watching football around europe, speaking to agents and scouts, visiting different clubs and viewing their training sessions and set ups.
I hope whoever it is, that they are ready to jump in, dedicate 110%, innovate, and have a plan as to what they want, both style and playet wise.
James Hughes
137
Posted 15/05/2018 at 11:19:15
Tony in how many of those nine games did he attempt to play football though?
Soren Moyer
138
Posted 15/05/2018 at 11:26:38
Confirmed.
Michael Lynch
139
Posted 15/05/2018 at 11:36:08
Sky saying Allardyce is gone in 24 hours to be replaced by Silva
Brian Harrison
140
Posted 15/05/2018 at 11:36:12
My vote was for Silva, I read a piece by Ryan Mason who played under Pochettino at Spurs and Silva when he went on loan to Hull. He said that Silva is a workaholic and his attention to detail was unbelievable, even were players should be from throw ins. Mason rated him very highly, and seeing as he has absolutely nothing to gain by saying this as sadly his career in football has been ended by a head injury, so I find this very interesting. I would just add that some have said he is like Martinez, this destroys that myth Martinez didnt even work on defensive corners never mind throw ins.
Pete Clarke
141
Posted 15/05/2018 at 11:41:56
I don't get this criticism of Eddie Howe. He has brought a team up 2 divisions, made very few changes to that team and yet maintained Prem status whilst having a go at any opposition.
We have shipped 58 goals this season with a 7 man defence at times, Leicester have shipped 60 and even Arsenal have shipped a few.
I would love us to get Simeone. A manager who I tactically aware in his game plan but let's be honest, we have zero chance of getting anybody of that Calibre.
Silva, Fonseca, Dyche and Howe are where we are at and we can only hope that if it's one of these then we get lucky and they come good but no matter who it is has a bastard of a job on their hands at this jinxed club of ours.
James Hill
142
Posted 15/05/2018 at 11:47:33
What a disaster if we get Silva. Check his CV before he managed to get into the premier league. Hardly a winner . Well done Everton Martinez MK 2 minus. What a train wreck we truly are. Well the supporters deserve all the credit for this one if it happens.
Jon Withey
143
Posted 15/05/2018 at 11:49:50
Think Allardyce has done a solid job and what was expected of him - and paid very well for it !
Glad we are going to have a go with another manager though as his football just doesn't inspire any hope that we would win anything - even on our day.
What's just as interesting as the manager is their coaching team - who would Silva bring ?
Colin Malone
144
Posted 15/05/2018 at 11:51:46
I'm pretty sure Marcel Brands will have a big say on the next Everton manager, if he arrives at the club. Scouting for players for big Sam, 6ft-5in, strong, no ball skills etc. No-brainer... Walsh or anyone could do.
Completely different matter for a proven coach, ie Silva. So I think things are happening as we speak regarding the new manager and Brands, to see if they are comfortable with one another.
Marc Hints
145
Posted 15/05/2018 at 11:54:00
James #142
Not sure what CV record you are looking at before he went to the premiere league:
Estoril - played 116 only lost 31 and got them to win the second tier Championship
Sporting - played 57 only lost 7 and won the cup
Olympiacos - played 48 only lost 7 and won the league
Laura Round
146
Posted 15/05/2018 at 11:54:46
Michael 115
Transfer window opens Thursday! Must have Silva and Brands done this week if that's the plan.
Michael Lynch
147
Posted 15/05/2018 at 11:56:44
Laura
You're quite right! Even more urgency then as you say.
Jon Hirshman
148
Posted 15/05/2018 at 11:59:10
As I said on Twitter to Watched Toffee stop gloating over this. It will be the correct decision to relieve him of his duties but I would like to thank him for saving us from relegation. He was never going to be a long term appointment, it was a just a question of whether he did the full 18 months or just to the end of the season. We now need to concentrate on getting a long term appointment, not on the soon to be former manager. Don't behave like dicks. We are Evertonian and we need to be so much better than that. We are not classless kopites.
Laura Round
149
Posted 15/05/2018 at 11:59:30
Hopefully silva has known he's coming for a while (I believe so). Hope he's watched us and has a plan and a list of ins and outs.
Jim Bennings
150
Posted 15/05/2018 at 11:59:38
The dream for me would be a 2 or 3 year deal for Arsene Wenger with Arteta as number 2 and the plan to eventually take the reigns from Wenger in a few years.
I think Wenger would get the required patience and respect from the fans also due to his knowledge of English football and style of play , and patience from the fans is very very important .
I'm not convinced Silva or even Fonseca would gain those same patience if things weren't going great come Christmas and it could quickly turn into another ugly season but time will tell obviously, it will be a very intriguing period.
Johan Elmgren
151
Posted 15/05/2018 at 12:02:24
Any appointment of a new manager is a risk. If we want safe we should keep Allardyce.
I feel Silva is a good bet. Watford were playing good football before we approached him, and their squad isn't exactly full of worldbeaters. With some high quality additions I think we will prosper with him at the helm. And I think he would be very good for our young 'uns as well... He seems good at man-management. I think he can turn Lookman, Vlasic et all into very good players.
But what a relief it is to see the back of Allardyce! That's the best part of it all...
Scott Hall
152
Posted 15/05/2018 at 12:03:24
If it is Silva, can we please all just get behind him and give him a bit of time? We're not going to be top of the league at Christmas, we'll win some and we'll lose some. But hopefully our style of play will improve.
The big challenge for the new manager is the playing staff. There are a lot of players too old for the premier league now, there's players that are simply not good enough, and there's players with potential but who are not quite ready. It's really not a good mix and one new manager coming in will not be able to fix all of that in 6-8 months.
We are a huge rebuilding project and not even Pep could come into this squad of players and get them fighting for 4th spot. Silva (or whoever it is) needs a lot of time and all of our support.
Let's put this nasty episode behind us and get back to supporting the blues through thick and thin. As long as we see the passion and fight return then I'll be happy and patient.
Justin Doone
153
Posted 15/05/2018 at 12:04:08
My 1 man bandwagon for Mancini hasn't worked.. Again.
Next up for me is Emery. Proved he can get the best and over achieve with Saville as well as manage the big egos and expectations at PSG. At the same time playing good attacking football on the ground. I'm sure Arsenal and Chelsea will go for him.
However we previously chased Silva so I'd be surprised if he wasn't still the main target. I'll give him credit for quickly implementing his style of football at Hull and Watford which is far more pleasing to watch.
However the goals they shipped by defenders messing on the ball overplaying is a definate issue he needs to learn and be prepared to change style and players when it matters.
I'll take 2 years of 10th, avoiding relegation scraps and hopefully giving youth a chance whilst he learns over the Sam football. Then hopefully we can move onwards and upwards towards European football before the stadium move.
Definitely back to the Martinez entertaining football, goals at both ends and after the dross of this season I'm more than happy with that. NSNO
Tom Bowers
154
Posted 15/05/2018 at 12:04:13
Hard to envisage who could do a good job at Goodison.
It's kinda hit or miss even for guys with a good CV.
I like the work of people like Eddie Howe and Sean Dyche although no trophies but much will be expected no matter who comes in.
I suppose Silva is the obvious one just now but what happened at Watford after Everton's approach last time is something I wasn't impressed with.
We can all find fault with many of the names bandied around but you need a man with motivational skills who has the know how to formulate strategies that utilizes the best of the players you have.
Mancini did that at Leicester and then one season later was sacked, unfairly in my opinion.
Finishing eighth wasn't bad because the way Everton performed in many games warranted relegation.
A new man will no doubt do his own''Spring Cleaning''
so let's hope it works out well for whoever gets the hot seat.
Sam Hoare
155
Posted 15/05/2018 at 12:07:32
It seems to me that are a few people who were unsure, did some deeper research and came back feeling like Silva is a good option. I count myself in that group.
No candidate is going to please everyone but I genuinely believe that if you do some proper digging that the portents for Silva look promising. Still a risk of course but if we are looking for our own Pochetinno then he looks the closest thing to me.
Jim Bennings
156
Posted 15/05/2018 at 12:08:55
Tom
It was Ranieri that did it at Leicester not Mancini.
I doubt Everton would pursue either of these two though.
Sam Hoare
157
Posted 15/05/2018 at 12:15:22
Jim, Wenger and Arteta would indeed be a dream team but its not going to happen.
Wenger has said he wants time to consider his options (we need a manager pronto). He's also said he's interested in international management and would struggle to manage a team against Arsenal. I reckon he'll take a national job after the WC and maybe another team after that experiment.
Why would Arteta leave his job as apprentice at City to be apprentice at Everton? Surely he'll stay learning from the master till he gets his own manager job? Plans to 'take over the reins' often fail to materialise for number 2s at any rate.
James Marshall
158
Posted 15/05/2018 at 12:27:00
Marc@145
I was just trying to stop the Silva supporters from laying into me by covering myself saying that about his previous record - then ironically you pull me up on it anyway!
This is the problem with TW, it doesn't matter who you back, or how you try to cover every avenue when you post, someone will always, without fail pull you up on it.
I don't like the idea of Silva, just for the record, based on, well, his record.
Jay Wood
[BRZ]
159
Posted 15/05/2018 at 12:27:35
So I read Phil McNulty on the Beeb this morning that Silva and Brands are close to joining, but was hugely disappointed to read that Denise Barrett-Baxendale is likely to replace the outgoing Elstone in the CEO role.
Now unlike some I take huge pride in what EiTC do. But this is a bad-bad-BAD appointment if true.
To crib from Meat Loaf, in this case 'two outta three IS bad'.
If Moshiri opts for this, he still isn't 'getting' what we need.
No way on this plant does she have the necessary skill set a 21st century CEO of a PL club requires.
Kevin Tully
160
Posted 15/05/2018 at 12:27:57
Any new manager will have to deal with a squad of players who have seen off 4 managers now (or 3, and a caretaker)
If you ask me, Finch Farm would be the place I would start. There are proven bad apples there. Whether that's the old guard, or new squad members, we don't know. I would ask why Duncan Ferguson is still a first team coach after being part of these failed regimes? Does someone insist he is kept on? If so, how does that work if the new manager doesn't get on with him? Undermined from the very beginning.
One thing is clear, whatever we have been doing isn't working, and is unlikely to get us past 7th position. Will there be wholesale changes? I mean coaching staff, playing staff, even the fucking chef. The whole place is rotten if they've managed to piss off all these managers. Identify the problems and eradicate them. Until then, we can look forward to another bucketful of dross for the foreseeable.
Ian Burns
161
Posted 15/05/2018 at 12:28:03
Steve Ferns - I agree with those who have given Steve a pat on the back for his deep knowledge of the game and its players/managers. Steve, a question for you. If Rafa was suddenly available, would you still stick with Silva?
Ed Fitzgerald
162
Posted 15/05/2018 at 12:31:56
As long as FS goes I am happy. If it's Brands and Silva then we all need to get behind that team. I would personally love to see Eddie Howe as I think to get out of the championship and keep Bournemouth in the premiership for three seasons playing attacking football is a minor miracle. Plus he hasn't had unlimited resources, is clearly a tracksuit manager (a coach) oh and he is a Blue.
I just want to start looking forward to going to the game again and as soon as FS goes I will.
Marc Hints
163
Posted 15/05/2018 at 12:50:46
James #158
no worries it is good to debate and hear opinions of other ToffeeWebbers and the arguments that everyone has. If we had Pep we would all still be arguing the pros and cons.
Brian Harrison
165
Posted 15/05/2018 at 12:53:22
Jay
I totally agree the rumour is that Denise Barrett-Baxendale is to replace Elstone, and running a charity is a lot different from running a Premiership club. There is no doubt she has done a terrific job with EITC, but for this role you need someone who understands all aspects of a football club. You only need to look at Manchester United when they brought in Woodward as Ceo to replace Gill, he really struggled at first, and they changed their manager and CEO at the same time with Moyes taking over from Ferguson. Maybe the role of our CEO will be different when Brands comes in as DOF.
For those unsure of who our next manager should be I would suggest you read what El Pivote says when comparing Fonseca and Silva a very well researched piece on both men. H e believes either will do a terrific job at Everton. I hear Moshiri is flying in today to meet Allardyce and maybe he will announce our new manager and DOF before the weekend.
James Marshall
166
Posted 15/05/2018 at 12:54:47
Eddie Howe/Bournemouth conceded 61 goals last season. I'm not sure how many times this needs repeating, but please, no, not Eddie Howe.
He has about as much idea about the defensive side of the game as El Bob.
Brian Wilkinson
167
Posted 15/05/2018 at 12:55:05
Before writing the next manager off and the I do not fancy this guy as next manager, let us all take a deep breath and have a little time out with the news of Sam leaving.
This itself is great news, enjoy the moment and thank the Lord we do not have this guy here next season.
I for one am not even going to worry about the next manager for a few Days, I am going to chill out and take in the moment when Sam finally leaves our club.
Steve Ferns
168
Posted 15/05/2018 at 12:59:30
Worryingly, the BBC state that Denise Barrett Baxendale will be made CEO. It's tagged onto the bottom of their article about Allardyce / Silva.
Paul Birmingham
169
Posted 15/05/2018 at 13:01:18
Ernie at 62 spot on. The board must bring in new blood and define a new era for the club.
Interesting who, whom will be driving the qwest for the new manager..If Marcel Brands will be joining the club let's hope that he and the new 1st team manager will be able to get on.
Many tales from FF about how RK and SW didn't get on, so hopefully new order at GP and FF, by this weekend, and we start the new season with a purpose.
Phil Walling
170
Posted 15/05/2018 at 13:03:42
He's gone but only to be replaced by another no-hoper from the Martinez relegation stable.
Moshiri is a fecking clown who, unfortunately chose to make Kenwright rich beyond his imagination. No forgiveness there then.
Believe me, we are the new Aston Villa and will suffer the same fate. I shall not bet nor post against the club or its minders but just learn to enjoy my winters in a clement climate without caring a shit about how Everton continues to implode.
Love you all for putting up with me. Let's just hope I've got it all wrong.
Charles Barrow
171
Posted 15/05/2018 at 13:14:51
The good news is that if Silva (or Fonseca) is appointed it is very likely that he wants to come here and has had time to analyse and review the team and the season. I imagine he knew he was likely to become the manager after he was sacked by Watford - Moshiri and his agent must have been in contact. Both Koeman and Allardyce weren't bothered about Everton - they both only came because Moshiri 'stuffed their mouths with gold'. I think both were very half-hearted in their management of the team and pretty much didn't give a shit either way.
Jim Bennings
172
Posted 15/05/2018 at 13:15:09
Sam
I agree it probably will never happen in a month of Sunday's, just saying it would be the radical change that Everton crave really badly.
Silva is a young manager so maybe he will prove himself a good'un but it's not one that fills us with a major amount of confidence after what's just happened this season to the men in charge.
Steve Ferns
173
Posted 15/05/2018 at 13:15:42
Ian, if Benitez was the same Benitez the redshite got, then sure.
However, he's much older. He's no longer with his old right hand man, paco ayestran? He's also managed the RS and would not survive a significant downturn in form.
Furthermore, he's criticised for full football, he whinges a lot, and ends up upsetting the players.
Like Mourinho and Ancelotti, I don't think Benitez is the manager he once was.
So no, I wouldn't take him.
Michael Lynch
174
Posted 15/05/2018 at 13:17:32
Is there a problem with Denise Barrett Baxendale being our next CEO? She seems to combine a business head with a wider perspective on our role in the community, and is a true blue to boot. If it means we can bin Boys Pen Bill and she can take over as the "soul" of our club, perhaps it's a good thing? Moshiri can stop pretending he's fallen in love with our club and can get on with the money side of it, while she can take over the day to day stuff from Elstone who was never popular, and combine that with the role of Chief Evertonian.
I'm sure someone will be able to give me the low down on why she's not fit to be CEO.
Ian Burns
175
Posted 15/05/2018 at 13:18:31
Thanks Steve, appreciated.
James Hopper
176
Posted 15/05/2018 at 13:21:19
Oh dear Lord.
While I'm delighted about Allardyce going (if the rumours are actually true) I'm starting to worry about two of the three rumoured appointments.
I'm sorry, but I just don't see anything on Silva's CV which elevates him above other candidates for the role. Anyone would win the league managing Olympiacos in Greece and, if you manage Sporting Lisbon, there's a good chance you'll win something there too.
Patchy record at Hull - played 22, won 8. And even worse at Watford - played 26, won 8. Why is he the go-to guy for the current 8th best team in the country, with one of the biggest histories and levels of expectation?!
And then there's the CEO position. Denise Barrett-Baxendale has done a wonderful job with EitC, and she's clearly an academic and a very intelligent lady. She's a real asset to the club. I don't, however, see anything in her CV which indicates she's the best person to run a £170m business in in the cut-throat world of elite sport. We need an experienced, hard-nose, go-getter who can make things happen thanks to their experience and business connections and, with all due respect, that person isn't Denise.
So I'm sat here worrying that Moshiri really doesn't know what he's doing.
Craig Walker
177
Posted 15/05/2018 at 13:34:13
I'm not convinced by Silva. I'll give him my backing and hope he does well with us. I'd rather us get somebody who is more proven at this level. I think Benitez would do well given enough backing. I don't care that he used to manage the RS or said derogatory things about us. If Brian Clough can manage both Derby and Forest, George Graham can manage Spurs after Arsenal, Mourinho can move to United after being at Chelsea then why can't we swallow our pride and appoint someone who has actually won titles and cups and managed top players? Why must we settle for potential? What worries me is when you look at West Brom and Stoke's finishes over the past 3 or 4 seasons. They've got 9th placed finishes and been relegated. Every team with the exception of the big 6 can be relegated in this Premier League era. Couple that with the fact that Allardyce teams struggle when he leaves and I'm seriously worried about next season.
Tony Everan
178
Posted 15/05/2018 at 13:39:49
It is interesting that after 1000 votes Rafa Benitez has the same popularity as Silva, and only 2% off being top of the poll.
If it wasn't for his RS connection he would be way ahead probably.
Would you forgive him his wind up 'small club' comments if we finished top 6 and above Liverpool next season with him as manager?
Steve Ferns
179
Posted 15/05/2018 at 13:44:50
I could Tony. I just feel if he lost five in a row, then he'd have the full Allardyce treatment.
Right now we need a manager who is not divisive. Which ever of the other candidates we appoint, we will all be behind them. There's no preconceptions with them, ie things to make you instantly dislike them. Such as Benitez RS days and Allardyce's history (on and off the pitch). This means the new manager can unify the entire fan base if they get a good start, and unless it's an instant five defeats in a row, then we are likely to be forgiving up until Christmas. We need unity now, as much as anything.
Stephen Davies
180
Posted 15/05/2018 at 13:45:06
Steve #273
thats a good point about Benitez and his right hand man..
You seem to know a lot about Silva and I welcome the appointment but do you know anything about his coaching staff? Have they followed hom during his previous appointments?

Steve Ferns
181
Posted 15/05/2018 at 13:45:58
Yes. He keeps a small staff. They travel with him from club to club.
Dave Ganley
182
Posted 15/05/2018 at 13:53:55
Good riddance, don't slam the door on the way out.
To be honest I don't know much about Silva. I'm not totally enamoured with his record but after Steve Ferns research he may be a good fit. We need to be realistic as to who we get. We are not going to get top level like Emery. Maybe a young hungry manager like Silva, who is only 40 will kick start us. Any appointment is a gamble but we need to give the next manager some time to sort out the mess we are in. I don't necessarily agree that the players are completely useless, they need someone with a plan to get them playing again with a bit of verve, commitment and style. Football is not rocket science. Get the crowd onside by showing you care and that's half the battle. Average players can become good ones given the right training, we onky have to look across the park to see that.
Anyway Allardyce has gone so let's look forward now and hope whoever comes in can get the crowd excited. That's not too much to ask is it?
Steve Ferns
183
Posted 15/05/2018 at 13:55:24
Tony Everan
184
Posted 15/05/2018 at 13:55:32
If you saw Benitez's press conference yesterday he was covertly touting himself to us. Was noncommittal about Newcastle, talking about definitely staying in England, it is all about his family (Wirral).
I bet he wishes he kept his mouth shut now.
Derek Knox
185
Posted 15/05/2018 at 13:56:14
Phil Walling @170, I have been hearing we are looking at a young prospect from Wigan, Callum Lang.
Your recommendation by any chance ? :-)
Steve Brown
186
Posted 15/05/2018 at 14:16:48
If we want to break top 5 and win trophies, we'll hire Emery. If we want get aspire to regular Europa League then we'll hire Silva. This will be instructive about Moshiri's level of ambition.
He hired Koeman because he believed that his name and stature in world football matched Klopp, Guardiola and Mourinho - wrongly as his tactical nous and man management skills proved poor. Hiring a manager like Silva shows he has scaled back his aspirations significantly.
Steve Brown
187
Posted 15/05/2018 at 14:22:41
Steve @ 179. If a requirment is that the new manager comes with no preconceptions and unites the fan base, then Silva is a fail already. It's evident just reading this thread that 50% of fans are underwhelmed or against hiring Silva. To be honest, having read all your posts I have seen nothing that convinces me he is the right man to take us to the next level.
Chris Jones [Burton]
188
Posted 15/05/2018 at 14:36:44
Denise Barrett Baxendale has been deputy chief executive for a while, and everyone says she's done a marvellous job, so why shouldn't she be considered for promotion?
We we're made up for Unsy that he got a shot at caretaker boss (from u21 coach, not deputy manager even) when Koeman got the heave-ho, so what's the difference? What's so unusual about a deputy being considered as a likely candidate to step-up? She'll know the club inside out for starters...
Christopher Timmins
189
Posted 15/05/2018 at 14:38:31
Steve@ 187. If Jesus Christ was appointed manager of our club half of the contributors to the forum would have a problem with him.
It's not Silva's job to be universally popular on day 1, his job is to be universally popular at the end of year 3 because of performances on the pitch.
Jay Wood
[BRZ]
190
Posted 15/05/2018 at 14:41:35
Michael Lynch @ 174:
"Is there a problem with Denise Barrett-Baxendale being our next CEO? I'm sure someone will be able to give me the low down on why she's not fit to be CEO."
I'll take you up on the challenge, Michael.
Her background and core skills are firmly based in the world of academia. In her profile on the official club site, it flags up nothing about her business skills or acumen, but rather primarily describes her as "16 years working in education and fulfilled a variety of academic and leadership roles within Higher Education".
It is actually very difficult to uncover much detail about her qualifications or work experience outside the known of her time at Everton. She is listed as having a BA (Hons), an MBA and Phd, but in what I don't know.
There is no evidence - none whatsoever - that she has the experience or necessary multiple skill sets to head or effectively manage and juggle the many plates that comes with being the CEO of a PL club in the 21st century.
I respect her work with EiTC. It earnt her a gong from the Queen - an MBE - for 'Services to the Community of Merseyside'.
There are far, far better qualified candidates out there with proven success as CEOs of a sports franchise.
This appointment, if true, smacks of an old school Everton type of appointment from within.
Perhaps you, Michael, would like to expand on why, as you presume, DB-D "combines a business head with a wider perspective on our role in the community, and is a true blue to boot."
What is your evidence of such a claim and how does being 'a true blue to boot' seemingly prequalify her over other possible candidates in your eyes..?
Marc Hints
191
Posted 15/05/2018 at 14:43:33
Phil #170
Think you need to take a chill pill.
Michael Lynch
192
Posted 15/05/2018 at 14:45:11
Jay Wood (BRZ)
Yes, actually after posting I did a bit more research and like you could come up with very little actual business experience. However, she will be able to teach the children to play nicely, which might come in handy.
Paul Hughes
193
Posted 15/05/2018 at 14:48:45
To be honest, I don't follow other clubs, so I've no idea if Silva will be any good or if he is a good fit for us or not. What I do know is that he has got to be better than Allardyce in terms of relationship to the real world and better than Koeman in terms of man management.
What is more important is that he'll have time to take stock (apart from the World Cup players) of the resources at his disposal and to take a good view of the shambles he has been presented with. He and his DoF colleagues then need to make sure there is not a repeat of last year's transfer mistakes.
We also need to be realistic of our expectations, the new management regime (whoever it is) are starting again from Base Camp, and as long as progress in terms of playing style and commitment is clearly displayed, then that is acceptable. The same position next year, but not dreading watching every game will be OK for me.
John Pierce
194
Posted 15/05/2018 at 14:54:49
With all the reported upheaval it looks like the CEO position is to be filled from within?
Personally I wanted someone who had the experience of growing a business and even the trauma of moving sites in in their resume.
However with potentially two maybe three, the chairmans, positions to be filled I can see the logic in an in-house appointment to retain 'Everton' knowledge.
My preference is for a candidate who is proactive, realizes the need for excellent communication and has the commercial improvement at the heart of the role, focused on the ground move.
We will see. 👀
William Cartwright
195
Posted 15/05/2018 at 14:57:36
Silva really impresses me big time. His well researched track record (thanks Steve Ferns) has reinforced my opinion of him. He ticks so many boxes for me. His experience at Hull was a real eye-opener. They produced some amazing performances and he very nearly turned around an impossible rescue act, only to fall at the last hurdle. Also a few Hull fans, friends from mu University days were more disappointed at losing him than the relegation drop.
I am impressed by what I sense is his personality interwined with his management ethic. Committed, passionate, heart on his sleeve, comes across and is reported as having a extremely likable character. He is also a bit of a maverick (sacked for not wearing the club suit?!) Sort of silly nonsense I might have done in my younger days. But the most impressive aspect for me is (was) the passion and style with which he conducted himself in his after match interviews.The discussions were always about the game and from an attack minded and fitness perspective. I recall one interview shortly after Niasse had joined him and he was saying what a wonderful guy Niasse was as a person, and how appreciative he was in being able to "enjoy his football again without feeling any stress to perform outside his skill-set, just being fit enough and encouraged to enjoy expressing his skills as only he knows how the rest just follows naturally". Another article I read somewhere was he feels the team is a performing unit as a result of the sum of its parts, not a rigid pre-structured unit which the players are 'trained' to adapt to. Can't see Allardyce getting that concept at all!
There are obvious big changes coming. I think Silva could really thrive at Everton with a strong DOF and well structured environment around him. In spite of all the negativity generated by Allardyce and his crew I think the Club has many solid and positive aspects; the fans, the future prospects, the strength of character of Moshiri to keep his focus, the Finch Farm set up, EITC, Seamus Coleman (for captain?) etc.
Also not to be dismissed as 'shallow' is a sense of natural 'style' or charisma. One of the drawbacks for Allardyce was his complete lack of style which by nature can reflect into perceptions, relationships, confidence and so on. I could just not imagine being 'inspired by Sam and Sam' and I am sure footballers in their 20's would probably feel this even more.
Here's hoping - COYB
Steavey Buckley
196
Posted 15/05/2018 at 15:04:17
The players who are getting Everton managers sacked will still be here next season to greet the next manager with the same type of treatment given to their predecessors.
Jack Convery
197
Posted 15/05/2018 at 15:17:20
Every cloud has a silva lining - just ask FS. Its like a Shakespearian play were someone is killed but takes an act and a half to exhale their last breath. So long FS enjoy your millions - oh btw were are your medals ?
Ed Fitzgerald
198
Posted 15/05/2018 at 15:18:01
It's funny hearing people worrying themselves senseless about DBB
being made CEO. She is clearly intelligent, savvy and is currently running the only successful arm of EFC. She knows the clubs workings, is a fan et etc.
If a bloke had been doing her job there would be many on here clamouring for him to get the CEO's job. It's like that old Harry Enfield sketch 'Women know your place' !! FFS it's the 21st century who cares whether the CEO is male or female - all that matters is how well they do the job.
It's dinosaur thinking that led us to appoint Allardyce- and personally I think it's high time this club stopped resembling a museum of navel gazing nostalgia and moved forward.
William Cartwright
199
Posted 15/05/2018 at 15:18:06
Steve Brown (186) Perhaps Moshiri has reversed his priorities to align with those that count : The ability to motivate, coordinate and communicate with a group of relatively young guys and meld them into a team. I get really cheesed off hearing about heavy hitters who, especially in advancing years who rely on passing on their 'experience' that they forget life (and football echoes life more that any other sport) is about relationships and achievement targets and the invigoration that youth brings. not the dry old patronising bullshit we had from Koeman and Allardyce.
Geoffrey Williams
200
Posted 15/05/2018 at 15:18:09
The one common factor in the success of the best managers is hard work. They are meticulous in their planning and do not work 9 til 5. I hope the board do their homework
Dave Lynch
201
Posted 15/05/2018 at 15:20:51
This bunch of no hopers have had negativity and dull as dishwater tactics coached into them over the past couple of seasons, don't expect them to change overnight.
The new gaffer will need a substantial war chest to turn things around.
Oh how I hope to see us streaming forward in wave upon wave of attack next season.
I might even get exited and that hasn't been something I've felt since...
Steve Brown
202
Posted 15/05/2018 at 15:27:29
Christopher @ 189, Silva won't last three years with Everton.
Three reasons 1) he doesn't last that long anywhere as he is either sacked or resigns 2) starting off with 87% of Everton fans not actively backing him (per the ToffeeWeb poll today) means he is sunk before he starts 3) His track record gives no indication that he will break top 5. If we hire him, I will back him 100%. But my honest view is we are squandering more years bringing him him.
Liverpool hired Klopp when 7th and we hire Silva while 8th? Says everything about the ambitions of the clubs.
Jay Wood
[BRZ]
203
Posted 15/05/2018 at 15:28:18
You know, all we had to do to improve this season was 'standstill'. Or rather, consolidate and improve just marginally.
How so? Because the previous season in finishing 7th we gathered 61 points. We trailed United in 6th place on 69 points by 8 points. Arsenal were 14 points better off in 5th with 75 points.
This season, Arsenal fell away badly in the league compared to previous seasons. They finished 6th on a mere 63 points - a difference of just 2 points compared to our points tally of the previous season.
Just a marginal improvement on the previous season could have seen us leapfrog the mighty Arsenal into 6th. We all know the reasons why that didn't happen.
By contrast, we ended the season with our second worst goals against tally in a 38 game PL season (58 - Walter Smith's Everton conceded 59 in 2000-2001).
We had the 6th worse defence in the league. Even the likes of relegated Swansea and WBA conceded less than us, as did other relegation-threatened teams such as Huddersfield, S'ton, Palace and Newcastle.
Each and every season, the teams with the worst defences are always under risk of relegation. This is of paramount importance at Everton for next season when considering the next manager.
Because since selling 'the useless lump' (sigh...shakes head in remorse) aka as Lukaku, our goals for column has also suffered. We have to go way back to HKIII's last ever season as Everton manager - 1997-98 41 goals scored - and the first season of Walter Smith - 1998-99 42 goals scored - to recall when we have scored less goals in a 38 game season.
Ergo, we don't score enough goals to turn around games. We barely score at a goal a game, but concede at nearly 1.6 goals a game.
Taken altogether, there is a huge, HUGE rebuilding job required at Everton.
Old school Mike Bassett-type English managers no longer cut it. 'Philosophers' like Martinez won't cut it.
I agree with Steve Ferns we need a 'hands on' coach at Finch Farm. But that alone won't serve our needs. We also need someone who can balance their coaching skills with cold hard pragmatism.
Because otherwise we could be in danger of 'philosophising' and erroneously 'sticking to our principles' all the way to the Championship.
Jay Harris
204
Posted 15/05/2018 at 15:28:24
Ed
I have not seen one post suggesting that DBB couldnt do the job because she is a female.
Almost all the reservations are around her lack of experience in the sports field .
I am particularly concerned how she would deal with transfer negotiations as I'm hoping this will be a major part of the role.
Jay Wood
[BRZ]
205
Posted 15/05/2018 at 15:31:10
Ed Fitzgerald @ 198.
Total and absolute bollocks Ed!
Peter Cummings
206
Posted 15/05/2018 at 15:32:56
What is puzzling to me is why we are supposedly still going for Silva who was sacked by Watord and and hardly set the PL alight during his time with them.
The last thing we want is yet another ex failure taking charge taking us further down the road to failure and embarrasment especially with the squad currently on the books, a real recipe for disaster methinks, if we do'nt address the playing side of things.
Steve Brown
207
Posted 15/05/2018 at 15:36:28
William @ 199, since when were Allardyce and Koeman heavy hitters? Only their waist band size maybe.
The ability to motivate, co-ordinate and communicate with a group of relatively young guys and meld them into a team." I agree with that, provided it is allied with a proven track record of success at the highest level - that is a heavy hitter. Being successful is usually linked to the qualities you cited, although I don't think it correlates that only young managers can develop young teams. Otherwise, Fergie wouldn't have succeeded in bring in Scholes, Beckham, Neville, Butt at the same time.
Soren Moyer
208
Posted 15/05/2018 at 15:37:05
This is the table when Silva took over at Hull. With only 13 points from 19 games!
Ken Williams
209
Posted 15/05/2018 at 15:39:21
No clear runner in the ToffeeWeb pol, for myself I would like to see Arteta given a chance, he has gained his coaching badges under top managers.
Steve Brown
210
Posted 15/05/2018 at 15:42:31
Unai Emery is 46 and a heavy hitter - he has won 3 Europa Leagues, 1 French League and 2 French Cups. Silva is 40 and his record bears no comparison. Both are availlable but we are targeting Silva - that right there is lack of ambition.
John Pierce
211
Posted 15/05/2018 at 15:43:06
Ed you deserve 'pelters' for that comment re DB-B. Might be worth a revisit?
Steve Brown
212
Posted 15/05/2018 at 15:44:54
Soren @ 208, who cares about Hull? Are we comparing ourselves now to relegation fodder.
Sam Hoare
213
Posted 15/05/2018 at 15:46:07
Steve Brown 202 your 3 points:
1) He stayed 3 years at Estoril. He did an extraordinarily good job for them.
2) Every manager has at least 80% going the other way! Does that mean we shouldn't have any of them?!
3) Which managers do have a track record of getting mid table teams into the top 5? Are you gunning for Moyes?!

Chris Pitchford
214
Posted 15/05/2018 at 15:48:02
I'm just looking forward to watching some decent attacking football again.
Marc Hints
215
Posted 15/05/2018 at 15:52:43
Sam #213 (bro)
I agree with what your saying and as I have said earlier his past record outside the prem is very good and have read numerous articles from different players saying nothing but high praise of Silva.
Dermot Byrne
216
Posted 15/05/2018 at 15:53:31
Ed #198: expect modernising dinasaurs after you mate!
Soren Moyer
217
Posted 15/05/2018 at 15:56:53
Steve, no mate. I'm not comparing us to Hull. That was meant for those who are saying Siva got Hull City relegated.
Michael Lynch
218
Posted 15/05/2018 at 16:03:06
MInd you, you look at that table and Hull were three points off safety when Silva arrived. They ended up six points off safety, after an absolute thumping 4-0 on the last day by..... Sam Allardyce's Crystal Palace.
Funny old game innit?
Colin Grierson
219
Posted 15/05/2018 at 16:06:17
I'm just delighted to see the back of the mercenary Allardyce. He should never have been allowed back into the football businesses after the England debacle.
I just want to be entertained for a change. Not by the opposition would be nice too.
Soren Moyer
221
Posted 15/05/2018 at 16:09:51
Jason Broome
222
Posted 15/05/2018 at 16:16:19
Sam Allardyce is to management what Dan Aykroyd is to acting. You simply know what to expect with every performance.
An old narcissistic oaf who never gets any better or any worse. A one trick pony who cannot evolve beyond his own ego.
Therefore if Silva is a manager who has the ability to lift the team, get them playing to their strengths, create a great atmosphere and bring both a training and playing philosophy capable of challenging any team. Then that is all that is expected of his role.
Brands is the bigger signing in my opinion. Walsh fucked up. We are left with the shit he signed staining the very fabric of our cloth.
My fear is that if he remains then Walsh might fuck up again. The likes of Troy Deeney and his Watford cronies signing on to appease Silva brings a huge worry.
Come the summer months I want to see Ziyech and or Carvalho in our midfield. I want a big defensive and forward signing.
We have the money, we have the history (if you know yours) and we have the ambition (hence why Allardyce ain't good enough).
Our last season was trial and error. I think looking back we will attribute this season as the moment Everton FC broke the little boy syndrome and finally realised what level of ruthlessness is required to be a man in a big boy's league.
Michael Lynch
223
Posted 15/05/2018 at 16:17:06
OK Soren, but then maybe we shouldn't be bigging the lad up on half a season at Hull should we? Like you say, they're not Everton or Spurs are they?
Kevin Tully
224
Posted 15/05/2018 at 16:18:41
There is a simple fact to bear in mind when assessing the suitability of DBB for the role of C.E.O. Her C.V. wouldn't even be considered, had she applied for this position in any other business. I would go as far to say that she wouldn't have even been stupid enough to apply for such a position in the first instance, knowing her own limitations.
Good old Bill. Everton is where the heart is, but sadly, an empty trophy cabinet also resides at L4. "A Charity, with a football club attached" has never been so apt. Nice though, isn't it? Anyone wanna buy a raffle ticket?
David Barks
225
Posted 15/05/2018 at 16:20:58
He took over Hull when they were bottom of the table, 13 points from 20 games. He almost guided them to safety despite the shambles the club was in, ending with 34 points, 21 points from his 18 games in charge.
The performance he got out of that dreadful team landed him the opportunity at Watford. He had them playing very well until we came in for him. Watford played hardball and it derailed their season. Personally I care much more about the successes he has had and the way he has his teams play. I would be excited to see what he can do with Lookman, Walcott, Klaassen, Sigurdsson, Tosun and even Sandro. Given just a couple of quality signings I believe he'd have us playing exciting and winning football.
Soren Moyer
226
Posted 15/05/2018 at 16:22:02
That's not the point Micheal. The important thing, imo, is that he made them to play a high energy football with some great results. He did the same at Watford and when he left they where 8th or somewhere there about.
Jason Broome
227
Posted 15/05/2018 at 16:25:26
Worth a look.
https://www.youtube.com/watch?v=AeomHPQz5ko
Michael Lynch
228
Posted 15/05/2018 at 16:36:29
Soren/David Barks
Have a look at what the manager did at Crystal Palace the same season. Took over when they were a point off the relegation places, having lost 8 out of their last 10, and finished six points clear of relegation after thumping Silva's Hull 4-0. Yes, that would be our very own Fat Sam.
So we're swapping a successful relegation specialist for a failed one. Great.
James Marshall
229
Posted 15/05/2018 at 16:42:45
Jason@222
I echo your thoughts on so many levels, apart from the history. Ours is irrelevant to currently playing footballers, and means nothing in their lifetime.
While we cling to it, it gets further and further away from us, and means quite literally nothing to non-Evertonians and people under 30.
We can bang the drum and bleat on about how great we were in 30's, 60's or 80's but none of that means anything anymore. Everton needs to look to the future, not the past.
David Barks
230
Posted 15/05/2018 at 16:43:07
No Michael,
As we have said, we are not Hull. Avoiding relegation is not of any interest to us. We'd be swapping a dour dinosaur of the game for someone who has already won more silverware than that dinosaur and plays much better football and had little Watford flying until we came in for him and the team became unsettled.
Michael Lynch
231
Posted 15/05/2018 at 16:46:48
Silva's silverware is hardly impressive and none of it is in this country. He did a similar job at Hull as Sam did at Palace, except Sam kept them up. He had Watford flying for a couple of months until he won one game in 11 and was sacked. If the excuse for that is his head was turned by Everton, then that's weak.
As I've said before, there may be a good case to be made for giving Silva a chance, but the case is not based on what he's done in the UK.
James Hughes
232
Posted 15/05/2018 at 16:50:21
If DBB is appointed our CEO then lets hope she has a clear strategy. I posted on TW that Arsenal employed several people to replace Wenger. Heads of recruitment, negotiations, performance.
She doesn't need to be a football person, she just needs to understand what is needed and recruit accordingly. They do the work the CEO looks at the big picture.
Dave Williams
233
Posted 15/05/2018 at 16:51:56
What a difference a couple of hours make, earlier Silva was 4/7 to be the next manager, but now moved out to 4/1 Apparently he's favourite for the Leicester job...
Soren Moyer
234
Posted 15/05/2018 at 16:58:07
Micheal, let's not forget that palace had much better/ stronger squad than Hull City.
Michael Lynch
235
Posted 15/05/2018 at 17:02:42
Ok Soren I'm not going to argue about it, like I said I won't be too upset if Silva is given the job - if Steve Ferns is right he's going to be a huge success. My point, I think, is that we're all praising Silva for the job he did at Hull, and hating on Sam who did a similar job, but more successfully, at Palace. We're berating Sam for his poor win rate at small clubs, but we're happy to excuse Silva's even worse win rate in this country because "his head was turned".
Brian Harrison
236
Posted 15/05/2018 at 17:12:19
Jason222
First why do you assume he would bring anyone from Watford, and you also mention you would like us to sign Carvalho in midfield. Well who do you think managed Carvalho at Sporting Lisbon, yes Marco Silva.
Jon Withey
237
Posted 15/05/2018 at 17:19:52
It's decided, nobody is good enough for us, apart from those that won't come.
Christine Foster
238
Posted 15/05/2018 at 17:21:21
DDB to be or not to be, that is the question.. from my own relevant and personal experience as a CEO of several diverse companies, the reality is that it always helps to know the product you are offering, but its not essential. If you have the knowledge, experience and know how to improve your business then the product becomes secondary.
DDB has managed one facet of the club, not the primary function and but I would say that its more likely in a club like Everton that Elstone dealt with day to day issues rather than planning. Why? well lets face in, any impact decisions are made by the board and the CEO has to implement.
Its DDB organisational skill, personnel management and commercial nous which will be to the fore, Brands will handle the players, contracts, transfers etc..
Has she the skillset to do that? Don't know, but then only those around her and above her will.
Tony Sullivan
239
Posted 15/05/2018 at 17:26:42
Jim Bennings (150) sums up my views precisely. I have already voted Wenger in the poll.
Lawrence Green
240
Posted 15/05/2018 at 17:30:06
Jon #237
I agree, and in six months time, those who either turned us down or were never on our list of candidates will be highlighted on here as the managers we should have gone for and how short-sighted the owner/club was in missing out on them.
Be done with it Mosh, either retain Sam or re-appoint David Moyes it will at least unite the fans. Joking honestly Joking!

Jackie Barry
241
Posted 15/05/2018 at 17:34:19
Please let it be Wenger, please I don't want no silver I want gold.
Phil Smith
242
Posted 15/05/2018 at 17:34:58
Well, I'm gonna go out of left field here and suggest the young Englishman from the Swedish side (forget their name) who beat Arsenal in the Europa League - Graham Potter. He's done a great job there. Everton might be a big step up but worth a shot, I reckons.
Micky Norman
243
Posted 15/05/2018 at 17:35:51
Not that I would want him, but if Benitez came to us the RS would need a new flag for the gobshites to pass over their heads.
Tony Twist
244
Posted 15/05/2018 at 17:37:56
Now in typical Everton style we will get rid of Big Sam and then something crops up and we wait a month before the new guy comes in. It's the Everton way! I have no idea on who should take over, I do think it is too big a job for Arteta and will be disappointed if we don't get an out and out coach, we desperately need a hands on man not someone who delegates.
Jackie Barry
245
Posted 15/05/2018 at 17:39:37
Wenger he's perfect finds gems on our kind of budget, plus has the pull of being a known manager in Europe.
Simon Temme
246
Posted 15/05/2018 at 17:41:34
After the excellent piece by Lyndon Lloyd, I am fully behind Silva, it does however spoil the next chant I had in mind (To the tune of the Lone Ranger)
"Go go Silva away... Ride into tomorrow today and who was that masked man you say . It was Fonseca.
I'll get my hat.
Ed Fitzgerald
247
Posted 15/05/2018 at 17:42:04
Jay Woods
Ooh touch a nerve did I.? DBB is currently Deputy CEO so therefore it's not that strange to expect her to step up. The fact that her background is in education and academia does not invalidate her as a suitable CEO. Everton FC are a social enterprise as well as a business and of course a football club. Indeed Everton FC were originally formed as a social enterprise - if you know your history? The work that EiTC do in the community promotes the Everton brand effectively.
How the fuck do you know she wouldn't be an excellent CEO? - you don't , I don't either Perhaps we should get a ruthless business leader - Bills mate, Phillip Green - anyone? The CEO is an important public facing role at a football club in terms of marketing and communication. Are you saying that's currently done effectively by Elstone.
So Jay, I am amused at why you getting so riled- why are you? The reason that many women don't get the chances to lead large organisations is that they are never given a chance to
Soren Moyer
248
Posted 15/05/2018 at 17:50:35
Jackie Barry #241, you prefer Wonga then!
Paul Hay
249
Posted 15/05/2018 at 17:52:21
Whoever, whenever, however blah de blah de blah
I want to be as optimistic about the future as the rest of you but until the hand of BK is finally wrestled off Everton Football Club and we start afresh without his influence hovering over everything that is said, decided or done, then we will probably be all writing the same next year.
There is nothing optimistic in a project that he will have a say in.

Jackie Barry
250
Posted 15/05/2018 at 17:54:41
Wonga?
Paul Tran
251
Posted 15/05/2018 at 17:58:26
Silva was 7/4 this morning. Then he went to 1/6. Now he's 4/6, with Fonseca cut to 6/4. Next guy is 16/1. Market's got it right now.
Terry Farrell
252
Posted 15/05/2018 at 17:59:41
Jackie I'm the exact opposite to you on this and Wenger 15 yrs ago maybe but when was the last time he unearthed a talent for a small fee who plays regularly? He's past his sell by date by a good few years and he is not what we need imo.
Jackie Barry
253
Posted 15/05/2018 at 18:00:14
OK Lyndon's article is a good read but I have a great fear of it going wrong big time.
Dermot Byrne
254
Posted 15/05/2018 at 18:06:21
Jackie...I think we all would have that nagging fear with anyone.
Just enjoy the train ride until it crashes or maybe, just maybe, reaches the station!
John Cartwright
255
Posted 15/05/2018 at 18:20:34
Jackie 241 totally agree we need to hit gold this time. we have settled for second best seemingly forever we need some ambition. Why not try for Conte ? He can only say No
Derek Knox
256
Posted 15/05/2018 at 18:27:23
John @255, had to laugh there mate, if Conte can only so No, there's little point in asking him. Only joking, would be a great addition, but think he wants to go back to Italy.
Tom McEwan
257
Posted 15/05/2018 at 18:31:39
Why oh why are some people obsessing with Silva? His record in the Premiership is slightly better than Martinez from his Wigan days but nevertheless abysmal! Michael Lynch is so right in his various posts about Silva. Not only right but factual. Can't remember which thread it was on but one particular poster stated as 'fact' that Silva had improved every club he had been at. Well, have a look at his managerial wins and losses with both premier league sides he has managed. FACT is he has lost more than he has won.
I don't buy the 'his head was turned' shite because nobody knows that and even if it was true it would only prove he was lacking in moral fibre and a big bloody baby! You Silva advocates seriously want that at Everton on the strength of your unfounded presumptions? Btw I am not addressing that question to Steve Ferns as he is clearly Silva's agent in disguise.
Twenty one points at Hull out of his 18 games in charge David Barks? Now what's 18x3? Erm 54? That's 6 points les than half of what was available, right? What a manager! Might suit some but not me mate. Percentages can be fiddled an farted about with, with no adherence to context but wins vs losses cannot. They are facts!
Jimmy Hogan
258
Posted 15/05/2018 at 18:32:35
Wenger won't leave London for Merseyside. Paris or the South of France maybe.
Dave Evans
260
Posted 15/05/2018 at 18:35:26
Jon Withey 237 thanks for the laugh in this asylum.
Brian Murray
262
Posted 15/05/2018 at 18:40:34
Why does Sam deserve a personal meeting from our owner after his sniggering contempt of the fans ? What's wrong with sending him a text,carrier pidgeon or smoke signals even? Me personally I'd send Jim White the details. Let him shout it from the rooftops.
Lyndon Lloyd
263
Posted 15/05/2018 at 18:44:11
Tom (257), 21 points from 18 games extrapolates out to roughly 45 points in a full 38-game season. With such a poor Hull team that had accumulated just 13 points from 20 games prior to his arrival and then lost its best player (Snodgrass) to West Ham is pretty good going.
I share your reservations over his flightiness and how quickly he was prepared to leave Watford (although, when you see how quickly the Pozzos hire and fire managers, I can't blame him too much!) but what he did at Hull suggests it would have been enough to keep them up had he been there longer.
Christopher Ryan
264
Posted 15/05/2018 at 18:45:22
"With Emery, Fonseca, Wenger and Conte all available it is highly underwhelming to still be chasing Silva while the likes of West Ham are interviewing Fonseca already. Typical Everton."
The reality is that none of those people would want to come here. Everton is not as big a club as we may want to think they are. Not right now, anyway.
Raymond Fox
265
Posted 15/05/2018 at 18:46:55
So how long will the next manager last, its becoming farcical isn't it? We have now sacked the present manager of Belgium, ditto Netherlands and if Allardyce is sacked, a guy who whould be managing England in the World Cup but for the sting.

Silva to do better, don't make me laugh! It will unravel again in no time if I'm any judge at all. Moshiri needs to throw £200m - £300m at the squad, then we might make the top 6 and even then we wouldnt be nailed on.
Shane Corcoran
268
Posted 15/05/2018 at 18:53:47
Raymond, what relevance is it what nations our former managers managed?
Would you have kept any of those you've mentioned?
Michael Lynch
269
Posted 15/05/2018 at 18:54:00
Lyndon
My concern is that we're trying to turn Silva's unsuccessful fire-fighting at Hull and, let's be honest here, failure at Watford into something noble, while we look at Allardyce's similar - well, actually, much better - record at the same kind of clubs and hurl abuse at him. I didn't want Allardyce, and, while I acknowledge he has done a reasonable job in difficult circumstances, I'm glad to see the back of him, but there's something of a whitewash going on with Silva's record while we blacken Allardyce's name with vitriol.
Silva clearly has something about him that may be worth taking a punt on, but I'm not sure we should be stretching the facts to suit our narrative.
Tony Everan
270
Posted 15/05/2018 at 18:54:53
We appoint a manager, we start the season . 1st game we lose 1-0, 86% of supporters start moaning I didn't want this idiot. I wanted xyz.
The new man needs divine help.
Or to win a lot.
Tom McEwan
271
Posted 15/05/2018 at 18:55:35
Lyndon, 'extrapolates' and 'suggests' with all due respect, are not facts. But fair enough, if you and some other Evertonians want us to appoint yet another manager on the basis of 'extrapolation' and 'suggestion' then that's your business. Personally, I would prefer to appoint a proven winner and not someone who might, just might, be a winner.
Darren Marsh
272
Posted 15/05/2018 at 19:02:53
Tony Everan, your bang on the money there mate. That's exactly what will happen, but I'd rather take that chance on Silva or whoever it will be than this egotistical, fraudulent, envelope snatching, corrupt failure who has won fuck all in his long managerial career, who's now only the second manager to hit 200 Premier League losses. Get him gone.
Jay Wood
[BRZ]
273
Posted 15/05/2018 at 19:06:05
Ed @ 247.
You flatter yourself. No nerves touched. Not riled in the least.
Your earlier post referenced nothing of your latest offering.
The absolute and total bollocks I referred to was you somehow claiming opposition to DBB was gender bias.
I stand by that. Your post @ 198 spouts absolute and total bollocks, all fabricated by YOU.
Lyndon Lloyd
274
Posted 15/05/2018 at 19:09:43
Tom (271), I'm not suggesting we hire a manager based on "extrapolation or suggestion" or even saying he would be my choice because I'm genuinely undecided. I'm simply pointing out that in the context of Hull's predicament – remember, we're not talking about a Premier League-quality team here – he did pretty well to get 21 points. Is that good enough for Everton? No, of course, not, but in theory we have a better team than they did now and will hopefully have an even better one come August.
Also worth pointing out Pochettino lost 16 more games than he won at Espanyol. We'd all like a proven winner but how many of them are about and would they come?
Michael (269), by the same token, Allardyce's record was achieved with better players and, for 3/4 of his time, without any real threat of us going down. Silva at least ensured that Hull had a real go whereas Allardyce played it safe far too often. Even if all things between them were equal, I'd still take a young, ambitious manager (be it Silva, Fonseca, Arteta, whoever) with unrealised potential over a staid presence like Allardyce whose ceiling of achievement is pretty well established.
Tom McEwan
275
Posted 15/05/2018 at 19:09:46
Michael Lynch @269, once again, a point well made. Further, I challenge anyone out there to show me a successful manger throughout the history of the game, that has lost more games than he has won.
Given all that has happened since the Martinez appointment, can we really afford the time to appoint someone who might, just might, turn their record around?

John Cartwright
276
Posted 15/05/2018 at 19:13:33
Cough err...sorry..surely Beneathus (Benitez) would be a better and safer fit then Silva
Phil Walling
277
Posted 15/05/2018 at 19:21:18
Why, if we aspire to be 'top six' are so many TWers advocating the appointment of someone not one club in that top six would even contemplate appointing.
Even Lyndon fancies him. poor ToffeeWeb !
Chris Leyland
278
Posted 15/05/2018 at 19:22:32
Tom - Silva's overall win percentage as a manager is 54%. I'd take that at Everton
Phil Walling
279
Posted 15/05/2018 at 19:24:12
Most of it in the equivalent of our Northern League ! Marine & Co.
Soren Moyer
280
Posted 15/05/2018 at 19:27:30
Joking Jackie. Wonga= Wenger.
Ron Marr
281
Posted 15/05/2018 at 19:28:34
I like that guy who won the Zingari League 5 times. I'll never forget what's 'hisname.
Lyndon Lloyd
282
Posted 15/05/2018 at 19:34:01
I haven't actually said I fancy him as Everton manager, Phil (277), but if he is the club's top choice and likely candidate then it's worth trying to establish some perspective over his previous roles rather than writing him off as "the bloke who relegated Hull".
Without knowledge of what Pochettino has achieved at Spurs, how many top 6 clubs do you think would look at him if they were purely going on his prior record – W76, L88? Sometimes you see potential in someone and get the right feeling off them when you talk to them and hear them spell out their vision.
Arsenal appear to be seriously looking at Mikel Arteta who hasn't even managed an U23s side let alone managed in Portugal, Greece and two clubs in the Premier League like Silva has. I would say that simply hiring him on the basis that he's been working under Guardiola for a couple of years is a massive risk but they clearly have some faith in him.
Raymond Fox
283
Posted 15/05/2018 at 19:34:38
Shane 268 # the relevance is that 3 countries chose our last managers thinking that they are/were capable of managing their national side.
Since you ask, it wouldnt bother me if Allardyce stayed, Matinez tried playing like Barcelona/Man City but without their players, Koeman was a bad egg and I agree he had to go.
I've given my opinion umpteen times where I believe our problems lie and its 90% in the quality of the players.
Phil Walling
284
Posted 15/05/2018 at 19:39:08
Lyndon, are you really saying this 'geezer' is a more logical choice than say Howe or Deych if I could only spell his name ?
Lyndon Lloyd
285
Posted 15/05/2018 at 19:44:57
Phil, I don't see a top-six manager in Dyche. He's done really well at Burnley by being organised and making them hard to beat but I don't see him as a manager who can instill a brand of exciting, attacking football.
Howe? He struggled at Burnley and apparently moved back down south because he was homesick. Is he tactically flexible enough to manage a top-six team? The lack of interest in him from the likes of Arsenal and Chelsea suggests he might be.
Darren Hind
286
Posted 15/05/2018 at 19:46:58
Some twaddle being spouted here about Silva. He was sacked by Sporting, Walked out on Hull after failing to keep them up and was sacked by Watford because his team were in free-fall . . Great CV.
When Rhino's team took to the field against Watford. they were in a state of shock. Koeman had drained the players of all confidence. Yet despite being gifted a 2-0 lead, Watford folded to an Everton team so completely devoid of belief and confidence they could only offer passion.
I don't buy any of this nonsense, Silva was able to get a tune out of a Hull team when they had nothing to lose. but he didn't fancy his chances of getting them back up when the pressure was on
Rather than regurgitate the nonsense we read on kids websites portraying him as some sort of tactician. Why don't we ask ourselves why we are even considering a man who fell apart at the mere prospect of landing the Everton Job. What would he be like if he actually got the gig ?
WIde berth, we've had enough second raters to last us a life time

Stephen Davies
287
Posted 15/05/2018 at 19:50:57
Allardyce is already in discussion with at least one other club. He will be with another come August.
Chad Schofield
288
Posted 15/05/2018 at 19:54:17
Frankly I'd take Willy Wonka over Sam.
Silva isn't perfect, but we're unlikely to land an absolute A1 proven manger, and I just hope whomever arrives is backed. Well unless it's Big Ron or 'Appy 'Arry.
Hugh Jenkins
289
Posted 15/05/2018 at 19:54:41
As much as I admire what Wenger has achieved, I cannot understand the scramble by many Evertonian's to appoint him a our new manager.
He has been hounded out of Arsenal because their supporters believe his ideas are old and stale.
He, like Sam, is being labeled a dinosaur in modern footballing terms, yet many are still clamouring to appoint him.
Ladies and gents, ask yourself - is he the future?
Do we want to be revisiting this again in a couple of seasons.
I, for one, want us to build a dynasty - something akin to the much vaunted "boot-room" across the park.
To do that we need a fresh manager with fresh ideas. Someone relatively youthful and full of vigour.
Whether or not that turns out to be Silva - I don't know - but it is most certainly not Wenger.
Phil Walling
290
Posted 15/05/2018 at 19:57:24
Even the aspirations of those Evertonians whose judgements I trust most have fallen to a record low level. That's what two years of Bumbling Mosher has done to them. The Villa-like transmogrification is almost complete !
David Barks
291
Posted 15/05/2018 at 20:00:11
Darren,
He was sacked by Sporting for not wearing the right suit, not based on performance.
Darren Hind
292
Posted 15/05/2018 at 20:04:35
I heard that one too David, but I'm too long in the tooth to buy it
Michael Lynch
293
Posted 15/05/2018 at 20:05:22
What sort of a twat gets sacked for wearing the wrong suit?
Grant Rorrison
294
Posted 15/05/2018 at 20:10:35
To be fair, wearing a suit with the Olympiacos F.C. badge on is asking for trouble.
Michael Lynch
295
Posted 15/05/2018 at 20:12:08
I reckon Sam would turn up in a baby's romper suit if you offered him enough money.
Paul Tran
296
Posted 15/05/2018 at 20:13:03
I suspect Moshiri has been laughed at by a few managers' agents when he gone knocking on the more 'established' managers' doors. He's just unlikely to log the knock-backs on the club website.
So we're left with a washed-up has-been, or someone with potential. And you can churn out all the skewed confirmation-biased statistics you want, poor old Moshiri has to go on his instincts as to which one has the most potential.
I don't envy him.
Can't wait for the next ride to start, though.
Michael Lynch
297
Posted 15/05/2018 at 20:13:40
Still, what are we going to do if he refuses to wear an Angry Birds shirt? We need to be careful with these bolshie managers, refusing to wear suitable clothing.
Colin Glassar
298
Posted 15/05/2018 at 20:15:47
Sam has lots of suits. None of them fit him.
Tony Everan
299
Posted 15/05/2018 at 20:16:31
Lyndon,
Come off the fence and nail your colours to the mast. You must have a preference.
Come and join the merry 13% of us Silva Surfers .
Im planning tea and biscuits together every 2nd Thursday at 11 am. We'll buy some Viscounts especially.
Paul Tran
300
Posted 15/05/2018 at 20:16:39
Agreed, Darren. I'd suggest there's slightly more to it than that. Wouldn't alter my view of him, though.
Johan Elmgren
301
Posted 15/05/2018 at 20:17:24
Regarding Silva and when he "got his head turned" by us when we were after him... Well, that's one aspect, and it is probably correct that his effort lessened somewhat because of that...
However a more important aspect in the matter is how did the players react to the knowledge that their manager wanted to move to us? I think that is a much bigger reason to why they went on that slump...
Tom McEwan
302
Posted 15/05/2018 at 20:17:25
Lyndon, I agree with your point about a proven winner coming to us but surely that does not excuse us going for a proven loser? (and I am talking about his premiership record here).

Once again you talk about 'in theory' regarding a better team and whilst all opinions are necessarily subjective this current Everton squad have hardly showed a 'dig in' 'get results' winning mentality have they?

So I would turn your hypothesis on its head and ask, if this current Everton squad were in Hull's position when Silva joined them, would we have survived, based on his 21 out of 54 points record? It is possibly an unfair question as any answers would also be based on supposition but the Brighton's Huddersfield's and indeed Bournemouth's could be said to be on a par with Hull, rather than us, could they not? And they have survived.

However, regardless of how he did or might have done, they still went down, and he was the man in charge for18 (54pts available) games of that season.

Just as the FA Cup winning manager in 2012/2013 was in charge when Wigan went down. I agree with Michael and would add that we need to put the whitewash brushes back in the bucket.
Michael Lynch
303
Posted 15/05/2018 at 20:18:53
Tony @299, if those are mint Viscounts, count me in.
Bill Gienapp
304
Posted 15/05/2018 at 20:27:05
Tony (299) - "The Silva Surfers." I like it. Count me in!
The only good thing about Allardyce is that the hatred of him basically united about 95% of ToffeeWeb. He hasn't even been officially sacked yet and it's already reverted back to Lord of the Flies on here.
Julian Exshaw
305
Posted 15/05/2018 at 20:35:14
The main question, as others have alluded to, is how much time will Silva get. Because he is not an Ancellotti, or a Wenger I would fear the worst. A few bad results and the wolves will be at the door, howling for his head. One thing is sure though: Everton FC needs a total overhauling from the stadium, to the players to even Pickford's pink shirt!! Whoever comes in will need time. This is a cliché but never more relevant than in our case right now. I will back Silva 100% if he is given the job. I wouldn't look too deeply into what he did or didn't do at Hull or Watford, they are not Everton. He may have the vision that these clubs don't have. First and foremost, players and managers alike need to feel the love of the supporters (something which Big Sam never got). Patience is a virtue, 24 years after our last trophy it is wearing very thin among Evertonians. Major trust in Moshiri required now. Hold on to your hats!!
Lyndon Lloyd
306
Posted 15/05/2018 at 20:36:43
Tom: "
if this current Everton squad were in Hull's position when Silva joined them, would we have survived
"
It's impossible to know, obviously, but if you look at his almost immediate impact at Estoril and Hull, there's at least a precedent for him starting a job strongly even if one of the knocks against him is that he fades thereafter.
Again, I'm not seeking to whitewash his record at all. Having got so close, Hull fell apart in the final few games of 2016-17, starting with a disastrous home defeat to Sunderland. Was that Silva's initial magic wearing off, reality catching up with a poor team, a poor reflection on the manager? I don't know. Watford also collapsed once it emerged that Silva's focus had been lost and, perhaps, the squad had been destabilised by him giving a couple of players the nod that he might be off.
What I am saying is that he did have a big impact at Hull, did an excellent job in Greece (admittedly a weak league but then so is Ukraine's with regard to Fonseca), won silverware at Sporting and performed a minor miracle with Estoril (who just got relegated again this season after he took them up and into the Europa League) a few years ago.
Does any of that mean he will be a success at Everton? I don't think there's nearly enough evidence to say with conviction either way. The same is true of a dozen other names you could mention. Which is why I'm so undecided...!
Tony Abrahams
307
Posted 15/05/2018 at 20:37:49
Very good points Paul@296 and let's hope Moshiri, gets this one right.
I prefer not to argue about Everton managers with Darren, but something intrigues me about Silva, and it might be that Watford, who don't seem to really care who manages them, were supposed to have knocked back a £12/15 million bid off Everton, for his services?
Back to Rhino, Darren, he was falling apart imo, but hopefully if Silva, is to get the job, then he will have seen what an Everton crowd, is capable of doing for the team first hand, because that's what won Everton that game last Bommy night mate!
Chris Leyland
308
Posted 15/05/2018 at 20:39:05
Tom to answer your question about whether we would have survived with 21 out of 54 points, the answer is yes. We had 15 points when Allardyce took over. So, even if we only got 21 more points all season from the 24 remaining games, we would have still survived with 36 points. By the way, we took 22 out of a possible 54 points in our last 18 games this season.
Paul Smith
309
Posted 15/05/2018 at 20:44:01
Helen Baxendale promoted to CEO...its official.
Brian Harrison
310
Posted 15/05/2018 at 20:50:32
I think any manager we pick will be a risk, but after Allardyce,Koeman and Martinez I cant see it being much worse. The Premiership is full of dross I mean us finishing 8th playing God awful football proves that. So whoever we get in we wont go down Moshiri has too much to lose financially to let that happen.
Its the easiest thing to say I don't fancy xxxxxxxx to manage our club and then at some point you will be proved right because usually all managers at some point get the sack. Then you can quote posting on 15th May 2018 you didnt want xxxxxxxx and you were right. To be honest whoever we get us match going fans need to take back our passion for our club. I am sick and tired of the other lot being hailed as magnificent fans despite all their misdemeanors. Goodison has been overly quiet for far too long with good reason with the dross we have had to watch. So maybe we need to get back our voices nad make Goodison no visiting teams like to come too. I know the team have to show that passion as well, I just hope the new manager connects with the fans something the last 2 havent done.
Paul Tran
311
Posted 15/05/2018 at 20:51:50
That's an interesting point, Tony. Certainly surprised me when I saw that figure and that they still knocked us back, probably because of how well they were playing at the time. Also interested in the story that some of the Watford players were asking if he'd take them here with him.
My only reservation with Silva is his judgement. Why go to Watford, who sack managers on a whim? Maybe after the madhouse of Hull, he thought it would be easier? Maybe, like most coaches, he thought he'd be the one who changes things?
Much for Moshiri to ponder.
John Keating
312
Posted 15/05/2018 at 20:53:56
I'd sooner have a proven manager rather than on who has "potential".
However, whoever it is please no 5 year megsbucks contract. I doubt very much we'll get one of the top managers so let's not take another punt and end up paying a fortune if it goes pearshaped
Don Alexander
313
Posted 15/05/2018 at 20:54:56
Tom (#302), the points-per-game ratio you quote for Silva at Hull amounts to 44 points in 38 games, from a standing start with zero time to get his feet under the table. That'd have made Hull joint twelfth that season, and to me that's quite impressive. I can hardly imagine he'd have done any worse had he had a pre-season with them and maybe a summer signing or two of his own choice.
I know some find it difficult to do but if the guy is to become our manager should we not just try to, you know, support him until at least after a pre-season's training and, if he's allowed, some of his own signings?
It's way too easy to look forward with hind-sight and slag him off before he's even signed up, sure on the balance of probabilities that if the guy doesn't crack CL qualification and/or playing attractive football you'll again be able to gloat, "I told you so, I told you so!"
Iain Latchford
314
Posted 15/05/2018 at 20:57:10
Not Fake EFC News:
Professor Denise Barrett-Baxendale promoted to Chief Executive
Dr Keith Harris to become Club's Deputy Chairman
Alexander Ryazantsev to take up Chief Finance and Commercial Officer role
Current Chief Executive, Robert Elstone, to depart for Super League
Sandra Bowen
315
Posted 15/05/2018 at 21:01:37
Whatever your views on Silva, can we please place a ban on anyone saying they folded against us in November. They were absolutely crushing until Gomez got injured and then their replacement keeper did his best Joel Robles impression with two absolute howlers. For DCL's header, he's actually behind his goal line hiding behind the far post. The header just goes in the middle of the goal. For the winning penalty, the defender slips and it's a ridiculously unlucky pen to give away. Not forgetting Cleverleys shocker.
I can accept all other reservations but not that they folded due to anything in the managers control.
Thank you
Kevin Tully
316
Posted 15/05/2018 at 21:09:14
Any new manager is on to a winner. Let's face it, we may not have been in any real danger, but we've been watching relegation standard football for 4 seasons now - just look at our away record and goal difference.
After a dozen games, we only have to see a few decent performances and whomever will have our full support. Win a Derby and he'll get the season. Win an away Derby and he'll get a 5 year deal.
Just wake us from this footballing purgatory, and get the atmosphere back at GP.
Christy Ring
317
Posted 15/05/2018 at 21:16:05
The most important decision is sacking Sam, if it's Silva next, we just have to wait and see how it works out. When he took the Hull job, Jeff, the panel and all the pundits already had Hull relegated, and he nearly pulled off a miracle. He completely changed Watford, bought unknown but exciting players, played attacking football, but the defence suspect, so a good backroom team essential.
Our recruitment last summer was a disaster, and sacking Koeman for me was the reason we turned the season around.
Liam Reilly
318
Posted 15/05/2018 at 21:20:01
Sam should be thankful he's not in charge of Sporting; whose fans apparently donned balaclava's and attacked the players for not qualifying for the CL.
https://www.cmjornal.pt/desporto/detalhe/academia-do-sporting-invadida-por-adeptos-de-cara-tapada?ref=HP_Destaque
God know what they'd do if they supported Everton - Semi automatics perhaps?
Tony Abrahams
319
Posted 15/05/2018 at 21:20:32
You are Probably right Paul, considering how much money, each place in this vastly over-rated league is worth.
Maybe Silva, went to Watford because he doesn't like staying in one place for too long? But if he does come to Everton, then let's hope that changes.
Brian Williams
320
Posted 15/05/2018 at 21:20:39
Anyone else think Watford folded against us in November?
.............runs away!!!
Darren Hind
321
Posted 15/05/2018 at 21:26:35
Ah come onTony
Are you really claiming the Goodison crowd beat Watford ? So what or who, stirred them ? Rhino hadn't the time to prepare tactics, he could only demand passion from his troops against a team riding very high on confidence. Yes it got the crowd going but it was the passion from the players on the pitch which saw off the over rated Silva and his tactical know how. Just as it was passion that saw off very over rated GT.
The old lady has only really rocked four times since Moshiri took over and Rhino (despite taking over other peoples car crash's) was in charge of three of them. No coincidence that.
What a pity the guy who REALLY turned our season around isn't even being considered. I'm sure he would have a lot more to offer if he was given a little more time with his players rather than just try to inject some fight and belief into players who had been turned into Zombies.
Rhino will always be blamed by a section of the fanbase for being hammered in a cup we were already out of, in a game everyone connected to the club just wanted out of the way and the heavy defeat at St Mary's when the entire defence was decimated through injury. Very, very short sighted in my view, but enough, it seems, to take him out of the reckoning
The guy knows how to get the old lady bouncing and that alone, for me at least, would give him a huge advantage over some of the jokers being mentioned
Especially Mr P45

Jay Wood
[BRZ]
323
Posted 15/05/2018 at 21:34:07
Sounds as if there has been a parcelling out of responsibilities according to the story about the musical chairs at admin and board level on the official club site.
BK still in place as chairman. John Woods replaced by Keith Harris as his deputy, with particular responsibility (in his own words) of 'taking the lead in the Club's most important projects, from first-team football matters to the new stadium project.'
DB-B promoted to CEO but there is no description on her areas of responsibility. No reference of a new deputy CEO in her place.
Moshiri's hit man Alexander (Sasha) Ryazantsev takes responsibility for the Club's Financial and Commercial performance. He is quoted as saying:
"I'm really pleased to be taking up the position of Chief Finance and Commercial Officer and to be supporting Denise in the running of this great Football Club. We're all fully committed to making the most of the opportunities we have, including growing our commercial revenues and delivering a new stadium, while ensuring we run the business in a sustainable way. This new structure presents us with clear lines of responsibility and accountability and provides us with a strong platform to move forward from."
Not the completely new broom and sweeping away of the old as some of us hoped for.
Ed Fitzgerald
324
Posted 15/05/2018 at 21:34:35
Jay wood
Tut, tut such bile - you never did give a reason why she shouldn't be CEO did you? well she is now, so perhaps Moshri who is a business man rates her more than you do.
What is exactly irking you? Having a CEO who has worked in education, has a doctorate in Leadership? Has done a good job already at Everton? Or has no bollocks to use your favourite word.
David Currie
325
Posted 15/05/2018 at 21:34:46
Tom 257, Michael 269 both good posts.
Eddie Howe has done better than Silva in the premier league, he has kept Bournemouth up for the last 3 years. He is our best bet and should be our next manager.
David Currie
326
Posted 15/05/2018 at 21:34:46
Tom 257, Michael 269 both good posts.
Eddie Howe has done better than Silva in the premier league, he has kept Bournemouth up for the last 3 years. He is our best bet and should be our next manager.
David Israel
327
Posted 15/05/2018 at 21:36:44
I've posted this on the thread of Lyndon Lloyd's article on Marco Silva, but I think it fits here, too.
I think it was the right thing to do to hang on to Sam Allardyce till the end of the season. Enough of a circus around here.
As for the next manager, the apparent instability of Marco Silva has to be put into perspective. Greek and Portuguese football chairmen are not, by and large, known to be staunch defenders of stability and continuity, perhaps with the exception of the Porto chairman, who seems to be a legend on those shores. The Hull City job was given to Silva for only half the season, or he had an option to leave, and it doesn't strike me as impulsive to want to jump ship after being relegated. Watford is a complete nutcase under those Italians, as I'm sure the vast majority of us have not failed to notice. As for Silva concentrating on 'clean sheets', well, his record at Watford belies that. On the contrary, the team became better known for giving away leads, as happened at Goodison Park, where they were leading 2-0 with some twenty-five minutes to go, and we all know what the final score was. That happens to be my main concern about Silva.
All in all, I'd much prefer Paulo Fonseca, or even Eddie Howe, but Silva would certainly seem like an improvement on the current regime.
Tom McEwan
328
Posted 15/05/2018 at 21:39:02
Chris @308, with all due respect mate you are missing my point. Please read my post again. Don @313, likewise and I did not quote a 'ratio'.
Lyndon @306, that is precisely why I posed the question you quoted. None of us know. My point is, all Silva's 'credentials' advocated on here, deeming him to be a worthy manager of our football club are based on hypotheticals.
His ACTUAL record in the Premiership is, WON 16, DRAWN 8, LOST 24, out of 48 games. By my reckoning that's 56 pts out of a possible 144 on offer. So, if we disregard the 'maybe's', 'what-ifs' and plain supposition, feel free to call me, 'Mr Picky' if I do not want a man with that abysmal record as manager of my football club.


Danny Baily
329
Posted 15/05/2018 at 21:39:40
Silva's record in the prem in terms of results and character is not good. For that reason we shouldn't even be considering him.
Tony Abrahams
330
Posted 15/05/2018 at 21:40:48
I've only saw Goodison rocking 3 times, during the last 3 seasons Darren. One for Martinez, against Chelsea in the cup, wharra manager! One for Ronald, when Williams got a late goal to beat Arsenal under the floodlights, and one to Unsworth, for that game against Watford.
Watford, were good at Goodison, and even when we went in front, they were the team that was playing all the footy.
If my memory is right (it's worrying me lately) we went 4-4-2, route one, got a bit of luck with their goaly going off, and with all them red bastards setting off fireworks in Stanley Pk, our crowd knew we were in real trouble, and done what I've seen them do countless times over the years!
I honestly think that's why Silva, wanted the Everton job, because he witnessed something that night, that very few crowds in the country can match, but maybe I'm just being biased?
Jay Wood
[BRZ]
331
Posted 15/05/2018 at 21:41:32
Ed @ 324.
You can continue that conversation on your own.
Can't help you if you can't see what I took issue with and dismissed in your original post.
Happy fabricating!
Jason Broome
332
Posted 15/05/2018 at 21:44:28
Brian Harrison@236
I think you miss-read my post mate.
Who said anything about Silva bringing in Watford players?
I was talking about my lack of faith in Walsh. I'm aware of who managed Carvalho at Sporting. I just don't believe that Walsh would be able to pull off his signing.
I could see the guy panic buy Troy Deeney or some ex Watford player and spin it regarding tactics.
As my post stated earlier I'm pro Silva as his job is to work with the players and manage tactics. He's apparently good at that, so why not him!?
As for transfers I don't want Walsh anywhere near them.
Have a good evening.
Darren Hind
333
Posted 15/05/2018 at 21:51:20
Tony
Chelsea was a cup game and you coul dhear the players talking to each other before Williams last gasp winner. I can only assume you didn't go to the game after Martinez was sacked - fantastic carnival atmosphere. .or the west ham game where the crowd were up for it from the off.
The main thing Silva saw at Goodison was defeat,
Paul Tran
334
Posted 15/05/2018 at 21:52:14
Tony, I think Silva wanted (or wants) the Everton job because he knows he'll be working with better players in front of a proper crowd on a bigger salary with a bigger budget. And under a relatively sane set-up, compared Hull and Watford.
Alan Johnson
335
Posted 15/05/2018 at 21:53:06
Eddie Howe - He will stick with us. I like his style. A five year deal, let him grow into the job, not a Johnnie come lately - True stability...
Ian Hollingworth
336
Posted 15/05/2018 at 22:11:50
Silva is not a very ambitious move from Everton, his last jobs were Hull and Watford. Is that really our level now.
Forever 7th or 8th.
I fully expect to see these pages full of venom come November but I hope I am wrong.
Besides a top manager we need better quality players and there won't be too many of them coming in.
Jay Harris
337
Posted 15/05/2018 at 22:12:29
I don't think Silva is necessarily a bad manager in fact my dog would be a better manager than Allardyce but I just feel the opportunity is there for us to think bigger.
Wenger is available, so reportedly is Benitez(I know but you could swallow what little pride we have left), Emery is available, conte is probably available. I know all the experts will come on and say why would they even consider EFC but the challenge of competing with Guardiola, Mourhino etc in the best league in the world must appeal to at least one of them especially with a big transfer kitty.
The feedback I was getting over the weekend was that Silva was a done deal but that no longer appears to be the case due to complications with Watford. Fonseca might just pip him to the post but I am just as concerned about him.
Why cant we for once think hugeeeeee.
John G Davies
338
Posted 15/05/2018 at 22:14:05
Let's narrow the field down.
It won't be Howe.
It definitely won't be Unsworth.
It won't be Emery, Ancelotti, Simeone, Wenger, etc.
It will be one in the ilk of Fonseca, Silva, or Conceicao.
I will give full support to whichever one it is

Stephen Davies
339
Posted 15/05/2018 at 22:18:47
Jay #337...
What complications?...He was sacked by Watford there will be no complications between EFC and Watford
Steve Ferns
340
Posted 15/05/2018 at 22:19:31
Independent Article on Sporting Owner and Mention of Silva and his sacking
A different perspective on the nutcase that runs Sporting. You'll note that he blocked Benfica from taking Silva to Sporting in a straight swap of managers. Why would he do that if he thought Silva wasn't up to it. You'll also see mention of just how much a state Sporting where in. You should also note that Silva winning Sporting their first trophy for 7 years, is their only major trophy for 12 years (not counting the Portuguese Charity Shield and the much inferior version of our league cup). You could also note that the nutcase has since suspended Silva's successor and all his coaches, meantime they have the Portuguese Cup Final this weekend and no one knows what the hell is going on.
Stephen @339, Watford will argue we made an illegal approach and therefore demand compensation. Silva is currently suing Watford for £800k outstanding. If Moshiri really wants him, he'll wave the chequebook and make it all disappear for a reasonably small amount. This is indicative of the Pozzos and how they run things, and should show why Silva would have jumped at the chance to manage us.
He's had a load of Barmy owners:
- De Carvalho at Sporting
- Marinakis at Olympiacos (also owns Forest now and read the daft stuff he's up to there)
- Allam at Hull (the guy who wants to change Hull City to Hull Tigers)
- The Pozzos at Watford
With a list like that you can understand why he's been looking for the right club.
Gordon Crawford
341
Posted 15/05/2018 at 22:22:07
We are doomed. In all seriousness, no Silver lining for me.
Paul Tran
342
Posted 15/05/2018 at 22:25:32
Stephen, there are potential complications because Watford haven't paid Silva off yet. I'm guessing that Watford have been waiting for this to happen and may use it to try and get a few quid off us.
Geoff Lambert
343
Posted 15/05/2018 at 22:32:14
Moyes staying at West Ham now.
Tom McEwan
344
Posted 15/05/2018 at 22:34:27
Jeez!! Stevie lad @340, you have made me change my opinion completely.
You are not Marco's agent in disguise. You are the man himself, barely disguised.

Geoff Lambert
345
Posted 15/05/2018 at 22:34:34
Fonsecas odds shortend drastically now.
Andy Crooks
346
Posted 15/05/2018 at 22:41:12
Ed, our new chief executive has a " doctorate in leadership"? Holy fuck, how can such a thing exist? A " doctorate" ? This is nothing to do with putting women in top positions. It seems to me to be about the nicey niceness of Everton's lamentable policy of promoting from within.. Can you say, hand on heart that this is the best we can do? Why not get someone who has run a football club well. She has a doctorate AND has worked in education? Over qualified, surely.
Paul Smith
347
Posted 15/05/2018 at 22:43:48
Watford have just submitted a formal complaint Alan Myers Twitter - hence The Fonz's odds shortening.
Geoff Lambert
348
Posted 15/05/2018 at 22:45:57
Andy that is why David Harrison will be working closely with her.
Lawrence Green
349
Posted 15/05/2018 at 22:47:50
Mail and Telegraph are reporting that Everton may face a points deduction if they appoint Silva - Good luck Marco starting off with a minus points tally before we even know the fixture list never mind kicking a ball in earnest.
Silva is Everton's choice to replace the outgoing Sam Allardyce, but the acrimony following an alleged illegal approach last November has not receded, despite the Portuguese coach's subsequent dismissal by Watford.

The Hornets want significant compensation for the disruption to their campaign and have filed an official complaint to the Premier League. In the most extreme scenario, Everton face a points deduction if the accusations of 'poaching' are proven, but a fine is the greater possibility should it go that far.
It's never simple at Goodison is it?

Steve Ferns
350
Posted 15/05/2018 at 22:48:39
Haha nice one Tom!
It's interesting to read that Arsenal have snubbed Fonseca. Would he really choose West Ham over us? If the two Portuguese both would choose us over West Ham, it's a tough decision as to which to go for.
I go for Silva on the basis of him doing better in Portugal when the two went head to head, and that it's hard for me to get a real insight into what Fonseca actually did in the Ukraine.
I keep coming back to the fact that Silva is just a better coach. More hands on is one way of putting it. He could revolutionise this current squad, with just a few changes, and the reintegration of Lookman and Vlasic.
-------------------------------------------------------------
Lawrence @349: This is just the Pozzos being the Pozzos. Anything they can do to make some cash or to get back at us. We won't be docked points, we just might end up paying some compo and maybe a fine. I bet the Pozzos will make a deal and it'll all go away quietly.
Andy Crooks
351
Posted 15/05/2018 at 22:57:22
Darren Hind, Eddie Howe would be my choice. However, I will be happy with Silva. It surprises me that you fail to see the similarities between Howe, Silva and Unsworth. Three young, hands on, passionate coaches with a view to playing the right way. Unsy, will not be in the picture though I believe, had we not panicked, he would now be on a good contract with a mandate to build.
He's not, so I just cannot see how you dismiss Silva. He's the same, but foreign. He will be great and you will, like the rest of us, support him. By the way, would you rather have Fonseca? I don't know enough about him but posters whose views I respect lean me towards Silva.
Lawrence Green
352
Posted 15/05/2018 at 23:01:34
Steve #350
I agree with you, which is why I put the extract from the Telegraph in my post - I think Watford owe Silva circa £750k they don't want to pay it - Everton will likely pay it for them and give them a few bob more to keep them sweet and we'll all move on - unless of course Silva is not first choice.

I wonder if Bill asked for any compensation when David Moyes 'suddenly' left to go to United?
Jay Harris
353
Posted 15/05/2018 at 23:04:47
Stephen,
Watford have lodged a formal complaint with the league.
They have been in arbitration but could not come to an agreement.
If we appoint Silva I expect Watford will have a stronger case and we could get a points deduction as well as major compensation to be paid.
Is he worth it???
David Boardman
354
Posted 15/05/2018 at 23:13:16
The important thing, and one everyone agrees on: Goodbye Allardyce.
Second point, my opinion but not everyone else's: Benitez is ideal.
Jamie Crowley
355
Posted 15/05/2018 at 23:43:03
I worked all day and have been completely zero dark thirty with the internet.
THANK YOU GOD!!!
The nightmare ends.
Tom McEwan
356
Posted 15/05/2018 at 23:51:46
Steve @350, with all due respect, we don't compete in the Portuguese league, so the Silva 'head to head' comparison with Fonseca matters not one jot. Nor do his 'training videos' that you keep banging on about.
To be honest, I do not understand your post @340 and the 'example' you use in quoting the Independent, which is more an article about De Carvalho than Silva, especially when presented in the context of promoting him as a future manager of EFC.
In addition, is the fact that when he has failed at other clubs, always down to the owners rather than him? Is that what you are trying to promote here?
If his main claim to fame is the Estoril job Steve, then I can count numerous other examples in the past where similar or even harder 'miracles' have been performed. Check out Clough's record at Forest for instance.




Steve Ferns
357
Posted 16/05/2018 at 00:09:33
Tom, I've said all I can say on the matter. If you can't be persuaded, then fair enough, you make up your own mind.
It appears very likely, especially according to the bookies, that one or the other of the two Portuguese will be managing us shortly. My preference for Silva is clear. But Fonseca will more than do, and his recent record over the last two seasons is impressive, so I'll more than get behind him, even if I wonder what might have been when Silva turns up at his next club and catapults them into the big time.
Tom McEwan
358
Posted 16/05/2018 at 00:15:04
Fair doos Steve but I am at a loss as to just what your optimism is based on concerning this fella. However, good luck and good night
Soren Moyer
359
Posted 15/05/2018 at 00:15:49
Fat Sam and his band of misfits staying put then!
Derek Thomas
360
Posted 16/05/2018 at 00:47:34
Its just Watford playing legal silly buggers for a few bob to go away.
We approached them for Silva, got rejected... but I think he might have be approached and agreed before hand. This threw him off his stroke... he said he had players asking him 'can I come too'... long story short; toys out the pram all around.
Watford sacked him, we maybe didn't help, but we approached and backed off when told No. They didn't have to sack him, they could've told him to pull finger and do the job he's being paid for
I think they are quite prepared to spend some legal fees and pocket a couple of Mill to settle out of court... as some are.
They didn't have to sack him... Stonewall them, bury them in paper, throw lawyers at them... nice exercise for the legal dept. Tell them to fuck off.
Darren Hind
361
Posted 16/05/2018 at 06:24:32
Andy
To be completely honest I thought Jay Wood nailed it back in post 61, but over 360 posts would suggest we either have too much time on our hands, or we find it fun.
I find it highly amusing to see people putting forward the three Portuguese managers as the answer, for no obvious reason other than they are Portuguese - Jose has a lot to answer for.
Like you, I would be happy with Howe, I find it staggering that people would ignore his starting position, yet give great sympathy to the starting position of Silva at Hull - For the sake of any doubt, its two divisions, not two places . . .two divisions. People need to stop and give that a little thought.
Here's another thought, one defied gravity and continues to do so and the other has fallen like a bag of cement thrown from a block of flats.
There is simply no comparison between the Englishman's achievements and that of the three Portuguese front runners. But it appears, for some at least, that being English means you can be dismissed simply on a hunch, but being Portuguese will get you eternal sympathy . . it utter bollocks, so is the constant referrals to tactical analysis websites to boost Silva's credentials. Why don't people judge for themselves instead of repeatedly giving somebody else's opinion ? . .Why would people make ridiculous comparisons to Martinez and Howe, do they understand what they are seeing ? or are they simply looking at their hairstyles ?
Having said all that. Jay Wood is still right. You only get to find out if you have made the wrong choice after you have made it
Whoever comes in needs to be a good fit. He needs better people supporting him. He needs all of his stars to be aligned.
We can have our fun dismissing other peoples choices, but this is not a quick paint job, its a total rebuild
We need somebody who wants to play the right way. We need somebody who will be able to cope with the pressure. We need somebody of Authority. . . but to be honest, right now, I'd trade all that for an ambitious jammy fucker . .whatever nationality

Tony Abrahams
362
Posted 16/05/2018 at 07:58:15
Seriously Darren, it seems to me that sometimes you are only to long in the tooth when it suits!
Paul Tran
363
Posted 16/05/2018 at 08:47:27
Darren, don't worry, youre notvthe only one irritated by the constant barrage of statistics masquerading as facts.
Like I said before, your own eyes, your own instincts are stronger than a stack of stats.
John Keating
364
Posted 16/05/2018 at 09:12:36
As mentioned in an earlier post why not reduce risk and get an experienced manager.
My choice - and looking at the latest poll update I am not alone - is Benitez.
However no doubt posters will be against him because of what he said years ago and his name doesn't end in a vowel
Andrew Ellams
365
Posted 16/05/2018 at 09:51:40
He's gone
Neil Wood
366
Posted 16/05/2018 at 09:51:54
See ya pal
Phil Walling
367
Posted 16/05/2018 at 09:52:01
He's gone ! I'm setting up a sweep to forecast how many managers Moshiri will have from now until the end of next season.
Any advance on three ?
Michael Nisbet
368
Posted 16/05/2018 at 09:52:44
YYYYEEEEESSSSSSSSS

He's officially gone!!!!
Happy days!
Jimmy Hogan
369
Posted 16/05/2018 at 09:55:14
Ding dong the witch is dead
Michael Lynch
370
Posted 16/05/2018 at 09:55:20
I really hope Walsh is gone too. And they've got a new DoF and manager lined up - none of this "we will now commence a wide-ranging search for the right manager to take the club forward" bollocks.
Richard Lyons
371
Posted 16/05/2018 at 09:56:02
Yessss!
Ajay Gopal
372
Posted 16/05/2018 at 09:57:40
Breaking on the BBC..
Johan Elmgren
373
Posted 16/05/2018 at 09:57:47
Woohoo, we can hopefully start enjoying our football again!
Tommy Coleman
374
Posted 16/05/2018 at 09:58:49
It's over!
What a nightmare that was.
COYBs. Let's get a world class Manager in that can restructure the club from top to bottom.
Paul Hughes
375
Posted 16/05/2018 at 09:59:32
Banner headline on Sky Sports.
Si Miles
376
Posted 16/05/2018 at 10:06:26
Thank god
Brent Stephens
377
Posted 16/05/2018 at 10:08:34
Like waking from a nightmare. It's all over but it still feels horrible.
John Raftery
378
Posted 16/05/2018 at 10:12:14
Phil - I'll go to four.
Shiny new Manager loses a few games and is sacked in October amid fan protests as we sit in the bottom three.
Unsworth takes over for two games both of which are lost.
New shiny manager takes over but is sacked in January.
Old hand manager takes over to keep us up...we hope!
Another £10m or more down the drain.
Brian Williams
379
Posted 16/05/2018 at 10:15:04
Jimmy#369
Jimmy you beat be to it. I was gonna put a link up to that scene from The Wizard of Oz where Sammie Lee and all his mates sing that song "Ding dong the wicked witch is deeeeeeeeeeeeeeeeead."
Happy face, happy face.
Sam Hoare
380
Posted 16/05/2018 at 10:19:12
Never wanted Sam. Never liked Sam. Never want him back. But he did do a fair job; he took a terrible mess of players in a totally unbalanaced squad from 13th to 8th. He did what was asked of him. Fair enough.
Now hopefully to a brighter future of decent football and the occassional victory against teams above is in the league.
New man is has a terrible mess to sort out and its got to be a long term plan. No way are we challenging top 4 next season. Id take 5th-7th some entertaining fare and a cup run or two.
Neil Cox
381
Posted 16/05/2018 at 10:19:48
Just announced he's gone. Thank the lord!
Brian Williams
382
Posted 16/05/2018 at 10:20:23
Sam. I think most of us would take top half if we could see some semblance of a forward looking plan mate.
Tony Abrahams
383
Posted 16/05/2018 at 10:21:33
And the most worrying thing of the lot Phil, is that there is no way Allardyce, will touch us again, if we ever find ourselves in more trouble!
Careful what you wish for comrades, let's just hope whoever was on Sam's table last night, all enjoyed the last supper!
Gordon Crawford
384
Posted 16/05/2018 at 10:21:49
Bye bye and take care. Now this will be interesting.
Michael Nisbet
385
Posted 16/05/2018 at 10:27:34
"And the most worrying thing of the lot Phil, is that there is no way Allardyce, will touch us again, if we ever find ourselves in more trouble! "
I bloody hope so!... Never want him anywhere near us ever again.
Jon Withey
386
Posted 16/05/2018 at 10:27:39
Thanks for keeping the club ticking over Sam - Koeman thought he was bigger than the club - I don't want to see a hire like that again - we are a destination not a stepping stone.
Ernie Baywood
387
Posted 16/05/2018 at 10:28:26
Hopefully, Gordon.
I wouldn't mind seeing a manager unveiled before I get too excited though.
What we do next will tell us whether we're headed in the right direction or just taking a step in some direction.
Ed Fitzgerald
388
Posted 16/05/2018 at 10:33:46
Thank god for that
Jim Bennings
389
Posted 16/05/2018 at 11:17:36
Now show some balls and ambition get on the blower to Arsene Wenger!!
Steve Brown
390
Posted 16/05/2018 at 11:23:51
Hiring a manager of stature who can unite and excite fans - that is the ask. It's a big one! Emery for me but we will see.
Just delighted we have got rid of this blight on the club.
Rob Halligan
391
Posted 16/05/2018 at 11:25:54
Jim, while he's at it also try Unai Emery and Diego Simeone. In fact anyone with a high profile.
If you don't ask you don't get. If you don't buy a ticket then you won't win the raffle. What's the worst thing that can happen? They can only say no.
Alasdair Mackay
392
Posted 16/05/2018 at 11:32:27
Arrogance.
That's the word that sticks most in my mind, when I think of the Allardyce tenure at our club.
Arrogance to bullshit his way into the appointment to start with.
Arrogance to try and take credit for the West Ham performance ( we just saw your West Ham performance, Sam, and there was a 7 goal swing in favour of the opposition).
Arrogance to think he can appoint Sammy Lee to his coaching staff and not expect a reaction from the fans.
Arrogance that he can finish with less shots than 2 relegated teams and still maintain a belief that the football was acceptable.
Arrogance that he believes 8th is acceptable (even for this season - we were 8th by February).
Arrogance to think he can dupe fans with his bullshit. Evertonians are intelligent football thinkers, always have been. Despite our reservations, we would have got behind him if he had actually applied himself in the Everton way - never satisfied unless the best.
Tom Bowers
393
Posted 16/05/2018 at 11:46:15
He's gone !!!!!!
Jon Withey
394
Posted 16/05/2018 at 11:49:06
""I'm shocked, disappointed and disgusted that the football club didn't have the decency to tell me, my Director of Football and my staff about the changes."
Don't know why he is shocked - but if DoF didn't know then could we be seeing the end of Walsh too ?
Paul Birmingham
395
Posted 16/05/2018 at 12:08:29
Now to move on and learn some lessons and avoid the last season recurring again.
For me regardless of the past statements when he was an RS manager, I'd go for Benitez as he's acheived success here and on the continent.
Silva though is muted in the media as favourite to take over, but let's see. Who ever takes over has a massive challenge starting at FF, fitness, mental approach, and trying to mould a football team, off load deadwood and sign proven new CD, CF, LB, and CAM, at least.
Good luck to whom ever tales over, as he will need the full backing of the club and supporters.
Bjoern Haall
396
Posted 16/05/2018 at 12:12:29
Power to the people.
Tom Bowers
397
Posted 16/05/2018 at 12:20:52
Between him and Koeman they produced an awful team to watch and I for one was ashamed to see how they performed week in week out.
Steve Ferns
398
Posted 16/05/2018 at 12:26:24
Now Moyes has left. Can someone make sure Bill is kept well away from all communication devices!
Jay Wood
[BRZ]
399
Posted 16/05/2018 at 12:30:47
TIMBERRRRRRR!
Very droll, Steve Ferns.
Not even Moshiri could re-appoint Moyes...could he? could he?
Somebody reassure me!
Lawrence Green
400
Posted 16/05/2018 at 12:34:13
If there's one lesson to be learned from the whole sorry Allardyce affair, it's that the media shouldn't be listened to, when they express their views about anything to do with Everton Football Club. Whether it is former players, professional anchor people or the talking heads employed by the TV and Radio, they all tend to sing from the same hymn sheet, trotting out the usual cliched soundbites, with very little regard to us as supporters.
They no longer trot out the over-achieving tag but they do continually portray us as a club that should be happy to exist in the rareified air of the Premier League. If by some miraculous turn of fortunes, Everton FC find themselves challenging the top teams, next season, it will be the same people informing us at every opportunity that we lack this or that and that we will fade away as sure as day turns to night or they will say that x or y player at Everton should move on in order to satisfy their ambitions.
With that backdrop it is important that whichever manager gets the gig, we have to unite behind that manager and get right behind the team, from the opening whistle of next season right through to the final whistle in the last game. I want to see Goodison at its best next season, I don't want to see fans staring into empty space, wondering about what they are going to have for supper, I hope to see an animated crowd in every game.
Our natural leaning towards pessimism is more than understandable, given what we have had to put up with for too many years, but we should all try a little bit harder to truly support the team to the best of our abilities, there are plenty of non Evertonians who are paid handsomely to express their mostly negative views on Everton FC, why should we continue to do that job for them, free of charge?

We the fans are Everton FC, we always care about how we play, and whether we win or not, therefore we need to do as much as we possibly can in order to help the team on the park achieve as much as it can in every match - we may not finish any higher next season than we did this, we may not have any success in the cups, but the least we can do is to show how much pride we have in our club and all the talking heads in the world shouldn't ever get in the way of that.
Marc Hints
401
Posted 16/05/2018 at 12:34:34
Does anyone know if Sammy Lee, Craig Shakespeare and the goalkeeping coach has left as well?
James Marshall
402
Posted 16/05/2018 at 12:36:52
Allardyce's backroom team of Sammy Lee, Craig Shakespeare and goalkeeping coach Martyn Margetson are also expected to leave Goodison Park as the club undertakes another expensive overhaul of its management structure.
Phew.
John Pierce
403
Posted 16/05/2018 at 12:41:52
I felt the zing of excitement as I found out that he's gone. The chance to breathe and enjoy our tribulations with proper Everton mirth not shame!
Utterly drained by the circus that's its created, without any enjoyment for a season in exchange.
A regular shameful time in the clubs history.
The worst appointment ever, bar none. Will they at the top ever learn?
Tim Wardrop
405
Posted 16/05/2018 at 12:48:42
Pleased he's gone, but in terms of results he did exactly what was asked of him, and more. So, while I never wanted him in the first place, hated watching his football and thought he would have killed the club longer term, I have to say a big thanks to Fat Sam for a job well done.
Onwards and upwards
Tony Everan
406
Posted 16/05/2018 at 12:48:57
Lawrence #401

I agree wholeheartedly. Well said
James Marshall
407
Posted 16/05/2018 at 12:55:06
I just read that Allardyce points per game over his tenure was the same as Unsworth over his 5 games, so basically we could/would (maybe?) have ended up 8th with the same points gained had we stuck with Rhino.
Slightly skewed and nonsensical I agree, but it goes to show that actually Allardyce got the same level of shit performance out of our squad as Unsworth, who in my view (now and at the time) did a terrible job.
Oddly I've been one of those saying Allardyce did what was asked of him, but having read that I'm now questioning whether I was wrong. It's starting to strike me that this squad is just bang-average no matter who's in charge.
David Midgley
409
Posted 16/05/2018 at 13:07:58
Lots of comments about the CEO.
Google- Phillipe Couthino-Southampton. Read the article by and about Nicola Cortese, he was the man who spotted Poch. Might have missed an opportunity there, we'll never know.
Jer Kiernan
410
Posted 16/05/2018 at 13:16:45
Thank fuck! At least I can watch the club next season. Throw Fatboy and Kenwrght out on to the street too, I want to see "ruthless" from Mosh this is what the club needs a slap in the face to stop living in the past
I am hoping we pull in any money we can save sending Rooney away selling off the dead wood and begin by offering some "top drawer" managers very handsome pay deals (Ancellotti, Simeone, Emery) if they snub us so be it
But I have little faith in Silva, Fonseca and am shocked at some suggestions of Wenger?? If you want to see him bouncing his water bottle in disgust as our pushovers get spanked 5-0 that is up to you but the man is a spent force he was stinking the place out at Arsenal and that's with MORE money to spend than us.
Ruthless Chairman and Ruthless Manager please
Kevin O'Regan
411
Posted 16/05/2018 at 13:18:42
Ralph Hasenhuettl has just left Leipzig today and should be a decent choice for any PL team. I'd certainly give hom a shot. Plus he would definitely bring Lookman back with him... Lyndon - can you pls. add him to the poll ?

Daniel A Johnson
412
Posted 16/05/2018 at 13:41:18
The obvious choice is Benitez.
A Champions league and UEFA cup winning manager.
On a hiding to nothing at the Magpies. Still lives in the area.
He's a world class manager and the obvious choice.
But is it a case of once a red always a red?
Peter Gorman
413
Posted 15/05/2018 at 14:01:58
Phil 'we're doomed, doomed I tell thee' Walling - don't worry, I love you too.
James Hughes
414
Posted 16/05/2018 at 14:02:28
NOOO to Rafa, just got rid of one past the sell by date Idiot, do not need him replaced by another.
I also can't get past his links with the orcs, The insults would be intolerable.
Add Your Comments
In order to post a comment, you need to be logged in as a registered user of the site.
Or Sign up as a ToffeeWeb Member — it's free, takes just a few minutes and will allow you to post your comments on articles and Talking Points submissions across the site.