Everton announce significant changes at executive level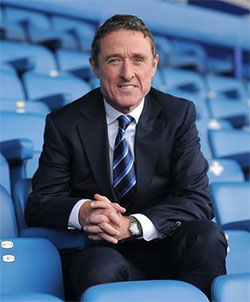 Everton have confirmed the departure of Robert Elstone as the club's Chief Executive after 10 years in the role amid a wider restructuring of the club's administration.
The 54-year-old will shortly take up a similar role heading at the Rugby Super League, which would mark a return to his first love and sporting roots.
He will be succeeded by his current deputy, Professor Denise Barrett-Baxendale, MBE, effective 1st June.
Alexander Ryzantsev, Farhad Moshiri's appointee in the boardroom, will step into a new Director of Finance and Commercial Officer role while Dr Keith Harris, also on the Board, has been promoted to Deputy Chairman.
Dr Harris will be charged with leading Everton's plans to relocate to a new stadium Bramley-Moore Dock. It is anticipated that, in stepping down as Chairman Bill Kenwright's deputy, Jon Woods will eventually leave the Board with the sale of his 8.9% stake to Moshiri.
The announcements mark the beginning of what is expected to be another close season of change at Goodison Park and Finch Farm in the coming weeks, with a new team manager and Director of Football likely to be appointed.
A former director at BSkyB and Deloitte & Touche and ex-Executive Assistant at the Rugby Football League, Elstone joined the Toffees in 2005 as deputy CEO to Keith Wyness.
He eventually assumed the role of CEO in his own right three years later when Wyness resigned his post in the midsts of Destination Kirkby that proposed a new 50,000-seater stadium for Everton in Knowsley before it was called in by the Government.
In the interim, Elstone has overseen Everton's commercial growth and led the club's continued search for a new stadium which has culminated in efforts to relocate the club to a brownfield site at Bramley-Moore Dock.
Elstone, who was named to the club's Board of Directors just over two years ago, had been expected to spearhead that initiative to its conclusion but is moving on to pastures both familiar and new.
League Express reported last month that Elstone's appointment would see him become director for all 12 Super League clubs and manage some key changes that have been proposed for how the sport is administered.
"I have enjoyed 13 wonderful years here and feel privileged to have been able to play a significant role in the development of such a great club," Elstone said on evertonfc. "I will leave with many great memories, all shared with fantastic and talented colleagues.
"I have always said I am proud to have been given such an important custodial role and I leave a club with a very clear sense of purpose and identity; one that places its fans 'front and centre' in all its decisions.
"Mark Chapman described us, again, as a proper Football Club. To have played a part in that makes me proud. To have had the opportunity to work for a Proper club, makes me feel very privileged.
"I would like to thank the Chairman, my colleagues on the Board and Mr Moshiri for giving me the opportunity to lead such an amazing Football Club. I will always be grateful for such a rare, exciting and privileged opportunity."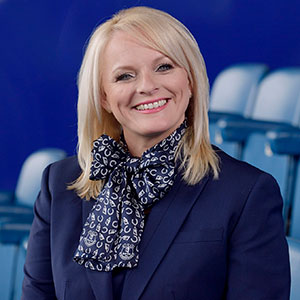 Professor Denise Barrett-Baxendale will be Everton's new CEO effective 1st June
Professor Barrett-Baxendale, also appointed to the Board in 2016, has garnered admiration at the club and been recognised nationally for her work heading up the club's award-winning charity, Everton In The Community.
"I am so proud to be given this opportunity and grateful for the support of the Chairman, Board of Directors and Mr Moshiri," she told the club's official website. "I fully understand the privileged position that I will be taking up and the responsibilities that come with it. This is a great Club — footballing royalty – with the best, most committed fans and I can assure every single Evertonian that I am completely committed to driving our Club forward and making the most of the opportunities that we have.
"I know what the priorities are and I'm determined that we make progress in these areas. It's also important to me that we make our progress in the right way – in the 'Everton way' – and this includes listening, consulting and collaborating on all important Club matters."
---
---