Everton announce significant changes at executive level
Tuesday, 15 May, 2018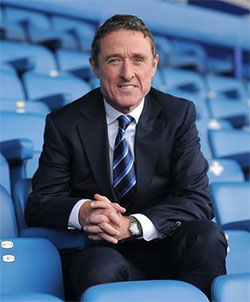 Everton have confirmed the departure of Robert Elstone as the club's Chief Executive after 10 years in the role amid a wider restructuring of the club's administration.
The 54-year-old will shortly take up a similar role heading at the Rugby Super League, which would mark a return to his first love and sporting roots.
He will be succeeded by his current deputy, Professor Denise Barrett-Baxendale, MBE, effective 1st June.
Alexander Ryzantsev, Farhad Moshiri's appointee in the boardroom, will step into a new Director of Finance and Commercial Officer role while Dr Keith Harris, also on the Board, has been promoted to Deputy Chairman.
Dr Harris will be charged with leading Everton's plans to relocate to a new stadium Bramley-Moore Dock. It is anticipated that, in stepping down as Chairman Bill Kenwright's deputy, Jon Woods will eventually leave the Board with the sale of his 8.9% stake to Moshiri.
The announcements mark the beginning of what is expected to be another close season of change at Goodison Park and Finch Farm in the coming weeks, with a new team manager and Director of Football likely to be appointed.
A former director at BSkyB and Deloitte & Touche and ex-Executive Assistant at the Rugby Football League, Elstone joined the Toffees in 2005 as deputy CEO to Keith Wyness.
He eventually assumed the role of CEO in his own right three years later when Wyness resigned his post in the midsts of Destination Kirkby that proposed a new 50,000-seater stadium for Everton in Knowsley before it was called in by the Government.
In the interim, Elstone has overseen Everton's commercial growth and led the club's continued search for a new stadium which has culminated in efforts to relocate the club to a brownfield site at Bramley-Moore Dock.
Elstone, who was named to the club's Board of Directors just over two years ago, had been expected to spearhead that initiative to its conclusion but is moving on to pastures both familiar and new.
League Express reported last month that Elstone's appointment would see him become director for all 12 Super League clubs and manage some key changes that have been proposed for how the sport is administered.
"I have enjoyed 13 wonderful years here and feel privileged to have been able to play a significant role in the development of such a great club," Elstone said on evertonfc. "I will leave with many great memories, all shared with fantastic and talented colleagues.
"I have always said I am proud to have been given such an important custodial role and I leave a club with a very clear sense of purpose and identity; one that places its fans 'front and centre' in all its decisions.
"Mark Chapman described us, again, as a proper Football Club. To have played a part in that makes me proud. To have had the opportunity to work for a Proper club, makes me feel very privileged.
"I would like to thank the Chairman, my colleagues on the Board and Mr Moshiri for giving me the opportunity to lead such an amazing Football Club. I will always be grateful for such a rare, exciting and privileged opportunity."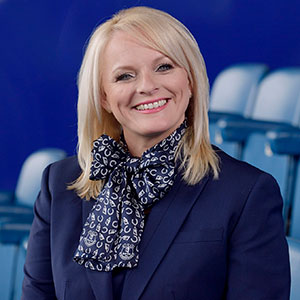 Professor Denise Barrett-Baxendale will be Everton's new CEO effective 1st June
Professor Barrett-Baxendale, also appointed to the Board in 2016, has garnered admiration at the club and been recognised nationally for her work heading up the club's award-winning charity, Everton In The Community.
"I am so proud to be given this opportunity and grateful for the support of the Chairman, Board of Directors and Mr Moshiri," she told the club's official website. "I fully understand the privileged position that I will be taking up and the responsibilities that come with it. This is a great Club — footballing royalty – with the best, most committed fans and I can assure every single Evertonian that I am completely committed to driving our Club forward and making the most of the opportunities that we have.
"I know what the priorities are and I'm determined that we make progress in these areas. It's also important to me that we make our progress in the right way – in the 'Everton way' – and this includes listening, consulting and collaborating on all important Club matters."
---
Reader Comments (81)
Note: the following content is not moderated or vetted by the site owners at the time of submission. Comments are the responsibility of the poster. Disclaimer
Christine Foster
1
Posted 15/05/2018 at 21:19:23
The changing of the guard has commenced.
Christy Ring
3
Posted 15/05/2018 at 21:23:55
Thrilled he's gone, responsible for the disastrous Kitbag deal, and gave Chang a new deal, even though a different sponsor offered more money. The start of a complete change in the boardroom, which can only be good. Who's next ??
Kunal Desai
4
Posted 15/05/2018 at 21:24:17
Still not comfortable with both Woods and Kenwright at the club.
David Booth
5
Posted 15/05/2018 at 21:28:35
Phase one of 'Operation Goodison' commences.
Elstone gone, Rooney going on an Atlantic crossing, Bill Kenwright tearfully vacating his desk, Walsh doing likewise and a new, true, director of football replacing him will hopefully follow. All we need then is the new manager in place and welcome to Everton 2018-plus!
Jimmy Hogan
6
Posted 15/05/2018 at 21:30:06
Congratulations DBB and thanks and good luck to RE
Steve Ferns
8
Posted 15/05/2018 at 21:36:59
I was hoping for a business heavyweight to come in and be CEO. However, if we put Denise Barrett Baxendale to one side there is more organisation being installed that is long overdue.
First off, Alexander Ryzantsev is heading up the marketing and commerce. Then, Keith Harris is to oversee the stadium move. Next we need Brands in charge of transfers and recruitment. This then leaves DBB in charge of the day-to-day aspects and overseeing the lot.
Up until now, Robert Elstrone had been doing the lot. A clear separation of the roles means these jobs can be given full consideration. And DBB can take a supervisory role and report to the board.
It also means less authority for Kenwright surely.
These are just my initial thoughts, but I look forward to Paul (the Esk) and Everton Business Matters properly dissecting it all.
Jay Wood
[BRZ]
9
Posted 15/05/2018 at 21:38:05
Sounds as if there has been a parcelling out of responsibilities according to the story about the musical chairs at admin and board level on the official club site.
Link
BK still in place as chairman. John Woods replaced by Keith Harris as his deputy, with particular responsibility (in his own words) of 'taking the lead in the Club's most important projects, from first-team football matters to the new stadium project.'
DB-B promoted to CEO but there is no description on her areas of responsibility. No reference of a new deputy CEO in her place.
Moshiri's hit man Alexander (Sasha) Ryazantsev takes responsibility for the Club's Financial and Commercial performance. He is quoted as saying:
"I'm really pleased to be taking up the position of Chief Finance and Commercial Officer and to be supporting Denise in the running of this great Football Club. We're all fully committed to making the most of the opportunities we have, including growing our commercial revenues and delivering a new stadium, while ensuring we run the business in a sustainable way. This new structure presents us with clear lines of responsibility and accountability and provides us with a strong platform to move forward from."
Not the completely new broom and sweeping away of the old as some of us hoped for.
David Currie
10
Posted 15/05/2018 at 21:38:53
Elstone out, take Kenwright with you to the rugger club.
Jay Harris
11
Posted 15/05/2018 at 21:46:37
It seems to me that with DBB's appointment and the promotion of his buddy Keith Harris the dark hand of Kenwright still looms large over the club.
Still no sign of the man resigning even though he promised to go when he was 70.
I guess it just like the rest of his rhetoric - unbelievable.
Ian Hollingworth
12
Posted 15/05/2018 at 21:52:39
So sadly Kenwright remains as Chairman contrary to the rumours.
I fear for our chances of moving forwards whilst he still plays a large part behind the scenes and I don't think we should be fooled as he still plays a big part.
Richard Hindley
13
Posted 15/05/2018 at 21:56:59
Denise Barrett-Baxendale has been a brilliant CEO of EITC, but I am not aware that she has run anything like a football club. Obviously I want her to do well, but what exactly are her qualifications for this job? What's she got on her CV?
Darren Hind
14
Posted 15/05/2018 at 22:00:30
Give the girl a chance. She hasn't even got her coat off yet
Paul Tran
15
Posted 15/05/2018 at 22:02:13
As I said on Twitter, Darren, handsome is as handsome does.
Paul Birmingham
16
Posted 15/05/2018 at 22:02:16
Let's hope now that all club matters iare properly planned, prepared and will prevent the piss poor performance endured the last 3 decades.
It's been a nightmare journey for all supporters and the worst part is the gut instinct and intuition for Evertonians, to know that the board has consistently screwed up major descisions and taken the proverbials.
Events this season must surely open their eyes to the reality of life and business in running a football club, with view to win and win well with style and manner.
No miracle overnight cure is expected but an oil change and new working parts in the board room will hopefully get the business on the park, moving in the right direction. It got can't get worse than the last 4 years.
Tomorrow I'm doing a Madrid win double, I hope it signals the start of a turn in fortunes for all Evertonians.
Tony Everan
17
Posted 15/05/2018 at 22:11:05
It is reassuring there is clear recognition that things needed to change . That there is a plan and it has started to be executed.
Moshiri is being pro active in shaking up the club from top to bottom, good on him . It is a mixture of relief and admiration that something is being done immediately after the season from hell has finished.
Jack Convery
18
Posted 15/05/2018 at 22:12:00
Inexperienced CEO and Moshiris man in charge of Finance - hmmm.
Lawrence Green
19
Posted 15/05/2018 at 22:13:12
Richard #13
I would think that Denise Barrett-Baxendale will be the public face of Everton Football Club, she's not - initially at least - performing exactly the same role as Robert Elstone. I'm still a little concerned that Robert Elstone appears to have chosen to leave the club at this time - perhaps the Rugby League opportunity was too good to turn down - but with the new stadium project approaching a critical phase, the timing is a little strange. We have to hope that all of the people involved in this re-shuffle manage to get the best out of themselves and their teams for the good of Everton Football Club.

Kevin Tully
20
Posted 15/05/2018 at 22:15:44
Looks like DBB will be the public face representing the club having most input into the day-to-day running of the business, rather than directing most major decisions as you would normally expect. It does seem from the outside that Moshiri has identified certain weaknesses.
Really good to see some accountability at last. We were ran like a 1970's boys club for the past 30 years, with no modern management structures in place whatsoever. This was mainly down to Bill, who never wanted any outside interference.
It can only improve our off-field performance. Let's hope nobody gives BK the new managers mobile no.
Colin Glassar
21
Posted 15/05/2018 at 22:22:52
The lunatics are still running the asylum then? Bunch of bloody amateurs all of them!!
Dermot Byrne
22
Posted 15/05/2018 at 22:25:26
DBB is a tough cookie. Watch know her she will be bang on..
Dermot Byrne
23
Posted 15/05/2018 at 22:29:20
You may be so wrong on CEO Colin
Steve Ferns
24
Posted 15/05/2018 at 22:32:13
Lots of you on here have told us over the years that Kenwright sees Everton as his personal trainset and he's in charge, or at least was in charge, of the club for the power. Not sure if I subscribe to that, but I understand the arguments and many are convincing.
Moshiri is not on a power trip. He's in this to make money. There is only one way for him to really make money and that's to deliver the Stadium. It's clear that he is focusing one man on the Stadium, another on keeping a tight hold of the club's finances, and Brands will surely come in to oversee the football side, and if the theories produced here are correct, then he will approach from the view of signing top young talent, producing our own, and buying less ready made players.
I think it's very clear what Moshiri is trying to do next, and he won't be making any massive splurges in the market. He wants to focus on consolidation of top 8, play some better football to keep the mob happy, but most of all to deliver the stadium so he can sell for a significant profit.
Matt Hunter
25
Posted 15/05/2018 at 22:43:51
This is so so depressing. Can anyone tell me why Barrett-Baxendale is qualified for this role? I fail to see how she has the CV to get her a job as a CEO of a top premier league football club. How are we supposed to compete with Man.Utd, Man. City, Chelsea etc with these kind of appointments. It's obvious that Kenwright is still in total control of this football club. We are run like a corner shop, become mates with the chairman and you can have ago running the show. We are going nowhere while Kenwright and his cronies are running things.
Bobby Thomas
26
Posted 15/05/2018 at 22:47:50
That's about as far away from the type of CEO appointment I was hoping for as it gets.
Chris Gould
27
Posted 15/05/2018 at 22:49:20
I really dislike the term 'The Everton Way'.
We have a shite football team, run by skint sentimentalists who have systematically destroyed us. I would like us to start doing things 'The Man City Way'. It looks so much more fun.
I don't want to hear about our charity work.
I support a football team and if I wanted to support a charity I would by a season ticket at Cancer Research and cheer on the scientists.
I hate the way we are run. I hate the sanctimonious crap. I want us to act like a proper football club where success is measured on the field, not by our work in the community.
It reminds me of the Harry Enfield sketch, Smashy and Nicey. "I don't like to talk about my charity work, mate, but I do a lot of good work for charity."
NB: I'm not a bad person.
Steve Ferns
28
Posted 15/05/2018 at 22:51:52
I do understand your point Chris, I just feel the club does do a great amount of excellent work that we should be proud of and with so little to cheer, the club has rammed it down our throats a little too much this season. Hopefully a better season will see the charity fade a bit more into the background.
Mike Gaynes
29
Posted 15/05/2018 at 22:54:26
Richard #13, I tapped into every news database I have, and could find nothing on Denise before she joined Everton in 2010. She has no Wikipedia page and her LinkedIn profile is a stub.
But her presentation at the General Meeting in January is impressive. She speaks well and communicates with passion. Even at a way-too-tall podium with Fat Head sitting directly behind her: https://www.youtube.com/watch?v=fTKLJKtFp8g
She's got a glowing endorsement already as far as I'm concerned. Kev's post at #20 is, I believe, the first positive thing I've ever seen from him on Everton management.
Derek Thomas
30
Posted 15/05/2018 at 22:54:40
Until I see longterm proof to to the contrary, the whole Off Field management, from Moshiri down is a walking example of The Peter Principle.
Actions Lady and Gentlemen, Actions.
Peter Laing
31
Posted 15/05/2018 at 22:56:27
What does Bill Kenwright actually bring to the table as a minority shareholder and why does his status afford him the privilege of remaining as the Club's chairman ? He's from the era of Swales and Ken Bates and his continued meddling in Everton is what continues to hold the Club back in a coma induced paralysis of teary eyed nostalgia. Like Man City and Chelsea we need to embrace the new and rid ourselves of the old. Too much emphasis on celebrating past glory's
John Raftery
32
Posted 15/05/2018 at 23:00:39
Steve (24) Your final paragraph sums things up perfectly.
As regards the Board reshuffle ToffeeWeb contributors now have even more targets at which to aim their fire and fury.
Andy Crooks
33
Posted 15/05/2018 at 23:01:08
Matt, she's nice.
Kieran Kinsella
34
Posted 15/05/2018 at 23:03:06
Peter Laing
I agree. The only difference between Bates and BK is that Bates had the balls to say things to peoples faces
Andy Crooks
35
Posted 15/05/2018 at 23:05:45
Steve, @ 24, I am surprised at you. There's no " mob", I suspect you were being ironic but my irony specs are broken.
Richard Hindley
36
Posted 15/05/2018 at 23:16:32
I'm not not giving her a chance, but this whole 'project' must be for Everton to be champions of England (otherwise what's the point?). So whoever comes into a key role needs to be able to move us along on that journey. So that's the yardstick everyone must be measured by.
James Hopper
37
Posted 15/05/2018 at 23:25:36
I was critical of her appointment in the other thread. She doesn't come from the type of hard-nosed, commercial and business background that I believed our next CEO should come from.
Having now read the announcement it's clear that she will lead a team of people whose roles are very much suited to their experience, so I'm much less concerned that I was.
William Gall
38
Posted 15/05/2018 at 23:30:40
Unless you have sat in the position of a CEO in any organization it is ridiculous to criticize someone before they can prove themselves.
Surely as deputy CEO she must have been aware of what the former CEO,s duties were and learned from them, and aren't some of the previous CEO,s responsibilities being moved to another position.
Lawrence Green
39
Posted 15/05/2018 at 23:51:31
This tweet made me laugh - Everton History @EvertonHistory
Apparently the main reason Denise Barrett Baxendale has been appointed CEO is that her name is so long it will be hard to fit on many banners when people want her out this time next week.
Jay Wood
[BRZ]
40
Posted 15/05/2018 at 00:03:36
William @ 38.
Following that logic, that excludes you or anyone else ever making any comment or offering an opinion on our manager or players, unless they have been a PL manager or PL player.
Cue tumbleweeds blowing through the ghost town of TW that was once a thriving boisterous frontier mining town of precious gems and fool's gold.
Christopher Nicholls
41
Posted 16/05/2018 at 00:35:38
Bob Iger started off as a weather man on TV and rose to be CEO of Disney. CEO's nowadays are much more about the public face of a company; how well they can communicate the right message and tonality, married with the ability to build consensus amongst a diverse team of high-functioning individuals.
It looks like a smart choice and clarification of roles should also go along away to clearing the muddle. Replacing Woods and acquiring his shares leaves Moshiri in control of the football club. Having Bill remain chairman means that he can be there on match days to glad hand those that visit.
Chairman is a nice title, but in reality, has reduced influence. A corporate evaluation would see this as an intelligent evolution that allows for progress without wholesale destabilization. It has the hallmark of an owner who is principally, a financial manager.
We have a CEO that is intelligent, articulate and passionate about the club. Lets have more like her, please!

James Flynn
42
Posted 16/05/2018 at 00:51:18
Some nice-looking moves. Bramley-Moore has to happen.
Alexander Ryzantsev and Keith Harris are the money movers and shakers Moshiri signed to make that happen. Doubt they'll have anything to do with the "footballing" side of the Club. The two are in to make the new stadium happen. Good stuff.
Given those two, what's the beef with Barrett-Baxendale? She's led the only part of Everton legitimately won honors the old-fashioned way; earned. She's not on the money end. What wrong with her the "face" of Everton?
Moshiri is really moving things along now. Exciting times.
Looking forward to the Brand/Silva announcements this week.
Rick Pattinson
43
Posted 16/05/2018 at 00:51:31
Keith Harris hey bet he brings Orville with him
James Flynn
44
Posted 16/05/2018 at 00:56:05
Oh, and forget Kenwright. He's around but doesn't matter any more. He knows it.
So, let's the rest of us acknowledge it.
Laurie Hartley
45
Posted 16/05/2018 at 01:30:13
James # 42 - I think you have it right. Ryazantsev will look after the money and Barrett-Baxendale will look after the people, something which she has a track record of being very good at. I also suspect she will get a lot of support from outside the club.
Next pieces required to complete the jigsaw - DOF and coach then he has his organisation structure in place.
William Gall
46
Posted 16/05/2018 at 02:20:05
Mr Wood (#40),
It is a lot easier to offer an opinion as a supporter on a Premier League manager or player as they have a high profile either through the media, newspaper and tv, or attending the game.
My point on a CEO is, they don't train players, they don't coach, they don't tell the manager who to play and they don't tell him who to buy.
they work on the business side of the club, and are part of the decision making on the general running of the club and rely on information that is provided to them. The only time the average supporter is aware of them is if in their opinion they have made a bad decision.
My point was it is difficult to criticize someone without knowing what the job has become with the changes the new owner is making as she has been successful in the previous business position she was in.
A number of supporters are saying that a football club is different than other businesses, and you really should have been more involved in the playing side of it to become a CEO. In my own experiences for the past 25years I have been involved in the underground maintenance dept of mining companies and met a few CEO,s of major mining companies and none of them had ever been underground.
Alan J Thompson
47
Posted 16/05/2018 at 04:13:16
From the larger shake up it appears to me that Miss Barret-Baxendale, along with Kenwright while he remains as Chairman, will be the public face of Everton but the power will be with Mr Moshiri which will be exercised hands-on through Mr Ryzantsev. The appointments of what appears more people is a demonstration that a more professional approach with detailed responsibilities has been identified.
This leaves only the matter of improving the core business, on-field performance, and it is that which will determine success or failure.
Jamie Crowley
48
Posted 16/05/2018 at 04:55:21
A couple of observations.
Does anyone else think Robert Elstone looks like Roger Daltrey?
I think it's wonderful that Everton are progressive enough to appoint a woman to CEO. DB-B has done a wonderful job with EITC. Hell, it's been the only thing we could be proud of for the last few years! Give this woman a chance. She's been very successful in her previous role, she's earned the right in my opinion to tackle a larger one.
Someone does need to tell her to "tone it down" with the neck bow however! Thing engulfs her. Seriously, who in the world would want a bow that large tied around their neck!
She's a lovely lady, bow aside. For once lets get behind every single person top to bottom in this Club and see what they can do. They all have defined roles and are successful individuals.
And as James points out above, Kenwright has officially been demoted to a cheerleader and palm-presser.
Roll on Moshri, you're doing well taking the reigns and making the Club yours.
John Pierce
49
Posted 16/05/2018 at 04:56:41
The timing is suggestive of a few people who have mooted this was in fact part of a longer agreement for Moshiri to take over the club.
Whilst there maybe some doubt about the quality of the boardroom changes, none market leaders nor particularly well known, they have been given parts of the business to run and that augers well.
We now have accountability and that should include the DoF & manager to follow.
With the cogs well defined, failure can be pinpointed and replaced without one person doing everything, inherently a weak structure. That's strikes a balance for me, a framework with disposable players should they not deliver.
Wonder if the fella has packed his suitcase yet!?
David Ellis
50
Posted 16/05/2018 at 07:38:00
Thank goodness DBB has some initials we can use as a shorthand.
Her track record at the club so far has been outstanding. EITC is something that we can be rightly proud of. Of course we'd be a lot more proud of it if things were going better on the pitch but we can't blame DBB for that at least not yet.
She appears to have a very clear understanding of vision and how to execute on it. Running a football club is not a complex business, but it is a people business, and her track record suggests she can manage that side extraordinarily well. The next key appointment is the Director of Football, and then the manager. Hopefully in that order as the DoF must sit above the manager in the hierarchy and set the long term footballing strategy for the club - including proper use of funds.
Peter Howard
51
Posted 16/05/2018 at 07:43:14
Jamie (48)
I thought that as well-he does look like Roger Daltrey.
Hope it's not an omen- "...meet the new boss,same as the old boss .".
Brian Williams
52
Posted 16/05/2018 at 08:46:45
I see Allardyce is already setting things up for his exit.
Seemingly he is disgusted and disappointed that he, and his team, weren't informed about the changes at board room level.
He went on to say that he's meeting with Moshiri today but he didn't expect it to be a long meeting.
All this bluster? Is it a prelude to him trying to put a spin on "why I had to leave Everton?"
Michael Lynch
53
Posted 16/05/2018 at 09:14:20
Allardyce said: "I'm shocked, disappointed and disgusted that the football club didn't have the decency to tell me, my Director of Football and my staff about the changes.
"They must have been in the pipeline for a considerable time but no-one thought to tell me and my staff. I'm pretty disgusted.
"I came into the football club with the team struggling and we have finished 8th in the table. I'm more than happy with what myself, my staff and the players have achieved from when I came in."
Then he goes on to say that he expects the meeting with Mosh to be short.
I think Sam might have been pissed as well as pissed off to be honest. Anyway, that kind of implies that Walsh is out too, doesn't it?
Liam Reilly
54
Posted 16/05/2018 at 09:14:26
I reckon BK is still in that position for one reason: continuity.
Too much change overnight can cause ripples that turn into tears very quickly and keeping him as Chairman (in a somewhat diluted role) will avoid a media circus with headlines like "the lifelong Evertonian is ousted" Blah Blah Blah.
Looks like a solid management structure to me bringing individual accountability to the fore in each role.
Mike Doyle
55
Posted 16/05/2018 at 09:23:20
Most large companies with a raft of high profile staff changes to announce would have announced them all at once.
There may of course be a good reason why EFC have elected to act this way . then again it could just be another example of shoddy management.
As usual we'll probably never know.
Phil Walling
56
Posted 16/05/2018 at 09:24:53
With one significant exception this is merely 'a swop round of the deckchairs' !
No new and exciting talent is being introduced to the administrative and governance teams and for the present, at least, Uncle Bill keeps his chair in the sunshine.
Just as in the days of Phil Green, the Board is manipulated by someone whose circumstances don't allow him to be on that Board so a bumbling outsider continues to call the shots.
So far, apart from enriching Kenwright and Woods, that someone has been a disaster and it ain't looking any brighter ! Let's just hope he's better at building new stadia !
Jonathan Tasker
57
Posted 16/05/2018 at 09:48:09
Why is Kenwright still there?
What kind of football club is it that "gifts" Duncan Ferguson to each new manager? Does anyone know what Ferguson does, apart from put the cones out?
Nothing has changed and getting rid of Allardyce changes absolutely nothing either. Allrdyce is only a symptom of the problem.
Tony Abrahams
58
Posted 16/05/2018 at 09:48:57
He's gone, he's fucking gone!
Ant Sorvoja
59
Posted 16/05/2018 at 09:49:25
Fat Sam
has been sacked. Best news for a long time.
—
Everton Football Club can confirm that Sam Allardyce has left his role as manager.
Professor Denise Barrett-Baxendale said: "On behalf of the Chairman, Board of Directors and Mr Moshiri, I'd like to thank Sam for the job he has done at Everton over the last seven months. Sam was brought in at a challenging time last season to provide us with some stability and we are grateful to him for doing that.
"However, we have made the decision that, as part of our longer-term plan, we will be appointing a new manager this summer and will be commencing this process immediately. Again, we'd like to place on record our sincere thanks to Sam for his work with us over the last few months and wish him well for the future."
Brian Williams
60
Posted 16/05/2018 at 09:50:39
WOOOHOOO HE'S GONE!!
Derek Turner
61
Posted 16/05/2018 at 09:51:27
Yes, brilliant.
James Marshall
62
Posted 16/05/2018 at 09:58:28
Sam leaves, and the Official site crashes...
Coincidence?
Benjamin Dyke
63
Posted 16/05/2018 at 10:02:06
Sam's parting comments sum up exactly why we don't like him. See you later Sam!
Franny Porter
64
Posted 16/05/2018 at 10:13:02
All 99% of us have done is whinge and moan for over a year about wanting change (me included) from top to bottom.
Now these changes have started, half of you are slagging off DBB before she has been give a chance.
Her track record since joining us is nothing short of outstanding, give her a chance FFS.
Tony Abrahams
65
Posted 16/05/2018 at 10:25:40
I feel privileged to have played a significant role in the development of such a great club! In.fucking.believable.
Jason Broome
66
Posted 16/05/2018 at 10:25:49
Lawrence Green @39... That was funny!
Laurie Hartley
67
Posted 16/05/2018 at 10:32:39
Phil - I think there is more to this shake up than first meets the eye. Elstone was Kenwright's appointment and right hand man.
It appears to me that Elstone's role has been split up between Ryazantsev and DBB. I think Ryazantsev has been given a very senior position by Moshiri which will carry plenty of clout requiring not much charisma but well honed negotiation and number crunching skills. This move is probably part of Moshiri's original long term plan.
DBB will look after the PR and people management element of Elstone's former role and I am pretty sure she will do a better job of improving Everton's public image. While she was a Kenwright appointment she may very well have impressed Moshiri in his dealings with her.
This is now her second promotion under his reign. Nothing wrong with that in my opinion if she is as good as she seems to be at getting people motivated and engaged in their work. Bottom line her long term future lies with Moshiri.
Like Sam, Walsh has not been made privy to these moves so it looks like they are both definitely gone. That means a new DOF and Coach.
Keith Harris (another Moshiri appointment) as the deputy Chairman is now the new chairman in waiting.
Looks like almost complete change to me with the only member of the "old guard" being DBB. Moshiri must reckon she has earned it.
Laurie Hartley
68
Posted 16/05/2018 at 10:46:11
Blimey - he got her to do the deed while I was typing! She has stepped right up to the plate!
Thanks Sam - give it away now. You will have plenty of dosh. Go to the World Cup with your missus and get paid for it then get yourself a spot somewhere on the Mediterranean where you can spend the winters (and some of your dosh).

Paul Tran
69
Posted 16/05/2018 at 10:49:35
Good statement, good tone, good start.
Alasdair Mackay
70
Posted 16/05/2018 at 11:25:15
I read that quote from Sam about how "disgusted" he was and 2 things immediately sprang to mind.
1) How did you not see this coming? Everyone knew Elstone was gone and DBB was strong front-runner for months.
2) Why would it be any of the 1st Team Coaches business what happens at board level? Director of Football maybe, but not the coach. It doesn't matter who signs your cheques, just coach the team!
Like everyone else, I think it was a parting shot. He knew he was going and wanted to try and make the club look bad on his way out. The club that has paid him £10m for 6 months work.
Steven Jones
71
Posted 16/05/2018 at 11:46:51
Thank you Robert for all you have done for the club, despite some of the bricks thrown your way - good luck in your new role.
Welcome Prof HBB in your new role. Having seen your passion and innovation breaking new ground with EITC, hoping you continue to build the great reputation of EFC as a social player and build a much bigger profile for our great club.
I like the separation of roles and the additional talent brought in to take us forward.
Vince Furnier
72
Posted 16/05/2018 at 12:42:44
What is she a professor of? I thought that (in the UK - US is different) a professor was an academic rank held during employment rather than a qualification? Does she a have a part-time role at an academic institution that confers this title upon her? Or is she emeritus? Just interested, that's all.
Steve Hogan
73
Posted 16/05/2018 at 13:45:22
Well, he's gone, and everybody has breathed a sigh of relief, and we've seen some sweeping changes at boardroom level today as well.

However, it seems Kenwright still has Moshiri's ear when we see Denise Barrett-Baxendale promoted to the position of CEO.

What a missed opportunity and once again 'soft shite' Bill takes the easy option of promoting from within.

With the club on the verge of a massive move to Bramley-Moore Dock and all that entails, Everton could have appointed a real mover and a shaker from within the global football scene.

Instead, we have gone for the safe option and promote Professor Baxendale whose previous positions include Regional Director of Girl Guiding.

Daniel Levy must be quaking in his boots at the thought of entering into player negotiations with the lovely Denise.

Just do one, Bill.
Steve Johnston
74
Posted 16/05/2018 at 19:24:07
Glad there's been change at boardroom level (about time). Bit worried that Kenwright is still there, hopefully only until August.
Christine Foster
75
Posted 16/05/2018 at 21:57:51
On this day when, at last, we can at least breathe a sigh of relief that Moshiri has acted swiftly to restructure the club, there is much to be positive about but alas as always there are snide comments about DBB and her suitability. Give it a rest. ( I did write something more suitable pointed,but having been a CEO at several companies I understand exactly the reason she has got the job)
Moshiri has put in place a team to handle commercial, football and finance. No longer will the CEO be an Elstone cut out responsible for everything but accountable for nothing. She will be the marketing face of EFC, the person who will structure the people in the club, and manage them as part of a senior team.
Its a key difference and a significant change from Elstone's role. So for those of you who wish to condemn, moan or complain, find fault or be critical or call her a Kenwright lackey, give it a rest, be happy with the day we have, its a million times better than any day we have had in the past couple of years. Enjoy the day and good luck to every new face... I hope now the reconciliation of fans and club can happen and we can share a vision for the future.
Steve Ferns
76
Posted 16/05/2018 at 22:03:27
I was discussing this with my mate and talked myself into the opposite view to my initial one.
Robert Elstrone was CEO. He was in charge of finance, marketing & commerce, transfers, and most importantly the stadium. The finance, marketing and commerce is now the responsibility of Sasha (Farad's man), transfers are for Marcel Brands, and the Stadium for Keith Harris.
So what's left for Denise Barrett-Baxendale to actually take responsibility for? Not much really. PR and communications? Judging by the charity, this is something she excels at. She's also very pleasant, very optimistic and often described as a "dynamo" so she must be very energetic. It also begs the question as to what is left for our esteemed chairman? No doubt he'll still turn up to shake the new signings hands and get a big mention for telling our new star Albanian left back all about Dixie Dean and Dave Hickson.
If the CEO is no longer responsible for some of the more technical aspects of the club, ie finance, marketing, the stadium, or transfers, then her lack of business experience matters less.
I am quite optimistic that this appointment could work well. I also expect her to be a very visible force in football, promoting EFC, and many media outlets will be desperate to talk to one of the "most powerful women in the Premier League".
It's certainly a new dawn.
Jamie Crowley
77
Posted 16/05/2018 at 22:04:23
Christine -
Yes, yes, and yes. Well said.
I can't ever recall a single post of yours being off the mark.
It's a wonderful day to be Blue, and the moaning is utterly confounding.
Laurie Hartley
78
Posted 16/05/2018 at 22:31:30
I would just like to endorse what Christine Foster has said in her post @ 75. DBB is most definitely not Bill Kenwrights lackey. She has been promoted twice by Moshiri. He must rate her very highly and I reckon this is a very astute and appropriate move by him.
She has already shown her metal (she made the announcement) and I am of the opinion she will do very well in this role. She has gone into a boardroom full of men and obviously impressed Moshiri's right hand man and her new business partner Ryazantsev.
That looks like a potent combination to me. The museum is getting cleared out.
Chad Schofield
79
Posted 17/05/2018 at 00:51:12
Great that she's been appointed. I'm surprised by some of the negative comments. Onwards and upwards!
David Ellis
80
Posted 17/05/2018 at 05:07:15
What's she a professor of? As per Everton website:
"In October 2016 Denise received an Honorary Visiting Professorship in Leadership in Sport Serving Humanity from Liverpool Hope University.
Denise's other qualifications and awards include BA(Hons), MBA, PhD"
Jay Wood
[BRZ]
81
Posted 17/05/2018 at 15:01:57
Christine @75 (and others), you give the impression there is widespread negativity and sneering at DBB's promotion to CEO. There isn't. Do a head count within this very thread on comments referencing her. They are overwhelmingly in her favour.
What you (and others) are confusing perhaps are comments and opinions expressing concern at her rumoured appointment as the CEO before all the new executive roles were revealed.
Like it or not, they were legitimate, well-founded concerns. DBB does not have either the experience or key skills a traditional CEO at a PL club is expected to possess. Karen Brady she ain't!
Since the announcement I have read posts fabricating that opposition to her appointment smacks of misogyny and sexist bias, or that unless a person has experience of working in a CEO role they have no right to comment.
Such views, IMO, are totally fabricated and/or contrive to suppress, rather than allow, alternative opinions to the views held by the poster.
Now some months ago, I recall a particularly offensive and very personal attack on DBB here on TW. Many leapt to her defence and castigated the poster. I was among them. I have seen nothing – nothing at all! – of that ilk in regard to news of her new role.
Clearly, Moshiri has redefined the all-embracing CEO role at Everton. He has parcelled things out to other members of the executive.
Keith Harris is not only deputy chairman in place of Jon Woods, his particular remit is to 'drive forward the Club's new stadium project.' A good delegation of duty by Moshiri given that Harris was the Director of Wembley National Stadium Limited between 2001 and 2007.
Alexander (Sasha) Ryazantsev, takes responsibility for the Club's Financial and Commercial performance. Again, given his background and close association with Moshiri, a sound delegation of duty.
As for DBB's role, has it as yet been clearly defined publicly? I don't think so.
In the official club statement announcing these changes
(Link)
it references what she DID as deputy CEO – "responsibility for Human Resources, Marketing and Media, Legal, Risk and Governance, Operations and Ticketing, has also played an increasing role in the running of the Club's Football Operations, including involvement with the first-team, Under-23s, the Club's hugely successful Academy set-up and is the Club's lead on the Goodison Park legacy project."
On what she WILL do as the CEO, there is no clarity, other than her own words: "I know what the priorities are and I'm determined that we make progress in these areas. It's also important to me that we make our progress in the right way - in the 'Everton way' - and this includes listening, consulting and collaborating on all important Club matters."
You yourself Christine speculate (because we have no confirming information in the public domain) "she will be the marketing face of EFC, the person who will structure the people in the club, and manage them as part of a senior team."
That may well be the case. But, given the executive restructuring of the club, I think we can stop pretending she is a traditional CEO with broad and far-reaching executive powers. I for one am relieved that is the case, because it is my belief she simply would not be up for that role.
And I speak as someone who respects her for her efforts with EiTC, an arm of Everton I remain exceedingly proud of, unlike some on TW.
Christine Foster
82
Posted 17/05/2018 at 21:47:10
Jay Wood (#81), I did not say there was widespread negativity regarding her appointment; what I said was there have been a number of snide comments, take Steve Hogans at #73, if you want an example.
What I was saying is that we should all understand she is not the same CEO as Elstone, and that a team is in place to share the load in specific areas – that's a good thing by the way... so I am not sure why the confusion. She will make a good CEO in a proactive sense, I suspect; you are right that her brief and objectives have not been made public, but in putting a team in place you can reasonably surmise that her brief will be what's left... and has the benefit of a successful part of the club under her belt already.
With respect to others' comments, just because she has not run an operational Premier League club or similar should not disqualify her from the role. If that was the case, there would never be diversity, never be fresh ideas, never be innovation.
I take her appointment with a sincere belief it will be a successful venture and hope that others will see it in that light too.
James Hopper
83
Posted 17/05/2018 at 21:59:30
Jay Wood [BRZ] – I couldn't agree more with almost everything you've said in recent threads.
Denise Barrett-Baxendale does not appear to the casual observer to have the skillset or experience of a traditional CEO of any large company. This initially concerned me somewhat.
As you rightly point out, however, the delegation of duties clearly redefines the skills needed to be Everton's CEO at this moment in time. On that basis, and given her hugely impressive academic achievements and record to date, I fully support her promotion.
I find the veiled accusations that anybody's negative reaction to her appointment is based upon her gender to be distasteful and extremely disappointing indeed.
Add Your Comments
In order to post a comment, you need to be logged in as a registered user of the site.
Or Sign up as a ToffeeWeb Member — it's free, takes just a few minutes and will allow you to post your comments on articles and Talking Points submissions across the site.