1960s star Ray Wilson passes away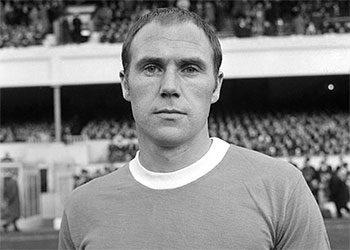 Everton playing legend and 1966 England World Cup winner, Ray Wilson, has died at the age of 83 the club have announced.
Though he was signed after the Toffees' 1963 League title success, Wilson is remembered as an icon of that decade who starred in Everton's famous FA Cup success and on his country's road to the Jules Rimet trophy in 1966.
Success came late to Ray Wilson. By the time he won the FA Cup with Everton and the World Cup with England in 1966, he was already 31 years old. The success was well-deserved, however, as during his time at Huddersfield Town Wilson had established a reputation as the finest full-back in the country. Although lightly-built, he was strong in the tackle and blisteringly quick over short yardage. Not that he often needed to be — he had an uncanny sense of positioning which suggested a higher level of awareness. His qualities weren't limited to defending, and with his cool, imaginative distribution he fitted perfectly into the Everton passing game.
Wilson joined Huddersfield, his first club, as a forward, but after failing to impress either there or at wing-half, moved to left-back. He settled in the number three shirt and was honed as a full-back by the Huddersfield manager, a certain Bill Shankly, proving himself good enough to represent England and winning a significant proportion of his 63 caps while playing in Yorkshire.
The majority were gained in his time at Everton, for whom he signed in July 1964 in an exchange deal involving a payment of £35,000 and Mick Meagan. It wasn't the first time Wilson had tried to leave Huddersfield, nor the first time Everton manager Harry Catterick had tried to buy him — although his original advances were made when he was in charge at Sheffield Wednesday.
Things didn't go to plan immediately for Wilson at Goodison Park. In his first home game, v Nottingham Forest, he sustained a hip injury which kept him out for nearly four months. On his return he became a fixture in the Everton side, his play if anything improving, and his career peaked in 1966 with those two Wembley triumphs.
Two years later he was again injured, this time damaging a knee to the extent that it stripped him of much of his pace. It probably also precipitated his 1969 move to Oldham, from where he went to Bradford and served as player-coach and later caretaker-manager, before quitting football altogether — making a total career change and becoming an undertaker. He was finally awarded an MBE in the 2000 New Year's Honours.
Unquestionably one of the finest footballers to wear the royal blue jersey, Ray died on Tuesday evening, aged 83, at The Bell House care home in Huddersfield.
---
---