1960s star Ray Wilson passes away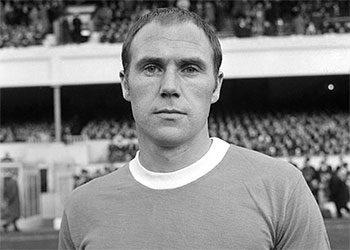 Everton playing legend and 1966 England World Cup winner, Ray Wilson, has died at the age of 83 the club have announced.
Though he was signed after the Toffees' 1963 League title success, Wilson is remembered as an icon of that decade who starred in Everton's famous FA Cup success and on his country's road to the Jules Rimet trophy in 1966.
Success came late to Ray Wilson. By the time he won the FA Cup with Everton and the World Cup with England in 1966, he was already 31 years old. The success was well-deserved, however, as during his time at Huddersfield Town Wilson had established a reputation as the finest full-back in the country. Although lightly-built, he was strong in the tackle and blisteringly quick over short yardage. Not that he often needed to be — he had an uncanny sense of positioning which suggested a higher level of awareness. His qualities weren't limited to defending, and with his cool, imaginative distribution he fitted perfectly into the Everton passing game.
Wilson joined Huddersfield, his first club, as a forward, but after failing to impress either there or at wing-half, moved to left-back. He settled in the number three shirt and was honed as a full-back by the Huddersfield manager, a certain Bill Shankly, proving himself good enough to represent England and winning a significant proportion of his 63 caps while playing in Yorkshire.
The majority were gained in his time at Everton, for whom he signed in July 1964 in an exchange deal involving a payment of £35,000 and Mick Meagan. It wasn't the first time Wilson had tried to leave Huddersfield, nor the first time Everton manager Harry Catterick had tried to buy him — although his original advances were made when he was in charge at Sheffield Wednesday.
Things didn't go to plan immediately for Wilson at Goodison Park. In his first home game, v Nottingham Forest, he sustained a hip injury which kept him out for nearly four months. On his return he became a fixture in the Everton side, his play if anything improving, and his career peaked in 1966 with those two Wembley triumphs.
Two years later he was again injured, this time damaging a knee to the extent that it stripped him of much of his pace. It probably also precipitated his 1969 move to Oldham, from where he went to Bradford and served as player-coach and later caretaker-manager, before quitting football altogether — making a total career change and becoming an undertaker. He was finally awarded an MBE in the 2000 New Year's Honours.
Unquestionably one of the finest footballers to wear the royal blue jersey, Ray died on Tuesday evening, aged 83, at The Bell House care home in Huddersfield.
---
Reader Comments (81)
Note: the following content is not moderated or vetted by the site owners at the time of submission. Comments are the responsibility of the poster. Disclaimer
Bill Griffiths
1
Posted 16/05/2018 at 14:07:36
Sky Sports just posted Ray Wilson has passed away, one of the greatest right backs ever. Great memories of watching him play.
John Keating
2
Posted 16/05/2018 at 14:14:50
Everything pales into insignificance now. Ray Wilson the best left back ever RIP
Rudi Coote
3
Posted 16/05/2018 at 14:20:17
One of the greats. RIP.
A true legend.
Dennis Stevens
4
Posted 16/05/2018 at 14:22:15
One of the all time greats, imo. Farewell Ramon.
Dave Bowen
5
Posted 16/05/2018 at 14:28:58
RIP Ramon. The greatest left-back ever.
Phil Bellis
6
Posted 16/05/2018 at 14:31:44
The greatest left back I've ever seen and a true gentleman
He wished he'd been allowed to join Everton when he was 18 instead of waiting all those years
He once told me his epitaph will be "Ramon Wilson; Englishman, Yorkshireman, Evertonian"
A true legend
Brian Williams
7
Posted 16/05/2018 at 14:40:35
RIP, Ray.
Geoffrey Williams
8
Posted 16/05/2018 at 14:57:35
It was a privilege to have watched him in his pomp in the 60s. A superb footballer and a true gent.

RIP Ramon
Ken Kneale
9
Posted 16/05/2018 at 15:10:59
How sad that true giants of the game in terms of talent and demeanour pass away almost unnoticed and today's nonentities get headlines.
RIP -– a great player who endured health struggles in later life but is one reason why Evertonians of his era enjoyed watching their football team.
Rick Tarleton
10
Posted 16/05/2018 at 15:11:27
I've just seen on Sky Sports News that Ramon (Ray) Wilson has died.
He was the best full-back I ever saw play, not just for Everton but for anyone. A quiet , modest man who was simply an all-time great.
I send my sympathy to his family and feel privileged that I saw him play and play for Everton.
Gerry Quinn
11
Posted 16/05/2018 at 15:17:19
My favourite defender - still picture him into that tackle with both arms up and his leg at full stretch. Class act - arguably the best Everton left Back ever. RIP Ray, thanks for the joyful memories
Alan McGuffog
12
Posted 16/05/2018 at 15:17:22
I started going in 1961. He was to become my favourite blue in all those years .even ahead of the Alex, Bally and the like. R.I.P. to a TRUE great
Jack Convery
13
Posted 16/05/2018 at 15:23:16
A blue and England legend. RIP.
Len Hawkins
14
Posted 16/05/2018 at 15:23:49
I can only echo the above comments — a brilliant full-back years ahead in his style of play, and he was the rarest of footballers a World Cup Winner with England.
One of the funniest things I have seen at Goodison Park was against Manchester United in about 1967. United had a corner at the Gwladys St End and Ray was on the left-hand post; Denis Law stood alongside him and, as the corner came in, Ray started feeling his backside... the pair of them were laughing, no elbows or whingeing to the ref, and the corner came to nothing.
RIP, Ray; another great man gone.
Kunal Desai
15
Posted 16/05/2018 at 15:27:39
The only sour note in the last 48 hours has been the passing of Ray Wilson. RIP.
David Booth
16
Posted 16/05/2018 at 15:33:19
Part of the reason I started supporting Everton in the late 60s.
He was a friend of my family too and I had one of his Football League (v Scottish League in 1965) gold medals - until some scrote stole it from our house in Manchester.
A true, world cup-winning, Evertonian great.
This is a very sad day.
Jay Wood
[BRZ]
17
Posted 16/05/2018 at 15:33:46
Other news events associated with Everton in the last 24 hours pale into insignificance.
Class and quality personified. Never been a better left back play for Everton in my 50+ years of watching.
Richard Reeves
18
Posted 16/05/2018 at 15:39:27
RIP, Ray Wilson.
Tony Heron
19
Posted 16/05/2018 at 15:49:34
I regard it as a privilege and my good fortune to have watched the great man play in the '60's. Quite simply the finest left-back ever.
Sad, sad day. RIP, Ray.
Dave Brierley
20
Posted 16/05/2018 at 15:51:16
Totally agree, Jay. The man just oozed class both on and off the pitch.
Truly one of the Everton greats.
RIP – and thank you, Ray.
Albert Jones
21
Posted 16/05/2018 at 15:56:30
RIP Ray, You were an exceptional footballer and one of life's gentlemen, with a class that today's players would do well to try and emulate.
John McFarlane Snr
22
Posted 16/05/2018 at 15:57:53
A sad day for Evertonians of a certain age, and although I nominated Jock Lindsay as my favourite left-back in a recent article, there is no question that Ray Wilson was by far the best.
His achievement of receiving both FA Cup and World Cup medals, at Wembley is unlikely to be repeated. I feel privileged to have seen him in the 'Royal Blue' of Everton.
RIP, Ray.
Tom Bowers
23
Posted 16/05/2018 at 15:57:54
What a class act he was. RIP, Ramon.
Unlike many of the English World Cup squad, he was part of a squad that was acres ahead in talent and had a man at the helm who knew what he was doing.
Peter Mills
24
Posted 16/05/2018 at 16:18:33
This news has cast a pall over an otherwise very positive day.
For those who did not see Ramon play, the comments above are not misty-eyed enhanced memories - he was, quite simply, magnificent. Every touch of the ball had an air of class to it, even when he passed the ball back to the goalkeeper he would chip it into their hands, he would not want his 'keeper to have to stoop to pick up the ball.
He was lightning quick and hard into the tackle. I recall my Uncle Joe coming home from a match at Newcastle, he told us how he was standing in the paddock with his Geordie mates from army days, Ray dived into a tackle and a Newcastle fan shouted harsh words at him. "Shut up and don't be stupid" came another Geordie voice "that's Wilson, he doesn't foul".
About 8 years ago we were celebrating my dad's birthday at Formby Hall Golf Club, and I looked through a window into a lounge where most of the 1966 World Cup winning squad was having lunch. I ventured in and asked Ramon if he would mind coming in to see my dad, who was not too good on his pins. "Tell your dad to come in here if he wants to see him" said one player who shall remain nameless. Ramon just got up, said "it'll be a privilege ", and in he came to make a fuss of the birthday boy.
Up until a few seasons ago I would occasionally meet the great man coming down the steps from the Main Stand after the match, always in the company of Derek Temple. I would say "How are you Mr Wilson?". After a while he smiled and said "You can call me Ray, you know". I replied "Oh, I could never do that Mr Wilson".
Rest in peace Mr Ramon Wilson, without doubt the finest left back I have ever seen.
Dave Evans
25
Posted 16/05/2018 at 16:25:38
Class as a man and a footballer. RIP.
Alan McGuffog
26
Posted 16/05/2018 at 16:30:21
I did read that he played under Shankly at Huddersfield and that he always wanted to bring him to Anfield. Was less than pleased when the Catt swooped. Wot fun.
Paul Kelly
27
Posted 16/05/2018 at 16:44:47
RIP Ray Wilson, never had the pleasure of watching him play but my arl fella said he was the best left back he's ever seen, good enough for me.
Eddie McBride
28
Posted 16/05/2018 at 17:02:29
God bless Ramon. Travel well.
David McMullen
29
Posted 16/05/2018 at 17:31:55
Before my time but the probably in the all-time Everton XI. RIP.
Steavey Buckley
30
Posted 16/05/2018 at 17:32:03
I endorse all tributes given to Ray. He was that good.
Stephen Davies
31
Posted 16/05/2018 at 17:33:34
He had a tattoo on hos arm..'Egypt never again.
A reference to his national service there, which he detested
Brendan Fox
32
Posted 16/05/2018 at 17:48:42
RIP Ray Wilson. True blue legend, joining Kendall, Ball, Labone and the other blue legends at the top table.
James Marshall
33
Posted 16/05/2018 at 18:21:17
As Shilton said about him today, he never really got the credit he deserved playing full back for England in '66 and was one of those lesser known by the wider public as time went by.
As an Evertonian he was always the first player I mentioned when talking about the World Cup winning team.
I never saw him play but as ever, losing an Evertonian always cuts deep. Gone but never forgotten.
Pat Small
34
Posted 16/05/2018 at 18:30:44
RIP Ray, without a doubt the best left back I have seen in 58 years at Goodison Park. A magnificent player.
Colin Glassar
35
Posted 16/05/2018 at 18:38:37
Ray was a bit before my time but he was an Everton great. RIP Ray.
Neil Hamilton
36
Posted 16/05/2018 at 18:39:30
Like Paul #27, I never saw Ray play as he left us for Oldham just as I started to go to Goodison in 1969. But my Dad, in his 90th year and a man of few words, just shakes his head whenever Ray's name is mentioned and says he is the "greatest back I've ever seen - sheer class". Even the rest of the World Cup winning players always recognise him as one of the handful of world class players in that team - along with Banks, Moore and Charlton (Bally was just a young pup at the time and yet to emerge as the world-beater he became". RIP Ramon.
Stan Schofield
37
Posted 16/05/2018 at 18:48:33
The best left-back I've ever seen. He made everything look so easy and elegant. A great player.
RIP Ray.
Darren Hind
38
Posted 16/05/2018 at 18:49:47
Proved himself repeatedly against the very best.
RIP Ramon
Tom Evans
39
Posted 16/05/2018 at 18:57:03
If I'm honest, it's this news that really puts matters into true perspective.
After all that's gone on, we should never forget that this club had a soul once upon a time, and players such as Ramon epitomised those qualities.
I feel blessed to have been able to see him play in royal blue, so thank you.
Rest in peace Ramon.
Peter Cummings
40
Posted 16/05/2018 at 19:01:14
The news of Rays Passing nearly ruined an almost perfect day for me after that other but much less interesting news that really made my day, The last time I saw him play was at Wembley in '66 when we lifted the Cup after another immaculate display from him alongside some of our other greats now gone from us, deepest condolences to his family.
Ray Atherton
41
Posted 16/05/2018 at 19:06:29
Best left back I have ever seen. His defensive
duties, tackling and attacking distribution second
to none.
I went to the Victoria ground where Ramon made
his debut against Stoke, first game of the season
in the 1964/65 campaign.
We won 2-0. RIP Ray
Neil Carter
42
Posted 16/05/2018 at 19:09:57
Sad news-the passing of a true Everton and football legend.
Andrew Clare
43
Posted 16/05/2018 at 19:11:38
Ray was one of the greatest Everton players. The best in his position that I have ever seen. RIP.
Steve Ferns
44
Posted 16/05/2018 at 19:12:29
RIP Ray, I never saw you play, but my dad told me you were the best left back ever.
Steve Johnston
45
Posted 16/05/2018 at 19:18:13
Paul Kelly (#27),
Exactly what I was going to say! Just told my arl feller the bad news. RIP, Ray Wilson.
Paul Birmingham
46
Posted 16/05/2018 at 19:24:23
A proper Everton Legend, RIP Ray.
My dad always raved about how good he was, a cut above the rest.
True class. Condolences to his family.
Steve Hogan
47
Posted 16/05/2018 at 19:24:33
I sat next to Ray for three hours at a Littlewoods function at the old Holiday Inn in Liverpool in 1996. I do remember seeing him play (just about). Can anyone confirm that his trademark was an acrobatic overhead bicycle kick when the ball was going over his head? I seem to remember that.
Here's an amusing anecdote straight from the horse's mouth. Whilst as I was sitting talking football with Ray, we got talking about how his transfer to Everton came about.
After a few reflective moment's he turned around and said' In all honesty, I wish I had played for Bill Shankly, as he would have got even more out of me than Catterick did'
We'll forgive you Ray.
Jay Harris
48
Posted 16/05/2018 at 19:25:35
Ray summed up the best qualities of professional footballers with his skill, attitude and dedication.
One of the best players to grace Goodison and a world cup winner to boot.
Andrew Clare
49
Posted 16/05/2018 at 19:33:39
Ray was one of the greatest Everton players. The best in his position that I have ever seen. RIP.
Si Miles
50
Posted 16/05/2018 at 19:34:09
R.I.P
Tom Bowers
51
Posted 16/05/2018 at 19:35:42
I think I am right in saying he is the only player to win 2 cup-final winners medals at Wembley in the same year. One with Everton and one with England.
Alastair Donaldson
52
Posted 16/05/2018 at 19:45:30
Only saw him in later replays of that England team, he looked superb, as did the team as a whole.
It seems defending is a lost art nowadays, what we could do with another world class full back such as Ray now.
RIP Ray Wilson, truly a hero to many, many people.
Dennis Heaton
53
Posted 16/05/2018 at 19:47:23
Type or paste your comment here. PLEASE capitalise initial letters of proper names and use proper grammar. No txt-speak; all-lowercase posts are likely to be deleted
Dennis Heaton
54
Posted 16/05/2018 at 19:51:48
Ray Wilson Colin Harvey 2 of the best tacklers ever for Everton r I p Ray it was a pleasure watching you
Jamie Evans
55
Posted 16/05/2018 at 20:37:25
RIP Ray. I never had the pleasure of seeing you play in person, but both my Dad and my Father in law tell me you were the greatest left back they ever saw.
This sentiment was also echoed by Sir Alf Ramsey I'm told.
Andy Crooks
56
Posted 16/05/2018 at 20:41:45
He would be in the Everton greatest team of all time. He would be in the greatest England team of all time.Top player, great man.
Paul Thompson
57
Posted 16/05/2018 at 20:50:54
He had absolutely everything and would have flourished in the modern game, with the possible exception of a decent shot (3 goals in 150+ games).
Peter Fearon
58
Posted 16/05/2018 at 21:04:31
Ray Wilson's signature was a spectacular bicycle kick clearance which I recall seeing him do over and over at Goodison and which never failed to thrill the crowd.
Peter Caley
59
Posted 16/05/2018 at 21:41:12
RIP Ramon, the greatest full back we have had. He was a hero of mine in the 60s and I was lucky to meet him a few times - a real down to earth guy.

He was so quick and a true world class player. Real class and, yes, he was great at the overhead clearances!
Keith Monaghan
60
Posted 16/05/2018 at 21:54:10
I started watching Everton as an 18-yr old in 1965 and was lucky enough to see his cup-winning appearance for us & all his World Cup games for England in 1966. A truly great full-back.
This guy was gives some definition to the word legend for our club - a word that has been over-used for far lesser players in more recent years.
Condolences to his family at this sad time - a shame they had to see him through that horrible disease.

John Smith
61
Posted 16/05/2018 at 21:58:39
Great Evertonian and incidentally the last ever hudderfields town player to play in England's senior squad.
RIP Blue.

Dick Fearon
62
Posted 16/05/2018 at 22:01:07
Farewell Ray Thanks for the memories
Laurie Hartley
63
Posted 16/05/2018 at 22:12:10
I had the privilege of seeing the immaculate Ramon play many times in a blue shirt. God rest his soul.
Paul Hay
64
Posted 16/05/2018 at 22:13:07
RIP Ray and thanks for some great memories. A pleasure to have watched you play.
Sincere condolences to the family.
Ian Pilkington
65
Posted 16/05/2018 at 22:20:37
The very best of left backs, first choice in that position in an Everton all-time great team. Proud to have seen him play throughout his Everton career, including the 1966 Cup Final and represent our club in the World Cup winning England team.
Condolences to his family.
Stewart Lowe
66
Posted 16/05/2018 at 22:24:11
Is it me or does Ray Wilson have a James McCarthy look about him?
Derek Thomas
67
Posted 16/05/2018 at 22:44:53
Best LB in the world at one time. RIP.
Dave Williams
68
Posted 16/05/2018 at 23:13:39
Quite simply the best full back I have seen and truly world class.
He would be worth £70m today. RIP Ray.
Jack Farrell
69
Posted 16/05/2018 at 23:13:40
The best left back I ever saw; so sad that he has gone. RIP, Ramón, I was so lucky to have watched you.
Karl Masters
70
Posted 17/05/2018 at 00:37:27
Another of our Legends passes away. (Time we had some more)...
RIP, Ray, the Only Evertonian World Cup Winner (while playing for us).
Andrew Presly
71
Posted 17/05/2018 at 01:08:45
Rest in peace Ray and thank you so much.
End of an Evertonian era today. You were the best we had. Played for us winning the World Cup for England.
Mike Galley
72
Posted 17/05/2018 at 01:35:42
First off, all can I add condolences to Ray's family. I'm 48 and my Dad is 75, and as you can imagine, we constantly talk football, or more accurately, Everton.
Whilst Bally is always his best ever Everton player, Dave Hickson his all-time idol, the vision the player he loved the most, Ray Wilson is the one other player he always mentions other them three lads when he talks about EFC greats.
On a footnote, my Dad has made something of a comeback at Goodison Park in recent years (Mum wants him out the house) and whilst he likes Bainesy as a fellow Kirkbyite, he assures me our Leighton is not in Ray's class.
Ron Marr
73
Posted 17/05/2018 at 05:35:07
RIP Ray Wilson. What a fantastic player. I also remember the bicycle kicks. Sir Alf Ramsey named Ray as one of the four World Class players on that World Cup winning team.
Lenny Kingman
75
Posted 17/05/2018 at 14:31:55
The only mistake he ever made as far as I remember was the ill timed header down to Haller for the first goal in the World cup final of 66. As that was for England it didn't really matter to me!
One of the most cool, skilful, stylish tacklers and footballers ever employed by Everton fc.
David Ellis
76
Posted 17/05/2018 at 16:02:30
A great loss and RIP Ray
That 1966 England team has not faired well in the mortality stakes.
Wilson had Alzheimer's for a few years before he died and of the starting 11 I think Moore (1993 - aged 52), Wilson and Ball (2007 - aged 61) are all dead and Nobby Stiles and Martin Peters both also have Alzheimers and Jack Charlton I heard had some form of dementia/memory issues. That's 6 out of 11. Wilson was the oldest, and Nobby Stiles for example is in his mid 70s, so they are not all "that" old.
Gordon Banks has survived kidney cancer. Cohen has also battled cancer. Stiles has cancer (in addition to Alzheimers). All very sad.
Roger Helm
77
Posted 17/05/2018 at 19:33:04
An all-time great left back. People talk about the 1966 team but don't remember we also had the best defence — only one goal conceded before the final, and that was a penalty.
We had five word-class players in the team that day, and Ray was one of them.
Tommy Davis
81
Posted 18/05/2018 at 01:59:28
My sincere condolences to Ray's family, truly a wonderful man & yet another heartbreaking loss for the Everton family too, which means the majority of posters commenting on the great Ray Wilson, are of the more mature bluenoses, in their 60s, 70s & above!
I always remember my aunts & uncles saying about getting older, as another friend, or family member had passed on! With me only being a teenager, I had no earthly clue what they meant, but being 67 this year, I've now seen way too many Everton players leave this earth in the last decade or two.
It's just life of course, but it doesn't make it any easier, when one of the truly great Everton, Huddersfield & England players leaves this earth. Thankfully we were blessed with being able to see him during his 5-year stay at Goodison Park.
I used to go on about how Ray deserved a League Champions medal from the 69-70 season, even though he was no longer with EFC!
RIP, Ray, a true gentleman and a fabulous footballer.
Ron Marr
82
Posted 19/05/2018 at 02:20:22
Another memory I have of Ray is at the final whistle of the "Ian Storey Moore" game (67 Cup Tie against Nottingham Forest L 3-2). He drop kicked the ball onto the stadium roof. Now that was passion and wanting win. Contrast that with Schneiderlin and others jogging around the pitch against Arsenal.
Matthew Williams
83
Posted 20/05/2018 at 12:29:54
A true great, a true Winner, a true Blue.
Rest in Peace, Ray.
Dave Abrahams
84
Posted 20/05/2018 at 14:23:04
I always liked Ray's style: cool calm and collected, completely unflappable. I remember the first game versus Man City in the FA Cup. Mike Sumberbee never got a kick. I doubt if Mike did any better in the other two games. Another great Everton loss...
By the way, Roger (#77), we never conceded a goal before the 1966 FA Cup Final, Sheffield Wednesday's first goal was the first we had conceded in the competition that season. You might be getting mixed up with the year we beat Man Utd, I think the only goal we conceded that year was the penalty v Spurs in the semi-final.
Paul English
85
Posted 20/05/2018 at 15:03:56
Len (#14), most of what you said, I agree with, except I thought Ray was messing about with Jimmy Greaves. Greavsie got away from him and scored from the corner; Spurs won the game 1-0. I was right behind the arc in the Gwladys Street End.
Add Your Comments
In order to post a comment, you need to be logged in as a registered user of the site.
Or Sign up as a ToffeeWeb Member — it's free, takes just a few minutes and will allow you to post your comments on articles and Talking Points submissions across the site.