Allardyce: Managers are casualties of instability in football
Thursday, 17 May, 2018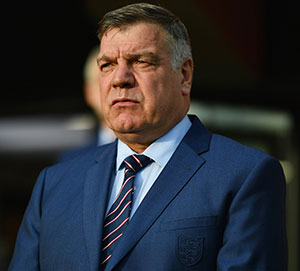 Sam Allardyce was back on the radio today to express his disappointment at being sacked by Everton this week, still insisting that the majority of Blues supporters were behind him.
The 63-year-old was formally told in a brief meeting with Farhad Moshiri in London on Wednesday morning that he was being relieved of his duties a year before his 18-month contract was due to expire.
With the news breaking on the major newspapers' websites late on Monday night, Allardyce says he knew he was going to be dismissed prior to seeing Everton's major shareholder but painted himself as the victim of the instability of the modern Premier League game.
"It seemed to be done and dusted through the media before I met Farhad Moshiri," Allardyce said on talkSPORT. "I think it was out there in the open for a couple of days. That leaves you with the certainty of what was going to happen.
"My meeting with Farhad Moshiri was amicable. We conducted ourselves amicably, but I expressed disappointment," continued Allardyce who 24 hours earlier had made known his disgust that he and his team were not informed by the Everton hierarchy of the various boardroom changes that were announced on Tuesday.
"There's a huge pressure on a manager and that's growing because of the money. It's brought more instability and the people who have suffered more is the managers and it's not always their fault."
"I think there were certainly more Everton fans who were happy with what we were doing and going in the right direction than the ones that weren't.
"Those who show discontent are the ones who are more open and vocal about it. I would say most of them didn't want me out.
"Not everybody has the same opinion, I accept that. Moving forward, Everton need to build a team and move forward to grow with the stadium being built.
"The club are moving in the right direction. I'm not a part of the club anymore, but I wish them all the best for the future. There's little you can do other than move on."
---
Reader Comments (118)
Note: the following content is not moderated or vetted by the site owners at the time of submission. Comments are the responsibility of the poster. Disclaimer
Trevor Powell
1
Posted 17/05/2018 at 17:12:35
Still delusional, Sammy. Shows how dumb Snaky Lee and Craig Snakespeare were to keep believing in him!
Geoffrey Williams
2
Posted 17/05/2018 at 17:12:54
He's delusional.
He is the master of mediocrity.
Michael Kenrick
7
Posted 17/05/2018 at 17:13:35
At least he toned it down from "shocked and disgusted"... but still fundamentally delusional.
When the Everton away fans — our most loyal cadre — turn you at game after game... yes, they may not be the silent majority in this case, but they represent the very core of the fanbase, I would say.
Brian Williams
8
Posted 17/05/2018 at 17:15:16
Blahhhhh!
Kevin Tully
9
Posted 17/05/2018 at 17:16:45
"There's a huge pressure on a manager and that's growing because of the money."

I doubt very much that Allardyce grasps any irony in this statement, as he walks away from Everton with a lottery win.
Jay Wood
[BRZ]
10
Posted 17/05/2018 at 17:21:18
Hasn't Sam said in the past he took advice from Tony Blair's spin doctor Alistair Campbell on the dark arts of dealing with the press and controlling the dialogue?
There is evidence he was tutored and learned well in his comments here.
Meaningless. Yesterday's man. Gone. Move on.
Peter Gorman
11
Posted 17/05/2018 at 17:21:45
If it is true that the majority of blues were behind him, it makes his shunning of them during the 'lap of honour' even more of an affront.
But of course they weren't.
John Pierce
12
Posted 17/05/2018 at 17:24:43
The era of don't lose is over, the massive gap at the top just means teams below want entertainment, success as we knew it is in the main, out of reach.
That's the impact of money in sport. Allardyce and the stable of similar managers who produce mind numbing 'Houdini' act football are simply out of touch.
I strongly suspect they will fade from view in the coming years, as that gap widens at the top.
I'll take no complaints from a man or group of managers who moan like bitches when they are recompensed so grandly for treading water, when they believe somewhat spuriously that they've saved your skin.
They are yesterday's men. Move on and catch up Everton. That ladder is being hauled up as we speak!
Tony Waring
13
Posted 17/05/2018 at 17:25:12
My thoughts Kevin (#9) exactly! Bit of a buffoon, methinks.
Paul McCoy
14
Posted 17/05/2018 at 17:28:05
If he was half as good at management as he is at self-promotion, we'd have won the league.
Fran Mitchell
15
Posted 17/05/2018 at 17:28:06
A man who made £9 million for 6 months of mediocre work complains that he is suffering.
Ian Bennett
16
Posted 17/05/2018 at 17:29:05
~£9m for 9 months work. The heart bleeds...
Soren Moyer
17
Posted 17/05/2018 at 17:29:40
Deluded!
Liam Reilly
18
Posted 17/05/2018 at 17:30:51
Must be in a better mood; his cheque must have hit the bank.
Completely deluded if he believes anything he is saying about the supporters. I've never seen anything like the tidal wave against an Everton manager in all my years of supporting the club.
Danny Broderick
19
Posted 17/05/2018 at 17:32:22
A casualty? A victim?
I would say that Sam, along with Pulis, Moyes, Hughes, Pardew etc have done very well out of the managerial merry-go-round.
He should be one of the most thankful men on the planet for the situation he finds himself in. As ever, he's a spin doctor, and he's making himself out to be hard done by yet again. Glad this clown has gone.
Simon Hermansen
20
Posted 17/05/2018 at 17:32:31
Straight from the Trump manual of 'say it enough times and the uninformed masses will swallow it'. Fortunately Everton fans know the truth of it and I don't know a single one not pleased he's gone.
Move on.
Andy Walker
21
Posted 17/05/2018 at 17:35:43
I'm not sure he's delusional, perhaps more of a wind-up merchant and his way of getting back at the fans is to wind them up even more.
Anyway, he's gone, thank God. Now for Silva joining soon.
Kieran Kinsella
22
Posted 17/05/2018 at 17:36:50
I kind of think we are the buffoons. I mean we're all here reading what he has to say for himself. What can we really expect him to say? "I was a terrible manager. I deserved the sack?"
He was a poor choice for the job, he did his best, he moved us from 13th to 8th which meant an additional £10 million in prize money so he effectively covered his own cost. He has gone. I do have a bit of sympathy for him in the sense that he can only see things the way he understands them.

Poor old John Carver got crucified at Newcastle when he said he saw himself as the "best manager in his world". Everyone missed his point which was that he obviously did everything that seemed best from his personal perspective. He obviously wouldn't deliberately do a bad job.
Same with Sam. His weight, his gruffness, his bombastic nature are irrelevant. I also feel bad for his support staff. They aren't poor per se but they are not necessarily millionaires either. Neither do they have any assurance of future income. So I would like to just let this ill-conceived era slip quietly away instead of dancing on anyone's grave.
Dave Brierley
23
Posted 17/05/2018 at 17:37:12
And as this pathetic moron drives off to the airport bound for one of his luxurious villas in the sun, you can't help thinking, "How did he get it so wrong?"
Karen Mason
24
Posted 17/05/2018 at 17:38:36
I suppose he was the victim too, when caught on film with his 'hand in the till' as England Manager!
Big Sam... but not quite a big enough man to take responsibility for his actions. He forced the club into an 18-month contract. Some of the home truths about his demand on contract, dismal stats in terms of our play, negative football, lack of improvement in individual players and dismissive attitude to the fans should all be put out there as reasons for him not being the man to take our club forward.
How best do we do that as fans or a club? While saying he bears no grudges, he is cleverly bad mouthing our club.
Jack Convery
25
Posted 17/05/2018 at 17:46:51
It must be great to lose your job and not have to walk into a Jobcentre asking for benefit support. However he wouldn't understand that – his ilk never do. £9m for 9 months.
I've worked for 41 years - no one has ever said to me, "Here's £6m to pay out your contract."
He's a deluded self-promoting parasite making a bundle from a sport he purports to love. I bet he turns up on ITVs pundit team for World Cup duty.
Karen Mason
26
Posted 17/05/2018 at 17:47:16
But then, after my little rant... I am thinking, why give his comments any validity by saying anything. Sometimes silence is Golden. Am gonna take the advice of some of you wiser owls on here and move on!
Drew Shortis
27
Posted 17/05/2018 at 17:49:41
Surely he knows he was brought in as an emergency firefighter with the limited remit of staving off relegation. The extra year on his contract was clearly a means of making it worth his while when he was replaced at the end of the season. He must know that & is saying all this to protect his 'reputation'.
Had he come in and made us an unbeatable force, playing dashing football the fans loved then the owner may have re-thought his plans, but to make out he has been unfairly treated is laughable. You did your job and walked away with an eye-watering payoff Sam. You're no victim!
From the word go there was no chemistry with the fans and the football we played under him was turgid. He did drop Williams, settle on a stable first eleven and make two relatively successful signings in Tosun and Walcott, but they weren't decisive.
I think we could have stuck with Unsworth and survived, but things were looking a bit grim at the time and there was nobody else available to steady the ship, so Moshiri wisely decided that the outlay in wages and compensation was small fry in comparison to the possibility of relegation and made a pragmatic decision. He's now made another wise decision in getting rid of Sam early on so that the new manager can have a full summer to get to grips with the job.
Here's hoping for a good selection for new manager and a successful preparation for the 2018-19 season.
Paul McCoy
28
Posted 17/05/2018 at 17:49:41
I would have sympathy for him if, once relegation was obviously not on the cards, he'd tried to have the team play attractive football. But he didn't. Not once. Instead he took credit when we scraped a point and blamed the players when things went tits up.
Genuinely feel sorry for the fans of whatever club he finds himself at next (unless, by some miracle, it's the RS).
Steve Powell
29
Posted 17/05/2018 at 17:55:10
Of course he's going to play the victim card, who wouldn't?
He can't be surprised though. It's clear that when he couldn't get his prime target, Moshiri wanted Sam to hold the fort until the end of the season while he started to put Plan B into place. The extra year's contract was the price for playing along.
I'm glad this has been sorted quickly. Now we can get on the main business of the summer.

Jer Kiernan
30
Posted 17/05/2018 at 17:56:16
Did you hear that??? "The fans got me the bullet"... Nice :)
Pat yourselves on the back, those who showed their vocal disapproval of this sham of a manager and made it clear that mediocrity is not acceptable at our Great Club, and let that be a lesson to those who sat in silence and now get to look at next season with at least some optimism and not dread.
Onwards and Upwards.
Steve Ferns
31
Posted 17/05/2018 at 17:59:17
He won't go quietly will he? Contrast with our Previous mangers:
Moyes - says good things - obviously clinging to his "glory days"
Martinez - says very nice things - presumably feels he owes us seeing what he was paid
Koeman - keeps a dignified silence
I wish Allardyce would do a Koeman and keep his trap shut.
But to answer his points:
1. Instability - has anyone profited from the sacking of managers more than this man, a 7 club Premier League manager?
2. Money - yes, he's had a lot of it, so he shouldn't bring money into it
3. Fan power - he should know how to play the game
Let's imagine for a minor tweaks. Nothing on the pitch changes. But let's imagine that Allardyce said he wasn't happy with the Swansea point, or the West Brom point, and that he agreed that the football wasn't good enough, and that he was going to push for top 6 next season.
Where would we be then? Would there have been the clamour there was to sack him? Or would the likes of myself be suffering in silence as people pointed to him taking us up the table and promises being made of further progression, signings, and more expansive football. He could then have pushed for "stability" and got himself a year's extension on his contract.
For all his PR skills, I do feel he is the author of his own downfall. But then maybe he wanted to be paid off and get back to his retirement?
Will Mabon
32
Posted 17/05/2018 at 18:05:02
Allardyce is simply a symptom, an indicator of the crazy world that football has become, or been steered into. Moshiri/Everton didn't
have
to pay him his demands, but they did. Crapped themselves at the prospect of falling off the gravy train, and threw the money at him.
Listening to some of the discussion of the manager merry-go-round on TalkSport this afternoon just highlights the farce it's all become. You couldn't produce a more engineered drama if you tried, and I really do wonder.
Just about all off-field activity and the incessant milking of it is sickening in my opinion. For now, there's still 90 minutes football in there somewhere, but following on from VAR, I wonder how long til they start to wreck that.
Will Mabon
34
Posted 17/05/2018 at 18:06:20
Steve, that Koeman silence might be an embarrassed silence. Or simply not giving a damn.
Ian Hollingworth
35
Posted 17/05/2018 at 18:14:02
He is right about the money, but that's it.
I think we need to move on now, Sam is history.
What next for Everton FC?
Geoffrey Williams
36
Posted 17/05/2018 at 18:15:54
In what other profession can you fail so miserably at your job that you get sacked but still walk away with millions.
Will Mabon
37
Posted 17/05/2018 at 18:16:50
Banking?
Paul Birmingham
38
Posted 17/05/2018 at 18:19:11
Next, Sam Allardyce will be going for Prime Minister. With the safety cushion of a mega payout, hence the contract term of 18-months, he couldn't lose.
A football manager whose amassed a fortune by similar stunts at The Toon, and paid huge ransom wads at Sunderland and Palace.
He shouldn't have ever been here, and so the board hopefully has learnt a hard lesson. The club can't ever again under take such a scheme. It's been the worst season ever.
Now to find out whom our new manager will be and sewing the seeds of recovery for our club. Hope eternal at EFC!

Vinny Garstrokes
39
Posted 17/05/2018 at 18:21:36
Will (#32) – Speaking of TalkSport, if you get a chance to listen again to the Breakfast show at around 0620, Graham 'Beaky' Beecroft in 30 seconds summed up the whole debacle regarding Sam Allardyce and there was certainly no doubt from him that he had to go (and I think he's an RS)!
Anton Walsh
40
Posted 17/05/2018 at 18:25:28
If it wasn't for managers like him getting sacked all the time, managers like him wouldn't be getting the chance to earn millions for nowt.
David Edwards
41
Posted 17/05/2018 at 18:36:26
Vinny (#39), Beaky is a red, but even he can't argue against what happened. Yesterday on Five Live, Pat Nevin and the excellent BBC sports writer Phil McNulty (common sense in every article he writes on the BBC Sports website) also talked about the need for Sam to leave – thankfully not following the rubbish spouted earlier by so-called big-name pundits!
Kenny Smith
42
Posted 17/05/2018 at 18:37:48
He was here just under 6 months and got paid £6 million for the remainder of his contract give or take a few bob. I make that £9 million for not even 6 months work.
Disgraceful appointment and it's no wonder people are falling out of love with the game if a talentless tool like him can demand that sort of money. More fool us though for paying it!
Bill Gienapp
43
Posted 17/05/2018 at 18:40:45
The number of knobs attacking us on Twitter for having the temerity to sack Allardyce is appalling. Like they're actually shedding tears for this oaf, who just pocketed £million for six months of mediocrity... acting like we had him dragged from Finch Farm by security and shoved into a mud patch (which frankly would have been my preference).
Will Mabon
44
Posted 17/05/2018 at 18:41:13
I'll try to find that, Vinny.
Raymond Fox
45
Posted 17/05/2018 at 18:51:18
Let's see how the next manager gets on. We've had three in succession try to get a tune out of our wonders and failed.
I cant say I'm overly optimistic unless Moshiri pushes the boat out in a big way in the transfer market this summer.
Kieran Kinsella
46
Posted 17/05/2018 at 18:51:31
The merry-go-around of mediocre managers has become a farce. Moyes, Sam, Hughes, Pardew, Pulis. None have ever won anything. If Peter Reid, Bryan Robson, David O'Leary and co had moved into management a decade łater they'd still be bouncing from club to club.
If you go back to the 90s, the likes of Kendall, Graham, Dalglish all won multiple trophies. They had a few downturns and they were banished to the scrap heap. Now we have a revolving door of foreign managers Who come and go plus this group of dour long ball merchants.
Len Hawkins
47
Posted 17/05/2018 at 18:54:39
I've just used a box of Kleenex wiping away the tears, I don't know how this poor soul is going to feed his family. Isn't his son one of those struggling against the tide trying to make a crust as one of those much maligned misunderstood gallant football agents. How will they manage no brown envelopes thrust into his hand, I'm cracking up here.
In fact I'm so upset I'm going to start up a food bank for unemployed football managers, anyone who has the odd bottle of Moet & Chandon in the shed or the odd tin of Beluga Caviar at the back of the cupboard feel free to send it. I have an expensive bottle of Single Malt I'm going to throw in to make a start.
Samuel dear boy that pitch you used to stand next to has been trodden by some of the most exceptional footballers in history, in fact one man who was 10,000,000% a better footballer than you has just passed away he won a World Cup Winners medal and his wife and family will not have had a fraction of the wealth and opulence a mediocre money grabbing worthless clown like you have so just shut your worthless bleating and do one.
Stan Schofield
48
Posted 17/05/2018 at 18:58:58
Delusions of grandeur.
Trevor Powell
49
Posted 17/05/2018 at 18:59:40
From the Echo website recently, "My length of stay at Everton is purely based on two things – results and entertainment – and we've got to put both things together, we've got to be entertaining and we've got to win football matches.
"Winning football matches first is the key element and then that brings greater entertainment value as we hopefully improve the squad as we go on in the future and building a team to play better, win more games and progress."
In that respect, Allardyce looks like he could be hoisted by his own petard."
So, where was the entertainment value after 40 points was attained?
James Marshall
50
Posted 17/05/2018 at 19:00:22
Casualty, my arse – the prick earned £65 grand a day at Everton!!
The more and more he speaks, the more and more I dislike him. What a pile of grandiose bollocks.
Steve Ferns
51
Posted 17/05/2018 at 19:14:21
Beaky is a red? If I recall correctly, Beaky did all the Everton games on Radio City in my youth ('84-94) and the RS guy was ITV's Clive Tildsley.
I'm very surprised that a guy I associated with Everton is actually RS. He was always very fair if that was true and gave an impression of being a blue. But then again, if you've got the job as the Everton commentator, you'd need to fake it at least!
Steavey Buckley
52
Posted 17/05/2018 at 19:33:58
When Allardyce took over Everton, they were playing some of the worst football, not only in the Europa League, but in the Premier League as well. The fault lies with Koeman, the previous Everton manager, who bought sub-standard players for ridiculous amounts of money on crazy wages — players who will still be with Everton next season.
Kim Vivian
53
Posted 17/05/2018 at 19:35:12
I know it's good for producing a thread (repeats of numerous other threads actually - all the same people saying all the same things) but can we just drop Allardyce as a talking point from this site now?
He's done his bit, screwed a wedge out of Moshiri and now is just mouthing it. Let's just ignore the jackal and discuss something else, something more worthwhile. I'm bored of him.
Tom Bowers
55
Posted 17/05/2018 at 19:43:59
In retrospect, it was a poor appointment but Koeman was an even bigger blunder.
At least most of us knew Allardyce was a journeyman whose only real claim of recognition was with Bolton when he had Jay Jay Ococha and Campo strutting out their final days in a rather decent team.
Koeman on the other hand was thought by most to be the man to rectify what Martinez had done wrong and was quickly exposed.
The whole Allardyce fiasco should have been avoided and has led to a lot of acrimony in the club and the supporters.
I could be wrong but Rooney's form dipped when Allardyce took over and it showed in his body language. Not that it should be any excuse for a professional like Rooney who should have rallied his team mates to better things.
Surely to God next season won't be anything like this one thankfully gone.
Lenny Kingman
56
Posted 17/05/2018 at 19:45:06
Loosely translated =
Club's like Everton are casualties of conmen like me.
Eddie Dunn
57
Posted 17/05/2018 at 19:57:08
Allardyce is a manager...he had little Sam and Shakespeare to do the coaching and he could do the other things. He is still "managing" things, now his media image. After all, he needs to market himself for the next short-term job.
If he had stayed, I honestly think he would have got us up to 7th, with dull footy, but we would be hard to beat.
I am glad he has gone, so we can, at least, dream again, of glory, goals and silver, because under sam, we would only be pragmatic and dull.
Thanks, Sam, and bye.
Steve Ferns
58
Posted 17/05/2018 at 19:58:28
I don't think that Koeman was exposed. I still think he is a decent manager / head coach. He just had delusions about his own ability, particularly in thinking he was able to craft a brand new team every season, based on doing so at Southampton twice with little expectation.
That said, I doubt he'd ever have been able to deliver top 6, even with Arsenal reeling and there for the (over)taking.
Phil Walling
59
Posted 17/05/2018 at 19:59:39
Moshiri was fool enough to grant him the 18-month contract and should be made to spend his own money on satisfying it.
No doubt 12 months from now he will be facing similar problems to rid the Club of Marco Silva, he having only managed 12th place in the Premier League!
James Hopper
60
Posted 17/05/2018 at 20:00:32
Fuck off, Sam, you massive bell-end!
Brendan Fox
61
Posted 17/05/2018 at 20:00:39
What a melodramatic egotistical deluded twat Fat Sam is, he claims he's a casualty, I'd beg to differ it is the fans who have been visually afflicted by the cross this muppet served up...
Steve Ferns
62
Posted 17/05/2018 at 20:02:12
Eddie, I think Burnley are going to be in big trouble next season. They will have the July season start. A lot of their players will only just be back from the World Cup. They will get no pre-season at all.
A bad start, as we know, lots of fixture congestion, and they could be fighting relegation for real. If I was a betting man, I would stick a £10er on Burnley to go down next season.
Jamie Crowley
63
Posted 17/05/2018 at 20:14:21
Will Mabon @37 -
Banking! Yes!
It trumps managerial dismissal by a hell of a lot for compensation while doing a shitty job!
Massive payoffs and bonuses while driving entire countries into insolvency. Often paid for by the taxpayer!
Still doesn't absolve Sam of any comments. I'm so glad he's gone.
Don Alexander
64
Posted 17/05/2018 at 20:24:40
Allardyce and the media are hand in glove with each other because, right now, one major TV sports channel of other will be hiring him to pontificate on the World Cup and beyond on their behalf. The only pundit ever capable of speaking what I call the truth is Roy Keane, not that even he does it often mind you.
If you didn't know better, you'd almost believe that genuine, reasonable football supporters were being systematically robbed blind by an "industry" where serving oneself comes way before any notion of putting a shift in for a team.
I've taken to calling it "FFS" as an acronym, meaning "Finch Farm Syndrome", and it's lethal to fans and supporters.
Ian Riley
65
Posted 17/05/2018 at 20:31:23
Everton was the biggest club Sam Allardyce has managed. I actually think he really wanted a crack at doing something other than staying up. Sadly if your success has been preventing relegation or going beyond expectations at lower division clubs then your methods have achieved.
The language used to describe Sam Allardyce tenure at our club which by the way we contacted him is unjustified. Martinez was given £10 million for what? Koeman we are still paying. Sam is not everyone's cup of tea to say the least. His honesty sometimes is his problem and style of football is eye watering but that's his style of management.
Money is a key factor now at our club. That's why we didn't stay with David Unsworth. Relegation is not a fear. It's the killer of some clubs. Don't know what the owner expects? Not good enough for champions league and is Marco Silva going to be given a further £200 million to try and get us to the promised land? Let's have another go. Money brings instability in all walks of life. Our owner is not a young man and success needs to come quickly but we need stability to progress.
The future could be bright? Spend more could bring success? Season ticket prices could rise leading to greater expectations. We can only try and yes the football gods may look kindly at us. Let's keep managers like Allardyce's and Moyes's telephone numbers on file just in case.
Peter Fearon
66
Posted 17/05/2018 at 20:52:40
Another clown who wanted to play Hamlet. He was given a chance to do so and proved himself just a clown.
Ed Fitzgerald
67
Posted 17/05/2018 at 21:02:23
Ian,
When Martinez got sacked, we had two points less than the end of this season; we had also been in both domestic semi-finals that season — it was considered to be not good enough. Then this isn't good enough either.
Bobby Mallon
68
Posted 17/05/2018 at 21:04:32
The most delusional of people are those like Jim White who hang on every one of his words.
Dave Ganley
69
Posted 17/05/2018 at 21:11:52
Oh dear, Ian... I despair. Did you actually go to any games? Where is the ambition? Where is the will to compete in all games? Where is the hope that we will ever win a trophy again if we all had that attitude?
Ed – spot on. Martinez did far better than Allardyce and it wasn't even remotely good enough.
Phil Sammon
70
Posted 17/05/2018 at 21:24:33
James Hopper @60 articulates it beautifully.
Mike Kehoe
71
Posted 17/05/2018 at 21:45:51
Claims of being a victim are ludicrous and embarrassing for all the obvious reasons but he has gone now and the moves so far are a cause for cautious optimism.
I think a lot of the vitriol and childish name calling was in part due to a fear he would stay on: well now he's gone forget him and give him the same regard as you would an accidental shit stain removed from a sheet in a hot wash.
Kunal Desai
72
Posted 17/05/2018 at 21:47:17
The thing is you get characters like Allardyce in all walks of life and in all kinds of jobs. He is one of the fortunate ones, in any other industry for what he delivers he wouldn't get a 6 pence pay-off. Very lucky for doing sub-standard work, is Allardyce.
James Hopper
74
Posted 17/05/2018 at 21:49:47
Phil@70: I didn't think anything more needed to be said. I wouldn't want to dignify that man's stupid comments with anything more than the bare minimum of a response!
Tony Everan
75
Posted 17/05/2018 at 22:07:14
The majority of Everton fans are behind him...
Chasing him out of the club.
William Cartwright
76
Posted 17/05/2018 at 22:19:00
History, and an experience we should learn from. COYB
Seamus McCrudden
78
Posted 17/05/2018 at 22:25:34
Cretin.
Jerome Shields
79
Posted 17/05/2018 at 22:27:47
The instability in football is caused by mercenary managers and players who are in it to get appointed and then rip off whoever they can, whatever way they can. In Everton's case, it has reached crisis point with a potential loss of £22 million in payments for little or nothing.
Everton have been ripped-off left, right and centre by mercenary managers and players. Rooney is trying to hang about because he sees another rip-off opportunity.
The result is that Everton are hoping that a manager sacked for poor performance that no-one else wants since then, will decide to fill the current manager's job vacancy.
Why? Because no one wants to manage Everton and suitable players will think twice before making such a career move. Everton are hoping that Silva is the right choice. The truth is the The Board haven't a clue whether he is or not.
Brands is a good appointment; hopefully he will have some say in who we get. At least he might know something. This appointment is critical to the future of Everton Football Club. It is a rebuild job and a 5-year project.
Having got rid of the mercenary manager (Big Sam can't see himself, better ignored), Everton need to get rid of the mercenary players, starting with wishing Rooney au revoir and thanks, but no thanks.
The standing of Everton Football Club is at its lowest point in its history.
Bobby Thomas
80
Posted 17/05/2018 at 22:31:54
We've handled this badly.

Steve Ferns
81
Posted 17/05/2018 at 22:47:12
You're right, Bobby. Moshiri should have shoved Allardyce out in front of the fans for the "lap of (dis)honour" after letting it slip Allardyce would be sacked after the game.
He should have then come out onto the pitch himself, microphone in hand, and as Allardyce sheepishly made it back to the tunnel, he could have uttered the words of Alan Sugar on the Apprentice, "You're fired!" complete with Sugar style pointing (down towards the dugout).
Is that what you meant, Bobby? Cos I bet the crowd would have loved it, best entertainment all season.
Nicholas Ryan
82
Posted 17/05/2018 at 22:49:14
Geoff [36] The answer to your question is: 'Being the CEO of Carillion'!!
Colin Glassar
83
Posted 17/05/2018 at 22:53:38
Pity we can't re-write history — otherwise, we could expunge every trace of him from our story. Where's Stalin when you need him?
Andy Crooks
84
Posted 17/05/2018 at 22:54:33
Steve @ 62, that is a really good call and I will be investing.
Bobby Thomas
85
Posted 17/05/2018 at 22:56:01
Steve Ferns (#81),
No, I don't mean that.
Marcus Leigh
86
Posted 17/05/2018 at 23:05:57
I actually think that for years Allardyce has had a genius, goldbricking plan — one that just keeps on paying out for him over and again: go into a club, do the absolute bare minimum to fulfil the brief of staying in the Premier League by 'tightening up at the back'; deliver the kind of dire, unimaginative, uninspiring dross that ensures the fans hate you; and get sacked as early as you possibly can. Kerrrrrr-ching!
Oh, and antagonise absolutely everybody along the way by claiming you're some kind of footballing guru when all the evidence points to you being an utterly dour, teflon-coated, bung-taking arsehole.
[Not sure if that's all entirely warranted, but it certainly feels good to have got it off my chest!]
Tom Bowers
87
Posted 17/05/2018 at 23:12:09
Managers like Allardyce and Moyes are laughing all the way to the bank.
Why would they need to worry about having their contracts terminated?
They and others have basically been well paid for very little.
Dennis Stevens
88
Posted 17/05/2018 at 23:26:18
Arse!
Dan Davies
89
Posted 17/05/2018 at 23:40:51
The man is deluded. Good riddance.
Frank Wade
90
Posted 17/05/2018 at 23:49:35
Looks like he got Clarity from his meeting with Moshiri. I always wondered what sort of clarity he got before. I remember his body language at that press conference and he didn't look like he had got Clarity. Mind you, he didn't look like someone who had been told they would be inheriting 6m in 6 weeks either.
Bobby (#80). What do you mean by your post that we've handled this badly? How do you think the club could have handled it better? I certainly think they have done ok.
I haven't seen similar outpourings in the press in defence of David Moyes, who in my opinion, achieved a much more difficult task in getting the Hammers to safety. I thought they were doomed after the 4-0 at Goodison. Sullivan and Gold weren't dishing out 18-month contracts either.
Francis Gibson
91
Posted 17/05/2018 at 23:53:03
I'll state at the outset here that I am not, nor ever have been a Sam supporter; his appointment sickened me, and empirical evidence has proven his tactics out as limited time and time again over the course of his career. He needed to be gone if we are to show we have any ambition. End of.
But, something I've almost entirely missed in comments sections across the net regarding not only his sacking, but those of Martinez and Koeman as well, is the culpability of the players. It's my opinion that, with a few exceptions, we have a gutless, unmotivated squad that rarely appear to believe we can, or even want to win matches.
Make as many arguments as you'd like about the shit-ness of the managers (none of the three are shit managers) but it's the players on the pitch that play the matches. The horrifically humiliating capitulation to the club across the park under Martinez solidified my disgust at the players and what increasingly appeared to me to be a culture of comfort, ambivalence, and time clock punching/paycheck cashing on the part of the majority of the squad. That, for me, is what's primarily to blame for the rubbish that we've endured the past few years. I've seen virtually nothing from them in the years since to change my mind.
I see no heart, no desire when I watch an Everton team anymore. Of course tactics and setup are key, to be certain, but for me it's the attitude of the personnel on the pitch that's the primary problem with the club. Hire, replace, pay off, then blame as many mangers as you want, but we'll continue going nowhere fast until we get shut of at least half the team and bring in some players that actually show heart and fire for the badge while on the pitch. I've supported the club for going on thirty years, and for the first time, I don't care about or even like most of the squad.
I'd posit these new players don't even need to be 'big names,' either. In fact, I'd almost prefer at this point if most aren't. The likes of Cahill, Carsley, Gravesen and Arteta certainly weren't when we brought them in. It says a lot to me when I find myself wishing I could see a Leon Osman-type playing for us instead of Sigurdsson, Schneiderlin or Bolasie. Any 'top' manager we bring in next will struggle to get any passion or even forward movement out of this current group, and the rot seems to be deep-set.
Dave Abrahams
92
Posted 17/05/2018 at 00:01:47
Ian (65), Sam's honesty is his problem, Ian. Sam is a stranger to honesty, he's a bluff merchant.
Karl Masters
94
Posted 17/05/2018 at 00:28:45
I'm in total agreement with you, Francis Gibson.
Whatever you say about Moyes, he was well known for his thorough vetting of a potential signing, not only watching them play numerous times himself, but also digging into their background and character. He got a few wrong, but mainly the players in that era gave 100% all the time.
Can you seriously identify that trait in any of the current squad, bar the likes of Baines, Jagielka and Coleman and we all know who signed them! The whole culture needs changing.
Don Alexander
95
Posted 18/05/2018 at 00:32:48
Francis (#91), well said indeed. There is a huge lack of heart in our squad, and it's been there for years as far as I'm concerned. It must be soul destroying to the likes of Seamus, of which we have few. It's one thing for a squad to be pragmatic when faced by a more expensively assembled, i.e. better (usually), team but quite another when the will to even compete is absent before kick-off, and that's what we've had to endure throughout Kenwright's endless tenure.
He and everyone appointed under his auspices need to go if we want to minimise the time in achieving any success at all in the Premier League we were so much a part of creating in the first place.
Derek Thomas
96
Posted 18/05/2018 at 00:37:22
Still living the dream...
Victor Jones
97
Posted 18/05/2018 at 00:38:28
Okay, that's Allardyce gone. Should keep a few punters on TW happy. Anyhow, let's hope that our next manager sorts out our midfield. It's been our downfall now for a few seasons. Let's hope our new manager realises that we do not need to start games with two or three DMFs.
Let's hope our new manager realises that Gueye and Schniederlin are not good enough. Davies also needs treated with kid gloves. He needs coached different to the nonsense that Koeman and Allardyce lumbered him with. There's a player there somewhere. He's a future England midfielder. We need to start getting the best out of this kid.
We need improving all over the pitch. But if our new manager can get the midfield sorted. Then we might have a chance. One DMF will do. And God help us if we start next season with Gueye and Schniederlin. Up the Toffees. Moshiri's new (yet again) Toffees.
Frank Wade
98
Posted 18/05/2018 at 00:45:26
Agree Francis #91 to an extent. I would certainly exempt the likes of Coleman, Gana, Jagielka, Davies, Baines, McCarthy and some of the younger brigade from your "not trying" criticism. I think this malaise is consistent across most of the teams in the Premier League from about 7/8th downwards, exempt Burnley, Brighton, Huddersfield here.
Young comfortable footballers paid huge sums of money looking after their futures and not that serious about being the best they or the team can be. They are happy to have made it this far. Not for them the fear of the hairdryer treatment from a Fergie. No belief in a manager like Allardyce – going thru the motions until a better manager is appointed. Look at the top 6 teams and the work they do off the ball to retrieve possession – Lukaku excepted of course.
The respect for the manager is also a huge factor. I contend that the majority of the title-winning Chelsea squad were so incensed with Mourinho's treatment of and attitude towards the team doctor, that they just downed tools to get him the sack. Possibly a bit of the same for Everton, once our safety was assured. The players knew what the fans wanted and they delivered – Bless their souls.
Geoff Lambert
99
Posted 18/05/2018 at 01:03:36
Marco Silva is the bookies favourite.
Paulo Fonseca has signed new deal with Shaktar Donetsk.
The next four in order is scary...
David Moyes
Louis Van Gaal
Roberto Martinez
Brendan Rodgers
Stephen Davies
100
Posted 18/05/2018 at 01:26:28
Geoff (#99),
Martinez has just signed a 2-year extension with Belgium.
Pete Clarke
101
Posted 18/05/2018 at 02:06:41
I would love a little chat with this cheeky bastard. Imagine a Chef getting a job in a top restaurant and – regardless of what the order is – he only serves half-cooked hamburgers. Then the Chef complains when he is sacked!
Johnny Rotten's words come to mind at the end of the great Rock 'n' Roll Swindal: "D'ya ever get the feelin' you're bein' cheated?"
Steven Smith
102
Posted 18/05/2018 at 03:07:34
I haven't posted to this site for ages even though I've read a lot of your blue posts. I can't believe this past season and looking forward to hopefully a new era for Everton.
I totally disliked the Allardyce appointment from the start and, even though he did what we needed by keeping us safe, I'm so happy he's gone. I have never been so unhappy watching my beloved blues. I agree, safety was a priority but, even after we realized we were safe, it was so obvious that he only had one game plan, without any style whatsoever!
It takes me back to the Martinez problems where he felt that the crowd needed to get behind the players for them to play their game... bollocks! I would rather see us lose a game in which we had given 100%, chasing the ball and putting some pressure on the other team. We all know that Goodison is a fortress and only is at its peak when the fans are feeding off the passion shown on the pitch.
I am so proud of our away support which is up there with the best in the league – I can't imagine how let down they feel!
Enough said. I can't wait to get excited again watching the Blues!
Lenny Kingman
103
Posted 18/05/2018 at 03:57:23
#100
Martinez is another con artist. After Belgium wimp out of the World Cup, as they normally do, he will be bulleted. So how he has managed to extend before the competition beggars belief. Another made wealthy by tricks, greed and massive payoffs for failure.

Lee Brownlie
104
Posted 18/05/2018 at 04:06:06
The 'majority' of Blues were behind him? Really?
Well, as we know that can't POSSIBLY mean Everton's own long-suffering and understandably now adamant fans, I suppose he must think the fans of other 'blue-clad' clubs, like Chelsea and Birmingham, must somehow, for some unknown reason (except to the man of pork and gravy himself!), have been rooting for him!!!
Anyway.. 6 mill is it? Thats a lot of fucking gravy, yeah?
So.. Thanks (again) but no thanks (ever again). Fuck him.
Ernie Baywood
105
Posted 18/05/2018 at 04:22:13
He's got it completely the wrong way around.
He's not a victim, he's a leech. He sees opportunities to earn astronomical sums of money for average work performing to minimal expectations. His only hardship of any note is the understanding that he will get quite a bit of grief from people in exchange for his money. More beneficiary than casualty in my eyes.
And I don't even really blame him for that. I once became quite a highly paid contractor to the government performing a service they themselves had trained me to do. I don't begrudge anyone making a quid if it's there to be made. There's no perfect line between ethically right and wrong - there are plenty of shades of grey.
But don't call yourself a victim. For a man so obsessed with image and interviews, it's a disgraceful comment to make.
Peter Barry
106
Posted 18/05/2018 at 04:35:33
'The delusion is strong in this one, Luke'
Alan J Thompson
107
Posted 18/05/2018 at 04:38:32
Mr Allardyce is absolutely right, it's the money that's ruining things. If he had not been paid then we'd have finished a lot higher, Top 4? BOLLOCKS! Top 3, no worries!
Show them the way to go home.
David Ellis
108
Posted 18/05/2018 at 05:29:52
Nothing to see here... let's move on.
Andy Walker
109
Posted 18/05/2018 at 06:06:18
Sam thinks it's all about him and he'll be loving the fact there's yet another new thread opened up on TW to discuss him. He's gone, can we now move on please?
James Hughes
110
Posted 18/05/2018 at 06:43:50
It's reported that Fonseca has signed a new 2-year deal with Shaktar Donetsk. So it looks like Silva it is then.
Brian Porter
111
Posted 18/05/2018 at 07:14:55
Sad, delusional, but very wealthy twat! Must have siphoned off millions over the years by his self-promoted firefighter act, then has the nerve to cry (all the way to the bank) after failing in his one big opportunity to manage a big club.
I never wanted him, don't believe we ever needed him and now we inherit the media shit storm as his pals in the press and on TV rally to his defence. As for his 'the majority of the fans were behind me' comment, yes, we were, all lined up behind him waiting in turn to boot his arse out of the ground.
Problem is, there are still a few fans who are standing by him, bless them, and saying we should be thanking him for 'saving us' but that part of the job was effectively done with two months of the season to go. Did he then go on to show us he could take us forward by giving the players a licence to entertain? Nope.
Nothing changed because the leopard that is Sam Allardyce simply can't change. He does one thing and, to be fair, he does it well. But once he gets a team clear of relegation worries, his tank is empty. Nothing more he can do, (his own words).
Fonseca for me please. I have no belief in Silva, another character with ego issues.
Don't let's dignify Allardyce's moans by responding to him any more than we need to. Go cry into your swimming pool, Sam, and while you're at it, try beating the world record for holding your breath under water.
Geoff Lambert
112
Posted 18/05/2018 at 07:37:06
Stephen (#100). It's not me making the odds, mate — it's the bookies.
Dave Ganley
113
Posted 18/05/2018 at 08:20:32
Francis (#91), I agree to an extent that players are culpable, they don't respect a manager and they switch off. It's very wrong but unfortunately that's modern football. As much as we would like to, you can't sack a squad of players.
But here is where I disagree with your assertion that the managers weren't shite. They were. They brought these players in. Their job is to get a tune out of these players and make them motivated. Problem is that they bought the wrong players and allowed team spirit to whither and die with a very few exceptions.
It's not about whether the players are good enough, some are and some aren't, it's about whether they have the right attitude. You are right that the likes of Carsley, Arteta, Cahill etc weren't top players but they had the right attitude and became top players.
Gana, Barry and McCarthy aside, I can't think of many who have come in and had that attitude. That's why the club is in the mess we are, awful signings and the inability of the managers since Moyes to get them to play as a team.
Barkley highlights it for me. So talented but it's all about him. Thinks he is way better than he is and look at him now. It's all intertwined; shite managers not motivating poorly recruited players.
Danny Baily
114
Posted 18/05/2018 at 08:29:01
Sick of this debate about the supposed quality of football being played.
Winning teams are good to watch. End of. I think we've been so starved of success that we've forgotten this. It's a problem that is seemingly unique to Everton. Newcastle have gone down and won the Championship; Villa are challenging for the playoffs. Spurs have had some joy in the Premier League and League Cup over the years. It's the results that matter most.
Appointing Silva on the misconception that his teams play good football would be a mistake. They don't. His record in the Premier League is very poor and I don't see why that would change upon arrival here at Everton. He's also been shown to be of poor character.
Jim Burns
115
Posted 18/05/2018 at 08:36:53
Kieran @ 22 – thoughtful post that – well said.
He was never going to be the manager that took us to the next stage – so no real surprise and pretty much cost neutral as you say.
Onwards and upwards.
Ian Linn
116
Posted 18/05/2018 at 14:59:16
I heard the full interview last night, I can't remember a lot of it because I was a bit pissed.
However, one part I clearly recall was Fat Sam whining because he was now out of work and would have to find something else.
Difficult to find sympathy or empathy for someone who has made so much money that them and their family will never have to work again.
Poor times with Sam for sure but it was less than 6 months, let's just move on.
COYB
John Boon
117
Posted 18/05/2018 at 18:30:23
Allardyce is really best forgotten. He obviously is unable to even read. Nobody could just ignore everything that was written about themselves and still come the conclusion that they were appreciated by the majority of fans, unless they they were unable to read the printed word. The man is as "Daft as a brush".
I promise never again to post anything about our EX Manager. He doesn't deserve any more of the printed word. I suggest an excellent pen pal for Allardyce would be Donald Trump. They could share their "delusions of grandeur" .they are perfectly matched in so many ways.
Phil Walling
118
Posted 18/05/2018 at 18:36:21
Who started giving contracts to football managers ? Well after the war they worked week to week like most of us.
Now they know that whether they do well or not, the reward is the same and then it's on to the next goldmine.

Everton are currently paying off three ex managers and gawd knows how many staff. I bet it would be different if Moshiri and other owners had to fork out their own loot !
Mike Connolly
119
Posted 18/05/2018 at 19:51:37
I don't normally listen to TalkShite but it was on where I was working. And with the two presenters I listened too, I'll avoid the station on every opportunity.
Jim White was acting like Sam's Agent repeating to the listeners that Sam has been treated unfairly. The other balloon, Brazil. He came out with a corker. He said that Sam should just walk away and go to the courts and sue Everton.
He seemed pretty pleased with himself, until one of his guests told him he's getting something like £6 million off Everton. It was great to hear him silenced for a couple of seconds.
These presenters don't appear to research what they are talking about. What a job, money for nothing, maybe that's whey they have an affinity with Sam...
Geoffrey Williams
120
Posted 18/05/2018 at 21:06:36
It is impossible to feel sorry for these managers, they get the sack but still walk away with their contracts paid up in full. Where is the incentive for managers to succeed in their job?
Clive Mitchell
121
Posted 19/05/2018 at 01:13:15
Allardyce's radio appearance was, as always with him, self-regarding self-absorbed publicity for himself. What a sunny week it's been without him at our club.
Karl Meighan
122
Posted 19/05/2018 at 14:52:54
That's right, Francis@91, the players are a bigger problem than the manager. Make no mistake, if Baines and Coleman get injured long term, then the squad we have will be in a dogfight producing shit football scrapping for points imo.
Allardyce should never have been given the job and Koeman did far more damage than Sam did imo — how quickly we forget the mess he left after spending a fortune.
Geoffrey Williams
123
Posted 20/05/2018 at 15:54:13
I just don't understand the media's love affair with Allardyce. Everton avoided relegation not because of him but despite of him. Team selections, tactics and use of substitutes would indicate a lack of a real football brain.
Andy Crooks
124
Posted 20/05/2018 at 16:16:29
Quite right, Geoffrey. I used to listen to TalkSport. However, it has nothing to to with broadcasting. It is about "look at me, listen to me" nonentities who want to be controversial because they have nothing else to offer.
There is a "lads together" desperation, a toe-curling mateiness, a nickname clique (fuck me, add '-sy' to anyone's surname and they are your friend) that, if I ever listened to it again, would, likely make me die vomiting.
The connection between Jim White and Moshiri is as embarrassing and lamentable as Sam Allardyce.

Michael Kenrick
125
Posted 20/05/2018 at 17:10:05
Nail on head re the execrable TalkShite, Andy.
But re Moshiri and White... did not our Fiscal Fount promise, back at the AGM, that there would be no more personal revelations via that route?
Seems, as far as I can recall, that he has been true to his word?
Brian Williams
126
Posted 20/05/2018 at 17:21:20
Michael (#125).
You're right, Michael, I think Mr Moshiri has learned his lesson and realized that his "friendship" with Jim White was nothing more than he (White) using Moshiri to basically help him in his job and attract listeners and create talking points.
I actually went completely against my principles and rung in one day as I couldn't stand it anymore and got through (after a money-spinning wait) and explained what my point was about to the person who I presume vets the calls.
I didn't swear and wasn't aggressive in any way but mysteriously got cut off after my point was made clear.
Andy Crooks
127
Posted 20/05/2018 at 17:27:56
I didn' t know that, Michael, and I am glad to hear it.
Add Your Comments
In order to post a comment, you need to be logged in as a registered user of the site.
Or Sign up as a ToffeeWeb Member — it's free, takes just a few minutes and will allow you to post your comments on articles and Talking Points submissions across the site.