Rooney nearing DC United switch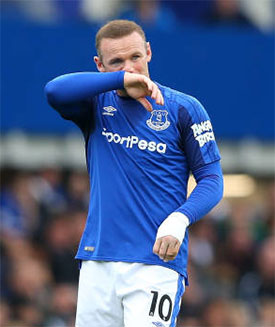 Updated Wayne Rooney's proposed move to Major League Soccer is edging closer, although sources in the US say it might not be concluded as soon as a Sky Sports report suggests.
The 32-year-old has been the subject of interest from the MLS club for the past year and they stepped up their efforts to lure him across The Pond towards the end of the season just gone.
According to Sky's sources, Rooney is to agree to a £3.8m-a-year package that would see him make the switch, with no transfer fee involved but DC agreeing to paying a significant portion of the wages due for the remaining year of his Everton contract, and that it could be wrapped up by Monday.
The agreement also leaves the door open for Rooney to return to the Blues as a coach afterwards, with the assumption being that he would use some of his time in the United States to earn his coaching badges.
It was the Liverpool Echo's understanding that Rooney was due to sit down with new Everton manager, Marco Silva, and Director of Football, Marco Brands to discuss how much he could expect to be involved in the Toffees' team next season but, if Sky's information is correct, that now seems unlikely.
The Washington Post also claim that negotiations have advanced but don't believe a deal will be done in the next few days. They cite the need for DC to hammer out terms with Everton over the final year of his contract at Goodison Park.
The former Manchester United and England star is said to be hurt by a willingness on the part of the Blues' hierarchy to allow him to leave this summer rather than provide him assurances of regular game time in 2018-19.
After an expensive but unproductive transfer spree last year, Everton's major shareholder, Farhad Moshiri, is believed to be looking for more efficient use of the club's money this time around and could see little value in retaining Rooney on a reported £180,000-a-week salary if he is to spend most of his time on the bench.
Rooney rejoined the Blues after a 13-year spell at Manchester United and finished his first season back at Goodison Park as the club's top scorer, despite not finding the net at all since the New Year.
Assuming everything is signed and agreed with regard to his contract with DC United, Rooney's transfer would not become effective until 10th July when the MLS transfer window opens, although he could begin training with his new team at any time before that.
He would be able to apply for a work visa to play in the US in the interim while also finding a house in the Washington DC area. He could then make his debut on 15th July when DC take on Vancouver Whitecaps.
---
---