Rooney one step closer to leaving Everton
Tuesday, 5 June, 2018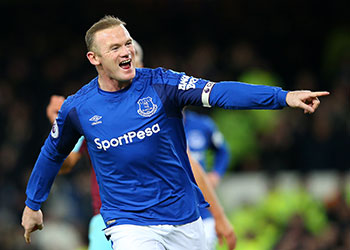 The decision over Wayne Rooney's future appears to lie in the player's own hands after Marcel Brands admitted that Everton and DC United are close to an agreement over a deal for his transfer.
Despite reports indicating that the Blues' new player management team of Marcel Brands and Marco Silva would sit down with the 32-year-old — and, now, statements by the pair that intended to do so — to discuss the possibility of him staying at Goodison Park, there has been an air of inevitability about his second departure from his boyhood club.
A fresh report in The Times is the latest to claim that Rooney is unhappy that Everton sounded out DC earlier this year to see if they were still interested in signing Rooney after they had made overtures to him last summer before he rejoined the Toffees from Manchester United.
Following last summer's outlandish spending, the Everton hierarchy are believed to be seeking to either get the wage bill down or make room for the salaries of new signings this summer and are keen to avoid paying Rooney £8m over the second year of his two-year contract.
Neither Brands nor Silva have offered much to suggest that they were keen to keep the veteran during yesterday's press conference at Finch Farm — indeed, there were tacit indications that the move was at an advanced stage — but they were united in saying that the door to his return in a coaching capacity once he hangs up his boots was always open.
"From what I understand ... the clubs are close to having an agreement, but it is up to Wayne, of course," Brands is quoted as saying. "When you talk about Wayne Rooney, you talk about a legend and a fantastic player. When I came into the club there was a lot going on already with Washington DC.
"I haven't spoken to Wayne myself, I will definitely do that in the coming days, but I understand that he wants to make the next step in his career to the MLS like a lot of big players did. When Wayne Rooney wants that, a club like Everton has to help him in that deal. The only thing I have to say to him is if he wants to come back the door will always be open for him.
"I hope that when he comes back from the States he will come back to Everton in whatever role he wants. We will help him build a new career after his football career."
---
Reader Comments (41)
Note: the following content is not moderated or vetted by the site owners at the time of submission. Comments are the responsibility of the poster. Disclaimer
Lee Jackson
1
Posted 05/06/2018 at 04:45:22
A legend for sure – but not at this club.
Phil Sammon
2
Posted 05/06/2018 at 04:54:11
Maybe Brands has read it wrong regarding Rooney. He's a Man Utd legend, not an Everton one. The door should be open to his return once he has proved himself in a coaching capacity elsewhere.
I'd love to know why people keep touting Rooney as a coach. Is it just because he's a good player coming to the end of his career? He comes across as having absolutely zero attributes that a good coach should have. Temperament, dedication, communication. He spends all his time on the pitch telling referees to fuck off.
I don't even dislike the bloke. I just wish we'd give the opportunity to people who merit it.
Victor Yu
3
Posted 05/06/2018 at 06:09:50
I wouldn't sell him if we have to pay part of his salary with no transfer fee involved.
Peter Laing
4
Posted 05/06/2018 at 08:05:28
Finally somebody at the Club who doesn't trade on sentiment. Quite clear on the evidence to date that Brands wants young and hungry players.
John G Davies
5
Posted 05/06/2018 at 09:40:51
Peter,
Spot on. That stance of using your head instead of your heart is what this club has needed for many years. Hopefully a sign of things to come.
For too long the sentimentality of Mr Kenwright has tarnished the club. Hopefully Mr Moshiri can change all that, get us a bit more businesslike in our approach.
Ian Burns
6
Posted 05/06/2018 at 09:46:11
Phil - 2 - I will post only to say you are absolutely spot on. Well said.
Ash Moore
7
Posted 05/06/2018 at 10:32:50
Brands never said Rooney was an Everton legend did he? I just thought he used the generic "legend".
Whether that be for England, United or GrannyShaggers FC was open-ended, right?
Kev Lucas
8
Posted 05/06/2018 at 13:27:15
Rooney has always had a great footballing brain. During sessions as part of the FA coaching assessment system he was out performing qualified coaches when he was still under 20. I've heard that from a couple of sources while I've been on various FA coaching courses.
He's actually known for having a very good grasp of the game and has input, as a good coach/manager should expect from a captain, into game tactics regularly.
One of the comments went along the lines of 'his general intelligence is low, but regarding football he's a genuis'.
Even though this is based 10 odd years ago I can't believe he's played under so many managers at the highest level and not maintained that level of knowledge.
He's past it as a player, he sold us out, he's not the most intelligent human being, and he makes questionable decisions. But as a footballer he's one of the best and I'd love to have him back as a coach in the future.
Steve Ferns
9
Posted 05/06/2018 at 13:35:42
Kev, he just strikes me as uncomfortable talking to the camera, talking to others when the cameras are around, and it would follow that he'd also be uncomfortable talking to a group, without the cameras. I'm sure players will listen because he's Wayne Rooney, but he needs to improve his communication skills to become a decent manager.
Tony Abrahams
10
Posted 05/06/2018 at 13:39:38
If this is true Kev, then bringing him back to coach, will have nothing to do with sentiment, and will just be down to Wayne's ability.
I've heard he's been shocked by the lack of know-how, possessed by some of our senior players this year, but I'm also glad he's disappointed that Everton sounded out Washington, simply because he's no longer good enough as a footballer to help take us where we want to go.
Kev Lucas
11
Posted 05/06/2018 at 13:46:12
Steve – I agree. But that's the coaching structure that he'll go through if needed. Strikers coach, to a small group whilst improving communication from 1 on 1, to small groups of 4/5. Then it's easy to progress from there and move through the roles. Ferguson is doing the same now as he's not the best communicator.
Only my opinion, but I think Rooney is better than you think when addressing a group. Tony – I'd heard some of that too. Apparently got annoyed by Allardyce as he wasn't engaged with enough.
Dave Abrahams
12
Posted 05/06/2018 at 13:50:34
In the past couple of years, there were stories in the press that he would go back to Man Utd, once his football career was over as a hospitality host, maybe they were just that "stories".
Tony Abrahams
13
Posted 05/06/2018 at 13:52:10
Steve, it's quite possible that he's just got the gift, and I don't think a street kid from Crocky, who has done as much as Wayne, will have any problems talking to a group of players.
He might hate the camera for many reasons mate, most street kids do! But only once he gets a chance will we really find out. It sounds good that he was outperforming qualified coaches, when he was only twenty, but I personally don't think that, that's that good when I look at the standards of some of the coaching in this country?
Tony Abrahams
14
Posted 05/06/2018 at 14:02:56
Kev, I heard he was fuming with one of our top players, even on the opening day of the season against Stoke.
with less than 10 minutes left, this player was rushing to take a free kick, so Rooney – sat down by the way as he was injured – shook his head, and was looking at this very experienced player in disbelief.
"No-one has ever been taught to win at our club," were his words, but maybe the game was just getting too quick for him!
Alan Bodell
15
Posted 05/06/2018 at 14:27:37
Just get gone, Wayne, and let us get on with next season planning — or is it about money? I thought you had enough, mate.
Nicholas Ryan
16
Posted 05/06/2018 at 15:06:44
I think Rooney may become an excellent coach, and, as has been said above, it may have little to do with his intellect. Coaches at that level, don't really need to teach technical ability.
Sir Clive Woodward, maintained that his 'gift' was to teach a winning mentality, rather than Rugby technique; and Sir Steve Redgrave taught the mindset necessary for relentless winning, rather than Rowing technique.
Andy Murray shocked the Tennis world, when he appointed Ivan Lendl as his coach. Although a great player, Lendl was not, at that time, coaching; and when asked what he could bring to the table, allegedly said: 'I can teach him the one thing he doesn't know; how to be a Bastard'!!
Tony Waring
17
Posted 05/06/2018 at 17:58:42
Well, for my money, Rooney is one of the best players ever in English football history. A natural and though he may have communication problems when interviewing the prime minister (for instance !) I am sure he would be well capable of instructing young footballers at Finch Farm or anywhere else for that matter. I still think he could do a job for us on the pitch in a cameo role – if that would be acceptable to him or not I cannot say.
Pat Kelly
18
Posted 05/06/2018 at 18:45:23
Is he there yet?

Tony Everan
19
Posted 05/06/2018 at 20:50:13
What does the 'D C' bit stand for anyway? Answers on a postcard.
I'm going for Decommissioning Centreforwards.
Phil Sammon
20
Posted 05/06/2018 at 21:13:38
'Ditch Colleen'?
Michael Kenrick
21
Posted 06/06/2018 at 01:20:24
District of Columbia. It's a strange bit of the United States that does do not reside in any state, the capital city being in its own federal district.
The name 'Columbia' seems strange these days; it was a poetic ideal standing for "all the Americas" at a time when them feisty revolutionaries were setting up on their own dumping King George.
And if ya know yer 'istory, we went back in there in the War of 1812 and showed them what for! A British force led by Major General Robert Ross burned down buildings, including the Capitol building, as well as other facilities of the US government — and famously the Presidential Mansion. They had to paint it white to hide the burn marks...
Mike Gaynes
22
Posted 06/06/2018 at 01:24:31
Phil, that was mean. But funny.
Mike Gaynes
23
Posted 06/06/2018 at 01:34:17
All true, Michael, but still we came from behind to earn the draw -- pretty impressive, considering at that time we were the minnows and England were the biggest club going.
And then, of course, we whupped y'all in the afters at New Orleans.
History records that we came out of it with new territory in the northwest, a hard-to-sing national anthem, and a really good Johnny Horton country song.
Ron Marr
24
Posted 06/06/2018 at 01:45:40
Delusional Charlatan lives there. I think Coleen would be happier in LA
Jay Harris
25
Posted 06/06/2018 at 02:07:10
Still didn't stop stamp duty or taxes though, eh, Mike.
Mike Gaynes
26
Posted 06/06/2018 at 04:37:13
Nah, Jay, but that's okay.
Matter of fact, some of us would kinda like you lot to come back over and burn Washington again. Especially the White House. Could use a good cleansing fire right now. Maybe one of you could ring up Theresa and ask her? I think she'd be up for it. Next week would be fine.
David Booth
27
Posted 06/06/2018 at 09:43:38
How many more steps before he finally steps on the plane and friggs off!
Don Alexander
28
Posted 06/06/2018 at 10:02:54
Washington "Dry Cock"! Well, she can dream, can't she?
James Flynn
29
Posted 06/06/2018 at 10:19:33
Actually, once everything kicked off in earnest in 1775, the Stamp Act had been long-repealed.
A laundry list of openly-stupid political decisions cost England their American colonies, nothing else.
Ash Moore
30
Posted 06/06/2018 at 11:09:20
I think wearing red coats and using muskets against crack shots with rifles didn't help, James.
Brian Murray
31
Posted 06/06/2018 at 11:42:48
Thanks for the memories, Wayne. Er... both of them.
Lenny Kingman
32
Posted 06/06/2018 at 15:51:42
I wonder if this sorry saga ends up with him not going to DC United? Something I suggested in a previous thread.
If he does depart, it won't take DC long to realise that, rather than employing Superman, they got landed with a sad Scouse comic.
If laying odds, I would go 10/11 stay, 10/11 go.
Christine Foster
33
Posted 06/06/2018 at 20:24:17
Unlike some on here, I think the guy has been a good professional, the highest scorer last season, someone who played out of position because of his desire to do a job for the team.
Yet to read the comments, it's the bitter-tinged vindictive nature that comes true to the fore. Yes, he is past his best; no, he doesn't warrant a first-team place in every game, yes he did leave us so many years ago, no he never lost his love for the club. The club and some of its supporters lost its love for him. Smart digs at his wife, smart digs at him... it's sad, not funny. Good one, guys.
I want him to leave because I want him to enjoy the final few years of his career, and not remember the sarcasm of some ToffeeWeb punters. He is not going to get it if he stays is he?
If DC was sounded out mid-season, then that's naughty... but this is Everton... what do you expect?

Christine Foster
34
Posted 06/06/2018 at 20:53:36
And if I am in a cynical, reflective mode, it's because I think I fell out of love with the running of the club around the Kirkby fiasco. I supported the team to the hilt but not the management of the club.
It may be on the road to recovery, but until the influence of Kenwright and his ilk have gone (and yes, I realise it's happening), I felt the club had lost its honesty and integrity. I live in hope we are, after such a long time, doing things the right way.
Hope... keeps buggering you up, doesn't it?
Steve Ferns
35
Posted 06/06/2018 at 21:14:50
Going back to British battles in America, if I may, the British had one of the few professional armies in the world at the time. This was the British Expeditionary Force (BEF) and was actually quite small. So small that when Kaiser Wilhelm was asked how the Germans would deal with the only battle-hardened army in the First World War, he replied that he would deal with them by having them arrested!
As I recall, a fella called Tarleton led them at the time we went over to America and quashed the rebellion and burned the White House. Tarleton captured the standards of all the American state armies he destroyed, and put them on display in his home city of Liverpool. The Americans loathed him so much they fictionalised him dying in The Patriot (Mel Gibson) where he was portrayed as an evil man and renamed as "Lord Liverpool". Tarleton went on to be Prime Minister.
The BEF never returned to America after burning the White House and they met their end in a glorious defeat in France at the start of World War I when British machine guns massacred many Germans who tragically kept charging them with swords until they ran out of bullets. The BEF was so depleted after that battle that they enacted the PALs Act and trained up volunteers to fight in the new British army. Lord Stanley, the Earl of Derby otherwise known (wrongly) as Lord Derby played a major role in this and his estate in Knowsley was one of the training grounds. I presume this was probably the area that is now the safari park.
If I recall correctly, the Council was very unhappy at the character of Lord Liverpool in the film and kicked up a fuss at the portrayal of one of the city's "heroes".
One last thing ice hockey fans might like to know – the Stanley Cup is so called because it was donated by Lord Stanley, the Earl of Derby.
Dave Abrahams
36
Posted 06/06/2018 at 21:22:43
Christine (#34), I hope Kenwright goes in August, as a few on here have suggested, but I will not believe it until I see it.
You are right about the club losing its integrity, intellectual intelligence – every child over the age of three has it, it's just the difference between right and wrong.
Kenwright never had it when it came to looking after the best interests of Everton FC, yet loads of Evertonians think he did a great job for the club and "he is one of us". No wonder you fell out of love with the people running the club.
Steve Ferns
37
Posted 06/06/2018 at 21:27:10
Correction on Tarleton, should have checked before I hit 'submit'.
He was MP for Liverpool and very prominent but never made it to Prime Minister.
James Flynn
38
Posted 06/06/2018 at 23:22:11
Ash - Ha! Too true.
I was referring to the Parliament's actions after the 7 years War. There wasn't any great desire for rebellion until they made a series of short-sighted, desperate decisions regarding the American colonies, the Stamp Act being one.
By the time George III took the reins, it was only heading one way. And, here we are.
Don Alexander
39
Posted 06/06/2018 at 23:44:55
Christine (#33), I'm one of those who didn't want to sign him in the first place because he was already past it. Notwithstanding his goals (and there's been a hefty number of penalties included), he's been nowhere near delivering what his salary demands from him, and that may not be his fault, but on that basis he means as much to me as Mirallas does in terms of being a Toffee, never mind a legend as some of us would have it.
David Booth
40
Posted 07/06/2018 at 10:17:23
If (and hopefully when), Rooney slings his overpaid hook, let that be an end to Everton being run like a second rate panto – with any old has been who made a name for himself years ago being rolled out as the star attraction.
On the same premise, if and when Bill Kenwright finally relinquishes all future influence on the running of the club – and particularly any involvement with transfers – perhaps we will see the return of our ambition and a single-minded desire to win, instead of a perpetual 'we did our best' shrug of the shoulders and an acceptance of mediocrity at every level.
Brands, Silva, a director re-shuffle and hopefully some hungry players who want to win IN... Kenwright, Elstone, Walsh, Rooney and at least half a dozen other mercenaries, makeweights and losers OUT.
We have accepted second best and willingly allowed ourselves to become marginalised, patronised and often ridiculed for almost 25 trophyless years.
Things have got to change. If they do not, we may be irrevocably cast adrift and our history will become just that: history.
So I fervently, passionately hope the short-lived return of Rooney will be eventually prove to be as much a turning point as Kevin Brock's back pass. I cannot remember being as enthused about our prospects since the days of Howard Kendall.
Welcome to Everton 2018. Let's get this great club of ours back where we belong, instead of slogging it out with the likes of Burnley, Leicester, Newcastle and Crystal Palace and being perceived as a non-entity.
Martin Berry
42
Posted 12/06/2018 at 19:02:29
Good to see tough decisions are not being clouded by unjustified sentiment.
Rooney has been a great player but, at this stage, his inclusion in the team would be a backward step for the club. We need to move on and bring the stars of tomorrow through and not live in the past.
I wish him well in MLS; however, it's a fit league and I'm not sure his legs will fare any better in MLS than they did in the latter part of our season.
Add Your Comments
In order to post a comment, you need to be logged in as a registered user of the site.
Or Sign up as a ToffeeWeb Member — it's free, takes just a few minutes and will allow you to post your comments on articles and Talking Points submissions across the site.