Coleman: I could have made a difference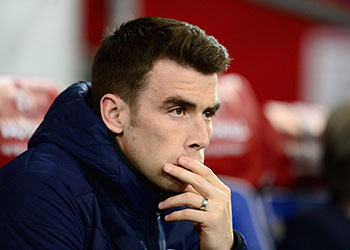 Seamus Coleman has revealed the extent to which he felt guilty that he couldn't be there for club and country during his 10-month lay-off with a broken leg.
The 29-year-old was laid up recuperating for most of 2017 after his leg was shattered in a collision with Wales fullback Neil Taylor in a fateful World Cup qualifier in March last year.
In his absence, Ireland saw their chance to qualify for this month's World Cup Finals evaporate in their play-off with Denmark and, along with Everton's top-four and Europa League hopes, Ronald Koeman's reign at Goodison Park collapsed amid a torrid run of form in the autumn.
While the determination to fully heal and prove wrong "the naysayers" who said he wouldn't be the same player afterwards fuelled his recovery, he admits that he was wracked by an unfulfilled sense of duty to his two teams when they needed him most.
"There was a massive sense of guilt," Coleman told the Irish Examiner. "Throughout my whole injury, the Denmark second leg was the hardest night because I was so gutted and felt a fully-fit me could have made a difference.
"It was heartbreaking to see James McClean afterwards; he was in bits. I know that's not the way I should feel but I did. I felt guilty when Ronald Koeman lost his job, believing I could have helped had I been around. Nowadays, to players, managers are just come-and-go but I don't like seeing people losing their jobs.
"Ronald Koeman did a lot for my career and showed great commitment by flying over to Donegal after I got the injury."
Coleman made a rousing return to action in January, playing an adrenaline-fuelled 90-minutes in his first game back against Leicester City but was understandably rusty at times as Everton's season fizzled out under Sam Allardyce.
He admits that he needs to regain his match sharpness, something he will get a chance to hone during a pre-season unencumbered by the World Cup in Russia where he will be introduced to new Blues boss, Marco Silva.
"I want to get back to where I was at and though I'm physically there, I still need to regain my sharpness," he continued. "I had five or six chances for Everton during my games towards the end of the season that I should have did better with.
"I've spoken to David Meyler about the new manager whom he played under at Hull City and, by all accounts, he's very good."
"We've to go back and show our worth to him which I find tricky because it shouldn't take a new manager to come in for you to make people step up their game."
---
---