Coleman: I could have made a difference
Friday, 8 June, 2018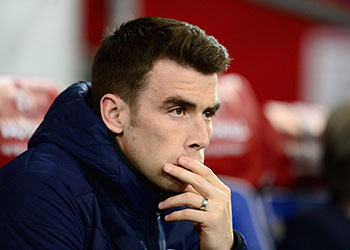 Seamus Coleman has revealed the extent to which he felt guilty that he couldn't be there for club and country during his 10-month lay-off with a broken leg.
The 29-year-old was laid up recuperating for most of 2017 after his leg was shattered in a collision with Wales fullback Neil Taylor in a fateful World Cup qualifier in March last year.
In his absence, Ireland saw their chance to qualify for this month's World Cup Finals evaporate in their play-off with Denmark and, along with Everton's top-four and Europa League hopes, Ronald Koeman's reign at Goodison Park collapsed amid a torrid run of form in the autumn.
While the determination to fully heal and prove wrong "the naysayers" who said he wouldn't be the same player afterwards fuelled his recovery, he admits that he was wracked by an unfulfilled sense of duty to his two teams when they needed him most.
"There was a massive sense of guilt," Coleman told the Irish Examiner. "Throughout my whole injury, the Denmark second leg was the hardest night because I was so gutted and felt a fully-fit me could have made a difference.
"It was heartbreaking to see James McClean afterwards; he was in bits. I know that's not the way I should feel but I did. I felt guilty when Ronald Koeman lost his job, believing I could have helped had I been around. Nowadays, to players, managers are just come-and-go but I don't like seeing people losing their jobs.
"Ronald Koeman did a lot for my career and showed great commitment by flying over to Donegal after I got the injury."
Coleman made a rousing return to action in January, playing an adrenaline-fuelled 90-minutes in his first game back against Leicester City but was understandably rusty at times as Everton's season fizzled out under Sam Allardyce.
He admits that he needs to regain his match sharpness, something he will get a chance to hone during a pre-season unencumbered by the World Cup in Russia where he will be introduced to new Blues boss, Marco Silva.
"I want to get back to where I was at and though I'm physically there, I still need to regain my sharpness," he continued. "I had five or six chances for Everton during my games towards the end of the season that I should have did better with.
"I've spoken to David Meyler about the new manager whom he played under at Hull City and, by all accounts, he's very good."
"We've to go back and show our worth to him which I find tricky because it shouldn't take a new manager to come in for you to make people step up their game."
---
Reader Comments (45)
Note: the following content is not moderated or vetted by the site owners at the time of submission. Comments are the responsibility of the poster. Disclaimer
Peter Gorman
2
Posted 08/06/2018 at 18:01:01
Could have made a difference for us and all, as a Captain willing to plant his foot up many a backside.
Dermot Byrne
3
Posted 08/06/2018 at 18:05:17
A man with rare dignity in modern Premier League football.
Dave Abrahams
4
Posted 08/06/2018 at 18:09:03
Hope you get back to the way you were, whatever you do don't change as a person, stay as nice as you are, best of luck with the rest of your career and your life.
Lev Vellene
5
Posted 08/06/2018 at 18:09:29
Jagielka is a very nice person, as I understand it, never having met the man. He should be the Club Captain while he's still with us, but we need someone like Coleman to be our on-field team Captain. So much more vocal!
Maybe he could have made that difference for us last season if that had happened, but all-in-all I'm quite happy if this coming season is when he's made the Everton Team Captain.
He could have made Allardyce look almost good enough to stay if that happened after his return to the team. Makes me shudder...
Jamie Crowley
6
Posted 08/06/2018 at 18:11:32
Captain. Captain. Captain.
One more time for effect, Captain.
Gerry Quinn
7
Posted 08/06/2018 at 18:33:46
Captain Fantastic
Steve Ferns
8
Posted 08/06/2018 at 18:52:12
One word: winner.
Tony Everan
9
Posted 08/06/2018 at 18:53:52
Jags has been a great servant but next season he will be predominantly a back up for injuries and cup ties. It is time for Seamus to take the armband, his name will be first on the teamsheet, week-in & week-out.
Peter Warren
10
Posted 08/06/2018 at 18:58:24
I have met Jags and Seamus – both quality people and players.
Winston Williamson
11
Posted 08/06/2018 at 19:11:30
Seamus Coleman is my favourite player. Has been since the Tim Cahill days; Neville Southall before them.
What's the common theme? They all actually cared about Everton, and by extension, us.
It helps that they were all talented too!
Peter Anthony
12
Posted 08/06/2018 at 19:34:03
Seamus deserves the honour of being team Captain. He is also by far the best man for the job. In Seamus I Trust.
Eugene Kearney
13
Posted 08/06/2018 at 19:53:53
Wonderful praise, and rightly so, for both Seamus and Jags on this thread.
As we now have a (proper) Director of Football and a Head Coach, can we not have a Head Captain and a Deputy Captain or something along those lines, until Jags finally hangs up his boots? Maybe using better terminology.
Harry Wallace
14
Posted 08/06/2018 at 20:40:16
New start. New captain
Adam Carey
15
Posted 08/06/2018 at 20:42:08
This guy needs to be fast-tracked to captaincy. I appreciate it wouldn't be decent to take it from Jags whilst still a first team player but he needs to be vice-captain next season at the very least.
Then get every academy player to look at how he leads a very privileged life.
It takes a special person to feel guilty about a team he can't help through an injury not of his own making. This man is a class apart.
Colin Glassar
16
Posted 08/06/2018 at 20:49:53
A real gent. Captain Seamus sounds good to me.
Bill Gienapp
17
Posted 08/06/2018 at 21:00:47
I honestly don't think there's a single Evertonian who doesn't want to see him made Captain.
Mike Corcoran
18
Posted 08/06/2018 at 21:02:27
Lovely fella, was happy to make time to talk to my 12 yr old lad and pose for a photo when we bumped into at Chester Zoo out with his baby and the missus. Proper captain material too, a humble warrior
Mike Corcoran
19
Posted 08/06/2018 at 21:05:48
I remember Jags doing an interview at a World Cup camp, Ashley Cole was acting the tit on the balcony above, Jags just rolled his eyes as if to say ffs growthe f up. Another true gent
Rob Halligan
20
Posted 08/06/2018 at 21:10:32
He should be captain next season.
He showed that when he had a go at Knockaert of Brighton after the reckless challenge on Baines when he was sent off. The challenge could easily ended in a serious injury for Baines if he hadn't jumped out the way.
As Knockaert was walking off, Seamus was right in his face giving him verbals. Jagielka played that game but was nowhere to be seen, and I doubt he would have had a go at Knockaert if Seamus hadn't.
Jamie Crowley
22
Posted 08/06/2018 at 21:31:40
I love Seamus, so why not another testimonial?
This is a very, very modest kid who grew up in a fishing village. He married his childhood sweatheart. No WAGS for this fella.
He was signed for peanuts. He's never once clamored for a transfer. His wages aren't astronomical in the modern game.
He never bitches. He never gives anything but 100%.
He was cut down, breaking his leg like a twig. He's come back from a career-ending injury just as strong. Determination is embarrassed to be in the same room as him.
He should be signed by Dos Equis Beer. Mosquitos refuse to bite him purely out of respect. When in Rome, they do as he does. Sharks have a week dedicated to him. He once parallel parked a train. He gave his father "the talk". He can slam a revolving door. Sasquatch has taken a photograph of him.
He cares about Everton.
What in the world could you ask for as a fan from a player? How in the world can this paragon of basically all that is good not be captain?
One to be proud of for sure, and a man that would lead this team splendidly.
John Davies
23
Posted 08/06/2018 at 21:45:46
Just give the lad the Captain's armband, please. It's a no-brainer.
Kevin O'Regan
24
Posted 08/06/2018 at 22:24:07
Refreshingly honest professional. No bull. I'll never forgive Trapattoni for not bringing him to the Euros in 2012.
Mike Gaynes
25
Posted 08/06/2018 at 22:31:05
What a sense of responsibility the man has. Obviously he shouldn't feel guilty over being injured, or feel responsible for Ireland's failure or Koeman's firing, but this is how a true leader speaks.
Contrast him to certain people with big mouths and small cojones who insist that everything wrong is somebody else's fault.
Mike Gaynes
26
Posted 08/06/2018 at 22:34:59
Jamie, love those.
My two favorites are "When he has a 50/50 shot, the odds are 80/20 in his favor" and "His two cents is worth $37."
Dennis Stevens
27
Posted 08/06/2018 at 23:12:14
"We've to go back and show our worth to him which I find tricky because
it shouldn't take a new manager to come in for you to make people step up their game
."
That looks to me like a not so subtle dig a some or even most of his team mates – too bloody true though!
Phil Bellis
28
Posted 08/06/2018 at 23:12:32
Up there as right back with Alex Parker and Tommy Wright dedicated, talented, unassuming and talented Evertonians.
Seamus is a throwback... He should wear Bloomer shorts and have a centre parting.
Andy Crooks
29
Posted 08/06/2018 at 23:20:20
Seamus is a credit to our club. In my view, the best value-for-money signing we have ever made. It is astonishing to recall how utterly negative the reaction to him once was on this site.
Bob Parrington
30
Posted 08/06/2018 at 23:41:43
Captain Seamus is my vote!
Paul Birmingham
31
Posted 08/06/2018 at 23:44:57
It's the most natural and successional easy win, in what will be a very tricky bog, to move forward from.
Bearing our manager and DOF changes that are increasingly in my view a massive boost, but bearing the World Cup and a short window for transfers, it's the obvious and natural step.
In the last decade in my book only Jagielka, Baines and Coleman have earned this right based on their efforts, on the pitch.
None such stalwarts since that time! A long time since we were a genuine good team.
Jerome Shields
34
Posted 09/06/2018 at 00:10:08
It's a pity we didn't have more players with his attitude.
Ed Prytherch
35
Posted 09/06/2018 at 02:44:26
Captain is a role, not a reward. The man with the most leadership ability should get the job and that man is Seamus.
Jamie Crowley
36
Posted 09/06/2018 at 02:49:18
Mikey Gaynes @ 26 -
Love it. 50/50 shot in his favor, the odds are 80/20.
And yes, I contemplated including the two cents worth line.
They're all gold.
Cheers, mate!
Mike Gaynes
37
Posted 09/06/2018 at 03:26:53
Andy (#29), it's easy to forget just how awful he was defensively when he came back from that loan spell – the swashbuckling touchline adventurer who didn't understand even the basics of defending. Got games only because Neville, Hibbo and Jags were all unavailable. I remember posting that my Sunday league right-back had better fundamentals, and lots of us felt he would make it only as a wide midfielder.
But Moyes worked with him relentlessly, and he busted his ass to get better. By the end of that season he was starting to understand defensive positioning, angles and marking (and not ball-watching all the time) and within a year after that he was one of the best in the Premier League. Huge respect for all the extra work he must have put in.
Jerome Shields
38
Posted 09/06/2018 at 06:38:28
Coleman, a great player, would have made a difference, but not to the extent that he would have sorted out all Everton's problems. If he had made the difference he is talking about we would be stuck with Koeman or Big Sam who would have damaged the Club further.
What has now become apparent, and more contributors to ToffeeWeb are beginning to cop on to, is the utter incompetence of the Board. The negotiated contract debacle has reached crisis point. The tangible capability of the Board in selecting Managers and players on value for money/.suitable contracts and preparing for Manager and players exit, when they have fulfilled their usefulness has been exposed as farcical.
We are very fortunate that Brands has taken the job of Director .It is unbelievable that the Board got his appointment right by design. It is more by Luck that the sustained pressure of fans made Walsh position unattainable and Brands was interested. No one else was,
The selection of Silva as Manager, the only candidate available, has its flaws as one would expect from Board involvement of this capability. The main flaw is the 3-year contract. It should have been one year with the option of a further year, Brands was involved in the recruitment of Silva, before he had contractually started. Therefore he wasn't and could not be legally involved in Silvas contract. Only the Board and their representatives where involved.. Silva was out of work, but he got a longer contract than Emery at Arsenal..Everton have by far the worse player contract terms in the Premier League.
The Board incompetence which goes back further than we can remember has finally exposed as the main culprit for the basket-case Everton we now have. The so-called "People's Club" was a bluff to cover their incompetence. Quite frankly we all swallowed it hook line and sinker. We have been long-suffering as a result.
The present scenario that Brands is facing is to sort out a self inflicted Board mess which has built up over years. He is operating with one arm tied behind as far as contracts are concerned and is going to be highly dependent on the coaching ability of Silva to find and turn around the capability of players where possible.
Like Allardyce his main remit is to reduce the players wages bill. He has been forced as a result not to renew any contracts that are ending. The youth squad and Robles being the main victims,He will make little headway with the main squad given the contracts they are on, particularly those on extended contracts and recently engaged contracts. Lookman and Niasse are in danger of going because of their realisable value.
The recruitment of players into key areas is necessary.The cost and contracts of these key players will be telling, whether the Boards involvement supersedes Brands. A lot depends on how Silva works out.If he doesn't Everton will pay once again for the Boards lack of negotiated contract ability..
It's fortunate that Colemans influence last season was curtailed, because we would not have had the crux of basket-case Everton's problem exposed.
Good Luck to Brands in the many challenges ahead. The Board will be of little help.
Darren Hind
39
Posted 09/06/2018 at 06:38:31
Mike and Jamie.
Some old, all brilliant. Great tribute.

I'm not sure the captain is as important as he once was on a football pitch, but as an player and an ambassador for the club, Seamus makes me very proud.
Peter Gorman
40
Posted 09/06/2018 at 09:39:24
Darren, why do you not think the captain is not as important as before, out of interest?
Former ROI midfielder Keith Andrews tells a very revealing story about our Seamus when he first went to the international training camp. Seamus, despite being brand new to the setup, felt that the tempo was too lethargic and started belting about and going in on people in an attempt to wake them up.
He had a few cross words with his teammates because of his behaviour but Andrews admits they all thought then and there, "you'll do for me".
Niall McIlhone
41
Posted 09/06/2018 at 10:57:17
Hey Jamie@ 22 that is one quality post, you made me laugh out loud. In an age of relative mercenaries and fly by nights, Our Seamie is something to hang on to . I think he knows how much we fans love him, my personal fave moment was when he got in Diego Costa's face after the Chelsea man tried roughing him up. I don't think Sr. Costa knew what he had let himself in for! Make him captain now and give him a pay rise, keep Jags who is also top quality .
Pat Waine
42
Posted 09/06/2018 at 11:36:54
Coleman should not feel bad about Koeman in any shape or form. Koeman wrecked Everton Football club and it will take years to undo the damage. The fact that Schneiderlin, Williams, Rooney, Sandro, Martina, Stekelenburg, Mirallas, Niasse, and Bolaise are all for sale says all you need to know about the recruitment under Koeman.
Martin Reppion
43
Posted 09/06/2018 at 11:43:29
Niall,
You're right about the Costa incident. But I felt at the time that if we'd had a less honest player than Seamus there, Costa would have been sent off when he swung his arm into seamus's face. Most premier league players would have gone down like a sack of koppites.
The revival last season when Baines and Coleman returned was why we avoided a relegation scrap. I can not give any credit to the fat man. The fact that we knew they'd be back and that this would sort out the defence makes me wonder why the board rushed into the decision to bring in the wrong man.
Going forward, Seamus IS the only man for the captain's job now.
I look forward to others coming up to his standards.
Drew Shortis
44
Posted 09/06/2018 at 12:16:09
This reminds me of a scene from 'Band of Brothers' where Captain Spears & First Sergeant Lipton (played by Donnie Walburg) are talking in a church about leadership & the Spears tells Lipton he's been promoted to Lieutenant: https://www.youtube.com/watch?v=3JhIFd-iKz8
For me, Coleman has a blend of the qualities of both of these leaders, Liptons humility, dedication, competence & bravery & Spears ruthlessness & dash. I like Jagielka a lot as a player, but I feel he's always lacked that ruthless streak & willingness to berate players. Coleman has that controlled agression & I've seen him directing, barking orders & leading by example on so many occasions.
Make him captain Marco!
Dale Rose
46
Posted 10/06/2018 at 09:51:38
A fine example of a human being. I'm just full of admiration for him.
Rudi Coote
47
Posted 11/06/2018 at 13:18:02
Could have? Damn right you would have... love the guy!
Matthew Williams
48
Posted 11/06/2018 at 15:34:22
This bloke really should be lifting a Trophy for us... guess which one first?
A true Professional Footballer in every sense of the word.
The best £60 grand we ever spent!
Zhen-Hao Xu
49
Posted 11/06/2018 at 15:38:01
Still feeling gutted and scared for that moment which caused me to veer away from watching any match for a couple of weeks. COYB
Paul Williams
50
Posted 12/06/2018 at 13:23:36
Don't be too hard on yourself, Seamus. You could have made a difference. A few more points taking us into the realms of acceptability, hell, maybe even 7th place. And we'd still have Ron or even Sam in charge.
Add Your Comments
In order to post a comment, you need to be logged in as a registered user of the site.
Or Sign up as a ToffeeWeb Member — it's free, takes just a few minutes and will allow you to post your comments on articles and Talking Points submissions across the site.