Robles heads list of released players
Friday, 8 June, 2018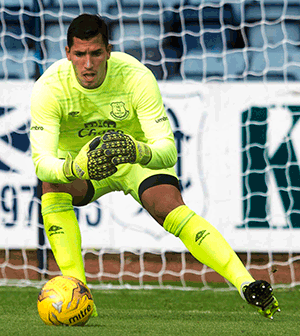 Joel Robles will definitely be leaving Everton this month along with six players from the U23s setup.
The Spaniard's contract is up this summer and will not be renewed after five years at Goodison Park. He is expected to sign for Getafe on a free transfer.
He is joined through the exit door by Conor Grant, who joined Plymouth Argyle yesterday, Jose Baxter, who signed for Oldham, strikers Sam Byrne, Calum Dyson and David Henen, and goalkeeper Louis Gray.
From the Finch Farm academy, the following youngsters have not been offered professional forms:
Stephen Duke-McKenna, Charlie Ball, Nathan Baxter, Jordan Corke, Matthew Johnson, Sidney Kerr, Nathan Moore and Tom Scully.
---
Reader Comments (30)
Note: the following content is not moderated or vetted by the site owners at the time of submission. Comments are the responsibility of the poster. Disclaimer
Peter Anthony
1
Posted 08/06/2018 at 19:28:49
Good luck Joel, deserved more of a chance when Tim Howard was in decline, but firm number 2 behind Pickford.
Raymond Fox
2
Posted 08/06/2018 at 20:02:34
I doubt that we will find a better Number 2 than Robles.
I would sooner have him in the squad than not.
Paul Kossoff
3
Posted 08/06/2018 at 20:11:24
When are the real carthorses going? Expect Williams to be given a new contract, and Stekelenburg to be Number Two.
Pessimist me? Nooo! 😁
John Davies
4
Posted 08/06/2018 at 21:41:16
Good luck to the lad. He never gave anything but his best and clearly loved the club, as we all do. I really hope it all works out for him.
Steavey Buckley
5
Posted 08/06/2018 at 22:13:28
it will be easy to move unwanted players who are out of contract, but those who are not, will be more difficult to achieve. Everton at present are not blessed with great players or those who will be. The problem lies with expectations. It does appear if young players are strong, can tackle and run all day, they appear to have a future.
It is better until the age of 18 years of age for younger players to concentrate on skills, so they can be comfortable on the ball and with their passing. The current England midfield represents all that is bad with English football, with Dier and Henderson — they can do the running and tackling all day long without the ball.
Jack Convery
6
Posted 08/06/2018 at 23:09:37
Good luck to one and all, especially the youngsters. May they succeed elsewhere. I expect Robles to do well back in Spain.
Eddie Dunn
7
Posted 08/06/2018 at 23:15:04
Good luck, Joel, I look forward to seeing your career blossom.
Paul ONeill
8
Posted 08/06/2018 at 23:41:18
Good keeper and seems a genuinely nice lad. I'll always remember him laughing whilst trying to catch that cat when it came on the pitch during a game. Lots I'd like to see leave rather than Joel. Best of luck with your career lad. Once a Blue 💙💙
Martin Berry
9
Posted 08/06/2018 at 23:55:44
Robles was very very good, as mentioned – hard to find a better No 2 than Joel; but why should he dust the bench? I would certainly look for a move if I was him.
I see a potentially outstanding keeper here as he has loads of potential talent and time. However, he is understudy to England's No 1, of course.
Don Alexander
10
Posted 08/06/2018 at 00:01:09
Joel reminds me of the West - Rankin situation we had in the late 60s & early 70s. He's definitely the Rankin to Pickford's Westy but that's not said lightly cos Andy was a bloody good keeper in his own right.
I hope, like others, that Joel becomes a first-team regular at his next club. We've had worse than him in our first team down the years, after all.
Jerome Shields
11
Posted 09/06/2018 at 00:08:41
Good Luck
Paul Birmingham
12
Posted 09/06/2018 at 00:17:55
For my view, it's madness... He has done nothing wrong, but over time, he will want more games.
Better than Stekelenburg, but it's game over. Good luck, Joel!
Ray Lupton
13
Posted 09/06/2018 at 00:31:44
Bit of a balls up in my opinion this. We really should have got a fee for him last year because he's a top class goalie.
Dick Fearon
14
Posted 09/06/2018 at 01:47:08
Don @10, I agree with your comments about the West/Rankin situation but where Andy came unstuck was his tendency to recklessly charge off his line only to be stranded in no-man's land.
This was noted by fans and the press yet he said it was part of his game and he saw no need to change. That was in an era when, except for a few like Sam Bartram of Charlton, most keepers rarely left the 6-yard box.
Derek Thomas
15
Posted 09/06/2018 at 02:06:31
Don / Dick @ 10 & 14. Catterick had a firm policy with keepers... not so firm with outfield players as he didn't play favourites, more he had those he didn't like more.
But with keepers there was no 'No 1' who automatically came back in when he was fit, like that farce with Robles and Howard, when Robles was playing better.
If West got injured or lost his form / bottle, as happened, in the run-up to, and (in)famously in the Keflavik Euro game, Rankin came in and stayed in, iirc, he was never dropped, he always lost his place due to injury... maybe as a consequence of his 'overlapping goalie' mentality, who knows.
He is semi immortalised in those clips of the Willie Carr - Ernie Hunt free kick against Coventry.
John Dean
16
Posted 09/06/2018 at 02:11:43
The Flying Pig managed to stay on his line and leave the 6-yard box at the same time.
Gavin Johnson
18
Posted 09/06/2018 at 02:37:44
All the best to Joel Robles. A very solid keeper but as other have said. He deserves to be a No 1 and a move back to Spain seems the most viable option. Any No 2 at Everton now is going to be just that, barring injury, now that we have England's No 1.
Bearing in mind we need to cut the squad, a new No 2 isn't really essential as we still have Stekelenburg but I notice an old target, Tim Krul, has just been released by Brighton. He wouldn't be a bad choice if Stekelenburg is jettisoned too.
Ernie Baywood
19
Posted 09/06/2018 at 08:04:47
Joel did a decent enough job for us but fair play to him looking to play regularly.
I was surprised we never saw anything of Henen. He's now 22 - a youth international at every age group, has been signed by Anderlecht, Olympiacos, and Everton without ever playing for any of them.
Dave Abrahams
20
Posted 09/06/2018 at 08:51:46
I agree with Raymond Fox (2), we will find it hard to get a better reserve goalie than Joel, never a moan from the lad even when he had cause to.
I loved it when he ran the length of the field to jump on Look man's back after he scored that goal v Man.City, best of luck Joel, wouldn't be surprised if you play for Spain in the future.
Shane Corcoran
21
Posted 09/06/2018 at 13:36:32
Sam Byrne is on loan at Dundalk where he hasn't managed to make the bench in the league.
Jerome Shields
22
Posted 09/06/2018 at 13:53:30
Brands's initial remit is to reduce wages bill. The quickest way to achieve that is not to renew contracts. The next stage is to realise value where possible in the squad. The two players that this is possible with are Lookman and Niasse. Brands will be disappointed with the return of Sandro and Mirallas.
He will be looking to loan out players on high wages who won't be part of Silva's plans and he will be looking to do what he can with older players who will be shipped out as best they can. The rest he will be hoping Silva will be able to make something of. He will be ecstatic when Rooney's move goes through, touch wood.
John Audsley
24
Posted 09/06/2018 at 19:42:24
Very good keeper who should have replaced Howard a lot sooner.
Will be missed as a player and a man.
Good luck JR
Danny Baily
25
Posted 11/06/2018 at 19:47:33
I like this guy, was in goal for our best run of form in the last couple of years (second half of last season).
Denis Richardson
26
Posted 12/06/2018 at 17:20:05
David Henen – I had completely forgotten about him. I remember the saga of his signing and it all came to nothing at the end of the day. Didn't we sign him for £500k and loan him out to Olympiacos almost immediately?
Either way, good luck to Robles – we've paid him enough over the last 5 years to probably retire on so he can play for Getafe financially secure and enjoy the rest of his career.
First senior player out the door.
Tony Marsh
27
Posted 12/06/2018 at 18:10:19
Why is it that, no matter who we buy or sell, we get stiffed on the fee? We pay too much for crap and get underpaid when we sell: Rooney, Lukaku, Barkley...
I don't see how Robles is a freebie when lesser keepers than Joel command decent figure transfer fees.
Is this just an Everton thing?
Michael Kenrick
28
Posted 13/06/2018 at 04:53:57
Yea, it's a puzzler, init, Tone.
We pay millions for the fuckers, give 'em a contract that makes 'em millionaires almost overnight, and then they just walk away without so much as a by-your-leave when their contract is up.
Oh... there it is! Guess what. He's out of contract! Thanks to Bosman, he's now a free agent. So, er... no transfer fee.
Life's a bitch, init.
Peter Anthony
29
Posted 13/06/2018 at 06:56:50
Tone, Pedantic Pete here. There are loads of examples of us paying high and selling low but not the ones you highlight.
Rooney and Barkley both came through the youth of course and outgoing transfer fees mean a profit on the transfer fee aspect of those players. Lukaku circa £28 m to buy then sold for £75 m plus.
Someone is only worth what someone else is prepared to pay of course. It is not surprising to me that players floundering and not playing don't have a clutch of eager clubs chasing them.
Darren Hind
30
Posted 13/06/2018 at 20:50:45
Goalies need the reassurance that they will keep their place if they play well.
I will never understand why our block headed manager told the world that Tim Howler would still number one when he recovered from injury. As bad a piece of man management as I can remember.
Tom Bowers
31
Posted 13/06/2018 at 21:11:41
I don't think keepers have been Everton's downfall in the last ten years or so but think that now they have arguably the best English keeper in the land they should capitalize on it big time.
Jordan can only get better with a better team in front of him. Success brings confidence throughout and we are all hoping finally things will change for the better.
They need that solid back 3 or 4 depending on how Silva wants it with a solid midfield.
I would have liked Everton to bid for the talented Grealish and £15 million seems like a cheeky bid by Spurs. but Tom Davies is a similar player and may be even better next season.
Steve Ferns
32
Posted 13/06/2018 at 21:22:59
Tom, I'd say Tom Davies and Jack Grealish are very different. Jack Grealish is a creative player, with criticisms about his all-round game, mainly the defensive side. Tom Davies is a box-to-box midfielder and his ability in the final third is probably the biggest weakness in his game.
That is not at all surprising seeing as he was always played as a defensive midfielder in the youth levels, with the excellent Liam Walsh alongside to be the more creative of the pair, and Kieran Dowell often in the same youth sides, albeit a year older. Tom Davies is going to play in Idrissa Gueye's position when he matures, and I think he can be as good as Gueye in everything Gueye does well, but will have a lot more to his game in terms of getting forwards and passing the ball.
I've not seen as much of Grealish this season, clearly he has improved, but he struggled whenever I have seen him, particularly two years ago when Villa went down, to impose himself on games. Grealish also has had a number of off the field issues.
I would rather we stayed away from him and would question if he is really much better than Dowell could be if Dowell got the opportunities we would look to give Grealish.
It sounds from what others have said on here that Maddison may be even better than Dowell, so that's okay, sign him if the deal is right. But I'd say No to Grealish.
Add Your Comments
In order to post a comment, you need to be logged in as a registered user of the site.
Or Sign up as a ToffeeWeb Member — it's free, takes just a few minutes and will allow you to post your comments on articles and Talking Points submissions across the site.