Telegraph: Schneiderlin will get chance to impress Silva
Thursday, 14 June, 2018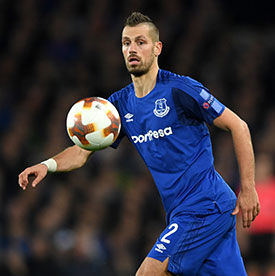 Marco Silva will offer Morgan Schneiderlin a fresh start at Goodison Park but three other players have been informed they can leave.
That's according to Chris Bascombe, The Telegraph's northwest football correspondent who reports that while the French midfielder could be retained by the new Everton boss, Ashley Williams, Davy Klaassen and Kevin Mirallas are not part of his plans.
Schneiderlin had a poor season overall in 2017-18 as the Blues struggled in the Premier League before eventually finishing eighth. The former Southampton and Manchester United midfielder's commitment was questioned but his form picked up towards the end of the campaign, with some observers suggesting that, having informed Everton of his desire to leave this summer, he was putting himself in the shop window.
Silva's appointment may have changed that and it could see Schneiderlin stay at Goodison Park if Bascombe's information is correct.
The 33-year-old Williams, who didn't play a game for Everton after being sent off at Burnley in early March, expensive misfit Klaassen and the enigmatic Mirallas, meanwhile, could be on the move before next season kicks off.
Like Schneiderlin, Mirallas was sent home from training during David Unsworth's caretaker-manager spell last autumn for reported indiscipline and his loan to former club Olympiakos was terminated early due to poor performances.
Klaassen, meanwhile, failed to start a game between December and the end of the season and has been the subject of speculation linking him with a loan move to Turkish side Besiktas.
---
Reader Comments (137)
Note: the following content is not moderated or vetted by the site owners at the time of submission. Comments are the responsibility of the poster. Disclaimer
Vijay Nair
1
Posted 14/06/2018 at 07:15:52
I would rather give Klaassen a chance and show Schneiderlin the door, but perhaps Silva sees something in him?
Neil Lawson
2
Posted 14/06/2018 at 07:17:27
Good tactical move. Pretend you want to keep him in the hope that it may then encourage someone to buy him and to push up the price!!
Paul Newton
3
Posted 14/06/2018 at 07:28:21
Let's hope so, Neil!
Otherwise on last season's performances this makes little sense.
I would keep Klaassen and sell Schneiderlin, but as Vijay says, perhaps Marco sees something we don't.
Colin Glassar
4
Posted 14/06/2018 at 07:42:42
His wife perhaps? I don't know. Schneiderlin seems to lead a charmed life at Everton.
Brendan Woods
5
Posted 14/06/2018 at 07:44:57
Genius Neil, love it!
Daniel A Johnson
6
Posted 14/06/2018 at 07:48:32
Makes sense there is a player in Schneids. Just need to get him motivated and into a role where he can excel. Hope Silva decides on 1 defensive midfielder not two. Gana or Schneids that is the question.
Derek Knox
7
Posted 14/06/2018 at 08:00:47
This news is the equivalent of the doctor informing you that you have an incurable disease.
Hope upon hope, that there is no truth in it.
Jerome Shields
8
Posted 14/06/2018 at 08:05:11
Schneiderlin was a misfit for most of last season but, in the previous season, he looked useful. Last Summer's transfer window and Big Sam's tactics seemly demotivated or confused him. I always thought this was the case. I have demotivated myself. I didn't like his attitude under Unsworth. Rooney gone will help no end.
I think Klaassen was the same; I feel we have missed a trick with him. I thought he could have been potentially a great player for us. Williams is done (did well with his retirement boost) and Mirallas (head up his ass) is too far gone.
Jim Bennings
9
Posted 14/06/2018 at 08:09:13
Please tell me this is a joke right?
Schneiderlin played the entire season inside the centre circle, that's his limit as a player and he doesn't even get around that circle well.
Starting to feel like Moshiri is sick of spending or running out of the ready made dough.
Sam Hoare
10
Posted 14/06/2018 at 08:09:50
I have no doubt that Schneiderlin is capable of far better than we saw last season. The question for me is whether he deserves the chance to show it.
Ultimately we would depend upon offers anyway. If someone out there wants to pay £18-20m to take him off our hands then great but otherwise perhaps it's not worth making a loss on a player Silva may believe is capable of recapturing his Southampton form.
Laurie Hartley
11
Posted 14/06/2018 at 08:11:38
Daniel (#6) – I think it will be one defensive midfielder as Marco Silva has already said that Schneiderlin "likes to play on his own".
Kjetil Moen
12
Posted 14/06/2018 at 08:14:01
Sensible move! I agree that 95% of last season for Schneiderlin was poor, but we saw some of his old mentality and skills in the last couple of games.
Let's not underestimate what a new manager with new ideas can do for a players motivation and effort. I agree we could expect much more than last years effort, but I've been poorly motivated myself in a well-paid job. Because of a piss-poor manager.
Tommy Surgenor
13
Posted 14/06/2018 at 08:16:20
I'm sorry but I have had enough of this fraud. Failed at United and failed with us.
Rather see Davy K given a proper run out before casting him adrift.
Kjetil #12 we changed manager twice last season. Meaning he got 2 fresh starts already. Neither time did his motivation appear to change.
I'm sorry guys, but it would take something miraculous for me to forgive this fraud for downing tools when the team was struggling.
Victor Yu
14
Posted 14/06/2018 at 08:16:21
He was very good when he first joined us.
Let's be honest. Everyone was bad last year.
Give him a chance.
John Kavanagh
15
Posted 14/06/2018 at 08:22:09
Both Schneiderlin and Mirallas should have been out the door after the Finch Farm indiscipline. A couple of half-arsed performances in meaningless fixtures towards the end of the season hardly justifies him being given yet another chance rather than Klaassen, who actually wants to play for us. Still, if this is our new management team's decision, then we will have to support it – just hope Neil at #2 is right.
In any event, his lack of commitment, pace and passing ability should soon become apparent to Silva so I give him until January at the latest. Can someone get in touch with West Ham to see if they are still interested?
Jim Bennings
16
Posted 14/06/2018 at 08:27:29
Kjetil #12
I can slightly understand what you say but personally I don't want to see any player and I make no exception, that cannot get motivated playing for Everton regardless who the manager is!
Morgan Schneiderlin is on a considerably big wage right, if you strut around the pitch half arsed then you are out the door and that goes for any player not just Schneiderlin.
If players think they can just down tools every time they don't like a manager (a regular theme over the last few years) then it's a complete disgrace.
I still lay a lot of the blame on the players door last season for the shambles it produced, I blame Koeman and Allardyce too don't get me wrong but this group of mercenaries stealing a living masquerading as footballers should take a lot of responsibility too!
Geoffrey Williams
17
Posted 14/06/2018 at 08:29:16
WHY??
Kunal Desai
18
Posted 14/06/2018 at 08:37:00
Can't get rid of dross all in one go, going to be gradual.
Martin Berry
19
Posted 14/06/2018 at 08:44:34
He was awful like his attitude last season, he didn't get booed for nothing.
Yes he can play, when he wants... but it's always in the back of your mind — what happens when the going gets tough?

Lev Vellene
20
Posted 14/06/2018 at 08:46:01
After 60 mins every game, Silva has seen enough and in comes Baningime. By the end of the season he's got enough experience to take the position permanently! Sigh, bad news makes me want to dream nice dreams...
Mark Dunford
21
Posted 14/06/2018 at 08:54:45
The named departures are just the most obvious candidates – bar Sandro who is virtually unsellable because of the silly wages and Martina who tried hard but was too limited.
Schneiderlein is a very strange case – was great when he first arrived yet his form nosedived last year before flickering back at the end of the season. Could well be worth a last chance before he inevitably moves back to France. Worth contemplating how many other Koeman signings last.
Gerry Quinn
22
Posted 14/06/2018 at 09:01:37
I thought Allardyce was gone!
Andrew Heffernan
25
Posted 14/06/2018 at 09:22:34
No idea what was in his head last season but if new regime want to give him a chance and importantly believe he's better than anyone we can 'actually' replace him with, I'll give him a go.
I'll support anyone wearing the blue shirt because I didn't give it to him and I can't take it off him. Doesn't mean I can't give him stick for appearing to not try, or a manager for continuously giving him a chance though...
Derek Taylor
26
Posted 14/06/2018 at 09:33:34
I suspect he'll be given his chance here because Marcel sees no prospect of unloading him for anything like we paid.
There will have to be a sea change in the attitude and form of many of our existing players if they are going to be relied on to make up the team come August.
Am I getting a bad feeling about our prospects? You bet, but a new manager can make all the difference. Either way!
Alan J Thompson
27
Posted 14/06/2018 at 09:40:14
Well, that blows out of the water the theory that Silva and Brands have been watching games and viewing videos knowing for sometime that they had the jobs.
Andy Meighan
28
Posted 14/06/2018 at 09:43:12
Disappointing news... And Tommy (#13) got it just about spot on.
Simon Jones
29
Posted 14/06/2018 at 10:12:26
I'm not bothered about whether we keep Klaassen or Schneiderlin, just as long as we can get shut of Mirallas.
John Pickles
30
Posted 14/06/2018 at 10:14:48
The club will needs a fearless team spirit. That will not happen until we get rid of pigeon-hearted types like Schneiderlin and bring in some Tim 'Honey Badger' Cahills.
Jane Farley
31
Posted 14/06/2018 at 10:19:08
Oh no! Hope this not true. Watching him last season was a nightmare. Let's hope he either dramatically improves and becomes a proper Everton player with 100% effort or he goes this Summer or January.
Paul ONeill
32
Posted 14/06/2018 at 10:35:43
It's a shame that Mirallas's tenure at Everton has finished like this. He's always been mercurial but he was fantastic on his day, could turn a game as a sub and very popular. I always thought he is very talented. Shame he seems to have spoiled it by his lack of commitment this past season.
Andrew Ellams
33
Posted 14/06/2018 at 11:03:58
Does this mean Carvalho isn't coming in?
David Ellis
34
Posted 14/06/2018 at 12:02:29
Schneiderlin can be a good player for us - he was at Southampton. I guess we have to try and make it work.
I don't think we should keep Klaassen who has just never shown he is right for the PL. I certainly don't think we should arrange the team around him just to fit him in. First choice no.10 must be Sigurdsen. Back up would be Vlasic. We just don't need Davy and don't see his value going up by staying and not playing.
Sandra Bowen
35
Posted 14/06/2018 at 12:05:49
He's a good player. Had a crap season(who didn't) no doubt and many rightly have an issue with his attitude at times but I've no problem giving him a chance to continue his return to form at the end of the season.
I think he, more than most suffered with the loss of Lukaku, Barkley, Coleman and Baines. Barely ever had any options when on the ball due to lack of movement and players wanting the ball. No coincidence to me that he returned to form with the return to fitness of the full backs and the addition of both Walcott and Cenk.
Still need to add extra quality in the central position but I'm all for seeng the good player that we saw in his first six months.
Peter Gorman
36
Posted 14/06/2018 at 12:06:59
Victor - everybody was bad last year but nobody had an attitude as bad as Schneiderlin.
James Flynn
37
Posted 14/06/2018 at 12:14:15
8 June 2018-
"it shouldn't take a new manager to come in for you to make people step up their game."
-Seamus Coleman-
Jim Bennings
38
Posted 14/06/2018 at 12:17:53
If I ever have to witness a midfield trio of Schneiderlin, Gana and Davies again then I'm well justified in losing motivation myself.
Couldn't think of a more tepid crab-like snail paced midfield and saw it enough last season to prove it's not ever ever going to work.
Tony Ateman
39
Posted 14/06/2018 at 12:17:57
Maybe the Telegraph reporter is just making it up!
Fraser Auld
40
Posted 14/06/2018 at 12:39:00
Hope this isn't true, he's one of the first I want to see out the door this summer.
For me, it's not about his ability or whether last season was just a bad season, as it was for most of the team, it's about attitude.
This guy is a gutless, spineless, coward of a player and those are characteristics that don't belong at everton. Will be really disappointed if he's still here come the big kick off!
Tony J Williams
41
Posted 14/06/2018 at 12:48:08
It smacks of us not getting a replacement for him, so it's him or no-one.
I 100% agree with the Honey Badger comment above.
Ray Robinson
42
Posted 14/06/2018 at 12:54:42
I have no problem with Klaassen, Mirallas and Williams being sold but who has made the assessment? Silva hasn't seen anyone train yet, neither has Brands. All the old Allardyce appointed coaching staff have left, so who has ordered the cull? Now I'm sure Silva has watched countless recordings of the above players but is that how managers normally operate?

Is there still someone else in the club influencing and orchestrating the playing squad or are Brands and Silva a lot smarter than I thought by cutting through to the obvious truth without the need for first hand evidence?

Greg Hasbrouck
43
Posted 14/06/2018 at 13:15:04
As far as giving Klassen a chance, he's had the chance to impress four different Everton managers (Ronald, David, Sam, Marco) and has impressed none of them. I think their unanimous perspective on Klassen's skills, along with Brands' underlying agreement, is sufficient. At this point there's simply no reason to believe Davy has what it takes to be on this squad.
Phil Sammon
44
Posted 14/06/2018 at 13:28:25
Greg 43
Klassen has had the opportunity to impress Silva has he? What are you talking about?
Mark Taylor
45
Posted 14/06/2018 at 13:36:20
I suspect that financial realities play a part here. We would probably make a loss on Schneiderlin and that is even assuming we could find a club that would stump up his supposed £6m annual wages. I gather he's our third highest earner.
Klaasen meanwhile is a little less shop soiled, is younger and so a bit more sellable and his wages are a little less.
Ian Hollingworth
46
Posted 14/06/2018 at 13:45:52
Hopefully Morgan's missus wants to move so then he will be gone
Mike Gaynes
47
Posted 14/06/2018 at 13:55:47
Sandra #35, Schneiderlin's problem wasn't the absence of other players. It was in his own absence of heart.
And whatever return to form he showed came in the last few games of the season -- after Baines, Coleman, Walcott and Tosun had been in the lineup for months.
I agree with you that I'd love to see him return to the levels he achieved 16 months ago, and I guess I'm okay with Silva giving him that chance, although he'd have been the first player on my exit list.
But there are no external excuses for his disgraceful overall performance this season. 100% of the problem was inside Schneids himself.
Soren Moyer
48
Posted 14/06/2018 at 14:04:18
Seems he's conned Marco too!!
Mike Keating
49
Posted 14/06/2018 at 14:32:19
Andrew @ 33
Telegraph have Carvalho signing for Forest for £13.2m which I find difficult to believe.
Sandra Bowen
50
Posted 14/06/2018 at 14:35:31
But they weren't though were they Mike. Coleman came back and was then out for a few more, Tosun was in and out of the side at the beginning before he had a good run, Baines was returning from a long injury and getting his own fitness back. I'll give you Walcott but let's not forget that Morgan's own dismal form kept himself in and out of the side so there was no real consistency with them all playing together until the end.
I'm not defending his effort or heart last season as it was shocking but it's still no coincidence that when we had a better side, his form improved. That's just normal.
Rob Halligan
51
Posted 14/06/2018 at 14:45:14
Mike # 49. The Carvalho you mention is Joao Carvalho who plays for Benfica. We are allegedly after William Carvalho from sporting Lisbon.
Greg Hasbrouck
52
Posted 14/06/2018 at 14:49:45
Phil 44... I would strongly suspect Silva has watched tape of Klassen and was not impressed with what he saw. I would tend to doubt Silva is choosing to let him walk based solely on the fact that he doesn't care for blondes.
Jay Wood
[BRZ]
53
Posted 14/06/2018 at 15:12:29
TBH, if this report is true, I'm not surprised.
Why? Because other than answering questions on Wayne Rooney, the only other player I have heard Marco Silva refer to by name since appointed Everton manager was Morgan Schneiderlin.
On 6 June the Echo - https://www.liverpoolecho.co.uk/sport/football/football-news/marco-silva-reveals-everton-formation-14750574 - in a report in which Silva outlined his prefered playing style, he mentioned only one player by name. He said:
"If we play Schneiderlin he is a player who likes to play more alone which gives more freedom to the other two midfielders and this is the system I use more."
That suggests to me Silva has identified MS as the player in the existing squad who can best fit into a particular role the manager's prefered playing style.
It certainly wouldn't be my preference. I lean towards Peter Gorman's comment @ 36: "everybody was bad last year, but nobody had an attitude as bad as Schneiderlin."
Schneiderlin may well have a renaissance under Silva, but he has also displayed an abysmal lack of heart for a protracted part of last season. An attitude that could rapidly return if things start going awry for him again.
Jackie Barry
54
Posted 14/06/2018 at 15:21:20
Disturbing if true, but what's even more disturbing is the work that needs to be done with so little time for it to be done in.
John Cartwright
56
Posted 14/06/2018 at 17:15:13
I didn't want Silva in the first place. If he rates Schniederlin.God help us
Will Mabon
58
Posted 14/06/2018 at 18:30:01
Schneiderlin has no soul. You should be attempting to perform whether playing under your favourite manager, nightmare manager, or no manager.
Application is not an extra externally supplied by a manager or anybody else. Refer to Niasse for the obvious difference in attitude and character.
Darren Hind
59
Posted 14/06/2018 at 19:15:34
Schniederlin looked one unhappy fucker last season and fuck me did it show.
Not many of us would give him another minute, but Silva would have seen this and clearly thinks if he can restore his soul he will reap the rewards.
Seen it happen before.

Brian Harrison
60
Posted 14/06/2018 at 19:38:20
Darren,
I, like you and many others, would not have had Schneiderlin anywhere near the first team. All players can have a lousy run of form but a lousy attitude may never be improved. He played like a player who didn't want to be here; he must also have been aware the fans were far from happy with his performances.
I rate Silva, whose teams have a good work ethic; whether he can get someone who hasn't shown a good work ethic for 12 months to change, I am not sure.
I am sure he knows he can't make wholesale changes to begin with as that never seems to work, and maybe his budget won't let him immediately bring in the players he wants.
Tony Sullivan
61
Posted 14/06/2018 at 19:48:01
Mo Salah was so unimpressive, Chelsea let him go.
Just saying, like!!
Kenny Smith
62
Posted 14/06/2018 at 19:51:36
Let's be honest, only Pickford and runner-up for Player of the Season, Coleman, and his handful of games, are safe from the axe. Last season was awful but you can't sell everyone – as much as some of us might want to.
Schneiderlin can play; we saw that when he came and the last few games of the season when Sam put his bingo wing around him. I'd keep him but I'd be more concerned about Idrissa Gana going if there's only one starting place for a holding mifielder. After all, though, isn't that what we want to see, more forward-thinking players?
Tom Bowers
63
Posted 14/06/2018 at 21:30:55
We will never know why Klaassen didn't measure up despite good reviews coming out of Holland at the time. Also, Morgan Schneiderlin was rated by Man Utd when they got him but, once again, he has had his detractors at Goodison Park.
We can really look at last season and point fingers at many players, the coaching staff, the managers and the strategies but the bottom line was that never at any time regardless of which eleven started did they look like a team with a winning attitude.
Obviously changes will now be made and I don't think anyone will argue about Mirallas, Williams or Klaassen being missed as they very rarely showed up anyway.
The Rooney return fizzled like a damp squib and one could say that was down to Allardyce but Rooney was never going to be here long anyway.
Some players will get new opportunities under Silva and hopefully Morgan Schneiderlin will be an asset.
Bring on the Wolves!!!
Steve Ferns
64
Posted 14/06/2018 at 21:46:50
I think some of you don't get understand how the midfield will operate. You guys are going to see this for yourselves soon, and then the penny might drop.
Silva most often operates with a central midfield three. He can then vary that so it's more defensive:
DM DM
AMC
or more attacking:
DM
MC MC
This is pretty standard stuff. Koeman did it too. The difference for Silva is that the two DMs have to get forwards. They don't sit deep and wait for the move to breakdown and try to win it back or slow the oppositions counter attack, they actively get forwards and try to join in the attack.
Whilst Silva may sprinkle some magic dust over Schneiderlin and magic him happy and in form, he can't suddenly make him a box-to-box midfielder and so he won't suit this role. Instead two of Davies, Gueye and McCarthy go better as they can all get forwards. The only issue comes from how the ball gets forwards. Perhaps, I've been missing the Pickford factor. Silva has never had a keeper quite like Pickford before, and he could be the ace in the pack here, launching quick attacks himself. Holgate, Jagielka and Keane are not great at passing out with long balls from the back, but they can be more than capable at times.
If we go with one DM then this player, at least in the Sporting Lisbon formation, does not get forwards so much, at least not so quickly. Instead he is the player on whom most of the responsibility comes for getting that ball forwards. This player was William Carvalho. So, if Silva wants Schneiderlin to play this role, it's not just because of what he can defensively, it's because of what he can do offensively. In other words his long passing ability. Schneiderlin is no Xavi Alonso. He can't hit long passes on a sixpence for Walcott like Michael Carrick could. But he's the closest thing we've got to it. And this is why, Idrisaa Gueye has absolutely no chance of playing this role for Silva. Forget suggesting it, he does not have the tools for the job. If Gueye plays, it's further forwards, going box-to-box.
Silva likes a fast side. Pacy wingers, energetic midfielders, his sides break at pace. But he also used a lot of slow players in key positions. At Hull he used Huddleston in this very role (he didn't play every game though). Before that he used Esteban Cambiasso (of Real, Inter and Leicester fame) at Olympiacos and he was 34/35 at the time and very, very slow. At Sporting he had William Carvalho as I've said. So there is room for a slow Schneiderlin in a fast Silva side. His passing ability must meet the Silva Standard, otherwise the tactic just won't work. Which makes getting in an alternative, like a cheap Carvalho essential. It's all well and good linking us with big strong midfielders, and fast creative ones, but it is someone with good passing ability who can be in and around where we win the ball, and so can launch the counter-attacks, that is the most essential player. With (the inconsistent) Rooney gone, there's only Schneiderlin left.
Tony Everan
65
Posted 14/06/2018 at 22:24:05
He may have an opinion that Schneiderlin has the talent he just needs to be managed with more intelligence.
For periods in his career he has looked a really good player, for other periods zombie football. Silva may think he has the key to unlock the puzzle and get consistent quality performances from him.
Maybe giving him that exclusive DM role and the responsibility that goes with it can bring out the best in him.
The jury is not just out, he's already been tried and on death row by the majority on here. Silva is about to give him an 11th hour presidential pardon.
Steve Ferns
66
Posted 14/06/2018 at 22:24:10
If I can also make the observation that football is heading in the direction of "Total Football" and has been for some time. This is a generalisation of course and there's plenty of exceptions to the rule.
What we are seeing is more and more technically gifted footballers on the football pitch now. The gaps from attack to defence is much smaller than it used to be. The demands and expectations on fitness of players is increasing every year. The midfield is able to race up and down the pitch and get close to the ball wherever it is on the pitch, and the defence is not far behind. Every player on the pitch is now expected to be able to "play a bit". And teams with payers with no technical ability are at a major disadvantage.
How many sides now have fullbacks that are basically wingers? players with the energy and stamina of 1500m runners but built like 400m runners. And yet, good technical skills. All this means that players are less and less able to be "one-dimensional". We can't have a defensive midfielder like Lee Carsley anymore. You can't have a number 10 like Matt Le Tissier anymore. You can't have a striker like Gary Lineker anymore. Players of all positions need to be more and more all-rounded.
Sure, centre-halves are the last Bastian of the "one-dimensional" footballer, but let's have a look in 10 years. More and more of them will be like John Stones, especially if 3-4-3 type tactics become more prevalent. As teams get fitter and fitter, and players get more and more technical, formations will shift more and more to get as many players as close to the ball as possible. Of course, there'll always be room for a Mourinho, and underdogs will always try to stop the top teams, and so they will employ more "one-dimensional" players who are exceptional in specific areas to spoil the favourites attacking prowess, and with less resources, they could use players like Niasse (a very one-dimensional player) to hit teams on the counter.
Tony Everan
67
Posted 14/06/2018 at 22:47:27
Steve
Man City and Liverpool came closest to it last season . At times teams were just overwhelmed by the speed and fluidity of attack.
It is almost as if the attacking manoeuvre begins before those teams have actually won the ball back from the opposition. There is an anticipation of attack because they know the lesser team will lose the ball at any moment.
The total football being played is irrepressible pressing, then lightening attack predominately down the flanks when winning the ball back. The best way to stress a defence is to attack with this pace with the defence running backwards. They become out of position and space appears inside for the support or beat the last man at pace and a shot on goal is on.
Goals from centre-backs from corners and set pieces are under considered I think. Terry, Kompany, make a difference and can get results out of nowhere.
Jay Harris
68
Posted 14/06/2018 at 23:17:46
I put Schneiderln in the same category as Rooney now.
Far too slow for the modern pressing game and getting caught in possession in dangerous areas.
Not a recipe for top 6.
If this is true it puts question marks against the new "onwards and upwards" desire of the club.
Tony Twist
69
Posted 14/06/2018 at 00:07:06
I do think it's a case that he is one of the few players, that is keen to leave, that is of interest to other teams. We therefore have to try and bump up his price. If Silva is considering this slowcoach why does he not consider Baines in the centre instead. That will bring heart to the centre of the team which is severely lacking when Schneiderlin plays there.
Jerome Shields
70
Posted 15/06/2018 at 01:08:15
I did think before this announcement that Schneiderlin was the one player that Silva could turn round.
Let's face it, last summer's transfer window really cocked up the midfield. Because so much money was spent, players signed had to be played out of position to justify why they where bought. It never worked and Schneiderlin could have never worked with it.
On top of that, we had Big Sam and his alien tactics, which had Schneiderlin rooted in a defensive role that put him under pressure, along with others as the opposition were able to play higher up the pitch as a result of Big Sam's overall tactics.
The other contributing factor was Rooney, who was prone to getting caught in possession, passed too late and regularly gave the ball away with long hopeful passes. Rooney had the same problem at Man Utd, but was played deeper with Everton, leaving less opportunity to recover. Being exposed as a result was a nightmare for Schneiderlin.
Again with Klaassen a big opportunity was missed, but because he hasn't been playing, he is too big of a risk for Silva. Hopefully going out on loan he can resurrect his career, and regain entry to the level of football he is capable off.

Ed Prytherch
72
Posted 15/06/2018 at 01:26:15
Schneiderlin was knackered last season. His new bride told him that now they were married twice a night would not cut it. And the novelty started to wear off her towards the end of the season and his (football) form started to improve.
Julian Wait
73
Posted 15/06/2018 at 01:43:14
Brands will know all about Klaassen from Holland, so we will have to trust they are making the right decision on that one, either way, because none of us have seen much of Klaassen in the last 12 months under three different managers .
Terry White
74
Posted 15/06/2018 at 01:56:04
When are we going to stop the tired and unfunny jokes about Schneiderlin getting married affecting his football?
Mike Gaynes
75
Posted 15/06/2018 at 03:28:21
Terry, some folks are only just now getting caught up on that.
Terry White
76
Posted 15/06/2018 at 03:49:06
Just a more recent version of "Where's the Arteta money?" or "Like a new signing", Mike (#75), unfunny cliches that are well past their sell-by dates.
Ed Prytherch
77
Posted 15/06/2018 at 03:51:57
Okay, Terry... please explain his loss of form that occurred right after he got married?
Gareth Clark
78
Posted 15/06/2018 at 04:03:07
I think he could do a job, but I'd prefer someone more mobile to be honest. Or more physical, he's not really either.
Carvalho will bring physicality and playmaker passing ability, so I think he's more suited to the #6 role.
I'd probably keep Schneiderlin either way.
Gareth Clark
79
Posted 15/06/2018 at 04:06:05
On a side note:
HOW IN THE WORLD - is West Ham closing in on the signing of Mawson????
Shocking football team! Looks like they're sorting out their recruitment.
Mawson, Diop, Fabianski, and a few others too.
Everton need to get moving in the transfer market - especially with players that aren't at the World Cup.
Mawson &/or Lascelles for starters.
Then when teams start getting knocked out of the World Cup – Carvalho, Lozano, Plattenhardt.
COME ON BOYS!
Darren Hind
80
Posted 15/06/2018 at 06:10:21
"I think some of you don't yet understand how the midfield will operate. You guys will see for yourselves soon and the penny might drop" . . .

I had to read that twice Steve. I sincerely hope you are right and that you are amongst the first the penny drops for.
In recent weeks you have told us Keane would be Silvas "main man" in defence, but when his shortcomings were pointed out to you went cold on the idea.
You then moved to the midfield telling us how crucial Sigurdsson would be next season, but then you relented when Silva rather surprisingly surprised you with the revelation that he will play 4-3-3. Now you are telling us Schniederlin is going to be kept to hit long pin-point passes ? . .really ? On the very rare occasion he has done it, you may have been watching, but trust me, Silva would be doomed from the off if that is his idea of hurting the opposition..
I for one hope Silva calls Jordan Pickford into his office and tells him never to launch the fucking ball again. I know I will be reminded of this on the very rare occasions we actually get a chance from one of his Exocet missiles, but it is a brainless tactic which has seen us squander possession more times than a one armed rugby player. Any coach who allows his team to be undone by an expected ball which travels 60-70 yards is in the wrong game. . . besides, its totally at odds with the total football you claim is beginning to take a foothold in the game.
You then go on to announce the end of the "specialist" telling us you cant have strikers like Garry Lineker any more, or number a No 10 like Le Tissier. Let me assure you. If the reincarnation of either of those two players suddenly surfaced. you would be knock down in the rush of the worlds leading clubs trying to sign them.
Can you imagine a modern coach talking to a young Gerd Muller ? . . ."Look son, I know you know where the net is, but you are one dimensional. You aint never going to make it"

Darren Hind
81
Posted 15/06/2018 at 06:18:02
BTW Steve
I don knowhow old you are, but Matt Le Tissier was one of the most unpredictable box of tricks this country (or any other) has ever produce. Touched by genius. . . I didn't think the day would dawn when I heard a football fan put him in the "one dimensional" bracket
John Wells
82
Posted 15/06/2018 at 07:03:28
Darren,
Have to agree, Le Tiss was like a wizard. Whoever said he was one dimensional needs to get on YouTube quick! Game changer. Big teams travelled down there many times and went back up the road on the bus scratching their heads at a wonder goal he would have hit from a terrible position with the defence set up as it should .pure class. Don't start me on Liniker his going is still too raw a fucking goal machine.
Paul Mackay
84
Posted 15/06/2018 at 08:15:46
Lazy
Mike Keating
85
Posted 15/06/2018 at 10:20:23
Thanks for the correction, Rob @51. I did get my Carvalho's confused. It will be interesting to see how the genuine article performs this evening.
Mind you, last time I tuned in for a game I had no real interest in to check out a player our manager was linked with, he was crap but we bought him for £22m anyway.
Steve Ferns
86
Posted 15/06/2018 at 14:20:18
Darren, I read your comment this morning. I don't have time today to respond properly. I was being a tad facetious, hoping for a good debate, but then something came up which means I can't engage.
I'm old enough to have adored Le Tiss in his prime. He was a wonderful player to watch and one-dimensional was intentionally harsh by myself. But he's a good example of a footballer from the past who could not last in the modern game without a dramatic change of attitude, diet, fitness, and tactics. He was exceptional in terms of shooting, had great vision and was a very good passer. But he could not do much else.
But you're a very astute guy you know what I was getting at.
Tommy Surgenor
87
Posted 15/06/2018 at 15:21:37
Devil's Advocate (and straying extremely off topic):
Steve, what legends of the past do you think could survive in the modern game?
Best? Maradonna? Pele? Dixie Dean?
I think it's extremely unfair to compare them to modern players who get to play on near perfect surfaces and have an entourage of fitness coaches.
What's to say Le Tiss couldn't have been even better in the modern game?
Mike Gaynes
88
Posted 15/06/2018 at 16:01:59
Darren (#81), amen. I loved watching that guy play. Always supremely confident, always laughing, and always trying things nobody else would even consider.
But Steve is sorta right too – I never recall seeing him defend anything or anyone in all the years I watched him.
Will Mabon
89
Posted 15/06/2018 at 16:14:10
Steve, I think some of the qualities and characteristics you imply/allude to were recently very much lacking in Pirlo...
There's a growing danger, in fact it's becoming reality, that "Top" level football will simply be about the best athletes above all else. If teams all play to that system, that's where it will go - football standardized like a business model with the three Es etc.
I'd like to think we're not yet in a place where that's an inevitability.
Mike Gaynes
90
Posted 15/06/2018 at 17:56:20
Darren (#81), amen. I loved watching that guy play. Always supremely confident, always laughing, and always trying things nobody else would even consider.
But Steve is sorta right too – I never recall seeing him defend anything or anyone in all the years I watched him.
Damian Wilde
91
Posted 15/06/2018 at 20:53:10
Thanks goodness Williams is going, awful player. We need to get rid of about 10-12 of the, including Morgan.
Peter Mills
92
Posted 15/06/2018 at 22:03:07
Terry (#74), I have only recently pointed Mike Gaynes towards Peter Reid's wonderful eulogy at Howard Kendall's funeral, and Reidy's "loss of strength" story following the 1986 World Cup. Look it up on YouTube.
I suspect Morgan would benefit from some Guinness!
James Ford
93
Posted 15/06/2018 at 22:07:50
Just to be clear, Kev is far from enigmatic — it's crystal clear he's the worst Everton player of the modern era.
Gavin Johnson
94
Posted 15/06/2018 at 22:21:18
It's down to Schneiderlin. He could be a big player for us next season if he takes his thumb out of his arse. He turned up when he wanted to last season. But if he does stay he needs to play alongside a high energy player and I'm not sure that's Gana.
What I find more worrying is the talk of a U-turn with Rooney. I never want to see the midfield pairing of Schneiderlin and Rooney ever again.
Steve Ferns
95
Posted 15/06/2018 at 23:40:03
Darren, sorry I couldn't respond earlier.
My belief with his squad, manager, Director of Football and certainly the owner, is that minimal money will be spent. I have said it many times before, but if you sell £50m worth of players and buy £50m worth of players, then this will not be break even, as the transfer fees do not include the agent fees and legal costs. I believe Silva has been hired with a specific brief to recruit only a couple of players, ones absolutely necessary (such as a left back) and a bargain who is available at a price too good to miss out on.
Therefore, Silva has to shuffle his deck and use the squad he has. A £25m defender, only 25 years of age will not be discarded so lightly. I believe Michael Keane has a lot of the right physical attributes and I have said many times myself, that he just lacks the mental ones. It is possible to get a player who is not aggressive and to make him more aggressive.
Just look at Lukaku, he often played "too nice", and was a big softy. Now and again, particularly the Chelsea game, he came out angry and revved up and showed just how big and strong he was. We can rev Keane up, make him angry, and maybe he can channel some aggression and take his game to the next level. This is a lad who was great for Burnley, and he did not look out of place for England either.
So yes, out of a past it Williams, a 36-year-old Jagielka, a 21-year-old Holgate, and Funes Mori, I do think Keane can be our main man. I do not believe that Silva would waste one of his few signings on a centre-half, I don't think he shares everyone else's obsession with a left-footed centre-half, I really do not think it matters, two centre-halves mark one striker these days anyway. Everyone else thinks Silva will play a high line, and if he does then sure Keane will struggle. But Silva doesn't play a high line, not often anyway.
He also regularly uses big, massive, lumbering centre-halves, Steve Vittoria (at Estoril – who scored about 10 goals, most from set plays one season), and the ones at Hull are typical Silva centrebacks Harry Maguire, Curtis Davies, the 6'-5" Andrea Ranocchia (who is one of the very few centre backs Silva has ever signed (albeit on loan for Hull)). So, Keane's lack of pace will not be an issue for Silva, it's something he is used to and his default tactics have built in.
As for switching from Sigurdsson to Schneiderlin, I did make the comment to explain myself very clearly at the time, but perhaps you missed it. Silva's main formation, the one that he has used overwhelming more than any other, is a 4-2-3-1. He calls this a 4-3-3, and explained that in his 4-3-3 sometimes you play with a 2 and sometimes you play with a 1, and Schneiderlin plays well as a 1. Obviously referring to the number of defensive midfielders.
If Silva reverts to type and plays a 4-2-3-1, then Gylfi is surely the No 10, with two DMs behind him. If Silva goes with one DM, in a 4-3-3. like he played at Sporting, then surely there is no room for Gylfi. The difference in these two formations is the focal point of the side. Either the #10 is the guy who tries to dictate the game from behind the striker or the #6 sits deep and tries to dictate the game from deep and we have no #10. Maybe Silva thinks Gylfi's numbers (km per game and all the other data analysis) is fine and he can actually get up and down well enough to be in the middle as a box-to-box midfielder. Myself, I can't see it. The two central midfielders who go box-to-box tend to be a lot faster.
And no, Darren, Schneiderlin is not being kept to hit his long passes, he's being kept because he has cost us somewhere in the region of £55m including the transfer fee and wages, and selling him will bring in little, and no club will take over those wages. Which means he stays.
So if he stays and we have to use him, then he is used in the #6 position as he is the only #6 we have who can hit the ball further than 20 yards. Gueye cannot pass to save his life. Davies and McCarthy are not much better. Besic is the worst of the lot. So who on earth can Silva play deep in this position over than Schneiderlin.
Personally, I'm very surprised at Silva's comments. of all of his tactics, I think the 4-2-3-1 is the one that suits us best.
But maybe, just maybe, Silva has been watching a lot of our games, and he's gone right back and he's watching Schneiderlin, Gueye and Davies from the back end of the 2016-17 season when we had that purple patch in the spring. That midfield is all still here. The defence is all still here. The keeper has changed, the attack has all left (I include Barkley in the attack as one of the front three (RW) as I saw it). Maybe Silva thinks there is a base there that he can fit his tactics onto and he can utilise the pace of Walcott and Lookman on top of it, and the pace of Gueye and Davies, and create a counter-attacking side. Perhaps with Calvert-Lewin up top as a another pacy player.
You then said "Any coach who allows his team to be undone by an expected ball which travels 60-70 yards is in the wrong game" – well that's Klopp's undoing and he just made the champions league final. Everyone knows that Klopp's side will run at you hell for leather, but if you can lift it over the top of them in an accurate way then they are left completely exposed and they've lost the majority of the games they have lost because of this. The fact it is not so easy to do this is why Liverpool have had so much success.
I said the game is heading more towards total football with every passing year. Not that every side is playing total football. I even included the example of Mourinho who operates smothering tactics that are the complete opposite. Footballers run further and further and further each season. The distance covered in games is going up and up and up and shows no sign of abating or slowing down.
As footballers are covering more and more ground, each player is getting closer and closer to the ball, meaning each player needs to be more and more proficient on the ball. This is the point I was trying to make. We can't have one dimensional players, because they need to be able to have a more all-round game.
Gary Lineker went to Barcelona, Venables was in charge, then came Aragones and bounced him out in favour of more all-round players as Lineker, even at his very very best, was not good enough. But when he did play, where did he play? He spent a lot of time on the wing.
I reckon Gerd Muller would still shine in the modern game, but the Gerd Muller we would see would be a very different Gerd Muller, with a much better all round game. Great players always adapt.
But to go back to Silva, the guy is not Martinez. The reason he is not Martinez is because he is not predictable. He doesn't have one way of playing, he can shift tactics. before Watford he never played three at the back, he did so with them about 8 times. He will assess what we have and adapt his tactics accordingly.
He plays a variety of different ways too. Counter attacking to win Estoril the league. Then very defensive when he got 5th, more counter attacking when he got 4th. Then a possession based style with Sporting, as demanded by the fans, and as best suited the squad he had, then back to counter-attacking with Olympiacos. Then an Estoril style defensive 4-1-3-2 (his version of 4-4-2 with no wingers, the forwards often split wide and the midfielders come through the middle) and a counter-attacking 4-2-3-1 with Hull, and at Watford he played a different formation more or less every week. You look a genius when it works, and a tinkerman when it's going badly, but he still used 4-2-3-1 the most.
So it's impossible to accurately predict how he will do. All I can do is use my knowledge of his past, my knowledge of our squad, and I think a 4-2-3-1 will suit us best, and that will be a counter-attacking side without a high line, sitting deep and launching fast attacks with accurate long balls. The big question for Silva is who will hit those long balls?
Tony Everan
96
Posted 16/06/2018 at 08:51:33
With regards to Keane being our main man in central defence .
With the stability and new motivations this season will bring I think we will see an improvement in him. He is still relatively young for a CB and is not yet in his prime.
Rather than being a main man I see him as someone who will thrive in a stable defensive partnership. The returns of Baines and Seamus helped immeasurably, but I think last season the Jagielka was still the main man in the centre. It is unreasonable to expect Jags to perform a full on season at 36, so I would say the main man needs replacing. Funes, for me is not the answer and has made noises about leaving anyway. Holgate is a star for me but too young to be a main man. Williams is gone.
Of all the summer business creating this central defensive partnership is the most crucial to me. Silva's style of play will need a rock solid central defence.
We need to move on Williams and Funes. Keep Jags in the squad. Then buy the best quality central defender possible, all the time thinking of a player tha will gel with Keane. It is essential for us to progress that we have a quality stable central defence.
I would swerve some of the very young names and stick with Mason Holgate as a deputy ready to step in or step up.
Denver Daniels
97
Posted 16/06/2018 at 09:10:09
Keane is shite. No pace, no anticipation, no positional sense. Get rid.

Michael Lynch
98
Posted 16/06/2018 at 10:31:39
If Steve is right, and Silva does sit back and play on the counter, Keane should be okay. His worst weakness seems to be when he has to turn and bomb back - he has the turning circle of an oil tanker and the pace of my nan on her motorbility scooter - but he should be okay at just defending and getting rid to the no 6 or the no 10 to weave their magic. I also take the point about Schneids - he's an expensive misfit, but if motivated he is potentially a classy player. We shall see...
Bobby Thomas
99
Posted 16/06/2018 at 11:12:27
You don't need to have been paying too much attention to notice that the "number 10" that had the whole side built around him - the Riquelme or Le Tiss type with no mobility and little inclination to do anything other than get on the ball and dictate - don't really exist anymore and this has been the case for a decade or more.
Joe Cole at Chelsea - Mourinho disciplined him into the most effective football of his career out wide. That was ages ago. It's what happens to lads who want to be a self indulgent 10 these days and its been the case for a long, long time. Adapt or die. These days someone like Joe Cole would be brought through the system with the ability to play all across and in multiple positions, not just "on the wing" or as a 10. Look at Hazard.
Same with the pacey under 6ft box poacher. Owen, Lineker types. They rarely exist and if they do its as an impact sub like Chiquarito. The era of 4-3-3, 4-2-3-1, or 3-4-3, the lone striker, has essentially killed them off.
These players rarely had the ability to do anything else. As far back as Euro 2004, for example, Owen was having to change his game, do a load more back to goal play and kind of play as a lone striker. But play wide in a 4-3-3? Forget it. Recently I think Defoe has managed to hugely improve his all round game to stay relevant.
Thinking about it Rooney, the 18 - 26 years old Rooney, doesn't get enough credit for how good he was sometimes. He could play right up top, off the striker, or out wide in a 4-2-3-1 type formation (always away from home) to a top level European standard. That's is not easy by any stretch of the imagination.
Flexibility, mobility, adaptability, the ability to play all across. That's where its at if your an attacking mid or like to play wide these days.
If Le Tiss was coming through the system today he'd probably end up as a holding player. That's how much the games changed.
Kevin Prytherch
100
Posted 16/06/2018 at 11:17:56
Tony - I agree. I think there's generally 2 types of centre back; leaders and partners. Keane fits into the partner category.
Leaders are those who can organise a defence: Jagielka, Watson, Weir etc.
Partners are those who sometimes steal the limelight, however generally need to play with a leader. Of recent players I think that Distin, Lescott and Stubbs all fell into this category. They all played better when the had a leader alongside them to organise the defence so they could concentrate on being the excellent defenders they were.
I think that Keane falls into the second category and will only thrive when having someone alongside him who will organise and bollock him if he strays.
I think he'll struggle alongside Holgate and Williams, and thrive alongside Jagielka. I can't put my finger on where Funes Mori falls.
Bobby Thomas
101
Posted 16/06/2018 at 11:29:13
Kev #100
Funes Mori falls on the transfer list, hopefully,
Steve Ferns
102
Posted 16/06/2018 at 11:33:09
Kevin, we haven't had a true leader since Dave Watson and Richard Gough though. I like Jagielka, he's been worthy of the jersey and played very well. He's also represented the club well as captain. He's a model pro, he seems a great character in the dressing room. But he's no leader. He doesn't bollock anyone. He's far too quiet and he really needs someone to get his head up at times.
Ashley Williams, for all his flaws is a leader. Sure, he's been utter shite at Everton, but look at him for Wales and Swansea and you'll see someone who didn't stop shouting and bollocking people. I think when he was alongside his young mate, Mason Holgate, he showed that. Alongside Jagielka, it's like he lets Jags be captain and doesn't do it. I also think he's been concentrating on his flaws too much to try to be a leader for us. He probably knows he's done, so if he's making most of the mistakes, he can't be bollocking others for their mistakes.
If we play Keane and Holgate together, does one of them need to be the leader? Can Coleman not lead from the side? What about Pickford? The lad is definitely a shouter and he can help organise from behind. I really hope he has a great World Cup, because he could really kick on after it, confidence will be a springboard for Jordan. Holgate himself is a self-assured player. He talked a lot when he plays at youth level. Perhaps as he matures, he could be the leader?
The partnerships I like to see is big and small, fast and strong, good on the ball and quick to find Row Z. A mix of culture and industry. One (Keane) to step out of the line to head away, the other (Holgate) to drop behind the line to sweep up (with his pace).
Brian Harrison
103
Posted 16/06/2018 at 11:41:48
Steve
I give you Bobby Moore a magnificent player and even better captain, I never saw Bobby Bollock anyone but I cant think of a better captain. I think Brian Labone was another who didnt go about giving bollockings to prove he was captain.
And, yes, I know some very good captains who regularly bollocked their players Alan Ball and Billy Bremner spring to mind. I would say a good captain is one who can inspire his team, a bit like Ronaldo did last night.
Steve Ferns
104
Posted 16/06/2018 at 11:47:22
Brian, it was Kevin who raised that, not me!
I was using Kevin's points about Keane on Jagielka. Jagielka has been our leader and captain for over 10 years now. I think most of the defences he has marshalled have been very good, usually one of the best 6 or so in the league. So clearly he does a lot right. But he's no Dave Watson or Richard Gough.
Steve Ferns
105
Posted 16/06/2018 at 12:11:03
Brian, what was Dave Watson like when he first came? I was only a little kid, so I remember the older Dave Watson really. The magnificent captain, who could organise any defence in the land into a robust unit. I seem to recall that this was something he came after hitting 30, and having established himself in the side. Also, he was alongside Steve Bruce at Norwich, and Bruce was the captain and organiser.
So can Michael Keane grow into being a leader? He's still young at 25, and still finding his feet at Everton.
Tony Everan
106
Posted 16/06/2018 at 12:23:37
Derek Mountfield, a central defender who was fantastic for Everton. His partnership with Kevin Ratcliffe was one of the best.
I always thought Kevin was the leader and brought out the absolute best in Derek Mountfield. As well as great defensive play I think his goals in 1985 would have made him highest scorer in 2017-18 for us!
It is wishful thinking that Keane can emulate Mountfield, but finding the right leader of a central defender next to him will give him the best chance.
I'm waiting and hoping that we land someone who fits the bill.
Steve Ferns
107
Posted 16/06/2018 at 12:30:04
What about the development of Dave Watson into Captain Fantastic? Am I right that he showed little of being that when he first joined us?
John Wilson
108
Posted 16/06/2018 at 13:13:15
Schneiderlin is talented but (as that French girl, Christina and the Queens would say), Everton are 'tilted'. We all know Schneiderlin's passing is excellent when he is on his game, he can be a good feeder from midfield – if Silva thinks he can get a tune out of him, he must see something.
Silva doesn't play stars for the sake of playing stars – he didn't do anything when Rooney tried to use his bargaining power to stay at Everton. Brands and Co have seen through his bluff. This is why Rooney (allegedly) kicked off as his plan (or his agent's more likely) backfired.
Darren Hind
109
Posted 16/06/2018 at 13:42:29
Steve
Dave Watson was already established as a top class Center half before he got here – hence the fee.
Him and Bruce dovetailed superbly. One would go to the danger the other would act as insurance policy, depending where the danger was coming from. Neither was Franz Beckenbauer on the ball, but they were both superb readers of the game, fiercely competitive and born leaders. Managing them must have been a dream.
Everton didn't do insurance policies (unless you count big Nev). We played with a very flat backline because people like Stevens, Ratcliffe and Even dear old Bails were confident they had enough move up as one unit.
Watson struggled with the culture change to begin with and, if the truth be told, a large section of the crowd struggled with him. It didn't help that he was replacing the ever popular Derek Mountfield (an uncomplicated defender who's goals made him an idol). Watson had too much about him for that to continue though.

Steve Ferns
110
Posted 16/06/2018 at 13:45:30
Thanks, Darren, I remember him struggling, but I was too young to remember if he showed leadership qualities straight away.
on the topic of insurance policies, is that why we got rid of Martin Keown? Bad mistake on our part.
Chris Watts
111
Posted 16/06/2018 at 14:00:36
Is anyone else concerned or at least surprised with the lack of activity? Over 2 weeks gone and not even a single piece of deadwood has departed, no signings. Pre-season starts in 2 weeks.
Brian Williams
112
Posted 16/06/2018 at 14:01:02
Darren. There's not a great deal I do remember from that far back these days but I remember Watson when he first came and he took a load of stick as he was poor.
I remember thinking we'd made a huge mistake buying him but then watched him turn into a superb defender and great leader.
Paul Tran
113
Posted 16/06/2018 at 14:57:58
Steve, Watson got some stick early on for not being Derek Mountfield and for struggling to fit into our way of playing. Once he did, his quality shone through.
I think Keane is a better player than the one we saw last season. Can't see him ever being close to the type of leader Watson was.
John Wilson
114
Posted 17/06/2018 at 10:49:47
Steve Ferns:
I made several comments but it seems the only ones you were interested in from me were Silva-esque.
You're a lawyer:
I asked you about the 2.1 as you made a comment towards this being a benchmark for ability as a lawyer. Where, or more likely when, you choose to comment about this it is up to you – I note you omitted the discussion, as this seemingly was/ is a more feasible conclusion compared to any alternatives to draw given your skillset as a lawyer. When you do not answer it does not mean I am not aware of your non response; I will assume a default position that you choose to avoid the discussion. Just give me some indication of this especially as you framed the premise for the 2.1 and not I.
Silva:
When I make reference to your name, in the English language in any event, even if I do not specifically mention Silva, it usually means, and should mean, there has been a communication to you. Is it too much to ask for a response?
Sociology

My academic interests include the sociology of education; the sociology of social class, notwithstanding law. This is why I asked for an elaboration on how the 2.1 proves academic ability.
Derek Taylor
115
Posted 17/06/2018 at 10:56:54
Chris Watts @ 111; perhaps our new football supremos are taking a leaf out of Koeman's book and taking their holidays now?
More likely they are both scouting at the World Cup!
Peter Gorman
116
Posted 17/06/2018 at 11:00:42
Christ alive, John Wilson, give it a rest.
John Wilson
117
Posted 17/06/2018 at 11:20:07
Peter Gorman
I do enjoy discussions about a ball of air (my favourite football team, Everton in particular), of course I do; but I do also enjoy academic discussions too. Steve Ferns is not exactly the shy type in articulating his mind; or making presumptions.
There is no special treatment for lawyers on TW.
In fact, where it is known there are lawyers - there is, and should be, a special standard for them. These possess a specialist skillset beyond the average TW-er. When lawyers make comments - they're skilled to in effect not have an opinion but rather they can argue both sides of an argument. I know this because they have had to produce many written assignments in a limited amount of words where the only thing can be discussed is the material elements of the question in sequential order of priority.
Lawyer skillset:
At least: Knowledge and Understanding (know a lot about the subject, it could be Everton); Cognitive Skills (can present both sides of Everton's arguments, whether it be analysing new managers or Everton's tactics (foreseeability of different eventualities); Professional and Practical skills (usually very articulate; good at research and quote the main point of a discussion); Key Skills (likely to be up date on Everton and will be at least one of the main knowledgeable persons on TW-er. The standard is very high; it needs another lawyer with the same skillset to make for a decent debate).
NB: this is a general outline of the average lawyer, ie not every lawyer will show this skillset. In law, hypothetical equivalents are use to compare against others ('reasonable person' standard and there are certain standards too).
This is why one sided discussions are boring. When a lawyer is present in a debate it is like watching a teacher versus a child. Present both sides, be transparent, is my view. It's like cheap debates in other words....superficial.
Steve Ferns
118
Posted 17/06/2018 at 11:37:23
John, you made derogatory comments about a colleague. You alluded to the inadequacy of his qualifications. I make the point that there are very few solicitors, and even fewer criminal defence solicitors, without a 2:1 or better.
Maybe you should look up the average age of duty solicitors and see the major problem the law society is highlighting and trying to get the government to do something about. Quite simply, there is not enough money in our profession to have room for trainee solicitors and those that do take on a trainee can select the very best candidates.
Your comments about the colleague concerned are way off the mark. This is an Everton forum – if you really want to debate these issues, why not find another more suitable forum?
Tom Bowers
119
Posted 17/06/2018 at 11:50:17
Getting back to football we have to admit very few players played up to the standard expected of them last season.
Too many games showed a side to Everton that was both boring and uncreative leaving them an easy mark in many games.
We are all hoping for a big improvement under the new regime when players like Keane, Davies and Baningame etc. will show what they are really made of.
John Wilson
120
Posted 17/06/2018 at 11:57:39
NB: I am limiting my responses on post TW articles to let others have their say on this TW-ew (it's fair and right).
Steve,
I don't make derogatory comments about individuals specifically - I may have used a generalisation from a set of facts. My point is that I help parents write their case to get their child back because 'family court' lawyers have done little to nothing to present their case. I will at some stage help them write appeals (High Court or Court of Appeal) and provide them with a basic guide (like mini presentation) for during the hearing (their lawyers always seem to say 'no grounds'.
It is absolute shocking how these usually, in fact it seems to be 9.9%, lower social class parents I come across online who have lost their children to the state forever. I do not want to work with these maggot lawyers in an office. The secret courts are a disgrace for a so-called democratic country. If disproportionately middle class, upper middle class, upper class children, which in effect either involved the state stealing children or socially engineering a 'legal transplantation' from 'lower social class' to middle class' parents, there would be riots in the streets. Instead, all this is done secretly for commercial enterprise under the guise 'protecting the child.'
There have been around 450,000 forced child adoptions ('court dispenses without parental consent') since 1927 and the UK apparently has one of the worst - if not the worst - form of forced child adoption in all of EU Member States (European Union). NB: I am not affected by the family courts it does not mean that I cannot use my skillset to help affected families, parents.
This just one of my areas of academic interest. I also like Everton. This is why I have distain for family court lawyers. If you want to discuss this topic - or any other legal topic - move it to somewhere else.

Amit Vithlani
121
Posted 17/06/2018 at 12:26:13
John Wilson,
"In fact, where it is known there are lawyers – there is, and should be, a special standard for them. These possess a specialist skillset beyond the average TW-er. When lawyers make comments – they're skilled to in effect not have an opinion but rather they can argue both sides of an argument."
Let me get this straight. Are you saying that by default all Lawyers "have a specialist skillset" beyond the "average TW-er" to argue both sides of the argument? That the average "TW-er" is only capable of expressing an opinion on 1 side of a debate?
What constitues the "average TW-er?"

I suspect the reason you have your cap on posts is that you usually need several posts to qualify and clarify what you said. Of course, this may not be true, but as I am "average TW-er" it would, according to you, be the only argument/opinion I am capable of making.
Kevin Tully
122
Posted 17/06/2018 at 13:03:21
I'm always interested in the raw stats when you are assessing players such as Schneiderlin. .
For instance, it's well known that 47.6% of lawyers who post on football forums are nasty little virgins well into their forties. Just researched that. So juvenile, I know .😂
Will Mabon
123
Posted 17/06/2018 at 13:08:07
I have no position in the John - Steve spat but anything that incidentally highlights the real machinations behind the facade of this country, in this case in the form of the almost ineffable family "Courts", is fine by me, football site or not.
Brian Williams
124
Posted 17/06/2018 at 13:15:45
Oh for the days when TW was about the footie instead of being populated by a number of self-important self-promoting people who seem to want to either take over or show everyone how fucking clever they are.
Nobody's really interested in what you do and how good you are. Unless it's pertinent to Everton and/or football, most of us are bored with your meanderings.
Jesus, I'd hate to get stuck in a lift with some of 'em.
Anthony Flack
125
Posted 17/06/2018 at 13:23:54
Yawn yawn yawn
The only 2.1 I want see see in here is Everton 2 Liverpool 1
Morgan was terrible last season other than for a couple of games in March
There is a good player in there somewhere
Can Marco find him, if not we might find a use for Lawyers

Will Mabon
126
Posted 17/06/2018 at 13:26:09
Brian, I think it's because there's been no football at Everton for some time...
Dermot Byrne
127
Posted 17/06/2018 at 13:32:05
Tricky to get support for the legal debate that has emerged.
Rightly or wrongly, lawyers, journalists and politicians tend to just get all classes of the public wound up.
Ironic considering the key skill for all of them is communication.
John Wilson
128
Posted 17/06/2018 at 14:20:39
Back to football, I like Schneiderlin and believe there's a player in there.
NB: For the record, I do not think I am better than the average person in TW-land. I was saying lawyers should be transparent.
John Keating
129
Posted 17/06/2018 at 14:40:14
Personally I don't mind lawyers.
When having to deal with them I just work on the presumption that they're all robbing bastards and after that it all works out.
Bit like football agents I suppose.
Paul Tran
130
Posted 17/06/2018 at 14:55:49
Anyway, back to Schneiderlin. I think, like many of our squad, there's a decent player in him. Hard to really judge any player after the three-manager nightmare of a season. It wouldn't surprise me if he got another chance, particularly if we struggle to offload a few players. Unless,of course, he's talking him up to boost his sale price?
Tony Everan
131
Posted 17/06/2018 at 15:00:48
Too many average toffee webber's on this thread for me. I feel the need for greater enlightenment and pristine clarity of insight so I'm going for a shite with my 10-year-old's Beano annual.
Jay Wood
[BRZ]
132
Posted 17/06/2018 at 15:26:29
My favourite lawyer joke:
City lawyer goes walking in the countryside for the first time in his life.
Crossing a field of cows, he steps in a cow pat, looks down at his shit-covered shoe and says:
"Ugh! I'm melting!"
Mike Gaynes
133
Posted 17/06/2018 at 15:27:00
Tony, just remember that, by definition, half of us are below average.
Dan Davies
134
Posted 17/06/2018 at 15:38:32
Did you hear about Robby Knievel's new stunt?
He will attempt to jump 1000 lawyers with a bulldozer.
Ray Roche
135
Posted 17/06/2018 at 15:41:47
Wake me up when you start on about Estate Agents.
Now they ARE from the bottom of the barrel.
Brian Williams
136
Posted 17/06/2018 at 15:44:48
Will (#126).
I think you could be right mate.
If we're doing lawyer jokes. How many lawyers does it take to change a light bulb?
Jim Whiffen
137
Posted 17/06/2018 at 15:59:51
Or; it was so cold the lawyers had their hands in their OWN pockets
Dan Davies
138
Posted 17/06/2018 at 16:08:23
Depends Bri. Is the bulb a bayonet type or one that needs to be screwed?
John Keating
139
Posted 17/06/2018 at 17:19:02
Just had a 10-minute meeting with my solicitor to discuss a letter she had to send on my behalf. Once she got a reply she phoned me and I went in to see her for another 10 minutes.
Got billed 4 hours at 250 quid per hour plus "incidental" expenses of a hundred quid.
I kicked up and because I was a good long-term customer they knocked off the incidental expenses!!
Bloody thieves!
Will Mabon
140
Posted 17/06/2018 at 18:12:29
OK, Brian - let's hear it!
Some good jokes, followed by some harsh reality from John Keating.
Don Alexander
141
Posted 17/06/2018 at 18:28:58
I just hope Moshiri has binned Kenwright's chosen firm: Robb, Steele and Plunder.
Steve Ferns
142
Posted 18/06/2018 at 15:40:21
From the Echo - Schneiderlin on Gana:
Morgan Schneiderlin has praised his friend Idrissa Gana Gueye ahead of Senegal's World Cup opener against Poland tomorrow.
Schneiderlin and Gueye have formed a close bond both on and off the pitch according to the Frenchman, who says it is "a pleasure" to play alongside the ball-winning midfielder.
"He has a lot of caps for his country and everyone loves him back in Senegal," the Frenchman told Everton's club website.
"He offers them exactly the same that he offers Everton – quality in midfield and that will to win the ball back. Hopefully he will go far as possible at the World Cup and I wish him the best.
"We are close and that helps on the pitch. With other players you can say things to them but when you are close friends you can be that little bit firmer because we have that relationship.
"So it is very important that we are close. But Gana is a great guy on and off the pitch. I knew him from playing in France and he has made amazing progress."
Morgan continued: "I enjoy playing with him very much. My mentality towards midfield players is that they have to find each other, they have to find that combination of passes and Gana and I can see that.
"I am always searching for him and then to get the ball back. He allows me to go further forward at times in the game and I like that a lot.
"Football is about how you use the ball and I like to play with Gana because he is aggressive and always wants to get the ball back. I try to do the same and then we will always look for each other. It is a pleasure to play with him."

Alan J Thompson
143
Posted 21/06/2018 at 15:23:37
That Echo article makes it sound like he thinks he is staying. Has anyone told him how nice it is in Marseilles and he can speak French all day long and not just to the missus and Gana. And it allows him to play further forward!??! Must want to stand next to Pickford as sometimes a Geordie or Mackem accent can be confused with French.
Add Your Comments
In order to post a comment, you need to be logged in as a registered user of the site.
Or Sign up as a ToffeeWeb Member — it's free, takes just a few minutes and will allow you to post your comments on articles and Talking Points submissions across the site.