Klaassen close to two-year loan deal with Besiktas
| Friday, 08 June 2018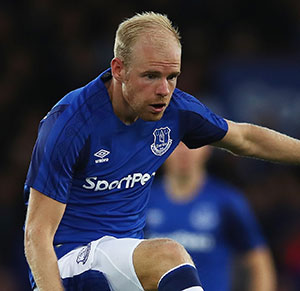 Davy Klaassen could be set to join Besiktas on a two-season loan deal with an option to make the move permanent in 2020 if a report in Turkey can be believed.
The Dutch midfielder has been the subject of recent news reports, most notably from Sky Sports, linking him with the Turkish giants but now Hakan Gündoğar from A Sports, is suggesting a deal with Everton is 99% concluded.
The claim is that Everton will receive €1.5m (~£1.3m) a year in loan fees and that Besiktas will pay the player €2m (£1.75m) a year. Depending on the arrangement with the player and how much Klaassen is actually currently earning – it's been variously reported as being between £70,000 and £100,000 a week – that would cover anywhere between 60% and 85% of what he would be paid if he stayed at Goodison Park.
The only remaining sticking point is the final price should Besiktas wish to make the deal permanent — Everton are asking for €20m but the Turks are trying to negotiate that fee down.
Klaassen was signed from Ajax last July for £23.6m but struggled to adapt to the Premier League in tandem with the Blues' poor start to last season.
He was eventually dropped from the first team and his last start was in the Europa League dead rubber against Apollon Limassol in Nicosia in December.
Only this week he was talking of how happy he was to be with the Blues and his hopes for next season at Goodison but it appears as though he could be moving on having made just three Premier League starts.
"I feel at home and am determined to play more for the team," he said in the Liverpool Echo. "We have a vacation now and I will relax for a couple of weeks but then start training to come back in top condition.
"That is my goal and everybody's goal, so there is going to be good competition for places. You have to be ready as soon as you are needed.
"It is hard to be patient but if you keep working it will come. You have to work hard and try to show yourself when you get a chance."
The 25-year-old could one of a number of victims of a hard-nosed cull of Everton's first team this summer as new Director of Football, Marcel Brands, and manager, Marco Silva, attempt to trim the size of the squad and the team's wage bill.
---
---
Reader Comments (76)
Note: the following content is not moderated or vetted by the site owners at the time of submission. Comments are the responsibility of the poster. Disclaimer
Si Pulford
1
Posted 08/06/2018 at 21:03:07
What's the point in letting him go. He still hasn't had a decent run in the side. Written off after two months. Shame.
Fran Mitchell
2
Posted 08/06/2018 at 21:05:36
2 year loan?!?!
Bill Griffiths
3
Posted 08/06/2018 at 21:23:20
Personally, I think he deserves a chance to prove himself. However, I also agree with our new management team that we need to drastically prune the squad.
While I think he deserves a second chance, I think we have to go with whatever decisions Brands and Silva make regarding restructuring the squad.
Kieran Kinsella
4
Posted 08/06/2018 at 21:43:11
Reminds me of when we loaned Nyarko out for about five years.
Si,
He had his chance more than once and blew it. Yeah, he might get better eventually if he keeps playing but, by the same token, if we keep letting Eddie the Eagle do the ski jump, at some point, he will improve...
Jim Bennings
5
Posted 08/06/2018 at 21:43:31
A 2-year loan for a player that cost 㿄 million???
In other words, we are doing Besiktas a favour for giving us Tosun?
Ray Smith
6
Posted 08/06/2018 at 21:47:45
Si (#1), Bill (#3),
What on earth does Davy have to do to prove himself? How can you ship him out without giving him a chance?
Yes, we paid big money for him, so why let him go without giving him a chance?
There are at least 10 in the queue ahead of him that need to leave before he is even considered transfer material.
M & M will surely give him the chance their predecessors didn't.
If he is shipped out, he will come back to haunt us, IMO.
Jamie Crowley
7
Posted 08/06/2018 at 21:53:29
Jim @5,
Get used to it. We're offloading salaries. As long as another team pays the wages, even in part, we'll keep doing this to trim payroll.
Ian Bennett
8
Posted 08/06/2018 at 21:57:25
Crack on. He's not cut out for the Premier League and was a big expensive mistake.
Get him playing, and hope he cuts it. We need some money back on him – although 㾽m in 2 years from the Turks isn't exactly brilliant either.
Gavin Johnson
9
Posted 08/06/2018 at 22:03:39
If true, sounds like a shit deal. Whoever goes out on 2-year loans?? It's not good to generalise but Turkish sides do have a habit of reneging on terms and not paying. So a real possibility that they'll try and negotiate another loan after 2 seasons. Why would they pay €20M when Klaassen would be coming into the final year of his contract?
We've been looking at their midfielder. Don't pretend to remember his name but I wonder if he could be coming the other way?! That said, he can go where he wants. His contract runs out this summer.
I hope Klaassen is given a chance or sold. This deal sounds like bollocks, but typically Everton, just the kind of shit deal we'd be involved in. As Kieran said, reminiscent of the Nyarko debacle.
Steavey Buckley
10
Posted 08/06/2018 at 22:18:48
It would have been better to sell him back to where he came from. They rate him, while no other does. Because no-one else wants to buy him near the price Everton paid for him.
Mike Gaynes
11
Posted 08/06/2018 at 22:19:16
Never heard of a two-year loan deal before.
Tony Marsh
12
Posted 08/06/2018 at 22:22:14
Anyone who watched the Europa League Final, Man Utd v Ajax, could see in that game Klaassen was not up to it. To be honest, he wasn't bad – he just wasn't there.
The few touches he had in the game, he was awful. I knew then he would be a bad signing. Klaassen is not up to the English game. I don't see what his main strength is – that's if he has a strength at all.
Get rid of Davy, cut our losses, and stay away from players with no pace or without proper skills. These plodder-type players are 10-a-penny on the Continent, so paying 㿅 million for one of them stinks to me. Stinks of Koeman doing Ajax a favour.
Alan Johnson
13
Posted 08/06/2018 at 22:23:11
Two-year loan deal??? If this has any semblance of truth, then what a DoF we have – Shrieks of amateur panic.
Lyndon Lloyd
14
Posted 08/06/2018 at 22:28:10
The two-year loan has been done before a few times in Turkey and James Rodriguez is currently spending two years on loan at Bayern from Real so there is precedent.
Having seen how Klaassen struggled to settle in England, I'd say a two-year option to give him time to acclimatise to the Super Lig is not a bad thing from Besiktas's point of view.
I'd prefer a cleaner deal where we just get rid straight away if we're offloading players but we're not in a strong bargaining position on this one!
Alan Johnson
15
Posted 08/06/2018 at 22:45:46
Lyndon - Appreciate the info... However, why can't we give him time to acclimatises with us? Most fans feel for this guy — Just saying.
Adam Scott
16
Posted 08/06/2018 at 22:54:35
A good deal. We won't get a team to buy him outright on his money. Him off the wage bill, ١m, and the possibility of 㾽m, is a good deal.
He isn't top of my list to go, but the lad has struggled under three managers. A good player in there, but in this league, unless you are top drawer, you need pace or physicality... preferably both. He has neither.
If we are serious about needing to cut the wage bill, I think it is fair.
Gavin Johnson
17
Posted 08/06/2018 at 23:05:33
Adam,
I see your point but there's a big "what if" in what you say. Would you be confident they'll pay 㾽m after 2 years?? Didn't Klaassen sign a 4-year deal with us. That will mean he'll only have 12 months remaining on his contract once this proposed 2-year loan ends. We've been here before with Joey Yobo. A ٢m deal proposed after a loan with Fenerbahçe. They reneged and he ended up seeing out his contract in Turkey, and we got nowt.
I guess the hope will be he's a big success and they'll be other bidders if Besiktas pull any funny business. Depends on Klaassen being a success. Does anyone think he'll acclimatise to Turkish football. It won't be as fast and physical as the Premier League, but I'd still prefer a clean sale, or a loan to a club from another league.
Jeff Armstrong
18
Posted 08/06/2018 at 23:08:26
Not good enough... an expensive Walsh - Koeman mistake he personifies their tenure really, flavour-of-the-month Dutchman, we already had better youngsters at the club. But Moshiri said to the two wasters "Sign who you both fancy" or, even worse... "Sign who each of you fancy" ... and here we are, in a right mess, trying to offload about 7 or 8 overpaid useless individuals who we will struggle to offload:
Rooney
Bolasie
Schneiderlin
Klaassen
Williams
Keane
Martina
Alan Rodgers
19
Posted 08/06/2018 at 23:34:09
This is bollocks. Who goes on a 2-year loan?
Just get rid of him — he's as weak as piss.
Martin Berry
20
Posted 08/06/2018 at 23:50:50
Sadly, you could see in the Europa League Final when playing for Ajax that he was average and not a standout candidate for a move to the Premier League.
However, I wish him luck and hopefully a good career when he moves on.
Brian Wilkinson
21
Posted 08/06/2018 at 00:00:07
I've said it plenty of times already, Turkish teams always try to take players on loan, then pay bottom dollar, but expect top whack for their players.
Paul Thompson
22
Posted 08/06/2018 at 00:02:10
If this is true (and apparently we need to be cautious about Turkish media sources), it's probably the best deal we can get. He'll not be wanted by any club in the top leagues given perceptions of his performance last season. And the lesser leagues couldn't afford anywhere near his fee or his wages. That's why Turkey was always a likely destination.
As described, the deal covers most of his wages. Yes, not great, but realistic. And yes, he was treated badly last season, but he is still surplus to requirements in a squad-cutting exercise. Get real folks.
Keith Gleave
23
Posted 08/06/2018 at 00:03:38
A lot is being made of Klaassen's poor performance in the Europa League Final but let's not forget that none of the Ajax team turned up that night.
Klaassen has never been given a chance, a run of games or played in the way he did for Ajax. If the deal is a 2-year loan to Turkey, my thoughts are that we should keep him here to play unless someone comes in with a realistic offer to buy. However, I wouldn't get rid of him to buy Grealish or Wilshere.
Lyndon Lloyd
24
Posted 09/06/2018 at 00:07:05
Alan (#15), I think we all feel for him but I'm not sure all of us are convinced he'll cut it with us in the Premier League.
In the interests of moving forward, I, personally, have no problem offloading him to Besiktas for a couple of years and then getting a sizeable chunk of what we paid for him back at the end of it. Of course, I'd prefer a straight sale but that ship appeared to sail in January when his move to Napoli fell through.
Mark Taylor
25
Posted 09/06/2018 at 00:38:24
We don't get his trasnfer fee back. I doubt Besiktas will be required to buy him after 2 years and certainly won't pay the sums quoted. £20m plus flushed down the toilet...
Steve Ferns
26
Posted 09/06/2018 at 01:04:04
What's his strengths? A one-touch passing game. Moving the ball at speed. According to Cryuff world-class control when running at full speed.
Whilst I can see us playing more to his strengths next season, breaking at speed would suit him more, I just don't think he's right for us next season. He's not a box to box type to play in the 3 in a 4-3-3. He's not quite fast enough either. Then put him in a 4-2-3-1 as the Number 10 and he's not good enough there either. Silva likes his Number 10 to have an excellent range of passing, Klaassen's range of passing is all short. Then there's his shooting, a lot of his goals take deflections and bobble in. Better keeping and defending and they're saved.
I like Davy, he has a good attitude, he would be a decent player in a side playing good football. but he's not what we need right now. Best to get his wages off the books so we can bring in some better players.
I would disagree about the Man Utd final though. Ajax didn't play well at all that night. But remember they'd had a long hard season, and I think that was more of an off game than Klaassen playing at his level, don't forget they beat a better Lyon side than thrashed us (it had Lacazette), they beat Schalke, and they beat Celta Vigo. They deserved to be in the final and Klaassen was their captain and one of their best players.
It'll be sad to see the lad go, but we need to be ruthless and get rid of the wages and try and get better players in if we can. The loan should have a break clause after 12 months though, we should be able to sell him if things go well.
Ed Prytherch
27
Posted 09/06/2018 at 02:35:30
What use is a midfielder who won't make a challenge in a team that plays a pressing game? I can't recall seeing him make a tackle.
Gavin Johnson
28
Posted 09/06/2018 at 02:47:51
Steve
Just goes to show that Koeman didn't have any clear idea of formation or style of play. Why on earth did he buy Klaassen?!
I think your summary of Klaassen's style of play is spot on. He would probably thrive in a team like City, but when did we ever play quick short passing under Koeman. Just goes to show how clueless he really was.
Phil Sammon
29
Posted 09/06/2018 at 03:15:11
Steve 26
You make some good points. Particularly the fact that even with all his good attributes, he is a difficult player to fit into our team. I actually think he's be a wonderful player for a team like Arsenal or City. A team who keep possession and could use his excellent first time passing on the edge of the 18-yard box.
That said, I hope we keep him. He keeps things ticking. And if we have others on the same page I think we'll see the best of him.
It all seems a bit premature anyway. Surely it's better for Silva to spend a bit of time with the lad before shipping him out on a bad deal.
Will Mabon
30
Posted 09/06/2018 at 06:29:07
It doesn't matter what style of football we might ever play, or the style played by any other Prem. team. Klaassen can only function against much more forgiving teams and defences than he'd ever find in this league.
John Malone
31
Posted 09/06/2018 at 06:48:12
Get shut however we can absolutely nowhere near physically up to the challenge in our league.
One of the massive mistake signing's Koeman and Walsh brought in.
Everytime he had a the chance to play for us he flattered to deceive not even as good as Osman who cost nothing and used to get slaughtered on here for not being good enough.
David Barks think's he's the next Xavi absolutely clueless!
Joe McMahon
32
Posted 09/06/2018 at 07:47:21
Mike- The only other 2 year loan I can think of was Carlos Tevez to Man Utd. Everton are going to struggle to get shut of many players, paid well over the top money for them and wages are sky high. A complete shambles of a club.
Pete North
33
Posted 09/06/2018 at 08:13:28
Time to cut out the sentimentality. Marco wants 2 players for each position plus maybe a 'young' player. We have Sigurdsson, Klaasen, Vlasic and Dowell who are attacking central midfielders so at least one has to go. In that context its simple, goodbye and best of luck to Davy.
Matthew Rigby
34
Posted 09/06/2018 at 08:42:18
Sadly not good enough. Appears to be a nice enough guy. Maybe Mr. Brands knows him very well from their time in the Dutcg league and he doesnt rate him.
Don Alexander
35
Posted 09/06/2018 at 08:50:21
Klaassen is a write-off if the Turkey deal is genuine, and a costly one at that. I just hope Brands shows way more than our other Dutch imports, Ray Atteveld, Andy van der Meyde, Johnny Heitinga, and Royston Drenthe, all of whom were various shades of insipid in my opinion.
Dave Abrahams
36
Posted 09/06/2018 at 09:01:59
Those mentioning the Europa final v Man.Unt and Davy's poor game, well Wayne Rooney got a couple of minutes in United's biggest game of the season, that told me plenty, but didn't stop Everton/ Kenwright buying him.
Philip Bunting
37
Posted 09/06/2018 at 09:06:37
All this will do will run 2 years down on his contract and leave us with a player with 1 to 2 years left. By then if he hasn't shown to Besiktas that he is worth keeping we get a player returned who's value will have dropped further, his contract ran down and with little option to loan out again to get game time. Turks also messed us about with Yobo from memory and with a history of being hard to deal with. Maybe they will waive part of the Tosun fee who knows what happend with these merky deals.
Bob Parrington
38
Posted 09/06/2018 at 09:16:55
Don, Heitinga was good in years before he came to us and particularly in the Dutch side(s). Did some good things for us but we needed more.
The others you mention were, I agree, a total waste of FT.
Problem with this thread is many are assuming that there is truth in the reports and that Brands/Silva (max 1 week in) have already decided to move him on! Who knows the secrets of the Black Magic Box?
Ian Jones
39
Posted 09/06/2018 at 09:28:10
I remembered Chelsea at one point being involved in a 3 year loan deal so googled it and it was Cuadrado. Not sure how accurate the content and financial aspects are but an interesting read if you have the time. Link below.
Tony Everan
40
Posted 09/06/2018 at 09:30:32
It'll the best deal on the table, maybe the only one.
It gets his wages off the books, and for Besiktas they get a proven (with Ajax) quality player.
They get him playing regularly again, his confidence and fitness comes back.
Besiktas do well in the Turk league, Davy gets to showcase himself again in The Champions League or Europa.
There should be a clause in there that says we can accept an offer of 20m at anytime after the first season.
But if all goes well for Dave at the end of the loan a club will offer 15m and we will have recouped a healthy proportion of the money Koeman spent on him.
It's not perfect at all but it's a viable solution for all concerned.
Chris Gould
41
Posted 09/06/2018 at 09:35:42
If true, then we have to assume it's the best deal we can get. Brands is no fool, and it will likely be down to Davy/agent refusing to budge on his wages. Didn't the Napoli move fall through because his agent was wrangling over image rights?
He seems like a decent guy, but even Koeman has since said that it was a mistake to buy him. He just doesn't have any of the physical attributes needed in this league. 3 managers have watched him train and all decided that he wasn't good enough. If you can't stand out in training amongst last year's piss poor squad then you're struggling. And if you're small, weak and slow then you need world class skills. Davy needs to go down a level.

Steve Brown
42
Posted 09/06/2018 at 09:42:47
Everton fans tend to write some players off immediately, while giving less gifted players more rope because they give a lot of sweat and effort. Reidy, Heath, Sharp, Trevor Steven were all criticised vocally in their early careers with us but went on to become legends.
Klaasen undoubtedly struggled to adapt to the pace and physicality of the premier league, but he played under Koeman who didnt have a coherent gameplan. Allardyce of course had a gameplan which was anthema to Klaasen's playing style. I like his attitude and would give him one more year. There is plenty of other dross to take off the wage bill first.
Dave Richman
43
Posted 09/06/2018 at 09:45:18
I remember a comment from someone on ToffeeWeb, who pointed out that during one of the final games of the season the 47 year old referee - Jon Moss - outsprinted Davy when the opposition were on the break.
I'd prefer to see some pace and strength
Brian Williams
44
Posted 09/06/2018 at 09:55:15
Might this be a sweetener for Ozyakup?
Pure conjecture mind.
James Hughes
45
Posted 09/06/2018 at 10:04:15
Wrong place for this but I see git features Dog-leish has been knighted, argh. That is going to irritate worse than sand in a condom.
Geoffrey Williams
46
Posted 09/06/2018 at 10:12:49
What ever your thoughts on Klassen as a player this doesn't seem to be a good deal for Everton. If he's considered surplus to requirements then the club should bite the bullet accept a huge loss and sell him.
Niall McIlhone
47
Posted 09/06/2018 at 10:39:03
By all accounts Davy's attitude whilst out of the team has been exemplary. If this loan does come off I doubt there will be many who wish him to fail, and we will just have to take the hit on his inflated fee if we do eventually sell him. I see that Arsenal are supposedly after Sevillia's Steven N'zonzi, a player that we should have moved heaven and earth to sign last year IMO. A genuinely ne box to box midfielder with top level experience.
Sam Hoare
48
Posted 09/06/2018 at 10:41:52
The issue isn't necessarily with this deal but the one we struck last Summer when we overpaid on wages and transfer fee for a player so poorly suited to our team. Doubt many other teams in the PL want him and not many other leagues pay as high wages ergo limited options.
As a player he possesses something few of our players have, genuine vision. Id be interested to see what he could do if he got Uber fit and was in a team with Lookman and Walcott (Lozano) on the wings. He did well in an Ajax team with pace all around him though ultimately his lack of physicality does not cut him out for the PL.
Rob Dolby
49
Posted 09/06/2018 at 11:03:04
Surprised by this as I thought with the Brand's Dutch connection that Davvy would get another chance.
I just had a feeling that Silva may use him like he used Cleverly at Watford.
Davvy gave the impression of someone trying far too hard. I don't doubt that he can play but it's the old one about the PREM being too quick for him or maybe our lack of system not helping.
Danny Broderick
50
Posted 09/06/2018 at 11:07:48
Surely there's a player in Holland we could get and trade Klaassen in as part of the deal? Cut our losses now.
Brian Harrison
51
Posted 09/06/2018 at 11:33:37
I don't agree with loan deals in or out, this system is abused by clubs such as Chelsea who buy in very expensive youngsters then loan them out. I would like a system were there are no loan deals and no transfers after the season has started. Obviously the bigger and richer clubs would never agree to this, I would also make it the rule of managers as well, now wouldnt that be interesting.
So this proposed loan deal of Klassen going to Besiktas on a 2 year loan deal with Everton still paying a large proportion of his salary. But we have seen what happens when these deals go wrong just look at the latest loan deal we did loaning out Mirallas. The player has been sent back early because the Greek club have decided they don't want him. So we are now left with a player who thanks to Koeman has got at least another 2 year contract to see out. And bearing whats happened with the Greek club I cant see a queue forming from other clubs to take him off our hands. He obviously isn't good enough for our fist team squad so when we name our 26 player first team squad at the start of the season, and he wont be in it what happens then. You have a player with 2 years left on a contract doing nothing. Also have we learned nothing from the loan deal that took Yobo to Galatasary on a 2 year lone deal with a fee agreed to be paid at the end of it. When it came to the end of the loan deal Galatasary said they wouldnt pay the agreed fee so we had to reduce the final settlement.
Ian Bennett
52
Posted 09/06/2018 at 11:43:34
Selling him back to Holland ain't going to happen - his wages are just too great, and no one could afford the fee.
Jack Convery
53
Posted 09/06/2018 at 11:48:43
Fish out of water in the EPL. Hope all goes well for him in Turkey. Deals being sought to get expensive wage earners off the books asap - even if we are still paying some of their wages. The bean counters will be elated. If Rooney goes to, that will be 3 x £50k wages freed up or 2 x £75k.
Brian Williams
54
Posted 09/06/2018 at 11:57:54
Brian#51.
I would like a system were there are no loan deals and no transfers after the season has started
Brian I believe that's exactly what's happening this season. Unless you were including the January window too?
Mike Keating
55
Posted 09/06/2018 at 13:24:48
Agree with Tony @12
The only reason I watched that final was because Koeman was sniffing around Klassen. The whole team were powder puff poor and Klassen did not get a look in. I couldn't believe it when Koeman shelled out over 㿀m for the guy.
No wonder Holland aren't in the World Cup.
I guess Silva needs to take a look but if he is up for a clear out, I don't think Klassen will get much time. Maybe a ONE year loan to Wolves or Fulham would be a better option.
Derek Knox
56
Posted 09/06/2018 at 13:25:55
Couldn't help to like the lad for his attitude, but I tend to agree with those who have mentioned, his chances although limited, have failed to produce.
I had hoped that he could have been used as a make-weight in a transfer for Lozano, but that is unlikely now.
While on the subject of midfield, I have read a few reports from different sources, questioning Carvalho's mobility, as being too slow for the Prem.
This is the main reason for letting Klaassen go, so I hope they are not replacing one problem with another, that is of course if we go for Carvalho.
Steve Ferns
57
Posted 09/06/2018 at 15:04:48
My recollection of Johnny Heitinga was of a very good centre-half, who despite being relatively small, did well for us. Then came a Barcelona link and then his performances went downhill fast, like he stopped giving 100%. So in short, he was very good up to being linked with a move and disappointing after it.
All of that said, Johnny H is very complimentary about Everton on Twitter and Instagram and seems to consider himself a blue. Maybe our man in The Netherlands can confirm how he views his time with us when he's talking to the press back home.
Paul Birmingham
58
Posted 09/06/2018 at 15:21:22
The lad deserves a proper chance to proove himself at Everton. Two year loan deal sounds dodgy..
There's other players who should be prioritised to be loaned out and also put to be no the window.
Paul Dewhurst
59
Posted 09/06/2018 at 16:25:23
His attitude seems to be the reason a lot of people would like him to have another chance; he either fits into Silva's plan or he doesn't.
Get the best deal; it's okay saying "Sell him, don't loan him" but, if this is the best or only offer on the table, it's better than having him sat at Finch Farm...
Alan J Thompson
60
Posted 09/06/2018 at 17:28:58
It does seem a rather odd deal but I was wondering how somebody who was played so little was assessed by two gentlemen barely through the door.
Derek Knox
61
Posted 09/06/2018 at 18:55:54
Alan @60, it is my belief that both Brands and Silva new they were both going to get their jobs, well before the official announcements.
They would have had a brief to run the rule over the squad, and watch every match on video, who knows maybe training sessions at Finch Farm too.
I assume also that every Manager has some sort of noting system, that can be read by his successor.
So hardly think it is a knee-jerk decision on Klaassen, admittedly on the face of it, not the best deal for Everton, but there again what do we know.
Mike Benjamin
62
Posted 09/06/2018 at 19:56:33
He clearly does not have the attributes to make it in the Premier League, speed and strength. Better he goes and create a place for Kieran Dowell who has got more about him.
Ian Bennett
63
Posted 10/06/2018 at 09:14:33
I see we are being linked with another Man Utd reject – Lindelof. Not seen much, but I'd be offering a loan deal to see if the lad is interested in performing or just trotting around like some of the others we've had.
Can't say I am impressed with that transfer rumour.
Alan J Thompson
64
Posted 10/06/2018 at 09:28:09
Derek (#61); I agree that the appointment was known by both well before the announcement and I suppose Brands knew Klaassen from Holland but I thought he had always been considered one of the better Dutch players. Unless, as you say, something was seen on videos at training, it is difficult to see how he could be assessed on the basis of the games he has played for Everton.
I still remember the run he made to take the defence to the near post at Goodison when Rooney scored his first return goal, the header; albeit, at other times, he did appear to be easily outpaced.
Duncan McDine
65
Posted 10/06/2018 at 13:01:17
Soz for off topic, but not sure if this rumour has been doing the rounds elsewhere... my Swedish in-laws tell me that we're very interested in Lindelof from Man Utd. 㿊m or so – sounds bloody expensive for an average defender.
Derek Knox
66
Posted 10/06/2018 at 13:36:29
Duncan @65, yes worryingly I have seen those links too, I am hoping it's lazy journo/agent touting space filling nonsense.
Especially the silly fees being mentioned, if you're going to buy a centre-back, it's better going for Alfie Mawson who has proved he can hack it well at Premier League level, or Lascelles but he has only done it for a year, but still seeming better than Lindelöf.
I was hoping the Dynamic Duo would be unearthing some gems, but there's still time left.
Tony Everan
67
Posted 10/06/2018 at 22:50:23
Man Utd see us as a soft touch to offload their unwanted. Lindelof looked very average; let's avoid disillusioned cast-offs from Man Utd. At that price, there will be many better options.
Klaassen's move is 99% done...
It's amazing that about 50% of these 99% done deals go tits up.

Mike Gaynes
68
Posted 10/06/2018 at 23:00:56
Duncan/Derek/Tony, count me on the opposite side re Lindelof. I like him a lot. Yeah, he's a Manc "castoff" but he also anchors an outstanding international defense. By coincidence I watched him just yesterday against Peru and he was outstanding, and I was thinking about how he'd look in our backline, and then today up popped the rumour.
Let's watch him at the World Cup and see what we think then. The Germany game in two weeks should tell us everything we need to know.
Ed Prytherch
69
Posted 10/06/2018 at 00:03:20
Lots of talk about his good attitude. What kind of attitude would you have if your boss gave you a boring job, cut your hours and doubled your pay?
Shaun Wilson
70
Posted 11/06/2018 at 03:28:15
I'm with Mike (#68), if there's anything to the rumor, I think he would be a great signing.
Silva apparently knows him from his time at Benfica and, let's face it, very few but the spectacular hit the ground running in the Premier League.
He's young, tall and athletic, not everybody makes it at Man Utd, but he's definitely the kind of guy we should be looking for, ex-Manc stench or not.
As for other Man Utd rumors, Rashford all day, any day. COYB!
Rob Dolby
71
Posted 11/06/2018 at 07:23:38
I am not a Lindelof fan. Do you think that the defence-minded Mourinho would even consider offloading a decent defender? Shaw is similar, they can't defend properly in the Premier League. Phil Jones gets a game ahead of him.
It's one thing looking good in international football but altogether different in the Premier League.
We need pace at the back to replace Jagielka and cover Keane's mistakes.
Denis Richardson
72
Posted 11/06/2018 at 11:08:34
Would have loved to do deals with Everton on the other side. Like taking candy off a baby.
The amount of money this club has wasted over the last 18 months beggars belief. ٧m to the last manager for just 6 months work. Now we're looking to offload a 㿄m signing on a two-year loan just to get him off the wage bill. If it goes through we're essentially writing off 㿄m as presumably we can't force Besiktas to buy him in two years time and after the loan deal he'll be 3 years through his Everton contract with not much value left!
Just no logic at all. We'd be better off just selling him now for 㾶-15m if we can find someone to buy him. He played in the Europa League Final just 12 months ago so surely someone will buy him. Then again, we don't know the terms of the Tosun deal we did 6 months ago. Maybe we didn't really pay 㿇m... who knows?
Liam Reilly
73
Posted 11/06/2018 at 11:18:53
Poor Davy; I've had stronger pints of Chang and that's weak as pish!
Nice lad but doesn't seem to be up for the Premier League. I'd imagine Everton are funding the Tosun deal in installments and this arrangement would mean offsetting some of the outstanding finance.
Otherwise it doesn't seem logical as (as said above); he'll be in his final year of his contract at the end of the loan; so there's no way this lot will stump up 㾻 or 20M.

Matthew Williams
74
Posted 11/06/2018 at 14:03:55
That useless prick Koeman has a lot to answer for. More millions just pissed away, by the looks of it.
Looks like he's done here... pity, never got a fair chance in the team from day one.
Brian Wilkinson
75
Posted 13/06/2018 at 22:05:16
You could not make this up, not only do they want him on loan for 2 years, they are now haggling to get a future add-on clause for nurturing the player for two seasons and a cut of the sale price we get, should we sell the player on.
Have to hand it to the Turks, more tricks than Tommy Cooper.
Now Bolasie is wanted on loan in Turkey, they must be pissing themselves with Everton, first Yobo, now Klaassen and Bolasie.
Steve Ferns
76
Posted 13/06/2018 at 22:10:22
Brands on Klaassen: "He was a very good player, he was the captain of Ajax, a very clever player, a good goal-scorer, but last season there were a lot of players in his position so it was very difficult for him. In the end he didn't play so much."
Add Your Comments
In order to post a comment, you need to be logged in as a registered user of the site.
Or Sign up as a ToffeeWeb Member — it's free, takes just a few minutes and will allow you to post your comments on articles and Talking Points submissions across the site.
© ToffeeWeb