Leicester City vs Everton
Friday, 5 October, 2018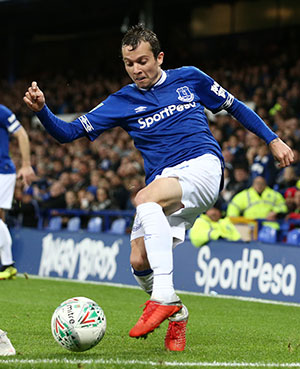 Bernard's form over the last couple of games has created something of a selection headache for Marco Silva
Everton travel to Leicester this weekend looking to re-establish their momentum following Tuesday's predictable but no less dispiriting Carabao Cup defeat.
For the travelling Evertonians, the fact that this was supposed to be the first of two trips to the King Power Stadium this month will no doubt stick in the craw as they make their way to the East Midlands but there's no question that three points would make the defeat on penalties to Southampton a lot more palatable.
Having recovered to a degree from the awful result at home to West Ham with what was a creditable performance at Arsenal despite the loss and then a 3-0 win over Fulham at Goodison Park, some of the pressure will have returned to Marco Silva's shoulders.
His decision to make seven changes to a team that has been plagued in the early weeks of the season by inconsistent line-ups thanks to injury and suspension was a controversial one. Many supporters feel that it was the latest example of an Everton manager not taking the League Cup and the quest for any kind of major silverware seriously enough and it has the left the FA Cup as the only avenue to end the trophy drought this season.
If there was any notion in Silva's mind that finishing as high as possible in the Premier League is his only real objective, then Saturday's meeting with Leicester throws it back into sharp focus. Everton need a result from this game if they are to keep moving towards the goal of improving on last season's eight-place finish.
In the wake of last weekend's victory over Fulham, that cup defeat and the performances of a couple of key individuals, the manager's team selection will be the subject of much scrutiny. The likes of Jordan Pickford, Lucas Digne, Gylfi Sigurdsson and Idrissa Gueye will all return (fitness permitting) but there are question marks up front and in midfield.
Dominic Calvert-Lewin started against the Cottagers but, despite winning a penalty, it was largely felt that he had failed to impress and all three Blues goals on the day came after he had been withdrawn in favour of Cenk Tosun. The Turk scored his first goal of the campaign and while he was disappointing against Southampton, he could get the nod to face the Foxes over his younger team-mate.
Bernard's impact late in the game last weekend and the fact that he was one of the best on show in midweek mean that he is giving Silva a welcome selection headache. Unless the manager elects to use Richarlison up front, or drops Sigurdsson back into a No.8 role, there is no easy way to shoehorn the talented Brazilian into the team but the case for his inclusion from the start is getting stronger by the week.
He should play but may have to settle for the bench again this time but the pressure would really be on those chosen ahead of him to perform.
Leicester will start the day three points better off than Everton, having registered two more victories but with one of their main threats, Jamie Vardy, a doubt and Demarai Gray ruled, they might not be firing on all cylinders. In the absence of those two, Silva will most likely focus Gueye's attentions on keeping James Maddison quiet.
This fixture has been a bit of a mixed bag for Everton in recent seasons. A year after drawing 2-2 on the opening day on the Foxes' return to the top flight, the Blues obviously had to play second fiddle as Leicester clinched the title in 2016 with a 3-1 win. A Romelu Lukaku backed 2-0 win the following year was reversed last season as David Unsworth was unable to inspire his new charges following the sacking of Ronald Koeman.
Despite not having registered a victory on their travels so far, Everton have performed well away from Goodison so far so there is hope that with less pressure and the way that the manager has them set up to play on the road, they could spring a defeat on Leicester. A draw would do this time but a win would be a major fillip heading into another interruption to the League programme in the form of the latest international break.
Kick-off: 3pm, Saturday 6 October, 2018
Referee: Andre Marriner
Last Time: Leicester 2 - 0 Everton
Predicted Line-up: Pickford, Kenny, Keane, Zouma, Digne, Gueye, Davies, Sigurdsson, Walcott, Richarlison, Tosun
---
Reader Comments (104)
Note: the following content is not moderated or vetted by the site owners at the time of submission. Comments are the responsibility of the poster. Disclaimer
Sam Hoare
1
Posted 05/10/2018 at 07:52:52
I think the majority of the team picks itself, as Lyndon suggests, but the one question mark and surely our weakest spot is up front. Neither Calvert-Lewin nor Tosun has convinced at all but, away from home, I think I'd be opting for the pace and height of the youngster; his finishing is unreliable but his athleticism puts pressure on the home defence and creates room for Walcott and Richarlison as we saw in the first half against Arsenal.
I wonder if Brands will eye up a new striker in January? Not the easiest time to find a reliable goalscorer.
John Keating
2
Posted 05/10/2018 at 07:55:40
Lyndon,
I believe 3 points against Leicester will be the only saving grace for Silvas fiasco of midweek.
I suspect the team you have quoted will be the starting 11; however, it would be extremely interesting to see Bernard playing in Sigurdsson's role with him dropping back to play alongside Gueye at the expense of Tom Davies.
I still can't believe Silvas thought process for the Southampton game after everything he previously said.

Winston Williamson
3
Posted 05/10/2018 at 08:00:11
We definitely need at least one striker in January, Sam. Then another for next season too..
I think we'll lose this one two-nil.
Tough place to get a result. It'll be a close game, but Vardy will be too good for our defence...
Jim Bennings
4
Posted 05/10/2018 at 08:00:18
Arguably the last chance to win away from home before Christmas. The next four before Boxing Day are Manchester United, Chelsea, Liverpool and Manchester City in that order — all fixtures we know are not winnable for this club.
It's high time we won back to back games in the league as that's the only way you can really build momentum and the only way they can repay us for Tuesday night is by winning. Yes, it's a difficult fixture but it falls into the "can win" bracket —especially if we are a serious club with serious ambitions.
Come on, Everton — get yourselves sorted and start producing something to make us sit up.
Martin Berry
5
Posted 05/10/2018 at 08:10:13
I expect a win at Leicester as we are far better than current results.
Bernard must be in the team and would be superb at No 10 but you can't drop Sigurdsson so Richarlison as the striker and Bernard on the flank.
Kunal Desai
6
Posted 05/10/2018 at 08:15:39
We've had just 7 wins away from home in the Premier League over the last two seasons. That is just pitiful; ironically, one of those one wins came at Leicester. Maybe there is hope that we can pick up another 3 points here, but it is the hope that does really kill you.
Sam – I think we lack a "fox in the box" type player, someone to get on the end of flick-ons. I would love to see someone like Wissan Ben Yedder next summer at Everton.
Sam Hoare
7
Posted 05/10/2018 at 08:20:10
Winston@3, it depends which strikers are available. No point buying an okay striker in January, we've got a few of those already, and the great strikers are hard to find especially that time of year. Tough to judge – even the £60m Champions League Final scoring international Morata has found Premier League goals hard to come by.
The player we could/should have got was maybe Arnoutivic, I remember thinking I'd prefer him to Bolasie when we bought him; he'd be useful now but doubt we'd get him from West Ham and he's too old for the Brands model anyway.
Kev Jones
8
Posted 05/10/2018 at 08:26:33
As we should have done against Southampton to build consistency and momentum in the team, I'd stick with last week's starting line up except with Tosun in for Calvert-Lewin. Depending how it goes, we could bring on Bernard for Tosun, put Richarlison in the centre (Bernard could play to Richarlison's feet) and Lookman for Walcott. Interesting idea, John Keating (#2) — Sigurdsson dropping back for Davies.
Derek Taylor
9
Posted 05/10/2018 at 08:28:53
I have already lost faith in the manager's judgement and can see us losing another game to drop firmly bottom half.
The optimists will again claim it's 'early doors' and any criticism of the regime is premature. Okay, kid yourselves if you must!
Jim Bennings
10
Posted 05/10/2018 at 08:29:47
Agree Sam #7
Last summer I would have just thrown absolutely shit loads of money on Vardy and Arnautovic.
Now I'm not arsed about all these people that bleat on about resale values, I'm more interested in the value to this team right now and for me Vardy would have been absolutely perfect for us and the fans would have loved him here; we need a figure like that up front that is full of desire, passion and scores goals.
But that ship has sailed and we are tracking too many of these unknowns from weaker leagues abroad these days; very rarely have we poached a striker from overseas and have they been much good.
Sam Hoare
11
Posted 05/10/2018 at 09:23:21
Derek@9, so you don't think it's early doors? Should we sack Silva? Get in another manager and, if he's not getting enough wins after 7 games or so, then sack him too? Just keep knocking them off till we happen upon someone who manages to get a mid-table squad achieving top 4 results? Sounds a great plan.
Except there may not be that manager out there. And even if there is will they want to come to a club known for turning against and sacking their manager after 2 months? And in the meantime what damage is being done to our players, squad, finances, stability, morale etc?
No manager is immune from criticism. But any new manager deserves some time to build a squad and system, and the backing of the fans while that happens. If we are in the relegation zone at Christmas then, by all means, let's talk about other options but till then let's try and back the man and get behind the team. Neither the optimists nor the pessimists know how things will turn out but if we can't be hopeful at the start then what's the point really?
Robert Leigh
12
Posted 05/10/2018 at 09:32:06
On the subject of wanted striker – still Batshuayi for me from Chelsea.
With this match, I would like to see Richarlison running at Wes Morgan and Harry Maguire through the middle, Bernard left and Walcott right. Tosun and Lookman to come on if required.
Victor Yu
13
Posted 05/10/2018 at 09:39:14
Don't start Davies, please!
Amit Vithlani
14
Posted 05/10/2018 at 09:48:13
Sam @ 1, I tend to agree with you about playing Calvert-Lewin ahead of Tosun away from home. However, I would have Richarlison ahead of both of them, as I think it is time Bernard started.
You make a great point about creating space. For me, Tosun does not do enough of that as his off-the-ball movement is not great (plus he lacks pace).
Calvert-Lewin has this but I think Richarlison even more so. Meanwhile, Bernard is likely to draw defenders to him too - allowing runners from deep like Sigurdsson to benefit.
I really hope to see the trio of Bernie, Richie and Theo. If nothing else, they sound like a boy band.
Jason Leung
15
Posted 05/10/2018 at 09:48:44
For some reason I don't think Silva will play Richarlison the middle up front. He had the chance to do it last week while we were 2-0 and during the cup match. I don't understand why not as it gives Bernard the chance to start which is more than what he deserves. Tosun and Calvert-Lewin are just not good enough.
Jim Bennings
16
Posted 05/10/2018 at 09:59:27
Tosun will be gobbled up with ease by Maguire, let's be honest.
But then what's the alternative?
Calvert-Lewin being anonymous... or Niasse?
Tony Everan
17
Posted 05/10/2018 at 10:43:15
It's a big game for us. It's a game we can win. Leicester have been blowing hot and cold, they are vulnerable to our pace from Walcott and Richarilson. Leicester will try to foul them out of the game early on. The referee will need to be on his toes.
It takes on a bit more importance because of the 2 weeks break. A win and we can look upwards and look to push on towards the top 6 with another win against Palace.
After the Carabao Cup disappointment, a loss will be met with derision from more than a few. I am still more than happy to give the regime plenty of time and retain confidence that things are moving in the right direction.
Jim, as for Tosun, Calvert-Lewin or Niasse, I would have the in that order, but Calvert-Lewin's physicality may make him more of a nuisance than Tosun.
Richard Lyons
18
Posted 05/10/2018 at 11:01:38
If Tite thinks Richie-boy is good enough to be Brazil's Number 9, I would pick him in that position. That way, you can accommodate Bernie, Theo and Siggy in midfield. Perfect combination of skill, speed and guile.
Colin Malone
19
Posted 05/10/2018 at 11:05:35
Sam @11. Well said.
Considering we are not in European competition / top four, Silva's first transfer window has improved the squad, moreso than the last two managers, so I am bemused that some are criticising the manager. As I said in my last post, Get Real!
James Stewart
20
Posted 05/10/2018 at 11:14:28
Even 3 points won't amend for the shameful Southampton debacle. Beat Leicester and it will only further agitate blues on what might have been.
The biggest problem is that Silva, like Allardyce before him, just doesn't get Everton.
David Ellis
21
Posted 05/10/2018 at 11:19:53
I don't think we should play Richarlison out of position just to shoehorn Bernard in. Can Richarlison play with his back to goal? I'm not sure. He's also not the most clinical of finishers.
Alan Bodell
24
Posted 05/10/2018 at 11:47:32
RIP Bernard Murphy.
Dave Pritchard
25
Posted 05/10/2018 at 11:47:58
Bernard to start instead of Richarlison for me. Richarlison needs a reality check. He has believed the hype from the first few games. Remember his fall from grace last season. We need to ensure that doesn't happen again this season.
Chris Donnelly
26
Posted 05/10/2018 at 12:02:44
For me, I would go Richarlison up top, Bernard on the left.
I would love Mr Brands to go and break the bank for Lanzano. Just a special player that would turn us into a force again.
Hopefully Mina will be fit soon and bring some fight back to our back line.
Will someone also go and find Derek Mountfield and Pat van den Hawue to teach our squad how to fight – we have no snarl and fear.
John Raftery
27
Posted 05/10/2018 at 12:15:35
A win tomorrow would give everybody a much-needed boost. Most of us will travel in hope if not expectation. Seven Premier League away wins in the last 47 attempts is a grim record. If we don't win tomorrow, it will probably be the other side of Christmas before we improve that statistic. That will put pressure on Silva to win all our home games in the next two months, just to keep us mid table.
Tony J Williams
28
Posted 05/10/2018 at 13:01:33
Good point Dave, 25.
Especially with his woeful penalty too.
Needs to stop trying to be too clever and stop the diving and holding body parts after he's won the free kick.
You've got the free kick, get up and get on with it.
I fear that due to his first 2 games, we are going to be expecting too much from the young lad, which isn't going to happen this season.
[Crosses fingers and prays that he is proven wrong here.]
Justin Doone
29
Posted 05/10/2018 at 13:09:12
I'd revert back to the last Premier League starting line-up. I don't think Silva will. Actually I'd play a different formation but I don't think that is likely. I hope Schneiderlin stays home as I don't want to see him play fire us ever again.
Maddison who was linked with us has started the season really well, a shame we missed out on him. Leicester have lots of pace and movement up front which I think we will struggle to contain as our central defense and midfielders are too slow.
I'd love an away win, but Leicester are a good team and I don't think we will beat them. I'd take a draw along with a good performance.
Anthony Murphy
30
Posted 05/10/2018 at 13:19:06
Justin, I agree on Maddison. What a great young player. We also missed out on Maguire. Maybe we should try to poach their chief scout?
Oh, hang on...
Fran Mitchell
31
Posted 05/10/2018 at 13:20:18
I assume we will line up as we did last Saturday.
Personally, I'd like to see Bernard given a chance from the start on the wide left, with Richarilson as central attacker. Sooner or later, that will be our line up, so may as well make it sooner rather than later.
Lookman on the bench and to be given a chance also, should Walcott not perform or Bernard tire.
Craig Walker
32
Posted 05/10/2018 at 13:22:02
I looked back at our first 8 games last season. The 8th game was Brighton away were Rooney rescued a point with a late penalty. We had 8 points after that match. Lose tomorrow and we'll only be a point better off than we were last season at the same stage when we felt we were in crisis.
In 2017 we'd played Man City, Chelsea, Spurs and Man Utd. Arsenal were the 9th game, after which Koeman was sacked. This year we've only played Arsenal out of that list.
The optimist in me says that there are signs that we are a better team playing a better style of football. There are some definitely winnable matches at Goodison coming up: Palace, Cardiff, Newcastle. The pessimist in me sees a team who concede goals too easily and cannot score goals. The West Ham and Huddersfield home games looked winnable and we never turned up.
I still don't see the qualities in our manager that people were quoting over the summer: the tactical acumen, the ability to change a game, the meticulous preparation, the team selection based on form and not reputation. I desperately want Silva to succeed and get us enjoying the games again but it just seems another false dawn thus far. I hope I'm wrong. 3 points tomorrow would go some way to me believing again.
Steve Ferns
33
Posted 05/10/2018 at 13:23:57
Richarlison is not a Number 9. He shouldn't be considered so because he scored two goals against a very poor El Salvador side. They're not Premier League quality defenders, not are they premier league size.
Richarlison will be able to nothing he is good at in a central position. He will be stationary instead of mobile. He'll get the ball back to goal instead of to feet and running. Also, he won't be used to the constant digs in his back from big Wes Morgan in aerial duels. Why reduce Richarlisons effectiveness? It's insane.
He plays up top anyway. Albeit slightly to the left. Look at his heat maps, he's never on the touch line and is often in the box. Tell me what you would hope to gain by him being central? He's far more of a goal threat where he plays normally. I'd go with Calvert-Lewin for the reasons stated above.
As for dropping Sigurdsson back, why? Leicester play 2 defensive midfielders. Why not get two attacking midfielders onto them, and have gueye stick to Maddison like glue? Sigurdsson and Bernard both track back and so this could be an option. If not Bernard then get Davies further up alongside Sigurdsson really pushing them back.
Stop their central trio and Leicester become a very beatable side. However, let Maddison get on the ball and he can cause problems with his clever passing and shooting.
Andy Meighan
34
Posted 05/10/2018 at 13:46:54
Martin @5 ,
Why can't you drop Sigurrdson Apart from one half against Fulham he's once again failed to find any consistency whosoever this season I'm sick of hearing the excuses wheeled out for this player. Oh played out wide. No good. Not getting used as a No 10 properly. No decent striker to read his game etc etc.
The truth is he's a very ordinary one-paced player who now and then pops up with a goal. Not good enough in my opinion, and here's one who'd bench him in favour of Bernard tomorrow. He won't though... and the little Brazillian will once again be the player who's benched.
I can't see nothing but a home win, if I'm honest.
Tony Abrahams
35
Posted 05/10/2018 at 13:56:34
I remember that horrible windy day when Bernard Murphy tragically lost his life following Everton, Alan.
I like Leicester, they have got a little garden outside the stadium, that pays it respects to people like Bernard, amongst others, and now you have mentioned him, I will hopefully go and pay my own respect tomorrow.
On the game, and also for the long-term, I just hope that Silva learns from the other night – and I'm not even talking about the starting eleven here; I'm thinking about his in-game management, which has left me a little bit concerned.
Anyway, I'm delighted to be back on the road tomorrow, with my biggest wish being that Silva's team make me want to start travelling regularly again.
Derek Knox
36
Posted 05/10/2018 at 14:03:20
James Stewart @20, spot on there, harsh but true, while most of us appreciate that Silva isn't responsible for a lot of the under-achieving, overpriced imports, his encouraging statements pre-match; then subsequent contradictory team selection, do not sit well for most of us.
Anything less than a win will not be acceptable either; and most likely the only chance of any points between now and the Xmas run-in.
Amit Vithlani
37
Posted 05/10/2018 at 14:36:29
"The player himself is fast, strong, very good technically, and he can play in three positions across the front line. He can also score goals." — Marco Silva, on Richarlison's signing. He might not be a No 9, but the man who persuaded him to join seems to think he can play centrally and score goals.
I also saw him outjump the Southampton centre-back, like a No 9, and nod in from a cross, so it is not as if getting into positions like a centre-forward does is alien to him.
So yeah, I think it is worth a try. He can't be a worse option than Tosun, Niasse or Calvert-Lewin, that's for sure.
As for losing his effectiveness down the left side, Bernard is not exactly a bad replacement. In fact, I wager Bernard will link up better with Digne than Richarlison would (perhaps our new Bainaar combo –— can we call them Dignard??)

Danny Broderick
38
Posted 05/10/2018 at 14:43:58
'Anything less than a win will not be acceptable'?
Leicester away is a tough game. Let's get behind the team and hope to come away with the 3 points. A draw wouldn't be a bad result. To expect 3 points tomorrow, or to say that anything less is unacceptable, is just bonkers.
When did Everton fans get so fickle? Some people are already writing off our away results until the end of the year. Let's get behind the team FFS, and see where it takes us.

Jonathan Tasker
39
Posted 05/10/2018 at 14:44:23
Everton don't actually employ managers. They are more like PR people designed to propagate what the horrible owners want them to say.
For example, this week, Silva was told to give the impression that a strong team would be fielded in the League Cup. Whereas, the reality was that a weak team was put out as the Owners decreed that the League Cup was of no consequence.
In the short term, the club is doomed until Kenwright is gone for good.
Lawrence Green
40
Posted 05/10/2018 at 15:01:00
We need an away victory asap. Since about the time that Moshiri joined Everton (February 2016), Everton have travelled away in the Premier League fifty times and have returned home victorious on nine occasions, less than any other Premier League team that has completed the same number of games during that period. To be fair, there have been plenty of draws, seventeen in total, whilst we have lost twenty-four games on our travels.
The victories away from home came against:
Aston Villa
Palace
Huddersfield
Leicester
Newcastle
Stoke (twice)
Sunderland
West Brom
In six of those victories, Everton kept a clean sheet and a single goal was conceded in the other three.
At Goodison Park, Everton have achieved 28 home wins from 50 matches with 13 of the wins obtained with the Blues having kept a clean sheet and most of the rest having conceded just a single goal. Ten draws and twelve defeats were recorded in those last 50 home matches.
Away 18% win rate, 34% of obtaining a point and a loss rate 48%
At Goodison 56% win rate, 20% of obtaining a point and a loss rate of 24%
Overall this give Everton a 37% win rate, 27% chance of drawing and a loss rate of 36% overall.
Colin Metcalfe
41
Posted 05/10/2018 at 15:07:33
We are leaking goals and Leicester are no pushover – in fact, they will definitely fancy their chances. 2-0 for me and yet another away disappointment for the Blues.
Joe O'Brien
42
Posted 05/10/2018 at 15:22:19
The negativity is unbelievable here! Sack the manager... and some even predicting a 2-0 loss for us... unbelievable stuff!
Yes, Leicester are a good side... but we also have players to hurt them. I'm going for a 2-1 win for us.
Jerome Shields
43
Posted 05/10/2018 at 15:27:27
Hopefully Silva's midweek mismanagement doesn't have aa effect on consistent team performance. It has taken Everton so long to get to the second-half performance of last week.
Tom Bowers
44
Posted 05/10/2018 at 15:29:48
It's easy for us all to be down after the somewhat lousy start to the season but, in all honesty, things weren't going to change overnight.
There were some good early signs but the suspension of Richarlison, injuries to Seamus and the continued absence of the new boys Mena and Gomes have left us with sour tastes up to this point.
The midfield is the problem area with very little creativity or scoring support barring the brace from Sigurdsson last weekend. Gana and Davies work very hard but as a tightly knit unit they are sorely lacking in that area with the back line being continually exposed far too easily.
Certainly more signings are required especially support for Richarlison who is going to be kicked every week. The other strikers just don't cut it for me, even Walcott who doesn't get involved enough.
There are likely to be more disappointments to come until Silva can upgrade in January. I am sure he now realizes that the squad he has at the moment won't challenge the top six.
Jer Kiernan
45
Posted 05/10/2018 at 15:30:44
I wasn't enamoured by Silva's appointment but was willing to get behind him and there has been some worrying signs, I will admit. But the negativity from some on here has surprised even me (a "glass quarter-full" type).
The guy has barely taken his coat off, FFS! Two of our new signings have yet to play and we were diabolical last season under Fat Sam. It has not been perfect but many supporters who had suffered under Fat Sam where willing to accept 8th to 10th place with maybe a run in the cup as long as some good football was being played. Anybody else was being, in my opinion, unrealistic.
So we are still on course for the above. Some of our new signings have looked really good and the team are making an effort — something lacking for most of last season,
I will wait until Xmas and see but we are on course to get 8th and we are playing a bit of football with some exciting players now in the squad (Digne, Bernard, Richarlison)
Mike Gaynes
46
Posted 05/10/2018 at 15:48:53
Dave #25 and Tony J #28, those are two of the most bonkers posts I've seen.
Sit our best player? "Reality check"? Because he shanked a pen? Yowza. No thanks.
Richarlison is our most dangerous goalscoring threat by far, he works relentlessly at both ends of the pitch, he's shown nothing but great attitude, and his linkup work with Digne has been stellar. Second name on the team sheet (after Pickford) every game for me.
As for how to shoehorn Bernard into the lineup, the answer for me is obvious, and it's not Richarlison at #9. Drop Sigurdsson back next to Gana. He does fine defensive work anyway – 8 blocked shots and 10 interceptions this season, more than Davies and Schneiderlin combined – and his passing is vastly superior to either of them. With Bernard ahead of Siggy we'd have some much better attacking options. And Bernard can get into the box and finish.
Kevin Prytherch
47
Posted 05/10/2018 at 15:52:26
Victor – nearly every good performance in the last 2 years has had Davies in the team. He has to play instead of the poor alternative, Schniedelin.
Calvert-Lewin is a handful, even if he lacks a goal-scorer's instinct, and him being on the pitch will create more for Walcott and Richarlison than Tosun will.
Kieran Kinsella
48
Posted 05/10/2018 at 15:58:05
Silva would bite your arm off for 2-0 tomorrow – versus a heavier defeat. He knows he is a joker and he is counting his blessings till he is sacked.
Joe McMahon
49
Posted 05/10/2018 at 16:04:24
Jer, Sam can't be blamed for everything, I didn't want him either but I didn't see Everton being amazing under Koeman and Walsh or Unsworth last season.
Tony Abrahams
50
Posted 05/10/2018 at 16:06:33
Good shout that, Mike.
Steavey Buckley
51
Posted 05/10/2018 at 16:14:54
Calvert-Lewin needs to start, because he provides pace and height to upset the opposition, something Tosun does not provide.
Joe O'Brien
52
Posted 05/10/2018 at 16:20:55
Well Kieran @48 — why don't you stick a tenner on a 3-0 or 4-0 to Leicester tomorrow and make yourself some money?
Jer Kiernan
53
Posted 05/10/2018 at 16:39:37
Joe @48,
Fat Sam can't be blamed for everything but he can be blamed for his own failings, including 1 shot in a run of 5 matches last season???? Shocking. The thought of him in the dugout this season would have been heartbreaking, so things have improved
We are trying to play some football under Silva as opposed to deliberately not playing football under Fat Sam. We are not going to win anything but at least we attempt to entertain. We are doing that or at least trying. Fat Sam is what he is (1 shot in 5 games and hey, we didn't lose! My job is done etc etc). It's not sport for me.
Mike Gaynes
54
Posted 05/10/2018 at 16:44:45
Steavey #51, Calvert-Lewin does a lot more to upset us than he does the opposition.
Michael Kenrick
55
Posted 05/10/2018 at 16:52:28
Mike Gaynes, lol. Brought a wry smile, that one. I've read this myth about him 'worrying defenders'.
My wife's big bad and very athletic Doberman Pinscher worries the rabbits in the yard, but she never catches any.
David McMullen
56
Posted 05/10/2018 at 16:57:20
It's a must-win in my book. We have to impose ourselves on them and the game and come away with a solid victory. Silva has had enough time now to work through all the players – he must pick the strongest team and get goals.
Derek Taylor
57
Posted 05/10/2018 at 17:05:16
What a mystery that two of our star signings are yet to kick a ball in anger whilst a third struggles to get a place in a side that is just short of hopeless.
Because of all this, we are constantly told to be patient as Silva hasn't got 'his own' side in place as yet. Wake me up at Xmas somebody. Or is that going to be too soon?
Tony Everan
58
Posted 05/10/2018 at 17:27:15
Man Utd fans slagging off Lukaku, say he's part of the problem.
If he was playing centre-forward for us this season, he would have 10 already.
Sam Hoare
59
Posted 05/10/2018 at 17:28:42
I'd also like to see Sigurdsson alongside Gueye and behind Bernard at No 10. I suspect Siggy and Bernard to be our most intelligent passers of the ball so to have them in the middle together might hopefully see us hold onto the ball a bit better. Possibly something to trial at Goodison, however, rather than away.
James Flynn
60
Posted 05/10/2018 at 17:59:06
Tony (58) - Ferdinand and Scholes gave it to him, too, in the Telegraph. He should have stayed.
Dave Abrahams
61
Posted 05/10/2018 at 18:25:54
Mike (54), don't encourage Michael!!!
Rather Calvert-Lewin than Tepid Tosun.
James Stewart
62
Posted 05/10/2018 at 18:52:43
Midfield needs ripping up it's a disgrace. Try something new.
Pickford
Kenny Keane Zouma Digne
Sigurdsson Gana Bernard
Walcott Richarlison Lookman
Dermot Byrne
63
Posted 05/10/2018 at 20:01:56
I like that team, James. But not convinced about Lookman; hope I am wrong.
Marcus Leigh
64
Posted 05/10/2018 at 20:45:11
James Flynn (60),
When Rom said he was '99% certain' he was going to stay at Everton, I was made up. On his day he is, for all his faults, a class finisher. But I think we all knew that his bloody father and the likes of Pogba would still be whispering in his ear (worked out well for Pogba, hasn't it?).
I do wonder if Rom now regrets the move. I hope he does - the grass is always greener and all that. But I for one would have him back if there was a chance.
Mike Gaynes
65
Posted 05/10/2018 at 20:47:53
Michael #55, yours got a full chuckle from me. Is the Doberman's name Dom by any chance?
Dave, yeah, it's not much of a choice, is it? But Cenk at least showed last season that he's capable of a brief purple patch. DCL's best has been light puce. Bit of mauve maybe.
Andy Crooks
66
Posted 05/10/2018 at 21:15:29
Mike Gaynes @46, email that post to Silva because if he ignores it, it's your application for his job. Stop making sense.
Tony Abrahams
67
Posted 05/10/2018 at 21:30:22
It sounds like that Doberman, needs to go for an eye test Michael, and so will Silva, if he starts Tosun, tomorrow afternoon!
Kunal Desai
68
Posted 05/10/2018 at 22:14:06
Is Cenk Tosun a poor man's Glenn Murray or just his lookalike?
David Israel
69
Posted 05/10/2018 at 22:47:19
Jim # 4, Manchester United away is a winnable fixture for this club at the moment, but their manager may be gone by the time we play them...
Derek Knox
70
Posted 05/10/2018 at 22:59:49
Kunal @68, you need to join the Doberman at Specsavers, Glen Murray scores regularly for Brighton, but must admit there is a facial and hairstyle resemblance there mate. :-)
James Flynn
71
Posted 05/10/2018 at 23:19:59
Marcus (64) – His AGENT said that, not Rom.
Even then, but looking back, Rom's agent Raiola was talking to Man Utd's (continuing) incompetent Woodward.
Regarding Luka's future, the "99%" thing was aimed at Man Utd, not Everton.
It sits as it is now for Romelu. With Man Utd supporters he's Fellaini II. Just a player from a lower-level Club, Everton.
This against what we see with our eyes. The both were better players at Everton.
Tom Bowers
72
Posted 05/10/2018 at 23:27:13
Nobody in the offence has really done that much except for Richarleson who puts himself about even when he doesn't score.
Time for others to stand up and be counted.
David Israel
74
Posted 05/10/2018 at 23:30:04
James #71, as we know, Fellaini is now mostly used as a last-ditch, desperate attempt by their hapless manager to try and rescue something from a game by playing him up front and hoping he'll get on the end of one of Valencia's or Shaw's crosses – if they ever get close enough to the box. That was not how Moyes played him with us, of course, and I'm not surprised he's not very popular these days.
Bill Gienapp
75
Posted 05/10/2018 at 23:35:56
Derek (57) - be negative and dump on Silva if you must, but please find a different hill to die on than this constant need to insinuate that the transfer window was some sort of debacle just because Bernard and Mina needed additional time to get match-fit. It's deliberately short-sighted and silly.
As for the match itself, it'll be a good test. The results haven't reflected it (yet), but there's been a marked improvement in our away performances this season.
James Flynn
76
Posted 05/10/2018 at 23:41:20
David (74) - His best seasons, when his talents were fully exploited (and flourished) by the manager, was at Everton under Moyes. These years later, not Israel, Flynn, or another can deny it.
Lukaku's career path is heading to a parallel with Fellaini's. His best years, including being loved by supporters mind, will wind up being at Everton, too.
Laurie Hartley
77
Posted 05/10/2018 at 23:42:37
John Keating # 2 has identified the change that has to be made in the line-up and Mike Gaynes (#46) has explained why.
Sigurdsson should drop back into Tom Davies's spot next to Gueye and Bernard should take the Number 10 spot.
In my opinion, Bernard is the midfield maestro that we have needed since Arteta left. He is a top, top footballer.
As an example of what I am talking about, have a look at the pass he made from midfield to Lookman on Tuesday night. The goalie saved Lookman's effort well but being able to see that pass and executing it was a sublime piece of skill.
As far as the striker spot is concerned, I am sticking with Tosun – he will come good, but if you only want to disrupt Morgan and Maguire – well, we have the best disrupter in the business.
Silva has now got footballers at his disposal. He said his preferred formation is 4-3-3. If so, this should be his starting line-up:
Pickford
Kenny, Kean, Zouma, Digne
Gueye, Bernard, Sigurdsson
Walcott, Tosun, Richarlison.
Neil Copeland
78
Posted 05/10/2018 at 00:03:12
Michael @55, I have a cat that has rabbit catching off to a fine art. I was going to suggest that he could train your wife's Doberman but that may not be the best long-term solution for my cat!
Neil Copeland
79
Posted 06/10/2018 at 00:09:07
Laurie @77, I like your line-up but I think the fact that Davies has been captain for a couple of games means he will be starting again against Leicester. I agree with Lyndon and think Silva will revert to the same starting eleven from the Fulham game.
David Israel
80
Posted 05/10/2018 at 00:14:55
James #76, right you are!
David Israel
81
Posted 06/10/2018 at 00:20:53
I think Silva has so far showed himself to be too conservative and cautious to make any substantive and sudden changes to the line-up or formation. That is why I can't see him pulling Sigurdsson back or playing Bernard as a play-maker. We'll be lucky to see the latter starting the game at all, as matter of fact, IMO.
Paul Columb
82
Posted 06/10/2018 at 00:27:35
The idea of dropping Sigurdsson back has been a subject of discussion since Bernard has shown his quality and Blues seem polarized on it. I think our midfield needs a complete rethink and giving Bernard a shout at #10 makes sense.
Others have argued it's simply not his (Siggi's) game (despite his defensive endeavour), that diagonal exchanges and channel-piercing balls are not his gig, and (the one I've heard the most) that he'd drift forward into his preferred area of the pitch. I for one don't doubt he'd have greater discipline to do a job deeper but don't think he'd excel or feel satiated.
Chris Davies
83
Posted 06/10/2018 at 03:50:19
Everyone seems to be forgetting that we hired "Fireman Sam", this time last year for fear of relegation. No-one's talking about relegation now yet Silva has only used 2 new players.
Silva's first job was "damage limitation"; his next will be "get better". It's easy to forget just how bad we were at [last] season's end.
Chris Davies
84
Posted 06/10/2018 at 04:05:26
Mike 54 &, er Mike 55,
Quality!
You just reminded me why Liverpool is a better city than anywhere on our shores.
Fuck this south shite 😔
Dave Lynch
85
Posted 06/10/2018 at 05:01:56
I'm going to put the sandbags up here.. .Incoming!!!
Honestly, I can't see us getting anything out of this game. If Fulham where any good in front of goal last week they would have been out of sight by half-time.
We cannot keep playing half games, who was it who said... It's a game of two halves?
Leicester are a much better team than some give them credit for and will cause us untold problems on the break.
Tony Abrahams
86
Posted 06/10/2018 at 07:24:50
That was a great pass off Bernard Laurie, but not many have mentioned his two little "give an goes" that eventually put the ball at Tosun's feet, eight yards from goal the other night.
He was too quick for Tosun, but as much as I've criticised the Turk, for the other nights performance, I think this bit of play would have been too quick for most players in the whole of THE EPL?
I hope he plays Bernard, and the managers logic is not that he can't move Sigurdson back because he scored two goals last week.
I thought Sigurdson was poor until he missed his penalty last week, and then with a point to prove, or with his head on the block, he really upped his game. Hopefully he learned something important, because he's now calling for "greater intensity" off everyone, which is definitely what this modern game of football is all about now.
Play with intensity and get your reward please Everton!
Ps I read last night that the greatest of ToffeeWeb legends George McKane, has got to miss a few games because of an illness, and I just want to say that I hope you are gonna be okay George mate, and Everton can give you a little boost today.
Peter Mills
87
Posted 06/10/2018 at 07:30:48
Mr Silva has garnered 17 points from 24 away Premiership matches. With us he has collected 2 points from 3 games, conceding 2 goals in each of them. That is not good enough.
I have enjoyed watching our away games this season much more than last term, but the performances need to be turned into points.
Tony#86, have a good trip today.
Tony Abrahams
88
Posted 06/10/2018 at 07:56:42
I've just looked at the weather forecast Peter, and it's going to be pissing down. Who doesn't like football in the rain!
Neil Wood
89
Posted 06/10/2018 at 08:15:12
I feel we have too many people being negative on here. I am all for opinion of course I am but we genuinely need to take a long hard look at what we have.
The shambles of last year can not be changed overnight. The low point of watching us at home against West Brom was the lowest point of watching football in my life.
We are only 7 games into a new season and have added two Brazilian internationals (One of which - Bernard - I believe will be one of the premier leagues best ever purchases), two France internationals, a Portuguese international and Colombia's best player at the most recent world cup.
We are in a period where some patience is required. Whilst for me the result against Huddersfield was unacceptable as they are the worst premier league side I have witnessed, the others I can just about cope with.
We desperately need to get behind the team and realise that we will not suddenly turn into a top 4 side overnight. We are however heading in the right direction.
If we had suffered these same results in 12 months time then I would agree wholeheartedly that it is unacceptable etc...But we are 7 matches into his tenure. The 8th we finished last year was for me a false position really as we were a much worse footballing team that the finishing position suggests.
Of course I would love us to win every game and suddenly turn into world beaters but that's unrealistic. What I do expect is now we are moving on, we compete against the sky darlings and gain some momentum and points from these fixtures. Oh to stick a couple of defeats down the throats of these darlings would be amazing. Things are changing at Goodison. Not as quick as we all would like but they are changing, we need to change with it and cheer our team with everything we have got and banish this insane constant negativity.
I predict a 3-1 victory for the blues today and a Bernard brace.
Peter Mills
90
Posted 06/10/2018 at 08:17:22
Tony, I'm sure a man with your family and Evertonian pedigree knows that "when you're laughing, when you're laughing, the sun comes shining through".
Ian Hollingworth
91
Posted 06/10/2018 at 08:20:54
Bernard has shown already that he is a quality player and much better than most of our squad.
You absolutely have to get your best players in the team.
To leave him out would be a big mistake by Silva IMO.
Our squad has lacked real quality for years and it will be refreshing to see some and I am looking forward to seeing Gomez in the team as he is another quality player.
Jerome Shields
92
Posted 06/10/2018 at 08:25:17
Mike #46 Sounds good to me;Gueye, Sigurdsson and Bernard as a mid field trio. The midfield trio is the root problem of the team and Davies and Schnerlin seem to be the weak link in it. Agree about Ricalison also, but needs to improve on his forward passing in the final third.
Tony Abrahams
93
Posted 06/10/2018 at 08:26:08
Brilliant Peter, but I was being serious mate, I really love football in the rain.
It's obviously better playing in it than watching in it, but I hope the sun comes shining through for Michael Keane today, because if he comes through this test, (vardy's pace & running in behind) then this could be the key for an Everton victory?
Danny Baily
94
Posted 06/10/2018 at 08:56:36
A draw at best I'd say for today. The upcoming Brighton and Cardiff games at Goodison are the must wins.
At least everyone is well rested for the slog to 40pts!
Laurie Hartley
95
Posted 06/10/2018 at 10:01:42
I could only get the highlights Tony so Maybe I missed the give and goes. He is a footballer that lad - I love the way he finds time to look up.
Have a great day and a cosmic wave to our mate George.
Up the Blues!
Gareth Clark
96
Posted 06/10/2018 at 10:17:42
The same line up for me:
Pickford
Kenny Keane Zouma Digne
Gueye Davies
Walcott Sigurdsson Richarlison
Tosun
Stekelenburg, Holgate, Baines, Schneiderlin, Bernard, Lookman, Calvert-Lewin
Bernard & Lookman on with enough time to make an impact. Probably Schneiderlin on for Davies too.
Lookman 🔄 Walcott
Bernard 🔄 Tosun
Schneiderlin 🔄 Davies
Richarlison to move up top for the last 30 odd minutes.
John Pierce
97
Posted 06/10/2018 at 12:29:16
Lots of shouts for Richarlison to go down the middle.
Why? His strength lies in his power and his ability to come from out to in using both feet.
All he would do playing centre forward is run from in to out, vacating the space and leaving us with nothing up front.
We are playing against to physical yet cumbersome centre halves they love a battle. They both hate pace, Walcott is the guy they won't handle. Will Silva play him there? No chance.
I think as we are set up to be better away than at home it's worth taking a chance on Bernard at 10 and Sigurdsson with Gana, Lookman wide right, Tosun benched.
Pickford, Kenny, Keane, Zouma, Digne
Gana, Sigurdsson
Lookman, Bernard, Richarlison
Walcott
I'll be stunned if we win.

Neil Wood
98
Posted 06/10/2018 at 12:42:28
John @ 97 - I actually quite like that team !
I do however deplore the ''I'll be stunned if we win'' comment ! Come on get behind them !
Raymond Fox
99
Posted 06/10/2018 at 13:01:43
Neil 89, I'm all for being optimistic but we also need to be rational.
Us wishing for a win, in your case 3-1 wont affect the result one jot.
Its top players and a top manager that will bring us success, yes as you say more encouragement from the fans that attend the games will help but that comes a very poor second to the ability of the squad.
My heads saying we are up against it today, we are clear second favs and a draw would be a good performance in my eyes.
John Pierce
100
Posted 06/10/2018 at 13:20:13
Neil. That's fair dos!
The evidence points to a defeat, 6/7 wins on the road in the best part of 2 and bit seasons someone said.
Leicester a very decent side. Their midfield should destroy ours if Silva picks his previous league line up.
The midfield needs reimagining the current combinations are not even midtable strength. He needs to be radical because you cannot live on the counter attack forever.
Richard Mason
101
Posted 06/10/2018 at 13:26:10
Pickford
Kenny. Zouma. Keane. Digne

Gana
Bernard. Gilfi
Walcott. Tosun. Richarlson
Richard Mason
102
Posted 06/10/2018 at 13:30:27
I personally think Bernard is more dangerous playing centrally
Paul Gallagher
103
Posted 06/10/2018 at 13:49:16
If Silva gets this wrong today, after the embarrassment of going out of the Carabao cup so meekly. Even know there would be only 8 games gone, with much tougher tests to follow. Could this be de ja vu from last year with Koeman. I hope to be proven wrong today, but my head says 2-0 to Leicester. Fulham could have been out of sight and won last week, if they had better quality. Our defence were lucky to keep a clean sheet, Leicester have more quality than Fulham, tinkering with a team for the Carabao cup could be a grave error on the part of Silva, who has won 2 of his last 18 EPL games.
Colin Glassar
104
Posted 06/10/2018 at 13:58:56
I think Silva needs a lot more time Paul. I still, like you, believe we will lose this one 2-0.
Neil Wood
105
Posted 06/10/2018 at 14:00:00
C'mon not you as well Colin !
Neil Wood
106
Posted 06/10/2018 at 14:01:44
Pickford Kenny Zouma, Keane, Digne, Gana, Davies, Walcott, Siggy, Bernard, Richie
Tony Everan
107
Posted 06/10/2018 at 14:02:29
John,
I like that team too, If Tosun or Calvert-Lewin are not coming up to the mark we should consider something different.
With that team there's is pace and creativity all over the place. It may get out-battled but with a resolute defence could still score more than the opposition.
Add Your Comments
In order to post a comment, you need to be logged in as a registered user of the site.
Or Sign up as a ToffeeWeb Member — it's free, takes just a few minutes and will allow you to post your comments on articles and Talking Points submissions across the site.