Silva content with new signings' progress
Thursday, 18 October, 2018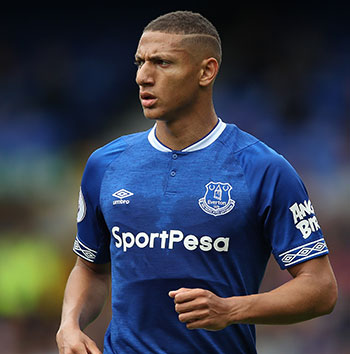 Richarlison has made an instant impact at Everton while the likes of Yerry Mina and Andre Gomes wait in the wings for their chance to impress
Marco Silva has explained some of the rationale behind Everton's summer signings and what can be expected of them, particularly Yerry Mina and André Gomes who have yet to feature.
The Colombian defender and the Portuguese midfielder were signed at the end of the transfer window in August but arrived at the club carrying a foot and hamstring injury respectively.
Both players suffered relapses in their recoveries but are approaching full fitness and could be named in the match-day squad as soon as this weekend when Crystal Palace come to Goodison Park.
Meanwhile, Lucas Digne and Kurt Zouma have settled seamlessly into the defence and made first-choice starting roles their own, as has Richarlison in attack, and Bernard is emerging as one of the Premier League signings of the summer now that he is getting his match sharpness back.
"Since the first day I came here, Lucas Digne was my first choice for left-back," Silva told the Liverpool Echo. "Richarlison I don't need to say any more about. I took him to my previous club as well and it was amazing to achieve a player like him because we spent big money on him.
"Kurt Zouma I know very well and he is a player we had in our mind as a possible solution on loan. And Bernard, everyone knows him of course. I know his coach well; he is a Portuguese coach and he is one player I had in my mind as well.
"Some people had doubts because of his size. He is not the type of profile of some players who come to the Premier League but he is a smart player and he is different to what we have on the flanks.
"As for the other two… Of course one (Gomes) is a Portuguese player who I know very well and it was a matter of getting him into a good physical condition. He is strong in his mind as well and I am sure he will help our squad like we need. We are happy with our midfielders of course but he can give different things for us.
"And Mina — we have to see how he can adapt to this different type of football but for sure he will play when he is in a good physical condition and when he has adapted to this type of football because it is different. But at the end, this is what you want.
"When we sign five or six players, maybe one or two need more time to adapt, but the others have to come in and show what we expect, and believe me we expect good things."
---
Reader Comments (18)
Note: the following content is not moderated or vetted by the site owners at the time of submission. Comments are the responsibility of the poster. Disclaimer
Mike Gaynes
1
Posted 18/10/2018 at 15:29:16
Some interesting comments here. Digne was his first choice from the day he arrived? That's quite a statement, given who was playing the position at the time.
About Gomes: "He is strong in his mind as well..." Very interesting that he would address that issue specifically, since Gomes' Barca teammates have publicly said otherwise.
And he seems to hint that Mina isn't quite ready, when he mentions twice in one sentence that the young man must adapt to this "different type of football". I wonder not only when we will see Mina, but who he will replace when we do. He's clearly impressed with Zouma, but it's hard to imagine benching Keane at this point.
Gary Russell
2
Posted 18/10/2018 at 15:37:34
"Since the first day I came here, Lucas Digne was my first choice for left-back; ..."
Quite a statement on what he thought about Leighton!
Kieran Kinsella
3
Posted 18/10/2018 at 15:39:07
Mike Gaynes
I took his comment as meaning that Digne was his first choice to sign for that position, as opposed to play that position. It was no secret we needed a left back and Digne apparently topped his wish list.
Tom Bowers
4
Posted 18/10/2018 at 15:51:52
If Mina wasn't ready, I am sure he meant fitness-wise. When you acquit yourself well at the World Cup, then you are ready for anything else.
Silva has the right to feel good, if about nothing else he has a top, well paying job at a ''big'' club and if he gets it right then all the bonuses will be there for him. Even if he gets it wrong he will have put his name up there and will always be in demand.
We all wish him luck as we all want to see success at the club, having been without it for so long. It won't happen this season but he has laid some good ground work for the future.
Mike Gaynes
5
Posted 18/10/2018 at 17:02:29
Tom #9, read his comment about Mina again. He mentions fitness once and adapting twice. I read that to mean that he's not yet "getting it" when it comes to Silva's defensive system.
Jim Bennings
6
Posted 18/10/2018 at 17:15:20
It got me thinking the other day how football even in the last decade has changed and how guilty we all are (myself included) to wanting instant results and success.
I recall when Leighton Baines signed for Everton in the summer of 2007 but it wasn't until December 2008 (think it was a substitute appearance against Chelsea at Goodison) that he became the automatic choice and the Leighton Baines we grew to love.
It took Baines 15 months to really make his mark at Everton and I remember a few times in his early months people suggesting he would move on due to his inability to oust Lescott (who was playing outstanding football at left back then) .
Baines though was given time to make his mark and grow into the club that's the point I'm making.
People expect Mina, Digne, Gomes to all be instantly success stories but they could become immense players over a period of time for this club given patience and time to do so .
John G Davies
7
Posted 18/10/2018 at 18:24:47
Jim, brilliant post mate.
Gavin Johnson
9
Posted 18/10/2018 at 20:08:59
The new signings we have seen play look good business. I am very happy with Digne, Bernard and Richarlison. It's a shame we've not seen Mina and Gomes but they, as well as the return of James McCarthy, are going to give us a shot in the arm in the coming few weeks.
Derek McMonagle
10
Posted 18/10/2018 at 20:35:35
You mean Monti.
Minik Hansen
11
Posted 18/10/2018 at 22:15:51
Jim #6,
You made a case there. This goes for Klaassen, Sandro and Lookman, who else have I forgotten, Vlasic. But if they don't get selected, they become unhappy, unlike Niasse, of which there has been enough debate about on here.
Eric Paul
12
Posted 18/10/2018 at 22:46:41
Jim,
Not to mention the youngsters, who find it harder to win over the supporters.
Derek Knox
13
Posted 19/10/2018 at 00:18:22
Very impressed with the new guys already, they seem to be settling in well. Personaĺly, I would like Zouma to stay with us at the end of his loan.
Digne, Richarlison and Bernard have made their mark, and their inclusion in the side is a must, injuries and suspensions, being the only reason they should miss out.
Hopefully we will see what Gomes can bring to the midfield when he is fit enough to play an area that, as with the striking role too, needs vastly improving.
Simon Smith
14
Posted 19/10/2018 at 00:27:10
Forget the Vlasic shouts or whoever else, the above are Silva signings, the others do not belong to him, he simply inherited them.
Gomes and Zouma are his players; he expects to help out almost instantly, Mina, Digne, Bernard and Richarlison are the here and now as well as his long-term players.
The Digne shout is good, Baines is and will always be a true blue but, at his age, he should expect to be ousted.
Not exactly the start we all wanted but let's look at the bigger picture, things take time and Silva's signings look exciting.
Martin Berry
15
Posted 19/10/2018 at 08:42:19
We could have two exceptional signings who have yet to play.
Gomes was brilliant for Valencia prior to his Barca dip and Mina was on Brands's radar for a long while; they fought hard to get him and for a reason.
Just give them some time and when the striker situation is sorted the jigsaw will not be far off completion.
Jerome Shields
16
Posted 19/10/2018 at 15:06:54
Good younger signing with potential, which they have showed they have when playing.
Dave Williams
17
Posted 19/10/2018 at 19:48:53
Eric #12 you beat me to it! Classic example of how big names get better treatment than the young lads.
Pat Kelly
18
Posted 19/10/2018 at 21:51:33
Let's remember Zouma and Gomes are only on loan for the season so possibly only stopgaps. If they aren't instant successes they're not going to get much time to make their mark.
Brian Porter
19
Posted 20/10/2018 at 00:30:07
I see the press (Back Page Football) are making mischief already, saying Richardson won't be with Everton for long. According to their report, the fact that he's Brazilian and turning it on for us means one of the 'big' clubs will be in for him soon, either one of the Premier League top 4 or the European big names.
For God's sake, he's only been with us for about three months, and they are trying to unsettle him already. Talk about rubbish reporting!
Add Your Comments
In order to post a comment, you need to be logged in as a registered user of the site.
Or Sign up as a ToffeeWeb Member — it's free, takes just a few minutes and will allow you to post your comments on articles and Talking Points submissions across the site.