Silva: We didn't do enough to win
Wednesday, 5 December, 2018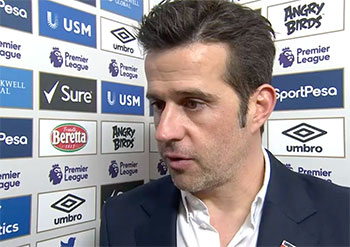 Marco Silva acknowledged that his Everton team didn't do nearly enough in the second half to win their home clash with Newcastle which ended all square at 1-1.
Richarlison cancelled out Salomon Rondon's 19th-minute opener, a counter-attack goal of the kind that the Portuguese said once again his team should not be conceding, late in the first half but the Blues couldn't use the platform provided them for the second half to force in a winning goal.
Silva admitted that his players tired in the second period playing so soon after Sunday's mentally taxing derby at Anfield but refused to use that as an excuse for his team's failure to perform.
"It was a difficult match like we expected," the Silva said. "[We were] better first half; we created more chances than in the second [but] our lack of concentration and focus in the goal we conceded… we cannot concede a goal like that.
"Of course, we reacted well; we scored once and had two or three chances to score. Cenk Tosun's was a clear chance to score to make it 2-1 at a good time two or three minutes before half-time and in that moment it could have changed the match for us.
"After that, Newcastle started to play to win the match. We didn't score. It was a little bit different in the second half. We knew before the match what they would do — try to wait for our mistake, like we did once in the first half and in the second half we did two or three as well.
"In the second half we didn't create enough chances to score, this is true. It was a tough match; we controlled it, had a number of corners, a big number of free kicks as well but, to be honest, we didn't create enough chances.
"We didn't stay too fresh; we had a tough match three days ago but that's not an excuse for us. We could and should have done better in the second half."
---
Reader Comments (19)
Note: the following content is not moderated or vetted by the site owners at the time of submission. Comments are the responsibility of the poster. Disclaimer
John Otway
2
Posted 06/12/2018 at 07:24:47
Wise words, Brian.
Rick Pattinson
3
Posted 06/12/2018 at 07:53:30
Ballotelli!!!!!!!!
Jim Bennings
4
Posted 06/12/2018 at 08:36:59
Yep, Marco, we didn't and the disappointment is that when we can't beat the top six home or away, it makes results like last nights all the more frustrating.
I was expecting a powerful response to throwing away that derby on Sunday but what we got was a flat game and flat atmosphere so it was quickly evident that Jordan Pickford's error in front of the Kop had mentally deflated weak characters in our team.
If we play like that against Watford, we won't win and then December will take a very bleak look with Manchester City and Spurs to follow and Boxing Day sees back to back away games; given our poor return in winning away matches, Burnley and Brighton ain't a doddle.
Watford will be a big test of character now.
Stan Schofield
5
Posted 06/12/2018 at 09:24:38
We now have a very good team, on the face of it capable of beating anyone, IMO. But the skill, style and commitment that we have also require that we are not too fragile in the face of adversity.
For a long time, Everton has (again, IMO) been too fragile, caving in to adversity, not being robust enough to ride the inevitable bouts of misfortune that befall all teams. I think this problem has been deeper than particular choices of manager and players, perhaps to do with the culture at Everton. The apparent mental fear of certain teams is an example of it.
At the moment, we seem to have a very good choice of manager, Director of Football, and players. We need to make the best of that choice, and that requires the right mental fortitude. If we don't have that fortitude, then the current opportunity we have to progress could ultimately regress to where we've been, consistently midtable with the consequence of failing to consistently get and keep very good players. The vicious circle we know so well.
Looking at the points haul so far, we seem to be again achieving what we've achieved for some time, averaging circa 58 points per season, which does not in my mind reflect the quality of personnel we have.
We simply cannot let disappointments like Sunday get us down because, if they do, it would seem to show a continuing problem at Everton, from which it would seem hard to escape. We would not be able to retain players of top quality, who would understandably seek success elsewhere.
Sunday was a disappointment; let's just treat it that way, and get on with the job of trying to win each game as it comes.

Phil (Kelsall) Roberts
6
Posted 06/12/2018 at 09:52:39
Stan – 15 fixtures so far. 23 points. Points from these same fixtures last year? 22.
John Boswell
7
Posted 06/12/2018 at 10:10:28
Phil, taking the two most recent fixtures as an example, we drew at Liverpool 1-1 and we defeated Newcastle 1-0 last season playing an abysmal style of football.
That is 3 points down against this seasons tally but we are clearly improving and we are much better to watch, imo. Still very early days but we are definitely on the rise.
Jay Wood
[BRZ]
8
Posted 06/12/2018 at 13:13:32
I speculated after the derby loss on Sunday that the two home games in a week against weak to middling opposition would tell us a lot about our progress.
What last night revealed, as Stan references, is that, while the football this season is easier on the eye, and the manager at least believes and sends his team out to play OUR way and to win, regardless of the opposition or venue – a resilience, a bit of nark, is still lacking.
With the heavy fixture congestion in December Silva was wise to rotate the squad. The 3 changes he made should not have been detrimental to our core style of play. The 3 players coming in should have been chomping at the bit to impress.
Of the 3, Zouma was the pick for me, Lookman flittered in and out of the game (and didn't appear very disciplined about holding his position) and Tosun, due to truly appalling delivery into the opposition area all night, was starved of service, fluffed one header and was denied by a good save for his only other chance.
The 'Big' teams we wish to emulate constantly change their starting XI from game to game and seldom miss a beat, or look fatigued or lacking in imagination. This is what we must replicate to break into the upper echelons of the Premier League.
Too many of whichever XI was on the park last night were poor in possession, passing – particularly crossing – and control. It was very easy for Newcastle to repel (and they have one of the best away defensive records in the league, in spite of their lowly position). There was no guile or speed to sufficiently disrupt their rigid defensive lines, or get in behind them.
I had the impression that Silva made his in-game substitutions based on a pre-determined game plan, rather than reacting to the performance on the night.
When Digne went down early in the 2nd half, there was an opportunity to introduce Leighton Baines to bring us some control down our left flank and possibly some improved delivery into their area, because last night Digne – as wonderful as he has been all season – possibly delivered the worst individual performance of any player this season. It would have been a kindness to the player and the team to sub him out.
I could understand removing Sigurdsson, because he was also poor last night, but the first changes Silva made unbalanced the side further with Bernard not doing very well in the Sigurdsson role as some have championed. Walcott also flickered, but ultimately failed to deliver any game-changing moment.
Now I thought Bernard had his best game in an Everton game on Sunday, but last night familiar failings reappeared: falling over at critical times, overhitting simple passes and passing on the blame to another player, equally bad crossing to other players.
I remain encouraged overall at our progress this season, but we are still falling short of what the most successful clubs do: being a monotonous metronome, always producing a performance, always getting a result, whatever the opposition, wherever the venue, whatever the circumstances.
We need to be putting away teams like Newcastle at home, even if it does come less than 72 hours after a last-minute derby defeat.
Chris Locke
9
Posted 06/12/2018 at 14:53:16
Its interesting that he didn't mention the referee. The team weren't firing in all cylinders but weren't assisted by the endless fouling. The ref decided not too take action early doors allowing Newcastle to hack away without any fear.
When you want to play a quick passing game, you need a ref who understands that 40k people don't pay to watch a bloke blowing his whistle every 3 minutes.
I'm not excusing the performance of the team and the game should've been won easily if we'd taken the chances we had. I just hope the referee's committee question how only 3 Barcode players were booked when they fouled 18 times — one of which deserved a straight red.
I think the crowd were correct to suggest that the prick wasn't fit to referee.
COYB
Jack Convery
10
Posted 06/12/2018 at 19:06:05
Honesty from Silva - no BS, no patronising of the fans either.
Will Mabon
12
Posted 06/12/2018 at 19:50:15
"Wise words, Brian".
That wisdom appears to've vanished into the ether...
John Kavanagh
13
Posted 06/12/2018 at 23:44:24
I cannot help but think that Bernard is a weakness - he has difficulty staying on his feet and, when he does, there's not nearly enough quality output in terms of crosses or shots. Dowell, for all his tendency to drift out of games, at least has the ability to cross and finish.
Although Digne did have a poor game last night, so did Sigurdsson. To anyone suggesting that Digne's performance was the worst by any Everton player this season, I can only respond in one word: Schneiderlin.
I rest my case.
Don Alexander
14
Posted 06/12/2018 at 00:12:47
I agree with Stan and Jay, our club still seems to have innate weakness in "heart" when the going gets tough. That said, we're only just beginning the M&M journey so I hope things change with every successive transfer window.
When I say they lack "heart", I appreciate they really did give Liverpool a game and I accept that the last minute calamity would have hurt but the trophy winning teams, suffering just such a defeat, would have relished a game against the likes of Newcastle to get themselves back on track.
I hugely applaud the transfer activities of M&M thus far and hope they go on to get rid of "the Kenwright brigade", on and off the pitch, as soon as. That said, they need to be addressing not only the technical football abilities of further potential signings but also their heart/leadership qualities, because we're still very light-weight in those departments from what I see.
Jay Wood
[BRZ]
15
Posted 07/12/2018 at 00:28:21
John @ 13, re: Schneiderlin.
You case is not well rested, I'm afraid.
It might be valid to make the claim you do based on Morgan's displays last season but, in his few appearances this season, Schneiderlin performed quite well. Certainly far better than Digne's shocker last night.
Schneiderlin is not going to get anywhere near the first team again any time soon and rightly so.
Digne was truly awful last night, but you can bet your house that he will get back to the excellent standards he has thus far set very quickly.
There's the difference.
Jerome Shields
16
Posted 07/12/2018 at 00:53:51
Silva didn't select or set the team up properly. Bentiz set Newcastle up to draw the game and Silva played right into his hands.
Mike Gaynes
17
Posted 07/12/2018 at 01:46:34
Jay #15, given a day off, I have no doubt he will.
Right now, he needs a break.
Baines for Monday.
Fran Mitchell
18
Posted 07/12/2018 at 02:22:07
Yesterday was a game that big teams need to learn to play against, to press and find space in a cramped opponent's half, to force mistakes by opposition defenders. It is something we ain't used to, and something that we can learn.
But we must improve our distribution. I've never before seen so many corners wasted when it was obvious both Digne and Sigurdsson were out of sorts, why not put Gomes on set piece duty? Or as many have said, bring on Baines?
That said, despite service to Tosun being poor, he also didn't bring much to the table. He didn't make space with smart runs, he didn't bully the centre-halves, for he is too slow and ponderous, and for a target man, isn't big or enough, and is quite average in the air.
For me, Richarlison, Calvert-Lewin, Lookman or Walcott. (I have a feeling Lookman is more suited to being an impact sub for the immediate future.)
I'd like to see Davies in for Gana, give Gana a rest and see if Davies ups his game alongside Gomes.
Also, Coleman continues to play below par.
Maybe a different system could be tried: 3-4-3 ... with Walcott and Baines on the wings.
Saegaran Kana
19
Posted 07/12/2018 at 07:21:19
Come on, lads.. chin up.
We're playing a lot better than the last 2 seasons. But it still is early days for Silva and he has shown his ability by steadying our ship. It'll take another 2 transfer windows to be challenging the top 6. We need a proper striker.
Tony Everan
20
Posted 08/12/2018 at 08:16:41
John #13,
I too think Bernard is struggling with the pace and physicality of the Premier League. After Leicester, our hopes for him were sky high, but the chances of being our David Silva are receding fast.
The early days argument still has some traction, but the wheels are starting to slip.
Lookman offers more, admittedly not much more on current displays, but a bit more nonetheless.

Christine Foster
21
Posted 08/12/2018 at 08:53:08
Here's the rub: we have Richalson, Walcott, Bernard and Lookman, each of then have moments of brilliance but none of then have a level of consistency that make them truly fabulous players.
Some weeks one or two of them are just off the pace but Silva is playing a numbers game; with four gifted players your chances of all misfiring on the same day is offset by the moments of individual brilliance.
For me, I thought Bernard had a good game in the derby; I thought, and still do, that Lookman will be gone at the end of the season. Richarlson flits in and out of games but rarely terrifies defences...
But the point is, all of them, on their day, can make us smile or give us something not seen at the club for a long time — true class.

Add Your Comments
In order to post a comment, you need to be logged in as a registered user of the site.
Or Sign up as a ToffeeWeb Member — it's free, takes just a few minutes and will allow you to post your comments on articles and Talking Points submissions across the site.