Opinion
Blue Dragon – A chat with David France
With another seemingly interminable international break upon us – albeit, thankfully, the last one of the calendar year – I took the opportunity to catch up with the Good Doctor Everton and ask him about his new collaboration with Rob Sawyer, the biography of striking legend Roy Vernon
With another seemingly interminable international break upon us – albeit, thankfully, the last one of the calendar year – I took the opportunity to catch up with Dr. David France. We chatted, of course, about the current state of the Toffees, the merits and otherwise of the current managerial setup and whether our long-suffering fanbase will ever have another trophy to cheer. But as well as reminiscing about the infamous Battle of Goodison, the 55th anniversary of which passed this month, I asked the Good Doctor Everton about his new collaboration with Rob Sawyer, the biography of striking legend Roy Vernon titled Blue Dragon.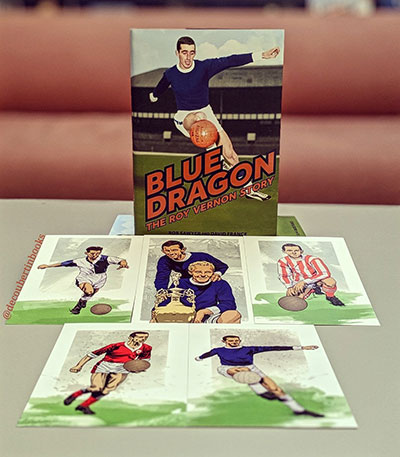 LL: What can you tell me about the Blue Dragon book?
DF: First, allow me to clarify that despite its title, the book has nothing to do with the Chinese chip shop in Goodison Road. Of course, it's the definitive study of one of British football's neglected stars – Roy Vernon. Some younger fans may not know that he was our top scorer for four seasons, captained our title-winning side in 1963 and was Wales's youngest participant in the World Cup finals. So why is Roy an unsung hero? Blame it on the euphoria associated with the divinity of his side-kick Alex Young, the drama of the FA Cup victory in 1966, the supremacy of the Holy Trinity and his premature death in 1993. Had he still been alive to be lauded at the Hall of Fame dinners, maybe things would have been different.
Anyway, Rob Sawyer and I believed it was time to elevate his place in our folklore and bring his colourful story to a younger audience. Rob, who contributes some tremendous articles to ToffeeWeb, had done the same with his excellent biographies of Harry Catterick and TG Jones. He is a diligent researcher and a joy to work with – even at ungodly hours of the morning. Our collaboration draws on first-hand recollections elicited by Rob from Roy's team-mates at Blackburn, Stoke and Wales, my files from interactions with his old Everton pals developed for a shelved project on Vernon and Young, painstaking examinations of archive materials and access to the Welshman's own unpublished memoir notes.
While we never interviewed Taffy from Ffynnongroyw (pronounced: fur--non--groi--you), a small village on the A548 just before Talacre, I attended most of the matches he played for Everton and did meet him fleetingly. It was before a game against Bolton in 1964. After a school pal and I spotted Roy and Sandy Brown leaving the club's reception, I sprinted across the road – into the path of a Hillman Imp. The vehicle was undamaged, but I was bloodied and embarrassed. While Sandy assisted me, Roy confronted the driver as if he had disallowed his goal against the Reds. The club captain – with fag dangling from his mouth – appeared to disagree with the consensus that it had been my fault. Sandy helped me into the foyer where a commissionaire clean me up. For his part, Roy reminded me of basic kerb drill for pedestrians. It's something I follow to this day.
Therefore I like to think that my involvement in this biography is repayment for him helping to ensure my safety during the past half-century.
LL: How would you describe Vernon? In your eyes, where does he stand as an Everton star?
DF: To those of us who saw him in his prime, Roy Vernon was an exhilarating player with lightning quick acceleration, balletic balance and a powerful right foot. Many older fans associate him with his legendary abilities to smoke in the post-match showers and to get his retaliation in first but, after working on his biography for the past two years, my description of his antics fluctuates between fun-loving maverick and niggling pain in the backside. While I prefer readers to decide for themselves, without question he was a mix of night-owl, risk-taker, provocateur and the person to call if you needed someone to convert a spot-kick to save your life.
From those that I've seen in action for Everton, I would classify him as a top-class player just behind the likes of – in no particular order – Southall, Wilson, Young, Labone, Ball, Harvey, Collins, Sharp and Reid. Of course, other fans may disagree. That said, he walks into my Everton Dream XI because of his telepathic understanding with Alex Young. Brian Labone often referred to them as 'The Dynamic Duo'. In fact, the book details their exploits throughout the glorious 1962/63 season as well as their partnership which mesmerized English football and their goals which brought the first meaningful trophy to Merseyside for 24 seasons.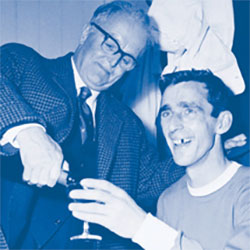 LL: I understand that Roy Vernon played in The Battle of Goodison. The visit of Leeds on 7 November 1964 has gone down in the annals of football as one of the British game's most savage confrontations. I heard you talk about it some weeks ago on 'The Diaries of an Old Lady' podcast and was amazed that you could remember so many details.
DF: Modern-day fans talk about bear-pits and cauldrons of fanaticism but when it comes to an intimidating atmosphere at a British match nothing – I repeat nothing – compares to that created at the infamous 'Battle of Goodison' exactly 55 years ago. It is something I'll never forget. Aware of the reputation of our rugged foes, which included my first idol Bobby Collins, we had expected a fierce contest. In fact, we had met the then Second Division Leeds in the FA Cup several months earlier and both ties had been littered with fouls. Of course, football was more physical back then with little theatrical flopping to the ground, even less feigning of injury and absolutely no writhing or rolling around the pitch and no shedding of crocodile tears.
One thing about getting old is that you vividly remember things that didn't happen, so perhaps other readers can share their memories from that day? I recall that after a couple of reckless fouls by Bobby Collins on Derek Temple and Billy Bremner on Fred Pickering plus a cynical one by Johnny Morrissey on Jack Charlton – nothing too dangerous, just two footed lunges and wild challenges from behind – the match exploded. In the fourth minute, Johnny Giles left his stud marks on the chest of Sandy Brown who retaliated with a monster left-hook. Decades later when I interviewed Sandy at his Blackpool home, he explained his loss of temper: 'Johnny said my parents weren't married!'
As the men in blue stood toe-to-toe with those in white, the violence on the pitch turned brutal and 'The Old Lady' turned ugly with 44,000 baying for Yorkshire blood. Back in the Sixties, Goodison had an unsavoury reputation for its frenzied crowd and tribal hooliganism. The News of the World proclaimed that we were the "roughest, rowdiest rabble who watches British soccer". The newspaper's description stemmed from a clash with Tottenham in November 1963 when idiots in Gwladys Street threw darts at keeper Bill Brown. As a result, arcs were added to the walls behind both goals to distance potential perpetrators from visiting goalkeepers.
In the combat zone, Roy Vernon – the thinnest man on the pitch, and Bobby Collins – the shortest man on the pitch, choreographed the hostilities. Along with Norman 'Bite Your Legs' Hunter, Jack Charlton, Johnny Giles, Billy Bremner, Jimmy Gabriel, Johnny Morrissey and Dennis Stevens, they were lucky not to join Sandy Brown in the showers. As the game deteriorated into anarchy, the perception that the visitors were getting away with foul after foul incensed 'The Old Lady' and the sky rained cushions from the Bullens Road Stand and pre-decimal pennies, bottles and other missiles from all four terraces. Any Leeds player brave enough to stray within 15 yards of the touch-lines ran the risk of being struck.
Things came to a head in the 35th minute when full-back Willie Bell launched a wild two-footed, Kung Fu type of kick at Derek Temple. As the Everton winger was being carried off by the St John Ambulance attendants, the crowd exploded with violent anger. Normally level-headed and well-behaved supporters were transformed in a seething mob seeking vengeance. I recall that one disgruntled Blue near me threw his house keys at keeper Gary Sprake and had to plead with a photographer to retrieve them. At the other end of the pitch, the referee – Ken Stokes from Newark – was struck by a projectile and took the unprecedented step of ordering the other 20 players to the dressing rooms to give them and the crowd time to calm down. I can picture him marching towards the tunnel with the unruly players following like naughty schoolboys who had just realized that they had pushed him too far. Recently Les Cocker, the Leeds trainer, who had demanded that Bell feign injury and stay down, noted the response from the Goodison staff to his request for assistance: "Get your own effing stretcher!"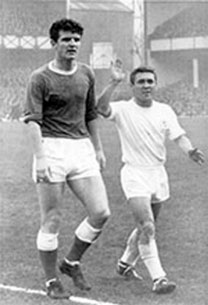 Who can forget the photo of the two captains – 'The Little General' at 5 feet 3 inch and 'The Last of the Corinthians' at 6 feet 1 inch – leading their teams off the pitch? Years down the line, Brian Labone told me that it was the only time he had seen uncontrolled rage on the contorted faces of football fans. Brian recalled: "I learnt a lot from Bobby during my younger days. During training I would challenge him for the ball and he would flatten me. I was shocked by his aggression. So the next time I tackled him harder and he snarled, 'you're learning son'. Wee Bobby added ruthlessness to any team and relished hostile environments. For him, the Battle of Goodison was bliss."
Other participants have claimed that the referee wanted to end the game but changed his mind on police advice. In fact, the local constabulary issued an ultimatum via the tannoy system that the game would be abandoned if any more cushions were thrown. Cushions? Older Blues will recall that the wooden seats in the Upper Bullens Road stand were so uncomfortable that most patrons rented cushions. An inch or so thick and measuring the size of the British standard bum in the Sixties, it was the rectangular prototype for the plastic frisbee and could be thrown considerable distances using the most primitive backhand and hammer techniques.
In truth, we were surprised when the teams returned to the pitch. However, the 10-minute ceasefire had done little to soothe the hostility of the fans or the fury of the combatants. Many of the latter adopted a kill or be killed mentality and the match continued to seethe with aggression bordering on thuggery to its bitter end. There was no invasion of the pitch when the final whistle blew. Most likely everyone was either exhausted or disgusted. Nevertheless, an infuriated mob pelted the Leeds bus with missiles and had to be dispersed by mounted police. As for the referee and his linesmen, they remained in the changing rooms for several hours until the angry supporters had been dispersed.
Some 25 years on, in the aftermath of a similarly rambunctious Hall of Fame evening, I quizzed Bobby Collins about his part in the mayhem: "Aye, it was a brutal affair with lots of nasty tackles – some blatant, some sly. I don't know what Goodison expected. I played the same way during my three seasons there. Both sides were naughty. I'm not sure who won the war, but we won the match." Whereas Alex Young reflected: "The wee man was such a master of the game as well as the dark arts that he was voted Footballer of the Year at the end of that season. He had a win-at-any-cost attitude like that of Alan Ball."
Everton were penalized for 19 fouls, whereas Leeds committed – in the eyes of the match officials – only 12. However, it was the arrogance of Don Revie's team of perfect villains, so skilled at upsetting their opponents without winding up the referee, which fuelled the flames. There were no winners that afternoon. Sandy Brown was suspended for two weeks. The hosts were fined £250. The visitors were vilified as 'Dirty Leeds'. Both clubs were condemned for damaging the image of football.
It was a sad day for Everton and fellow Evertonians – it was also the last time that Vernon and Young played together.
LL: It is the third Everton book written by Rob Sawyer and the 18th by David France. As the senior co-author often jokes: 'Lots of words, sometimes in the right order.' Thanks to the Kickstarter crowd-funding campaign and its enthusiastic backers, 'Blue Dragon – the Roy Vernon Story' is being published by DeCoubertin Books as a limited edition of 1,000 copies. The books were received recently from the printers and will be dispatched to customers in mid-November. The remainder will be available from Everton One and Two, Waterstones and other good bookshops as well as Amazon.co.uk and deCoubertin.co.uk at £18.99.
Over the past few weeks, I've reflected on some of the responses to my annual interview with his wife,Elizabeth when a few readers asked, "Who are David and Elizabeth France?" I had assumed that everyone knew of their contributions to Evertonia over the past 25 years, not least the famous Everton Collection which forms a historical record that is unmatched in professional football anywhere in the world. In my eyes, their deeds are peerless and made even more so by the fact that neither seek nor desire recognition.
This is where I come in. So who is the man hailed as 'Dr Everton' by the Daily Telegraph in 2008? Well his Wikipedia page says that he is an author, football historian and philanthropist who has been the driving force behind numerous ground-breaking Everton initiatives. It adds that Liverpool's Freedom of the City panel rewarded him with the prestigious title of Citizen of Honour in January 2011, the first person to receive the award for services to Merseyside football since Bill Shankly, and that he was appointed an Officer of the Order of the British Empire (OBE) in the 2012 New Year Honours for services to football in the United Kingdom and Europe. Sounds impressive?
Of course, the reliability of Wikipedia has often been questioned so let me tell you what I know. For those who prefer numbers to eloquent words, David is a fifth-generation Evertonian. During his 62 match-going seasons, he has attended over 800 first-team games at home and away. This decent tally becomes an incredible figure when you realize that he has lived in the USA for the past 42 years and has travelled in excess of 2,000,000 miles – a 10-hour flight in each direction – following Everton. His carbon footprint being offset by listening to music of Leonard Cohen during most flights. A long-time patron of the Joe Mercer Suite, he now prefers to provide season tickets to students at the Everton School.
As for more numbers, he has penned a small library of books to tell the Everton story from different angles and, with the support of an army of volunteers, organized a dozen Hall of Fame dinners, traditionally held at the Adelphi Hotel, which in total catered for almost 9,000 supporters. Younger fans may be unaware that these notoriously raucous evenings served to celebrate our past as well as lift our spirits during times when things weren't going our way on the pitch. The net proceeds from the books and other initiatives were donated to Merseyside charities.
His most trail-blazing undertaking, the Everton Former-Players Foundation, has, with the steadfast support from its trustees as well as the PFA, assisted over 100 former Everton players by alleviating their medical concerns via knee, hip and other surgeries and providing them with pain-free lives. Its work and results are kept confidential. Hailed by UEFA as the model for other clubs and embraced by the likes of Barcelona, Real Madrid, Bayern Munich, etc., it is credited with indirectly helping thousands of ex-footballers throughout Europe. Makes you proud to be an Evertonian!
Closer to home, the authors, researchers and my fellow members of the EFC Heritage Society based at St Luke's Church, an initiative introduced by David to promote and preserve the rich heritage of our great club, continue to educate as well as entertain football fans of all persuasions before first-team games as they have done now for a decade. In addition, the Society has restored and rededicated the graves of Will Cuff, Andrew Hannah, Sandy Young and others from our distant past. At the other end of Goodison Road, behind the statue of Dixie Dean, hang the two marble plaques designed and commissioned by Elizabeth to honour our wartime fallen heroes.
Then there is the world-famous Everton Collection. Surely all Evertonians irrespective of age and geographic location have heard of – and are proud of – the finest and most complete collection of football memorabilia in the whole world which is being stored expertly and safely in brand-new climate-controlled facilities at the Liverpool Record Office? Based for the most part in Texas, David took over 20 years in the pre-eBay era to track down and assemble his archives which include some of football's rarest items dating back to our pre-League days in Stanley Park, Priory Road and Anfield. Perhaps, the most significant result of his treasure hunt is the long unbroken sequences of memorabilia which tell the week-by-week story of life as well as football on Merseyside. It is the envy of the football world and surely will be celebrated, when it sees the light of day, at the new stadium.
Again, for those who like numbers: After the addition of the club's own modest archives, the Everton Collection contains in excess of 20,000 items. To ensure that these treasures remained on Merseyside, the UK Heritage Lottery Fund provided a handsome grant. Also David and Elizabeth donated a seven-figure sum to the Everton Collection Charitable Trust in December 2007 rather than allow the collection fall into alien hands. In addition, they gifted the official minute books previously discarded by the club which are simply priceless in that they detail all weekly board meetings from 1886 to 1964 and shed light on the acrimonious formation of you-know-who. Though not involved in the operations of the Trust, David has continued his support with donations to the charity founded by Lord Grantchester, the grandson of Sir John Moores.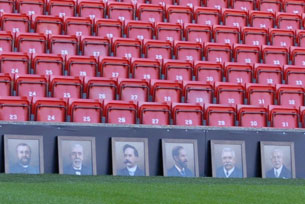 This brings me to the subject of recognizing the great men from our distant past and the fact that David and Elizabeth commissioned the magnificent series of paintings known as The Founding Fathers of Merseyside Football – namely Reverend Ben Chambers, Mayor John Houlding, Dr James Baxter, Will Cuff, George Mahon and John McKenna. While these oil paintings of the pioneers who shaped the game in the nineteenth century have been exhibited at Anfield, they have yet to grace Goodison.
Enough of the numbers – who in their right mind would make such commitments of resources and time to a football club in the Premier League era during which everybody appears to take and rarely think of giving back? Not many. Like other Blues, I've discovered that telephone calls with him, which usually last for 90 minutes plus time added on for plenty of laughter, are uplifting, insightful and pragmatic and rich in anecdotes about David's years following the Blues. Married to Elizabeth for 44 years, I was privileged to attend their farewell dinner at Liverpool Anglican Cathedral and vividly recall her words to the congregation which included a cross-section of Blues stretching from Lords and Bishops via footballing heroes from different eras to poets and classical guitarists to shareholders and season-ticket holders to reformed hooligans plus two or three ubiquitous Reds. She reflected on her marriage to both David and the first club of Merseyside and proclaimed: "Behind every good Evertonian is a woman... rolling her eyes." While football continues to evolve and people come and go, I hope my words trigger our younger supporters to embrace the deeds and replicate the devotion of Dr Everton.
Last week I phoned Elizabeth about the hubbub associated with her recent ToffeeWeb interview. True to form, she chuckled: "An Everton director? Me? That's out of the question, we already have one former-school teacher on the board." Of course, what many readers implied is that they would like to see more board members with Elizabeth's type of nous, passion and blue blood. Later she added: "As for my husband? Everton had its chance 25 or so years ago but a former chairman (who had best remain anonymous) told David that someone with his qualifications and executive experience was 'out of our League'."
Let me explain. David often describes himself as "just an old Blue from Widnes who survived the Boys' Pen". But let's put aside the modesty – his personal accomplishments are inspirational. This is what I have gleaned from his 'roaches to riches' autobiography: effectively illiterate until age 14, he left Secondary Modern School to become an apprentice gas fitter... and not a very good one from his accounts. Encouraged to study part-time at Riversdale Tech College, he excelled and progressed to receive more degrees than a thermometer (BSc, MSc, PhD, MBA) from universities in the UK, Germany and the USA to add to his City & Guilds (Gas Fitting) diploma. Thanks to his award-winning research related to the future use of hydrogen – or, in his words, the whack-job of the periodic table, his move to the USA in the Seventies was sponsored by Senator Edward Kennedy. Initially, he provided advice to the US nuclear industry and NASA before being recruited by a multi-billion-dollar oil and gas company in Houston. Within no time, he became a member of the corporate management committee with responsibilities for worldwide profit improvement, strategic planning, new business development, supervision of billion-dollar acquisitions/disposals and 'a bunch of other stuff'. He retired from corporate life at age 42 to advise banks and well-heeled individuals involved in turning-around under-performing companies. Most of his 30 years in retirement have been committed to following Everton and enjoying life alongside his wife in some of the most beautiful parts of North America.
It is a shame that someone of David's deep love for and knowledge about Everton, his longevity of support and business acumen hasn't played a part in steering the club forward from the Boardroom at any point over the decades but football can be a cruel and unforgiving business and I find myself wondering if, perhaps, it's just as well that it remains a what-might-have-been.
Plus, I rather enjoy having David on the other end of a phone line to wax lyrical about Everton's rich history and comiserate over our many false dawns and it's quite possible that had he ascended to the corridors of power at Goodison Park, we might not be the friends we are today!
David's fascinating autobiography 'Everton Crazy' and its replacement 'Everton Proud' sold out within weeks of publication in 2016. Now and then a copy appears on eBay, usually for silly money. I suspect that the same fate awaits 'Blue Dragon – The Roy Vernon Story'.
Reader Comments (91)
Note: the following content is not moderated or vetted by the site owners at the time of submission. Comments are the responsibility of the poster. Disclaimer
Tony Hill
1
Posted 14/11/2019 at 07:33:37
Great stuff. Vernon was one of the best finishers I've seen and was a fine all- round talent. I would put him ahead of Sharp and probably Reid.
The infamous Leeds game showed the essence of that horrible team. It continued for years and Clough was right to damn them. Giles, in particular, was one of the most sly and dirtiest players.
Very much look forward to reading the book.

Chris Williams
2
Posted 14/11/2019 at 09:24:30
Agreed Tony. Looking forward to my copy arriving shortly.
Phil Parker
3
Posted 14/11/2019 at 09:33:41
Always a marker on our family holidays to North Wales, " Roy Vernon was from here" as we drove past his home village. Great that you guys are telling his story. Thank you on behalf of me and my dad. Nil Satis Nisi Optimum.
Peter Mills
4
Posted 14/11/2019 at 09:38:20
As a boy, I only watched Roy a few times, but he was a thrilling sight. He wasn't too popular with my Mum because she had to sow two numbers, 1 and 0, onto my shirt as opposed to my brother's singular number 9.
The atmosphere at the Leeds game was pretty special for an 8 year old, educational as well, as my vocabulary was increased quite extensively.
It's always great to hear from Dr and Lady France, and it gives me the opportunity to publicly thank them for a recent act of kindness from them. I won't go into the detail, suffice to say that it came completely out of the blue, was the sort of thing where they would have ticked the "no publicity" box, but was very much appreciated. Very best wishes to them both.
John Keating
5
Posted 14/11/2019 at 09:45:47
I must admit I was surprised when they all trooped off.
To be honest I can't really recall it being that different from a few other games around that time.
Obviously it's a generational thing but as intimated by David, the tackling and lack of cheating, rolling around and moaning to the ref, compared to todays nonsense is something I miss.
Don't know how many posts we had on Son's tackle but if we had the early sixties teams playing today the internet would explode
Pete Jones
6
Posted 14/11/2019 at 11:18:28
Thanks for this Lyndon; you manage to capture the essence of David and Elizabeth in words, especially their unique humour. It's the next best thing to talking to them in person.
I can only dimly remember the times discussed but I still hate Leeds; I'll forget but I won't forgive
Eric Myles
7
Posted 14/11/2019 at 12:52:23
I had always hoped that Goodison would become a World Heritage Site and be the permanent residence of the David France Everton Collection when we move.
Dave Abrahams
8
Posted 14/11/2019 at 13:42:54
In the time Thomas Royston Vernon played for Everton, in my opinion he was at least the equal of every other player I saw for Everton except for wee Bobby Collins, who dragged Everton up by the scruff of their mediocrity to the level of league champions, just missing out on a medal with Harry Catterick selling him.
My thanks to David France for another act of kindness, also out of the blue, I think Peter Mills put a word in for me.it wasvery much appreciated and I hope David and Elizabeth received my thank you letter, the gift I received has been passed around to many delighted Evertonians and is still in the process of being watched, I hope to get it back someday.
So thanks again David and Elizabeth, the best of health to both of you, ps I did ask Elizabeth when her next post to ToffeeWeb was coming, always a welcome and very knowledgable read, hope it is soon.
Mike Royden
9
Posted 14/11/2019 at 14:52:06
This is brilliant Lyndon, on everything! - Vernon, the Leeds match and of course David & Elizabeth. I was at the Leeds game, I can remember asking my dad why half-time had come early and him replying they all needed a drink to calm down, including him. It was great to catch up with David when he was over for the Holy Trinity event. I was meeting with a local village group this morning and I was telling them about the Leeds game, The Everton Collection and David, and non of them had heard of any (no Blues among them I might add). So I came home and read your article, couldn't believe the timing, just perfect - so I've now circulated the philistines with it! So thanks for helping there too :-)
Jay Harris
10
Posted 14/11/2019 at 15:53:09
Great post Lyndon and much to reminisce about.
Roy Vernon was my favourite player despite the adulation that Alex Young and Alan Ball received.
To me he had the dribbling skills and scoring ability of the great George Best (A player I consider to be the best I have ever seen).
A very heartfull thanks to the Frances and Rob Sawyer and your good self for putting all these fine memories into eloquent words.
And Leeds will always be "Dirty Leeds" its in their DNA. LOL
Dave Brierley
11
Posted 14/11/2019 at 16:05:51
Great read Lyndon. It's always good to hear about/from the France's. Great people and Evertonians.
I lived in West Derby when Roy Vernon had just signed and I and several mates used to stand on the wall at Walkers playing field which overlooked Bellfield on the other side of Sandfield Park and watch the players training. I always got the impression that Roy Vernon was a bit of a rebel as all the players had blue tracksuits and he wore a black one. Hell of a player and like others have said he was one of the all time greats.
Oh for a Roy Vernon and Bobby Collins in today's set up eh?
Mike Gaynes
12
Posted 14/11/2019 at 16:57:30
Lyndon, a magnificent article about Everton's most magnificent ambassador and historian. Like Dave and Peter, I have enjoyed the generosity of David and Elizabeth, who for some reason have dedicated themselves to the badly-needed education of this Everton-illiterate Yank. I don't really "know yer 'istory" and learning about it from David's books has certainly made my heart go
"Wooooaarrr."
For example, until this article, I knew virtually nothing of the Battle of Goodison -- what a great story. It would be entirely too American of me to ask who actually won the game, and I don't believe it was mentioned in David's autobiography Everton Crazy, so I will look it up online.
Bill Watson
13
Posted 14/11/2019 at 17:03:13
Thanks for the article which brought back memories of that brutal game.
Giles was the worst of the lot as he was sly but the manager, Revie, was a sleezebag who was later accused, by Bob Stokoe, of offering him money to throw Leeds' game against his Bury side.
Vernon was up there with the very best and certainly ahead of Sharp. He took a great penaly, too, and who will ever forget him feigning the kick and sending the Man Utd 'keeper Gaskell diving to stop a non existant shot, in the Charity Shield?
Just a point (excuse the pun) on the 'Spurs game when darts were thrown at their goalie, Brown. I seem to remember this was at the Park End and not Gwladys Street.
Terry White
14
Posted 14/11/2019 at 17:33:49
Mike (#12). We lost 1-0 to make a bad day even worse.
Kevin Latham
15
Posted 14/11/2019 at 18:41:50
Lyndon, tremendous piece about a true Everton great, thank you. In fact, make that 2 greats - Roy and Dr France. And some of the other names throughout the article recall the class that we were privileged to watch - Alex Young, Bally, Labone, Collins etc. As for Dr France, it's always such a pleasure to read his knowledgeable comments. He's always so upbeat about the club no matter where we are in the table and to be honest many of us would do well to follow his example. I may sound like a happy clapper here but I think that articles like this remind us what a great club we are, and even though we've been through the mill for so long Everton is in our blood and always will be. Think I'm going to cry now, I'm a bit daft like that....😢
John de Frece
16
Posted 14/11/2019 at 18:56:54
What a tremendous article! Many thanks. I was a tremendous fan of Roy.Its heresy to say so - but I always preferred him to Young. On his day, Roy was the best player in England.
A great captain. I'm glad he is now being remembered.
Paul Rigby
17
Posted 14/11/2019 at 19:01:03
Some brief glimpses of Vernon in action in December 1960, courtesy of a Grand Old Team posting:
http://youtu.be/IGu5vTUBGco
Jamie Evans
18
Posted 14/11/2019 at 19:21:51
After some of the recent name calling on the site, it's very nice to get back to an adult thread.
Fantastic article Lyndon, thank you very much. I only ever heard great things about Roy Vernon from my now since passed Father in law. Apparently him and Tony Kay were on a different level to almost all of their peers.
I say almost because of what I also heard about The Golden Vision.
Terry White
19
Posted 14/11/2019 at 19:45:09
That's great, Paul (#17). Not great quality but you are able to see glimpses of names such as Labone, Collins, Bingham and, of course, Roy Vernon. Our team that day in front of 50,000+: Dunlop; Parker; Thomson; Gabriel, Labone, Brian Harris; Bingham; Collins; Wignall, Vernon; Jimmy Harris.
Here are a couple of other You Tube links of better quality showing Roy at his finest.
https://www.youtube.com/results?search_query=everton+v+west+ham+1960
https://www.youtube.com/results?search_query=wolves+v+everton+1962
https://www.youtube.com/watch?v=9Jxk6n5JGLQ

Tony Hill
20
Posted 14/11/2019 at 21:52:36
That pass to Young,Terry, in the Wolves game. Great to see the excellent Mick Meagan who is still with us, of course.
Tony Hill
21
Posted 14/11/2019 at 22:01:25
Jamie @18, Kay is in my top 5 for Everton.
Terry White
22
Posted 14/11/2019 at 22:19:40
And, of course, Tony, in the West Ham game the incomparable Tommy Ring. I am sure Christy Ring enjoys seeing any glimpse of Tommy. Mick Meagan was an unsung hero of the '62-'63 team, deputising in the Wolves game for Alex Parker and then later in the season for the unfortunate George Thomson.
Happy Days for those of us old enough to have seen that side between 1959 and 1963.
Paul Birmingham
23
Posted 14/11/2019 at 22:20:46
Superb read, and if this current team had half the fight and belief of the Everton team of the 1960s.
My dad always said Giles, Hunter, Charlton and Leeds were the dirty . he'd seen.
Fantastic heritage and these articles are fantastic.
Chris Williams
24
Posted 14/11/2019 at 22:22:03
1. Vernon
2. Harvey
3. Ball
4. Young
5. Kay
Personal top 5. Your first heroes are the best.
Tony Hill
25
Posted 14/11/2019 at 22:26:22
Incomparable, indeed, Terry. I'd best shut up now, because I could go on and on about those days, and I'm afraid I often do.
Jamie Crowley
26
Posted 14/11/2019 at 22:33:02
Tony -
Keep talking. Some of us enjoy the stroll down Memory Lane others share.
And that Leeds game Dr. France speaks of?
It might be my first stop when the time machine is invented.
And I have to second Lyndon's assessment of Everton Crazy being "fascinating" and I'd add one hell of a good read. I've been cracking through it over the past few weeks, and it's a marvelous book. I highly suggest it.
Tony Hill
27
Posted 14/11/2019 at 22:47:37
Thanks, Jamie. I should have said earlier that Dr France and Mr Sawyer and the other historians and curators of our club preserve our spirit and link our younger and newer fans to the golden years, don't they? It's a great service they provide.
We all want to see that style and swagger back for those who haven't yet seen it live.
Now I will shut up.
David Pearl
28
Posted 14/11/2019 at 00:01:06
I was number 15 in the Kickstarter campaign... so my dad will be happy for Xmas.
Although I'm not happy. Everton Crazy is on ebay for £595. I gave mine away after l read it. Anyone need any business advice let me know...
Darryl Ritchie
29
Posted 15/11/2019 at 06:14:40
Living in Victoria B.C., I had the privilege to meet David and Elizabeth. They are the reason that am now, and always will be a blue.
One of the last times I met them, I said to David," You bastard ". He just laughed because he knew exactly what I was referring to. " It's like an obsession, isn't it? " he replied.
It was, is, and always will be an obsession. A pleasant one, though.
Chris Williams
30
Posted 15/11/2019 at 08:30:23
From Tommy Ring in 1959 against Forest to winnning the League in 1963 against Fulham was a magic time, every game like Christmas with new presents to open.
I, and thousands like me were both blessed and spoilt by the experience. Blessed to see it and revel in it but spoilt by the fact that somehow nothing that came later, no matter how good, could quite compare.
Wouldn't have missed it though.
Dave Abrahams
31
Posted 15/11/2019 at 09:14:36
Chris (30), that 1963 team and the seasons before it were my best Everton squad: Marvellous.
Chatting to Grahame Sharp and Ian Snodin one night in The Post Office pub, just off Hanover Street they asked me who was my favourite Everton team, trying hard to nudge me towards Howard's, and of course, their squad. Without having to think, I said the 1963 squad, they had a little go, again, about their team, I told them it was a privilege to watch all Everton's title winning teams, but they and anyone could talk all night about the best squad, but I wouldn't ever alter my opinion of that fabulous 1963 one.
However I did concede to them that Howard and that team, gave us our pride back in their period of success, when we walked, and they fought, with our heads held high against any team we played, especially when we played at Anfield.
Chris Williams
32
Posted 15/11/2019 at 09:23:52
Yes Dave, I completely agree. That was our first trophy post WW2. Coming out of a spell in Division 2 and a long period in the doldrums it was a renaissance. Like when it changes from black and white to colour in the Wizard of Oz.
It helped to be young too!
Dave Williams
33
Posted 15/11/2019 at 10:21:35
That Leeds game was savage but as mentioned above there were a number of similar games back then. I saw an old Arsenal- Leeds game on Sky a while ago with Storey in the Arsenal team and it was truly brutal. Both sides went for the man rather than the ball but not one player showed weakness- very much a case of show no pain!
I started watching in 1963 so can't comment on the 59-63 squad. I saw Roy a few times and he was like a rapier- Ian Rush springs to my mind. I too took great delight at driving past signs to his birthplace when mum and dad took us to Frith beach in the summer. His love affair with figgy swashbuckled legendary but I didn't realise he was so good as to be a contender for a top five of all time ranking. Likewise Kay who I didn't see. Ball will always be my number 1 but by the sound of it Roy would be a strong contender for one of the strikers.
I will certainly buy the book though I have not started David Frances last one yet or the Tommy Graveson biography. Any new ones coming out for Christmas?
Chris Williams
34
Posted 15/11/2019 at 10:36:47
Dave(33)
Re Books
Money can't Buy Us Love, I think it's called. All about Everton and John Moores. The Mersey Millionaires.
By Gavin Buckland. Currently reduced on Amazon
It's on my Christmas list
Dave Williams
35
Posted 15/11/2019 at 10:39:41
Ciggies not Figgy!
Dave Williams
36
Posted 15/11/2019 at 10:41:15
Thanks Chris- will get that- brilliant!
Ray Roche
37
Posted 15/11/2019 at 11:02:28
Great article and thread. Great memories, too, in the Youtube matches suggested by Terry@19.
Watching the first Derby of the current era I noticed how, when we were awarded a penalty, after having two goals disallowed, the RS players surrounded the referee to intimidate him. Nothing changes. I think that it was Shankly who got his team to contest every decision, or have I imagined reading that in the distant past.
Youtube is a wonderful tool for wallowing in nostalgia, or for letting our newer recruits, especially our Stateside friends, see what all the fuss is about. Or just checking stuff out. Great to use.
Vernon was a fantastic player, dovetailed perfectly with Young, and was no stranger to the hard tackle, making or receiving. In the Youtube matches (above) Bingham gets some very rough treatment from Sheffield Wednesday, but gets up, limping, retrieves the ball and gets on with it. As they all did, so refreshing to see. No sliding on the knees to the corner flag, where they know there'll be a camera, no feigning injury, in fact none of the piss poor antics that have Royally ruined football for many people. Living in the past? Maybe, but how much better it was !!
Ray Roche
38
Posted 15/11/2019 at 11:25:57
Well, my morning's stuffed, talked myself into watching some YouTube, with Terry's help, but if you want to see some lovely football and see Young and Harvey etc.at their finest, try the link below. Don't let anyone say that the game is "much slower" these days!
https://www.youtube.com/watch?v=Be2wP2JCdQg
Lenny Kingman
39
Posted 15/11/2019 at 13:15:15
Some great memories stirred in the melting pot of my mind in this great article.
Ha, that Leeds game. I was on the vast Goodison road terrace positioned just above the dugouts. Got a good view of Sandy's less than smiling visage as he made his way off. Pulling up his long blue sleeves as if getting ready to bash the living daylights out of any dirty Leeds vermin that barred his way to the tunnel.
The tackle by Willie Bell on Shirley had to be seen to be believed. It reminded me of one of Johnny Cougars moves in his role as an Indian wrestling hero in one of the comics I used to buy back then. Flying through the air to drop kick his opponent and send them flying too.
I would award Bell, another under the radar Leeds filth, the dishonour of my personal foul of a lifetime award.
Reminiscing like this has me thinking back to other violent attacks on our heroes in blue. There was Dave McKay on, I think, Jimmy Husband in a league cup tie against Derby County in 1969. The tough as nails Scotsman's left leg was perpendicular to Husbands head pointing straight at the moon in the night sky.
Then there was Larry Lloyd in the semi final of the FA Cup at Old Trafford in 1971. Think he took out Joe Royle. It was an attack that you could get jail time for in the modern game.
Leads me on to the last to mention here, though it could be a never ending thread with all the memories stored within the blue psyche of us all.
That tackle, was the career halting assault on Adrian Heath in our glorious re-ascendancy season of 84-85. Brian Marwood, thug, I think I am still capable of nutting him on sight if he ever had the misfortune of crossing my path in 2019!
Dave Abrahams
40
Posted 15/11/2019 at 13:46:37
Back to that Leeds game in 1964, Everton played a young Welsh lad at left back in that game, normally he played up front, Barry Rees, doubt if he had played there before.
Barry didn't play many games for The Blues, he was later killed in a tragic car accident at a very young age.
Jamie Crowley
41
Posted 15/11/2019 at 14:10:55
David Pearl @28 -
Good morning.
Are you telling me Everton Crazy is on eBay and is sold for like $765 or so? What?! Jesus, Joseph and Mary – that's a hellava lot of money for a book. I had no idea!
😲
Chris Williams
42
Posted 15/11/2019 at 14:15:56
I remember him, Dave. I think he was highly regarded wasn't he, with a bright future.
Either way, it's a shame to die so young.
Fancy being thrown into that particular game. Catterick must have had confidence in him.
Brian Harrison
43
Posted 15/11/2019 at 14:31:18
I remember the Leeds game, just shows how much the game has changed. Despite how brutal the tackling was, you never saw anyone rolling around play acting like they do now. In those days, players wouldn't show they were hurt or intimidated, no matter how bruising the tackles were.
I guess in today's game, both teams would have been lucky to end up with 3 a-side. Certainly the players today are better protected which is right, but it just highlights in particular how good the forwards were in those days. For me, Jimmy Greaves was the best finisher I ever saw when you think the stick he and other forwards took every week, how they stayed injury free for so long was a mystery.
Now, players are falling over if someone breathes on them; how the game has changed, and not always in my opinion for the better.
David Pearl
44
Posted 15/11/2019 at 14:37:17
Morning Jamie,
https://rover.ebay.com/rover/0/0/0?mpre=https%3A%2F%2Fwww.ebay.co.uk%2Fulk%2Fitm%2F183797096599
Crazy indeed. All the other Everton books are pennies but l guess this was a short run.
Terry White
45
Posted 15/11/2019 at 15:57:01
Ray (#37 & 38), thanks for the link to the Man.U. game. This is a condensed version of 3 15 minute clips from the game that you can see on YouTube although you get all that matters in this one.
What a chance to see extended footage of our "greats". West (even if he lets in a soft one); Wright; Wilson; Labone: Hurst; Kendall; Ball; Harvey; Young; Royle; Morrissey - yes, they were all "great". And this game saw what I still hold as my favourite Everton goal - Young's 3rd. What a beautiful example of why we elevated this player to a God-like stature. Control, balance, skill, finishing, in the space of 10 seconds he did it all.
And look at the players in their team that day. Crerand, Law, Charlton and, of course, George Best. In retrospect we were spoiled seeing so many top players on one pitch in their prime. I still prefer the '59-'63 sides but this one runs them a close second in my book. Ah! Nostalgia! We were so much better on black and white TV.
You Tube for me is a two-edged sword. I love to see the old clips but once I start I find it difficult to stop!
Terry White
46
Posted 15/11/2019 at 16:10:30
Dave (#40) and Chris (#42), I saw Barry Rees in a reserve game - yes, you will recall, we all went to the reserve games at Goodison in those days - and Barry Rees scored a few that day. He only played about 3-4 first team games for us and he was transfered to Brighton where he was playing when he was killed. A very sad ending to his life.
https://www.theargus.co.uk/news/6784845.vintage-vinners-albion-championship-joy-marred-by-tragedy/
Martin Nicholls
47
Posted 15/11/2019 at 18:22:00
Terry#46 - you're so right about reserve games at Goodison. I saw many there before my first 1st team game v Notts F on 9th March 1963.
Dave Abrahams
48
Posted 15/11/2019 at 18:27:15
Terry (46), Ah yes Terry those reserve team games, went to loads of them, half the fun, for me anyway, was listening to the old die hard Evertonians, who wouldn't dream of going to Anfield to watch the Reds.
The things, these supporters would shout at the opposition, hilarious, one goalkeeper versus Huddersfield, could have been Sheffield Wed. was a bag of nerves already, getting battered by Davie Hickson, who scored four or five that day, was getting ridiculed unmercifully by these wags, when the ball went to the other end, he moved out to the penalty spot, to get away from them, not before he gave us all two fingers and a mouthful of Anglo Saxon words, then he got loads more when Everton attacked again, brilliant days Terry, I think I learned plenty of words I shouldn't have at those games. I've said enough for tonight, I'll save one unbelievable story, Everton Res. v Bolton Wand. Res. for another day.
Terry White
49
Posted 15/11/2019 at 18:53:11
Ray, thank you for starting this exercise of wallowing in nostalgia. And thanks to Chris, Martin and Dave for their contributions. I am looking forward to reading Dave's Bolton Reserves story.
My only real reserve story, apart from following on Dave's post (#48) to say that at those games you could hear every word people shouted on and off the pitch, is that I was one of those in attendance the day Roy Vernon missed a penalty in a loss against Burnley. I don't know if this is going to be covered in Rob Sawyer's book. Vernon, Young, and West, all playing, were jeered off the field! Probably 1964. Young and West made it back into the first team. Vernon made his way to Stoke.
Chris Williams
50
Posted 15/11/2019 at 19:09:37
Terry
I used to go to reserve team matches (also to Anfield on occasions with my best mate Barry when were kids. He's still my best mate) and I remember going to one game when there were a load of first teamers playing. It might even have been the one you mention. There must have been about 15000 there.
One week we were sitting in the main stand for some reason.(very cheap)Everton were playing away and at full time they used to put Everton's final score up against the wall where all those letters were for the half time scores. We were sitting there waiting for ages. Nothing. After about 30 mins after the match finished, a bloke came up the stairs and we told him we were waiting for the final score. He said it's there, look.
There it was X 4. It was 1958 and were were playing Spurs away. Yup, you've guessed it.
That Spurs game. Highway Patrol!

Dave Abrahams
51
Posted 15/11/2019 at 19:33:53
Chris (50), I was at that game, when the fella who put the half time scores up, probably Joey Barrett, the crowd was telling him to go back and check the score,6-1 to Spurs, he got loads when he told them it was the correct, talk about ' don't shoot the messenger' !!!
Chris Williams
52
Posted 15/11/2019 at 19:58:23
Small world Dave.
I remember thinking. I don't believe him. He's pulling my leg. Then he said it's true son, honest. My next thought was, Shit, school on Monday.
Sure enough, more Broderick Crawford jokes than you could imagine. Even off the teachers.
'Leave your blood in the bank,not on the road!'
My Dad was sitting at home shaking his head.
Peter Mills
53
Posted 15/11/2019 at 21:06:13
I was at the mini derby at Goodison in 1965 with a rs. The 5-0 score gradually came up from Anfield. After a while, someone reached over to change the boards to 0-5, much to the merriment of said rs.
That was the day my loathing of them really kicked in.
Terry White
54
Posted 15/11/2019 at 21:49:20
Dave (#61), Joey and a mate using to carry the board round the pitch at half time advertising the fights at the old Liverpool Stadium.
Peter (#53), I was actually at the 5-0 game on the Kop of all places (don't ask me why, I can't remember). It was the year after we beat them 4-0, a game I missed because of school rugby commitment. Revenge, indeed.
Tony Hill
55
Posted 15/11/2019 at 21:58:48
We always had the edge on them in the 60s despite Shankly getting them going. We were just classier.The likes of St. John and Yeats and the other clodhoppers, for gods sake, against our boys.
I know we've said this before on here but I look at the 1971 semi-final as the turning point, the death of our Sixties glory - and the death, really, of something profound about our club. But we await the resurrection.
Dave Abrahams
56
Posted 16/11/2019 at 09:25:02
Terry (54), yes Joey was a real character, he worked for Liverpool Corporation, as it was then, full time and supplicated his income with plenty of part time jobs, including the one you mention, put the half time scores up at Goodison, possibly Anfield as well, can't vouch for that one, he sold The Liverpool Echo after work, he was also a member of former professional boxers club as well as being able to tell many a tale in the pubs around Liverpool, Yates wine lodge in Great Charlotte Street being one of many.
I was at that 5-0 trouncing at Anfield, also in the kop, if I'm not mistaken in those days it was walk up and pay at the gate, so there would be a liberal sprinkling of Bluenoses in all parts of the ground, witness the 2-1 win at Anfield when Kanchelcis (spelling?) scored two, you can see many an Evertonian cheering at the Kop end, even one of the stewards. I think the half time score was 1-0 in the 5-0 game and possibly we lost a player before the interval, then again my memory is out here and I'm just making excuses for a bad day.
Ray Atherton
57
Posted 16/11/2019 at 12:41:48
Going to the away games in the early sixties, I got
to know Roy in the London teams and coming back
on the trains and the Hotels where the Blues stayed.
In 1962, I was sixteen and Roy went to push the pennies
down for charity in the local pub. My mother was a
barmaid, I was allowed in to see my idol. My mother
said to Roy "he"s a good blue", Roy said " I know him
he follows us".
After a Fulham game at Craven Cottage, my mate and
I, were standing at the bus stop but it was getting
late. Eventually a bus came, but the bus conducter
would not let us on. We said we have to get the 6.15
train at Euston, he was adamant. Next two policemen
said "of the bus".
We were still arguing, then the Everton coach pulled
up, Roy Vernon and Jimmy Gabriel shouted from the
door come on. We were star struck. "Gabby" said
I will get that bastard Maurice Cook Fulham"s
centre forward, at Goodison. We made it to Euston
6.15. Roy can you get us a table for a card game,
they were strapped up. We were on cloud nine.
In 1963 we played West Ham at Upton Park. the
first one in the F.A.Cup, when they got a dubious
penalty for the Hammers, ( Budgie Byrne)
About three weeks later we played them again.
In the morning at elevenish, we went to the Baileys
Hotel where the team were staying. The players
were going to their own way. Then Roy and Alex
Young came out, Roy said come on lads we are
going closing shopping.
Roy had a column in the Daily Post on a Thursday.
I said to Roy what was that about RS winning semi
final against Leicester. "Just paper talk, I want the
bastards to lose"
1964 I was working as an apprentice painter, went to
work in Maghull. I got my wage packet on a Thursday,
went to the Hare and Hounds pub in Maghull. About
seven, Roy walked in by himself, we had a great chat
and a few pints. He said that he thought that I was a
towny. A few days later I went into the betting shop,
Roy was in there with Fred Pickering, he introduced
me to Fred.
I was very lucky at a younger age to see a great player
and my idol.
My mate and I hitch hiked in the early sixties, some
Cardiff, Ipswich, London teams, bunking on trains.
I am sure some ToffeeWebbers would knew my mate,
He passed away one year this November. A great
Evertonian.
RIP. Tony Kelly.
Ray Roche
58
Posted 16/11/2019 at 13:23:38
Dave, you're a Townie, did you know a Tommy Rimmer? Little bloke, boxers nose, no teeth.? Lived ( I think) around Brownlow Hill.
Ken Kneale
59
Posted 16/11/2019 at 14:07:00
Tony. You are spot on. Something really profound went wrong at the club that week in 1971, where we were robbed by a cheating Greek team of European cup football, and in the same week the FA cup and first real signs of Harry Catterick having health issues. I still feel if we had won either game we would have won the respective competitions and who knows, maybe the path of history would look different.
Dave Abrahams
60
Posted 16/11/2019 at 14:47:05
Ray (58), not off hand Ray, one of my Monday mates is from the bullring, I'll ask him. He sounds like a very interesting character Ray!!
Stan Schofield
61
Posted 16/11/2019 at 14:50:07
Ken@59: I thought things weren't right when Alan Ball was suddenly sold to Arsenal. That was a real shock, and very odd, because apparently he didn't want to go. And it broke up the best midfield in the world at the time.
He'd just been off-form at times, possibly due to Mexico, and it seemed premature to sell him, especially given that he made an impact at Arsenal. We were never the same again compared with the 60s.
Dave Abrahams
62
Posted 16/11/2019 at 14:55:44
Ray Atherton (57), I'll vouch for you as a great Evertonian, and getting up to all the tricks involved in getting around the country to watch the Blues, you couldn't have had a better mate than Tony Kelly for blagging your way in different situations, not to mention all the laughs you must have had together.
Tony is well missed all over town by many people, not just Evertonians. Amen to your last remark about Tony.
Ray Roche
63
Posted 16/11/2019 at 15:05:18
Dave@60.
He was Dave, I was an apprentice cabinet maker at Ayrton and Grahams in Benson St, next to the dole office, between Ranleigh St and Mount Plaesant. Tommy was labourer there and he looked after us, going out for the chips or lunchtime sarnies etc. A smashing bloke but most certainly dead by now. He was such a character I thought you might have known him. He was mates with two brothers Jimmy and Joe Kidd who also seemed to know everything "going on" so to speak. You know, a suit length for your Christmas suit could "appear" at a knock down price. Characters.
Terry White
64
Posted 16/11/2019 at 15:10:39
Dave (#56), you have have got that loss dead right. 1-0 at HT (Tommy Smith!!), Brian Labone went off at HT to be replaced by Gerry Glover (!). No wonder things went pear-shaped in the 2nd half!
Dave Abrahams
65
Posted 16/11/2019 at 15:21:22
Ray (63), Jimmy and Joe Kidd, yes knew them well, Joe lived by the dole, ( I knew that place well!!) Joe was married to a girl from the four squares, well known in amateur football, he ran The Seymour pub team for a very long spell, a top man, genuine, knew his way around, as you say, died two or three years ago, SFX church was packed out at Joe's funeral.
Dave Abrahams
66
Posted 16/11/2019 at 15:31:49
Terry (64), yes Gerry Glover rings a bell, he was an English schoolboy centre forward, came on in the second half, shirt with no number on, wasn't sure about Glover being the sub, because in the past I thought Bill Kenny was the sub,(That's Bill Kenny's dad) but had been proved wrong over that.
Gerry Glover played for England Boys in the same year as Aiden Maher, left winger for Everton, IanMcCullogh, who went to Liverpool and another lad, full back, whose name escapes me, he also went to Liverpool, his name would have stuck with me if he had played for Everton, so serves him right!!
Ray Roche
67
Posted 16/11/2019 at 15:35:21
Dave, I last saw them when I was in my early twenties, before I moved to Wales. I played football for a team he ran, it moved from pub to pub, each meeting was different ale house. The Roscoe, The Newington and the pub on the corner of Benson ST and Mt Pleasant. Can't remember the name but it IS 55 years ago.
Ken Kneale
68
Posted 16/11/2019 at 15:36:23
Stan - too true it was. Creative, combative if necessary and joyful to watch. I think the March week was a direct contribution to the perfect storm the following season - Ball sold at the end of the year then the big heart attack for the manager. We then spent 12 years looking for the right blend again only to have it wrecked by the european ban.
George Carroll
69
Posted 16/11/2019 at 16:08:37
Great read brought back many memories, along with my pal Frank Batty and his dad we were in the Paddock for the Leeds game.Have to say Roy ranked alongside The Golden Vision as my favourite players of that era. Great days
Chris Williams
70
Posted 16/11/2019 at 16:39:23
I remember the Cup Tie against Leeds the previous season at their place. They came up at the end of that season, spreading their poison. We went across the Pennines in an old Bedford van, foggy and cold over the Pennines pre motorway.
It was another spikey affair and Everton with Vernon, Stevens Kay Gabriel and Sandy in the team were unlikely to be take a step back, and often got their retaliation in first. Enmities were forged that day.
Ended 1 1 with a late equaliser from the spot. Vernon took it after Scott missed the first attempt.
Back to Goodison and we won 2 0. Jimmy Gabriel played centre forward and scored. Roy scored the winner in front of a big crowd. I went with my Dad. He managed to get tickets in the Main Stand. Great atmosphere and we put those pricks in their place.
But they remembered both games I'm sure, and worked on their horrible game plan.
Dave Abrahams
71
Posted 16/11/2019 at 16:41:24
Ray (67), Yes The Newington was one of Joe's pubs, just around the corner from where he was brought up, and The Roscoe is just further along Renshaw St. so that makes sense, not sure of the last pub myself. Did you play in The Welsh League Ray, a lot of amateur players from Liverpool earned a few pound playing on a Saturday in that league.
Dave Abrahams
72
Posted 16/11/2019 at 16:54:29
Chris (70), in that game at Leeds, a few minutes before we got that penalty, Alex Scott was in a bit of a fracas with Bobby Collins, arguing over the ball, Bobby bowed down to no man and snarled at the much bigger Scott, whose bottle went, I'm afraid to say. Why Alex took the penalty was a mystery to most of us, with Vernon on the field, anyway it was a poor penalty, easily saved, but it was ordered to be taken again and Roy did what he did with penalties. So back to Goodison, as you say.
Chris Williams
73
Posted 16/11/2019 at 17:04:48
Yes, Dave,the penalty was a strange one, because Roy was a consummate penalty taker, best I've seen.
I had a quick look on Everton Results and Alex scored a penalty in the the previous game in Roy's absence. Maybe that was the reason, but odd nonetheless
Dave Abrahams
74
Posted 16/11/2019 at 17:08:03
Chris (73);yes that could have been the reason.
Ray Roche
75
Posted 16/11/2019 at 17:09:40
Dave@71
Yes Dave I played in the Welsh League for a couple of clubs.
When we have the next ToffeeWeb get together we'll have to have a chat. When is the next meeting?
Dave Abrahams
76
Posted 16/11/2019 at 17:17:22
Ray (75), not sure when the next ToffeeWeb meeting is, might be around Christmas time or the New Year, I think Mike Gaynes is coming over again at that time.
Ray Roche
77
Posted 16/11/2019 at 17:20:30
Great, I missed Mike when he was here last. Something to look forward to.
Ray Atherton
78
Posted 17/11/2019 at 16:17:49
Dave 66
I was the same ages of those lads. Gerry Glover who
played for Saint John"s also Frank D"arcey, who was
another blue.
Aiden Maher played for Saint Swithens then he
moved on to Saint Teresa"s, he was outstanding
all left foot. I played against them, it was in the
Catholic schools.
Dave I think that left back that you were thinking
of going to the rs. He was at the Newsham school
if it was him, Alan Hignett nicknamed "Bullet".
Dave Abrahams
79
Posted 17/11/2019 at 16:34:11
Ray (78), Alan Hignett, that's the fella, all good players but unfortunately none of them made a lasting impression. Aiden Maher went to Plymouth Argyle, don't know were any of the other three went to.
If I'm not mistaken Ian McCullogh was captain of Liverpool Boys, noted, even at fifteen for his long throw in's, a very good scheming inside forward.
Frank D'arcey got a few games for Everton at left back, think he was a centre half for the schoolboys, a giant of a lad, don't know where he went to at football, but he was a chargehand on a working gang on a shut down at Fords many years ago, as big as he was a little mate of mine, who'll you know, lived by Tony Kelly, was going to fill him in, Frank was a pain in the arse on that job.
Ray Atherton
80
Posted 17/11/2019 at 17:32:03
Dave (79)
Dave was Ian McCullogh a relation of George
Hannah the Newcastle and Manchester City.
Did he play for Man City in the FA Cup Final versus
Birmingham City on 1956.
Dave Abrahams
81
Posted 17/11/2019 at 18:04:28
Ray (80), Ray I knew that George Hannah had some connection with the city of Liverpool but didn't what it was it was, I checked it out and he born in Liverpool, so he could possibly be related to Ian McCullogh.
George played in the 19555 cup final for Newcastle and scored a goal in the 3-1 win, he was then transferred to Lincoln City and then onto Man. City, but not until1958 so he never played in the 1956 final.
The article says he played a good part in the development of Dennis Law at Man.City after Law's transfer from Huddersfield Town. I think Everton were very interested in signing Law when he was at Huddersfield.
Ian Pilkington
82
Posted 17/11/2019 at 18:39:07
I remarked the other week that the Spurs match was perhaps the bleakest afternoon since the so called "Battle of Goodison". The referee, Stokes, was given a hostile reception having sent off Tony Kay at Goodison the previous season v Burnley. He is still the worst referee I can ever remember.
I had never seen Leeds before and had no idea what to expect. The foul on Sandy Brown by Giles was bad enough but that by Bell on Derek Temple was one of the worst I've ever seen.
It was obvious that Bell was feigning injury as Derek was being carried off, and it was the last straw when Bell was allowed to return onto to the field without punishment after the 10 minute cooling off period. I asked Derek about the incident at a function a few years ago and he agreed that he was lucky not to have had his leg broken; amazingly he was able to play for the rest of the match.
Leeds were a truly appalling team of thugs, Hunter, Bremner and Collins being the others who stood out, yet Everton somehow got more of the blame in the press. Nothing new.
Chris Williams
83
Posted 19/11/2019 at 09:37:27
I've just had another thought about watching the Reserves. I went to one match, about 1960/61 I think and we were playing Bolton Reserves. There was a Young right winger called Jack Bentley playing for us, up against Tommy Banks, not known for using kid gloves!
I don't know if Tommy was coming back from injury, but young Jack had a field day and Tommy was given a torrid time all match. I don't recall the score.
As chance would have it, our next league match was Bolton at home, and Bentley was picked, and so was Banks. Poor Jack never got a kick( actually he got several and very painful they looked too). We got beat late on from memory. And that was Jacks first and last appearance for the first team.
It only came to mind because I've just read an excellent book called When Footballers Were Skint, and Tommy is featured heavily. A decent man but Jesus a hard one on and off the field, like most of them. Loads of these old professionals who played before the maximum wage and the contract retain by clubs were abolished.
Only Tony McNamara of Everton features but there's a great photo of Davy, flying through the air on the front cover.
Dave Abrahams
84
Posted 20/11/2019 at 09:51:27
Chris (83), I recall Bentley, but if it is the same player, he was known as John, a big strong lad, who I think played as a centre forward in the reserves.
Chris, your post gives me a chance to recall a reserve team game also versus Bolton Wanderers played at Goodison Park.
It was a crazy afternoon with weird decisions by an inept referee, by half time Kenny Birch and Harry Potts had been sent off for us along with, one of my favourite players, Dennis Stevens, then playing for Bolton. At half time, one of those old die-hard Evertonians told everyone near him that he'd seen the referee in the Winslow pub before the game having a few drinks, a load of nonsense, of course, but it made the already wound up crowd, in a worse mood.
The first bad decision by this ref had this fella shouting "Told yis!" That was it: loads of fans on the pitch racing towards Bolton's penalty area, where the decision was given. Amongst the mob was a lady (well, she was an Evertonian!!) with an umbrella, she made for Ken Grieves, the Bolton goalkeeper who was also Lancashire cricket club's wicketkeeper, he was doing his best to get away from her as she tried to bash his head in with the umbrella, while others were trying to get at the referee.
The players did their best to restore order, until the sole policeman, on duty at the ground appeared and came onto the field and finally subdue the crowd and get the game restarted, the game finished 2-1 to Bolton with the referee lambasted for every minute of the game and, no doubt happy to get off the field in one piece.
No doubt you will find this post very hard to believe and I wouldn't blame you for that; however, I used to think I had dreamy this story. One time when I was talking to Dave Prentice at the Liverpool Echo, on the phone, I relayed the story to him and asked him if there was any stories in the Echo about this occasion? He said, "Leave it with me and I'll search for any mention of it."
A few days later, he rang me back to tell me that there was indeed a story of that event, exactly as I had described it in The Daily Post on the Monday after the game. He said it had him and others chuckling in the Echo.
Chris Williams
85
Posted 20/11/2019 at 10:43:10
Blimey Dave, sounds a bit lively. Were there many at the game? I wish I'd been there.
Just as well it wasn't a league game. Can you imagine the headlines?
I can also remember Ken Grieves. Quite a character according to David Lloyd.
I don't know if it was the same Bentley, it may well have been. He seemed to be in the same group as Colin Green, Alan Tyrer, Roy Parnell, Mick Gannon, Keith Webber, George Sharples.
Most only got a handful of first team games, but I certainly remember many of them in the reserve matches.
I think we had high hopes for Webber who scored for fun in the younger teams I think, but it didn't happen for him. I think he had a decent career in the lower leagues. Another who died young from memory.
Michael Kenrick
86
Posted 20/11/2019 at 15:54:24
That is a great story, Dave @84, one that I have never heard before. Had me immediately searching the
Everton Chronicles
by the excellent Blue Correspondent to see what I could find...
TWO EVERTON PLAYERS SENT-OFF
Crowd Invaded Pitch – Game Delayed
8 November 1954. The Liverpool Daily Post
Everton Reserves 0, Bolton Reserves 2
By Leslie Edwards
Two Everton players – Birch and Potts – were ordered off and a crowd estimated to number 200 encroached on the field and held up play for about 5 minutes in the Central League match between Everton Reserves and Bolton Wanderers Reserves at Goodison Park on Saturday. The game was goalless until mid-way through the second half when Bolton scored twice in the space of 5 minutes.
Stevens of Bolton and Potts of Everton were then concerned in an incident after which Referee, N.C.A. Downes, of Birmingham appeared to order off the Bolton player, Stevens collapsed at that moment. The game resumed after he had received attention and the referee had asked the players concerned to shake hands.
The game resumed in an atmosphere of tension and, following an incident in which Birch of Everton and Allcock of Bolton were involved, Birch was ordered off. Potts then said something to Referee Downes and he too was ordered from the field.
About 200 spectators then climbed from the terraces on to the ground to demonstrate with the referee and with Bolton players. Meantime, while this was going on, boys who had invaded the pitch spent the time shooting in at both goals. It took police and an appeal through the public address system by Everton secretary, Mr. Bill Dickenson, five minutes to clear the pitch so that the match could be resumed.
Spectators View
Mr. R.D. Webster of 591 Cherry-Lane, Walton writes:
"May I give you my opinion of what occurred at Goodison Park on Saturday in the Central League match between Everton and Bolton Wanderers. In the first half, shocking tackles were unchecked by the referee, Mr. N.C.A. Downes of Birmingham.
"Then, in the second half came the incidents involving Stevens and Potts. The referee appeared to order off Stevens. Then the referee consulted a linesman who was near the incident. More palaver by all the Bolton players caused the referee to go to the other linesman. After this, the referee had a talk with Stevens and Potts and then allowed play to continue. All this upset the crowd.
"Later, Birch – who had not given a single ball away all afternoon – made one doubtful tackle, and was ordered off. No second opinion from a linesman this time. (To Birch's good credit, he just walked off without a word.)
"Potts then complained to the referee of his verdict and off he went. At this time the crowd were upset and the game was stopped for several minutes before the crowd left the field."
Pity... nothing about said lady with the umbrella. But a fine story nevertheless!
Chris Williams
87
Posted 20/11/2019 at 16:08:21
Dave,
Was this the same Harry Potts who went on to mange Burnley? And win the League.
Chris Williams
88
Posted 20/11/2019 at 18:54:49
Mr. NCA Downes is now the VAR analyst on Everton matches at Stockley Park.
Dave Abrahams
89
Posted 21/11/2019 at 20:04:53
Chris (@87),
Yes, Harry did well as manager with Burnley without spending a great deal of money – including, as you say, winning the First Division Championship. I think Burnley under Potts would have won more trophies had they not been in contention with the fabulous Spurs team of that era.
Michael, I'm sure that lady with the umbrella was really there that day, but it was 65 years ago, so it's possible the story grew in my head over the years. Maybe if she's still alive, she could confirm it... mind you, she would be around a 117 now, and might be a bit confused.
Harry Potts, by the way, cost a tidy sum, £20,000, which wasn't chicken-feed then, I don't think he was a great success, although it's possible he played some games in the team that won promotion in 1954.
Chris Williams
90
Posted 21/11/2019 at 20:33:16
Dave, from memory, Burnley won the league in 59- 60. The following year Spurs won it, and the double. Then Ipswich came up and won it under Ramsey. He did his dry run for winning the 66 World Cup. Jimmy Leadbetter was his Martin Peters prototype. Then us, and so on.
The point is that every year pretty much a different team won. Even Liverpool. Not like now. Proper competition. We may have been the only club to have won it twice in the decade, in 69-70. But couldn't swear to it. Everyone had a chance then so every game was properly competed, on a level playing field.
I think we beat Ipswich at Goodison, the season they won the league. 5-2. Temple hat-trick.
These days, inequality Is hardwired into the way it is structured. It's almost impossible to break the pattern. Society the same way.
A proper shame. But it's only a game.

Chris Williams
91
Posted 22/11/2019 at 10:05:29
My copy of Blue Dragon arrived this morning. I've had browse and it looks great. So are the postcards. I'll get them mounted I reckon.
Thanks Rob Sawyer.
Christmas has come early!
---
Add Your Comments
In order to post a comment, you need to be logged in as a registered user of the site.
Or Sign up as a ToffeeWeb Member — it's free, takes just a few minutes and will allow you to post your comments on articles and Talking Points submissions across the site.
---
---
© ToffeeWeb