Opinion
H8 LFC
A chat with Elizabeth France, wife of the good Dr Everton, on renewed hope for the new season – possibly the make or break season under Mr Moshiri's ownership
Lyndon Lloyd chats with Elizabeth France
I said at the beginning of the most recent of my annual chats with Elizabeth France on all things Blue that Everton Football Club is supported by some of the finest people on earth and the good Dr Everton, David France, and his lovely wife are the absolute embodiment of that sentiment. Much has happened since her contributions 'Let's Make Everton Great Again' in August 2018 and 'We'll Play with the Smell in the Second Half' in March 2017. I always welcome her measured take on the state of our beloved club, so let's get straight to it … Oh, and before you get all bent out of shape by the title, please read the whole article! [More on this]
Lyndon: Is there anything new to report in sunny Arizona?
Elizabeth: In truth, the France household is still coming to terms with the Reds winning the Champions League. That said, we've tried to mask the pain by buying a new car. I chose the vehicle – a Land Rover, my husband chose the registration plate – namely H8 LFC. Unlike some people I know, I don't hate or despise Liverpool Football Club. But like all Evertonians, I've been impacted by too many injustices to claim a healthy regard for them. For starters there was the convenient blindness of Clive Thomas in 1976, Alan Robinson in 1984 and Graham Poll in 2000. If only VAR had been available then? And let's not forget the denial and re-writing of the horrific events in Brussels in May 1985. Hand on heart, I'm no longer bitter about these incidents. In fact - and I'm reluctant to admit it – nowadays, I admire Liverpool Football Club. Damn, I've let the cat out of the bag.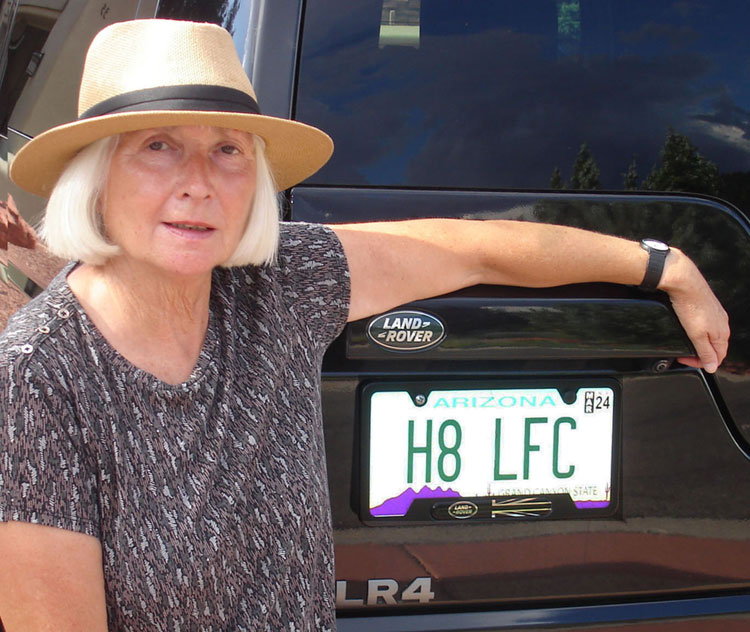 Why? Our neighbours' turnaround offers me hope. Let's not forget that only nine years ago, they were drowning in debt, flirting with administration and facing a double-digit points penalty. Yes, a Bolton-type meltdown. Since the arrival of John Henry and his Beantown buddies, they have become a financially vibrant football club that is implementing a well-thought out strategic plan. Fear not, I'm not getting carried away. Their experienced and prudent owners/leaders, ambitious board/leaders, savvy CEO/leader – you get the gist? - great sponsors, international profile and world-wide fan-base, cost-efficient 54,000 seater stadium – soon to be 60,000, magnificent museum boasting significant European silverware – tell me when to stop? - charismatic manager, great team with a never-say-die attitude and world-class stars almost compensate for the fact that they have some of the most dislikeable fans in all of football. Of course, not all Reds are gob*****s outraged by everything and ashamed of nothing, but more than a few are.
My other half loves to taunt anyone wearing a Liverpool shirt. He drives another Land Rover with a rear-plate declaring EFC 1878 and invites them to honk at him. When challenged – usually at traffic lights - he asks: 'Who was your captain when you were promoted from the Second Division?' To date, none of them have known it was Ron Yeats or that they have been in a lower League. Whereas now and then someone will reprimand me: 'Life's too short. You shouldn't hate anyone. Hate in your heart will consume you!' To which I respond: 'Obviously, you've never met a smug Kopite!'
Last month, we drove to Santa Monica. Upon our return from the beach, we noticed that the vehicle was surrounded by a group of Chinese tourists taking selfies or "groufies" in front of H8 LFC – making Shang Hai gang-signs. As expected, some were wearing Salah shirts and Virgil shirts. Also one poor soul had a Karius top. Usually, my husband has a quip ready for such encounters but, given the recent events in Madrid, we waited until they had dispersed. Apparently, the fact that Liverpool had won the Second Division on four occasions didn't seem relevant anymore.
I don't think that he is alone in suspecting Liverpool have a pact with the devil to win their three UEFA Cup finals and six European Cup finals. Thankfully, they lost another five European finals. The other day David suggested that we order a different plate for my vehicle. I responded: 'Nah. Let's see if we can win at Anfield or score at Anfield.'
LL: Your thoughts on the past season:
EF: Overall not much has changed. It was another disappointing campaign. Eighth isn't good enough. Also the Cup exits to Millwall and Southampton were embarrassing. Am I alone in thinking that our beloved club is more detached from the Elite Six than before Mr Moshiri arrived? But thank goodness he showed up, otherwise we could be flirting with the Championship on the slide into obscurity. But on the other hand, I've no doubts that, thanks to his continued funding and the judgement of Marcel Brands, we employ much better players albeit at much higher wages and have the foundations of a decent side.
Sadly, we've wasted the three-year window of opportunity provided by his massive investment. It doesn't matter who is to blame. Let's just say that for one reason or another, things didn't go our way. Certainly the mood in Arizona would have been different if we had slid under the radar into the Elite Six and qualified for Thursday nights in Europe in 2019. Possibly, if we hadn't dropped 18 or more silly points at Goodison, we would have caught Manchester United. Also if Gomes had found the net with his point-blank header at Anfield and Pickford hadn't been Pickford, we would have beaten the Reds at Anfield. Too many ifs? Yes, but I suppose those claims indicate that we aren't too far away from the Promised Land (which sounds like a good name for the BMD stadium). Yet the reality remains that even after recruiting some top-class players, we couldn't capture seventh place and a spot in the Europa League in 2019. While some dismiss the competition, I think that entering and winning it should be one of our mid-term priorities. It would heighten our European profile and help establish the Everton brand.
As for the side which played and defended so well in the final eight fixtures of the season: I think Digne, Zouma, Gueye, Bernard and Richarlison were great. Sigurdsson, Pickford, Keane and Gomes were OK. As for the others? They need to improve or be replaced. Obviously, the men recruited during previous regimes — who we prefer not to talk about — have been disappointing. Decent players before we signed them, we managed to convert them into deadwood and driftwood or, as I prefer, excess baggage.
Clearly, we continue to be impacted by the aftermath of Koeman and Walsh who slaughtered our golden goose and shattered our window of opportunity with a scatter-gun approach to signings. Surely sending highly-paid under-performers out on loan is nothing more than a very expensive Band-Aid. But let's forget about Pinky and Perky, we now have the foundations of a decent side — one not afraid of selfless hard-work and one that exhibits pride, passion and teamwork like we've not seen for many seasons. Marco Silva's ability to make two plus two into more than four will be key. Marcel Brands has done his job — although he's not been as perfect as some claim, now it's up to Marco Silva and Luis Boa Morte. Fingers crossed for an exciting, entertaining, injury-free and glittering new season.
LL: Last year you suggested the promotion of Marcel Brands to the board. Any predictions for the new season?
EF: Predictions? I've discarded my Sedona crystal ball but am confident that we'll pick up three trophies in the next five years – and I'm not talking about the likes of the SportPesa Cup. Also I've an inkling that we'll capture a piece of silverware during the 2019/20 season. How's that for a courageous prediction?
The new League campaign, more than likely, is the most important one to date in the Moshiri era. At present our spending is unsustainable, and a future problem will be keeping our top players as well as our director of football. No doubt, this time next year we'll have to contemplate selling Richarlison and Digne for a king's ransom and buy and develop quality youngsters. Then repeat the cycle. In addition, we'll be searching for a replacement for the 30-year-old Sigurdsson. Let's hope that Marcel Brands is penciling in the names now.
Our wheeling and dealing in the summer showed ambition. What is it — seven bought, seven sold, a dozen out on loan and more than a few high shirt numbers to move on to European clubs? We all know their names – Bolasie, Mirallas, Niasse and that Cuco fellow. Like others, I'm disappointed we haven't snagged a giant centre-half and a prolific striker. But sometimes it's who you don't sign, it's the bullets you dodge. For example, the Argentine with Pride and Glory inked on his lower thighs possessed the stench of a panic deal. Overall, despite the loss of two of our best four players, we have a slightly better side. Possibly, we'll score more goals and probably concede more. One problem, however, is that we must hit the turf running while showing patience to allow the new men to settle – especially Kean and Iwobi.
Even though the competition will be keener with eight clubs making net-investments greater than us, if we play like we did in the final games of last season, I expect that we won't drop more than six points in the first 10 games. Now, how's that for positive thinking? Such a bright start will capture the attention of the media until our December clashes with Liverpool, Chelsea, Manchester United and Arsenal plus our New Year's Day encounter with Manchester City. After the careless start at Palace, I'm hopeful that we'll average just below two points per game throughout the rest of the season – say a total of 68 points - which should be good enough to finish in Elite Six. Anything less is collective failure by the players, coaches and the board.
Despite our success with the Under 23 team, our young players struggle to progress – perhaps the Premier League standard is too high and our patience too short. Tom Davies, Dom Calvert-Lewin and Jonjoe Kenny have yet to fully embrace their opportunities. So much potential, so few results. Possibly, we have unreal expectations. After all, we develop only one youngster of real merit every couple of seasons. The past 20 years or so have produced Jeffers, Anichebe, Branch, Ball, Dunne, Hibbert, Osman, Rodwell, Barkley and, of course, Our Wayne. How many of them – in their prime - would get into our first-team today? I hope I'm not alone in thinking that youth teams should not be judged by the trophies they win, but by how many players make it to the first-team or are sold for a handsome profit. Which makes me fret about Lewis Gibson whose contract expires in June 2020.
As for off-the-pitch predictions, I can only reiterate my desire for leaders and the need to run the club as a real business — be it a corporation with compassion in the manner of Barcelona, Bayern and our neighbours. As such, Everton must cut its costs across the board — cull the under-performers wearing ties. There is nothing better than a lean, versatile and motivated organisation. We need to create a vibrant environment (the appointment of very capable Chief Executive and the move to the Royal Liver Building have helped) and provide real opportunities to young people pitch by removing the obstacles and allowing them to excel.
When it comes to financial analyses, I defer to Paul the Esk and similar experts but note that at present we have little control over our income streams. No doubt I sound like I'm flogging a dead horse or teaching a grandma too suck eggs. Most revenue comes from broadcasting. A predictable amount from gate receipts. Then of course, there are our commercial sponsorships. Because we have been unsuccessful on the pitch and unfashionable in the media, we must introduce more and more initiatives to get our name better known worldwide. We must act like a top club and attract an Elite Six sponsor not the Kenyan equivalent of Mansion, Laba360, ManBetX, Dafabet, Fun88, Betway or W88. On the subject of extra income, is it heresy to ask why we are not selling the naming rights to Goodison? Maybe that's a non-starter, given that Tottenham have yet to find a new stadium sponsor.
As for our profile, we must participate in the top pre-season tournaments worldwide and engage with our loyal fans overseas, especially in the USA. I think it would be timely and an act of good faith for Dan Meis to hold consultation and feedback sessions regarding the new stadium in New York City on the East Coast and Santa Monica on the West Coast where he has offices.
In the interim, we could follow the PR lead of others and field a team of old boys during the international and winter breaks. Everton Legends versus Anfield Gods would be one way to raise funds for EitC. I'm sure fans — both young and old — would be pleased to watch the likes of Arteta, Barry, Cahill, Carsley, Distin, Donovan, Howard, Lescott, McFadden, Neville, Osman, Pienaar (who looks in better nick than one or two of our first-team squad), Saha plus Ferguson and Jeffers. I imagine that most of them would welcome the chance to humble the Reds in front of the Kop. While I'm not a fan of these exhibition games, they do appear popular when they involve the Anfield Gods.
LL: Some years ago you mentioned the odour from the waste treatment plant near BMD, any more thoughts?
EF: Like some of your readers, my husband has watched Everton at Goodison for 60 plus of our 117 seasons in the top flight and looks forward to moving house. Whereas I'm not quite as enthusiastic because I remain unconvinced that we can afford such a mansion or that it's in the best location. Tell me, if BMD or the Promised Land is the answer to our need for additional income to cover higher wages and attract better players, what will it add after servicing the massive stadium debt?
Though Mr Moshiri will recruit in a highly competent project team, my fears relate to eye-watering cost overruns of say 20%, the arduous delays of a year or two to the ambitious schedule for building the city's third cathedral and diversion of focus, time and resources from making the Everton first-team into a respected football powerhouse. Given the diverse engineering challenges, cramped footprint with lack of breathing space for the additional facilities (especially those that we don't even know that we need yet), isolated location in the short-term and neighbouring construction zone in the mid-term, traffic congestion and planning obstacles, John Whittaker and his Peel Group should have transferred the property as well as the adjacent Nelson Dock to us for next to nothing. By providing a billion-dollar anchor to their Liverpool Waters plans, we are doing them a massive favour. Seriously, what else could they build next to the sewerage works?
Indirectly, I know a little bit about such projects. During David's time in Houston, his employer kicked off the visionary development of 32 blocks of downtown of the USA's fourth largest city. He was head of the Appropriations Committee at the time and, with more cash than oil & gas investment opportunities, the company spent its surplus profits on sky-scrapers, shopping malls, exclusive hotels, urban parks and the mother of all convention centres. Almost 40 years ago, a routine 50-story building cost $100 million a pop but required an army of qualified in-house professionals and external experts to ensure that they weren't taken advantage off by savvy Texas contractors. I remember attending a dinner with his chairman, the head of real estate — one of our best friends — and a few other colleagues and their wives. They were talking shop about an imminent skyscraper project. Everyone was excited. They had worked long and hard, done their homework and jumped through more than a few hoops. Then the chairman asked a simple question: 'Let's step back, ditch the euphoria and desire for completion of the deal. Let's ask ourselves: 'Is this really the best deal for us?' I trust that someone on the club's depleted board had that kind of emotion-free wisdom because we can't afford another 'ground move fiasco'.
LL: How has David been going. He looked chipper when we visited you in beautiful Sedona last September?
EF: My other half has made tremendous progress in recovering from his myocardial infarctions and his cerebrovascular accident — terms I didn't know a couple of years ago — and I would like to thank our many friends on ToffeeWeb for their kind words of encouragement. He visited the old country at end of last season to discover that his circle of old friends is getting smaller. This situation has been highlighted by the recent death of Reverend Ross who was Everton in the community before the advent of the Everton in the Community charity. Harry did his bit for Everton without seeking plaudits or publicity. Since then, my other half has worked diligently on the Roy Vernon biography with Rob Sawyer. For the past couple of years they have collaborated in the novel approach of compiling intimate recollections from around 120 team-mates and supporters, conducting painstaking research of archive material and incorporating the subject's own unpublished memoir notes to chronicle the life of the captain of our 1963 title winning side. I've not read the manuscript but from all accounts the Man from Ffynnongroew was an interesting character — a maverick, a gambler, a smoker, a joker, a wheeler-dealer, a non-respecter of authority and a pain in the bum. As Alex Young told me: 'Taffy Vernon? English professional football will never see the likes of him again.'
More recently, David had his film 'Alex the Great' (which will remain incomplete) posted on YouTube – albeit for a few days. It was long enough for Alex's family to see it and for his wife to email him: 'It's 3-30 am, I watched the film. It was lovely but now I can't sleep. All the memories are swirling around in my head, so I came downstairs made hot chocolate and let you know I'm so thankful that you took the time and effort to produce this film. I can watch Alex anytime I want now. Thank you, my dear friend, for giving me such a keepsake. I will treasure it always.' To us, it was better than 100,000 thumbs-up and a 5-star rating.
LL: Any final thoughts the new season?
EF: Yes, it's that time of the season when Evertonians dream that Marco Silva will lead our nine-month pursuit of glory and our first silverware in almost a quarter of a century. I recommend that your readers ignore those who question why we allow ourselves to get sucked into a relationship with Everton Football Club that will leave us unfulfilled and heart-broken, given Mr Moshiri's ambitions these are exciting times for our beloved club and its wonderfully faithful, long-suffering supporters. Yes, I'm optimistic. Even though it's a pity that we haven't had time to integrate the new recruits, if we start well, we should develop the confidence to finish among the elite (best of the rest isn't good enough), qualify for Europe, win a Merseyside derby and possibly reach Wembley. Fingers crossed — that sounds like real progress as well as a great time to be driving around Arizona with a registration plate boasting H8 LFC.
Please relay my best wishes to all ToffeeWeb readers. I really enjoy being a part of this special international community. I log on almost every day and rarely miss the Live Forums on matchdays. Your website — our website — confirms my husband's unwavering belief that Everton family is one of life's masterpieces. I can't imagine life without ToffeeWeb. I suspect that thousands feel the same way. I don't know how you and Michael can spend so much time editing the site and encouraging such quality royal blue content. Nowadays you have to pay for everything — there is little free content. Recently, I paid to hear my husband's nasal tones on The Blue Room podcast. I gladly subscribed to Patreon to hear and enjoy an hour and half of his tales about a certain Old Lady which, of course, I've heard dozens of time. To ensure that ToffeeWeb continues and gets even better, I propose that you and Michael review the pros and cons of introducing a modest subscription fee. Given the immense pleasure — plus a little pain — we derive, who wouldn't embrace this idea? I don't know the mechanics, so perhaps it's something that fellow ToffeeWebbers can debate to ensure that our site flourishes in the future.
Reader Comments (71)
Note: the following content is not moderated or vetted by the site owners at the time of submission. Comments are the responsibility of the poster. Disclaimer
Michael Williams
2
Posted 13/08/2019 at 07:40:49
What a fantastic interview – most enjoyable read.
Lenny Kingman
3
Posted 13/08/2019 at 07:48:41
Worry no more, Elizabeth, about that reds European victory. Think like me. It is a sham. How can they be champions of Europe. They weren't even champions of England. And haven't been for 30 glorious fallow years.
They find it easy, and natural to airbrush events from history. So why shouldn't we Blues? The so-called miracle of Istanbul can be put in the bin too! After all, as David might say, they are just Second Division upstarts made goodish.
Manchester City are still steps ahead and will stay that way until we join them in about 5 years hopefully.
Anyways, keep enjoying the good life in the US and I hope to bump into you two blues on opening day at Bramley-Moore Dock. Stink or no stink! 😀
Colin Glassar
4
Posted 13/08/2019 at 08:19:53
She should be on the Board of Directors. She talks too much sense to be wasting her time out in Arizona!
Dale Rose
5
Posted 13/08/2019 at 09:51:57
Got to love that lady...
Excellent interview.
James Lauwervine
6
Posted 13/08/2019 at 10:51:09
Wow, what a lady! Reading that made me proud to be a blue and reminded me how lucky that makes me.
I'll be using that 'Who was your captain when you were promoted from the Second Division?' line too.
Kevin Molloy
7
Posted 13/08/2019 at 11:25:22
First time I've read an interview with her. I'm struggling to think of a more impressive take on our current situation, and all the way from Arizona. IF somebody this smart thinks we're going to do well this year, that s good enough for me.
Jack Convery
8
Posted 13/08/2019 at 12:37:35
Love her attitude and insight - great interview. Lets hops shes spot on with her prediction of silverware coming soon.
Ste Traverse
10
Posted 13/08/2019 at 13:51:46
Good read but highly embarrassing number plate. Cringeworthy tbh. Why not a pro-Everton one instead of one that mentions them?
James Lauwervine
11
Posted 13/08/2019 at 13:58:54
I don't agree Steve, it's a brilliant number plate. Plus, he drives another car with EFC 1878 as the plate. Loving Everton and hating the RS are both necessary.
Mike Gaynes
12
Posted 13/08/2019 at 14:27:07
What an absolutely delightful interview.
As far as I'm concerned, today EFC stands for Elizabeth France's Charm.
Mike Gaynes
13
Posted 13/08/2019 at 14:34:19
And just as an aside, Lyndon, let me fullheartedly endorse Elizabeth's comments about TW... the impact of this little website on my life has been profound, and I'm quite sure many others here have felt the same. And I'd be delighted to participate if you decide a subscription is appropriate.
Jamie Crowley
14
Posted 13/08/2019 at 15:04:25
I love this lady.
After the careless start at Palace, I'm hopeful that we'll average just below two points per game throughout the rest of the season – say a total of 68 points - which should be good enough to finish in Elite Six. Anything less is collective failure by the players, coaches and the board.
Why is it the fact she mentions she reads TW, and also is on the Live Forum for gamedays, scares the bajeezuz out of me? I feel like eyes that should be honored are watching me. And I need to clean up my language!
It's reads like this that humble this dopey American fan. She literally has Everton in her blood.
Absolutely fantastic interview and read. I wish Elizabeth France was on the Board. She'd sort everything out.
Finally, I also concur with her glowing praise of TW. And a small subscription fee wouldn't faze me in the least as well.
Jerome Shields
15
Posted 13/08/2019 at 15:04:47
I have never heard of Elizabeth France or her spouse, but she does raise legitimate concerns and appears to have access to the appropriate experience and commercial knowledge.
Her concerns regarding off-field income are real and questions have to be asked about how they been addressed by the much-heralded Barrett-Baxendale's promoted positions, of May of last year. Development of the international market is non-existent and the delayed launch of the away kit is very poor.
The questions she raises regarding the Bramley-Moore Dock development are again legitimate and highlight commercial weaknesses in the development and its management. The whole project in the light of her concerns should be reevaluated and an experienced and appropriate management should be appointed, over the project, not the botched plan release / director leaving announcement and project management announcement in the back of beyond of the Evertonfc website, that we got.
Of course, she is also right about the initial wasting of resources of the Moshiri era, without the mention of names, other than the obvious, but she clearly pulls the rug from the other culprits throughout her interview.
She should be appointed to the Board immediately and a campaign launched by ToffeeWeb to ensure so.
James Lauwervine
17
Posted 13/08/2019 at 15:04:53
Apologies Ste (10), bleedin' autocorrect extended your name.
Mike Gaynes
18
Posted 13/08/2019 at 15:09:41
Jerome #15, David and Elizabeth France are royalty among Everton fans. Dr France is the club's legendary historian. His autobiographical book, Everton Crazy, is one of several bibles of the club's history.
Terry White
19
Posted 13/08/2019 at 15:12:53
Jerome (#16), you have never heard of David and Elizabeth France? Do you call yourself an Everton supporter? You should be ashamed of yourself.
Mike Gaynes
20
Posted 13/08/2019 at 15:26:42
Easy, Terry. I've been a supporter since '85 and I'd never heard of Dr France until six years ago, when Lyndon introduced us in San Francisco and subsequently explained who he was. And I didn't have a full understanding of what he and Elizabeth have meant to the club's history until I read his book.
Fans outside the Merseyside circle aren't always fully dialed in to the people and traditions surrounding the club.
Rob Halligan
22
Posted 13/08/2019 at 15:47:08
Just shows how thick RS fans are, no matter what part of the world they come from. Did they not realise the significance of the number plate H8 LFC? All it needed was a number 1 at the beginning.
I've got an EFC plate, but wouldn't risk driving round Liverpool with Dr France's plate H8 LFC. EFC 1878 would be great to have though.
Jay Harris
23
Posted 13/08/2019 at 15:52:04
What a fantastic read from a well educated and well proportioned lady.
The club should make her and David honorary legends for their dedication and contribution to the club.
James Hughes
24
Posted 13/08/2019 at 15:55:01
Mike, I don't think Terry was being serious.
Eric Paul
25
Posted 13/08/2019 at 15:58:13
James,
I always ask them who their manager was before Shankly. I've yet to meet one who has even heard of him never mind knows who he was.
Jerome Shields
26
Posted 13/08/2019 at 16:13:27
Terry #19,
Obviously haven't lived and I am ashamed. Will get the Everton Bible and read it. Thanks Mike.
Stan Schofield
27
Posted 13/08/2019 at 16:14:12
I'm from Liverpool, have been an Evertonian for 58 years, but had never heard of David France until I started using ToffeeWeb four years ago. Nice article, but don't get carried away with praise!
Liverpool have a lot of bullshitter fans because of their success a few decades ago. They also have a lot of decent fans too. I've no doubt that if and when we win trophies habitually, we'll also gain many hangers on. It's just what happens with success.
Steve Ferns
28
Posted 13/08/2019 at 16:24:11
Dr France seems to be a great guy and Evertonian, but why do you have to know who he is to be an Evertonian, Terry?
I would bet that if I asked everyone going the game on Saturday if they knew who he was, I'd bet less than 20% have heard of him. And of those under 21, I'd bet less than 1% have heard of him.
Mike Gaynes
29
Posted 13/08/2019 at 16:25:58
Jerome, I'd also recommend "Faith of our Families" by James Corbett... a collection of remembrances and anecdotes from Everton players, managers and supporters down through the decades, including current TW contributors Becky Tallentire and Peter Mills.
It's a window to the club's entire history. I knew almost nothing of what was in it, and I found it fascinating. Still use it to look up players when they're mentioned by some of our senior members here.
Jimmy Hogan
30
Posted 13/08/2019 at 16:26:41
"Outraged by everything, ashamed of nothing". Brilliant. EF certainly knows how to stick the boot into RS fans.
Mike Gaynes
31
Posted 13/08/2019 at 16:27:26
Jay #23, did you really mean to say "well proportioned"?
Steve Hogan
32
Posted 13/08/2019 at 17:33:07
Fantastic article, I love the passion and clarity of thought displayed by Elizabeth. My favourite line has to be with regard to our current board/senior management, 'cull the underperformers wearing ties'.
I echo Jerome's (16) comments re the BMD project becoming out of control and costs spiralling. I'm not a marine engineer, but nobody knows what problems/issues exist beneath the water when the dock is drained, the muted cost of £100m in preparing the site could escalate steeply.
Couple this with the undoubted affect the expenditure will have on the budget for adding to the squad, and the next 3/4 years could be a little rocky.
However, I really hope at that stage we have a young vibrant squad of talented players, who will gain in stature as they mature.
The appointment of 'little miss dynamite', (Bills words, not mine), Denise Barret Baxendale, as CEO troubles me slightly. As we enter probably the most crucial phase in the club's long history, I'm not convinced we are anywhere near as commercial savvy as we should be. I accept the fact that currently, we simply don't have the global status to attract mega kit deals from Nike or Adidas, but I believe the constant emphasis being placed on EiTC detracts somewhat, from what we should be driving for, strong commercial success, it's the No1 priority of any business.
I sometimes wonder, are we a football club with a charity attached, or a local charity with a football club tagged on?
Before I get accused of being a heartless capitalist, I fully acknowledge the role EiTC plays in improving peoples lives, particularly locally, but I just want to see the club thriving again, and existing amongst the games 'top table' once more. DBB's background is almost all educational/charity based, are these the right credentials for a Premier league club CEO?
She absolutely advocates 'affordable ticket' prices for all fans, which is very laudable, but my mate who has now retired, renewed his ST last season for the Main Stand. Over 19 home games, his matchday ticket actually costs around £19.00 per game, I'm sorry but that's simply too cheap for a Premiership game, by anybody's standard.
When we move to the new stadium, the same ticket pricing policy, and 12,000 extra seats, will bring in very little additional revenue. I just think the club sells itself short at times, and that stance on ticket prices, and generating maximum revenue, has to come from the top.
There, rant over, and tin helmut on.
Bill Rodgers
33
Posted 13/08/2019 at 17:37:13
If there's one thing that regularly pulls Everton down, it's obsession with LFC. We don't want to review their qualities, failures or weaknesses - we want to beat them.
Dave Williams
35
Posted 13/08/2019 at 17:48:32
Smashing interview and great to read the lady's optimism. I have her husband's book and it is an excellent read.

As for those who criticise the number plate, I went to school on Merseyside and still vividly recall the dread of facing Monday morning if they had beaten us or if they had won and we hadn't. The goals of Rush in the '80s really put the tin lid on any chance of me ever having ambivalent feelings about them – hate, disdain, scorn – call it what you, will but a lot of us have suffered over many years and are entitled to hold those sentiments.

But I truly love Everton!!
Paul Birmingham
36
Posted 13/08/2019 at 17:49:15
Frank, firm and honest assessment, and in the good lady and her husband could be on the board or as part of an official steering committee.
Too much common sense and pragmatism for the old regimes but hopefully now EFC will grow strong, be sustainable, and dare I say, win some silverware.
Jerome Shields
37
Posted 13/08/2019 at 18:22:09
Mike# 29
I have supported Everton since the sixties and I am now under the table. Will get the above books.
Pete Gunby
38
Posted 13/08/2019 at 18:41:32
I seriously doubt Dr France or Mrs France harbour real hate towards Liverpool. A depressing sign of the times that we have so many fragile buttercup fans who can't laugh at the license plate and distinguish between banter and malice. Get over yourselves and keep clear of the suffocating purity politically correct movement.

Peter Mills
42
Posted 13/08/2019 at 20:51:12
Elizabeth, that number plate really is beneath a lady of your grace, intelligence and eloquence.
Are you open to offers for it?
Great interview, it's always good to hear how Dr and Lady France are getting on.

Pat Kennedy
43
Posted 13/08/2019 at 22:39:41
An article about a knowledgeable Evertonian but headed up H8 LFC?
I've read some shite on ToffeeWeb at times but to have the first section to be all about Liverpool is taking it to a new level of absurdity.
The sad thing is that when she started talking about us, it was mostly eminent good sense.
Unless and until we drop this obsession with Liverpool FC we will never really progress.
I've read a number of Dr France's publications and I am surprised that for a man of his undoubted intellect he lets himself down a bit by being such a Liverpool FC hater.
I know a number of people on here think that it makes them a bigger and better Evertonian by constantly slagging off and denigrating our neighbours. Hate to burst your bubbles guys but they happen to be Champions of Europe (I know it really hurt). I also know from my own family experience that we really don't matter too much to them right now.
H8 LFC? Nah let's just love EFC instead.
John Atkins
44
Posted 13/08/2019 at 22:48:14
Pat,
Fair point actually.
However, when we finally get our world class stadium and actually challenge them or perhaps we have a period where we are top dogs in the city. I can promise you I'll hate them just as much. Always have and always will.
Ste Traverse
45
Posted 13/08/2019 at 23:09:26
I'm certainly not one of these Blues who think you measure your love for our club in how much you hate our neighbours, so a number plate reading 'H8 LFC' doesn't do anything for me.
In any case, it's only a matter of time before one of their fans comes along with a marker and slyly changes the L to an E. I used to do it all the time growing up when I seen any pro-LFC graffiti.
Jerome Shields
46
Posted 13/08/2019 at 23:14:18
Steve #32
Back from playing in my Ukulele Band.
The three concerns I have regarding the Bramley Dock ddevelopment are:
1. The cost of site preparation. It is not a cleared site, it has to be prepared. You state that the allocated costs are £100 million. To get the actual costs I would multiple that by 2, if no problems arise, as I have always done in such site preparations. I have always found this figure to be closer to the actual costs, with the proviso that costs are rigiously controlled, to stop them going higher than that.
2. In her interview Elizabeth questions the actual size of the site and the fact that the Peel Group have retained some adjacent land. The site does seem to be on the tight size for a stadium and parking. I would also question the size of the Stadium and the viability of not building a 60, 000 seater stadium, to gain the necessary commercial advantage. Is the size of the site a restriction on the Stadium size ?
3. The infrastructure for the site is another issue. The leader of Liverpool Council has talked millions, but will this be delivered when required. I have found myself going solo, when promised Government funding did not materialise at the last moment or wasn't as expected.
The whole Stadium launch thing with balloons left me cold. I feel the whole Project Management end, does not seem to exist, bar the architects being engaged and providing a plan for the site.
Jamie Crowley
47
Posted 13/08/2019 at 23:16:47
The license plate is just a joke. And it's funny.
If I had H8 BEARS on my car, I'd expect to get cut off when driving around Chicago.
But as a Packer fan, I'd imagine most people would have a giggle. Even the lamentable, fair-weathered Bears fans here in the States would surely have a laugh?
It's just funny and a joke. I'd take no offense to anyone driving around with a H8 BLUES plate.
I'd flip them off while driving by, and give them an earful, but I'd laugh my way through it. Probably yell out, "Surely you mean Chelsea. We can agree on that!"
Actually, this is a bit of inspiration, this license plate.
H8 TRUMP
I dunno?
Lyndon Lloyd
Editorial Team
48
Posted 13/08/2019 at 23:42:44
The reaction from some to the number plate, title and opening section to this piece really does ram home the old axiom "you can please some of the people all of the time..." – or should that be "you can piss some of the people off most of the time..."? There's another thread on the go at the moment where people are bemoaning ToffeeWeb's loss of edge and lack of humour so you really can't win!
H8 LFC is a joke. It's a light-hearted jab at our self-satisfied neighbours who, by the very admission of Redmen TV, are going to be even more insufferable this season which will, naturally, be their year.
If you actually read the article, far from hate (as if one of the sweetest people you could hope to meet has a hateful bone in her body!), you'll see plenty of admiration from Elizabeth for what Liverpool FC have done. They recovered from a slump that hit its nadir with Roy Hodgson in charge – their Allardyce moment, if you will – got the right owners in place and built a team with a clear, identifiable and, so far, successful plan. We can only hope we are on the path to doing the same under Mr Moshiri which, again, Elizabeth goes to great lengths to argue she believes we are! It's a positive piece about Everton's prospects and too many are fixated on the references to Liverpool!
As for the notion that only about 20% of the match-going fanbase would have heard of Dr France, I would be staggered if it were anywhere near that low. As others have intimated above, the Frances are Evertonian royalty who have done more for this football club than almost anyone of us could dream. I think that should afford them both full respect and a little leeway in what they choose to put on their number plate (5,000 miles from Liverpool, I should add) and what they choose to talk about.

Mike Gaynes
49
Posted 14/08/2019 at 01:15:02
Jamie, I got dibs on that last plate you mentioned.
Alan J Thompson
50
Posted 14/08/2019 at 06:28:55
I really don't care if you've never heard of this lady and her husband or what your thoughts are on our noisy neighbours, it is still a very interesting read.
Peter Mills
51
Posted 14/08/2019 at 06:46:34
Dammit Lyndon, she'll keep it now.
Kevin O'Regan
52
Posted 14/08/2019 at 07:22:21
I agree with Lyndon that it's a pity that some are going on about the number plate as that has hardly any relevance to this lovely chat with Elizabeth. The interview is wonderfully natural, funny and has such clarity of thought and expectations for EFC it puts us all to shame.
Elizabeth and Dr France are surely NSNO personified and it would be wonderful to have the leaders with a fraction of that clarity and passion.
Kevin O'Regan
53
Posted 14/08/2019 at 07:35:39
BTW, Lyndon, l might suggest to change the Article title to 'Blue Skies' or something similar to avert from the number plate focus.
David Ellis
54
Posted 14/08/2019 at 07:49:07
Great article but like others I'm not keen on the heading. I don't like Liverpool at all, but I have to say them winning the Champions League has had zero impact on me. It's nothing to do with us.
(But I don't live in Liverpool and the Reds fans I know are generally know-nothings and therefore quite easy to humiliate on knowledge of their own club – like Anfield being Everton's first ground, for example – or even who is Kevin Keegan!!!!)
Jerome Shields
55
Posted 14/08/2019 at 07:49:56
The reaction to the number plate is I find quite petty. Obviously they are loyal supporters, who want to express there support.
Elizabeth's comments regarding Liverpool FC are genuine neutral observations on management and commerce. She obviously has a fondness for the city. They bought the best number plate they could to reflect this. It is not a precise art.
Well done Lyndon in speaking up.
Alexander Murphy
56
Posted 14/08/2019 at 07:55:10
What a terrific slice of Blueblood Evertonianism !
As soon as I saw Elizabeth France's name, I was spellbound again. Everything that I have read by this wonderful lady is utterly spot on. Devoted and realistic and knowledgeable. A true Evertonians Evertonian.
If I were to itemise each and every bit which hits the nail bang on the head and why, then I'd be posting 10 times as much material as the very article itself.
And I most heartily support the motion that Elizabeth should be a full board member. What reassurance it would be to the "common Joes" like Me that her acute vision was serving us in the seat of power.
Regarding "them" and their "flag of convenience supporters", during an entertaining discourse, I recently asked a bunch of TV Reds "what is the name of the road to the rear of the Spion Kop End?"
Answer: (and I jest NOT)
"Anfield Road".
Second question: "What is the name of the road at the rear of The Anfield Road End?"
Answer: Stunned silence. Followed by them making remarks about "Woodison".
Know your history?
The don't even know their present day !
However, just to wind them up a shade more, I then asked "The Tellytubbies", after Everton departed Anfield, Houlding formed a football club which later became LFC. What did Houlding call that original football club?
Answer: Everton Athletic.
Thanks Lyndon for this 24 carat article.

Jerome Shields
57
Posted 14/08/2019 at 09:03:43
Lyndon,
I found the comments regarding the number plates quite petty. Selecting a number plate is not a precise art. Elizabeth and Dr Everton obviously are loyal supporters and have an affinity with the city of Liverpool and got the best plates they could. Elizabeth observations on Liverpool where genuine comparisons of management and commerce.
I am glad that I now know of the Frances, genuine supporters, and feel the loss of not having known of them ear!ier. I found Elizabeth's interview knowledgeable and diplomatically factual. Thank you for publishing it.
As for ToffeeWeb, I find it to be the only genuine Everton fan forum, and the fans genuine and typical of football fans with few posers.
The old official supporters club, of which I was an under-12 member, though in my forties, not my fault, I was charged for adult membership, tried to change it without success, did make up for efficiencies, by being genuine. I had to buy the Evertonian paper second hand after the owner of the newsagents, an Everton Supporter, had read it and put it up for sale at full price.
I now find a bureaucratic front and a glossy overpriced Evertonian magazine, which isn't as good and has not the same insider feel. Of course there are other websites, but they don't t have that sense of community and genuineness of ToffeeWeb. I find responses to my posts and one article cutting edge enough. Thank you.
Stan Schofield
58
Posted 14/08/2019 at 09:23:15
To be honest, this discussion, involving another club and a number plate, is a bit petty, perhaps childish.
That article is simply an interview with a fellow Evertonian, one who has no lesser or greater status than any other Evertonian. The assessment she gives of our club seems pretty standard currently for a reasonably intelligent supporter, and the personal choice of a number plate is just that, a personal choice with no significance beyond it.
Now, to those posts who've suggested she be on the Everton board: Get a grip guys. Any Evertonian could be on the Everton board, including me, but god forbid if it happened. We need professionals on the board, not ordinary supporters.
Tony Abrahams
59
Posted 14/08/2019 at 09:44:01
No disrespect to anyone but I think your last sentence, is sometimes why I think Everton have fallen so-far from grace Stan.
The article is too long for me to properly read unfortunately, but I see the number plate as nothing more than harmless fun, and a connection to a place they both love, but skirting over everything that's been wrote, Elizabeth comes across as a genuinely lovely person, who loves "her Everton" a lot more than she hates Liverpool.
David Chait
60
Posted 14/08/2019 at 13:39:38
Brilliant interview with really smart insights.
Surprised by how positive she appears on our season ahead... after the first game, I wish I had her confidence.
Enjoyed that.
Frank Thomas
61
Posted 14/08/2019 at 15:25:09
Mrs France is very level-headed, thinks long and carefully before she speaks or writes, and I would hazard a guess is a very good judge of character. If we have to replace Mr Silva at any point it might be a very idea to invite the prospective manager their partner and family to have dinner and a long weekend with Mr and Mrs France. If they like him then on to stage two of the interview process.
Tony Abrahams
62
Posted 14/08/2019 at 16:49:47
I thought I was being disrespectful not reading what Elizabeth had to say, so I'm glad I've just took the time to read it properly now.
Very sensible, I think she's saying if our neighbours can do well, then so can we, so not much of a fixation with the other crowd, but more an acknowledgement of where she wants us to go.
I think the most telling part of the interview, was in saying that Gibson's contract is up next year, and after thinking about what's just happened with Sambou (the kid from Coventry, who knows how to move up and move on), then I think it's important that Everton try and get this kid a new contract, especially if he's as good as people say.
Dave Abrahams
63
Posted 14/08/2019 at 17:33:45
Tony (62), I wouldn't worry one iota over Lewis Gibson's contract, he was signed from Newcastle for just under £1M, with add ons this can reach £6M.
The contract he signed in 2017 is the only one he has signed and it was for 3 years so, as Elizabeth said, it runs out in 2020, but this lad is so well regarded at Everton, he will be signing a new, longer and much better contract well before this one finishes. He will get games in the first team before Christmas, even if they are only off the bench.
Paul Burns
65
Posted 14/08/2019 at 20:16:34
I don't want to just beat them, I want to sue them for the lies and false accusations about Heysel and the fact they were willing and complicit in shamelessly dragging every other English club into their self=inflicted mire.
The representatives of the club itself knew exactly what they were doing. The hypocrisy after Hillsborough and Everton FCs failure to stand up for itself and our best ever and the world's best team at the time only make it even more galling.
Its never too late to bring this up and also FIFA's and UEFA's role in the whole miscarriage of justice and continuing failure to acknowledge it will never go away until Everton have the balls to finally stand up for itself.
Never give up.

Phil (Kelsall) Roberts
66
Posted 14/08/2019 at 20:45:11
I agree Paul and that is why I suggested following the signing of Kean, it should be the start of a much closer relationship with Juventus with the holding of the annual Heysel Memorial Match to honour the memory of the 39 killed that night. Proceeds can be to assist those personally affected by the incident and a constant reminder of the loss of innocent lives that evening.
Tony Everan
67
Posted 15/08/2019 at 08:46:02
Elizabeth, please rethink David's suggestion of getting shut of the ''Hate plate''.
There's enough hate in the world, get one with a positive Everton message on it, forget about the other lot apart from poaching their best ideas, focus on us being a club with a bright future.
Thanks for a great article and very best wishes to David with his recovery.
Stan Schofield
68
Posted 15/08/2019 at 09:01:20
I would agree with Tony @67. Some might find the whole thing amusing, but there's really little to nothing amusing about it. I have a number of red mates who are very decent blokes, top people, but the ethos of that club is not 'decent' and 'top'. It is an ethos of unpleasantness, of cheating and distorting the truth, of winning at all costs, of complete lack of sportsmanship. There is nothing admirable about them.
If I think about admiration, I tend to think automatically of the Everton I was brought up with, the great Everton of the 60s, culminating in the complete team, the best football team in the world at the time, the model for how football should be played, the team that won the 69-70 title. My admiration focuses on the superhuman qualities of Young and Ball, the unique artistry of Harvey, and the sportsmanship of Labone, the very symbols of the School of Science.
Those are the symbols that should inspire us all NOW. Focusing on other clubs with far less admirable and noble history is misplaced focus, a waste of time, and not at all funny.
Phil Bellis
69
Posted 15/08/2019 at 09:52:54
Alexander (56)
I have a stock routine for those of them that speak English
1. Spell Anfield (fair number actually can).
2. Who was manager before Shankly? - after their umming and aaghing I mime throwing darts on the oche
Best answer I've had for that is "Jocky Wilson".
3. Who was John Houlding? - had everything from "left winger" to "reserve goalie"; when I tell them I get something like "before my time".
Phil (Kelsall) Roberts
70
Posted 15/08/2019 at 10:58:28
https://www.sasgroup.net/en/sas-is-starting-a-direct-service-from-stavanger-to-manchester/
Says it all for what we think about where their supporters come from.
Rob Halligan
71
Posted 15/08/2019 at 11:28:37
Phil, tell us something we don't know. We've known for years the vast majority of their matchday support comes from outside Liverpool, and even the UK. You only have to walk around Liverpool city centre on a Saturday, or whenever they are at home, and hear the vast amounts of foreign languages, all dressed in red and white, to know that.
Thanks for the link though, could come in useful if I fancy a break in Norway, or if Everton get drawn again to play in Norway.
Brian Williams
72
Posted 15/08/2019 at 11:37:47
I commented in an Echo piece which showed Evertonians coming into Lime Street while hundreds of the shite flagwavers were getting trains out of Liverpool.
One of them, from outside the UK ironically, blabbed on about an internationally recognised and supported club versus a parochial also-ran.
Although he did have the slightest of points, through my blue-tinted specs, I still wanted to reach into the screen and rip the smug-looking fucker's throat out.
Too anti-pc?
Mike Doyle
73
Posted 15/08/2019 at 12:04:57
Rob & Brian. A year or so ago I arrived by train at Lime Street late on a Saturday morning when Liverpool were playing at home.
The taxi queue was massive. When I eventually got one the driver (a Tranmere fan!) told me its always like that on Liverpool match days because of the massive percentage of out-of-town fans.
He said that Everton's games were quieter at Lime Street, but busier around Goodison after the game with blues travelling to the pubs in town after the game.
Perhaps any TWebbers who are taxi drivers (or know any) could confirm or deny.
Phil Greenough
74
Posted 15/08/2019 at 13:22:22
I can't understand why some Evertonians denigrate the Shite's overseas fan base, whilst lauding our own overseas supporters. To me it is hypocritical.
What is the difference between Mike, Jamie and the many other overseas supporters, who chose to support Everton and the Norwegians who choose to support the dark side?
If we choose not to respect the Norwegian, however misguided they are, because they don't come from Liverpool, we have got to apply the same rationale to the many thousands of Everton fans who have have never been to the city or have any affiliation to the city,
One of our own will be arriving by Ryan Air or the Irish boat to attend the match. Will we give him as much shit as some Evertonians give the red shite fans who do the same? Are you not a Blue, if you don't get the 52 bus to Spellow Lane?
Would we alienate, say a thousand Swedish fans, who chose to suddenly support Everton and fly in for the match? I doubt it.
Like all Everton fans, I know dyed in the wool, Shite supporters, many of whom are family members and although unbearable, they do go the match, not all of them are Echopudlians.
I hate LFC as much as the next Blue, but let's not stoop to their level of most of their supporters, by being hypocritical about fan bases.
Derek Knox
75
Posted 15/08/2019 at 17:24:39
Good interview Lyndon, and a very interesting and informative read, it's always encouraging to know we are fondly remembered by genuine people around the Globe.
Admire EF's optimism and hopes for the future, but also saddened by the continued ill-health of Dr France. It would be a nice and overdue fillip for him to see a Trophy lifted this year!
Danny O'Neill
76
Posted 15/08/2019 at 21:05:38
Great interview and fantastic insight from a very knowledgeable & opinionated Evertonian (aren't we all?!!).
On the France family thing, I'll be honest & expose my also apparent ignorance. I too until a few years ago was unaware of them or their significance. It's only through TW that I became aware. And I'm a lifelong Evertonian from Liverpool with a family history going back generations. My teenage years were the 80s so I like to think that I "know my history", but always glad to be educated further.
On the Kopite thing, it's traditional to "hate" your closest rivals, especially those from the same City. I say "hate" in the traditional Merseyside rivalry sense, not the venomous Sky Sports era type of hatred fuelled by keyboard warriors & the over-hyping we are continuously subject to by the modern press.
That said, the contemporary Liverpool fan base appears to be stepping up to new levels, even above & beyond their previously deluded, overly emotional & self-righteous attitude. A recent minor example:
Being London based these days, and almost in defence of the red cousins post Community Shield, I tried explaining to non-Liverpool fans in a local pub that the booing of the National Anthem and drowning it out with "that song" was just a Liverpool thing they've always done since I recall (70s/80s). Nothing in it, just "their thing". I was subsequently "corrected" by a "local" red that it was in protest at the government's cover up of Hillsborough & Winston Churchill ordering in the Police against the Dockers during the war years.
Now, whilst both of those political & historical circumstances may be so, I did point out that: 1. In 1983-84, Hillsborough hadn't happened. 2. No Liverpool fan I knew in the 1980s from the City of Liverpool that I used to travel to Derby matches with (including Wembley) ever gave the Churchill theory as a reason. 3. Stop politicising football.
The modern Liverpool supporter: Selective recollection of history. Always outraged, never embarrassed and if somehow there is a danger of the latter then just make up some emotional bullshit to justify actions they would blatantly slate others for.
Okay, I went slightly of topic & ranted (although the number plate did give me cause!!). To reiterate, great interview!
Dave Abrahams
77
Posted 15/08/2019 at 21:51:35
Danny (76), I think Scousers just rebel against Authority, I recall getting told of the occasion when the man in the white suit who led the community singing before the FA Cup Final came to Liverpool just before the 1950 final.
He came to Anfield for a league game in a dress rehearsal of the singing for the Arsenal - Liverpool final, he set them up to sing "Abide with me" two or three times started the hymn, but each time the Kop sang "I've got a lovely bunch of coconuts" which was a popular song at the time. In the end, he gave in and instructed the band to sing that song but the Kop started singing "Abide with me" – just pure defiance against authority.
I don't know if the story is true or not but it does sound like it could have happened, knowing Scousers.
Peter Mills
78
Posted 15/08/2019 at 22:45:59
Dave #77, I will rely on your opinion on this, and others like Terry White with whom I travelled to the 1966 Cup Final, as I was only 10 at the time.
But I'm pretty confident that Princess Margaret was greeted by a chorus of boos from our fans when she was introduced to the teams, as she was wearing a deep pink outfit, similar to the then fairly new all red Liverpool kit.
Then, all proceedings were held up as Everton supporters sang an extra chorus of "God save our Team".
Is my memory correct?

Dave Abrahams
79
Posted 16/08/2019 at 14:52:26
Peter (78)yes Peter agree with that, even say the coat was close to being a shade of red, but will stick with your version.
And remember the end of the final against United when the two young princes William and Harry had faces like smacked arses after we won, they got a bit of stick for that. Not off me of course, God bless them !!!
Phil (Kelsall) Roberts
80
Posted 17/08/2019 at 19:50:57
The main issue about the mass of non-Merseyside based kopites compared to those Evertonians who support us from afar is they are in the main glory hunters because of the success they had when travel became easier and TV started showing games overseas.
Evertonians chose to support Everton because of the club, actually they did not choose, they were chosen. And if you are on this site, you'll understand.
---
Add Your Comments
In order to post a comment, you need to be logged in as a registered user of the site.
Or Sign up as a ToffeeWeb Member — it's free, takes just a few minutes and will allow you to post your comments on articles and Talking Points submissions across the site.
---
---
© ToffeeWeb