Fan Comment
Farewell Old Friend
Tuesday 9 July 2019
A muggy day in Walton. The rain that fell at times was the type that leaves you soaked within seconds. Big, wet splattering drops, none of your fine drizzly nonsense. I couldn't help but feel the heavens were shedding a few tears as a throng formed on the new 'Holy Trinity' plaza outside St. Luke's around 2.30pm.
Amongst every small group within the overall gathering was a famous Everton face or two, George Telfer waiting on the steps, Joe Royle striding by with a twinkle in his eye as ever, John Hurst and the effervescent Derek Temple, who seems to get younger every time I see him, Ronny Goodlass and John Bailey strolling up, Cliff Marshall, Jimmy Harris and Alec Farrell getting in out of the rain, Tony Kay still looking likely to crunch into a tackle at any given moment, ubiquitous club ambassadors Sharpy, Snods and Stuart, Mark Higgins and, at a second glance I realised, 1986/87 goal poacher supreme Wayne Clarke… I'm sure I must've missed a fair few more, but needless to say a crop of Everton heroes to cater for most generations of a certain age. And beyond that members of the Evertonian family from all corners. Club Chief Executive Professor Denise Barrett-Baxendale and her Everton in the Community counterpart Richard Kenyon were present, along with several gentlemen of the cloth from other churches across the city.
Here we were to bid a fond goodbye to our friend, the Reverend Harry Ross.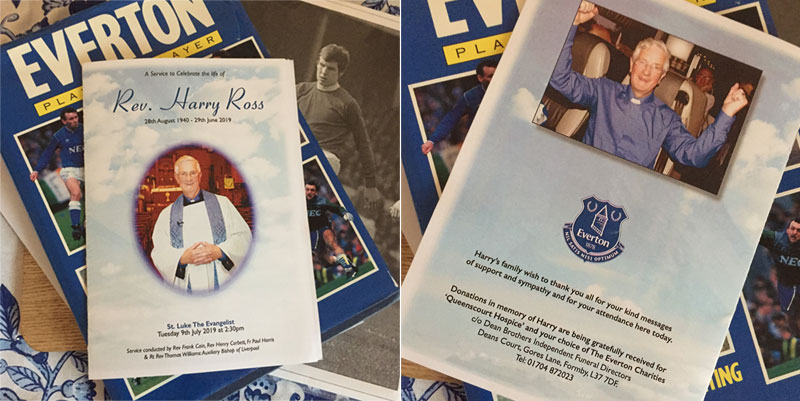 I never had the opportunity to get to know Harry, I've said hello to him once or twice and corresponded with his son Philip, who was present with his mother Wendy and brother Andrew, by email a few times over the years. But still, Harry WAS Everton to me. He embodied our motto. Nothing but the best was ever good enough for the Reverend Harry Ross. As was reflected in warm readings given by Darren Griffiths, who read a heartfelt, funny message from absent Everton Chairman, Bill Kenwright; Dr Stephen Reid, on behalf of the Freemasons with whom Reverend Ross had a very active 50 year involvement; our very own Joe Royle; and Father Paul Harris, who grew up in Harry's beloved Walton, learned to play the church organ with Harry's encouragement, plus free use of the St. Luke's organ, which Harry had shown the drive and determination to get restored during his 33 year term as vicar there.
Hymns were sung with a gusto with which the man himself would have been delighted, I'm sure. The hush which descended within the walls of the old building as prayers were delivered allowed time for contemplation of the achievements of a man who lived his life with vigour and intent to the last. Even in his final weeks he continued to provide what help, care and support he could by text to people in need. The friendship, concern and kindness he shared extended not just to members of his congregation, but far beyond that to fellow members of the clergy, the staff and players of Everton Football Club and the numerous former Everton stars he helped provide support for over the years in his role as a patron of the Everton Former Players' Foundation.
Talking to several of those former players afterwards, it was clear that the common touch Harry Ross had has made an immense difference to the lives of some of them. It goes without saying that most men aren't great at discussing their feelings or admitting they might be struggling. This must be a particularly difficult hurdle to overcome within the macho environs of top-flight football of any era. Harry Ross clearly realised this and managed to find a way to allow some of our Everton heroes to open up and seek help. It's clear from talking to a few of them first-hand this afternoon, that, however he did so, he made a huge difference and will be missed.
We all filed out to the siren blasting and Z-Cars. I was pleased, as I always am at funerals, that there had been plenty of laughter throughout the service. Funerals should be a celebration of a life well lived, a gathering of that person's nearest and dearest, plus in this case a much broader extended family including people like me who never knew the man personally but have been moved over the years by his work and inspired by his example. It is sad to lose such a pillar of the Everton community and the local community in L4 of which I am now part again after 38 years away.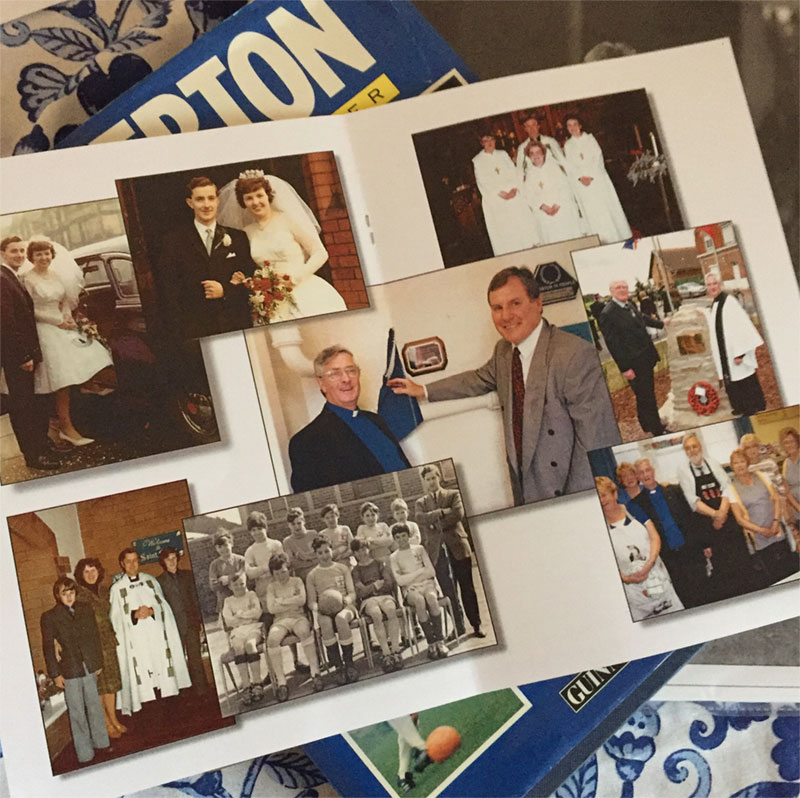 My own Everton family has grown exponentially in the 10 months since I moved home. I have built on long-distance friendships which were established on social media, meeting up on matchdays with Twitter friends, networking furiously at Everton functions, involving myself in the Everton Heritage Society, volunteering with Everton in the Community, selling People's Place scratchcards in the FanZone on matchdays (yes, that's me!) and being voted onto the Everton Fans' Forum by fellow Evertonians, something in which I take immense pride and am determined to repay in energy and endeavour over the remaining two and a half years of my term.
My Evertonian friends old and new will never understand quite how much they have helped me through this period in my life, helped me find myself again and make the best of my decision to relocate 325 miles away from my daughter and start all over again as I approach 40 years of age.
Every one of you has made a difference. Thank you all for that. Life really is beginning now; I can feel it.
I think we can all learn something from the likes of Harry Ross. We can all strive to better ourselves, to help our neighbour and to be good role models. I have lived most of my life no closer than 100 miles to Goodison Park, yet I've immersed myself from a distance in everything I possibly can in relation to our club. I now live within 200 yards of the stadium (although I'm moving shortly, only 'round the corner!).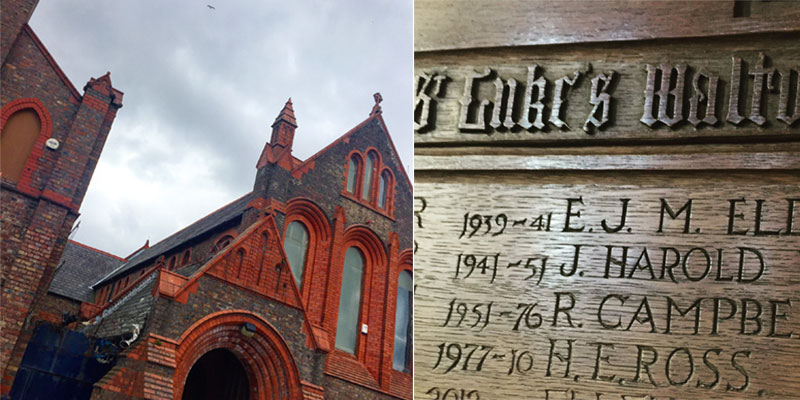 Between the little house I have been renting, Goodison, St. Luke's and the Everton in the Community campus on Spellow Lane - and in spite of all the bluster of County Road, the odd siren or noisy neighbour - I have found a comfort and an inner peace which has been missing for my entire adult life.
I'll continue to pop into St. Luke's for Sunday service when I can, I've been a few times since I arrived. In my own small way, I'm reconnecting gently with the Christian faith I learned about in Sunday School as a child. I am devoted to making a positive difference here in L4, alongside or as part of the Goodison Legacy project in some form. I am proud of this place; it is a part of me and I am a part of it. I even have done the family history research to prove it. If you know...
Rest in peace, Reverend Ross… although I'm sure you'll soon be busy keeping up the good work making sure everyone up there is very well before long!
NSNO.
Jamie Yates
Winslow Street, L4
PS: per the order of service:
Donations in memory of Harry are being gratefully received for Queenscourt Hospice and your choice of the Everton charities c/o Dean Brothers Independent Funeral Directors, Deans Court, Gores Lane, Formby, L37 7DF Tel: 01704872923.
---
---
Reader Comments (18)
Note: the following content is not moderated or vetted by the site owners at the time of submission. Comments are the responsibility of the poster. Disclaimer
Peter Mills
1
Posted 10/07/2019 at 21:17:14
That's a great article Jamie. Thank you, and good luck.
stephen jones
2
Posted 10/07/2019 at 22:48:32
Jamie thank you for taking the time and effort to write such kind words about Rev Ross it was very touching.
I like yourself had met Harry a couple of times once when he conducted my brother Les's funeral who like Harry and all my family was a fanatical evertonian and he helped give my brother a royal blue funeral that was special to us all who attended.
My brother Les was the fan who encroached onto the hallowed turf many years ago and some of his ashes are on the goodison turf and also in St Lukes garden for true blues.
And whenever I called in before a game it was great to meet Harry who was a fantastic human being and an even better blue RIP H.
By the way Jamie I was born and bred in Winslow St great neighbors and a few are still there today
Jamie Yates
3
Posted 11/07/2019 at 07:00:34
Thanks chaps! Stephen, what number?! I've loved living here. I discovered recently that 1927/28 title winning Scottish inside forward Tony Weldon lodged at number 68 in his playing days. Not a bad walk to work 😊
David Prentice
4
Posted 11/07/2019 at 10:56:17
Great read Jamie. Thanks for taking the time to write it. You're absolutely right. Funerals should be as much a celebration of a life well lived as a sorrowful parting and a closure. And Harry certainly filled his life with so much positivity. He'll be sorely missed, but he's also left a lasting legacy - and that's the best we can hope for.
Dave Abrahams
5
Posted 11/07/2019 at 10:57:28
A very nice tribute, James, for a man who loved Everton, more importantly believed in and loved God as well.
I would have liked to meet and have a chat to Alec Farrell, who was at the funeral. Alec played in the Second Division with the Blues, a good player who had the potential to be a great one. Very, very unlucky with injuries, he played under Cliff Britton when he was manager of Everton, and I think he took Alec and Derek Mayers to PNE when he managed them after leaving Everton.
Jay Wood
[BRZ]
6
Posted 11/07/2019 at 14:32:37
That's a very nice read, Jamie, and a fitting tribute to the Rev.
Thank you. And good luck in settling back into the city.
Jack Convery
7
Posted 11/07/2019 at 17:01:34
Lovely tribute and good to hear so many blues turned up. Good luck to you in your new life.
Dave Williams
8
Posted 11/07/2019 at 17:20:25
Great article and tribute Jamie- heartwarming to read- well done and thanks. It's sometimes nice to escape the multi million pound transfer rumours and read about a real person who was a true supporter and liked to help people
RIP
Kieran Kinsella
9
Posted 11/07/2019 at 17:27:04
Lovely article. Funnily enough it was another Evertonian man of the cloth who is responsible for me being on ToffeeWeb. School Chaplain Joseph Hanton — lovely bloke — mixed pastoral duties with tales of Everton at our school in Hertfordshire from the age of 4.
Almost 40 years on, myself and half a dozen classmates are still Everton obsessed while our classmates who supported the nearest local teams eg Watford, Spurs and Arsenal all seem to have lost interest in the game.
David Pearl
10
Posted 11/07/2019 at 17:27:37
Nothing new to add but another thanks for the effort Jamie. Much appreciated.
David Greenwood
11
Posted 11/07/2019 at 17:59:44
Hi Jamie @3,
I know Tony Weldon's nephew, also called Tony, who is now in his 80s. He still has his uncle's original Everton contract.
He told me that his uncle Tony very rarely talked about his football career. One thing he did say was that the reason he was sold was him and two others went and asked for more money and were all away from Everton a short time later.
And he always enjoyed the crowd singing "Well done, Weldon!"
Jamie Crowley
12
Posted 11/07/2019 at 18:07:25
Great article Jamie.
Alexander Murphy
13
Posted 12/07/2019 at 11:39:18
Thanks "Long Man" for such a well written and personal piece about, as you so astutely refer, "Pillar of the Everton community and the local community in L4", Rev Harry Ross.
It's right that you draw attention to Harry's involvement, influence and inspiration for so much that Everton and Eitc stand for. They stand as tribute to the work of this great Blue.
stephen jones
14
Posted 14/07/2019 at 22:58:04
Hi Jamie, apoligise for late response, my friend, in answer to your question. I was born and brought up in number 10 Winslow Street and had some fantastic memories of living and going to school in the shadow of Goodison Park.
My first game was Fulham in 1963 when I bunked under the turnstile aged 7 and we won 4-1 vs Fulham great days.
I hope you enjoy your time living in my old street Jamie.
Ian McDuff
15
Posted 16/07/2019 at 13:53:52
Lovely article for a man with a special gift. 'Mr Ross' was my maths teacher at St George's in the early seventies and he was that teacher who for me had a real influence and who I still remember as if he taught me yesterday. His good humour, patience and mischievousness never left him it seems.
RIP, Mr Ross from one True Blue to another.
Jamie Yates
16
Posted 17/07/2019 at 03:09:05
#11 David Greenwood, thanks for your comments, great to hear you know Tony Weldon's nephew. I'd love to talk to you at greater length if possible, please. I'm doing some research into players of that era. Perhaps ToffeeWeb can put us in touch by email?
Fr Paul Harris
17
Posted 18/07/2019 at 02:25:22
Great article!
Harry was top class: a gent and a blue, through and through. Hard to imagine life without him. We've now gained a blue champion in heaven who will be shouting for us in the earshot of the Almighty. RIP Harry 💙
David Greenwood
19
Posted 25/07/2019 at 06:57:37
Hi Jamie, that's fine with me. Hopefully Michael or Lyndon can sort it out.
---
Add Your Comments
In order to post a comment, you need to be logged in as a registered user of the site.
Or Sign up as a ToffeeWeb Member — it's free, takes just a few minutes and will allow you to post your comments on articles and Talking Points submissions across the site.
---
---
© ToffeeWeb