ToffeeWeb at 25
By Lyndon Lloyd
05/11/2019
Share: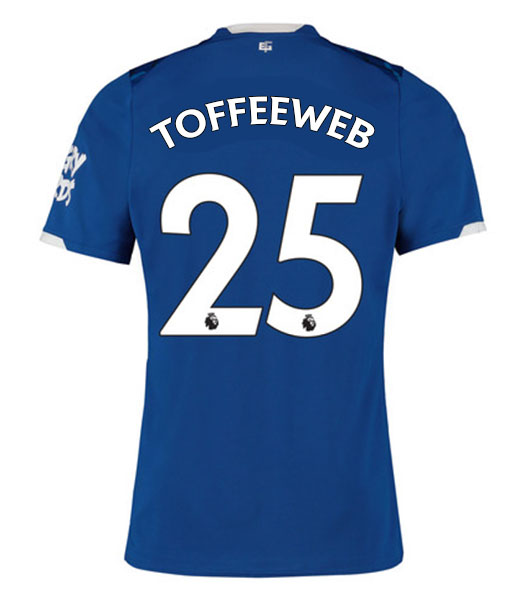 The exact timing is a little murky but some time around October or November 1994, a software engineer from Finland named Marko Poutiainen began publishing historical information about Everton Football Club on the nascent World Wide Web.
It wasn't the first website related to an English football club; that accolade seems to belong to Ipswich Town whose online presence can apparently be traced back to 1990, before the advent of even dial-up connections, when Phil Clarke, then an employee at BT, began posting fixture information for the Tractor Boys on what was still a very experimental platform. That content would form the basis of the TWTD site that was started in 1995 and still exists to this day.
Hob Nob Anyone, an unofficial site dedicated to Reading FC, was born in November 1994 and briefly laid claim to being the first unofficial football club site but looks to have been pre-dated by a about a year by pages of information about Sheffield Wednesday published on Nottingham University's website in 1993.
Regardless of the exact date, however, the website that would begin to grow once Marko had enlisted the help of Michael Kenrick to translate his content from Finnish into English and one day come to be known as ToffeeWeb later in the 1990s was among the very first football sites of any kind on the Web.
Long after Marko's involvement with the site had ended, a merger with Evertonia.com followed in 2001 and, 25 years later, ToffeeWeb remains one of the biggest unofficial sites on the Web, boasting a thriving community of Blues and some of the best Everton-related discussion to be found anywhere online.
That is due in part to the standards of interaction we have tried to foster on the site over the past couple of decades, particularly after TW morphed from primarily being an information resource to being an discussion-based forum for debate among members and fan opinion.
But it is also testament to the knowledge, character and intelligence of you, the readers and contributors. I'm aware of the long-standing reputation for negativity that this site has among some supporters, I see the occasional criticism of ToffeeWeb on social media from those who deride it, and I read in bemusement posts like the one earlier today where a member very publicly flounced off the forum with a few parting shots.
But I sit back and admire just how many articles on this site begin with a stream of considered, in-depth comment replies (you know, before they inevitably descend into arguments between a handful of the usual suspects!) and I know that there are media entities out there that would kill for the level of engagement and discussion that TW enjoys.
So, as well as wanting to mark this special anniversary in the site's history, I just wanted to express my pride in the forum that we as an Evertonian community have formed over all these years and thank you all for making ToffeeWeb what it is today. Long may it continue…
---
Reader Comments (51)
Note: the following content is not moderated or vetted by the site owners at the time of submission. Comments are the responsibility of the poster. Disclaimer
Kieran Kinsella
1
Posted 06/11/2019 at 00:44:37
Michael, Lyndon, Finnish Marko,
Congrats. It is a hell of a commitment to operate a website for any time much less 25 years. Lots of great articles, fascinating input and insight from you and many others. Thanks for all you do.
Mike Galley
2
Posted 06/11/2019 at 01:15:06
If I may, I'll second Kieran, congratulations to Michael, Lyndon and Finnish Marko.
This is my go-to site for EFC info, debate (I read more than I contribute) and fellow EFC fan opinion.
Jamie Crowley
3
Posted 06/11/2019 at 02:53:24
An unbelievable website and historical mark. Congratulations.
This site has galvanized my "blueness" over the years, and without it the Club that has, quite inexplicably in an honest moment, grown so near and dear to my heart, may not be at the same level of importance personally that it finds itself in today.
Brilliant achievement 25 years. Pat yourselves on the back, you've earned it.
TW a negative site? Bah! Fuck right off. I've seen members laugh with one another, regale in shared history and experiences, mourn the loss of fellow Blues, organize get-togethers and meet-ups, host visitors from far-flung regions like they were royalty, etc.
Anyone saying TW is negative is a surface dweller, and they need to dive a little deeper in the TW ocean.
Congratulations Michael and Lyndon, and thank you.
Kristian Boyce
4
Posted 06/11/2019 at 02:56:39
Congrats especially to Lyndon & Michael on the milestone for what I imagine is an absolute labour of love.
I think I discovered the site either in 98 or 99 when the only internet access I had was on one of the few computers at my uni's computer lab. I moved to the States in 02 and I'm truly thankful for this site as it provided a little bit of home when I would log on daily. I think part of the success of the site is the community that it has created along with the TW characters that have graced these pages.
James Flynn
5
Posted 06/11/2019 at 03:02:16
Congratulations to Michael and Lyndon. My go-to site for all things Everton.
Tom Fazal
6
Posted 06/11/2019 at 03:28:29
I confess, Michael and Lyndon, that I am an addict for TW, regular user several times a day, more on match days. I have tried to reduce my dependence but then I read something new, an article or a recent comment, and then I am hooked again, sometimes worse than before.
I first discovered ToffeeWeb when I moved to Canada in 1998 and it remains my go-to source for all things Everton.
I enjoy the banter and the strong opinions positive or negative, especially when they are thoughtfully and eloquently written. Brings back happy memories of my life in Liverpool in pubs before and after games (in rooms of nonsense) with fellow Blues before opportunity took me to distant lands. (Have to admit though, I hate it when it degenerates into personal attacks)
Thanks again, Michael and Lyndon, long may your facilitating discussion of all things Everton continue enabling my regular fixes. Thanks to all the contributors who make this such a vibrant place to visit.
To the next 25 years!
Jay Harris
7
Posted 06/11/2019 at 03:48:56
Congratulations Lyndon, Michael and all the other contributors to the best Blues site on the 'net by a country mile.
Looking forward to another 25 years although I will almost certainly not be around that long.
Special mentions to Ken Buckley, Doddy, Christine Foster, Eugene Ruane, Harold etc. who for their own reasons do not post much any more but have contributed to great debates in the past.
Amit Vithlani
9
Posted 06/11/2019 at 04:48:23
Lyndon & Michael. The biggest compliment I can pay you is TW is part of my daily routine; whether I love or hate the comments and editorials, I come back for more.
Well done and here's to another 25 years. I just hope in that time we win more than 1 trophy!
Julian Wait
10
Posted 06/11/2019 at 05:08:45
Happy birthday TW.
Home from home.
Thank you!!
Darren Hind
11
Posted 06/11/2019 at 05:19:39
Michael and Lyndon
Years of working nights has messed with my body clock to a degree that I am almost completely nocturnal these day (except for weekends). I honestly don't know what I would have done without this place.
The expats down under and their deep knowledge and love of nostalgia. The "Seppos" and their sometimes illogical brand of positivity. Blues all over the world ensuring this place never really sleeps.
A labour of love no doubt, but it takes a lot to get a successful website up and running. To sustain and improve on it year on year for 25 years is the mark of Champions
Tony Hill
12
Posted 06/11/2019 at 09:50:12
It's an excellent site and I'm sure we all feel that it's a true pleasure to be together on here as Blues, in the space created for us by the editors.
Daniel A Johnson
13
Posted 06/11/2019 at 10:03:17
This is more than a website for me its my Sanity and its cheaper than therapy.
Its good to be able to have a hysterical rant and then be brought back down to earth by other more reasonably posters.
Even the Mrs says to me more often than not "are you on ToffeeWeb again".
Keep up the good work everyone its appreciated more than you know.
But jesus 25yrs old god, I feel old. Also shocking to think about the trophies won in that time...…...or lack of them.
Stan Schofield
14
Posted 06/11/2019 at 10:23:21
Michael and Lyndon, this is a truly great website. You both do a tremendous job. Congratulations.
I find I spend more time on ToffeeWeb than I do actually watching the game.
Steve Ferns
15
Posted 06/11/2019 at 10:28:45
I echo all of the above. I spend a great deal of time sat waiting around and ToffeeWeb more than helps me pass the time. Brilliant site and brilliant efforts by all concerned.
By the way Lyndon, next time you come to England for the game, don't just sneak in, announce it so we can all meet you thank you for your efforts personally. I know plenty of people would love to buy you a pint. And Michael for that matter but he's even more secretive with when he goes the game. It'd be great to have a TW get together with someone actually from TW!
Dave Abrahams
16
Posted 06/11/2019 at 10:37:13
Happy birthday to you Lyndon and Michael, it's your site, and I'm glad I found it about six years a go.
I've got to admit if I'd been on ToffeeWeb when Moyes was manager I wouldn't have lasted very long, I'd have got a permanent ban,
Congratulations, hope it lasts forever, like Jay Harris I miss a few people who don't post as often, especially Harold Mathews who is reading ToffeeWeb from above and Patrick Murphy, who was a fund of information, hope he is okay. Thanks again.
Paul Kelly
17
Posted 06/11/2019 at 10:47:15
Can't argue with any of the above, love JC's comment about the negativity.
Onwards and upwards.
Ps, what happened to our creator, 'our Lord', "Marko the Finn"?
Ken Kneale
18
Posted 06/11/2019 at 10:55:51
Congratulations - we all look forward to our daily fix of TW which has set consistently high standards
Phil Greenough
19
Posted 06/11/2019 at 11:00:05
Congratulations and thanks, Michael and Lyndon, for all the hard work you do to keep this marvellous forum going. Long may it continue.
Trevor Peers
20
Posted 06/11/2019 at 11:05:35
Like to add my congratulations, Michael and Lyndon put so much hard work into TW it must have become a full time job by now, well done guys.
Jay Wood
[BRZ]
21
Posted 06/11/2019 at 12:34:29
I'll add my two reais worth and say 'parabéns do Brasil' on TW's silver jubilee.
As JC says @ 3, it's a superficial assessment to label TW as negative as some do. It's far richer and more varied than that, a microcosm of all the subjects and the wide range of opinions on each topic which will be discussed in pubs, homes and the work place wherever Blues gather.
And like Paul Kelly, I too am curious: what's the story on Marko the Finn???!!!
Mark Frere
22
Posted 06/11/2019 at 12:47:43
Congratulations, Lyndon & Michael. A fantastic website.
How time flies! I first started reading ToffeeWeb a few years into Moyes's reign as manager. The regular posters back then are not the regular posters now. The names which stick in my memory back then are Kevin Sparke, Tony Marsh, Ken Buckley and Gavin Ramejkis (to name a few).
It took a few years of reading ToffeeWeb before I actually decided to take the plunge and start posting. I initially enjoyed the novelty factor of debating with other posters... but eventually found it taking up too much of my time. I prefer just to read the various different articles and debates nowadays.
Posters come and go and we've had some brilliant characters down the years... My personal favourite was John Daley.
Steve Ferns
23
Posted 06/11/2019 at 12:48:36
Back in the day, people used to be able to hide behind usernames. Stuff like Sheedy's left foot. Does anyone want to come forwards with who they were before Michael made us all come out of the shadows?
Kieran Kinsella
24
Posted 06/11/2019 at 12:57:18
Everton Gator was my name back 20 years ago Steve. I lived in Gainesville FL home of the Univ of Florida "Gators" hence the highly unimaginative name
John Pendleton
25
Posted 06/11/2019 at 13:20:01
As someone involved in building websites I know just how much goes into getting and keeping a site like this secure, up to date, navigable, relevant and user-friendly. All the more remarkable is that it's free - a greater bargain than our captain no less.
It is the quality and variety of content and the (mostly) grown up level of informed debate from knowledgeable contributors that makes it so engaging for me. Until it's on TW it hasn't happened.
The live forum is a study of stress and real time reaction. How balanced match reports are crafted so soon after the final whistle is an astonishing level of journalism requiring huge amounts of skill and personal commitment no doubt (how many births, deaths and marriages have the owners missed over 25 years?).
Congratulations Michael, Lyndon and article writers for creating and sustaining a royal blue home with a global sense of belonging.
Long may it continue.
Rob Hooton
26
Posted 06/11/2019 at 13:24:28
Congratulations and a massive thank you!
Like others I need my daily TW fix and it is pretty much my only source of all things Everton.
Having lived down south for 25 years it feels like I am still part of it all and thank everyone for their contributions
Clarence Yurcan
27
Posted 06/11/2019 at 13:38:07
I found this site in 2011 or so. It's the best Everton site there is!
Peter Mills
28
Posted 06/11/2019 at 16:22:16
Michael and Lyndon, it's a great site, the go-to place for all things Everton. It has also brought me some friendships I would never have had - thank you.
Stephen Brown
29
Posted 06/11/2019 at 16:26:50
Superb website Michael and Lyndon. All readers really appreciate the effort that goes into it.
A 10x a day read without doubt.
Thanks very much. Keep up the good work.
Craig Walker
30
Posted 06/11/2019 at 16:38:27
I wish we had a team as good as this website!
Massive thanks to Michael, Lyndon and all the contributors down the years. Not living in the city, it is an invaluable resource for keeping up with what is going on at Everton and getting a sense of the current mood amongst the fanbase. There's not a day goes by where I don't look at TW. There are some amazing contributors on this site. There are a few regular contributors whose views I disagree with but I always admire their depth of knowledge, their passion for our club and the way they put their points across.
As for the negativity, the creation of this site has happened to coincide with the longest trophy-free period in the club's history. I look forward to the day that we finally win a trophy because the mood on here will be euphoric. Even a derby victory would do for now.
Keep up the good work!
ITWWT
Tom Edwards
31
Posted 06/11/2019 at 20:44:21
I have been a TW reader for many many years. I have made the occasional comment here and there but I am nowhere near as prolific as many of the usual suspects on here! This is quite simply a superb site and should be held up as the prime example of how a fan site should be. Lyndon and Michael deserve massive congratulations for their hard work and dedication.
Like many on here, I am no longer a resident of Liverpool and do not get to matches as much as I would like so getting match reports and gossip/news via TW is a godsend.
I am a former season ticket holder of many years standing and being in my mid-fifties I am lucky enough to have seen the glory times first hand as well as many years of woeful crap. How I wish some of our younger fans can hopefully enjoy some of this in the not too distant future.
Once again, congratulations, Lyndon and Micheal and keep up the good work. We all appreciate it.
David Greenwood
32
Posted 06/11/2019 at 21:02:30
Michael and Lyndon, thanks for such a brilliant website.
It's the only place to get Everton news and views. There is nothing else like it out there.
There have been lots of great posters over the years, some of whom I disagreed with more often than not, but their passion for Everton could only be admired.
One day (soon) we will get back to where we belong, we've got to keep the faith. It'll happen.
Anyway, bring back the offside forum, even if it's only short term!
Garry Swenson
33
Posted 06/11/2019 at 21:05:18
I first visited ToffeeWeb as a 13-year-old in 1997. The cheeky youth I was made a new logo for the site just for fun and submitted it to Michael who, very unexpectedly, decided he liked it and used it on the main site for a few years.
Around the same time I had a little Everton website of my own. I e-mailed Michael and asked him for some advice (as my teenage website development skills were limited) and he shocked me by asking if I'd like to merge. Although it never happened it shows that Michael and Lyndon have always valued collaboration over everything else.
A great website, if not quite perfect, and one I hope will still be around in some form in 2044!
Chris Hockenhull
34
Posted 06/11/2019 at 21:27:31
I can only echo most of the sentiments from others who say exactly what I want to say... I view the site about six times a day every day. Have tried to put a couple of articles together over the years and comment when I feel I have something to say.
Great stuff as ever and thanks. and (always prone to quote Bob Dylan) "Keep On Keeping In" Cheers and thanks
Tony Abrahams
35
Posted 06/11/2019 at 21:37:21
ToffeeWeb is the only website I really read, and is also highly addictive, especially because it never sleeps.
Happy Birthday, and to Lyndon and Michael, thanks for creating something that sometimes carries just as much emotion as the game itself, especially today on the thread about Son. So let's hope the arguments continue, but better times are around the corner for "our team", so thanks very much gentlemen!
Kunal Desai
36
Posted 06/11/2019 at 21:54:54
I'd echo much of what already has been stated above. Huge congratulations to those associated in reaching this milestone.
This is my preferred fans forum site. You get varying styles and tones of opinions. More importantly like another site (mention no name) your opinion isn't shot down by the mods because you're not towing the party line.
@22 Mark Frere - I'm still in regular contact with Gavin Ramijkis. He's actively engaged on Everton groups within facebook.
Dave Williams
37
Posted 07/11/2019 at 21:43:36
This is by far the best site on EFC and all credit to Lyndon and Michael for all their hard work. For those of us who live a distance away it is a marvellous way to keep in the loop and hear what might be going on behind the scenes.
There will always be the odd prima Donna who flounces off after throwing abuse at all and sundry and that reflects on them and not on the site
Keep it going chaps!!
Jamie Crowley
38
Posted 08/11/2019 at 13:40:14
Kunal @ 36 -
Gavin was a TW legend. He's missed, at least by one dopey American.
Paul Tran
39
Posted 08/11/2019 at 13:58:04
Congratulations Michael & Lyndon.
I'm on the road a lot and spend lots of time on trains, planes or waiting for them, lots of time in hotels. Most of that time I come straight here.
For an exile like me, it's so valuable. As well as the information, it feels like you're sitting in a pub, arguing with people who quickly feel like friends. Plus there are people on here who get me thinking differently, which I really appreciate, even when they're wrong! And when you're travelling, there's nothing like 'watching' the match on the Live Forum!
So thank you Michael & Lyndon. Would be great to meet you both one day, and many others on here who I've sparred with.
John Raftery
41
Posted 09/11/2019 at 21:16:14
Only just catching up after a busy few days. Well done Lyndon and Michael for keeping the show on the road for so long. While I know some supporters will never be completely happy it would be interesting to see how much negativity was around if we ever managed to win a trophy.
Jerome Shields
43
Posted 10/11/2019 at 11:07:58
Congratulations on 25 years of ToffeeWeb, Lyndon and Michael. Thank you for providing a genuine forum I can engage on regarding Everton, which is both challenging and informative.
Paul Ward
44
Posted 10/11/2019 at 12:32:25
My sincere thanks to Lyndon and Michael for providing such an entertaining forum. The diverse opinions of posters have made ToffeeWeb such an essential site for expats like me.

Eddie Dunn
45
Posted 10/11/2019 at 12:53:06
Congratulations chaps on a wonderful site, full of variety and insight as well as bucketloads of passion and cynicism. It must be a huge task to keep it going. Personally, I can't recall when I started but it must be over 10 years. Prior to that I was a reader of Bluekipper, and earlier was quite keen on fanzines. I remember "When Saturday Comes", and our own "When Skies are Grey" being a breath of fresh air. The original 4-4-2 mag was a step in the right direction from the usual turgid club programme notes and predictable newspaper journalism.
We have had some super contributors including Harold, and Ken and Eugene and Daly. The current crop of Hind, Ferns, Knox, Crowley, Abrahams (both), Bennings, and Gaynes and many more, continue the blend of knowledge, opinion, fantasy and fact as we navigate our way through troubled waters.
Keep it up and thank you for making it all possible.
Frank Rice
46
Posted 10/11/2019 at 23:15:15
I would like to echo previous posts and congratulate you on this site.
Been in Los Angeles for 6 years and look at ToffeeWeb everyday to keep up with what's going on at our club.
Enjoy the banter from the varied contributors, especially the older ones like myself - still vividly remember Roy Vernons hat tick in 1963, when I was in the old Park End stand for the championship winning game against Fulham.
Hopefully better times ahead soon.
NSNO
Nicholas Ryan
47
Posted 10/11/2019 at 23:53:50
I'm distraught, folks. After years of giving Liverpool fans grief, over all their fans being Scandinavians who can't even speak the native tongue … I now discover, that ToffeeWeb was started in Scandinavia, by a Finn who spoke no English!!
Julian Exshaw
48
Posted 11/11/2019 at 00:08:31
Michael and Lyndon, you guys do a great job. Congratulations!! Let's hope the next 25 years will have endless posts waxing lyrical about our trophies and titles. Keep up the great work!!
Justin Clark
49
Posted 11/11/2019 at 00:26:05
Congrats on 25 years! This site helped me forge the love for Everton I have today! From college 12 years ago living in with a bunch of fake manure supporters to working with far too many reds this site makes me feel like I'm watching, talking, and debating Everton with my mates (not many Everton fans you find in Michigan) so that's the biggest compliment I think you can give any platform. Congrats and cheers to 25 more.
Mike Gaynes
50
Posted 11/11/2019 at 03:08:44
I don't know why it took me nearly a week to spot this article, but I would like to add more than my congratulations to Michael and Lyndon for the continuing blessing of TW's existence. I would like to add my profound thanks.
Without this site I wouldn't be one-tenth the Everton fan I am today, but more important, without it I would not fully be the person I am today. The daily interaction with other Blues across the world has been a gift of incalculable value. The people here have educated me on more subjects than I can count, entertained me to the point of helpless laughter, irritated me, provided emotional support when I desperately needed it, hosted me in England beyond belief, become friendships that will last the rest of my life, and on a couple of memorable occasions made my dreams come true.
And it would never have happened without Michael Kenrick, Lyndon Lloyd and -- now I learn again -- a Finn I never heard of before reading his name here, a decade before I knew the site even existed. It really is extraordinary.
Thank you, gentlemen, for enhancing and enriching my life in a way I never would have thought possible... and can't quite believe as I look back on it now.
And apologies for overlooking this opportunity for five days!
Andy Crooks
51
Posted 12/11/2019 at 18:54:50
A close friend, the most knowledgeable person I have ever known on football and most stuff, was working on a guide to football fan sites. He believed that ToffeeWeb was the best in content, format and management by miles.
He died before completing his book but Michael and Lyndon, if you had known the man you would take it as the highest compliment possible. I agree with him. Thank for truly top work. Every contributor, yes every one, make it great.
Dennis Stevens
52
Posted 12/11/2019 at 19:44:32
I only really use two Everton sites, occasionally evertonresults.com, but primarily TW - what else would an Evertonian need? It's the bollocks! Well done, here's to the next 25 years! [I hope I'll be alive to see it]
Ian Wilson
53
Posted 13/11/2019 at 00:53:21
Having had the honour to meet Lyndon in The Ship & Mitre a couple of years back, I told him of my meeting with Marco at New Year 1994-95, when me and two mates drove him to the Wimbledon game at Selhurst Park on January 2nd.
As eventful as it was getting down, being very hungover, wrong directions etc, we conspired to miss the first 45 mins, we heard Rideout's... what turned out to be consolation goal on the wireless, and then got charged full chop to get in for the 2nd half. Despite all that, Marco had a great time and it was his enduring Evertonian enthusiasm and those long Nordic nights that TW has evolved to this today.
I still wonder if we were counted in the attendance of 9,506.
Matthew Williams
54
Posted 15/11/2019 at 15:03:02
Nowadays...I simply can't live without it,a top site and I always read every post on a thread,five or five hundred posts, don't matter to me,we all have a valid point or two to put across.
Keep up the good work gents and here's to the next twenty five years eh?...maybe we'll have a trophy or two to show for it!.
---
Add Your Comments
In order to post a comment, you need to be logged in as a registered user of the site.
Or Sign up as a ToffeeWeb Member — it's free, takes just a few minutes and will allow you to post your comments on articles and Talking Points submissions across the site.
---
---
© ToffeeWeb