Report
Brilliant James is the star of Everton's 4th win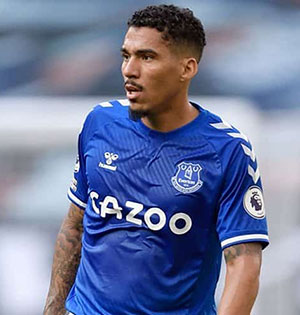 One of Everton's four impressive new signings, Allan, is ruled out after hobbling off in Wednesday's win over West Ham
Everton 4 - 2 Brighton & Hove Albion
Everton took on a very lively Brighton side at Goodison Park but Calvert-Lewin set them on their way with a fine far-post header for his 9th goal. But the brilliant star of this game was James Rodriguez, with a great play for the first, creating the second, and scoring the last two goals on the break.

Davies and Sigurdsson came in for Allan and Gomes who, along with Moise Kean and Jonjoe Kenny, were ruled out of this game while Richarlison passed a fitness test in the morning. Branthwaite, Holgate, and Gbmain are also out injured.

Although the visitors got things going, it was Everton's persistent attack that was the memorable feature of the first 5 mins. Calvert-Lewin had almost too much time when Doucoré powered the ball through to him but the Everton man saw his shot saved by Ryan. Coleman was next to warm Ryan's gloves with a tasty strike. Everton's first corner found its way into the net but was immediately cancelled, the referee calling an infringement.

Alzate was booked for pulling back Coleman after just 4 minutes. Rodriguez saw this somewhat cynically as an excuse to go down prostrate on the wet Goodison turf at the slightest contact from Alzate but the referee didn't buy it.

A rather poor foul by Bissouma took Richarlison out but no yellow card for the overly aggressive Brighton player. Everton settled from the early frenetic period to pass the ball around in a controlled manner until Rodriguez took a very quick corner short and Sigurdsson twisted smartly to create a great chance to cross suberbly, setting up Calvert-Lewin who rose majestically at the far post to drive a very confident and accurate header past Ryan and inside the post for his 9th goal of the season.

Richarlison injured himself when attempting to strike through the ball and contacted the outstreched leg of Lamptey, going down in serious pain, and needing plenty of treatment. When recovered enough to hobble off, Iwobi came on in his place, with no sanction of Lamptey for his role in the clash.

After a period of pressure from Brighton, Rodriguez tried to curl one in but it sailed high and wide. Doucouré then tried to feed Calvert-Lewin, then Rodriquez danced his way through some defenders. Everton recycled the ball until Sigurdsson was dispossessed, the pace of the game was very fast.

,

James gave away an unnecessary free-kick that was wasted by Brighton but March put in a good cross that Alzate might have converted; however he was offside. But Brighton did get level after a real mess in defence and a horrible error by Pickford, who parried the high spinning ball to Maupay for an easy strike through Keane's legs on the goalline.

After the restart, a soft free-kick for handball was well overhit by Dunk when he could also have tested Pickford. But the mojo was with Brighton now, Everton rocking a little under the pressure. Everton did finally get forward in added time, getting a free-kick right of the penalty area that James planted onto the head Mina, jumping behind Keane, who absolutely buried it.

The action resumed with a change by Brighton, Everton having regained command of things against a very competitive Brighton side. They got the ball forward, Doucouré setting up James for what needed to be a first-time strike but he wanted a second touch and was smothered.

A nice move forward down the left after playing out from a goal-kick looked good until Iwobi's pass was too close to a defender. But they did sweep through with a fine move after Brighton lost possession, finished off by Rodriguez after a perfect cutback across goal by Iwobi to the Colombian superstar.

James was in fine form, clipping a lovely ball forward but Calvert-Lewin was baulked by a defender. A corner kick taken by Sigurdsson was defended away, but Everton picked it up and tried to create another chance that was cleared. As Brighton advanced, James and Coleman went down, Coleman overstretching and going off, with Delph replacing him.

Brighton were by no means done, creating a difficult cross, deflected high off Iwobi and headed behind by Mina under a lot of pressure with Pickfrod stranded. But Everton survived that one after Brighton played a short corner and were driven back to the half-way line.

Another bizarre Pickford reaction save saw him punch a wicked cross from March straight at Maupay, who was immediately and well challenged by Tom Davies to incredibly prevent a certain goal.

Keane was the next England and Everton man to be embarrassed as he gave the ball away to the swarming yellow shirts, with the visitors searching desperately for a chance to get back into the game. But Everton broke away and another absolutely wonderfully worked goal, Iwobi with a marvellous ball to Doucouré who, as Iwobi had done before him, cut the same ball back across goal to the same wonderful exponent of the game, James Rodriguez, who executed the finish off a difficult bounce with perfection for his second and Everton's fourth.

But Brighton just would not lie done, and almost created something when Davies gave James a hospital ball that Webster picked up and fired at goal, Mina getting himself in the way of the shot. They circled the Everton area repeatedly and everyone, including Iwobi, needed to be on their toes in defence.

The end of the game was played largely in Everton's half except when the Blues could get the ball and break. But first Walcott and then Calvert-Lewin failed to make anything of the opportunities to go on and get the 5th goal.

Doucouré made a poor mistake in midfield and it looked to be a certain goal for Trossard until Mina somehow flung himself in front as the player fired his shot, deflecting it behind. But finally Pickford was beaten by a blinder from Bossouma 25 yards out, a brilliant volley off his own chest.

Deep into stoppage time and the Seagulls kept swooping forward at the Everton goal until Simon Hooper finally blew his whistle on the Blues' fourth successive Premier League win — seven in all this season — to top the table again for one of their best ever starts.

Scorers: Calvert-Lewin (12'), Mina (45+2') Rodriguez (59, 70'); Maupay (41'), Bossouma (90+2')

Everton: Pickford, Coleman (58' Delph), Keane, Mina, Digne, Davies, Doucouré, Sigurdsson, Rodriguez (79' Walcott), Richarlison (25' Iwobi), Calvert-Lewin.
Subs not Used: Lössl, Nkounkou, Gordon, Bernard.

Brighton & Hove Albion: Ryan, Lamptey (46' Veltman), White, Webster, Dunk, Bissouma, March, Trossard, Alzate [Y:4'] (82' Groß), Connolly (66' Lallana), Maupay.
Subs not Used: Steele, MacAllister, Bernardo, Burn.

Referee: Simon Hooper
VAR: Kevin Friend
---
Reader Comments (498)
Note: the following content is not moderated or vetted by the site owners at the time of submission. Comments are the responsibility of the poster. Disclaimer
Alan Williams
1
Posted 03/10/2020 at 14:04:36
Why play Tom Davies it's like playing with 10 men would have preferred delph he keeps the ball better
Brian Williams
2
Posted 03/10/2020 at 14:06:27
That's not the team the BBC are reporting?
Paul Hughes
3
Posted 03/10/2020 at 14:07:04
I'm surprised to see Davies ahead of Delph too. But in Carlo, I trust.
Brian Williams
4
Posted 03/10/2020 at 14:08:06
Ah it's changed, it IS the team the BBC are reporting now.
Nick Page
5
Posted 03/10/2020 at 14:08:32
OMG the Davies - Sigurdsson axis of despair. Is he writing this game off?
Danny O'Neill
6
Posted 03/10/2020 at 14:08:39
I'm actually interested to see how Tom gets on with someone like Doucoure alongside. It might give him the freedom to not be so worried about trying things and if he does lose possession, which he is prone to, his back is covered. In honesty, prefer that to Delph as I don't like the latters attitude. Thats something you can't fault Tom for. Especially in an Everton shirt
John Davies
7
Posted 03/10/2020 at 14:08:55
Wow! Davies starting? Strange one but hope Paul #4 is right about the Manager's choice. COYB!
Derek Knox
8
Posted 03/10/2020 at 14:09:24
Alan @1, I tend to agree regarding Tom Davies, I like the lad and his attitude, but as you say he loses the ball too often, and sometimes ball-watches.
Having said that I will happily eat copious portions of humble and crow pie, should he have a blinder. :-)
Marc Hints
9
Posted 03/10/2020 at 14:10:08
Live forum not working today?
Andy Walker
10
Posted 03/10/2020 at 14:12:50
Delph had his best game for a long time for us against West Ham. Very surprised he's not selected, but even more dismayed that it's Davies who's in front of him.
James Head
11
Posted 03/10/2020 at 14:13:08
I'm not a fan of Davies at all offers nothing for me, I wont be too harsh on him now but how many chances does he need to impress, did nothing against the mighty Salford recently, he's good in the dressing room though apparantly
Paul Jamieson
12
Posted 03/10/2020 at 14:13:58
Sat watching Sky Sports since noon - they are analysing the games being played this weekend - even the ones tomorrow - see if you can guess which team they have yet to mention - they have even talked about Middlesborough ffs
Colin Glassar
13
Posted 03/10/2020 at 14:14:24
Weak looking MF today. I hope Tom and Siggi have learnt to play Carlitos Way.
David McMullen
15
Posted 03/10/2020 at 14:16:33
In Carlo we trust
John Pierce
16
Posted 03/10/2020 at 14:18:52
I think it's pretty easy to want Delph to start but physically I'm not sure that's the right move. He's completed one 90mins in god knows how long. Davies will stay the course and comes on to a very confident side. We will have the ball, so it's less of a worry.
I'm hoping unlike the WBA game we start with intensity and blow these guys away.
Nicholas Ho
17
Posted 03/10/2020 at 14:19:21
I really hope Davies can put up an encouraging performance today...
If he still can't his near future should go on loan as he just not ready for EPL or ever will COYB
Michael Adamson
18
Posted 03/10/2020 at 14:19:29
Always gonna be injuries. besides the cup these are the games the finger players have to shine in...in that case Davies will be up for this !
Simon Dalzell
19
Posted 03/10/2020 at 14:23:42
I would have picked Delph, but I'm not too fussed. Good opportunity for young Tom.
Mike Oates
20
Posted 03/10/2020 at 14:24:06
Surprised Davies before Delph. Delph far better passer of the ball, and doesn't lose it as often as Davies does. I assume to utilise Doucoure box to box abilities means Davies will be the defensive shield, if so one mistake giving the ball away could mean a goal against. Hope I'm wrong
Tony Heron
21
Posted 03/10/2020 at 14:25:20
Agree that Delph would be a better option than Davies but you have to remember he played a full game on Wednesday. If he had a few games under his belt I would have put him in, but I think playing 2 games only days apart is too much of an ask at the moment. Substitute is a good call.
Paul Griffiths
22
Posted 03/10/2020 at 14:26:40
We would have more options with Delph - may need to score a few this game.
Jay Wood
[BRZ]
23
Posted 03/10/2020 at 14:27:41
The only radical (enforced) change from the bulk of line-ups this season is the loss of Allan, replaced by Davies.
The Siggy for Gomes (again enforced) switch is like-for-like, much-of-a-muchness. And that based on their respective form this season alone.
The single tactical switch these changes impact on is if Davies or Doucoure is going to play the Allan holding, seek-and-destroy role.
Carlo being prudent in not playing Delph in back-to-back games with playing his one and only full 90 minutes game just 4 days ago.
I for one am looking forward to see how Tom performs with better players around him, rather than covering for the failings of more senior players in the side.
Here's hoping Richy holds up and that we are not taking a gamble on his fitness.
More than enough in the starting XI and from the bench to make it 7 from 7.
Bill Gienapp
24
Posted 03/10/2020 at 14:27:58
Guys, Delph basically said his fitness isn't yet at a level in which he can start two matches in four days. He wasn't supposed to go the full 90 on Wednesday, but had no choice because of the injuries. Good opportunity here for Davies, but if he totally flounders, I suspect Delph may be summoned at halftime.
Jerome Shields
25
Posted 03/10/2020 at 14:29:01
Davis to fulfil box to box role did not see that coming.
Tony Everan
26
Posted 03/10/2020 at 14:29:43
It's surprised me too because Delph has played quite well in the last two games. Maybe he isn't 100%?, or he is going to be involved in some last minute wheeler dealing?
Regardless, it is a good opportunity for Tom Davies to shine in this better, confident side. There will be a fair bit of analysis and terse banter over his performance that's for sure.
Good luck to Tom, and COYBlueboys
Simon Dalzell
27
Posted 03/10/2020 at 14:31:01
Good shout Bill. I'm sure that's the reasoning. Delighted Richie has recovered from his twisted sock.
Jay Wood
[BRZ]
28
Posted 03/10/2020 at 14:31:50
** My previous post should read:
Carlo prudently not playing Delph in back-to-back games with his one and only full 90 minutes game in 8 months just 4 days ago.
Edit button still not working in TW new set-up.
Fran Mitchell
29
Posted 03/10/2020 at 14:32:15
Big chance for Tom Davies, he needs to grab it. He should be totally up for this.
I assume Doucoure will sit deeper, which is a shame, but he's the only one who can do a similar job to Allan.
COYB
2-0
Michael Lynch
30
Posted 03/10/2020 at 14:34:10
I'm optimistic that Tom Davies can benefit from having Doucoure alongside him, and from the confidence flowing through the squad. It's his chance to impress, that's for sure. When he first broke through, he looked really promising, and you don't just lose that ability.
Rob Hooton
31
Posted 03/10/2020 at 14:34:32
Delph played very well the other night, but I very much doubt he is ready for 2 games in 4 days yet.
I hope Tom has a good game, would prefer to have seen him play with Allan instead of Sig but cheering them on no matter what.
Reckon this will be a very close game and couldn't predict a winner with the way so many teams are currently winning away from home
Alan J Thompson
32
Posted 03/10/2020 at 14:38:12
Wow, Davies now being criticized before the kick off. So much for trusting in Mr Ancelotti.
Rob Hooton
33
Posted 03/10/2020 at 14:39:56
Siggy also seems to be playing back into a bit of form, really hope he has a good game and scores a well overdue cracker! He used to make a habit of scoring amazing goals, would be great to see him finally get one and get some confidence
Jay Harris
35
Posted 03/10/2020 at 14:44:24
Delph has his first good game for us the other night and now we are screaming about Tom Davies being called.
I agree Tom is no replacement for Allan but the lad will give us 100% and we're going to need him through the season.
As others have said 90 minutes is a bit much for Delph never mind 2 Games in 3 days.
I'm pleased that Richy has made the game that was the critical one for me.
It would be nice for other players to get on the scoresheet too instead of relying on DCL and Richy.
Stan Schofield
36
Posted 03/10/2020 at 14:47:56
That's a strong lineup. 3-0.
Jay Wood
[BRZ]
37
Posted 03/10/2020 at 14:48:55
Derek Knox.
Still in hospital, Derek?
Nurse Ratched sent you for a lobotomy yet?
Or are you home already?
I know you drew a blank mid-week, but if you need it here is an excellent link for today's game. Tim Howard in the studio as one on the 'experts'.
(Again, the text edit and URL buttons not working in the TW site update, so here is the actual URL you will need to copy-paste into a browser window to view the game).
https://www.vipbox.lc/everton-vs-brighton-and-hove-albion-1-live
Will Mabon
38
Posted 03/10/2020 at 14:58:11
I'd guess at that, Rob - Delph is probably partly knackered from t'other night, with only 0.3 of a game in him today.
James Head
39
Posted 03/10/2020 at 14:59:51
Here we go this a chance for Tom to stake a place in the starting line up

Christy Ring
40
Posted 03/10/2020 at 15:07:37
Delph has done nothing since he came here, apart from being injured. Davies doesn't deserve all the flak he's getting, always gives 100%, and playing beside Docoure, shold help him.

Ernie Baywood
41
Posted 03/10/2020 at 15:11:22
Great opportunity for Tom though I'd still love to see him play in a midfield with Allan.
He's been written off on here before a ball was kicked. Some people have learned nothing from the humble pie they've been eating over DCL.
22, over 100 games for Everton. Key player in the England team at every age level.
James Head
42
Posted 03/10/2020 at 15:17:32
Get in Dom
Gerry Ring
43
Posted 03/10/2020 at 15:20:54
Unreal stuff. DCL is looking like the best CF in the world at present. Gylfi is a totally different player & Seamus is playing like he's 20 again!!!
Alex Gray
44
Posted 03/10/2020 at 15:42:26
Pickford to blame once again. Bit of a common theme starting to appear.
James Fletcher
45
Posted 03/10/2020 at 15:43:38
Seemed a very straightforward catch for him

Ernie Baywood
46
Posted 03/10/2020 at 15:43:40
Oh Jordan. I spent the week defending you...
Ian Bennett
47
Posted 03/10/2020 at 15:44:51
Controlled the game, and Pickford pisses the bed again.
James Fletcher
48
Posted 03/10/2020 at 15:46:13
Why is Iwobi the replacement for Richie? He's utter shit. What does Gordon have to do to get a game? I thought he looked the more obvious replacement.
Alex Gray
49
Posted 03/10/2020 at 15:48:20
Agreed on Iwobi. Lad just isn't a winger for me. Tough game now I think. Coyb
Peter Neilson
50
Posted 03/10/2020 at 15:48:26
Every Prem keeper is a decent shot stopper, a few decent saves don't redeem Pickford. His continual cock ups can't be excused any more.
James Fletcher
51
Posted 03/10/2020 at 15:50:29
I just don't see what Iwobi has, his passing is poor, his pace isn't anything special, he doesn't appear able to beat a man and his shooting is average. Am I missing something?!
Michael Lynch
52
Posted 03/10/2020 at 15:53:16
Brilliant until Pickford fucked up, then Brighton smelled blood. Inch perfect cross from James at the end though. Iwobi is no Richarlison which has slowed us down a bit, but we look strong enough for three points. Would like to see a quick DCL goal in the second half to finish them off.
John Davies
53
Posted 03/10/2020 at 15:53:58
New keeper please Mr Ancelotti. Cannot keep turning a blind eye to his continual mistakes. Tough 45 ahead but we have our noses in front and hopefully will take all 3 points from the game. COYB!!!
Jim Bennings
54
Posted 03/10/2020 at 15:56:32
Surprised that Iwobi came on instead of Gordon or Bernard, I noticed about a year ago that Iwobi is just no way a wide player.
Gordon would have been a natural fit being left footed and pushed Brighton back, to be fair even Bernard although right footed, when he first arrived he worked the left brilliantly with Lucas Digne.
As for Pickford, we need a better keeper thats glaringly obvious but until then he needs a massive kick up the arse and that's to be dropped for a few weeks and to lose the England number one slot, the untouchability is doing him no favours whatsoever.
Peter Neilson
55
Posted 03/10/2020 at 15:57:09
To be fair Iwobi looked ok against Fleetwood and Lincoln.
Ernie Baywood
56
Posted 03/10/2020 at 15:57:16
Well, didn't that ebb and flow?!
Before Brighton scored, I would have said that we looked good in pretty horrible conditions. Davies isn't Allan and Iwobi isn't Richarlison but the team was still playing with similar confidence if not ability. Siggi probably the best on show - playing like a guy demanding his place in the team back. Great ball into DCL too - though DCL did brilliantly with it.
Then the goal. It looked to me like it dented our collective confidence and we started to look like a team that was very aware that it was missing key players.
But maybe this Everton team is different? When they look challenged, they rise again. Great ball, easy header for big Yerry.
On Jordan... he gets blamed on here for just about every goal regardless of his culpability, so it's gutting to see him really drop a clanger. Even the wet weather doesn't come into that. It was just horrendous. And he knew it; I've never seen him react like that. He was gutted.
James Head
57
Posted 03/10/2020 at 15:59:39
He's like a boy between the sticks Pickwick needs a spell on the rack to stretch his little Davey Lawson arms
Tony Abrahams
58
Posted 03/10/2020 at 16:00:05
Tough match without Richarlison, but Coleman, Davies and Dacoure, are really digging in. Iwobi, should learn off them, it's pissing down, it's cold, so just work hard for your teammates, help instead of hide, and if your strength is getting on the ball, and playing passes up to Lewin, then just do that, like you did in the last minute of the half, because we need eleven men today.
Brighton move the ball well, but they hadn't created a chance, until another blip in concentration by our keeper, but it's gone now, so just dig in Everton, it's the only way we are going to get the three points today.
Tony Hill
59
Posted 03/10/2020 at 16:00:46
Pickford's confidence is shot. Sad to see in any player of sport. He needs time out to rebuild and he needs help and support.
People say Lossl is bad. Is he that bad? I just don't know enough about him. Who can we realistically get in time?
Jay Wood
[BRZ]
60
Posted 03/10/2020 at 16:02:22
Jordan Pickford. The discussion that just won't go away.
Totally dominant. Could have been two up in five minutes. Slick play by James and Siggy on the corner. Great delivery. Towering header by the Dom.
The confidence, the swagger of a play from back to front an absolute joy to watch.
And then the one and only time they get in our box, Jordan does THAT!
He really isn't helping those who speak in favour of him, is he?
Beautiful delivery on the free kick. Yerry couldn't miss.
Richy going off weakens our right. The one bonus of that is that he may have to drop out of the Brazilian squad in the international break and stay on Merseyside to get fit for the Derby.
Tim Howard in the studio saying at half-time that in that situation on Brighton's goal, it's safety first. Push it over the bar and take the flack at half-time from your manager for conceding the corner. But that's a better option than seeing the ball in the net.
Asked if he thinks Jordan is a good enough keeper for Everton, Tim paused, sighed and said: 'I did. But these mistakes are coming too frequently. He is a very prideful keeper who thinks he can make these saves, but when mistakes creep into your game like this - as with Kepa - you need to learn early and quickly. Safety first.'
As has already been proven today, no matter how well you play and how much you dominate, one goal is never enough. Play as we did for the bulk of the 1st half, we will win this. Barring more Jordan Pickford 'moments'.
Gerry Ring
61
Posted 03/10/2020 at 16:05:19
Allan is a huge loss in midfield. You can also see how much we miss Richarlisson. His work rate is phenomenal. Tom Davies looks very leggy after 47 minutes which is strange. Coleman having one of his best ever games for us!!
Peter Neilson
62
Posted 03/10/2020 at 16:07:08
If we win I think Pickford will keep his place but makes you wonder is Lossl only there to replace him if injured so no real pressure on Pickfords place. Interesting to see what Carlo does after the break.
Kevin Prytherch
63
Posted 03/10/2020 at 16:07:27
For all those defending Pickford on the other thread...
Sky Sports Statto
@SkySportsStatto
🥅 @Everton's Jordan Pickford has made more errors leading to goals in @premierleague since August 2017 than any other keeper (11)
11 Jordan Pickford
10 Asmir Begovic
9 Martin Dubravka
8 Hugo Lloris

Kevin Prytherch
64
Posted 03/10/2020 at 16:11:34
On the subject of stats...
OptaJoe
@OptaJoe
7 - Since the start of last season, Everton striker Dominic Calvert-Lewin has scored seven headed goals in the Premier League, more than any other player.
Ernie Baywood
65
Posted 03/10/2020 at 16:17:15
Seamus hamstring... FFS.
John Graham
66
Posted 03/10/2020 at 16:18:32
Always liked that Iwobi
James Fletcher
67
Posted 03/10/2020 at 16:20:29
Ha, same here John! XD
Ernie Baywood
68
Posted 03/10/2020 at 16:20:43
Sometimes you've just got to laugh. Pickford so desperate to redeem himself that he smashes Mina!
John Graham
69
Posted 03/10/2020 at 16:32:01
Another great through ball by Iwobi.
James Fletcher
70
Posted 03/10/2020 at 16:35:20
yep, for that one I'll eat my words
Paul Johnson
71
Posted 03/10/2020 at 16:41:28
I am honestly lost for words. We look so good. New keeper and we will push for champions league.
James Fletcher
72
Posted 03/10/2020 at 16:50:51
Mina has suddenly realised he needs to fight for his place too which is great!
Michael Lynch
73
Posted 03/10/2020 at 16:59:20
Mina and Iwobi showed their worth today. James though, what a fucking player.

George Carroll
74
Posted 03/10/2020 at 17:04:34
No words needed COYB
George Carroll
75
Posted 03/10/2020 at 17:04:57
No words needed COYB
James Head
76
Posted 03/10/2020 at 17:16:06
Check out Pickwicks latest error here- http://www.soccer-blogger.com/2020/10/03/jordan-pickford-mistake-vs-brighton-2020-pickford-drops-ball-for-neal-maupay-goal-against-everton/
Jay Wood
[BRZ]
77
Posted 03/10/2020 at 17:16:21
The juggernaut rolls on.
The Brighton goals which flattered them in the final scoreline were both of our own making. Pickford on the first, Digne putting pressure on the defence for the second by coughing up cheap possession. Good finish, but the opportunity simply doesn't arrive without our mistake.
Yerry Mina and Tom Davies with some fine blocks in the penalty area, but mostly Brighton played in front of us. Very bizzare plays they made on corner kicks and free kicks around our area. I recall just one being played directly into the box. Very easy to defend.
And how clinical were we when turning over the ball and slicing through them for James' two goals? Credit to Iwobi and Doucoure for their parts in both goals.
All this without Allan and Richy on the pitch. We are so much more potent now with the personel we have, the interchanging of positions and the opposition not knowing from what angle or flanks we will attack.
That James stood in glorious isolation for his two goals is not by accident tactically, or for lack of football nous on his part.
And anyone criticising Tom Davies today will never be convinced by the lad. He was outstanding.
This is a very serious football team we now have. And it can improve even more with the players already at our disposal.
Start believing more Blues. We're on to something.
Tony Hill
78
Posted 03/10/2020 at 17:16:40
Mina superb, Iwobi very clever indeed, and James pure joy. Enjoy tonight and tomorrow everyone.
Jerry Whyte
79
Posted 03/10/2020 at 17:17:55
Fair play to Brighton. They kicked Richie off the park n look snide in the opening stages but they played some nice footie.
Brian Williams
80
Posted 03/10/2020 at 17:17:58
I really hope Richi is "just" not quite fit enough to travel for Brazil's games.
I hope the same for Seamie, James and Yeri too, for their countries' games.
Selfish?
Is right.
Will Mabon
81
Posted 03/10/2020 at 17:18:16
Is that confirmed, Ernie - hamstring?
edit: just saw the time on the post.
John Graham
82
Posted 03/10/2020 at 17:18:56
COYB.
Well done lads.
Rodríguez well we'll well, what a player
Tony Everan
84
Posted 03/10/2020 at 17:20:00
Gerry 61
Just about to post the same thing.
We look a different team without Allan. He is the lynchpin that Marshall's the midfield where it matters in the centre. He is the man who takes games by the scruff of he neck.
Doucoure did very well and gave us a bit of solidity, but one man can't do it on his own.
Tom, Delph, Sigurdsson, did ok but they are a million miles away from what Allan brings to the team.
It will be interesting to see if Carlo is willing to play Godfrey in there when Allan is out.( and if he is up to that job).
Tony Hill
85
Posted 03/10/2020 at 17:20:42
Seamus was our best player when he went off. Looks like a hamstring.
Derek Moore
86
Posted 03/10/2020 at 17:21:21
Agree with everything Jay Wood wrote! To be fair, may posters here for years called for the acquisition of a playmaker, creator on the ball. Easier said than done - and obviously easier if you're Ancelotti than say Marco Silva - but James is an absolute rolls royce of a player. A truly mesmerising maestro, and the smoothest adition to the premier league since a guy named Juninho. Fabulous footballer.
I've said my bit on Pickford elsewhere so won't do again. It doesn't change the result anyway, a truly deserved and magnificent seven up!
Bring on the derby!!! And how often do we get to say that?
Will Mabon
87
Posted 03/10/2020 at 17:22:08
Jay - all good, agree.
Tony, I'll enjoy tomorrow even more if "They" slip up.
Dick Brady
88
Posted 03/10/2020 at 17:22:09
Did our Championship striker score again??
Ian Bennett
90
Posted 03/10/2020 at 17:23:56
Doucoure was class today. Makes a real difference to have legs in midfield. My motm.
Defence was decent, Sigurdsson improved - and whilst Iwobi decisions are irractic he did get some great assists today.
Pickford just seems to have a constant error in him. Davies isn't at the level. Delph was sloppy at times too for me.
Darren Hind
91
Posted 03/10/2020 at 17:23:56
Tom Davies did in deed put in a fine shift. Says an awful lot about the managers confidence in him that he selected him today. Says even more that he was able to turn to him when we were out of right backs.
5-6 players had a better game than Tom. But make no mistake. He belongs here. The modern day Alan Harper - just gets on with it. Big shout out for big Yerry too. His best game in a blue shirt ?
The stardust was once again sprinkled by James. Please lord. Let him stay fit
Paul Tran
92
Posted 03/10/2020 at 17:23:57
Lots to like. Well organised back four, bags of effort and energy, four goals and could have been more, responded to their goal well. James, Mina, Doucoure outstanding, rest of them very good bar Pickford. He owes us and his team-mates a stellar performance in 2 weeks.
Geoff Trenner
93
Posted 03/10/2020 at 17:24:01
Ladies are top too after thrashing Villa 6-0 away. Not conceded a goal yet!
Christy Ring
94
Posted 03/10/2020 at 17:24:26
Hope it's just a tweak and Seamus ok for derby, was superb today. James outstanding also, but special mention for Docoure, and Siggy and Iwobi upped there game.
James Head
95
Posted 03/10/2020 at 17:24:30
Not a fan of Davies but give him some credit for filling in, did better than the anonymous siggurdson who was back to his worst, he was pretty useless.
John Crook
96
Posted 03/10/2020 at 17:26:18
What has happenend to the live forum?? Pleased with the wn but massive credit to Brighton, they looked a superb team 2nd half when we tired out and sat back. I think all our players need a break now and its fingers crossed
for the international break. A much better performance from Mina today, thought he was slightly better than Keane today. James outstanding again and probably edges it for MOTM with his 2 goals. Credit due to Davis also for dropping into right back when Seamus went off. COYB!
Dave Ganley
97
Posted 03/10/2020 at 17:26:34
It's so nice to be a blue right now. That performance demonstrated what a good confident team we are right now. We are getting a bit savaged with injuries but players are just slotting in with minimal disruption. Everyone knows their role and performs it well. No point dwelling on Pickford as I'm sure others will rightly do that, but positives for me were Mina, Doucoure and James, any one of which could be MOM.
We look comfortable in possession, we look comfortable without the ball too, Brighton had a lot of possession in the last 20 but didnt really threaten much aside from when we overplayed and gave them a couple of chances.
This is actually turning out to be a pretty decent squad now with some outstanding newcomers, let's hope we can carry these kinds of displays into the derby next game.
Happy days
Will Mabon
98
Posted 03/10/2020 at 17:28:21
Want a surprise, everyone? Look who's the passing king (no adjustment for pass type or difficulty etc).
Copy & paste:
https://www.bbc.co.uk/sport/football/teams/everton/top-scorers/assists
Jerry Whyte
99
Posted 03/10/2020 at 17:28:41
Tight at the back but for two fine goals from Brighton. A joy to watch Jimmy Rodriguez but he was well supported by Tom, Fab, and Siggy. I'll never be persuaded by Awobi n Walcott but, then again, I was never persuaded by Calvert-Lewing so what do I know!
Darren Hind
100
Posted 03/10/2020 at 17:28:42
Get the league table up Michael lad.
We can sit and stare at it all night and get pissed
Ernie Baywood
101
Posted 03/10/2020 at 17:28:42
James, I thought Sigurdsson was our best player in the first half.
I'm of the thinking that your view could have been typed prior to the game for all that the 90 minutes affected it.
Tony Everan
102
Posted 03/10/2020 at 17:29:26
It has been a long four weeks with seven matches, that's tough going and we looked a bit ragged in the second half.
What can you say about seven wins out of seven absolutely amazing effort from all of them. The two weeks breather will do us good, just hope the lads come back from the international break ok and maybe even refreshed.
Positives today for me, The win, James is a gift from god, DCL great header again to get the fall important first goal.
Negatives ; Badly missed Allans influence and we have no back up for him , No Right Back now, Pickford gives me palpitations.
Barry Jones
103
Posted 03/10/2020 at 17:30:22
Great until the last 20 minutes when we chased the game. Midfield looked poor in this period and we miss Allan and Gomes. Godfrey will give us options. We missed Seamus once he departed. He was superb, as we're Mina and James
John Pierce
104
Posted 03/10/2020 at 17:30:23
An excellent first 65minutes. Only when we slowed the tempo did Brighton get into it. We were very slack in the last 20, consistently giving the ball away, Mina clearly understands his place is under threat, bailing out several teammates. That's something to improve on for sure.
Doucoure was immense, stepped up and trucked up and down the pitch all game. MOTM.
Iwobi showed a few doubters today. Clever passes for the goals and good movement. Davies was pretty steady, his block after jelly wrists palmed the ball out, the standout moment. Sigurdsson with an assist and without the ball he was very good, often scrapping for it after he lost it.
James again imperious, his technique in those conditions was exemplary.
The fly in the ointment is obvious, sadly the lad had three very poor moments today and it just undermines the team. My head tells me we don't have another option so we just have to suck it up, my heart just screams at him all the time.
We just need a back up that will tighten the lads focus. I think you can see that at centre back were they know their place is not guaranteed. Coleman was superb before his hammy went.
Plenty to chew over, but this can be done looking down from the top of the league!
Phil Lewis
105
Posted 03/10/2020 at 17:30:28
In the words of Anne Robinson, "You ARE the weakest link Jordan... Goodbye". My only comment about his diplay? I think pink suits him. Read into that what you will.
If Ancelotti refuses to play the reserve goalkeepers, then get the cheque book out and give Jasper Cillessen's club whatever they want for him.
Steven Astley
106
Posted 03/10/2020 at 17:31:15
I know this sounds daft after another good win, but that last goal left a sour taste.
Not having it that it wasn't entirely Pickford's fault. His positioning was really poor yet again.
He really doesn't have the frame to save half decent shots from outside the box.
He genuinely does have short arms.
I really don't expect there'll be any changes for the Derby in goal.
Worrying times really if we don't sign a goalkeeper before the deadline. And not just backup, it needs to be a new number 1.
It would be such a shame to ruin this opportunity by continuing with that idiot in goal.
Mads Kamp
107
Posted 03/10/2020 at 17:31:17
Walcott is over it. Lazy, no confidence, couldn' t care less. Sell him, sooner rather than later. For his own good.
Brian Williams
108
Posted 03/10/2020 at 17:32:10
The difference between last season and this is beyond belief, not least of all some of the play to get from our own corner flag to the halfway line by slick interpassing. Some of it was such a joy to watch.
Won't always work and we should be wary of doing it too much against "better" teams but the confidence to do it, and under pressure too is wonderful. You have to enjoy this ride while you can and enjoy it we should.

John Pickles
109
Posted 03/10/2020 at 17:33:40
This website keeps failing for me on match day, it may by England's no.1 for football but it is struggling to manage the basics. Maybe we should rename it Pickfordweb.
DCL, Champions league at best.
Steve Cotton
110
Posted 03/10/2020 at 17:34:12
Delph did well I thought,

Peter Mills
111
Posted 03/10/2020 at 17:34:33
Very, very disappointing. Just the 4 today.
Geoff Williams
112
Posted 03/10/2020 at 17:34:33
Thought Davies and Mina, two players who get a lot of stick on TW, had good games. I beg Ancelloti not to use Walcott again as he has absolutely nothing to offer the team. Obviously I don't need to say anything aboutthe goalkeeper as others will do that. Congratulations to James for scoring two cracking goals. DCL's leap for his goal was unbelievable.
Brian Williams
113
Posted 03/10/2020 at 17:34:34
Darren #100.
I've never agreed with one of your posts more!! Cheers!
Peter Warren
114
Posted 03/10/2020 at 17:35:52
Credit to Tom Davies. Slotted in at right back, others were better but he is a 100%, lives Everton and will get better. Made up he's staying with us it seems as it's a long old season.
Dave Ganley
115
Posted 03/10/2020 at 17:37:33
Darren #100 I already am mate, looks good with a bottle of beer in your hand
Barry Rathbone
116
Posted 03/10/2020 at 17:38:11
Goalkeeping cock ups are disguised in crap teams they always stop a few from the incoming bombardment so are lost in fog of battle. But this isn't crap Everton of old nor crap England or Sunderland for that matter.
Pickford has never shown the qualities of a top class keeper his drunken juggler routine is his MO not a once in a blue moon aberration.
He should never play for Everton again.
Tony Hill
117
Posted 03/10/2020 at 17:38:23
Very interesting, Will @98.
Derek Moore
118
Posted 03/10/2020 at 17:39:36
Pickfordweb, that had me sputtering ale everywhere John Pickles. Brilliant.
Dave Abrahams
119
Posted 03/10/2020 at 17:41:11
Great to see the team dig in and fight, harass and cover for each other throughout the game, very happy with the result and happier still with the performance, starting to look and believe that we are a good team, by the whole squad and we can relax a lot knowing that the team will not give up when things go against them, more players coming in and some going out, Walcott to Newcastle in a player exchange deal?
David Pearl
120
Posted 03/10/2020 at 17:41:34
Siggy been pretty good this year but Picky Grobbelaar needs his break away with england to hopefully get his head straight. Not good enough but you can tell he is feeling the pressure
Terence Leong
121
Posted 03/10/2020 at 17:41:37
It's great to be a Blue : )
I thought Tom Davis did well. Delph on the other hand, seems to be sloppy (compared to the Carabao Cup game), gave away a few balls, and got out-muscled.
If Davis can focus on being the holding midfielder, or a box-to-box midfielder like Doucoure, then I think he still has a future.
What I felt held him back, was when he tried to play the creative role, or the attacking midfielder role. Today, he showed that he can snap into tackles, cover positions etc.
Good to see Iwobi making purposeful runs instead of giving away balls regularly.
Hopefully, Richarlison and Seamus are back soon. We don't have right back cover, now that both Seamus and JonJoe are out injured.
Dave Williams
122
Posted 03/10/2020 at 17:41:51
Very good performance again. We slackened off a bit after the fourth goal but what an outstanding performance from Mina- best I have seen him play.
James was pressed very hard resulting in misplaced passes but he moved around to find space and bagged two excellent goals.
Doucoure had his best game so far and covered an incredible amount of ground whilst Seamus was marvellous until he went off.
Iwobi showed what he can do, Siggy faded badly second half and Walcott didn't look engaged to me. Tom had a cracking game both in midfield and at right back- he looks a different player now we have a better structure and better players.
Pickford? He really is a disaster waiting to happen and I don't know if a keeper can dig himself out of such a rut.Tom and Yerry bailed him out big time.
We missed Allan and Richi and need them both fit for RS.
Oh, and MIchael K what about Dom's use of neck muscles for his goal? Impressive!!
Bill Gall
123
Posted 03/10/2020 at 17:42:23
Pickford getting all the blame for their first goal but no one blaming anyone in the defense for their second goal, that on a couple of occasions could have been cleared down to the Park End. Nice being on top but goal difference is critical, as last week we were 3rd instead of top, early days yet but at the end of the season it could be the difference between 4th and 6th.
Just hoping all are injuries are clear for the next game.
Tony Everan
124
Posted 03/10/2020 at 17:43:36
Darren, I was thinking "Alan Harper" this afternoon too, after Tom moved from midfield to RB. Alan Harper was a great asset to have around that Everton team, kept us consistent.
I think it is a good comparison to convey the importance in having a decent and reliable player like Tom Davies who can give his all to the team effort when called on.
Ernie Baywood
125
Posted 03/10/2020 at 17:46:55
Steven 106. You're 100% right. It does sound daft.
You've got more then enough ammunition to bury Pickford today. I don't know why you'd go searching for more on the second goal.
It was a defensive blunder playing out. You could pin it on Digne, but it was a bit more collective than that. Doucoure had also done worse only minutes earlier.
Derek Knox
126
Posted 03/10/2020 at 17:47:40
Good result overall, but a few sloppy mistakes in midfield need to be ironed out, thought James was outstanding again. We didn't look quite as composed when Richy was forced off, due to constant hacking that both he and James received.
On top of the Table for now, but our GD is the same as Leicester, and they have a game in hand. Just looked at the SSN page and unbelievably there is no mention of us at all.
I say unbelievably but it's not when you think of their bias towards Manure, RS and Chelsea.
Hugh Jenkins
127
Posted 03/10/2020 at 17:48:27
Have only just seen Pickford's error for the first goal - surely he should have caught that?
He had two hand to the ball and as it was coming up off the ground the pace would have already been taken off it.
Brent Stephens
128
Posted 03/10/2020 at 17:49:42
The number of games played tell me that the quality of play we've been seeing is no aberration. And that goes right through the whole team. I can't believe Carlo has turned that around so quickly. Fine individual and collective performances so far this season. Performance at the collective level is arguably at least as impressive as individual performances? How has he got them to combine so well so quickly, given the number of new faces in the side?
James Head
129
Posted 03/10/2020 at 17:50:45
Pickford is 6' 1" I believe yet he doesn't have any presence in our goal, he looks and plays like a schoolboy and as seems common with a lot of goalies now he rarely catches anything preffering to punch, usually and on several occasions today badly, still i'd rather spend any spare cash we have on an outfield player, a right back maybe?
Danny Baily
130
Posted 03/10/2020 at 17:51:39
What a start and what a player James is. The strength in depth we have is also good to see (Iwobi, Delph, Davies, Sigurdsson).
Only weak link is the keeper but even that can't spoil the mood!
Jerry Whyte
131
Posted 03/10/2020 at 17:53:39
Tony, Kevin Richardson was in today's programme. Another 'fringe' player like Harper. They gave their all and chipped in their contribution. We've got that strength in depth again. Branthwaite, Davies, Delph, Gordon, Nkounkou, Sigurdsson. We've got TEN injuries but we're still top o' the league:)
Grant Rorrison
132
Posted 03/10/2020 at 17:55:05
James 129. That's with his arms pointing straight up in the air. If he puts them back down by his side again then he's only 6'0" :P
Colin Glassar
133
Posted 03/10/2020 at 17:55:14
Excellent game overall in dreadful conditions. A bit sloppy in MF towards the end but this is still a team finding its feet.
Almost all our players did well (Doucoure and Mina stood out for me) but James is a class above the rest. What vision and skill!
Tom has a decent game. Iwobi wasn't awful but Walcott showed us why his Everton holiday is over. Theo seems to be a nice guy but he's not at Everton's level anymore.
Gio Mero
134
Posted 03/10/2020 at 17:56:02
Turns out Delph lost us more balls in 30 minutes than Tom Davies did the whole match...oh well
Brent Stephens
135
Posted 03/10/2020 at 17:57:23
Grant, coffee just spilled!
Jerry Whyte
136
Posted 03/10/2020 at 17:57:32
The international break comes at a great time. Mend. Regroup. Rest. Train. Bring on the RS!
Jay Harris
137
Posted 03/10/2020 at 17:57:36
Thought we looked top of the table with Coleman and Richy in despite Allan being out.
We just have that belief that we're going to win every game.
However without Richy, Seamus and Allan and with Siggy running out of steam we resorted to type and sat back and surrendered possession.
Luckily Yerry was having one of his best games and was a rock.
I have also changed my opinion on the goalkeeping situation. We can't get through this season with Pickford and Lossl as the options.
Kevin Molloy
138
Posted 03/10/2020 at 17:58:14
we are playing well, but by how many levels does James raise this team? The finest player I've seen pull on a blue shirt, and have we only scratched the surface with him. the penetration he offers is worth its weight in gold. How much would I take for another team to buy him from us, £80m?
And then there is Allan, another player who is completely irreplaceable for us. if we can keep them both fit, I reckon it's CL for us this year.I think Carlo may just have earned back to the club the extra £4m a year we're paying him to what we paid Allardyce.
Jeff Armstrong
139
Posted 03/10/2020 at 17:59:17
Cillessen from Valencia who need to sell, Godfrey can fill in at right back, a Danny Ings or Danny himself, top four will be achievable.
Robert Williams
140
Posted 03/10/2020 at 17:59:30
Funny, but not a peep out of Steve Ferns! Must be in shock or still working out what is going right. Such a difference when you get a manager who knows what he's doing and able to manage a football team.
I do miss those tactical drawings tho!
Kieran Kinsella
141
Posted 03/10/2020 at 18:00:10
We only had five of our best 11 on at the end and it was getting scrappy but we held on. Hopefully the fringe guys will improve as their confidence rises. I think Coleman has been outstanding all season. Obviously James too. I think Doucoure has been great and we haven't really even seen the attacking side of his game much. The commentator said it's our best run since 1894 when we won eight in a row with the eighth being the first ever derby
Brent Stephens
142
Posted 03/10/2020 at 18:00:15
Iwobi is a curate's egg. Some great play in the lead up to some of the goals but some of his control when receiving a ball is atrocious at times. Not complaining, mind. I never realised cloud nine could be so high.
Eddie Dunn
143
Posted 03/10/2020 at 18:00:26
Pickford is 6 feet and one and a half inches. He failed to claim a simple catch with little pressure on him(not being barged). A goal was the result. Tomorrow I will be playing in the mud and at 5 feet eleven inches and 60 years old, I will doubtless make a similar mistake.
Jordan is being paid(quite a bit) not to do that.
The conditions were dreadfull but their goalie didn't make any mistakes.

Danny O'Neill
144
Posted 03/10/2020 at 18:00:55
Rodriguez will rightly get the plaudits with an sublime direct assist and 2 goals. Doucoure is a one second for his energy. I think today also shows how the manager and new signings have raised the bar of what is expected. Players like Sigurdsson looked different and more hungry. I'm not his biggest fan, but credit to Tom, especially when he got moved to right back.
But my final special mention goes to Mina. Absolutely outstanding today.
Sam Hoare
145
Posted 03/10/2020 at 18:02:07
Great result. Again. Many did well and I think Mina, Davies, Iwobi and Rodriguez all deserve credit but Doucoure MotM for me.
Such a shame that our squad is not quite good enough, in my opinion, to sustain the injury crisis that always seems to loom. And Pickfords good performance against Spurs seems to have been a false dawn.
Mal van Schaick
146
Posted 03/10/2020 at 18:04:24
Good result and we still have a few days to recruit and get rid of some. Keep it going.
Nicholas Ryan
147
Posted 03/10/2020 at 18:04:43
Has anyone noticed that when Jimmy R. comes off at 70-80 minutes, he's absolutely knackered - that means, that what we've seen so far, is an UNFIT James Rodriguez. What in God's name is he going to be like, when he gets up to speed!!
Geoff Harrison
148
Posted 03/10/2020 at 18:04:56
Had my doubts about the Davies selection. I thought he was magnificent today. The Ancelotti effect is infectious!!
Jerry Whyte
149
Posted 03/10/2020 at 18:05:17
Still time to snap up Sergio Romero on a season's loan. Still time to offload Besic, Bolasie, Iwobi, Ramirez, Tosun, Walcott. Decent players all but not Everton class - like the sublime Jimmy Rodriguez. We've got young lads like Baningime, Branthwaite, Gordon, Nkounkou, Simms pushing through too:)
Robert Williams
150
Posted 03/10/2020 at 18:05:23
Shouldn't Pickford be credited with an assist for that 1st Brighton goal?
Kevin Molloy
151
Posted 03/10/2020 at 18:05:31
re Pickford, his mistake today was like the Anfield one. A lack of confidence in dealing with a slippery ball He didn't know whether to punch or catch, and ended up spilling it up into the air.
Kieran Kinsella
152
Posted 03/10/2020 at 18:06:20
Asprilla said James wouldn't like the rough
play of the EPL or the weather. He was wrong on today's evidence
Robert Tressell
153
Posted 03/10/2020 at 18:06:34
Very good Grant. I had to read back through the thread to get that one.
Godfrey's versatility will be welcome along with drive and pace.
As for GK, who knows. Really wouldn't be surprised to see no change this season. But who knows. The next couple of days might bring some surprises.
The good thing is we are top of the league on merit, have goals in us, have the character to bounce back and the stand ins are making themselves counted.
Even Ballon D'Iwobi managed a couple of assists today. Maybe he's the next shite player to come good.

Nicholas Ryan
154
Posted 03/10/2020 at 18:07:06
Robert [150] - Yellow card!
Eddie Dunn
155
Posted 03/10/2020 at 18:07:47
Will Mabon- thanks for that link...who'd have thought it!
Tony Hill
156
Posted 03/10/2020 at 18:07:53
What is striking is how popular James seems to be with the other players. Seems to be a modest man who values his colleagues. With his vast talent, that sort of attitude is itself an achievement.
Tony Abrahams
157
Posted 03/10/2020 at 18:11:17
Davies made an absolutely crucial tackle with a Brighton player getting ready to score, after more poor play from Pickford. (Jordan's lack of anticipation is the reason he needs a rest imo) This would have put them right back in the game at a time when we were tiring, even with an engine as good as Doucoure's was today.
I've never been impressed with Iwobi, but it's obvious he's not a winger. His quality is not in doubt, but his determination to get on the ball and play to his strengths definitely is imo, so it was nice to see him play a key part in both our second half goals, by doing the thing that he his good at.
Ancelloti said there will be a couple of surprises on Monday, I expect Kean to leave, so I wonder who he's going to bring in? Another forward thinking player is imperative, because I'm sure we can challenge for the top 4, if we do sign another good forward.
Steven Astley
158
Posted 03/10/2020 at 18:13:06
Ernie, 125. I had a go on the first Pickford blunder at HT.
"I'd go searching for more on the second" because as my post started out, it left a bad taste. It's the last now before resume after Int break, and wipes out one of the other excellent goals we scored in the 2ne half.
Besides, it wasn't just his second mistake, there was about 2 or 3 others in the second half where, if it wasn't for Davies and Mina, he would be embarrassed again. As it is, they've probably saved his Everton career for now.
Ciarán McGlone
159
Posted 03/10/2020 at 18:15:34
The midfield we had on for the last quarter of the end of the game wasnt impressive at all.. very much like last season - sloppy and indecisive. I'd rather not see that combination too often.
But.. the juggernaut rolls on..got to love this.
Chris Corn
160
Posted 03/10/2020 at 18:16:06
Jerry Whyte 131..Kevin Richardson a great player. Massive part of the 84 Milk Cup and FA Cup Teams. His handball on the line against Villa in the home leg of the semi final and blatant denial in the post match interview was the stuff of legend. Played with a broken wrist as well and took his cast into the FA Cup Final. Hero.
He was a victim of the great sides under Kendall but went on to be a league winner at Arsenal and part of the Villa side that ran Utd close in 93.
As for today, we made short work of inferior opposition. Doucoure is immense. James is just class and DCL has me eating humble pie. Impressive performance all round except for the goalie making an unforgivable error again.
Ciarán McGlone
161
Posted 03/10/2020 at 18:17:58
Oh.. and credit to Mina. He still gives me the jitters.. but credit where it's due.
Paul Olsen
162
Posted 03/10/2020 at 18:18:01
Reading all the pre match comments I feel very happy for Tom Davies! Didn't put a foot wrong, and saved a 100% chance playing in an unfamiliar right back position
Simon Dalzell
163
Posted 03/10/2020 at 18:18:08
Very good on the whole. Iwobi fitted in well. I feel sorry for Pickford now. He will surely cost us dearly before long. Two players stood and watched the guy score their second. Lets hope Richie can be excused Brazil duty and be fit for the shite.
Steven Astley
164
Posted 03/10/2020 at 18:18:48
Wonder what Southall will come out with on his Twitter whilst eating his kebab and chips tonight
Will Mabon
165
Posted 03/10/2020 at 18:20:01
Of course Arsenal sold Iwobi, but I saw better for them than we've seen yet. He had more pace and his positioning and movement was very good, he was also more direct. It's like he's not getting it yet at Everton, or doesn't understand what's being asked of him.
If it clicks, he'll be better. We finally saw a couple of snippets today. Not one to despatch just yet.
Barry Rathbone
166
Posted 03/10/2020 at 18:21:37
Given our recent success with Colombians anyone know who the Colombia keeper is and is he any good?
Steven Astley
167
Posted 03/10/2020 at 18:23:50
Barry, that'll be Ospina at Napoli. He's smaller than Pickford!
Will Mabon
168
Posted 03/10/2020 at 18:24:28
Eddie, 155:
Not an accurate measure as such but yes, it is a surprise. James figures incredible when you consider how technical are so many of his passes.
Jay Harris
169
Posted 03/10/2020 at 18:26:23
Robert #150,
Never mind the assist he should be given the goal.
That's at least 3 he has got against us this season.
DCL has better watch out or Pickford will end up our leading scorer.
Derek Knox
170
Posted 03/10/2020 at 18:26:27
Brent @135, Grant, coffee just spilled!
Pickford wants to ' smell the coffee '!
How many stupid mistakes has he not learnt from, apart from Goal Difference, it didn't really make a difference today, but that could easily on another day, and against a different team, be 3 points squandered.
Tony Abrahams
171
Posted 03/10/2020 at 18:26:46
Look at City, winning at Leeds, but only because Ederson, is fast, strong, alert and anticipates danger.
Patrick McFarlane
172
Posted 03/10/2020 at 18:28:21
Fantastic result, but the performance for me was a bit underwhelming. However, this team does know the way to goal and that's probably the biggest difference to previous seasons. I've backed Jordan more than most, but his issues are affecting him mentally if not physically and he has to find a way of disregarding his mistakes and concentrate for the whole game even when he has little to do. I don't think having someone challenging him will help him, but at the same time the team can't afford Jordan to be unreliable either, so far his mistakes haven't cost us anything tangible, but if he can't eradicate them they will.
On the plus side, the team has beaten every team it's played so far, and there's still room for improvement, such a pity that the fans can't access the ground yet.

Luke Welch
173
Posted 03/10/2020 at 18:30:01
I think its clear to everyone and not just toffees that Pickford is going to stop us from really progressing!
Steve Shave
174
Posted 03/10/2020 at 18:30:50
Great win, top performances from Mina, James, Doucouré and Calvert-Lewin is just on fire. Credit to Iwobi who had a better 2nd half, he looked terrible 1st half.
Agree with comments about Walcott, is he interested at all? Please someone come in with a cheeky ٢M bid. I won't comment in depth on our joke of a keeper (he who I have defended on other posts), he is destined to follow Joe Hart down the "I thought I was better than I was, then I wasn't" route. Nobody is going to offer money so it's only a confidence loan we can hope for, but who??
Romero on loan for the season please, do we also now need a right-back on loan? For fuck's sake, injuries are piling up man. The only thing I'd say in defence of Pickford is: a) they were horrible conditions out there today; and b) he was not to blame for the 2nd goal, Walcott should have closed down better and put the player under pressure. My word though, how good do we look going forward!
Ray Smith
175
Posted 03/10/2020 at 18:32:09
JP looks like a scared rabbit in the headlights. He needs a big boost in confidence.
He gifted Brighton's first goal!
Walcott, totally uninterested and contributed nothing. Teams that may have been looking at him, will steer well clear. We are stuck with him, and will get nothing for our original outlay. Not even coasting, embarrassing.
Good result, bit concerned as the injuries are starting to mount!
Colin Glassar
176
Posted 03/10/2020 at 18:32:29
David Ospina, I think, Barry
Dan Nulty
177
Posted 03/10/2020 at 18:35:51
I thought Walcott and Pickford aside it was a brilliant performance. Pickford gifted then the first goal when they had done absolutely nothing to earn it. That last goal Walcott should have been closing him down. Lazy, lazy bastard given he'd not long been on. If you can't get up for playing in this team at the moment then you need to get out the door.
Essentially that would have been a comfortable 4 0 victory and we were cruising.
Missing Allan and Gomes too with Coleman and richie leaving early. I am chuffed to bits. Starting to get nervous about the derby already.
I'd take anything for him. Complete waste of space.
Terry Farrell
178
Posted 03/10/2020 at 18:36:07
had a nightmare last night came home and found my wife in bed with another man. it was James Rodriguez tucked him in and asked him what he wants for breakfast
Colin Malone
179
Posted 03/10/2020 at 18:37:52
Carlo has done wonders so far, great signing. Coleman is a new player, no more a one-trick pony, passing inside and bombing up the wing, instead playing out of defence and knowing when to go. Well done Seamus.
I was impressed by Brighton's Solly March, could be very useful in our squad.
John Raftery
180
Posted 03/10/2020 at 18:40:09
I expected Tom Davies to start. Delph was never going to be risked as a starter for the second game in four days. I thought Tom had a very decent game in midfield before filling in at right back and making a vital block to stop Brighton bringing the score back to 3-2.
Mina who faces a fight for his place, was immense. Again he is a player who has benefited from only being required to play once per week. He was man of the match in my view. People often say he has a mistake in him. I wish Pickford made as few.
With only six games to play in the next two months we have a chance for players to recuperate before the schedule reverts to two matches per week in December and January. Then Carlo will need to use the whole squad to manage his way through three competitions.
Craig Walker
181
Posted 03/10/2020 at 18:40:57
Great result and performance. Everyone played their part. I've not been Tom Davies' biggest fan but he stood in well today and fair play for covering at full back.
James and Doucoure were my two picks for MotM and Mina had one of his best games, I thought. DCL is growing in confidence with every game.
Only Walcott, in his cameo and Pickford, obviously looked weak links today.
I'd give anything to see us get one over that lot. My lad is 10 in December and has never seen us beat them.
For all those Sky "experts" who asked what Evertonians wanted when we got rid of Allardyce, this is your answer.
Will Mabon
182
Posted 03/10/2020 at 18:44:04
Terry, how does he like his kipper?
Mike Gaynes
183
Posted 03/10/2020 at 18:46:28
Wow, Ederson just did a flawless Pickford imitation -- same error, same result, same score.
Rob Halligan
184
Posted 03/10/2020 at 18:47:19
Interesting to hear Steve Sidwell trying to defend Pickford at half time, blaming the conditions for Pickfords howler. I think he was saying the rain made the ball slippy to catch, in other words was it his wet gloves that made it slippy? When I played in goal I preferred my gloves to be soaking wet, even on a warm sunny day, as it made it easier to catch the ball. You also have to remember, these balls nowadays have an outside covering of leather, synthetic leather, polyurethane or PVC panels, which when dry can be awkward to catch with dry gloves.
There was no excuse for their first goal, and as I type, a big howler by Ederson for Leeds to equalise. Who'd be a goalie, eh!!
Derek Knox
185
Posted 03/10/2020 at 18:47:30
Will @182, did you mean his face or his breakfast?
Thought he would have deserved a Full Columbian! :-)
Brian Williams
186
Posted 03/10/2020 at 18:47:35
Man City's Ederson showing that even after making two good saves, one howler can gift the opposition a goal!
Bill Gall
187
Posted 03/10/2020 at 18:48:20
If you think Pickford was poor wait until you see what Cities keeper does for Leeds equalizer.
Will Mabon
188
Posted 03/10/2020 at 18:48:26
Have to agree with the consensus re. Walcott. He is that to which Dele Alli appears to aspire; a footballer that thinks being good at 21 entitles you to another decade plus in the Premier League without effort or improvement. He achieved his ambitions many years ago.
John O'Neill
189
Posted 03/10/2020 at 18:48:26
You were saying what tony 171
Graham Mockford
190
Posted 03/10/2020 at 18:50:00
Great to see Tom Davies play well today. Being surrounded by good players will always make a difference rather than expecting young players to lead the way. Calvert Lewin anyone?
Will Mabon
191
Posted 03/10/2020 at 18:51:11
Innuendo for the "Other" kipper, Derek.
Will Mabon
192
Posted 03/10/2020 at 18:52:02
Missed the City error! Was it bad?
Stan Schofield
193
Posted 03/10/2020 at 18:52:32
Terry@178: Brilliant, nearly spat my beer out.
Mike Gaynes
194
Posted 03/10/2020 at 18:53:00
It's ridiculous to say that the guy who scored two and assisted on a 3rd wasn't the MOTM, but as everyone here can attest, I'm perfectly willing to be ridiculous.
I know James got the game ball, but to me Mina was MOTM. Scored the gamewinner, dominant at the back, heroic headed clearance saved a goal, blocked four shots (two of which were likely goals) and passed flawlessly. I still think he's our best CB.
And Iwobi, Siggy and Davies all stepped up to shine their tarnished images. Siggy was our best in the first half (the cross to Dom was elegant), Iwobi created superbly and Davies did his job with no mistakes. Proper credit to all three.
Tony Hill
195
Posted 03/10/2020 at 18:53:23
How cool were those finishes by James? They weren't quite as easy as he made them look. Good to see him using his right foot for the second, you can see him just calming himself and taking the power off.
I think Iwobi deserves more credit than he's getting. He sees angles that others don't. I think he's a 10 and I'd play him ahead of Siggi.
John Pierce
196
Posted 03/10/2020 at 18:56:32
Pink Keeper kits a common denominator today. Ederson's error was right I there with Pickford, however he's made three excellent saves.
Ian Jones
197
Posted 03/10/2020 at 18:57:26
Tony @171
What was it you were saying about Ederson. Not watching the game but according to BBC website, he was flapping. Apparently doing a 'Jordan Pickford' impression😀
Rob Halligan
198
Posted 03/10/2020 at 18:57:51
Mike # 194. Tend to agree with you. I thought Mina was immense today. He clearly knows there is serious competition coming into the club in the shape of Ben Godfrey, and with Holgate still to come back it can only be a good thing. Mina now has to play a blinder every week to keep his place.
Steven Astley
199
Posted 03/10/2020 at 18:58:26
John Rattery #180 - "Mina, who faces a fight for his place." Wait, what?!!!
Ian Jones
200
Posted 03/10/2020 at 18:58:52
But I'd still prefer Ederson...
Jay Woods
201
Posted 03/10/2020 at 18:59:29
It was a good win, yes, but play like that in the derby and we'll be brought crashing down to earth. Let's not, in all the euphoria of a good start to the season, lose sight of the faffing around at the back we were guilty of towards the game's end, never mind the utter liability that is our goalkeeper.
Jimmy Hogan
202
Posted 03/10/2020 at 18:59:45
Tonight I'm going to party like its 1985.
Jay Harris
203
Posted 03/10/2020 at 19:01:17
Mike
I had my other glasses on today and I agree with you Mina was immense today and was largely responsible for our two goal advantage.
Brian Harrison
204
Posted 03/10/2020 at 19:01:37
Well 4 straight league wins to start the season, and apart from the Spurs result I would have expected those results given our signings. Doucoure was terrific today my MOM closely followed by Mina and Rodriguez. I think Mina sent out a message that you may have bought Godfrey but he isn't taking my place, thats exactly the response we want. We played in fits and starts today, some really great football and some sloppy play at times. I think if we sit back against the very good sides in the league like we did for the last 20 minutes of the game, we will get punished even Brighton created 2 /3 very good chances in that time.
I also think that clubs watching Pickford today will throw more balls into the box than Brighton did. Not only was he at fault for the goal, the cross that Mina managed to get over the ball should have been his all day long, it was well inside the 6 yard box. Plus a couple of dodgy punches that he should have caught, I am sure the defenders have little faith in him dealing with crosses.
So a break and a chance to get some of our injured back in time for the derby, hopefully nobody picks up any injuries playing for their country.
Lets hope both Richarlison and Allan are fit for the derby, you could see Brighton get more confident once Richarlison had gone off. I know Iwobi made the goal for James but I am not convinced, he doesnt do half the defensive job that Richarlison does and I don't think he is that great going forward either. Thought that was Tom Davies best game for a while and he did a decent job covering at RB when Seamus had to go off. Delph played well when he came on, and Sigurddson produced a lovely cross for DCL but not much else.
Martin Berry
205
Posted 03/10/2020 at 19:05:27
The encouraging thing for me that few have mentioned is how well and effective Doucouré was today. Bear in mind that he did not have the help of Allan or Gomes to help put in the usual graft so he decided to do most of it himself.
Great finishes by James and very encouraging performance by Mina.
I think all should be fit bar any international injuries, how long has it been since the Everton fans have been looking forward to a derby? that sums up how we are playing at the moment.
James Head
206
Posted 03/10/2020 at 19:06:25
On another note, it was pretty obvious that Brighton players had been told to get stuck into James and Richie anytime they were on the ball, it's a cynical tactic and will be used by several clubs against us, I'd like to see Carlo come out and ask for some more protection from referees, I know it sounds like we're whingeing but it's all part of the modern game getting it into the referees head before the game.
Who is the official for the derby, we may need some support from him 'cos if James and Richie are fit for this game I'm sure Klippety will have Millner on a seek and destroy mission and he is one dirty twat!
Derek Moore
207
Posted 03/10/2020 at 19:06:36
I'd not argue with you there Mr Gaynes. Mina was absolutely brilliant, even moreso if you take into account the conditions.
I thought Doucouré was tremendous again as well. Another example of a type of player many Evertonians have been crying out for years, that box to box presence. He has been crucial in this form run.
I said before we brought anyone in that we needed to find a way to score a lot more goals if we were going to slug it out with the big boys. I was not expecting a deluge like this, and across the board. It's not just in the cup against lesser opposition are we hitting four and five goals a game. Remarkable.
Don Alexander
208
Posted 03/10/2020 at 19:07:31
Jordan reminds me of Gary Sprake, who played in goal for Leeds in the late 60s/early 70's. All he's remembered for is regular catastrophic howlers that cost goals, and that's a shame because he was otherwise a very good goalie.
Sprake played behind a hard-as-nails team of many talents though, so he survived. Are we going to progress as Leeds did, with Jordan in goal though?
Mike Gaynes
209
Posted 03/10/2020 at 19:07:37
I wonder who will be playing right-back for us in the derby. Predictions?
Mike Gaynes
210
Posted 03/10/2020 at 19:09:11
Derek and Brian, agreed, didn't mean to neglect Duke. He was excellent at both ends of the pitch.
Derek Moore
211
Posted 03/10/2020 at 19:09:27
Delph or dramatic mystery loan signing at RB in my view Mike.
Will Mabon
212
Posted 03/10/2020 at 19:10:06
John, it's great, like a local football cup game, end to end. Hope it ends a draw though.
Brian Williams
213
Posted 03/10/2020 at 19:10:58
Coleman.
Graham Mockford
214
Posted 03/10/2020 at 19:13:03
I'd have had Doucouré as MotM closely followed by Mina, but James is the player that makes the spine tingle, sublime.
Bill Gienapp
215
Posted 03/10/2020 at 19:13:09
Starting to get excited now. The obvious reservation re: our impressive start was that we were an injury or two away from reverting to last season's form, with Allan heading up the list of players seemingly irreplaceable.
However, our bench players are *really* stepping up. Sigurdsson is making a credible case to start in place of Gomes. Delph, who I had zero use for last season, now looks like a handy squad player. Davies was very good. And Iwobi, who initially looked less than sharp when he came on, played those two killer passes in the second half, both of which resulted in James goals. I don't know if these are guys we'd want to depend upon for an extended period, but it's great to see everyone upping their game.
I tend not to get as riled up over Pickford as most on here, but that gaffe was... not good. Not only did he basically gift Brighton an equalizer when we were in total command, but you could see it totally threw the entire team off their game and for a few minutes, we appeared to be dangerously on the back foot. Unfortunately, Lossl doesn't appear to be a viable alternative, and Virginia definitely isn't ready, so not sure what our options are, realistically.
Walcott coming on at the end was a complete waste of time, he clearly has no role in the squad moving forward. Would much rather have seen those minutes go to Gordon, or Bernard, who probably feels very hard-done not playing a single minute since his excellent showing against Fleetwood Town.
Stan Schofield
216
Posted 03/10/2020 at 19:15:07
Don@210: I recall being at Anfield in the early 70s, the RS versus Leeds, and Sprake was attempting to throw the ball to one of his outfield players, but instead threw it into the back of the net. The RS won 1-0.
He was often a liability, but he wasn't alone, and Peter Bonetti was another one. It seems rare to find a keeper that doesn't commit howlers.
Tony Hill
217
Posted 03/10/2020 at 19:16:20
We've actually developed our own pressing game, especially noticeable in the first half. As the commentators on BT Sport said, we also have a lovely defensive shape which moves and sways laterally.
Didn't stop us losing tempo and momentum as we still generally do for at least two phases in the game - the most predictable being after about 20 minutes (regardless of how well we have been paying).
But those are matters of development and they will happen.
How can we not be happy?
Mike Gaynes
218
Posted 03/10/2020 at 19:19:20
Bill #217, great post. Agreed.
Peter Roberts
219
Posted 03/10/2020 at 19:20:29
I know it's been said but at £12m (which seems more to be agent fees and image rights than an actual transfer fee) James is already looking the steal of the season.
So much for the "will he adapt to the Premier League" doom mongers. I don't think I've seen such a class of player grace the Goodison turf in royal blue. Ever. (In fairness I'm in my mid-30s, so saw some absolute dross turn out for us).
John McFarlane Snr
220
Posted 03/10/2020 at 19:20:41
Hi Bill [123] you seem to be blaming the defence for Brighton's second goal saying, "On a couple of occasions the ball could have been cleared down to the Park End" I don't think that would have been a smart move, because that was the goal Everton were defending.
I haven't witnessed the game but I base my observation on the Radio Merseyside commentary, which suggested that Everton were defending the Park End end in the second half.
Kieran Kinsella
221
Posted 03/10/2020 at 19:22:41
Mina is a tricky one. Looks jittery in possession but great in the air brilliant last-ditch tackles in the box. With Pickford in goal, we need Yerry to save his arse but perversely Pickford's panicked passes make Mina look even shakier in possession.
Will Mabon
222
Posted 03/10/2020 at 19:24:26
Stan - "The Cat".
Hugh Jenkins
223
Posted 03/10/2020 at 19:24:51
As things are developing at the moment - with only a couple of days left in this window, it is beginning to look like Man City and Wolves are, as the expression goes " a busted flush". Leeds, Leicester, Villa and ourselves are making the early running - but Leeds lack experience so will probably fall away.
Arsenal may come into the equation, later in the season.
However, It is beginning to look, even at this early stage of the season, that it going to be up to us or Leicester to stop the RS claiming a second consecutive title.
COYB.
Bill Gall
224
Posted 03/10/2020 at 19:25:02
You are right, John. I meant to clear it up the other end. I had no excuse for that comment as I watched the game.
John Keating
225
Posted 03/10/2020 at 19:25:18
Another great result, momentum and confidence continues to build.
Some excellent performances today, one dire performance.
I was more impressed when we didn't have the ball than when we did.
Allan Board
226
Posted 03/10/2020 at 19:25:46
Too good for these as I thought. And Potter changed tack and went all 'Let's kick their best players' – he won't be the last to try that and all will fail.
As for our players – it's a simple game and if they do their job properly as coached, we will be okay.
Also, we score all sorts of goals now which bodes very well – the likes of Walcott are done at Everton and I believe Mr Pickford is on borrowed time.
However, what Ancelloti decides is and will be the right decision so I'm happy.
Brilliant Blues!!
Tony Hill
227
Posted 03/10/2020 at 19:27:43
Mike @211, Godfrey.
Jerome Shields
228
Posted 03/10/2020 at 19:28:26
I thought we really played well in the first quarter and maybe should have been further ahead. Rodriguez was given special attention. Pickford did himself no favours with his mistakes and will cost Everton in some games.
Davies, an unlikely addition, played better. Sigurdsson was good, but faded in the last quarter and Walcott was as good as his Salford performance. Delph put in an average performance. Doucouré and Mina where excellent. Rodriguez is world class and Iowbi is getting increasing direct and confident as is Calvert-Lewin. The rest where consistent.
The big problem for Pickford is, when the team is winning well, he stands out as a weak link, consistently. I can't see Ancelotti allowing that to drift. He will be a headline topic for the next three weeks.
Dave Williams
229
Posted 03/10/2020 at 19:28:31
Mike G I would agree Mina was MotM today but let's also say a few words about Carlo.
Not only has he bought three absolutely key, class players for the first team he has changed our weak mentality to one where we fight back when we concede a goal and we can now dominate periods of a game.
But more than that he has us playing a fast, slick passing game which will only improve with time whereas last season we couldn't pass the ball at all.
He has changed poor players who don't try into decent players who are putting in great effort by and large. Walcott didn't today but Sigurdsson did until he tired (he really is declining physically). Tom looks a different player and much sharper around the pitch, Delph and Iwobi are so much better as is Bernard on what I have seen of him.
With a few very good youngsters in the wings plus Godfrey, things are looking bright and credit must go to the manager who has confounded the critics and sorted out an absolute mess.
Tommy Carter
230
Posted 03/10/2020 at 19:28:44
@221
Peter
I made this point weeks ago. Before he'd pulled the shirt on. He's world class.
We have had 3 World Class Players at Everton Football Club post war. Ball, Lineker and Southall.
Steven, Reid, Sheedy, Kanchelskis, were all amazing players.
But world class is a step above this. We're talking Balon D'or contender, Golden boot winner, multi league title and champions league winning.
I was astonished that people questioned this signing. Read my posts, I said as much.
Richard Keys thought we should've signed Troy Deeney instead
Mike Gaynes
231
Posted 03/10/2020 at 19:30:49
Amazing to see Man City with a negative goal difference after three games.
Kieran #223, the key word in your post is "looks" jittery/shaky -- Mina certainly looks funky on the ball with that hip shimmy out of '70s disco, but when you watch where the passes go, you realize he's not jittery at all. Never seems to turn the ball over, no mistakes. Every pass is accurate and well-weighted.
He looks goofy when he runs, too, like a hyena on his haunches, but when you watch him tracking speedy forwards you realize he does have pace.
Jerry Whyte
232
Posted 03/10/2020 at 19:31:18
Gutted Anthony Gordon didn't get a run out and think he'd have caused them problems. Disappointed Don Carlo gave Iwobi and Walcott the nod over him but he obviously he sees something I don't, inevitably, and hopefully he was just putting them in the shop window and someone comes in for them.
He'll be managing expectations where Gordon's concerned too. Having a class act as a manager bring that long view. He'll know Walcott and Iwobi aren't top drawer but he'll know they're both decent pro footballers who can do a job in a pitch if he man-manages them.
I like Iwobi but he just doesn't have that zip and zing you'd hope he'd have brought for his price.
Robert Tressell
233
Posted 03/10/2020 at 19:31:56
Tony @195. Iwobi is a very nice footballer. Moves well with the ball, looks for the forward, incisive pass. I think Ancelotti is trying to give him minutes ahead of others to get him into a rhythm. I called him Ballon D'Iwobi in ironic fashion earlier. His passing and vision made the goals that put us out of sight.
Dave Williams
234
Posted 03/10/2020 at 19:33:07
Tommy- I'd say the young Rooney was world class.
Jerome Shields
235
Posted 03/10/2020 at 19:37:14
The second Brighton goal was poor defending and resulted from sustained pressure and a total lack of control in midfield.
Colin Glassar
236
Posted 03/10/2020 at 19:37:41
Robert, I'm not a big fan of Iwobi. I think he's a coward and has no tactical discipline. But, if Carlo sees a player in there, somewhere, then I'll trust Carlo's judgement over mine any day.
Sigurdsson on the other hand looks like he's returning to the form he had at Swansea and Delph looks like he could be a very useful squad player. Even Tom looks like he might rescue his Everton career with a bit more work!
All in all, things are definitely looking up at Goodison.
Mike Gaynes
237
Posted 03/10/2020 at 19:38:11
Dave W #231, spot on, and we should mention his subs too. When Rich went off I was a bit dismayed to see Iwobi sub on, because it meant going 4-5-1 and leaving Dom a bit isolated up top. And it looked that way for quite a while... until Iwobi created two goals with his passing from left mid. And when Seamus got hurt, here came Delph to lock things down in the middle as Davies dropped back. Carlo almost always seems to get those right.
Tony #229, according to Transfermarkt, Godfrey has played only two top-level games at RB in his entire career, and the most recent was 2018, so I doubt it. Imaginative suggestion, though.
Kieran Kinsella
238
Posted 03/10/2020 at 19:38:32
Lol Mike pretty apt Mina description
Stan Schofield
239
Posted 03/10/2020 at 19:39:37
Tommy@232: Alex Young.
Will Mabon
240
Posted 03/10/2020 at 19:39:42
Rooney, no question. I always remember Thierry Henry saying in an after-match interview "That Wayne Rooney is some player"... and he was.
Steven Astley
241
Posted 03/10/2020 at 19:40:53
I'm normally his biggest fan, but what on earth was Walcott doing for their second goal.
Sticking my neck on the line here and say Iwobi was my MotM today. Not easy coming off the bench into a game like that. But it was clear to see he had fitted into the game plan well, sitting a little further back and allowing Doucouré and Sigurdsson to move further forward. Key passes and some good work in tracking back for the team too.
John Atkins
242
Posted 03/10/2020 at 19:41:15
They must be going mad for us over in Colombia right now, playing fabulous free-flowing football and being top of the Premier League.
Long May it continue
Colin Glassar
243
Posted 03/10/2020 at 19:43:59
Anyone got any news on our growing injury list? Seamus and Allan are my biggest worries. I think Richarlison will be okay after a few weeks rest.
Tony Hill
244
Posted 03/10/2020 at 19:44:17
Dave, @236 there's no doubt about it. He was stunning.
The Golden Vision, the Holy Trinity and James were/are majestic. But Rooney was something else again; it's just too painful to say it out loud.
Nathan Ford
245
Posted 03/10/2020 at 19:44:31
If Coleman and Kenny are injured for the derby I'm confident Godfrey will start in the right-back position. He'll start out of position, set up the winner, and be loved by all.
Tony Everan
246
Posted 03/10/2020 at 19:44:58
Walcott looked to me like he was playing to avoid injury at all costs. Rumours his agent has been busy looking at his options. He will want a nice 2- or 3-year final contract from Crystal Palace or whoever.
MotM for me was Mina thought he has is best game for us, Doucoure not far behind – such a brilliant signing. Then James Rodriguez, a wonderful, world-class footballer. Makes the game look easy when all around him are looking like they're on the limit.
Robert Williams
247
Posted 03/10/2020 at 19:46:13
Very disappointed with that scoreline - was expecting to come out of the game with +4 or +5 goals to add to our tally and cement our selves in top spot. Pity!
Rob Halligan
248
Posted 03/10/2020 at 19:55:03
Interesting stat on the BBC website
Everton have won their first seven games in all competitions in a season for the first time since 1894-95 (won first eight).
We all know who the next game is against!! Can we equal that record? 🙏🙏🙏
Jay Harris
249
Posted 03/10/2020 at 19:56:08
Jerry, I share your sentiments regarding Gordon but as I said to Mike G in previous posts he seems to be out of favour with Carlo.
Whether that is down to Gordon's expectations to play or Carlo doesn't like what he is seeing in training, I don't know but I don't rate Iwobi at all and when he and Theo were on the pitch we seemed to lose all of our rhythm and balance.
Trevor Peers
250
Posted 03/10/2020 at 19:56:32
James is the class act we've hungered for for so long, great vision, range of passing and the ability to score and create goals he leads by example, he's a real winner.
We are extremely strong in midfield at the moment, Sigurdsson, deputising for the injury prone Gomes, continued his good work from the West Ham victory, providing an excellent cross for Calvert-Lewin's opener, he tired towards the end, but anyone suggesting he is finished knows nothing about football, he's an important part of the squad. Davies had his best game for the blues, he seemed inspired by the presence of James and Doucouré. Carlo deserves huge credit for sorting out the midfield.
These are exciting times, the only worry is the numourous injuries we have sustained, but all should be well after the international break when we take on the RS next, hopefully it should be a classic.
Christy Ring
251
Posted 03/10/2020 at 19:58:02
All the Davies bashers, he was a lot stronger in midfield than Delph, and adapted well, as an emergency full back. Definitely worth his place in the squad.
Dan Nulty
252
Posted 03/10/2020 at 19:59:26
Interesting observation Christy, he did some good things today but at least one needless foul and gave the ball away numerous times. Squad player at best as it stands for me. I do hope he improves.
Peter Mills
254
Posted 03/10/2020 at 20:01:31
Marine won a penalty shoot-out to reach the next round of the FA Cup. I've got a nice bottle of Rioja. We are top of the League. The grin is widening.
Stephen Brown
255
Posted 03/10/2020 at 20:05:14
The three superb signings and reputation and skills of the manager have dragged up the performances of so many in the squad!
Keane, Mina, Coleman, Siggy, Iwobi, Calvert-Lewin are all looking like top notch performers. We have genuine competition for places!! Am I allowed to get excited yet ??
I do think the international break comes at a decent time to rest and recuperation.
Mike Gaynes
256
Posted 03/10/2020 at 20:06:40
I just did a quick Transfermarkt scan on our players, and at the moment we don't have a single healthy first-team player with any experience at right back. Not Digne, Davies, Delph or Godfrey (whom we haven't even signed yet).
So with Kenny and Holgate certain to miss the Derby, unless Seamus is ready (and that hammy didn't look good), Carlo has a serious problem to figure out.
Jerry Whyte
257
Posted 03/10/2020 at 20:07:00
Tommy @ 232. Don't be soft. the Ball of Fire, Linker and Southall, yeah, but are you saying that, off the top of my head, Dixie Dean, Dave Hickson, Brian Labone, Tommy Lawton, Alex Parker, Ted Sager, Alex Young, Gordon West and Ray Wilson weren't world class, in their way and in their day?
Never mind Rooney, again off the top of my head, what about the likes of Duncan McKenzie and Dave Thomas - Everton players who had that bit extra but didn't make the cut on the international stage partly because of footballing fashion and debatable management choice.
And what about those that had it but lost it through injury - Dave Smallman and Tommy Wright spring to mind. We may not have had a Cruyff until Jimmy Rodriguez but there's a history of forgotten or overlooked world class players at Everton so to say we've only EVER had three is mad. Some world class players don't always get the chance to perform on the world stage.
Ryan Holroyd
258
Posted 03/10/2020 at 20:07:04
Calvert-lewin is a championship forward
Mike Gaynes
259
Posted 03/10/2020 at 20:07:17
MARINE!!!!!
Ain't life good, Pete?
Colin Glassar
260
Posted 03/10/2020 at 20:13:38
Top of male and female leagues! Not bad, eh?
Phil Greenough
261
Posted 03/10/2020 at 20:16:40
Enough with the DCL/championship quips already, they're not funny or original.
Mike Doyle
262
Posted 03/10/2020 at 20:18:18
James 208] agree that the RS will target Richie and James. That's why we need Allen back for that game (I'd like Holgate too but he won't be ready) as he won't be intimidated and knows how to look after himself and others.
Not too worried about James. He has been operating at elite level for years and also knows the dark arts - despite his angelic looks!
Andy Crooks
263
Posted 03/10/2020 at 20:19:09
Mike, when the great book of ToffeeWeb post sees the light of day, "a hyena on his haunches", will be there. I hope he reads ToffeeWeb.
In answer to your post @ 258. Well, I covered at right-back against De la Salle in 1973 and as you know, class is permanent. Unfortunately, though, I have had overtures from the club about the goalkeeping position. Not my best position but apparently an upgrade is required.

Dan Nulty
264
Posted 03/10/2020 at 20:19:55
Brilliant Colin, long may it continue. I see there are still those who continue with the 'Calvert-Lewin, Championship at best' comments. It really is tiresome. Its no wonder we get labelled as bitters, some of us can never seem to let something go.
Enjoy it. It is bloody brilliant being a Toffee. I haven't felt like this since the mid to late 80s.
I do hope we can get everyone fit and ready for the reds. I'd love it if we could give them a good game and get one over on them for a change.
Joe McMahon
265
Posted 03/10/2020 at 20:20:03
Jerry@259, sorry Dude I agree with Tommy. Dixie was over 80 years ago. Tommy is talking about world class - post war. Rooney yes, but when he was at Man Utd.
Gerry Ring
266
Posted 03/10/2020 at 20:22:32
In relation to injuries, I'd suggest Seamus will be ok on the basis that he was on the pitch after the game and didn't appear to be in any discomfort. Surely if there was a worrying hamstring injury, he'd be iced up and resting. I'd be giving the Irish squad a miss, if I were him. Fingers crossed.
Regarding Richarlison, he's tough as nails & I expect he will be fine within two weeks. We really need all of them available for the redshite, with Allan being a vital cog in the wheel.
Colin Glassar
267
Posted 03/10/2020 at 20:23:32
Tommy #232, just seen your post, and Jerry's brilliant riposte. If WHU won the '66 World Cup, according to them, our three Blues - Wilson, Ball and Labone (?) also played a key part in our victory!
We also had Three Blues in the 1970 World Cup, Ball, Labone and Newton, who were robbed by West Germany and Peter Bonetti of a runners up medal!
Peter Mills
268
Posted 03/10/2020 at 20:26:44
Andy#266, that dream move as goalie is going to be scuppered when a simple search is undertaken "Crooks/Plank glued to back/width of goal".
Mike Gaynes
269
Posted 03/10/2020 at 20:27:58
Andy #266, I'm only 16 months out from my last game at right back, when I tore my Achilles again... if you get a call from the club for a tryout, will you take me along? I think I'm ready.
Paul Williams
270
Posted 03/10/2020 at 20:32:34
I'm getting a bit of a 1984 feeling. Not quite 1985 yet when with a swagger you felt we would win every game. It changed quickly back then. From nowhere to arguably best team in Europe in a couple of years. Win the next game and I think it's a real statement of intent. Best I've seen in 30+ years. Long way to go but start believing Evertonians. COYB!
Brent Stephens
271
Posted 03/10/2020 at 20:32:52
Colin #262 " Top of male and female leagues! Not bad, eh?"
Good but I'm not sure it can last - we'll have to take it in turns being on top.
Tony Hill
272
Posted 03/10/2020 at 20:34:51
Mike @258, I'm sticking with Godfrey who will indeed join us and of whom I have very high hopes.
Failing that, could we move Digne to right back with Nkounkou at left? Or just use Nkounkou at right back; I'd fancy him against rat-face Robertson, for pace and strength. We need pace against him and Mane (assuming Mane plays after the Covid isolation).
Frankly, the way I'm feeling at the moment, I'd play Bernard or Simms at right back and still expect us to beat the shite.
Maybe, boringly, Seamus will be fit.
Paul Birmingham
273
Posted 03/10/2020 at 20:47:28
Another good weekend, and a good team effort today.
Good traits, character, and teamwork.
Good times to be an Evertonian, long may it last and savour every day.
There's a long season ahead and we'll need some luck with the injuries and let's hope we don't pick up any more soon.
Key players, vital to this squad are injured but the strength in depth of this squad will and is being tested.
I'm happy and made up another win, typically the international breaks for Everton don't fall, well, but this time it may do us a favour.
Of course, let's hope those on duty don't get injured.
Good to see the speed of transition today from defence to attack, and players with belief, desire, skill and football, brains. Doucouré, was immense.
Superb goals today, a shame we gave Brighton, a Stan Laurel special, but surely now lessons will be learned.
Let's see if we can get any more players in by midnight 5 October 2020.
All have a Ball, tonight and savour MotD. "What's Our Name?"
Jerry Whyte
274
Posted 03/10/2020 at 20:48:01
Colin - And if yer know yer history, it's enough to make yer heart go. . .
Thought all bar one or two put a great shift in today. Brighton aren't yard-dogs, though they were for the opening 15 minutes. Great win. Happy day!
1. Pickford - 5, No excuse for that familiar fumble
12. Digne - 7, May be world class!
23. Coleman - 8, Back to his best
13. Mina - 9, At his best, superb!
5. Micky Keane - 7, Steady as a rock but for the Pickford moment
16. Doucouré - 8, Unspectacular but vital
10. Sigurdsson - 7, Always in and around it things
26. Davies - 7, Covered the ground; covered for Seamus.
7. Richarlison - 6, Brave he even played.
9. Calvert-Lewin - 6, A goal'll do me. Clumsy at times.
19. Rodriguez - 9, World class!
Subs:
8. Delph - 8, Composed and confident.
11. Walcott - 3, Shite. 𧴜k-a-week shite
17. Iwobi - 7, Some vital touches and his usual leaden ones.
James Gillespie
275
Posted 03/10/2020 at 20:52:08
Great to see the team playing with confidence, style and new players that are an obvious upgrade.
I am not a fan of Mina but he had a really good game. Davies proved his place as a decent squad member and James is a class above. I can't believe he is playing this well in the Premier League while not being up to speed fitness-wise; long may it continue.
Shame we are picking up injuries at an alarming rate; however, now is the time to enjoy being a blue!

John Reynolds
276
Posted 03/10/2020 at 20:52:21
Fantastico. Magnifico. Even the players many of us wanted to see the back of last season are performing really well. The introduction of better quality, and the confidence and momentum winning brings has transformed the team. Well done Tom today, and good showings from both Sigurdsson and Iwobi.
I'm beginning to wonder if Carlo wasn't playing the old rope-a-dope tactic in the post-lockdown games, keeping the powder dry for this campaign.
Sad to say that yet again Jordan Pickford has done his headless chicken routine. We could pick up Darren Randolph for a pittance in the next 48 hours. Ireland's No 1 is considerably better than England's No 1 at the moment.
Joe McMahon
277
Posted 03/10/2020 at 20:53:10
Guys, I've had a couple but it's Happy Saturdays again.
Years of most weekends ruined, and we are playing great football once again.
Kunal Desai
278
Posted 03/10/2020 at 20:53:32
Another excellent performance. Amazing what confidence can do. Shame about gifting the opposition yet another goal.
Ahead of Monday's deadline, I'd like to see a keeper brought in on loan and a few departures. Hopefully Walcott is one of them.
Rob Halligan
279
Posted 03/10/2020 at 20:54:23
Will 272. Somebody said earlier on that Pickford should have saved the second goal today. Absolutely absurd.
So therefore I reckon Pope should have saved that Newcastle goal. He was too slow moving his feet across to his left and then went down too slow. A good hand behind that shot and he keeps it out.
Tony Heron
280
Posted 03/10/2020 at 20:55:05
Phil Smith
281
Posted 03/10/2020 at 20:56:26
Mina again! How good has he been? On another day, a Man of the Match performance.
Andy Riley
282
Posted 03/10/2020 at 20:57:15
Colin #270 - we had four players at the 1970 World Cup. How could you omit the great Tommy Wright?
Strange that you never seem to hear much about him now – when they were players think he was Colin Harvey's best mate.
Colin Glassar
283
Posted 03/10/2020 at 21:00:17
I knew there was another one, Andy. Tommy Wright was a great player and what a team (69-70) that was.
Michael Barrett
284
Posted 03/10/2020 at 21:03:20
I think the derby game will get moved to Sunday night or Monday, because Klopp has been moaning that his players are all over the world playing and don't get back till Friday beforehand...
I think he is scared of playing us right now, they might move the fixture to keep him happy... and it will help us as well. What do you lot think?
Rob Halligan
285
Posted 03/10/2020 at 21:05:49
Michael, the derby is Saturday afternoon with a 12:30 pm kick-off.
Tony Abrahams
286
Posted 03/10/2020 at 21:07:50
John O'Neill, and Ian Jones, I wrote that about Ederson, after watching the first half, but I've watched him loads of times, and stand by my description of the City keeper.
I watch Pickford, he makes the occasional great save, but he plays on the back foot, he doesn't settle his defenders, and he's all over the place on crosses at the minute.
Pickford has played a lot of competitive football for a relatively young goalkeeper, he's also got the experience of playing in a World Cup semi final, but he comes across to me like he's never been coached properly, or he's played for a lot of struggling teams, and has never fully developed parts of his game?
Give us Ederson and I'm sure we could get top 4, but I don't get this same feeling with Pickford.
Dave Pritchard
287
Posted 03/10/2020 at 21:09:45
Derby is Saturday morning. Is there as RS have a Euro fixture the week after.
Jay Harris
288
Posted 03/10/2020 at 21:10:54
I am overjoyed that Carlo has addressed the big issues of the last few years:
No grit/determination
A lack of firepower throughout the team
Inability to pass accurately or hold onto the ball
Very poor movement
What a transformation and totally changed my weekend routines. I am now off the depression tablets and instead of drinking to drown my sorrows I am now toasting the Don.
The only thing on my Xmas wishlist is a top class goalie (Donnarumma?) and strengthening the squad.
Brian Williams
289
Posted 03/10/2020 at 21:11:34
Michael #292,
It's been moved once; it won't be moved again.
Will Mabon
290
Posted 03/10/2020 at 21:13:58
Tommy Wright, ruined by injury alas. What a smooth player he was.

Rob, I don't know, I think there's a bit of a special on, being over-demanding of keepers right now. The bigger guys are indeed big, and getting down as they do, reacting to a fast shot from often a masked view, incredible they get near some of them near the corners. At full speed it looked a damned fine attempt to me.
Didn't see that someone had expected Pickford to save that second goal. No way.
Tony Abrahams
291
Posted 03/10/2020 at 21:21:30
I thought we played some fantastic football today, especially when you consider the way we were playing just after the restart in June, but I take John K's point @227, when he says he thought we were better without the ball.
We protected Pickford really well today.
Maybe Coleman has decided he wanted a rest before the Liverpool game, Gerry R?
James Gillespie
292
Posted 03/10/2020 at 21:22:04
I thought Davies had a good game.
Andy Crooks
293
Posted 03/10/2020 at 21:22:05
Joe @ 285, enjoy your evening. I have already started to. I've lost count of the number of times I have skulked off to bed on a Saturday night day ruined (yes, I know it is pathetic) by another abject showing.
I always thought the players didn't care as much as us, not a fraction as much. Not now though. Bring on MotD.
Frank Crewe
294
Posted 03/10/2020 at 21:23:45
If I was a director at Real Madrid I would want to see Zinedine Zidane and find out why he thought letting Rodriguez go was a good move for the club. If they have a better player than him he must be Ronaldo, Pele, and Maradona rolled into one.
He plays football on a completely different level. Look at his two goals and watch his movement. As every other player moved to the man with the ball he moved towards the far post because he knew that was where the ball would be. Sure enough, the ball arrived and all he had to do was tap it in – not once but twice.
What a player! He has raised the game of every player at the club and when he is on the park we look unbeatable. The incredible start we have made to this season is entirely down to him and him alone. He has turned Calvert-Lewin into a star striker. Richarlison is playing to his full potential. Allan and Doucouré have transformed the midfield and the defence is looking a lot harder to penetrate. Centre halves are scoring, full backs are flying forward.
We look like we're partying like it's 1985 and it's all down to Carlo's brilliant signing of James Rodriguez. I reiterate – what a player!!
Andy Riley
295
Posted 03/10/2020 at 21:23:49
Tommy Wright played more than 350 games for Everton, including all 42 in the 69-70 Championship season. As I recall he was one of four who played in every game the others being Gordon West, John Hurst and Joe Royle.
Perhaps it shows the current positivity that we are recollecting great times from 35 and 50 years ago.
Jamie Evans
296
Posted 03/10/2020 at 21:25:50
Like that when teams score against us our heads don't drop. James is that good he probably just shrugs it off and knows he will create or score and the other players probably believe that with him in the side. JR will be cutting many teams open this season. Players seem happy and together, Carlo has all the experience.
Someone suggested Nkounkou or Digne at right back v Liverpool earlier (should Coleman be injures) might not be a bad shout having a left footer there to help combat manes runs inside the full back.
Brent Stephens
297
Posted 03/10/2020 at 21:32:38
Derek #300 I thought they'd cured you!
Jerome Shields
298
Posted 03/10/2020 at 21:36:38
Jerry #282
I thought Davies was better than Delph. Delph for me was very average.
Jay Wood
[BRZ]
299
Posted 03/10/2020 at 21:39:53
Don't worry about right back.
Hopefully Seamus has time to get fit for the Derby.
Failing that, Tommy 'The Seer' Carter - the only one on TW to identify James Rodiguez as world class (cough!) - has got that one covered.
Or would you prefer not to recall proposing Alex Iwobi be converted to a full-back, Tommy..?
Mike Doyle
300
Posted 03/10/2020 at 21:42:06
Mike G #274, I've been struggling with discomfort in both Achilles tendons for about 3 months. Walking is no problem (I'm currently doing 15 to 18 km per day).
No point asking the medical profession in the UK as they are all obsessed with Covid.
Any remedial suggestions?
Dom Kearney
303
Posted 03/10/2020 at 21:50:03
Rob at 250: Commentator on stream I was watching pointed out that the 8th game in a row we won back in 1894 was at home to Liverpool. History going to repeat itself, surely?!
Bill Gall
304
Posted 03/10/2020 at 21:50:47
The difference that Ancelotti made was making Everton players do the simple things quickly. James is on another level that makes him stand out, and seems to be able to be aware of were he is going to pass the ball before it even reaches him.
The only positive we may have in the derby game is Mane with Covid 19 may not be playing on the right.
Andrew Davies
305
Posted 03/10/2020 at 21:55:47
Dan Nulty at 254,
You mentioned that Tom Davies gave the ball away numerous times. Because I have a running banter with another Evertonian mate about Davies (and Calver-Lewin whom he thought was at best a bottom-six Premier League squad player). I keep a close eye on how many times he gives the ball away. Today, it was twice.
Just mentioning.
Michael Barrett
306
Posted 03/10/2020 at 21:57:08
Andy Crooks... after the derby were Pickford threw the ball in the net, I never watched a game for 3 months mate... Wonder if that's a record on here?
Lynn Maher
307
Posted 03/10/2020 at 21:58:32
Everton women's football team have not conceded any goals in their league. Just thought I would mention it. 😁
Dave Lynch
309
Posted 03/10/2020 at 21:58:32
Davies at right back in the Derby is a nightmare waiting to happen.
Sorry but the lad is not a prem footballer, he always looks too hurried and unbalanced on the ball.
He puts us under pressure with hospital balls the vast majority of the time, lacks vision and pace as well as awareness.
Brian Williams
310
Posted 03/10/2020 at 22:05:28
Take it you didn't watch today's game Dave as Davies proved just the opposite.
Jay Harris
311
Posted 03/10/2020 at 22:11:15
Mike,
do you do a proper warm up/ warm down before and after taking your walks.
You may have developed tendonitis by straining a cold tendon.
Get yourself a nice foot massage and try some voltarol.
You could also try compression sleeves and maybe some anti inflammatory drugs such as ibruprofen or naproxen.
Mike Gaynes
312
Posted 03/10/2020 at 22:13:44
Tony #277, so your choice is 1) a 22-year-old debutante who hasn't played the position, or 2) a 19-year-old debutante who hasn't played the position... against the best side in England, and specifically one of the best attacking left backs in the world. You're not optimistic, you're positively manic. Oy vey. Let's hope you're right about Digne, even though he's never played there either.
Mike #307, three initial suggestions. First, stop walking 18km every day. Go every other day for a while. (I'm up to 8km but I never go two days in a row.) Second, ice for ten minutes after you walk. And third, assuming you've got good walking shoes, insert some heel pads to slightly shorten the stretch on your Achilles. Not the crap pharmacy ones -- I buy Hapad pads on Amazon. Very comfy and last forever.
James Gillespie
313
Posted 03/10/2020 at 22:16:28
I agree, Davies at right-back against Liverpool will be a nightmare. If it happens, it says something about his versatility as the manager wouldn't put Sigurdsson there. By the way, he is looking much better with the pressure off.
Jerome Shields
314
Posted 03/10/2020 at 22:17:10
Tony #293,
I think that Pickford is difficult to coach. I am sure at Everton that he is coached well and his previous mishaps are analysed and addressed in training. But the problem with Pickford is he is prone to lapses in concentration and makes basic technical errors. His hands were all wrong for the first error. He definitely is weak at catching the ball and can panic positionally.
He needed to get through this game safely; he didn't do that. The problem is the contrast of his performance with a team performance that can win well. Which if he doesn't arrest, will finish his top-flight career. One performance for England where such a contrast is drawn or results in defeat he has to avoid.
I would previously have thought that the performance of the goalkeeper at Everton, was not a priority for change, since there where other positions that needed more urgent attention. But Pickford is moving himself by his performances up the list, as other positional problems have been addressed. What's more, he looks increasing under pressure personally, which could be affecting his performance.
Stephen Brown
315
Posted 03/10/2020 at 22:18:38
If Seamus and Jonjoe Kenny Are both out for the Derby that will be a significant problem.
Isn't Callum Connolly a right-back? He's a local boy so could he raise his game for the biggest test of his life?! Give the boy a chance I'd say! Could be a hero?!
John Pierce
316
Posted 03/10/2020 at 22:27:29
Delph was off the pace, gave the ball away and was everything he wasn't on Wednesday night, very poor actually.
Davies was very steady, managing to stay on his feet most of the time. He drives me nuts when a player goes beyond him to dive in, it's last ditch and he often picks a yellow up for his troubles.
His block was exceptional, better than any of Mina's, it stopped a certain goal after the ball came loose from Pickford terrible prod. He'd get roasted in the Derby playing there though, make no mistake.
I hope Seamus heals fast.

Tony Hill
317
Posted 03/10/2020 at 22:30:05
Mike @318, manic is sometimes good. History and reputations mean nothing; courage and inventiveness are what we need against the shite, not the usual terrified and plodding calculations. Also, you overrate Robertson who, like all gobshite bullies, is a coward.
Who would be your choice?

Kieran Kinsella
318
Posted 03/10/2020 at 22:35:26
Liverpool's game is based on the high press. You can't press the invisible man. If we just don't even play a RB they'll be screwed.
Robert Tressell
319
Posted 03/10/2020 at 22:36:40
I'd be fairly comfortable with Godfrey at RB esp if Allan and Doucoure are fit. He has the physical attributes and it's not such a huge leap positionally.
Ian Jones
320
Posted 03/10/2020 at 22:42:24
Lynn @ 312, what you didn't say was that the women's team are also top of their League...
Jeff Hough
321
Posted 03/10/2020 at 22:42:36
Don't worry Mike, 305.
I've been on to the British Medical Council and told them to stop fannying around with Covid-19 and take a look at your fucking trotters instead.
That should sort them out.
Jamie Crowley
322
Posted 03/10/2020 at 22:54:36
We'll need to wait for the injury reports, but I think Seamus will need to have a leg missing to miss the derby. A groin or hammy keeping him out of the derby?
Nah.
He'll play.
Arlen Connor
323
Posted 03/10/2020 at 22:55:25
Calvert-Lewin: 'Championship at best'!
Respect to Don Carlo not Don Kenrick. ;)
Mike Gaynes
324
Posted 03/10/2020 at 22:56:26
Tony, love your philosophical expositions, but Robertson had 12 assists in the league last season and 11 the year before. No, I am not overrating him. He's really good. I'd go with the Digne option and hope Nkounkou can actually play defense at LB. But mostly I'm rooting for Seamus to feel better.
Robert, you've seen him play, I haven't, but to debut in the derby at a brand-new position seems pretty wild to me.
John P, couldn't disagree more on Delph, I thought he played quite well.
Stephen, Connolly's a left-sider, and he's never started a game in the Premier League. A more likely desperation choice would be Pennington, who played about 10 games at right-back in the Championship this summer.
Frank Wade
325
Posted 03/10/2020 at 22:59:39
Mike #305, in addition to Mike G's advice, I'd suggest having a good look at your shoes/runners and make sure they are not worn. Treat yourself. Also, gentle stretching before your walks.
Tony Hill
326
Posted 03/10/2020 at 23:10:26
As I say, Mike @326, history counts for nothing. He's a very good attacking left-back in a fine side, but he's an average defensive one. We need to drive him back.
I'm with you on Digne, on a fine balance, assuming Seamus is out.
Tom Bowers
327
Posted 03/10/2020 at 23:13:14
Klopp is a moaner through and through. His antics annoy me.
We haven't scored much against RS in recent seasons so it would be nice to put one over on them and hopefully Richarlison will be 100% fit.
Their defence is looking more suspect this season so this may be a real good opportunity as long as we have a good referee (not Mike Dean or Atkinson).
Tommy Carter
328
Posted 03/10/2020 at 23:15:44
@ Jay Wood,
I don't profess to be the only fan claiming Janes to be world class. But a lot of blues seem to struggle with the concept. Because, in my opinion, we have had so few. We have had great players and great teams. But not world class players.
I'm sorry but the golden vision, no matter how great he was with Everton. Cannot be considered with his 8 international caps, world class.
During his peak, Eusebio, Lev Yashin, Jimmy Greaves, Di Stefano etc were the greats of the game. I'm afraid Alex didn't come close. He wasn't even a contender for the Player of the year in England.
Rooney. World class potential of course whilst at Everton.
Ray Wilson. A very credible suggestion. Well worth considering.
We are talking with James Rodriguez, truly world class. I am truly gutted that I may never see him in the flesh at Goodison as he may well be the most talented player to pull on our jersey.
Tony Everan
329
Posted 03/10/2020 at 23:30:50
Carlo has said Coleman has suffered a "small injury" and has two weeks to recover so he should be okay. Says the same applies to Richarlison. So fingers crossed they look like they'll both be starting for the derby match.
Ray Smith
330
Posted 03/10/2020 at 23:30:51
Terry Farrell
331
Posted 03/10/2020 at 23:31:18
Frank spot on mate I am in awe of everything James does. after 4 games I finally saw him give the ball away today! the lad is a genius. All his passes are pinpoint the right pace to be received and he is a joy to watch. Best player in a blue shirt for many years and also best manager for many years. all pulling in the same direction and backing each other up. Michael Keane is a perfect example of someone who is enjoying his football and thriving.
John Boswell
332
Posted 03/10/2020 at 23:34:28
I have just watched the Match of the Day highlights for today's 4 games and I couldn't fail to notice that 2 other highly thought of goalkeepers conceeded goals in a similarly disappointing way to our Jordan.
I don't believe in coincidence. Maybe the weather, a constant factor in all matches, had a significant influence?
Just saying!
I am truly looking forward to our next match, COYB.
Fran Mitchell
333
Posted 03/10/2020 at 23:38:09
Late to the party.
We're clearly all lovin what is happening currently at the club. There is so much to say.
What makes me smile is watching the players celebrate. There is no egoism, no aloofness... the players celebrate together, every single goal.
Goal 1: Mina jumps on Calvert-Lewin.
Goal 2: they do their dance routine.
Goal 3: James reaches out to the creator, Iwobi.
Goal 4: James reaches out to the creator, Doucouré.
There is a togetherness, they look like they like each other, that they enjoy it
This is a fantastic moment to be an Evertonian.
Don Alexander
334
Posted 03/10/2020 at 23:43:03
Given that the two Mikes have registered their interest in maintaining good health (#302 and #314), I just wonder what they think of super-glueing a rare erection in case it'd be useful at a later date?
Just asking for a friend.
Talking of alleged pricks, the Beeb's coverage of Nick Pope for Burnley tonight made me think we're better off with Jordan.
Mike Galley
335
Posted 03/10/2020 at 23:43:27
Probably like quite a few blues around the world and in the city I'm indulging tonight!
Over the moon with how it's going and I'm star struck with our number 19, but am I the only one who thinks Doucouré is not getting enough credit?
Don't get me wrong, all the new signings have been great, but this lad has been immense. One occasion last week, he chased down Saha (one of the league's speed merchants) and dispossessed him quite easily.
Having a great start to the season for me!
Bob Parrington
336
Posted 03/10/2020 at 23:48:40
Also late to the party. Good to have the win and we were looking sharp through to being 4-1 up. The one thing that disappointed was that, at 4-1 up, we seemed to go to a 4-5-1 formation as if trying to preserve the lead rather than continuing to attack and get to 5 or 6-1.
Pickford's mistake was unfortunate but the conditions seemed to be pretty awful and I agree with Fran. Fortunately we have learned to score goals as well as letting self-imposed mistakes cost us the game.
Jamie Crowley
337
Posted 03/10/2020 at 23:55:15
Fran Mitchell in my opinion that is such an excellent point.
You can't put a value on team chemistry. It's so important. Our players seem to be getting along very well. The new guys have bedded in quickly, and there's something about this squad.
The players that went through the motions aren't playing, or know their days are numbered. The players who have refocused and are doubling down on their effort are reaping the rewards.
And they all seem to be getting along.
A team. And when you're playing as a team (see Leicester in 2016) you can't put a value on that.
Jamie Crowley
338
Posted 03/10/2020 at 23:57:22
And on that positive note, I'd follow with this.
Theo Walcott can't leave this club soon enough for me. Dude just stood there while that second goal was taken. Couldn't be arsed to put a foot in or close down.
Goodbye Theo. When you leave, hopefully I'll never think of Fat Sam again.
Fran Mitchell
339
Posted 03/10/2020 at 23:57:22
Mike, not wrong. Doucoure is immense, and is performing way above any expectations.
If we go back to the original thread when we're linked with him I think in June/July, I was among many (the majority) who were pretty dismissive. But he is perfect.
So much energy, great defensively, great going forward, good passer the guy is brilliant and just as important a signing as Allan and James.
Shaun Lyon
340
Posted 03/10/2020 at 00:00:22
Fran at 333 I think you nail it. There is an obvious camaraderie and willingness to put bodies on the line for the cause. Mina today, for me, was a revelation. Most of the players we tore hair out over have seemingly turned into different propositions altogether. (Okay keeper notwithstanding).
I thought Davies and Iwobi – to name two – were superb. Unlike many of our fans, I think Delph is a quality footballer and evidently what we need is a squad where we have players of that quality who can step in.
Break now, get everyone fit, and – if the RS maintain their tactics – get Calvert-Lewin sitting on that halfway line and ping a few balls over the top a la Lineker 85 – I swear they are there for the taking.
Mike Doyle
341
Posted 03/10/2020 at 00:03:59
Many thanks to Mike G and others for their suggestions/advice.
My Achilles are feeling better so if Moise Kean makes a Late move back to Italy I'll dig my old Adidas Beckenbauer out of the shed and make myself available to Carlo (I'm not registered with another club - thus technically available as a free agent - albeit a 59-year-old one).
Not as quick as I once was but, on today's evidence at least, keener than Theo.
Fran Mitchell
342
Posted 03/10/2020 at 00:04:15
Jamie, even those that aren't playing.
Look at the Instagram of any of our players: comments by Bolasie, comments by Delph, comments by reserve players, U23 players. all of them just praising their clubmates. All of them saying things like 'played lad' 'quality' 'on fire' and various emojis. The players, those that play and don't, seem to really like each other.
Mina, we see with the goal he scored, he is a popular guy. He is a character, full of life and vibrancy, always smiling, always laughing and dancing. This feel good feeling is just brimming through the club.
Such an unbelievable change.
Carl Manning
343
Posted 04/10/2020 at 00:25:05
James was free! Let that sink in! He looks like a 㿨M player again
David Cash
344
Posted 03/10/2020 at 00:32:52
Steady on Dazza. You are getting perilously close to being happy there mate.
TW will have to put an ad in the jobs section for a new miserable arl bastard, at this rate.
And don't think I haven't noticed your deep suspicions and frost towards Carlo melting either.
Go on... admit it. You're falling a little bit in love with him aren't you ?
Bill Watson
345
Posted 03/10/2020 at 00:33:06
Pickford is a brilliant shot stopper and I've defended him for previous lapses on that basis. However, enough is enough and my heart is in my mouth every time the ball is lofted into the goalmouth. He's become a liability and I'm sure the RS will be targeting him; after all, he was responsible for launching their long unbeaten run with that 96th minute gaffe.
Carlo must have his card marked.
In 62 years of being a Blue, I can honestly say we have only had one player who truly deserved the tag of 'world class' and that was Big Nev. We've had many great players like Young, Vernon, Ball, Wilson, Lineker etc but none that you could genuinely call world class. I thought the young Rooney was, potentially, world class but I don't think that potential was ever really fully fulfilled
The likes of Best, Eusebio, Pele, Maradona, Di Stefano, Puskas and Beckenbauer were world class; Charlton, Moore, Wilson, Greaves etc., although great players were not.
James' ability to see and make a short or long pass and, seemingly, to know, in advance, where the player will be is extraordinary as is his ability to drift into dangerous positions (twice today) without defenders being aware he was there.
He has seamlessly adapted to the Premier League although he lacks that previously thought prerequisite essential of pace. He doesn't need it; he makes the ball do the work.
James is truly World Class.

Steve Barr
346
Posted 04/10/2020 at 00:36:44
Would you put a George Best down as world class, lads?
John Boon
347
Posted 04/10/2020 at 00:40:03
Seamus is always difficult to replace. Even more so this season when he has better players around him. However, Ancelloti sees all the players on a regular basis and surely we have players with sufficient versatility to be able to play right-back when called upon.
Steve Barr
348
Posted 04/10/2020 at 00:40:33
Meant George Best of course and see he is down there. Missed it as still groggy from the euphoria of being a blue at the moment. Magical!
Ernie Baywood
349
Posted 04/10/2020 at 00:42:03
Last night (I'm in Australia) I had run out of a defence for Pickford. I've seen him singularly blamed for team errors, individual errors and for goals with no clear error for so long, that I've always felt the need to 'defend the whipping boy'. Because there's no doubt in my mind that he is a whipping boy on here, along with a few other players.
Then he does that. ffs. Can't defend him.
But watching the City game, then the Burnley game. Howlers from Ederson and Pope (both very highly rated) that cost their teams games.
Ederson's was rash - bad decision, bad execution. Pope's was a lack of technical ability with the ball at his feet when put in a crap position by his defender.
If Pickford made a mistake because he's got short arms, or lacks ability then I'd join the calls for his head. But does anyone think that Pickford does not have technical ability to catch that ball? Then why does he drop it? Could it be that the beating he takes from the media and fans regardless of how Everton concede has finally got to him? A young man suffering a crisis of confidence knowing that every involvement is being overly scrutinised. His reaction and subsequent decisions gave a bit away about what might be his current mindset.
So I'm back to defending him now. Ederson and Pope made terrible errors. Digne gave the ball away for the second goal. Doucoure made a shocking pass that Brighton should have scored from. No-one on here even mentioned it - yet another Pickford error saved by Tom Davies is in every third post. I'm sure every player in our team made a mistake that didn't match with their actual level of ability.
I think he's good enough. And not a priority. But if his confidence is shot then there is still a problem for Carlo to solve. A keeper lacking confidence is like a striker lacking confidence. And we've seen that before.
People are talking about the spirit and camaraderie on here. I would have loved to have seen the Everton defence's interactions with Pickford a bit more. If it was me, I would have been on him constantly - celebrated every goal scored with him.
Andy Crooks
350
Posted 04/10/2020 at 00:46:25
This may well seem curmudgeonly, but why on earth did Mina call his team mates to take part in that utterly fucking vomit inducing goal celebration. Good to see the lads together and all, but, fuck me, that was horrible. Digne looked,all credit to him, slightly embarassed, but God almighty they re grown men, for fucks sake.
Back in the day Clive Thomas would have sent them all off and he would have been right. Duncan needs to have a word with them. Seriously, it has just pissed me right off.
Tony Byrne
351
Posted 04/10/2020 at 00:48:56
Okat, so I'm more than happy to eat tons of humble pie after my pessimism regarding a certain James Rodriguez! I think my negative outlook comes from the past 4 years in the transfer market, I didn't see any way forward after the last few games of last season. Then Carlo Ancelotti made his mark.
I now see a massive step change in the attitude of all squad members, except for Kean & Walcott, hopefully gone by Monday. We now have proper winners at the club who won't seem to be scared of anyone. The feel good factor is now running through the veins of every player, look at Michael Keane, he eptomises exactly what Carlo has instilled into this squad.
I praised Pickford to the hills a few weeks back, he just seems to have a "David James" in him at times. I do fear for the lad, if you can't learn from one of the best coaches in the modern era, or concentrate for 90 minutes, then you will be replaced eventually. This guy in his current form, could cost us a top 4 place, even as early as we are now into the season, today he could have cost us 2 points, better opposition would have been all over Pickford today, shots outside the box, crosses in etc, I couldn't believe Brighton taking short corners!
What a change though guys & gals! I just pray that injuries don't hit us too hard, historically they always have, let's hope we go into the derby with our strongest 11 & give that shower a game. Oh how we miss a baying crowd for this fixture with the start we've had to the season!
Onwards & upwards blue boys.
Andrew Keatley
352
Posted 04/10/2020 at 00:50:59
Colin (270) - I think Alan Ball was technically still a Blackpool player when England won the World Cup; he arrived in August post-tournament.
Mike G (324) - Might be wrong about this but I believe Callum Connolly is more right-footed than left-footed. I think he started playing left-back, both for Everton and England youth sides as Jonjoe had the right-back berths.
Jamie (338) - Totally agree about Walcott for the second goal. Rather than close Bissouma down he actively moved away from him and allowed him an unchallenged shot on goal. Also, there was a moment when he had a chance to run directly at the Brighton defence, half a pitch of open space in front of him, and rather than tear away and put real pressure on them, he carried the ball at medium pace, losing any potential for a one-on-one. If Theo no longer backs himself to win foot races, then I fail to see what he really brings to the squad, as it certainly isn't a high level of technical ability.

Shaun Lyon
353
Posted 04/10/2020 at 00:54:34
Bill, you go too far. Agree that Southall - for me - was best keeper I've ever seen. But you could hardly deny say Lineker or Rooney as a world class player! Look at their stats. Football has - obviously - massively changed. Just hope we all get back to see James at some point in the flesh, to inspire the next generation.
Andrew Keatley
354
Posted 04/10/2020 at 00:54:58
Also, I thought Tom Davies had a decent game. Neat and tidy and made some good challenges. But Brighton got in down our right-hand side twice once Tom was moved to right-back (albeit with a tiring James or a disinterested Walcott in front of him), so I should think that no Coleman for the derby is going to be seriously problematic if Tom is asked to play there.
Derek Knox
355
Posted 04/10/2020 at 00:57:18
Andy @350, I have done a little research into the origins of the celebration dance, silly as it was, and it seems to have emanated, and copied from a Belfast Disco. :-)
Tony Byrne
356
Posted 04/10/2020 at 01:00:32
Andy@350
It was toe curling! but when we are winning
Andy Crooks
357
Posted 04/10/2020 at 01:04:50
You are right, Derek. It was, and to see it copied like that was appalling. It needed to be done properly and it looked as if no work had gone into it. This is what happens when young men get paid too much and focus on scoring goals rather than celebrating them. I guess it's new to them.
Glad you are home, Derek. Talk to you soon.
Phil Lewis
358
Posted 04/10/2020 at 01:10:17
Ancelotti needs to take a leaf out of Klopp's book when it comes down to our goalkeeping situation. Karius messed up once too often and was instant history. Their management immediately spent big bucks, raising eyebrows, but solving the problem. We need to do similar regarding Pickford.
All the good work done so far will amount to nothing, hoping Pickford improves. He won't and we will win nothing while he remains.

Nicholas Ryan
359
Posted 04/10/2020 at 01:26:28
I'm terribly worried about James Rodriguez; Why? - because if he really did cost nothing, I think we're going to have our collective collars felt by the Serious Fraud Office!!
Derek Thomas
360
Posted 04/10/2020 at 01:38:36
Coleman, Keane, Nobody was anywhere near the guy at the back post who had more time than he possibly knew... and rushed his shot into the ground and up.
That's just poor defending and as there is no real decent in house replacement... Andy Rankin, wherefore art thou?... and no obvious buy-in replacement; Pickford is going nowhere.
All Ancelotti has left is to improve the cover in front of Pickford... a decent team in front of an average keeper will get you further than the other way around... until Brands gets his crystal ball tuned in to Goalkeeper FM.
Derek Knox
361
Posted 04/10/2020 at 01:54:36
DT @ 360, sloppy defending is one thing, but no-one could be blamed for the first goal (again) but Pickford himself. I know nobody is infallible but, as the last line of defense, these stupid handling errors seem to be on the increase, and costly too.
Ernie Baywood
362
Posted 04/10/2020 at 02:06:42
Derek, and that's the life of a goalkeeper isn't it?
There were quite a few fuck ups in that goal. It's the keeper's that is the main one. Fair enough, but that doesn't excuse the fact they had players in the 18 years box without a blue shirt near them.
Practically every player on the pitch made mistakes. Some made almighty cock-ups such as the otherwise excellent Doucouré who turned and played Brighton through on goal.
Keepers make mistakes. Every single one of them. It's a horrible position. The more pressure you put them under, the more they'll make.
But has Jordan cost us a single point this year? No. Has he earned us points? Yes, he's made saves in tight games.
I hope Carlo simply says we win and lose as a team – at the moment, it's obviously win. Everyone does good things, and they all make mistakes. Get around the keeper and support him because the last thing we need is a keeper having a crisis of confidence.
Hopefully the international break is good timing for him. Go away and put in some good performances to draw a line under that error.
The alternative is that he's going to be under a lot of scrutiny. If he messes up, or if Southgate decides he can't be risked in his current frame of mind, then we have a huge decision to make for the derby.
The issue isn't whether Pickford has the ability to catch a simple ball bounced up into his hands. He does.
Lester Yip
363
Posted 04/10/2020 at 02:09:19
Fran @ 333
Well said. It shows the players are enjoying their soccer and enjoying playing with each other. Doucoure, such an unselfish player who could have tried shooting but put his trusts to James. And James in turn recognised that and gave credit to him.
I think Davies had a very good game. Very tidy passing the ball around. Make critical tackles. With better players around him, he instantly played better.
Iwobi is just woeful in 1st half. His running without ball looks "heavy" when comparing with Richarlison, who is a class above with his overall game. Drawing fouls, keeping possession, goal threat and pressing effort... Hope nothing serious.
Very happy with the team performance. Pickford's mistake is awful. But I think we have to stick with him for this season at least. So hope he can get this out of his mind and move on. Look forward to the derby.
COYB
Kieran Kinsella
364
Posted 04/10/2020 at 02:33:22
Nicholas Ryan,
I'm worried about James too. The window doesn't close for two days. A Manchester club may try and swoop in...
Kieran Kinsella
365
Posted 04/10/2020 at 02:36:09
Andy Crooks,
Curmudgeonly indeed you old grump! That said I was worried they'd get carded for time-wasting.
Ernie Baywood
366
Posted 04/10/2020 at 02:47:46
Just saw the bookies now have us 4th favourite to win the league.
Ed Prytherch
367
Posted 04/10/2020 at 03:17:03
Some one here say that Pickford is short of confidence but Tim Howard said the opposite today - that Pickford takes chances when he should play it safe, that "he fancies himself". Ederson fucks up maybe twice a season but Jordan makes a major fuck up every three or four games.
As for Walcott, he did not make a single challenge or go for a 50/50 ball today. He is riding the gravy train.
I thought that everyone else had a least a good game today and two or three were brilliant. There is a synergy going on in the team, genius begets genius.
Kieran Kinsella
368
Posted 04/10/2020 at 03:26:42
Noticed on Ancestry.com my great great great great Grandma was alive last time we started with 7 straight wins. That time we went one better beating the RS in the 8th
Derek Thomas
369
Posted 04/10/2020 at 03:29:28
Earnie@ 362..."They all make mistakes. Get around the keeper and support him because the last thing we need is a keeper having a crisis of confidence." And I'll add... especially if we have no ready replacement.
The fatal ball wasn't fast or spinning - it just needed catching, are those big gloves with the big fingers a bit stiff and inflexible? Did they deaden the 'feel'
The main job... forget the keeper for a minute... defenders have to cut down the chances the opposition get and thus the number of times Pickford has to make a save... or mess it up.
Santa Krsh
370
Posted 04/10/2020 at 03:47:54
Great win, yet again... nothing new to write home about!!!
One worry for me was, just before Pickford's error, how come Trossard got so much space and time at the far post to position himself and shoot? Why was nobody even near him and marking, since James was nearer to the Digne? So it should have been either of Iwobi, Doucouré or Coleman at least near to him. Imagine if it was Mane, it would be in the top corner.
The second point is, after watching Leeds, Liverpool, Man City this season at full throttle for the whole of 90 plus minutes, we seem to take our foot off the pedal after around 60-odd minutes. Fortunately, neither Brighton nor West Ham nor Palace punished us. But are we fully fit enough to last end to end for 90-plus minutes..
Tight marking and intensity is going to determine the derby outcome... oh, I forgot a certain James!!!!COYB
Mike Gaynes
371
Posted 04/10/2020 at 03:52:11
Mike #341, I still wear Beckenbauers too, and I'm 64. They should advertise it as the "old guys" football shoes.
Mike Gaynes
372
Posted 04/10/2020 at 03:55:00
Andy #350, that was the Macarena. Nauseating indeed. And if Mina's teammates were so eager to join him in it, that's a clear endorsement of Fran's important points about team chemistry. This bunch is together!
Ernie Baywood
373
Posted 04/10/2020 at 03:56:03
Santa, that side of our defence was like that repeatedly throughout the game. Coleman was being pulled in to cover inside and they were finding a lot of space in that pocket.
I don't know if it was James not tracking, or if we'd even want him to spend his game at right wing back - my instinct says you just live with it because you know that their overload becomes a defensive problem for them.
Unfortunately it led to a very soft goal on that occasion. But that's alright, we scored 4 and won easily!
Mike Gaynes
374
Posted 04/10/2020 at 03:59:37
Ernie, I think that's where we missed Allan. In previous games when James was freelancing and Seamus rampaged forward, Allan slid over into that area. Doucouré sometimes as well. But you're right, there are so many benefits to that right-side attack that the open space is just something we'll have to live with.
Jamie Crowley
375
Posted 04/10/2020 at 04:08:07
Andy Crooks you grumpy fuck you! [Joking!]
That dance was hilarious. It all goes back to what Fran was saying at 333.
I haven't seen this level of camaraderie since BBS and the boys made that Christmas video with like the entire staff at Everton.
https://www.youtube.com/watch?v=cNPj8Xm1fSA
I hope to see that shite Columbian dance many more times! It means we're winning.
Note to Eds - the URL button doesn't seem to be working.
Danny Broderick
376
Posted 04/10/2020 at 04:19:33
Derek,
Pickford was at fault for the first goal all day long. The opposition will always get a chance at some point, regardless of how good your defenders are. It was a basic catch which he messed up. No need to say anything about our defenders. An amateur goalkeeper would have caught that ball.
Robert Tressell
377
Posted 04/10/2020 at 04:26:46
Brighton are a well drilled side and Potter is a good tactician. He used the fluid 3 up top to find those pockets of space described by others. I agree with Mike that we don't plug the space by asking for more defensive diligence from Rodriguez.
That's like when Moyes (I think) used to pull everyone back for corners. It just hands over the initiative and invites pressure. Leaving him higher up the pitch means the opposition cannot commit men forward because they'd be vulnerable to his brilliance on the transition. It's what big, winning clubs do.
Jay Harris
378
Posted 04/10/2020 at 04:42:59
Carlo said it would be an open game and that we needed to have the extra zip.
He was right on both counts.
Steve Brown
379
Posted 04/10/2020 at 05:02:01
Derek, I would understand if Pickford was under pressure gathering the high ball that resulted in the first goal. He wasn't challenged, there was no pace on the header and it was another example of failure to do the basics properly due to his poor concentration or nerves.
If we are serious about being a top team, we can't afford a keeper whose unforced errors have resulted in 15 goals - and counting as there are bound to be more this season. He will remain as number one this season, but his coat is on a shaky hook unless he pulls himself together.
Ernie Baywood
380
Posted 04/10/2020 at 05:48:43
Steve, I don't think anyone is arguing that it was a difficult catch to make. That's the nature of a massive blunder - something you can do 99 times out of 100 but inexplicably screw up.
I do take issue with your 15 goals from unforced errors though.
The Liverpool one was badly dealt with, but more in the freak occurrence category. You might not see an attempted shot do that again in your lifetime.
Where are all these other goals from unforced errors? That implies he's gifting, without any pressure, 5 goals a season? There's no chance that's true.
Does it include things like the Fleetwood goal? Where Keane plays it back to him right in the middle of the goal, on his weaker foot, with two strikers chasing him down? ie the three things you're not supposed to do when playing it back. If that's not pressure, then who wants actual pressure?
Yesterday was a calamity, but most of the time it's a team putting each other under pressure because it's the style we want to play. Be brave in possession. We have defenders and midfielders (and sometimes the goalkeeper) occasionally giving the ball up in bad positions, but it's strategic and beats losing the ball 90% of the time by simply 'playing safe' and clearing our lines.
I even see him being questioned for the second goal. The guy hasn't got a chance has he?
Steve Brown
381
Posted 04/10/2020 at 06:21:01
Hi Ernie, 14 errors leading to a goal as reported by premier league's own website. They haven't included yesterday's massive clanger yet.
https://www.premierleague.com/players/4640/Jordan-Pickford/stats

Steve Brown
382
Posted 04/10/2020 at 06:21:59
Sorry the URL link not working.

Jerome Shields
383
Posted 04/10/2020 at 07:07:49
Part of the reason for the final quarter Brighton pressure was a lack of back-tracking from midfield, the midfield not being available for a pass in that final quarter. This is a perennial problem when Sigurdsson and Walcott are in midfield. When they seem to think the job is done or had given up.
In the West Ham game, Sigurdsson came on, getting control of the midfield. I don't think he tried as hard over the same period in this game. Delph offered little going forward. Doucoure had to push foward in support of James when he was still on.
I agree that Allan is more effective and was missed. Brighton were effective in pushing Sigurdsson and Delph deep throughout the game.
By the way, I was overjoyed with the win, I just want the run to continue.
Derek Knox
384
Posted 04/10/2020 at 07:08:54
Kieran @368,
We've all heard of the old cliche, 'history repeating itself' ... I just hope and pray that is the case in our 8th game. Who is it against again? :-)
Darren Hind
385
Posted 04/10/2020 at 07:13:59
Casho,
Simple answer to your final question: No.
I don't regret or take back single criticism I levelled at Ancelotti last season. I never bought the bollocks that better displays were not possible with the players he had at his disposal. The performances of players like Coleman, Mina, Keane, Dine, Calvert-Lewin, Davies, Sigurdsson have all put that foolish argument to bed.
This season, Carlo is doing his job. He is getting the best out of his players. All of them. His three additions have helped too. They have all hit the ground running and are a clear upgrade. All that has helped, but it doesn't even begin to explain the depths to which we plunged last season. No apologies from me.
Carlo looks and sounds different to me this time around. He looks like he genuinely wants to be here. The collective effort from just about every employee at the club is there for all to see. The new players are saying fantastic things about our club.
There is a palpable feelgood factor around the club and, having criticised the manager for poor displays, I am very happy to give him a congratulatory pat on the back for the wonderful turnaround.
Carlo has been around the block enough to know how to quell criticism. He also knows how shallow the fanboy sycophancy you have demonstrated can be. Nothing said on these pages will influence him.
I was angry with him last season. I'm delighted with him so far this season. I know you find that contradictory, but to me, it's perfectly logical.
BTW; I'm hearing disturbing things about you, going back to the states. Perhaps if you read your emails instead of posting shite on here, you could fill me in.
Danny O'Neill
386
Posted 04/10/2020 at 07:18:36
Well, too many posts to dissect them all, so my very quick take.
Rodriguez was both conductor and executor, we really have signed top drawer. I thought Davies looked better with Doucoure (who was immense) alongside and credit to the lad for putting a shift in at right-back when the team needed. But, I want to put a massive shout out to Mina. Whilst James rightfully takes the plaudit, I thought he commanded defence and got better as the game went on; some great blocks through anticipating play at the end.
You can tell the difference when we lose players (Allan, Gomes and then Richarlison), but the squad is showing it can do a job. The only negatives for me were Walcott and the obvious, but we won 4 - 2 and have 12 points from 12, so no point going over old ground for me!!
Ernie Baywood
387
Posted 04/10/2020 at 07:47:39
Steve 381 - that's errors across his full PL career. And it's errors leading to a goal rather than unforced errors resulting in goals. You'd also have to see what those errors were. Keepers take that stat but it can certainly be a collective cock up.
Don't get me wrong, I can think of some examples. Benteke and Stanislas shots that squirmed under him. Origi. Now Maupay. None were good.
The ones in possession I'm not so concerned about. We're asking him to take that chance and he's far from alone in making errors in that high risk approach, either in our team or elsewhere. If we want to play that style then I don't think we could do much better than Pickford in terms of his ability with his feet.
He's got to iron out some deficiencies but I think we've also got to be accepting that players make mistakes. All of them. Right through our team including our favorites and certainly not limited to the whipping boys who people on here could pre-compose their Matchday reviews about for all the accuracy that's in them. Right around the league there are keepers dropping clangers.
It becomes a bit self perpetuating. The more criticism he gets, the less likely he is to perform.
My opinion is that he's pretty clearly the best keeper at the club. So knock any thought of dropping him on the head.
Maybe we can find better, but that's true of every position. At this moment time I suspect what he needs more than anything is not longer arms, or technical training, or a kick up the arse, is to be encouraged.
If we line up against Liverpool with either no Pickford, or a Pickford that is scared of making mistakes, then I suspect we're in big trouble. He's been a big part of us winning 7 straight... arguably he was the key to winning the toughest assignment within that 7 game period.
We know the media love knocking Everton. And we know they love attacking young England players. Why play into it?
Tony Everan
388
Posted 04/10/2020 at 07:51:28
Jerome 383,
I think we still have an imbalance in midfield. We could do with another ball-winning enforcer to back up Allan, or to come on as sub to help shut games down. We have a plethora attack-minded non-tackling midfielders who are comfortable in an attacking phase of a match. When it comes to digging in I think we are a bit lightweight, especially when our lynchpin Allan is unavailable.
I am not criticising any of the players at all who have stepped in, by and large they have all done well. The squad would be more stronger and resilient with one piece of rebalancing business either that, or who knows, Ben Godfrey or Mason Holgate could be used to very good effect there?
Then we have got two days to sort out this Moise Kean back to Italy saga. Then get a quality replacement in at the same time. Marcel Brands won't be getting much sleep.
Like you I just want us to stay in the top four places all season and it will be interesting to see the developments in the next two days.
Santa Krsh
389
Posted 04/10/2020 at 07:57:52
Ernie we wont possibly score 4 against the Shites or Manure or Oilski...we need to prepare better. Don Carlo would have certainly noticed that and would we better equipped next time around so that Mane (if recovered) does not profit from one of those!!!
Danny O'Neill
390
Posted 04/10/2020 at 08:00:37
Okay, I didn't want to go there, however I'm sat patiently waiting for the Match of the Day re-run!
I'm more with Ernie on the Pickford debate. Firstly from an Everton perspective; can we get better? Over time and providing we establish ourselves then yes, but despite the mistakes, I feel he is good enough for what we want to achieve this season to make GK not a priority. To repeat myself, Liverpool left GK as the last piece of the jigsaw. I think we'll just have to get used to being a team that will score lots of goals, win more than we lose but concede a few along the way. Man City to my recollection (and without researching) were hardly renowned for their clean sheets despite the recent success.
And I agree, the baying English media have a track record of ruining English keepers. I have watched them slaughter the promising David James and the potential in Joe Hart amongst others. Would they have become top, top drawer? Maybe not, but arguably the media hysteria contributed to them never fully reaching their potential as their brand was well and truly ruined. We seem to have overlooked that keeper is probably the position on the pitch where you don't peak (even to this day) until you are into your early 30s.
That's my view.
Jerome Shields
391
Posted 04/10/2020 at 08:09:23
Tony #368,
Good point. That could be the reason why the midfield can be overrun at times. It's a legacy of Koeman's and Silva's half-baked thinking that all midfielders are an extention of the attack and to hell with final-third play, with one player cover for defence. Walcott is just poor with his Salford performances, though tactically shrewd.
Jerome Shields
392
Posted 04/10/2020 at 08:13:06
Tony #368,
Finally coming round to that thinking on Moise Kean myself.
Ancelotti has said it will be a surprising Monday for us.
Danny O'Neill
393
Posted 04/10/2020 at 08:14:27
Carlo's post match comments on Rodriguez adapting; quality!
Yes, he's settling well (said with a bemused look at such a stupid question!). Players with quality don't have problems to adapt. Football not complicated. The pitch is the same, opponents still 11, the pitch is the same, the ball is the same. Football is simple, not complicated.
A simple response, so full of simple truths!! We do often over-analyse the beautiful game these days.
Tony Everan
394
Posted 04/10/2020 at 08:31:21
Mike 372
I enjoyed the Macarena, I think I may join in at home next time!
It is true what you say about togetherness, however that comes easier when we're top and winning. I will want to see the camaraderie unity when things are going against us.
Courage and togetherness in adversity is a quality we will need for a top 4 finish.
Kase Chow
395
Posted 04/10/2020 at 08:35:36
Fantastic win. Can't believe this is my Everton!
Don't want the bubble to pop.
Ernie Baywood
396
Posted 04/10/2020 at 09:01:54
Having reflected on some of my posts... In the context of a 'debate' I'm probably not too happy with some of my jabs at individuals or TW posters in general.
Obviously I've got a strong belief that if a guy has the ability (and I believe Jordan does) then it's just a matter of giving him the best opportunity to show it and be accepting of mistakes - obviously to a point. I don't think we solve this problem by changing keeper and I certainly don't think we solve it by a public display of anything but absolute support.
And I'll leave it there.
UTFT!
Stan Schofield
397
Posted 04/10/2020 at 09:02:18
Ernie @349: Good post, the focus on good man-management when a player is under fire for mistakes. While Pickford is here, that man-management is vital. If ultimately Don Carlo replaces him, so be it, but until then he needs supporting. It's simple common-sense.
Jason Li
398
Posted 04/10/2020 at 09:02:45
If Davies does play right back against our neighbours, or Seamus just defensive only, I'd like to see Godfrey play alongside Allan as screens, with Doucoure pushed up against their defensive holding midfielder to rush that part of their distribution when they have the ball and help James out when we have the ball by taking any player near James with his runs between the lines and occupying Robinson and Mane.
Trevor Peers
399
Posted 04/10/2020 at 09:05:18
Tony#388.
No pleasing some people when it comes to our midfield which I think is in the best shape since the 1980s. Some people it seems prefer more ball winning enforcers which would sacrifice the attacking options provided by Sigurdsson and Gomes, that would be a huge step backwards. Remember the agony we endured with Schniederlin in the team and be grateful Carlo knows what he's doing. We have Dacoure and Allan to do the ball winning.
Jerome Shields
400
Posted 04/10/2020 at 09:09:21
Trevor #368
Tony is talking about the ability to close down games.
Joe McMahon
401
Posted 04/10/2020 at 09:12:24
I remember not long ago before Carlo had his first Transfer window, some were questioning his appointment saying we would have been better off giving Ferguson or even Unsworth a proper shot.
Well Carlo is now giving Everton more global coverage with his signings and Ferguson is learning off one of the all time best, like Arteta did with Pep. It's all going to plan.
Danny Baily
402
Posted 04/10/2020 at 09:16:43
Danny 390, the media aren't ruining Pickford. He was never any good to begin with!
Steve Brown
403
Posted 04/10/2020 at 09:21:48
Ernie @ 387, yes correct. 15 errors in Pickford's Premier League career that have led to goals. Unfortunately for us, 11 of them have been since he signed for us. Since the start of the 2018-19 season, he has committed 9 errors that resulted in a goal, higher than any other Premier League keeper.
Klopp was loyal to Mignolet and Karius respectively, until their errors forced him to reconsider and invest in Allison. Pickford is going in the same direction
Danny O'Neill
404
Posted 04/10/2020 at 09:29:53
Agree with your last paragraph Steve Brown (403). The question will be how much of a here and now priority Carlo views it. Guess we'll know by Monday.
Alan Johnson
405
Posted 04/10/2020 at 09:56:26
Ronnie O'Sullivan says "he's always thinking about the next shot". Maybe, this is Pickfords problem. He's focussing on his next move before he has the ball.
Dan Nulty
406
Posted 04/10/2020 at 10:07:49
Alan, I think you have hit the nail on the head with Pickford. As much as it is an asset int erms of how quickly and how accurately he can launch a counter attack. I think he is looking to do that before completing the save.
I have to disagree with Ernie, yes, some of his errors directly leading to goals (1 every 4/5 games) are due to being out under pressure by his team mates (Keane example vs Fleetwood) however, a world class keeper upon being out under that pressure, hearing no shout or communication whatsoever, has to just get rid of the ball. It is all about communication and lack of that informs decision making.
He produces world class saves at times that save us points, not arguing that, but if you want to win a league title (we should be aiming for that), you have to win and draw with the top teams around you. I cannot imagine under pressure in last 10 minutes of these games when you need the keeper to instill confidence that the defenders and manager look at him with that. Can you imagine if our run and performances continue how nervous we will be every time a ball is lumped into the box in the last few minutes of every game. I never had that same level of nervousness with Nev or Martyn in goal.
Brighton need to have a complete rethink about how they approached the game yesterday, I can't believe they weren't getting the ball in the box at every opportunity.
I think he is capable of being world class, I'm just not sure if mentally he is strong enough to be able to concentrate for 90 plus minutes. He seems to be flapping a lot at the moment under little pressure given the goals we are scoring.
Peter Mills
407
Posted 04/10/2020 at 10:16:14
Ernie#387 (Regarding Pickford) - "So knock any thought of dropping him on the head".
That hadn't actually occurred to me but, now that you raise the idea, a blow to the temple might do him the world of good.
Ajay Gopal
408
Posted 04/10/2020 at 10:29:40
On the pre-match thread, someone had posted a video of James' brilliant passes throughout his career, and I noticed one goal where he crossed for Mina to head in - that was for their national team of course, maybe at the last World Cup. And I commented that it would be great to see them doing it wearing Everton colours soon. I didn't know if would come so soon! That was a fantastic delivery by James and a monstrous leap by Mina, almost impossible to defend. I am just thinking that opponents must be terrified of our aerial threat at set plays - DCL, Richarlison, Keane, Mina - all excellent headers of the football. Plus we have Siggy, Digne, James, Gomes to fire those balls in. Exciting times, I hope this is not a dream :-)
Derek Knox
409
Posted 04/10/2020 at 10:34:32
Alan @405, the problem is he's not playing Snooker, it's Football. Perhaps he should get to the back of the Cue! :-)
Andrew Clare
410
Posted 04/10/2020 at 11:12:35
When Napoli signed Maradona he had a massive effect on the club and its fans. I think James is going to do the same for us.
A truly world class player that would walk into any team is now our main man- fantastic!
We now look dangerous every time we launch an attack and I think at full strength we can be a match for anyone.
Yerry Mina was immense yesterday and Doucoure too looked superb.
Just one question. Are good goalkeepers a rare thing in modern football?
Neil Copeland
411
Posted 04/10/2020 at 11:19:46
Derek #409, sounds like he needs a long rest
Derek Knox
412
Posted 04/10/2020 at 11:28:08
Neil @411, how are you mate? Needs a long rest?
I believe that he is afraid of spiders! :-)
Dave Williams
413
Posted 04/10/2020 at 11:31:54
Poor old Jordan.It looked horrible but the problem was that the ball looped up and he was flat footed and it was too high to be caught or even punched effectively. Very similar to Origis goal at Anfield with a trajectory very difficult to deal with. It was too high and there was no oncoming pace so how was he to deal with it? I'm not a fan of his but whilst this one goes down as an error I don't think it was the disaster some are making out.
That said he was shaky all game and were it not for Mina and Tom he'd have conceded four.
Michael Coffey
414
Posted 04/10/2020 at 11:37:08
Just had a text from a friend in Milan saying Moise kean has gone to PSG
Robert Tressell
415
Posted 04/10/2020 at 11:41:29
Shame if that's true Michael. Talk of us getting the veteran Spaniard Llorente as cover. I'd rather have Kean.
Gerry Clarke
416
Posted 04/10/2020 at 11:53:17
Assuming we don't sign another keeper by Monday evening, surely we must give Lössl a try. He can't be any worse than Pickford has been lately.

Anthony Murphy
417
Posted 04/10/2020 at 11:58:59
Thing with Kean is he clearly doesn't want to be at Everton - been obvious for me for ages. All things considered, some of the worst performances ever for me in a blue shirt so really not arsed if he goes
James Marshall
418
Posted 04/10/2020 at 12:03:16
Kean is defo joining PSG on loan for a year - it's all over t'internet now.
Does that mean we'll get a striker in as backup?
Tony Heron
419
Posted 04/10/2020 at 12:08:26
I truly admire those who are trying to defend Pickford, your loyalty is admirable. However, when mention is made if the errors made which have led to goals you forget those, and their are quite a few, that he got away with. There were 2 yesterday. One where he flapped at a low cross in the 6 yard box that Tom Davies miraculously cleared and another late on where is attempted punch sent the ball downwards into the ground and was eventually scrambled away. I've said it before and I'll say it again, why does he rarely try to catch the ball nearly always favouring a punch or palm/slap? As for the "trajectory being very difficult ", give me strength! This is a professional footballer, an International, training mist days if the week, being paid a kings ransom. You would expect the fat goalie playing for The Dog and Duck on the park to deal with that.
Jamie Evans
420
Posted 04/10/2020 at 12:11:01
Andrew 410, Iv though about the similarities between Maradona at Napoli and James at Everton. Long way to go but it would be great if it happened
Ernie Baywood
421
Posted 04/10/2020 at 12:11:22
I said after the Sheff Utd home game last season that Kean wouldn't be with us in one year's time. Looks like he made it a couple of weeks longer than a year.
I still don't see the potential in him but if a club like PSG does then great. Presumably he'll be worth some coin if he can have a good year with them. It doesn't seem likely that he actually comes back.
We would have to be in the market for a striker wouldn't we? Clock is ticking...
Eugene McLoughlin
422
Posted 04/10/2020 at 12:14:50
Go on the Hammers!!!!
Tom Bowers
423
Posted 04/10/2020 at 12:15:30
So Pope is the answer to replace Pickford ? Don't think so after his howler against the Barcodes yesterday. What about the RS keeper in the Champions league?? There are so very few goalkeepers in history who haven't committed errors or gone through a bad patch.
Who can you really rely on for certainty.
Yes Pickford should be dropped but for whom ?
David Pearl
424
Posted 04/10/2020 at 12:18:55
I'd rather have Sandro than Kean. He's a spoilt little brat on 50 grand a week that doesnt give a shit and thinks he's better than he is. He should take a look over at DCL. He has had 1 good game for us. No more. He has never come on as a sub and done anything, other than maybe his first appearance when he had two near misses. If we can get our money back guaranteed then take the deal but if the fee is optional he shouldn't be going because he will hardly play. He needs a kick up the arse.
And on Pickford, that ball was not too high he made yet another mistake. He kicked Mina in the chest with erratic pathetic play and could easily of injured him. He also punched or parried the ball, on numerous occasions, right back into the middle of the goal. He needs a kick up the arse and a psycologist... who l hope, would kick him up the arse.
We wont stay in the top 4 with a keeper causing such panic. If Lossl is never even going to be given a chance we need another keeper. Anyone happy with having Pickford in goal for the derby?
Dan Nulty
425
Posted 04/10/2020 at 12:19:40
I think Kean going must mean we will be getting another striker in. I'd have thought we'd have seen a young striker on the bench yesterday if there was one Carlo fancies. Seen plenty of talk about Milik.
James Marshall
426
Posted 04/10/2020 at 12:20:39
I very much doubt we'll replace Pickford - the deadline is tomorrow for a start, so unless something has been ongoing for a while, nothing will happen. My personal view is that he'll be fine anyway - plenty of keepers go through spells of mistakes - even long spells over a year or so, and they can/do recover.
None of us can defend his mistakes - he clearly is making plenty, but replacing him won't be easy (Romero?) so I'm continuing to back him, since it seems likely he'll be our goalkeeper for the foreseeable future. Didn't de Gea have a year of mistakes recently? He seems to have recovered, so why not Pickford?
John Pierce
427
Posted 04/10/2020 at 12:37:58
Mike G. Re Delph, he consistently gave the ball away. In particular a beaut from right back area into the edge of penalty area which I think yer mate Yerry had to help out to stop a shot!
Up the the line or out of play 4-1 up with only minutes left. He's a brainless player, who is rash. He was terrible yesterday, easy to gloss over when we win but for someone with apparently longevity he plays like a naive pup. He trotted around, passed it back, sideways and barely if, at all progressed the ball, didn't win a tackle of note, one interception.

Tell me what he did do well?
Danny O'Neill
428
Posted 04/10/2020 at 12:40:10
Back on the keeper discussion. It doesn't bode well for England. Pickford aside I see Pope had a howler yesterday. Got away with a blooper he came out of the box for and totally let it bounce over him. Arguably could have done more for Newcastle's first and then gives away a penalty after trying to recover a terrible touch from a straight forward and harmless looking backpack.
Ian Horan
429
Posted 04/10/2020 at 12:57:03
Bad day for a lot of keepers yesterday even Ederson dropped the ball to allow Leeds to equalise against City.
Just maybe the conditions contributed to Pickfords, Pope and Edersons errors
James Marshall
430
Posted 04/10/2020 at 12:59:04
I've wondered about the conditions too - keepers stand around a lot, and in a near-silent stadium, is this affecting concentration? Pickford isn't alone making mistakes as Ian alludes to above.
I was a keeper myself, and used to smoke fags leaning against the goalpost during games. My concentration was also affected by drinking heavily the night before though.
Kevin Lovelady
431
Posted 04/10/2020 at 13:07:18
Curious - Can someone who saw the whole game yesterday confirm if the teams took the knee as it was the only game on MOTD that didn't show it?
Tony Everan
432
Posted 04/10/2020 at 13:09:00
Yes Kevin, they did 'take the knee' before the start.
Kim Vivian
433
Posted 04/10/2020 at 13:14:41
Kevin - I think I noticed it onMOTD this morning although I'm afraid to say I find it a bit tired now albeit a noble sentiment. Bit like the black arm bands at what seems like every other game, and the clapping the nhs malarkey. It becomes a stale and less powerful image imo.
Daniel A Johnson
434
Posted 04/10/2020 at 13:23:34
To be fair the weather yesterday was every keepers nightmare so not unusual to see some handling errors being made.
Not making excuses though, Pickfords howler was a pressure free gaff 100% of his own making.
The lad needs to calm down and just slow down a bit, he seems to want to rush everything. As soon as he get the ball its like a hot potato he wants to launch it asap 95% of the time straight to the opposition.
Someone on the live forum said he was like The Tasmanian Devil from the cartoons. The description is 100% correct.
John Pierce
435
Posted 04/10/2020 at 13:23:46
Conditions were not the reason for Pickford's error. The ball had a lot of top spin and should have either been punched or tipped over, the shot had enough momentum.
It was a poor error of judgement.
Watching Pickford, he's rarely super clean taking high shots from distance or crosses, frequently he catches them momentarily then pats the ball down. I've always found it an oddity, it's not a taught technique, seems more a self-learned skill. I look at it thinking surely attacking players observing this would try and exploit it?
I sometimes think his desperation to get things moving again manifests itself here. It often appears that the thought in his head is 'I must get us on the counter' rather than taking the ball cleanly. My impression is he thinks he's more an outfielder rather than a goalie!
He appears incapable of going significant periods and staying focused, it's feels he must be in the game. At Sunderland he was as I guess as he was overworked. He's now in a team were most games he should be a spectator. It's a mindset I'm not sure he has.
The keeper we need doesn't need to be the 'best' but should blend well with our play. A keeper who has good concentration and is happy to sweep as increasing we look to play a higher line fits the bill for me.
I really hope a viable back up appears by deadline day.
Will Mabon
436
Posted 04/10/2020 at 13:23:53
Kim, agreed. Sports arenas for sport, political arena for politics.
Alex Gray
437
Posted 04/10/2020 at 13:26:47
Just saw on sky that kean is off to psg on a loan to buy. We surely must be getting another striker or must be promoting simms. Ancelotti made an interesting comment saying we should have a few more incomings which suggests after the cb signing we're still not done. Wonder how we're getting around ffp?
John Pierce
438
Posted 04/10/2020 at 13:28:06
Millik is deffo being touted as a possiblle incoming.
Danny O'Neill
439
Posted 04/10/2020 at 13:29:04
Kim, thats why things like that become annual events and more symbolic on a significant anniversary. For example, Rembrance Sunday and the added significance of this year with the 75th anniversaries of VE & VJ Day.
Absolutely right. You dilute the meaning if you do it all the time.
Will Mabon
440
Posted 04/10/2020 at 13:31:17
"The ball had a lot of top spin and should have either been punched or tipped over, the shot had enough momentum".

Exactly right, and he should've recognized it. Keepers trying to be too "Efficient" with possession. Safety first on the goal line.
Rob Halligan
441
Posted 04/10/2020 at 13:34:07
James # 430. I bet you also had a hamburger before you played, from the hamburger van!! On a Sunday morning you would see many playing fields with these hamburger vans, selling hamburgers and hot dogs as well as weak as piss tea and coffee. Great days!!
Gerry Clarke
442
Posted 04/10/2020 at 13:40:56
Not sure about Milik, I'm told by a Polish friend he's not the player he was since he came back from a second cruciate operation. Since he returned in Jan 2018 he has only 2 goals in 15 app for Poland. He appears to have 34 goals in 82 app for Napoli in that period which is not overly impressive.
Brent Stephens
443
Posted 04/10/2020 at 13:41:44
Crazy. WHU three up v Leicester.
John Pierce
444
Posted 04/10/2020 at 13:44:32
Leicester as potent as that 'weak as piss tea' Tony was aptly describing.
That Bowen is smart, calm finisher. Very tidy player.
Will Mabon
445
Posted 04/10/2020 at 13:44:44
Brent, I've watched most of it, they're playing really well, and Leicester basically asleep. Moyes Magic.
Eugene McLoughlin
446
Posted 04/10/2020 at 13:44:56
Just need Villa to come up with a similar surprising result, a draw would be a very big surprise
John Pierce
447
Posted 04/10/2020 at 13:45:14
Sorry credit Rob not Tony.
Ernie Baywood
448
Posted 04/10/2020 at 13:45:45
That tricky 4th win on the run... it's a real test of a side. Not everyone can do it.
Brian Hennessy
449
Posted 04/10/2020 at 13:47:06
From the BBC website
"West Ham have absolutely torn Premier League leaders Leicester to shreds today."
Someone needs to remind the BBC who exactly are the Premier League leaders since 5pm yesterday.
Brent Stephens
450
Posted 04/10/2020 at 13:48:04
Will, WHU surprisingly good today. I wonder if we could beat them?!
I heard the commentator say that Vardy had had fewer touches than both keepers!
Brent Stephens
451
Posted 04/10/2020 at 13:51:15
Beautiful Leicester consolation goal. The inter-passing reminds me of Carlo's Everton!
Brent Stephens
452
Posted 04/10/2020 at 13:51:38
Goal disallowed!
Bill Gall
453
Posted 04/10/2020 at 13:52:36
No goal for Leicester offside
Eugene McLoughlin
454
Posted 04/10/2020 at 13:52:40
A shame, but under the letter of the law OFFSIDE
Rob Halligan
455
Posted 04/10/2020 at 13:52:46
Blues still top!! Come on villa!!
Eugene McLoughlin
456
Posted 04/10/2020 at 13:53:06
Fucks up there GD as well!! HAHAHA
Will Mabon
457
Posted 04/10/2020 at 13:53:52
They learned from us the other day, Brent, we schooled them...
Brent Stephens
458
Posted 04/10/2020 at 13:56:42
Are we the only unbeaten Prem side along with Villa and the other lot?
Will Mabon
459
Posted 04/10/2020 at 14:00:31
Yep, only three with 100% records, and this will reduce after Villa v RS later.
John Pierce
460
Posted 04/10/2020 at 14:01:02
Lads, I'm sure we'll go into the Derby with a three point cushion. No dramas!
Charles Brewer
461
Posted 04/10/2020 at 14:04:48
A nice 5-0 for Villa today would be pleasant, but 0-0 with a few injuries would do instead.
John Atkins
462
Posted 04/10/2020 at 14:05:57
Still top and maybe also shows how impressive our demolition of West Ham was this week too
Rob Halligan
463
Posted 04/10/2020 at 14:08:10
Brent, we're the only team in the entire country with a 100% record!!
Rob Halligan
464
Posted 04/10/2020 at 14:09:16
Why won't the edit button work? I meant the only team with 100% record in all competitions.
Jerome Shields
465
Posted 04/10/2020 at 14:10:10
John#438
To catch a ball the correct technique is to have the thumbs out and the fingers and palm of the hand on the sides of the ball. That is how young players are taught in Gaelic Football and Australian Rules football by a proper coach.
You can test this out with a child by throws a ball high for them to catch. More times than enough the ball will hit them on the head as it passes through their hands. If you show them to put their thumbs out, they will be able to catch and control the ball.
What you describe as Pickfords technique is trying to catch it with the palms and figures without the use of the thumbs. The result is either that the ball is dropped down once a catch is attempted or the ball passes through the hands looking that it is missed. You need the use of the thumbs to control the ball.
That's why Pickford could not control the ball in the incident that lead to the goal and it bounced forward in front of him. It is also the reason why he has a preference for deflecting the ball away and punching it. He obviously has had problems with trying to catch the ball in the past, so he has adapted this riskier way of dealing with a catchable ball.
I have often seen good footballer and goalkeepers devoid of this technique, but I am surprised that Alan Kelly his Irish Goalkeeping coach has not addressed this. But then such a basic technique can be taken for granted.
Will Mabon
466
Posted 04/10/2020 at 14:14:21
Jerome, if you use a medicine ball for that child test, they learn the concept really quickly.
Danny O'Neill
467
Posted 04/10/2020 at 14:16:54
I found that with the edit button earlier Rob.
Andrew Merrick
468
Posted 04/10/2020 at 14:18:24
Top toffees, I keep pinching myself, sweet dreams are made of this..
Tony Shelby
469
Posted 04/10/2020 at 14:19:28
Charles (461) - I know what you're saying but wouldn't it be great for a full strength Everton team to beat an equally full strength RS team? That would rattle them and really lay down a marker.
Tony Abrahams
470
Posted 04/10/2020 at 14:26:47
Liverpool left it to late to change the goalkeeper because it probably cost them another European cup.
Pickford, I hope he improves, but he has not been very good since the World Cup finished imo.
I don't study to much, but his feet don't seem quick enough, (he crouches down and plants his feet a fraction to early, maybe?) which is quite a contradiction because he's very comfortable with the ball at his feet.
If he's difficult to coach, then he's obviously never had the right person coaching him, or he's got to big for his boots, and is now slowly falling from the peak of his career way to soon, because once he makes these kind of mistakes for England, the media will absolutely ruin him.
If this is seen as criticism, then that's exactly what it is, because he earns a fortune, and he plays for Everton, and I want every Everton player to reach their full potential, and something is not quite right with our number one at the minute.
Ederson and Pope made mistakes, and when a goalkeeper makes a mistake, it's the most scrutinized position in the world, but three wrongs don't make a right, and sometimes a player needs a rest for his own sake.
John Pierce
471
Posted 04/10/2020 at 14:28:09
Jerome, nicely explained, making a lot of sense. I couldn't quite articulate what I was seeing. It's definitely a technical flaw.
I still wonder if Pickford goes 'hard' at the ball, his intention to be on the front foot to have the option distribute quickly?
It just snowballs for me, him being preoccupied with his next action rather than handling the ball. He looked visibly shaken after the error yesterday, ashen almost, not his normal response to a lapse, which is pretty good to be fair.
Tony Abrahams
472
Posted 04/10/2020 at 14:33:15
Derek@369 how many shots did Pickford have to save yesterday? Mina made more saves than Pickford, who was protected really well, possibly because Ancelotti had said on Friday, that the team that defended better, was going to win this attacking contest, so kudos to our defenders, for doing the main main job better than Brighton yesterday.
Danny O'Neill
473
Posted 04/10/2020 at 14:41:38
I singled out Mina yesterday Tony. Thought he was immense and showed us the player he can be. And he grew in stature as the game went on. We just need consistency from him, but as with Keane, aying in a better team and shielded by a better midfield, we might just get that from hi..
John Pierce
474
Posted 04/10/2020 at 14:42:57
Tony, I think that's the best game I've seen Mina play, perhaps the 0-0 away at Chelsea under Silva merits a shout.
He was focused, something in games like this I often criticize, he was brave and did his job. He didn't get involved or distracted in trying to protect James or the other nonsense he gets typically gets drawn into.
The header on the line was very very good.
Has he been focused by the pending arrival of Godfrey? You'd would hope so. He must know it's eventually it's him or Keane fighting for one place?
He even scored with his 50p piece head too! I'm still unconvinced but cannot deny he was excellent yesterday.
Stephen Vincent
475
Posted 04/10/2020 at 14:44:36
Ian, Kevin, 429 & 430. Generally I would agree with you, but the problem is I really don't like Pickford.
I never thought I would find myself saying that about an Everton player but I just can't stand Pickford's histrionics, his gurning, the uncertainty he brings to his six yard box.
Now, I don't know anymore about the man than I can read on Wiki, it's just that I get the impression that his team mates aren't particularly fond of him either, his whole persona fills me with dread. The punch and kick to post following yesterday's howler.
I know that other first team players probably make as many mistakes as JP but I don't feel the same animosity towards them, even Iwobi! Tom Davies, love him, not a brilliant footballer but just gets on with it even when asked to play massively out of position like yesterday.
I really think that if we are to win something he has to go, or at the very least Lossl or Virginia need to be given an opportunity, if they are not good enough then why are we paying them.
Who would replace him? Neto from Barca, Romero would be the obvious 2. Maybe too late in this window but plans need to be put in place for the new year. Cillesson from Valencia would be ideal.
Danny O'Neill
476
Posted 04/10/2020 at 14:54:16
The 50p head thing is funny but harsh John!! That goal in the World Cup against England showed he has that in his locker. You just need to provide the service.
Max Murphy
477
Posted 04/10/2020 at 14:55:29
I agree with Tony(@59). Pickford does need help and support, and a complete rest from the game.
Yes, if allowed to continue, he will cost us points. From yesterday's game, he has directly reduced our goal difference by 1, which could be crucial if things get tight at the top at the end of the season, where a superior goal difference is as good as a point.
What happened to Virginia? He plays a full game against Salford – then he vanishes from the scene. This after agreeing to a 4-year contract. I know he wasn't really tested in that game, but he didn't put a foot wrong, and like many others, thought he'd continue in goal against Fleetwood.
Tony Abrahams
478
Posted 04/10/2020 at 14:55:38
Danny & John, I thought Mina was very good yesterday, and definitely the best he has played for a long time.
Maybe it was the signing of Godfrey, maybe it was the criticism he'd received from a Colombian journalist in the week, or maybe he knows Pickford is struggling, and decided he needed to put his body on the line, to help the team?
Whatever it was, it was Big Yerry's best game under Ancelloti imo, so hopefully this is a sign of things to come.
Tony Abrahams
479
Posted 04/10/2020 at 15:00:14
My own motm yesterday was Dacoure, Danny. He gives the ball away sometimes, but what strength and what energy, he kept the midfield going yesterday imo, without being unkind to the others, who all made some good contributions to the team.
Geoff Lambert
480
Posted 04/10/2020 at 15:01:02
And still top of the league well done west ham.
John Pierce
481
Posted 04/10/2020 at 15:03:52
Awwww Danny lad. Go back a see the amount of chances he's missed and the angles the ball comes off his head. It's mental. I've always had a thing about how he misjudges a flighted ball.
Maybe I'm harsh, so perhaps a thrupence instead, more side, the corners are softer, closer to a rounder shape! 😜
Will Mabon
482
Posted 04/10/2020 at 15:05:11
There may indeed be a technical flaw as Jerome says but one would expect that to have achieved the level he has, Pickford has been essentially complete enough as a goalkeeper, within the bounds of his own biometrics.
I still think it's a psychological thing myself, I think he's become (more) jumpy and looks to be under pressure in situations where before he looked perhaps more assured.
Earlier, some of his distribution out from goal to distance was excellent, by hand or foot. This was a strong point, but that's often gone awry too.
Now so far, he has always been known to have a mistake in him, but this should be improving by now, or at least have stabilized. Are the pressures on keepers in the game now becoming an issue? These kind of howlers are happening to other keepers more often too (this weekend again).
Managers have no qualms about rejecting otherwise competent keepers that aren't to a certain outfield player level for distribution on the ground. There's the constant demand to maintain the ball in play, in possession at all times. Is it too much?
I'm certain the coaches are doing all they can with him, and I hope it works for him. Though I think it's often over-egged, bespoke help psychologically might help in Pickford's case. I wouldn't like to see him follow Joe Hart. There's no guarantee anyone we could realistically get in to replace him would prove more successful overall, in the game as it is.
Geoff Lambert
483
Posted 04/10/2020 at 15:26:19
Do you know what? we could just go on and win the whole bloody thing. Strange results coming everywhere, This corona virus has leveled the playing field and we seem to be taking it by the scruff of the neck. Our next result could be a title decider. Did I really just say that???
Neil Copeland
484
Posted 04/10/2020 at 15:26:56
Derek #110, I'm good thanks mate. I hope you are starting to feel better.
Spiders hey, I reckon he's caught behind the black ball
Neil Copeland
485
Posted 04/10/2020 at 15:28:24
Edit, Derek #112
Paul Tran
486
Posted 04/10/2020 at 15:40:41
My feed yesterday was NBC. Tim Howard was scathing about Pickford, his body language said a whole lot more.
John Pierce
487
Posted 04/10/2020 at 15:43:53
The next eight weeks I think we play once a week. We must take advantage of the chaotic schedule facing the European sides.
Charles Brewer
488
Posted 04/10/2020 at 16:22:58
Paul, I had that feed too. I am not sure that the Startled Starfish, whose main tactic for the last couple of seasons was to wave his arms and sit down before the shot was fired, is the best person to criticise Pickford for making errors.
If Keane hadn't done the Princess Diana impression it would not have been a goal. This entire season has had a mass of goalkeeping errors - yesterday was no exception and there is not a footballer out there who doesn't make several mistakes per game. DC-L had an easy shot in the first couple of minutes and missed, Richarlison has had a huge number of shots miss the goal so far, but this is very much part of the game and both of them, by general acclamation are playing superbly.
Goalkeeping errors tend to be more expensive than other players' mistakes, but they are just as inevitable, and I would still say that Pickford won the Spurs match for us.
He does need coaching, but what he needs most is someone to act for him as Dunc has done for DC-L, and get him to minimize errors, and not to get too concerned about the occasional mistake.
John Atkins
489
Posted 04/10/2020 at 16:34:59
It's going well for another Evertonian with Tommy Fleetwood making a play off in the Scottish Open the camera zoomed in on his ball and he marks it with EFC!
Come on, Tommy lad!
Paul Tran
490
Posted 04/10/2020 at 16:38:41
Fair point, Charles I wasn't keen on Howard as a keeper either. He clearly wanted to say more than he did. Pickford is a talented keeper with a mistake in him. I hope he improves, right now I don't trust him.
Danny O'Neill
491
Posted 04/10/2020 at 17:11:44
I think that's what you get with South American centre backs, John. They'll frighten and frustrate the life out of you; especially a fan base that has been scarred to the point of ours in that we stop breathing for long periods when our defenders start playing football on the edge of our own box!!
I get your point, but I just now think with the ability to deliver quality into the box, the threat we have from Calvert-Lewin, Richarlison, Keane and Mina is going to give opposition defences a lot to think about.
Long may his bonce continue to become more round!!
Charles Brewer
492
Posted 04/10/2020 at 17:13:41
Off topic, but what then hell is happening with football this year. Spurs 4-1 up at Old Trafford and one Manure player sent off (they did get a penalty). Presumably Villa odds-on tinight?
Kevin Lovelady
493
Posted 04/10/2020 at 17:53:47
Thanks Tony #432 & Kim #433
Irrespective of political stances, I wonder why the Everton game was the only one that didn't show them taking the knee? If anyone is interested to see if the BBC reply,
I've tweeted them here
Danny O'Neill
494
Posted 04/10/2020 at 17:54:36
I think the problem with Howard is possibly similar to Pickford Paul.
Howard was considered a potential United keeper at a time when they were dominating world football.
What became apparent is he wasn't the full package. Very few keepers are. He was generally a good shot stopper (American, so good with his hands), but if I recall, used to be very poor at commanding his box, installing confidence in the defence and in particular, not good at being proactive in coming off his line early to read the situation. Queue Pickford; a keeper who makes some fantastic saves but is irrational and poor in decision making in other aspects of his game.
Sadly, in my experience, you only get keepers who have the full package (the Jennings, Shiltons, Southalls, Martyns, Schmeicals, Neuers etc) who have that. So generally, most of us have to live with having a decent keeper who hopefully will be in better form more often than not and have a good protective defence and midfield in front of him. Jordan is having a bad patch right now and I've been as critical as anyone, but let's hope he can get back to a level that helps us achieve our ambitions for this season.
That is, unless Carlo has seen something in the team that means those ambitions have changed. If so, could be an interesting Monday!
Bill Gall
495
Posted 04/10/2020 at 19:18:42
Well we have started good but I wonder what Man utd are going to do after the 1--6 loss to Spurs. Their director was in the stands sending out texts on his phone t think he may be looking for a new manager soon. Most pundits reckoned that they needed a center half alongside Maguire but watching his performance they need 2.
Makes me really grateful that we have breought Ancelotti in who took his time assessing what he had inherited last season and made his moves at the start of this seasons transfer window. A number of supporters me included wondered whether he was up for the job after some of last seasons performances, and even wondered what Brands job was. Thankfully both have shown that they are top professionals and have shown with the right players brought in, plus coaching, the manager is able to get some of the players from last season to raise their, game to work with the new signings
Kim Vivian
496
Posted 04/10/2020 at 19:41:57
Kevin - 493..... Just curious - do you have an issue with it?

Charles Brewer
497
Posted 04/10/2020 at 20:18:29
Ross Barkley having the time of his life it would appear!
Charles Brewer
498
Posted 04/10/2020 at 20:37:16
Back at 461 I said I thought it would be nice for Villa to win 5-0; sadly the RS have scored one and messed up my forecast.
Jerome Shields
499
Posted 04/10/2020 at 20:40:44
John #471
Going in hard really would help. It has the technical advantage of being first and in front of anyone who is competing for the ball and creates momentum against any tackles. For a goalkeeper it gives him command of his area, something that Pickford lacks.
Gloves is another area , that could fill a book. Tim Howard with his recommendation of pushing the ball up and over the bar is pure glove speak.
Will#466
I am sure some coaches use a medicine ball to get the concept across and I am sure you are right that there are excellent results.
Will#482
Pickford to get to the high level he is at had to have outstanding natural ability, but the problem he has is that these basic technical flaws do come back to haunt players. Tony Abrahams is right when he says that Pickford was badly coached early on In his career.
In Pickfords case he is probably working hard and being very hard on himself to put in a perfect performance in the next game. But if the basic technical flaws are not addressed his confidence will then become a self defeating factor. There is many a professional golfer who tried to adjust his technique and had a long road back to his previous form. This is the delimea Pickford faces. He is not alone on this, his Goalkeeping Coach has to earn his corn and I would love to be a fly on the wall when Ancelotti talks to him. Ancelotti is the Real McCoy as far as coaching is concerned. But Italian goalkeepers are Glove disciples. For some reason I think Gloves where adopted on the continent before the home nations and Ireland.

Gerry Ring
500
Posted 04/10/2020 at 20:56:47
Jaysus, the more I see of our new sponsors Cazoo the better😂😂. Villa demolishing the Redshite. Hilarious. Klippety will be in good form tonight. Awful pity Roy Keane isn't in the Sky studio!!!!
Minik Hansen
501
Posted 04/10/2020 at 21:53:11
Here I am losing Internet connection along the way, just found out what happened with the other lot... should I say both of them. Would have been an experience to watch both the games.
Top of the league, what a feeling. :) Aston Villa is having a party as well, did they get some decent players in, apart from Barkley?
Ron Morgan
502
Posted 04/10/2020 at 21:54:49
Great result for Villa. Although Jurgen Flopp will say they missed Mane!! Bring on the Derby!!!
John Boon
503
Posted 04/10/2020 at 23:53:36
WHAT A GREAT WEEKEND
We win 4-2
Two unmentionables lose 6-1 and 7-2
I hope I don't wake up in the morning and find out that it was all a dream.
Kevin Lovelady
504
Posted 05/10/2020 at 00:16:05
Kim #496,
No issue at all. Just very curious as to why it's the only game all season AFAIK, especially after all MotD2 games tonight showed them taking the knee as well.
Anthony Eastwood
505
Posted 05/10/2020 at 03:29:45
Who is playing "away" on international duty during the international break apart from Pickford and Calvert-Lewin?
Laurie Hartley
506
Posted 05/10/2020 at 04:14:29
It has all been said above except:-
---
Add Your Comments
In order to post a comment, you need to be logged in as a registered user of the site.
Or Sign up as a ToffeeWeb Member — it's free, takes just a few minutes and will allow you to post your comments on articles and Talking Points submissions across the site.
---
© ToffeeWeb