Report
Tremendous solidity underlies fine Everton win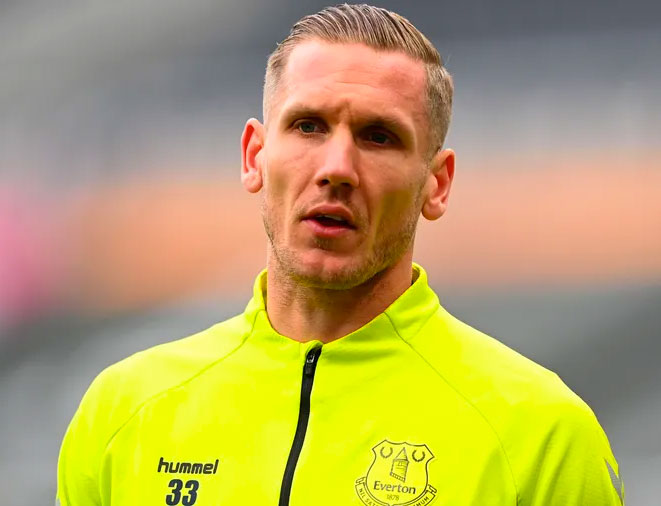 Robin Olsen is given anther chance to keep his eye in as Jordan Pickford is rested again.
Leicester City 0 - 2 Everton
Everton took the lead against Leicester thanks to an excellent opportunist strike from Richarlison. Holgate forced home an important second goal to seal this vital win.

Robin Olsen started in goal in place of Pickford, with the outfield players unchanged from Saturday's win over Chelsea, and no surprises on the bench; James, Coleman, Digne and Gbamin still out injured.

Everton, wearing dawn grey and sea-foam green, kicked off in front of an empty stadium, hoofing the ball out wide left. Conservative play saw passbacks to Olsen, wellied upfield so that Leicester could take a run at the Everton defence, for Tielemans to lash the ball a foot or two wide.

When Everton eventually got the ball back, Iwobi tried a long through ball to feed Calvert-Lewin, then was set up with a real chance that he had no idea how to control, waving his ankle artfully in the vague direction of the ball from close range, but zero application, zero skill, zero desire, zero finesse.

Richarlison tussled with Justin, who won out as the Brazilian felt a feather on his back and went down: nothing given by Lee Mason. Iwobi won a corner off a handball outside the Foxes area, but nothing came of it.

Allan was dragged over by Mendy, for a daft yellow card for the home defender. Sigurdsson swung in a lovely ball but Fofana got his head to it first, for another corner that ended with a high boot from Holgate, trying to go for glory, catching Mendy. Ndidi pushed over Calvert-Lewin but nothing given.

Olsen was almost caught by a slow bouncing ball, Vardy tempted to nip in. Everton were doing well enough stifling the Foxes attack without much until Richarlison brilliantly took a fine potshot from outside the area, bouncing under Schmeichel's hand and into the net.

The home side responded with a fine move and a glorious gift for Vardy that he kindly headed straight into Olsen's arms! Then a Foxes free-kick was put behind for a corner, headed away by Keane but fired back in by Mendy, deflected wide of the angle for another corner, then a throw-in off Doucouré. Everton finally cleared.

A decent break saw Iwobi cross in but it was hard for either Everton player to control and the chance vanished. Iwobi then won another corner, with a shot from Doucouré deflected for another corner, headed away by Ndidi.

Richarlison got the ball in a good position but chose to chip in a cross rather than try the shot again. But Everton won a free-kick that was headed straight at Schmeichel by Calvert-Lewin, with the whole goal to exploit. But then disaster, as Allan became victim of a hamstring pull – more injury anguish for the Blues that saw Gomes on in his place.

Vardy looked to take a shot or win a penalty but Doucouré's deft touch denied him both as added time gave way to the half-time break on the back of a very comptent and controlled yet not scintillating Everton display, to go off with their noses ahead.

Everton started the second half determined to exert control over the game until the Foxes looked to break and Holgate fouled, getting a yellow card. Godfrey then got a yellow for pulling back Madisson. Everton were more conservative in possession, spurning forward play to piss around with the ball and invite the press from Leicester City that saw them win the ball again and again.

A corner for the home side saw Tielemans drive well wide, but the Foxes were on the attack again until Tielemans again put it behind. Everton were good in defence but poor in transition, until Iwobi decided to run at the home side but with no end result.

Barnes tempted Gomes into a stupid challenge and a yellow card. Barnes responded by running at the Everton defence and setting up Madisson who boldly skied his shot. But the pressure play was moving closer to the Everton goal, and it was perhaps time for another change? Doucouré tackled Barnes brilliantly to stifle another promising run with possession at 66 to 34% in the home side's favour.

Richarlison drew another foul in a decent advanced position, the Brazillian taking his time on the ground, favouring his left hand after taking his body weight. Sigurdsson scooped it forward for a corner as Richarlison returned with his wrist bandaged. From the free-kick, three bites of the cherry finally saw Holgate score off the corner after two reaction saves from Schmeichel off Mina and Calvert-Lewin.

Now oozing confidence, the game was well in Everton's control, Iwobi firing a strong cross that required Sigurdsson to improvise, his shot flying over. Richarlison had a chance to run at goal but was driven wide by Ndidi for a corner. Iwobi tied to profit from the corner but the Foxes broke at pace and came close to scoring but Everton's defence was simply too strong.

Gomes was tempted to tackle Perez and Lee Mason called a penalty but he had touched the ball fractionally as Perez went down, and Mason changed his mind after reviewing the VAR footage!

Richarlisn was caught by Fuchs who was shown a yellow card, setting up a deep free-kick as Anthony Gordon was readied but it was Mina who headed weakly goalwards. More stalwart defending against the runs of Perez and Ihenacho was required. Perez scored off the corner but a slew of players were offside.

With the match won, Everton professionally played the game out to celebrate a very fine and important victory.

Scorer: Richarlison (21'), Holgate (72')

Leicester City: Schmeichel, Justin, Fofana, Ndidi, Fuchs, Tielemans, Mendy [Y:15], Ünder (62' Pérez), Maddison, Barnes, Vardy.
Subs: Morgan, Albrighton, Ward, Iheanacho, Praet Thomas.

Everton: Olsen, Holgate [Y:48'], Mina, Keane, Godfrey [Y:49'], Sigurdsson, Allan (41' Gomes [Y:64']), Doucouré, Iwobi(90+2' Kenny), Calvert-Lewin (90' Gordon), Richarlison.
Subs: Pickford, Tosun, Bernard, Davies

Referee: Lee Mason
VAR: Darren England
---
Reader Comments (189)
Note: the following content is not moderated or vetted by the site owners at the time of submission. Comments are the responsibility of the poster. Disclaimer
Brent Stephens
1
Posted 16/12/2020 at 17:02:20
Olsen plays!
Brent Stephens
2
Posted 16/12/2020 at 17:02:56
Pickford on the bench.
Robert Tressell
3
Posted 16/12/2020 at 17:14:08
Didn't Pickford pick up a knock in the last game. Commentary team for that game suggested he might have been taken off at half time. Maybe just a precaution.
Jay Wood
[BRZ]
4
Posted 16/12/2020 at 17:14:25
Brent, did you notice Jordan moving less freely on Saturday from the slip and recovery on a short back pass, then again when Mount shoved Mina into him?
He looked in some pain on both. Probably a wise precautionary move. A good game for Olsen to come into.
Tony Everan
5
Posted 16/12/2020 at 17:20:01
I am happy he hasn't changed the outfield players from the Chelsea game. It gives us a chance to get some momentum going, the team will be feeling good about themselves. I think this game will be very tough, Leicester are a decent, confident team. But we are too when we are firing and we can hurt Leicester and they will be weary of our threat.
I will be watching out for accurate passing from the back and in midfield. Carlo will be reminding them, Interceptions and breakaways from Leicester will be costly.
Iwobi and Richie have to be on the money and provide for Dominic. Also we can hurt Leicester from set pieces, we have good threat in the air and their defence may buckle.
COYB. A win here and the top 4 push is back on track.
Thomas Richards
6
Posted 16/12/2020 at 17:24:24
Jay #4
I am intrigued.
Why do you think it is a good game for Olsen to come into?
Jay Wood
[BRZ]
7
Posted 16/12/2020 at 17:26:22
Thomas, because we can gauge how good he is against good opposition with top forwards.
John Dingle
8
Posted 16/12/2020 at 17:41:54
I hope Carlo has a plan to stop Vardy. Stop Vardy and we can win.
Brian Wilkinson
9
Posted 16/12/2020 at 17:48:03
Allan and Doucoure, both one booking away from a ban, need to tread carefully and hope both do not pick up a yellow in the coming games, or at least not at the same time.
I would personally get Godfrey to track Vardy and try and keep him in his pocket, easier said than done.
Thomas Richards
10
Posted 16/12/2020 at 17:48:27
Thanks Jay, I thought you meant the opposite!
Don Alexander
11
Posted 16/12/2020 at 17:53:26
Given that DCL very recently rated Godders as very pacey indeed it might be a good idea, as Brian says above, for him to latch onto Vardy.
Ciarán McGlone
12
Posted 16/12/2020 at 17:55:58
Cant argue against keeping the same team.. keeper aside.
Jordan must be injured because hes been decent recently.
Dont like this 6pm midweek kick off though
Jay Harris
13
Posted 16/12/2020 at 17:56:35
Nkoukou not on the bench not on the U 23 squad the other day. What's going on with him.
Alex Gray
14
Posted 16/12/2020 at 18:42:38
Christ another injury. This season has been ruthless. Allan will be a huge miss. Resilient performance so far
Ciarán McGlone
15
Posted 16/12/2020 at 18:47:45
Continuation of Saturday's chess game. Everton slowly in the ascendancy. Simple stuff being executed properly... shape, movement, passing etc - and good to see a shot from distance for a change. All have played well.. but Iwobi has been superb.
Allan's injury is a big blow but Gomes has acquitted himself well recently. More of the same please.

Andy Crooks
16
Posted 16/12/2020 at 18:53:23
A really good show so far. Very disappointing to lose Allan who was excellent. Our corners carry little threat, though. Siggy raises his arm and delivers the same corner he has delivered for years.
Same again would do.
Neil Lawson
17
Posted 16/12/2020 at 19:04:21
Andy 16. Absolutely right. The commentators keep going on about the quality of Sigurdsson delivery from set pieces. But it is the same ball every time. Why not some being knocked in from a different angle but with pace ? Is Leighton on the bench ?
Andy Crooks
18
Posted 16/12/2020 at 19:31:14
What a corner by Siggy. Never doubted him!!
Dean Cooper
19
Posted 16/12/2020 at 19:50:47
Great team performance despite the heart-in-mouth moment with the penalty check.
Olsen not a lot to do, but looks calm if you compare him to Pickford. Also thought his distribution was a lot better in general.
Back four were very good yet again. Keane especially was immense.
Doucoure was everywhere today, raised a level after the unfortunate injury to Allan.
Iwobi did well in both attack and defence. Richarlison lucky with the goal, but it's been coming.
Very good game plan set by Ancelotti, perfectly executed from the players!

Alex Gray
20
Posted 16/12/2020 at 19:53:28
Great game plan considering injuries. Defensive masterclass once again.
Doucoure did well tonight but Michael Keane was a mountain today.
Good win
Jamie Crowley
21
Posted 16/12/2020 at 19:54:33
I do not care one fucking iota about what "proper" or "entertaining" football is.
Ride this 4 at the back / counter attack system until the wheels fall off.
It's working, it completely fits this squad, don't give a shit about ugly or the way the game should be played or high lines!
Ride this horse until it dies.
Brilliant match!
Paul Birmingham
22
Posted 16/12/2020 at 19:54:49
For me this was the best team performance this season, against a good team, in Leicester.
No real panics and good to see VAR with a saving grace.
The only bad issue is Allan's injury, hopefully it won't be a long outage for him.
Well done Everton, a very good solid team performance.
No complaints from me, and let's hope for the same focus and commitment v Arsenal.
Thomas Richards
23
Posted 16/12/2020 at 19:56:54
Great win!
Tactically very astute, set up and prepared brilliantly by Ancelotti.

Kevin Molloy
24
Posted 16/12/2020 at 19:57:45
my motm was Iwobi. The change in him is joyous. Suddenly looks a huge asset
Rob Hooton
25
Posted 16/12/2020 at 19:58:06
James is really going to struggle to get back into this team - or should do anyway. Who would have thought that a couple of months ago?
We look solid and are playing with a real desire, great to see and a well deserved 3 points.
Fair play to Siggy too, I watched him a fair bit and he ran his socks off
Stephen Brown
26
Posted 16/12/2020 at 19:58:48
Superb 1-11 effort.
There seems to be a really good team spirit at the moment.
Keep it going blues
Graham Mockford
27
Posted 16/12/2020 at 20:00:58
There's no doubt about it but we are so much more solid without James. We also create less chances of course.
I still maintain if you are going to accommodate him you can't have him playing wide. For me you play him as a 10 in a 4 4 1 give him license to roam and in what is probably heresy against the top sides maybe he's not first choice
Jay Wood
[BRZ]
28
Posted 16/12/2020 at 20:02:43
Excellent. Simply excellent.
The shape. The discipline. The tactics.
Other than Vardy's header straight into Olsen arms, when was our keeper worked?
Took a little while to settle into a pattern again after Allan's withdrawal. The Holgate and Godfrey bookings at the start of the 2nd half, silly as they were, were them getting pulled out of position to compensate for where Allan would have been guarding things.
Again, nobody had a bad game. I thought Doucoure really stepped up today. We counter-attacked with real threat.
And that's two wins and two clean sheets against teams who would have been extremely motivated, as both Chelsea and Leicester would have claimed top spot if they had beaten us.
Now, on equal games played, we are above Chelsea and one point behind Leicester, just two points off 1st and 2nd place with both of them playing each other now.
Perhaps the manager, the team and the players aren't so crap after all.
Jamie Crowley
29
Posted 16/12/2020 at 20:03:41
This idea we're better without James, gotta call bullshit on that.
He's our best footballer by a mile. James out there, unlocking Rich and DCL on the counter would be insanely dangerous.

Not buying that. All about opinions, right?
Tony Hill
30
Posted 16/12/2020 at 20:04:08
Wonderful. This is an Italian side at the moment; shape, toughness, shithousery when required.
Doucoure deservedly MOTM followed closely by Keane and Iwobi.
Olsen didn't do much but he makes me calm.
Gerry Ring
31
Posted 16/12/2020 at 20:04:25
Super result & performance, particularly the back 4 again. Richarilson should get back to his old self after tonight's goal. Thrilled to see Gordon getting a run and doing well. Roll on Saturday.
Kevin Prytherch
32
Posted 16/12/2020 at 20:06:11
We're 2 points off Southampton, who have had a brilliant season, 2 points off Spurs, who are tipped for the title, 1 point ahead of Chelsea, who have had a brilliant season...
Is this a bit of perspective? Or a huge opportunity missed with stupid tactical decisions for 6 games?
Please Carlo, don't play 3 at the back again. Or 4 central midfielders.
Darren Hind
33
Posted 16/12/2020 at 20:06:59
Two less than breathtaking wins.
But upon such results, Dynasties are built. Nothing breads confidence like winning.
No big predictions. just satisfaction and contentment tonight.
That'll do
Thomas Richards
34
Posted 16/12/2020 at 20:09:13
How can you be a better side without one of the best players to come out of South America for many a year?
The only issue is where he plays.
He is not a wide player. Waste of time playing there,you will take 50% of his game away from him by asking him to track back.
Play him at no 10 and build the side around him.
Rob Halligan
35
Posted 16/12/2020 at 20:09:35
I said the next five games would yield thirteen points. I thought a draw would be a good result tonight, but a great performance led to an outstanding win. Was Olsen really troubled, apart from the Vardy header? Iwobi was immense I thought, and my MOTM. So ten points from the next four games!!
Martin Berry
36
Posted 16/12/2020 at 20:09:55
Again we played it simple in a way that the players understood.
We made Leicester look very ordinary and we were always comfortable and by far the better team.
Shame about Allan who was good before his injury but I thought Doucoure was superb stepping up.
A kind word for Iwobi who was also excellent.
I personally prefer Olsen in goal you don't spill your beer when watching him.
Tony Hill
37
Posted 16/12/2020 at 20:10:34
What counts is the nature of the opposition we have beaten: two good sides in good form. We've outperformed and outfought them both.
Stuart Sharp
38
Posted 16/12/2020 at 20:10:53
Brendan reckons he heard the contact for the penalty incident. That is hilarious.
Rob Hooton
39
Posted 16/12/2020 at 20:12:30
Jamie, we defend as a team better but definitely lack creativity without him, I'd love to see Carlo get both finely tuned with James playing every match!
Quite right Darren, unspectacular but most pleasing
Simon Dalzell
40
Posted 16/12/2020 at 20:12:37
Magnificent all over the pitch. The most satisfying win so far this season. I've been a bit unkind to Iwobi, but he was very good tonight. Just needs to work on the final ball. ( more like the one for Sigurdsson )
Graham Mockford
41
Posted 16/12/2020 at 20:13:26
No Jamie he's a brilliant player but he definitely makes us less defensively solid when he's in that wide 433formation.
It was obvious teams were getting at us down the flanks.
That's why he'd be better in my opinion occupying the position Siggy took tonight with Iwobi and Richy giving us that work rate in the wide areas.

Craig Walker
42
Posted 16/12/2020 at 20:14:01
Gutsy performance. Only disappointment was Allan who is the leader we've been lacking for years. Thought Doucoure did well and Iwobi is looking better. I'm on edge every time Gomes attempts to challenge near our box.
I thought we could have been better in possession but we looked pretty comfortable. Olsen looked solid and dependable, I thought.
Let's not get carried away. We've seen two good performances and results but we're only ever 2 losses away from the mood changing. It's encouraging that we're being linked to good players though.
Enjoy your night Blues. Come on Spurs!
Kevin Molloy
43
Posted 16/12/2020 at 20:14:23
that utter knobhead phil neville 'when you look at the teams that have won here, Everton Fulham, Viila, there's a lot for Brendan to reflect on'
John Atkins
44
Posted 16/12/2020 at 20:17:47
Kevin - as just posted on the live forum, no surprise with Phil Neville - he has and always will be a Manc
Bill Gienapp
45
Posted 16/12/2020 at 20:18:46
Fun fact from here in the States - we're now a perfect 5-0 in matches streamed on Peacock. We're 2-4-2 in matches on TV (and those two wins were Palace and Brighton, so we basically have four losses and two draws in our last six).
Interestingly, this match was *supposed* to be on TV, but got switched to Peacock at the last minute, in favor of Arsenal vs Southampton.
Hate to be the bearer of bad news but our match with Arsenal this weekend *is* on TV, so we'll have to up our game!
As for the match, the Allan injury is a real blow, as it's tough to accommodate both Gomes and Sigurdsson, to say nothing of James (I expect some interesting debates in the coming weeks where he's concerned. I have no doubt we're a better side with him in it. The question is, are we a better side if he's less than 100%? I don't think he's been quite right since the Derby, to be honest).
But otherwise, an absolutely outstanding victory. Back-to-back wins and clean sheets against Chelsea and Leicester City is no joke.
Jamie Crowley
46
Posted 16/12/2020 at 20:19:53
Graham,
Lost in translation, I think I agree with you. I'd like to see James play in Sigurdsson's spot, and keep the flat back 4.
We have to keep riding out this back 4, counter-attacking style. It's working. We're playing solidly, we're playing as a unit, and we're getting results.
You put James in for Siggy and we're frightening on the counter.
No knock on Sigurdsson, he played his guts out. He'll play a role as James won't be healthy for every game. It's a team game, we'll just be better with James in that 10 (ish) role.
Dave Abrahams
47
Posted 16/12/2020 at 20:20:37
Another good well earned victory, Iwobi had another good game along with Sigurdsson and Olsen was nice and calm but there could only be one MotM: Doucouré, especially when Allan went off. He was tremendous all over the field. And a word for Dominic: no goal, but how he works and strives for the team.
Allan will be a massive loss for the Arsenal game, but these two wins should give the team a lot of confidence so maybe we will be okay without him. It was good to see the tension in Carlo in the second half, his nerves were showing the passion he sometimes seems to lack.
Brent Stephens
48
Posted 16/12/2020 at 20:21:20
Carlo got us set up just right despite so many injuries. Iwobi a revelation lately. What a solid defensive unit.
David Hallwood
49
Posted 16/12/2020 at 20:21:26
Lawrie McMenemy (remember him) once said that a football team should have 3 ballet dancers and 7 binmen (goalkeeper excepted).
Lot's of sense in that re: James.
John Keating
50
Posted 16/12/2020 at 20:21:56
Fantastic performance and result, Another clean sheet!
Yes, we are not playing open attacking football but, when you consider the rut we were in more or less from the derby, it was imperative we got back on track, regardless.
We have to keep the momentum going against Arsenal. Allan will be a big miss but Doucouré stepped up tonight. Again brilliant defending and really Leicester, for all their attacking ability, never got a look in.
I think a special mention must go to Calvert-Lewin. The amount of sacrificial work he's putting in for the team is unbelievable. Hopefully, when Coleman and Digne get back fully fit to supply him, he'll get back in the box and in the goals.
Well done, Ancelotti and the whole squad.
Tom Harvey
51
Posted 16/12/2020 at 20:22:17
Darren Hind @ 33,
There's something particularly satisfiying about winning games when below your best and it's that sort of game which defines your finishing position, not your best or your worst.
Brian Williams
52
Posted 16/12/2020 at 20:23:08
THAT was a really, really good win! Breathtaking? No, but to have expected us to be so in this and the previous win is unreasonable IMO.
We've now beaten two teams who, had they beaten us would have gone top, on the bounce.
That's not to be underestimated. Title challengers? Definitely not, but when you beat those at the top then credit is well deserved.

Graham Mockford
53
Posted 16/12/2020 at 20:23:58
Jamie in the shell of a nut
Brent Stephens
54
Posted 16/12/2020 at 20:26:33
Can't believe anybody would underplay that performance against that team. Why?
Jon Wit
55
Posted 16/12/2020 at 20:28:49
The back line has made a difference - bringing in Holgate and Godfrey.
I think blaming James is well off the mark and obviously he was a key man for our initial set of points. He doesn't have to play 90 mins every game and we can change formation as required.
Gutted about Allan.
Jack Ledwidge
56
Posted 16/12/2020 at 20:30:24
A super performance of discipline, grit and determination and a fully deserved win as well. Everybody knew their role and like the Chelsea game carried it out to perfection. Iwobi is a new man and I'm delighted for him, playing in his natural position and with a smile. I feel James for all his undoubted talent will struggle to get in even if fit. This Ancelotti game requires 100% effort and positional sense. Any slackening by one player means it won't work. I feel sorry for Allan and hope it's not too bad but suffice to say this Carlo tactic has Allan as it's lynchpin.
Christy Ring
57
Posted 16/12/2020 at 20:31:23
I thought Keane was superb again tonight, two massive wins, and our workrate in the last two games was immense. Docoure and Iwobi really stepping up to the plate, especially after losing Allan, who'll be a huge loss over the Christmas period, hopefully it's not as bad as it looks.
Stephen Brown
58
Posted 16/12/2020 at 20:37:10
I've really enjoyed the 2 clean sheets!!
Solid, grit, determination and well organised!
On James I think he will take Siggy place in time but can't change a winning team yet!
I'd be tempted to let Davies take Allan place v Arsenal. Although Man U game is the big one for me !!! Let's get a cup,
Team spirit seems great at the moment
Jason Wilkinson
59
Posted 16/12/2020 at 20:39:21
Great result tonight. Olsen had little in the way of shots to contend with. Godfrey & Holgate look like they are getting up to speed. Mina & Keane were composed and solid. Allen was superb. I hope it's not too serious. Doucouré had a much improved performance. Siggy started well. His delivery from set pieces was miles better than it has been. He faded late on and maybe Ancelotti could have hooked him for Gomes or Bernard. Made up to see Rich get a goal. He was booted, butted and stamped on but kept going. DCL had a relatively quite game but it was not really played to his strengths. The overwhelming feeling I got was composure from the whole team. We looked to have a thorough game plan and kept to the script.
The player who really shone for me was Iwobi. Leicester just couldnt handle his pace, dribbling and all round hard work. He looks like he is enjoying his football.
I cant lie. I was a little concerned with Ancelotti's selections in recent weeks. I think he has re-shuffled the pack. He has worked on defending. We look a lot more compact and harder to break down. Sometimes you can through injuries and suspensions stumble on a formula that works. James will get his chance. Maybe for now we need to keep grinding results out with less possession & flair. More hard graft and accept a one nil here and there.
Arsenal will be a test despite their recent form. We need a repeat display and we can stay firmly on the coat tails of the leaders.
Peter Gorman
60
Posted 16/12/2020 at 20:43:46
Followed the match on Amazon and check out Clinton Morrison - he's tipped us for top six and a cup!
Lovely win, well done lads. Gutted about Allan but hopefully keep momentum with James coming back in.
Nicolas Piñon
61
Posted 16/12/2020 at 20:43:47
Fucking yes!! Come on Everton!!
I will say it now cause yesterday I kept my mouth shout about playing Allan today would be too risky after him being injured in carabao with little rest and shit happened again...
If Ancelloti doesn't rest some players on Saturday I fear for several players (Iwobi, Richarlison, DCL, Mina, Sigurdsson) we cannot afford that.
I would put a B whole midfield on Saturday to be full throttle against United on the cup; apart that because if not we'll increase our injury list. I understand that wouldn't be nice for the ones going to Goodison on Saturday but choices have to be made with this thin squad. That's life for us until Moshiri unleashes his millions in January (fingers crossed)
This schedule is criminal... Allan's one wasnt unexpected at all...
A good one: finally Gordon's back. Hope Coleman's back for Saturday as we need energy and spirit to keep going like this!
"I (as "e") won't be missing. I - WO - BI MISSING!!"
Great play from Iwobi Doucoure Godfrey Keane Holgate and RICHAAAAALIIIIISOOOON. The rest very disciplined. Just Gomes (for Christ sake!)made me nervous
COWB!
Ian Riley
62
Posted 16/12/2020 at 20:51:30
I said two games ago when you're in a hole you work harder to get out. That's what we have done. Great to have clean sheets and back to back wins. Everyone has a part to play in winning and losing. We will play better and lose, that's football. Let's enjoy it.
Kase Chow
63
Posted 16/12/2020 at 20:55:43
Brilliant win. Absolutely brilliant
Well done Blues!
Mike Doyle
64
Posted 16/12/2020 at 20:57:31
Another great team performance. Credit to Iwobi for recent performances and the amount of effort he's putting in.
Paul McCoy
65
Posted 16/12/2020 at 20:58:20
I'll be honest, I though we'd get at most 2 points from the 6 available in the last couple of games. Sometimes I love being wrong!
John Pierce
66
Posted 16/12/2020 at 21:00:57
Olsens pulse never above 60, mine always over 90.
Bogdan Kotarlic
67
Posted 16/12/2020 at 21:05:12
Hello, my name is Bogdan Kotarlic and I am an Everton fan from Serbia.

Today we won versus Leicester 2-0 away. It wasn`t a great match but it is a deserved and worthy win for our team. Our defence played very well and didn`t allow the opponents to show their offensive strength.

Everton scored two goals, one in each half. Richarlison scored a cunning goal from outside the box in the first half and Holgate added another goal after a corner in the second half.

A good win, nice three points and now we can look to the rest of the season with optimism. The team is in a good form, we have the top goalscorer in the Premier league and I hope that the fans will be allowed to come back to the Goodison very soon.

We all know how important our supporters are for Everton. There were only 2,000 of them against Chelsea but they created an atmosphere like there were 20 thousand. With our 40 thousand strong home crowd we will be, I hope, able to win even more matches at Goodison.

Best wishes to all Everton fans wherever they are,
Bogdan


Jay Harris
68
Posted 16/12/2020 at 21:05:38
2 clean sheets against two of the highest scoring teams in the Prem. Cannot be scoffed at.
Apparently Davide Ancelotti has been working with the defence and these results vindicate that.
Thought Iwobi and Doucoure were immense and Siggy really put a shift in again.
Only 2 points off whoever loses the game Spurs against the RS or 3 points off top spot if they draw.
And that despite all the suicide pills I have been considering for the last month.
Lets hope for a continuous run despite all the inkuries that the media havent even noticed because we are not the RS.
Ernie Baywood
69
Posted 16/12/2020 at 21:08:02
That's how you play with key players out. Grind it out. We didn't seem to get that after the first spate of injuries but it's sunk in now. I don't think you can overstate how good those last two wins are.
Credit all round. Particular mention for Iwobi - I can't quite believe what I'm seeing with him. You don't get many full 180s with players but he's putting some form together.
Godfrey really starting to impress. And coming out of his shell a bit now.
Chelsea and Leicester are bloody good sides with plenty of threats. I know Chelsea hit the woodwork from range, but can you remember us actually conceding a good chance in the last 180 minutes? Vardy's header was about as dangerous as it got. Incredible turnaround.
Christy Ring
70
Posted 16/12/2020 at 21:09:11
Lovely kick in the teeth for Buck Rodgers who said before the game great to see Leicester West Ham and Southampton up near the top, Bitter red.
Tony Everan
71
Posted 16/12/2020 at 21:11:00
Tremendous solidity is right. Holgate and Godfrey coming into the defence is the key for me. They are two really tough uncompromising physical players, both athletic and both blessed with pace too. It has made a great difference to the solidity of our defence. Both of them deserve lot of credit.
That's not to take anything away from the the rest of the lads who have been equally as good. Energy is better, closing down is better, motivation is better.
Something has clicked and I am just delighted with it, we are a real force and a proper fighting, organised football team. Mr Ancelotti is certainly doing an Italian job on us, organised and lethal.
One fly in the ointment is the loss of Allan. He gets a foothold on the game for us early on. His huge effort shouldn't be underestimated early in games, it can shape the game to come. His loss is a sore one. We have to replace like with like but we haven't got anyone like him apart from maybe Gbamin, who will need time even if he does make the grade.
Carlo will be figuring it out on Crosby beach tomorrow.
Joe McMahon
72
Posted 16/12/2020 at 21:17:50
I hope Allan is not out to long. Midfield is gonna miss him. What do we do about Seamus and James? Defence looking better with Holgate and I'm impressed with Godfrey.
Another clean sheet!
Brent Stephens
73
Posted 16/12/2020 at 21:19:03
Bogdan #67 that's a really good post. I think we're all over the moon after the last two games.
Ernie Baywood
74
Posted 16/12/2020 at 21:19:09
I'd be careful making the leap that James is the problem. Surely the last few weeks have shown that it's simply a matter of balance?
We go with more attacking (creative) players, we score more and concede more. We go more defensive (or maybe just more disciplined) and we concede fewer but look less of a threat.
If we're honest, the approach in the last two games is a short term measure, not a long term prospect. As good as we were today, we won't always come away with the goals we need. We really didn't create much of note. Our goals in the last two games have come out of nowhere.
Now we need to figure out how we use one of our most talented players effectively. And we definitely need more attacking threat in the side.
Stephen Brown
75
Posted 16/12/2020 at 21:19:57
Phil Neville got my goat up after the game with some of his comments!
-Richarlison is inconsistent and doesn't like the cold.
-the presenter said Everton are in the mix for top 4 or even an outside title shot and he scoffed!
-Leicester will be thinking they should have won that game!
-I can't see how Gomes has touched that and it should have been a penalty!
Even when we have ex players in the studio they are still biased against us !!
Dave Lynch
76
Posted 16/12/2020 at 21:23:46
"Hello, my name is Bogdan Kotarlic and I am an Everton fan from Serbia"
Welcome Bogdan, great to have you onboard.
I think I speak for us al when I say we welcome your future input.
NSNO
Alex Winstanley
77
Posted 16/12/2020 at 21:24:41
I have gone from screaming "don't give it to Iwobi" to screaming "Give it to Iwobi". I will admit when I am wrong, he can play, keep it up lad!!
Derek Thomas
78
Posted 16/12/2020 at 21:30:11
Nicolas @ 61; there's some days we don't have much of a 'A' Midfield, nevermind a 'B'.
No changes just for the sake of it.
Brent Stephens
79
Posted 16/12/2020 at 21:30:16
Više molim te, Bogdan.
Graham Mockford
80
Posted 16/12/2020 at 21:33:04
Sometimes a player just needs time to find his place in a team and a bit of confidence.
I think we are all feeling a bit more optimistic that Iwobi is that man. On an admittedly small sample of four games
Laurie Hartley
81
Posted 16/12/2020 at 21:42:12
Bogdan # 67 - welcome to ToffeeWeb. Everton is a special club and we will be great again.
Up the Blues!!!
John Keating
82
Posted 16/12/2020 at 21:44:44
And well done the ladies!
Jeff Armstrong
83
Posted 16/12/2020 at 21:45:04
Don't want to put a downer on things but Gomes seriously lacks the pace for this league. He was a liability from the moment he came on to the final whistle.
Paul A Smith
84
Posted 16/12/2020 at 21:45:17
Easy win. Stayed solid and kept our threat.
Dacoure seems to have had his best 2 performances when Allan has been off the pitch.
Sometimes it pays to be ugly and go with what you've got.
Thats our best route to be up there and threatening the top sides.
Mike Corcoran
85
Posted 16/12/2020 at 21:46:15
Doucoure looks like good cover for Allan. Could dare I say it Iwobi cover box to box, James in for siggy and Gordon take the spare wide spot?
Tony Everan
86
Posted 16/12/2020 at 21:47:42
Dobrodosli Bogdan
Mick Davies
87
Posted 16/12/2020 at 21:47:43
Welcome Bogdan, but don't log on if we lose :-) Can't wait for Saturday when we end Mikels managerial spell at Arsenal, but much more satisfying will be seeing the face on his dickhead assistant. Why Arteta would want Round after seeing how shit he was with us I'll never know: Moyes is doing much better now he's reunited with Irvine. Round always reminds me of Mike Basset's retarded assistant in the movie, and I hope his totally unmerited career has it's closing sequence on Saturday COYB
Dave Abrahams
88
Posted 16/12/2020 at 21:55:12
Brent (79), none of that lark Brent, if you've got something to say, say it!!!
Hugh Jenkins
89
Posted 16/12/2020 at 21:57:37
Bogdan (67)
It's always nice to be able to welcome a member of the worldwide toffee's supporters' club to "ToffeeWeb".
Hopefully we can look forward to many further contributions from you now that you have "broken the ice".
Brent Stephens
90
Posted 16/12/2020 at 21:59:06
Dave, it means "orright der whack". Honest!
Danny Baily
91
Posted 16/12/2020 at 22:01:17
Paul 84, the way we've been setting up, Doucoure and Allan seem to have remarkably similar roles when we're not in possession. Might be a case of treading on each others toes.
Robert Tressell
92
Posted 16/12/2020 at 22:02:22
Olsen - never under any pressure but good kicking. Back 4 - looked comfortable. Godfrey really is fast. Keane and Mina really enjoying a deep line. Midfield trio made Ndidi, Maddison and Tielemans look v ordinary. Iwobi caused them problems and covered his full back well. Richarlison scored a very good goal which set us up to defend. DCL anonymous but did the running and pressing to defend from the front.
We are missing left footers. We will miss Allan - and prefer Davies to Gomes as his replacement - but its nice to see people defend, work hard and look like they're enjoying it
Craig Walker
93
Posted 16/12/2020 at 22:03:44
I used to live in an apartment in the centre of Leamington. Clinton Morrison lived there when he played for Coventry. He used to see me around in my EFC shirt and used to stare at me like he didn't expect to see an Evertonian down here. Drove a Bentley with his own plate. Complete tool, I thought. Can't believe he gets so much work in the media. He was a journeyman player, at best.
Hugh Jenkins
94
Posted 16/12/2020 at 22:03:58
Why? Why? Why? Why do the Rs ALWAYS score in the 90th minute?
It defies the laws of nature and the law of averages.
Paul A Smith
95
Posted 16/12/2020 at 22:07:01
Hugh thats because Mourinho is a negative manager that got what he deserved.
Christy Ring
96
Posted 16/12/2020 at 22:09:04
Tony#71 Spot on mate, we look a different team with two full back's who have pace, and can defend. The injuries to Coleman and Digne, and playing 3 at the back with Iwobi and Delph as wing backs left us totally exposed. Now with Holgate and Godfrey and Iwobi and Richarlison ahead of them our workrate and balance is 100% better.
Jeff Armstrong
97
Posted 16/12/2020 at 22:09:39
Craig#93 Morrison's commentary was a joke, tried to make out he was a genius when Iwobi swapped with Richy as he said Iwobi tracks back more than Richie...,fuckwit
These "Experts" watch us about twice a year and think they can give constructive comment on our players.
Jerome Shields
98
Posted 16/12/2020 at 22:10:13
A very Professional performance from Everton. It will boost the confidence of the players.
Brent Stephens
99
Posted 16/12/2020 at 22:12:25
Jeff, I also clocked that Morrison comment about Iwobi tracking back more than Richie. Iwobi tracks back well. But my god Richie ALWAYS puts in a shift getting back.
Dave Abrahams
100
Posted 16/12/2020 at 22:14:35
Brent (90), fair enough, but there's no "h" in whack unless you come from Formby.
Brent Stephens
101
Posted 16/12/2020 at 22:19:17
God you're a snob, Dave! Wack!
Anyway, the "h" was silent.
Are you entering the ballot for tickets, Dave? Or not going back yet?
Tony Abrahams
102
Posted 16/12/2020 at 22:20:05
Anyone can score from a corner Paul A, and although I thought Liverpool were very good in the first half, (they always are against a deep lying defence) Spurs had the much better chances in the second half, so I'd say if you don't take your chances, you don't win the game?
That Bergwin cost me a few quid tonight, he should have made my Everton - Tottenham double pay out
John Raftery
103
Posted 16/12/2020 at 22:20:42
The fact that Allan was stretchered off the field suggests he will not return any time soon. It surely cannot be a coincidence that his two injuries this season have occurred during midweek matches after playing the previous Saturday. To lose him so early in this hectic fixture schedule is a real blow but we will not be alone in losing players through muscle strains and tears over the next month.
Patrick McFarlane
104
Posted 16/12/2020 at 22:23:35
A very welcome and for me an unexpected three points, that keeps us up amongst the leading clubs. If the team can keep working hard and keep their feet on the ground we can have a successful season.
It's been a pretty good week for Everton so far, save the last minute at the other place. If the team can get victories in the next two home games, we may begin dreaming again, however, don't take Arsenal as a gimme and United won't be any easier too. But it's good to be going into both those games with deserved if unexpected victories against Chelsea and Leicester City.
As for the commentary by Amazon, apparently, it was constantly referencing how the Foxes could go top throughout the match and how Richarlison constantly stays down too long doesn't work back, etc, If former Everton players are having a go at us on a live broadcast it proves that we shouldn't take any notice of the 'scripted' utterances of the so-called 'experts'.
I'm pretty sure the friends of the neighbours will be thinking that Everton has done them two giant favours this week, it's up to us to make them realise that we could be a threat to them too, but that's probably going a bit far from our perspective, although it would be nice to shove it down their throats come the end of this season.

Guy Rogers
105
Posted 16/12/2020 at 22:24:44
Iwobi like a new signing so strong pacey and tricky...like a new signing! Bet arsenal fans aren't laughing now especially if not next Saturday..
Roger Helm
106
Posted 16/12/2020 at 22:26:57
Great performance, the result I predicted, more or less. This Italian way of playing seems to suit us. Although Leicester are not one of the Sky darlings, they are a top team and hopefully we can start to bury the hoodoo about playing away to the top sides.
I wouldn't make any unforced changes after two good wins. I say play the best team we can put out every game, let winning become a habit, and if we get injuries, just deal with the problem.
John Keating
107
Posted 16/12/2020 at 22:26:58
Craig and Jeff you're right about Morrison, total idiot
How they have a gobshite like him commentating I'll never know
It might help if he spoke English as opposed to the ghetto shite that comes out of his mouth
John Raftery
108
Posted 16/12/2020 at 22:28:02
Clumsy Gomes is a liability in and around his own penalty area. While he was unlucky to concede the penalty at Newcastle he was extremely fortunate tonight. His was the faintest of touches on the ball. He had no need and was in no position to make a safe tackle. We need him to sharpen up his game and quickly.
Paul A Smith
109
Posted 16/12/2020 at 22:29:39
Danny 91 they seem to have different intentions when they play together and I assume Dacoure is supposed to be the box to box man but when Allan has been out or in todays case gone off, Dacoure has gone total defensive and stood out really well.
Tony 102 thats my point mate. Them tactics are outdated and the top sides just keep coming.
Why be so negative when anyone can score from a corner.
Rob Halligan
110
Posted 16/12/2020 at 22:33:09
John # 103. I don't know if you noticed, but as soon as the stretcher reached the tunnel, Allan was off and was walking down the tunnel. Not saying the injury isn't serious or anything, but at least he felt comfortable enough to walk. Maybe they brought the stretcher on for him to prevent further damage, and it was in the far corner, right by the away section, where he went down. Let's just hope he's not going to be out too long.
Dan Nulty
111
Posted 16/12/2020 at 22:38:17
Brilliantly disciplined performance. Really enjoyed the effort.
Worrying about the injuries a bit. Fingers crossed nothing serious and the players come back soon! Need everyone to dig in like the last 2 games.
Ciarán McGlone
112
Posted 16/12/2020 at 22:39:11
I cant believe Gomes is getting grief for that tackle.. perfectly timed and didnt touch the player at all.
John Raftery
113
Posted 16/12/2020 at 22:40:59
Brent (99) I think Morrison was trying to make the point that swapping Iwobi and Richarlison enabled Richarlison more easily to attack on the break because Fuchs was less of a threat going forward. Richarlison was well able to deal with Justin but at that stage of the game it made sense to put him in a position where we could exploit his pace.
I thought both Iwobi and Richarlison worked their socks off helping to nullify any threat on the flanks while posing problems for their opponents.
Dave Abrahams
114
Posted 16/12/2020 at 22:41:20
Brent 101, no not going back yet, until it is really safe to do so,will miss it badly, but best to be safe than sorry!!
Tony Abrahams
115
Posted 16/12/2020 at 22:41:41
John@108, I was fuming because earlier in the play Gomes, could have got goal side, which is exactly what every Everton player had been doing since the first whistle, and this was the reason why we made it difficult for Leicester all night?
It's a funny old game, because the two young centre backs, playing as fullbacks, have definitely made defensive minded Everton, a much harder team to play against right now, and it seems to be suiting us down to the ground!
Tony Abrahams
116
Posted 16/12/2020 at 22:45:30
Good reply Paul A, but if Bergwin puts one of those guilt edged chances away, Spurs would have won the game. I think the tactics Mouriniho is using suit his squad, a bit like Ancellotti's are at the minute?
John Raftery
117
Posted 16/12/2020 at 22:49:28
Rob (110) Thanks, I didn't spot that. I tore a hamstring very badly many years ago. A full tear is like being shot. It took me three months to recover. I am hoping Allan is back much earlier than that with the benefit of all the modern treatments they have available at Finch Farm.
Rob Halligan
118
Posted 16/12/2020 at 22:49:31
Tony, not only the misses by Bergwijn but the one that hit the post, then from the resulting corner, Kane should have buried his free header.
Danny Murphy on MOTD, so no doubt it will be "should have been a definite penalty for Leicester"
Nicholas Ryan
119
Posted 16/12/2020 at 22:50:38
Craig [93]... 'I used to live in an apartment in the centre of Leamington...' If John Le Carre hadn't died yesterday, I suspect he would have been using that, as the opening line of his next spy novel!
By the way, am I alone in thinking that Martin Olsen looks about 75 in the photo above!
Brian Wilkinson
120
Posted 16/12/2020 at 22:51:49
No coincidence that our defence has looked better with switching Godfrey over to the left side, looked out of sorts playing on the right.
Will take those two points.
On a final note, after cryarsing for 5 subs, Klopp played the entire match, without any subs coming on, just watch when they get turned over and he starts banging on about too many games and not able to make 5 subs.
Brent Stephens
121
Posted 16/12/2020 at 22:53:04
John #113 fair points!
Dave #114 I was really torn but once I got lucky in the ballot I couldn't resist. Mask on as soon as I left the "palace" and only came off when I got home. The train was very quiet and a six-coach. Me and my mate were the only two on the soccer bus, before and after the game! Him upstairs and me downstairs would have been a bit OTT. Plenty of social distancing in the game, and Goodison Road etc were eerily quiet. But what atmosphere inside.
Kunal Desai
122
Posted 16/12/2020 at 22:53:48
It's about getting results right now, the pretty football wasn't yielding the results we would have liked and Carlo has changed it. I think we may have to be a little less 'attractive' in our play until Carlo brings in those players that can play the style and system he wants.
Godfrey and Holgate as full-backs just look more of a solid and balanced defence.
Thought Doucouré was immense. Best game in an Everton shirt.
Peter Mills
123
Posted 16/12/2020 at 23:01:57
This was an excellent performance against a very decent team. Well done Blues.
Everyone worked extremely hard, and seemed happy with the formation in which they were asked to perform. That's good.
We scored more goals than the other team. That's good.
Robert Tressell
124
Posted 16/12/2020 at 23:02:16
Agree with you Kunal. Doucoure had a tremendous game. Not least because he adapted after Allan went off and played just as well. Keane looked in total control throughout with Mina not far behind. Iwobi looked like he might just make something happen as well as putting in the hard work. But Doucoure shaded it for MOTM.
Mike Gaynes
125
Posted 16/12/2020 at 23:10:26
For the dining and dancing pleasure of our US contingent, Men In Blazers on NBC is now featuring an extended (and presumably pre-taped) interview with Jordan Pickford.
Pete, that's why I love ya, man. That highbrow, intellectual analysis. More goals. What a concept.
Ciaran #112, you are one funny dude.
David Pearl
127
Posted 16/12/2020 at 23:18:29
Yes, excellent seeing us grind out 3 points and we now have our spirit back... to carry us through to when we have Digne and James back! So refreshing to see.
I didnt think Iwobi had a great game but he was there putting a shift in. Gomes got away with one but he needs minutes and we know our starting 11 for Saturday.
Another 3 points against a frail Arsenal and we put ourselves back in contention.
Mike Gaynes
128
Posted 16/12/2020 at 23:21:04
Bogdan #67, welcome to ToffeeWeb.
Ciarán McGlone
129
Posted 16/12/2020 at 23:25:01
Mike..
Ah come on..
put your dislike of him to one side... the replay was incontrovertible.
Steve Brown
130
Posted 16/12/2020 at 23:25:23
A proper solid performance built in a strong defence, hard work and discipline. Well done boys.
Danny Broderick
131
Posted 16/12/2020 at 23:58:43
Very good performance. Very controlled. Tactics absolutely spot on again - defend deep and you nullify Vardy. We seem solid with our new back 4. Allan and Doucoure have really come into their own this last few weeks, and Doucoure went up a gear again when Allan went off. Again, Iwobi was on form and Richarlison was industrious and effective. DCL didn't get much service, but all things considered, that was a pleasing performance and win. Special mention to Olsen also, whose distribution was outstanding and who was calm and assured with his handling.
Carlo seems to have stumbled upon a winning formula. 2 great results on the spin. I think he'll have to look at the role of the full backs when Digne and Coleman come back. Previously, they have gone forward too much and left us over exposed. Currently, we seem rock solid.
Another big one next week in Arsenal. Let's hope we don't let them off the hook and have a right good go at them. Unbelievable to see how high we are in the table after our recent bad spell.
Kase Chow
132
Posted 17/12/2020 at 00:19:14
Olsen's handling but also his positioning is sound.
Calvert-Lewin wasn't his normal self today (or vs Chelsea). I wouldn't be surprised if he was a bit fatigued. Shame we don't have any options to give him a rest. We can't afford him to get injured either.
Desperately hope Allan isn't out for too long. How long is a hamstring injury? 8 weeks?
The full-backs have been solid in defence. However, this system suits the opposition we have played. If we were against a weaker team that sits back, then we would struggle to open them up.
Happy for Richarlison that he got a goal. Hopefully, he can kick on and be a threat again.
Arsenal will have Gabriel suspended against us which is great news. Maybe we try Simms or Gordon and rest Calvert-Lewin for Man Utd (please not the useless Tosun – would Sam take him for West Brom maybe?)
Getting worried about Gomes. He doesn't offer any goal threat and his presence won't bring out the best in Sigurdsson. I much prefer Davies.
Well done, Blues. I'm enjoying being an Evertonian again (which makes me as fickle as a teenager in love).
John Pierce
133
Posted 17/12/2020 at 00:30:49
I'm still agog we pulled that off. Leicester were surprisingly nullified with ease. They just subsided. The game wasn't played at any real tempo, which had to suit us.
A real compactness to our play but we definitely showed more going forward, which was my fear. Calvert-Lewin just about stayed in the game but, from time to time, got isolated, which is the flip slide to this style of play.
With Holgate & Godfrey tucked in, once again Mina & Keane didn't go anywhere, and had yet another comfortable game. The gaps between them were tight and Madisson couldn't find any space, in between them. In fact, he was shite!
Both full-backs were aces and played 30 minutes on a yellow and they were exemplary, not going to ground once. Both came as Gomes failed to adjust to his role after half-time and they were both good yellows to take.

Mike Gaynes
134
Posted 17/12/2020 at 00:36:21
Ciaran, I honestly thought you were joking, given your usual sardonic bent.
"Perfectly timed"??? Oy gevalt.
I don't dislike Gomes. I love him. Wonderful human being. Elegant passer. But he's a defensive moron. Always has been.
He certainly did not commit the penalty. But the challenge was absolute idiocy, a loony lunge from out of position by a guy who cannot tackle, from which the team escaped dire consequences only by sheer luck and VAR. And it's a chronic problem. He commits dumb fouls in bad locations as a matter of routine. Back in the days when we couldn't defend free kicks, he cost us goals several times.
Tonight had absolutely no business chasing a guy 30 yards and sticking his leg in from the wrong side just after he crossed into the area. It was good fortune alone that he missed -- and VAR was available to save him.
John Pierce
135
Posted 17/12/2020 at 00:56:05
I think it's fair to say Gomes is in a bad place. He looks like the odd guy out in that midfield; realistically, I'd have him nowhere near our back four. You can see he is shorn of confidence, although he kept his game fairly simple tonight.
Sadly I think he's a 'sunshine' player: when we are on the up, his flair and passing range are a positive. He's a poor judge of a tackle for sure and his modus operandi is to commit a bad foul when he gets dispossessed. Mike, something you've pointed out many times.
His best position at the moment is the bench or maybe to swap out with Sigurdsson.
Don Alexander
136
Posted 17/12/2020 at 01:02:28
That's two consecutive clean sheets, something to be celebrated.
Two or three days ago our illustrious member, Mr D Hind esq, stated he had it on "good authority" that Signor Davide Ancelotti, the manager's 30-year-old son, employed as a coach at Finch Farm, had very recently taken the role of personally coaching our defenders on basics such as even "body position" (inferring, obviously, that coaching by the Kenwright appointed coterie of old-boy coaches was inadequate even in the basics).
If Dazza's right (as he occasionally claims to be), then well done Signor Ancelotti Jnr! Way to go.
Derek Knox
137
Posted 17/12/2020 at 01:26:23
Hello Bogdan @ 67, so nice to see you post on the match thread, as with all our overseas and abroad Evertonians. Hoping to see more of you on here, you know you will always be made welcome.
Not getting carried away, but looking forward to maintaining our good run against Arsenal at 17:30 on Saturday, who are not enjoying the best of spells. "Beware of the wounded tiger" applies here, and nothing should be taken for granted.
I do hope, as reports suggest that Allan is not as badly injured as it first appeared, and may be out for a few weeks rather than months, he has certainly made a difference since he joined us. The other encouraging point is that we 'managed' in this game after his departure.
That is what having a decent squad is all about, certain players are obviously 'missed' but we have to carry without them during their recoveries.
It's a pity young Antony Gordon only got a cameo role in the dying embers of the game, but hopefully, now he has 'broken the ice', he is back in Carlo's plans and thoughts for the future.
A reasonably busy fixture list over the Xmas period coupled with the Carabao and FA Cup games should be a chance to 'rotate' as Carlo likes to do. It's no use just depending on what would be considered your first choice players, as injuries do happen, and usually at the most inconvenient times too.
Roll on Saturday 17:30!
Ernie Baywood
138
Posted 17/12/2020 at 02:10:28
I'm another one in the "shouldn't be making that challenge" camp.
In fact I'm in the "he shouldn't be making half of the challenges he does near our area" camp.
He got a nick on the ball tonight but he costs us dangerous free kicks every time he plays. It must be something that can be addressed?
Bill Gall
139
Posted 17/12/2020 at 02:39:15
Shame about Allan and it seemed bad as he was carried off on a stretcher but noticed when he got to the bench he got off and talked to the coaches and walked down the tunnel. What impressed me more was the rest of the defense rolled up their sleeves and put in the extra work, especially Doucoure, to make up for his absent.
When are referees going to start and give Richarlison some protection? I know he goes down easy but he gets some bad tackles on him and no yellow cards; teams understand he is the one to stop and make sure they do.
Nice feeling to not only not have your weekend ruined but to keep that feeling midweek.
You can always mention players who played really well but this was a good team effort, from the manager and the players. This is the time of the year when you need a good squad and hopefully we can keep this performance going with players coming in to cover the injuries. The standard has been set for other players in the squad to follow.
Brian Murray
140
Posted 17/12/2020 at 03:29:08
Time for the best little Spaniard we know to feel the full force of the blue freight train with no brakes on Saturday. Coyb, no mercy – this league is very average, albeit exiting. We have had off days but not outclassed like at Chelsea last season.
Darren Hind
141
Posted 17/12/2020 at 06:15:41
Jay Harris,
Yes. I'm hearing really encouraging stuff about Davide's contribution too. Good news for cynics like me who thought he was only here because his arl fella didn't want to see him out of collar. It'll also come as a big relief to the morons who thought Frannie Jeffers and John Ebrell were responsible for first-team coaching.
Tony @102,
I may not be wiser than you, but I`m deffo older and more experienced. Take it from somebody who has learned the hard way down the years: betting on Everton is a very costly business. Doubling them up with another team is the road to ruin.
The bookies have stuck their chins out far enough to tempt me out of my fiver/tenner comfort zone twice in four days. I withdrew 400 quid from my Skybet account when I got in this morning. Think I'll quit while I'm only a couple of grand down.
You gotta know when to hold,
Know when to fold,
Know when to walk away....
Danny O'Neill
142
Posted 17/12/2020 at 06:59:22
Never bet on Everton! I'm just superstitious having contemplated a punt on Everton to win the FA Cup in 1995 when they were at 33-1 in January. I refrained and we won the cup!
Not a lot to add from the Chelsea performance. More of the same; not backs to the wall, just very well drilled and organised. The first 10 minutes of each half aside, I thought we were comfortable, although I did think that was a penalty and expected VAR to confirm.
When most were struggling to look through the result at Burnley, I called out a decent performance and the midfield 2 of Allan and Doucouré in particular. They were great again last night with Doucouré really stepping up to the plate after Allan's injury.
Gutted about Allan. I've referred to him as the Brazilian Peter Reid previously. What you get with him is not just what he does on or off the ball as a footballer, he's a captain without an armband. Constantly organising others, shouting, pointing and being a flea in the ear. And not just last night, he's been doing it all season. Here's hoping that it's not too serious.
Another good shift from Sigurdsson.
Before Chelsea, I pointed out if we beat them we go 2 points behind them. We are now 1 point above them.
Long way to go but we're on course and on target.
Ciarán McGlone
143
Posted 17/12/2020 at 08:13:47
Not arguing with his proclivity to make the odd stupid tackle... just saying that last nights wasn't one of them.
Anyway, splitting hairs. I think he'll do fine over the next few games. Roll on Saturday.
Trevor Peers
144
Posted 17/12/2020 at 09:07:27
Just echoing Darren's #33 comments:
"No big predictions, just satisfaction and contentment tonight." That pretty much sums up how I'm feeling too.
Carlo's experience is shining through; he's learned from his own mistakes: having toyed with the disastrous 5 at the back, he has quickly readjusted his tactics back to a 4-4-2 formation and has got us back in the groove. With the option of introducing a fit James back into the side when required, things are looking up once again.
The only bump on the horizon is the Allan injury; his quality will be missed, hopefully he has a speedy recovery.
Tony Abrahams
145
Posted 17/12/2020 at 09:56:05
Wise words Darren, I'm glad you've took a little bit back over the last four days mate, but a fool and his money are soon parted and that's me, but Everton won so it's a lot easier to take it on the chin!
John Raftery
146
Posted 17/12/2020 at 10:02:42
Ciaràn (143) When you count the number of defenders between the attacker and our goal, at least two of them, there was no need for Gomes to attempt a tackle from behind. He was in the worst position to make the tackle. He is cumbersome at the best of times and should be told not to make a 'forward's tackle' in his own area.
Joe McMahon
147
Posted 17/12/2020 at 10:14:01
Brilliant result last night, just we really need luck with injuries as all we ever hear about is Liverpools few.
Defo the most impressive result from last night but yet the red bias media is leading with 4 articles on Liverpool. We all have to pay the license fee, its shameful.
Tony Everan
148
Posted 17/12/2020 at 10:24:39
Danny 142
I like the Brazilian Peter Reid comparison. His importance goes beyond his ball play and as you say he is a captain without the armband. The camera briefly showed him towards the end of the first half urging his teammates on. He was shouting to them " Come on, come on, Push, Push !" Motivating them and rousing some energy from them in a crucial period.
I hope the rumours that the injury is not too bad are true.
Also, with the way out players are playing now, recruitment priorities may have to be revised. We still need support for DCL, to step in and give him a breather or for when he is injured. Tosun isn't the man and will be off to Turkey.
A consideration should be given signing an understudy to Allan. It is such an important role. A young version of the man himself with all his qualities. A tough ask for Brands ! I think that would provide insurance for injuries and fatigue and be a relief for Allan.
Laurie Hartley
149
Posted 17/12/2020 at 10:31:23
This team seems to be made of different stuff than in the past. Last year before Spurs away we had a real chance of the European places but we were well beaten when we needed a performance to kick on.
This time round we found ourselves in the same situation going to Leicester but we dug in and came away with all three points - "not very Everton that"

Frank Crewe
150
Posted 17/12/2020 at 10:49:18
@Tony 148. I think Gbamin was our Allan before Allan actually arrived. Carlo says he's supposed to be back in January so before we go buying another midfield player we had best see what he can do. There's also Delph. Unfortunately he doesn't seem to be able to play more than two or three games before he picks up yet another pull or strain and is out again. Also what about Davies? If we buy another young midfielder where would that leave him?
According to Carlo they think Allan's injury isn't as bad as it looked so hopefully he may not be out for long. So I think it would be best to hold off on buying any more midfielders until we see how that turns out.

Tony Everan
151
Posted 17/12/2020 at 11:33:55
I agree Frank that Gbamin could be the answer, the lad deserves his chance to prove himself. Tom too is at the point in his career where he really has to stake his claim. I am jumping the gun a bit, but really I hope one of those two could be good enough to fill that role.
Sam Hoare
152
Posted 17/12/2020 at 11:57:21
I had high hopes for Gbamin but the lad has come off the back of a massive injury. It took Coleman about a year or two to get back to close to his best. Gomes is still to get there.
Plus Gbamin has almost no experience of the PL which usually takes some adapting to.
I'd love for him to hit the ground running but I don't think its at all likely. Allan will be a massive loss. Doucore did really well last night but he is not a player who's able to read the game defensively. And Gomes is an absolute liability as he demonstrated last night. I think Davies will get some minutes in Allan's absence and perhaps Delph if he is fit. Perhaps Holgate or Godfrey could step up but i'd be loathe to change the defense that has kept two clean sheets in a row.
The midfield 3 will continue to be an issue untill Allan is back and we get a new player to occupy that third spot.
Brian Murray
153
Posted 17/12/2020 at 12:23:39
Amazing Gomez must think we are so easily pleased as he still living off his first year and get out of jail I'm still recovering from leg break. It's bad enough the danger he puts us in but his weak mentality is not what we need at all. At least Davies is brave in trying to play on the front foot. Usually say the same about Siggy but fair play to him he's not hiding now and maybe the penny has dropped we need him to turn up. The four centre half's are a million miles away from the Walter smith tactic ie Richard dunne etc. Total class Godfrey and Holgate. Coyb
Mick Davies
154
Posted 17/12/2020 at 12:24:19
I agree with most of the above about Gomes. He reminds me of Osman, who had my heart in my mouth every time he chased back towards our area. Gomes, just isn't the player he was before Son did his dirty work. We're just a couple of players short of pressing for a CL spot now, and when all the injuries (hopefully) clear up, I see no side that makes me shiver at the thought of playing them with our attitude and spirit. Incidentally, penalty or not, I think our giant, confident keeper would have saved it anyway
Danny O'Neill
155
Posted 17/12/2020 at 12:32:47
Joe (147). No matter what we do, we are just not fashionable in the eyes of the national media. I don't recall us being so in the 80s. Maybe an element of it in the 60s but I'd have to let a more (ahem) senior poster comment.
In my car this morning on the radio (national station): "And in sport, Liverpool are 3 points clear at the top after beating Tottenham whilst Arsenal drew with Southampton. Meanwhile in Scotland, Rangers ". Not even mentioned before switching to a 4th tier European league!!
I was hopeful Gbamin may be the enforcer that I spoke about sat behind Allan and Doucoure, but that was before we reverted to 4-2-3-1 and kept leaving that pocket of space between those 2 and the defence.
Paul Burns
156
Posted 17/12/2020 at 12:38:26
Right team, right set-up, hard work. The key to success. You need to be more solid and steely away from home.
Leicester are no mugs, great result. Get the confidence back.
Brian Murray
157
Posted 17/12/2020 at 12:40:41
We are sadly classed the same level as villa saints etc. Only thing different is our weirdly still strong fan base especially away from home that no club comes close. It all stems from the 60 s and generations of blues had no say who they was going to follow. At least the tourist club over the road can't boast that and it really gets under their skin.
Chris Robinson
158
Posted 17/12/2020 at 13:00:01
I think what we have to bear in mind for DCL's relative "dearth" of goals recently is that Coleman and Digne (weren't they an ice-skating pair?) have been missing and not adequately replaced attack-wise. He's therefore not getting the crosses he makes such good use of nor the space to attack.

Think of the Burnley match...one chance, one goal. It's affected Richarlison and James too, with nobody threatening the overlap, the oppo defence can double-mark them with ease and prevent them cutting inside to use their favoured foot...last night at Leicester showed what Richi can do when cutting in onto his right, when he's got the space to do so. Anyways, let's hope the injured players are back soon. Carlo can then really improvise format-wise!
Dave Abrahams
159
Posted 17/12/2020 at 13:11:46
I think Gomes deserved the benefit of the doubt over the penalty, he also deserved a good strong kick up the arse for making that tackle, ridiculous, but not out of character with his general play, I think every Everton fans heart are in their mouths whenever he makes a tackle.
This lark, that he hasn't been the same since his, admittingly, bad injury doesn't wash with me, he one or two games every so often and was as poor then as he is now, worse so now, let's be honest at the moment he is neither use nor ornament to the team, that is why they were excellent last night, they played so well despite him, he is a definite handicap every time he is on the pitch for Everton, give me Tom Davies energy and drive any day, yes he will make a few mistakes but he won't be the calamity that NUNO is at the moment.
Joe Duffin
160
Posted 17/12/2020 at 13:18:24
In terms of the James discussion - I agree with those who say he is part of the problem. When he was in the team, the other teams know he wont defend, at best is passive and work rate is poor.
Its not a coincidence that in last 4 games prior Chelsea that nearly 65% of attacking play from other teams came down the side he was playing at - doubled by the fact we didnt have seamus to do cover for him.
Premier league teams cant afford to have passengers who arent willing to do the dirty work - James certainly falls into that category.
On a positive note, Godfrey looks like an absolute steal in this market. Iwobi is looking a much improved player (I still have doubts that even he knows what he is doing at times), and team look capable of matching the rest.
If ever there was a season where top 4 is wide open, this is it.
Don Alexander
161
Posted 17/12/2020 at 13:49:44
Dazza (#141), the players that Davide is now having to coach the basics to have largely been delivered to him after having been coached to some, or a large, extent by the likes of Unsy, Ebbrell and Jeffers. It's unarguable.
Derek Knox
162
Posted 17/12/2020 at 13:50:26
Danny @ 155, spot on there, if you look at Sky Sports Football Header they show 7 Managers with Horse Teeth at the forefront, flanked on either side by Ollie, Brenda, Lampard, Mikel, Mourinho and Pep.
Not necessarily in that order, but out of them all Pep, Ollie and Mikel are 8th, 9th and 15th in the Table, but are portrayed as being in contention. No mention or picture of Carlo, or Hassenhuttl (3rd) or even Moyes in 7th currently.
Personally I find it in some ways annoying that we are being ignored, but also am happy to go 'under the radar' and pick them off one by one when they get in the crosshairs. :-)
George McKane
163
Posted 17/12/2020 at 14:06:14
Hi Derek and Dave and all, hope you and yours are all well.
A few weeks ago, Michael put me on the post and asked "What would you do, George?" I answered as honestly as I could.
I would like to add that, if I was involved at EFC, I would ask that, as a Club, we write to The Media, especially TV, and ask for a comment on the bias against Everton – never more clear than before, during and after any match... it's crazy!
I would also ask the Referees Association for some explanations regarding bookings and free-kicks. I cannot stand moaning continuously, but do something: the free-kicks last night and bookings were dreadful; getting the penalty decision right does not make other decisions acceptable.
Fuchs, for example... even on Saturday, McManaman laughed about Calvert-Lewin getting an arm in his face with a comment "I'm sure it wasn't intentional" and then later said Giroud had gone down after "a smack in the face" – a comment totally unchallenged by anyone.
We need to stop moaning but make it clear that it is unacceptable. Further, the Wilson penalty at Newcastle... we have seen a few exactly the same since with no penalty given.
But, in reality, I do not care much about other clubs, players, games – I am only interested in all things Everton. Finally, with all the media giving EFC and some of our players dreadful stick – Richarlson for example –anybody ever say Salah goes down to easily and too often? No.
So we don't need our own fans slagging our players on the Live Forum – criticise after the game or accept that we all have favourites but some of the serious slagging is, in my opinion, dreadful.
So there you go: "Don't start with the neggo waves, Moriarty!"
Up The Blues... "Think bridge man".
Sam Hoare
164
Posted 17/12/2020 at 14:06:14
I think Rodriguez could possibly play the role that Sigurdsson played last night.
We seem to be playing more of a 4-2-3-1 for the last two matches with Allan and Doucouré sitting a bit more and Sigurdsson playing the No 10 role.
It should be noted that Siggy has worked very hard (he always does) in the No 10 role and closes down opponents consistently (if not quickly). I think Rodriguez can do this and is not shy of working hard; it's just that he is slow over the ground... but then, so is Siggy.
What we should not revert to, at least against the better teams, is having Rodriguez on the wing, where his desire to wander and his lack of speed in recovering was beginning to prove very costly.
In the last two matches, we have looked much more solid, partly because Iwobi and Richarlison have worked very hard on the flanks to get back and cover whilst also providing an attacking option.
If we continue with the 4-3-2-1 then Sigurdsson or Rodriguez could both play that No 10 role so long as they work hard. Bigger issue is who plays alongside Doucouré in the double pivot? Gomes cannot do it against teams that will have more of the ball than us, I'd say... which leaves Davies or Delph.
Jason Li
165
Posted 17/12/2020 at 14:48:08
Seeing that Kenny has played in the cup at centre-back, and down the left as a sub, and obviously right-back, would it be crazy to say his ability to understand the pitch really well and discipline makes him an ideal candidate to learn to play defensive midfield?
Furthermore, he is a good passer and you don't need to be rapid to play this position, just sniff out danger before it happens.
Finally, he won't move out of position often, so other midfielders know he stays in situ.
If he could develop a defensive midfield part of his game portfolio, what a squad player he can become!
Stan Schofield
166
Posted 17/12/2020 at 14:52:10
Danny @155: Regarding our not being fashionable with the media, I think there's far more to it than that. When you're not fashionable, you tend to get ignored. Everton, on the other hand, seldom get ignored, and there is so much negative commentary about us. In fact, you could say it's 'bitchy' commentary, sort of snidy, very far from neutral and unnoticed.
And those on the RS side actively hate us. By 'actively', I mean they'll go out of their way to comment on us and to us when it's out of context. For example, when they won the league last season, some RS supporters I know contacted me immediately to tell me that Everton are shite, rather than focusing on their own achievement. In contrast, if we won the league, the last thing I'd think about is them, or at least that's how it's always been when we've won trophies.
Oscar Wilde said that the only thing worse than being talked about is not being talked about. We are certainly not in the latter category. We seem to really get under the skins of anyone biased towards the RS, and to a degree that looks obsessive. It's quite weird.
Brian Murray
167
Posted 17/12/2020 at 15:12:27
Stan post 166. They are a totally different animal than us and the rest of the league. I have never seen any group of fans in over 50 years cause havoc and fight amongst themselves after a title win. You can't buy class I suppose.
Robert Workman
168
Posted 17/12/2020 at 15:22:53
I may be 'old school', but it has been great to watch defenders defending in the last two games. The 4 defenders clearly enjoy defending as a unit, knowing that none of them is expected to go far forward like a wing-back.
I also believe that both Holgate and Godfrey are fine at full-back. They have both proved – as Holgate also did for West Brom – that, if you can defend well, you are never being played 'out of position'. Nevertheless, I do accept that it must be a bit tricky for Godfrey to play on the left being naturally right-footed.
Other central defenders who have played well at full-back include Kevin Ratcliffe, Julian Lescott and Michael Ball.
Derek Knox
169
Posted 17/12/2020 at 15:29:02
Sam @ 164, I think the lone striker role which we seem to have played recently is suited to Calvert-Lewin, such is the way he has matured as a player.
But, and there is always a but, Dom can't cross to himself, and service to him recently has been very limited indeed. I appreciate it has been offset by goals coming from other departments, but it is a bit concerning if those sources dry up (hopefully not).
Having said that, it is good to have different formations, when certain players are unavailable, provided all personnel chosen perform accordingly, as it keeps the opposition guessing, and how to combat against it.
Dave Brierley
170
Posted 17/12/2020 at 16:08:05
Hey Don @136,
"(inferring, obviously, that coaching by the Kenwright appointed coterie of old-boy coaches was inadequate even in the basics)."
You never fail to make me laugh as you can get a dig in at Blue Bill on almost any unrelated topic. Genius.
I have a theory you were turned down by BKL Productions for the part of Ma Twanky in Aladdin and only got offered the back end of a horse to Biggin's front end. C'mon, fess up.
Tony Abrahams
171
Posted 17/12/2020 at 16:38:34
If this is true what Davide Ancelloti has done with our defenders, and I don't doubt what Darren has told us for one second, then I think it just shows you that football is like any other industry, with good and bad tradesmen, and loads of jobs for the boys, taking preference.
Keane, Holgate, Godfrey, Kenny – four English international footballers; Mina, Colombian international; Coleman, captains his country sometimes; and Digne, a French international player – have probably all been getting coached at academies since they were about 10 years of age, and only Jonjoe has come through at Everton.
I'd say the problem with coaching is just like reading a ToffeeWeb forum, with so many different opinions, meaning players will be getting told different things every time they have a different coach. So good on young Davide, because 90% of defending is definitely a collective responsibility imo, and Everton finally look to be defending as a team!
Sam Hoare
172
Posted 17/12/2020 at 16:49:01
Derek@169, as much as I like Calveret-Lewin, the team's needs come before his and I think we needed to solidify a bit at the cost of maybe creating a few less chances.
It's important we don't sit back too much and that's why we need tremendous work rate and athleticism from Richarlison and Iwobi to make sure that they can get up the pitch to support Calvert-Lewin as well as helping out defensively.
Certain teams (such as Sheffield United) will sit back against us anyway but currently we are well suited to play a deeper line and hit teams on the counter-attack. Dom will get less chances but so will the opposition, who were carving us open all too easily just a few weeks back.
Tony Everan
173
Posted 17/12/2020 at 16:57:55
Sam, It's against teams like Sheffield Utd that James Rodriguez could hold they key to. Maybe James (if fully fit) starting the game and Iwobi coming on for the last 30 mins.
He is just a player that is head and shoulders above any Sheffield player and one moment of sublime creativity can give us that important first goal. I think Sheffield will find us hard to break down if we go ahead.
Barry Jones
174
Posted 17/12/2020 at 19:01:30
Another satisfying performance, if not electrifying. I am very impressed with the back four the last two games. We are limited going forward with this set up, but defensively solid.
I think James's best position would be central as #10, as many have already pointed out. Some have suggested that this would leave us weak on the counter attack. I'm not so sure.
It's easier to set up a midfield to prevent a counter through the middle. If one of your wide players doesn't track back, however, you are normally left very exposed. For this reason, I have never really understood why he has been played wide.
Danny O'Neill
175
Posted 17/12/2020 at 20:40:07
Stan, it's a fair and good point. We get under the media and Liverpool's skin because we refuse to lie down and accept our alleged position as plucky "little" Everton (well I do).
If we step out of line and dare to question this view, we are called bitter. We're not bitter, just knowledgable and willing to call out just about every aspect of the game as we do with each other on this forum. And we judge our own team good and bad, whether we agree with each other or not.
Arguing with a Kopite is like having a 6 year old playground dispute; they're really good and we're really shite is how it tends to go. Okay I'm stereotyping; some of them, my family included aren't all like that.
Tony, I tend to agree. With the amount of coaches these lads go through nowadays and especially with the amount of coaching regimes Everton have gone through in recent seasons, that is a valid point.
Maybe the best thing they can do right now is listen to the coaches Carlo has empowered and live in the here and now. Not to forget what they've been taught previously, just look forward and listen to those empowered by a proven winner.
I'm not a Carlo happy clapper, by the way. Just if I were a player, I'm listening to him and his staff over anything Silva and other predecessors have told me.

Don Alexander
176
Posted 17/12/2020 at 20:56:31
Dave, (#170) the only role I'd have in Aladdin is the lad himself, then I could have made the Genie get rid of you-know-who from the club.
Merry Christmas!
Danny O'Neill
177
Posted 17/12/2020 at 21:17:56
Chris Wilder touted as potential candidate for Everton just over 12 months ago.
Glad we steered clear of that one.
James Flynn
178
Posted 17/12/2020 at 21:22:57
Danny, I'd say his team is putting in the same effort as before. The team wasn't strengthened and paying the price. No matter how-well managed, you need talent.
Danny O'Neill
179
Posted 17/12/2020 at 21:38:39
We've all had this debate before James. Effort (huff and puff), gets you so far. Ability alone gets you so far. Being strong defensively gets you so far. Being attacking gets you so far. The really good teams manage to combine all of those attributes. Sheffield United and others like them focus on effort and defence.
Geoff Lambert
180
Posted 17/12/2020 at 22:00:45
Only just noticed 5 of our next 6 games are at home.
Richard Mason
181
Posted 17/12/2020 at 22:46:10
Waterford, in Ireland, just announced Kevin Sheedy as manager with Mike Newell as assistant.
Hopefully one or two Everton U23 players come on loan.
Hugh Jenkins
182
Posted 17/12/2020 at 23:01:51
Speaking of Sheffield United, anyone know what has happened to John Lundstram?
Almost ever present last season – and a source of a number of goals for them – but seems to have been absent for most of this season.
Danny O'Neill
183
Posted 17/12/2020 at 23:46:26
Sadly Hugh, despise the hysteria last season, possible that he and Sheffield United have been found out for what they are.
I watched Lundstrum at a youth game at QPR years ago and was very impressed. Genuinely pleased to see the lad has made a profession and living out of playing football.
But not a player who will ever be part of a successful top flight team.
Derek Knox
184
Posted 17/12/2020 at 23:53:27
Richard @ 181, Good news if that's crystal. :-)
Mike Gaynes
185
Posted 17/12/2020 at 00:04:09
Richard #181, I just became a Waterford supporter!
Hugh #182, Lundstram played in Blades' first 11 games this season, starting 8, before being dropped for the last two. He was finally left out of the squad completely against ManUtd today.
George #163, "Crazy... I mean, so many positive waves... maybe we can't lose! You're on!"
But as Jonesey said, "Well we're all nuts, or we wouldn't be here!"
Ian Horan
186
Posted 18/12/2020 at 01:24:42
Lundstrum is out of contact next summer, Wilder has said he will play the commited players first. Wilder thinks Lundstrum may have an offer elsewhere
Hugh Jenkins
187
Posted 18/12/2020 at 09:37:22
All, thank you for your replies regarding John Lundstram.
Ian (186) - if that is correct, then Wilder is surely becoming the architect of his own (and his team's misfortunes).
Ray Robinson
188
Posted 18/12/2020 at 10:05:54
Sometimes the end of the previous season can tell you so much about the next one. Just as in 83/84 when you could see that Everton were on the verge of something big, the end to the season when Leicester miraculously escaped relegation before winning the league the following one, the end of season run-in last year from Southampton that suggested they had completely turned their form around, this season's form from Sheffield United was entirely predictable.
They over-achieved thanks to a fantastic team spirit, boundless energy and fanatical support (missing this season) but you could see that they were a very limited team. Having said that, they don't lose many matches by big scores. It's vital that Everton win this one next week. We can't afford to slip up against them after our recent brilliant wins. I'd take another 1-0 right now.
Andrew Keatley
189
Posted 18/12/2020 at 10:09:29
Hugh (187) - I can understand Wilder and Sheffield United's frustration with Lundstram. When he signed for the club his career was at a crossroads, then he was in and out of their side for 2 years while in the Championship, before he was given (and has really taken) the platform to play in the Premier League - and he repays that by repeatedly turning down their offers of a new contract. Maybe he and his representatives think he is better off elsewhere - they may be right - but I can understand Sheffield United's dissatisfaction with negotiations. Losing Lundstram for free means they not only lose a £10-£15 million player, in his prime, for free - it also means they will have to fork out for a replacement from somewhere; that's a kick in the teeth financially, and a kick in the knackers in terms of pride.
Dave Brierley
190
Posted 18/12/2020 at 13:47:16
Don@176 Keep rubbing that lamp.
Merry Christmas to you too.
---
Add Your Comments
In order to post a comment, you need to be logged in as a registered user of the site.
Or Sign up as a ToffeeWeb Member — it's free, takes just a few minutes and will allow you to post your comments on articles and Talking Points submissions across the site.
---
© ToffeeWeb