Report
Everton scrape through in extra time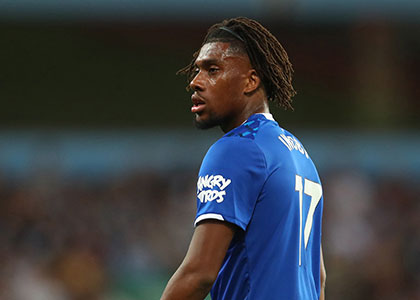 Alex Iwobi returned after missing the New Year's Day defeat to West Ham
Everton 2 - 1 Rotherham Utd [AET]
Everton's FA Cup campaign begin in laboured fashion this weekend with a home tie against Championship side Rotherham United at Goodison Park which dragged on into extra time before the Blues finally won it.
Carlo Ancelotti had announced that none of Calvert-Lewin, Richarlison or Jordan Pickford would play against Rotherham, with a raft of wholesale changes from the last line-up that lost so appallingly to West Ham. Cenk Tosun led the line with Lucas Digne miraculously declared fit enough to start after a rapid recovery from his bad ankle injury. Ancelotti also hands a fresh chance to Anthony Gordon. Niels Nkounkou is on the bench.
Up front, Dominic Calvert-Lewin was given a complete break despite experiencing something of a goal drought, with both Richarlison and Pickford not playing any part on this one.
In midfield, Alex Iwobi returned after missing the defeat to West Ham while André Gomes started alongside Tom Davies with Bernard on the bench.
At the back, Robin Olsen benefited from Ancelotti's rotation of his goalkeepers and Michael Keane returned after getting a rest on New Year's Day, alongside Ben Godfrey in the centre of defence.
Everton started looking into the low winter midday sun coming over the Park End stand. James released Gordon for a great run forward with the ball but his shot was blocked. Gomes then looked to score but his technique was dreadful.
A nice ball forward from Gordon fed Tosun well, and with his first touch, he chipped the ball delicately over Blackman to open the scoring inside 10 minutes.
James Rodriguez was assuming pivotal control in the centre of the pitch, spraying the ball around confidently until he was rather easily robbed. Iwobi contributed with one of his typically wild crosses over everyone.
Godfrey was alert to rob Lyndsay as he looked to raid the Blues area. Ihiekwe was next to be given a sight of goal but he was way off target. Smith seemed to have a clearer chance but lashed his shot wide as Everton relaxed a little too much. As the Millers gained momentum, three bites of the cherry were not enough in a determined attack, Olsen needing to make a difficult save on the third attempt.
More Rotherham pressure in the form of two corners saw a Crooks header glance off the top of the bar as the Blues lived rather dangerously, tempting fate? Some more fine play by them won another corner that was played too deep.
More pressure from a free-kick saw Lyndsay test Olsen with a fine shot but the flag had gone up for offside. James tried to get Everton into the opposition area but his pass forward was poor. But he did start a lovely passing move down the right that set up Tosun; however, his weak contact on the ball was insufficient to direct it on goal.
Another Rotherham attack rattled the nerves as Gomes headed the ball on for them, with a clearance falling to Woods who almost created a scoring chance for Crooks. But the Everton defence stood firm and finished the half intact.
The match resumed with the visitors still on the front foot, Olosunde running in well and falling as Gomes ran alongside him. At the other end, Iwobi drilled the ball across goal and wide of the far post.
The dismal quality of play showed no real improvement over most of the first half, with Everton resisting plenty of attacks but doing little of note going forward, Iwobi exasperating whenever he got the ball. And, with a poor mix-up by Davies in defence, Olosunde slotted the ball in at the far post, the Blues finally paying the price for an inexplicable lack of intensity since the opening goal.
Ancelotti was sufficiently perturbed to think of immediate changes, while Everton by way of afterthought mounted something that resembled an attack. Iwobi and Gordon then made way for Bernard and Doucouré.
Some dreadful short back and sides nonsense ended with a ridiculous foul by Keane, with Mina on for Digne and Sigurdsson replacing Davies. But they did little initially to stem the one-way flow in the direction of the Everton area, if not thankfully the goal.
From a flat Sigurdsson free-kick, James powered a shot deflected behind to win Everton's first corner of the game but it came to nothing. The Blues worked forward and Godfrey finally crossed to no-one.
Rotherham freshened up with more changes as Everton continued to labour, painfully unable to elevate their game above the Championship standard of their visitors. Coleman tried, winning a corner that was defended at the near post. Coleman finally crossed in but the header was impossible for Doucouré.
A scrappy moment in front of the Rotherham goal, it looked like Tosun could score but his weak header was easily anticipated. That inspired Rotherham to create a sweeping attack that came very close to scoring.
Rodriguez swung in a lovely free-kick that Tosun got to first, and buried, but the dreaded VAR said his shoulder was an inch offside. Rotherham won a late corner that saw Everton break and win their own late corner. Sigurdsson's delivery was punched away as the whistle went for full time, and 30 minutes of extra time before possible penalties.
In the early minutes of extra time, Everton again went ahead with a simple goal created by James, whose pass forward to Doucouré gave him a fine opportunity to strike his shot away from Blackman and inside the post.
Coleman's shot was deflected, Sigurdsson's corner cleared. More chances came thick and fast, Bernard hitting the post, Coleman and then Gomes driving wide. Nkounkou fired in a lovely low cross, with Tosun, the meat in a Rotherham sandwich, denied the vital final touch.
The second half of extra time started with a head injury for Yerry Mina that extended the suspense even longer. When the game finally got going again, Rotherham had a fresh burst of energy and Everton had to be yet more resolute in defence.
Everton played out extra time against the valiant Millers without further embarrassment — other than the overall display which was pretty poor for a top-flight club with such an illustrious history in this competition.
Scorers: Tosun (9'), Doucouré (93'); Olosunde (56')
Everton: Olsen, Coleman, Keane, Godfrey, Digne (65' Mina), Davies (65' Sigurdsson), Gomes, Iwobi (61' Doucoure), James (95' Nkounkou), Gordon (61' Bernard), Tosun.
Subs not Used: Lössl, Holgate, Branthwaite, Simms.
Rotherham United: Blackman, Harding (83' Clarke), MacDonald, Ihiekwe, Wood, Olosunde, Wiles, Barlaser, Lindsay (76' Jozefzoon), Crooks (67' Vassell), Smith (77' Hirst [Y:106']).
Subs not Used: Johansson, Vickers, Jones, Tilt, Miller.
---
Reader Comments (378)
Note: the following content is not moderated or vetted by the site owners at the time of submission. Comments are the responsibility of the poster. Disclaimer
Tony Hill
1
Posted 09/01/2021 at 11:05:00
I'm very happy with that team. Welcome back Lucas. And James playing too.
Neil Lawson
2
Posted 09/01/2021 at 11:11:08
That is an interesting and somewhat surprising team selection. I would really love them to do well and to win at a canter.
Jay Wood
[BRZ]
3
Posted 09/01/2021 at 11:12:46
Very strong side. Very strong back four. Remarkably quick recovery by Digne. Be interesting to watch Godfrey in his natural centre back position.
Plenty of insurance and experience on the bench as well. Be a bonus if the likes of Branthwaite, Nkounkou and Simms can get some game time.
Patrick McFarlane
4
Posted 09/01/2021 at 11:19:18
A far stronger line-up than I had envisaged, good to see Iwobi back too, I never thought I'd ever say that. Digne starts which is extremely surprising, but hopefully, all goes well for him. A decent performance should see the Blues progress, but it's the FA Cup, so who knows?

David Pearl
5
Posted 09/01/2021 at 11:21:31
Guessing Digne will play 60 mins. And l would be suprised if he plays again vs Wolves. Interesting team with either lwobi or Gordon on the left, and the other more central. The big question is if Tosun can scrore a goal. Think my fiver will go on lwobi. Coyb
Martin Reppion
6
Posted 09/01/2021 at 11:23:41
I have BT Sport Via Virgin Media
How do I access BT Sports 2 Extra?
Jason Wilkinson
7
Posted 09/01/2021 at 11:32:03
The bench is a little bit disappointing. I was hoping to see a few more of our younger players on it. Sigurdsson, Mina & Bernard could have been given the day off for me.
Frank Sheppard
8
Posted 09/01/2021 at 11:39:59
Great to see such a strong selection.
Robert Tressell
9
Posted 09/01/2021 at 11:41:52
Seriously strong and attacking line up. Surprising to see Digne and Rodriguez start. Hopefully we score early and Nkounkou and Simms get an opportunity.
FRED CHARTERS
10
Posted 09/01/2021 at 11:44:12
Martin, if you have an iPad the game is advertised on the BT website starting noon on BT Sports 2 Extra.
Rob Hooton
11
Posted 09/01/2021 at 11:45:01
Surprised and pleased with the strength of the lineup, of course I'll be watching despite my earlier claim!
Really hope Digne is 100%, remarkable recovery and showing his desire to play, really do like this lad
Michael Spear
12
Posted 09/01/2021 at 11:48:21
Martin, if you're watching on tv it's the red button then option 4, should start any minute now... I hope
Rob Hooton
13
Posted 09/01/2021 at 11:50:27
I just found it on the red button too, thought I was going mad!
Bill Gienapp
14
Posted 09/01/2021 at 11:51:51
I can't believe how fast Digne ended up coming back. Definitely a boost to the squad.
Tosun, whatever his shortcomings, is a decent finisher, so with James/Digne level service, I could actually see him bagging a goal.
David Pearl
15
Posted 09/01/2021 at 11:52:19
Finally alive
Thomas Richards
16
Posted 09/01/2021 at 12:01:03
The first of many games at centre back for Godfrey.
Going all the way this lad
Tony Everan
17
Posted 09/01/2021 at 12:02:52
Just astonished that Digne is back and starting this match, what a recovery!, the medics and physios have worked wonders. I just hope it isn't a wee bit premature.
This team has plenty of quality, we just need Cenk to finish the chances off.
COYBlueboys !
James Fletcher
18
Posted 09/01/2021 at 12:09:45
Lovely goal
Alex Gray
19
Posted 09/01/2021 at 12:31:31
Good goal but took the foot of the pedal since.
James Fletcher
20
Posted 09/01/2021 at 12:32:08
I don't understand why the team seems to score a goal and then shit it's collective pants...every game
Ciarán McGlone
21
Posted 09/01/2021 at 12:38:49
This match wouldnt look out of place in the Irish League.
Thomas Richards
22
Posted 09/01/2021 at 12:49:45
Get in Cenk!!!
Great set up, great finish.
An added bonus is I took the advice offered by a fellow poster and backed Tosun for first goal.
Tony Hill
23
Posted 09/01/2021 at 12:49:58
Depressing.
John Dingle
24
Posted 09/01/2021 at 12:50:40
Good to see how pleased Seamus was at Cenk's goal.
Jay Wood
[BRZ]
25
Posted 09/01/2021 at 12:52:57
Strong start. Some nice meaty early challenges.
Gordon a couple of lovely turns, including the ball from Keane that turned his defender before quickly and intelligently playing a perfectly placed and weighted pass for Tosun to score with a classy one-touch finish.
All looking good until the 20 minute mark when, all praise to Rotherham, they were the better team. Seamus excellent in all he is doing. His defensive work. Carrying the ball forward. Supporting the attack. Tom Davies the steadiest of our midfielders. James initially looking good now very peripheral. Same with Iwobi.
Need a second goal to choke off any Rotherham recovery.
Stuart Sharp
26
Posted 09/01/2021 at 12:57:49
Great goal. Terrible performance. A midfield of Davies and Gomes can't dominate any team.
Kevin Dyer
27
Posted 09/01/2021 at 13:00:24
Not the best performance so far. Controlled the game early on but they've gained in confidence as we haven't hurt them since the goal. They are running harder and winning the 50-50s.
Iwobi not involved at all, James has had few options for a forward pass as we seem to be lacking movement again. Olsen our best player so far.
I can see them drawing level if we don't raise our game. Very subdued and many playing at half-speed, mentally and physically.
James Fletcher
28
Posted 09/01/2021 at 13:15:28
Players not making tackles, our passing stats must be woeful and little desire to get forward or win the ball. We deserve to lose... hopefully the equaliser sorts them out.
Alex Gray
29
Posted 09/01/2021 at 13:18:12
Didn't see that coming. Some of our squad really are Championship material at best.
Mal van Schaick
30
Posted 09/01/2021 at 13:18:18
Stop start, no fluency.
Sean O´Hanlon
31
Posted 09/01/2021 at 13:18:49
Shameful, embarrassing, disgraceful.
James Fletcher
32
Posted 09/01/2021 at 13:24:15
Do our players not train at things like how to pass?
Warren Bede
33
Posted 09/01/2021 at 13:24:39
Another weekend of watching a Sunday league run-about. Players just don't care. Embarrassment to this club.
Bill Fairfield
34
Posted 09/01/2021 at 13:32:14
Awful performance... I just hope we make it through.

Ernie Baywood
35
Posted 09/01/2021 at 13:34:48
Hard to see how we would possibly score here.
James Fletcher
36
Posted 09/01/2021 at 13:37:12
On this performance, we'll struggle to score a penalty.
Warren Bede
37
Posted 09/01/2021 at 13:37:45
Longer than 90 we have a better chance of losing due to lack of interest. The money these players demand is disgraceful.
Sean O´Hanlon
38
Posted 09/01/2021 at 13:38:05
Rotherham are much the better side and deserve to win. A victory for Everton would be a travesty.
Garbage should be consigned to the bin.
Alex Gray
39
Posted 09/01/2021 at 13:47:33
Never offside!!
Ciarán McGlone
40
Posted 09/01/2021 at 13:48:39
I think we should ditch our Z-Cars entrance and come out to the Benny Hill theme tune instead..
Tony Twist
41
Posted 09/01/2021 at 13:55:24
Same old story, mediocrity is acceptable at this club.
Tony Heron
42
Posted 09/01/2021 at 13:56:03
When players can't pass 5 yards, cant win a 50/50 ball or take a decent free kick, I have to wonder just what do they do at Finch Farm?
Phil Smith
44
Posted 09/01/2021 at 13:57:23
Fuming here! One shot on target at home to Rotherham???
WTF is going on with our movement up top? Takes Gordon, Davis and Iwobi off (energy) and brings on Sigurdsson and Mina? Seriously???
I like Goddfrey but he's no left back. He can't cross the ball. Why is Nkounkou not getting on? Would have been a great game for him and Kenny.
Seriously lost for words. Those VAR lines fucking do my nut as well. How us that offside? Fuming!!!
Kevin Dyer
45
Posted 09/01/2021 at 13:58:24
Warren #37 that "overpaid" thing only stands up to scrutiny if every Premier League team stinks. Do you think only our players on on big money or something?
Awful performance, but typical of cup matches against "minnows". They are motivated, we clearly are not. It makes a massive difference. Got to hope one of our players has a spark of quality to decide it. The VAR decision on Tosun's second was typical of the meddling the officials love to do.
Alex Gray
46
Posted 09/01/2021 at 13:58:31
Havent been this angry watching us in a long long time. Regardless of his goal (and disallowed one) Tosun is utter garbage.
Embarrassed.
Neil Lawson
47
Posted 09/01/2021 at 13:58:41
This is Rotherham. Rotherham. There are no words adequate to display my disgust.
Jay Wood
[BRZ]
48
Posted 09/01/2021 at 14:00:08
Awful performance having started so well.
When you fall into apathy and lethargy during a game as we did it's very hard to shake it off and pick up the pace again.
Digne clearly off the pace. He doesn't get beaten for pace as he was today if fully fit. I don't understand why Tom Davies is frequently the player sacrificed when playing better than his midfield partners. The replacements have not improved the team or the performance.
Got to dig deep to get over the line in extra time.
Ian Godfrey
49
Posted 09/01/2021 at 14:03:28
Too much passing across the park and backwards, I for one can't understand some of the substitutions. Why take a full back off and bring on another centre-half? For me, Bernard offered nothing. Wonderful defence-splitting pass from James for Doucouré to put it away.
James Fletcher
50
Posted 09/01/2021 at 14:04:23
Nkounkou almost immediate impact...ffs how can Carlo not see that this was a good chance to get him a game
Gary Willock
51
Posted 09/01/2021 at 14:06:25
Silva, Koeman and Martinez would have struggled to put on anything this shit.
We have been genuinely dominated by a team in the relegation zone of the CHAMPIONSHIP. We have had ONE shot on target in normal time. One. We look completely blunt and disjointed.
We have no obvious shape, or playing style, and seem to be making it up as we go along. We only look like any threat from set pieces. and even that's being kind.
Too many similar players in Gomes, James, Sigurdsson, and Bernard. All of who are clearly decent players, but with only one "marshalled" attacker in front of them they offering little.
Feels like the Koeman "just throw on 4 number 10's, they'll work it out" days all over again!!
Gordon needs to go out on loan, but I fear he's another similar player to the group named above too. Maybe even Iwobi could be considered more of a central playmaker than someone who offers an actual threat.
With Richie misfiring and DCL only human, I'm just praying we do some work in this window and get someone out wide who has pace and scores goals.

Paul Birmingham
52
Posted 09/01/2021 at 14:10:49
Fair play to Rotherham and they deserved to win as they out fought and out played Everton for the last 83 I utes plus injury time.
Mindset and attitude and today simple 6 yards passes nor reaching and far too much inertia in the team to play free flowing football.
But to have been so out played over 95 minutes is a massive con earn. Did they change the tea bags again at FF or the hotel, whatever it's happening too often.
Let's grind a win out and take stock. Play like this at Wolves and it will be embarrassing.
Phil Smith
53
Posted 09/01/2021 at 14:10:51
Exactly James!
Ciarán McGlone
54
Posted 09/01/2021 at 14:13:10
"I don't understand why Tom Davies is frequently the player sacrificed when playing better than his midfield partners"
_____________________
Just a guess.. but maybe your analysis of his contribution was flawed.
Gave the ball away as much as anybody else in that first half.
Mick Roberts
55
Posted 09/01/2021 at 14:15:28
Piss poor all down to management. Koeman and Martinez would not have set the team up this bad. Substitutes were a joke.
Phil Smith
56
Posted 09/01/2021 at 14:17:30
Extra time sparking us into life, it seems. Nkounkou done more already then Digne all game! Baffled why he hasn't had more game time recently. Can he not defend?
Thomas Richards
57
Posted 09/01/2021 at 14:37:33
Poor performance.
We are in the hat.
Move on.
Jay Wood
[BRZ]
58
Posted 09/01/2021 at 14:38:55
FINALLY took control of the game in extra time.
The best thing that can be said of that game is that our name is in the hat for the next round.
Thomas Richards
59
Posted 09/01/2021 at 14:44:15
Phil #56.
On that evidence. No.
Good going forward but poor positional awareness today
He will improve though.
Hopefully people calling for him to start will show a bit of patience
Tony Hill
60
Posted 09/01/2021 at 14:46:48
Rodriguez got into the game with about 20 minutes to go in normal time and from then on we were the better team. What went before is best forgotten.
Doucoure again impressive as was Mina and I am still very excited about Nkounkou as a prospect. Digne was obviously finding his fitness. I like the look of the American, Olosunde.
John McFarlane Snr
61
Posted 09/01/2021 at 14:48:05
I listened to the match and it didn't sound so good, but I have always maintained that results are more important than performances in Derby games, and FA Cup ties. I'm obviously disappointed with what was a poor performance today, but I'm looking forward to the FA Cup draw on Monday.
Paul Rimmer
62
Posted 09/01/2021 at 14:51:08
Gordon, Iwobi, James and Digne all peripheral first half. I don't know what Gomes brings to the team. Tosun, apart from the goal was poor as was Bernard. We need a signing to get a bit of spark in the final third.
Chris Williams
63
Posted 09/01/2021 at 14:51:27
James did what James can do.
Fuck all then 2 goals created, one disallowed.
Bob Parrington
64
Posted 09/01/2021 at 14:51:57
What a load of shite. A totally incoherent team and manager. No excuses. Just absolutely useless. Outplayed totally by a B grade team!
Can anybody out there give me one iota of hope for Everton?
Brian Wilkinson
65
Posted 09/01/2021 at 14:54:31
Bernard, Gomes, Davies, Siggy, just not good enough, need to get the yard brush out, offload and try to bring at least one in the middle who can drive forward.
We cannot continue to have those in our midfield.
On a bright note Olsen looks a decent keeper.
Sam Fitzsimmons
66
Posted 09/01/2021 at 14:57:18
It will be interesting to hear Carlo's post-match analysis of the game as its hard to make a silk purse out of that sow's ear.
The positives, Olsen did enough to keep his place over Pickford. Even though playing out of position Nkounkou is a better option that Gordon, I'd go as far as to say that given Richarlison's poor recent run of form he would worth a punt to play him in that role. Digne needs to be eased back in, he was poor today. No matter his age, Seamus is still the best option at right back. I thought Gomez had a better game once Davis went off.
The game against Wolves will be a real barometer of whether there is a European place in this team.

Kevin Dyer
67
Posted 09/01/2021 at 14:58:16
Through to the next round, which was the target after all.
Performance was lacklustre, though we had our regulation-time winner unfairly scratched off. Poor decision by the VAR official. Thought they faded as they brought off players, replacements didn't have the same impact, whereas our subs were no worse, some better than those replaced. Not sure if Ancelotti fired them up before ET, or it was a case of them running out of steam because we dominated the final 30m and should really have scored a third.
What can be gleaned from this? Reading too much into a cup-tie is a fool's errand. We were sluggish and playing in first gear for most of the match, they raised their game halfway through the first period possibly realizing that they could give us a game. It's small margins of superiority, in absolute terms between EPL and Championship-calibre players. We weren't on it, in general and they were which can equal the classic Cup Upset, or at least a close shave.
Positives are that we were able to get Digne game time and James more than 90m. Tosun got a goal and played pretty well which may tempt a team to come in for him. Ditto Bernard, if we actually want to move him out, as has been reported (though denied by Carlo). Gordon, assist aside, struggled a bit. In fact, Knoukou playing wide left showed more, albeit he was fresh against tiring opposition. He gave us options as he stayed out wide and looked to get into crossing positions and also created extra space in the centre. His passing was a little erratic, however.
Despite a lot of negativity on here pretty much whenever we lose a match, I still feel top 6 is a solid goal. Above that may be a step too far this season, unless we can add a couple of quality signings this month and kick on the second half of the season.
As per usual (and in particular this season) some fans have tunnel vision with respect to us and ignore how inconsistent other teams are.
John Keating
68
Posted 09/01/2021 at 14:58:54
Apart from the word "won" not a single positive can be taken from that embarrassing exhibition.
On paper that team should have walked the game in actuality we could have been out in the first half
No way to sugar coat it we were absolutely shocking all over the pitch.
For weeks now our simple basic passing has been woeful, and so it continues.
I did think 442 was perfect for recent games but was hopeful with certain opposition we could open it up to 443, looks as if we can't.
We have seen where DCL has his strengths and with recent set ups he has suffered.
Tosun, for all his limitations is best around the box not chasing hoofs from Olsen out wide so why do it?
The lot of them should give a weeks money to Alder Hey
Disgusted
Patrick McFarlane
69
Posted 09/01/2021 at 15:00:22
Doucoure was a substitute and he scored the winner, so not all the substitutions were baffling, however, it was a pretty awful performance and when you allow a championship side to be dominant and in all fairness look the better side, you have a major problem.
Those who advocate that this or that player should be chosen ahead of others, should look at today's team and realise that not one of those hoping to earn a regular first-team place did anything to enhance that possibility.
Some of the attitudes on display today were lamentable and some of the players on show today, shouldn't have much of a future at Goodison in the near or long-term.
I remember Gareth Barry, following a game where Everton had dropped points, it was according to Barry due to the team taking their foot off the gas and that is why they failed to win a game that they had dominated for long periods.
This current Everton team doesn't even know how to put their foot on the gas and that's a concern.
As many have said the object of today was to get through to the next round and that's been achieved.
Steve Pugh
70
Posted 09/01/2021 at 15:03:00
John #68 443 would be nice but I don't think we'd be allowed the extra player.
Or do you mean no goalkeeper?
Jason Wilkinson
71
Posted 09/01/2021 at 15:06:26
I thought Olsen played well. He had little chance with the equaliser. Keane was pretty solid. Tosun did what was asked of him in the box. He was unlucky to not have more to his name. Nkounkou looked lively when he came on. He chased and gave us an outlet on the left.
Now to the downside. Iwobi was anonymous. Gomes looked out of his depth. Sigurdsson and James need too much time to be effective. Digne started well but is not match fit. Godfrey had his worst game in a blue shirt.
I think Ancelotti's plan was to out class Rotherham. Play keep ball and wait for them to tire. It went spectacularly wrong in about the fifteenth minute. We didnt get a grip in the game until extra time.
I feel sorry for Tom Davies. He was trying to play forwards but there was no movement or support from his midfield colleagues. Anthony Gordon is not ready to step up. He has the ability but he needs a bit more game craft. I was surprised we played with Tosun up front as a loan striker. It was an opportunity to have two up front and see if we could be effective without DCL. The answer I'm afraid is no we cant. He is the only player we have that shows for the ball. The only one that can hold it up while our sluggish midfield catch up with play.
Rotherham deserve credit. They played some good football. Their work rate was good. They pressed and hustled and out fought us all over the pitch.
It will be a different eleven at Molyneux. It needs to be a very different performance.
Dave Williams
72
Posted 09/01/2021 at 15:07:02
A sluggish performance allowing them to control the game for a long period. Iwobi was quiet, Digne clearly not match fit so his hour will have done him some good. Tosun is not premiership standard and DCL would have been crucified had he missed the couple of chances that Cenk missed.
I thought Gomes and Bernard played much better in extra time but the passing was mostly a disgrace. Nkounkou looks a player and Gordon faded quickly after an excellent opening, not helped by his more experienced colleagues being unable to pass accurately and into space.
Olsen did very well as did the whole defence.
It was one of those games where the result was all that mattered- let's hope we can play better against Wolves.
Kevin Dyer
73
Posted 09/01/2021 at 15:08:46
John #68 I watched the RS take a hour to take the lead against a Villa team that looked like they should be on a 'paper round rather than a football field. More bumfluff on display than anything! And this was a near-full strength LFC. OK they battered them etc but these things can happen in a cup game.
Gerard Pauls
74
Posted 09/01/2021 at 15:09:41
No doubt we'll get the usual dross from the manager, excuses, too much sun, bouncy pitch, players played well etc. Rotherham were much the better side for vast amounts of the game and unlucky not to shame us, a credit to their club. We play (a loose term) slow plodding turgid football, no speed, fitness or effort but what really does annoy me intensely is the total disregard and pride in wearing the royal blue shirt. Alan Ball, Howard Kendall, Brian Labone etc must be crying and turning in their graves. Absolutely shocking from a group of over paid, elite ( don't make me laugh) prima donnas mascarading as footballers.
Robert Tressell
75
Posted 09/01/2021 at 15:09:49
Things we already knew:
- without DCL and Richarlison we don't really pose any threat
- without Allan and Doucoure midfield doesn't dominate inferior opposition
- Tosun is a good finisher but really poor up front on his own (I was hoping to see him and Simms together for at least 20 minutes)
Things we learned:
- Gordon probably needs a loan
- Nkounkou is ready but maybe better as an option at LW or LWB
But however frustrating it's a game of results and we're through to the next round. So important to win a cup to change the mentality of the club.
Kevin Dyer
76
Posted 09/01/2021 at 15:12:10
Gerard #74 why do you think Ancelotti needs to come out and makes excuses? We won the game.
Dave Abrahams
77
Posted 09/01/2021 at 15:12:23
Michael Kenrick, do Mike Gaynes a favour, email him and tell not to bother watching this drivel, he's recording this and watching it later, stay in bed Mike,it will much more interesting.
Danny O'Neill
78
Posted 09/01/2021 at 15:14:49
I saw that Partrick. Comfortable and in control until scoring and then totally took their foot off the gas and seemingly went to pieces. For once I listened without the fan noise (not sure I had a choice). It wasn't like the instructions weren't coming from the side.
I'm not going to single out individuals or "blame" players. That was a poor team performance and the players have to collectively take responsibility. Some of those had a chance today to stake their claim, which many have been calling for, so I watched with interest.
I think it highlights that we have improved as a team but as a squad, we still lack depth and quality. Work in progress.
But, you always get these type of fixtures in the 3rd round. This year we didn't have a Shrewsbury moment, we are in the draw for the next round.
I unusually went on the live forum today, so apologies for repeating myself. Positives; we're in the next round. Doucoure made a difference when he came on as he closed the gap between midfield and the front line. Mina made me feel way more comfortable, both in terms of his defensive presence and calmness on the ball. Nkounkou looked good - we should use him more.
I'm not going to dissect negatives as we could be here all night. Collectively a poor team performance but does expose the limitations of this squad outside of the probable first 11.
Paul Birmingham
79
Posted 09/01/2021 at 15:16:27
The positive side today is Everton won, and are in the 4th round. I don't think the. Excuses of the angle of the sun to the pitch, in the first half and potentially late Chrimbo Meals, etc are an excuse.
Out thought, out passed and with some better finishing, it could have been over at a Half time.
So, to regroup and build on, but not enough heart, leadership on the pitch and only late when Rotherham tired, did. Everton look reasonably happy.
Too many, players, are playing like strangers, and I don't see Marcel Brands, having any easy sales with the Everton squad players today whom mainly were fringe players.
Happy we won, but a long way to with the rebuilding. Praying that 5heres a mindset change v Wolves and I'm looking forward, optimistically to the game (. I've not had a beer yet).
All stay safe and well, and enjoy this weekend.
Here's to a good home draw for Everton, in The 4th round.

Danny O'Neill
80
Posted 09/01/2021 at 15:18:54
I'm a Howard Kendall 80s child Gerard and will likely watch Howard's way again tonight in a Saturday night vino induced nostalgic feast. But let's not kid ourselves, for the first few years of his managerial stewardship, he served up some dross. And even as reigning champions, got knocked out at the first stage of a cup competition by Grimsby.
Kevin Dyer
81
Posted 09/01/2021 at 15:19:10
Robert #75 Agree with most of your points. It comes as no surprise that we can't dominate midfield without Allan and Doucoure; that's why we brought them in, after all. I'd like to see Knoukou given game-time on the left wing. His attacking wing-play is very promising. He's listed as a fullback but is very young and inexperienced, so maybe he will actually develop into a left winger? Gordon I like but he plays as an inside winger on the left and offers no overlap, much like Bernard who atm is the superior player. A loan could be of benefit. Bernard is a decent player in a team that controls possession; we don't, so moving him (and his huge wage) out could be a good idea. Tosun needs to go as he's very limited and can't really play as a lone front man.
Derek Knox
82
Posted 09/01/2021 at 15:19:31
I thought the way we started it was going to be a high scoring stroll, with all due respect to Rotherham why did we make it so difficult? It was almost embarrassing at times the wayward passing and feeble attempts to get into their half. Apart from the defence not many came out of it with any credit, even then Seamus was awful on occasions.
Danny O'Neill
83
Posted 09/01/2021 at 15:20:10
Hear hear Dave. No-one should have to watch that if they don't have to!!
Patrick McFarlane
84
Posted 09/01/2021 at 15:24:21
Danny #80
That Grimsby result in 1984 was an unbelievable smash and grab, I don't know how many shots Everton had that night but it was a lot, but somehow, Grimsby managed to hold firm and I think it was the future Everton player Paul Wilkinson who scored the winner.
Gillingham in the fourth round on the way to our cup triumph in 1984 also posed Everton major problems until finally, Everton's class told in the third game at Priestfield.
It isn't necessary to play well in the FA Cup to win it, but it would be nice every now and again to progress without having kittens.
Kunal Desai
85
Posted 09/01/2021 at 15:26:07
Some observations, we've all been clamouring for Gordon to get a starting spot, well he got it today,was good for the first 10 mins and faded thereafter, proof that Carlo all along knew what he was doing. He needs a constant run of games but can't see that happening here, best option for him is to get out on loan.
Those resigned to the bin are Iwobi, Gomes, Davies, Tosun and sadly Coleman, get them moved on in the next two windows along with Sigurdsson. Constantly poor performers producing the odd fleeting moment which is below par for a club that wants to succeed.
Rodriguez, i'm not sure whether he is more suited to coming of the bench and giving a strong with 20-30 minute cameo performance, problem is he is the only creativity we have in that midfield, until we bring in better does he start the entire 90 but risk him being injured more often?
Tony Abrahams
86
Posted 09/01/2021 at 15:26:21
Absolutely delighted because I honestly didn't fancy us today with such a lack of firepower, and knew what to expect with Tosun leading the line by himself.
Danny O'Neill
87
Posted 09/01/2021 at 15:26:23
Oh, I have a litter in my front room right now Patrick.
Darren Hind
88
Posted 09/01/2021 at 15:27:30
"The best thing that can be said about that game is our name is in the hat for the next round"
In fairness I think its the Only thing to be said. We live to fight another day. The Wembley dream is still alive.
I never worry too much how we get through earlier rounds. I still remember Dublin. Not many would have given us a prayer of going on to lift the ECWC after those matches
Colin Malone
89
Posted 09/01/2021 at 15:33:32
It shows, how bad we miss the twelfth man.
Thomas Richards
90
Posted 09/01/2021 at 15:33:35
Tony,
Tosun definitely not good enough long term but I thought he did ok today.
Two good finishes and a very clever run to take the centre half away leaving the space for Dukes goal
Mike Gaynes
91
Posted 09/01/2021 at 15:33:52
Dave #77, reading the commentary here, yep, I'm glad I didn't struggle out of bed at 3:45am for this one.
Now, armed with my morning coffee and Michael's commentary, I can skip through the replay and just hit the high points. Seems like there weren't many!
Derek Knox
92
Posted 09/01/2021 at 15:33:58
Darren, Our name's in the hat! Knowing our luck we'll get Dunn & Co, Gentleman's Outfitters and Hat Makers. :-)
Danny O'Neill
93
Posted 09/01/2021 at 15:34:15
@Patrick. Talking 3rd or even 4th games, remember the Middlesboro saga 87-88 (I think - the memory is slipping and I can't be arsed googling)?!
@Tony, I think we both agreed yesterday that leaving DCL out was a concern. I wasn't being negative but we looked light in terms of attacking options and lets be honest, Tosun is a different player who lacks mobility.
@Darren. Exactly. The important thing in Cup competitions is to get to the next round, especially in the early rounds when you have these "banana skins". Remember Dublin well. 1-0 on aggregate. Through to the next round and won the trophy.
Patrick McFarlane
95
Posted 09/01/2021 at 15:41:08
Yes Danny I remember them well, two rounds, seven games, and then get knocked out by the old enemy at Goodison!

Dave Ganley
96
Posted 09/01/2021 at 15:47:20
Terrible game but we won and in the next round, we move on.
I will mention VAR though. Totally killing the game as a spectacle. I know we have benefitted this season most notably against RS, but that doesn't make it right. Just how inept can these people be who make these decisions?? What happened to clear and obvious error and gaining an advantage? I will never be on board with that farce that is VAR
Phil (Kelsall) Roberts
97
Posted 09/01/2021 at 15:50:00
Mike - finished watching the game yet?
Just a thought - remember we signed this young Irish kid a few years ago who was supposed to be a full back. Struggled in his debut, not helped by the fact he played on the other wing and against a hot Portuguese side. But for a few years after he played more right sided midfielder until he worked out how to be a defender first.
Is this the route for Nkounkou - and maybe a loan to Blackpool. Did Seamus no harm.
Graham Hammond
98
Posted 09/01/2021 at 15:56:20
Much of the Everton passing in that game was an absolute disgrace. In reality, it is the abysmal movement of the Everton players whilst in possession that is again the culprit and the reason why so many passes go astray and why play breaks down so frequently. If you were to freeze the action each time an Everton lad was on the ball and assess the options the lad on the ball has it is so often completely unacceptable. Players are isolated time and time again whilst Everton team mates are either too idle, too demotivated, not intelligent enough or insufficiently well-coached to do basics in terms of support play and opening up angles and raising percentages. That was desperate stuff.
George Cumiskey
99
Posted 09/01/2021 at 16:12:32
Even though we won we can take nothing from that performance, and if we don't sign at least 3 good players in THIS window there'll be no cups and you can kiss goodbye to any chance of European football.
Sean O´Hanlon
100
Posted 09/01/2021 at 16:17:10
Everton continually surprise me. Just when you think you've seen their worst display ever, they surpass it with another.
Unfortunately, we'll see many more before the season's out,
Danny O'Neill
101
Posted 09/01/2021 at 16:20:58
Disagree on VAR Dave. It will get the decision right more times than inadequate officials that we've been subject to for decades. The offside rule needs changing; VAR is just calling it according to the rule.
Like the look of Nkounkou Phil. If we're not going to use him more (and I think we will), then maybe yes, send him out on loan.
Graham, I think we're all frustrated with the performance, but it's not a game I will personally over analyse. It's the FA Cup 3rd round and whilst, yes, I agree, it exposes the limitations of our squad, we got through it and we are in the next round.
Much more important game coming up on Tuesday. Win that and we are sitting in a very, very good position league wise.
Martin Berry
102
Posted 09/01/2021 at 16:22:10
It showed that the dire display against West Ham was no fluke !
After the first 10 minutes we were just dreadful.
When you have eleven against eleven you expect the team with the fittest energy levels,skills and organisation to win through, we had neither the energy or the organisations and were lucky on chances to get through. As for skill we should be streets ahead so it make you wonder what is going on with the other two traits ?.
I thought Olsen looked comfortable and makes me relax more than Pickford, Cenk is a finisher he just needs support and Doucoure yet again showing why, so far he has been our best bit of business.
Iwobi and Bernard frustrate with their wayward passing, Gordon has bags of ability but needs stamina and loaning to the Championship, we may yet have a special player on his return.
It appears obvious we need legs and passers in midfield or we are overun which makes me wonder if winger/wide player has had their day at Everton ?

Thomas Richards
103
Posted 09/01/2021 at 16:23:58
If all these shite performances see us finish the season 4 points behind the league leaders, as we currently are, I will be a very happy man.
Andrew Keatley
104
Posted 09/01/2021 at 16:25:01
Well that was an ugly and frustrating watch. Let's hope it serves as a wake-up call, a much-needed run-out for a few fringe players, and a reminder to those in charge that our squad still requires something of a mini-overhaul.
Our bench was light on much-needed attacking options, but one progressive off-the-ball run by Doucoure - and the vision and precision from James - got us over the line against a spirited Rotherham side who ran out of gas in extra time.
Anthony Gordon is a long way short of where I hoped he would be by now - and not so much in terms of ability, I mean in terms of showing the sort of focus, strength and determination it will require for him to become a first-team regular. It is a key transition factor; some players just inherently have it (Rooney, Sterling, Owen, etc) - regardless of size. Others take years to learn how not to get bullied by top players, so I think Gordon needs to go out on loan and start learning the hard yards now.
Tommy Carter
105
Posted 09/01/2021 at 16:27:55
Most important thing is that our name is in the hat for the next round. To win silverware getting the W when playing poorly is vital.
Minutes for James was important and maybe Cenk has put himself in the shop window with some smart finishing.
Defensively there is real strength back there with Godfrey, Seamus, Holgate, Keane, Mina, Digne to choose from with Branthwaite and Nkounkou developing
Mike Oates
106
Posted 09/01/2021 at 16:31:29
Passing everywhere on the pitch is so poor, it's too slow, it's sideways, backwards, it's out wide to a marked man, there are no angles created for the player in possession and last but not least our clearances from the back line, come back immediately as we have only one up front. There are very few forward drives with ball, players end up too tight to each other and invariably we lose it.
The gap between defence and midfield is far too wide and better teams will destroy with their movement between the lines. Their us so much basic stuff wrong and you could hear Ancelotti constantly shouting, drive forward to the centr halves, switch play switch play to the midfielders and all to no avail as after 3-4 small passes we lose it.
As far as I'm concerned Davies shouldn't ever play that cover role, the pick up the ball role, as he's far too laboured, slow, and his passing at times is awful. Gomes next to him has run out of legs, he's outsmarted, outpaced, and only his physical strength saves him at times. You cannot play those two together ever again, and especially when you've got No tackle, No pace, Rodriquez with them. Totally overrun again. Iowbi hasn't a clue where to play when Rodriquez is on, is he a midfielder, is he our wingman, is he right or left, set up on right but then Rodriquez drifts over there to splay his 50yd passes to our left hand side.
As you get the drift, our back ups our poor, our shape is non existent, our tactics are non existent our basics are non existent.
Gordon looked useful for 15 mins and clearly then just fell away to become a passenger. It could be the shape is wrong for him but he needs to get involved rather than just standing out wide like a lamppost.
Sorry but there are too many players who are clearly not good enough at all, Davies, Gomes, Bernard, Gordon, Delph, a number who can be regarded as back ups only, Coleman, Iwobi, Tosun, which shows how much time Ancelotti needs to turn us round, at least another 2-3 transfer windows.
And last point Ancelotti quickly needs to show us that he can at least produce a team which can compete regularly, ok lose the old one badly, but can immediately bounce back, not have a West Ham performance repeated again a week later against a team 37 places lower in the league system.
Dave Ganley
107
Posted 09/01/2021 at 16:31:36
Danny #101 technically I suppose VAR slide rule gets it right but when has an armpit/finger/toe/forehead constituted offside? Doenst really matter whether the issue is with rules or inept officials its still a farce. Once upon a time tye benefit went to the attacking team, now we have VAR looking for reasons not to give a goal. Its just not right. There was no advantage that Tosun gained for being a hairs breath offside, football isn't or shouldn't be played by millimeters
Brian Murray
108
Posted 09/01/2021 at 16:35:11
Would love to get them idiot cavemen again ( mill wall ) and really humiliate them. Especially for the blue they maimed. Bastards.
Mike Gaynes
109
Posted 09/01/2021 at 16:37:26
Having finally watched the streaming replay of this game (very stop-start and inconsistent, just like Everton), it simply appears to me another of the season-long examples of us playing to the level of the opponent. Our intensity seems to go up and down depending on where the other club sits in the table, and our execution varies with it.
Some discussion of Carlo's subs above, but I liked them. Gordon was brilliant for ten minutes and then vanished, and lazily failed to track Olosunde on their goal. He and Iwobi both deserved to come off, and Bernard and Doucoure improved things immediately. So did Nkounkou when he came on.
Phil #97, I like your idea. A university-level course in defensive positioning would be great for Nkounkou, and he's not going to get it at Goodison. A January loan to a Championship club in need -- like Rotherham -- might be just the ticket.
In sum, I'm with Darren. All that matters is getting through these early rounds. As long as Rotherham didn't turn out to be another Port Vale or Shrewsbury, all is well.
US notes: It was a good day for Yanks named Matthew. Delighted to see young Olosunde playing so well. That was his first professional goal -- certainly took it with poise. He was released by Manchester United in 2019 but seems to still have fine potential at 22. His pace is breathtaking. Not yet fully capped by the US.
And JJK's old mates at Schalke finally won today after 30 straight games of futility -- one shy of the Bundesliga record -- on a hat trick, his first three career goals, by American teenager Matthew Hoppe.
Michael Forster
110
Posted 09/01/2021 at 16:38:32
Our passing game was atrocious. Also did you notice how our defenders have difficulty heading the ball out of danger? I lost count of the number of times the ball was headed directly to the opposition. Something else to be worked on.
Danny O'Neill
111
Posted 09/01/2021 at 16:39:08
To my point Dave, the issue is with the rule, not VAR.
VAR just calls it based on the rule and probably more accurately than inadequate officials. How many times have we and others been hurt by wrong human error decisions?
It works it Rugby and has done for years. I personally don't blame the technology, I blame the rule, particularly with regards to offside. It is ridiculous that a player that effectively level is offside by a loose thread on the shirt. But that is not VAR's fault.
What happened to the "daylight" rule by the way. Didn't we introduce that a few years back to give advantage to the attacker?
Sean O´Hanlon
112
Posted 09/01/2021 at 16:42:04
I'm baffled how people can say things like, "we won, let's move on."
So you're not bothered about the performance?
We support Everton, so I take it we are football supporters?
I for one enjoy watching a decent game and getting entertained by good football. Far too may times this season, I would not class what Everton play, as "good" football, nor would I class it as entertaining.
It appears that some of our fan base will accept any garbage, as long as we progress in the cup or scrape 1 or 3 points.
Gordon Crawford
113
Posted 09/01/2021 at 16:42:05
Is it not true that DCL has a slight injury?
Robert Tressell
114
Posted 09/01/2021 at 16:44:01
Mike @109, I thought you'd chip in on Olusunde. He had a very good game capped with a well taken goal. Probably not the heir to Coleman but worth keeping an eye on.
Brian Wilkinson
115
Posted 09/01/2021 at 16:44:01
If var can only be used at certain grounds, then for me they should do without var at all grounds in the cup.
Danny O'Neill
116
Posted 09/01/2021 at 16:46:37
I think we're all bothered about the performance Sean.
That was a dreadful performance.
I for one focus more on performance than results more than most. I was a relatively solitary figure after the Burnley draw because I saw a decent performance.
I think what most are saying is that this is the 3rd round of the FA Cup. These types of games are obviously not uncommon at this stage of this competition. It's what this round of the FA Cup is famous for.
So yes, on this particular occasion, in this competition and in this specific round, it's all about the result.
I'm a purist, but I also know the FA Cup 3rd round. As I'm sure do you.
Brian Wilkinson
117
Posted 09/01/2021 at 16:48:56
In regards to Nkounkou, I did say earlier in the season, when Richarlison was serving a ban, that we should try him further up the pitch on the left, he can whip a cross in and can hold his own and not be knocked off the ball easily.
I personally think Nkounkou will be better suited playing high on the left, rather than at left back.
Thomas Richards
118
Posted 09/01/2021 at 16:50:34
Sean #112
This early into the project results are more important than entertainment.
The entertainment will come as we progresss.
Danny O'Neill
119
Posted 09/01/2021 at 16:51:10
Interesting Brian. That would give us options if we wanted to play 3-5-2 with Kenny as a right wing back.
If we are going to play 3 at the back, I much prefer that than a 3-4-3, which in my opinion just exposes the midfield and subsequently the defence.
David Pearl
120
Posted 09/01/2021 at 16:51:29
Plus points... Digne is back and got a good run out. James got better as the game went on as he switched to his best position. Nkounkou a couple nice crosses. Keane solid. Doucoure made a difference. Tosun also did okay I thought. However without speed up and around him or the right service he will struggle... same as DCL would struggle. Gomes, I am still reserving judgement and giving him some time.
On to Wolves and surely its Holgate, Mina, keane and Godfrey.
Midfield of James, Doucoure, Davies, Richarlision with Siggy behind Dom. Digne could play of course but maybe he can work on his fitness as a sub in the last 20 minutes. Big couple of weeks coming up which could very well show what we are really playing for this season.
Will Mabon
121
Posted 09/01/2021 at 16:51:44
Agree, Brian. There could be a helluva left winger/wingback lurking in there. Wherever it goes, he certainly has a good future.
David Pearl
122
Posted 09/01/2021 at 16:54:54
oh - and for the life of me I cant get my head around where the hell James was supposed to be playing in the first half. That is the kind of decision by Carlo that has certain posters on here scratching their heads
Will Mabon
123
Posted 09/01/2021 at 16:56:18
Think we said it on the LF, David - sweeper for a while!
Dave Ganley
124
Posted 09/01/2021 at 16:56:43
Danny, yeah technology works well in other sports especially rugby but, and don't quote me, but I'm pretty sure that technology in rugby is only used if requested by the referee apart from maybe foul play? VAR seems to want to referee the game, that's what really gets my goat.
You're probably right that the rules and inept officials are to blame but I'm just not a fan of technology like this in football. I follow rugby and cricket and it works well in those sports, but also in those sports they can sustain a break in play without losing momentum, in football I don't think thats the case. Football is all about momentum for me and when you have a delay of 4 or 5mins while VAR pontificates, then you lose all momentum, not to mention killing the atmosphere from the spectators. No just not a fan at all. Maybe, if and when the FA can finally get its arse into gear and recognise that they're interpreting it totally wrong, I may be converted, but not now as it is.
David Pearl
125
Posted 09/01/2021 at 16:58:44
Yes Will, didn't work at all did it. Anyway - on the midweek game.
Michael Lynch
126
Posted 09/01/2021 at 16:59:20
Once again, Nkounkou looked good - although, once again, it was against lowly opposition. He was as guilty as anyone of hitting stray passes in dangerous positions, but his crossing was second to none. I'm guessing he doesn't look solid enough defensively in training, but I would like to see him getting on the bench occasionally and coming on to play that left wing back role. Might turn out to be his best position.
Tony Everan
127
Posted 09/01/2021 at 16:59:24
Most important thing is we won. We live to fight another day and learn some more about players and their capabilities. We're in the draw for the fourth round , and for that I'm happy.
The midfield doesn't function well without Allan, take Doucoure out of it and it all falls to pieces. I think we have to find back up for Allan, a younger quality player, so we remain strong when he is out.
Also Cenk is no Marco Van Basten, but he took his goal very well and was 2mm offside from another decent finish too. The lad knuckled down and did his job as best he could. He would be a very good buy for Palace or WBA, we should tell them to get the cheque book out for once, or to do one.
Clive Rogers
128
Posted 09/01/2021 at 17:00:14
Gordon, does not get involved enough
Davies, does not drive us forward enough
Iwobi, his crosses go out for a throw -in on the opposite side
Gomes, no pace, doesn't do goals or assists
Coleman, no threat down the right
Digne, James, rusty
Overall our lack of pace and running in midfield was obvious until Doucouré came on.
Danny O'Neill
129
Posted 09/01/2021 at 17:05:42
I agree Dave, it's all about momentum, but if the game has stopped (goal, foul, penalty etc), then why not review? The game has stopped anyway.
It does away with the debate. If it rids of those Clive Thomas 1977 incompetent decisions, Don Hutchinson's "goal" and Lescott being wrestled to the ground by Carra-lah.
In most circumstances the game has stopped anyway as there has been a goal or penalty. Or the game has been allowed to flow until the next natural stop and called back.
I would rather get decisions right most of the time rather than the injustice of the past - and I include when that has gone our way but more often than not it hasn't.
The pundits don't like it as it does them out of a job, but it is calling it correct because you can't hide behind it like incompetent officials who don't have to answer. Like I say, change the rules not the technology.
Goal line technology is fantastic. Without it, we arguably stayed up 1998. That's a benefit of a wrong decision but doesn't make it right.
Jerome Shields
130
Posted 09/01/2021 at 17:06:41
Wasn't able to watch the match. Glad they got through, Rotherham, a Championship side where always going to be difficult.
Terry Farrell
131
Posted 09/01/2021 at 17:10:56
enjoy watching how the underdogs play and Rotherham had a right go. Olisundy caused all sorts of problems. Doucoure turned it round and has been a great buy. nkounkou looks like he should be ready to come on in PL games from now on if we are chasing the game. Gordon did well early doors and has promise. Lovely ball to Cenk. passing 5 or 6 times in and around our box to eventually give it the keeper to hoof hit has so far not given up a goal but it is coming!!!!
Brian Wilkinson
132
Posted 09/01/2021 at 17:13:28
With Siggy, Davies and Gomes our option in midfield, if we farm any out, I would take a punt on Bournemouth's David Brooks, looks a decent player.
Jeff Armstrong
133
Posted 09/01/2021 at 17:23:57
Poor poor performance, what does Ancelloti see in Gomes that everyone else cannot see?
Same old dinosaur early subs, Digne off, Nkonknou on? no chance, right footed Godfrey moved to left back!
Gordon off Niels on ? Nah, Bernard the winger with no pace, crossing ability, or strength on again, with guess what? no impact! again.
Ancelloti needs to think outside the box sometimes, we all know he's got a poor squad, but mix it up a bit please Carlo sometimes, throw Simms on WITH Tosun for the last 15, start Nkounkou at LWB for once, at least try to come up with some ideas, you won't be criticised for at least trying something different.
Stephen Brown
134
Posted 09/01/2021 at 17:27:02
Someone said on the live forum ( Tony Marsh ?) that our next 4 signings whoever they are should have lightening pace, I couldn't agree more!
Everything seems so one paced with us all over the pitch! We need pace as there's simply no substitute for it!
On the match itself I think Doucoure made all the difference when he came on as all of a sudden we had a presence in midfield.
I think Tosun has fond enough today to earn a move to a struggling premier league team and we might even get a fee!?
Julian Exshaw
135
Posted 09/01/2021 at 17:28:07
This was a hard watch against a gallant Rotherham who deserved more but thankfully didn't get it. We only looked safe in the second part of extra time, whether this was because we (finally) started to play better or Rotherham tired is anyone's guess. The introduction of Doucoure and Mina probably swung it in our favour. Until then we had 70 minutes of dross. As others are saying, we won and that's the main thing but we need to be doing a whole lot better than this. A game to forget and time to move on.
Alex Gray
136
Posted 09/01/2021 at 17:41:01
Ive stated numerous times this season about the lack of quality on our bench. We were thoroughly outplayed by Rotherham today and just an opinion but Bernard, Tosun, Davies, Gordon (on loan) and Gomes need to be shipped out alongside Delph, Besic and Bolasie and replaced with upgrades. The amount of mediocrity on the pitch today was truly awful.
On a positive when we lacked leadership today Doucoure came on and saved the game for us not just with his goal but his defensive work rate and took the game by the scruff of the neck.
Gordon did well for the opening fifteen minutes and was impressing me but was dross afterwards with the rest.
Nkounkou did well coming off the bench too especially as Digne was taught a lesson today by Rotherhams right back.
Ian Riley
137
Posted 09/01/2021 at 17:52:45
Really hard work at times supporting Everton!
Paul Smith
138
Posted 09/01/2021 at 17:57:37
Put the midfield of last season out and get punished. We finally played through the middle and scored, and it was 2 of Carlo's summer buys that did it. Lovely goal by the way. We miss Allan so badly and without Doucouré we might as well stay in the changies.
Iwobi looked like Iwobi of old and Bernard gives it away too often. We need to be quicker and more pro-active in thinking ahead, we're too static, with big gaps. How often do we see one-touch stuff from Everton making space to move into.
I like Carlo's purchases they're better than what we had: Allan, Doucouré, Rodriguez, and Godfrey has pace and is a talker. It's the benchmark I'm using to measure our progress and for me it's irrefutable evidence that we're in good hands.
Ray Roche
139
Posted 09/01/2021 at 17:58:24
I've not read through this thread so forgone if I repeat someone else's comments but Tosun had two chances in the box today and put both of them away. I'm aware that he has no pace but playing in the right, suitable system he will score goals. It's pointless playing him as a loan striker. That's not his game. Play him off say DCL and put the ball into the box and I believe that he will score. DCL's goals have dried up now he doesn't get any service so why expect Tosun to score with the same paucity of service,plus he's coming back from an acl injury and has only had minutes of game time.
Ray Jacques
140
Posted 09/01/2021 at 18:01:14
Pace, pace, pace, drastically needed.
Just watched the BBC highlights. Davies role in their goal comical. He didn't track the runner and let's him past, heads the ball to the goalscorer and then doesn't get a block in. Can we pls just get rid of him and take the tortoise Gomes with him. Both are unfit for purpose.
How Bernard gets a game in front of Nkonkou, I would love to ask Ancelotti.
The screeching banshee of a commentator obviously just ticked a BBC box, awful.
Stuart Sharp
141
Posted 09/01/2021 at 18:02:47
Very glad to read that Doucoure is getting praise. He made a big difference in midfield, even without the goal. He's not exactly a world beater, but he has so much more energy and drive than the others. We all know our bench is pants, so we need to put up with scrappy wins every now and then until a few more transfer windows have passed. I'm still a bit baffled by how poor we were, but we're in the hat. So let's enjoy the other ties.
Jeff Armstrong
142
Posted 09/01/2021 at 18:03:06
Ray139, spot on, but our manager cannot see this, that's worrying.
Tony Twist
143
Posted 09/01/2021 at 18:09:39
There needs to be hard decisions made. Gordon needs to go out on loan. I am concerned with how flawed the majority of youngsters are, Gordon is one of the better ones produced but he just doesn't cut the mustard at the moment. Same with Tom Davies, he just isn't getting anywhere with his development. He needs to go to a championship team where he will play lots of first team football and be coached properly, he ain't getting that at Everton. School of Science my arse, that is long gone, with regarding improving players I think we are going backwards and don't see that changing, which is quite worrying. We are in the next round but things ain't rosy.
Thomas Richards
144
Posted 09/01/2021 at 18:09:42
Ray #140
Agree about the requirements for pace.
Davies was not the player who didnt track the run, that was Gordon.
Tom didn't react quickly enough after he headed the ball.
Nkounkou showed today he has a lot to learn in his positional play.
Hes a defender first and foremost.
Looks good going forward but needs to learn the position defensively.
I am sure he will develop into a good player.
Craig Walker
145
Posted 09/01/2021 at 18:11:54
Brian @65. Spot on. Nothing to add to that.
Danny O'Neill
146
Posted 09/01/2021 at 18:15:57
Doucoure done what most of our midfield failed to do Stuart; provide the link between midfield and attack. The goal was a great example with the midfield runner making and then providing options.
At the same time, protecting the defence.
The job of a midfielder, to protect the defence and support the attack.
Until Doucoure came on, our midfield was sat literally on top of the centre backs offering little in terms of options or support to the attack and in fairness doing little to protect the defence.
Notice how James suddenly had more space and options? Because Doucoure was making runs and opening space.
Derek Wadeson
147
Posted 09/01/2021 at 18:17:45
Job done onto the next round.
Matt Byrne
148
Posted 09/01/2021 at 18:22:19
We are through and that is all that matters in the cup. Remember that 4th round game v Bristol City in 95 when we got battered? Nobody cares if you get through and then improve for more difficult challenges ahead. I do believe we need to show some priority in the cup games as it is criminal really that a generation of loyal young fans have never seen a trophy (made worse by the other lor having success). I thought we were brilliant in that first game away at Spurs with the 4 3 3 so there is evidence that we can perform to a decent standard. The manager has made good signings and if we can add to the core quality group of Richarlison, Digne, DCL, Doucouré Allan we will be getting much closer.
Paul A Smith
149
Posted 09/01/2021 at 18:24:14
For some reason these games are the strangest of them all. They either look too easy (which is how today started) or turn our to be a nightmare (which is basically how the game went on) but Rotherham were brilliant.
Great credit to them for their lack of respect and lack of fear with hard work. Everything I expect Everton to be.
As said above the early rounds are about getting through and we done that. Now we can look and see what can we do better? Why did we make hard work of another game?
Lets hope form is about to go up a level. Tuesday is a much bigger game.
Ian Edwards
150
Posted 09/01/2021 at 18:31:16
Ray 139 I agree re Tosun. Bringing someone on for 5 mins to rescue a game and leaving them isolated won't work. Play Tosun and DCL with Richarlison behind and we would do well.
Martin Mason
151
Posted 09/01/2021 at 18:34:30
Lucky in the end against a very good Rotherham performance. They pressed hard and forced us into mistake after mistake. In the end though it is what we learn and how we improve not necessarily how we played. We know what the players out there today are capable of, should we have expected any better? 2 amazing finishes by Tosun, could he possibly have a future?
Christy Ring
152
Posted 09/01/2021 at 18:37:37
Our midfield was so poor until Doucouré came on. Gordon was very disappointing, and Nkounkou was more effective. I know Tosun scored, but he's very limited. I'd let him go out on loan, if we can't sell him. PSG want to sign Kean, sell him for 㿊m+, and bring in Josh King for half the money, ahead of West Ham. He could play in a couple of positions, and definitely an upgrade on our strikers apart from Calvert-Lewin.
Thomas Richards
153
Posted 09/01/2021 at 18:38:08
Tosun being accused of using a hand symbol linked to a right-wing fascist party in his celebrations of his goal.
Gerry Quinn
154
Posted 09/01/2021 at 18:40:38
Very impressed! Not with Everton, but with Michael and Lyndon's headlines for the depressing results of recent matches. You must be running out of descriptions – where the hell do you get those headlines from, as it must be super-depressing thinking what the hell to call the matches?
Daniel Thomas
155
Posted 09/01/2021 at 18:45:23
Ian @150,
Are you seriously suggesting playing Richarlison in the Number 10 role? Give me strength.
We're in the hat. Move on. One more game closer to Allan being back.
James Head
156
Posted 09/01/2021 at 18:56:19
Can we play Tom Davies in the Toffee Lady role? He has the hair and ability for it.
And can we put Sigurdsson at the traffic lights by the Liver Building? Someone is needed there to point the traffic in the right direction...
Oh, and can we send Mick Bernard's love child, Bernard, back to Brazil?
A fortune spent and we've gone backwards, I fucken despair.
John Raftery
157
Posted 09/01/2021 at 19:04:22
That the excellent Doucouré was our Man of the Match as a second half substitute says much about other outfield performances. The first 15 minutes demonstrated this game really should have been a stroll for us but, once complacency set in, there was nobody in the first half capable of restoring tempo to our play.
Olsen looks a safe bet to play in the cup games. I would not be unhappy to see him play in more league games but barring injury to, or suspension of, the regular incumbent that is clearly not going to happen.
Today's performance will have served as further evidence, if it were needed, that Ancelotti requires more signings for the club to sustain a challenge for the top six and pursue silverware.
Defensively we generally look solid and have players with genuine promise. The major issues we have relate to our attacking midfield play which is far too pedestrian and lacks a goal threat to trouble the top sides. Unless we can bring in players who can address those issues this month, we should wait until the summer. There is no point in chasing one-paced, peripheral contributors who flit in and out of matches. We already have those in abundance.
Peter Gorman
158
Posted 09/01/2021 at 19:10:13
I've just had an epiphany.
All those bemoaning how shite the players are may well be correct but there is a reason we are a top table side.
Every team is shite!
I'm watching a pathetic match atm between Arsenal and Newcastle — if you want players that can't pass, can't control a ball, won't run, scuff shots, lack imagination and motivation, then get on down to the BBC right now.
George Cumiskey
159
Posted 09/01/2021 at 19:15:08
Why don't you ToffeeWebbers come on and just say the best team lost today?
Or will you say again that Carlo needs another six transfer windows to get this load of shite playing well enough to get into Europe?
You couldn't make it up! Lol 😆😆🤣
Craig Walker
160
Posted 09/01/2021 at 19:17:10
James @156. Davies is too slow to get around the pitch but, if he treats the Toffees like the ball, then he'll be good at giving them away. He's good at passing things over 2 yards.
Patrick McFarlane
161
Posted 09/01/2021 at 19:32:12
George #159,
Are you yourself not a Toffee Webber? Anyway George shortly after 3 pm I posted:
It was a pretty awful performance [By Everton] and when you allow a Championship side to be dominant and in all fairness look the better side, you have a major problem.
Danny O'Neill
162
Posted 09/01/2021 at 19:34:18
Best team on the day did lose today George.
Not the only time Everton has won when they haven't been the best team.
Just as we have been on the losing side when we've been the better team.
That's football sometimes. In fact most times.
George Cumiskey
163
Posted 09/01/2021 at 19:39:33
Danny@162, can you honestly remember the last time we were the better team and lost? Because I can't...
Martin Mason
164
Posted 09/01/2021 at 19:39:37
Peter @158,
A game can look that way when one team has only the intention to not lose and the other hasn't the skill to do anything about it, such as Arsenal vs Newcastle United.
I say the opposite – that all teams in the Premier League are pretty good and that they are closer in ability now than the top flight has ever been. All teams are alternating between looking good and looking at times awful. That is because, in every game, each side can only play as well as the other side let it.
Liverpool at times have looked shocking this season, is that because they are rubbish? Not a bit, they are still in the top two sides but other sides are playing them much better and many sides can now afford to buy players to strengthen the side, many are better than us at this.
I've watched every game this season almost and I reckon that the overall standard is amazing.
Darren Hind
165
Posted 09/01/2021 at 19:45:05
Sean @112,
You make a very valid point, but I don't think anybody would be surprised by the performance.
We have played about two hours of decent football in the past year. We are not set up to entertain. People say the players are not good enough, but every single one of our players (including the bench) would walk into this Rotherham team, choc-full of lower-league journeymen.
Evertonians seem to be a lot easier to please than they were in the past and that, for me, is one of the reasons our entertainment value will not be going through the roof in the foreseeable.
The way I see it, we either win ugly, draw ugly, or lose ugly. Given those three choices, I guess we have no alternative but to take the ugly win and move on.
Danny O'Neill
166
Posted 09/01/2021 at 19:45:09
That was a poor team performance and the players have to collectively take responsibility.
That was me earlier on George to back up Patrick. Some more colourful than others. We all have collectively acknowledged we played poorly today. I don't recall anyone suggesting otherwise and believe me, many of us on here have differences of opinion.
Today is probably where I've seen the vast majority in unified agreement. We were terrible for most of that but got the result. That's football sometimes. God we lived it in the Moyes years.
Andrew Keatley
167
Posted 09/01/2021 at 19:46:27
Not sure which was worse – our performance today or the tone of post 159.
Ian Riley
168
Posted 09/01/2021 at 19:51:22
The question the Rotherham manager should ask: How are we 23rd in the Championship?
That's cup football! Lower league teams tend to play above themselves against superior teams. We made hard work of it today but 4th round here we come. We did not scrape through. We had chances to put another 2 goals on that scoreline.
As for pace in the team. A problem for the past 20 years. Pace down the flanks opens teams up and scares defenders. Hopefully our manager can see this.
Brian Wilkinson
169
Posted 09/01/2021 at 19:53:37
The only thing missing from the pre match was Carlo saying Pickford will definitely start the next game.
When Doucouré and Allan are fit, we look decent, the rest are dreadful in midfield.
You have our defenders holding their hands in despair, at the lack of midfielders willing to take a pass, when they do, it comes straight back to the same defender.
Until we get rid of Davies, Sigurdsson and Gomes, we will continue to struggle to boss games.
Danny O'Neill
170
Posted 09/01/2021 at 19:57:38
Always the case and has been since I can remember, Ian. No logic behind Hereford beating Newcastle in 1974. The magic of the cup, as they say.
Well played Rotherham. You almost had your day. We got the result and we're in the next round.
Mark Wilson
171
Posted 09/01/2021 at 19:59:39
Our standards are so low at times that we might as well start these cup games with the telling comment all that matters is we are in the hat for the next round "
We played okay for less than 15 minutes in the first half.
Gordon, did pretty much what I see him do every time he plays ie started quite well, made a lovely pass for the goal and one excellent run, then nothing for the rest of the time on the pitch. He's clearly a clever technical player. Seems like a loan where he actually plays every week would help decide if he can be more than the massive hype that surrounds him. Hope he proves us cynics wrong.
Nkounkou looks a really interesting option on the left. Surely worth keeping in the squad now and giving time on the bench as he can come on and shore up, or rampage forward for twenty mins. And he might be better than that, who knows.
Davies and Gomes should never find themselves, running or actually not, centre midfield. Gomes has to pick up quickly now, he's had a period of grace after that disgusting bit of afters from Son, but honestly if you'd not seen him when he first arrived you'd be screaming for him to be benched. Or worse. He's in a bad place and even with acres of space he and Davies allowed Rotherham the platform to pressure the back four.
Davies? All been said, ran round like he was playing in another jumpers-for-goal - posts game in the street, cost us a goal, and nothing.
The back four were shaky at times but Olsen continues to suggest he's better than any No 2 keeper we've had for ages.
Tosun? Minus VAR, he'd have had a couple of very decent finishes but let's hope he gets his move now, decent guy I think as can be seen from how made up his team mates were when he scored.
Digne will hopefully be okay for Wolves and better for that runout. James? Not great was he until last 20 minutes and bit of extra time where his passing was a factor in us getting a bit of a grip of the game.
All in all lots of changes and virtually strongest team Allan apart, for next weeks mid week effort.
At least we are in the hat for round 4
Robert Tressell
172
Posted 09/01/2021 at 19:59:46
We have a track record of really awful Cup performances over the last 20 years. Today is nothing new.
George @ 159, we all know what you mean. The current version of Everton is miles off where we want it to be. But the last 20 years also tell us the teams loaded with excellent attacking talent win games in style. We aren't.
Recruitment this summer has made us much stronger. I like all the new players. If we can keep our best and add more quality we'll win these games pretty.
Martin Mason
173
Posted 09/01/2021 at 20:04:14
I thought that we won today when playing badly. Is that not something to praise, not whinge about?
George Cumiskey
174
Posted 09/01/2021 at 20:04:36
Okay lads, you win – I give up!
Nicholas Ryan
175
Posted 09/01/2021 at 20:10:15
I fear that the only way we'll get into Europe this season, is in the back of a lorry, waiting at Dover to process all the extra Customs paperwork that Brexit hasn't created!
Graham Mockford
176
Posted 09/01/2021 at 20:11:43
A pretty abysmal 60 minutes. Thought the substitutions changed the game especially Doucouré and Mina who were both excellent. In the end we got a grip of the game but for long periods in the first half we were awful especially across midfield where we were outmuscled and gave the ball away reguarly.
Tony Abrahams
177
Posted 09/01/2021 at 20:12:44
I think we've been winning ugly because of the way we have been getting set up to play a defensive game. I thought we won ugly today because our attitude wasn't right, and some of the players are either not ready, not good enough or just don't work hard enough.
I'd say Digne and Gordon, looked to be in the first bracket today, Gomes, Davies and Tosun, were in the second bracket, and I'd say the whole of our midfield and Tosun, never worked hard enough today, although Rodriguez, tried to get on the ball, but he needs people running ahead of him?
I'd love to get rid of Bernard and Tosun, and bring in Zaha, and think Gordon needs a loan to go and play some real competitive football.
An injury to Lewin, and we can only play Richarlison up front, (Tosun is simply not good enough, imo) but if this happens who have we got to play wide?
We could play wingbacks, and squeeze higher up the pitch with the pace of Godfrey and Holgate, because this has got to be our long term aim?
People praise Michael Keane, that's understandable because he's definitely improved, but how lucky was he when Hurst, just failed to get on the end of the cross of the game, even if it was good centre forward play
Tony Hill
178
Posted 09/01/2021 at 20:15:49
Tuesday and, if Villa are fit enough, next Saturday are the markers for us, as others have noted. Our best performance of the season was the 2-0 at Leicester. Let's do it again x 2. If we manage that then Ancelotti has reason to claim that he has made a major difference and he will have a full right to our patience and support.
John Keating
179
Posted 09/01/2021 at 20:17:42
We are not entitled to win every game, regardless of the opposition.
Every manager from Carey through to Ancelotti has played questionable players and used strange tactics. In later years made weird substitutions.
Managers are there to also motivate players and if they can't questions need to be asked.
One thing that the coaching staff can't be brought up for is the inability of professional footballers to do the minimum basics. Give 100% and pass to a team mate 5 yards away
For whatever reason we have more than our fair share who can't seem to get that.
Our problem is we can't replace players who are not doing the basics. The subs are as bad!
Brian Wilkinson
180
Posted 09/01/2021 at 20:19:56
Another goal for Moise Kean early doors, would wait til the summer and let his price tag keep rising.
Would certainly not entertain £31 Million.
David Pearl
181
Posted 09/01/2021 at 20:21:39
How long do Villa have to isolate for? Surely they cant be ready to play 4 days later! Wtf is going on? Unless we get to play against their u23 like the shite.
I blame Carlo for todays performance. Shape was just bizarre to say the least.
Ian Horan
182
Posted 09/01/2021 at 20:22:55
Kerching!! Moise Kean 9th league goal of season tonight for PSG. The French VAR ref must be a toffee as Kean was off in the build up so 2 mill for each goal on top of our 27 mill. Then sell
Tony Hill
183
Posted 09/01/2021 at 20:25:56
We still need someone to manage the game for us on the field - years and years and counting. A tempo-setter, someone who sees when we are losing momentum and revives us, someone who doesn't fucking melt when we get some pressure.
Where and who is he?
Thomas Richards
184
Posted 09/01/2021 at 20:39:21
How many of our players have the ability to play in a top 10 team.
If we put Tom Davies,Michael Keane, Yerry Mina, Tosun, Pickford, Delph, Bernard, Holgate, Sigurdsson up for sale who would be the potential buyers?
Certainly not any side who will finish in the top 10.
He's inherited a disjointed squad, half of whom wont be here in 18 months.
So. Hes started from a weak position.
Despite this he has us 4 points behind the league leaders, and with us having a game in hand.
Patience my fellow blues, patience
Stephen Brown
185
Posted 09/01/2021 at 20:46:14
20 year old Italy international scoring goals at better than 1 in 2 for PSG under contract for 4 more years!!
31 million !!! I don't think so let's start talking at 50m and we will go down to 45m at a push!!
Iwobi cost 35m
Bolasie aged 28 cost 28m
Brewster 24m
Play hard ball !!
Michael Kenrick
186
Posted 09/01/2021 at 21:00:18
That was a great observation, Gerry @154 – it brought forth a painfull grimace of gratitude for your understanding and appreciation, as another 2+ hours of my life are so cheaply given up for such little reward.
My wife really can't understand it anymore, even though she's put up with this for many a long year. I thought we had this unwritten agreement that she could spend endless hours (not to mention the countless shekels) on her dressage horse if she left me alone to do this shit. But I'm seriously thinking she's now got the better side of the deal.
It just seems so much worse at the moment. And I'm trying desperately to find another way of not saying "Well, that was yet another pile of absolute shite!" At least you expect it from a horse.
Tony Hill
187
Posted 09/01/2021 at 21:09:37
Facts is facts, though, and that's why Thomas @184 has a strong point. We're shit, we know we are and yet we're bang in the game. It's what happens next that matters; and it matters a lot.
Dressage horse? Not many of them left round here, but I used to like them in the Olympics. Lucinda A Posteriori, was it?
Dale Self
188
Posted 09/01/2021 at 21:13:06
Here's the question: our side being so shite as many have stated voluminously, how is winning an early cup match ugly in low gear a bad strategy for getting into Europe? We don't have the second eleven to go full gear without deep cup runs exhausting the quality in our squad.

David Pearl
189
Posted 09/01/2021 at 21:14:40
24m for Brewster?? How do they do it? Kean has to be worth double... especially if he keeps scoring.
Maybe we can get 24m for Gordon now before we sell him for £2m (Robinson), or for an undisclosed fee (Dowell).
Dave Abrahams
190
Posted 09/01/2021 at 21:19:19
Michael (186), I think it is extraordinary how quickly you can give good descriptions of the match as soon as it is finished, never really thought how depressing it must be for you to watch a game like today's and be writing it down as it happens, and never a swear word to alleviate your misery, commendable, I honestly sympathise with you having to endure days like today, and there will be many more until Carlo empties many of these players out of his squad. Such a really pathetic effort from a lot of them today.
Mark Murphy
191
Posted 09/01/2021 at 21:27:13
Michael Keane, Yeri Mena and Holgate would not be out of their depth in any top 6 side in my opinion Thomas and whilst I am not a fan of Pickford he IS the England keeper and Would get in many top ten teams easily.
As for the rest - your right. And that's our problem - there is a gulf in class between our first team and their replacements.
Tony Hill
192
Posted 09/01/2021 at 21:41:38
Mark @191, I'm delighted with Mina. His defensive work has tightened to a significant extent and he wants to bring the ball out of defence creatively whenever he can. His passing is generally precise. And he's only 26.
Paul Birmingham
193
Posted 09/01/2021 at 21:45:44
Regroup, Kama, Kama... As like.. there is with Everton, but we are in the 4th round draw.
On the footballing technical side and technique, I still don't know why Bernard went for the reverse hit, instead of smashing the ball straight, with his chance that hit the post in Extra time.
But let's hope for a dirty dozen, whom are gonna be well stokered up for Wolves.
This a test and then Villa, permitting and also the potential of Villa playing, is gonna be interesting, based on the EPL and FA approach to COViD19.
All stay safe and well, and here's to Marine tomorrow, and hopefully can sort out Spurs.

Tom Bowers
194
Posted 09/01/2021 at 21:48:24
A win is a win no matter who it comes against. At least we didn't have to face their Acadamy team (if they have one).
I just wish we could beat a team comprehensively and look good doing it.
Somehow everything went pear shaped after we scored and suddenly they looked like the Prem. outfit. The intensity just disappeared and that is something only Carlo can deal with.
If it is because some players have the wrong attitude or they just are not good enough then he has to get it sorted if he wants Everton to hang in at the top.
Thomas Richards
195
Posted 09/01/2021 at 22:11:10
See your point on Pickford Mark.
A good shot stopper but a mistake a game for me mate.
Heart misses a beat every time the opposition throws a cross in.
Hopefully he will improve with experience.
Paul A Smith
196
Posted 09/01/2021 at 22:15:45
We need a CM that is better than Allan. Not the same type but a more gifted player. If we don't get a proper midfielder that can keep us from having to rely on Gomes and Davies we can't really change.
They (and they are not alone) give the ball away too often. Their area of the pitch is vital for keeping play going and picking passes that make us keep our shape.
I fail to see how we can expect exciting football when so many of us point out players losing possession or putting in performances that are not good enough.
15 mins in and nobody is moaning about the lack of excitement or quality. Then 3 or 4 players switch off and Rotherham grow in confidence all of a sudden our style of play needs checking.
Those players were subbed. Some were given a chance and again didn't take it. Some coming back from injury didn't do too well either.
There is room for improvement everywhere but central midfield is an issue we need to fix quickly with something dynamic.
Mark Murphy
197
Posted 09/01/2021 at 22:26:42
Oh I agree Thomas - he doesn't command his six yard box and I'm more relaxed with Olsen myself BUT Pickford would attract a top ten side which is what you questioned.
Holgate for me is better than Stones and will get better. Mina and Keane have improved so much that we miss them when they're not there. I admit I've got blue tinted specs but Digne Holgate, Mina, Keane, Godfrey, Allan, Doucoure, James, Richy, DCL forms an excellent base to a squad good enough to challenge for the top four and with Branthwaite, Nkounkou and possibly Gordon in the future we are getting there.
I don't think we should settle for anything below top 6 this season but we do need a couple in this window - our first 11 is good enough - our squad isn't.
Tony Abrahams
198
Posted 09/01/2021 at 22:27:44
I've just posted on another thread that I'd love to sign Wilfred Zaha, Paul A, but also agree with this post. My own opinion of playing in midfield, is that if there is space to attack, then that is what you should do, but this is not something you see Everton's midfield players do.
Drive and exploit, or go sideways? I'm well aware that possession is nine tenths of the law, but from the middle of the pitch I love to see running and playing forward.
Peter Mills
199
Posted 09/01/2021 at 22:30:55
Michael#186, as ever, many thanks to you and Lyndon for your efforts on this site.
Thomas Richards
200
Posted 09/01/2021 at 22:35:03
Tony,
I read that. You painted pictures in my head there.
Get a pacy, solid,mobile back four behind that set up and we are in business.
Mark,
Your right, not all the top ten.
Maybe Villas and Southamptons, I would swap him for any of the others.
In my opinion Mina and Keane are the complete opposite of the type of defender I mentioned in my reply to Tony.
I agree on the other players you mention
Danny O'Neill
201
Posted 09/01/2021 at 22:37:03
Allan and Doucoure improved our midfield. We saw that today when we reverted to a last season Davies an Gomes. That is now back up and reminds us where we were. Is Allan and Doucoure where we want to be? Probably not, but it is an improvement. Hopefully we can improve on that further.
Today showed what we all know, the squad depth and quality isn't great. Those who we want to be great and good enough don't seem to be taking the chance to show the doubters that they are.
And this is on a day when I for one am not pointing fingers or blaming any individual players; it was a poor team performance. Collectively.
Repeating myself, Olsen looked good, not for the first time. Doucoure made a difference and Mina added assurance.
But this was the FA Cup 3rd round. A notoriously dodgy weekend where scalps are taken. We aren't one of them.
To use an earlier example, we don't recite the fact we stumbled over the line against University College Dublin in 1984. We talk about Rapid Vienna and Rotterdam in 1985.
Danny O'Neill
202
Posted 09/01/2021 at 22:42:04
@Tony Abrahams. Our 2nd goal. Forward running from the midfield player.
Not only does it press the opposition, it supports the attack and gives other midfielders options.
Paul A Smith
203
Posted 09/01/2021 at 22:43:07
Danny I agree they do improve the midfield if they play every week. Allan was always going to find that hard and we stil don't know if we can rely on him for 30 games a season.
We lack options for quality if he doesn't play and we could still do with the quality when he is in the side.
The last times we saw him he was basically doing everything in midfield and Doucoure has had his best games without Allan.
In fact the more I type the more I feel it need addressing quickly. No top side is successful without top midfielders.
You're point to Tony A is bang on Danny. Midfielders running beyond the attackers is essential.
Danny O'Neill
204
Posted 09/01/2021 at 22:46:18
Never give up Michael and your efforts are most appreciated. I think you can see that by the recent comments count; not that it's a Facebook "like" contest on here.
You and Lyndon provide a forum for discussion and debate that is greatly appreciated.
And we all despair as much as we rejoice when we come on here to comment!!
My wife now has a new phrase: "are you ToffeeWebbing"!!
Danny O'Neill
205
Posted 09/01/2021 at 22:48:05
Hate to mention other teams Paul, but remember how ofter Roy Keane used to do it for United?
Danny O'Neill
206
Posted 09/01/2021 at 22:52:07
Paul: "No side is successful without top midfielders".
This. Games are won and lost in midfield. That's where you control the game.
Tony Marsh
207
Posted 09/01/2021 at 22:55:26
Shocking display yet again but some will be happy. The lack of supporters in the ground is a big problem especially at the likes of Goodison Park. None of our new players have experienced Goodison in full voice. Maybe this is why the team is so lacking in endeavour, intent and passion.
Surely now Nkounkou must get a decent run in the side. His pace alone put teams on the back foot. Play the kid in midfield You must surely a better option than Tom Davies. Delph, Sigurdsson, Bernard etc. Left side of midfield I would stick him in there.
So Everton are through to the 4th round of the soulless FA Cup. All football is soulless these days. Covid has sucked out the last drops of passion and energy from a game that was already dying due to greedy and disconnected players. Everton we once knew might never come back. A win a loss a draw does it really matter any more with no fans to see it.
Poor non-league Chorley greatest day in their history beating Derby and no fucker got to see it. Football today is fast losing its apoeal. The game was getting away from the common man due to greed now due to Covid the common man is starting to not give a fuck.
Everton annoy us all yet we still go back for more. Maybe its a blessing our fans are locked out. The last few games have been diabolical. Rotherham deserved more today but you never get what gou deserve in this game. Roll on Wolverhampton (takes a big gulp).
Don Alexander
208
Posted 09/01/2021 at 22:59:30
Yet another massive, televised-for-the-world, dross match against ordinary players who at least gave a fuck.
For years and years I'm sure players and agents who've given up on ever signing for a trophy-winning club have rubbed their sticky hands together whenever the good ship Everton comes a-calling for them.
Talk the talk, pass the medical (and that must be a cinch at Everton), get a four year minimum contract on more money than you've ever dreamed of, and you're in the most fabulous position your talent will ever get you, so ride out the contract, fuck the fans and fuck the club.
Finch Farm, with its coterie of comfortable Kenwright appointed ex-players, breeds this state of mind, despite the endless drivel they spout to the media. Rooney aside, and maybe Lescott, which of our former players has ever been signed by a more successful club and shown their worth?
Arteta? Ask an Arsenal fan - to them he was bog-standard.
Pienaar? You're having a laff, and yet these two are revered on TW, with other not-bad-at-best players.
It's bizarre, and yet Moshiri walks in and relies on the same owd template that reduced us to perennial also-rans ever since the EPL began before spending all but half a £billion on the square root of fuck all in terms of heart, talent, pace and ambition, right throughout the club!
World-wide we're seen as a soft touch club that pays mega-wages for next to nowt, and you can guarantee that maybe with about half a dozen exceptions those working at USMFF are in no mood to win trophies, the rewards for which might just allow the club to sign better people who might just cost the many USMFF malingers their job.
Happy fucking New Year by the way!

Tony Abrahams
209
Posted 09/01/2021 at 23:01:00
I'd say Liverpool have had good players who function really well for the team, rather than top midfielders Danny, and this has allowed their forwards and fullbacks to really flourish, although you could argue this is because of the base that their midfielders bring to the team?
Imagine Richarlison, Rodriguez and Zaha, playing just behind Lewin, and think about the damage they could do? I'm on a two man mission to get Wilfred Zaha to Everton, after agreeing with John Skelly on another thread!!
John Davies
210
Posted 09/01/2021 at 23:01:26
Kenny, Davies, Gomez, Bernard, Delph, Gordon (at present), Tosun, Iwobi and Sigurdsson. Nine players, all only Championship class players at best.
So why does anyone wonder why we struggle to comfortably beat a Championship side?
All these players have contracts that run for another 18 months, so we're stuck with them because no-one is going to want to take them off our hands. And they won't want to move on because no other club is going to pay the stupid money they're getting from us.
Add to that sorry list Besic, Bolasie and Wallcott and it's very evident why we're in such a mess. I've not seen such a poor squad in 60 years of watching my football club.
As if everything else that is going on in today's sorry world wasn't enough!
Tony Abrahams
211
Posted 09/01/2021 at 23:09:32
I don't think any of the players you mention are bad players John, but when you put them altogether like you have just done, then it shows you the squad of international players that Ancellotti inherited, wasn't very good collectively?
Paul A Smith
212
Posted 09/01/2021 at 23:13:28
Yes Danny, Keane was brilliant mate and like Tony A says about the red shites midfielders he was around well functioned players.
Keane should always be a standout midfielder because he demanded more from team mates an stayed hungry after success.
Allan has some of Keanes traits, you can see him trying to push us forward when we need it for example but people forget how good a footballer Roy Keane was and his partnership with Scholes was golden.
The least we can accept is desire. Remember our dogs of war. Full of desire to win and not be laughed off the park. Add quality to a player full of desire and you have a better chance.
And although it kills me the other lot have a very good midfield. They all look for goal if its there and give the attack all the back up they need to give them substance.
Where is the substance in Gomes?
Andrew Clare
213
Posted 09/01/2021 at 23:20:46
Well that was an absolutely dreadful performance. I've said it before and I'll say it again-'can anyone remember when we actually commanded a game from start to finish' - because I sure as hell can't.
Apart from our 1st eleven and a couple of youngsters our squad is terrible and it cost a fortune.
Yes we won but we definitely aren't going to win any trophies playing like that.
Derek Cowell
214
Posted 09/01/2021 at 23:27:05
How can anyone understand VAR? I just watched motd having not seen the game live. According to the commentator Tosun's 'goal' was chalked off because Mina was offside when the cross came in. How was Mina interfering with play?! Yes, in days gone by the flag would go straight up when the cross came in for any attacker in an offside position. However, nowadays a player has to be interfering with play and the flag stays down until the play is finished. Mina had nothing to do with the goal even if he was offside slightly when the ball came in. I, for one, am baffled!
Kenny Smith
215
Posted 09/01/2021 at 23:27:07
Thomas @ 153. I read that but gave him the benefit of the doubt but just seen him again on Motd.
He really is a knob and to put out a statement saying he's never heard of this right wing group 'the grey wolves' is bollocks. It's not the first time he's expressed his over the top right wing views whist on the pitch. If it's possible I think he's even shitter now ! Sell or just generally fuck him off
Danny O'Neill
216
Posted 09/01/2021 at 23:29:19
Great football discussion, but that's what Evertonians do right?
So contradicting myself. Having said football is won and lost, in my opinion, the current Liverpool team hasn't relied on a midfield. They go very quickly from their full backs to their forward line. I'm not saying their midfield isn't good, but it hasn't been as important to them as other successful teams if that makes sense?
I don't think their midfield is that great, but I'm with you on the desire to win.
That's what I like in Allan. Constantly dictating and shouting. A captain without an armband.
Gomes. I'm with you. So frustrating. There is clearly a footballer in there. You don't get to Barcelona or Everton (yes I still believe!!) if you are not talented. But talent alone doesn't cut it. I get it that the lad has had a terrible injury to overcome and anyone who has played the game will understand that, but he is too pedestrian for me.
Maybe 2 years ago we saw him as an improvement on what we had and our great hope. Now we have Allan and Doucoure he is second string. Hopefully we can improve on Allan and Doucoure or at least complement them with equals.
Martin Reppion
217
Posted 09/01/2021 at 23:31:19
After calming down and mellowing with a drop or too of grape juice I've become more philosophical about today's game.
We have hopefully learned a lesson or two.
ONE: I posted before the game that whereas we could put out 2 equally good back fours and have a couple of good keepers, up front we have nobody to replace DCL and Richarlison.
TWO: We have plenty of options in the number 10 role, but they all lack pace, so we must play midfielders who can run and pass alongside them. Leaving out Doucoure when Allan is injured makes no sense at all.
THREE: 5 substitutes allowed so if your stars want a rest play them. Get 3-0 up and then bring the 2nd string on.
Finally. I'm reminded of an interview Ian Holloway gave a few years ago after his side scraped a win in a pretty poor performance. I believe its called 'winning ugly'.
He told the reporter, 'football matches are like going out with the lads on a Saturday night. Sometimes you pull a really good looking girl. Other nights you pull and she isn't much of a looker. But you still got her in the taxi.'
Today's game may have been a real 3 bagger. But there's still round four.
Danny O'Neill
218
Posted 09/01/2021 at 23:33:14
I know this won't mean much to many on here but Schalke won 4-0 tonight. The "Konigsblauen" (Royal Blues) avoided an embarrassing landmark of not winning a match in a year.
They're still in big trouble but my Everton in the next round of the FA Cup and my German blues finally showing a glimmer of hope sees me go to bed happy tonight!
Thomas Richards
219
Posted 09/01/2021 at 23:34:32
Kenny,
If that turns out to be true he has to go.
He is in the wrong city for that.
Patrick McFarlane
220
Posted 09/01/2021 at 23:39:37
Someone on social media complained about Tosun's goal celebration, Everton FC quizzed Tosun immediately after the game, the player assured the club that no such intention was meant with his celebration, the original complainant apologised for being too quick to judge and accepted Tosun's explanation.
They are the facts as I understand them - I'm willing to give the player the benefit of the doubt, some won't be.

Jason Wilkinson
221
Posted 09/01/2021 at 23:50:15
Patrick, What heinous crime did Cenk commit? I didnt see anything.
Martin Reppion
222
Posted 09/01/2021 at 23:52:01
To be fair to Tosun, it's so long since he scored he probably had no idea how to celebrate.
Si Cooper
223
Posted 09/01/2021 at 00:03:29
Seems I am fortunate to have only been able to see the couple of minutes of coverage on MotD.
According to the BBC Tosun's second was disallowed because Yerry Mina was marginally offside when James played the ball in. He was about 6 yards away and not interfering with the goalkeeper when Cenk struck it. How could VAR overrule for that? Practically every free kick looped into the box has about 3 attackers in offside positions but that is always ignored as long as the scorer wasn't offside.
Bizarre BBC coverage was fairly distracting (not a bad thing if we were truly as bad as people are posting), from the Irish lass with the most monotone and flat delivery I've ever heard to the football-lite chief presenter Gabby Logan. Alex Scott obviously gets so many gigs because she's fairly cute because I've never heard her say anything insightful and she frequently mangles the spoken word.
Jerome Shields
224
Posted 10/01/2021 at 00:12:41
Watched Motd. Everton where poor in midfield throughout. James can really pass the ball in the final third and Gordon did play well, but then faded.
As I always suspected Tosun is much better when there is good final third play around him. Under Silva he was starved of it and had to play a holding Centre forward role to be fed off. which he was never suited to. Now with James and a emerging Gordon he looks like a striker. He would never get such final third passes from Richarlison. Tosun would be better with another attacker , rather than on his own.
As a striker with final third support he has a bigger range of skills than Calvert Lewin. All a bit too late in his contract though.
Jay Harris
225
Posted 10/01/2021 at 00:25:44
It is easy to see how VAR overruled the goal. Paul Tierney was in charge.
Tosun said he was pointing up to the stand and the original social media complainant has now accepted that and apologized. (Fake news).
Jerome at least you have given me a laugh today."As a striker with final third support he has a bigger range of skills than Calvert Lewin". We see Tosun up against Premier ship defenders and the only range of skills he shows are the ability to walk on and off the pitch.
Chris Jones [NZ]
226
Posted 10/01/2021 at 00:27:56
Today was almost the epitome of that "hard work beats talent when talent doesn't work hard" saying. Rotherham worked hard and pressed throughout the game and we had no answer to it, reverting to sideways and backwards passing to escape. Olusunde was excellent and deserved his goal.
I bet Cenk was regretting having the rug transplant what with a wayward tuft clearly being spotted by VAR.
I have this dream where Gbamin actually gets fit and plays well enough for Allan and Doucoure to get further forward and sideways passing becomes a distant memory. Then again I have a similar one about winning the lottery and buying an Aston Martin
Derek Thomas
227
Posted 10/01/2021 at 00:31:18
As Darren says; If the alternatives are lose ugly, or draw ugly, I'll take win ugly all day long
Ian Pilkington
228
Posted 10/01/2021 at 00:34:54
Tosun proved to be a very useful deputy for DCL today. Despite having very little to feed off for two hours he scored an excellent opener and was denied a well taken second goal by a ludicrous VAR decision.
The fact that he still plays regularly for
Turkey suggests he is a better footballer than many believe on here.
Jay Harris
229
Posted 10/01/2021 at 00:41:54
Ian I beg to differ.
Yes he scored an important goal but his movement and linkup play was absent throughout the game and against a premiership defense he wouldnt have got near that ball to score.
Peter Barry
230
Posted 10/01/2021 at 00:50:01
These days whenever I watch Everton play an old song keeps running through my mind 'Over, under, sideways, down, backwards, forwards, square, around' which is a perfect description of how we are playing.
Jason Wilkinson
231
Posted 10/01/2021 at 01:02:13
Jay / Ian.
Both statements are true. What beggars belief is we know Tosun wont link play. Run for 90+ minutes. So why do our coaching staff play him as a lone striker?
Jerome Shields
232
Posted 10/01/2021 at 01:23:12
Jay#225
He has never got support and when He has come on, Everton are in set up shop more and a ball in the final third is a rarity. This is only the second time he has plaher with James is on the field. Getting a final third pass from Soggy, Bernard, Gomes, Davies and Richarlison is like hen's teeth.
Jason#231
That is a very valid question.
Paul Jones
233
Posted 10/01/2021 at 01:24:25
We got thru to the next round and no individual was overly exerted or injured so job done. I recollect in the Moyes era in cup games that we would field a cocktail of squad players go behind and then have to bring on first choice players to chase a game that we would invariably loose. So given so many of the squad had a competitive game ? no one was injured and in the next round need to move on.
Jay Harris
234
Posted 10/01/2021 at 04:39:23
Paul, I think you will find Coleman is injured and One or two thers seemed to have minor knocks.
Thats my point Jerome.
If you watch his game he rarely runs into open space and has very sluggish movement so there is no pass available to the MF playmakers except sideways.
Although I do agree until we get someone like Saha I think we suit 4-4-2 better with Richy and DCL up front.
Alan J Thompson
235
Posted 10/01/2021 at 05:11:13
I supported Mr Ancelotti's appointment and still do and while a lot of this season has been awful to watch football there does seem to be a pattern that is being asked for which seems to be the ability to play out from the back and try to lure the opposition out more than play through them. The other option being full backs getting forward out wide trying to stretch the opposition. Unfortunately, we haven't mastered either and have lost to injury players who can effectively get wide and have stopped getting enough players into the penalty area when either strategy has worked.
A work in progress? Hopefully, but we should have players capable of beating lower grade teams and as the old adage reminds us, for skill to beat determination there must be at least equal effort.
Steve Brown
236
Posted 10/01/2021 at 05:54:40
Well that was terrible performance, whatever you think of the manager. It is unforgivable to be that complacent and not match the work rate of the opposition.
We have 11 players who, if fit, can match many premier league teams. Beyond that, we have a group of promising youngsters and a set of 6-8 senior pros who are simply not good enough. We need a pacy and energetic defensive midfielder and attacker right now if we can get them in this transfer window.
Derek Knox
237
Posted 10/01/2021 at 07:38:31
Does anyone know when the next round draw is? I have looked online and can't find anything, appreciate the info, so I can either buy more tissues or reinforce my barricade behind the sofa.
Kevin Molloy
238
Posted 10/01/2021 at 08:15:58
Is this rock bottom? it feels like it. I'm not sure how much more Evertonians can take, how much more we can be asked to put up with. That's just five wins now in the last six games, we are in danger of becoming a laughing stock. I know some people have said if we win our game in hand we are one point off leading the division, but hand on heart does anyone really think that is good enough? this guy is supposed to be a good manager, he's won stuff elsewhere we are being told. Well, he's been here nearly thirteen months now and if it carries on like this I think the decision will be taken out of his hands, and rightly so.
Derek Knox
239
Posted 10/01/2021 at 08:26:29
Thanks Tony, I couldn't find it anywhere, interesting rumour about Bournemouth Josh King with swap and a loan thrown in. He has been linked with us for a while now, I think that may work, plus he has experience at Premiership level. The last rumour I heard was that West ham were trying for josh King.
We could get a player from abroad, either as a loan or permanent, only to find he is not suited to the Prem, how many times has that happened, not only with us but other clubs too, but it could also go the other way. Yes I would vote for that deal with Josh King, but I think we definitely need another midfielder and a RB as a matter of priority before the window closes. Of course we need to shed a few too, Bolasie, Tosun, and Besic just to mention three, and a few more lurking in the shadows.
Kevin, I don't think any of us are jumping for joy from yesterday's performance, but we are through to the next round. In fairness to Carlo, okay he picks the team, but I doubt whether his remit was go out and play crap. Remember most of the players yesterday, he inherited, some returning from injury, and others below par. I say give him time and a couple of windows we will be a different animal altogether.
Neil Copeland
240
Posted 10/01/2021 at 08:39:10
Derek, I read Kevin's comment as tongue in cheek.
The Josh King rumour is interesting and if true he would certainly add speed as an option to DCL.
Brian Furey
241
Posted 10/01/2021 at 08:42:48
John Rafferty @157 stand up and take a bow. Best post I've read in years.
Our attacking play has been woeful since we started losing players to injury and Richie got suspended after the RS game.
He hasn't looked the same player since and poor DCL is lacking any sort of service and naturally not scoring regularly will eventually affect his confidence and he we will start coming deeper and deeper to get the ball. It would be interesting to see how him and Tosun play in a 4-4-2.
As I have written here before there is a huge difference between winning and losing on here. Yesterday's main conclusions seem to be our name is in the Rd4 hat and that's all that matters. Because we scraped a win AT HOME against a team really struggling at the bottom of the league below us, many of us think ahh let's not complain too much how the performance was.
Had Doucoure not made that run, had Carlo taken off the terrible lazy James or had the shot hit the post as it was one of those days how would most on here be reacting?
Many would want Carlo out, many saying our season is over, many saying Brands hasn't a clue.
Many saying Bill is too blame for taking this club backwards.
My point is, we as fans tend to love complaining and finding fault with everything. We overreact when we lose and also when we win.
So it's nice to read sensible balanced posts about how we played and careful analysis of each player rather than sack the boss and throw all the toys out of the pram. Don't forget how we were playing first five or do games with our full squad.
Now with Holgate and Godfrey settled in we have a very solid defence which has been responsible for keeping us top 6 in recent weeks.
Derek Knox
242
Posted 10/01/2021 at 09:01:01
Neil, thanks for the head's up, admittedly I only glanced over Kevin's post I should have proof-read it. :-)
I am that used to people on here jumping on the Blue's Manager Inquisition Wagon, with all types of mediaeval torture equipment at the ready to apply at the slightest blip.
Hope to see a giant killing later, well a mini giant killing too before that (Tranmere) I will be rooting for Marine against Spuds, I would just love it if they pulled that off, if just to see the look on Mourinho's face and his jolly boys. The revenue from this tie alone will be a life-saver for Marine, long may it continue.
Danny O'Neill
243
Posted 10/01/2021 at 09:05:07
I don't think most of us fit the "its all that matters" Brian or are of the opinion that the performance was acceptable; it wasn't. But we are in the next round. We move on.
Very clever Kevin! Rock bottom? In my life time I choose between the feeling of despair after losing 5-0 at Goodison to Liverpool and the equal feeling of disbelief going into the Wimbledon match in 1994 knowing that even if we won, we could be relegated. I can't describe how it felt at half time when we were 2-0 down.
That is rock bottom.
Dan Nulty
244
Posted 10/01/2021 at 09:50:38
Rock bottom? Jesus, some of you on here have short memories. If we were known for playing swashbuckling, cavalier, lively to watch football in the last 30 years, constantly challenging for European football, Cup semis and finals then I could understand the misery.
Rock bottom is needing to win on the last day of the season to stay up, winning a penalty which no one wants to take and the only reason Graham Stuart stepped up was because Nev strode forward to say I'll take it if none of you pussies will. Playing worse football than we play now, or less effective anyway. Going out to Shrewsbury, tranmere (3-0 at home), Bradford, Reading were far closer to rock bottom than yesterday and sitting so close to the top 4.
Honestly think some of you need your heads checking. It isn't pretty, we aren't playing well, frustrating but at least we've seen some blooming wins this year. We've got some quality at long last and injuries aside I think we'd be even higher in the league.
Do we have to get better? Yes. At least we are working off a solid base at the moment with important players coming back from injury. Should be a little positive at least.
Mark Murphy
245
Posted 10/01/2021 at 10:00:12
I haven't watched it on MOTD but if they are saying Cenks 2nd was disallowed due to Mina they are wrong. VAR identified Tosuns hand as being offside and disallowed it for that. (It was shown in the live match).
I still think it stinks - what if a striker is pointing where he wants the ball played? Does that make him offside? Ridiculous!
But it wasn't due to Mina.
Mark Murphy
246
Posted 10/01/2021 at 10:08:39
And as regards rock bottom:
77 semi final - Clive Thomas
0-5 at Goodson versus them.
Wigan at home FA cup
Tranmere at Home FA cup etc..
But never when we've won a game, lucky or scraped or not.
I maybe in a minority on here but I'm always happy when Everton win - why wouldn't I be?
I'm not satisfied with the performance yesterday nor am I satisfied that we're where we should be as a team, but I believe we're getting there and if we carry on scraping lucky wins until we are, rather than getting thrashed or beaten, then of course I'm happy!
This morning feels ultimately better than last Saturday morning after the West Ham game.
I don't like this attitude that if we're happy after a scraped win we're happy clappers or that it's all that matters. Why should I not be happy when Everton win?
Ps - what Dan Nulty said!
Danny O'Neill
247
Posted 10/01/2021 at 10:11:23
Correction: 2-1 down at half time. Just before the state police get me! It was a long time ago!
Darren Hind
248
Posted 10/01/2021 at 10:36:45
You were right the first time Danny. We may have gone in 2-1 down, but we did have to come from 2-0 down
Neil Copeland
251
Posted 10/01/2021 at 11:01:32
Derek, it seems that post has taken a few in! I had to read 2 or 3 times before I realised.
I would have taken 2-1 after extra time before the game and happy to take it now. Yes, we have played far better but we won and that is all that matters in a cup game.
Dave Williams
252
Posted 10/01/2021 at 11:05:34
A sense of perspective.
Coleman is coming back from injury and is rusty as is Digne,James and Iwobi
Gomes has been trying to find some form all season
Davies has been playing quite well but can't hold the midfield on his own
Godfrey and Keane do not normally partner each other at CB in a back four
Gordon is a young player trying to establish himself
Tosun has repeatedly shown that he cannot play up front on his own, he has no pace, is not good in the air, his hold up play isn't great but he can take a chance if created for him
Whilst this team looks decent on paper it was always going to struggle to play well together. It wasn't helped by scoring so early as complacency set in. That said apart from that twenty minute spell in the first half they didn't really threaten our goal and we could certainly have scored a few more. The main thing when fielding a weakened team is to win which we did. Wolves will be a stern test and we might be pleased that we gave game time to the guys returning from injury as they all looked in need of it.
On the bright side Olsen looks a decent keeper and I agree with Phil Roberts that maybe Nkounkou could be moved further forward whilst he develops. Phil mentions Seamus doing this and Gareth Bale also comes to mind as someone who started out at full back and found his feet playing further forward. Nkounkou looks good to me, he walks and runs like an athlete and looks physically robust. Well worth a go ahead of Digne and move Richi to the right with James more central.

Jason Wilkinson
253
Posted 10/01/2021 at 11:10:27
Danny,
I think most of us wouldn't put yesterday's game in our top 20 worst performances. I totally understand the frustration. We started the season playing neat attractive football. We have morphed into a Koeman type side. Devoid of ideas with a shambolic midfield. The passing between Davies, Gomes & Rodriguez was appalling yesterday. I can only put it down to apathy from the players. Gomes particularly seemed to get virtually every pass intercepted. Most of which deflected of a Rotherham boot. At times we looked like a 5-a-side team at the Pitz on Scotty Rd.
Thomas Richards
254
Posted 10/01/2021 at 11:12:34
Kevin #238
I agree.
It is that bad I am considering giving my ST up.
Win the game in hand and go one point behind the league leaders?
Nowhere near good enough
Danny O'Neill
255
Posted 10/01/2021 at 11:16:20
I'll be honest Darren, I recall the emotion of the day more than the match itself. I was stationed in Cyprus and watched it unfold with a Sunderland supporting mate in an alcoholic haze. I just about made it home; the neighbour helped my wife to help me out of the storm drain across the road after they heard me singing.
I think someone asked earlier about the draw. Here's a cut from the FA Website:
There will be a double draw in the Emirates FA Cup next week, with both the fourth and fifth round proper draws being made on Monday 11 January.
Hosted by Reshmin Chowdhury and conducted by Peter Crouch, both draws will be made back-to-back to aid with fixture scheduling and will form part of BT Sport 1's pre-match coverage of the third round tie between Stockport County and West Ham United.
We are number 10. Liverpool 23.
Brian Harrison
256
Posted 10/01/2021 at 11:17:29
I understand in resting both Richarlison and DCL then you remove about 90% of our threat on goal, but apart from the first 10 minutes we created very little and were outplayed by a team struggling in the Championship.
I really don't understand what has happened to this team that started the season playing exciting attacking football and scoring goals for fun, to a team that seems bereft of any attacking ability. We seem to have become frightened to push men forward even when playing lowly opposition like Rotherham. I think maybe it was a good thing for the players that there wasn't a crowd there yesterday as I think most would have got dogs abuse for their display yesterday.
I am a big fan of Carlo but the buck always stops with the manager and the style of football we are playing at present is not acceptable. I realize we are missing a couple of key players but we should still be showing greater ambition than we currently show. The past few weeks we have played more like Herraras 1960s Inter were score 1 and shut up shop was their DNA. Carlo neds to get us back to the style we showed at the beginning of the season and play with a lot more attacking intent.
Carl Manning
257
Posted 10/01/2021 at 11:27:53
It's fairly obvious Brian. The team that started so well hasn't played together since the run ended due to injuries. Quite easy to work out really. Asking Davies to cover like Allan is impossible. Asking Iwobi to create like James, Godfrey to supply like Digne, Holgate to get forward like Coleman... Not rocket science.
Thomas Richards
259
Posted 10/01/2021 at 11:44:00
Carl #257
"Not rocket science."
Simple and succinct.

Brian Harrison
260
Posted 10/01/2021 at 11:57:07
Carl
I agree when we have our first choice fit we look a better side, so do I take it that you think if we have 1 or 2 of the first choice missing then we will massively under perform. Because if that's the case then I don't know how we possibly rectify that problem with out spending massively to improve the squad. The problem there is we are very close to our FFP limits, so that will limit how we improve the squad as only selling Kean would bring any real money in.
Tony Everan
261
Posted 10/01/2021 at 12:21:57
Peter, An uplifting story and bloody hell do we need some!
17,000 tickets and counting. Your name gets entered into a raffle to be the Marine manager. (For a friendly). Mourinho has bought a ticket so he may be managing Marine in the near future.
Darren Hind
263
Posted 10/01/2021 at 12:53:32
It clearly is rocket science.
You would think we were the only team in the country that has injuries. Breaking news... Not one single side had been able to select their first XI in all their games. The only difference is: We whinge every time we get an injury. We treat an injury to a full-back like a death in the family.
Injuries to any of the summer signings are repeatedly put up as a pathetic excuse for the Zombie Football we have been forced to endure. Yet some of our worst performances have been with them playing...
I have to do a double-take when people use the absence of Allan as an excuse for poor football... The guy adds virtually nothing to our creativity. He is a tackling machine, pure and simple.
The reason we are such an awful watch is simple: We intend to be. We set out to spoil the game. We always play with caution and fear.
People talk about 2-3 hours of attacking intent as if that is the rule; it's not. It is very much the exception. We are always last on MotD. Not because of some RS media bias, as some claim. We are on last on because 9-10 cats think we are ugly fuckers.
Thomas Richards
264
Posted 10/01/2021 at 13:05:06
"You would think we were the only team in the country that has injuries. Breaking news...Not one single side had been able to select their first eleven in all their games"
To be fair, most of the teams, in and around the top spots we are competing with, had big expensive squads to start the season with.
We didn't have much beyond a half decent 14 or 15.
Repeat. Win our game in hand and we go one point behind current league leaders.
If Ancelotti has us one point off the top team whilst playing "zombie football"... "the worst football I have ever seen" etc, what will it be like when he gets it right with his own team?
Mark Boullé
265
Posted 10/01/2021 at 13:23:50
Same as the West Ham game, just infuriating to watch us crab our way upfield, slow sideways passes, backwards passes, poor control (Iwobi the worst offender yesterday from what I saw)...
What you often can't tell from the TV is what movement is going on ahead of the player in possession, but I assume it's little or none in our case, as that can be the only reason why Keane, Mina, Coleman, Davies and Gomes keep on killing any forward momentum at source.
We're not the only side that struggles to play through the lines, at pace, whilst maintaining possession and stretching the oppo.
But I'm honestly not sure there's much Carlo can do about it with the players we have. Davies, Gomes, Sigurdsson and Iwobi, all likely to feature heavily in our midfield between now and the end of the season. None is quick or agile enough on the half turn, able to receive the ball and drive forward or move it on quickly without taking multiple touches first.
That to me is the crux of the problem. Our defence is fine, though Coleman has to be replaced because he no longer offers enough going forward.
Richie, DCL, James, Allan and Doucoure are the only other regular starters whom I think are good enough for us to be playing at the level we want to see. Of those, three are Carlo signings and one has improved enormously thanks to Carlo and Big Dunc changing his game and focus.
Given time, better players will come in and the movement and midfield dynamism will be what we want it to be and what the School of Science deserves...
Jamie Crowley
266
Posted 10/01/2021 at 13:25:13
It's not the worst football we've ever seen. I distinctly remember Big Sam's version of football.
We've had injuries and suspensions. The intelligent, logical thing to do while Seamus, Digne, James, and Rich were all out, was to play to our strengths and pack it in defensively.
That's exactly what Carlo did, and will continue to do.
The beginning of the season we were spraying the ball around, cracking off shots like they were farts, and attacking with aplomb. We'll get back there.
The overreaction from some without context is silly.
A shite performance against the Hammers, followed up with an FA Cup early round slog (never seen one of those, cough-cough) doesn't mean Carlo is a dour, tactician-less buffoon. Quite the contrary, dude knows what he's doing.
John Boswell
267
Posted 10/01/2021 at 13:33:57
Carl and Thomas are on the same page as me. We do not, yet, possess two first-team squads. I think all on here accept that.
We have a pragmatic coach who is building a flexible approach to playing which will allow him to vary tactics within a 90-minute game. He is also trying to bring silverware to this club.
Until he has a squad of his choosing he must play with what is available. This will limit his tactical approach every time.
I also believe in the project and that Carlo will deliver. Stay safe, brother blues, avoid the plague, the good times are coming along with a spanking new stadium, COYB.
Danny O'Neill
268
Posted 10/01/2021 at 13:42:41
We are where we were at the start of the season and what was, to me, obvious then. A pretty decent starting 11 having addressed midfield issues, but still don't have the squad to deal with injuries. Injuries are part and parcel, which every team has to cope with, especially given the nature of this season with games coming thick and fast.
Scratch the surface and we are light on quality in depth.
Martin Mason
269
Posted 10/01/2021 at 13:58:32
I believe that many on here would be far better off not watching or even following Everton. They cause themselves so much mental anguish believing that, by some kind of magic, the club can somehow deliver that which it is patently not yet capable of delivering consistently.
There is no magic wand whether that be manager, player purchases, psychologists or anything else. We will become what even the most negative here expect only when we gel as a whole and that may never happen; it needs a lot of hard work, a lot of money and a lot of luck.
We must remember too that as fans we can't influence this in any way and moaning on here will never achieve anything, just utterly pointless. What we can do is support the club in the incredible efforts that it is making and hope that in return we will be rewarded but we have to remember that there is massive competition now and success is not a right.
Graham Mockford
270
Posted 10/01/2021 at 14:26:20
So, half a season in, and despite the occasional frustrations, there is some room for optimism.
Our points tally has improved, we've shown ourselves a match on our day for the top teams, and I would say our current squad of defenders is as strong as I can remember with credible cover in all positions.
It's obvious, however, we still lack quality both in midfield and up front when our best players are not available. I think Gomes, Davies, Bernard, Delph and Tosun need replacing and I'm probably being generous to Sigurdsson and Iwobi.
That will take a few more windows yet but I would be disappointed if we don't sign two midfield players and a centre-forward in the current window.
Tony Hill
271
Posted 10/01/2021 at 14:36:48
Much truth there, Martin @269, though I am one of those who is impatient a lot of the time.
I often wonder if we would do a great deal better if we all relaxed and just allowed things to take their course. That is true for all of us: club, team and fans. I don't mean do nothing, of course, but just let things untangle and find their way. We're uptight.
Brent Stephens
272
Posted 10/01/2021 at 14:48:16
Carl #257 "not rocket science".
Agreed.
Danny O'Neill
273
Posted 10/01/2021 at 14:56:49
Crawley next round then.
Si Cooper
274
Posted 10/01/2021 at 14:57:19
Mark Murphy (245), I thought it had to be a part of the body you can score with? It wouldn't surprise me if the media were 'covering up' a shocking decision by making what it might have been given for too confused for anyone to follow.
One of ours commits a horrible tackle and it's no quarter given by the pundits, anyone else and there's a queue of them telling everyone 'he's just not that sort of a player'.
Tony Abrahams
275
Posted 10/01/2021 at 15:08:30
I think Leeds will be first on MotD tonight unless Marine pull off the unthinkable!
Tony Hill
276
Posted 10/01/2021 at 15:34:45
There's a fabulous photograph and thread on Tony Kay's twitter showing him with Joe Royle. Two of the very best.
Rob Halligan
277
Posted 10/01/2021 at 15:37:04
Silly me, and there was me thinking the object of a football match was too.... well win it!!
To date we have played 21 games, 16 league and 5 cup games, and won 13 of them, a win rate of about 66%. And before some come on and say we would expect to beat Salford, Fleetwood and Rotherham, I agree, but these games still have to be won, they're not given to you on a plate. There are shocks every year, every round even, in any cup competition, jeez, I've seen enough of them down the years. There's two more that's not been mentioned above, York city and Bristol Rovers in the League Cup. York beat us over two legs, 4-3, while Bristol Rovers beat us on penalties.
For me it's always result first, performance second; though I do agree winning while putting in a good performance would be nice now and again. So, as I say, a 66% win rate so far this season proves Carlo must be doing something right!
Mark Murphy
278
Posted 10/01/2021 at 15:46:16
Si - if that was the case, the shite's third goal against us would've been given. (Mane's elbow?) Personally I do think VAR got yesterday's wrong but it was nothing to do with Mina.
I see Oliver is in all the papers today saying he should have sent off Pickford. Here we go again, ffs!!
Rob Halligan
279
Posted 10/01/2021 at 15:51:05
Talking of Tosuns disallowed goal, I thought there was a defender's arm further forward than any part of Tosun's body? I know you can't score with your arm, but surely it still counts as part of a defender's body and therefore playing an attacker onside?
Brent Stephens
280
Posted 10/01/2021 at 16:09:49
Rob, I think the law says you discount the arm in offside decisions. Not sure about a penis though, as you could legitimately "score" with that – and some could be more offside than others.

Rob Halligan
281
Posted 10/01/2021 at 16:25:48
Brent, what about women's football then? Can boobs be offside? 😁😁😁
John McFarlane Snr
282
Posted 10/01/2021 at 16:26:30
HI Martin [269],
I've read many posts where people like myself are accused of accepting mediocrity, and I wonder what method we should adopt to put an end to this 'mediocrity'?
I think that those who post such comments should begin by deleting the word 'accept' and replacing it with 'tolerate'. As you rightly say, there's nothing we can do to influence the goings on behind the scenes, in order to bring the on-field success we all crave.
Brent Stephens
283
Posted 10/01/2021 at 16:29:38
Rob, you're lowering the tone as usual. I was being serious. Straight up.
Thomas Richards
284
Posted 10/01/2021 at 16:35:15
Ajax v Psv. 1-2 half time.
Great game.
Still players to be bought from this league.
The future star will come on half time.
Mohamed Kudus.
Worth a watch
Will Mabon
285
Posted 10/01/2021 at 16:36:40
Rob, it's actually the nips first.
Jason Wilkinson
286
Posted 10/01/2021 at 16:37:34
Who was the VAR ref? Clive Thomas?
I've heard two excuses for disallowing Tosun's effort. 1/ Mina was offside. 2/ Tosun's hand was offside. Mina wasnt interfering with play. You cant score with your hand. It was a good finish too.
If his toenail was offside I would accept it but they seem to have dropped a ball here.
Derek Knox
287
Posted 10/01/2021 at 16:37:56
Slightly off topic, but I am watching the Aberdeen V Rangers match, the player that scored for Aberdeen was none other than Matthew Kennedy who was with us from Kilmarnock (2012-2015), but went on loan back to Scotland (Hibs) via Tranmere and MK Dons. I wondered what had happened to him, because he looked a decent prospect.
Ricky Oak
288
Posted 10/01/2021 at 16:40:39
As an aside, Sky have just published referee Oliver's criticism of himself for not sending our Jordan off.
You remember, that time when our keeper dared tried stopping them from scoring? Unbelievable really, how many months later is it now? Lest anyone forgets.
I really want our club to come out with, something, like a highlight reel of all the shit house fouls they've done on us, or something, it feels like, as a club, we just roll over and let the establishment stomp on our belly. It's actually bullying, because we won yesterday, the next referee will have more awareness, on how we as a club are out-and-out brutes, and must be beaten down at every opportunity.
Fuming!
Conor McCourt
289
Posted 10/01/2021 at 16:44:36
Rock bottom for me is when I hear someone use Allan and Roy Keane in the same sentence. "Allan has some of Keane's traits". Yes I agree, they both wore football boots.
No the reason the midfield didn't function was because Allan was injured. It wasn't due to the fact that our esteemed maestro played three slugs together in the one area of the pitch. Forget the fact that when Doucoure and Allan had James in there they were all over the place also.
"But look at the difference to our midfield when Doucoure came on", no shit sherlock, who would have thought bringing power, athleticism and drive would improve us against a tiring team who find ways to lose every game they play. Who seen that coming? What a magician we have at the helm? Is Carlo still after a year coming close to figuring out that playing three slugs together won't work. When will we get the telegram to confirm it?
Look how better Doucoure and Allan are than last seasons. No look at how worse Allan and Doucoure are to Gana and Gomes the season before. But apparently signing two midfielders who are coming to the twilight of their careers and wouldn't get a game at Aston Villa is the path to making us great again. Fair play to Doucoure he's done really well despite being continually played in an unfavourable role but is he really a top level player or a Siggy mark two in that he is not quite top six standard?
"But we miss Allan so badly", yet this season we have failed to win only one league game without him and a cup match against Utd in which his opponent destroyed him in the league anyhow.
Yet let's hammer a guy who is recovering from a horrendous injury, has been scapegoated by the club yet he has the highest winning percentage games played of any of our midfielders this season. When he has started the midfield has had better shape, When he has been sub he has impacted every game he has come on and even yesterday he was the guy who really stepped up in extra time especially when Doucoure done the bulk of the legwork. The fact he has struggled playing with fellow snails says less about the player and more about the manager and similarly gives the 'Davies is shite brigade' more unnecessary oxygen and is harmful to the young man's development also.
Certainly Gomes lacks sharpness and intensity and needs to be managed properly and introduced at the right times, indeed he might never find his form of two years ago but now he is getting blamed for not being able to pass a ball. He along with James are easily our best technicians but when you have a coaching set up who clearly don't work on interplay and continually only have one or two options at most to hit then no wonder we look shit technically because they don't work on getting better. All off the cuff stuff, let's just make it up as we go along.
But we are four points off the top. Yet we are only three points off tenth. Nothing good or bad has been decided and the workload of some of our competitors will decrease in the new year. Top six on this evidence you are out of your minds. Away to Wolves and Villa and home games to City and Leicester will be big tests that lie in wait.
But Carlo is building to make us great again. Yes I can see that swapping Moise Kean one of the hottest young strikers in Europe for journeyman Josh fucking King has me ecstatic. But don't worry Sami Khedira is on his way also. I wonder if he will have a look at the shape of Inzaghi and Costacurta when he is at it to see if they can still do a job.
66% Rob you say, I think that was the percentage I was necking after watching that yesterday. The poitin (poteen) still wasn't strong enough though.
Derek Knox
290
Posted 10/01/2021 at 16:45:03
Ricky, a Highlight Reel? It would be a four hour epic! :-)
Rob Halligan
291
Posted 10/01/2021 at 16:45:19
Will, I suppose the forwards are at a disadvantage if it's a really cold day.
Will Mabon
292
Posted 10/01/2021 at 16:48:21
Rob, yes :)
Danny O'Neill
293
Posted 10/01/2021 at 16:55:34
It's interesting John. What do we mean by accepting mediocracy? In my life time, Everton have by and large been average.
My early vague memories were of the 70s nearly but not quite so good enough men.
My first real cemented memories were of the Gordon Lee years followed by Howard's initial uncertain ones. I was blessed to witness what followed.
Since then I have seen sink to depths as low as we could without descending into the 2nd tier of English football for the first time I would have witnessed.
Since that, I have seen very slow and gradual progress over time. We are nowhere near the depths of the mid-late 90s but nowhere near where we what to be.
I think we rightfully judge Everton on glimpses of success over our history. We have never done a Liverpool or a United in terms of world domination for 2 decades. We have periodically and briefly hit the heights and that is what we hold our standards by.
But in the main, tolerating averageness but wanting more is where we have been.
Paul A Smith
294
Posted 10/01/2021 at 17:07:47
Conor, was it not right to rest Doucouré against a Rotherham side we should beat with or without him?
Talk about an over-reaction. Nobody said Allan and Keane were the same player. I said he had some of his traits which he does. He demands the ball, doesn't shirk a tackle, tries to push forward, tried to play positive passes.
These are traits, by the way. not attributes or comparisons of skill.
He's been in the Premier League 5 months in one of the most difficult seasons of all time. The man doesn't speak the language yet but has done more talking on the pitch than most of our well-established players.
Gomes passing, god knows what you see but, for me, it's not there. It's nowhere near what it should be and the eyes don't lie. His passing around the box has been terrible and needs to improve.
The poor performers yesterday were subbed. What do people want with a squad so slow and lacking the quality it takes to walk games?
Our best player or supposedly best asset is probably Richarlison and he's nowhere near the top-level players.
Fans going over the same old argument and the same old results keep appearing, the players are not good enough as a whole and the squad isn't right yet.
I'd love to see where Pep could take our best 11.
Danny O'Neill
295
Posted 10/01/2021 at 17:18:01
You're right Paul, Allan has some of the traits of Keane as you mentioned in response to me much earlier in this thread. Some of them but it doesn't mean we are saying he is as good, just that he has some similarities. Can we improve, of course but for now, he is better than where we were last season as we saw yesterday once we take him and Doucouré out of the equation.
Yesterday was an opportunity for some players to stake a claim. Few of them took it sadly and it exposed our lack of depth.
I don't think I've mentioned but Bernard in particular was very disappointing. Always hoped he could be that link man, runner, tricky unpredictable player. Yesterday most of what he touched went to Rotherham.
Final random one as it's been bugging me, but notice a few people over the past few weeks commenting on slow passes and the ball moving slowly. Is it me or does the grass on pitches look long? Told you it was a random one.
Kevin Molloy
296
Posted 10/01/2021 at 17:34:40
I actually think the latest VVD stuff is helpful to Everton. Oliver says Pickford was clearly just spreading himself, and made a v good point not one Liverpool player was asking for action, that all came later after they realised how long he was gonna be out.
The reason he was injured so badly is he didn't really know what he was doing, and where his weight was. What striker with an onrushing panicking goalkeeper would present the straight leg he did? Nobody. He let him rush onto it cos he froze, cos he wasn't used to being in that position.
Jason Wilkinson
297
Posted 10/01/2021 at 17:43:01
Danny #295,
Good point about the pitch. Goodison Park looked a bit ropey yesterday. I don't think that affected Gomes' passing ability though.
Ricky Oak
298
Posted 10/01/2021 at 17:43:52
You're probably right, Derek. Thing is, though, as a club, we do nothing, zero, zip, anybody who wants to boot us in the balls at any opportunity, we'll just carry on, sport.
After all, we are only the best, most original football team in Liverpool. Only we seem to be run like absolute amateurs. Could you imagine the fake best team putting up with the shit we get. Honestly, I feel cursed, really I do, mediocrity even haunts my dreams and aspirations.
Frogs of bore, instead of, Dunkirk spirit, do or die, Dogs of War. Pardon me, depressed, again.
Paul A Smith
299
Posted 10/01/2021 at 17:48:58
Danny, like I had said above, mate, we are still not sure of being able to rely on Allan and need a player or players above his level.
Conor is a good poster; I see his frustration and it bugs me not being thrilled throughout games but I just don't expect it.
I have seen the club go through manager after manager and all of them have had the same problems.
These players have also had to adjust to the managers and the best spell we have shown excitement wise was the last 6 months of Silva's first season. That took a defeat at Millwall to wake players up and we put some great performances in after that. Season ended and he lost 2 vital players to his system which had looked good and who did we get. Gbamin, Iwobi. Wow.
Management talk is always the most fickle. Yesterday's game looked a doddle for 20 minutes and everyone's raving about Gordon and Gomes is coming back to form against the mighty Rotherham. 20 mins later, they all stink and it's Carlos fault.
Trust me, if the players he brings after 3 or 4 windows are not thrilling us, I will be screaming at him myself. I don't think many can deny that of all our best performers this season, his 3 signings are amongst the list and Keane is showing his best form 4 managers later.
Pickford, who I cannot stand, has been cleaning his act up. Calvert-Lewin has never looked so threatening since Ancelotti came.
Some perspective is needed or we just sack another manager and get Big Dunc or Eddie Howe to be the next in the firing line.
Stuart Sharp
300
Posted 10/01/2021 at 17:55:32
Wow. Conor, why don't you elaborate a bit? Jesus.
Danny O'Neill
301
Posted 10/01/2021 at 18:30:41
I'd still put the Wimbledon match and staring the very real prospect of relegation on the last day of the season out of our own control (not bad form October hysteria) as rock bottom over the very loose Keane - Allan comparisons Conor!!
You draw out a few good points though. Gomes I hope can recover to become the player we all saw 2 years ago. It was a dreadful injury. I was thinking earlier in the season he could be the 3rd midfielder protected by Doucoure & Allan, allowing him to create. Seems now when all are fit we will most likely go 4-2-3-1, so I'm not seeing a place for him. But then I'm not the manager.
Also, Tom Davies; he can be a good squad player for now. That's not criticising or saying he is shit. He is obviously good enough to play top flight football, which I am not, so he is definitely not shit.
Paul, what you say about not being able to rely on the likes of Allan all of the time is in tune with what I say. With have a good first 11 - 14 when all fit but don't have the squad to cope with injuries and rotation. We still need to build strength and quality in depth. The summer was a first step but still a lot to do.
Darren Hind
302
Posted 10/01/2021 at 18:56:04
Conor
Take a fucking bow lad the.
"We have only failed to win one league game without him (Allan)."
I didn't realise... Way to knock a thousand lame arsed excuses clean out of the park.
You need to get with the program lad on here its "In Carlo we trust"... This thinking for yourself lark won't go down at all well with the shouter downers.
Thomas Richards
303
Posted 10/01/2021 at 19:02:50
Conor,
The wins you mention is down to the ability of the manager to cover injuries to our best players. Long may it continue.
Danny,
Wimbledon? The worst I have ever felt at an Everton game.
Darren Hind
304
Posted 10/01/2021 at 19:06:53
Comedy Gold
Thomas Richards
305
Posted 10/01/2021 at 19:09:54
Fools and horses?
Andy Crooks
306
Posted 10/01/2021 at 19:17:13
Conor, I support Carlo simply because he is it; we have gone all-in with him. That is a cracking post, though. Rotherham penned us back and made us look shit. The team selection, set up and performance by the coach was utterly fucking lamentable.
Of course, this happens in the cup; job done, through to next round, work in progress, we will improve, players missing, wait till they are all back, what do we expect, near the top, all the teams are shite, off-day, job done, job done, can't wait for draw, into hat.
It was an abysmal pile of shite against a poor team who made us look like a pile of shite because they looked like they gave a shite.
Tony Abrahams
307
Posted 10/01/2021 at 19:35:40
I'd say Tom Davies needs to leave Everton to prosper, such is the stick he gets off loads of the fans, Danny. It's crazy but, once people have made their minds up that a player is shite, it's very difficult for them to be convinced otherwise.
Looking at Davies, I feel he's had that many different managers, all trying to use him in a different way, and often playing in a poor team, and this has really stopped his development. For a kid who can do a little bit of most things, I personally still think he's good enough to play in the top league, although I'm not sure it can be with the club he obviously loves.
Gordon made a great run early on and should have scored when he snatched at the rebound. Gordon did great to create the goal for Tosun, as did Rodriguez when he created the goal for Doucouré, but the best bit of skill in the whole game for me was Tom's little dummy to let the ball run through to Gomes, just outside our own area, but very few people concentrate on anything good that the kid does.
People will be shaking their heads now reading this, which is fair enough because they don't think he's good enough, but hopefully he proves us wrong because it's never been easy coming through at Everton, and especially the last few years with the amount of managers we've had.
This club needs stability, but getting the fans to unite, even if they don't like winning ugly, would be fantastic, especially considering how long it's been since we last tasted silverware, nearly double the longest time we have ever gone in the past, without putting a pot on the table.
Thomas Richards
308
Posted 10/01/2021 at 19:43:06
Tony,
In all honesty, I shouted no at the telly when Tom did that. It was a square pass across the edge of the area. If he was fully aware of what was around him I applaud him. Shows a lot of confidence to do that.
If it was James, fans would be saying "the cheeky bastard, what a piece of skill". So fairs fair in giving Tom the plaudits.
Tony Abrahams
309
Posted 10/01/2021 at 19:51:10
I thought he had a little look just before he moved towards the ball, before he spun and let it run through to Gomes, Thomas, and then continued to run forwards. I'm sure it broke down because of Tom, in the next phase though, which epitomizes his Everton career in a nutshell so far.
Hugh Jenkins
310
Posted 10/01/2021 at 19:52:09
Danny @301, I was there with my fanatical 15-year-old son and my resigned 75-year-old father in law. We were in the Upper Main Stand and, after the second Wimbledon goal went in, the number of clattering seats around us was frightening.
As I looked around, we were rapidly becoming a few of the remaining occupiers of the Main Stand. I was numb and I'm damned sure my son was.
But, as we all know, it "turned out nice again", as George Formby used to say. I still have no fingernails on either hand as, on that day, I bit them down to the knuckle.

Danny O'Neill
311
Posted 10/01/2021 at 19:56:50
Black Adder Goes Forth for me, Thomas!
The local lads, for whatever reason, are and always have been easy targets, Tony. Osman, Hibbert, Barkely, now Tom Davies... and many before them.
I genuinely try to judge by footballing ability, so when I give an opinion, it is based on how I would judge any player in a blue shirt, regardless of background or how we acquired them. I see a lot in Tom, just not consistency; over the course of a match and a season. That may still come, and I hope it does, and you could label that at much of the squad.
I know exactly which moment you are on about by the way. I made a rare recent appearance on the Live Forum yesterday and was typing up what great understanding that was between Gomes and Davies but then the game moved on and something shit happened, but it was good communication and understanding in that instance.
I just want to put Conor's mind at rest. My initial Keane comparison was actually with Doucouré, not Allan. And again, not comparing in terms of being as good, just using Keane as the benchmark of having a forward running midfielder who links with the forwards and goes beyond them to create attacking options, as happened for the winning goal.
That's the point I was making and I used Roy Keane as an example as I used to admire his late runs into the box beyond the forwards that resulted in goals.
Thomas Richards
312
Posted 10/01/2021 at 19:59:37
All credit to him if he did, Tony. You know how it is with players. Sometimes they get that much stick and fans give up on them, they get the 'fuck you' attitude: "I can't win here so I will play off the cuff."
Nothing gives me more pleasure watching the Blues over the years than seeing a local kid come through. I sincerely hope Tom is one of them.
Jay Harris
313
Posted 10/01/2021 at 20:04:22
A lot of posters on here have hailed Nuno Espirito and Bielsa as being amongst the top coaches so Crawley beat Leeds and Wolves aren't doing so well with Jiminez (that's right, just one player).
A number of posters on here are all over Carlo cos we are playing shit recently but give me 4 points off top with a game in hand and a 4th Round FA Cup place anyday over a pretty performance and a defeat.
Any players at the club in the Under-23s or above should have been able to see off Rotherham yesterday. The problems as I see them are lack of confidence, being in an unfamiliar set-up, and lack of fitness in certain cases and, oh yes an extremely poor Goodison Park pitch which did not help passing and control at all.
If anyone can identify a better manager than Ancelotti then declare it now instead of coming on here week after week and tearing the man to bits.
Ian Edwards
314
Posted 10/01/2021 at 20:12:53
Jay 313. The style of football of Ancelotti: nick a goal and park the bus, parking the bus on occasion without having nicked a goal, square pegs round holes, negative substitutions, tactics (two holding mids and one up front against Rotherham), is no better than Allardyce. In fact, probably worse than Allardyce.
Tony Abrahams
315
Posted 10/01/2021 at 20:17:01
The sad thing for me Thomas, is that Davies has been coached by that many managers since he made his debut, that he doesn't no what of-the-cuff, is anymore. His goal against City, was all about drive, and it seems to have been getting coached out of him ever since?
I wouldn't have used Roy Keane, to describe a functional midfielder Danny, even if he's probably the best I've seen at making his team function! Interesting but I remember reading that when he used to go on the ale at United, in his early days, that other great midfielder Brian Robson, told Keane, that he needed to change his game and pick his moments to surge forward, rather than constantly bombing on, otherwise he was going to burn out and knock to many years off his playing career.
Dave Abrahams
316
Posted 10/01/2021 at 20:17:16
Conor (289),
Like a few fans, you talk about the form of Gomes two years ago, if it was so good or even better, why can't I recall it?
Most fans talk about the game at Anfield in the unfortunate loss; yes, he was outstanding that day, best on the pitch even, but that was one game. He scored a fabulous goal vs Wolves in a 3-1 loss, I think that was his only goal for the blues, has he any assists to his credit?
To me, he is the same player now that he was before his injury. He's always been slow, caught in possession then giving stupid fouls away in all areas of the field. He definitely slows Everton down even though there are plenty of contenders out there doing the same.
Finally, Conor, would we miss him if he went? I certainly wouldn't and again there are plenty of players I would put in that bracket.
Yesterday's game? The least said about it, the better. Most of the players and the coaching staff should prefer to forget the dismal part they played in it, and the game before, to be honest.
Andrew Keatley
318
Posted 10/01/2021 at 20:55:05
The performance against Rotherham (particularly in the period following our first goal up until the Rotherham equaliser) was not good; I do not think many on here would dispute that. Too little energy and imagination, too many rudimentary mistakes.
But – regardless of stats – seeing a starting XI with Andre Gomes in central midfield rather than Allan never makes me feel anything other than dread.
Thanks to Mr Moyes, we have a reputation for bringing a knife to a gunfight, but what does Gomes bring as his weapon of choice – Brylcreem?
Danny O'Neill
319
Posted 10/01/2021 at 20:56:59
I don't think Roy Keane had to worry about that Tony. Maybe Bryan "Airfix" Robson was speaking from his own experiences!!
On a serious note, what a great all round midfielder who unfortunately was hampered by persistent injuries.
Jim Jennings
320
Posted 10/01/2021 at 20:58:18
The Hind man crush on Conor McCourt shows no signs of abating. But this is a man who lives in a world where:
- Victories are achieved despite and not due to the manager.
- Defeats are attributable to the manager and further evidence that he's over the hill, unable to build a team and only here to line his pockets.
- Defeats are evidence of Ancelotti being schooled by his younger, hungrier, less decorated peers on lesser wages and lower transfer budgets. Players are never to blame. Definitely not the Finch Farm graduates. Just Carlo Fantastico. Victories over others can be airbrushed into history.
- The improvement and goal scoring exploits of Calvert-Lewin are not down to Ancelotti but can be solely credited to ex-Blue Duncan Ferguson. You see the Hind has the inside track at Finch Farm and knows Big Dunc has made Calvert-Lewin the player he is. He knows Big Dunc showed the way to go by playing two upfront. One must ignore the fact that we have barely played two up front this season when Calvert-Lewin has been on fire. One must also ignore the words of Calvert-Lewin himself crediting Ancelotti for his improvement. You see that's simply lip-service.

- The journos who do have a line into Finch Farm can also be ignored. They don't see what the Hind knows. Praise be to Big Dunc! The inevitable tail-off in form cannot be attributed to anything other than Ancelotti deviating from the Big Dunc Blueprint. It is daft-arsed to try to suggest fatigue in this unprecedented spell of almost continuous football since summer may be a factor. Or simply a dip in form all players go through. No, no – do what Dunc does and the goals shall continue exponentially.
- Moise Kean is one of two of the hottest strikers on the planet which Carlo inherited, despite looking completely and utterly unsuited to the English game. Let's not speak about the public humiliation he got at the hands of our Duncan. No, no. That's another daft-arsed excuse from the cabal of Carlo Apologists. Hindsight shows us Carlo simply couldn't use him properly.
- Ancelotti is a nice guy but doomed to failure from Day 1. You see he's never only ever managed world class players. He's been sacked too, y'know. Daft-arse requests to name a potential manager who The Hind would back to be successful will not be entertained. But it had better be an ex-Blue. You see we've never won anything unless the gaffer has been an ex-Blue. Luckily for us, Idan Tal has just taken his coaching badges and will lead us to glory after Ancelotti has rode off on his yacht stuffed with Moshiri's cash.
- Mason Holgate has never made a mistake. He's young you see. One of our own – we got him when he was young! – and easy on the eye. But Yerry Mina is a "lighthouse". Comedy gold. "What's the weather like up there Yerry LOLZ". Let's forget he joined us at the same age Holgate is now, without having played in this league before. And let's forget Holgate is still making the same mistakes. It's simply daft-arsed to try offer any mitigation when he makes a mistake. Our Mason regularly being caught out of position high up the pitch can be ignored. He's a player, you see.
- Allan is now a tackling machine. Where have we heard that one before? The Hind-maligned Idrissa Gana Gueye. He didn't pass the ball forward like Tom Davies did, you see. He's only here for the wonga too, just like our boy James. Ignore their own words on the manager being a big part of their being here. "Pulling Power!" ROFL LOLZ LMHO. Of course they'd have been targeted and joined under ex-Blues Big Dunc and Rhino.
- We have played two hours of decent football in the last year. Presumably the two hours our Mason and our Tom played together. The Hind must have counted them. Obviously not from a daft-arsed fanboy website. But with his own fingers and the evidence of his own unblinkered eyes.
I don't know how the likes of Jay Wood have the patience to continue to challenge this guff. The emptiest vessel on ToffeeWeb really does make the most noise.
Hugh Jenkins
321
Posted 10/01/2021 at 21:11:49
Jay (313), there are many on here (and elsewhere) who can name you a better manager (in their mind and or imagination). What none of them can do though is name a current manager with a better "back catalogue". So, what they then do is snipe at the periphery, eg, "he has always inherited a great side and has achieved noting that was not built before he got there" etc.
Total garbage, of course, but it suits the agendas of those supposed "Evertonians", who are only happy when they are criticising the hierarchy at the club, or have a team that is "taking a knife to a gun fight".
If Moshri backs Carlo with money and we start building a decent team, they will have nowhere to hide and nothing to criticise... but, they still will.
Andy Crooks
322
Posted 10/01/2021 at 21:13:00
Jim, I support, Carlo. I think we have players at the club, and will get players who wouldn't give us a second look without Carlo. However, do you think that the performances against Man Utd, WHU and, my God, Rotherham were anything other than utterly abject?
Can you not accept that some Evertonians might wish to comment that Carlo, despite his previous magnificence, might just have a tiny, minute, almost unmentionable, part in the dirge that we have been served up lately?
Andy Crooks
323
Posted 10/01/2021 at 21:31:45
Hugh, Moshiri has and will back Carlo. Also, I have yet to come across any "so-called Evertonians", on this site. Plenty I disagree with, mind you. However, disagreement seems to me, despite what you might think, to be okay.
Dave Lynch
324
Posted 10/01/2021 at 21:33:40
I've got nothing against any player who plays in the blue shirt. They are what they are... Watching the game and previous games, the one thing that gets me about Davies is his lack of spacial awareness.
He IMO gets to close to his fellow midfielders, on numerous occasions he was closing down the space Gomes was operating in, therefore congesting the middle and at times was playing stupid 3-yard balls to Gomes when he should be creating space by pulling players away or giving players an option to pass to.
He just gets drawn toward the ball too often for my liking and has no positional sense. Only my observations but he annoys the life out of me when he does this.
Paul A Smith
325
Posted 10/01/2021 at 21:37:22
Dave Abraham, great post. Gomes had fans before he kicked a ball. Coming from Barca he had a bit of glamour about him.
Have we seen it? No? Virtually not at all. He barely starts 25 times a season his whole career and he's been all fur coat and no knickers since we signed him.
The injury can't keep being an excuse either. It was awful. I was gutted for him but it's football; if he's an important player in midfield for us, we need better performances.
Thomas Richards
326
Posted 10/01/2021 at 21:41:51
Not attractive football, I agree, Andy. And I accept the comments from Evertonians you mention.
Using the same logic, do the same Evertonians accept the fact that we are one point behind the league leaders if we win our game in hand, shows we are on the right track?
Hugh Jenkins
327
Posted 10/01/2021 at 21:45:27
Andy (323) - fair comment.
I withdraw the "supposed, Evertonians'" part of my comment. Sadly though, that means that there are a number of committed Evertonians on this (and other sites) that only revel in pain, horror and discomfort and are unable to enjoy the brighter periods in our existence (albeit they have been few and far between in recent years).
What is going to happen to them if Carlo does, eventually build a world-beating side and start a dynasty?
Jim Jennings
328
Posted 10/01/2021 at 21:47:35
Andy #322
Nobody is saying the performances are acceptable. There are several factors as to why we performed poorly. Some simply refuse to entertain any reason other than it's all proof to support their theory that the gaffer is shite/over the hill/here just to top up his pension.
Thomas Richards
329
Posted 10/01/2021 at 21:49:13
Andy,
"However, disagreement seems to me, despite what you might think, to be okay."
You're 100% correct. As long as the disagreement is posted with respect, there is no problem whatsoever. This site (best place I've found for discussion with fellow Blues) wouldn't be a fraction of what it is without the differences of opinion.
Danny O'Neill
330
Posted 10/01/2021 at 22:02:42
Hugh @327, your very last words say it for me.
I'm not a Carlo Fantastico happy clapper. But I'm pretty impressed we have him at the club.
Conor partially called me out wrongly last week as continuously saying I support Everton therefore I support the manager. I say partially as that is true, but what I have actually said is that I support Everton not Carlo Ancelotti.
The manager has an impressive pedigree but is arguably past his best - I get that argument. He may not be the one who is here in 5 years when Everton are back where we want them, but he stands more chance, in my opinion, of putting us on the right track than some of the chancers that have gone before him. And yes, his reputation helps with that.
Maybe progressively improve the manager, which in turn progressively improves the team. Man City is a good example. Hughes to Mancini to Pellegrino to Pep. Steady and progressive improvement over years until they got their eventual man with steady success as they got there.
John Keating
331
Posted 10/01/2021 at 22:16:16
Andy, you are totally correct some of those games, and others were abject. A lot was down to poor tactics, team selection and substitutions of which Ancelotti has to be accountable for.
The thing is, most Evertonians wait until during or after the match to vent their spleen. However, there are some Evertonians who condemn the manager and certain players before the game has kicked off!
In fact, some Evertonians set their stall out before people actually signed on the dotted line and as they "never wanted them here" cannot or will not give it a rest. As Jim says sometimes the emptiest vessels make the most noise
Bobby Mallon
332
Posted 10/01/2021 at 23:34:49
Ian Edwards @314.
If we win 10 nil you would still complain as you cannot get over having Carlo as manager. We are miles better than the last 4 seasons with mostly the same players. There are lots of improvements to come but the football is not as bad as Allardyce or Silva.
Brent Stephens
333
Posted 10/01/2021 at 23:43:09
Ian #314 "In fact, probably worse than Allardyce."
Carlo worse than Allardyce?! Fuck sake. Not sure even Darren Hind would say that!
Michael Kenrick
334
Posted 10/01/2021 at 23:59:10
Jay @ 313,
"... and, oh yes an extremely poor Goodison Park pitch which did not help passing and control at all."
The rest of your post appears to be making serious points so I'm curious: where the hell does this assertion come from?
Or is it your tongue-in-cheek way of critiquing the players for their dreadful passing and hopeless football during most of the game? In which case, nice one!
Don Alexander
335
Posted 11/01/2021 at 00:23:16
Jim (#320), such a savage, but rationalised blasting of our Dazza will doubtless lead him to castigate you as a "Strawman" in his ever-enlarging Strawman Regiment. Welcome to it, we are huge in number!
Others allude to Gomes and his suitability for us. To me, the lad was an enigma at Barca but given the size of their squad that's no reason to take a down on him. We paid a hefty sum for their occasional bench-warmer though.
To me, he never displayed any hint of ability to significantly shape a match before he was so horribly injured. I still applaud the speed he recovered from that injury but since he's returned he's regressed from the modest initial achievements.
File under another costly mistake I'm afraid, which probably explains why we weren't under pressure from any club of note when we signed him.
Darren Hind
336
Posted 11/01/2021 at 02:51:34
Ian Edwards
Spot on. I remember Big Sam claiming that, if he was Italian and his name was Sam Allardici, he would get more credit for the shite he served up... I remember thinking "What a complete Cheshire cat!"
At the time, I didn't think for one minute it would be Evertonians who proved me wrong. Defending in numbers to spoil the game is the same in any language
I've been posting on here for about five years and spent most of that time arguing with people who have excused the negative Zombie shite we have been served up by a succession of piss takers. Those who defended cowardly football and the managers who have served it up, have always been wrong. By supporting negative shite (in the name of 'positivity'), they are destined to be eternally wrong.
You cannot be successful in this league unless you are prepared to go for the win. Yeah, the cowardly stuff will get you the odd results, it may even give you a flattering position for a short while, but you will pay for your lack of courage come reckoning day.
Take away the possibility of challenging at the very top by playing cowardly football and guess what? Only the cowardly football remains.
I do find it slightly ironic that people will come on here claiming it is futile to criticise the appalling stuff we are witnessing "Because it won't affect anything" but they think it's perfectly okay to encourage others to support it. History teaches us that, as long as you support it, you will get it by the bucket load.
Landslide victories over Bradford & Bingley in the cup do not mean a fucking thing when you cower and fold in the face of proper opposition later on in the tournament.
It never ceases to amaze me how the Finch Farm Fact Finders come to their conclusions. David Unsworth has been instrumental for bringing in our most prized assets. That fact alone means he is one of the very few people at this club who has actually proven his worth. Brought in more than he has taken out.
Junior coaches like John Ebrell and Franny Jeffers are often singled out for the treatment by the "ITK". Even Bainsey is getting it on another thread. Two of these men have been coaching juniors for just over 4 years... the other one for just over 4 minutes... yet our first team – the players who are bought and coached by expensive hired hands – have been under performing for the best part of 35 years...
See if you can spot the fundamental flaw in your argument.
Mark Murphy
337
Posted 11/01/2021 at 08:30:08
Brent Stephens
"Carlo worse than Allardyce?! Fuck sake. Not sure even Darren Hind would say that!"
Darren Hind
"Ian Edwards
Spot on."
Kerrrr Chiiinnngg!
Well done Ian - just goes to show, if you post the same point time after time after time someone eventually will agree with you.
I don't - I welcome Carlo Ancellotis appointment to Everton FC and I wish West Bromwich Albion the very best of luck with Samuel Allardiche!
The difference is - I believe we are temporarily playing shite, whilst West Brom are doomed to play such until Sam has either done his Red Adair bit and been shoved out or they go down. This time I think, not hope, it will be the latter.
Roger Helm
338
Posted 11/01/2021 at 08:40:02
It is just too early to judge Carlo. I know we all would like to see fast attractive attacking football, but a team is only as good as the players in it. He inherited an unbalanced squad with a glut of one-paced and not very creative midfielders including Sigurdsson, Davies and Gomes and a big raft of overpriced and overpaid mediocrities.
He has had bad luck with injuries, but at least we now look better organised and harder to beat, and I think all the players he has signed have been upgrades. Another two windows like that will improve us a lot. With his experience, he surely knows what type of players he needs to build a successful team. If he doesn't know, who does?
Thomas Richards
339
Posted 11/01/2021 at 08:50:28
Looking at overnight posts, it will be eventful on TW if we get beat tomorrow evening.
Bobby Mallon
340
Posted 11/01/2021 at 09:07:38
Jim Bennings @320,
That is the best post I have ever read. Well done. I would have commented but you have said it all. Once again, well said!!
Rob Dolby
341
Posted 11/01/2021 at 09:22:42
Shock horror – an Italian coach knows how to organise a defence. How many World Cups have they won?
Do we have the squad to go toe to toe with the top teams in the league in end-to-end attacking games? I don't think that we do.
We tried against the shite in a 2-2 draw and showed resilience in coming back twice. After that game, we lost 3 of our main players, Coleman, Rodriguez and Richarlison.
The manager has to be pragmatic in situations where his first-choice players are injured. Kevin Keagan would have walked off with at least one Premier League title if he had managed games better.
You're right in saying fast attacking football generally reaps the rewards in the zxzxx but so does having a quality squad with pace. At present we don't have a quality squad with pace. Why would you expect us to all of sudden turn average players into world beaters just because we have a decent manager?
Performance levels under Ancelotti have improved along with supporters expectations. Until we replace inconsistent players like Iwobi, Bernard, Gomes, Sigurdsson or Davies with quality additions we will get inconsistent performances.
The Rotheram performance wasn't great but we are still in the cup which is more than can be said for Allardichi or Bielsa.
Ian @314, To save you typing the same anti-Ancelotti stuff after a win, draw or loss, you can save effort by just copying and pasting from your previous comments.
Derek Knox
342
Posted 11/01/2021 at 09:25:53
Thomas @ 339, don't know if your post is 'tongue in cheek' intended, but Wolves are not exactly 'pulling up trees and setting fires' and seem to be missing both Jota (we know where he ended up) and Jiminez who's injured.
We have had our own injuries and suspensions (Richarlison) which have weakened us to a degree, but apart from a really bad spell following Richarlison's absence and the 'derby hangover', we have been okay.
I think we are capable of giving Wolves a game, and expect us to do so. I'm not sure what the formation will look like, but I believe most are available apart from Allan. Calvert-Lewin and Richarlison have been rested, so if the outcome is anything less than a draw, I will be both surprised and disappointed. Midfield will be key, and keeping Traore and Neto quiet.
Ian Horan
343
Posted 11/01/2021 at 09:33:05
Darren H, a small point of order
"Those who defended cowardly football and the managers who have served it up, have always been wrong."
That part of your post is wrong as that is your opinion and not a statement of fact!!!
I am as frustrated as everyone and yearn for Martinez's no-fear football in his first season; however, he had no idea how to defend when Moyes's defence got past their sell-by date. Carlo Ancelotti can only work with the players he has. Last season, many said it's the worst squad of poor-quality highly paid mercenaries we have ever had.
Yours and Ian Edwards's vitriol and hatred towards Ancelotti could be perceived as xenophobia.
Just to be clear, I am not saying you are racist; however, I believe it could be perceived that way...
Stephen Brown
344
Posted 11/01/2021 at 09:38:33
On the exotic sounding names... This is no more evident than with André Gomes and to a lesser degree James Rodriguez.
If they were Andrew Jones and James (as in Bond) Rogers on Saturday and in other games, I'm not sure so many would be so forgiving of the performances on Saturday.
On the bigger picture. Whilst nobody can be above criticism, surely Carlo Ancelotti is deserving of some patience and support! If he fails, it really is a "Where do we go from here?" moment of epic proportions!
Alex Gray
345
Posted 11/01/2021 at 10:14:42
With regards to the overly defensive football on show lately and the criticism what part of all of our creators being out injured or suspended do you fail to understand? When our best players where injured we adapted a style of play that got us crucial points in the short term. At the start of the season (the only period where we had a fully fit squad) we played sone really attractive attacking football and where the top scorers of the league sitting first! When James, Richarlison, Digne, Coleman, Allan where all out that is literally our attack gone out the window.
We will get better now most of them are coming back but they obviously aren't match fit or have needed a rest (Dcl over the weekend). If we had played aggressive attacking football without these against chelsea, Leicester or arsenal we would've been smashed all over the park.
We're four points off top and have only lost against utd in terms of the top 6. The comparison to big sam is utterly ridiculous. I'm glad we have a manager who will adapt to a plan B. Remember Martinez anyone. Remember how well that went in the end?
Just for a second give your heads a wobble. Our squad is poor. When our crucial players are out we lose a lot of quality. Ancelloti has had one window and i'd argue every single one of his signings has been a success or at the very least improved us in those positions.
We are not prime barcelona. We finished 12th last year and in one window are now competing for Europe. More will be cleared out and will be replaced with better but we are a few years away from having a squad the same level as the top clubs, something Carlo has hinted at many times.
We can slate the manager all we want but the majority of the squad have failed under numerous managers now so i'm guessing that means certain players arent good enough.
We are going to have more injuries and bad performances this season. I guarantee when everyone is fit again we will start to improve quickly again.
Andrew Keatley
346
Posted 11/01/2021 at 10:46:15
Ian H (343) - If you want to take Darren Hindsight to task for any opinion of his being presented as a statement of fact then you've accidentally presented yourself with a new full-time job.
Brian Harrison
347
Posted 11/01/2021 at 11:38:23
Jim 320
What a post every point addressed and answered succinctly, I am sure at some point he will be back on calling you misguided. I think nobody is above criticsm but with Darren and a few others its just childlike name calling without ever addressing the points. He even admits he was criticizing Carlo even before he took over, but that's Darrens DNA he has critisized within weeks of the appointment of every manager that Moshiri has hired. As history tells him with very few exceptions all managers get sacked, so he knows at some point he will be proved right, but what a very negative starting position to take.
I know many ask him to name someone who he would like to become our manager, but he will never commit to doing that, as he then leaves himself open to critics if his choice fails.
Thomas Richards
348
Posted 11/01/2021 at 11:39:09
Derek #342
Reading through the posts reminded me of a good mate of mine. A red but a good lad.
When Klopp got their job he was dead set against him from the off.
Even when he showed signs of improvement my mate would not have him.
It got to a point where he came clean and admitted he wanted his team beaten in games. I told him that was cutting his nose off to spite his face just to prove his point (he probably took this course because of his being brought up red)
Thankfully Evertonians are made from better stock.
Patrick McFarlane
349
Posted 11/01/2021 at 12:15:51
Those who are saying that Evertonians shouldn't be so glad we got through to the next round of the cup, because the display was so poor.
May I remind them that this was only our second victory in this competition since we reached the Semi-Final in 2016, the last victory coming against Lincoln before being dumped out by Millwall.
It's been an unbelievably poor five years or so, despite the millions that have been pumped into the club, I hope to god the next five years aren't the same, because we'll be doomed forever if they are.
David Cash
350
Posted 11/01/2021 at 12:59:45
Brian Harrison
That simply isn't true. Do not let him off the hook so easily.
If Carlo wins a trophy or gets us CL football Darren will be proved wrong. No two ways.
He has nailed his colours and he can definitely be wrong. Others (including me) have said Carlo will win something and that means we can be proved wrong too.
Its the sort of meaningless shite football fans participate. Thankfully we are only putting our judgement on the line. Not our bollocks. The only way you cant be wrong is to not offer an opinion.
Ian Horan
Two people on here are bleating about tactics. They are always bleating about tactics, but quite how you managed to put a racist spin on that is beyond me

Sorry pal, but I think that says more about you than it does about them



David Pearl
351
Posted 11/01/2021 at 13:26:17
Well DCL confirmed out with a hammy for 2 weeks. Good job we have Tosun. Lets see. What with Richy and James back what he can do if he sticks the middle and of course if he can convert any chances that come his way. At least we will have our defence back. Davies must sit in the hole. But as a whole... we have to dig in
Patrick McFarlane
352
Posted 11/01/2021 at 13:28:04
David #351
Richarlison isn't a certainty to start, he's having a fitness test to see if he will be fit to play.
John Raftery
353
Posted 11/01/2021 at 13:39:21
I have said before that some players who were required to play every game in December would pay a price in January. Unfortunately for us it is our leading scorer who played in every game and is now injured. Fortunately for us we still have Tosun or Richarlison who can at least put the ball in the net.
David Pearl
354
Posted 11/01/2021 at 13:45:05
Hi Patrick, fingers crossed. Not that he's played well recently but a fit and firing Richarlison can make all the difference. I'm not liking our options to replace him if he's out.
December was fun for us but brutal for the players John
Derek Taylor
355
Posted 11/01/2021 at 14:02:22
I don't think the realists amongst us will be expecting much more than a top seven Prem finish and thus reclaiming the oft mentioned 'best of the rest crown' whilst under Moyes.
When it comes to the Cup it's a pure lottery as some clubs are prone to play their youngsters and/or stiffs. But it would be nice to make a rare Wembley visit.
So modest in aspirations, I know, but can't take disappointment in my old age !
Andrew Keatley
356
Posted 11/01/2021 at 14:06:35
David (350) - The predictability with which you regularly stride forward to defend Darren Hind makes me think he may well text you for emergency back-up. "Casho - they're having a right pop at me again - get yourself on TW and say something positive about me. Good lad. "
Has he got compromising photos of you or something?
David Cash
357
Posted 11/01/2021 at 14:13:44
No Andrew he is just a life long friend who grew up in the same street and I know how utterly ridiculous insinuations of racism is
I also give him more stick than anybody on here but I keep it to football.
Thomas Richards
358
Posted 11/01/2021 at 14:20:14
Casho.
No way can Darrens attitude or comments be read as singling out people from different countries.
He hates everyone :-)
David Cash
359
Posted 11/01/2021 at 14:23:55
Btw Andrew if you think he cares about people having a pop. You haven't been paying attention.
When people make it personal like you do. He thinks it's because they have nothing else to offer answer.
Some of the personal stuff people a
Resort to in the name of football debate bothers me more than it bothers him

Andrew Keatley
360
Posted 11/01/2021 at 14:40:37
David - I agree with you about the racism insinuation, which was speculative and unnecessary. But I think you're being duped by Darren's rhetoric. What he does is tar everyone who disagrees with him with the same brush. According to him we're all "morons" who cannot think for ourselves - amongst any number of other pejorative language. He might refrain from directing it to individuals, but that is no real saving grace when he is firing off those sorts of insults to anyone and everyone.
You also say "if you think he cares about people having a pop. You haven't been paying attention." I think attention is the operative word here. Darren craves it. I think he welcomes people having a pop - I think he may even need it - as it is the guaranteed way of scratching his attention itch. I wish I had the restraint not to indulge him. I wish we all did.
Tony Abrahams
361
Posted 11/01/2021 at 14:56:27
I don't think you should have had to even answer that question about compromising photos David, because it never even came across like it had any humour in its seriousness.
Stop getting duped by your lifelong friend David, and remember, if only people read your posts properly, they would never have to come to such outlandish assumptions mate!
Ian Horan
362
Posted 11/01/2021 at 15:28:53
Just for clarity David Cash I suggest you read my post in its proper context and not just blindly pick up on the xenophobia or racism!!!.
I clearly clarified I was not calling him racist, I said it could be perceived as racism. I am more than happy for you to quote my post where I have specifially accuse anybody as racism.
As for a comment that it says more about me? Well that won't even get a reply as we live in a diverse and multicultural society to which I have no axe to grind with anyone on the grounds of colour, cread, sexuality or religious beliefs. I only have distain for all things RS
Andrew Keatley
363
Posted 11/01/2021 at 16:23:57
Tony A (361) - Yeah. Humour. Instruct me. Please.
Tony Abrahams
364
Posted 11/01/2021 at 17:08:47
Maybe putting! Instead of that? might come across better Andrew, but if you think that Darren comes on here to wind people up, (I think he does sometimes!) then he's doing a very good job.
Maybe read what Darren says about it not being possible to be successful in this league without being brave, and ask him about Leeds Utd? It's much better than getting wound up!
Mark Murphy
365
Posted 11/01/2021 at 17:31:26
"Looking at overnight posts, it will be eventful on TW if we get beat tomorrow evening."
As opposed to the wild celebratory fun fest when we win you mean Thomas??
Andrew Keatley
366
Posted 11/01/2021 at 17:35:02
Tony - Darn it! I've always been a slave to correct punctuation usage...
Jim Jennings
367
Posted 11/01/2021 at 17:49:15
Grammar lessons from Tony "Question Mark" Abrahams. Post 177 for example.
Paul A Smith
368
Posted 11/01/2021 at 17:50:01
Jim Jennings 320, post of 2021 so far. After reading ToffeeWebs very own Guillem Balague calling out finch farm ITKs I had to laugh.
Principles stink (if there are any) Support players that are not good enough but don't support a manager until hes got these young maestros playing like Bournemouth in their peak.
Scream for Gordon because of a mobile phone wonder goal in the Bradford and Bingley league 3 years ago but scream against the manager for not knowing about this goal.
Get Sigurdson and Iwobi playing magic football Carlo for gods sake. Make them faster and more dynamic, what is wrong with you.
How come you haven't got Calvert Lewin shooting from outside the box yet, and why on earth do you tell Richarlison to run into blind alleys every week?
Just tell them to be exciting.
Thomas Richards
369
Posted 11/01/2021 at 17:56:52
Mark #365
Exactly opposed.
Andy Crooks
370
Posted 11/01/2021 at 18:15:02
Paul @ 368.
What do you think Carlo tells them to do? When they continue to do what they do, what does he tell them? "Keep doing what you do" Or "Do what I tell you to do"?
Did they do what he told them to do on Saturday or against WHU or Man Utd or did they not do what he told them to? What will he do if they didn't do, in all three games, what he told them to do.
It's all straightforward, Paul. Simple, in fact.
Darren Hind
371
Posted 11/01/2021 at 18:18:13
Ian Horan,
So by stating that those who supported the cowardly tactics of previous managers were proven wrong, I was giving an opinion rather than stating a fact?... Really?
They were all hounded out by fans demanding their dismissal. Many of the people who supported them turned on them, because they let them down. They were unceremoniously sacked by Moshiri.
How factual do you want it to be?
Casho,
Old scores lad. If people think they are settling them by posting repeatedly without even mentioning the game. Leave them to it.
I've never once called for a manager to be sacked. Not even the ones I didn't want. I don't see the point. It won't speed up the process... but I will continue to hammer cowardly tactics because they deserve to be hammered.
Others can excuse it till their blue in the face as far as I'm concerned... I've seen this film before.
Thomas Richards
372
Posted 11/01/2021 at 18:37:30
Darren #371,
I take it from your post you want Ancelotti to remain as manager for the time being?
Paul A Smith
373
Posted 11/01/2021 at 19:20:56
Just do something else, Andy? He might just say "Be boring, lads. I'm dead old and don't need the atmosphere."
Tony Abrahams
374
Posted 11/01/2021 at 19:34:10
Very sharp, Jim, you got a lot off your chest earlier mate, which is fine because you made your points of view very clear.
I often put question marks because I'm here to debate, and if Darren gets on your nerves, you said it well, which is not to say everyone else did.
Andy Crooks
375
Posted 11/01/2021 at 20:18:25
Paul @ 373, I like that post very much.
Ian Riley
376
Posted 11/01/2021 at 21:39:52
It's okay to be critical of match performances. That's key to this site. No-one wants Everton not to win games. All we do is try to break the performance down by individual performances. Take the last match. The team selected should, could have won comfortably.
I'm not one to pick out players but Davies was in prime position to run the midfield against a relegation-threatened Championship side. Sadly not.
My thought on Davies is to loan him to a Championship team for a season. Get regular football in a very competitive league. Hopefully building confidence and then returning to Everton an all-round midfielder. Pressure to perform for your boyhood club, week-in & week-out, can hinder performance.
Saturday told us the buys made by Carlo are better quality than we had before. Carlo has attracted such players – not the mid-table respectful Everton FC. Currently, we are still in contention for a top 6 place and an FA Cup run. Players that may leave Everton have been given opportunity under Carlo but we know from previous seasons certain players need to be moved on. Our bench needs more quality to up the performance of players on the pitch. Complacency is the worst kind in a team.
Finally, we had a glance at being top of the league. We have been starved of success in a league we have served for so long. It's draining and frustrating and enough to put us all in therapy. I do see hope based on our manager and his signings. A few more quality players and luck could see us move to the next level.
Justin Doone
377
Posted 11/01/2021 at 23:54:03
Another dig at Davies, very strange.
Apart from James against Spurs, I don't think I have once this season or last witnessed any of our players 'run the show'.
We are not at that level, we do not possess the players or play the style of football to dictate play for consistently long periods in games to 'run the show'.
Davies is a good Premier League player. He's not world class, never will be... but that doesn't mean he's not good enough to play for us. We are a top 10 team, hopefully on the rise.
He's a much more consistent player than Delph, Sigurdsson, Gomes, Iwobi, Bernard etc, with potential to improve.
He may not have their abilities but he shows for the ball, passes, tackles, chases and creates chances every game I've seen him play. High work rate, low maintenance and salary.
Darren Hind
378
Posted 12/01/2021 at 04:44:55
No, I don't want him to remain for the time being. I just know the futility of calling for his head.
To answer your next question: No, I won't be naming another guy who I think will be better suited to the job. It's getting increasingly difficult to discuss the real manager without offering the crazies a hypothetical name they could spend the next month kicking the arse out of.
It's been quite a telling thread. Quickly scanning down the posts, I think only Ian Edwards makes a brief observation (which I thoroughly agree with). Other than that, Carlo gets away pretty much Scot free. That people feel the need to rabidly defend criticism which barely came, tells me they feel our boy has a case to answer.
I don't crticise anything blue on matchdays anyway – they're my days off. But I will stick to what I said last week about not getting into debates about this current manager. Not even after the game.
If this thread teaches me anything, it's that you don't need to criticise the guy – the crazed illogical denials will come anyway.
Time to focus on a difficult game against Wolves.
Thomas Richards
379
Posted 12/01/2021 at 07:15:23
Mick O'Malley
380
Posted 12/01/2021 at 07:20:10
Totally 100% agree with Ian and Darren, it is cowardly football and, if this what we are going to get, Carlo can do one as far as I'm concerned, the great Carlo should be getting us to play better football than this dreary shite we've watched for about 80% of his time here.
My old fella has had a season ticket for over 50 years and he can't remember duller football than what is presently being served up. I never thought I'd hear him say he is losing interest in going to the match cos it is dull boring football.
If other fans want to watch that, then that's their prerogative. Everton have always played better on the front foot and the great Carlo, after 12 months, is serving up the same dross week after week.
Tony Abrahams
381
Posted 12/01/2021 at 08:29:48
Can't argue with a lot of that post Mick, and without trying to take any criticism away from Ancellotti, it's clear to most people that football, is quite boring without the fans.
The only team I've really clapped this season was Leeds after they ran and ran, at Goodison, but it was clear to me then, that until we've got a few better players, then it was very important that we became hard to beat.
We are a contradiction, or we was a contradiction, because how can a team genuinely press the ball, when their defenders refused to push up, and this is what was happening, along with an unbalanced midfield, that was have to keep one eye on Rodriguez, getting back and filling in, which is probably why Gordon was hooked last Saturday, because he offered Digne no protection.
If we are still playing like this after the next couple of windows, then I'm sure the fans will turn and voice their concerns?
I agree football is definitely an entertainment business, but as long as Ancellotti's putting a bit of backbone into the squad, then I'm prepared to suffer this type of football, for a bit longer.
Steve Brown
382
Posted 12/01/2021 at 09:43:59
Thomas @ 379, it is like the Trump mob claiming they were the only calm, logical people in Washington while they stormed the Capitol building.
David Cash
383
Posted 12/01/2021 at 11:22:34
You make an excellent point Tony.
I understand the frustration of those complaining about the poor standard of football we have had to endure under previous managers, but it's totally unfair to tar Carlo with the same brush at this stage. Let's see how he gets on after he clears up the mess he inherited.
If after a couple of windows we are still taking an overly cautious approach I will add my voice to the protest, but I don't believe for one minute that we will. We have a champion at the helm.
Lets give him a chance to show what he can do before we dismiss him as a bad fit
BTW; I think "crazies" is a pretty accurate description of somebody who has posted over 100 times on the last two match day threads. Carlo is not above criticism, but those who come on to frantically refute even the most legitimate criticism serve only to erode the credibility of more open minded supporters.
Thomas Richards
384
Posted 12/01/2021 at 11:34:52
Deputy Dave.
i'm flattered you spent the time counting
Brian Harrison
385
Posted 12/01/2021 at 12:29:35
I think the most telling thing is that before Ancelotti put pen to paper he had a meeting with Alisher Usmanov, now why would he have a meeting with a sponsor rather than the main shareholder. I can only surmise that Usmanov has more influence than just that of a mere sponsor. I would think that Ancelotti sought assurances from Usmanov as to the sort of backing he would receive both in money and time.
So I think that barring us getting into a relegation fight Carlo will be given the time and FFP allowing money needed to get us competing at the top end of the league. But should Carlo not be able to restore this club to were we want to be, I wonder if Usmanov and Moshiri will want to keep bank rolling the club at the same level they have over the past few years. Obviously the club with a new stadium will be a better proposition to a buyer than taking over a club still committed to building a £500 million stadium. So I think whatever happens on the pitch the stadium build will go ahead, if nothing else just to protect the fortune this pair have pumped into this club. So if Carlo left I don't see a new manager being backed financially like the previous 5 managers will have been.
i could see a similar situation as happened with Randy Learner at Villa or Ellis Short at Sunderland, were they basically stopped funding the club out of their own pocket, and only allowed the clubs to spend any money brought in from outgoings. A path that has also been used by Mike Ashley much to the annoyance of the Newcastle fans, and just to annoy the Newcastle fans even more when Ashley did agree to sell the Premier League blocked the move. So I think its in every Evertonians interest to hope that Carlo gets things right as I fear if he doesnt we may have lost a chance to rival the top 4 again.
---
Add Your Comments
In order to post a comment, you need to be logged in as a registered user of the site.
Or Sign up as a ToffeeWeb Member — it's free, takes just a few minutes and will allow you to post your comments on articles and Talking Points submissions across the site.
---
© ToffeeWeb