Report
Dismal draw sees more precious points trickle away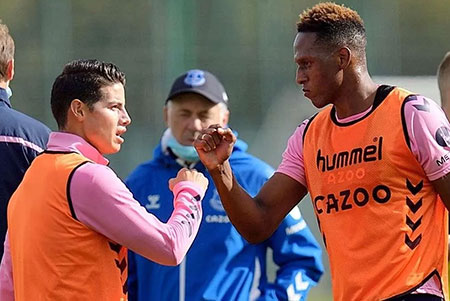 Everton's Colombian duo are absent for the game at Villa Park
With their European hopes very much alive following their narrow victory at West Ham on Sunday, Everton are on the road again as they travel to Aston Villa looking for what would be a club record-equalling 12th away win of the season.
Everton are without James Rodriguez again for the trip to Villa Park and Yerry Mina will also be sidelined for the game. Mina was forced off at Upton Park on Sunday.
In midfield, Abdoulaye Doucouré starts for the first time in weeks after being given an additional few days' rest by not being used at West Ham with Tom Davies dropping back to the bench and Gylfi Sigurdsson still expected to be the creative force in attack.
After dicing with danger at West Ham by naming only one goalkeeper on the subs bench, Carlo Ancelotti reverts to the safety of two again by naming both Virginia and Olsen... just in case.
Everton kicked off and — you guessed it — the ball was hoofed straight out of play conceding possession to Villa! Coleman regained the ball but drove backwards all the way to the goaline, unable to pass, and a corner conceded!!! But thankfully Barkley's delivery failed to meet the first man.
Villa took confidence from this start, with Everton relying of course on a very solid defence and no real conviction to play the ball forward. Finally, after 10 minutes Godfrey inspired a forward move but Coleman crossed too close to Martinez.
Traore took a first-time shot off a hard low cross but it was easy for Pickford to collect. Everton put together another attack 5 mins later but it was hard for Calvert-Lewin to get enough power on the header after some slow build-up play.
A wicked cross in from Targett at the other end forced Digne to head out for a corner and, on the second phase, Ings crouched to head a foot outside the post with Everton defence ball-watching. Certainly a massive let-off.
A fantastic long ball down the right wing was crossed to pick out Calvert-Lewin but he must have gone too far and could not readjust. El Ghazi had a pop that was high and wide.
Things started to open up a little more after a cagey first quarter, with the feeling that a goal could easily come from either side... or neither side. McGuinn took out Allan but escaped a card. Digne got called for colliding with Traore, the set-piece guided behind by Richarlison for a Villa corner that came to nothing.
Then it was Everton's turn for a dangerous set-piece after Richarlison took a sniper's bullet to the foot, Sigurdsson obligingly curved the free-kick into the waiting arms of Martinez. Everton were playing forward a bit more, but still not keeping the ball well enough as Godfrey had to concede another corner, with the increasing fear that Villa might get one of them right. Thankfully not.
At the other end, Richarlison spooned a shot well wide. Villa got some decent ball but Barkley tripped over the ball twice in succession rather than scoring, which was nice of him.
A better Everton move with some good side switches was not far from Calvert-Lewin coming in late at the far post. Godfrey picked the pocket of a Villa player and expected Sigurdsson to carry the play forward but Sigurdsson incredibly played it back to Pickford. Still an attack of sorts developed... but not a decent chance on goal.
It was end-to-end in a polding sort of way, Villa getting yet another corner, Barkley setting up Luiz for a wayward volley. Traore was booked for a dive, trying to win a penalty. A yellow card and spot-on per the replay, while Digne had been poleaxed by Cash following through on a clearance, needing some treatment before the break.
Richarlison was marshalled goalwards by two defenders, Konsa getting a little testy, will both Cash and Calvert-Lewin needing the sponge. It was more serious for Cash and his hamstring, Elmohamady on in his place for 15 seconds before the half-time whistle.
Things resumed in similar vein although Calvert-Lewin did seem to almost beat the offside trap, but not quite. His pass to Marinez was poor. He got a chance for redemption... and kicked the ball too far ahead to follow up with a shot.
A distant set-piece was floated in by Sigurdsson to Godfrey at the far post and his clever shot was going in but Martinez batted it behind. Martinez was impeded by Holgate on Digne's corner.
Everton were now swinging the ball in with greater frequency until Sigurdsson cynically pulls back Luiz — why do players do this knowing they will get an automatic card? The pace had definitely gone up a notch... from sloth to hedgehog. And the handbags came out too at another Villa corner. This one was the most dangerous of all and it almost led to a Villa goal.
Villa were granted another set-piece, Michael Keane giving it away. El Ghazi tested Pickford, who elected to punch for yet another Villa corner, which Traore skied from the 18-yard line.
FOllwoing the low-key ding-dong pattern of the match, it was the Everton's turn for another tempting free-kick after Calvert-Lewin was fouled but Holgate headed Digne's floated effort nicely to Martinez. That was the cue for Barkley to depart.
The supremely uncreative Gylfi Sigurdsson was then replaced by the equally uncreative André Gomes at what would normally be a critical juncture in the match. Gomes immediately created and then blew a wonderful chance by lashing the ball way off traget.
Ramsey won a corner at the other end that Everton ponderously cleared as Grealish was finally readied for his much-hyped return, with 20 minutes left. Grealish inspired Villa forward for another corner, headed wide by Elmohamady. Coleman gave way to Iwobi for his big chance to inspire a win for Everton...
Something approaching an Everton counter-attack saw a great set-up for Gomes, but Elmohamady toe-poked his shot away from goal. Grealish was threatening again but Doucoure stopped him as El Ghazi skied his shot. Everton attacked but Gomes passed to a defender.
Doucoure tried to play in Calvert-Lewin and it almost worked... but not quite. With 5 minutes left, could either of these team fashion a gioal? Calvert-Lewin beat his marker but could not beat Martinez, who anticipated excactly where the Everton man would direct his goalbound header, and nobody could convert the pinball follow-up.
McGinn dragged Gomes back and was booked, Kewane heading the free-kick back but not close to anyone. Then a scrappy attack and Calvert-Lewin could not do enough to direct his header goalwards.
Anoother Everton attack, Richarlison did very well to chase back and cross for Calvert-Lewin but Mings had anticipated it and got in front of the Everton striker, denying an easy tap-in, but then cleaning out Martinez and injuring himself, but allowed to stay on after getting a lot of treatment.
When things eventually resumed, more minutes were added on. Allan tracked and then fouled Davis for a critical final free-kick wide right before the stalemate was terminated and more massive points for Europe were squandered yet again.
Kick-off: 6pm, Thursday 13 May 2021 on Sky Sports

Aston Villa: Martinez, Cash (45+2' Elmohamady), Konsa, Mings, Targett, McGinn [Y:90'], Douglas Luiz, Traore [Y:43'] (72' Grealish), Barkley (65' Ramsey), El Ghazi, Davis.
Subs not Used: Wesley, Steer, Nakamba, Hause, Philogene-Bidace, Chukwuemeka.
Everton: Pickford, Coleman (73' Iwobi), Holgate, Keane, Godfrey, Digne, Allan, Doucouré, Sigurdsson [Y:55'] (66' Gomes), Richarlison, Calvert-Lewin.
Subs: Virginia, Olsen, Delph, King, Nkounkou, Bernard, Davies.
Referee: Martin Atkinson
VAR: Graham Scott
---
Reader Comments (280)
Note: the following content is not moderated or vetted by the site owners at the time of submission. Comments are the responsibility of the poster. Disclaimer
Neil Lawson
1
Posted 13/05/2021 at 17:05:58
Tough on Tom but it makes sense I suppose. Maybe Sigurdsson on the bench with Doucouré given a freer role would have pleased many of us. We will see!
Ray Smith
2
Posted 13/05/2021 at 17:09:14
I've tuned in to Sky to watch the build up to the match, and what do we get? Man Utd & Liverpool.
Typical Sky, totally ignoring Everton & Villa. 😡😡
Dave Ganley
3
Posted 13/05/2021 at 17:11:00
Yeah, I agree, a bit harsh on Tom but Doucouré gives us so much more energy and presence in the midfield.
Decent line-up, just hope that Calvert-Lewin and Richarlison have their firing boots on.
Alan J Thompson
4
Posted 13/05/2021 at 17:12:07
I suppose after a few weeks on the bench that Davies needs the rest in case he carries a Doucouré or Allan type injury. At least Virginia is back in favour!
Ajay Gopal
5
Posted 13/05/2021 at 17:19:58
Yay, got my team prediction correct for the 1st time this season! :-)
Yes, it is harsh on Tom Davies, the other option could have been to go 4-3-3 with Davies on for Holgate. Going forward, Carlo sees Seamus as a wing-back only – not play him as a right-back for the full 90 minutes.
Michael Lynch
6
Posted 13/05/2021 at 17:21:52
That bench though... keep Davies, Nkounkou and one goalie, but the rest need replacing.
Paul Hughes
7
Posted 13/05/2021 at 17:22:10
Ray (2) - Me too. Bloody Gary Neville droning on about the Glazers. What has that got to do with Villa v Everton???
Matthew Williams
8
Posted 13/05/2021 at 17:22:56
"Only the best is good enough."
Let's do this one, Blues!
Dave Williams
9
Posted 13/05/2021 at 17:23:20
I agree, Neil. Siggy gives us zilch whereas Tom would anchor the midfield allowing Allan and Doucouré to play higher up the pitch. I really can't understand the obsession with Sigurdsson – is it in his contract that he has to be selected?
Nonetheless, a decent team more than capable of winning this.
Annika Herbert
10
Posted 13/05/2021 at 17:26:26
Dave @ 9, spot on with that assessment of Sigurdsson. I fully agree, he created next to nothing but is continually picked.
Nick Page
11
Posted 13/05/2021 at 17:26:32
Sigurdsson is terrible as is our bench. 4/5 players short minimum.
Robert Tressell
12
Posted 13/05/2021 at 17:33:48
I think the obsession with Sigurdsson comes from his goals and assists output in an already low-scoring side. Despite his flaws, we do need him for goal threat.
Steve Lew
13
Posted 13/05/2021 at 17:33:51
Yep... 2½ hours to kick off for Man Utd v Liverpool. Sky again. Are we playing tonight or what? They are still promoting the "Big Six" mentality...
We need a win to remind them that's where we can finish too. I am expecting a result tonight.
Kevin Molloy
14
Posted 13/05/2021 at 17:36:16
All this pre-match criticism of Sigurdsson can mean only one thing. An assist is now almost guaranteed!
Mike Oates
15
Posted 13/05/2021 at 17:36:17
Tough on Davies; him sitting deep allows Allan to push up more and win the ball further up for us, but we needed a playmaker and, with James out, it has to be Sigurdsson who plays.
A fit Doucouré just has to play, he is the link between midfield and the front two, no-one else has got the legs to get up past our forwards.
Brian Wilkinson
16
Posted 13/05/2021 at 17:36:31
Let's see how Doucouré goes. If he cannot get 90 minutes, I would prefer Davies to come on as a replacement.
Decent enough line-up... surely Holgate is due a decent game.
Barry Williams
17
Posted 13/05/2021 at 17:36:34
Sigurdsson 6 prem goals - 4 assists
Davies 0 prem goals - 1 assist
Not sure of the stats in the cups.
That's why Sigurdsson plays when James doesn't.
I like Davies and think he shouldn't have been dropped either. But picking Sigurdsson makes sense when James is out.
Thomas Richards
18
Posted 13/05/2021 at 17:37:54
Sigurdsson any time goalscorer: 11/4.
My bet for tonight.
Kieran Kinsella
20
Posted 13/05/2021 at 17:40:28
Davies is our slowest player. He doesn't score or create. He tries hard, but the three picked tonight are all better than him.
Tony Abrahams
21
Posted 13/05/2021 at 17:41:33
Good post, Robert, because I was thinking how hard done by Davies must be feeling, but Everton do lack goals, so I just hope they don't miss Tom's discipline tonight.
Graham Mockford
23
Posted 13/05/2021 at 17:47:45
No complaints about the line-up. In fact, James in for Sigurdsson is about our strongest line-up in a 5-3-2 formation.
Bill Gienapp
25
Posted 13/05/2021 at 18:01:59
Which ToffeeWebber's dislike for a particular player is more iconic: Annika for Sigurdsson or Colin for Iwobi?
Mike Gaynes
26
Posted 13/05/2021 at 18:19:56
Bill, all the top candidates for that status would be Pickford haters, but they've been quiet recently.
Nick Page
27
Posted 13/05/2021 at 18:21:51
Has Sigurdsson ever made a tackle? Ever?
Ralph Basnett
28
Posted 13/05/2021 at 18:22:10
Getting over-run in all departments; no cohesion, no aggression, no fuck all.
Nick Page
29
Posted 13/05/2021 at 18:25:20
Amazing how we make every team look like Pep's fucking Barcelona. Some skill that!
Joe McMahon
30
Posted 13/05/2021 at 18:27:54
Fear not, James is gonna run the show 2nd half and... errr, oh yeah, I forgot.
Andrew Brookfield
31
Posted 13/05/2021 at 18:31:32
Barry @17, that's a stupid argument.
If Davies plays, Allan and Doucouré play higher up the pitch – so they are the players the assists would come from.
I don't mind Sigurdsson playing, but your logic is flawed.
Personally, and I know they've been poor, but I'd love Iwobi and Bernard and a bit of an attempt to do something creative with the ball. I feel we just look like a workhorse team.
Pete Gunby
32
Posted 13/05/2021 at 18:34:50
Turgid display so far. We don't have an ounce of creativity. Without Grealish, neither do they.
Craig Walker
33
Posted 13/05/2021 at 18:36:27
We still look too slow to me. We just don't ping the ball around quickly or run at teams. Only Godfrey and Allan have carried the ball forward. We look reasonably comfortable at the back though.
Whatever are our problems, I don't think Iwobi is ever part of the answer (or Bernard for that matter).
Ralph Basnett
34
Posted 13/05/2021 at 18:37:40
This is terrible!!!
Gordon Crawford
35
Posted 13/05/2021 at 18:38:14
Our forward line does not work. Richarlison keeps making bad decisions and Dom is chasing impossible situations.
Mark Stanley
37
Posted 13/05/2021 at 18:39:53
The best I can say about the first 40 minutes is we are winning 0-0. Villa are simply passing it around us with such ease. When we do have the ball it always ends up going backwards as there is no movement off the ball. Dreadful to watch.
Phil Smith
38
Posted 13/05/2021 at 18:40:31
Carbon copy of the game the other week. So frustrating. They're missing their 2 best players, for fuck's sake!
Pete Gunby
39
Posted 13/05/2021 at 18:40:41
Richarlison wasteful as always.
Thomas Richards
42
Posted 13/05/2021 at 18:47:58
1 minute 50 seconds in and I thought I was watching Physco. The blood-curdling scream was chilling.
Andrew Brookfield
43
Posted 13/05/2021 at 18:48:35
Craig. I don't disagree, but there is absolutely no creativity in this team. Sigurdsson on the left is depressing and playing Coleman as a winger is embarrassing.
Neil Lawson
44
Posted 13/05/2021 at 18:51:53
Poor, yet again. Villa barely average. Where is the ambition? Richarlison absolutely stinks.
Jay Wood
[BRZ]
45
Posted 13/05/2021 at 18:53:54
Stalemate. Just happy we aren't as open and constantly overrun by them as we were at Goodison.
Really not a lot to choose from between the two teams. Other than Mings's header, they haven't really threatened our penalty area where we have got into good positions but likewise, nothing threatening.
Doucouré's slipped nicely back into the team. Playing well.
I just wish Richarlison could recover his touch and maybe look up and see what is around him now and again.
Annika Herbert
46
Posted 13/05/2021 at 18:54:46
Robert @ 12, 6 goals and 4 assists? Must be rivalling Fernandes and De Bruyne by now then. Take away the penalties and how many goals would it be?
Michael Kenrick
48
Posted 13/05/2021 at 18:55:51
Turgid, turgid, turgid.
Was there even a moment that would qualify as even remotely exciting?
Such a hard watch...
Jim Bennings
49
Posted 13/05/2021 at 18:56:52
If we are to challenge the top four next season then somehow we need to find an extra 15-20 goals in the for column.
Dave Abrahams
50
Posted 13/05/2021 at 18:58:35
For those who take a big interest in stats, how many absolutely boring games have we played in this season? More than any other team is my guess.
This squad drain all the oxygen out of plenty of stadiums they play in. Definitely no entertainment in this game, down to both teams to be honest.
Never mind VAR – there should be be no VAT added on for this bleedin' game.
Per Stumo
52
Posted 13/05/2021 at 19:00:11
Kieran @ 20: Tom our slowest player? Not by a mile. There is no one, absolutely no one in football, from the Premier League down to the Sunday League that is slower than James. I don't know what's wrong with his tendons but he can barely do a jog.
I'm not sure why people are ragging on Sigurdsson for always being picked when Richarlison can stink the place out time and time again and still play. So why would he try to improve? He's guaranteed his spot anyway. Might as well bench him and put King on for a few games. He got closer to scoring in 5 minutes than Richarlison did all game anyway.
Tony Abrahams
54
Posted 13/05/2021 at 19:01:32
Especially our two Brazilian players, Michael, and if Tom Davies, was caught on the wrong side or in no-man's land as much as Allan has been during that first 45 minutes, the lad would be getting absolutely destroyed.
Allan is playing like it's a practice match, and Richarlison is playing for himself. If these two players can change their attitude, then I'm sure we can come out on top.
Ralph Basnett
56
Posted 13/05/2021 at 19:05:07
What an absolute waste, no-one wanting to shoot!!
Craig Walker
57
Posted 13/05/2021 at 19:15:29
Digne's delivery has been awful so far. We get into promising positions but there's no end product. Step it up, Blues. We need a win!
Phil Smith
58
Posted 13/05/2021 at 19:16:04
We're not gonna score here even if this game goes on for another 2 hours!
Phil Smith
59
Posted 13/05/2021 at 19:28:33
And as good as Coleman was last game, he's having a shocker today. No pace. No creativity in the centre. Same old shite. This is a must-win. Not playing like it. We really don't deserve European football.
Mark Stanley
60
Posted 13/05/2021 at 19:45:24
The passing is utter shite!
Phil Smith
61
Posted 13/05/2021 at 19:51:10
Performance is utter shite... again!!!
Neil Lawson
62
Posted 13/05/2021 at 19:58:00
Thank goodness the season is nearly over. Shite served on top of rubbish on top of more shite.
Dave Bowen
63
Posted 13/05/2021 at 19:58:52
How was Mings not sent off for that challenge on Calvert-Lewin?
Oh, it's Martin Atkinson – that's how!
Simon Dalzell
64
Posted 13/05/2021 at 20:00:19
Good clean sheet, but shocking as an attacking force. No quality or finish. Basic passing very poor again. Surely a chance for King. Carlo continues to baffle.
Jim Bennings
65
Posted 13/05/2021 at 20:00:43
Taken in isolation, it gives us a chance if – and I know that's a big IF – we win our two home games.
However, looking at the bigger picture, our clear lack of goals must be a major worry because we are very very blunt, a second season in succession where we fail to hit a modest total of 50 unless we bomb Sheffield Utd and Wolves.
We can't really challenge the Top 4 in this era, in my opinion, unless we carry more goal threat.
Phil Wood
66
Posted 13/05/2021 at 20:00:53
More 2nd rate attacking play. Garbage substitutions. Inept passing.
At least we got a point is about as positive as I can get.
Another waste of time.

Jay Wood
[BRZ]
67
Posted 13/05/2021 at 20:00:56
Better team in the second half. The final pass or touch denying us clearer opportunities. Maybe coulda, shoulda won that. A point is better than nowt.
Martin Berry
68
Posted 13/05/2021 at 20:01:06
For a team that supposedly has European football ambitions, you never would have known it from the starting line-up. What was Carlo doing? it was unbelievably negative.
Yes, we improved with substitutions and more ambition in the second half but we got what we deserved.
Not one of the manager's best nights – nor the team's.
Brian Williams
69
Posted 13/05/2021 at 20:01:39
Another disappointing example of an opportunity missed. Villa were there for the taking this evening but a strange lackadaisical approach in the final third let us down. Lack of urgency and effort in the final third throughout the game.
Difficult to fathom, even more difficult to watch when, with a little more effort, that game could have been well won.
A draw that feels like a loss.
Neil Lawson
70
Posted 13/05/2021 at 20:02:03
Anyone who doesn't think that we are being delivered shite, week-in & week out, please raise your hand and justify.
Phil Wood
71
Posted 13/05/2021 at 20:02:34
If this lot played in Europe, I think we would be in for a few embarrassing Thursday nights.
Nicolas Piñon
72
Posted 13/05/2021 at 20:02:36
At this point, a point is the same as nothing for me.
If we don't strengthen this squad, we'll be destined to mid-table.
Ajay Gopal
73
Posted 13/05/2021 at 20:03:30
If we are honest, we don't deserve to be in Europe. There was no-one to unlock the Villa defence and we could have played all through the night and it would have ended 0-0.
Doucouré was poor today – he underhit several passes. We need a proper right-back to free up a place for another midfielder. Coleman can be a backup, nothing more. Calvert-Lewin and Richarlison do not play well together.
Utterly frustrating – but we are just not good enough right now.
Craig Walker
74
Posted 13/05/2021 at 20:03:41
We need pace and creativity instead of languidly knocking the ball backwards. Godfrey was my MotM. Keane and Pickford performed well. Not much else to be happy about.
I wish we had some midfielders who could shoot and keep their heads. Iwobi is one of the worst players I can remember. He offers nothing. The delivery from the wide areas was woeful.
How many must-wins have we had where we are just hoping something will happen but see lacklustre performances? We're not a Champions League side!

Jay Wood
[BRZ]
75
Posted 13/05/2021 at 20:04:15
Dave Bowen, I also thought VAR would call that a red card, Mings foul on Dom.
Extremely high boot. Nowhere near the ball. Catching the player full flush.
Most definitely seen serious foul play called on VAR and red carded for less.
George Cumiskey
76
Posted 13/05/2021 at 20:04:18
For me, the manager never seemed interested in winning as long as they didn't lose. Always reactive, never proactive, and the substitutions were shocking.
Mike Keating
77
Posted 13/05/2021 at 20:06:05
What is the point of Iwobi?

Joe McMahon
78
Posted 13/05/2021 at 20:10:12
And there is the evidence for our pitiful goal difference. No spark, no creativity, no pace and no goals. Every chance we ever get to make a mark on the Premier League and go above Liverpool, it goes tits up. This is why the media ignore us.
Still we have the tales of 60s and 80s so I shouldn't be disappointed (huh). The club has not only stalled — it's gone backwards, it's approx 2003 again.
Kieran Kinsella
79
Posted 13/05/2021 at 20:10:13
Per @52,
Statistically, Tom is slower than James. I know it's hard to believe but, based on opta stats, Tom is the slowest, while both are among the slowest in the Premier League.
Stephen Brown
80
Posted 13/05/2021 at 20:12:18
What has King got to do to get a decent chance?
Beat Sheffield United and Wolves is a must and we could sneak in? Man City away is a free hit!
Tony Abrahams
81
Posted 13/05/2021 at 20:13:03
The back three defended well, especially Godfrey, but the lack of quality was horrible to watch, and therein lies the problem.
Loads of good possession was wasted during that game because international footballers couldn't pass the football, and hopefully the manager's thoughts have been that, if you can't be good, then at least be pragmatic. But Everton really do need to sign a few good players this summer.
Kieran Kinsella
82
Posted 13/05/2021 at 20:13:28
Dave Abrahams 50,
Hahaha, that was utterly tedious once again. You just had a sense it could have gone on for months, like one of those old never-ending series of FA Cup replays.
Looking at the remaining games, we will likely have to win the next two just to hold onto 8th.
I was hoping against hope for a Tim Cahill moment at the end but honestly just couldn't even convince myself it was going to happen.
James Head
83
Posted 13/05/2021 at 20:17:53
Any of the previous managers would be getting torn a new one for this excuse for football we have to tolerate, week-in & week-out. It's fucking dire and directionless. We are the worst team in the Premier League to watch, apart from Sheffield Utd.
George Cumiskey
84
Posted 13/05/2021 at 20:20:09
James Head – spot-on, mate.
Barry Rathbone
85
Posted 13/05/2021 at 20:20:28
We look quite tidy when the opposition fall back, allowing us to do fuck all with the ball, but going forward we are dire.
Allan is a complete mystery to me. The only comparison with Reidy I can see is the same turn of pace as Peter had at 50 years old. "Roll around Richarliaon" has been found out – what dreadful control the lad has for a Brazilian.
Calvert-Lewin is okay, Digne is fine, and I can see Sigurdsson contributing in a decent set-up and, despite incessant criticism, Iwobi could be useful in a forward-thinking team.
Huge summer coming up!
Jerome Shields
86
Posted 13/05/2021 at 20:20:55
Some players lacklustre in the first half. Colman's three poor crosses and Sigurdsson was't available for a pass. Rarely in front of his marker and poor pass completion rate, Richarlison easily contained with two markers preventing him coming inside. Gomes and Iowbi substitutions helped, but positioning for the final ball was poor.
Mings should have been sent off. Ref let Villa interrupt the momentum at the end, by not clearing the area of a supposedly injured player. Europa Conference League if Everton are lucky. Resigned to a points climbing of the table not happening, as usual.
Thought Holgate played well partnering Godfrey. Villa limited to fewer shots on target, or not nicking a goal, since the gift route was cut off.
Mike Doyle
87
Posted 13/05/2021 at 20:21:23
I think Phil (#66) sums it up perfectly. Our passing remains truly atrocious. We carry little or no goal-scoring threat from midfield Our build-up play is so slow that the opponents have plenty of time to set up.
Godfrey was MotM. Thought Allan was fine and looks fitter. Shame that Gomes cannot shoot but at least he has the best head of hair in world football.
We may get 4-6 more points max from the 3 remaining games. Now expecting us to finish around 8th (7th at best).
John Keating
88
Posted 13/05/2021 at 20:21:46
Unbelievably bad.
Sigurdsson... waste of time being on the pitch.
How many times did McGinn turn Allen?
A wasted season and apart from Godfrey and Calvert-Lewin – the rest need to stay back after school!
Our passing is amateur... in fact, that's an insult to amateurs.
Such a good start to the season. Hopefully we don't qualify for Europe as it'll be an embarrassment.
Bill Gall
89
Posted 13/05/2021 at 20:21:49
Can someone explain the rules?
I was of the opinion that when a player is treated by the medical staff on the pitch, he has to go off. And come back on by the bench area. Or was the ref making up his own rules?
Geoff Williams
90
Posted 13/05/2021 at 20:22:09
How on earth is Richarlison a Brazilian International??? He lacks vision, touch etc etc.
Why does Sigurdsson take the free-kicks??? He hasn't scored from one in the Premier League for Everton!

Kieran Kinsella
91
Posted 13/05/2021 at 20:25:08
Positive is that the Premier League are unlikely to punish us over Financial Fair Play because of time already served by our long-suffering fans at the hands of our expensive "stars".
Tony Everan
92
Posted 13/05/2021 at 20:25:59
It was the type of game a fully fit James Rodriguez would have made a difference; without him, there is a void of creativity.
To mitigate that loss of creativity, we needed to get some killer crosses in when we had the chance. The passing in the final third was poor and errant, but the quality of crossing from Digne was average and from Seamus was very poor. Calvert-Lewin was feeding on scraps again.
We perked up for the last 10 minutes or so, Iwobi did okay, I thought, in at least getting three or four crosses in from the right and Digne as well in this period.
Goals from midfield are needed, Gomes could have had two, but fluffed them both. We need better offensive play and shooting from these positions. Imagine that! A central midfield who can score!
We need other players chipping in with goals; at the moment, it's Calvert-Lewin or bust.

Lee Courtliff
93
Posted 13/05/2021 at 20:30:17
It's a chore to watch us now. Even when we win.
Pat Kelly
94
Posted 13/05/2021 at 20:31:47
If Carlo continues to serve up this dross next season, he has to go.
Colin Glassar
95
Posted 13/05/2021 at 20:31:58
That game was a crime against humanity.
Neil Lawson
96
Posted 13/05/2021 at 20:34:02
Have a look at BBC Sport. Ancellotti talking the performance up. Must be taking happy pills.
Mike Oates
97
Posted 13/05/2021 at 20:35:34
It's clear we need a right winger and a right back, both of whom need to be good crossers of a ball, because Seamus isn't and we just don't have a right winger who can beat people.
Elsewhere, a midfield player who can score, score and score.
Ancelotti can only use what material he has. Which leads to the team we've got: defensively sound (now) but little creativity.
Colin Glassar
98
Posted 13/05/2021 at 20:38:10
Going back to the old "he's too old for us" argument. Just look at how the ancient mariner, Cavani hunts down defenders and keepers or how Thiago Silva orchestrates his defence at the ripe old age of 35!
I'd rather have old codgers like them than useless buggers like Iwobi and Gomes.
David Connor
99
Posted 13/05/2021 at 20:40:12
Dull, dull, dull. Piss-poor footballers playing piss-poor football.
Massive summer ahead, hopefully. I can't take much more of the dross we've served up this season. Only for Calvert-Lewin's goals, we wouldn't be far off the drop zone.
Another chance to get above the red shite spewed yet again. There is still a chance of European football... but do we really deserve it? Our poor home form has cost us big time.
Get rid of the dross, whatever the cost, and start again. Another season for Ancelotti. If there's no big improvement, we could be looking for another Messiah.
Dale Self
100
Posted 13/05/2021 at 20:44:24
I really wish some of you would phrase that as, "It's either Carlo or me"!
George Carroll
101
Posted 13/05/2021 at 20:53:04
I thought King should have replaced Seamus instead of Iwobi getting the nod.
Poor game; let's hope the next two are better... but I'm not holding my breath.
Derek Thomas
102
Posted 13/05/2021 at 20:53:12
A lack of a full ground full of pissed off fans has helped a few managers stay in a job this season...not that Ancelotti would have been one though, no, not at all, perish the thought, how could I even think it etc.
But 12 months on, a full crowd and a repeat of this shite on a regulssr basis...hmm?
But that won't happen will it? Nah, Brands will work his magic, Ancelotti will gell it all together and onwards to glory we go...or something.
Conor Skelly
103
Posted 13/05/2021 at 20:53:47
That's not a 'team'... it's a collection of individuals trying not to get beat.
Dogged defending but appalling going the other way and, when the ball did finally drop or bounce for us in a dangerous area (Gomes twice and Calvert-Lewin twice in the 2nd half), nobody watching or playing in blue believed we would score.
Dominic got to the back post from Digne's cross being the closest we did come. In fact, the Digne overlap is our only plan. That's why Digne has so many assists and Dom goals.
I've watched every game this season. No movement or flow to the football. The players receive the ball static and then play it straight to the feet of a static teammate ad continuim. We never build up momentum or pace in our attacking play, relying mainly on Digne to overlap and centre for Dom.
Allan, by the way, is just a really good Sunday league player at this stage. Offers little in any department. The opposition just run rings around the chap.
Doucouré has legs?? No, he's crap too, average player who does almost nothing of any quality, just runs. His passing is terrible, doesn't score, assist or "dominate" the midfield. 㿀M about right.
As the saying goes. If this Moshiri lad has the dough he says he does, then we want Mourinho... Okay, so no thanks to Mourinho. But, if he does have the money to bring back the glory days, then he needs to start bank-rolling world-class signings and not the average shite we sign, year on year.
Rob Dolby
104
Posted 13/05/2021 at 20:58:55
What a terrible game. End of season half-arsed effort from all concerned. At this time of year I usually just accept performances like that as we don't normally have anything to play for.
Davies was very unlucky getting dropped. Doucouré looked average at best. Gomes underlined why we need more quality.
It looked like a draw after about 10 minutes. Villa happy to waste time and keep their physio busy all game. Puzzling that in the first half the trainer was on at least twice, their goalie got warned for time wasting but the ref played 1 minute extra!
We need to change the formation for the last couple of games. Get Richarlison back on the left wing. Davies, Allan and Doucouré in the middle with Coleman on the right. Play 4-5-1. Believe it or not it could have been worse!
David McMullen
105
Posted 13/05/2021 at 20:59:11
Got to say this was poor in the end. And if we're serious about moving on to the next level, we need to castrate a few players. The team the players are too comfortable. When do they really give a shit? Bleed for the club? It's too pedestrian, it's endemic.
Paul Birmingham
106
Posted 13/05/2021 at 21:03:58
For such a big game, and the lack lustre display.
All has been said and it's proof that the team hasn't got the strength in depth to play over 90 minutes and dominate the game.
There's still a mathematical chance but with Everton's very poor home form, can they etch out back to back wins at home, beat City away, and then hope results go our way. Disappointed, but it's a way of life. Getting decent new players depends on getting into Europe.
I hope the results go our way starting tonight.
Kieran Kinsella
107
Posted 13/05/2021 at 21:04:12
Richarlison has no sell on value, and three years left on his contract. We need to ship him off to Neil Warnock, or wherever we sent Tarashaj and Sandro. Maybe they can cover some of his wages and cut our costs.
Kunal Desai
108
Posted 13/05/2021 at 21:04:17
A point keeps the quest for 7th still going. That dreaded home form will now need turning around drastically inside four days to stand any chance of qualifying for European football.
Circa 60 points would be still seen as progress under largely what is the same group of players from last season. Three of the four signings have been out form significants parts of the season.

Roll on the summer, bring in the four/five players we desperately need to go up a gear.
David Cash
109
Posted 13/05/2021 at 21:11:28
That was quite painful to watch. Carlo has really got his work cut out.
Other observations: Ross seems to have bought a one-way ticket to oblivion.
Agree with Tony. What was Allan doing? He looked like he has never played the game. Leaving the hole behind is rapidly becoming his Trade Mark.
Sort it, Carlo!
Joe McMahon
110
Posted 13/05/2021 at 21:13:59
FFS, our evening just gets better. That lot are gonna take 4th off Leicester. This is what happens when you have pace and goalscorers. Bollox ain't it. My neighbour is just loving tonight, more piss taking to come.
Derek Thomas
111
Posted 13/05/2021 at 21:15:03
Kunai; so that's 5 new players and we 'might' manage 5th or 6th?, tbh, I'm pretty much done with this season.
Oh I'll still watch, because you never know, I might see something worth watching... but the season's done. Has been since the Anfield derby tbh, we peaked and got out the holiday brochures.
Barry Williams
112
Posted 13/05/2021 at 21:18:02
Andrew Brookfield - 31
Wasn't an argument dear sir, just a point of view. As said, I didn't think Davies should have been dropped! Yes the 4 of Davies, Doucoure, Allan and Sigurdsson could play together. I was just pointing out why Sigurdsson was playing to previous posters, in my humble opinion; context!
However, wow - I aged during that game!!!!! Where was the creativity!!??

Richard Cusworth
113
Posted 13/05/2021 at 21:19:32
Massive transfer window coming up. We need energy pace and players with a change of pace. We are the most ponderous Premier League side in history with no intensity, no gear change, and absolutely no attacking bravery.
I don't agree with a lot that Carlo does on team selections, subs and a lack of clear forward vision in terms of long-term style of play but he has inherited a mish-mash of a squad and needs better tools before we give up on this.
I am concerned at the style of football – not the time to start over again though.
Colin Glassar
114
Posted 13/05/2021 at 21:21:02
Not only that Joe, when you have desire, passion, mental and physical strength and self-belief... ie, everything we lack. They have in spades what we can only dream of.
Does the malaise begin with our players when they are told they are joining a "family club" and not a football club?
Stephen Vincent
115
Posted 13/05/2021 at 21:29:59
Thing is Colin, Cavani and Thiago fit into excellent squads and don't have any pressure on them to play 40 odd games a season. Any old codgers coming to us won't fit into this category since we do not have the squad to accomodate them.
Frank Sheppard
116
Posted 13/05/2021 at 21:30:01
A great, tongue-in-cheek match report, much more entertaining than the game.
Tom Harvey
117
Posted 13/05/2021 at 21:35:26
The way the dark side are playing and the way Chelski aren't playing, the dark side still have a decent chance of the CL and they will be well and truly up for it after tonights result.
While we struggle to make it into the Europa Conference, fooking depressing situation.
Ian Edwards
118
Posted 13/05/2021 at 21:36:57
Needing a win and doesn't bring a forward on. The negativity of this Manager is coma inducing. The football is absolutely diabolical. It's worse than anything I've seen in over 45 years. I don't care who he has managed or what he has won previously. In the here and now he's a complete dullard.
Cameron Gray
119
Posted 13/05/2021 at 21:36:58
A lot of you make me ashamed to be an Evertonian.
We are still in with a good chance of securing European football, and indeed our highest points tally in several seasons, and all the majority of you can do is overreact hideously.
Yes it was a bad game to watch, but it's a clean sheet away to a team in 11th, with some good players. Unfortunately, we have a weak squad with a few brilliant individuals, and when those individuals don't perform (as very few can EVERY week) we don't win.
For those that are slagging off Carlo, you are poison. He is the best thing to happen to this football club in decades.
Get some perspective and give this man time. We are making great progress on and off the pitch.
Pat Kelly
120
Posted 13/05/2021 at 21:40:30
Carlo was happy with the performance. More of the same so.
Ian Edwards
121
Posted 13/05/2021 at 21:41:06
Get a grip Cameron. There's a reason why Ancelotti has been sacked from his last three jobs. People like you accepting such shit and letting him get away with it are the poison.
Anthony A Hughes
122
Posted 13/05/2021 at 21:41:11
As a matter of interest who are the brilliant individuals Cameron?
Cameron Gray
123
Posted 13/05/2021 at 21:42:37
Kieran Kinsella -107
Your comment is so silly its barely warrants a response, but here I go nonetheless.
Richarlison, our 24 year old Brazil international, with 3 years left on his contract, has no sell on value?
Barcelona offered £85m for him 14 months ago.
(But I'm sure you'll have a great reason why he is now worth less than the £35m we paid for him. )
Cameron Gray
124
Posted 13/05/2021 at 21:46:41
Ian - 121
He has been at the club for 10 minutes. He has inherited a weak squad. He has won everything, been employed by the best clubs in Europe, and we are very lucky to have him. How can you be so naive? Who do we replace him with? We could have Jesus Christ in charge and this team would not finish above 7th.
Anthony - 122
Well, (and lets remember not to judge players on a patch of form and look at the bigger picture) I would argue Lucas Digne, Ben Godfrey, Allan, Doucoure, Rodriguez, Richarlison, Calvert-Lewin, are all worthy of the shirt.
Dale Self
125
Posted 13/05/2021 at 21:46:48
Get off Ian. The reason is simple. Every football manager gets sacked. What Cameron is referring to is the tone and specific language of your critiques. I'm not looking for a flinging contest here, just weighing in to balance out some of this overreactionary crap.
Don Alexander
126
Posted 13/05/2021 at 21:48:28
The comfy culture infesting Everton has long-since been embedded in the club under its spineless, self-regarding, charlatan, current (!) chairman.
Unfortunately Moshiri now seems to be cut from the very same well-out-of-date, shabby, unwanted cloth.
I suggest we have maybe three players of interest to any CL aspirational clubs. The rest merely want to stay with us for every last minute of the lavish contracts they were awarded (and that ties at least one hand behind his back for ANY manager).
The last thing these players want is better players being signed because that means they play less and that reduces the size of their next contract as and when it becomes due.
It's a sick, vicious circle, and no club operates it with more dedication than we do, and have done for thirty years minimum.
Colin Glassar
127
Posted 13/05/2021 at 21:48:48
Cameron, I love Carlo but can't stand some of our players for their lack of passion and courage. Same goes for some of our fans😄😄
Paul Hewitt
128
Posted 13/05/2021 at 21:50:27
I've said it once and I'll say it again. NO manager would do any better than what Carlo is doing with this squad. It's a terrible squad, truly awful. I actually think Carlo is doing a good job with terrible players.
Stephen Vincent
129
Posted 13/05/2021 at 21:51:02
Cameron, we are making bugger all progress on the pitch. I have not been as bored as I have been this season in over 60 years watching Everton, including the 90s. The football is by and large dross, the lack of ambition from the sideline is unbelievable.
All we had to do was pick up 1 point at home to Burnley, Newcastle, Fulham, Leeds, West Ham, Aston Villa and we would be well in the hunt for CL.
I'm not calling for CA to go, he should have another season but for God's sake let's have some honest perspective.
Ian Edwards
130
Posted 13/05/2021 at 21:51:32
Cameron. This is his second season. He has had three transfer windows. We are 8th which is exactly the same position that we were in when Allardyce left. Allardyce probably had less time.
Ancelotti's CV has got nothing whatsover to do with what he is doing at Everton. Mourinho has won tons of trophies and been sacked by Spurs.
Mal van Schaick
131
Posted 13/05/2021 at 21:51:57
Certainly wasn't a classic game, but it could of gone either way. Disappointed with the result, but let's finish the season off as strongly as we can, and plan for next season, hopefully, shifting some players on and bringing in quality, fresh legs.
Cameron Gray
132
Posted 13/05/2021 at 21:52:35
Don - 126
Wow. I have read some real shite on this comment board tonight, but congratulations, you have absolutely taken the biscuit.
NOW ITS FARHAD MOSHIRIS FAULT! FARHAD - WHY DIDNT YOU BRING YOUR BOOTS TONIGHT AND COME ON INSTEAD OF IWOBI? YOU'VE LET US ALL DOWN. INVESTING HUNDREDS OF MILLIONS OF POUNDS IS JUST NOT GOOD ENOUGH.
Oh, and 3 players of interest to Champions League clubs?
Richarlison? Digne? Godfrey? Allan (who has played CL football the last 5 years?) James Rodriguez?
There's five straight away.
Anthony A Hughes
133
Posted 13/05/2021 at 21:52:38
When we do sign some players could we make it a prerequisite that they can strike a ball cleanly with power and accuracy. Allan, Gomes, Richie, Coleman and Doucoure particulary all hit the ball with fluffy slippers on
Ray Smith
134
Posted 13/05/2021 at 21:53:19
Are James and Mina fully committed?
Are their minor injuries/niggles enough to warrant a consistent no show?
Mina is a 6'5" giant who should have the where with all to get off the treatment bench and show us exactly what he is made of!
James is currently a luxury we cannot afford, as he is now consistently unavailable.
I await the backlash, however, that's my view.
I don't post often, but these two are getting under my skin.
I've waited a couple of hours to calm down, but it's not working!!!
Dale Self
135
Posted 13/05/2021 at 21:54:01
Ian, not a full two seasons. Come on man. Allardyce and Mourinho references, come on man. Borrow someone else's stuff, text a friend for a tip. Something man, come on.
Ian Edwards
136
Posted 13/05/2021 at 21:54:30
Dale. Over-reactionary? I held back.
Cameron Gray
137
Posted 13/05/2021 at 21:55:39
Stephen - 129
It is not about entertaining football. He has inherited this squad and is playing in the most efficient manner to pick up POINTS.
Does it always work? No. Does moaning about it and causing a horrible atmosphere amongst the 'support' help the club we 'love'? No.
I was as dissapointed as anyone about the home games in which we should win on paper.
Let's just be patient. We can't keep on the merry go round of managers - we have a great one - we have the one who we need to give time.
Lets get behind the man for god sake or we will take more steps back.
Ian Edwards
138
Posted 13/05/2021 at 21:55:59
Cameron needs to remember the club's motto in his dash to worship at Ancelotti's boring altar.
Anthony A Hughes
139
Posted 13/05/2021 at 21:57:25
The players you listed are good players Cameron but i'd hardly call them brilliant. If we had that many "brilliant " players in the team then we'd be challenging for the title
Ian Edwards
140
Posted 13/05/2021 at 21:58:05
You're struggling Dale. You can't even defend your man and you know it.
Cameron Gray
141
Posted 13/05/2021 at 21:58:47
Ray - 134
We cannot make ignorant assumptions about their injuries.
Yerry's height is utterly irrelevant. Tall people get injured too.
Given James Rodriguez was signed on a free transfer, I have no doubt we can afford his wages. Perhaps he is on a pay as you play deal, we just don't know.
I'm unsure why they are your object of frustration though given they were 100 miles away from Villa Park tonight?
Pat Kelly
142
Posted 13/05/2021 at 21:58:52
Please get off Carlo's back. There's every chance he'll get us to 8th this season. And in style.
Cameron Gray
143
Posted 13/05/2021 at 22:02:23
Anthony - 139
Well we could debate the definition of 'brilliant' or 'good' all night. I think they are good enough to help Everton get Champions League football, with a few additions around them.
Ian - you need to remember not to vent your pent up frustrations of daily life onto this football club, because you have posted a lot of crazy stuff tonight. Go have a bath and maybe we'll get some sense out of you on Sunday.
Anthony A Hughes
144
Posted 13/05/2021 at 22:02:27
Yes, not quite best of the rest Champions
Barry Robson
145
Posted 13/05/2021 at 22:03:16

100 % agreed Cameron Gray!
Some of the comments particularly Ian Edwards are unbelievable in the extreme.
Kieran Kinsella
146
Posted 13/05/2021 at 22:03:25
Cameron
lighten up mate, you're like hybrid of Tony Marsh and Richard Dodd. I was joking in 107, but since you ask, I can't see anyone paying 35 million for Richarlison in this market. No one has any money and those who do will be reluctant to spend that kind of cash on a 6 goals a season striker.
Also get off your "I am ashamed" high horse. Even, Ian Edwards whose hyberolic in his negativity is fairly restrained in this thread. And poor old Don? What did he do to ruffle your feathers?
Cameron Gray
147
Posted 13/05/2021 at 22:07:11
Kieran - 146
You must have me confused for someone who needs to 'lighten up', Indeed I would suggest I am the brightest spark countering all the stupidity I've read since our shameful 0-0 draw.
If you don't think theres a club in world football who would currently take Richarlison for more than we paid for him, it's really pointless us even debating, since you must be impaired.
Why don't you go get some shut eye and we'll have another chat after the Sheffield United game? Nighty night Ki.
Colin Glassar
148
Posted 13/05/2021 at 22:07:59
Ian likes to wind people up. Secretly, deep down he loves Don Carlo.
John Skelly
149
Posted 13/05/2021 at 22:08:04
After last season's debacle this is at least a step forward, Rome was not built in a day but I think Carlo is the right architect.
Paul Birmingham
150
Posted 13/05/2021 at 22:11:36
Fekkn dross night gets worse.
Sick to the back teeth and Old Nick conspires again, by a twist of fate..
Looking for a show of character from this squad. Jekyll & Hyde... surely Sheffield United can be beaten on. Sunday?
Thomas Richards
151
Posted 13/05/2021 at 22:15:00
I give Richo stick for his dramatic screams but in his defense the kid has not had a rest.
He is out on his feet.
It will get worse, he wants to play in two summer tournaments.
If he does he wont get back to us until two weeks into the season.
He will be even more fatigued.
I would take the money if the reported transfer fee is anywhere near right
David Cooper
152
Posted 13/05/2021 at 22:17:42
What else is there to say after another poor performance? Excuses that we did not have enough time to recover from Sunday? Not enough good players to rotate and give some a rest? A "couldn't care less" attitude from a few players?
Gomes showing his true colours? When I told my Portuguese friend what a good player Gomes was when he first arrived, he told me to "wait and see" and told me that far too often "he couldn't be arsed" which is the Gomes we have seen far too often this season.
And then there is Carlo. Maybe he has never worked with a bunch of players like what he has at EFC. Far too often he looks like he can't understand their lack of passion in some games. He looks bemused when the camera catches him on the touch line.
No doubt he has brought about significant improvement this season. More wins despite an awful home record and more points for a few seasons. Yes the football has been hard to watch at times, but I do think he has made the most of the talent he has. He has also improved several players - DCL, Godfrey and lately Pickford. The 3 he bought last summer have been an upgrade on what we had before despite I think you can count on two hands the number of times they have all played in the same team.
Who knows with this Everton team what will happen in the last 3 games. Don't think anyone could predict which Everton will turn up. Maybe we can creep into Europa Conference League at the expense of Spurs? Carlo was smart enough to say the goal was European football only he never qualified which competition! If we get to the last game, still in with a chance of some European football, won't that be considered an improvement compared to the last 4 years?
Barry Hesketh
153
Posted 13/05/2021 at 22:19:17
Paul @150
It's certainly nights like these that stick in the throat, we take part in a largely forgettable, uninspiring match and given the state of the table take a pretty useless point from it, the other lot win at Old Trafford for the first time in seven years, in what seems like it was a made for TV, entertaining game and I would argue cement their place in the top four, seeing as Chelsea have to face Leicester in the remaining fixtures.
David Pearl
154
Posted 13/05/2021 at 22:19:26
We did okay, in particular the second half but short on quality when needed. Of course at the end of the season it will be a case of what if, because we lost our chance of champions league weeks ago due to our home form... and not having James on the pitch enough.
David Thomas
155
Posted 13/05/2021 at 22:24:30
Cameron,
With all due respect if you think we have got a few brilliant players you must be watching different games to everyone else.
Paul Birmingham
156
Posted 13/05/2021 at 22:27:05
Barry, spot on mate, it's become the way of this life, alas, but I'm hoping - Bob Hope, and some hope that Everton can make Europe.
Failure to do so will mean, it will be very difficult to get any reliable decent players in, and thus another cycle of mediocrity will start again.
But let's hope that in the last three games the results fall for Everton, unlike today.
Stephen Vincent
157
Posted 13/05/2021 at 22:35:55
Cameron, It is all about entertainment. I haven't paid for my season ticket since 1968 on the basis that I am not going to be entertained. Football is an entertainment business.
I support the club I love by giving them my money, by taking holidays to follow them all over Europe and the USA. If they are not fulfilling their part of the contract I am entitled to express my opinion.
If you are happy to roll over and accept what we have seen this season then great, I'm sure the club will love your accepting non critical attitude, but you are not helping. You need to be realistic in your support.
I haven't called for CAs head in fact I have supported the case for giving him at least 1 more year. But that does not mean I am not allowed to be openly critical of his methods, style of play and lack of man management skills when I feel it necessary.

Bill Gall
158
Posted 13/05/2021 at 22:37:20
Funny we played a defensive game last week and won, it was called a master class by Ancelotti. We played a defensive game today and it was rubbish, both games were away games that have kept us in this position, against sides close to us. The rubbish is our home form that out of the games we lost 2 wins would have put us in 5th. My worry is our G/D, as once again another team is above us with the same number of points.
Ancelotti tried to solve our major problem from last season with the signings of James, Allen, Doucouré and Godfrey so he understands the problem areas. Lets see if he can improve us in the next window before continuous
criticize m. We are still on track to equal or better last seasons total.
Pete Jeffries
159
Posted 13/05/2021 at 22:42:51
Is it just me deluding myself but do we have both an England and a Brazil centre forward playing tonight
I do hope whoever gets a ticket v Wolves lets the manager and the players etc know exactly how we feel about them wearing the blue shirt and leaves them under no such delusions about what we think about they threw away all those home games and the atrocious lack of goals this season
Kieran Kinsella
160
Posted 13/05/2021 at 22:46:27
Bill Gall
You make some fair points. I think the big disappointment tonight is that we've finally run out of games in hand and that goal difference has finally caught up with us. Other than Spurs the teams above us have an easy run as do Arsenal. So the European dream is suddenly looking like a long shot. Like yourself I'm not blaming Carlo, I think he's done the best he can with this bunch. It's more than I've got years of frustration and here's another reminder of all our wayward expenditure with the RS there to rub it in.
Kieran Kinsella
161
Posted 13/05/2021 at 22:51:02
Cameron
Seriously what club do you see buying Rich for 35 million or more? The top clubs in Spain and Italy are insolvent. Inter can't even pay their wages. The Chinese gravy train is over, and elsewhere in Europe only Bayern and PSG spend that kind of cash. I doubt he's good enough for either at that price. I don't see any of the big six viewing him as an upgrade either. So outside of some random team like Palace going for broke, I don't see where that kind of bid based on his form would come from.
Laurie Hartley
162
Posted 13/05/2021 at 22:51:52
Colin # 95 - I usually read through every post before commenting - but I have to come on early - I am nominating your effort @ 95 for "Post of the Year".
Anthony A Hughes
163
Posted 13/05/2021 at 22:52:44
Intensity leads to creativity, creativity leads to chances, chances lead to goals. We're just too lethargic in our play the majority of the time.
Eddie Dunn
164
Posted 13/05/2021 at 22:55:10
i said it on the Live Forum and I'll say it here. Ancelotti has one aim...7th and Europa conference footy. That's what he's been banging on about over the season. It is his target and that is all he wants. To throw caution to the wind and go more attack minded opens up the possibilit of more defeats. That simply isn't an option for him.
I think he is too cautious and if he had been more adventurous then we really would be in with a shout of Champs League.
The man has promised the paymasters euro footy of some kind. He thinks he can win the home games and that will be enough.
He may be right.
i noticed tonight that Siggy drifted inside and immediately played a couple of good through balls resulting in chances. Siggy was the first one to be subbed.
Carlo may look like a gentle soul but he hasn't won so much by being a soft touch. He is calling the shots.
I honestly think this team can play better football.
The manager has the shackles on.
He might well achieve his aim but he might fall short.
It was shocking to watch a bit of the later game. My God it was good to see football played on the front foot and when Salah broke late-on I thought "what would Richie or Dom do in this situation? " The answer was miss or hit the goalie.
our awful goal difference could end up being the thing that holds us back.
Tom Bowers
165
Posted 13/05/2021 at 22:58:18
We ain't gonna finish fourth and don't deserve to anyway.
Whilst we got results from the first four games we could have been forgiven for having cautious optimism that Carlo was weaving some magic.
Enter the next four games, the illusion was shattered and the season has been similarly up and down all season.
I had said early that the performances were those of a mid-table team and so it will prove as they will finish probably outside the top six.
The highlights have been few save for taking 4 points from RS, the performances of bargain buy Godfrey and the turnaround in form of DCL.
Carlo has a lot of work to do if next season will see a big improvement.
Some players just don't have the speed, skill on the ball nor intensity on a consistent basis to get good command of many opponents.
Sean O'Hanlon
166
Posted 13/05/2021 at 22:58:34
Judging by the comments - thank God I missed that one!
All those shouting for more goals, just wait for the last game of the season.

It's against Citeh, and it's their first home match since winning the title. Unfortunately, the goals will be in the against column.

Arsenal comes to mind.

Rob Dolby
167
Posted 13/05/2021 at 23:07:29
It was an away draw which means a point gained. As I posted earlier it could have been worse. Their Goalie was motm.
Ancelotti has managed to be unbeaten against the shite, spurs and arsenal this year. We haven't won so many away games since we last won the league.
We are at the end of a pandemic and people are advising supporters to vent their fury when we allow fans back in!
We are watching pragmatic results driven football played out by relatively strong defenders, abysmal midfielders and decent strikers with no strength in depth in the squad.
At least we have something to play for at the end of the season which is more than can be said under Silva, Koeman and Allardyce.
Mark Wilson
168
Posted 13/05/2021 at 23:10:47
We've become the true kings of the "disappointing" result. Mediocrity would be a target for this squad. I don't care if we've got a few more points than when we were last shite ie last season. There was everything to play for after Christmas. Top four was definitely achievable in this league of the inconsistent. But we are just a negative bunch of slow walkers. Inspiration arrives once a month when Rodriguez's calf says it's ok to play. Other than that we are bereft of creativity.
Too negative ? I don't think so but then how stupid am I and you lot. I was watching very few nibs for the Wolves ballot result and made up when it arrived with a positive. Why? It's just the way it is supporting this club. Cannot change the fanatical stupidity. Depressing isn't it. Staysafe everyone this bloody Indian variant doesn't sound fun at all. But then I had my first Latte outside today after 15 months shielding, and a sly sausage bap. It was sensational !
Rob Dolby
169
Posted 13/05/2021 at 23:21:59
Eddie 164. I think the first so many games we did play open attacking football but following injuries Ancelotti has cut his cloth depending on who is available.
Being more adventurous without our first choice 11 has resulted in defeats.
I just hope we buy players with pace and guile in the summer as we are light years away from the top teams. We have players that would struggle getting a game for sheff United but we are stuck with them.
John Raftery
170
Posted 13/05/2021 at 23:26:32
If evidence was needed that cramming too many fixtures into the calendar reduces the quality of games, tonight's desultory affair surely provided it. Both teams looked bereft of energy and inspiration. I thought we looked marginally the better team in the second half but we have too many players incapable of scoring goals.
Of the regular players Seamus, Digne, Davies, Allan, Godfrey and Gomes have yet to score this season. Iwobi and Doucouré have three goals between them in league games. Six league goals have come from the centre backs, principally from set pieces. That leaves the majority of the goal scoring burden falling on the front two plus Sigurdsson and when he is fit to play, James. Unless and until we can add more fire power from the squad as a whole we will struggle to achieve comfortable wins. Virtually every game we play is fraught with difficulty, decided by one moment of quality or a mistake by the opposition. Comfortable victories seem beyond us.
Sunday's game against already relegated Sheffield United is an opportunity to interrupt the trend with a convincing win.
Kevin Dyer
171
Posted 13/05/2021 at 23:29:27
Dismal stuff. Villa, devoid of Watkins and Grealish were woeful as an attacking force. We started sloppily and low-tempo and I feared the worst. Thankfully we got into the game and improved our overall play, whilst rarely threatening: a couple of genuine headed chances for DCL and our two best opportunities on the deck fell to Gomes who doesn't have a goal in him, sadly.
Without Rodriguez we have no creativity and little flair. To be successful we have to be defensively sound, as we were tonight and sieze the few chances we create, which we couldn't. Therein lies the season. Ancelotti knows all this very well. If we push forward and play expansively we would still fail to score many and leave ourselves totally open. So this is the best solution, unfortunately.
Motm for me was Allan, followed by Godfrey. Richy looked dangerous without actually being dangerous, again. DCL tried hard but it didn't come for him tonight. The defence was solid, Pickford untested. Coleman was awful early on but improved. Doucoure took a while to get into the game, I thought he'd get pulled for Davies on the hour mark, along with Gylfi who was stale. But, when you're sending on Iwobi and Gomes to try and salvage a win then you're short on options.
Ancelotti's reluctance to use his bench speaks volumes as to the true strength of the squad. This is no surprise to anybody watching us the last couple seasons and shows the scale of the task to bridge the gap to where we feel we should be.
Don Alexander
172
Posted 13/05/2021 at 23:37:17
Cameron (# all over the place), when I were nowt but a lad I started out by spending a fortune on trying to bed any beautiful young wench I fancied, whatever it cost me.
Rarely (if ever) did I succeed, but my bank balance took a real hit, ergo I realised I was a deluded prick who'd merely proved to anyone interested (as if!) that I hadn't a clue as to how the mating game worked.
But I wasn't even old enough to vote at the time.
By the time I was, I was richer and, generally, sated.
So it took me a year or so to sort out the fundamentals admittedly, but I'd have expected a bloke now as old as me, and wealthy when he bought in, with years of close association with Arsenal's boardroom shenanigans to boot, to have got to grips with the reality of Premier League football clubs way quicker than five years.
If Moshiri keeps spending and listening to those who beguiled him in the first place he'll just end up getting screwed, again and again, in the very last way he wants (or we need/deserve).
Ciao!
Will Mabon
173
Posted 13/05/2021 at 00:00:57
"
Rarely (if ever) did I succeed, but my bank balance took a real hit...
"

Sorry to hear that, Don. I got plenty and spent almost nothing ;)
Don Alexander
174
Posted 14/05/2021 at 00:07:36
Yeah, but Will, you probably ain't an ugly whart!
Kevin Prytherch
175
Posted 14/05/2021 at 00:12:30
Well, I blame Davies - who will never be a top 4 player, Holgate - that arrogant gum chewing bastard, and Kenwright - because he obviously still oversees everything, for tonight's performance.
In fact, going further, it's probably down to Unsworth, Jeffers and the rest of Bills Ball park chums that we ever got to this mess in the first place!!!
Seriously though - 170 posts and no ones criticised Davies or a Holgate, that must be a record.
Will Mabon
176
Posted 14/05/2021 at 00:16:40
Don :)
Will Mabon
177
Posted 14/05/2021 at 00:19:06
Kevin, sometimes a little veer off-piste can help ensure all angles are covered.
Jerome Shields
178
Posted 14/05/2021 at 00:32:49
'To do Europe we need nine points in our last three games. ' Ancelotti.
Yes that is about right. Two home games against lesser league teams and Man City away.
I once knew a Butcher and Breadman who owned a greyhound called Scurlogue Champ. They celebrated when a Englishman bought the dog which they reckoned was a ejitt. Scurlogue Champ won every race it was enter into after that from last place on the final turn , until it was up against Ballyregan Bob. It decided as it had done with them to turn round and wait for the hare to come round. They both celebrated.
Wonder what they think of the above being both Everton Supporters. I
You Tube Ballyregan Bob v Scurlogue Champ
Phil Smith
179
Posted 14/05/2021 at 00:53:21
Kieran (107), I see Sandro scored a massive goal yesterday that mihht just keep his side up in Spain. Was totally spawny. Predictably...
Kieran Kinsella
180
Posted 14/05/2021 at 01:09:29
Phil
He must be getting close to double figures. for his career to date.
Derek Thomas
181
Posted 14/05/2021 at 01:23:43
According to the BBC Football page we had no game last night...is it some literal / figurative / quantum way of saying 'we did play and, at the same time, we didn't play' - or is just that the rs broadcasting company is back and up to their usual tricks again...normal service resumed I think.
Michael Stancis
182
Posted 14/05/2021 at 03:30:02
The sooner the season is over the better. Genuinely can't wait until the final whistle gets blown at City in a weeks time. And hopefully that will be the moment the club starts the clear outs, the incomings and other plans. Because this squad is almost draining the life out of me.
Aston Villa, like a week ago, where there for the taking and once again we fall short. The players simply are not good enough for Everton let alone Europe. Subs were shite. And makes the night worse with that shower of shits winning. Spawny bastards.
There is a reason why Andre Gomes has only scored once in three seasons. And today proved it with them chances. Especially the first one. James or even Sigurdsson dare I say buries that. But dopey arse puts it in row Z.
For me it would be a mistake to give Sigurdsson a new contract. Even with lower wages. Take any offer that comes for him. Delph and Iwobi can just fuck off anywhere to be honest.
As much as I like Richarlison. This has been his worst season since being here. A year ago. Barca wanted him for £80 million. Fucking hell based on this season who would want to buy him.
Coleman, again as much as I love him. Shows that if he is the starting right back for the first game of the season. Then it is not a good sign from Brands.
Just fed up of football lately. Everton boring the life out of me, officials who are as corrupt as broad daylight and the commentators. I mean has the Everton squad tag teamed Hinchcliffes missus or something? Throws a few petty digs at us the prick. Then again who doesn't.
No but wherever we finish this season we finish. One of them. This squad needs to sorted out ASAP. However we don't win our final two home games then this squad really is as bad than what I thought they were.
Alan J Thompson
183
Posted 14/05/2021 at 03:48:57
Just watched the game and haven't read any posts but what a nothing game that was. It was almost as though our management have called it quits for the season.
It wasn't until the last 5 minutes (+ injury time) that we looked as though we wanted to win. Richarlison and Calvert-Lewin were having their every other game of not knowing what the other was doing. If Davies had had the game Doucoure did then the usual knockers would be calling for blood or having him sold off, we seem only able to play through Digne and the hourly substitution seems to be written into the playbook.
Difficult to criticize any of the defence and Allan and Sigurdsson had good games but nothing up front that overly worried Villa.
Season over, just the numbers to be rounded off.
Kieran Kinsella
184
Posted 14/05/2021 at 04:30:57
8th is ominous if that's where we finish. Moyes, Koeman, Allardyce and Silva all finished 8th and were gone before the end of the next season.
Steve Brown
185
Posted 14/05/2021 at 04:40:01
Just not enough quality in the offensive third of the field. Defence very solid.
Four points from six away to West Ham and Villa would have been decent if we hadn't screwed up so many home games.
Steve Brown
186
Posted 14/05/2021 at 04:44:41
Ian @ 140, 'your man'? You seem to regard the Everton manager as the opposition. Carlo will be manager for a few more years to come so come to terms with it or get another hobby.
Farhad Zaman
187
Posted 14/05/2021 at 04:45:36
I actually haven't got the energy to right another essay as I did last time I posted here, I was glad to see Godfrey playing on the left hand side of the back 3, since Holgates co*k up against Villa at home, I'm certain holgate would have said he is more comfortable on the right hand side of a defence and even there he should only be a back up. But that surging run Godfrey made, he makes when's he's on the left hand side.
Anyways I'm going to be controversial, but I think Ancelotti isn't good enough and will be sacked By the end of next season
Yes he's been a success in the past, but I fear he is past his sell by date in terms of where Moshiri wants us to be long term and deserves for the level of investment he has given into the team
In the modern game, you need to be on the front foot more than ever, you need to have intensity, athleticism & pace to compliment the likes of James. Obviously I'm only stating the obvious and you guys will say he's been dealt a harsh card with the squad we have here.
But so many of his decisions have baffled me. Today Tom Davies should have stayed in the team, with Allan and dacoure ahead. We don't have a right sided player with games missing and Walcott out on loan, but I'm sick of him bringing on iwobi only to play him out wide right when he just isn't suited to it. I know he's the whipping boy on here for most, but for me he's never ever been given a run in his position, today I'd have preferred him to siggurdson, behind rich & Dom, him being the link player & at least he has legs and cub run. Gilfy is good for certain games but wasn't the right pick for today.
I said it last time, but I seriously think it is Ancelotti' training methods that are causing so many muscle injuries this season. I know we've had our usual serious injuries that u can't do much about, but go and read why he was sauced at Bayern. Robben said his kids training was more productive, and 5 players went against him, and Robert lewandoski (however u spell his name) mentioned he blamed Ancelotti for his training methods for the muscle injuries
I do think if we had James Allan and doucs fit most the season, that we we would have been a lot better, but unfortunately for us, James and Allan I'm sad to say will for me never go a full season staying injury free, Allan has so much miles on the clock, due to his age now and the nature of his aggressive play, and James has always been injury prone.
We need to invest more and more, on players who are young hungry and athletic, like Godfrey. As Moyes use to make. These players tend to eb durable and we can't afford to have so many luxury players like we have. I am so so bored of watching us. It's so tedious. I feel so sorry for josh king. I truly think he's been truly underused, especially not giving him at least half hour run outs in games. Yes we can nick games and have fantastic away results against the big boys playing the Ancelotti classic Italian smash grab footy, but there's a reason why we struggle when we need to be on the front foot against the small
Boys
I said I won't type an essay and here I am. I don't know what we do. We can't keep sacking managers I know. But I just think the modern
Managers like Klopp pep Tuchell will always be a step ahead of Carlo now. Maybe he can bring a coach in who can help him, and him being a more of a figurehead and to attract the big names. I don't know. But if you see players yes worked with in the past, what they say, they all say he's a nice guy as great man manager blah blah blah, but then all say he more or less left them to it and let trusting players to sort out the tactics
What I'd give to now even have dealafou on the right and lookman on the left. I actually miss Kevin mirrals lol, for me he's far far far more talented than Richarlison.
Richarlison & Dom have proved to be excellent signings, but they for me don't have the technical ability vision awareness etc to ever be elite. If we could get 80 odd mill each for the pair fo them, like we have at times, seen linked with other clubs, I'd snap their hands off
Anyways I'm sorry guys, it's silly o'clock and I'm just not that good at articulating what I want tk say, I end up waffling as I have but I tried and I hope you guys got the gist of what I'm saying or trying to
I'm an Evertonian from London, who has bros who follow Arsenal & Spurs, and have had mickey taken saying we was to small to not be asked for the super league etc. I mean Spurs…it hurts!
I've followed us since 1992 and I don't know any Everton fans here, and always fighting a loan battle for us. So this is my fave site to come and interact with you guys, but only lately I decided to post messages
Farhad Zaman
188
Posted 14/05/2021 at 04:50:31
Write*
Jerome Shields
189
Posted 14/05/2021 at 06:02:23
There is going to have to be big changes if Everton are ever going to be able to get three points from a table climbing game.
Farhad#187
Your post is a year too late.
John Raftery
190
Posted 14/05/2021 at 07:24:35
Kieran (184) Slight inaccuracies there. Moyes finished 7th in his penultimate season and saw out the following season finishing 6th. Koeman finished 7th. Allardyce was sacked one day after finishing 8th.
Farhad (187) Your fourth paragraph is correct. The signings of Allan and James were essentially short term acquisitions with proven ability. They were designed to lift the team into the top half of the table. Had they stayed fit for more of the season quite possibly we would now be sitting comfortably in the top six.
As regards Ancelotti's training methods some players, generally the younger ones, seem to have no problems. Those who have repeatedly broken down, most notably Mina and James, have had longstanding problems which cannot attributed to Ancelotti.
Jerome Shields
191
Posted 14/05/2021 at 07:43:52
When Ancelotti said that the performance was good in the post match interview I knew he was thinking more in terms of motivation for the remaining games. He was honest when he said Everton have to get nine points from the remaining games to get European Football, though a tad unconvincing.
For me, the decision over Sigurdsson's contract will be very telling. On the left wing most play had to go backwards , because Sigurdsson did not successfully get in front of his marker, most of the time hiding behind him making himself not available. Watched him all game doing this. Even if he had been available he would have passed backwards on receiving the ball.
Colman was knackered from the start. Got three opportunities, in two cases because of good play by Holgate, to whip in a cross early on and ballooned everyone of them. Allan and Doucoure where outplayed by Maginn in midfield and where lucky that Bartley was lethargic.
Everton defence was afraid to push up, because they where afraid of being caught for pace. Villa had space all day to play in front of them, except for last period of the second half. Being on the front foot has disappeared after the West Ham game. It was noticeable that rare injections of pace by Godfrey really troubled Villa. In the first half the Everton spirit was half hearted, making a poor Villa team look good.

Richarlison has to come inside onto his right foot to get a shot away. Villa in the two games successfully had a back up marker to prevent this. They gave him space all day long on the his left to run into a blind channel. He does do alot of pressing, but does not have the ability to make a final third pass, which is extraordinary for a Brazilian. .
Gomes is a second tier Spainish player and never will be any more than that. There was worse on the bench. Having beat West Ham Everton have now handed them European qualification.
Ancelotti's last hope for change is the European Conference League and this squad looks not up to qualifying for it. Roll on into another season of hope seems the most likely. Ancelotti won't be happy finiishing out of the top six for the second time in his career.
Dan Nulty
192
Posted 14/05/2021 at 07:44:50
Agree John, without knowing what Carlo's training looks like, knowing what other club's training is and comparing injury statistics then I'm not sure you can make sweeping statements like that.
Personally, it has been an extremely frustrating season, one in which we promised so much early on but delivered so little.
Usually our issue has been against the 'top 6' sides but bizarrely we seem to habe more success against the better sides and struggled in games we should be winning.
With a better squad where we can manage the workload of players like James and Allan we should kick on next season.
Farhad, I do agree with you on Richarlison, he isn't a 50m player at the moment, he frustrates the life out of me. So much potential but I detest how miserable he looks at all times. He looks like he thinks he is better than being at Everton whereas, in my view, he currently isn't good enough to be anywhere else.
I'm hopeful of a good summer window.
Derek Knox
193
Posted 14/05/2021 at 07:53:30
Yet another game that promised so much before, and a chance to secure those points for Euro's, but actually put me to sleep halfway through, I woke up near the end to find I had missed nothing. ' Close but no cigar ' I supposed you could reflect, on chances created, and yet again missed, to convert one point into three.
Like I said a few days ago on another thread, I will be glad when this season is over and we can start afresh, with some new faces and new tactics and ideas, we have become so predictable to many sides in the Premiership.
Trevor Peers
194
Posted 14/05/2021 at 08:18:07
This was a lacklustre display, when faced with a team with a bit of fight and pace we always come up badly short. Only DCL, Allan, Digne and Godfrey look the part, the rest simply don't have the fight in thier bellies to turn in consistent displays and we just can't compete with our ponderous build up and woeful finishing.
Richarlison, looks like he wants to be sunning himself off in Spain most of the time, his inept finishing has been a major reason for a lot of our dismal performances, his petulant attitude stinks. Carlo has a massive job in front of him if he is to find the right players to turn us into a team that can compete with the top teams, we are light years away at the moment.
Martin Berry
195
Posted 14/05/2021 at 08:24:00
Cautious Carlo, we have to create to win matches so how can we put ourselves into trying to qualify for Europe with this approach.
Going forward we are clueless, goals either emanate from a "hoof" up field, set pieces or a Digne cross. Its been awful to watch at times and what would have happened with crowds at Goodison ? I think alot of trouble and dissent.
Yes we have defended well and have been fairly solid all season replicates Allardyces in survival mode !.
I cant see the fans putting up with the boredom next season, this type of football is sending them asleep so the transfer window will have to be an eye opener.

Bobby Mallon
196
Posted 14/05/2021 at 08:34:29
I have to admit we are probably the most tedious team in the league to watch. I actually turned it off and watched last weeks goggle box.
Thomas Richards
197
Posted 14/05/2021 at 09:03:42
Bobby,
Tape this weeks save you watching the sheff utd game
Martin Mason
198
Posted 14/05/2021 at 09:06:39
I enjoyed the game and thought that Everton played at or around their potential. It was only looking at the Live forum after the game did I realise that I needed to commit suicide. The reality is, that is as good as we are at the moment and to expect a lot better from this squad is irrational.
Dave Abrahams
199
Posted 14/05/2021 at 09:21:32
Martin (195),
Cautious Carlo indeed... in fact, very cautious Carlo.
The last few minutes of the game was a very big indication that the game was winnable with just a bit more adventure as was shown with a lot more positive effort. Even Michael Keane jumped over his safety barrier and joined in with a couple of runs out of his safety net and made a couple of good passes forward.
Too little, too late; a bit of a trait of yours, Carlo. Another black mark against you and your tactics. again whatever they were, although Moyes would have given a nod of approval to them, keep it tight and Knick one, your tactics are well known Carlo, we had 11 years of watching and suffering with them. Not good enough, I'm afraid, are you able to change them?
Go on, Carlo, have go, you'll have to change them for the Wolves game, only 6,000 attending but they'll soon give your ears a bashing if you play this sleepy-time football.
Robert Workman
200
Posted 14/05/2021 at 09:54:54
I don't understand why, when we were dominating the game during the final 10-15 minutes, the 3rd substitution was not used. Surely either Keane or Holgate could have been sacrificed for King?
Was it because of fear of losing the 1 point to a counter-attack? Too conservative.
Julian Exshaw
201
Posted 14/05/2021 at 09:55:18
Derek @ 193, I agree with you. How many times though have we wished for the season's end in vain hope of a summer of marquee signings only to be subjected to the 'same old same old' and 8th place?
We are drowning in mediocrity. My hope is the fans coming back next season will inspire all concerned and inject some passion and urgency. It's badly needed.
Derek Moore
202
Posted 14/05/2021 at 09:56:51
I thought we played alright. But full disclosure – it's a big birthday for me soon and I was celebrating hard and early. I was absolutely bladdered; maybe that's why I think we played alright because virtually nobody else here does.
Villa are no mugs. My booze addled mind seems to recall them trying to stretch us and us keeping our shape nicely and repelling them quite easily as well. A broken play that gave them a good chance to Mings was the only defensive blemish I really remember. I also dimly recall Atkinson booking Traore for diving and thinking Atkinson was going to have a good game for once!
As I said, I was bladdered. As drunk as a lord.
I thought McGinn was absolutely enormous for them, and they really started to turn the tide for a long spell in the second half. Set piece after set piece, and then I thought Ancelotti made the right changes to give us a foothold back in the game. Indeed, the last ten minutes we looked by far the most likely, probably evidenced by the horrid time wasting the Villans put on to lock up the point.
It just seemed as if we concentrated so hard on not getting broken down or conceding we didn't really look adventurous enough to go and win the game. That was a little odd, there was very little to lose, but the chances we started to engineer towards the end seemed to indicate an earlier adventurous approach may have yielded results.
But really, I saw two very evenly matched teams largely cancel each other out. I thought we shaded the balance of play but by no means deserved to win, a draw was more than a fair result. On a drizzly May day where virtually none of the players looked remotely interested in being there - honourable exception Godfrey and Seamus - it wasn't an unexpected result or a particularly poor performance.
Make of that what you will I guess. For my part, I will aim to be just as pished the next time Atkinson refs one of our games. The alcohol certainly helped me stay calm on that score. And as I said, I was under the impression that we actually played alright albeit with ultimately little inspiration or end product.
TL:DR – Drinking a fifth of top shelf before the game makes Everton much easier to watch.
Martin Mason
203
Posted 14/05/2021 at 10:17:53
Dave @199,
For sure, we are playing a defensive game; but we have a terribly unbalanced team to play a back 3. We have full-backs, not wing-backs, and we are short of specialist wide midfielders.
We have a gap between the defence and midfield and our two forwards and that is why they are looking so poor. Having Doucouré back really improved things but we need new blood to make this poor midfield unit a functioning Top 6 unit.
Liverpool looked right back at their best last night and Man Utd will spend big in the widow so Top 4 for us next season is a really big ask.
Eddie Dunn
204
Posted 14/05/2021 at 10:35:56
Martin, good point about our balance. I was thinking that during last night's game. We look so disfunctional and I suppose it's hardly surprising. Ekoku (on Astro Sports) mentioned how we were very defensively set-up with Coleman our right winger. With Sigurdsson on the left, trying (either with, or against Carlo's orders) to slip inside, where he is more effective.
It really looked like a work in progress. Carlo seems to have low expectations after trying out every permuation and I think it is clear that he doesn't think we have enough quality to challenge higher than 7th or so.
He seems intent on not losing and really not risking losing a point (which I think he went there to get). He has worked out that 6 points from our remaining 2 home games will be enough to get European football. He had better win them then.
Mick Conalty
205
Posted 14/05/2021 at 10:55:39
Ancelotti nigh on ٟM per month, the players on megabucks. The People's Club have morphed into a cash cow for the chosen few.
To add insult to injury, the football end product is dire.

John Kavanagh
206
Posted 14/05/2021 at 11:22:23
You can always rely on Everton to let you down. With the horrible RS having their worst season in years, we have squandered a generational opportunity to finish above them and, in the process, opened the door for them to qualify for the Champions League.
You couldn't make it up – but, year-in & year-out, we do. Either through having no money or, when we do have cash, wasting most of it on poor signings. We always end up trophieless or 'just out of the running' at best.
Posters will point to successes against Liverpool, Spurs and Arsenal, but even the relegated clubs can usually point to one or two scalps against the Sky 6 over a season. We are showing a 'small club' mentality big time.
Last night's limp display just about encapsulated the season.
As usual, we will soon have a transfer window to look forward to, followed by the inevitable disappointing season. Another groundhog season on the way. I only hope that we can hold on to Godfrey, but fear that it is the likes of Iwobi and Delph who are more likely to be on show in August, plus a couple of injury-prone overseas acquisitions to excite the fans for a few matches.
Like a number of older Blues, I am increasingly asking myself why I bother. But we have the ultimate 'Everton that' fixture to look forward to on Sunday. A relegated side that can't score. You know what happens next. Can't wait.
Paul A Smith
207
Posted 14/05/2021 at 11:27:06
We did play okay, we were better than Villa and, at one point, I thought they wanted us to win with the amount of times we took play from them.
As usual, bad lack of quality. Usual suspects guilty of being wasteful and not being good enough.
See where sacking another manager gets us, see who can make shit players better.
As usual, the majority spend so much time over-rating shite like Gomes when it dawns that he's been here too long and we have had another frustrating season.
Like Schneiderlin (hardly dawned on anyone Man Utd don't sell class to us, it's the other way around) the "Rolls-Royce" shout was about and, before that, McCarthy covered every blade of grass... blah blah. Hyped up thoughtless shite from fans that love to blame managers.
So let's get another in, sounds a great idea. Get him to polish some turds, send Richarlison to Oz for a brain and make Sigurdsson's legs move quicker.
One that can control Calvert-Lewin's feet when there's a one-on-one – surely there's a manager in this day and age that can do that?
One that can accept a shite signing like Iwobi and make his feet more curvy for a decent cross.
Always the same old manager bullshit while comparing average performers to other average performers over and over again.
Fans who call Allan a non-footballer when he plays more forward balls than the rest of our midfielders put together.
Ironically, a few weeks ago, the same fan said we should have celebrated the return to football after playing well in the game, same game Allan returned – you couldn't make that shite up.
Blame Carlo coz fans who thought Gomes and Schneiderlin were class and argue the toss over Tom Davies by comparing him to average players, say Carlo is useless.
Tom Bowers
208
Posted 14/05/2021 at 11:36:02
It would seem that, with all the''talent'' on the books, Carlo is now struggling to find a real competitive starting XI that can really take command of a game from the off – no matter who they play.
With another season almost done and nothing to show for it, one wonders if Carlo really has anything left to offer this club, despite his tenure elsewhere.
I am tired of seeing a timid approach to most games which sees the opposition play with as much freedom as they do.
There are weaknesses everywhere that need strengthening but will things change? I am not so sure.
Watching yesterday did nothing to show they have improved since Day One of the season with the same old ploy.
Yes, they should have won in the end but they didn't show any intensity until they realized time was slipping away.
You just know the next game against the Blades will be another ''borefest'', even if they win it, but the horse has bolted and so has the Top 4.
Ian Horan
209
Posted 14/05/2021 at 11:36:47
The way the season is finishing, we will finish 8th.. I have tried to look for positives?
The only positives for me now would be Chelsea to win Champions League and finish 5th with the RS 4th... if that was to happen, the 4th place team drops down to the Europa League so Chelsea could defended the Champions League. The Europa Conference League place would then go to 8th...
I know I am sounding totally fucking desperate!
Colin Malone
210
Posted 14/05/2021 at 11:41:58
Defensively, we did okay. Going forward was awful. Calvert-Lewin and Richarlison were totally isolated, which made them look bad.
When we broke, where was Sigurdsson? Alongside Allan. Give me Gomes any day of the week.
Ian Hollingworth
211
Posted 14/05/2021 at 11:46:14
Watching Everton is a hard watch at the moment but it has been for a long time now covering a few managers. They play like they are running in treacle.
We get the occasional highs but overall the standard is not good enough. Quite simply, there are too many players who do not have the quality levels needed for us to push on, regardless of who the manager is.
The honest assessment is that we were never really in with a real shout of the Top 4. We have improved the quality this year but not enough to impact the team enough plus injuries etc.
Interesting summer ahead (hopefully).
Andrew Clare
212
Posted 14/05/2021 at 12:16:53
Watching the game last night, it became obvious that we just don't have any exciting players – with the exception of James... when he actually plays – in our team.
Grealish comes on for Villa and looks exceptional; when you see their win ratio when he is in the team, you realise what a difference he makes.
We haven't got a deadly winger or a deadly striker, we have a good winger (off form at present) and a good striker. The trouble is that good will keep you in mid-table and exceptional will get you in the Top 4. We have just had only good players for too long.
The defence is fine but the midfield needs two exceptional players to play, week-in & week-out.
Michael Williams
213
Posted 14/05/2021 at 12:34:43
Our team is simply not good enough. We need more talented players who are also mentally tougher.
Also, our entire organization needs an overhaul. When I think of great sports franchises in America it is almost always the same ones in every sport that are at the top - year after year. Here every league has a cap on how much a team can spend on players so you cannot outspend your competition by a large degree.
These teams are constantly in the hunt for titles because these organizations are the best run:
They have a culture that demands excellence from the boardroom, to the team to the players and coaches to the people who clean the bathrooms.
They will not add a player who does not measure up to the culture and get rid of those do not fit.
They fully fund the most advanced scouting and analytics departments.
They provide the best medical care and training facilities.
They have a long-term plan for winning year after year.
Phil Smith
214
Posted 14/05/2021 at 12:50:46
Kieran (107), I see Sandro scored a massive goal yesterday that might just keep his side up in Spain. Was totally spawny. Predictably...
Laurie Hartley
215
Posted 14/05/2021 at 12:54:23
Paul # 207 - I have to say that was an absolutely magnificent rant!!
Mike Keating
216
Posted 14/05/2021 at 13:11:24
Julian #201,
I see you use the dreaded word (hope) twice in a very short post.
How about we start a campaign to replace the club's Latin motto with a new one:
"Non est quod te interimet spem"?

Daniel Thomas
217
Posted 14/05/2021 at 13:31:52
Paul #207
I couldn't have put it better myself. The manager is doing a good job with the pieces he's got to work with. Most of them absolutely stink.
Does anyone actually think that many of our players would get into the Wolves, Southampton, Leeds, Arsenal starting 11s? Might be a good exercise actually for a separate thread. (Build combined starting 11s from some of the teams below us and see how shit our squad really is.)
There's only so much polishing of turds you can do.
At least 2 more years for Carlo for me, and then see where we are. If it's still 8th-10th, then maybe we could look at changing direction. Sacking him any time soon will accomplish nothing.
Jerome Shields
218
Posted 14/05/2021 at 13:32:14
Ian #209,
That may be the get-out card. It is desperate times to keep Ancelotti on track.
Mike #216,
That is probably the motto of most posters on ToffeeWeb. This squad of players are more persistent than determined though. The difference being between status quo rather than improvement and adapatiblity. All we can do is to hope for positive change. Ancelotti has tried hard, but you can only flog a dead horse for so long.
Paul A Smith
219
Posted 14/05/2021 at 13:39:12
Paul @215,
I end up resorting to what I am ranting about, which is the same old opinion same old story.
Its like nobody learns or demands the best we can possibly get. The calls for Aarons and Ivan Toney, imagine paying 㿊M for Aarons. Toney has less pedigree than West Broms forward.
It's soul destroying and lacks ambition. We bought players with good pedigree last summer and that should be the standard. 㿊M for Aarons is just ridiculous (if that is the fee, of course) but thats what the quotes and rumours usually say.
We are always going to fall short with desires like that.
James, Godfrey, Allan and Doucouré have been the best things about this season. Imagine how excited they must be hearing our faithfull call for some more Championship players.
Stu Gore
220
Posted 14/05/2021 at 13:59:58
We looked more dangerous yesterday when we went to a back 4 and Gomes and Iwobi came on (as frustrating as both can be). I would've liked that a bit earlier. Wish someone would tread on Siggys toe every time we get a free kick near the box so someone (anyone) else takes it. Yes to penalties. No more free kicks!
You can't argue with 4 points from two away games but it does feel underwhelming. Would love to win the home games and then spoil the city party. We will finish somewhere between 6th and 10th.
Buy players to add winning to the defensive rigidity and we can do something next season. And put Richarlison back on the left. His contribution was miles better there.
Sean O'Hanlon
221
Posted 14/05/2021 at 14:20:45
"The sooner the season is over, the better."
We chant the same old mantra towards the end of every season. At least the fans are consistent, just like our team: consistently bad to mediocre.
God Bless the fans for enduring 25+ years of misery.
Joe McMahon
222
Posted 14/05/2021 at 14:24:51
Out of desperation, is there a David Silva Mk2 in the Academy that's going to make the first team next season, and make a difference?
Martin Mason
223
Posted 14/05/2021 at 16:29:15
Are we allowed to comment on how dire Allan was last night?
Mike Doyle
224
Posted 14/05/2021 at 16:40:27
Martin @223,
Opinions on Allan's performance last night seem to vary. I'm in the "I thought he had a decent game" camp. Though if Tom Davies had been playing, he would probably have got forward more often. Also, I'm still not convinced he's fully fit.
Dale Self
225
Posted 14/05/2021 at 16:44:38
I like Allan for many qualities he brings to this team but the critics are right about giving up the hole when he charges. Either he has underestimated the pace of the Premier League or he is frustrated with the cover in front of him. Either way, it is a serious flaw currently.
Jay Harris
226
Posted 14/05/2021 at 16:46:27
Mike, I agree.
I thought Allan and Godfrey were the only 2 players to put a decent shift in last night.
We all have our favourites but Holgate is so passive lately that I didn't even notice he was playing until after the 30-minute mark.
Kevin Prytherch
227
Posted 14/05/2021 at 16:55:48
I've commented on the other thread too, but Tom Davies plays the Allan role better than Allan plays the Allan role.
When Davies was playing against West Ham, we saw a different, better Allan who challenged higher up the pitch knowing there was cover behind him. I don't know why Carlo seems reluctant to try Davies, Allan and Doucouré in the same side. Allan and Doucouré would press high up the pitch which would create space and opportunity for the front 2 or 3.
Playing Sigurdsson in midfield is pointless, he becomes a passenger for 80 minutes.
Martin Mason
228
Posted 14/05/2021 at 17:50:23
Here are some stats and observations from Allan's performance last night.
He lost out on no fewer than 12 of his duels, the most lost out of any player on the pitch. He failed to record a single clearance or interception, and he also lost possession of the ball on 8 separate occasions in the match, earning him a very measly 6.4 overall rating on Sofascore, the lowest out of both sets of players.
I saw him abandon the defensive line and go forward on several occasions, and get caught forward, where he displayed the turning circle of the Titanic and was passed easily by the breaking Villa midfield.
The surprise is that we did so well last night, not so badly. Were I Tom Davies, I would look for a move; we insult him in how we treat him.
Thomas Richards
229
Posted 14/05/2021 at 18:00:45
Martin,
Poor game from Allan, I agree.
If you think Tom is a better player, you should both look for a move.
Will Mabon
230
Posted 14/05/2021 at 18:10:10
John @ 206,
A perversely fantastic last paragraph. I can almost feel your pain as you typed that. Golden.
Martin Mason
231
Posted 14/05/2021 at 18:16:04
Thomas@229 No, I just look at Tom's stats which are infinitely better most games and make my own mind up. Allan is nowhere near as good as some think, Tom is far better than some think. Btw, where did I say Tom was a better player? Where exactly would you like me to move to if I actually think that?
Will Mabon
232
Posted 14/05/2021 at 18:17:02
Thomas, I think it was Kevin that implied Davies the better player, at least as regards a certain part of the role. I too would like to see Allan, Davies and Doucouré tried together in the middle, perhaps against Sheffield Utd, for what that's worth.
Dale Self
234
Posted 14/05/2021 at 18:24:09
What is this 25+ years of misery stuff? I've been digging my time supporting this club. Of course I would like to have earned some silverware... but damnit, I love this club – even in frustrating seasons like this.
Tom Bowers
235
Posted 14/05/2021 at 18:24:21
I think this is where we fans sometimes get carried away when new signings come on board. We tend to think that because they are South American or European they will do really well.
On reflection, over the years Everton have had far too many who flatter to deceive and after a few games they fade far too easily to just being average and pocketing the big wages.
Gomes and Allan are the ones that come to mind this season, even allowing for the injuries they had, and it just seems that Richarlison is another whose star is fading.
We could also pencil in James and Mina who, because of niggling injuries, are both missing too many games.
Does someone do homework on players before we sign them to ensure their previous injury record hasn't been much of the same or is only after they sign for Everton that they continuously need sick notes?
It is hard for any manager to get a settled formation when these injuries occur but when you have a really deep squad of class players (like Man City), you can still be at the top. Everton, however, do not.
Martin Mason
236
Posted 14/05/2021 at 18:32:24
I'll make a statement here to stimulate debate:
I believe that we are no better now than when Moyes left or, say, the last few years of his tenure. None of the managers since have done better, the general standard of players we've bought are no better, and our development of players has become worse. This is despite getting a massive injection of cash.
We have wasted millions on incompetent managers, players and Directors of Football... and for what?
What has been one constant throughout this absolutely tragic period in the club's history. Bill Kenwright has been in charge throughout and the buck stops with him. I've defended him many times and for good reason (at times). I don't believe that there's any other club without the income of Man Utd that has wasted so much money they didn't have.
The poison at Everton starts right at the top and the only answer is a purge from the top down, and not only Bill Kenwright but every other one of his ex-Everton cronies still at the club. Kenwright is a great bloke and the ex players who he's provided jobs for are legends but the Premier League is a professional league and we are still an amateur club.
Will Mabon
237
Posted 14/05/2021 at 18:44:21
Hmm... turning towards the "Something in the fabric" stance there, Martin. A path of great mystery, well trodden in the past. There are several of us in that club. The more things change, the more they stay the same. It's a massive debate in itself.
Stephen Vincent
238
Posted 14/05/2021 at 18:51:42
No debate from me, Martin.
Stephen Vincent
239
Posted 14/05/2021 at 18:51:43
No debate from me, Martin.
Billy Roberts
240
Posted 14/05/2021 at 21:16:18
Martin Mason @236,
A case of identity theft surely? Has someone hacked into your account?
Sorry for the sarcasm, Martin, but I agree (unbelievably) with about 90% of what you say. I have to disagree about getting rid of Brands because, if you employ a Director of Football. you have to give them time. It is an absolute nonsense to do otherwise.
The other thing I disagree with, maybe not in transfers spent, but there are simply about 17 to 25 top-flight teams with an equally depressing recent history (let's go with 30 years): Aston Villa, Newcastle, Leeds (okay, not 30 years), Sunderland, Sheffield Wednesday, Sunderland... etc.

Dale Self
241
Posted 14/05/2021 at 21:41:08
I'll take the other side of that, Martin. I'll wait until the debate blossoms to do the research but I think I could put up a decent counterargument.
Andy Crooks
242
Posted 14/05/2021 at 21:53:27
Martin, is Don Alexander holding you at gun point? If not, then I admire the fact that your opinions are not entrenched.

Ian Hollingworth
243
Posted 14/05/2021 at 23:46:53
Do you know what? I have just worked it out: I love Everton FC like every other poster on here... But actually I love going the game with my mates more. Hopefully that makes sense to some.

Martin Mason
245
Posted 15/05/2021 at 08:22:20
Billy @240, Brands isn't tainted with what I see as the disease, he's new and a professional.
Andy @242, When the same things keep happening, no matter how much money you spend and whoever you appoint as manager, then it seems logical that there's something inherently wrong at the heart of the club?
Rob Dolby
246
Posted 15/05/2021 at 09:13:09
Kevin 227. What is the Allan role?
Do you mean holding centre mid?
Do you mean playmaker?
Do you mean high press destroyer?
To me he tries to do all of those things as generally the players around him can't do any of them.
I like Tom's bravery on the ball and think he is best suited to play holding centre mid which allows Allan a bit more freedom.
We need to get back to a 5 man midfield which at least should see us compete for the 2nd ball better.
Pickford
Coleman Kean Godfrey Digne
Dukes Allan Davies Siggy Richy
Dcl
Martin Nicholls
247
Posted 15/05/2021 at 09:15:06
Ian#243 - makes perfect sense to me! I go to the match in a group of about 10 and most if not all, would agree your sentiments.
Brian Murray
248
Posted 15/05/2021 at 10:04:33
Rob post 246. By your team I take you are discounting any sort of a decent window so you have a mid 30s full back who let's face it would of been phased out 3 years ago at at any top 4 club and a one paced one game in four midfielder who is hopeless at set pieces and that's half the reason we paid over 40 million for him. Don't get me started on his sidekick with the nice hair. Oh yeah leg break Gomes yada yada. Newsflash he was hit and miss before the injury. Way to go rob way to go. Need a big summer and somehow palm these losers off with someone else. Sorry Coleman great servant and still more effective than the likes of iwobi etc. Plus his and Godfreys attitude are priceless.
Matthew Williams
249
Posted 15/05/2021 at 13:56:07
Carlo Ancelotti... the luckiest man in football.
Matthew Williams
250
Posted 15/05/2021 at 13:56:08
Carlo Ancelotti... the luckiest man in football.
Dave Abrahams
251
Posted 15/05/2021 at 14:04:20
Martin (236), to play you at your own game, but ' Kenwright is a great bloke' now Martin, is that a fact, an opinion or you know him personally? Apart from that Martin it's an absolutely brilliant post, well done!!
Martin Mason
252
Posted 15/05/2021 at 17:05:18
Dave @251,
I don't have a clue how Kenwright is personally, probably a total asshole as people in his position usually are. It was just a lead-in to say, despite that, he certainly isn't a truly professional in terms of what we need him to do now.
I think that he did a wonderful job keeping the club running when we could have gone down but he isn't what we need now. That isn't an opinion (:-)), it's the track record of the things that have happened since we became a club that wasn't constrained by cash.
I think it's fair to say that what I say is opinion unless stated otherwise. I'd hope that I'd always justify any opinions. I really hope that they make a twat of me and prove me wrong.
Martin Mason
253
Posted 15/05/2021 at 17:12:43
Interesting comment from Michael Ball, he says that Everton have to play defensively because Keane and Mina are so slow. Also, Everton to sell Mason Holgate in the Summer window.
Thomas Richards
254
Posted 15/05/2021 at 17:13:43
Michael Ball is 100% correct Martin.

Rob Dolby
255
Posted 15/05/2021 at 17:29:15
Brian 248. You have misread my post. The team I mentioned is for the remaining games this season. If we start next season with that 11 we are again in for a pretty average season.
Tony Everan
256
Posted 15/05/2021 at 18:46:50
Carlo Ancelotti has has one full season, one real window and signed players who have helped the club have a season of stability. We have needed it after the previous two or three seasons of stress, sacking managers and flirting with the relegation zone.
The football has been, on the whole, poor to watch: KITAP1, but Carlo is playing the deck of cards he is holding, and he is playing that hand as good as any manager would be able to.
At the very least, I think it is fair to give Carlo the benefit of the doubt and let him have another window. He's already alluded to knowing the shortcomings and what he wants. Taking on the Everton job was not an instant fix at all, I think all would agree. This season has to be viewed as a stepping stone.
Next season, I am confident that Ancelotti and Brands will have three or four new first-team players that will see us improve again, both in terms of league positioned quality of play.
Ian E, I can understand your frustrations, we all share them, but Carlo deserves a bit of faith and the club needs togetherness for a change.
Give Carlo this window, get behind him and the team, and reassess next season where we are at.
Jeff Armstrong
257
Posted 15/05/2021 at 18:48:44
But Carlo keeps bringing on Iwobi and Gomes, who are shite.
Does Carlo have any imagination?
Thomas Richards
258
Posted 15/05/2021 at 18:49:36
Jeff,
Not with you there. What is the difference?
Colin Glassar
259
Posted 15/05/2021 at 18:52:02
You are spitting into the wind, Tony. Some people made up their minds as soon as Ancelotti was appointed. Perhaps they thought he'd wave his magic wand and get those square pegs into round holes.
Martin Mason
260
Posted 15/05/2021 at 19:21:40
Colin, Carlo has the biggest poisoned chalice in world football. Getting Tranmere into the Top 4 would be easier than getting Everton there.
Bill Gall
261
Posted 15/05/2021 at 19:47:16
Considering the yo-yo seasons we have had with managers, it would make more sense keeping a manager who signed players for the problem areas in midfield, gave every chance they needed to under-performing players, and managed to retain Everton in the top half of the league.
Everyone would like to see gung-ho out-and-out attacking football but you need the players to do it. Everton don't; once injuries start coming, the squad is weak.
Everton are starting to get one of the strongest defenses in the league; with a couple of new players, they will become stronger. We still need more strength on the right-hand side of the attack.
We may not get many in at the next transfer window but it will be interesting to see what type of player is brought in. It will be more interesting to see who they can sell or give away.
Michael Kenrick
262
Posted 15/05/2021 at 19:47:26
Not sure I agree with that simple division, Colin. I've been wishing all season for Carlo to deliver... but, far too often, we've gone the other way. The football has become needlessly atrocious.
And what has happened to our star strikers, Calvert-Lewin and Richarlison??? They have turned to utter shite under his teutelage.
Sorry... but NOT GOOD ENOUGH.
Thomas Richards
263
Posted 15/05/2021 at 19:52:08
Colin,
I agree.
Michael
"Sorry... but NOT GOOD ENOUGH" – That's YOUR individual take on it. All down to opinion.
Colin Glassar
264
Posted 15/05/2021 at 19:55:26
I agree, Michael, some of the football has been awful. My point being, when he was first muted as being Everton's manager some people were already saying he was past it, burnt out, over the hill etc... and we're never prepared to give him a chance.
I still believe he needs two more (summer) transfer windows to turn this team/club around. We have too many heartless, soulless, cowardly players who need to be moved on and replaced by people who are not only skilful but brave as well.
Richarlison and DCL will improve once they have to stop coming back to their own box looking for the ball.

Martin Mason
265
Posted 15/05/2021 at 20:03:36
Michael @262,
Your opinion, that's all... but mind you "Not good enough" isn't even an opinion as it has no standard to judge it against.
Michael, you are really part of the Everton problem. How you are a part of a platform to discuss Everton issues rationally is beyond me.
Paul Niklas
266
Posted 15/05/2021 at 20:06:17
Only 4 players good enough to build on: Pickford, Godfrey, Digne, and Calvert-Lewin. The rest are average or finished.
And if anyone thinks Doucouré should be in that list, then you are delusional. The worst player I have seen for a very long time. Nothing in his armoury apart from looking busy; can't pass, can't tackle, can't shoot, can't stay in position... Apart from that, he isn't too bad.
The whole strategy needs to start again. That's even if they have one... it's not evident in the players we have bought to date.
One more loss out of the next three and Leeds and Villa will finish above us as well... embarrassing!
Kevin Molloy
267
Posted 15/05/2021 at 20:31:53
We will know an awful lot about Ancelotti by the sort of player he brings in this summer, cos make no mistake, Godfrey apart, the signings last year have to be viewed as a failure.
We bought ready-made talent in the hope they would have a galvanising effect and immediate impact. To finish outside the European places will be just not good enough, cos none of those boys will be as good next year. Allan will be 30, James... god knows, and I really can't see Doucouré having the lungs to charge around the way he did this season.
So 㿞-odd million quid spent, and the value on those players in a couple of years will be zero. Moyes wouldn't have bought any of them for exactly that reason. If he brings in another bunch of late-20s Fancy Dans... we are in the shit.
Matthew Williams
268
Posted 15/05/2021 at 20:37:49
Today I've watched both Connah's Quay and Rangers lift trophies in their respective leagues and Leicester claim their first ever FA Cup win... so when is our turn, Carlo?
WHEN???
Joe McMahon
269
Posted 15/05/2021 at 20:42:35
Why is Moyes being mentioned?
Thomas Richards
270
Posted 15/05/2021 at 20:45:08
Zimmer frame ready for Allan? He is 30.
Come on, Kevin!
Tony Abrahams
271
Posted 15/05/2021 at 20:47:42
Take no notice of Michael's opinion, Martin? He's just called Calvert-Lewin our star striker, and said he's gone backwards under Ancelotti's tutelage!
Gavin McGarvey
272
Posted 15/05/2021 at 20:57:50
I don't agree with Michael there. Calvert-Lewin and Richarlison may or not be world class but they have that potential (imo). They have been one of the bright spots this season. Two outstanding hungry young strikers.
Something to build from. I think, though, they could do with competition, so if we can find one, bring them in.
Maybe, I'm suffering from Moyes-esque limited expectations but we are in the mix for a European place, so I'm not as unhappy as I might be. If Ancelotti secures one, he's a success; if not, he's a failure... and I don't imagine you'd need to tell him that.
I'd still give him a go next season, but think again next season if he's been given the players and hasn't managed it. Personally, I think he's alright.
Rob Halligan
273
Posted 15/05/2021 at 20:58:05
In reply to Matthew @ #268. I think it took Alex Ferguson 3 or 4 years to win his first major trophy at Man Utd. It took Klopp at Liverpool about the same to win his first trophy. Even Pep at Man City only won his first trophy in his second season. So shame on you, Carlo, shame on you for not winning your first trophy in your first full season with us!!
JEEZ!!
Michael Kenrick
274
Posted 15/05/2021 at 21:01:15
"How you are a part of a platform to discuss Everton issues rationally is beyond me."
Funny, I feel exactly the same way about you, Martin. But that only shows how magnanimous one of us is.
Peter Mills
275
Posted 15/05/2021 at 21:03:44
There is plenty to be sorted out at Everton, but I am bemused by those who think part of that process is to dispose of Dominic Calvert-Lewin.
He is aged 24, young for a top flight centre forward. He has scored 21 goals this season. He is a level-headed lad with a great attitude. He has improved every season, there is no reason to suggest he won't continue to do so.
We have watched him develop, and had to live with his shortcomings during that time. Why on Earth would we to see him go now?
Kevin Molloy
276
Posted 15/05/2021 at 21:04:40
Joe,
I was pointing out that we have not bought players who will improve in performance or value. Unlike in previous years. It was high risk and it hasn't paid off.
Thomas Richards
277
Posted 15/05/2021 at 21:06:00
Eternally damned, Rob.
How he hasn't won anything, given the magnificent squad he was left with, is beyond me.
Andy Crooks
278
Posted 15/05/2021 at 21:08:45
Michael, I was wondering if and how you would reply to Martin. That was pretty good.
Kevin Molloy
279
Posted 15/05/2021 at 21:11:15
Thomas
yes, I'm not saying he's finished. He's not been nearly as good as I thought he would be. Carlo described him as one of the best defensive midfielders in the world. Well, I don't think we saw that a couple of days ago in his duels with McGinn. My concern though is that he wasn't the only late 20s player we signed, and that we are being linked with similar this year too. it's a strategy which doesn't bode well for two years down the road, and god knows we've already got enough oldies on the books giving us v little.
Dave Abrahams
280
Posted 15/05/2021 at 21:17:31
Andy (278), wait 'til you see Martin's considered reply. This could end up at The Old Bailey!!
Peter Mills
281
Posted 15/05/2021 at 21:20:14
Michael #274. That's very witty.
Tony Abrahams
282
Posted 15/05/2021 at 21:21:07
It's funny how we all see a different game Kevin, because I read quite a few posters after the Villa game, saying they thought Allen did well.
My own view was that he was absolutely awful, but trying to give him the benefit of the doubt, has still got me worried about his physical capabilities now, because it genuinely took me back to my Sunday league days, to try and remember the last time I saw a central midfield player, get caught on the wrong side of his opponent, as much as Allen did on Thursday night.
Thomas Richards
283
Posted 15/05/2021 at 21:24:49
Tommy Smith could play Rumpole Dave
Kevin Molloy
284
Posted 15/05/2021 at 21:31:27
Tony,
Yes, he was gambling like mad, just reckless. And when he missed, he was leaving the whole field behind him. And worst of all, having messed up he wasnt busting a gut to get back behind the ball.
Peter Mills
285
Posted 15/05/2021 at 21:41:05
I'm afraid Allan is a 1.6 diesel in a 5 litre petrol league.
Soren Moyer
286
Posted 15/05/2021 at 22:25:59
Bill, I'm not sure at all that our defense is starting to be one of the best in the league considering we have conceded the same amount of goals as Brighton and 1 more than Aston Villa!
On another note, I just read Carlo is on 𧶗k a week!! That's almost 㾸M a year!
Tony Abrahams
287
Posted 16/05/2021 at 08:31:35
That's why I'm giving him the benefit of the doubt, Kevin.
Any midfielder who is not busting a gut to get back, after being caught on the wrong side, is either called Schniederlin, or must be shattered.
That's why I couldn't understand why Davies, never got brought on the other night.
Dave Abrahams
288
Posted 16/05/2021 at 08:45:08
I don't know about Allan. I had him down as a very good player early in the season; then he got injured, and it took him a while to get properly fit.
He looked like an old man to me in the home game v Villa. Then he was very good at West Ham and was good in parts v Villa away but also woeful in others. He's got two years left on his contract for me to make my mind up.
Thomas (283), do you remember reading that about Ugly in the pink Echo?
Martin Mason
289
Posted 16/05/2021 at 10:14:34
Michael @274,
My apologies for not being clearer in my DQ post. When I say you are part of "the platform" I mean that you are part of the team that runs the site (much appreciated too): I'm definitely not part of the platform, just a mere poster.
You are of course entitled to your opinion but I'm sure you agree that you tend to drive a negative agenda? As part of the team though, would it not be better to do this by being as balanced as possible in articles and putting your reasoned views across in the threads as they develop?
I would say that most contributors aren't irrationally negative (as I believe supporters should not be) and I believe that it is, or was once, board policy not to be so?
That is not that we should not be critical; well-reasoned constructive criticism when due is essential. I hope that you take this as constructive criticism and thank you for being so magnanimous.
Thomas Richards
290
Posted 16/05/2021 at 10:25:16
Dave,
I do mate.
Still laughing at your reference to him in the pink every time I think of it.
Many, many years ago Dave.
Your reply to Smiths column something along the lines of
"thats all ok. Why have you got a photo of Rumpole of the Bailey at the top of your column"
😂 😂
Michael Kenrick
Editorial Team
291
Posted 16/05/2021 at 11:59:49
Hi Martin,
I thought that was probably what you meant but found myself unconstrained in responding as posted.
And that's obviously the problem here. I say what I think about what I see and what I hear and what I read. You label that as "a negative agenda". You'll accept "balanced articles", "reasoned views", and – this one always tickles me pink – "constructive criticism" but you can't abide the dreaded "negativity" about our beloved club, its players, its manager, its coaches, its board...
I can only assume you are being a little playful on this thread, what with your strange character twists and turns that would do Jekyll and Hyde proud. So I'm not sure how seriously to take this nonsense but the "negativity" tag is usually wielded seriously by those who believe its poisonous agenda as a blanket label to silence the unpalatable truth.
I think the barometer should be calibrated not for negativity or balance or reason or constructiveness – it's really more about honesty. Are you being honest in what you are saying? I know I am.
I think when pressed you'll agree (well, perhaps not on reflection) that all means you just want to see stuff that fits your agenda. Well, you probably know already that's not going to happen.
Soren Moyer
292
Posted 16/05/2021 at 13:45:05
Michael, I (and I'm sure there are many too) really enjoy and appreciate your honest and-as-it-is match reports. Keep up the good work my friend.
---
Add Your Comments
In order to post a comment, you need to be logged in as a registered user of the site.
Or Sign up as a ToffeeWeb Member — it's free, takes just a few minutes and will allow you to post your comments on articles and Talking Points submissions across the site.
---
© ToffeeWeb