Brands agrees to a contract extension with Everton
Wednesday, 21 April, 2021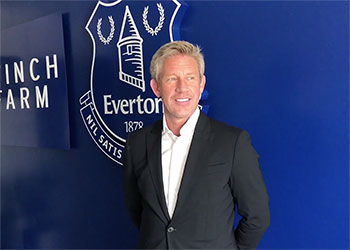 Everton's Director of Football, Marcel Brands, has agreed terms on an extension to his current contract with the club.
The Dutchman's existing deal was set to expire this summer and privately it was always expected that he would stay on. The new contract should see him remain at Everton for a further 3 years, ending speculation that he could be moving away.
Brands has been in the post since the spring of 2018, coming on board as Everton were putting the final touches on a contract for team manager, Marco Silva, to form what was hoped would be the foundation of a new era at Goodison Park after the recruitment failings under their respective predecessors, Steve Walsh and Ronald Koeman.
Silva's tenure only lasted 18 months but Brands earned a place on Everton's Board of Directors and has overseen a gradual cull of unwanted players from the squad as well as a modified transfer strategy since Carlo Ancelotti took the reins as manager in December 2019.
Brands said: "Everton is a very special football club and a club with clear and exciting ambitions. We are making good progress and I believe we have everything in place for us to be successful.
"I am delighted to continue to work alongside such supportive and ambitious colleagues on our Board and Executive team and this, together with such a talented manager and supportive owner and Chairman, puts us in a really strong position for the future."
Bill Kenwright, meanwhile, expressed his satisfaction saying:
"There hasn't really been any doubt for some time that Marcel and I would sit down and agree a new contract. With Farhad's blessing it took us around about one play of Z Cars to reach an agreement.
"As well as being terrific at his job, Marcel has an excellent working relationship with Carlo and with our CEO, Denise and myself and it was important to maintain the structure and stability we have put in place over recent years.
"Farhad and I both wish our leadership team success and happiness as we all work together to build an exciting future for our great club."
---
Reader Comments (66)
Note: the following content is not moderated or vetted by the site owners at the time of submission. Comments are the responsibility of the poster. Disclaimer
Colin Glassar
1
Posted 21/04/2021 at 13:12:25
This summer is massive, Marcel. You'd better get it right. You've got three years to get us to the top.
Chris Williams
2
Posted 21/04/2021 at 13:25:27
Just signed his new 3-year contract, Colin.
Kunal Desai
3
Posted 21/04/2021 at 13:30:34
He has a big summer ahead and he needs to start getting it right.
Christy Ring
4
Posted 21/04/2021 at 13:33:07
Colin#1 Agree this summer is huge for Brands, at least there's a few players at the end of their contracts but no more mistakes like Delph and Iwobi Marcel.
Christopher Timmins
5
Posted 21/04/2021 at 13:35:01
Let's hope for more acquisitions like Ben Godfrey's and less Alex Iwobi type purchases over the next three years.
Hand on heart I don't think he earned the three year extension, however, I wish him all the luck in the world and hope he can help push us into the Champions League during the period of his contract extension.
Colin Glassar
6
Posted 21/04/2021 at 13:37:42
As Elvis sang, it's now or never. Strengthen the right side of the team and another attacker and that's a start.
Ajay Gopal
7
Posted 21/04/2021 at 13:44:31
Brands can't work in isolation. He already has 1 hand tied with the disastrous transfer dealings Messrs. Koeman and Walsh. And if Everton fail to get into Europe, then that would mean he will have his other hand tied as well. It is a tough job, but he is paid big bucks, and ultimately, he has to find the right players for Everton Football Club. Good luck to him, I would rather have him than some glorified scout for this job.
Barry Rathbone
8
Posted 21/04/2021 at 13:58:34
I imagine a foreign player clueless about Everton see him and Carlo and think "big hitters" - this club means business - let's hear them out.
Think it's a good thing.
Hugh Jenkins
9
Posted 21/04/2021 at 14:35:52
Ben Godfrey and Niels Nkounkou were a start in the right direction. Let's start looking at the young hungry players in the lower divisions, rather than the cast offs of Man Utd and Arsenal etc. as we have in the past.
Brands came to us with a reputation for finding such gems - so hopefully the above named two are the start, not the end.
Meanwhile, I thing Carlo will be looking to get in some "older" players in key positions to consolidate the progress we made this season and give us a platform to grow on with the younger players that we also bring in.
That is my hope - anyway.
Danny O'Neill
10
Posted 21/04/2021 at 14:42:24
The one thing that has surprised me is that he hasn't tapped us into the Dutch, Belgian and I presume German market, which I assume he must have good connections with.
I like him. I think he's had a lot of shit to sort out from that scattergun approach of his predecessors. And once he got a manager who gave him clear direction, we actually went out and got 4 very good signings last summer; ones the manager wanted. Be they the type of player or actual individuals.
The Josh King one in January still confuses me thought. Whose idea was that and why? Seems the manager doesn't rate or want him.
Robert Tressell
11
Posted 21/04/2021 at 15:02:01
I think he is being judged on his acquisition (or not) of gems. Left to his own devices I expect he'd have done just fine on this. The issue is misalignment of strategy between him, Moshiri and whoever our manager is. Thankfully, I think Ancelotti's experience is now helping with this. The quality last year was very good (albeit a bit fragile in Allan and Rodriguez). The other thing he has done is overhaul the scouting network and the academy. Nothing borne fruit just yet because the impact will not be immediate. On the academy side, the age and quality of the U18s looks v encouraging to me. Could be coincidence, could be undue optimism or could be Brands.
Andrew Ellams
12
Posted 21/04/2021 at 15:02:16
Danny, I think after Klaassen at Everton and Van De Beek at Man Utd a few clubs will be wary about bringing players out of the Dutch League into the PL.
Danny O'Neill
13
Posted 21/04/2021 at 15:06:39
They are good examples Andrew, although I just think the timing was bad for Klaassen. He's a good player who was in a toxic environment at Everton.
You can equally rattle off many top quality Dutch players who have graced these shores and those across the continent.
Robert Tressell
14
Posted 21/04/2021 at 15:23:36
DeBeek is also a good player, just not as good as Fernandes who plays in the same position. I'd take DeBeek on loan with a view to buy. He'd complement Allan and Doucoure well.
Danny O'Neill
15
Posted 21/04/2021 at 15:26:30
And being Dutch, would surely have good connections into Belgium and Germany? Probably even Denmark. But he doesn't seem to look that way. Seems more South American focussed. Which I don't have an issue with by the way.
Colin Glassar
16
Posted 21/04/2021 at 15:46:13
DeBeek is a great little player but ole doesn't know how to use him. De ligt and de Jong (his former Ajax team mates) had awful first seasons in Spain and Italy but are now regular starters. Klaasen was another player who wasn't allowed to develop and was discarded too early.
I don't care who he signs as long as his name isn't Iwobi.
Danny O'Neill
17
Posted 21/04/2021 at 15:52:42
De Bruyne (Belgium) couldn't get a game at Chelsea. Neither could Lukaku. It's a great market to tap into.
Andrew Ellams
18
Posted 21/04/2021 at 15:55:56
I'm not sure De Beek is quick enough for the PL or has the ability to compensate for that. Sounds a bit like Andre Gomes.
I'd rather see a quick right sided player that isn't Iwobi and Rodrigues play the advanced midfield no. 10 role ahead of Allan and Doucoure.
Barry Williams
19
Posted 21/04/2021 at 16:12:13
For me, next season is when we can truly start to run the rule over both Ancelotti and Brands.
Walcott, Bolasie and Besic all end their contracts. It seems that Kean will be sold for a healthy profit, Kenny will be sold and Bernard will be transferred too. That is a lot of spondulix off the books before there is any investment from the Chairman.
Since Ancelotti and Brands have worked together, Everton have brought in Branthwaite, Nkounkou, Allan, Rodriguez, Godfrey, Doucoure, Olsen on loan, and King on loan. So far, for me anyway, King has been the only suspect signing, albeit only a loan. He may prove valuable yet in the last 7 games or so.
I for one think that the partnership has delivered so far. There is still a long way to go, but cause for optimism it seems.
The inherited players that have attracted mixed responses/criticisms have either come good - Davies when played with Allan, Sigurdsson in his proper position, or improved after injury - Gomes, or (I wait to be shot at here - and maybe rightly so) could offer something in the likes of Iwobi/Delph. Iwobi at times looks like he has just stepped onto a pitch not knowing his team mates, but has looked reasonably effective as a wingback - where he has the space to run at people, or more central - he always comes inside anyway when playing as a winger: he isn't a winger in my reckoning. Delph, well if we actually get hi fit, he can provide decent cover in midfield and at left back - big if I know.
Tosun - well he is out injured, so he will not be moving anywhere for a while.
Well, that seems better than going back to the days of Koeman and Walsh, which did not seem a partnership whatsoever. It ain't that long ago either!
Anyways, let's wait and see!
James Gardner
20
Posted 21/04/2021 at 16:41:36
I think he has done an admirable job considering the mess he inherited when joining and I'm happy how he has shifted the deadwood and lowered the wage bill.
I really like the way he conducts his business, I think the only mistake was Iwobi (that seems to be more of a last minute panic buy) Delph seemed like a good fit at the time (good leader and good experience) and Gomes was fairly impressive during his loan spell. Every other buy will improve the squad or make a profit.
As a 33 year old, I genuinely think the club is in its best position (on and off the field) in my lifetime. Once we are allowed back in the Old Lady, our home form will improve dramatically!!
COYB
Don Alexander
21
Posted 21/04/2021 at 16:57:39
I wonder whether Marcel and/or Carlo have an interest in Wolves' Spanish international right winger/forward, Adama Traore. Lightning quick, powerful build, and grafts hard. Has been erratic thus far but is maybe now settling down and seems to may just be available if rumours in the Midlands are right.
Danny O'Neill
22
Posted 21/04/2021 at 17:01:40
I think he's a more powerfully built Iwobi Don. Power and pace and I don't see a scramble for him. He doesn't even start regular for Wolves to be fair.
And an impact player. Seems he doesn't start regular for Wolves and has his best games when he comes on for the last 20 minutes.
No stats to back that up, just a hunch from what I've seen.
Brian Harrison
23
Posted 21/04/2021 at 17:15:49
James 20
I have to slightly disagree about Brands shifting the deadwood, the players who will leave at the end of the season are players whose contracts are finishing. The fact is that Brands cant do a dam thing about moving a player on if that player doesn't want to move. That's why players who might be surplus to requirements like Iwobi will be here till the end of his contract unless he stands to make more money by leaving.
Brands should be judged on the players he brings to the club, and I think Carlo has said that Godfrey wasn't on his list so that is a massive plus for Brands. I also give brands great credit in setting up a South American network as a lot of the best players in Europe emanated from that part of the world so lets hope we can pick up some gems before they attract the attention of the bigger clubs.
Jerome Shields
24
Posted 21/04/2021 at 17:22:56
Good to hear. I am also surprised he did not have any hidden gems up his sleeve. Still think, yes MK, his position in the Club is a enigma in with the old regime and supposedly helping the new regime. His main remit has been getting rid of deadwood. I think he allowed some to be snock back in though.
Tom Bowers
25
Posted 21/04/2021 at 17:30:31
Everton's ''strength in depth'' is basically non-existent and is reflected in the performances this season.
We can look at Iwobe, Bernard, to name a couple who are just not of any use and then the players we have who are never in the squad, Besic and the likes plus the sick notes guys The only ones we have are the young ones who haven't really been assessed much thanks to Carlo continually persisting with under achievers.
The brass really need to have a purge soon otherwise we will continue to be a mid-table team.
Kevin Prytherch
26
Posted 21/04/2021 at 17:40:27
Can anyone list the deadwood that Brands has shifted?
Once listed, take away young prospects who anyone could have got a buyer for, take away those whose contracts ran out and take away anyone who we lost more than £20m on. I've not looked myself but I'd be curious to see what's left
Andrew Brookfield
27
Posted 21/04/2021 at 17:47:35
I believe Brands has done a good job so far, not excellent, but certainly good.
And whilst I am happy with Moshri's direction for Everton, I really do question what some fans want...
Like, how do the transfers work? Surely Moshri says to Carlo, come to Everton, you'll have £100M to spend each season. Brands mean while has also been told the same thing, and whilst Brands would have signed potential with that £100 Carlo wants proven winners (and can attract them).
Carlo then brings in his players - Rodriguez, Allan, etc. and Brands is left with £20M to go and make some gambles on. His gamble last season paid off massively, and from the season before (Kean) he's going to double his money.
But the idea that he's going to go out, spend all 100M on five unknown world beaters is fanciful and best. He'll get scraps after Carlo has attracted Kabouli for 35M.
And Kabouli like Allan and Rodriguez will make us so much better, and without Carlo we could never get them, but in five years time they have no resale value and where are we then?
My question is can two opposing strategies work simultaneously, or is it ultimately going to be our undoing like when Walsh, Koeman, Kenwright each signed a number 10?

Colin Glassar
28
Posted 21/04/2021 at 17:47:57
Historically we've always been crap moving on players, Kevin. If we do manage to get rid it's usually at a loss or way below real value eg Rooney, Lukaku.
Mike Benjamin
29
Posted 21/04/2021 at 17:57:29
It was Brands who negotiated the fees for players brought in. Allan, Doucoure and James (on a free) for just over £40m. Some clubs have paid more than that for 1 player who hardly play. He has more than earned his worth. A genius for getting £12m for Klassen.
Danny O'Neill
30
Posted 21/04/2021 at 18:01:41
Andrew, some good questions and points. I think what you saw last season was actual collaboration between the manager and the director of football.
Go and get this actual player (James, Allan) and this type of player (Doucoure, Godfrey). And the beauty of that is a blend of ready made experience with future potential. If that is the model moving forward, I'm happy with 3 more years of building on that.
Yes, that year when our transfer strategy was Koeman, Kenwright and Walsh all going out to the shops without consulting each other and bringing back their own new toys!!

Minik Hansen
31
Posted 21/04/2021 at 18:09:53
Brian #23 other clubs, that is. Before gems attract the attention of the other clubs.
Mike Gaynes
32
Posted 21/04/2021 at 19:08:37
Good news. Successful clubs are built on continuity. I think Brands has done the job pretty well, and I can't wait to see what he and Carlo pull off this summer. Most important window of the past 15 years IMO. This is our chance to step up.
Jim Bennings
33
Posted 21/04/2021 at 19:11:29
We need to start getting it right with transfers.
Last summer we brought in Allan who is a fine player but has become worryingly dogged by injury, James who is a world class player but again dogged by injury, Doucoure who is proven at Premier League level and is the only midfielder we have with energy and of course Ben Godfrey who reminds me of a modern Joleon Lescott.
I'm still fuming we missed out on the players that West Ham and Leicester poached, Tielemans and Soucek should have been wearing Everton shirts if we had enough about us and the fans would have loved them.
Brands and Carlo need to strengthen us in summer to avoid yet another missed opportunity next season.
Martin Berry
34
Posted 21/04/2021 at 19:43:19
A class act just getting started really despite his time here. By that I mean bringing in quality players but also shifting the debris to free up space and wages.
I am really looking forward to the summer and our transfers as I believe we are not far off being contenders.
What I like about Marcel and Carlo is that they are clandestine operators and hit far more of their targets than previous regimes, we are definitely operating to a different level now.
Bill Gienapp
35
Posted 21/04/2021 at 19:46:13
Kevin (26) - based on your parameters, I think the list basically consists of Klaassen (bought him for 23-million, sold him for 12-million). That being said, even though we lost 20-million on Schneiderlin, I consider the fact we were able to move him with a year left on his deal to be a minor miracle.
Harry Williams
36
Posted 21/04/2021 at 20:21:14
The Architect! What a joke!
Has he really taken us forward, he's had three years, where have we finished, 8th, 12th and where will we finish this season?
Bernard through to Iwobi, bloody embarrassing!
Derek Knox
37
Posted 21/04/2021 at 20:27:29
Colin @ 6, Yeah I remember " It's Now or Never ".
I don't remember him singing " Strengthen the right side of the team and another attacker and that's a start." How did that go ? 😜💙
Jim Bennings
38
Posted 21/04/2021 at 20:31:15
Harry 36
11th this season I'd make a fair guess at.
Pat Kelly
39
Posted 21/04/2021 at 20:52:44
Ancelotti will continue to recruit his old players where he can. His focus is short term. Even if they're injury prone but better than what we've got they may give a short term fix. Not sure where Brands strategy fits in. But then do we need another Delph or Iwobi.
Tommy Carter
40
Posted 21/04/2021 at 20:54:22
Good news. The critics don't understand the important aspects of Brands' role.
Scouting players is one thing. Getting them in an Everton jersey is another.
They are both incredibly difficult. The former is a skill in being able to spot talent. The latter is based entirely upon network and relationships.
What strikes me with Brands is when a player is identified to him, he is very good at getting his man. Clearly Carlo had a big say in the identification of Allan and James Rodriguez. Brands brought them to Everton Football Club.
Recommendations for Godfrey and Doucoure by Carlo's admission came from elsewhere. Brands got these deals done.
I don't think there's too many he hasn't tied up since being here. Zaha seems the obvious one and fair play to Brands on this one too, he wouldn't held to ransom.
Iwobi leaves question marks but there are other people in the equation identifying the players.
The key will be in the identification of talent as if this is done successfully then Brands' track record tells me that he'll get the deal over the line.
Dale Self
41
Posted 21/04/2021 at 20:56:30
Good long term future development here. Don't know what all the fuss is about.
Harry Williams
42
Posted 21/04/2021 at 21:20:20
40 Tommy
Yes us critics... I totally understand Brands job, to drive this club forward, has he done that, are we actually any closer to the top teams, I'd say we're not, you?!
Tommy Carter
43
Posted 21/04/2021 at 21:36:34
@42 Harry.
In 2018 we had finished 8th. With a -14 goal difference and 49 points.
We had been in relation danger earlier in the season.
We finished the season with a manager who has never won a major trophy.
2021 and less than 3 years later. We have one of the most decorated managers of the modern game as our manager. A World Class player in our starting XI (most weeks). We are on 49 points with 21 left to play for and we have a positive goal difference. We've won a Merseyside derby at Anfield for the first time in 21.5 years.
So whilst we may not be 'close' to the top teams. I'd say we are considerably 'closer' than the final day of the 2017/2018 before Marcel Brands joined Everton.
Harry Williams
44
Posted 21/04/2021 at 22:02:36
Thank you for agreeing we are not close to the top teams. Great progression!
Hopefully we will finish a bit higher than 8th over the next three years, then us critics can petition for a statue of The Architect outside BMD to honour him for taking us foward!
Tommy Carter
45
Posted 21/04/2021 at 22:07:30
Harry, pal
I said we are closer.
But not close.
So closer. But still far.
A bit like getting the train from Southport to Hunts Cross.
When you stop at Birkdale. You're not that close to Hunts Cross. But you are closer than when you were in Southport.
Harry Williams
46
Posted 21/04/2021 at 22:31:39
Thanks for that Tommy son...
That train you are on from Southport, stop at Kirkdale for a detour to salute that statue of Brands at BMD, then walk the rest of the way to Huntscross, its a little bit closer but still not that close...
Tom Harvey
47
Posted 21/04/2021 at 22:53:44
Mixed feelings about this one.
If he buys another Iwobi I'll want him out the gates a Finch Farm pronto, without even a taxi and jogging his merry way down Speke Boulevard to the airport.
Mal van Schaick
48
Posted 21/04/2021 at 23:11:56
If the owner is happy to move a few on at a loss, so be it.
Delph, Bernard, Davies, Holgate. To name a few.
If Moshiri has ambitions and trusts Brands, and we have aspirations for top four, we must rebuild our midfield and have more options up front.
Tom Bowers
49
Posted 21/04/2021 at 23:37:40
There have been one or two ''highlights'' this season but sadly too many down moments again and another position outside the top six looks likely.
Recent injuries hasn't helped but most clubs have suffered on that issue also.
Taking 4 points off RS was a pleasure although the Goodison game left a sour taste and after that some of the performances were awful.
Surely the club will finally get rid of all the players who just don't cut it anymore and don't show any consistency.
I cannot see the point of bringing any loanees back such as Walcott and Kean. If Carlo didn't feel they would fit in this season then they won't fit in next season.
We are woefully short of another class striker and midfielder and if that doesn't change then next season will be just as disappointing.
Phil Smith
50
Posted 22/04/2021 at 04:58:16
Iwobi was a desperate buy. They looked at his stats and thought he could be worked in. They thought wrong. He's not being played in his best position though.
Jim Bennings
51
Posted 22/04/2021 at 07:38:21
Phil
I agree Iwobi was a panic buy when we probably thought we were quite close to sealing the Zaha deal, but we stupidly paid over the odds.
Even when Iwobi has played in the middle he's shown nothing, he's not as technically accomplished as Sigurdsson and he's not on the same planet as James Rodriguez (who I still think is at his best in the middle).
To think we handed Arsenal £50 million for Iwobi and Walcott combined is mind boggling.
Eddie Dunn
52
Posted 22/04/2021 at 08:04:36
I agree with you Danny (10), I was hoping for a few talented lads from the Low Countries and Denmark. Thier national sides are full of talent so there must be a plethora of young players with what it takes to succeed. Are they all attracted to the Bundesliga?
Danny O'Neill
53
Posted 22/04/2021 at 11:43:29
Without researching Eddie, I don't believe there is a pattern with a fairly even spread amongst the 4 big leagues of players from those countries, England included. Guess its just something we don't tap into.
Tommy Carter, I love an analogy so like your train one. If Southport is the end of the line (the bottom), then surely we're at Brunswick, approaching St Michael's?!!
Ian Burns
54
Posted 22/04/2021 at 12:13:53
We must keep Iwobi so Colin G. can burst a blood vessel on the Live Forum every time he is anywhere near the playing squad.
I thought Marcel Brands came over quite well on the USA Live forum and I believe a further three years, now having his feet under the table knowing what the fans demand, is better than starting again with a new appointment.
If I have one gripe, Godfrey apart, we haven't picked up players from the lower divisions, who will make the grade. Surely there is a wealth of young talent (Ollie Watkins for example), on whom we can take a chance?
The South American market might also prove to be a profitable hunting ground - anyway that's for Mr Brands to sort, starting this summer.

Jerome Shields
55
Posted 22/04/2021 at 12:27:46
Kevin #26,
There is some truth in what you say.
Jonathan Tasker
56
Posted 22/04/2021 at 13:36:07
We are deluding ourselves. We regularly feature the weakest bench in the division.
Brands is a total fraud. And the fact that Kenwright has announced the deal tells you everything you need to know. Ludicrous.
James Gardner
57
Posted 22/04/2021 at 17:09:12
Forgive me Jonathan Tasker (56) but I stopped listening to your drivel when you were arguing for us to be appointing Chris Wilder instead of Carlo Ancelotti at the beginning of last year!
Slightly ironic to throw out the term 'deluded', don't you think?
Thomas Richards
58
Posted 22/04/2021 at 17:23:34
Chris is available for an immediate start!
Rob Halligan
59
Posted 22/04/2021 at 17:25:46
James, he even wanted some fella called Steve Cooper from Swansea!!
Rob Halligan
60
Posted 22/04/2021 at 17:27:10
Thomas, get Wilder in. He can learn under The Professor!
Thomas Richards
61
Posted 22/04/2021 at 17:32:48
Sooner have his Uncle Gene Rob
Trevor Powell
62
Posted 22/04/2021 at 17:50:10
My Dad always said it takes time to turn a big ship. I hope we are in the position of having turned 180° and really start moving forward. We will have got rid of most of the deadwood signings and, if Tosun can get himself fit, he can be shipped out asap!
Barry Rathbone
63
Posted 22/04/2021 at 17:51:06
Hopefully, with Brands's feet firmly under the table, the temptation to panic-buy and assuage well intentioned but ultimately lunatic demands for "someone", "anyone" from the more rabid during transfer windows will diminish.
When he says "Me and Carlo will sort it so you guys on the web can fuck right off and, if you want a grovelling John Henry apology about it, you can do one!" – I will know we have turned the corner.
Sam Bowen
64
Posted 23/04/2021 at 07:11:59
Good news. Continuity is definitely key after the last few years of chaos. I think he's done a pretty good job on the whole even if some signings haven't worked out too well. I don't think any club gets it 100% right every time.
4 first team players this summer, maybe one or two younger gems that I've never heard of with potential too. Would love, Aarrons, Koulibally, Bissouma and Neto.

Tony Everan
65
Posted 23/04/2021 at 07:45:58
I am happy that Marcel has signed another 3 years. I think the club will start to reap the benefits of this stability soon. As Sam above says, the club needs it and overall I think we are making progress. The trick now is to continue and accelerate that. I think we have good people in place to step it up.
This coming transfer window will determine things to a large degree, I have faith in Ancelotti and Brands to get it right.
Justin Doone
66
Posted 24/04/2021 at 07:47:08
Stability.
We can nit pick about players but they need to fit in with the manager's system, tactics, work rates etc.
Stable manager, stable player recruitment.
---
Add Your Comments
In order to post a comment, you need to be logged in as a registered user of the site.
Or Sign up as a ToffeeWeb Member — it's free, takes just a few minutes and will allow you to post your comments on articles and Talking Points submissions across the site.