Calvert-Lewin set-back deepens Everton's injury woes
Wednesday, 20 October, 2021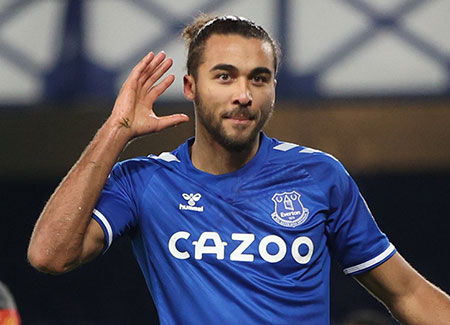 Everton have confirmed reports from yesterday that Dominic Calvert-Lewin has suffered a relapse in his recovery from injury and faces a few more weeks on the sidelines.
The England striker has been out of action for the past five weeks after starting the season with a broken toe and then picking up a thigh injury that forced him to take a break that had been expected to end this month.
It had been hoped that both he and Richarlison would have been able to fully recover over the most recent international break but while the Brazilian could be ready to return this weekend, Calvert-Lewin is still some weeks away.
A statement on evertonfc.com announced the 24-year-old's set-back in his rehabilitation saying that he "will remain out for a number of weeks" but nothing more definite on his timeline has been provided.
With yesterday's news that Abdoulaye Doucouré is set for a spell out of his own with a foot fracture, it means that injuries to crucial players are going to undermine Rafael Benitez's task for a while yet.
---
Reader Comments (52)
Note: the following content is not moderated or vetted by the site owners at the time of submission. Comments are the responsibility of the poster. Disclaimer
Brian Wilkinson
1
Posted 20/10/2021 at 18:27:48
Good job we brought Cristian Fernandez in to get Rondon up to speed on his fitness.
Pete Gunby
2
Posted 20/10/2021 at 18:31:19
Argh, We may be cursed.
Tony Everan
3
Posted 20/10/2021 at 18:39:01
It's really frustrating because you get the impression that with our recognised best eleven fit we would be a match for anyone and serious top six contenders.
Benitez has a system and has communicated his ideas, his coaches have drilled the players and made them sharper. But he himself has been hamstrung with these injuries to crucial players.
Time for the fringe players to take the bull by the horns. The club needs them to step up and perform. The likes of Tom Davies and Gbamin will need all the support they can get these next few weeks, through thick and thin, to give them the best chance of coming good.
On the positive side Richarlison is more advanced and possibility for Watford, his threat up front will improve us immediately.
John Pickles
4
Posted 20/10/2021 at 18:39:46
Everton that!
Bill Gall
5
Posted 20/10/2021 at 18:46:16
Bad place to get an injury is in your quadriceps, as you need these 4 muscles for standing, walking, running, squatting and jumping.
Wonder what one is injured as they all support the major functions in your legs. This delay may be because it is not an easy injury to get over as you may have to rest the leg for a while and train gradually to get back to full fitness; it's not something that can be rushed.
I am not sure how Benitez will go about it with the midfield but I see us with a front 3 of Gray, Richarlison and Townsend.
Gordon White
6
Posted 20/10/2021 at 18:55:42
Frustrating considering our performances with Richarlison and Calvert-Lewin were right up there. I still think we can play well and get results when Richarlison returns. He's sure to create more chances which hopefully will help Rondon too.
Dale Self
7
Posted 20/10/2021 at 18:59:20
Hang in there, Blues, I know it's bad but we've weathered a few of these episodes and have come out surprisingly well before. Everyone make an offering to their Richarlison shrine please.
Darren Hind
8
Posted 20/10/2021 at 19:03:54
Difficult one for Rafa.
Does Rondon just lack fitness or has he gone for good? Interesting to see if the manager perseveres.
Jim Bennings
9
Posted 20/10/2021 at 19:07:52
In other words "a number of weeks" roughly translating to Christmas time.
Badly need Richarlison up and running to replace the immobile Rondon otherwise where's Steve Watson's number when you need him?
Colin Glassar
10
Posted 20/10/2021 at 19:09:55
Rondon – after a dose, or two, of Ivermectin – will be fine!
Jim Bennings
11
Posted 20/10/2021 at 19:13:24
Darren,
I'm a bit worried about Rondon at the moment to tell the truth.
I'm thinking back to the player I watched at West Brom and then Newcastle, he was never the most mobile, a bit of a James Beattie type but I'm starting to wonder if it goes deeper than just a lack of fitness now.
He should be offering more by now, he's had a good few games since he arrived and frankly he still looks like he's running in treacle.
The player I remember at Newcastle was a handful, he gave us some problems when we faced them, used his physical presence well but he hasn't even done that in the five or so games he's had.
He badly needs to step his game up on Saturday against a side that he most definitely should be offering a threat against.
Danny O'Neill
12
Posted 20/10/2021 at 19:21:31
I said on the other thread, the quad is a tricky one to recover from and easy to break down during that recovery.
This will be interesting & difficult for Benitez. Stick with Rondon, providing we find him some boots that don't have lead in them.
Go with a 3 of Gray, Richarlison & Townsend with a 3 behind them (Allan, Davies & ????).
Or gamble and throw one of the kids in?
Kieran Kinsella
13
Posted 20/10/2021 at 19:30:34
Danny,
If I were Carlo, I'd be brushing up on set-pieces. We can't expect a Townsend wonder goal every week, and Gray's crosses are only good if there's someone in the box. Corners on the other hand with Keane and Mina offer us a route to goals.
Phil Smith
14
Posted 20/10/2021 at 19:44:49
Ivermectin, Col?! Haha. I truly hope you're joking. This lad needs more than horse de-wormer to pick him up.
Tony Everan
15
Posted 20/10/2021 at 20:06:33
Sometimes Iwobi looks like he has been on the Psilocybin. Rondon needs 8 cans of red bull, a bag of whizz and a cattle prod to the knackers at the first bar of Z-Cars.
Alex Gray
16
Posted 20/10/2021 at 21:02:42
Couldn't make it up. Cursed.
Brian Wilkinson
17
Posted 20/10/2021 at 21:18:56
Who is this Carlo Kieran.
Kieran Kinsella
18
Posted 20/10/2021 at 21:42:38
Brian
Old habits mate lol
Christy Ring
19
Posted 20/10/2021 at 21:43:19
Yet again the official website tell us now, Calvert-Lewin suffered a setback, which they probably knew weeks ago, absolute crap.
Neil Copeland
20
Posted 20/10/2021 at 21:44:50
When is Gomes back?
Joe McMahon
21
Posted 20/10/2021 at 21:49:46
All, these injuries constantly to key match winning players over many seasons tells me we will never dine at the top table again. I do look on enviously at the English teams playing Champions League football year after year and, as can be seen this week, scoring for fun.
Robert Tressell
22
Posted 20/10/2021 at 21:50:48
Tony # 5.
Every word of that made total sense to me.
Kieran Kinsella
23
Posted 20/10/2021 at 21:52:16
What happened to Tosun's return to training a month ago?
Michael Lynch
24
Posted 20/10/2021 at 22:23:43
Not unexpected, but very bad news nevertheless.
"A number of weeks" sounds pretty ominous, like they really have no idea how long it will take. Must be incredibly frustrating for Calvert-Lewin, not just because he might miss out on his dream move to Newcastle, Arsenal, Real Madrid, or Marine, but also because he was the central figure in Rafa's plan to get it out wide and into the box quickly. Gray and Townsend were basically signed to feed Calvert-Lewin, so he would have expected to be banging in even more this season than last season.
If we can get Richarlison back and keep him fit, we might be able to stay in the top half of the table this season, but it does look like the season's ambitions will need to be recalibrated.
Ciarán McGlone
25
Posted 20/10/2021 at 22:30:39
All too predictable.
Letting Kean and Rodriguez go, instead of actually managing them, seems utterly daft now.
Fran Mitchell
26
Posted 20/10/2021 at 22:41:50
Hopefully Richarlison will come in at 100% and can take the role as centre-forward.
Keep Gordon on the left with Gray supporting Richarlison (Iwobi nowhere near the first 11 please).
And keep giving Dobbin, and Simms when fit, chances from the bench. (More than 2 minutes of injury time to kill time please).
Use Rondon as little as possible.
Christy Ring
27
Posted 20/10/2021 at 22:47:34
Frank #26,
Simms was back on the bench a couple of weeks ago, and as Kieran said, Tosun was also back in training; not a word about either since.
I hope Fernandes is a miracle worker.
Jim Bennings
28
Posted 20/10/2021 at 22:56:23
The prospect of Tosun coming back is one even less appetising than big Rondon out there right now.
Tosun has the mobility of a frozen rubber jonny and, unlike Rondon, he has no strength whatsoever.

Bill Gienapp
29
Posted 20/10/2021 at 23:18:59
The Kean situation was likely beyond salvation... it's just ironic that he'd now be getting exactly the sort of prime opportunities he lacked during his first season.
Bob Parrington
30
Posted 20/10/2021 at 23:41:30
Halloween is coming up and I'm picturing the LFC witch boiling frogs and toads in a big urn while reciting "A thousand more curses on Everton. They started the season too well!"

Mike Gaynes
31
Posted 21/10/2021 at 00:45:50
Jim #28, compared to Rondon, Tosun is a whippet.
And at least he's capable of putting the ball in the net once in a while. He has scored for us every 246 minutes, which isn't awful.
Rondon has played 415 minutes with one shot on goal. One. Shot.
Enough is enough. If we have an alternative -- and it appears we do -- let's take it. Even if it's Tosun.
Derek Thomas
32
Posted 21/10/2021 at 01:01:53
Without reading the above comments, my initial reaction is: they tried to rush him back and made it worse... but I could be wrong. It's just a perceived impression of how the club is run – or not. And it's all about perception.
Is there nobody in the whole club big enough, fit enough, aggressive enough, to put themselves about and make a nuisance of themselves up front?
Same for midfield... is there no cocky youngster who will badger the powers that be in a Yozza manner: "Giz a job, I can do that job."
What a sad indictment of the youth of today and the academy they all skive in...
[Shakes head, waves fist at clouds…]
Kieran Kinsella
33
Posted 21/10/2021 at 01:17:09
Ciaran,
(Going for the Irish spelling, I see – unlike my anglicized parents.) I too thought we should hold on to James. But in truth, he's played one game since he left, got subbed, and his team lost 0-3 in the mighty Qatari league. So, on that basis, I'm now looking at it as "Well, that's a million in wages we saved."
Jim Bennings,
Mike is right. Tosun isn't that good but Rondon looks like he'd struggle to score as a goal hanger in infant school five-a-side. Yeah, he looks strong… but so does Jeff Capes, do we want him in the team?
Bill Gienapp
34
Posted 21/10/2021 at 01:46:29
Tosun's a decent finisher, if nothing else. Between Gray's pace and Townsend's delivery, he might just bag us a few goals if given the chance.
Drew O'Neall
35
Posted 21/10/2021 at 03:27:48
Doucouré is massive.
I said all through the summer, when people were banging on about right-backs, we need another player of Doucouré's profile because we are an injury from mediocrity, or worse!
How Benitez copes with this loss will be season-defining, in my view. Roll on January.
Derek Knox
36
Posted 21/10/2021 at 04:05:18
The thing is with Rondon, Rafa probably realises by now that he has goofed big style… but does he (not exactly openly) admit as much? By dropping Rondon, he would be doing so.
I don't see anything wrong with giving Lewis Dobbin and Ellis Simms more active roles, could they do any worse?
Are they more mobile? Do they know where the back of the net is? Have they scored goals recently? Is the Goal the same size in the U23s as it is in the Premier League?
If the answer to any of those questions is Yes, then surely – you know it makes sense!
Steve Brown
37
Posted 21/10/2021 at 04:22:45
If you want a striker who doesn't shoot, can't head the ball, and can be out sprinted by Rafa, then Rondon is your man.
Steavey Buckley
38
Posted 21/10/2021 at 05:21:00
The situation with injuries has gone from bad to worse. The squad was already limited in quality. So, it's going to be a big 'ask' for the current squad to win matches consistently.
It is still 72 days before the next transfer window opens. That's a long time in football to fix the current squad's limitations. Yet, the season began so brightly until injuries took their toll against the best in the squad.
Which is not helped by international call-ups in South America that prevented Mina from playing last Saturday. His height and strength may have prevented West Ham from scoring.
Jerome Shields
39
Posted 21/10/2021 at 05:47:31
Rondon problem is getting in position for crosses. He is good at attacking the near post and helping Everton keep shape. He also prevents defences pushing the defensive line up compacting Everton's midfield. This gives space for Gray and Iowbi to run at defences, with varying degrees of effectiveness, more the former than the latter.
The space that West Ham had was created by Evertons defensive line being too deep. Doucoure and Allan defending in and around the edge of the penalty areas and clear the lines balls from Godfrey and Keane at the edge if the six yard box. i blame Keane. He is neat in his ball control, but slow. Though in the West Ham game he is alast last getting there. His detour on the second half Gray cross was alarming. Gray at the look of W. T. F. after it.
Calvert Lewin intermittently attacks the near post, but is often a yard off. Positionally he is often nowhere for crosses. Evertons midfield when he plays can often be compacted due to the opposition being able to push their defensive line up, leaving him isolated. Richarlison has the same problem. Calvert Lewin is best at the one touch goal. Credit to Carlo, which Calvert Lewin seemed to query as being effective, after Carlo was gone. His shooting is off and ball control is below average for a Premier League forward. He is good at heading the ball when and if he attacks crosses. he does work hard, but comes deeper than Rondon to tackle or recieve the ball, which is questionable. His broken toe may have inhibited his push on progress this season, but his other injury certainly has. He is prepared to very work hard at his training, getting himself ahead of other contenders for his position. He is not worth the transfer fees others think he is worth, and is a favourite for outlandish media speculation at the moment , on a par with Newcastle hysterics.
Hope he recovers soon and best wishes. I am sure he will work hard at it. It is not LIKE Medical Services to have a relapse in their rehabilitation program.
Agree with Mike regarding Tosun. A Turkish Barber was telling me that alot of young Turks think they can become millionaires by doing nothing. I was going to blame Tosun but thought better of it has he was about to poke a lit straw in my ear. Aparently he is a hero and superstar in Turkey.
Eddie Ng
40
Posted 21/10/2021 at 07:33:42
I started to suspect that Carlo actually might know something about our squad's fitness that prompted him to jump ship that quickly and awkwardly...
Tony Everan
42
Posted 21/10/2021 at 09:29:26
Scott Robinson
43
Posted 21/10/2021 at 09:46:38
As others have commented, the quad is indeed a tricky area. It comprises 4 key muscles on the anterior (front) part of the quad. It is also involved in hip flexion and knee extension.
The psoas muscle also attaches on the inside of the thigh and is the only muscle in the body that connects the lower and upper trunk.
We have little (or no) idea as to the cause of the injury, but I would imagine that injury to this powerful muscle group would be quite destabilising and affect athletic performance.
Brian Harrison
44
Posted 21/10/2021 at 09:50:54
I know injuries are part and parcel of the game, but we do seem to have a lot of long-term injuries.

Delph seems perpetually injured without him kicking a ball for the first team for months;

Tosun is another long-term injury who the club expected to be back fit by now.

Gbamin is another who was unlucky to suffer a bad injury but, having recovered from that, has picked up another injury.

Gomes is another who had a very bad injury but seemed to recover, but again has picked up another injury.

I don't want players who are carrying an injury to play but you do wonder – if these guys were just getting SSP when off work – how quickly those injuries would clear?
Mark Ryan
45
Posted 21/10/2021 at 09:59:13
What about this Ivor Mectin fella that Colin mentioned, is he any good?
Hugh Jenkins
46
Posted 21/10/2021 at 10:32:41
According to the Daily Telegraph today, via the BBC "Gossip" column, Newcastle United want to buy him in Janaury, so he will probably be recovered just in time for the move.
John Kavanagh
47
Posted 21/10/2021 at 11:23:07
Isn't this the same type of injury that's effectively finished Gbamin? 'A number of weeks' sounds ominous – Everton-speak for "See you next season."
Calvert-Lewin looked to me to be the fittest player in the squad, so there cannot be any question of injuries occurring due to a lack of fitness; unlike others.
He will obviously be missed because the team was set up to feed him crosses – but he will also be missed when defending set-pieces, where his aerial ability was like having an extra centre-back at corners and free-kicks.
We can only hope that the injury is not as bad as feared and that he is able to make a full recovery.
Forget Europe and trophies, this season must now be focused on reaching 40 points, especially with Doucouré likely to be out until Christmas. As for cover, Rondon simply isn't up to the job and I hope Dobbin is given more time because he is far better suited to the quick counter-attacking style of play.
Brian Wilkinson
48
Posted 21/10/2021 at 13:47:21
It will be around mid-November before Cenk Tosun will be back from injury at the earliest, last I heard.
So unless one of the youngsters are given a go, which I doubt would happen from the start of a game, or Richarlison is fit to play as a forward, then it looks like Rondon will be given more minutes.
Any other player and I reckon they would be out of the team; however, with Benitez bringing the player in, he is getting a bit of leway to try and justify the signing, plus the fact our other fit striker is out on loan.
Rob Halligan
49
Posted 21/10/2021 at 15:18:03
At least there is some good news today, Richarlison is back in full-time training so hopefully he will be in the starting XI on Saturday.
Jay Wood
[BRZ]
50
Posted 21/10/2021 at 15:57:06
That is good news Rob.
Heaven knows we need some.
Kieran Kinsella
51
Posted 21/10/2021 at 16:15:25
Rob
Onyango was in the training sessions too. Apparently, Tosun, Delph and Gomes were "visible" (probably alongside Danny Williamson) though not training with the group.
Tim Greeley
52
Posted 23/10/2021 at 00:35:30
Maybe late, but Colin "Heff" Glasser's Ivermectin comment was the horses pajamas!! I did an LOL!
Rick Tarleton
53
Posted 23/10/2021 at 21:41:31
Can we stop talking about "Rafa"? I'd never have called Britton "Cliff" or Catterick "Harry", they are our managers, not our mates from The Blue Ball. This familiarity, as though we actually know them, is ridiculous.

---
Add Your Comments
In order to post a comment, you need to be logged in as a registered user of the site.
Or Sign up as a ToffeeWeb Member — it's free, takes just a few minutes and will allow you to post your comments on articles and Talking Points submissions across the site.