Doucouré facing spell out with a fractured foot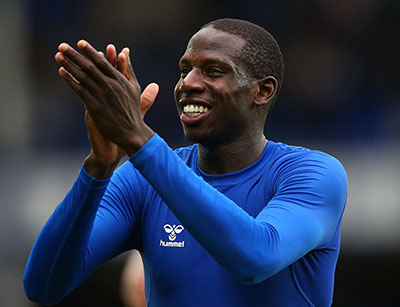 Everton have been hit with another huge injury blow with the news that Abdoulaye Doucouré has suffered another stress fracture in his foot and could be out for an extended period of time.
The Frenchman had started to make big strides with his new advanced role under Rafael Benitez, scoring goals against Southampton and Norwich City, and has played in every minute of Everton's Premier League campaign so far.
However, he is rumoured to have damaged a metatarsal in Sunday's defeat to West Ham and while an operation to fix the issue was reportedly considered by the club, it was subsequently ruled out.
Doucouré was out of action with a similar injury earlier this year and, crucially, missed seven league matches last season as a result. It was feared that he could face a longer period of recovery after this latest setback if it had required an operation but the club's medical staff are to assess the injury before providing further updates.
Guardian and Sky Sports correspondent, Fabrizio Romano, has suggested that the initial prognosis is that Doucouré could be out of action until just before Christmas but that might have been based on post-surgery recovery.
The news deprives the Blues of one of their most important players and leaves another glaring hole in midfield, one that Tom Davies and Jean-Philippe Gbamin would be prime candidates to fill while Doucouré recovers.
It's one more headache for the manager who has had to battle on without other key players in the form of Dominic Calvert-Lewin, Richarlison and Seamus Coleman in recent games.
The Irishman returned against the Hammers at the weekend but the strike duo remained sidelined and, in their absence, the depleted Toffees went down to their first home defeat of 2021-22.
And, as reported by the Liverpool Echo, there are concerns that while Richarlison could return to face Watford this weekend, Calvert-Lewin is still some way away from being able to resume action.
Article continues below video content
---
Reader Comments (146)
Note: the following content is not moderated or vetted by the site owners at the time of submission. Comments are the responsibility of the poster. Disclaimer
Brian Hennessy
1
Posted 19/10/2021 at 11:27:35
Really hope the rumours I am hearing of Doucouré breaking his leg are not true. God, we have some terrible luck with injuries.
Sam Hoare
2
Posted 19/10/2021 at 11:29:21
Strong rumours going around that Doucoure has broken his foot and may be out for a lengthy period!! Oh for some better luck.
This weekend we were missing arguably 3 of our 5 best players. Doucoure would make it 4.
Will need one of Davies or Gbamin maybe to really step it up if true.
Steve Brown
3
Posted 19/10/2021 at 11:37:24
"The Everton midfielder has damaged a metatarsal and is looking at a prolonged spell out of the team, in a blow to Rafa Benitez."

Steve Brown
4
Posted 19/10/2021 at 11:46:30
Sam, perhaps Rondon can play there as a sitting midfielder.
Tony Everan
5
Posted 19/10/2021 at 12:00:53
Doucoure to have an operation on his foot, he will be out for about 10 weeks some are saying. Hopefully it's not that long. Big opportunity for Davies and Gbamin to step in and keep us strong. We've no choice but to dust ourselves down and get behind those two lads.
Andrew Ellams
6
Posted 19/10/2021 at 12:03:16
We have definitely upset the footballing Gods somewhere along the way. We are going to struggle to put a team out by Christmas…
Barry Hesketh
7
Posted 19/10/2021 at 12:08:30
Doucoure didn't have his best game against the Hammers, but he is and has been a major player for Everton so far this season, and this is a proper setback for him and the team.
We have to regroup and fight tooth and nail for every point we get and hope that we can get enough to prevent a major slide down the table before January's window opens.
Benitez's management skills will be tested to the limit in the coming weeks and months, it always seems to me that we often look forward to getting the best first eleven out on the pitch but as soon as one appears to be coming back, we lose another key player. It's hard enough with what we have available when all are fit, having to keep reshuffling due to injuries is soul-destroying.
Kim Vivian
8
Posted 19/10/2021 at 12:14:17
Was Iwobi trying to learn how to tackle in training!!!
Anthony A Hughes
9
Posted 19/10/2021 at 12:33:39
Crushing blow if it's true about Doucoure but as an established top flight team we should have a squad to deal with the inevitable injuries like this.
It feels like we're constantly treading water or walking through treacle, we never seem to advance or progress on the pitch.
The transfer dealings and managerial fuckups over the last few years since Moshiri has come in are lamentable.
Lucky for Moshiri the owner can't be sacked.

Kim Vivian
10
Posted 19/10/2021 at 12:36:11
Hearing it's 6-7 weeks, not the rest of the season. Stress fracture - not a full break evidently. Whatever that means.
Stephen Brown
11
Posted 19/10/2021 at 12:38:33
Worst possible news !
Anthony A Hughes
12
Posted 19/10/2021 at 12:39:43
His foot is probably suffering from stress playing alongside Iwobi.
Michael Lynch
13
Posted 19/10/2021 at 12:40:50
Why is it always our best players (and Delph) who get injured? Without Doucoure, we're in massive trouble.
David Pearl
14
Posted 19/10/2021 at 12:44:23
Anthony, l'm pretty sure that without him delivering BMD a 'Moshiri Out' campaign would have been in its 3rd season..
Doucoure has been our best player this season and is a huge hole to fill. Davies will come in l suppose. Gbamin can't be ready and Gomes/Delph injured, for no idea how long. As remains the case, when fit we have a good 1st 11... then we have nothing but making do.
Minik Hansen
15
Posted 19/10/2021 at 12:48:29
This can happen in football, and any club can get hit with it. I remember in Moyes' time we had around 10 injured players on the list. Here's for a quick recovery to Doucoure. If we could win without DCL and Richy, we can also without big Douc'. Who in 3 months time we will be a fully fit team.
Tom Bowers
16
Posted 19/10/2021 at 12:55:23
Never fails does it !!! Just when we get a little optimistic about a decent season all this injury crap hits us.
Another forgetful season on the cards unless the January window helps a recovery but will they shell out.
Brian Harrison
17
Posted 19/10/2021 at 12:56:28
Most reporting that Doucoure will be out for 3 months, with the injuries to Richarlison and DCL as well as Digne, Coleman, Mina and Pickford also having spells out injured cant think it could have been much worse. Doucoure will be a big miss as there is nobody at the club who can play the role he does, so Benitez will have to come up with a system that can function without Doucoure.
Tommy Carter
18
Posted 19/10/2021 at 12:58:26
What a shame. He's our only midfield player with a bit of energy about him.
Let's face it. Gbamin is not an option which leaves Tom Davies.
Who knows where Andre Gomes is. Quite frankly, I don't rate him anyway.
A dark few months ahead I suspect. Newcastle and their new found wealth will be looking to pluck top players where they can from the clubs in and around them. Richarlison will be near the top of their list I'd imagine.
Michael Kenrick
19
Posted 19/10/2021 at 12:59:10
What is the likelihood that this is a recurrence of the injury he had last season? Sounds horribly similar... and could suggest it was not diagnosed or treated properly then?
Also, another wonderful example of openness and transparency from the club... not! I know I should accept that this is how they deal with bad news... by not dealing with it and thus encouraging the whispered ITK rumour mill to go into overdrive.
Michael Lynch
20
Posted 19/10/2021 at 13:02:11
Time to step up, Tom Davies. He's always said that he sees himself as a box to box midfielder, and he was great when he first broke into the team, so I'm guessing he's going to be playing a lot over the next few months. Actually, he definitely is, because the other three options - Gomes, Delph and Gbamin - aren't match fit.

Iain Latchford
21
Posted 19/10/2021 at 13:02:19
Doucoure has 2 goals and 4 assists in the first 8 games of this season. Would Tom Davies have that if he'd have been playing? Not a chance in hell. This is a huge loss and the side is now significantly weaker.
Hard to comment on Gbamin as we've never seen him play. Maybe now is the time. If he breaks down again, we just have to accept he's never going to be able to do it.
Graham Lloyd
22
Posted 19/10/2021 at 13:05:48
This is just sickening and why do I have a sudden sense of deja vu from last season. It was after the derby around this time last year when the wheels fell off.
If true, then let's face it there's not a lot we can do about it. I do worry that's quite a few goals and assists and not to mention, energy, that is going to be missing for a while.
It's odd how your personal perspective changes so very quickly. I'm travelling over from oz for xmas and NY and hoping to get tickets for the two home games around NY. When I booked the flights and checked the fixutes, I thought Newcastle and Brighton were very winnable games and we might get to see a rare victory on a visit home for a change (I have a bad record as a traveller!) and we'd be in the hunt for top 6. Fast forward a few weeks and after last weekend's defeat and this news about Ducs, makes me wonder if we'll be looking over our shoulder by then rather than top 6!
Onwards and (hopefully) upwards! UTFT!!
Robert Tressell
23
Posted 19/10/2021 at 13:11:00
Very unfortunate. Shame we didn't get Maitland-Niles in summer as he can play that role too.
With Keane dragging the defensive line back, Allan and Doucoure were already asked to cover too much ground. Davies and Gomes just don't have the engine or mobility.
Very difficult for Benitez to resolve this with the players available.
This is why it's so difficult to finish higher than about 8th.
Barry Hesketh
24
Posted 19/10/2021 at 13:11:25
Michael @19
I think there is a strong likelihood that the 'new' injury to Doucoure is probably because he wasn't given the correct treatment earlier in the year.
I said about Dominic Calvert-Lewin that it was admirable that he wanted to continue playing whilst suffering from a toe injury, earlier in the season, but I would be loathed to pick players who aren't fully fit and particularly if they are carrying an injury.
I'd much prefer injured players to miss a few games and recuperate properly, rather than miss a raft of games because of medical ineptitude or management forcing injured players to play through the pain barrier.
Perhaps, it's just at Everton that this 'bad luck' strikes so often, or could it be the bad practices at the club that causes the 'bad luck' we'll never really know for sure.
Chris Leyland
25
Posted 19/10/2021 at 13:12:46
I think that without Doucoure, we have to switch from 2 to 3 midfielders in the middle of the park to compensate. To be honest, we could have done with an extra one on Sunday as West Ham passed around us and utilised the pockets. That might have been because we defend too deep when Keane plays and leave those spaces between the defence and midfield but we may have to accept a flooding of the middle of the park and a KITAP on the counter approach with our difficult fixture list until the new year.

Stephen Vincent
26
Posted 19/10/2021 at 13:14:11
This is a huge blow. Duke has been a revelation for me this season, Benitez seems to have done for him what Ancelotti did for DCL last season - recognised their strengths and got them playing to them. We have no one, as far as I know, who has Dukes drive and pace. I hope to God that this does not mean that we will have to suffer Iwobi until the new year.
Never thought I would be saying this but we probably need Gomes back as he is probably as close to a like for like replacement that we have. Anyone heard how long he is out for?
Bill Gall
27
Posted 19/10/2021 at 13:16:57
With the paper thin squad we have, every injury is a severe loss. Watching games there seems to be a lot of tackles aimed at a players foot that players claim except able as they are going for the ball. With the carpet slippers players have for boots today I am not surprised with foot injuries.
With the only choices left of Gbamin, Davies, Gomez and Delph it is time for some of the younger players given a chance to step up for a game instead of 5 min at the end of one.
Michael Lynch
28
Posted 19/10/2021 at 13:18:00
What's certain is that we can't afford any more injuries but, by the nature of the game, we are bound to get some. Right now we have three of our most important players out, with no definite return date for any of them. Should we lose any more key players, we're looking at a very tough autumn and the likelihood of us having to splash out in the notoriously tough January transfer window for short-term fixes just to keep us mid-table.
Really feel for Rafa. With the exception of saddling us with Rondon he's done brilliantly, but this will have even an experienced manager like him scratching his head.
Michael Lynch
29
Posted 19/10/2021 at 13:20:17
The club has spoken, and there's no operation necessary. That's something at least.
Stephen Vincent
30
Posted 19/10/2021 at 13:21:32
Looks like the new fitness and rehab coach will have to start earning his corn straight away!
Barry Hesketh
31
Posted 19/10/2021 at 13:25:34
Michael @29
That's better news than first reported by the Echo, it's still a loss to the team but hopefully not as long-term as first feared. I do wish the Echo, the only local newspaper outlet for Evertonians would be more circumspect in their reporting and would at least get the correct facts before making sensational claims. They have at least amended their initial story.
Alex Gray
32
Posted 19/10/2021 at 13:27:14
Our season collapsed last year the second he got injured. This is a nightmare. Swear to God our injury record last few years has been ridiculous.
Kieran Kinsella
33
Posted 19/10/2021 at 13:29:05
I would roll the dice on Charlie Whitaker maybe as we know the first-teamers aren't up to much.
John Boon
34
Posted 19/10/2021 at 13:32:55
We do seem to be blighted by the fitness gods. Doucouré has been our top midfielder this season and we do not have anyone with the same skills, desire or work ethic to replace him. We are fortunate enough to have signed two very good players in the last window. I would like to be more positive but this really causes major problems over the next few months.
John Crook
35
Posted 19/10/2021 at 13:37:59
I would think that Tom Davies will get the nod for the weekend. I don't think Gbamin is ready yet and that 90 minutes he played at Huddesfield 6 weeks ago seemed to ruin him even more – he really struggled in the second half of that game. It will be a long time yet before he is even considered to start.
So for me it's another chance for Davies… either that or a change in formation (possibly 4-3-3). Huge blow for Doucouré and it seems very doubtful he will kick a ball before the Xmas run of games.
Danny O'Neill
36
Posted 19/10/2021 at 13:38:37
I know this isn't exactly modern sports science and a bit old school, but how about an 1990s Army medic approach? Strong pain killers and tube-a-grip? That used to sort everything out!!! Apparently. I once got warned that I'd best not be malingering. I had a broken ankle!
On a serious note, I hope it's the better news. Either way, we need to plug the gap for the next few weeks, but let's hope the later reporting that he doesn't need an operation is true. Davies seems the most likely option, but maybe an opportunity for one of the young lads we've been talking about. Or Gbamin? Just wrap him in cotton wool or a Michelin Man suit.
Jim Bennings
37
Posted 19/10/2021 at 13:38:43
Typical of us again.
A middle of Allan, and Gbamin or Davies and Gomes fills me with dread.
So effectively from this time last season we are Sigurdsson, James and Doucoure down now.
Things are gonna start getting a lot harder.
Andrew Ellams
38
Posted 19/10/2021 at 13:39:40
We just don't have the resources to sustain this sort of injury list, it's very worrying.
No doubt Tom Davies will be first in line to cover but that's not really a straight swap tactically. We really can't afford to lose anybody else as we have some tough games coming up very soon.
Jim Bennings
39
Posted 19/10/2021 at 13:40:23
For the first time in decades, we haven't currently got a fit central midfielder that could possibly score a bloody goal… haha!!!
Christy Ring
40
Posted 19/10/2021 at 13:42:23
Another massive blow, that's all we need, our best player this season. Davies is our only option with Gomes injured as well.
Why is Delph's name mentioned, Doucoure will probably be back before him.
Rafa says Iwobi will get better, well he can't get any worse?
Andrew Ellams
41
Posted 19/10/2021 at 13:42:44
Chris @25. Sounds right to me. I'd play Gbamin behind Allan and Davies and a front 3 without Iwobi and hopefully Richarlison ahead of Rondon.
Derek Knox
42
Posted 19/10/2021 at 13:43:21
Kieran, how you doing bro? After Sunday, I'd even roll the dice on Roger Whittaker, what's he doing these days?
Zimmer and guitar in hand, he could perform better than some of those gangsters did.
All these foot and toe injuries, because they are wearing modified ballet shoes with studs... it's Premier League football – not Swan Lake! :-)
David Bromwell
43
Posted 19/10/2021 at 14:02:06
Obviously this is terrible news for all concerned, at first thought we don't have a comparable replacement, however, what about Ben Godfrey ?
He has energy, certainly before COVID, he is fast, can tackle and importantly he hasn't been entirely convincing as a centre back. We could also try playing with a midfield of three which would perhaps allow us to have more possession and give Ben a better chance of success.
Iain Latchford
44
Posted 19/10/2021 at 14:02:25
Could we put Godfrey in there, assuming Mina will be at centre back with Keane?
Tommy Carter
45
Posted 19/10/2021 at 14:06:28
A few people mentioning Gbamin. Forget it. This man is no longer capable of playing professional football.
Tony Abrahams
46
Posted 19/10/2021 at 14:09:52
Did Doucouré have an operation last season, or did he just have to rest to let his injury settle down? I ask because I thought that anything to do with bones, would usually need a resetting operation, and Everton are saying this isn't the case.
I think Holgate, has played midfield before and done okay, so it wouldn't surprise me to see either him or Godfrey play in this position soon, the way things are going.
Brian Harrison
47
Posted 19/10/2021 at 14:10:36
Christy 40
I totally agree with you that despite Benitez claiming Iwobi will get better as you say he could hardly get worse. I realize that managers will always try and lift a player who is going through a bad time, but this is a player who hasnt performed under any of his managers here.
I commented that the atmosphere inside Goodison on Sunday was very quiet, don't know if was the early kick off or the poor start we made to the game. But with news of Doucoures injury I can understand there being an apprehension prior to the game, but lets hope we start brightly and everyone gets behind the team. I just hope we start with Gordon in place of Iwobi as I think most fans have lost patience with Iwobi.
Brent Stephens
48
Posted 19/10/2021 at 14:14:37
Danny #36 "I once got warned that I'd best not be malingering. I had a broken ankle!"
So, malingering, then.
Jay Harris
49
Posted 19/10/2021 at 14:16:49
Tony,
I suffered this injury myself a couple of times.
Back in the 70's it was 6 weeks in a boot and then 3 to 4 weeks training and recovery but with the wonders of modern science I would expect him to be back in contention in 6 to 7 weeks. Still a huge blow because for me this guy has been the engine room of our success and it will also leave the foot weak and prone to repeats
. It is a major blow with a couple of winnable games coming up but that is what squads are for. Gbamin to step up for me and show what we paid all that money for.
Matthew Williams
50
Posted 19/10/2021 at 14:16:51
Jeez,when it rains at Goodison it sure does piss down, really terrible news, when will we have a fully fit squad to really compete again?.
I suppose it gives another player a real chance to shine in the middle of the park...but who?.
Brian Harrison
51
Posted 19/10/2021 at 14:17:38
Tony
Radio City are saying he wont need surgery and he wont be out for as long as first thought, so hopefully weeks rather than months. Mind if he has damaged one of his metatarsal bones they just tend to put you in a boot to help take the pressure off the foot rather than operate. Didnt Tim Cahill have a broken metatarsal when he played for us.
Jim Bennings
52
Posted 19/10/2021 at 14:17:46
Whoever we choose to play there none will offer what the Duke offers and Allan without Doucoure is like a soldier without the gun.
The prospect of Godfrey or Holgate there who are both shite with the possession of the football is the last act of desperation, but desperate times it is, other than that all we have is the Glassmen Delph and Gbamin or fairy liquid performers like Davies or Gomes.
There's a lot of pressure now on our two wide boys to keep up their scoring exploits.
Jacques Sandtonian
53
Posted 19/10/2021 at 14:18:24
Our defence is in-tact (for now). We're going to have to get behind the team playing Burnley football for a while. With Richarlison coming back soon, we have a goal threat up-front. We just have no midfield at all now. We're going to have to depend on very direct football and hoping to scrap some goals in games that we otherwise defend doggedly in. Rafa has done brilliantly to play to our limited strengths this season. We need to back him and stay with him through this period without so many important players.
Michael Kenrick
54
Posted 19/10/2021 at 14:22:06
Barry,
First word on this seems to have come from Paul Joyce at 11:20, who tweeted this:
"Everton concerned Abdoulaye Doucoure is facing lengthy time out with broken foot. "
That was picked up pretty quickly by the Echo and I think everyone has batted it around, with the club not stepping up until much later (13:04), and feeling the need to deny the operation line.
Interesting that it was an hour earlier than Paul Joyce when Tony first posted on here his fears of "very bad news about another one of our very key players being injured". If it was known within the club then, why do they leave it to fester in the rampant rumour mill for 3 hours before saying something?
And when they do, it's all to play down how bad this is... "stress response" – what the fuck is that? They can't even call it what it is.
Tony Abrahams
55
Posted 19/10/2021 at 14:23:55
Evertonians like heart Brian, and it's very clear that Iwobi, has very little desire, which makes it impossible for the fans to get behind him. I heard that not long after he arrived at Everton, a member of the staff not connected to the first team told Iwobi, that you can't be good every week, but that doesn't matter to Evertonians, just as long as they see you giving everything for the shirt.
I heard that Iwobi took this advice the wrong way, by going straight on the defensive, possibly meaning its something that has probably been mentioned many times previously, especially when you hear many of his teammates saying how good he can be in training.
John Boon
56
Posted 19/10/2021 at 14:24:22
Iain (44) I agree Benitez will have to be creative. Godfrey does have the speed and the work ethic, although I am not so sure about the skill aspect. Another possibility is Holgate. He has been having a rough time trying to prove himself as a defender so perhaps ? Both JUST possibilities, but we will need to do something drastic.
Alan J Thompson
57
Posted 19/10/2021 at 14:30:22
I suppose the options are a straight swap with Tom Davies, or possibly Townsend to midfield and Gordon to his positon, and at the outside Godfrey who seems to be stand in for everything. No chance of Baningime on loan then?
Robert Tressell
58
Posted 19/10/2021 at 14:34:23
John # 56, Holgate might perform in midfield - but when we get to the point that we're wondering whether the solution might be an out of favour centre half or someone like Whitaker then there's a real problem. From last season we've now lost DCL, Richarlison, Sigurdsson, Rodriguez and now Doucoure.
Unfortunately the squad is very mediocre and it's unlikely results will be more than that until players return to fitness.
John McFarlane Snr
59
Posted 19/10/2021 at 14:39:21
Hi John [56] First off good morning to you in Canada, and secondly I have left a message for you on the Rondon and Iwobi thread.
Barry Hesketh
60
Posted 19/10/2021 at 14:40:50
I agree with you Michael, despite having an updateable website, that offers Everton fans the chance to get their news direct from the club, the old ways are still prevalent, with certain journalists getting privileged information from people within or with links to the club.
Obviously, every snippet of news can't be controlled, but surely Everton should be more pro-active in giving the fans accurate information on major news stories as soon as it can.
The statement the club have made doesn't completely rule out the possibility of Doucoure requiring surgery in the near future, if the medical team make that judgment call, and thus the rumour mill will continue to grind on in the coming weeks.

Brian Hennessy
61
Posted 19/10/2021 at 14:43:40
Michael #54 I couldn't agree more about the slow way the club always seem to react to such news. They have the facts before everyone else yet once again it is "leaked" before a formal statement is released, causing all sorts of inaccurate reporting.
On the "Stress Response" this below from Dr Google:
A Stress Response Injury is the prelude to a Stress Fracture. No fracture is present but there may be local swelling, pain and tenderness to touch on the bone. Often the bone is painful on exercise but eases once activity stops. If this situation continues to occur, it will lead to a Stress Fracture.
Danny O'Neill
62
Posted 19/10/2021 at 14:47:21
I hope I am wrong. International break, home defeat and injury news.
Has the dreaded "Everton October" kicked in? Or Everton Autumn?
It may come in different guises and be caused by different factors each season, but always seems to be there. A bit like El Nino. You are aware of it but can't prevent it.
Right, that's off the chest. 3 - 0 win Saturday. I'm supposed to out for a meal tonight and not mentioning Everton. The dogs have a long afternoon ahead of them.
Michael Lynch
63
Posted 19/10/2021 at 14:49:22
Brian @61 so the good news is he'll probably be back by December, but the bad news is he'll have a stress facture by spring
Joe McMahon
64
Posted 19/10/2021 at 14:49:49
I'm not religious or spiritual, but it sure as hell seems like this club is cursed. But worry ye not as Van Dijk is back fully fit, as the media keeps informing us.
Don Alexander
65
Posted 19/10/2021 at 14:52:26
Never mind folks, under our hopeless decades-long "leadership" we'll be able to sign Sean Longstaff in January for next to nowt – problem solved!
Barry Hesketh
66
Posted 19/10/2021 at 14:58:38
Fabrizio Romano has been told that Everton midfielder Abdoulaye Doucoure has suffered a stress fracture to his foot.
"Been told it's a stress fracture and not complete foot fracture. He's expected to be back in 6/7 weeks."
The tweet was from a couple of hours ago, so it might prove to be incorrect now, however, Romano isn't given to making too many errors with his football information.
Six to seven weeks is still a long amount of time for the team to be without Doucouré.
Kevin Prytherch
67
Posted 19/10/2021 at 15:01:23
Cue Tom Davies playing the next game and the howls of "Championship at best" when he plays in a totally different style to Doucoure.
Jay Harris
68
Posted 19/10/2021 at 15:01:57
Yes Don, I am also underwhelmed by that rumour. A poor mans Tom Davies unless Rafa knows something we don't.
Dave Williams
69
Posted 19/10/2021 at 15:10:57
Young Onyango made his comeback last night and played well. Could be he will get a chance once fully fit as I believe he is a very energetic box to box central midfielder?
If Gbamin doesn't get a chance now, then he surely never will.
Eddie Dunn
70
Posted 19/10/2021 at 15:43:05
These stress fractures are a modern phenomenon, the rest of us have a sore foot for a month or so but play on. Strap it up and get on with it.

Michael Kenrick
71
Posted 19/10/2021 at 15:43:33
Good points, Barry @60, spot-on.
Thanks for the edumaction, Brian, I obviously needed it. Never heard of such a thing. But then I'm a bit of a wimp and usually stop at the first sight of any pain.
Anthony A Hughes
72
Posted 19/10/2021 at 15:47:25
Come on Brandsy, getting trawling through Rafa's list of 3000 players, surely some of them must be on a free agents list and clubless.
Anthony A Hughes
73
Posted 19/10/2021 at 15:52:49
Sean Longstaff, picking up Newcastle cast offs whilst they go on to bigger and better players sounds like a typical Everton plan.
Geoff Williams
74
Posted 19/10/2021 at 15:59:59
This is a direct consequence of playing just Doucouré and Allan in midfield. They have been overworked and I suspect Allan will be the next long-term injury.
Playing Iwobi and Rondon is putting unnecessary pressure on the other players increasing their workloads so Benitez is culpable and must take some responsibility for the predicament we're in.
Dan Johnson
75
Posted 19/10/2021 at 16:07:25
It was only a matter of time before either Doucouré or Allan got injured. And, just like last season, we don't have a decent replacement. The club is in a mess, some real bad luck with injuries. Time for all the fans to get right behind the team. We need points, and at the moment I don't care how we get them. COYB
David Pearl
76
Posted 19/10/2021 at 16:11:07
If Richarlison is fit for the weekend, then that will lessen the blow. Like some above, l would switch to play a narrow 3 in midfield. Will Gbamin ever play a 90-minute match for us?
Will Gomes and Delph be fit in the next few weeks? We need them. For all the injured and those given away for nothing, this was coming.
Danny O'Neill
77
Posted 19/10/2021 at 16:22:46
Eddie, you sound like me with my painkiller and tube-a-grip solution.
Again, being serious, I think the way the game and sport in general has developed, at the elite levels, you just can't get away with playing with injuries in a way we used to see only 20 years ago. Small margins and fitness levels can make a huge difference now more than they did in the past.
Jay Wood
[BRZ]
78
Posted 19/10/2021 at 16:39:25
For however long Doucoure is out is bad news. He has really come to the party under Benitez and is a bad loss. It's going to take some jigging to field an effective midfield in his absence.
I see the myth of Holgate being an option to play defensive midfield has got an airing again, as if he has made multiple appearances there. He hasn't.
His Everton career in that position consists of 20 minutes v Watford in the memorable last minute 3-2 win after trailing 0-2, moved into that position from centre back after Delph got sent off on 70 minutes.
He played 90 minutes as a defensive mid in the 1-1 draw v United under Duncan Ferguson when the squad was seriously undermined by injuries.
He played 90 minutes there for the same reason as above, in the next game in the League Cup quarter final loss v Leicester. He completely lost Maddison on their opening goal.
That's it.
Similar to Ben Godfrey. He at least has played the position, but mostly on loan at League One Shrewsbury. A handful of times for Norwich, but only at Championship level.
It may be a case of 'needs must', but actual midfielders in the squad should get the nod ahead of either.
On Ben Godfrey, worth watching this post-match interview with him from Sunday.
Ben Godfrey on Covid Impacted Season
As suspected by some, Covid has heavily impacted on his performances this season.
'It was like I was playing in someone else's body. Five minutes into the game and I found myself blowing hard as if it was 88 minutes.'
He himself is well aware he needs to do better, but hopefully getting game time into his legs is helping.
Jerome Shields
79
Posted 19/10/2021 at 16:42:44
I don't have confidence in the medical services at Everton. Whether it be accessing injuries, treatment or rehabilitation. I do think that a player can work the system and those that don't are not aided in recovery as they should be.
We are now back to a midfield trio of Allan, Gray and Davies. Gbamin may be an alternative. Holgate would be a better alternative option.
Everton need a return to work and effort to rebound in the next game, no matter what.
Wishing Doucouré a speedy recovery, once they have worked out what the problem is.
Lee Courtliff
80
Posted 19/10/2021 at 16:54:21
Bad, bad news but we've been in similar situations before and ground out results.
Hopefully this works in our favour and young players like Davies, Whittaker and Dobbin get a chance. I remember Davies getting some praise around December last season when he covered for Allan and we won 4 on the bounce.
Yeah, the football was shite, but we might have to accept that for a while if it means keeping us in the hunt for European football.
Lets just beat Watford and see where we are after that.
Tony Everan
81
Posted 19/10/2021 at 17:01:17
Club says contrary to reports he will not need an operation. Being assessed at Finch Farm.
These stories take a life of their own through hearsay and gossip!
Christy Ring
82
Posted 19/10/2021 at 17:15:16
Michael #54,
Totally agree, and they haven't given us the full extent of Calvert-Lewin's injuries. We were told he'd be back after the International break, and still not ready for next weekend.
The only alternative for Doucouré is Davies, who played as an attacking midfielder a couple of seasons ago, but has been used defensively ever since.
Gbamin has been on the bench with no game time, could he not have got match fit playing for the U23s?
Tony Abrahams
83
Posted 19/10/2021 at 17:17:29
I hope it stays a myth about Holgate or Godfrey playing in midfield. When you look at how short we are in this area of the pitch right now, it's imperative we don't lose any more central midfield players to injury; otherwise, I don't think Benitez will have many other options, other than to play one of them there, unfortunately.
Hopefully Gomes isn't far away, and I'd love to see Gbamin get a few games under his belt. But none of them have got the energy of Doucouré, so it's down to our new manager to earn his wages and hopefully enhance his reputation now.
Andrew McLawrence
84
Posted 19/10/2021 at 17:30:32
Anyone got Niasse's phone number?
Brent Stephens
85
Posted 19/10/2021 at 17:38:36
Andrew "Anyone got Niasse's phone number?"
He's never been allowed a phone, Andrew. Has always had to use a phone box.
Paul Smith
86
Posted 19/10/2021 at 17:39:59
Ffs.
Andrew McLawrence
87
Posted 19/10/2021 at 17:42:54
Brent, he may have had a phone box, but he certainly couldn't turn in it!
Kunal Desai
88
Posted 19/10/2021 at 18:00:32
Gray will miss Saturday with Tonsilitus. Doesn't get any better does it.
Barry Hesketh
89
Posted 19/10/2021 at 18:01:26
So Dan Meis is set to rejoin the BMD project.
Mark Taylor
90
Posted 19/10/2021 at 18:01:40
So I'm going to be charitable here and suggest that Everton deliberately mislead on player injuries to stop our opponents getting good intelligence.
For example, if the opposition knew Calvert-Lewin was out for many more weeks than originally slated, then they would just need to prepare for how to deal with Rondon.
And let's face it, that would be a brief training session for them.
Barry Hesketh
91
Posted 19/10/2021 at 18:09:02
Kunai @88,
Bad news if true, where did you get that information, I've had a quick search and didn't find anything. Unless of course you're referring to Andy Gray?
Pat Kelly
92
Posted 19/10/2021 at 18:09:44
Oh great... Davies will be back. We can return to playing sideways and backwards. Or maybe Gbamin will be fit before Christmas.
Ajay Gopal
93
Posted 19/10/2021 at 18:12:20
Kunal (88), I hope someone is not taking the piss off you! If that news is true, we are meat and drink for Watford. For our luck to even out, we would need to win the league for the next 10 years!
Kunal Desai
94
Posted 19/10/2021 at 18:12:54
Barry, Paul Joyce has just confirmed it stating he will miss the Watford game
NB - looks like a possible fake account. Might not be true.
Dave Williams
95
Posted 19/10/2021 at 18:13:50
Blimey, so another player gets injured and it's Rafa's fault, or it's medical services fault, or maybe Brands's fault!
It's a physical game, injuries happen and we have to knuckle down and deal with it. Great chance for the younger lads, especially if Gray is also out.
I am sure Richarlison will be fit against his old team, which will be a huge help.
Sukhdev Sohal
96
Posted 19/10/2021 at 18:17:31
More terrible news. Doucouré and Allan were perfect together in a 4-4-2, Davies is too small and slow for that and Gomes doesn't have the pace too.
I'm not sure whether Gbamin will be picked against Watford but hopefully he is, Davies is too little a presence in midfield. Gomes has improved under Rafa so I'd pick him before Davies too.
Michael Lynch
97
Posted 19/10/2021 at 18:21:52
The Demarai Gray rumour is nonsense by the way. Fake Twitter account.
Paul Birmingham
98
Posted 19/10/2021 at 18:22:50
Test of how well this Everton squad can pull together work hard and improvise.
And a chance to take their chance for the fringe players.
Beat Watford, is the objective.
Barry Hesketh
99
Posted 19/10/2021 at 18:23:27
I thought as much Michael @98 as no other Everton-related sites/accounts have any reference to it.
Kieran Kinsella
100
Posted 19/10/2021 at 18:35:42
Barry/Tony
On Dan Meis and the stadium, I love the first comment in The Echo:
"Bertibassett: Where's the Arteta money?"
There's always one
Bill Gienapp
101
Posted 19/10/2021 at 18:45:58
Well, we're in it now. Even with Richarlison and Calvert-Lewin, I felt like we were an injury (to either Allan or Doucouré) away from being in serious trouble. Allan seemed the more likely to get hurt and probably would have been the easier to cope with, since no-one in the squad even comes close to Doucouré's skill set.
Carlo famously said he's not a magician, but Benitez may have to be one in the coming weeks.
Roger Helm
102
Posted 19/10/2021 at 18:57:32
We are suffering the effects of the disastrous recruiting of the Koeman & Walsh era. More recent signings like Godfrey, Allan, Doucouré, Townsend and Gray are better, but there's just not enough of them. Our squad is so thin that a few injuries puts us in Queer Street.
I expect that, until players return, we will play a low block (can't do much else with Keane in the team), fill midfield with whoever is fit and available, have Rondon as an outlet, and rely on speedy counter-attacks.
Doucouré's fracture is in the nature of a partial crack rather than a complete displacement, so there would be no need for surgery. Rest in a walking brace and gentle exercises are the treatment. Ultrasonic stimulation can make fractures heal quicker, but I don't know if the club are doing that.
Colin Glassar
103
Posted 19/10/2021 at 19:06:18
I know other teams have injuries but I'm convinced Everton are cursed! Terrible owners, useless managers, pathetic recruiting and awful players over the years. How we've continued to stay in business for so long amazes me sometimes.
Eddie Dunn
104
Posted 19/10/2021 at 19:21:21
On a positive note, we will have Mina back, Seamus is fit again, Gray and Townsend are still alive and surely one of our two strikers will make the bench.

Phil Wood
105
Posted 19/10/2021 at 19:24:19
Colin, you missed out moaning fans.
Colin Glassar
106
Posted 19/10/2021 at 19:28:04
The lifeblood of any club, Phil😉
Phil Wood
107
Posted 19/10/2021 at 19:33:18
Correct Colin. LOL

Colin Glassar
108
Posted 19/10/2021 at 19:44:51
Brian, can Dan play in midfield?
Chris James
109
Posted 19/10/2021 at 19:52:25
To paraphrase the words of the great Roy Kent... 'FAAAAARRCKKKK'!
One of the most promising players this season for me (alongside Gray and Townsend) – huge miss and not one that's easy to replace. Need to get Calvert-Lewin and Richarlison back at it ASAP!
Henrik Lyngsie
110
Posted 19/10/2021 at 19:57:55
I think it is really good news. Last season, it was said that Iwobi's favourite position was as Number 10. Apparently that was a misunderstanding. Iwobi is not a Number 10, like he is not a right winger, not a left winger, not a left wingback and not a right wingback.
In fact his preferred position is as a box-to-box midfielder, which unfortunately has been occupied by Doucouré. This injury will allow Iwobi to play his real favourite position as a Number 8.
It will be great to finally see Iwobi express himself on the pitch in his own position. No more square pegs etc.
Always look on the bright side.
Brian Hennessy
111
Posted 19/10/2021 at 20:09:22
Hi Colin.
Just checked and yes, Dan technically can in fact play in midfield, in the same way that Iwobi and Delph technically can in fact play in midfield. Doesn't mean Dan will be any good but hey, it never stopped Alex and Fabian.
Marc Hints
112
Posted 19/10/2021 at 21:01:38
I would like to see Simms and Dobbin given a go up front together
Jay Wood
[BRZ]
113
Posted 19/10/2021 at 21:17:30
Why are people calling for Ellis Simms to start when he is still recovering from injury?
Yes, he was on the bench for 3 consecutive games - away to Villa and QPR, home to Norwich - but told by Benitez it was for the experience and that he wouldn't be called on to play.
He doesn't feature in the weekly videos of the 1st team training sessions, which suggests he is training alone to be fully fit.
It's a shame for him, the club and the fans that in the current absence of Dom and Richy and the indifferent form of Rondon that Ellis isn't fit to feature after his successful loan spell with Blackpool. All could have learnt a great deal more about his potential to step up to the PL.
I really hope this is not going to prove to be a lost opportunity because his pathway to 1st team football will be all the more difficult once Dom and Richy return.
Timing and opportunity is so critical for players in this age group.
Kieran Kinsella
114
Posted 19/10/2021 at 21:19:54
Jay 117
"Why are people calling for Ellis Simms to start when he is still recovering from injury?"
It's the old situation where people take the view that "he can't be worse than. . . " regardless of injuries, fitness, age, experience etc. He certainly showed promise at Blackpool last year, but he doesn't appear match fit, and that's before we can consider his actual playing attributes.
Michael Lynch
115
Posted 19/10/2021 at 21:23:39
I see the Echo are speculating that Calvert-Lewin might be out for 12 weeks. Fucking hell. They'd better be wrong.
I'm seriously reconsidering whether to put myself through the pain of the derby this season. I might just sit at home and cry instead.
Mike Gaynes
116
Posted 19/10/2021 at 21:25:51
Tony Abrahams
117
Posted 19/10/2021 at 21:29:40
What is the injury, Michael? It was only last week that he was doing individual training at Finch Farm, so this is very worrying considering the lack of movement that Rondon has currently been displaying.
Kevin Molloy
118
Posted 19/10/2021 at 21:30:55
Normally, these injuries would be a tremendous opportunity for squad members to make a real name for themselves. But as we know, our squad members see football as very much a hobby to be fitted around their more important activities.
Has anyone seen any of our injured players actually get injured (other than Richarlison)? They seem fine, then 'Oh yes, you won't see him this side of Christmas'.
We've got a cracking first 11, and endless dross under that. So the one thing we didn't want was injuries. And now we have half a side out for weeks and weeks.
This is going to be a right slog.
Bobby Mallon
119
Posted 19/10/2021 at 21:32:01
I'm going to say it: fuck Holgate in Doucouré's place, same for Godfrey. Onyango is the perfect replacement. He plays that role and he should be given his chance now.
No more fucking shoe-horning players in positions that are unnatural to them. If not him, then Tom Davies or Anthony Gordon, end of.
Please, for fuck's sake, don't play Iwobi there.
Bobby Mallon
120
Posted 19/10/2021 at 21:33:10
Oh and I don't care that he's never played for us or he's to young just play him.
Kunal Desai
121
Posted 19/10/2021 at 21:36:45
Big round of applause for Moshiri and Brands. Throwing away millions on absolute shite instead of actually building out a squad. Outrageous the position we now find ourselves in. Pathetic all round from the club.
Brent Stephens
122
Posted 19/10/2021 at 21:53:14
Bobby,
Onyango played only his first U23 game last night after coming back from injury. A good game but came off before the end – he looked worn out.
Michael Lynch
123
Posted 19/10/2021 at 21:57:42
No idea what the problem is with DCL Tony, just reading things like "setback in his rehabilitation" so, until the club makes a statement, it's all just speculation.
Robert Tressell
124
Posted 19/10/2021 at 22:00:04
Bobby at 123. It's a good opportunity for Onyango possibly but he's only just getting minutes himself after injury. I think Brent's report from his comeback game last night was that he had a good opening 15 minutes and then faded. So, like Simms, he's a few weeks away possibly.
I suspect the reality is that we'll play a trio of Allan, Davies and Gomes for a few weeks. That is a slow and limited midfield but it's good enough to tide us over - with Iwobi and Gordon in and out of the side also giving us a bit of variety.
The key to us getting any results obviously remains Townsend and Gray. It would be brilliant if Dobbin could get more of a chance too and add his name to that list.
I take the view that we were never going to achieve anything of note this season, but if we can develop a few of Branthwaite, Onyango, Simms, Dobbin and Gordon into genuine first team squad players that will stand us in good stead.

Fran Mitchell
125
Posted 19/10/2021 at 22:11:19
Big big blow. Gutting. He has been essential in both winning the ball in our half, and in our counter attacking play. His engine through the middle really helps open space for Townsend and Gray.
As some have said, it's a chance for Davies to step up and realise his potential. When he broke into the team we hoped he'd be that box-box midfielder so here is his chance.
Some say about using a midfield 3. but we just don't have the personnel, and our counter attacking style added to the plan of early crosses into the box (when DCL is fit) really requires wingers.
But with our paper thin squad, every injury is a massive blow and we're unlucky enough to get them to many a key player.
Tony Abrahams
126
Posted 19/10/2021 at 22:21:36
He might not be everyone's cup of tea Michael, but DCL, is a really big miss, and if Demairi Gray, is also injured on Saturday, then I just hope Richarlison is back.
I've just read it's because of a thigh strain Michael, and wonder if it's the type of injury a player might get, putting more pressure onto his legs, because he's been protecting a broken toe?
Barry Hesketh
127
Posted 19/10/2021 at 22:31:34
Tony @126
I think Dominic was central to Benitez's plans and his absence is a big miss for the team as Townsend and Gray were bought in primarily to supply the big guy. I think the rumours about Gray are not at all true, just some bellend using Twitter to spread erroneous information to make themselves feel important.

Christy Ring
128
Posted 19/10/2021 at 22:38:44
What really pisses me off is the official website will tell you absolutely nothing about injuries until a different website mentions it, and Rafa is still saying Richarlison and Calvert-Lewin not ready YET for the last four weeks

Tony Abrahams
129
Posted 19/10/2021 at 22:39:11
That's good news Barry, because he's our only real danger without the other three injured players, and I think he needs a bit more help.
David Pearl
130
Posted 19/10/2021 at 22:39:25
Davies comes in for Doucoure.
Richarlison comes in for... Rondon or Iwobi? Interesting to see what happens.
Michael Lynch
131
Posted 19/10/2021 at 22:52:42
I guess If Richarlison is back on Saturday (and it's a big if) at least we're going to look threatening up front. The team almost picks itself, with Richarlison as the striker and Gray and Townsend providing the ammunition. I'd be tempted to keep Iwobi in the hole behind Richie and put Demarai out wide because I think that's where he's most dangerous. Davies is the logical replacement for doucoure and we have Keane and Mina in the centre of defence. That should be enough to dismantle a truly dismal Watford team
Christy Ring
132
Posted 19/10/2021 at 22:54:52
Three weeks ago Tosun was back in training, nothing since???
Mike Gaynes
133
Posted 19/10/2021 at 23:29:32
Fran #125, I wish I could share that view, but in my opinion Davies has already pretty much realized his potential.
Heart of a lion. Physical gifts of a bobcat.
Kieran Kinsella
134
Posted 19/10/2021 at 23:32:50
Christy
The official website is run like a poorly written parish newsletter produced by a drunken priest. They barely update transfers much less "breaking news"
Barry Hesketh
135
Posted 19/10/2021 at 23:44:59
Kieran @134
This Guy?
This being Easter Sunday, we will ask Mrs Brown, our church warden, to come forward and lay an egg on the altar.
Ladies are requested not to have children in the church kitchen.
For those who have children and don't know it, we have a crèche in the crypt.
Bring & share church supper: Prayer and medication will follow.
The organist invites anyone who enjoys sinning to volunteer for the choir.
At the church meeting last week the rector spoke briefly and delighted the audience.
A talk on drugs will be given at the next Mothers' Union meeting. This will be followed by a bring and buy sale.
Don't miss the Young Wives' Victorian Evening next month. It will be a fun night and some of the women will wear clothes.
Kieran Kinsella
136
Posted 20/10/2021 at 02:22:37
Barry
Haha that video cracked me up. Yep that's definitely the man responsible
Allan Board
137
Posted 20/10/2021 at 07:33:57
Oh dear, the one player Everton don't need injured at the moment.
Jon Wit
138
Posted 20/10/2021 at 08:59:49
Felt that his last injury coincided with our nosedive in form under Ancelotti. It will be interesting to see if Benitez can find a way to cope with it - I just don't think we have a replacement for him. A change in formation and tactics perhaps.
Alan J Thompson
139
Posted 20/10/2021 at 14:43:43
Oh, please, no! Two goalkeepers and a couple not fit to play making up the bench. This is a professional football club, isn't it?
Bill Hawker
140
Posted 20/10/2021 at 14:48:33
Squad depth going to be the death knell of the team. We'll finish somewhere between 8th and 12th again.
Jay Harris
141
Posted 20/10/2021 at 14:55:17
Tony 117,
I heard it was a quadriceps injury. I just hope it's not similar to Gbamin although Calvert-Lewin has always looked pretty fit and is a good trainer.
Michael Boardman
142
Posted 20/10/2021 at 17:25:23
Can we not just say he's asthmatic, apply the "banned" medication, and screw his future life (assuming the NHS will pick up the cost then let the outcry be to ban football completely?) seems to be the way to go in modern football... Klopp 3:16
Sam Hoare
143
Posted 20/10/2021 at 17:39:02
I can't remember exact figures but our win % with Doucoure is something like 52% and without him it's about 30%! A big drop off!
Missing him and Calvert-Lewin till near Xmas is gonna really sting. Potentially the difference between mid-table and 6th or 7th. We shall see.
Barry Hesketh
144
Posted 20/10/2021 at 18:10:10
Jay @141
Unfortunately, you heard right about Calvert-Lewin, I do hope his recovery time is not as long as Gbamin's has been. From the Everton Official website:
Dominic Calvert-Lewin has suffered a setback in his rehabilitation from a quadriceps injury and will remain out for a number of weeks.
The Everton striker has not played since the Blues' Premier League clash at Brighton & Hove Albion on 28 August, when he scored from the penalty spot in a 2-0 victory.
Calvert-Lewin will continue to receive specialist treatment and an update on the England international's fitness will be provided in due course.
Derek Knox
145
Posted 20/10/2021 at 19:26:59
Sam @ 143,
No worries… we have Iwobi and Rondon! :-)
Lester Yip
146
Posted 21/10/2021 at 10:05:56
I hope Davies grabs this chance with both hands and shows what he's got. He did well last season to cover for Allan. Hope he can perform at a similar level. He would make mistakes, but he at least gives it all.
---
Add Your Comments
In order to post a comment, you need to be logged in as a registered user of the site.
Or Sign up as a ToffeeWeb Member — it's free, takes just a few minutes and will allow you to post your comments on articles and Talking Points submissions across the site.