Digne laments 'destroyed' Everton love affair as he completes Villa move
Thursday, 13 January, 2022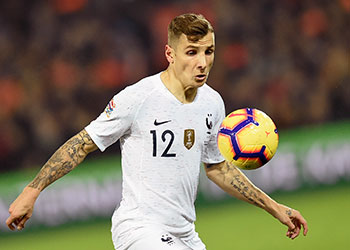 Updated

Lucas Digne has joined Aston Villa in a deal worth £25m today after 3½-years with Everton that he says end on a sad note given the circumstances behind his departure.
The Midlands club struck an agreement with the Blues this week and the French international underwent a successful medical on Wednesday. The move was confirmed today, Thursday.
Digne signed off from Everton with a message on Instagram to the supporters and his friends at the club where he alluded to his well-publicised falling-out with Rafael Benitez in early December over the manager's tactics and Digne's role in the new boss's setup.
The left-back has not played for the Blues since the humiliating Goodison derby, Benitez having dropped him from the squad following their exchange of words at Finch Farm, while the player declared himself unfit to face Chelsea, presumably due to the pair's impasse.
While a possible route back into the side appeared to open up when Digne was named in the squad to face Brighton on 2 January, Benitez appeared to spite him by leaving him on the bench and deploying a five-man back line with Seamus Coleman in Digne's left-wingback role.
In his press conference ahead of last weekend's cup tie against Hull, the manager was pressed on the Digne situation and Benitez stressed that Digne had informed him he no longer wanted to play for the club.
Digne's social media post on Wednesday evening echoed an earlier message, when he was first frozen out of the side, where he asked Evertonians not to believe everything. His Instagram message read in part:
"I have loved to be part of the Everton family. My dream was helping the club where it belongs. Wearing the captain's armband in some matches always made me proud.
"Everything must come to an end. I just did not expect it to end this way.
"What has happened and some things that was said about me in the last month has made me very sad. But I will not enter a war [of] words with anyone.
"The club don't deserve that, the fans don't deserve that — and to be honest, I don't feel that I deserve that.
Article continues below video content
"There are so many good and decent people in and around Everton who want the best for this club and not only for [themselves] — and to them I can only say from my heart: I wish you the best!
"Thank you, to all you wonderful, proud and passionate true Evertonians. It has been an honour and a true pleasure to play for you, the fans, the people — because a club [does] not belong to a player or a manager, but to the fans. I will always carry you with me in my heart wherever I go.
"Sometimes it only takes one person from outside to destroy a beautiful love affair.
"All the best to Everton and Evertonians."
Signed in the summer of 2018 from Barcelona by former Director of Football, Marcel Brands, Digne had became an indispensable part of a team by the time Carlo Ancelotti took charge of Everton in December 2019.
With the arrivals of James Rodriguez, Allan and Abdoulaye Doucouré, the Toffees looked as though they might finally deliver on the promise engendered by Farhad Moshiri's heavy spending on players.
Digne became a regular provider of goals as Dominic Calvert-Lewin exploded onto the national consciousness last season but the Toffees' early season form evaporated after the turn of 2021 and the club tumbled from second place to a disappointing 10th place finish before Ancelotti departed for Real Madrid in the summer.
Digne had already signed an extension to his contract and committed himself to the club last February but Everton's struggles on the pitch have continued under Benitez, culminating in the irreparable fracture of the pair's relationship.
In the interim, Everton secured Ukrainian left-back Vitalii Mykolenko in an £18m deal from Dynamo Kiev as Digne's replacement.
---
Reader Comments (377)
Note: the following content is not moderated or vetted by the site owners at the time of submission. Comments are the responsibility of the poster. Disclaimer
Derek Wadeson
1
Posted 10/01/2022 at 13:19:00
Lucas Digne to Aston Villa, sounds interesting. As we are home to Villa on 22 January, I can't see a deal being done before then.

Shane Kind
2
Posted 10/01/2022 at 14:40:50
Gone are the days when you wouldn't sell to a rival at any cost, it would seem. Things have irrevocably broken down, it appears, between the player and the manager, so I guess it's now a case of getting his wages off the payroll. Still, it does feel a bit like a break-up than wishing one of your kids all the best as they go and make their way in the world.
Neil Thomas
3
Posted 10/01/2022 at 14:52:14
Maybe we should tell Gerrard his offer is from a joke book, and tell him to shove it
Iain Latchford
4
Posted 10/01/2022 at 14:53:22
Did I read that Digne is on £120k per week? £120k!?? He's been absolutely abysmal for at least 18 months.
Defensively he's poor. His corners/set pieces were awful. Free kicks in good positions either hit the wall or flew about 15 feet over the bar. Benitez got onto this pretty quickly and rightly took him off them after about 3 games (probably one of the reasons he got the hump).
He also repeatedly gives fouls away in dangerous areas. He's 29 and has three years left on his contract, so £18M in wages. Take the money, get him off the wage bill and move on.
Will Mabon
5
Posted 10/01/2022 at 15:14:55
Not pleased with this whole thing at all, but if he must go, 20 million is too little I believe, and we should not be so easily selling to what really is a direct rival today.
Iain, he's lost his early sparkle and been below his level for some time (ditto most of the team/squad, which is more telling) but "Abysmal" is really rather exaggerating. His figures stand up and say otherwise. Not the best defender lately if ever but we do not need to reduce our attacking capacity.
Craig Walker
6
Posted 10/01/2022 at 15:17:44
Digne is one of those players whose reputation amongst the fans is higher than it should be based on his performances, in my opinion. I think he was poor for large parts last season and has been woeful when I've seen him play this season. His defending has never been the best and his attributes going forward have got worse over time. I know Benitez hasn't let him get forward as much but he wasn't great for months under Ancelotti. I think it's good business to move him on given his wages.
Iain Latchford
7
Posted 10/01/2022 at 15:24:46
I've been banging the drum that he's massively overrated for some time now. I watch the game with my lad, and we frequently despair at how many mistakes, poor passes, fouls etc he makes. I really do not see the fascination with him. I wanted him gone long before Benitez arrived.
Justin Doone
8
Posted 10/01/2022 at 15:26:00
£35 M plus is what we should be asking.
A very good, proven, Premier league, experienced international in his prime year's should be valued a lot higher.
His track record and assists are there for all to see. But we continue to buy high, sell low. Why?
We should demand a player plus cash, just so the finances and player valuations can be better understood by our idiotic board.
It's about Everton, not about the players best interests.
I understand he has stated he wants to leave. But tough, he's under contract and can leave when we receive a better offer.
His departure weakens us in the short term, make no mistake.
He's not cup tied either!
Stu Darlington
9
Posted 10/01/2022 at 15:33:03
Take the money and run before Villa realise how crap he is and send big hard Stevie round to duff us all up!
Jim Bennings
10
Posted 10/01/2022 at 15:35:38
£25 million for a player that is 29 this summer is hardly bad business.
We cannot afford to do with Digne what we did with Seamus Coleman and let him amble on over 30 and watch what attributes he had diminish.
Lucas Digne was excellent going forward under Marco Silva, absolute thrill watching him and Bernard on the left at times.
However defensively he has never been very good and the last year or so he's too error prone and the amount of wreckless free kicks he gives up frustrates me.
If we don't sell him now or summer then that £25 million offer then becomes £15 million next year.
Part of me will be sad to see him go but I can't help but feel that we have seen the best of him in that first 18 months and much like Coleman and Baines before him it's all downhill from here.
Mark Ryan
11
Posted 10/01/2022 at 15:40:38
Our very own French International defender. A player that Benitez wants to sell apparently to Steven Gerrard for around £20 million. Only at Everton. An old pals chat down a telephone line ? one would hope not but it stinks
Jamie Crowley
12
Posted 10/01/2022 at 15:44:42
If Rafa the red wasn't bad enough, he's turning us into a red networking group FFS!
"Stevie La, I need to offload this talented problem player."
"No worries Gaff, I'll take him."
Everton, please fucking wake up.
Soren Moyer
13
Posted 10/01/2022 at 15:45:17
Just seen his stats on SSN. They hardly set the world alight! Just sell him for hard cash. No Villa deadwood as a part of the deal.
Philip Bunting
14
Posted 10/01/2022 at 16:33:19
Our very own French international, that may have rung true some years ago but he is more a squad sub with France that starter. 25mill is great buisness for a player coming 29 who has an over inflated opinion of himself won't be missed as his contribution the past 18months has been dreadful for someone earning 120k a week.
Dale Rose
15
Posted 10/01/2022 at 16:52:50
For some reason has gone off the boil. On the plus side Gomes is really starting to show his worth since the injury.
Martin Reppion
16
Posted 10/01/2022 at 16:55:39
I think what is most worrying is that there is talk that the deal will include us taking an under-achieving and barely performing player off them as part-exchange. Why the obsession with signing a winger? We have Gordon, Gray, Townsend and Richarlison to play wide in a front 3.
We currently have 3 right-back/wingbacks in Patterson, Kenny and Coleman and Mykolenko on the left with Nkounkou having a good season on loan and talking well about returning to Everton next season a better player.
A Number 10 of quality is the main priority. Or a physio who can get all our cripples back on the pitch!
We should be stacking up the cash to sign a player to cover where we have nobody. Not taking second-rate wannabees to battle for a place alongside others in overcrowded positions.
Tony Everan
17
Posted 10/01/2022 at 16:56:32
Lucas will be hoping Chelsea or Inter come out of the woodwork and match Villa's offer. He may end up at Villa but I don't think they are his first or second preference.
We are being linked with Lloyd Kelly today a young 6ft-3in left-sided centre-back who plays for Bournemouth. A whole host of clubs have had him scouted, West Ham and Newcastle also interested. I've not seen anything of this player; anyone who has, do you think he could be a good addition?
Dale Self
18
Posted 10/01/2022 at 17:04:54
Digne not keen tells you the risk. Those who might pay upwards of 30 are not necessarily in Digne's preference set. Sell him early and the 5m we pass up will be offset with actually being able to shop without it depending on closing this deal.
Luke Welch
19
Posted 10/01/2022 at 17:13:54
Still think we should get rid of Kean and Holgate, replacing them should be the main priority.
Derek Wadeson
20
Posted 10/01/2022 at 17:28:12
I have said for some time now, our squad is full of 20 million pound players. Forget how much we paid for them that is what other teams would pay for them.
So anything more than 20 million for Luca Digne considering his age and wage would be good business.
I would be sorry to see him go as I like his forward runs, but that does not fit in with the Benitez system.
Joe McMahon
21
Posted 10/01/2022 at 17:32:44
I'm not sorry to see him go, his one good season was a long - long time ago. Another defender that doesn't stop crosses.
Derek Knox
22
Posted 10/01/2022 at 18:15:12
I, like many others think that Digne has never been the player we started with, when he arrived from Barca, so I have no qualms about getting his wages off the Books and getting a decent Fee for him. I wouldn't be demanding too much either, as it could backfire, if allegedly Villa are willing to pay £25M, like they used to say in the Am Ex ads " that'll do nicely Sir " !
Michael Burke
23
Posted 10/01/2022 at 18:21:21
For those wanting a premium for Digne. I'd be interested to see what your thoughts are when we are looking at 29 year olds. Whenever we look at player in that age bracket the usual chat is Too old, no sell on fee, etc. Even though they have another 6+ years of playing time.
Mike Gaynes
24
Posted 10/01/2022 at 18:46:08
Luke #19, good shout.
Holgate is self-evident. Mason the Mental Munchkin.
As for Kean, he started yesterday for Juventus but was pulled after 63 miserable minutes at Roma. And that was after his fellow striker Chiesa blew out his knee. With Kean off, Juve came from 3-1 down to win 3-4.
Whatever we can get for those two putzes, it would be addition by subtraction.
Derek Moore
25
Posted 10/01/2022 at 18:56:32
Jamie Crowley back on ToffeeWeb! Result!
Thanks for that interesting tidbit on "our Moise" there Mike. I'm not a discerning type, I'll watch just about anything. But the top flight in Italy is almost uniquely depressing. Crumbling stadia, thousands of fans cunningly dressed as empty seats, and very little in the way of a positive atmosphere.
It's all very very different from the early nineties when it was must see TV, and the finest league in Europe.
Mike Gaynes
26
Posted 10/01/2022 at 19:05:05
Depressing indeed, Derek. I won't watch Juve's games live anymore. I record them on my DVR and play 'em back at 2X speed. I would have needed 3X to detect any movement from Kean yesterday!
Brian Wilkinson
27
Posted 10/01/2022 at 19:19:15
Have put it on x16 for Rondon Mike to get a trot.
Darren Hind
28
Posted 10/01/2022 at 19:29:40
Its a pity we couldnt move Mina on. What a total Tart... But what club in their right minds would take him on for the wages he earns ? we're stuck with him
Wooden of movement. glass of structure, feeble of heart.
On over 5m a year. This guy has cost us 60m in transfer fee and wages. He's made 72 appearances and played 64 full games.
That works not far short of a million quid a game so far for a wooden lighthouse.
If we want to discuss why Everton are in such a state. look no further than the signing of this fella for a prime example. We have gone backwards since he got here.
60 M ? You could have bought at least 10 million girls blouses down Greatie for that
Oliver Molloy
29
Posted 10/01/2022 at 19:32:21
A Chelsea supporting friend of mine reckon they are after him, but will wait to the very end of the window before they make a move trying to put pressure on us.
In my opinion Digne will know who is interested in him and will only move if he is on the same money he's on now - he most definitely will do Benitez / Everton no favours unless something changes !
Chris Leyland
30
Posted 10/01/2022 at 19:46:15
Darren- and despite all that you said about Mina, a lot of which is true, he is still by far our best central defender, which is a damning indictment on Keane, Holgate and Godfrey.
Martin Mason
31
Posted 10/01/2022 at 19:48:26
Villa's gain and Everton's loss.
Conor McCourt
32
Posted 10/01/2022 at 19:59:16
Martin@16- haven't you heard? the reason why we need a new winger is because Carragher is soon to be installed as Burnleys new manager and Benitez has lined up a deal for Richarlison. The good news though is that we are getting £15 million and Jack Cork.
Benitez feels that with a midfield trio of Cork, Longstaff and Allan, the great second half of the season he promised will be so monumental that it involves a surprise Champions League placing Houdini act.
Allen Rodgers
33
Posted 10/01/2022 at 20:03:12
Digne has been off the boil for at least 2 seasons now, long before Benitez came in – so don't entirely blame the Benitez for his departure.
Darren Hind
34
Posted 10/01/2022 at 20:04:40
Yes, Chris.
Mina does have some qualities. He knows we have to move up the park because we are better when we do. Keane can't. Godfrey won't and Holgate doesn't seem give a shit either way.
But he is still as wooden as they get and come the day of reckoning. He will be right in the mix when our worst ever pound for pound signing is being weighed up. He's offered very very little and taken an awful lot.
Must admit though. The more games he misses the better he seems to become.
Martin Mason
35
Posted 10/01/2022 at 20:10:17
Darren,
That may be your own opinion but the reality is that he's our best defender (my opinion) and to most he's not a bad player. Not a credible cost marker neither, wages and transfer fee are completely separate costs, one an operating cost from income and one a capital cost which is amortised, wages are typically better than transfer fee as they have lower NPV?
The cost to the club for both are different. If looking at the added cost then you need to compare that total cost with total cash flow and profit. Such comparisons show poor value but not just for Mina but virtually all Premier League players?
Craig Harrison
36
Posted 10/01/2022 at 20:23:19
Watching Villa game and the Villa left-back (target) is making a stellar case of why they want a new left-back. Slow getting up, slow getting back, can't tackle and lots of mis-placed passes.
Chris Leyland
37
Posted 10/01/2022 at 20:26:32
Craig - he sounds like he'd fit right in to our style of play
Craig Harrison
38
Posted 10/01/2022 at 20:30:27
Chris. Does sound a lot like our current French left-back.
Paul Dewhurst
39
Posted 10/01/2022 at 20:31:10
Anyone thinking Mina is our best defender, please look at the stats, he wins more headers than Keane yet that's the only stat he beats Keane. Tackles / Interceptions / Passing Accuracy / Number of Games Played – Keane is better.
Chris Leyland
40
Posted 10/01/2022 at 20:36:06
Darren,
I know that you aren't a fan of stats and they can be a bit 'fan boy' but this article shows the difference Mina makes when he plays:
Allen Rodgers
41
Posted 10/01/2022 at 20:41:36
Hope Man Utd batter them. What a nauseating sight Gerrard and McAllister conspiring together at Old Trafford
Kris Boner
42
Posted 10/01/2022 at 20:41:59
To be fair to Mina, he's difficult to get on the pitch, but we win a significantly higher percentage of games with him than without.
With him in the team we average 1.8 points per game. A stat that is astronomically higher than what we have achieved with the other three numpties.
Derek Moore
44
Posted 10/01/2022 at 20:47:41
Best ability is always availability though isn't it Martin?
Alex Winstanley
45
Posted 10/01/2022 at 20:58:25
So as a result of Benitez's pride and stubbornness we are on the verge of helping a Premier League rival become stronger and step further ahead of us.
Only a couple of seasons ago Villa survived relegation by the skin of their teeth. Since then they have taken great strides forward and we have gone backwards. In business you don't let your best people go to your rivals, why are the club allowing this to happen?
Pat Kelly
46
Posted 10/01/2022 at 21:07:17
We might not have the strongest hand in deciding where Digne goes. He's not going to play under Rafa and will want to go where he chooses, not necessarily where Everton decide.
If he's not happy, he could decide to stay put. Wouldn't be good for him but he'd still be paid and we wouldn't get him sold. So he's in a strong position.
Darren Hind
47
Posted 10/01/2022 at 21:07:47
Oh No... The stats are coming out.
Barca had five good looks at him (yes, just five) and sold him within 8 months to the first bidder.
No other team were in for him when we parted with £28M.
He has never finished in the top seven in the Premier League.
No top team have come in for him since he was amassing these amazing stats
Mina tends to be available when we have a fit squad and always seems to be injured when we are down to the bare bones. He has played in some of our most fearful hidings and I've lost count of the number of goals he has coughed up.
Stats? Always prefer the bare records myself.
Anthony Flack
48
Posted 10/01/2022 at 21:08:52
Much of this has been said before – in decline, nearly 30, poor defensively, gives away free-kicks in dangerous positions, could not hit his arse with a banjo when it comes to free kicks.
For me the pivotal aspect is his lack of pace, cruelly exposed by Salah in the last Derby. And of course he wants to leave
I'd bite the hand off anyone who will pay £20M.
Paul Johnson
49
Posted 10/01/2022 at 21:16:19
I hope no one at Villa is reading this thread/site. We will be lucky to get 10 bob for him.

Christy Ring
50
Posted 10/01/2022 at 21:20:19
Good left-backs are hard to find, he's a French International and still a top class player. I know his career is finished here because of his fallout with Benitez, we normally let players go on the cheap, but we shouldn't accept anything less than £25M.
I believe Mina is probably our best centre-back, but he's on massive wages and his return has been shocking. He played 3 games in 10 days for Colombia in early October, and played 31 minutes since, and that's just 6 games this season.
Jim Lloyd
51
Posted 10/01/2022 at 21:20:49
I'm not so sure that it's Everton "wanting" to sell Digne to Aston Villa; and I do like the idea to see us tell the arrogant effer Gerard "What book of jokes did you get that bid from?" The trouble is, we need money, to spend money. The insane spending sprees that've gone on have seen to that.
We've got two young players, probably on a lot less wages than Digne and both show promise. Digne is a poor defender. He was great in his first season at going forward; but that's been well sussed and his weak points outweigh his good ones for us.
As far as we know, and all we can go by, is there are not many clubs beating down the door to sign him. I think we are doing the best we can by not accepting a swap deal for him. If we're going to get £20 million or more for him, then that's good business.
Mina is missing so many games and is reaching "who'd buy him?" point, that it could well mean we're stuck with another one who gets his pension from the club.
Depending who there is to replace Mina (and Keane, if we could!) that we could get, along with Holgate, then it might mean a better defence. (Couldn't be much worse!)
I've been having a look at our for and against in the last few years. Here they are:
Season GF GA Pos
2016-17 62 44 7th Didn't we have that lazy lump Lukaku then??
2017-18 44 58 15th
2018-19 54 46 8th
2019-20 44 56 12th
2020-21 47 48 10th
2021-22 23 32 15th
Apart from two seasons, we've only hit 40 odd goals per season. Even under the defensive maestro, over 100 goals were scored against us in two seasons. So it seems that there has been a weak defence in our team over those years, and only in two seasons, have we scored more than the opposition.
It could also mean that as well as not having a prolific scorer or two, we might not be supplying them from midfield and the wings; and to me, that means there's been a disjointed team for years.
There are at least three teams with the same goals against and I think they're above us. It seems to me, we have a weakness in defence but we' are not compensating for that by scoring more goals. But maybe that isn't really surprising, considering, Calvert-Lewin, Richarlison Gray and Townsend (all our leading goalscorers have been injured for weeks... even months).
So let's see what we're like with a full team.
Mike Gaynes
52
Posted 10/01/2022 at 21:21:19
Just remember, folks, Mina's harshest critic here has been an outspoken, passionate advocate for Mason Holgate.
'Nuff said.
Brent Stephens
53
Posted 10/01/2022 at 21:29:40
Not unnoticed, Mike.
Vijay Nair
54
Posted 10/01/2022 at 21:34:42
Not to nitpick Darren (50), but Digne cost us €20m/£18m at the time, not £28m.
Agree with you on Mina btw.
Darren Hind
55
Posted 10/01/2022 at 22:06:02
I was wondering when you would pipe up Mike. I wasnt wondering when your echo would pipe up though. I always knew it would be the post right after yours.
Its funny how you always view simple statement as Harsh criticism.
Mina has cost this club very heavily. finished no higher than 8th.
Other defenders like Coleman And Holgate who cost us next to nothing have both finished higher.
It doesnt matter what I think. The simple fact is. When people talk about the bizarre amounts of money Everton have squandered during his crazy period. Yerry Mina will be front and center when examples are given.
You cant blame Holgate for that :)
Paul Jones
56
Posted 10/01/2022 at 22:16:45
What worries me about this proposed transfer it has been intimated we would get Anwar El Ghazi in return. My concern with that is that appears to be a like for like possible replacement for Richarlison.
I remember when we was linked with James McFadden, thinking he has not been bought to play with Rooney, just the cheap replacement.
Rob Halligan
57
Posted 10/01/2022 at 22:19:24
Paul # 55.
According to Sky Sports News, Everton only want cash for Digne, they do not want any player in part exchange.
Tony Abrahams
58
Posted 10/01/2022 at 22:28:50
Looking at those stats, Jim (goals for and against are a couple of the few very important stats imo), and they just aren't very good. I can honestly say that over all the seasons you have put-up, I only enjoyed the last period of Silva's only full season, and other than that, we have played some very, very, very boring football.
Koeman, Allardyce, Ancelotti, and now Benitez, have all been as negative as each other, and it was only Silva, who had a go. But he was also naively exposed because he never had the defenders to play a higher line (his preferred/only tactic) once Kurt Zouma went back to Chelsea, and it's been back-foot defending ever since.
Stuart Sharp
59
Posted 10/01/2022 at 22:31:32
This argument about centre-backs is basically about who is the least crap. Pretty depressing. For me, Holgate is a liability. He has the look of a player who thinks he's better than he really is.
As for Digne, he has looked great going forwards at times, especially in his first couple of seasons and occasionally with James in the early part of last season, but he's always looked pretty average at defending. And his corners have been shocking.
Not the end of the world to lose him. But please God we don't want El Ghazi adding to our average midfielder collection.
Brent Stephens
60
Posted 10/01/2022 at 22:42:45
Stuart "This argument about centre-backs is basically about who is the least crap."
I wouldn't say they were both crap. But I take your point.
Danny O'Neill
61
Posted 10/01/2022 at 22:54:49
Look, I've only been asking for 2 years. Can we have a new centre-back who actually commands the defence and forces us up the pitch?
I'll go back into my corner and talk to myself. I've said it enough.
Jim Lloyd
62
Posted 10/01/2022 at 23:11:58
Yep, Tony, I agree. I think Martinez in his first season got us playing exciting football (if occasionally scary!) but better by far than anything we've had since. In another season that would have been good enough to get into the Top 6. And, as you say, Silva's last half-season.
Can we get Richarlison and Calvert-Lewin fit while we've got a few days grace? We might well be a lot more potent in the final third. We've scored some fabulous team goals (that one against Man Utd and the "offside" one as well! I think the five at the back will go once we get the two young lads bedded in and then we have some alternatives in midfield.
In defence, I totally agree with Danny; and I should guess a good few others. Keane is not a leader and he makes elementary mistakes or lapses in concentration and he's extremely slow on the turn. So, to me, if we can buy, our need is at least one centre-half... hopefully two. I hope we don't see much more of Holgate, except in the papers, wearing his new team's shirt.
Mike Corcoran
63
Posted 10/01/2022 at 23:17:46
What if we let El Ghazi come on the proviso they take Iwobi? 😁
Stuart Sharp
64
Posted 10/01/2022 at 23:21:01
Fair enough, Brent, I was being a bit facetious. But Godfrey is the only centre-back I'd be sad to see replaced, even if he looks better at full-back! Excluding youngsters, that is. In the meantime, what we need is better defensive coaching...
Brent Stephens
65
Posted 10/01/2022 at 23:25:27
Stuart, I wasn't actually disagreeing with you! And I agree re Godfrey.
Alexander Murphy
66
Posted 10/01/2022 at 23:49:52
Let Lucas go.
Shame, sad but he's become an expensive misfire.
If Villa want to increase his pay from £120K to £160K/wk then more fool Villa.
He isn't presently worth £80K/wk let alone twice that.
Digne has become one of these modern times anomalies in EPL football. The higher his pay the less he returns.
As to the spat with our petulant, wilful and blind-eyed manager, that is an entirely different problem. He should never have been appointed, but our capricious owner, teary eyed chairman and charity shop CEO aren't fit to run a paper round.
Go Farhad & find Nicola Cortese and HE WILL make life difficult in the Boardroom (for a brief while) but will point Our Glorious Club in a single cohesive direction (and rid Us of this troublesome pest).
Derek Thomas
67
Posted 11/01/2022 at 00:31:43
Push for as much over £20M as the market will stand without pricing him out of the market and get his wages off the books -– get it done... hopefully after we play Villa.
Paul Ward
68
Posted 11/01/2022 at 03:20:15
Despite Darren's knowledge of the game and his prolific writing, he also has the ability to turn any thread into his usual pet subject: parochialism.
From nowhere comes this hatred of any foreign player, especially those with a price tag. Allan and Mina are his main targets now, but he still rants about Lukaku.
It is very commendable to support every local and homegrown player but, let's be honest, it is not where they are from or how much they cost.
Eric Myles
69
Posted 11/01/2022 at 03:54:05
"His aerial win percentage this season backs that up, with the Colombian winning 76% of his aerial duels."
Not bad for someone that supposedly had Per Krøldrup's disease.
Darren Hind
70
Posted 11/01/2022 at 05:24:12
I think you make a fair...-ish point Paul.
I don't dislike (hate is not the appropriate word) either Allan or Mina. I think Mina knows what is required and where the team needs to be playing and it would be impossible to dislike a player who works as hard as Allan. I think he is the reason we are in the 4th Round.
I don't care where a player comes from and I would never in a million years come on to destroy a player for the sake of it.
I hear some ridiculous criticism levelled at Holgate. I see him blamed for mistakes other players have made in virtually every game. One guy even complained he had made an appalling error at Villa – he didn't play!
I can see the guys head isn't right. But even now he is no worse than other defenders. I would love to see a list of goals we have conceded this year that were directly attributable to his error's, but I don't think anybody could compile one.
I have to say, I think Holgate invites criticism with his arrogant approach. Davies though is on another level. The abuse that boy has taken and the screams which accompany even the slightest of errors are so disproportionate, I hope for his sake he can find another club. He will take ten times more stick for giving away a free-kick on the half-way line than Allan will take for passing directly to an opponent resulting in a goal.
I confess. I love to see a young lad come into the team. I guess I live my own dream through them... second hand. I fucking hate listening to ignorant criticism of them from people who exonerate the "superstars" of every error.
I don't raise the shortcomings of Mina and Allan because I "hate" them. I do it for balance. If I don't put up some unpalatable facts about them, who will?
The one thing you got totally wrong is the reason. This is not about parochialism. It's about value for money and what is good for our club. If people like Davies and Holgate are going to be hammered (and hammered they are), then I want to see a gulf in class when a player who cost us a fortune steps in. I don't see it. I have never seen it. They have just brought a far more expensive form of fuck-all.
I don't see how, where or why we have improved as a club or a team by signing Allan or Mina. in fact, if anything, we are going backwards. If we had skied the money we paid for them in fees and wages, we'd have probably been able to pay for the first new stand in the new stadium at Bramley-Moore Dock.
Allan and Mina are just two examples.
I often see the people complain about the quality of player which came form our lower ranks who cost little or nothing, but I think if you put a team consisting of Branthwaite, Davies, Gordon, Calvert-Lewin. to name a few up, against the players who cost us a fortune... they would fucking murder them. I certainly don't think they would have any trouble keeping a clean sheet.
£575M to be worse than we were? You could build a stadium on the banks of the Mersey for that sort of money.
James Stewart
71
Posted 11/01/2022 at 05:41:58
Derek Moore
72
Posted 11/01/2022 at 05:45:41
I was going to defend you on the charge of "prolific writing", Darren, but then you go and write that...
All jokes aside, I always feel that you have your reasons for your views, and you're not afraid to come on here and enunciate them in more detail when challenged. You're even happy to agree to disagree at the end of it all – a quality some of your more strident critics on here certainly can't claim for themselves.
I've got an inkling that it's the brusque scouse style of writing you deal in that causes half the trouble. I love the way you write, no bullshit and cutting scouse wit, reminds me of my Dad and uncles. But I'm not sure it comes across really well to the Blues who don't have extensive time in the city of Liverpool itself.
Ajay Gopal
73
Posted 11/01/2022 at 06:34:43
If Holgate can see the psychologist that helped turn around Pickford last season, we might still get value out of him. But, he has been really disappointing since he signed his big 5-year contract.
I would love to see Branthwaite given an extended run in the team. Keane may flourish alongside him.
By the end of the season, if we have a back 4 of: Patterson, Keane, Branthwaite and Mykolenko keeping a few clean sheets along the way, I would be very optimistic about our future.
On the subject of Digne, a straight swap with John McGinn would be my fantasy football dream. £20 million plus Bertrand Traore would be more realistic and will do fine for me.
Danny O'Neill
74
Posted 11/01/2022 at 07:36:18
The local lads always seem to be the easy targets. For years, many turned on Osman and Hibbert.
Osman was a technically gifted footballer; one of the few we had over the period he played for the club. But apparently he was too lightweight and let's not forget, another often stuck out wide, out of position and seemingly out of danger by the manager to fit the formation.
Ironically, given the title of this thread, many bemoaned and slated Hibbert for his poor crossing and not being so good going forward. But a great defensive full back. Whereas with Digne it's a 180-degree view for quite a few. Cake and eat it.
I've been reluctant to be too harsh on Holgate as he's been played out of position quite often. He's no right-back and he's certainly no holding midfielder; an attempt to plug the gap? Where's that midfielder to stop giving Allan too much to do?
On Davies, I was initially unsure; tidy player, gives everything, made mistakes as do all young players. As do all players for that matter. I've warmed to him and I think he's benefited from having Allan around him (didn't he say that himself)? I would like to see him stay as part of the squad, but I'm suspecting the manager doesn't fancy him.
I've been critical of our academy and it's production line. I'll maintain that as it hasn't been good enough for what it could do. That's another debate. But Gordon looks increasingly promising and Branthwaite has potential to live up to those who rate him highly. Not seen enough of him or Dobbin yet, but on the latter, what I have done gives hope. Bright, lively and energetic, something we need. And to repeat, I can see a Number 10 in him. Can we get Warrington near the first team squad? Okay, I'm getting ahead of myself.
But, and here's the football coach and purist in me, as long as these lads go onto enjoy a career in the professional game, preferably with Everton, but if not then I'm just pleased they've succeeded.
Last point: I think it's wise to differentiate the manner of criticism of any player. There's the here and now in the moment individual match and then there's looking at the broader picture of ability and potential, young, old, Finch Farm product or expensive foreign import. And of course, form. All players go through patches.
Like most, I really don't care where they come from, but it's always great when a local comes through, because yes, it's all everyone of us ever wanted to do ourselves. I still do.
Barry Hesketh
75
Posted 11/01/2022 at 08:02:15
Danny @78,
I think it's become a trait for some Blues, that as soon as a player puts on an Everton shirt, he becomes a target for their ire. But if he's unavailable or moves on, suddenly that player achieves hero status, it doesn't seem to matter to them where that player was born, although there has often been a tendency for some to attack the local players more than the imports.
My personal view is, if a player turns out for Everton, he should be fully supported. If he really is woeful on a regular basis, then that's down to the person who continues to select him and not the player himself.
Conor McCourt
76
Posted 11/01/2022 at 08:09:14
One thing I can't reconcile in my mind is the almost schizophrenic attitude of some posters. For years, we have been told that the squad is shit and we don't have enough quality players who could play for teams we want to be challenging.
Many would have had Pickford out the door years ago. Many wanted Richarlison out the door because he struggled under Ancelotti largely to being isolated and being asked to get through so much work.
Now posters are delighted to get £20 million for another of our elite players. Dominic is the only other top player we have incidentally.
If we need money in the coffers we could get 20 million for Allan, Kenny and Tosun without having a negative impact on the team.
For those arguing it's good money for his age, I would ask just who you can buy for similar quality? Last season, had this been done, we could have retained the services of Small and not sent Nkounkou out on loan and got a much greater premium for the player but to do so now is basically an indictment of the mismanagement of both the club and manager.
This is not clever business, it is simply piss-poor management.
Colin Glassar
77
Posted 11/01/2022 at 08:19:30
There is a "player" in Holgate but the attitude won't let it come out. He's an arrogant player, cool as they come but without the football brain to know what to do with the ball, eg, clear his lines. Once he realises that basic rule, he might become a decent player.
As for Mina and Allan, both have been huge disappointments in my book. Mina with his constant injuries and Allan with his poor distribution and decision making. Both are lively, energetic players but seem to have difficulty making simple passes and decisions.
When it comes to Tom Davies, I've seen enough to believe he'll never make it at this level. He's physically weak and slow, is easily knocked off the ball and dispossessed. His passing and decision making is poor. I just don't see anything in him to make me think he will develop into a regular first-team player.
I won't even mention Iwobi who must be our worst player of all time (considering his price tag). I'm just hoping, and praying, he has a brilliant Afcon and someone like Newcastle or Kidderminster make a £1M plus offer to take him as far as possible from Goodison.
Tony Abrahams
78
Posted 11/01/2022 at 08:21:46
I was talking to someone yesterday who said that, although he had his kids with him, he was very close to giving an Evertonian, a smack the other day at Hull, Barry.
He said this fella was proper giving it to Benitez, and he asked him why he'd come the game? Not liking the manager is fine, but stay at home if you can't support our team whilst they are out on the pitch playing a FA cup tie mate.
I think that's what loads might do on Saturday. It's the first time I've heard a few people saying they aren't going for years so it will be interesting to gauge the feelings of the most loyal away support in the country at Norwich, maybe?
Robert Tressell
79
Posted 11/01/2022 at 09:00:28
Connor @75, I take your point about Digne. But we really couldn't get £20m for Tosun, Kenny and Allan.
The former two are out of contract in summer so worth pretty much nothing now. Allan is decent but he's 31, patchy injury record and performances and out of contract in summer 2023. Probably worth about £10m now. Even at that price, who would buy?
Kevin Prytherch
80
Posted 11/01/2022 at 09:05:54
I would argue that Holgate has been our most consistent defender this season. Keane has made countless mistakes and is a liability against teams we should be beating, Mina is never here and all of Godfreys best games have been at full back.
I know he's the whipping boy at the moment (at least until Davies is fit again) and many can't bring themselves to acknowledge when he plays well, but he has been the best of the 4 centre backs we have.
If we flip it a bit, if Holgate had of made the number of mistakes that Keane has this season, how much abuse do you think we would have got? If Holgate had of been injured for 50% of the season, how many would be praising him as our defensive messiah? If Holgate was as out of position as Godfrey every time he played centre back, how much abuse would he have got?
He might not have been as good as he was a couple of seasons back, but he's been nowhere near the worst culprit this year.
Danny O'Neill
81
Posted 11/01/2022 at 09:08:19
There's always that "you're shite Everton" bloke Tony! I nearly snapped against Norwich at home with the guy somewhere a few rows behind. I know we're all entitled to our opinion and frustration and I've heard some over the years. But he was special and persistent.
Barry, I think we're saying similar things. That was my differentiation between commenting on a particular performance in one match and form over time as well as ability / potential.
But the main point I agree with in the last few posts is to leave that type of thing to the end. Try to leave it to the after match reports on here. But during the match it's get behind the team for me.
Best example for me this season has to be Chelsea. Where I was sat/stood (no-one really sat down), hardly any negativity throughout, even when we went a goal down. And given the pre-match forlorn hope concern with the injury situation, you could have forgiven many for fearing the worse and turning.
But they didn't. Yes, a few inevitable comments at the end aimed at Benitez, but during the match, mostly positive throughout.
Steve Brown
82
Posted 11/01/2022 at 10:21:53
Conor @ 75, great point.
Our fans' willingness to sell our top players for small fees is amazing. As the French international full-back with 43 caps, Digne is an elite player and claiming that a 20 million fee is sufficient is ludicrous. He might not have been in top form over the last 12 months, but to devalue him by 15-20 million just for a quick sale to provide January transfer funds to Benitez and/or satisfy the manager's ego makes no sense.
I have seen other posters claim that we should be happy with 35 million for Pickford and 45 million for DCL. And we complain about the club lacking commercial acumen!
And regarding the supply of talent from our Academy, bringing DCL, Davies, Holgate, Branthwaite, Gordon, Dobbin, Simms and Kenny through represents success to my mind. Their development path has been impacted by the constant change of manager, but all have potential to reach the first team and they will all command a good transfer fee if they leave. If that isn't success, then it would be useful to hear what does represent success for an Academy?
Danny O'Neill
83
Posted 11/01/2022 at 10:45:05
I'll have a go at that one Steve and I'm not meaning to be confrontational.
It depends how you measure success. For me, one or two that can be part of a successful first team that can help us challenge for honours. Not several who can be part of a mid-table first team. Maybe I'm overly ambitious. I think United, who have been the benchmark over the years are suffering with that. Probably in an effort to recreate the class of 92, they have several academy players in their current team. But they are a far cry from where they were by their own standards. On that, did everyone see Rashford last night? Too much interest in off the field campaigning and less in the day job or just an off night? Didn't seem bothered at all when he got hooked.
And, in supporting your point, producing one or two, that if they do move on, are of the standard that command a meaningful fee and don't see us get our mandatory seeing off.
Villa cashed in to the tune of £100M for Grealish.
Still a few unknowns on your list, but I'm hopeful for a few of them. Sadly (genuinely), I fear the Kenny ship has sailed and we won't get a lot for him if and when he moves on. Although he's done okay in the last couple of games, so here's still hoping for him and us.
I'll have to revert to the more closer observers of the U23s, but didn't Calvert-Lewin and Branthwaite come straight in as already established first team players at their previous clubs and strictly speaking, were not part of our academy?
I'm all for claiming young players' development, even if we've brought them in at an older (but still young) age by the way.
Steve Brown
84
Posted 11/01/2022 at 11:03:46
Danny, you are not being confrontational at all!
i agree that we want players for the Academy helping us produce a successful first team as defined for example by a top 6 finish, however I only really see Chelsea as making the success using that model in the premier league.
Man City have Foden, Liverpool have several good squad players, Arsenal have good young players but I am not convinced they will sustain a challenge through the season. As you mentioned, Man Utd have produced young players such as Rashford and Greenwood, but they also are not making a significant impact.
We are not a mid-table team because of the production from the Academy, but rather due to our constant rotation of managers and transfer signings of over-priced, average senior players.
if I looked at the transfer values of the young players I mentioned who have moved into first team contention from, my expectation would be that their transfer market value is 150 million and rising. Clubs also sign players at various age groups to strengthen the Academy squads. Provided their play in the Academy team then I see them as Academy players.
Therefore, commercially the Academy is successful and, if we actually play them, more young players will develop to be fixtures in our first team. The days of signing a Rondon who holds back the development of a Dobbin has to end.
Danny O'Neill
85
Posted 11/01/2022 at 12:04:17
I think we sound broadley aligned Steve.
It is indeed a combination of factors. Managerial revolving door, poor transfer strategy (that's being kind).
It's always a blend. Buy a combination of experience (Allan), potential (Godfrey, Mykolenko, Patterson) and a few additions from our own back yard. But don't rely on one of those routes alone. I know that's not rocket science, but we've failed miserably. And the stability you refer to.
Talking about transfer value, any news on Dobbin signing a contract? Otherwise can't he walk in the summer??
Just read the interview with Mykolenko interview sent through on the Everton App. I know they're only words, but really honest self-critical assessment. I like his attitude already.
Nathan Jones
86
Posted 11/01/2022 at 12:48:40
We have gone a little bit off topic but I agree Steve Brown. Bringing DCL, Davies, Holgate, Branthwaite, Gordon, Dobbin, Simms and Kenny through an in either the fist team or first team squad represents success. I know some if these were purchased but it was for small fees and they were not considered 1st team ready. they were bought to develop. Niels Nkounkou, Lewis Gibson, Joa Virginia and Nathan Broadhead are all out on loan to see if they can get some game time to be nearer the first team. I don't know how they will do, unfortunately I'm pessimistic about the Broadheads chances. but who knows?
There was also a middle ground of players that I think in fairness we failed with, I'm thinking Vlasic, Lookman, Deulofeu and Mosie Kean. We paid decent money for these hoping that they would develop into premier league players, unfortunately they were not quite ready and we don't have enough games where we play sufficiently inferior opposition to offer them enough games. IE we have not played in the Europa League for several years, we tend not to progress far in the cups, and if you are an elite premier league team playing a bottom half team, you can wait until you're comfortable and blood a youngster, or even start one, as every other player you have on the pitch is way better than every player the opposition have.
Peter Hopkins
87
Posted 11/01/2022 at 12:49:09
Dodgy January transfer rumour I know but, talk of lazio interested in Allan,would anyone be too disappointed to see him go??
Robert Tressell
88
Posted 11/01/2022 at 12:56:14
The Digne fee has been hit by a few issues.
- it's widely known that we need to sell players to allow us to buy. That puts us on the back foot in terms of bargaining power.
- Covid has hit the market, with fewer potential buyers than there might otherwise have been. Seems just Chelsea (who already have Alonso, Emerson Palmieri and Chilwell), Leicester, Newcastle (probably going down), Inter and Villa credited with any interest. I reckon pre-covid we could have sold for £45m. Unfortunately now I think £25 to £30m tops.
- Unfortunately Man City don't seem interested despite losing Mendy. Cancealo and Zinchenko are unusual LBs but seem to fit the City system well.
So £20m is very low, lower than I'd be happy with certainly. Especially if it serves to nudge Villa further ahead of us in overall quality.
But equally we don't really have the luxury of keeping him but not playing him. And despite some decent stats he really has gone off the boil and we arguably look better with Godfrey at LB.
And if it allows us to improve elsewhere (obviously that's a big if) then maybe even £20m might end up being a good deal.
Danny O'Neill
89
Posted 11/01/2022 at 13:09:44
You never truly know with with young players and the "next best thing" Nathan. That's the problem with over expectation which can lead to overly harsh criticism whilst they're still developing. Especially in an environment like Everton at present if we don't have the opportunity to manage their development properly. Either we don't risk them or we expect too much and destroy them before they've started.
Ideally, you are able to bring them in gradually. Look how Pep was able to manage Foden for a couple of seasons despite the English media frenzie for him to play 90 minutes every week. Gradual progression until he felt he was ready and consistent enough for regular appearances. Not the opinions of supporters or the press.
Peter @86, personally I'd be disappointed to see Allan go, but if its good business for the club for a player of his age, then I'm not averse to it.
Especially given the finances in Italian football. That could like involve a player swap if there are any legs in that one.
Robert Tressell
90
Posted 11/01/2022 at 13:41:56
Peter # 86, on the basis that we need some consistency and experience in the first 11 I'd be very reluctant to let Allan go. We're in the process of establishing Gordon, Branthwaite, Mykolenko and Patterson in the first 11.
Allan is a good player and is worth hanging on to until summer 23 when his contract expires.
Next season I'd quite like to see him have much more competition though, from one or two new high quality midfielders.
Len Hawkins
91
Posted 11/01/2022 at 13:55:52
Do you think If we all write to Boris offering cash to put a ban on anyone from Nigeria coming over Iwobi would be gone. A few quid to Boris is better value than x£millions to Iwobi.
Peter Hopkins
92
Posted 11/01/2022 at 14:07:56
Robert, Danny, I don't want to see him go but if he went I don't think I'd be too upset, when he arrived most on here said he was the defensive midfielder we need, but he wasn't a defensive midfielder, he's an all round box to box player but just not got the legs for it. I wouldn't be to gutted to lose his hundred grand a week but agree consistency is needed and maybe a third man in there to help him be the box to box player
Jack Convery
93
Posted 11/01/2022 at 14:31:43
Letting Allan go now would be ridiculous. Unless we have a really top class mf coming in to replace him - this is absurd.
Having watched Targett last night I can see why SG wants Digne. Top dollar we need for him.
Barry Rathbone
94
Posted 11/01/2022 at 14:34:05
Allan has been one of those "names" who appealled to judges who gauge footy by verbiage on the the internet. Because I don't do that I was aghast at how ineffective he is.
Not keen on losing Digne but Benitez is spot on if he moves Allan out.
Clive Rogers
95
Posted 11/01/2022 at 14:48:04
Allan has struggled with the pace of the PL, and can go for me, but he would need replacing. I was disappointed with Mykolenko in the cup game, looked decidedly average. It was his first game for a while and may need time to settle.
Bill Gall
96
Posted 11/01/2022 at 15:00:03
I cant see the sense in letting Allen go while we are struggling in midfield. We need experienced help in this department until we can bring in a better class of player in to replace him. Prepare to hold on to him until the summer when we have either some one else brought in or one of our younger players gets more experience, I think he would be better off making him captain to liven some of the other defenders up.
Danny O'Neill
97
Posted 11/01/2022 at 15:00:53
I'd agree with the sentiment on Allan. I would ideally keep him, but get that additional midfielder in that we thought Gbamin could be, Gomes doesn't seem to be and the others can't be. We've even tried Holgate there.
Depends what they, well Benitez, is thinking. Like always, as long as a replacement is lined up, that's football.
But I agree with the consistency and the experience. As well as his leadership qualities which sometimes go un-noticed.
Brent Stephens
98
Posted 11/01/2022 at 15:08:20
I understand comments about people wanting somebody better than Allan. He's not the only one of our players we might say that about. At the moment though, along with Doucoure, he's about the best we've got in midfield (and I actually that, for all his shortcomings in pace, he's gritty and a motivator). Young Tom Davies won't be stepping into that position to replace him, from what I can judge, so we need somebody in first before Allan goes out.
Tony Everan
99
Posted 11/01/2022 at 15:32:23
Brent, agree with all that. For us even to contemplate letting him go back to Napoli we must have someone already lined up. Otherwise is far too big a risk considering our current league placing. I was thinking we already needed another tenacious fighter / enforcer in midfield before these Allan rumours. So I would say we need two midfielders if he goes.
Warning :
All this squad chopping and changing could disrupt us and cause our play to become disjointed and disorganised. It may cause the players to look confused like they've only just met each other. It could disrupt link up play, passing accuracy and ultimately lead us to losing games we should be winning.
Robert Tressell
100
Posted 11/01/2022 at 15:50:35
Even if we brought in a good long term replacement like, say, Zakaria who's been often linked - it would be a new personality from another country in an already struggling team, without the benefit of pre-season.
Certainly keen on getting an upgrade on Allan in summer - but that's with a view to moving Allan into an understudy role for the final 12 months of his contract to improve the appalling depth of quality in the squad.
Also, there's a point here about signing a player for £25m age 29 for 3 seasons. We've not had great value from him as a player and will get no money from his sale to reinvest. Can't do that again.
Clive Rogers
101
Posted 11/01/2022 at 15:51:40
Tony, it's Lazio he's talking to reportedly.
Alex Gray
102
Posted 11/01/2022 at 15:55:16
Allowing Allan to go on loan is idiocy and doesn't benefit us in any way. I'm not his biggest fan but we're in a relegation battle at the minute and he's our only midfielder who can tackle. Think it's bs personally.
Steve Brown
103
Posted 11/01/2022 at 16:07:28
Robert @ 87, you never negotiate from a position of weakness. If we cannot achieve the market price for Digne, we keep him in under contract until the summer and sell him then.
Equally, we do have the luxury of keeping him and not playing him. Tosun demonstrates this on a weekly basis. Or alternatively, Benitez swallows his pride and plays him. Mykolenko is new to the premier league and Godfrey ain't no left back as his performances this season have demonstrated.
As regards mention of his age, he is 29 and a defender. Check out the age profile of the Italian defence who conquered in the Euros.
The football and commecial arguments that we need to sell in this transfer window simply do not scan. If we do sell, it will be a personality driven decision which smacks of poor leadership.
Mike Gaynes
104
Posted 11/01/2022 at 16:14:15
The Allan rumor seems ridiculous to me. In a team hammered by injuries, he's played the second-most minutes of any field player after Keane. We can't possibly afford to let him go right now.
To add to the silliness, the TeamTalk article about the rumor says this:
"As for Everton, they have a number of options in the centre of midfield. Indeed, the depth in the position may be a reason for Rafa Benitez allowing Allan to leave for a period."
Depth in the position. Yeah, right.
Ridiculous.
Brian Harrison
105
Posted 11/01/2022 at 16:24:00
Doucoure has done an interview with the Echo were he talks about playing in a 3 or a 2 in midfield. Seems to prefer a 3 as he says it seems to give them more control, but also said there are times when a 2 works. Be very careful as Benitez will scrutinise your article to see if its any way critical of his tactics.
Away from football a mate who knows I love the horses text me this morning to say there is a horse running at Doncaster today called Wonderwall he asked did I think it would win, I said maybe.
Mike Gaynes
106
Posted 11/01/2022 at 16:24:20
Kevin #79:
"I would argue that Holgate has been our most consistent defender this season."
Agreed. Completing half a season without flashing a single moment of quality, intelligence or passion is an absolute triumph of consistency.
And what a brilliant moment that was against Spurs.
Phil (Kelsall) Roberts
107
Posted 11/01/2022 at 16:49:57
Digne for £20m is actually a lot more. According to Sportrac his salary is just over £6m and he still has 3½ years to run. He will cost £21m to wind down his contract so £20m will improve Everton's finances by £41 over the next 3 years. Mykolenko will cost £10m salary plus his £20m fee - so we are £10m up on the deal.
We really should not look at how much we get, but how much we reduce our costs. The ending of Tosun, Delph and he who shall not be named will save us £12m a year from July, even though we will not get a penny in transfer fees.
Clive Rogers
108
Posted 11/01/2022 at 16:50:34
Reported interest in midfielder Golovin of Monaco.
Clive Rogers
109
Posted 11/01/2022 at 16:54:39
Phil, 106, we may save money with Mykolenko compared to Digne, but is he as good. I was disappointed with his first game but only time will tell.
Tony Abrahams
110
Posted 11/01/2022 at 16:55:42
I heard a few of the players went in to see Benitez the other day because they wanted the team to start quicker, Brian. 45 seconds into the next game we were a goal down. I think it's a lot easier to criticize if a player is doing his own job properly, but in saying that, if the manager was doing his job properly, I suppose nobody would have any problems!
Robert Tressell
111
Posted 11/01/2022 at 17:18:29
Steve # 102, I'm not sure how we avoid negotiating from a position of weakness. I can't see our bargaining position (or Digne's value if he sits out the rest of the season) being improved in summer.
I see the situation with the non-playing Tosun being different. No-one at all wanted him apart from loans and then he got repeatedly injured.
With Digne we have a chance to sell for more than we paid, make an accounting profit on the wages and free up much needed funds for reinvestment.
If we sell for, say, £5m less than we think he's worth but use the proceeds to improve the side then maybe it's not a bad deal in the grand scheme of things.
It comes down to how we use the sale proceeds. We're obviously in need of striker options, quality in central midfield and centre back. If one of those positions is addressed it could even be a really good deal.
I'm not thrilled because I liked Digne and wouldn't have expected him to be sold - and this might all be an example of Benitez being an arse - but I'll judge it when the window closes.
Si Cooper
112
Posted 11/01/2022 at 17:58:27
I'd imagine all the money has already been spent so Digne's move is probably key to any more incomings. We need a couple of serious competitors for his signature to get the deal done in good time.
Allan and Doucoure are currently the basis of our midfield even if you don't think much of either. Along with others, I'd only be comfortable with Allan departing if there is someone coming in as a direct replacement.
Bobby Mallon
113
Posted 12/01/2022 at 11:18:08
Digne fee agreed by Villa £25 million.
Tim Kells
114
Posted 12/01/2022 at 11:28:12
£25M Fee Agreed
Julian Exshaw
115
Posted 12/01/2022 at 11:30:25
So we sell an international class defender in Digne and seem about to bring in a player who can't get into Aston Villa's first team. This is real progress, isn't it!! We are being run by a bunch of incompetents, we really are.
Sam Hoare
116
Posted 12/01/2022 at 11:42:28
Joe, has Digne really been awful for 2 years?! He had our most assists last year and despite all the mythology around his defending the statistics suggest he wins more duels on ground and in the air than most full-backs in the league. His positioning is dodgy at times and he's not been allowed to push forward as much under Benitez but don't be surprised to see him be very good for Villa.
Joe McMahon
117
Posted 12/01/2022 at 11:47:24
Sam, I dunno. But Gray was sold by Leicester to us for a small sum, and yes some players do better at different clubs so yes you could be right. I'm just trying to look on the bright side.
Sam Hoare
118
Posted 12/01/2022 at 12:01:52
Joe, there is a bright side. We are selling a player who may be passing his prime for profit (good profit in terms of amortization value) before his value starts to decline. It's half of a sensible business model, with the other half being acquiring talented younger players who can do a similar job.
Whether Mykolenko can do the same as Digne remains to be seen.
I'm not too displeased at us selling Digne at this junction but he's been very important for us and he will be missed.
Ian Bennett
119
Posted 12/01/2022 at 12:17:02
Digne's fee reported to be £22.5m plus £3m add ons.
We've had our pants pulled down here on the arriving full-backs, and on this sale.
A joke of a club.
Michael Lynch
120
Posted 12/01/2022 at 14:14:20
Just imagine, we have two left-backs - one of whom has just arrived from Eastern Europe - and we sell our first choice, a World Cup Winner and recent Player of the Season, to our rivals. We have five wingers and we buy another one who can't get into that same rival team.p>What sort of a club are we?
Danny O'Neill
121
Posted 12/01/2022 at 14:30:16
For the sake of consistency, disappointed this has happened.
It works for how Gerrard is trying to get Villa to play, whereas their current (very good in my opinion) left back is a more traditional defensive minded one.
Moving on, we can't judge Mykolenko on one game. He's young and will need to learn the league and the change of country. But we do have Godfrey as cover as well as Nkounkou to come back.
Mike Gaynes
122
Posted 12/01/2022 at 14:44:47
Michael #88, yes, he's a World Cup winner... eight years ago, when he played one game. Yes, he was our Player of the Season three years ago.
But that's the distant past from a football perspective. In the present, he hasn't played well in a year, he's no longer first choice, he doesn't want to be here anymore, and his manager doesn't want him. And he's making £120,000 a week. There is no alternative.
At least this time we've brought in his replacement first, instead of leaving it to the final frantic hours of the window as usual.
Mal van Schaick
123
Posted 12/01/2022 at 14:46:01
A bit like a firework, started brightly but fizzled out. Bust up with Gerrard next.
Hugh Jenkins
124
Posted 12/01/2022 at 14:48:43
Mike (104) - Obviously the "depth" they speak of is: Delph, Gomes, Gbamin.
I expect that if, by some miracle of science, we were able to dismantle the three of them, and harvest their "unbroken" parts, using those to build a new player, that might be a solution. Otherwise…
Kevin Prytherch
125
Posted 12/01/2022 at 14:59:22
How is Digne worth the same as Chris Wood?
We used to be really good at getting decent deals for players. The likes of Rodwell and Lescott went for decent money, Rooney was a world record fee for a teenager and Lukaku has only ever gone for £10m more than what we sold him for.
Now we manage to drive the price of outgoing players down by not playing them, making it known that we're desperate for money and making it public knowledge that they don't want to play for us anymore.
Like him or not, under Moyes we'd have got £40m for Digne.
John Keating
126
Posted 12/01/2022 at 15:08:50
I would imagine the Digne money will pay for the 2 fullbacks.
Maybe a loan or two incoming before the end of the month
John Crook
127
Posted 12/01/2022 at 15:12:02
What a sorry state of affairs the club is in!
Okay, Digne has been well off form for 12 months but he is absolutely one of the best left-backs around and is France's first choice. And now we are selling him to Aston Villa??
What does that say about the mentality and ambitions of our squad when they see a move to Villa (who will not even be fighting for Europe) as a move of progression?
And it seems we now want another McGeady or Bolasie type winger from them in return to be whipping the balls in for the predatory Rondon?? Fuck me… these are awful days to be an Evertonian.
Andrew Keatley
128
Posted 12/01/2022 at 15:14:03
Mike - Eight years ago? What year are we in now - 2026? Also, Lucas Digne wasn't in the French World Cup Squad in 2018, so he isn't a World Cup winner. He was in the Euro 2016 squad where France were losing finalists, and the Euro 2020 squad, where he got injured as a half-time sub in their final group game, and France went out in the last 16 against Switzerland.
But other than those slight aberrations I think you're spot on about Digne and El Ghazi.
Mike Gaynes
129
Posted 12/01/2022 at 15:23:09
Umm... Andrew... correct, yes, he did not win it. Digne was in the France World Cup side in 2014. He played one game in the Brazil tournament, the dismal 0-0 draw with Ecuador. It was memorable only because he put in a tackle on Antonio Valencia, who stomped on him and was sent off.
Martin Mason
130
Posted 12/01/2022 at 15:25:38
The reality is that Digne has played below par since Benitez came to the club. He has far more value than Benitez and hence it is far better that our idiot of a manager goes – not a talented player.
Duncan McDine
131
Posted 12/01/2022 at 15:27:01
The slippy one is putting together a decent unit in Brummieland. Let's hope that our very own resident Kopite has a plan. I'm resisting the temptation to get on his back just yet, but we'll see how the coming months pan out (if he's given the chance).
Rob Halligan
132
Posted 12/01/2022 at 15:29:43
Lucas Digne has specifically said (according to Benitez anyway), he doesn't want to play for Everton anymore, or more to the point, doesn't want to play for Benitez. What club he then moves to is totally out of Everton's hands, and that club happens to be Villa, who have agreed the asking price for Digne.
So why are people getting so agitated just because he's going to Villa? There is no point in keeping a player who doesn't want to be here, irrespective of what club he joins.
I can just imagine the uproar on the Burnley equivalent of TW. They will be going absolutely nuts about selling Chris Wood to a relegation rival. But I guess that's what happens when clubs set a buy-out clause into a players contract.
Joe McMahon
133
Posted 12/01/2022 at 15:33:37
Mike Gaynes, thank you for some sensible words. Some of the comments are bizarre. Digne's form was well below par long before Benitez came.
And can you believe it – the name David (never won at Anfield in 11 years) Moyes is on here to???
Mike Gaynes
134
Posted 12/01/2022 at 15:38:24
Martin, the reality is he has played below par for a full year, long before Benitez came into the club. He has no goals and three assists in his last 38 games in all competitions, and his defensive level has dropped off.
I think it's possible that ankle injury in November 2020 really took something out of him.
And remember, this sale isn't just bringing in £25 million -- it's reducing our wage bill by £120,000 a week. Mina and Digne are our top earners.
Martin Mason
135
Posted 12/01/2022 at 15:50:18
Mike, yes, that is that is certainly one opinion. Remember though that the whole team played very badly during the second half of last season. In my eyes, just based on the games that I've watched, where Digne looked to drop in form was when Benitez came and had him play a more defensive role which, funnily enough is his reason for leaving now. I can't see him in training though and can only offer an opinion. I just hate to see us lose a good player and he was one of our better buys ever. Benitez was possibly our worst though I can only pray now that he comes good.
Rob Halligan
136
Posted 12/01/2022 at 15:50:28
Joe # 133. Seeing as Moyes has been mentioned, do you think he would have got £40M for Digne? Me, not a cat in hells chance.
Michael Kenrick
137
Posted 12/01/2022 at 15:52:47
Martin @130, re Digne:
He has far more value than Benitez and hence it is far better that our idiot of a manager goes – not a talented player.
I think I'd turn that logic on its head:
He has far more value than Benitez and hence it is far better that he is sold for a decent fee as they no longer get on.
If we got rid of our idiot of a manager instead, we'd have to pay him and his entourage a not-so-small fortune to vacate the premises, and that would be daft.
Steve Brown
138
Posted 12/01/2022 at 15:55:02
Benitez could not manage the relationship with a senior player and allowed it to deteriorate to the point where it was irretrievable.
He then exacerbates the problem by highlighting the rift in every press conference, inviting rival clubs to come in with low-ball offers that undervalue the player. Effectively, he is strengthening a club who are one place above us in the table and costing us money.
My guess is his ineptitude cost the club £5-10 million in transfer fees.
David Bromwell
139
Posted 12/01/2022 at 16:11:27
I think Benitez has engineered this situation in order to create a transfer fund. Time will tell if he has negotiated a better squad. It's a risky approach but in fairness our transfer policy has been a shambles for years.
Thus far it's the one part of his managerial policy where he has had some success. If he can get his team selection, tactics and substitutions right we might just win the odd game. Let's hope he knows what he is doing.
Brian Wilkinson
140
Posted 12/01/2022 at 16:22:38
£25 Million for me is decent, considering we could have only got a loan away out of Digne, then probs got £20 Million tops in the summer.
Just hearing El Ghazi is a done deal as loan deal, makes more sense than splashing cash out for him.
Mike Gaynes
141
Posted 12/01/2022 at 16:24:18
Steve #139, keeping in mind we bought him in his prime at age 25 for £18 million, you think Digne is now actually worth almost double that?
So if Rafa had handled the situation differently, we should have gotten £30-35 million for him? Based on what? Comparisons with other recent sales of left backs? Certainly not his performance level over the past 12 months?
Rob Halligan
142
Posted 12/01/2022 at 16:27:46
Steve #139.
You say Benitez exacerbates the problem by highlighting the rift in every press conference, inviting rival clubs to come in with low-ball offers that undervalue the player.
So what was the alternative? Benitez says nothing and hopes he can resolve the problem, which was highly unlikely, thus leaving Digne handing in a transfer request. It's still very likely that any club would have bid lower than what many on here think he's worth, knowing he's unhappy and hoping to get "a bargain".
I suppose the club could have rejected Villa's offer and hoped for a higher bid from them or another club, which doesn't appear to have happened, so it's best to accept the Villa bid and sell a player who no longer wants to be here.
No point in paying him £120k pw for the next 6 months just to sit on the bench, which was probably his only chance of being anywhere near the first-team squad.
John Chambers
143
Posted 12/01/2022 at 16:29:04
I have always liked Digne but, when you look at his stats, did he do anything special for us?
According to the Everton website, he made 127 appearances, scored 6 goals (1 in 20), was yellow carded 20 times (1 in 6) and had tackle success rate of 63%. I know stats can be misleading but Seamus has 350 appearances, 22 goals (1 in 16), yellow carded 34 times (1 in 10) and a tackle success rate of 76%.
Perhaps we all looked through rose-tinted specs a bit because he is a French International and getting two new full backs who could take those roles for the next few years might not be such bad business...
Jay Harris
144
Posted 12/01/2022 at 16:29:37
Digne is NOT France's first-choice left-back – in fact, he is third in line and certainly not a regular with the squad.
It makes me laugh when players are described as "International" when they have played less than a handful of games for their country.
Digne has been slammed by posters over the last 12 months – long before Benitez came – and is a country mile behind the player who first appeared for us before his injuries.
£25M is a fair price; if it buys us 2 young quality full-backs, it is good business.
Now let's get some goalscoring hardnosed midfield players in and a dominating centre-back.
Rob Halligan
145
Posted 12/01/2022 at 16:33:13
Some good news anyway. DCL, Richarlison, Mina and Branthwaite have all returned to full time training.
Along with Delph!!
Mike Gaynes
146
Posted 12/01/2022 at 16:37:46
Jay #145, in the interest of accuracy, Digne played in 8 of France's 16 international games last year, and started 3 of their 5 World Cup qualifiers.
True, he will likely never be first-choice again with Theo Hernandez emerging as a star, but he's a long way from being out of the France picture.
Agree with your conclusion nonetheless. Fair price, solid transaction.
Simon Smith
147
Posted 12/01/2022 at 16:38:49
I think this is a fair deal.
Yes Villa are a direct rival, but it was evident that he was going since the fall out and if they are the only club that meet the asking price, then so be it.
I just hope this money adds to our transfer fund this window and we are able to get at least one more signing
Brian Wilkinson
148
Posted 12/01/2022 at 16:41:46
Very good deal £25 Million, Chelsea and the likes wanted him onloan, so to get that is good buisness.
Ralph Basnett
149
Posted 12/01/2022 at 16:46:10
I don't understand the fuss, Digne has been dogshite for 18 months, he tried a short freekick last season that worked and never repeated, he has a long throw that he does not use, looks semi-good going forward but cannot tackle or defend and to top it all he is 29!
We have bought a new left back so Digne becomes surplus to requirements, he has gone so lets back the new lad and hope there is still more to happen it this window.
For too many windows we have had to pay a premium price because we can't get our shit together and now that we buy early we moan again, Everton that is!!!!!!!
Michael Lynch
150
Posted 12/01/2022 at 16:46:26
I agree Digne hasn't been at his sparkling best recently - though who has, apart from Gray and Gordon? - but are we really upgrading with Mykolenko? And why do we need yet another bang average winger? In the short term at least, are Villa strengthening their squad at our expense if Digne goes one way and El Ghazi the other?
Mike Gaynes
151
Posted 12/01/2022 at 16:46:55
Rob #146, you just put a big grin on my face.
Danny O'Neill
152
Posted 12/01/2022 at 16:47:05
Delph will snap a bootlace on his way to the training pitch and pull his hamstring as he bends down to sort it out Rob.
Good to see them back on the scene. I wasn't aware of a problem with Branthwaite. Missed that one and just thought he'd been left out, which seemed odd after Chelsea.
Peter Carpenter
153
Posted 12/01/2022 at 16:58:26
Are Villa starting to buy their Walcotts?

Alex Winstanley
154
Posted 12/01/2022 at 17:00:07
I'm sorry to see him go but he's gone! Move on and let's support the new lad.
It seems to me that Benitez wants a team of workers who will get up and down all game!
Style, skill don't really matter to Benitez. Sounds a bit like Gordon Lee. Sadly this side doesn't have a Dave Thomas and Bob Latchford.
Matt Henderson
155
Posted 12/01/2022 at 17:18:59
Selling a 28-year-old Digne who is past, or at least approaching the end of, his prime is good business and the sort of strategy we should have been employing for some time. The hard part is also ensuring he is replaced by a good, young version that we can repeat this process with in the future.
I heard Villa are signing him on a 4½-year contract? I would not be happy if we were doing the same considering he is 29 in July.
I hope this signifies a strategy change to buy young (and pay low) and sell them on (at a profit) after we have gotten a few seasons out of them. rather than paying £45M for the likes of a 28-year-old Sigurdsson with zero sell-on value at the end of his contract.
John Boon
157
Posted 12/01/2022 at 17:25:13
The January window allows for inane statements from loyal fans and basically causes confusion. From observations it causes some fans to state their own point of view and then leave it at that as fellow supporters agree to disagree.
Then their are THOSE who constantly take the bait and just have to make every effort to force others to change their minds. They do this by reiterating their much overstated point of view again and again in the hope that fellow Toffee Webbers may see the light and agree that they alone are "RIGHT RIGHT RIGHT" and everyone else is a Moron.
We have discussed the values of a number of Center Backs. Hardly worth the discusssion because they are ALL below what could be considered as a "Top" Premier league player or defender. Branthwaite and Godfrey still have a chance to prove themselves.
Digne has always been a good player, but no more that just that. It is a good time to sell him. Do it and lets get on playing without him. He does not need to be despised and accorded venom just because he has the nerve to indicate that he wants to leave. Best of luck until you play against us.
Basically I just hope we can improve the team during this "Questionable"window. We are all entitled to our points of view, although it may be too much to expect them to be rational. Let's face it there is almost no such entity as a "Rational" Evertonian.
I DO at least know that. My wife tells me every day when she says,"You have to be "NUTS to follow a team that seems to make you such an inconsistent and irrational person when it comes to "FOOTBALL". She will never understand !!!
James Head
158
Posted 12/01/2022 at 17:33:16
Great business, he's been a liability defending and looked as weak as piss for the last 18 months plus throwing his toys out of the pram for being told to stop giving away needless free kicks on the edge of our own area.
On another point I heard Tarkowski is soon out of contract at Burnley, he's 29 but I think is so much better than the current clowns we have at centre back and worth a punt.
Danny O'Neill
159
Posted 12/01/2022 at 17:37:18
Oh I'm consistent John. Consistently foolish, gullible and optimistic.
Ed Prytherch
160
Posted 12/01/2022 at 17:47:37
I believe that the bust-up with Benitez was engineered by the manager, same with James Rodriguez. Benitez knew that he had to reduce the wage bill and bring in some transfer fee money and he has started by pissing off these two players so that they wanted to leave.
I expect that Digne will play well for Gerrard and he will be a good acquisition for Villa.
Ashley Roberts
161
Posted 12/01/2022 at 17:49:55
Yes let's not cry over spilt milk. Digne has gone and we need to move on. I think in the long run we will look back and say 25M was a good deal because I do believe he has been on slow decline for some while.
The good news is the return to training of Richi, Braithwaite and Mina. Actually, I wouldn't mind seeing Godfrey, Mina and Braithwaite as a back 3. You have pace power and right to left coverage. With Richi back I am not sure how we
Will set up against Norwich? Somebody out of Gordon, Townsend and Richi will be disappointed. DCL and Gray will be automatic on the team sheet as well as Doucoure and Allan. Competition for places is obviously a good thing. Oh and it's a big NO for Longstaff. I just do not see what he would bring to the team especially as he cannot even make the Bar Codes first 11.
Ed Prytherch
162
Posted 12/01/2022 at 17:50:07
James #159. Tarkowski is the dirty bastard that crocked Richarlison. His presence in our dressing room would probably be disruptive.
Geoff Williams
163
Posted 12/01/2022 at 17:50:25
We sell an experienced left back and sign a relatively young and inexperienced replacement so we're no better off unless another left back comes in.

Dale Self
164
Posted 12/01/2022 at 17:52:05
Better off by the money difference though. And I think Myko's asset value could increase by more than Digne's would have. Counter that with what Digne could offer on the field while Mykolenko is getting settled.
James Head
165
Posted 12/01/2022 at 17:56:26
Ed # 162, good, we need some dirty bastards instead of this shower of weak pushovers.
Gerry Western
166
Posted 12/01/2022 at 17:57:07
Digne has been poor for the last two seasons, to make a profit on a player who's past his best is good business in my opinion. As for the rumoured signing of El Ghazi on loan another great piece of business, can play as a number 10 or out wide which affords us greater versatility. Given the financial constraints the club are having operate within this is the way forward in the short term.
Robert Tressell
167
Posted 12/01/2022 at 17:58:19
Ed, Tarkowski is a dirty piece of shit. Correct. But that's what I like about him. Too many softies in our squad at the moment.
Not necessarily saying Tarkowski has the footballing skills we need, but I like his attitude.
Mike Gaynes
168
Posted 12/01/2022 at 17:59:25
James #159... to my eyes Tarkowski has really slowed down recently. Check out the Leeds-Burnley highlights from 2 January.
Dale #164, with Yerry and Jarrad back in training, I'd expect Godfrey to slide back out and handle a few games at left-back if Mykolenko needs time to get up to speed.
Brendan Fox
169
Posted 12/01/2022 at 18:00:54
Echoing others thoughts the money raised by the sale of Digne for Mykolenko & Patterson and still lowering the wage bill may well prove to be a masterstroke.
Ed @ 162,
Tarkowski might be the kind of nasty bastard the Everton defence needs.
Mike Price
170
Posted 12/01/2022 at 18:04:19
Very pleased he's gone and £25 million is a good deal for us; I just hope the new replacement is the fast, powerful youngster we were told he was.
Buying and selling at the right time are crucial to a club's success and we've been bad at both for a long time. Unfortunately, Liverpool have been masters of both buying and selling and that's a major factor in them having a squad worth a billion whilst ours is worth peanuts.
Benitez has had a decent start, buying a £30 million player for £1.7 million and unloading a fading star with no pace for £25 million. He just needs to pick the right team in the right formation and we may dodge relegation.
Peter Warren
171
Posted 12/01/2022 at 18:09:19
£25M seems very cheap.
Mike Gaynes
172
Posted 12/01/2022 at 18:09:23
Mike #170, I vouched for Mykolenko's pace (based on seeing him once), but I never said or read anything about him being "powerful". Seems slender.
Christy Ring
173
Posted 12/01/2022 at 18:13:23
I believe £25M is a very good deal for Digne; hopefully it will be reinvested in a midfielder.
Tommy Carter
174
Posted 12/01/2022 at 18:14:38
@169 and others
I think Tarkowski would be a good signing. I don't care about his pace. He is a dominant centre half and not a soft touch.
We simply cannot defend set pieces. That will not improve with Yerry back as despite his enormous size, he's not actually that dominant in the air.
Tarkowski is. And if Benitez wishes to continue with this deep lying, ultra defensive counter-attacking style of play, then you need someone to hold the line. Tarkowski is capable of doing this.
As for Pace - Benitez built a defence around Hyypia and Carragher. Not much pace there. It's easy to highlight a particular attribute as a weakness, rather than assess the whole package.
That's why a lot of people think Adam's Traore is better than he is.
Brent Stephens
175
Posted 12/01/2022 at 18:21:45
BBC1 North West starting at 6:30 pm to do a piece on the the new stadium at Bramley-Moore Dock.
It's happening!
Dale Self
176
Posted 12/01/2022 at 18:24:21
While Tarkowski is a proper bastard of the back line we need pace to pair up with Jarry (I like it Mike) and Godfrey (?). This is also Benitez's preferred back line mode, ability to carry the ball and maintain a high line.
Bill Gienapp
177
Posted 12/01/2022 at 18:34:10
As others have noted, Villa seem to be heading down the same path that we did. Coutinho and Digne look like good business on paper, but where does it get you? Certainly not Top 4, and I'd wager not Top 7 either.
Soren Moyer
178
Posted 12/01/2022 at 18:36:34
Good. Good. I only hope today's rumours about us being in advanced talks with Aleksandr Golovin representatives are more than "rumours"!
Rob Halligan
179
Posted 12/01/2022 at 19:31:30
Brent # 175. All looking good so far. Pity it will never happen!!
Brent Stephens
180
Posted 12/01/2022 at 19:39:06
All that sand, Rob - it must be a mirage in the desert.
Howard Sykes
181
Posted 12/01/2022 at 19:39:06
It's like a fire sale. Digne gone, Allan going, Gbamin who cares.
Apart from Gbamin, this is madness. Can anyone tell me what Allan has done to upset Benitez?
Mike Gaynes
182
Posted 12/01/2022 at 19:40:19
Dale, the eds took out my Yerry and Jarry joke, but I'm glad you liked it.
Tommy Carter
183
Posted 12/01/2022 at 19:42:00
@181 where is Gbamin going?
Hope it's true
Michael Boardman
184
Posted 12/01/2022 at 19:46:59
Tommy #174 Carragher had more pace than noticed - like Jags. Solid, rock-hard, CB and more mobile partner is always the best option. A combination of both, we can't afford right now.
Danny O'Neill
185
Posted 12/01/2022 at 19:51:04
Michael, he might have had more pace than noticed, but he wasn't quick.
Unfair and extreme comparison but there's that clip where he's in the right back position and Thierry Henry makes him look like he's jogging on the spot.
What Carragher had is what I wish Michael Keane had. Anticipation and ability to read the game so he didn't need to chase the game; he was already there. If Keane had that, he'd be a better centre back than he is.
Michael Boardman
186
Posted 12/01/2022 at 20:01:35
Fair point Danny. It is true of Nathan Ake, looks good at last ditch tackles, but simply because he's in the wrong position in the first place.
Michael Boardman
187
Posted 12/01/2022 at 20:01:35
Fair point Danny. It is true of Nathan Ake, looks good at last ditch tackles, but simply because he's in the wrong position in the first place.
Mike Gaynes
188
Posted 12/01/2022 at 20:06:53
Extreme example is right, Danny. Over 10-20 yards Thierry Henry could have made Carl Lewis look like a traffic cone. I loved watching that guy move.
Danny O'Neill
189
Posted 12/01/2022 at 20:22:41
Possibly Michael. The problem with defenders with like that (Ake) is they get away with it when younger. Once their reliance on powers of recovery go as they get older, they struggle. It's why reading the game and anticipation is important even regardless of pace.
From an Everton perspective, I thought Stubbs and Weir were good at it and it prolonged their careers.
I should have been kinder to to Michael Keane. If he had that, he would be a more confident centre back, which would make him a better centre back as he does have ability.
Tony Abrahams
190
Posted 12/01/2022 at 20:26:59
Anticipation, determination, a will to win, and Carragher was also be a cheating c**t, there's four things Michael Keane hasn't really got in his locker imo Danny.
Danny O'Neill
191
Posted 12/01/2022 at 22:32:32
He doesn't have that nastiness about him Tony as well as those other attributes you mention. An "arlarse" as the Liverpool vernacular would describe it. A gobshite so to speak. Something that opposition fans love to hate. No-one dislikes Michael Keane. Very few dislike Everton. That's an insult to me.
But that is a key ingredient of determination and a desire to win. Michael Keane may be a decent footballer and person but is just too placid and nice on the football pitch. Everton are.
Andrew Bentley
192
Posted 12/01/2022 at 22:44:09
Just seen on Sky Sports Digne's leaving message which he has posted on Instagram. Some interesting comments on there:
Lucas Digne has posted on his Instagram account, saying goodbye to Everton supporters, with his transfer to Aston Villa nearing completion.
In the post he alludes to the recent falling out which has seen him excluded from the team by boss Rafa Benitez...
"Everything must come to an end. I just did not expect it to end this way.
"What has happened and some things that was said about me in the last month has made me very sad. But I will not enter a war on words with anyone.
"The club don't deserve that, the fans don't deserve that - and to be honest, I don't feel that I deserve that.
"There are so many good and decent people in and around Everton who want to the best for this club and not only for themself - and to them I can only say from my heart: I wish you the best!
"Thank you, to all you wonderful, proud and passionate true Evertonians. It has been an honour and a true pleasure to play for you, the fans, the people - because a club do not belong to a player or a manager, but to the fans. I will always carry you with me in my heart wherever I go.
"Sometimes it only takes one person from outside to destroy a beautiful love affair.
"All the best to Everton and Evertonians."
Danny O'Neill
193
Posted 12/01/2022 at 22:48:07
Powerful stuff Andrew and seemingly from the heart.
Matt Byrne
194
Posted 12/01/2022 at 22:57:26
Good luck to Lucas. I hope he does really well at Villa. He will probably get a new lease of life and will be encouraged to get forward and create chances. I think he was a good ambassador for Everton and has shown genuine affection for the club and did well to adequately replace Baines. Lets hope his replacement can reach the levels Digne showed in his first 2 seasons. Digne has been pushed out by a manager who has by contrast no love for Everton and who has a history of showing contempt against us. I know whose version if events I believe but each of us will have our views and opinions which should be respected.
Andrew Bentley
195
Posted 12/01/2022 at 23:00:24
Agreed, wish him well. He didn't want out until Rafa forced him out. Think he'll do well at Villa if they give him the licence to get forward. Think he'll also thrive off a manager giving him confidence.
Good luck to him, just not against us!
Chris Locke
196
Posted 12/01/2022 at 23:10:54
Cry me a river Lucas.
Matt Byrne
197
Posted 12/01/2022 at 23:13:56
Feel sorry for Digne having to swap one Kopite manager for another.
Dave Abrahams
198
Posted 12/01/2022 at 23:21:11
Digne says " I will not enter a war on words with anyone"
Then " Sometimes it only takes one person from outside to destroy a beautiful love affair"
And in between loads of sentiments that will make some Everton fans swoon over him"
Paul Smith
199
Posted 12/01/2022 at 23:25:09
Digne was shite long before Rafa turned. His habit of running into the back of players was only bettered by Gomes. Once his free kicks and crosses dried up what was left ?
Dale Self
200
Posted 12/01/2022 at 23:28:44
Good spot Dave, I was going to let that slide but that was bad form indeed.
Michael Lynch
201
Posted 12/01/2022 at 23:31:50
To be fair to Digne, Rafa spent five minutes slagging him off in his press conference, so he should have a right of reply. Of course, we'll never know the truth, but I think it's a sad way for a player to leave, especially one who has (in my opinion anyway) been one of our stand-out players since he arrived. Certainly he's never let the club down.
I know the majority on here are happy for him to go, and think he was past his best, but he was a class left back - at one point considered among the best in the PL.
I think he'll do a good job for Villa under Gerrard for at least a couple of seasons. Assuming he plays against us next week, I'll definitely be applauding his name when its announced.
Michael Fox
202
Posted 12/01/2022 at 23:52:28
Rafa is a world class manager, look how he improved Villa.
Steve Brown
203
Posted 12/01/2022 at 23:58:30
Reading between the lines, I think that he is trying to say that Benitez is an arsehole.
Brian Murray
204
Posted 13/01/2022 at 00:07:41
Steve. Reading between the lines we can't move on while we have a chairman who's only interested in himself and is an arsehole.
Christine Foster
205
Posted 13/01/2022 at 00:22:43
One of the really poor things about ToffeeWeb is the way when, a player leaves or wants away for what ever reason, suddenly he is (insert your own expletive here) Digne is no exception. People take sides because thats human nature, some try to justify with stats, or if that doesn't work denigrate the individual. Half truths or pure lies are used to justify a stance. (sorry guys but I will blame Trump for this in use)
We will never know what the conversation was between Digne and Benitez, one has given his view the other will not be drawn in except for an outsider (assumed to be Benitez) ruining a love affair. And yes he deserved to put a slant on it after Benitez tore his reputation to bits in a presser.
Personally I wish Lucas Digne good fortune and thank him for all his efforts over the past few years. Sad to see him depart but thats the nature of the game. This manager might rebuild a team, but he will never have my affection. I am a firm believer in the old adage, its not just about what you do, but how you do it.

Mike Gaynes
206
Posted 13/01/2022 at 00:33:26
Lucas, loved you too, man. You always gave your best for the club and always honored your shirt. You won your headers against bigger guys and never pulled out of a tackle. You scored some cracking free kicks (the one against Lincoln... wow!), delivered some elegant crosses (the volley cross to Dom against Spurs was special), and I've never seen an Everton player hit a better long crossfield pass than the one you blasted for Richi against Southampton. Must have been 60 yards and it was inch-perfect.
Bon chance, mon ami. Except on the 22nd. Then we're gonna rip you up. Nothing personal.
Mark Andersson
207
Posted 13/01/2022 at 00:43:49
Rafa certianly knows how to piss people off.. Lucka will do the business for villa and Rafa will pay for it...
Brian Wilkinson
208
Posted 13/01/2022 at 00:45:32
Digne spat his dummy out before the Chelsea game then declared himself not well and did not play, he was not dropped.
So whatever has gone on between the two, saying he does not want to blame anyone, then has a pop at it only taking one person to destroy it defeats the object.
Whatever went on before the Chelsea game, we will never know, if he has been told to defend and not bomb forward, then that is his job to try and defend, if he had a hissy fit because of being coached that way, we just do not know.
But he has certainly built up a brilliant piece of blowing up his own backside, which will ensure he will get all the plaudits on his visit to Goodison in a couple of weeks, while Raffa will be the Pantomime villain.
£25 Million for a player that has not done it for close on two seasons, is good buisness in my book.
For that reason, I hope we smash Villa, in a few weeks time.
Derek Moore
209
Posted 13/01/2022 at 00:52:49
Regardless of his strengths or failings as a player, I really do respect Digne. Even more so now than before the bust up with Benitez happened.
His silence on the breakdown between himself and Benitez showed a certain strength of character and dignity. He was the proverbial "bigger man" in this saga. I'm well aware he almost certainly didn't write the instagram goodbye, but he certainly approved it. It's classy, and says everything he needed and wanted to. It's noteworthy for it's lack of obvious venom as well.
Quite clearly the man has moved on and so shall we. I imagine Slippy Gerrard will find a determined, motivated and talented footballer who wishes to put himself in the frame for World Cup selection. Unless there's an injury or two to ruin the story, I really feel Digne will go on to have a very good back half of this season.
As for Benitez...well. We can't say we weren't warned; this is his modus operandi. But if he had decided that Digne was not fit for purpose moving forward then it makes a certain sort of sense. In this scenario, he wasn't staying so I can use him to show the rest of this lot I mean business.
You don't have to like it, but at least it has a certain sort of logic. Things have been so badly run at Everton for so long that I'll take demented logic over the seeming lunatics at the asylum approach.
There's no reason both sides can't win from this move. But the jaded cynic deep inside me does tend to think it's advantage Villa on this one. We say it too often, but only time will tell.
Jay Wood
[BRZ]
210
Posted 13/01/2022 at 01:02:17
Personally, I see nothing wrong in Lucas' parting words, clearly addressed primarily to the fans.
He has retained a Digne-fied silence for six weeks, during which his manager publicly vilified him on a weekly basis.
His words are both restrained whilst leaving no doubt that one man has harried him out of the club. I believe him when he says how much he loved Everton.
Admirable ruthlessness by the manager as a means to generate funds to enable new purchases? Or an arrogant self-serving egomaniac?
Time and results will tell, I guess.
Adieu et bonne chance, Lucas.
Bill Gienapp
211
Posted 13/01/2022 at 01:25:05
If Mykolenko pans out, then this will go down as an astute bit of business. That being said, it was handled poorly and I see little reason to give Benitez the benefit of the doubt in terms of how it unfolded.
Lester Lim
212
Posted 13/01/2022 at 01:58:57
I am very sad for Digne and even though I never met him, I could tell that he really loved the club and wanted to commit to here for a long time. While his performance may not be what we as fans wanted, I know he gave it his all when playing for us in his 3.5 years here. When things did not go his way and talks of his transfer intensified, he stayed professional instead of ranting to the media about wanting to leave...
I am sorry given the poor mismanagement of our club and the sad situation that we did not give him the sending off in the manner that he deserved. You can take a look at his Instagram and see that he was posting photos of his time with the Blues up till the very last moment. The last photo he posed announcing his transfer was devastating. The same cannot be said of others who deleted all Blues related photos when leaving the club...
In the hearts of all Evertonians, Digne, you will always be an Everton hero and Goodison Park will always welcome you home. You'll are in our hearts of all Evertonians worldwide, speaking as an Everton fan from Asia...
Good luck Digne, but not goodbye.
David Pearl
213
Posted 13/01/2022 at 02:13:09
Just another dagger to my blue heart. Who in their right mind would appoint Raffdidhn Bendiugg (sorry, auto correct) as our manager?

We need to stick together... there is no other way.
James Flynn
214
Posted 12/01/2022 at 02:17:07
I agree Digne's game has been off this season.
We seem to be ignoring that he's had injury troubles, including surgery, since November 2020, when Ancelotti said, "It is a big loss because he is one of the best left-backs in Europe at the moment but we have to manage this,".
Until that injury, Lucas was fantastic last season.
Came back in January 2021, when Carlos fielded the side in "Allardyce" mode to mitigate every opponent overrunning our midfield. Of course he didn't shine. Who did?
Has been in/out or playing with injury since. Off to Villa he goes.
Let's see if he's returns to a 90-minute player with the elan of old or continues as he has for us the last 12 months.
Don Alexander
215
Posted 13/01/2022 at 02:27:19
Digne is going to Aston Villa. Aston Villa! But some of us portray him as THE French left-back.
Erm, he's not, and never has been down his years despite the many opportunities he's been given to cement himself in that position.
The actual regular French left-back is Hernandez of Bayern, who is actually a centre-back. Hmm! Digne has somehow been left out of team, since he first challenged Patrice Evra right at the end of his career, for a number of less than stellar fellow French left-backs. That's why Villa have "won" his signature.
Given his age and alleged salary, and moderate performances for too long, letting him go is to me good business given the hopeless antics of those still in and around our boardroom that've forced us to sell to try to even sign bog-standard players.
The guy's a mega £millionaire already - so why the anguish?
Ernie Baywood
216
Posted 13/01/2022 at 02:35:26
It might be the right call to move on.
Doesn't sit well with me though. There's a way to do things. This isn't it.
I could handle us being arseholes for the right reasons. But being arseholes for the sake of being arseholes isn't good. I don't think it's been the right call either - character assassinations aren't exactly attractive to other clubs.
Brian Murray
217
Posted 13/01/2022 at 02:44:25
Lester post 212. Be careful emotion doesn't get in the way of your judgment. That would be very un Everton ( yeah right ) He would have to join the long queue of ex blues probably promised a job for life or a last swan song whether they still good enough or qualified.
Michael Williams
218
Posted 13/01/2022 at 02:51:20
No love lost for me. Like everyone I enjoyed Luca's very high level of play almost two years ago. He was something we really needed and generated a lot enthusiasm - a revelation. Saying that I never felt a real connection like I did with some of our other players.
He will be 30 soon and he is on the down slide of his career. For his sake I hope he does well on and off the field I don't know what happened before the Chelsea game but I believe he made himself unavailable for the game. At that point a player has to go.
Regardless, this is good business. Selling a player who is entering the lesser years of his career and has shown very little for 18 months for a good amount of money and replacing him with two younger players is how a club like ours should operate.
Julian Wait
219
Posted 13/01/2022 at 02:55:24
If this is what was required to move Digne on, get two new full backs and free up wages for other players then I'm all for it.
I rightly hear about Everton being a soft touch, naïve and so on. And then we act like the twats we need to in order to improve and suddenly we're upset about it.
I care if we win trophies, games and play good footy … in that order.
Digne is a very good player and always put in a shift. I have no problem with him. But he's no Cafu or even no Baines.
Whatever it takes within in the law and standard moral code. Hardball acceptable if a player doesn't want to move ….
Barry Jones
220
Posted 13/01/2022 at 03:33:33
I think Christine #205 has summed it up well. There has been gross exaggeration over his downturn in form. For me, the dip has only been noticeable under Benitez. I think we can only say this is good business if the team improves, and I am doubtful about that. I think that Benitez is a destructive force and past his sell by date and I find it hard to back his tenure as manager.
Darren Hind
221
Posted 13/01/2022 at 03:42:03
You can take whichever side you want, but the bottom line is Digne is no longer an Everton player.
To quote one of the ten commandments which were carved in stone in the dockers club half a century ago.
"We go with what we got"
Christine Foster
222
Posted 13/01/2022 at 04:09:06
Unless you are Leicester City Darren..
Steve Brown
223
Posted 13/01/2022 at 04:16:53
Rob @ 142, this situation occurs at every club in the land regularly and is not handled the way Benitez did by making bizarre statements at weekly news conferences.
A sensible manager would agree quietly with the player that he can leave in the summer, when he will have a better choice of club to move out and the club could demand a better fee. All of the above with the proviso that the player will give his best until the end of the season and not talk in public.
But we all understand that Benitez's high power, control and ego needs meant that it was never going to go that way. Digne has gone so let's move on, however my view remains that the way the manager handled this cost us £5-10 million in transfer fees at a time when we are screwed under FFP.
Mike Gaynes
224
Posted 13/01/2022 at 04:59:09
You expressed that opinion previously, Steve, and I asked you why you felt that if Benitez had said nothing that we might have gotten £30-35 million for Digne -- up to double what we paid for him in 2018. You didn't reply.
It does seem like your opinion is based on your dislike of Benitez and nothing else.
Personally, seeing what other good left backs are going for, I see absolutely no basis for the belief that Digne could possibly have been sold for that much under any circumstances.

Kieran Kinsella
225
Posted 13/01/2022 at 05:19:42
I think it's a shame it ended in bad blood after Rafa said "you have to know when is the time to sell a good player," a week before he orchestrated Dignes exit. That being said, he's going on 29 and none of the "big" clubs came in for him so money wise all is well that ends well. I've no issue with the exit assuming the Ukrainian is up to scratch. But I do think the manner of the exit was handled poorly. It did seem that Digne "got Everton" kinda like Heitinga, similar looking fellow who never quite lived up to expectations. But now he's gone, rightly or wrongly he will be perceived as a martyr by the anti Rafa brigade. So hopefully for all our sakes that cantankerous old git knows what he is doing.
Keith Slinger
226
Posted 13/01/2022 at 05:47:24
I am afraid to say that this Spanish dinasaur of a manager will get us relegated. I sincerely think if that happens he will leave the club and blame FFP and Marcel Brands for us being relegated, when in essence it was Agent Rafa -– job done?
I never wanted his appointment in the first place, as with all of the anti-Benitz regime, he was never going or will succeed at Goodison.
My only hope now is that, with our injured players returning, we return to winning ways; otherwise, Agent Rafa has really stitched us up!
Jack Convery
227
Posted 13/01/2022 at 06:31:58
Love affairs work both ways. Luca has taken playing for EFC for granted. He was brilliant when he first came. A snip at £18m and a worthy successor to Baines. He got regular game time and stayed in the French squad and paid a small fortune. His form dipped and did not return. As a club we have been too nice. Along comes RB - Luca you need to be a defender first and foremost. Stop the crosses and giving away daft fouls. Do that and we'll get along fine. Alas it was not to be. I wish him luck.
Mark Rankin
228
Posted 13/01/2022 at 06:50:32
In terms of centre halves what the top ones have and we don't have is that one commanding centre half who believes that they own the penalty box. You can see this air of authority, Michael Keane isn't a bad centre back but he looks fraught, Jags was a good battler and a fine centre back but he didn't have it, Sylvain Distin, Richard Gough did as did Kompany and Terry.
Bobby Mallon
229
Posted 13/01/2022 at 06:52:25
Steve brown 223. I liked Digne and for me he would have been better in our squad than out of our squad. But I think we have about 26 weeks left of the season. That's £3,120,000 in wages that we have saved. So your estimated is a little off.
Ajay Gopal
230
Posted 13/01/2022 at 06:58:29
It will be weird to see Seamus (I assume) and Digne squaring up against each other at Goodison Park in a few days. I have a lot of time for Digne - he was dignified - never spouted off about wanting Champions League or a bigger club, blah, blah, blah. Unlike guys like Lukaku. And I really wish Benitez had handled this more gracefully - even if he wanted Digne out for whatever his reasons might have been. I wish Digne all the very best for the rest of his footballing career.
Anyone else getting worried about the team that Aston Villa are building? Good goalkeeper, okay their defence is not all that hot, great midfield, and a very good strike force. And I see that Villa are interested in Bissouma. Now that is one player I would absolutely LOVE to have at EFC.
Colin Glassar
231
Posted 13/01/2022 at 06:58:53
No room for sentimentality in this game Lucas. Move on with your career lad and the best of luck.
Tony Everan
232
Posted 13/01/2022 at 07:04:43
I really liked Lucas Digne, what impressed most was the desire and effort to do all his power to get back from injury and playing again in record time.. That kind of dedication resonates with me about his passion for the game and to halp Everton FC stay strong. It was genuine and from the heart when he said he loves our club.
However, he isn't he same player who we signed. Over the last year and a half he has been suspect defensively and less productive offensively. Possibly all coinciding with his bad injury. I think it was the right time to sell for the good of our club, which will fund his replacement and another squad player.
With the dark shadows of FFP such tough decisions have to be taken. Managers live or die by such decisions and rolls of the dice. They have to get more right than wrong,
This decision will be framed by the success of his chosen replacement, Mykolenko. The only thing that matters about this episode is that we come out of it stronger.
A much bigger worry to me is that it has potentially distracted attention away from us signing an experienced no nonsense organiser of a CB to stabilise our defence and a desperately needed tough , tenacious , quality midfielder for our engine room.
Both of which are priorities on a different scale to the left back situation.
Christine Foster
233
Posted 13/01/2022 at 07:07:03
Is it good business? To be honest few if any players have been good over the last couple of years, different managers asking different things of them physically and tactically, so "form" is harder to assess. Was it good business? Sold a player and brought two in for the same money, you would have to say on paper it would appear so, but it depends if both replacements add greater value to the team, and that's going to take time, which we haven't got much of.
So, jury out on that one, but irrespective of that is the way it was done. I resist saying engineered because none of us know, but it feels like it. But it was handled badly no matter what your perspective is.
Steven Telford
234
Posted 13/01/2022 at 07:24:23
Sold too cheap . and did he said I he didn't say he didn't want to play for Everton, or did he say he didn't want to play for Rafa. Big difference, I know which's Id bet on. HE seemed really happy at the club.
Jim Bennings
235
Posted 13/01/2022 at 07:27:53
Before we all get too teary eyed can we remember that if we didn't sell Lucas Digne now, in two years time fans would be asking why we didn't cash in when he's 31 and declining?
We should actually have tried to cash in and got a few quid for Coleman when we had the chance instead of gifting him a new FIVE year contract in 2017.
There can be no room for sentiment at the club anymore.
What we need to make sure is the players that replace the outgoing are actually better or at least equals.
That hasn't always been the case, especially when Moshiri first came.
We sold John Stones and replaced him with lesser men.
We sold Romelu Lukaku and in my view we have never come close to replacing him, even though DCL has emerged as a competent six yard box player, the signings of Moise Kean and Tosun were dreadful.
We lost Barkley and haven't had a central midfielder that can carry the ball and go forward since.
So it's imperative that whatever players we sell now, they are replaced with a certain quality.
Kunal Desai
236
Posted 13/01/2022 at 07:35:58
If Benitez can get rid of a few more (some contracts coming to an end this summer) perhaps fallout with Iwobi, Keane, Holgate and bungling bill then hopefully he fucks himself off. I'd say thats a reasonable job done.
Conor McCourt
237
Posted 13/01/2022 at 07:39:46
Christine@233-good point. It may have been good business last year but not now. Those overjoyous I would ask how do you think this will go down with the likes of Calvert Lewin, Richarlison and Pickford in our quest to retain their services going forward.
Paul Hewitt
238
Posted 13/01/2022 at 07:49:10
I think what Digne is trying to say is, the holiday camp is over and he's not happy.Bollocks to hard work, I'm off.
Tony Everan
239
Posted 13/01/2022 at 07:53:29
*232, I have noticed that Yerry Mina is back in training so the CB situation is looking stronger. He needs to stay fit for us for the rest of the season. The midfielder Is desperately needed, and I am not sure that the obvious one, Sean Longstaff, is good enough.
Benitez though has used his judgment bring in the excellent Gray and very useful Townsend to good effect.
If Longstaff can match the impact of Gray it would be an inspirational signing. Alternatively, if he's Rondonesque another nail will be passed to his coffin maker.
I think his decisions are being dictated by signing players who want to perform for 'him'. Players who want to come and are delighted to be here. Exceptional talent is taking a back seat to just 'talent' with desire and motivation at the moment.
It will be unpalatable to many but in this early stage of the resurrection of our club it's a pragmatic building block strategy that builds a team spirit that will fight for the cause .
Terry Farrell
240
Posted 13/01/2022 at 08:00:12
Sorry to see Lucas go and if Mykelenko works out then good business from an age of the player perspective.
I have a villa mate who has told me el gharzi is crap and we have brought him in when we already have 5 wide players 4 of them good players! Why? The only saving grace is it is a loan at this stage. We all know where we need new blood. Would have loved Digne to go to Juve and we get McKennie but that was a pipe dream.
Marc Hints
241
Posted 13/01/2022 at 08:08:49
Terry #240
Iam not sure why your Villa mate says he is crap, you look at the stats of the player he is tucked inbetweem Mason Greeawood and Mo Salah. He may have just fallen out love etc.. with Villa and needs a new start. I thnk a loan option is great business for Everton, Ghazi's rate of a goal every 270 minutes was essentially the same as Raheem Sterling managed (272 minutes per goal) and not too far behind what Sadio Mane offered (248)
Maybe he needs a new lease of live at another club, just look at how Demarai Grey has turned out
Laurie Hartley
242
Posted 13/01/2022 at 08:14:36
Ajay # 230 - IMO Villa will be knocking on the door of the top 6 next season. Unfortunately one of the main reasons for that will be their new manager. He has a winning mentality.
Terry Farrell
243
Posted 13/01/2022 at 08:15:35
Marc he has been telling me for 3 years. Quote headless chicken, shoots when a better pass is on and vice versa and his stats will also show he was only a regular in the championship. Everyone deserves a chance Marc so let's see but with Richarlison gray towsend and Gordon all good wide players already in place I don't get this signing at all.
Marc Hints
244
Posted 13/01/2022 at 08:18:01
Terry #243
Yeah see your point mate, it's not a position we are depserate for and lets give the guy a chance and see what he does. I think someone in the middle of the park is a more urgent position. I would say Centre back also but I would like to se a run of games with Mina and Branthwaite. what do you think?
Marc Hints
245
Posted 13/01/2022 at 08:18:33
Terry #243
Yeah see your point mate, it's not a position we are depserate for and lets give the guy a chnace and se what he does. I think someone in the middle of the park is a more urgent position. I would say Centre back also but I would like to se a run of games with Mina and Branthwaite. what do you think?
Terry Farrell
246
Posted 13/01/2022 at 08:34:27
Ye big fan of both but Yerry needs to spend more minutes on the pitch and Jared for a young lad has had a lot of time out with knocks also.
Tony Abrahams
247
Posted 13/01/2022 at 08:48:00
I was going to say good luck to Luca Digne, but with those Ten Commandments Darren, you have just reminded me of my second ever favourite football ground after Goodison Pk!
The Dockers got knocked down last year, it won't be long before Goodison is next, and when I think of those two places, the first two words that come to mind, are character & characters.🙏
People who made life worth living, played for nothing, and often used to fall out with their manager, if he had the temerity to bring them off, always trying to prove the bastard wrong next week!
Football is life, everyone of us lives and dies by our decisions, and especially football managers, so as I said last week, for the sake of Benitez, I just hope this Myko kid, hits the ground running!

Tommy Carter
248
Posted 13/01/2022 at 09:10:16
He's a class act Digne. Both as a player and professional.
I can't for a second imagine that he's engineered his way out of Everton to join Aston Villa.
It's absolutely unpalatable that Benitez has attempted to make it appear that way.
Rob Halligan
249
Posted 13/01/2022 at 09:10:40
Paul # 238, so you think Digne is going to a holiday camp at Villa then! I think slippy may have something to say about that.
Christopher Timmins
250
Posted 13/01/2022 at 09:17:31
Best of luck Lucas, like all players who have given service to our club I wish you well, however, I hope your luck commences after Villa's visit on Saturday week.
Mal van Schaick
251
Posted 13/01/2022 at 09:21:06
What don't Everton players understand? If you play poorly or lose form, you get dropped and replaced. The fans pay to watch and don't tolerate players playing poorly.
Now Digne is going, we can shift some other dross. Roll on summer. Continuing yet another rebuild.
Steve Carter
252
Posted 13/01/2022 at 09:25:36
Well, I'd just like to say that Digne's parting message was class.
Rob Halligan
253
Posted 13/01/2022 at 09:27:55
Well it's official now. The club website confirm he's signed for Villa.
Mike Hayes
254
Posted 13/01/2022 at 09:32:18
Gone for £25m 🤷
Dave Williams
255
Posted 13/01/2022 at 09:34:42
Two years ago he would have been a huge loss but today it is a decent fee for a player who is possibly past his best or at least who has been found out in the league.
He has always conducted himself well and I wish him the best of luck.
Rennie Smith
256
Posted 13/01/2022 at 09:40:13
I believe his statement, it's always unfair that the manager can say whatever the hell he wants but the players don't get a chance to put their side of the story.
I know his form dropped off, but a) was that down to what he was being asked to do? and b) form is temporary, class is permanent, he could get it back.
He's done it again, sat his fat arse down and won't budge until he gets his way. What a disgrace we're in.
Benjamin Dyke
257
Posted 13/01/2022 at 09:44:46
The poor mistreated LB can find some comfort in getting a new job on 120k PER WEEK! Now he's left I hope he doesn't recover his best form. We haven't seen the best of him for 18 months or so in my opinion. His set pieces have gone to pot and he's not been assisting anything other weak defensive displays. Good business. We move on and hope Myko comes good.
Colin Glassar
258
Posted 13/01/2022 at 09:46:22
Can't wait for some dross to leave (not Luca btw) eg Tosun, Rondon, Davies, Kenny, Delph etc… and praying that Iwobi will call Rafa a FSW to his face.
Rennie Smith
259
Posted 13/01/2022 at 09:49:18
At the start of the season would Digne have been on anyone's dross to get rid of list? I doubt it, so how come so many are now jumping on Paellardyce's crappy old wagon?
Robert Tressell
260
Posted 13/01/2022 at 09:50:24
I always considered him as one of the very few players who would get regular games at a Champions League club.
Surprised therefore that he's gone to Villa and not been picked up by a Champions League contender (England or elsewhere).
That probably says something about the market in January - but also that his stock has fallen.
Interesting to see where Villa go from here. I thought they spent the Grealish money pretty well but are having to bed players in so the results have been patchy.
Digne and Coutinho are both on a downward trajectory (the latter especially so) so it may not work out.
I'm also hoping Gerrard ends up getting found out as a new Tim Sherwood type - a short term motivator but not a 'proper' manager.
Tony Abrahams
261
Posted 13/01/2022 at 09:50:45
Just looked at our league position's since 2018, and the best that Everton can offer, is coming eighth.
I'm not knocking Digne, who is a very good footballer imo, but for a defender to say he's had a beautiful time at a football club, and during his period at the club, the best his team came was 8th, just about sums this relic of a football club up.
James Marshall
262
Posted 13/01/2022 at 09:56:31
All the talk from players (and managers) is just noise - they'll play the media/social media game and say what they think fans want to hear in order to placate them and people tend to go with it verboten.
It's meaningless, he's just playing the game is all. He'll say lovely things about Villa as well to prove the point. Historic club, great fans, I love claret, blah blah blah.
I couldn't care less if players love Everton, and of course they don't anyway, not like we do - more fool us eh.
Geoff Williams
263
Posted 13/01/2022 at 09:58:05
Digne has shown far more class than Benitez and the final paragraph of his tweet is so telling. Benitez is such a divisive character and is probably the worst possible person to be in charge of Everton. I attended my first match in 1960 and I am still a season ticket holder but I am struggling to have any affinity with the club which is led by Benitez and Moshiri, not forgetting his Russian gangster boss
Johan Elmgren
264
Posted 13/01/2022 at 09:58:15
While I have no arguments to the sale itself, I just can't condone the dispicable behaviour by the FSW to orchestrate the whole thing. Publically castrating a player that way, that you yourself has alienated, making it look like it was the player that wanted to leave... It stinks of ego and poor management to me. That's not the leadership I want at this club.
Yes, it was the right time to sell because he'll be 29 this summer and he still has value that can be re-invested in the squad. Those two new young full-backs will hopefully turn out to be very good players for us for the foreseeable future. I think this, buying young upcoming talent, is the way to do business, instead of buying already established oldish stars at high cost, which we have been doing at great failure these last few years...
Many think Digne hasn't been good this year, and think that is the reason to offload him. Yes, maybe he hasn't, but then again, he has not been played to his strengths by the FSW. His main asset is attacking which 7 PL-assists in both seasons prior to this confirms, but he's been stripped of all attacking duties by the FSW. He's been made to concentrate on defending, which really isn't his strength.
This is a manager who with his negative approach rather see us try to concede as few goals as possible, instead of trying to score more than the opponent to win the game. You can all see how that has panned out. It's the football of 10-15 years ago which was a tactic working well then. It's not working anymore, football has evolved...
FSW out now!
Peter Carpenter
265
Posted 13/01/2022 at 10:14:02
I agree with you Johan. He seems to thrive on division and conflict. He's like an old-fashioned headmaster who doesn't like new ideas, doesn't believe anyone knows better than him, doesn't believe he is ever wrong and if it does go wrong, it's down to the failings of others. We've taken a massive gamble with him and will find out the result of it in the next few months.
John Keating
266
Posted 13/01/2022 at 10:14:19
So Digne is away.
I think really it could have been anyone in the squad who could have raised a few bob.
Out of Digne, Richie or DCL, Benitez/the Club looked at who would have the least impact on leaving. Without doubt of that trio it was Digne.
However, regardless of Dignes impact, contribution and standard of play the manner of leaving was distasteful and, in my opinion, could have been handled better.
Adieu mon ami, bon chance - apart from deux bierre si'l vous plait that's all I remember in French
Geoff Lambert
267
Posted 13/01/2022 at 10:15:49
The only thing now is we are back to needing decent cover for left back and thats if our new guy is up to the job. If he aint up to the Prem we could be in deep doo do.
Nick Page
268
Posted 13/01/2022 at 10:15:52
Someone at the club finally shows a ruthless streak and some fans can't abide by it. It's been far too cosy at FF for years and If it makes us better I'm all for it. Good luck to Digne, players come and go but we're Everton.
Neil Lawson
269
Posted 13/01/2022 at 10:15:55
I think that Johan at 264 captures the mood fairly accurately. From my perspective, a fully fit, properly utilised and back to form Digne would be a far greater asset for the next 2 years or so than some of the current team even if his value were to fall over time. That was never going to happen with FSW. No doubt there is fault/ intransigence/ stubbornness on both sides but FSW is the manager and plainly he has forced Digne into a square hole. Credit to Digne for standing up to him. This will no doubt come back to haunt us when Digne drops the ball on Watkins' head for the winner ( and more).
The worrying thing is that there must be others within the squad who are with Digne and who may not be committed to FSW. That can only have dire consequences. It is going to get a lot worse before he is finally removed.
Alan McGuffog
270
Posted 13/01/2022 at 10:16:08
I was rather hoping that we would reward him with a new four and half year contract with a coaching job at Finch Farm at the end. He obviously "gets" Everton and surely that's all that matters ?
Andrew Ellams
271
Posted 13/01/2022 at 10:16:28
We are a club in a terrible state with no sign of an up turn in fortunes. It would be more of a shock if there were no players who wanted to leave.
Brian Harrison
272
Posted 13/01/2022 at 10:18:56
Johan 264
Absolutely right on the money, I would just add since he has been here I think Digne has played more games than anyone in the squad when he arrived, that is pretty impressive by itself.
But what I cant understand in all of this is we are a club who have transgressed the FFP rules, yet we show no sign of addressing the problem. We have sold Digne for initially £23 million and brought in 2 young full backs which have cost around £12 million more than we got for Digne. There is also a strong rumour that we are about to sign El Ghazi on loan, so you add his wages plus the 2 full backs wages and you end up adding to the wage bill.
Also I have heard no more about how Moshiri is doing in raising the money for the stadium build, seeing the work is about to start on the actual construction you would have thought that we would of heard something on the financing. Mind maybe Moshiri will send a text to Jim White to keep us informed.
I have to say that talking to many match going Blues I don't think I can ever remember a time when the majority feel so disenfranchised by what is going on at the club. I think the awful appointment of the FSW has certainly contributed heavily to that, and although I have said on numerous occasions changing managers as regular as we do doesn't help, but sometimes like Spurs did with Nuno you just have to realize you have made a horrible mistake and bite the bullet and sack him.
Johan Elmgren
273
Posted 13/01/2022 at 10:26:51
Thanks Peter, Neil and Brian for the support :-)
Neil, I think what you are saying about more players not beeing committed to him and/or his tactics, could well be another reason why we aren't winning at the moment. Players not feeling comfortable with the playing style will automatically, but not intentionally, perform worse, and I think that is one of the reasons we are at this streak. These players aren't actually bad, they are just not beeing managed to their strengths.
Tony Hill
274
Posted 13/01/2022 at 10:27:04
The split in the fan base is deeply depressing and will, I am afraid, be destructive.
Michael Lynch
275
Posted 13/01/2022 at 10:30:13
Yeah, it's all good as long as Mykolenko is better than Digne. Cos if he isn't - or needs a couple of seasons to get up to pace - then we're in deep shit. We still have only one left-back, only now he's young with no PL experience. And on the other side we've signed a kid who's played half a dozen games in the equivalent of a pub league. At least we've still got Seamus as an alternative there I suppose.
Clive Rogers
276
Posted 13/01/2022 at 10:45:45
Very disappointing the way he has been treated really. He was a decent player who may not have been top class defensively but was good going forward and always gave his best. A new manager should have worked to eradicate his faults and improve his all round performance. The comments about him not wanting to play were underhand really and the ones about Peter Reid bizarre.
Dave Abrahams
277
Posted 13/01/2022 at 10:46:57
That goodbye message from Digne reminded me of a couple of people I knew earlier in my life " Sweet and Sly" nice to your face then talk behind your back, I still see them but know them and don't take much notice of their niceness, phonies.
Tommy Carter
278
Posted 13/01/2022 at 10:47:26
Sometimes you can benefit by looking at things from another perspective.
Villa will be happy that they have signed a current France International, aged 28 with probably 3-4 years of his best football left to play. A player with pedigree who has played at the highest level with some of the best players in the world.
A player who hardly ever gets injured. A player of proven premier league experience. A left back who has 26 goal contributions in 113 premier league games. Therefore in a side that has often struggling, he is scoring or assisting a goal about every 4 games.
All for around £25m. I'm sure Villa will be very pleased with their business
Paul Niklas
279
Posted 13/01/2022 at 11:02:36
He's gone and, like any other player, he will be forgotten in a week. In fairness to him, he was a good player and is but, if you know anything about football, a manager wanting to play in a particular way can quite easily alienate a player who can't do what's asked, Eden Hazard is a prime example of this.
The problem at Everton is not Lucas Digne leaving and, to be honest, it's not a long list of players who have left us and done any better; the problem is what we have left.
Keane, Iwobi, Holgate, Davies, Gomes and the worst of the lot, Doucouré, who is a headless chicken in midfield – all these players will have to go without doubt. You look at a player like Bissouma at Brighton, who is so much better than Doucouré in everything he does and can do for a team like us – we should be pleading with him and offering all of the above to Brighton to get someone like him in.
Overall, we are a crisis club with no vision apart from a stadium that will never add enough revenue to pay the prices the top clubs pay for world class players and a place we didn't need. We have a management board beyond the comprehension of any small business ethos that needs drive, determination, vision, strategy and bravery to succeed.
Everton have one foot in the grave and the second one is not far away when the debt of the new ground starts to become a drain around our neck and that of an owner who has made mistakes in allowing everyone at the top of the club to still be in a job.
We will struggle this season to survive with this team and may just survive but it won't be pleasant and, after all that, I still can't seem to blame Benitez for any of it. Maybe that time will come but then it will be too late and this wonderful club that has consumed my life will be a has-been, as it has for 30 years, and shows no signs at all of ever being anything else.
Steve Brown
280
Posted 13/01/2022 at 11:05:50
Johan @ 264, a great summary of Benitez's behaviour.
Tommy @ 278, Villa will not be able to believe their luck.
I actually think the impasse would have been solved if we had been able to play matches over December and early January, as Benitez would have been gone by now.
Anyway, he's not our player any more. Good luck to Mykolenko!
Ernie Baywood
281
Posted 13/01/2022 at 11:09:20
FFS. For those celebrating the club's new found 'ruthless streak'... we've just sold one of the better players in our squad. In a squad that lacks good players. And he didn't want to go. In a season where we are currently the worst team in the league, sleepwalking towards an unfathomable relegation.
I won't lose too much sleep over Lucas Digne. He moves on. But we're stuck with the same problems. A club that is merrily sailing into troubled waters with Jonah at the helm.
Tim Kells
282
Posted 13/01/2022 at 11:10:12
Agree Johan. He was deemed as a saleable commodity but the manner of his departure leaves a lot to be desired. The impact of losing such a popular member of the team (vice captain) on other members of the squad will be interesting.
Yes, Brian and anybody who understood the club knew that his appointment would cause disharmony. Like when the Cardiff owner wanted to play in Red. I think Moshiri is from a similar mould. Me personally, in all my forty years of following them, never have I ever felt so disconnected with a club, no tickets, no merchandise and even some times a reluctance to even to still care about them.
I watched Norwich last night. They were truly dreadful. It will be interesting to see what happens on Saturday.
Ernie Baywood
283
Posted 13/01/2022 at 11:13:23
Steve #280 - I don't think Benitez is going anywhere.
The club is backing him. Signings, sales. Somehow he's become central to everything we do.
Martin Mason
284
Posted 13/01/2022 at 11:13:28
Must admit that while I hate Benitez with a passion I realise now that for the club this isn't bad business as long as Mykolenko can produce the goods or the FSW can devise tactics to make up if he can't. I would like to see Everton become a club that survives by developing it's own talent through the academy and through shrewd buys rather than buying ready made players on ridiculously high wages.
Steve Brown
285
Posted 13/01/2022 at 11:15:07
Bobby @ 229, I didn't factor in his wages because a sensible manager would actually have played him until the summer and then allowed him to go. Therefore, he would have earned his salary.
Ernie @ 283, I agree that the board are clinging onto trust in Benitez as they are desperate. But results decide the fate of managers, so he will be fired if he keeps on losing games.
Derek Powell
286
Posted 13/01/2022 at 11:28:12
And I woke up put the news on and realised I had got it all wrong it wasn't rondon for 28 mill how disappointing
Geoff Lambert
287
Posted 13/01/2022 at 11:29:37
It looks like Saturday is a match up of the two worst teams in the Prem at the moment.I wonder who will step up to the mark and get the 3 points?
I won't be holding my breath. 5 at the back anyone?
Andrew Keatley
288
Posted 13/01/2022 at 11:37:03
I wonder what Thierry Small is thinking now…
Bill Gienapp
289
Posted 13/01/2022 at 11:38:38
Paul (238) - Yeah, I don't think that's even remotely what he's trying to say.
Mick O'Malley
290
Posted 13/01/2022 at 11:43:59
John Boon@157 absolutely spot on, I couldn't agree more, I mentioned something the other week what I read and was then shot down in flames when I mentioned it, we have a lot of the "I'm right your wrong" in today's society.Since Digne's patnership with Bernard was dispensed with I don't think he has been the same, they brought the best out in each other, if he can strike up a similar partnership with Coutinho at Villa it will serve them in good stead, also we got 3+ years out of him and sold him for more than we paid so I'm ok with it
Peter Neilson
291
Posted 13/01/2022 at 11:45:15
It's pretty unusual for a player to release a statement that's so critical of the way they've left a club. Normally this is only revealed when they retire. Shows how unprofessionally it's been handled. Players can come and go, doesn't have to be done this way but it's the way Benitez works.
As for Benitez I don't think he's going anywhere and that's regardless of results. If it was results based he'd be gone already. We thought Ancelotti was Moshiri's last gamble. In that instance to get us into Europe. Maybe this is his biggest gamble yet, to keep us up but more from the ineptitude of the other clubs than from our own results.

Peter Carpenter
292
Posted 13/01/2022 at 11:55:29
Ernie and Peter, I think you are right. Benitez is going nowhere. This experiment is going to play out until the very end.
On the plus side;
He's spotted a couple of great bargains and they have added to the team.
He's not taking any nonsense from anyone and we may have needed that.
The team will soon be a majority of his picks and should be pulling in the same direction.
On the negative side;
His methods are 15 years out of date.
Sam Hoare
293
Posted 13/01/2022 at 12:00:39
On some levels selling an almost 29 year old for good money before his value declines makes very good business sense. Its what a lot of well run clubs do.
On another level this move is symptomatic of a club that seem to be divided at every level with no clear direction and a sever lack of footballing or even business intelligence at the helm.
Huge pressure now on Mykolenko to hit the ground running. Would have been much better to have the young Ukranian understudy Digne for 6 months before selling the Frenchman this summer; but Benitez is gonna Benitez.
Best of luck to Digne. He's been very good for us and rumours of his recent decline are much exaggerated. I expect the people who claim he's been awful for 2 years may be scratching their heads at what he does for Villa for the next few years.
Tim Kells
294
Posted 13/01/2022 at 12:08:51
Agree Sam, a bit like Lukaku. Oh how we've missed him.
Derek Taylor
295
Posted 13/01/2022 at 12:12:24
Given long enough this manager will sell the soul of our Club to the devil. More accurately he will sell what's left of it. The process began when the Moores' family sold out, continued with the 'Hamper King's sale to 'Silly Billy' and literally dug its own grave when acquired by the Russians. I realised long ago that my love of Everton was now no more than silly sentimentality. You are welcome to it !
Sean Roe
296
Posted 13/01/2022 at 12:19:47
Apologies if already quoted above, Bernards twitter response to Digne. Make of it what you will
"Perhaps not everyone understands what goes on behind the scenes," the Brazilian wrote on Instagram.
"I love Everton as you do too, but unfortunately there are people who don't want the same goal as most.
"I love you bro, and I'll be rooting for you, wherever you go!"
Phil Smith
297
Posted 13/01/2022 at 12:24:39
Never seen a player look so sad signing for a new club. Don't care what Benitez says about him not wanting to play for Everton. It's very clear he didn't want to play for him. Wish him well and I'm sure he'll play just as bad as Barkley does when he comes up against us in the future.
Dave Williams
298
Posted 13/01/2022 at 12:24:48
What I would like to hear from Digne, which I haven't yet heard from anyone, is why his general play declined so much over the last 18 months( this started under Ancelotti), why his corners and free kicks lost their previous accuracy and delivery and why his general sharpness slowed up. Maybe he became complacent in the " marriage" and his effort levels dropped?
He has been sold to raise money due to consistently sub standard performance. If the two new boys do well it will be a great bit of business by the club. Ok he might regain form but he might never get back to his former level and the fee for him would reduce with another six months of poor displays. We have to cut our cloth at the moment!
Danny Baily
299
Posted 13/01/2022 at 12:25:58
I feel like a caretaker would have just got a tune out of the existing squad and kept us up, rather than filling the squad with dross while alienating our best players.
Anything other than 3 points in the next match and surely he has to go.
Tony Everan
300
Posted 13/01/2022 at 12:26:18
I wonder who Bernard is targeting behind the scenes with his comments ?
He was already well out of favour or gone before Benitez? Starting only three games for Ancelotti the previous season.
Mark Dunford
301
Posted 13/01/2022 at 12:29:32
An effective player with a positive attitude that most people like and rate has been sold by an ineffective manager with a disgraceful attitude that most people dislike and really don't rate. Wrong person left.
Christy Ring
302
Posted 13/01/2022 at 12:36:46
I wish Digne all the best, and you can't blame him for his response, considering Benitez was very unprofessional and used most of his press conference's to castigate him. Having said that, his form has been poor for awhile now, he's 29 and £25m is a good deal.
Regarding Benitez, if he persists with his five at the back against Norwich, which doesn't work, leaving a two man midfield overrun, and it costs us the game, we'd definetly be in big relegation trouble, and he has to be shown the door.
Brian Williams
303
Posted 13/01/2022 at 12:50:21
I see Bernard has now commented on people behind the scenes pulling in different directions.
Now players don't "generally" make disparaging comments about the club they've just left and if t=you put those comments together with Brands' comment there is without doubt something terrible wrong behind the scenes.
Michael Williams
304
Posted 13/01/2022 at 12:50:53
Every team in the world knew Lucas Digne was available and he goes to Aston Villa.
To those who say Rafa decreased his value by the way he publicized the situation, then why didn't a bigger club than Villa swoop in and get Digne at such a bargain price?
You know Digne's agent tried to find a Champion's League team to make a deal with as soon as the situation exploded yet nothing. This tells me what the better teams think of Digne's worth and ability and it's not as much as most TWers are saying.
Barry Hesketh
305
Posted 13/01/2022 at 12:52:47
Tony @300
I would imagine that it is likely to be some of the agents and perhaps the ownership who are not as anxious about success for Everton FC as the supporters are. I fear for the club more today, than at any time in my 50 years support of it. The club appears to be being used as a vehicle for non footballing purposes.
Why does the rumour that the CEO is actively seeking employment elsewhere persist? Why does the Chairman have so little power compared to comparitive positions at other clubs, more importantly why does he remain as the figurehead? Why was a man who was bound to split the fans appointed? How was it that despite the many employees at the club, who could have sounded the alarm, did Everton manage to become hamstrung by Financial Fair Play?
I've said it before but if Everton FC was a racehorse, its performances over the last six years would be subject to a stewards enquiry nearly every time it took part in a competitive race.
Everything surrounding the club is awry, the split in the fanbase, the crazy transfer business, the inability of the team to put in any sort of half-decent performances on a consistent basis, all points to an organisation that has lost its purpose and if it wasn't for the possibility of a new stadium, there would be a far greater outcry from those who live and breathe all things Everton.
The most we can expect, as fans, in the coming years, is that we avoid the dreaded drop and remain in the top division, that's nowhere near good enough for an institution such as Everton FC, but that is the truth of the matter. Until some other party decides to buy the club from the current owners we will continue at best to mark time.
We have to hope that any future new owner has a more traditional outlook for what the true purpose of a football club is, but that day may be a long way off, and we'll all have to suffer the consequences of having current owners who don't appear to care too much about what happens on the field.
Brian Wilkinson
306
Posted 13/01/2022 at 13:19:54
Brian @303, it has been like that for a good few years now, something is not right at the top.
Throw a manager in who has split the fan base down the middle and the powder keg has finally gone off.
The Manager has come in and is trying to do it his way, I think a few feathers have been ruffled with the cosy Finch Farm mentality finally being given a damn good seeing over and being told what the manager expects.
I personally think if this had been almost any other manager, he would have had the backing of bringing the players in, and any that was not happy to carry out instructions, would have been moved on.
We would be applauding the Manager for bringing younger players in, making his own signings and weeding out anyone, who either does not want to be at the club, or not happy in the role the manager expects.
For too long, players have gone in half-hearted, with those at the top happy with 8th, they see that as success.
Bernard has called them out, Digne has come across as he is whiter than white and not his fault, but we do not know the reason, was it instructions not being carried out, was it the manager with a grudge, we just do not know.
Me personally, I think it is about time we had someone in who wants it done another way, there will be more rebellions because some of these players have been hiding behind the manager for years and will not like the shakeup he is trying to bring.
Love Rafa or hate him, he has the skin of a rhino and will not allow players to down tools. Given time, he will shake things up at our club.
I just hope he is here long enough to turn our club around and bring a different mentality to the players.
Barry Rathbone
307
Posted 13/01/2022 at 13:29:28
Lucas Digne classy to the end, good luck fella.
There can only be one captain of the ship so, whatever reservations I have about losing Digne, I understand Benitez has to do what he thinks best. But this will be a massive stick to beat him with if he doesn't improve things pronto.
Andrew Clare
308
Posted 13/01/2022 at 13:30:15
Maybe we need a 'bastard' to come in and shake the club up. Hiring young hungry players and kicking out lazy mercenaries. Someone who doesn't give a fuck and goes by his own agenda.
Clear the lot out and start fresh. It might just work – anything has got to be better than the last 30 years of crap.
Jamie Crowley
310
Posted 13/01/2022 at 13:30:27
Digne's Instagram post says it all. For 3½ years he loved the club, and then you hire a man who not only doesn't represent the club and what it stands for, but came from the other side.
And you wonder how things became dysfunctional, idiot?
That 'idiot' is to no-one in particular, pointing only those who can't figure out where it all went wrong.
This situation is absolutely awful. It's like our Blue has turned to purple by mixing in a little red.
Peter Carpenter
311
Posted 13/01/2022 at 13:32:53
Rhinos have poor eyesight and rely on a good sense of smell and hearing. They are quite aggressive and tend to charge if they sense danger. They are creatures of habit, for example, always crapping in the same place.
Perhaps Rafa has more than just its skin, Brian.
Chris James
312
Posted 13/01/2022 at 13:33:42
The hyperbolic overeaction is no surprise, but can we for once not just talk about the specifics without going into the overwhelming 'we're all doomed', 'everything is shit' nonsense?
I like Digne as a player and he was decent when he first came, maybe he will be again at Villa but let's make no bones about it his form has been flat out bad for the last 12 months. In that period he has contributed 3 assists only,
and only one since the start of feb, none this season. He's also been called into question over basic defensive errors.
Obviously the team fell apart under Ancelotti and has only had fleeting positives this season, but we have to be realistic that it wasn't clicking for a while.
Given this and his age, I think getting £23-25M is good business all round, especially as we'd secured a younger replacement for less.
The 2 full-back additions look sensible players at sensible prices and the signings of Townsend and Gray have proved themselves already. The back-up keeper is fine and it's really only Rondon that stands out as a fail so far.
The results on the pitch are obviously paramount and we need to make the most of the current easier fixtures, but I think Benitez has earned some trust in the transfer space at least... especially compared to some recent predecessors.

Jerome Shields
313
Posted 13/01/2022 at 13:33:54
When he was tackled about underperformance, he was not prepared to knuckle down to get his place back. Fortunately, Aston Villa were prepared to pay for him and agree to his wage demands. It will be interesting to see whether he is able to get his international place back.
Tony Gavin
314
Posted 13/01/2022 at 13:36:23
One league win in 12. And people are still behind Rafa and the board. I genuinely can't believe what I'm seeing and hearing. We will 100% be getting relegated with this manager and owner within the next season or two. If we don't, it'll be survival by the skin of our teeth.
One win in 12 from a manager who said 8th isn't good enough. To accept this shows how low ambition and expectation is with some blues. Ex-Liverpool manager or not, his football is horrendous, we can't defend set-pieces, always concede first, and again, one win in 12.
But of course it's not Rafa's fault. It's the previous managers' fault. Unbelievable.
John Raftery
315
Posted 13/01/2022 at 13:38:54
In 2018-19, Digne was a 9/10 performer, our Player of the Season. He settled quickly after replacing Baines with sound defensive performances, strong tackling and heading ability. He posed a real threat going forward – not only with his deep crossing but also with deadly shooting from distance.
The main blots in his record came in the last week of January 2019 when his two cheap fouls gave away very costly free kicks at Millwall. His substitute appearance three days later at Huddersfield saw him quickly dismissed for a professional foul.
In 2019-20, he fell short of the outstanding level of his first season, his output suffering through ongoing fitness issues and loss of form. He benefited from the lengthy Covid-19 break, returning to his best form in the final weeks of the disrupted campaign.
In 2020-21. he was fully committed, a solid campaign at both ends of the pitch. He was one of several whose goals dried up but he delivered some sublime crosses from which Calvert-Lewin and others profited, especially in the first half of the season.
This season 2021-22, he has been poor defensively and weak going forward. His ability to deliver at set pieces seemed to have deserted him. He is not the first and won't be the last player, generally popular with the fans, to find himself out of favour with a new manager. The sale of Bobby Collins by Catterick in March 1962 left the majority of supporters puzzled. There have been many other examples since then.
In my view, selling a player in his 29th year for more than we paid for him makes business sense. Time will tell if his younger, cheaper replacement can improve the team as a whole.
Rob Halligan
316
Posted 13/01/2022 at 13:45:30
I can't believe some think the appointment of Benitez has split the fans down the middle. To me, down the middle is a 50 / 50 split. I would definitely say the split is more likely 95 / 5.
Benitez out!!
Ray Robinson
317
Posted 13/01/2022 at 13:48:24
Jerome #313, how do you know Digne wasn't prepared to knuckle down? How do you know he was "tackled about his performance"? Yet more speculation on your part, or do you know someone inside the club? Still, if you state things with such authority, some will believe you.
Incidentally, you may be right on both counts, but it's not a given fact.
Jamie Crowley
318
Posted 13/01/2022 at 13:48:47
Chris James -
The hyperbolic overeaction is no surprise, but can we for once not just talk about the specifics without going into the overwhelming 'we're all doomed', 'everything is shit' nonsense?
No, we can't. You know why? Our fucking deluded ownership did something I'd wager half the fanbase couldn't abide.
So ya, this is exactly what you get when your ownership group hire a manager from "them" - a disillusioned, betrayed, angry fanbase that honestly can't talk about specifics because they feel 'dirty' after the ownership shit all over them, hiring a fat clown who came from the Eternal Enemy.
Chat all you like, the histrionics won't end any time soon, and for some of us objectivity and seeing clearly is completely out the window.
Brian Wilkinson
319
Posted 13/01/2022 at 13:59:51
I do not think it is 95% split Rob, don't get me wrong, I am no lover of the guy, but I can see what he is trying to do.
We have been well and truly left in the shit, with past signings and FFP maxed out.
I would rather have a ruthless stubborn bugger for now, trying to change the mentality, than have another manager come in and nothing changes after the bed-in period.
Give this guy a year or so to implement a different approach, and watch the next manager reap the rewards.
Rob Halligan
320
Posted 13/01/2022 at 14:00:09
Ray, # 317, you sound surprised that someone can state something as being fact despite having no actual evidence to back up their statement.
I would say that there must be around 95% of posters who post something as "fact" but cannot justify it, and the other 5% who say they can justify their fact, get slammed down, saying they are talking shite. This has happened to me recently, but I just laugh it off.
Rob Halligan
321
Posted 13/01/2022 at 14:04:17
Brian, just to clarify, I was in no way having a go at you regards your post @ # 306. This "split the fans down the middle" has been said by many people.
Jamie Crowley
322
Posted 13/01/2022 at 14:06:50
Rob -
Genuine question. You're at every game, home and away.
What do you think is the actual percentage split? How many fans can't abide in Rafa?
I'm assuming your 95% was joking. If you had to put an actual number on it, where do you think it is as I see you as honestly the most credible to guesstimate at such a thing.
Mike Gaynes
323
Posted 13/01/2022 at 14:08:21
Rob #316, do you know who Howard Cosell was? Famously irritating US sports commentator, perhaps best-known for his boxing work and his friendship with Muhammad Ali.
Buddy Hackett, one of the funniest men who ever lived, said this about him:
"There have always been mixed emotions about Howard Cosell: Some people hate him like poison; and other people just hate him regular."
I think that covers your perspective on Benitez.
Phil Smith
324
Posted 13/01/2022 at 14:10:06
The reason why I think Digne's performances dropped off is because he didn't have one of the best left backs in the country, albeit one coming to the end of his footballing life, to push him on. Soon as Baines stepped down and we didn't have a serious challenger (I actually rate Nkounkou and wished he would have got more of a chance in the first team) behind him, he just got comfortable. Every team needs competition for places. Far too long the full back positions were not dealt with. I see some Villa fans are wondering why they signed Digne when they have a very decent player in Targett there already. Competition. For. Places!
Jamie Crowley
325
Posted 13/01/2022 at 14:11:41
Mike @323-
Funniest and most perfect analogy ever. Brilliant, and very true.
Rob Halligan
326
Posted 13/01/2022 at 14:21:23
Jamie. I know of many who want Benitez out, and very few who want him to remain. Ok, 95% was a wild assumption, but I would certainly say the split could easily be 75 / 25. Every game now has anti Benitez chants, and these will get louder as each game passes by, meaning more and more people are against him.
John Cook
327
Posted 13/01/2022 at 14:25:05
John Rafferty @315 spot on !
The decisions to get rid of Alan Ball,David Johnson,Steve McMahon,Duncan Ferguson,Lukaku,the Toffee Lady,the ball boys etc etc., All worse than Digne being sold imho.
Dave Abrahams
328
Posted 13/01/2022 at 14:30:51
Phil (324), that sums up not only Digne but a few more Everton players at the club now, just plodding along with no competition.
When I was a lot, lot younger Aston Villa came to Goodison to play the Blues with Dave Hickson in their team, as a Hickson devotee I wanted him to score a hat trick and Everton to win 4-3, when Digne comes in a couple of weeks I just hope he plays like the majority of times he has played under Benitez.
For the record when Dave Hickson came Everton won 2-0 or 2-1 with two goals from the man who took his place Jimmy Harris, either score next week would suit me down to the ground.
Jim Burns
329
Posted 13/01/2022 at 14:32:49
Brian @319 - a decent view of all things Benitez at this moment.
Ed Prytherch
330
Posted 13/01/2022 at 14:37:15
We will likely see over the second half of the season whether Digne's form this season has been because he is on a rapid decline or because he was being badly coached.
Brian Murray
331
Posted 13/01/2022 at 14:42:21
John post 327. Always remember as a young lad a pre season when Todd Latchford and pejic put in transfer requests so knew from then on never have favourites or get attached because it's all bs. We mean nothing to them at first sign of trouble. Especially in this era with agents hovering can't wait to shit stir. As for the manager try picking a fight with iwobi Delph rondon etc then he has a chance of lasting the season. Joe royal and BAlly loved the club but knew it's a profession and a business even then when they where out of favour.
Bobby Mallon
332
Posted 13/01/2022 at 14:51:18
Rob 316 well said. I actually can't believe that it's not 100%, the shit being served up could have come from any manager, why Benitez is beyond me.
John Boon
333
Posted 13/01/2022 at 15:07:16
Digne has gone. He was a good player, but only that. Every player who leaves Everton from Lukaku to Bernard has a story to tell. On this site he has been rated everything from "Genius" to "Crap". Nobody is wrong in their assessment because it is what they see.
The fact that Digne had a love affair with Everton can tug at our heart strings. Benitez has to be The "Panto"villain and allows all those who already despise him to use the old "See I told you so!!" to further stoke the flames of negativity.
Benitez may indeed be the villain. Despite everything he has not yet had the chance to prove or disprove himself. We are really in a very bad run. Benitez has to accept that and it supports all those who desperately I want him to fail. Digne, for all his ability, is also part of the reason we have been doing so badly. So are ALL the players who have participated in "Everton 2021"
Personally I want every Manager and player who dons the "Blue" shirt to be successful. That way I am also supporting a successful team. We just have to get behind the team and hope that all signings are good ones. Every team makes good or bad signings. Personally I get no joy out of poor signings, even if it allows me to join the "See I told you so Brigade".
Agreed we have been very successful at signing "DUDS" over too many years. Much of that is certainly not due to Benitez. I have never been a fan of his appointment but he is presently the only option that is available until he is fired or resigns. I "Have" to support him even if I won't always agree with what he does.I am far more of an Evertonian than he will ever be. However at the present time he has far more influence than I will ever have. I am just a fan and if I concentrate too much on his faults I will end up as one more negative Evertonian.
Anthony A Hughes
334
Posted 13/01/2022 at 15:07:58
It's always a shame to see good players leave the club as long as the new lad shapes up then hopefully it won't impact us to much.
As for his reasons for falling out with stubborn bollocks, player wants to get forward and play attacking football to try and win matches, manager's philosophy to sit back, defend and play negative football which we've failed miserably at with the amount of goals we've conceded.
I know which I would prefer.
I
Bill Gall
335
Posted 13/01/2022 at 15:11:17
Reading some of the comments you would think we had just sold a player as good as A.Ball. He was a decent L/B. but was in in the top 10 in the league ? . Most of the comments, believe the blame is on Benitez for the division, yet don't know what really transpired between the 2 of them, they just go on for their dislike of the manager.
I don't know who is telling the truth about what went on, but it is not the player who can say anything to the press why he is still under contract, but the manager is the one who has to give out the statements and is under constant fire from the press and the supporters.
Did the statement from the club that was just standard, indicate that Digne was not the shining light in this, but Benitez was right to discipline him, who knows.
The positive outcome is we have a new young international L,B, and may have another international player on loan for backup. We also have some money to spend plus most of our injuries on the way back.
Do we have a manager who really only wants players who want to play for the shirt, or do we have a manager who's motto is " my way or the highway" I hope it is the first as the second is another route to disaster.
Note I never wanted Benitez as manager, not because of being with the other lot but because of his negative defensive style of play.
John Pickles
336
Posted 13/01/2022 at 15:30:36
Thanks for the memories Lucas, until you came along, I thought all your country was good for was Brigitte Bardot and camembert.

Ian Riley
337
Posted 13/01/2022 at 15:31:02
I wish him well but this is football.
Managers have different ideas, standards, and so do players. The manager is trying to change players to be more successful with his methods.
Digne is 28 years old and we have an excellent fee. Also we balance the books a little. The manager is trying to change the mentality as well. Remember we know nothing what goes on behind the scenes but something must change!
Its a wait and see moment.
Michael Pennington
338
Posted 13/01/2022 at 15:31:27
55 years watching Everton... for the first time, I don't fancy going the match.
Thanks, Mr Moshri. I didn't think anyone could extinguish my love of going to Goodison Park but I think this will be my last season ticket.
Steve Brown
339
Posted 13/01/2022 at 15:41:20
Rob @ 326, you claim was wildly inaccurate and glad you were called out on it.
The actual numbers are:
75% agreed Benitez is an abysmal manager
24% agreed he is a well-intentioned but abysmal manager
1% agreed that he was a huge success and changing the culture of the club for the better.
Stephen Vincent
340
Posted 13/01/2022 at 15:41:47
Andrew #288, I am guessing that Thierry Small is thinking 'thank God I got out when I did'.
Dave Abrahams
341
Posted 13/01/2022 at 15:41:55
John (336), John I feel sorry for you if Digne gives you memories as good as Bridget Bardot, I think arthritis in my wrist is because of Bridget!!
David Pearl
342
Posted 13/01/2022 at 15:48:16
Dave, that's an image..
Eddie Dunn
343
Posted 13/01/2022 at 15:49:08
what a romantic chap old Lucas is, a bit like Cantona.
"la vie continue".

Mike Gaynes
344
Posted 13/01/2022 at 15:52:37
Dave #341, how the hell am I supposed to get any work done today after that one?
Rob Halligan
345
Posted 13/01/2022 at 16:03:04
Steve # 339.............. Rob @ 326, you claim was wildly inaccurate and glad you were called out on it.
Is that because of my first or second guess???
John Pickles
346
Posted 13/01/2022 at 16:12:22
Dave, I didn't want to list them in any order in case we have someone with a camembert fetish.
Brian Wilkinson
347
Posted 13/01/2022 at 16:15:38
Rob, I never for one minute took it at having a go at me, nor have I ever taken offence of yourself or anyone having differing views to one's I might have.
It what Everton does to us, passionate and will always be two sides to a coin, some see things different, it does not make anyone right or wrong, we all want Everton to rise from the ashes again, me personally, I want fixing that has been broken for years, and if I have to grit my teeth with the Manager we have, I will, if he can fix it.
Certainly not my choice of Manager, but I will back him for now, few months down the line, I may change my view, but for now the Manager has got nothing to hide behind, he has finally got a fully fit squad and players in, it is now up to Raffa to either sink or swim, I think he at least deserves a little time, if no improvement is coming forward, then he needs to go.
Jerome Shields
348
Posted 13/01/2022 at 16:16:03
Ray#317
He was dropped from the first team. Was reported to have had a arguement with the manager and then refused to play for the team.
He was dropped because of underperformance. Refused to accept that he had to put the work in to get back his place. Then he refused to play even if selected.
Of course you are right my opinion is based on personnel observations. But it seems the way things have played out I am not that far of the mark.
I am surprised that any team would take him on with such a deal , but grateful that Villa have, since I fully expected him to sit like others on his contract.
John Graham
349
Posted 13/01/2022 at 16:18:31
Guess he's not someone who holds a grudge then. Maybe if he had played anywhere near as good as his first season then the love affair would have gone on.
But as in all relationships there needs to be some effort put in from both sides which he has been lacking for quite some time.
Maybe it is because he was found out, and other teams realised he couldn't defend and if pressurised he would often commit fouls in poor areas.
Good luck in your new marriage, hope it works out for you, but as in most cases we have now moved on and will be sourcing new loves in our lives who will be wearing the colour blue.
And as always there will only ever be one major love through thick or thin.
COYB
Dale Self
351
Posted 13/01/2022 at 16:39:23
Good forum today! Buddy Hackett reference and Bardot-itis of the wrist. Best stuff Digne has produced in a year.
Justin Doone
352
Posted 13/01/2022 at 16:50:12
After rereading the first few comments I'm putting money on him to score against us!
We have a poor record with French and Dutch players, managers, DOFs... what did we do to deserve such bad luck?
Distin was outstanding for several seasons, but he had been away from home for a long time and was never considered good enough.
I'm now counting down the day's to Doucoure's departure. I wouldn't be surprised if we got lumbered with Pogba for a season!
Dave Abrahams
353
Posted 13/01/2022 at 16:55:40
John (346), fair enough John, catering to individual tastes can be difficult, but most probable there will a client for the Camembert, each to his own!!
Ashley Walton
354
Posted 13/01/2022 at 17:34:50
New TW poster here so please don't shoot me down straight away! :-)
For my 2 penneth, this situation has all the hall marks of an old school manager style, with RB flexing his muscles showing the employees who's boss.
There will undoubtedly be a group of players in the dressing room who feel like they run the place, and whatever they do they are immune from any repercussions so do as they please and LD is probably part of that group, and LD is being made an example of.
Yes LD is possibly one of our better players (although has been poor since early 2021) but if he is a disruptive influence behind the scenes then maybe it's better we cash in and get rid. Other managers and tried and failed to sort out the stinking mess our club is in, so maybe it does need a more ruthless act from the manager to get the disruptive group in line. I always thought it was strange that LD was made captain when there were older players, longer serving players, local players and so called leaders in the team - that just reek'd of fanning an ego to me (not to mention the French have a track record for going on strike or downing tools when they disagree with something!)
Personally I believe PL footy is now a young dynamic manager arena as the game has moved on, and RB is firmly in the old school, and I would much preferred Arteta when we had the chance. On that topic we can see the same approach being taken by Arteta (e.g. aubumayang and Ozil) to try and sort a stinking dressing room and is starting to work (takes some time) so some radical methods are sometimes still necessary depending on how drastic the situation is (desperate times call for desperate measures!)
Time will tell who this is a good deal for - us or villa (perhaps both?) but I think we can all agree that something needed to change in our club and this is part of it along with the man who brought Digne to the club.
Bottom line is that things weren't working with him at the club and we have traded in 1 FB for 2 considerably younger FBs and reduced the wage bill for minimal outlay (nearly net zero spend if you consider the savings on James' wages), which considering our FFP issues, isn't a bad deal for EFC.
Christy Ring
355
Posted 13/01/2022 at 17:40:22
John Boon#333 Straight from the heart, agree with everything you said, and I'd be disappointed if any Evertonian would like to see us lose just to get rid of Benitez. I hope we beat Norwich on Saturday, but if Benitez is too stubborn to change tactics and persists with five at the back, and we have another shocker, he can't be given anymore time, especially as nearly all our squad are back training.
Dale Self
356
Posted 13/01/2022 at 17:45:07
Well done Ashley, don't be shy about going another round. The reference to Arteta's dilemna is much appreciated. I don't want to reduce it to a necessary turnover move and give Rafa a pass for being rude but I'm not sure that's the way it went down. Again, nicely done and have another go.
Peter Neilson
357
Posted 13/01/2022 at 17:49:57
Christy, I agree with your sentiment but Benitez got Newcastle straight out of the Championship. I'm pretty sure he'll have pointed this out to Moshiri who's now happy he has all outcomes covered. He's going nowhere.
Jay Harris
358
Posted 13/01/2022 at 17:58:56
Interesting that Bernard has come out today and insinuated that not all was harmony in the dressing room and I don't think he was inferring it was Benitez.
Maybe Benitez is just sorting out the wheat from the chaff and the chaff don't like it.
Ashley Walton
359
Posted 13/01/2022 at 18:18:12
Thanks Dale (356). Don't get me wrong I'm not a supporter of Rafa (neither am I adamant he must get out of our club as I don't really see many viable replacements).
However, what I am a supporter of is trying to change different things when things aren't working, and some different things have definitely changed (not just changing the manager) now so we just have to see if it works out or not.
It's taken Arteta some time to seemingly sort things out at The Arse (he's been on the verge of being sacked so many times including earlier this season), but they're now 2pts off top 4 with a game in hand, with a young team full of potential…
Jay (358) totally agree 👍🏼
Christy Ring
360
Posted 13/01/2022 at 18:18:41
Peter#357 Did Benitez also tell Moshiri that he was also the manager when they were relegated.
Ed Prytherch
361
Posted 13/01/2022 at 18:24:59
Peter 357 the comparison with Newcastle is not a good one. They hired FSW when they faced the drop in the belief that he could save them but he failed. We hired him after finishing mid table. They kept him on as a Championship manager which maybe his level.
Moshiri will pull the trigger if we are facing relegation. We have to be in the prem to raise funds for the stadium.
Peter Neilson
362
Posted 13/01/2022 at 19:08:55
Ed/Christy sorry for any misunderstanding., tongue in cheek and hopefully won't come to that. But I do think his position is way more secure than the next few games. Benitez is a perfect blagger and his feet are firmly under the desk.
Alexander Murphy
363
Posted 13/01/2022 at 19:09:41
GREAT to see Evertonians wittering on here about Us and "Promotion from the Championship".
I'm 64.
My Dad wasn't even conceived last time We were playing in Englands second tier.
Call y'sselves Evertonians ?
Peter Neilson
364
Posted 13/01/2022 at 19:18:01
Well I do, home and away. It's light hearted banter. Get a grip.
Brian Wilkinson
365
Posted 13/01/2022 at 19:20:26
Good post that Ashley, welcome to ToffeeWeb.
Wear a tin helmet if you venture into the live match forum, I've seen hardened boys pen scallies wave a white flag, after venturing in the forum, on match days.
Brutal mate.
Eddie Dunn
366
Posted 13/01/2022 at 19:33:26
Alexander, if you are 64 then your Dad must have been around when we were in the 2nd tier. 1954? Just a few years before you were born.
Rob Halligan
367
Posted 13/01/2022 at 19:34:35
Alexander # 363. Not wanting to be picky, but if you're 64 years old, that means you were born in 1958. You say your dad wasn't even conceived the last time we played in English football's second tier, which was season 1953 / 54. Just saying like!!
Oliver Molloy
368
Posted 13/01/2022 at 19:38:28
Fuck Digne, he didn't want to stay - if he did he would still be here.
It's an open secret Benitez told him that he would currently have to play the way he wanted because of all the injury's etc, and that Townsend would be the choice for dead ball kicks.
Digne didn't like this and was doing a bit of moaning round the place.
Has any player who has been flogged by a manager ever been complimentary.
Like loads of Evertonians Benitez was not my choice of manager but he is experienced and he will sort the men out from the boys in the squad - look at Gordon !
Let's all be very honest Everton have been a total fucking joke since Moshiri took control and If Benitez is going to ruffle a few feathers in sorting the club out I'm behind him.

Peter Neilson
369
Posted 13/01/2022 at 19:38:38
You're 64 and your dad not conceived before 1954?
Danny O'Neill
370
Posted 13/01/2022 at 19:41:36
I liked that Ashley.
I agree on your point about comfortable players being in control. I know I might be at odds with some, but I often thought that was the case with Jagielka and Baines after Moyes left.
And good point about Arteta. I loved his response to the interviewer on Aubameyang a few weeks ago. "He's wasn't in the squad"!!
I think Arsenal started having that problem in the later Wenger years, which spilled over into the managers they tried post-Wenger.
Welcome to the madness. It will consume you!!
Christy Ring
371
Posted 13/01/2022 at 19:56:47
Ashley and Danny I love the praise you give Arteta for dropping Aubameyang, but in case you forgot, it was Arteta who gave him a new contract, a massive pay rise and made him Captain?? Who made the blunder
Danny O'Neill
372
Posted 13/01/2022 at 20:01:31
I confess to not knowing that Christy. Interesting. Player switches off after contract and pay rise springs to mind?
Ashley Walton
373
Posted 13/01/2022 at 20:22:02
Christy, is it Arteta or Edu in charge of renewing contracts at Arsenal?
Also the similarities with Digne are also apparent when you consider Digne got a bumper pay rise and was made captain.
My point is that Arteta realised things didn't work, so he phases them out and gets rid…
I'm just making comparisons.
Yes I would have liked a fit and firing Digne in the team, but if he was upsetting the apple cart behind the scenes then sometimes you have to break some eggs to make an omelette.
Christy Ring
374
Posted 13/01/2022 at 20:32:12
Ashley I couldn't see Edu giving him a new contract if Arteta didn't want him, and Digne's new payrise was around £110k his was £350k
Brian Wilkinson
375
Posted 13/01/2022 at 22:13:38
Anyone know who has pissed on Mersons chips, I used to think that Alan Smith, the Arsenal striker had issues with us, but Merson takes it to the next level, has Dunc been playing away with his mrs.
I also see our neighbours struggled against ten men tonight, without their two forwards, yet some are still baffled why we are struggling without Calvert-Lewin and Richarlison.
Ed Prytherch
376
Posted 13/01/2022 at 23:57:47
FSW and Tinkerman are joint favourites for next manager sacked.
Iain Latchford
377
Posted 14/01/2022 at 07:59:01
Villa have made the type of signing that has got us into trouble. £25m for player who is 29 in the summer. He's signed a four and a half year deal on at least £120k. His value is only going to drop from here. This deal will cost Villa around £50m. There will be virtually no sell on value in a couple of years, and they'll have to pay him off to move him on. It's good business for us.
Dave Williams
378
Posted 14/01/2022 at 09:26:19
Brian #375 excellent post. You look at the players we have been missing and it's no wonder we have struggled. They are all getting fit again now and the first choice team is looking strong with a half decent bench. There are obvious weaknesses in that we need a new midfield and a mean CB but things are looking a bit brighter with DCL and Richi on their way back.
As for Merson, he really does seem to hate us doesn't he- has done for years.
Ernie Baywood
379
Posted 14/01/2022 at 20:34:41
Iain, bad business for Villa doesn't necessarily mean good business for us.
The guy is 28 (can people stop claiming he's 29?). He was one of the best players at the club, albeit he had a poor season by his standards last year (but then who didn't?).
And we sold him like he was not needed. Because he fell out of favour with the new manager. A new manager most of us don't want.
I just wonder who goes next. The players seemed to show who's side they were on by their responses to his farewell message. We're going into a relegation battle more split than we already were.
Lucas Digne leaving might not be a major issue for the club, but the manner of his departure might be. Our club has the feel of a case study. How to get relegated out of nowhere.
Brian Wilkinson
380
Posted 14/01/2022 at 22:50:02
Will we ever get to the bottom of Dignegate, taken off set pieces and handed to Townsend, stop bombing forward and do your job as a defender, the boss had a grudge with me, I asked for a move because I spat my dummy out when asked to follow out instructions, I declared myself unfit for the Chelsea game after tripping over my bottom lip.
I love this football club, I love mid table every season, I cannot understand why Chelsea never came in for me, it was all the Managers fault, he dropped me after ruling myself out of the Chelsea game.
Not sure what to believe from the above, but it will all come out in the open one Day.
Bob Hannigan
381
Posted 14/01/2022 at 22:56:43
Bull shit, you should have gotten over yourself, worked your ass off and regained your place in the starting 11
---
Add Your Comments
In order to post a comment, you need to be logged in as a registered user of the site.
Or Sign up as a ToffeeWeb Member — it's free, takes just a few minutes and will allow you to post your comments on articles and Talking Points submissions across the site.