The day Everton fans beat up Harry Catterick
It was January 1966, Everton were not doing all that well in the Football League Division One, where manager Harry Catterick was still rebuilding the team after winning the league in 1963, arguably with the side Johnny Carey had assembled before John Moores famously sacked him in the back of a taxi.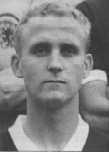 Alex Young, the Golden Vision, was still fondly regarded... no, make that idolized by the Goodison faithful, but it was apparent that the Scottish genius had never been fully appreciated by his manager... after all, it was Carey who had bought him to Everton from Hearts in 1962. On this beak winter's day on the coast, Young was dropped in a surprise move that saw a young giant by the name of Joe Royle introduced for his full debut as a 16-year-old, the youngest Everton player (a record that would stand an incredible 40 years until ......)
Everton went on to lose the game... and Royle made only one more appearance that season, which Catterick went on to win the FA Cup in. But it's what happened after the match that has become one of the biggest myths in Everton history. The newspapers gleefully reported that Everton Manager Harry Catterick had been been jostled, knocked to ground and kicked by Everton fans angry at the replacement of their hero Young with some useless unknown rookie from the reserves. Shocking... shameful... disgraceful!
So... what really happened?
One of the fans who was there that day, Alan Hartley, recalls, "it was more a jostle and never a kick at our former manager. But we were really mad at the time Alex was everything to us. Sure he would have a bad game but when he was good he was great, like a ghost. He'd pass players with the deft touch of a ballerina, leaving some players embarrassed with the ease of the great man's skills. And boy could he jump, Ian. Like a salmon!"
Dick Fearon adds, "After just watching a hopeless Everton surrender without a fight to Blackpool, a small group of fans were gathered outside Bloomfield Rd players entrance. After such a absolutely horrible display, it was natural that we were not a happy bunch, especially as Alex Young had been dropped for that game.
"It was a bitterly cold wet grey and windy day. The players hurried to the warmth of the team bus. We voiced our frustration at Harry Catterick and some jeered when he slipped on the wet pavement. A few of the fans helped him regain his feet and that was the sum total of it all... yet the myth was born and lingers to this day."