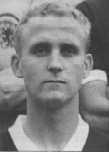 Centre-forwards are a tradition at Goodison Park. From the man who started it all, Dixie Dean, to Duncan Ferguson, the Everton faithful have more often than not had a number nine to worship. Included in their number are such luminaries as Tommy Lawton, Dave Hickson, Joe Royle, Andy Gray, Graeme Sharp and Gary Lineker.

None so far has been deified by them to the extent as was Alex Young: manager Harry Catterick was physically threatened on dropping Young in favour of the 16-year-old Royle for a fixture at Blackpool, and even Brian Labone was not above their wrath – he was booed at one home game for injuring Young in training.

As has been indicated, Everton fans know a thing or two about centre-forwards, so they must have been right. Indeed, Young was a fine footballer, caressing rather than striking the ball, and while not physically powerful in the manner of a Hickson or a Lawton, he was still majestic in the air. He was not blessed with extreme pace but appeared somehow to glide when others ran, giving a basis to the legend that he would drift back to Olympus instead of driving home after the match. His touch was sublimely delicate, and his awareness was in keeping with his reputation among the fans in as much as he could distribute perfect passes without apparently looking up.

His popularity could hardly have been envisaged when he was signed, from Hearts in 1960. Many Scottish pundits thought that the fee of £40,000 was excessive, and at first it looked as though they had been right. However, though Young's barren settling-in period at Goodison turned out to be one of the most disappointing spells of his career, he went on to prove his critics wrong in spectacular fashion, earning himself the nickname "The Golden Vision".

His partnership with Roy Vernon blossomed and in 1962/63 took Everton to the League Championship, Young scoring 22 and making a great number more for Vernon. That season was perhaps the peak of his Everton career, although he was around to help win the FA Cup in 1966. He left the scene of his greatest triumphs in 1968. After a brief spell managing Irish side Glentoran, he saw out his playing days at Stockport County.