EVERTON PAST PLAYER PROFILES
Royston Drenthe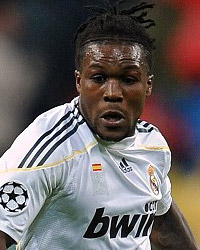 Squad number
10
Position
Winger
Joined on
31 August 2011
Joined from
Real Madrid
Transfer fee
On Loan
Signed by
David Moyes
Debut (Sub)
v Aston Villa (H)
10 September 2011
Full debut
v Fulham (A)
23 October 2011
Contract duration
1 year
Contract expires
2012
Finalé (sub)
Left Everton
31 August 2011
Destination
Real Madrid
Transfer Fee
None - Loan Ended
Born
Rotterdam, Holland
Date of birth
8 April 1987
Height
5' 5"
Nickname(s)
Ricky
Honours
STRENGTHS
Fast
Skillful
Good stiker of the ball
WEAKNESSES
Personality
Attitude
Inconsistency
Dutch winger Royston Drenthe was another out-ot-the-blue Deadline Day loan signing by David Moyes who promised to bring much needed pace to Everton's left flank. He shot to prominence after being named player of the tournament in the 2007 European Under-21 Championships, which Holland won.
But a number of episodes in his background did not exactly single him out as a typical Moyes-type player and it was his off-the-field persona that would eventually number his days at Everton.
Drenthe, a left midfielder who can also play left back was the next big thing in the Dutch Under-21s, but his attitude led to a falling out with with the powers that be at Real Madrid, and also upset the hierarchy at Hercules where he was farmed out on loan in 2010-11.
A complex, volatile, unpredictable character with a history of disciplinary issues, particularly off the field, Real boss Jose Mourinho had more or less washed his hands of him when he joined Everton where he had the chance to resurrect a stalling career in the Premier League.
El Pais, the Spanish newspaper, says he was the best player in Europe when he was an Under 21 and compared him to Clarence Seedorf and Roberto Carlos, but said his fatal flaw is his immaturity. He is a bit of a playboy and his career almost came to a halt over some disciplinary incident on a Swiss tour with Feyenoord's junior side the coach wanted him out but he managed to persuade the Director of Football to let him stay. However, he was left out of the side so often he eventually moved to a smaller club, Excelsior.
He did so well there Feyenoord re-signed him, in 2007, after only one full season of first team football; Chelsea showed some interest. Real Madrid stepped in with a €12.4M offer and he actually threatened to sue Feyenoord in the civil courts if they turned it down. He started his career with Real Madrid with a bang – a 40-yarder against Seville in the Spanish Super Cup. There was another bang when he crashed his sports car into a police car.
Drenthe was frustrated during his spell in Spain, playing just 46 times after arriving three years previously from Feyenoord. After two seasons as a winger for Real he was edged out of contention by Marcelo. When he discovered he wasn't even on the bench against Valencia, he stormed out of the training ground. He refused to play the final three games of a season and also criticised his club's management last season over wages.
When he did get back into the side, he had a howler against Coruna and was mercilessly heckled by the Real supporters. It was reported he "suffered from anxiety issues after being booed by the club's supporters during a 1–0 home win against Deportivo de La Coruña." His confidence was so shot he asked not to be picked for the next several games and he was eventually loaned to Hercules.
He was arrested in Alicante after driving the wrong way down a motorway... he claimed he was driving a sick friend to the hospital. The police claimed he was drunk. After a period of good form, he fell out with the club management after returning from winter break a week late.
At Goodison he had the potential to be a masterstroke if Moyes could get his head right, and it seemed early on that Drenthe would grab the chance with both hands. He scored a terrific forward's goal in a 3-1 win over Fulham at Goodison Park and lashed home a couple of other stunning strikes from distance in subsequent games but he wasn't consistent enough to prompt Moyes to make him a regular starter.
And, predictably, his disciplinary run-ins with a manager notoriously intolerant of players stepping out of line led to Moyes losing patience with him before he'd completed a season at Goodison.
An alleged after-hours, alcohol-fueled incident at Finch Farm, allegedly involving women in a hot-tub, was his first significant transgression and it caused friction that eventually led to him being dropped from the squad altogether on the day of the FA Cup semi-final against Liverpool. Having previously been fined twice for being late for training, the Dutch winger showed up late for the team bus to Wembley and — so the story goes — when he was caught in lie about his car breaking down, Moyes axed him for the remainder of the season.
The player himself would later provide his own account of the final bust-up with Moyes:
"I remember it was a training day. I was watching a movie in my game room. I fell asleep alone, no alarm on.
"We had to be 10:30am on the training ground and 11am for training. I came in 10 minutes before training, but that day we had a pre-game meeting and I was late.
"Normally the gaffer can't see that kind of stuff. Sometimes players were just coming in and going out to training, and we were teammates so we didn't snitch each other out – we covered each other.
"That day it was a team meeting and I was not in that meeting, so it was spotted. We'd had some things already, so it was like, 'Fuck, I'm fucked,' you know?
"It was already done (with Moyes). I waited until they were finished with the team meeting. I wanted to walk to him and say what happened, and he looked at me and said, 'Roy, just fuck off and go.'
"I was looking to him, understanding him as well but also like, 'What are you doing – just fuck off? With my temper, in that moment, I was like, 'Oh, you want me to fuck off? Okay then...' So that's what I did, stupidly maybe.
"I left straight away, took my car, back to Holland."
Without Drenthe, Everton would go on to lose that Wemnley semi-final 2-1.
His season-long loan was due to expire at the end of June 2012 and was unsurprisingly not converted into a permanent contract, despite the obvious skill and flair he could bring to the team.
Drenthe would spend almost a year in the footballing wilderness before resurfacing in the Russian League for Alania in the spring of 2013.
In 2018, at the age of 31, Drenthe was playing for Sparta Rotterdam after a 2-year hiatus from football; he also played for Reading and Sheffield Wednesday in England.
Everton Career
Season
Squad
Number
League
Apps (sub)
League
Goals
Cup
Apps (sub)
Cup
Goals
Total
Apps (sub)
Total
Goals
2011-12

10

10 (11)

3

4 (2)

1

14 (13)

4

Totals

10 (11)

3

4 (2)

1

14 (13)

4
Previous Career
Season
Team
Appearances (sub)
Goals
2006-2011
Real Madrid
_(-)
_