Everton vs Sunderland
09/11/2012

Comments
(32)
jump to end
Match Preview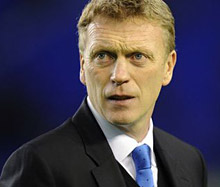 With a little over a quarter of the season gone, we've reached the 10-game marker that David Moyes cited as the earliest he would consider judging the kind of start Everton have made to the 2012-13 season.
After earning an unwanted reputation for getting out of the gates slowly and grinding their way through the first half of campaigns, Moyes's side lie fourth in the Premier League and far from being flattered by that lofty position at this stage of affairs, the Blues are feeling somewhat frustrated that they aren't sitting even higher.
Four consecutive draws in games they did enough to win but were denied either by poor finishing, poor officiating or, in the case of the Merseyside derby, just not making second-half superiority pay off, has left Everton in fourth — but only on goal difference from Tottenham and West Bromwich Albion — and seven points off leaders, Manchester United.
Nevertheless, the Blues have lost just once in 19 League games now stretching back into last season and they've achieved their current berth in the table despite playing six of their 10 games thus far away from home.
Due for another home encounter, Everton entertain Sunderland this weekend, the team they just loved to play last season. They denied the Black Cats victory on Wearside in December last year and then comprehensively out-played them in the FA Cup quarter final replay at the Stadium of Light before effortlessly despatching them 4-0 at Goodison Park shortly afterwards.
Martin O'Neill's men come to Merseyside this time under a good deal more pressure than last — with just one win in 17 in the League and having scored just six times so far this season (the lowest tally in the top flight), they lie in 16th place. Furthermore, only one Sunderland player has managed to find the net this season and that is new recruit, Steven Fletcher.
Of course, the Goodison twist on Murphy's Law states that another Black Cats player — probably Louis Saha — will find the net in this one and, if recent Everton form is any guide, it'll come early in the game!
Therein lies Moyes's challenge; even though Everton have owned Sunderland in recent years, particularly at home where they've won five straight, conceding early goals has been his team's Achilles heel this season and he must tighten that up this weekend so that the Blues can start to build some momentum through a favourable run in the fixture calendar.
[As an aside, Everton became the first team in the Premier League era to concede the first goal five games running and still not lose.]
Whether it is John Heitinga and Phil Jagielka again or a restoration of the Sylvain Distin-Jagielka pairing in central defence, Moyes will surely be instructing his men to keep it tight in the early going, particularly given Fletcher's penchant for plundering goals against the run of play.
The onus to tighten things up will also fall on Phil Neville in defensive midfield and Seamus Coleman at right back (Tony Hibbert misses out again through injury). Fulham's goals could be directly attributed to the latter two's lapses in judgement so more focus will be demanded of both going forward.
Up front, the cascade of chances continued at Craven Cottage last weekend, led by the increasingly exciting Kevin Mirallas and the beast that is Marouane Fellaini. With better luck, the latter Belgian could easily have had a hat-trick but that, in combination with less-than-clinical finishing by Steven Naismith and Nikica Jelavic, allowed Fulham to steal an undeserved point at the death. Plenty of motivation, then, to get three points on the board this weekend.
Jelavic would be the first to acknowledge that he is going through a noticeable dip in form but while his work-rate and positional play continue at their familiarly high levels, it's only a matter of time before he gets among the goals again. He reveled playing against Sunderland last season and will no doubt see this as a good opportunity to get his personal campaign back on track.
He is likely to be playing just ahead of Fellaini again, with Mirallas on the right, perhaps interchanging again with Steven Pienaar on the left.
Ex-Blue, James McFadden, was hoping to face the Blues on his old stomping ground but a hamstring problem means he will have to watch from the sidelines. Sunderland will have Saha in their ranks, though, with the Frenchman vowing to make a goalscoring return to Goodison Park even though he will likely start on the bench.
In the context of the push for fourth place this season and the way Everton have been playing this season, nothing short of victory will do this Saturday. Some have remarked that someone is going to take a hiding when the Blues' attacking machine really clicks into gear and history under Moyes might suggest that Sunderland could become that hapless victim.
But complacency has been an enemy for Everton before this season so it will behoove them to remain professional and clinical as they search for a first win in five to help keep them on the coat tails of the top three.
Reader Comments
Note: the following content is not moderated or vetted by the site owners at the time of submission. Comments are the responsibility of the poster. Disclaimer
Ian Dickson
850
Posted 09/11/2012 at 21:06:32
It's when we are strong favourites that I worry more than usual the way the game will pan out. Chance after chance gone begging and we end up 1 behind... we all know the feeling!!

Hoping the bookies are correct tomorrow and 3 points for the blues!
Kevin Tully
851
Posted 09/11/2012 at 21:07:08
Looking forward to this one, with a chance to consolidate that 4th spot and go 9 points ahead of the "magnificent & terrific" redshite.
We must be high on confidence and all the stats point to a handsome win for the Blues.
I fancy Jelly to bag a couple tomorrow, and I am predicting either 4-0 @ 19/1 or 5-0 @ an even more wallet busting 45/1. I will be lumping on both !
Paul Kelly
863
Posted 09/11/2012 at 22:24:38
Surely it would be better to bet on us coming from a goal down to win by 3 or 4 hey kev ?
Tom Bowers
865
Posted 09/11/2012 at 22:45:14
No doubt the team is much improved from recent seasons. Much of it started when Jelavic arrived in January with Gibson. Since then Mirallas and the return of Pienaar has further expanded the offensive options.

Moyes has to take credit although some things about him are still exasperating which I believe are preventing the Blues from being in a better position. Hopefully he will get it right soon and winning will become more the norm than drawing.
Kevin Tully
873
Posted 10/11/2012 at 00:02:37
Although the smart money would point ot us coming from behind again, I can never bring myself to bet on us conceding, Paul.
It's lost me plenty over the years!
Andy Crooks
877
Posted 10/11/2012 at 00:24:36
Kevin, you sound like the kiss of death. Everton will always do the unexpected. They are unbackable.
Alan Clarke
895
Posted 10/11/2012 at 07:24:22
As confident as I am that we'll win, I'm not sure why anyone would bet on us keeping a clean sheet.
Andy Meighan
897
Posted 10/11/2012 at 08:47:11
I wish McFadden would have been playing. It would been like playing 10 men.
Mike Allison
898
Posted 10/11/2012 at 08:58:17
That was already nicely written and then you even used 'behoove' in the final sentence. Lovely work.
We simply must start scoring first, I can see it happening tomorrow, for the first time in my entire life (I'm 32) I'm looking at Everton games with confidence and expecting to win, rather than finding reasons why we won't.
Tony Cheek
904
Posted 10/11/2012 at 09:13:13
Anichebe...injured...Hmmm?

Sam Hoare
907
Posted 10/11/2012 at 09:42:20
We must not be complacent today. No easy games in the Prem and they have players in McLean, Johnson, Fletcher and Sessegnon who can cause damage on their best days.
Hopefully the team is up for it, we get the first goal and can build from there for a much needed 3 points. Big game from Jelavic I hope.
Ian Bennett
912
Posted 10/11/2012 at 09:56:23
I think it will be a tough game today as they do have some good players.
I am going with Jelavic to do the damage. I think he will get the space today, and home advantage will make the difference as they try to tighten up on the Belgian duo. 2 - 0, but the goals will come late.
Christopher De Costa
917
Posted 10/11/2012 at 10:00:46
Im going to predict 3-0 today, with super Kev and Jelly (2) on the mark.
Nick Entwistle
930
Posted 10/11/2012 at 11:08:25
Is it urban myth or have we really not come from behind to win a game since Wimbledon '94?
James Morgan
931
Posted 10/11/2012 at 11:14:36
Defo myth, Nick!
I give you Southampton this season!
Kunal Desai
932
Posted 10/11/2012 at 11:21:34
It's a myth, we've done it plenty of times, notably in the 2003 season, we'd go a goal down and come back to win.
Kunal Desai
933
Posted 10/11/2012 at 11:22:45
*2002/2003 season
Brian Harrison
936
Posted 10/11/2012 at 11:27:34
I expect Sunderland will play 2 banks of four and try to hit us on the break. Obviously it goes without saying that scoring first will help us no end, it will force Sunderland to come at us a bit more and that would leave space for us to really attack them. I think if we are to realistically challenge for fourth then nothing short of a win today will be good enough.
Jelavic has not been at his best in the last few games but with strikers a goal changes everything so lets hope he scores and we win.
Danny Kewley
937
Posted 10/11/2012 at 11:24:20
Everton to win 3-0 with Pienaar man of the match!
If only football was that simple, however after what could well be a tough start I do fancy us to win the 3 points today and do away with the sequence of annoying draws!
Tom Bowers
941
Posted 10/11/2012 at 12:21:17
If the Blues don't get three points today, what is there for them? On paper, it looks like a no-brainer but experience tells me nothing is written in stone and Everton of late seem to be in a draw ''slump''.

Having said that, Sunderland are a really poor side and unless they play 5-4-1, which they probably will, and have a totally biased ref on their side, with Everton playing their worst game of the season, they probably won't get anything from this game.

Should be a comfortable win though.
Nick Entwistle
943
Posted 10/11/2012 at 12:48:11
James, Kunal... missed out some info there so I'll try again... is it myth we haven't come back to win after a half time deficit, since Wimbledon '94?
Sreekumar Raman
946
Posted 10/11/2012 at 12:59:56
Fellaini was man of the week in MIO TV Singapore by fans vote. First time seeing a Everton player. We are getting attention, Blues. COYB.
Chris Leyland
949
Posted 10/11/2012 at 13:33:39
Nick

Everton v Southampton 2003: 1-0 down at half-time to a Beattie goal but we won 2-1 with 2 late, late goals including Radzinski's winner.
Kunal Desai
950
Posted 10/11/2012 at 13:30:37
Nick - Here are two results I've picked out
18 Jan 2003
Everton 2-1 Sunderland
McBride 51, 57 Kilbane 34

February 22nd 2003
Everton 2-1 Southampton 1
Radzinski 83, 90 Beattie 33
Kunal Desai
951
Posted 10/11/2012 at 13:38:52
Everton 2-1 Aston villa
Campbell
Rooney Allback
Nick Entwistle
953
Posted 10/11/2012 at 14:05:53
Is it an urban myth we've never come back from a 10-0 deficit and won by five goals?
Colin Ryan
954
Posted 10/11/2012 at 14:09:33
Howard, Coleman, Baines, Heitinga, Jagielka, Mirallas, Pienaar, Osman, Neville, Fellaini, Jelavic same team as last week
Jamie Barlow
955
Posted 10/11/2012 at 14:12:07
Everton team to face Sunderland: Howard, Coleman, Baines, Heitinga, Jagielka, Mirallas, Pienaar, Osman, Neville, Fellaini, Jelavic

Jamie Barlow
956
Posted 10/11/2012 at 14:12:28
Everton subs: Mucha, Oviedo, Naismith, Distin, Hitzlsperger, Gueye, Vellios

Nick Entwistle
958
Posted 10/11/2012 at 14:15:01
Cheers guys, its been a long long time since an Everton line up would make you salivate.
No messing from the boys today, they will want to get the job done. If the goals (our goals) come early they could end up with 4 or 5 today.
The bench is as shocking as always but not without a couple of game changers.
Gerry Grimes
961
Posted 10/11/2012 at 14:38:55
Statistic from today's Guardian.
After 782 Premier League games Everton have a goal difference of +1.
Roberto Birquet
963
Posted 10/11/2012 at 14:46:50
Chris Leyland 949, that was my favourite comeback. Even from that Canadian knobhead, who with more tact coulda been very fondly remembered.
Also Kharkiv, and almost Fiorentina (on 2-leg basis), which woulda topped the lot. Their goalie was incredible that night. Was it Frei?
Last bloody week shoulda been another.
Add Your Comments
In order to post a comment, you need to be logged in as a registered user of the site.
Or Sign up as a ToffeeWeb Member — it's free, takes just a few minutes and will allow you to post your comments on articles and Talking Points submissions across the site.