It's the Hope that Kills You
By Lyndon Lloyd

17/04/2014

Comments (64)
jump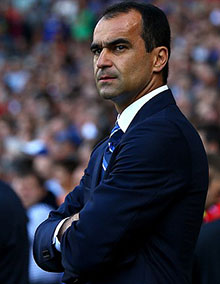 Had you asked any Evertonian last summer whether they would have taken being a point off fourth place with four games left they would surely have bitten your hand off. It is unquestionably true that what Roberto Martinez has achieved in getting Everton to within touching distance of a Champions League spot in a season of transition is remarkable.
By the same token, having seemingly fallen out of top-four contention back in February but then dragged themselves back into the mix with seven straight victories, it is also true that fourth place, as unlikely as it seemed 9 months ago, was in the Blues' hands. With this body blow of a defeat to lowly Crystal Palace, though, they may have blown it.
The post-mortem will centre, no doubt, around Martinez's team selection, one predicated on the defensive organisation of Tony Pulis' outfit while, perhaps, underestimating their attacking strengths, and given Everton's challenges trying to break the visitors down at the other end, it was alarming how easily Palace scored three goals to put this contest beyond Everton's ultimately frustrated players.
It was arguably those defensive lapses and not so much the attacking failings that were Everton's undoing. Romelu Lukaku was, to be brutally frank, awful; Kevin Mirallas profligate with the final chance of the game where he air-kicked Ross Barkley's sublimely-created chance; Gerard Deulofeu predictable down the right flank; and Palace formidable as an obstacle when they dug in and retained their shape behind the ball. But Martinez's men still scored two goals and were it not for Julian Speroni in the opposition goal, who pulled off two or three excellent saves, the Blues might well have won.
Ultimately, though, a match that, on paper, was the Blues' ticket back into the top four this evening and a chance to keep their destiny in their own hands, turned into a disaster, one that felt all very... well, Everton.
The frustrations in the final third that would characterise Everton going forward this evening were evident fairly early on. They dominated possession in the first quarter of the game but struggled to find paths through the Palace defence. Gareth Barry headed an early corner over when he might have at least hit the target, Deulofeu flashed one of his trademark balls across the face of goal and Aiden McGeady arrowed a shot narrowly over but the Blues were largely restricted to shots from distance.
Palace, meanwhile, were hitting the front pairing of Cameron Jerome and Marouane Chamakh more easily than was comfortable and with the ever-dangerous Yannick Bolasie probing from deep, they offered a threat if Everton committed too many bodies forward, particularly with Barry's usual, industrious sidekick, James McCarthy, rested on the bench due to an unspecified muscle injury.
So it proved after 22 minutes when Bolasie lost Leighton Baines too easily and cut the ball back from the byline, prompting Tim Howard to push the ball out towards the penalty spot. There Chamakh laid it off to Jason Puncheon and he swept the ball past two defenders and into the far corner to put the visitors ahead.
Goodison was immediately set on edge and it took Everton another 11 minutes before they threatened an equaliser, Mirallas turning impressively and lashing a shot inches over the bar from an acute angle. That was followed by Lukaku's best moment of the evening where he swivelled and almost beat Speroni by his near post but the 'keeper turned it behind for a corner.
In between, the visitors remained hungry and committed, winning most of the physical battles and Bolasie came within inches of doubling their lead, smashing a 25-yard effort off the face of Howard's post.
Half time brought an unsurprising change from Martinez who withdrew Deulofeu in favour of Steven Naismith. The Spaniard had arguably been a more likely source of an opening on the evidence of the first 45 minutes than, say, McGeady but you felt that any end-product would, rather like Saturday against Sunderland, have come from persistence rather than genuine inspiration.
The Irish international did came within a whisker of scoring his first Everton goal eight minutes after half time when his shot whistled across goal and missed the far post by inches but, unfortunately, Everton were 2-0 down by that point thanks to a soft goal conceded from a corner just three minutes after the restart.
Howard had parried Joe Ledley's shot behind for a corner and from the resulting set-piece, Scott Dann was allowed to head home unchallenged. The goal was infuriating in both its preventability and the fact that Everton forced 13 corners themselves over the course of the match and didn't really look threatening from any of them. It remains a curious flaw in the Martinez revolution and this was preceisely the kind of match where a decent set-piece routine might earned a point or three.
A further double change in response from Martinez followed in 59th minute, McGeady and Barry making way for McCarthy and Leon Osman and the Blues halved the deficit two minutes later. Persistence from Mirallas saw him twist and turn on the right side of the area before he flighted a cross to the back post where Baines headed back across goal into the path of Naismith. In predatory fashion, the Scot was on hand to poke home from a couple of yards out and Everton were back in business.
Had Mirallas been able to turn Baines' cross home at the far post seven minutes later, there might have been a very different outcome to this game. The Belgian came steaming in to meet the England left-back's deep ball but he couldn't keep it down and it flew over the crossbar. Speroni then tipped Osman's terrific snapshot over the crossbar to preserve Palace's lead, one they extended again with 17 minutes left of the regulation 90.
Puncheon was allowed to drive across the edge of the Everton area before feeding Jerome and he was able to turn Stones who partially lost his footing giving the striker a crucial opening from which he bent a shot around Howard. It was one of those moments where you felt a more sure-footed and dogged Phil Jagielka might have extinguished the chance with a tackle or a saving block but the 19 year-old's contribution to the rest of the contest in terms of distribution and moving with the ball in myriad areas of the field was awe-inspiring. His composure and versatility will make him an incredible asset in the coming years and every game he plays, including this one, just adds to his experience.
The third Palace goal was a punch to the gut but Everton had no option but to keep probing away at the yellow blockade in front of them, trying to pry it open with an incisive move or force a mistake. Barkley looked for all the world like he had broken that resistance as the game ticked into the final 10 minutes when he raked an angled shot that was destined for the far corner until Speroni stuck out a crucial foot to steer it wide of his far post.
A quick free kick a couple of minutes later put Barkley in again but his shot was blocked and Osman blasted the rebound wide before the Blues grabbed a lifeline in the 86th minute. Barkley was involved again, his forward pass deflecting off Ledley's heel and diverting it behind the Palace defence where Mirallas was alive to the opportunity. He stole in ahead of the goalkeeper, neatly rounded him and flicked the ball into the empty net.
Four minutes of normal time remained and six minutes of stoppage time would follow but Everton would continue to be frustrated and disrupted by the Londoners' tenacity, determined defending, time-wasting and fouls. In that time, though, they did fashion one more great chance when Barkley, tired of trying to pick his way through a wall of defenders, scooped the ball superbly over the top but Mirallas couldn't make contact in front of goal and the chance was snuffed out. And that was that. Truly gutting, not least because Manchester City's surprising draw at home to Sunderland had opened the door ever so slightly to third place for Everton.
I'll admit it. I had started to believe. To hope that this was finally our time, that Roberto's magic had dispelled this notion that it's just "so Everton" to either let slip a gilt-edged opportunity to crack that glass ceiling or, as was the case in 2005, to have it ripped away from us.
And when that moment of inevitable despair came, you expected it might come at the hands of City early next month. Not against Crystal Palace, of all teams (although they deserve huge credit for their performance). Not at Goodison Park, under the lights, with a packed house roaring the team on to a new era. To paraphrase John Cleese, you can stand the despair; it's the hope that kills you.
Of course, with four games left and just one point in it, it's far from over. Arsenal have the upper hand now and it is they who can now assure a crack at the Champions League by finishing with a 100% record from here on out but neither side have any margin for error. A slip by the Gunners at Hull on Sunday afternoon would open the door again for Everton who would kick off against Manchester United knowing a win would take them back into the top four and that they'd be three wins from a chance at the promised land.
There I go hoping again, but it ain't over 'til it's over.

Follow @Everton1an
---
Reader Comments
Note: the following content is not moderated or vetted by the site owners at the time of submission. Comments are the responsibility of the poster. Disclaimer
Terry Murphy
834
Posted 17/04/2014 at 07:21:28
Well thank god all that hope about fourth place is over. No more fevered evenings checking form against fixtures. Bring on the Mancs and let's get ready for the summer window.
Peter Warren
836
Posted 17/04/2014 at 07:35:13
Whilst eyebrows were raised prior to the game about the starting line up there's been a lot of people wise after the event. I for one was excited.
Too many people I felt had an off night but it was a great performance by Palace too, I give them a lot of credit. We were beaten by the better team on the night.
We have a terrific game on Sunday and still plenty to be proud of and play for. The season is not over yet
Ian Bennett
840
Posted 17/04/2014 at 07:40:18
Yep credit to palace, we got done good and proper. Great commitment and discipline.
I can understand why Roberto added the attacking flair to break down the bus, but the foundations were just too weak.
A number of players had an off night, whilst we lacked the cohesive glue that Osman, McCarthy and Naismith offer over some of the other starters.
I didn't expect to see the run continue to the end of the season, we all didn't. Everton have bounced back from defeats before, and it starts again on Sunday. COYB.
Mark Tanton
843
Posted 17/04/2014 at 07:48:57
Instead of playing a load of attackers - a move I admire by the way - we should have just gone toe to toe with them and got Barry and McCarthy to win the important battles with them.
We were soft last night and got easily bullied out of every 50/50. Mirallas, for instance, was busy complaining to the referee at one point after losing the ball. Deulofeu is a tricky little winger but he had no business being out there against a load of six foot Pulis thugs last night.
I'd have played my biggest, strongest side. And Naismith is never afraid to put his head or a boot in neither, and so should have started.
Considering we had a forward with the stature of Frank Bruno he played like a total pussy, in all honesty. He should have been one of the ones sticking up for our boys but he failed at that miserably.
Christopher Timmins
849
Posted 17/04/2014 at 08:22:00
Lyndon
This is part of of the gig of being a blue supporter. The manager got it wrong last night, you don't rotate your back four and you don't rotate your central mid field. Central midfield rotation might be an option if Gibson was fit but we don't have the numbers in that area.
Sunday's another day and with expectations put firmly back in their box I for one expect a better performance.
Mark Tanton
853
Posted 17/04/2014 at 08:33:45
One thing we know is that Martinez's Everton have generally responded well to setbacks, so I look forward to seeing how Sunday's game pans out.
Dick Brady
863
Posted 17/04/2014 at 08:24:45
How is it remarkable that we are within touching distance of a Champions League place?
We finished 4th in 2005 and we had a team that included Steve Watson, Marcus Bent, Kevin Kilbane and James Beattie. We have a much better squad now.
We also finished 5th in 2008 and 2009.
I'm not so sure that its remarkable that we are in touching distance of 4th. I would claim that we are and have been a very good side for the last decade and challenging for 4th is the set standard.
Roberto has done a very good job maintaining those standards.
Colin Glassar
867
Posted 17/04/2014 at 08:41:39
Having supported Everton all my life the only thing I'm absolutely certain of is, Everton never fail to disappoint. Yes, there have been high points but after several decades supporting the team you become used to massive downers like last night.
It's part and parcel of being an Evertonian. Even in our glory years we fell flat on our faces several times e.g. '68 cup final against WBA, European cup game against panathanaikos, cup finals against rs in the 80s, the surrender against Chelsea in the FA cup final etc...
You just get on with it knowing quite well there will be more downs than ups. Unlike our cousins across the park we lack that vicious, win at all cost attitude. We are too nice, too honest and too unlucky in high pressure games!!
Oh the joys and tribulations of being a blue.
Rick Tarleton
872
Posted 17/04/2014 at 09:06:08
McCarthy should be the first name on the team sheet if he is fit, he runs the team along with Barry. Especially against a team managed by Pulis whose teams need to be fought unless you get the early breakthrough. Barkley is a fine attacking player, possibly he'll be as good as Gerrard eventually, but he's never a defensive holding player and that was a tactical error that may have cost us fourth place.
Peter Murray
876
Posted 17/04/2014 at 08:55:33
Excellent article. Crushed hope just seems to go with the territory of being an Evertonian.The French writer, Albert Camus, once said he learnt more about life playing football than he did in allhis philosophical readings. Last night would have driven him to suicide.
Just a point about corners. Roberto apparently believes that corners (unlike free kicks) are a waste of time in terms of producing goals. Statistically he has a point. But does that justify us having no tactical variation on the hopeful punt? And seemingly no defensive strategy against opposition corners? Time to change that statistic.
Patrick Murphy
879
Posted 17/04/2014 at 09:18:40
Not only should McCarthy start when fit he should be made the Captain for next season - most of his work is unspectacular and goes unnoticed but if last night showed anything it showed his value to the team. Barry - I'd prefer to buy a younger lad as although he's had a magnificent season - I can't see him maintaining that level of performance for another twelve months. There is always up and coming talent out there and Roberto needs to find it to add to the team for next season.
Peter - If Roberto doesn't like corners why does he allow the players to take the same corners over and over again without any variation in the delivery, some of the dead-ball delivery needs working on and no Premier League team should allow a free-header in the centre of the six yard box but we did and paid the price. Hopefully, by the start of next season these type of problems will be ironed out and worked upon.

Mark Dunford
880
Posted 17/04/2014 at 09:04:15
We've lost two important games - Liverpool (a) and Palace (h) because the wrong line up was chosen. In the first one, we had players who weren't match fit returning too quickly and Martinez has since taken a cautious approach in bringing players back. I'm hoping he learns from last night and picks a more balanced team in the future rather than letting the opposition overly dictate his selection He is new to the job and has done remarkably well in his first season. We're now playing a more adventurous style of football, the team has nice youthful feel built on Moyes' decade of work and we've beaten some of the bogey teams. Moyes also laid some similar demons to rest when he started - Leeds (a) was one I recall.
Our attack was too crowded yesterday which limited opportunities as players opportunities became restricted. The wall of yellow defenders was clearly constructed to play for a point and in the end we were undone by our own ambition to overcome a perception of their team. There was a moment when Barkley ran from at their defence from about 20 yards out and there must been 8 Palace players between him and the goal. He was just crowded out. Once again, I think Martinez needs to be praised for his substitutions. He recognised the futility of the line up by bringing on Naismith who scored and freed up Mirallas who also scored. McCarthy made a huge difference when he came on; like others I have no idea why he was rested as to my mind he is the heartbeat of the current team.
Martinez is also right to say we still have a chance of finishing fourth. We've simply lost the slight advantage that we had in a close race. It isn't over yet.
Thomas Lennon
882
Posted 17/04/2014 at 09:21:23
As ever when we find ourselves in this position the warning signs are there: after a week or two of interview after interview raising expectations, expressions of 'confidence' even the odd journalist writing articles 'if Everton finish 4th it will be a triumph for English football' or somesuch we start to think that something good is about to happen as 'neutrals' are starting to say the same things we are.
However you then take a look at Arsenal and see a team that expect to play in the Champions League. They have misfired all season long but this is the very lowest of their aspirations and the very highest of ours. The mental attitudes are consequently totally different and anyone who plays sport knows that the former has the upper hand until it is forced from them.
Chances are we know that Arsenal will up their game to ensure qualification unless we raise our game twice as much to keep them in 5th. Can we raise our game twice as much as they can raise theirs?
It can still be done as Arsenal still have to play two teams fighting relegation but they have the capacity to finish their season strongly, albeit apologetically. Three games in a week hurts us more than them.
But if we beat United on Sunday its on again!
James Lee
886
Posted 17/04/2014 at 09:44:53
Come on Jelavic, help us gun down the Arse this Sunday!
Usually after a loss (reality check), we come up stronger and Man Utd we could match (if we can match Arsenal, we can match anyone)
The race for just getting more exciting!
Paul Olsen
887
Posted 17/04/2014 at 09:21:46
That annoyed me more than anything as well Peter Murray. It has been a set theme that we don't want to do anything about corners.
Yesterday we sent 4 players forward for corners (even at 0-2). Then all those 4 would charge the first post and Baines, Mirallas or Deulofeu etc would punt the ball at the far post. It's not like yesterday was the first time – this has been our preferrered corner strategy.
Our squad now consists of more ball players than wrestlers, but still. Surely, it would be ok to at least give corners a go?
Peter Murray
888
Posted 17/04/2014 at 09:51:11
Patrick,
Fair point about the corners. Maybe we need 3 or 4 players per game taking them just to mix them up a bit.
Personally at the moment, every time we have a corner, I don't expect much. When the opposition has one, I get jittery.

Colin Grierson
896
Posted 17/04/2014 at 09:22:46
I for one was optimistic that the attacking line up would unlock the palace defence. However, Palace played really well, Puncheon and Bolasie in particular. Had McCarthy been on from the start, it may have been different. Hindsight is a wonderful thing.
On the plus side, I thought McGeady played well. Bring on the Mancs and let's finish the season well.
COYB!!!
Harold Matthews
897
Posted 17/04/2014 at 10:01:52
Yes, our corners are a boring waste of time and while we have no-one with the aggression, determination and bravery of Terry, Skrtel and Vidic, they always will be. Also, the fact that our manager sees them as a way of losing possession cannot help.
Phil Brown
898
Posted 17/04/2014 at 10:19:50
Rick #872,
Ross wasn't playing as a holding midfield player, he was the free man, the box to box midfielder to give us an extra attacking edge against a team that would crowd us out around the penalty area. Get used to it – as opposed to two defensive midfielders – for home games as this is how most teams will set up against us.
He's going to be (alot) better than Gerrard by the way, think about Gerrard's first season in the top league as a 20-year-old.
Roger Sunde
899
Posted 17/04/2014 at 10:13:55
It's no secret we're bad on corners, it was 13-3 in corners and a Palace player was on the end of 15 of those.
Not sure why Martinez doesn't think this can't be a weapon — just look at Skrtel with 7 goals and we have 3 centre-backs with none.
Russ Quinlan
900
Posted 17/04/2014 at 10:19:37
It is disappointing, having clawed our way back into contention for 4th, but like has already been said, to get into this position with 4 games to go was far outside our expectations at the beginning of the season when RM took over (ignoring the stupid comment from our luvie Chairman about Champions League football, which apparently was said to him by RM in confidence and was meant as a long-term goal).
I would love to get CL next season, but in my view if we finish above MU and Spurs this season that is progress and especially as we have already beaten our best points tally in the PL.
We (and I in particular) feel gutted at any loss (and in the 50 or more years I have supported the Blues, there have been a few!) but this season has been far better than I had hoped for, given the circumstances, and the football we play is far better (most of the time) I think we just need to be a bit more realistic as to what we can achieve in a new managers first season. Even that lot next door struggled last season when BR took over and now look at them.
I think next season will be even better and am looking forward to really pushing for 4th. I also reckon the game on Sunday will be more winnable than last night because they will not put 10 behind the ball, just as long as RM has learnt his mistake from last night about making too many changes to a winning team and I am sure he will, well I hope so !
Kevin Tully
903
Posted 17/04/2014 at 10:22:37
I really can't think of any player who deserved more than a 6 out of 10 last night. Palace fully deserved their win, it wasn't as if they got lucky with a 1-0 from a set piece. Funnily enough, I thought we needed to keep possession more last night, we were seemingly in a rush to get forward too quickly, then giving away the ball in the final third. Our crossing was woeful, and that team clearly didn't gel from the off.
Was it nerves? Or just one of those games? We now have to hope Arsenal slip up and if they do you feel it will be against Hull on Sunday. If we do manage to get back into pole position, one tiny consolation may be that Man City are no longer fighting for the title when they visit us (come on Chelsea).
Who'd be an Evertonian?
Dave Lynch
905
Posted 17/04/2014 at 10:33:52
It doesn't matter what our expectations were at the start of the season. Fact is, we are I contention for a Champions League spot and to dismiss it with a mindset of "I'd of been happy with a top 10 finish" is ludicrous.
You take your chances in this game with both hands, you have to make them count when they present themselves, look at the other lot across the park. Do you think they are thinking "Well if we don't win the title, we have performed better than expected". No you don't! They are going all out to win it with the right mindset, which is. "If you want it, you'll have to take it from us kicking and screaming".
Russ Quinlan
907
Posted 17/04/2014 at 10:46:52
I cant see anyone on here saying they'd be happy with a top 10 finish? Even if we fall short of 4th, then 5th and a place in Europe is a stepping stone to a better finish next season.
Steve Guy
908
Posted 17/04/2014 at 10:32:54
Last night was disappointing to say the least. I hate losing to teams that park the bus; but we knew they would do that. It's a Pulis Team so you (again) know what's coming. They were in dream land last night... defend, defend, waste time, defend, waste time... then score on the counter attack. They had four chances and scored three. Pulis must have wet his pants.
Having got that off my chest, I said before the game that (a) Palace wouldn't be a pushover, (b) Puncheon is in the form of his life and we would need to keep him quiet, (c) IF we won, it would be by the odd goal.
So, when I saw the set up of the team, I said to my son, "That's brave" and the reply was "He's going for it". Which were both true statements before the kick-off. Unfortunately, it was too "brave"; we were brittle at the back without the pivotal duo of McCarthy and Barry and RM should have changed that after about 20 minutes and the first goal.
In terms of going for it, we did anything but in my opinion. We looked frightened to death. Deulofeu was the only one having a go and the rest were just passing it sideways, sideways, sideways. Barkley was centre stage and seemed overwhelmed. The balance was missing.
I expected big changes at half time; the side needed the full surgery of three subs at that point and a new sense of purpose. When that surgery didn't arrive, it came as no surprise to me that the second half played out the same as the first until the final subs were made. Finally some invention. Use of both sides of the pitch. Chances. Too late.
Last night showed me that we are not mentally ready for the pressure that comes with competing in the top four. Hopefully, that strength will come with experience for all concerned. I hope I am proved wrong and Arsenal continue to be inconsistent and we nudge ahead. But, after last night's performance I just can't see it.
Steven Telford
920
Posted 17/04/2014 at 11:53:46
It still hurts in the morning..... S&M Everton, it's by choice we suffer by supporting.
I was itching to think of next season, coming home from work for evening Champions Leage games. "The Champions" song echoing in the background as the Stella Artois gave way to game.
Alas, we are painfully reminded that, we are Everton. Their time wasting keeper, seeing 11 men behind the ball, and that shit shot from Barkley when possession so valuable to hold.... yeah, still hurts in the morning.
Tony Rice
934
Posted 17/04/2014 at 13:20:59
It's over...... Losses to Man Utd & City will drop us to 6th.
Good run ... but, if you can't beat or draw Palace at home when you control your own destiny, you have no business talking about the CL

Patrick Murphy
937
Posted 17/04/2014 at 13:30:25
Yeah that's the spirit Tony - we may as well pack it in as the Rich clubs don't lose silly fixtures do they - we may as well have lost to Arsenal then we could have wallowed in the misery a little longer and held the post mortem sooner. I agree that it was very disappointing to lose last night but on balance we probably barely deserved to beat Sunderland and that's the way football goes, it is why it is a sport and not a science. In fact Roberto can do one with all of his positive football and attitude, we don't do that at Goodison.

Martin Kulkarni
943
Posted 17/04/2014 at 13:43:19
Patrick 937
Tony is right: they bottled it.
As long-suffering Evertonians, when do we get to question a manager and his players' mental strength, desire and commitment to win if not after games such as last night's, Patrick?
I remember being slaughtered on ToffeeWeb in March 2005 after posting questioning those very qualities we seem to lack as a club after lying down to the Dark Side scum in the Anfield derby. As it happens, ultimately, I was wrong and we did finish 4th then, albeit largely down to some gritty, battling performances with the likes of Cahill, Carsley and Gravesen in the team. We won't this year, because we don't have what it takes within the team or in the mentality of the club and things will never change with the current set-up still in place.
Sean Smythe
956
Posted 17/04/2014 at 15:06:52
T'was a bad game to pick for my first trip to Goodison for this season. Ah well.
Sam Morrison
958
Posted 17/04/2014 at 15:07:21
Martin (943) if you're going to be as defeatist as that, at least balance it with the acknowledgement that we finished fourth in 2005 very much in part due to a very mediocre showing by several teams around us.
Paul Columb
964
Posted 17/04/2014 at 14:56:46
"We won't this year, because we don't have what it takes within the team or in the mentality of the club and things will never change with the current set-up still in place."
I'm not sure what top to bottom gutting you feel will turn Everton around Martin but I for one feel as though some great foundations are being set this season. It's not as if telling a kid 'good job' at every turn builds self esteem, neither will bleating 'we are Everton' to a group of players set a mentality.
RM has the team playing for him and believing in his system. There appears to be a strong comradery and belief amoungst the players. There is a core group who mirror past dogs-of-war in Coleman, Jags, Barkley, McCarthy, Naismith and a manager who can seemingly attract talent while also showing belief in our youth system. This is the foundation for winning games and hopefully silverware which ultimately is the only way to build a winning mentality in the club.
Now if only this could be backed up with some business acumen and investment by the board.
Robin Cannon
979
Posted 17/04/2014 at 16:21:55
I'm getting really tired of "they bottled it" comments. We didn't bottle it against Arsenal, which was of similar importance. We didn't bottle it at Sunderland, which was of similar importance.
Every bloody game we ever lose the comment is the same. But sometimes teams lose.
By "bottled it", can we just be honest and say "they didn't play well and came up against a team that did play well".
It's hugely hugely disappointing. But I'm not going to lose hope. It's perfectly reasonable to think that Arsenal might drop points at Hull; they're not playing particularly well and can see Hull wanting to make a pre-FA Cup statement. They're also likely to be distracted on the last day of the season, with an FA Cup final only six days away (meanwhile we'll have a no doubt second XI Hull to contend with).
We missed a big chance to get our noses in front of Arsenal. It's frustrating and disappointing. It also won't be the only chance.
The hope hasn't killed me quite yet.
Martin Kulkarni
983
Posted 17/04/2014 at 16:19:22
" Martin (943) if you're going to be as defeatist as that, at least balance it with the acknowledgement that we finished fourth in 2005 very much in part due to a very mediocre showing by several teams around us."
Sam 958
I wouldn't disagree with the above. In fact, I did actually intend to qualify my comments by saying what you have said, however, you can't deny surely that this current team do not have the fighting qualities displayed by the players I mentioned which very much got us 'over the line' to 4th place in 2005. It pains me beyond belief to say it, but, if we had an ounce of what those fuckers across the park have in belief and determination, then it would have been very different. I mean, we are talking about a bunch of average but determined players married with albeit the best two strikers and tosser face Stevie Me. What do you get? Probably the next champions. Title winners.
Paul 964
"RM has the team playing for him and believing in his system.........
.......There is a core group who mirror past dogs-of-war in Coleman, Jags, Barkley, McCarthy, Naismith"
Really, do you think so? I must be watching a different Coleman, Jags, Barkley, McCarthy if these mirror past 'dogs of war' such as those I mentioned. Very god players but dogs of war?Please do me a favour.
Don't even get me started on the likes of Lukaku and Mirallas, lazy buggers.
As you say Martinez needs to be backed financially by the board and the current/or another chairman. If not, then this may have been our best tilt at the top four for the foreseeable, because the others will strengthen year on year and Man Utd won't be as inconsistent and poor as this with or without that lying twat in charge next season.
Don't get me wrong, I am excited by what Roberto has achieved but only to a point as this this team has its limitations and the problems next season with the rebuilding needed to offset the loan returnees and lack of funding we usually suffer from will not be easy to overcome.
Dean Adams
996
Posted 17/04/2014 at 18:11:14
Tony Rice 934
Tell that to Chelsea then. Tell Mr Mourinhio that losing to Crystal Palace should leave you with no right to talk of Champions league. There is so much over-reaction on here lately.
We are where we are and I would guess that not many would have had us in 5th with 4 games to go this season. Everyone was talking of mid table and a big transition. If we don't believe, then why should the players (who are in the main not supporters).
Start thinking like winners, get busy living or get busy dying. The choice is yours. Me, I still believe we can get 4th and wont stop till it is impossible. Arsenal probably felt that it had slipped away last week and hopefully will again next week.
Colin Glassar
999
Posted 17/04/2014 at 19:01:44
It's not over till it's over,or until the fat lady sings. I can see us getting ten points out of a possible twelve; wins against the two manc teams and Hull, and a draw against Southampton. I hope that will be enough to get that coveted fourth place.
Guy Hastings
001
Posted 17/04/2014 at 19:12:50
The first time I took my Palace supporting older lad to Goodison we lost 1-2. Last night it was my younger lad's (also Palace) Goodison baptism - 2-3. Next year I'm bringing the cat and putting a tenner on 3-4 to the Eagles.
Colin Glassar
004
Posted 17/04/2014 at 19:59:10
Guy, your kids support palace? I'm speechless.
Chris Leyland
006
Posted 17/04/2014 at 19:55:43
Robin Cannon, I agree that we didn't lose because we bottled it, we lost because Martinez got his team selection horribly wrong. He upset the balance of the side with a line up that, amongst other things, left the full backs exposed too often.
Dean Adams, we don't need to tell Mourinho that Chelsea's loss to Palace should leave them with no right to talk of champions League, because the big difference is, that loss won't stop them qualifiying for next year's Champions league, whereas our loss has seriously damaged our chances.
And as for telling fans to start "thinking like winners", the sad fact is that until the team start behaving like it, then it is difficult for fans to do. All too often, on the big occasions, the team let us down when it really counts
Raymond Fox
017
Posted 17/04/2014 at 20:30:03
Your being a bit severe with the criticism aren't you Chris.
What about all the good results we've had, did they not really count!
This season there are no gimmies, who f/c the Man City result?
If we fail to make the top 4 again, it will because we are trying to dislodge teams who's total value is 3 to 5 times the value of ours.
Until we can get the sort of investment in the team that gives us some sort of parity with Chelsea, City, Utd & even rs. were trying to pull off the virtually impossible.
The teams pulled up trees to get within touching distance of the top 4, there has been very few games where they have failed to live up to expectations.
Kevin Tully
018
Posted 17/04/2014 at 20:58:44
Let's get some positivity back. It's not over yet. Hull are still fighting because they only have 36 points and their next two are away to Fulham and Villa, with us going there on the last day. They will give Arsenal a game on Sunday alright. As that Man City result showed, you cannot guarantee three points against anyone in this League.
If we do manage to beat Utd the confidence levels with be through the roof again and we can eat our Easter eggs with a smile. It wouldn't be Everton if we made it easy would it?
Guy Hastings
019
Posted 17/04/2014 at 21:23:35
Colin 004 - we lived in the shadow of Selhurst Park for years. Jack was five when we went to Palace-Everton, Palace won 1-0. He was an Eagle after that. Kismet's a wonderul/terrible thing. It could have been worse, my other other lad's first game was Palace-Tranmere. Palace 2-0 up when both he and the Palace defence fell asleep. He woke up to find it 2-2. Another Tranmere goal and he'd have been a Rovers man.
Tom Bowers
027
Posted 17/04/2014 at 21:41:01
Yesterday was a real downer as we all well know and many of us are still amazed by what happened.
However, we have to acknowledge that Palace are a vastly improved outfit and we're not going to be pushover despite their league position and Everton's recent results. Palace, whilst not having a great scoring record this season certainly have had a great defensive one.

After the euphoria of the Arsenal game the Blues were less than impressive against Sunderland but I was amazed that RM left out Naismith and McCarthy for the Palace game and it was evident from early on that something was wrong with the Blues defensively and whilst I expected Everton to find it hard to score I couldn't believe that Palace found so much space and time when they attacked.

It goes without saying if Everton had scored first and early things may have turned out differently but they never looked like doing so.

Sadly it may well be that the disastrous home games against Palace and Sunderland will keep them from Champions League.
Tahir Abdullah
081
Posted 18/04/2014 at 04:34:15
Assuming that Macca carried a knock and was therefore not risked as a starter by RM, I ask myself what about fielding Alcaraz as a replacement (for when either Macca or Barry are unavailable for selection). Will Alcaraz fit in this position; moreover when will we see Alcaraz string a few matches together?
Brian Wilkinson
084
Posted 18/04/2014 at 04:20:47
Excuse the French but what a load of balls on here: "Everton bottled it", "wrong formation", blah, blah, blah... Jesus, it's our first defeat in eight and 'cause of one loss, the towel's throw in? Oh well, that's it: Europa League footy next season.
Get a grip, we are 1 point behind 4th, we lost to Palace, so did Chelsea, we beat Arsenal and Man Utd, we've taken 4 points off Arsenal and a possible 6 off Man Utd. Suddenly, the performance against Arsenal home and away and the win at Old Trafford is forgotten. I am just glad some on here are too young to have been in the trenches in the 1940s.
How many expected Sunderland to get a draw away to Man City? People might think Arsenal have an easy run-in, but just like Everton and City found out, they are the banana skins of games and trust me Arsenal will not have it all their own way in the final run-in.
Now stop cry-arsing, lick your wounds, and get behind the team; it's far from over yet. COYB
Kieran Fitzgerald
097
Posted 18/04/2014 at 07:59:12
Martinez explained that McCarthy wasn't fit enough to start the game. What is he to do? If Martinez plays an unfit player from the start and the player's fitness deteriorates because of it, he's the worst in the world. He doesn't play him, and he gets accused of getting his team selection all wrong.
McCarthy and Barry have played in almost every game this season. They have been excellent and there is never going to be a good time to not play them, if you don't have adequate cover. We don't have the cover until Gibson comes back, and McCarthy wasn't fit enough to start on Wednesday.
Colin Glassar
101
Posted 18/04/2014 at 08:48:50
Has anyone else noticed the subtle media campaign re: OFM's return to Goodison on Sunday? It's all about the great reception he deserves, the great work he did, the loyalty he showed blah, blah, blah.....
I don't know what the fans' reaction will be but I doubt it will a standing ovation.
Paul Andrews
102
Posted 18/04/2014 at 08:54:09
Colin,
Moyes press conference before the game will be along the lines of....
"The club will always be special to me.... I look for Everton's result first.... I have still got some very good friends there... Bill and my relationship was great." etc etc.
A complete phoney character.
Sam Hoare
109
Posted 18/04/2014 at 09:47:00
Palace is done now. All that matters is 3 points against Man Utd. It will be tough as they are the best away team in the league but at least the boys will not need much firing up. Let's win that and see where we are.
Brian Denton
114
Posted 18/04/2014 at 11:01:12
Brian Wilkinson 084, if you were in the trenches in the 1940s, you were fighting the wrong World War!
Russ Quinlan
130
Posted 18/04/2014 at 12:57:02
We really do need to get back on track on Sunday or not only will we lose 4th, Man Utd could be in with a shout of finishing above us for 5th, they also have a lot easier run in than we do... but if can beat them, 5th is the least we should get.
Thomas Surgenor
131
Posted 18/04/2014 at 13:12:38
I, like many, raised an eyebrow at the team selection. But, in all honesty, it was more out of admiration of having a manager prepared to "go for it". It's all fine and dandy for us armchair managers to say what we would have done in hindsight, but I think he selected the right team! We needed to see what Barks was like in there, cause Barry will be unavailable against Man City.
I have to admit, before the season started, I was a massive Roberto doubter. "Relegation Roberto" etc ... but now I have nothing but praise about the man. We may fall short, or who knows, his optimism may inspire us to make the top 4 this season. But for once, I'm finally enjoying this game again!
Thank You Roberto.
PS: Sort out the corners!!! I can't believe how poor we are at them.

Phil Walling
135
Posted 18/04/2014 at 13:37:12
One or two 'experts' beginning to suggest Everton have no right to finish 4th – nor 5th if that shuts out Man Utd – and suggesting that Roberto has 'magnificently over-performed'.
Looks like they think 'we should be back where we belong' at 7th! I sincerely hope not. I was beginning to think Martinez and his team were better than that. Sunday will establish the truth.
Michael Brien
143
Posted 18/04/2014 at 15:40:49
Yes, the result the other night was very disappointing. But let's not forget that only recently Palace spoiled things for Chelsea and having taken just 2 minutes to take the lead against Sunderland, I wonder how many people would have expected Man City to be losing 2-1 going into the last 2 minutes?
I think RM has done very well this season, to put it mildly. I seem to recall that, back when he was appointed manager, there were more than one or two doubters. I think it was Neville Southall who said that it showed a lack of ambition by the club. I wonder what he thinks now!?
Personally I think that we are 2 or 3 players short in our squad and I think that will count against us. We are like a good marathon runner that has kept pace with the favourites but, in doing so, has expended a lot of energy and there's not a lot left in the tank. I think that Roberto can and will lead us to the Champions League, but not this season.
I obviously hope that I am wrong – but, even if we miss out on a CL place, I think there is still much to proud of this season.
On a very personal note, having inoperable cancer, I am hoping and battling to be around to see us get there, but I thought that I would never see Ireland win the 6 Nations again and look what happened!!! At the very least we deserve 5th ahead of those prima donnas from Spurs, how much did they spend last summer? Not far short of £100M.
I tuned into the Semi-Final, Arsenal v Wigan Athletic, at an opportune moment, just as Gomez was scoring the penalty to put Wigan 1-0 up. It was interesting to see the Arsenal fans when the cameras foused on them. They looked very angry with their team and their manager. Indeed, reading some footy mags last summer, there were a number who wanted Wenger to go. Clearly they do NOT know their history!
So let's not be like those moaning Gooners – who really do only seem to sing when their winning; let's get behind Roberto and the team. COYB!!
Brian Garside
242
Posted 18/04/2014 at 20:18:55
Sam. We have beaten Man Utd Arsenal and Chelsea. Does that not tell you where we are/could be? Lest we forget just two penalties NOT given, Cardif away on Baines and Spurs home on Coleman. Four more points would have us sitting nicely in the table.
Oh yeh. Spurs won four matches 1-0 at the start of the season on penalties alone. Three of them where dubious. Remove six points from them. As for our neighbours are concerned we know how many they get even when no contact is made by defenders!
To all the doubters out there... There will be bad days but believe in the facts and what you see. COYBB
Darren Hind
244
Posted 18/04/2014 at 21:01:24
Sorry Lyndon. At the start of the season I looked at the other tops clubs. I saw they were either in transition ( new managers/aging squads ) being hounded by their own fans (Wenger) or struggling like fuck to hold onto star players (Brenda).
Then I asked myself had Moyes been holding us back? (I believed he had) I thought we had our best chance ever of C L qualification and backed us to do it.
I wouldnt have bitten your hand off to be where we are now.
I've said all season that I think our players are good enough to qualify ( said it last season too ) .
I think if we had simply organised ourselves to defend set pieces we would already have qualified now.
I will give Martinez all the credit he deserves if we qualify, but I blamed the manager for failing last year and I will blame the manager if we fail this year
Colin Wainwright
250
Posted 18/04/2014 at 21:48:46
Not the chairman, Darren?
Raymond Fox
251
Posted 18/04/2014 at 21:32:31
Roberto's giving it the withering stare treatment in the thread photo isn't he. Must be his dark side!
The Utd game Sunday will be tough, I see Rooney will be in the team but RVP is out which is good news.
They still have some class players in the side though, the bookies are making us favs but only just.
I said before the Palace game that it was a must win, well the same applies to this game but more so!
I cant say I'm feeling too confident, but RM & the boys will be giving it their best shot I'm sure.
Lets hope we get the run of the ball.
Chris James
340
Posted 19/04/2014 at 10:49:32
I'm still gutted today, I must admit; it'll take a whole week to recover from this Palace result (as it did the last to be honest!) even if we do win today.
No disrespect to Palace at all, Pullis is a great manager (very much in the old school mould as Moyes) and he's done amazing things there, but we simply have more class and this was an opportunity not so much missed as thrown away.
The line-up was ridiculous and I have no idea what Martinez was thinking – he's never broken the central midfield combination previously and I don't see why he started now; McCarthy clearly wasn't injured. Likewise he'd never played Mirallas, Deulofeu, McGeady and Barkley together before and you could see why. For starters the balance was shot to pieces and besides, having 3 wide players on top of our overlapping full-backs is a great strategy for getting balls into the box, but how many of our goals have come from that, or corners? (Answer – not a lot).
Instead of creating a host of attacking chances, all we did was cede our defensive and midfield stability and give Palace freedom to come at us (which they did). It's not coincidence we looked so much more dangerous when we had Macca and Osman on (not that Leon did much mind).
To be fair, a number of players let themselves down also – Lukaku was poor, Mirallas may have been willing but, goal aside, he fluffed more than he created, and Baines was exposed for pace a number of times. But, for all the praise we give Robbie when he gets it right (and it's been more often than not), I think he needs to take the rap when he gets it badly wrong, as he did this week.
I just hope Hull can do us a favour and keep us in the hunt, or at very least put up more resistance than West Ham who were pretty spineless.
Tony Heslop
372
Posted 19/04/2014 at 15:26:12
In other news, the official Everton Facebook site has over 1 million hits/"likes.".Sounds impressive and worth celebrating even if we may be behind some clubs.
Lev Vellene
711
Posted 20/04/2014 at 17:22:04
It may be as embarrassing as anything, but I'll swap a win over a Sky-4 for a loss against any low-tabler at any time. We're not perfect, but we don't stumble more than normal expectations would predict for anyone among the rest of the top contenders (yes, I said it...) :)
So, we lost at home to Sunderland and Crystal Palace. Who did we beat that we never really tried to take on these last decades? Going for a draw doesn't count...
Add Your Comments
In order to post a comment, you need to be logged in as a registered user of the site.
Or Sign up as a ToffeeWeb Member — it's free, takes just a few minutes and will allow you to post your comments on articles and Talking Points submissions across the site.
© ToffeeWeb