Lille On Wheels
I'm writing this account as one of the EDSA (wheelchair users) who travelled to Lille last Thursday. I thought I'd share with you my experiences.
As ever a bit of preparation needs to go into organising a trip abroad particularly as a wheelchair user. It's not just a case of jumping aboard and off we go. No siree. So when the draw was made I was straight onto the internet to check the logistics of making the trip happen.
I knew that the Eurostar stopped at Lille so that made the travelling part an easy option and an easy decision to make. Furthermore, the main train station was centrally located so there wasn't the need to organise transport to/from a hotel.
I'd decided that an overnight stay would suffice. Travelling down on the day of the game and going back to Liverpool on the Friday. I'd identified a few hotels located right by the Eurostar station. I booked through Expedia and requested an accessible twin room which the hotel (Lille Europe) said they would make provision for.
I'd also researched getting to/from the stadium. The metro system is accessible to all and there were regular services available. The main metro station, Gare Lille de Flandres, was located right next to my hotel and it would be a short journey to the station closest to the stadium (4 Cantons de Stade). 4 Cantons was a short walk to the stadium too.
We left Liverpool around 9am on the Thursday morning in good spirits. Arriving into Euston just after 11am we strolled down to St Pacras International and checked ourselves in ready for our Eurostar connection to Lille.
There were no delays with the trains and arrived in Lille as planned. Hotel check-in was busy and although the promise of an accessible twin room wasn't available we managed to swap with another guest. For one night I was prepared just to bite the bullet and accept what room we ended up with even though wheelchair facilities were non-existent. I should have known. Always the case.
Lille is a small town. Perfect for walking around and there were plenty of Evertonians gathered. Bars were full of fans, singing heard in which ever direction you headed for. Even though we'd heard of disturbances in the main square we decided to make our way down there. Grabbing a bite to eat near the square we sat there for 30 minutes before making our way to the metro station.
It was at this point when things didn't quite go to the plan. We got to the metro station around 5.15pm. Kick-off wasn't until 7pm so we thought we'd given ourselves enough time to get to the ground.
Metro Grande Lille de Flandres was heaving. And I mean heaving. Fans were everywhere, singing loudly whilst the congestion caused by hundreds of fans towards a single platform made for chaotic scenes.
The lifts to the platform which I required were near impossible to get to without the help of the police. And the platforms themselves were so crowded that it made me think that I'd totally underestimated the situation.
It took the intervention of the police to get me on the shuttle. In fairness, the fans were helpful too. Those around me could see that I was never going to get on that metro with the platform crowded as it was. And no one complained as I was escorted to the front of the queue. They could see my situation.
Feeling more than a little relieved to be on the shuttle it wasn't long before we arrived at 4 Cantons. Leaving the station there was a heavy police presence. We made our way to the stadium and met up with a few friends outside the ground.
It was around 30 minutes to kick-off and we were still outside. I had tickets for the away end and my entrance in to the stadium was I01, except there was no such entrance. There were no separate wheelchair entrances. We had the option of joining a queue to our right or to our left. I say queue, but it was more a mass of people all wanting to get into the stadium but being held back because of multiple checks by the police. We spoke to a couple of stewards outside of the ground but they just pointed to the queues and shrugged their shoulders.
With no other way of getting into the ground we just joined the queue to our right. As we'd experienced earlier at the metro station there was little organisation on show. Certainly outside of the stadium. However, just as earlier the fans helped me to the front of the queue. Wasn't easy getting through them all but I got there and once again appreciative of their help and understanding.
Once inside the ground it was clear why there were a backlog of fans outside wanting to get in. Tickets were scanned before there were two rows of police waiting to do body checks. And the police were thorough. The delays were unavoidable because of this and it was no surprise to hear that some fans didn't get into the ground until 30 minutes after kick-off.
I located my allocated wheelchair bay. I was allocated bay 41. I realised immediately that there was a problem. That if I didn't raise my wheelchair I wouldn't see.
The wheelchair bays are located at the rear of the lower tier. The wheelchair bays are similar to that of Arsenal, except that at Arsenal those who choose to stand in the row directly below do not impair the views of the wheelchair users. At the Stade Pierre Mauroy it was impossible to see anything because of fans who stood up. Even raising my wheelchair I struggled to get a clear view of play.
I've posted a picture of the view some of the other disabled fans had to endure and this was after they had to move from their wheelchair bays. Make your own mind up!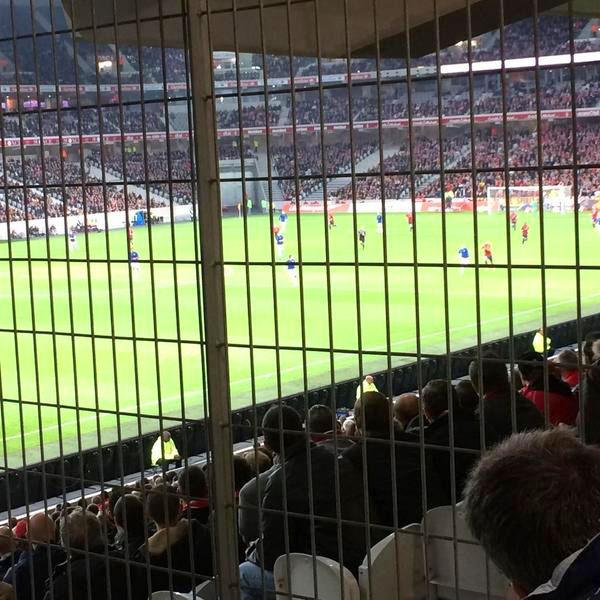 Like the other disabled Everton fans who travelled to Lille, I committed a lot of effort and expense to make the trip happen. It was so deflating to get into that ground and be presented with a realisation that I would struggle to see the game being played. And there is nothing that you can do.
The EDSA steward who travelled, tried in vain to ask the fans to sit down but all he got was abuse. But fans aren't to blame. It is how it is.
I left the ground 5 minutes from the end. The police let me leave. I got back to the town centre without any problems and reflected on another disappointing experience following Everton abroad.
My feeling is that Everton FC could do more to share information with EDSA members who travel to the game, especially games abroad.
A simple 'we've been informed that you won't see a thing, so it's your choice whether you want to travel' wouldn't go amiss.
C'est la vie...
---
Reader Comments (13)
Note: the following content is not moderated or vetted by the site owners at the time of submission. Comments are the responsibility of the poster. Disclaimer
Derek Thomas
1
Posted 26/10/2014 at 00:33:49
Well done you for doing it and telling us just what it is like for wheelchair users, which, to be truthful, is a bit under the radar for most of us.
You might even do another piece from an away fan's perspective, post it on here AND send it to the Club (with this one) to give them a kick up the backside... if required, that is.
Most of us think we have it tough trying to find a parking spec...
Peter Healing
2
Posted 26/10/2014 at 03:02:05
Hi Chrissy,
I've never read a review from a disabled supporter before so thank you. A fantastic effort on your behalf so well done. How does GP cater for disabled fans? I would read other reviews if your happy to post. Cheers
Brent Stephens
3
Posted 26/10/2014 at 06:09:49
Chrissy, a refreshingly different, if sometimes dispiriting, piece. Very interesting. Agree with suggestion by Derek #1.
Peter Bell
5
Posted 26/10/2014 at 08:49:40
Can anyone confirm if there is any advantage to winning the group as opposed to finishing second?
Rob Halligan
6
Posted 26/10/2014 at 09:12:25
By topping the group we avoid those teams dropping down from Champions League and also winners of other groups. Basically we will only play a runner up.
Peter Bell
7
Posted 26/10/2014 at 09:20:34
Thanks Rob.
Need to get something in Wollsburg then.
Mike Childs
8
Posted 26/10/2014 at 09:53:22
Very interesting read Chrissy. Well written and very informative. I agree with the others that you should send it on to club.
Bill Griffiths
10
Posted 26/10/2014 at 11:38:40
Good article Chrissie. It would be interesting if you could tell us how good or bad facilities are here at Goodison and also how they co0mpare to other English grounds you have been to?
Brian Harrison
11
Posted 26/10/2014 at 11:51:21
Chrissy
What a very interesting article, I guess the majority of posters have like me little or no idea the planning that must go into a trip like this for a person in a wheelchair.
I think as some have already suggested you send this to the club. You mentioned EDSA do they not carry out any checks at the grounds for wheelchair supporters, or are they just inside the ground should you need help.

Andy Crooks
12
Posted 26/10/2014 at 12:05:42
Great article, Chrissy. I have great admiration and respect for you. To my shame I have never given wheelchair users a second thought., I will from now on. The way you were treated was appalling yet you remain calm.
Please send this article to the club. It would be something if Everton became an example to the rest.
Peter Murray
13
Posted 05/11/2014 at 19:50:25
Hi, Chris, the Thornton Toffee.
A really a superb article, with a full overview regarding your recent European "adventure". As your friend, & colleague at all our Goodison matches, I'm sure you'd fully agree that fortunately Everton provide a superb viewing area for all our EDCA members.
If only all our UK clubs could similarly be so considerate & reciprocate, our away game visits would be so much more enjoyable – regardless of result!!
Perhaps when our club officials complete their pre-match inspection, review of our European opponents ground facilities, a greater involvement, & subsequent positive action, from them, when they unfortunately observe adverse viewing situations, for our EDCA supporters, would be greatly appreciated.
There are a considerable number of European game travellers, equally devoted EDCA supporters, who also weekly provide a superb example of the meaning, "dedicated blues", & I'm sure they would appreciate any relevant positive club action.
COYB
---
Add Your Comments
In order to post a comment, you need to be logged in as a registered user of the site.
Or Sign up as a ToffeeWeb Member — it's free, takes just a few minutes and will allow you to post your comments on articles and Talking Points submissions across the site.
© ToffeeWeb