If You Know Your History… In Search of Royal Blue Blood
I never expected or even planned to find a pastime to rival my passion for Everton Football Club but, not long after I began researching my family tree almost ten years ago, I realised that the powers of obsession which had for so many years been devoted almost exclusively to my beloved Toffees could in fact be channelled just as fervently in search of my ancestors.
Born as I was, like many an Evertonian, at Mill Road Maternity in Everton itself, I couldn't help but dream that there might be a connection somewhere along the line to the men of St Domingo's Church, perhaps a surname like Mahon, Chedgzoy or even Cuff would crop up, hopefully not any Houldings, but maybe some Deans once I began to find links here and there across the water! I did have a vague recollection from past family conversations that the name Mercer featured somewhere but more on that later…
As it was, my journey has taken me back via Glasgow on both my parental lines; Wales via Ireland on one branch; London, Norfolk, Brighton Dorset, Edinburgh and even Berlin in Victorian times. The only flicker of royal blue existed in the case of my Liverpool-born but Glasgow-raised great grand-uncle Archibald Stewart who family lore has it was signed by the Blues at some point around the outbreak of WWI.
He never saw active service, instead spending the war years employed back home on the banks of the Clyde where he and his brothers worked at the Albion Motors factory in Scotstoun where specialist three ton trucks were produced for the War Office. A thorough trawl of Everton records shows that Archie never made an appearance at any level for the club and no reference to him can be found in Dr David France's celebrated Everton Ledgers.
A second cousin I connected with a few years into my family history journey has shown me a pendant hung with one half of a 1914 coin (a shilling I think) which, so the story goes came from Uncle Archie's first Everton pay packet and was gifted by him to his youngest sister, Annie, but I have found no official documentary evidence to prove he ever really was on the books at Goodison Park. Perhaps the outbreak of war put paid to his footballing prospects. I guess we'll never really know. Suffice to say, at this point, my research moved on in other directions and all thoughts of any Everton links faded from the horizon.
Then, quite simply out of the Blue (pun intended), it happened! In September 2011, I made a discovery with genuine connections to the one and only EFC. Hurrah! The fact that this discovery was made upon further investigation of my late maternal grandfather's line only made it that little bit sweeter. I adored my Grandad, but nobody's perfect and, you guessed it, he was Red... and, boy oh boy, didn't he love to remind me. "Liverpool forever, Everton for never", he'd sing with gusto as my brother and I headed off to the match bedecked in royal blue and white. I don't think he ever really forgave us for following in our father's footsteps and becoming Evertonians. Needless to say, he'd have been hopping mad to find that he was a blood relative of a man who served quite literally at the altar of L4 4EL for a period of 25 years spanning some of the highest highs and lowest lows that our Goodison Park home has ever witnessed…
Robert "Bob" Campbell was born on 18 June 1910 in Widnes, Lancashire, the second of five children and eldest son of John 'Jack' Standing Campbell and Jessie Cross. In the 1911 census return, the Campbell family were resident at 19 Peelhouse Lane, Widnes. Jack and Jessie's first born, a daughter named after her mother Jessie had sadly died in infancy in 1909. So it was that in 1911 the Campbell household comprised the 9-month-old Robert and his parents, along with a 23-year-old domestic servant by the name of Hannah Patience Needham, a native of Bradbourne in Derbyshire, and finally Jack's 85-year-old grandmother, the widowed Margaret Glover (her first husband being Jack's maternal grandfather John Standing). Margaret's maiden name was Mercer, the name which connects her to my own family tree.
Unfortunately, upon further investigation (believe me I've looked long and hard!), the great Joe Mercer makes no appearance, but Margaret Mercer (1826-1916) certainly does. Margaret would have been a paternal great aunt of my aforementioned grandfather and, as fate would have it, they were both born in Garston, just a little over a century apart. Back briefly to the 1911 census where Jack Campbell's occupation is listed as 'contractor at a chemical warehouse', quite a contrasting profession to that which his eldest son Robert would eventually pursue.
To complete the Campbell clan, baby Robert was followed over the next five years by three further siblings, Gilbert George (1912-1946), Winifred Margaret (1914-1996) and James Standing (1916-1964).
The Campbell Family, taken 6 April 1932: (back row right to left) Robert "Bob" Campbell, Gilbert George Campbell, (front row) Mrs Jessie Campbell (nee Cross), James Standing Campbell, Winifred Margaret Campbell, Mr John "Jack" Standing Campbell.
Years passed and, at some point prior to the outbreak of WWII, Bob Campbell was appointed as vicar at Holy Trinity, Parr Mount, St Helen's. His parents gave up the family home in Widnes and moved with their son where mother Jessie would take charge of the vicarage. Opening the doors during war time to people of the parish in need before provision of adequate air shelters had been arranged, Mrs Campbell would care for 'a nightly average of 80 people who came to seek refuge' throughout the night into the early hours, as was recalled in an obituary published after her passing in 1952.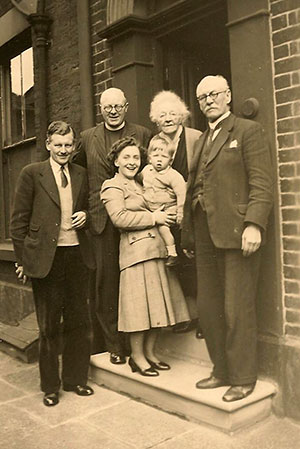 (left to right) James Campbell, Bob Campbell, Mrs Joan Campbell & Timothy Campbell (wife and son of James), Mrs Jessie Campbell, Mr Jack Campbell, on the steps I think at either St. Luke's itself or maybe at the vicarage?
Jessie's hard work was rightly recognised by her son's congregation and 'in appreciation she was presented with a glass tea trolley, which she always treasured'. The sheer volume of well-wishers attending or sending condolences on the occasion of her funeral make it clear that Jessie Campbell was a much loved community figure.
However, in the year prior to her passing, Jessie would find herself making a new home with her husband and son at a new vicarage, for in 1951 the Reverend Robert Campbell would assume the post of vicar at the Church of St Luke the Evangelist on the corner of Goodison Road and Gwladys Street in Walton. Reverend Campbell would hold this position until 1976, taking in Everton Football Club's nosedive in the 1950s, storming return to glory in the 1960s and subsequent decline in the early 1970s.
No doubt more than a few Evertonians would have made the pilgrimage to St Luke's throughout this period to seek solace and perhaps pray to the footballing gods for salvation, inspiration or a new Number 9, among other things. Eight years after Jessie's death, John Standing Campbell passed away in his 80th year on 25 February 1960. Up until their deaths, the Reverend Campbell's parents lived with their son at St Luke's Vicarage, 42 Walton Village, Liverpool 4.
I would be fascinated to hear from anyone who remembers Bob Campbell from his time at St Luke's and indeed whether in his day the church played a similar role to that which it plays today on match day. Of course, the Reverend Campbell immediately preceded the esteemed Harry Ross, who has played such a key role in the Everton community for almost 40 years since Bob Campbell retired; never more so than in the establishment and resounding success of the Everton Former Players Foundation.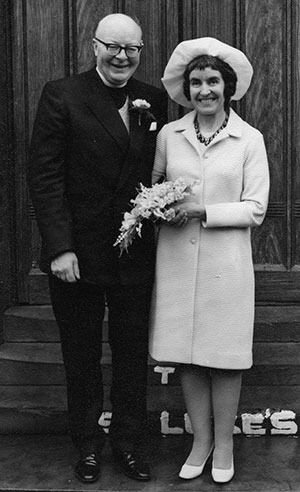 Reverend Robert Campbell & Eunice Margaret Early on the steps at St Luke the Evangelist, on their wedding day, 20 February 1971. The Merseyside derby took place at Goodison that afternoon, a 0-0 draw. Apparently the wedding was somewhat rushed through before kick-off to avoid the noise and bustle of the 56,846 spectators congregating next door (or who knows... perhaps the Reverend wanted to get in to see the game!).
I have found a few brief references to the Reverend Campbell in the Everton Ledgers from the mid-1950s, notes from board meetings held at the Exchange Hotel on Tuesday 23 November 1954 where 'a letter of thanks was read from the Rev R Campbell' and then from Thursday 19 July 1956 where 'it was agreed that the complimentary ticket for Bullens Rd (North End) which had been issued to the Rev R Campbell be continued for season 1956-57'. Upon further research, this gift from the club could well be construed as more a punishment of sorts for the poor Reverend as Everton finished a lowly 15th, about average during what was clearly a tough few years for a club attempting to re-establish itself in the top flight after a spell in the second tier. Fortunately for all concerned, better times were just around the corner!
The only other information I have on Bob Campbell's later years are the fact that he was married at St Luke's to a lady by the name of Eunice Margaret Early on 20 February 1971 and that he passed away aged 71 on 28 July 1981 in Tunbridge Wells, Kent, just five years after his career at that much loved little church on Goodison Road had drawn to a close.
For the record, according to Ancestry.com the Reverend Campbell and I are third cousins twice removed, so not exactly CLOSE relations by any means, but I'm still claiming a bona fide Everton connection! I only wish my Grandad was still with us so that I could inform him of his own rather Holy connection to the mighty Everton Football Club. His face would have been a picture!
In closing, for anyone else thinking of delving into the world of amateur genealogy, I would more than recommend it. From my own experience, it really is quite incredible what you'll find out the further you delve.
With many thanks for use of Campbell family photographs and text from Jessie Cross's obituary to my distant cousin and fellow family historian Ginnie Isaacson in California. Text from Everton Minute Books taken from evertoncollection.org.uk.
---
Reader Comments (3)
Note: the following content is not moderated or vetted by the site owners at the time of submission. Comments are the responsibility of the poster. Disclaimer
Sue Brown
1
Posted 30/12/2014 at 14:26:56
Interesting story Jamie, well done on the research.
Paul Wharton
2
Posted 30/12/2014 at 14:59:06
Why not call in and see the Rev Ellen Loudon at St Luke's as some of her parishioners will remember him
Jamie Yates
3
Posted 30/12/2014 at 15:53:39
Thanks folks. Have dropped Rev Loudon a line in regard to her predecessor Paul. Will hopefully pop in next time I'm down.
---
Add Your Comments
In order to post a comment, you need to be logged in as a registered user of the site.
Or Sign up as a ToffeeWeb Member — it's free, takes just a few minutes and will allow you to post your comments on articles and Talking Points submissions across the site.
© ToffeeWeb