Shambolic Everton end 2014 with third straight defeat
Newcastle United 3 - 2 Everton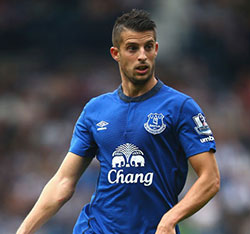 Kevin Mirallas came off the bench to give the Blues hope but his fine goal was in vain
Everton threw away a precious advantage gained through Arouna Kone's first goal in a Blue jersey with calamitous defending that condemned them to a third successive defeat.
Roberto Martinez made seven changes to the team that lost at home to Stoke on Boxing Day, some of them enforced by injuries to Phil Jagielka, John Stones and Tim Howard but others aimed at mixing things up in attack.
Romelu Lukaku, Kevin Mirallas and Ross Barkley all dropped back to the bench while Samuel Eto'o, Aiden McGeady and Kone came into the side alongside Luke Garbutt with Leighton Baines playing ahead of him in midfield.
The reworked line-up appeared to have been just the tonic as Everton engineered a well-worked opener after just five minutes. Eto'o and McGeady were involved as the ball was moved wide to meet Seamus Coleman's overlapping run and his cross was met by Kone who side-footed home from six yards out.
The Blues didn't press the advantage, though, and surrendered the initiative to their hosts who took the invitation and levelled 11 minutes before half time. Newcastle won back-to-back corners, taking the second one short that was poorly defended by Sylvain Distin who allowed Michael Williamson to knock the ball back across goal where Papisse Cisse half-volleyed home the equaliser.
With the scores level at the break, Maritnez withdrew James McCarthy and introduced Barkley and the young midfielder almost carved out a chance with a surging run but Coleman elected not to shoot when Kone dinked a cross to the back post and the chance was lost when the Irishman's attempted ball back in was blocked.
Everton remained far too open at the back, though, and barely escaped falling behind when Joel Robles had to make a fingertip save as Antolin Alcaraz's attempt to sweep the ball across his own six-yard box hit Cisse and ricocheted goalwards.
They fell behind six minutes after the break when McGeady gave the ball away in his own half and it was quickly moved on to Emmanuel Rivière on the edge of the box where he fired through Coleman's legs to make it 2-1.
And things got worse for Martinez with 22 minutes to go when Barkley's poor touch gifted a third for Jack Colback who slid the ball under Robles.
Mirallas came off the bench to give the Blues a chance with a fine strike in the 84th minute, firing Baines' superb through-ball over the goalkeeper with a first-time finish but Everton could not engineer an equaliser in the closing stages.
Indeed, it was Newcastle who almost took advantage of the spaces left behind as the Blues tried in vain for a late equaliser, Ayoze Perez hammering a shot off the post with the visiting defence all at sea.
The result marks a third straight defeat for the first time under Martinez, leaves the Blues in 12th place to close out the year and raises serious concerns over a defence that has now shipped more goals than anyone else in the top flight bar QPR.
Full coverage: ToffeeWeb Match Reports
Reader Comments (280)
Note: the following content is not moderated or vetted by the site owners at the time of submission. Comments are the responsibility of the poster. Disclaimer
Paul Dark
1
Posted 28/12/2014 at 18:59:24
Martinez refers to some 'incredible performances' out there. Is that for real?
We looked sub-ordinary against an ordinary Newcastle side - Robles, McG and Alcaraz should not really be wearing the shirt, I'm sorry to say. By McG, I mean St Aiden, that talented, frustrating misunderstood genius ... compared on TW to Messi and George Best.
Something better change!
Alan Clarke
3
Posted 28/12/2014 at 19:01:22
We're going down without a fight. This is honestly as bad as Walker and Smith. We are a club without any direction, from our clueless chairman and chief exec to our fraud of a manager and our passionless players.
Jeff Armstrong
4
Posted 28/12/2014 at 19:04:19
Bobby please name names. No one was anything near incredible, apart from your own incredible ineptitude.
Nick Entwistle
6
Posted 28/12/2014 at 19:10:01
I was saying to a mate down the pub how are we going to win if we sit back for the last 70 minutes like we're in the 91st. Next second the equalise and it was all written from then on.
Nice to see the new faces, but Kone's celebration was all a bit look-at-me when to a man they should realise what shit state of affairs we're in.
Sam Merritt
7
Posted 28/12/2014 at 19:09:54
Stop blaming refs RM! We have quality players, just bad performances! Drop McGeady and Barry and get them to earn their places and stop playing players out of position!
Alcaraz and Robles need to be sold in January, and quickly!
Jim Bennings
8
Posted 28/12/2014 at 19:04:42
Alan
I couldn't agree more with you mate.
This is as bad as anything I've seen over the last 20 year's and there's been some dross so that's saying something isn't it?
The one thing I simply can't tolerate is this blatant lack of fight, we are passionless, there's no tempo no desire, no closing down the opponents with any gusto..
Look at Burnley! Away to Man City and they claw back a 2-0 deficit, that's proper fight and courage, yet we were meant to be chuffed at losing just to a penalty at City a few weeks ago and waiting until the 85 minute to force a save from Joe Hart.
Every Everton team that I have seen that has struggled and been bad has always at least fought with heart and passion.
There's always been a Dave Watson, a Don Hutchison, a Lee Carsley or a Joe Parkinson there to be a leader and to knock a few heads together..
This team is soulless, no leaders no characters, no man to want to stand up and take responsibility.
Let's be honest too..
We aren't even as good technically as we all want to believe..
Apart from Mirallas there isn't a single goal threat from midfield, as for Barkley?
Well if we had a bigger squad I'd be loaning him out to a Championship club to learn the basics and learn that you need to be "up for it" every game first and foremost.
The rest??
Barry, McCarthy, Besic, no goal threat whatsoever, all of the same ilk.
McGeady?? Fucking not even as good as James McFadden, what a sad conclusion but a year on, it's true.
Pienaar?..Should have been put out to grass 12 months ago.
As should Howard, Dizzy and Osman..
Not one of them has done there job this season and that includes Martinez, Graeme Jones and Ferguson..
Where next? What next?
Perhaps some of us are even afraid to think about it.
Andy Crooks
9
Posted 28/12/2014 at 19:10:27
To get this squad relegated would require a coach of spectacular incompetence. We have such a coach. Uninspiring, devoid of ideas, weak, arrogant and utterly tactically inept. Every inane utterance makes him look more out of his depth.
In my view there can be no further defence of his abject performance this season. The chairman must sack him immediately. Appoint who? It seems to me to be irrelevant because I believe that right now he is the most ineffective coach in top level football. This man can destroy our club.
Peter Laing
11
Posted 28/12/2014 at 19:14:08
Players that need shipping out and fast ;
Howard / Robles
Distin
Alcarez
McGeady
Barry
Eto'o
Chris Sillett
12
Posted 28/12/2014 at 19:17:24
The Hull game is huge now for this team and Martinez. I still think we'll be 'ok' and finish around 9th but lose the next game and the pressure will seriously mount on the manager. I would keep Kone in the team as I thought he offered a lot more than Lukaku has for most of the season.
Brent Stephens
13
Posted 28/12/2014 at 19:17:34
2nd goal - Baines should have put his foot through instead of a short pass to McGeady who immediately has men on him.
3rd goal Barks should have put his foot through it.
But we're told not to, aren't we. I'm not blaming Robles for them.
Andy Walker
15
Posted 28/12/2014 at 19:17:33
Really should be no surprise I'm afraid, we appointed a manager that had NO successful track record in the EPL, just relagating his last team.
I don't ever recall any other EPL club appointing a new manager that had just relegated their previous club, mind blowing decision by BK.
All a testament to how good PR can influence the gullible. BK you need to acknowledge your mistake and appoint a manager with a track record of achievement. Achievement in my opinion is not fluking a one off cup win (due in the main to a lucky draw) but rather a long term record of over achievement.
Colin Glassar
16
Posted 28/12/2014 at 19:21:55
We have no defence, simple as that. You could put Neuer, De Gea and loris in goal, all together, and we'd still get beat. They can't even do the basics like clearing their lines.
Another major problem is we have no leaders on the pitch. Once Newcastle scored I knew we'd fall apart. There's no backbone, no fight, no passion in that team. Is that the managers fault or the players? I don't really know. What I do know is that there's something rotten in Denmark.
Sam Hoare
17
Posted 28/12/2014 at 19:24:06
I think Martinez made 2 serious errors this Summer. First of all going off for his secondary job as a pundit at the World Cup leaving our pre-season in total shambles and our players ill-prepared for the start of the season. Secondly in spending pretty much our entire budget on a striker who seems totally unsuited to the style of football the manager wants to play when we were severely lacking depth in other areas and increasingly reliant on the ageing limbs of Howard, Osman, Barry and Distin amongst others.
My main concern is that it is so hard to see the seeds of a turnaround. I don't think i've seen us look convincing for the whole 90 mins in a single game this season. Maybe Lille at home? Our defense is a mess and has conceded the most in the division bar QPR and our attack struggles badly against an organised rearguard. In short we can't keep a lead and we can't fight back when behind. Not ideal.
It's very hard to see where points are going to come by at the moment and there is no sign of the manager installing the kind of guts needed. I think we will require an act of luck to turn this around...or a fresh start.
Liam Reilly
18
Posted 28/12/2014 at 19:22:29
3 very sloppy goals to give away.
The confidence is clearly shot; as noone wants the ball. How may times do we turn back when in the opposite 3rd. It just invites the opposition to press up and our defense players are not comfortable with the football. Which is a fucking disgrace by the way.
Need a ugly win and fast..
Joe Foster
19
Posted 28/12/2014 at 19:28:06
It reminds me of when I saw a slight water mark on my kitchen ceiling. I thought that's probably nothing. Over a period of time it got bigger and I started to think about getting someone in to fix it. I started to accept it was there and probably nothing serious....then boom ceiling fell in, had to rush to get a bloke in and it cost 3 times as much as it would of if I had taken notice of the early warning signs.
Phil Rodgers
20
Posted 28/12/2014 at 19:26:20
The consensus is that Bill wont sack him, but he must be testing his confidence in him.
Peter Laing
22
Posted 28/12/2014 at 19:34:26
Martinez seems to have been seduced by Samuel Eto'o, the man was clearly world class back in the day and in his prime and we have seen flashes and the odd cameo but not enough for Eto'o appearing to be the main man in this Everton team.
Linda Morrison
23
Posted 28/12/2014 at 19:35:37
I think you are wrong. If we lose against Hull Bill will sack him but who to we get?
The players need to look at themselves in the mirror as does the manager.
When LFC were awful BR told I as it was. But Roberto keeps looking for positives which are not there.
I thought today that he had made the changes needed but it wasn't enough.
We won't go down but it is going to be a very poor season folks!
Mike Childs
24
Posted 28/12/2014 at 19:28:38
It's the manager's fault imo Colin because these guys seem to have no worry about their starting position especially Barry because no matter how bad they suck RM will start them the next game.
If I was BK I would fire him today and promote Eto to coach. It worked for Swansea with Monk. Eto certainly accomplished more than RM in his playing days and if you see him during warm ups actually tries to inspire the squad.
Coin toss between Jags and Neville on who least deserves the Captain Armband
John Gee
25
Posted 28/12/2014 at 19:32:17
Andy (16), there are parallels with McLeish at Birmingham and Villa.
Mike Oates
26
Posted 28/12/2014 at 19:28:38
Don't know where to start as there is so much wrong. Distin is absolutely terrified now, he doesn't want the ball from Robles, he gets it runs 25 yds forward with no idea of who to give it to and loses it. Coleman, goal apart, again ran when he should had passed, bolted forward when he should have stayed back. McGeady is a complete disaster waiting to happen, he lost the ball so many times and their 2nd goal was his fault entirely. Barkley needs to learn quickly what job a deep lying midfielder is, first and foremost in dangerous situations get rid of ball asap.
Kone showed Lukaku what a centre forward job is, get ball, hold up play till mates arrive, show some movement and get in box ready for any cross.

We take 25 passes to get to half way line, even our counter attacks stop at the half way line and then go backwards. There is no confidence at all in the players, they really don't want the ball, they don't understand or like the system, and I've never said before but they have lost faith in Martinez.
What has Besic done to lose his place for 2 games, not even getting on bench for one or on the pitch in the other, when we have McCarthy injured, Barry struggling, and Eto'o a waste of space. It was crying out for someone to match Tiote and Sissoko and he never even got on.
Lastly we give Garbutt a game, the lad starts well, one or two decent crosses but by the end has been dragged down to the pathetic level of the rest.
Neil Gribbin
27
Posted 28/12/2014 at 19:36:44
I watched this on the telly. It looked like it was better than Stoke, not saying much, but the second half was dire. They were there for the taking.
Barkley... believes his own hype. If Man City want him, give us 㿊mil and he's yours.
We need to beat Hull and beat them well
Brian Harrison
28
Posted 28/12/2014 at 19:33:57
I have absolutely no faith in RM turning this round and if we escape relegation it will be inspite of him and not because of him. He has said that the philosophy is fine and just in a run of bad results, now what he is really saying is my way is the right way and everybody else is wrong.
Like all managers he has an ego, nothing wrong with that but if his philosophy is not working surely a wise man would at least modify it a little.
Colin Glassar
29
Posted 28/12/2014 at 19:39:59
Eto'o is not a winger or a deep lying MF player Peter. His favourite position is down the middle. The same goes for Mirallas, he's not a winger either.
We have a talented squad, even Souness admitted as much, but when you play people out of position their form will suffer. Martinez seems to have fallen into the same trap as OFM. Didn't work then, doesn't work now.
Mark Rimmer
30
Posted 28/12/2014 at 19:40:39
Well it's official, it's soon to be a relegation dog fight. The only problem is we're missing the dogs for the fight, and although Martinez is used to this, his style of play ultimately loses the battle.
We are terrible in defence, no confidence in attack, and we haven't got the squad to cope with the injuries, struggling to see where the next win will come from

We should forget about Europe now and concentrate on survival. If only it was possible to just opt out of Europe.
Bobby Thomas
31
Posted 28/12/2014 at 19:39:18
Chris Sillett #13
How are we going to finish around 9th?
We are most likely, in fact screw that we're a shambles, definitely going to concede over 60 goals!!
We are a truly awful side. Deep shit beckons.
Something is clearly not right in the dressing room. The players are very flat and don't appear to have any faith of spirit.
Rick Tarleton
32
Posted 28/12/2014 at 19:38:21
If we're relying on Bill to make the right decision we really are up the proverbial creek. Defensively they are too old and totally disorganised. Alcaraz is fine as long as he's never put under pressure and all teams know this so they pressure him. As Souness put it so succinctly, Everton are very easy to play against because they are so predictable.
Still nothing to worry about Martinez in his ridiculous post-match interview vowed to stay true to his style, so we should be in the relegation dogfight by the end of January.

Lukaku looks poor, but the lad is playing in a team where his strengths are ignored and he's made to look useless by the slowness of the ball he receives. As for Barkley, it's simple, he has to guess where he's meant to be playing from one week to the next. Centre-midfield alongside McCarthy, then next game an advanced number 10, then out on the right, then on the left. It's a real footballing education Martinez is giving him.

Oviedo ,and to a lesser extent Besic, have upset Martinez, there can be no other explanation, why two of our better players are rarely used.

Pulis is on his way, or maybe Warnock, or McClaren, God help us, even Rogers is better than Martinez. Not Moyes though, please not Moyes.
Tony Draper
33
Posted 28/12/2014 at 19:14:38
For openers, I was delighted for Kone, he never asked to have a career threatening injury and finally after 19 months he tucks away a chance nice and neatly. That's surely what he, Roberto and any real Blues wanted? Yep! OK, so best possible start...
By 30 mins, we had begun to mentally and tactically "go backwards" and then maintained that mindset. The "red card" assault on Coleman was easily missed by the ref. It was a red, but wasn't awarded. (Sidenote here, I like our players NOT swarming referees for every single decision. BUT, I do NOT like them meekly accepting poor decisions without ANY response whatever.)
So, did we allow our indignation, our sense of injustice, to spur us on in a positive manner? Erm... no!
Then......... Barkley, looks entirely disaffected......loses the ball cheaply (OK so he's a very talented kid, and I accept that in "trying stuff out" that he MUST have "unsuccessful moments"...accepted). What I can NOT EVER stomach is the "casual jogging in the general direction" of an opposing player who has TAKEN possession of the ball. For comparison, Wayne Rooney ALWAYS fought like hell to regain possession. I'm not seeing that passion from Ross.
Don't misunderstand me here, I am NOT hanging the result to blame around Ross's neck. By comparison, however, look at the sheer force of nature currently being showed by Ross's English homegrown contemporaries... Harry Kane... Charlie Austin... Raheem Sterling..... Ross mate, fire it up.
Roberto mate, fire it up.
And Graeme Sounness? Yep, summary correct. Play nice football when you can, just don't fart about: in OUR 18 yard box, within 35 yds from OUR goal.
And finally, Robles? No, thanks! John Ruddy? Yes, Please!
Jim Bennings
36
Posted 28/12/2014 at 19:49:44
We won't finish 9th.
We are not even existing in Swansea's stratosphere this season, we won't finish about the likes of West Ham, Southampton, Spurs and maybe even the likes of Newcastle or Stoke.
The best we can hope for is 12th, the worst we can expect is a relegation battle which if your still embroiled in come the end of March then any club, regardless of its size can go down.
We have won a measly five matches, kept only three clean sheets and basically we have not turned in a totally stellar performance since the first 45 minutes against Arsenal...back in August!!
There is no direction to our play, no movement, no heart no fight.
We are going to very well to win 11 games this season..
Whether that's going to be enough to fend off relegation who knows yet?
If we can't beat a woeful Hull City team on Thursday, and they are matches what you just know MUST take three points, fail to do so then we WILL certainly be in that battle..
Hull are a bad team, their manager (much like ours) is under pressure, we have already failed to beat them early in December, a point at Hull will not be a good result.
ONLY A WIN
Mike Keating
37
Posted 28/12/2014 at 19:52:48
Warnock or Pulis or McClaren - are you for real or was it an ironic jibe? Let's go and get Walter Smith back FFS
Anyway it was shite - I have never seen an Everton team give the ball away so often and we gifted them 2 goals by doing just that.
Is there anything worth watching on telly because I'm not watching MOTD?

Roman Sidey
38
Posted 28/12/2014 at 19:56:51
Mike Childs, agree with you about Jags, and toward the end Nev was a special type of inept playing-wise, but one thing the former skipper did do was rouse the troops. He could get in and get his hands dirty and put his body on the line.
Clive Rogers
40
Posted 28/12/2014 at 19:55:57
We don't even look fit. We were knackered 2nd half. Barry looked like he was playing in 3ft of water. Why was Baines playing tucked in to the middle when he is so good out wide normally.
I can definitely see us going down and to be honest it's been coming for years with Kenwright in charge.
Paul Hewitt
41
Posted 28/12/2014 at 20:14:22
Enough is enough; he has to go.
Brent Stephens
42
Posted 28/12/2014 at 20:11:52
Mike (#27), "McGeady is a complete disaster waiting to happen, he lost the ball so many times and their 2nd goal was his fault entirely."
Mike, McGeady should have got shut – but I think Baines should have got shut first, instead of tapping it to McGeady.
Paul Hewitt
43
Posted 28/12/2014 at 20:18:05
I would like to apologise to Paul Ferry and TW for my comments on Thursday; it will not happen again. SORRY.
Tom Flower
44
Posted 28/12/2014 at 20:22:26
So much inconsistency. On the one hand you have McGeady playing a killer pass to Coleman for the first goal, then he gives it away for their second in a very dangerous position. Barry needs a break. Where is Besic? Robles looks pretty useless to me.
I don't however agree with all the anti-Martinez sentiment. The guy is a class act and in patches we look world beaters but individual errors and injuries are costing us dearly and we need to get some points in quick style.
Clive Rogers
45
Posted 28/12/2014 at 20:26:42
Brent,
I don't think so. McGeady created space for himself, looked up and passed straight to the guy in front of him. To blame Baines is crazy.
Iain Davies
46
Posted 28/12/2014 at 20:28:07
Personally I would would swap Martinez for Tony Pulis in a heartbeat. Forget about that horrible Stoke team... Manager of the Year at Crystal Palace, playing with passion and without fear – that is a principle we could do with desperately right now!!!
Dave Abrahams
47
Posted 28/12/2014 at 20:12:07
I never saw the game, so can't really comment. It is apparent that there is no fight in this team; once the going gets tough, no-one on the pitch to inspire them, but a lot of us have stated this all season without any change to their play.
I want Martinez to succeed and he made lots of changes, some forced by injuries, but it still didn't alter the style of play. All the goals were preventable as a lot have been all season, but they just carry on making them and the same players are picked time and time again.
Everyone must feel worried by the total lack of effort by the majority of the team and there doesn't seem any end to this at the moment.
Something has to give and once the supporters start drifting away, which they are, then we are looking at big problems which no-one at the club looks able to solve.
Ernie Baywood
48
Posted 28/12/2014 at 20:30:42
Want that 2nd goal straight from Robles' cap punch and Barry's crap clearance that ended up with McGeady?
There were so many terrible moments they've kind of blurred together.
Brent Stephens
49
Posted 28/12/2014 at 20:35:24
Clive, given what we know about McGeady and his ability, Baines's pass to him in our own third (our own third) was mindless, IMO (well, maybe not mindless, but obeying orders). Not a case of how much time or space McGeady had but the probability of him ballsing up in our own third.
Maybe I'm being too hard on Baines.
Andrew Laird
50
Posted 28/12/2014 at 20:37:37
Another shambolic performance from team and manager, I wonder who was "phenomenal" today... Time to be honest from top to bottom of the club.
If the system you play is not suited to the players you have, why persist with it?
Why spend our entire budget on a goalscorer who cannot play with his back to goal which the system dictates?
Why play central players wide and negate our 2 most creative players in Baines and Coleman?
Why change the starting 11 EVERY game?
Why have Everton gifted more goals to the opposition than any other Premier League team?
How many over-30s who do not have 90 minutes stamina do we include in every game?
Why are our players so unfit in contrast to other teams?
Less soundbites more honesty Roberto, arrogance is great when you are winning but when you are losing and not accepting anything is wrong it surpasses foolishness.
Alan McGuffog
51
Posted 28/12/2014 at 20:19:11
Just feeling guilty. I no longer go and don't care overmuch. But I brought up my son and, because of him, his mate, as Blues. They went today.
I'm so sorry, lads, I really am.
Clive Rogers
52
Posted 28/12/2014 at 20:30:57
If RM doesn't take us down this year, he will next. He's signed old men on massive contracts and has been doling out extensions to others who are finished.
Hibbert struggled badly for pace against Man City, but his exertions have led to him being out indefinitely since. Obviously his body can't take it any more. RM has given him another year though. Same with Osman and Howard. Next year's squad is goosed already.
James Byrne
53
Posted 28/12/2014 at 20:24:06
I've now officially lost all hope in RM and he has to go. His whole football strategy is a fantasy and I'm now convinced the man is a fake.
I'm not going to go through the whole team analysis bollox because we all know how bad we were today against another out-of-form team.
If there are any Roberto supporters left out there, then take a look at the stats that he was responsible for at Wigan; he used the same football strategy with that team and they haemorrhaged goals each season under his stewardship until he sent them down.
The man, his tactics and his coaching methods have to go... NOW!
Peter Z Jones
54
Posted 28/12/2014 at 20:38:08
I'm pretty sure Leighton Baines was playing in the #10 role behind the striker most of the game. WHAT THE FUCK ARE YOU DOING ROBERTO? Next, we'll probably see Lukaku at center back.
I don't understand anything that is happening right now. It makes no sense. I've never seen a manager just recklessly field people out of position every week like this.
Jim Bennings
55
Posted 28/12/2014 at 20:41:32
Ian Davies,
Right now I wouldn't mind if Everton were like that "horrible Stoke team" of Pulis and I wouldn't even mind if we had that "horrible" centre half Ryan Shawcross..
That is exactly what wins you points and keeps you clean sheets, especially when you haven't got the talent nor the money of a Man City or Chelsea etc.
I'd love Shawcross in our defence, a nasty, mouthy domineering leader, we hate him playing for Stoke because he is a very good defender, he defends that's what a defender does.
Compare that to Bambi on Ice Distin or the other wasters, even Stones, quality on the ball but a big strong commanding defender? Hmmm..
I never thought I'd hear myself saying this but at the moment I wouldn't say no to Pulis.
Tom Flower
56
Posted 28/12/2014 at 20:44:49
So much inconsistency. On the one hand, you have McGeady playing a killer pass to Coleman for the first goal; then he gives it away for their second in a very dangerous position. Barry needs a break. Where is Besic? Robles looks pretty useless to me.
I don't however agree with all the anti-Martinez sentiment. The guy is a class act and in patches we look world beaters but individual errors and injuries are costing us dearly and we need to get some points in quick style.
Brian Hennessy
57
Posted 28/12/2014 at 20:50:33
So I think we are safe to say any rumours of our Roberto leaving us to take over one of the Spanish big clubs are well and truly dead.
He can stay with us now for years to come... yippeeeeee!
Mike Hughes
58
Posted 28/12/2014 at 19:42:33
Sorry if this sounds alarmist - but I'm alarmed.
We currently have 21 points.
It's not difficult, on current form, to see us still being on only 29 or 30 points by the end of February looking at the fixtures (incl games against Hull, WBA, Leicester and Palace).
We may win all 4 of those games but would you put your mortgage on it? If so, you're braver than me. WBA and Palace (both may well have new managers and the resultant up-turn in form by the time we play them). Then there's the pressure put on our increasingly fragile and disjointed squad by the Europa etc.
The status quo is not an option. It's stating the bleeding obvious but something clearly has to change:
- the approach (it would be a huge about-turn for RM to go more direct/with pace, especially in the light of his post-match comments)
- the on-field staff (loans probably but that doesn't necessarily address what appears to be poor attitudes and form from existing players. Nor does it address the tendency to try to fit square pegs into round holes.)
- the off-field staff (I'm not calling for anyone's head but if this doesn't turn around very quickly then someone's hand may be forced.)
What a mess! It is a disgrace that this season now appears more focused on survival than glory.
This is not a knee-jerk reaction or herd mentality. The signs were ominous from as early as those opening 3 games with a defence like a sieve. "Oh, it's still early days," people said. That is an expression uttered in the autumn months and one that perennially irritates the hell out of me. Bollocks, the season starts in mid August.
In the meantime, sort it out Roberto: this is Everton, not some stepping stone on your fantasy career path. I hope you're here a long time but that is purely dependent on results. As is your future career, unless it's to be in punditry.
Dave Kelly
59
Posted 28/12/2014 at 20:52:51
Joe Foster had it spot on with his 'ceiling' analogy.
Norman Merrill
60
Posted 28/12/2014 at 21:01:13
Besides the obvious complaints, I'm really annoyed that Besic can't get a game in our weak midfield.
After today, I'm dreading going to Hull, that's a defeat waiting to happen.

Raymond Fox
61
Posted 28/12/2014 at 21:11:33
Norman, he was sick I believe for the Stoke game. Even though he was on the bench today, maybe he was far from 100%.
Ian Linn
63
Posted 28/12/2014 at 21:20:30
Tom,
Martinez is not a class act.
David Harrison
64
Posted 28/12/2014 at 21:19:42
Some still desperately defending Roberto (there were some 'magnificent' performances today). Based on what? It's clear to see this team have no energy, no fight, no belief and piss poor organisation. They haven't had for a long time now yet the manager seems reluctant to change anything about our approach.
Calling for his head now isn't knee jerk, it's based on the long-term evidence of our own eyes.
Philip Bushell
65
Posted 28/12/2014 at 21:20:16
Here's my 2 pence worth. As it stands right now Martinez's main concern is to put points on the board, wins preferably. Win now, win ugly, forget the performance we don't care how well we play JUST WIN. No more crap excuses.
Secondly, scrap the style of play that you have been trying to use. Playing tic tac from the back with Howard, Robles, Alcaraz, Distin, Jags will never work. Distin and Alcaraz are way too slow for this league now and passed their better days. Playing tic tac is not their game.

Jags can never pass and loves the boot up field. Barry looks tired, slow (yellow cards) Aiden hot and cold (mostly cold). We are really just not good enough. Replace the slow old dead wood and get a new goalie, a new fast, quick, hard-nosed defender and another forward in January.
Clive Rogers
66
Posted 28/12/2014 at 21:29:55
Raymond,
Before the club said he was ill, it was going round that he had stormed off.
Raymond Fox
69
Posted 28/12/2014 at 21:36:18
Didn't hear that,Clive. I think he has history of that, I thought earlier in the season there must have something happened behind the scenes along those lines then, because RM seemed reluctant to put him in the squad as if he wasn't happy about something.
Guy Hastings
70
Posted 28/12/2014 at 21:27:34
I'm not angry. I'm just so, so disappointed. The only consolation (and a scant one at that) is that I don't know a supporter who is actually enthused, who actually gives a toss about the PL this season. Pub mates, work mates, commute mates, relatives – no-one thinks this season is worth a plugged nickel. Even Chelsea and Man City fans I know are disenchanted. It's just shit.
As a mate of mine remarked, "Let Chelsea and Man City have a one-off game to decide the title next week, pick the three to go down out of a hat and forget the whole thing until next August." And the more I watch players in the top tier with the inability to make themselves available for a throw-in, let alone try to trap a ball without kicking it out to touch, the more I suspect that malaise is affecting them too.
Paddy Howlin
71
Posted 28/12/2014 at 21:06:22
As a club, we have form for the rot setting in at a rapid rate (Catterick and the 1970s side, Harvey and the great 1980s side and Royle in 1996-97); however, this season takes the biscuit.
For me, this all started with the abject pre-season preparations and has got gradually worse, with the Europa League papering over the cracks. The past month has exposed how limited the current managerial team is both tactically and professionally in terms of player fitness and conditioning.

Individually, I still believe we have our best squad of players in 30 years, but key areas of the squad where not added to or replaced in the summer. We have lacked a top-class keeper for years; as a minimum, Howard needed serious competition, and we desperately needed leadership at the back. The current squad have no confidence or belief and the durability we had under Moyes has vanished. We lack leadership both on and off the pitch.

Something has to be done quickly to stop the rot; however, we need to find the right solution as well. The removal of Joe Royle in March 97 over a petty transfer dispute took 5 years to resolve. Roberto Martinez needs to be honest and start treating the fans with some respect and be frank and put his hands up to the current situation and take responsibility. (I hate Rodgers, but at least he has kept it real.) He then needs to do some work on the training ground and get our players up to the standard and fitness levels expected. If he and his coaching team cannot do this, then he needs to move on.

As it stands, I can't see where our next point comes from; however, we have to battle and find it quickly. I for one do not envy Bill Kenwright; however, I sense we are in for a pivotal month in the recent history of Everton Football Club.
Len Hawkins
72
Posted 28/12/2014 at 21:27:34
I can't wait for Bill's 'vote of confidence' speech; I'm sure we will all be in tears of pride that Everton have such a wonderful manager...
Whelan said Roberto was going to be a great, great manager... maybe at a sports shop or at Poole's Pie Bakery — but certainly not at a Premier League Football Team.
Patrick Murphy
73
Posted 28/12/2014 at 21:58:39
A sobering thought for Evertonians is that Wigan Athletic only had 3 less points at this stage of the campaign in 2012-13 when they were relegated.
Won 5 Drew 3 lost 11 scored 22 conceded 34 so is the manager out of his depth at Goodison? All of my instincts say yes and we can't afford not to replace him.
Daniel A Johnson
74
Posted 28/12/2014 at 22:08:48
Patrick Murphy (#74) — that's scary stuff indeed...
Roger Helm
76
Posted 28/12/2014 at 22:07:08
BK and the board need to forget all this bollox about the Champions League. With our finances, that is to say this board, we will never be there.
What we need is a pragmatic manager experienced in EPL survival – not one dreaming about being in Barcelona.
RM has one to two months maximum, or to the end of the transfer window, to radically change the mood and the style of play, or we're in deep shit.
Bigger clubs than us have gone down, but these days it's harder to get back.
Nick Entwistle
77
Posted 28/12/2014 at 22:04:23
So long as we are mid table, and that's where we will stay, Bill will not sack him nor give him the 'vote of confidence' malarkey. And that's rightly so – even if I'm not a fan. Yet the same start to next season and he'll be gone by December.
But if it is to happen now, Joe Royle till the summer... then Steve Clarke pinched from Reading would be good. Though Frank Rijkaard has his feet up and would surely jump at the chance to manage in the Premier League.
My main fear is that, whatever he spends in January, it will be as painful as most of his other signings. Deulofeu isn't going to solve anything.
Colin Grierson
79
Posted 28/12/2014 at 21:44:46
The ceiling analogy is a fair one; however, one adjustment needs to be made. It is the landlord (BK) who has the task of sorting the ceiling. We (the supporters) have informed him of the problem, in case he hasn't noticed it himself, but it's up to the landlord to sort it as it's his property. We can ring him up and complain (boo) or not pay the rent (stop going to games) but he'll do what he wants in his own good time.
For the record, I've always been a Martinez supporter and even now I'm still gonna back him cos, as yet, there is no other option. Talk of Pulis et al is appalling. I don't know if there is a rift between players and manager and I've heard nothing to convince me otherwise. We have zero confidence and IMO that (with some awful defending some of which we got away with last season)may be the difference between us now and us last season.
Martin Handley
81
Posted 28/12/2014 at 22:10:21
I would start the following 11 against Hull, injuries/suspensions permitting:
Robles (nobody else)
Hibbert (does what it says on the tin: defends)
Distin (better than Jags and the only left-footed centreback on the books)
Alcaraz (again, through injuries)
Garbutt (Baines has been awful lately)
Mirallas (class)
Besic (bite)
Barkley (passing ability)
Oviedo (ability and pace)
Kone (threat)
Naismith (threat and workrate)
Subs:- Griffiths, Baines, Browining, Barry, Pienaar, Eto'o and Lukaku.
This is going on the premise that most of the names I've omitted are injured. But I honestly think that starting team can get a result there.
Mike Oates
82
Posted 28/12/2014 at 22:27:52
Martinez's style just puts too much pressure on the back middle 2 and Barry. They are expected to pick up balls from the goalie and start the passing movement. None of Jags, Distin (in particular) and to a lesser extent Stones look comfortable at the moment and Barry is having his nightmare patch at the moment (he just couldn't cope with Sissoko's pace and strength today).
It doesn't help that Robles is new and constantly looks to give them the ball even when the opposition are close by. Our full backs as instructed push up and if we lose the ball trying to pass it out then we've had it (2nd goal today). Coleman was pushing up as McGeady loses it and, 5 secs later, it's a goal as Coleman is frantically trying to get back. The system is flawed with the current defence.
Ian Riley
83
Posted 28/12/2014 at 21:57:50
I don't want the manager to get the sack but he does need help. He is still young but appears to be very single-minded. An experienced head is needed now to support him. A Tony Pulis sitting in the stand watching and highlighting changes that are required can only benefit our manager.
All teams that slide down the league continue the same pattern and that is where we are now. The manager is playing players in different positions to try something to halt the slide. Playing from the back is killing us and is easy for the opposition. The goals today came from basic individual mistakes and bad luck.
Our friendly style of football has to stop now. Every attack against us is frightening – we have no shape. My biggest concern is the goals against, only QPR is worse. Sadly we went ahead today but never looked like winning, we don't make it difficult for opposing teams.
If a change in style of football does not happen, results will not improve. Please, Roberto, seek advice and help before it's too late!
Sean Kelly
84
Posted 28/12/2014 at 22:34:43
We have lost five of the last seven. We have 4 points from 21. Plenty of positives there for Roberto and food for thought for Billy.
Peter Toner
85
Posted 28/12/2014 at 22:39:10
Worrying times for Everton but it's not really a time for the fans to be jumping on the players' backs. I actually believe we have put together a decent squad but, when you're losing, nothing goes your way, simple as. Let Roberto do his job.
I want to see us back playing the stylish football we were used to last season. Obviously we're not getting Champions League but we can still turn this season around. The secret is not to panic... time to start winning games ugly if that what it takes though to get us out of this rut. It's just silly discussing getting a new manager. It's not going help the team whatsoever.
Paul Dark
86
Posted 28/12/2014 at 22:52:19
I do wish people wouldn't mention Pulis. Dreadful, dreadful man.
Tom Flower
87
Posted 28/12/2014 at 22:39:56
Way too much nonsense being talked about the style of play. It's not hard. You keep the ball and pass and move. All the flack RM is getting is totally unfair. Do people really think we will win anything playing like Wimbledon?
We have had a lot of injuries meaning we are having to play people out of position. We have had some shocking refereeing decisions go against us and players have been making far too many individual errors such as Barkley and McGeady today. I don't buy into all this negativity.
Clive Rogers
88
Posted 28/12/2014 at 22:46:43
Martin (#82),
Hibbert is long-term injured, see my post above. Besic stormed off when he was left out against Stoke.

Oviedo is apparently not the same player since his injury and has fallen out with Martinez when told he was third choice LB. He's probably played his last game for EFC.
Barry Stevens
89
Posted 28/12/2014 at 22:44:25
With reguards to Roberto, I feel like a woman who's been sweet talked at the beginning of a relationship by a smooth talking bar steward on match.com. Promised the earth, told he had a good job, no baggage and a life plan.
Now, a year in, she realises he lives with his mum, signs on, and has kids scattered all over the place. Problem is, she can't kick him to the curb because she's told all her friends how great he is. So she just has to stick with it and hope for some kind of miracle.
Mike Oates
90
Posted 28/12/2014 at 22:52:13
Garbutt in Echo has just said that they need to stick together...... and on and on BUT he mentioned that today's shape was new to everyone, not practised at all. To me that just smacks that Martinez just does not want to move from his only shape he really knows – 4-2-3-1. He just hasn't got the wide players to play it, they are either in freefall (Pienaar) or totally useless for the Premier League (McGeady). He's forced to push Naismith, Barkley or Eto'o out wide and we all know it doesn't work.
Did you see today, we kept on trying to go through their centre defence, with little 1- or 2-yard one-twos, and never ever got through. Eto'o and Barkley just don't look wide, always trying the pass through the eye of a needle.
Jay Griffiths
91
Posted 28/12/2014 at 22:01:37
Just back from St James. I left on 80 mins. Shocking, I know... but I can beat that – we left St Mary's on 74! This is a well-worn path that I and many others have trodden before.
I recognise futile exercises, it is a sense that is fine tuned as a Evertonian. Some of the many conclusions arrived at tonight:
1) Distin is shocking and in no way can he relate to his managers need to play out from the back. Unless he is afforded 40 yards of space in possession, then we can see how uncomfortable he is and how the opposition know this also; thus, they press him into a mistake or a hospital pass to some poor recipient. It looks like he's been targeted.
2) Gareth Barry's game has fallen apart at an alarming rate. He's getting mugged on a regular basis. Players know they can burst down the side of him with ease, usually ending in a card as he pulls them back or fouls them. He has waddled through the last five games.
3) Samuel Eto'o is a luxury we cannot afford at the moment. He has a use as an impact player later on but not as a starter. When played in midfield, we need players who will also do the "dirty work", track back, and assist the left or right back. Eto'o doesn't do the dirty work.
4) McGeady... the same as above. This lad is so powder-puff lightweight, it's a sin to put him on the pitch ahead of some players who are prepared to run through walls for our club. He's a liability and a carried player. When we have our striker waiting on the halfway line and we see McGeady on one side and Eto'o on the other with Ross pretty close while Newcastle are in possession by our area, then where is our midfield?
Who fills the huge gap between our back line and those four players named? This ensures that any second balls are almost always picked up by Newcastle and we stay under sustained pressure as we are not allowed to clear our lines.
I was happy with Garbutt today and felt encouraged by Kone's efforts. If he stays fit he may be our Kevin Campbell type saviour. Ross looks lost. Besic should be in that starting eleven. This would be on merit. The kid has done all that has been asked of him.
We've become a zebra with a limp. Triage is now taking place. Martinez! We would like to stay to the final whistle at Hull. If not...........
James Stewart
92
Posted 28/12/2014 at 23:01:00
We are a truly awful team. Worst defence in the league and shipping the amount of goals we are doing will take us down.
Martinez is a likeable guy but he hasn't the first clue how to organise a defence. He's got to go or we run the risk of going down – simple as that!
Mike Hughes
93
Posted 28/12/2014 at 22:58:28
Maybe it's my age but I can't look at Jermaine Jenas on MoTD without thinking he comes across as a little old man. Maybe it's those cardigans he wears but shouldn't he be playing?
However, he did highlight how we're overplaying in the wrong areas - notably with respect to McGeady's howler and the need to hoof rather than play.
And as Murphy said, 'we're in trouble'.
What a shitty Christmas.
Mike Hughes
95
Posted 28/12/2014 at 23:03:25
Jay (#92),
I would have thought what you've highlighted there must surely be obvious to the manager?!?
Now I'm even more worried.

Mike Oates
97
Posted 28/12/2014 at 23:03:20
Jay (#92), I said the same earlier on thread that Distin has had it, he just cant cope with Martinez's possession football and to me Eto'o is a total waste of space. I was at St Mary's and couldn't believe Eto'o was left on the pitch.
There were times today when the our 3 front midfield men, McGeady, Eto'o and Barkley look absolutely knackered, they just couldn't go back and support the defence, and when they both (McGeady & Barkley) managed it, they gave two goals away. It's a totally flawed system we are playing: too slow, players in wrong positions, no pace, old defenders, full-backs who have no idea when to go or stay, and Barry sussed out.
Clive Rogers
98
Posted 28/12/2014 at 22:59:44
Tom (#88),
We are dropping like a stone into trouble, and have just lost 3 games to poor teams who were in their own bad runs. RM is picking players in their mid- and late-thirties who just can't move any more.
We can't compete with other teams' pace and running power. The first rule of football – it helps if you can run about. Barry and Eto'o could barely lift their feet in the 2nd half.
Kieran Riding
100
Posted 28/12/2014 at 23:10:21
Mike, when I see Jenas on the telly, I think of a totally different thing.

Nick West
102
Posted 28/12/2014 at 23:10:39
Last season was good – we've still got some great players. We're in the last 32 of the Europa League. Moyes had one crap season. It's only halfway through the season and we're 12th. Sometimes football isn't always an upward curve – ask Alex Ferguson. I'm glad ToffeeWeb posters aren't our chairman... or for that matter our manager... or we would be in trouble.
Jay Griffiths
103
Posted 28/12/2014 at 23:16:02
Mike (#92), you're worried! How do you think the zebra feels?
All funnies aside, this man is proving to be obdurate, totally inflexible and with an ego that could destroy our aspirations for success, investors, new stadium, and our foreseeable future.
Moyes was a CB, Stubbs was a CB. Both gone along with our defensive records. What next?
Mike Hughes
104
Posted 28/12/2014 at 23:25:10
Fair enough, Nick.
But when attitude and fitness are core issues, I suspect we are in uncharted waters.

Damian Nolan
105
Posted 28/12/2014 at 23:17:04
27 points from the last 75 points available. Why doesn't someone from the phalanx of journalists that attend a PL game nowadays just ask RM to justify that and all his imbecilic comments that follow?
I would suggest we started with The Echo but Prentice and/or Doyle don't have the bottle and The Echo remembers what Royle did to Phil McNulty (now of BBC) when he failed to follow the party line.
Tom Flower
106
Posted 28/12/2014 at 23:23:07
I totally agree with Nick's comment above. RM has a big rebuilding job on his hands. The back four clearly needs an overhaul as they are all getting on and out of form. Ruddy and Shawcross would be great additions in my opinion, as would Ashley Williams.
Steavey Buckley
107
Posted 28/12/2014 at 23:08:05
At 1-1 at half time, Martinez brings on Barkley, instead of Besic, who would have been a better replacement for McCarthy, in order to keep things tight in midfield and at the back. Result was that both Newcastle goals came about because there was no-one alongside Barry to protect the two centre backs, who need protecting.
Robles: a poor replacement for Howard, who also needs replacing.
Coleman: Seems to have lost his way a bit this season, but his cross into the box for Kone to score was delightful.
Garbutt: Good first half, but fell away badly in the second.
Distin and Alcaraz: Both offer little at the back, because neither can dominate the centre of defence
McGeady: A liability waiting to happen. But a good pass to Coleman to cross for Kone to score.
Barry: Solid game.
McCarthy; Everton missed him in the second half.
Barkley: Also a liability, when playing away from home in a more defensive position. And didn't it show?
Kone: Played well, held the ball up well and scored a beauty.
Eto'o: Has been poor since his double against Burnley some time ago; he fails to find an Everton man with his final pass and his shooting is erratic. This from a player who was once voted World Player of the Year. How things have changed...
Mirallas: Scored with his only real chance and can't ask for more than that.
Lukaku: Still looks troubled, and has lost his way and confidence.
Mike Hughes
108
Posted 28/12/2014 at 23:31:01
Well, I've had enough for today.... No more Prem until.... crap, Thursday.
An England v Burma friendly would be welcome right now.

Chris Leyland
109
Posted 28/12/2014 at 23:28:30
Nick West, you keep happily clapping along... thinking all in the garden is rosy, whilst the rest of us see the reality of the shambles that is Everton at present. It is as plain as anything that something is wrong with this squad at present and that they aren't motivated to play for the current manager.
They haven't all suddenly become bad players overnight. The problem lies with the manager and his tactical ineptness / unwillingless to try something different. He needs to wake up and smell the coffee in the next week... otherwise – make no mistake – we are in a relegation scrap.
Christ Neubauer
110
Posted 28/12/2014 at 23:22:45
The last good performance was away to Wolfsburg; every thing since has looked as if they're there just to fulfill a fixture, a total uninterested bunch of players in need of motivating. (Giving long contracts to everyone negates motivation.)
Bobby needs to tear a new arsehole into them. Alas I don't think he is up to the task.
The final straw was the Soton game, the dressing room lost. Everything since then is academic, and will continue to be. He needs to be replaced post haste.
Andy Finigan
111
Posted 28/12/2014 at 23:31:54
Raffa would jump at the chance, and takes no prisoners.
Chris Leyland
112
Posted 28/12/2014 at 23:36:33
Martinez — Out of his depth and out of this league.
Eric Fogg
113
Posted 28/12/2014 at 23:42:14
The players want him out — why else would they follow his instructions?
Mike Corcoran
114
Posted 28/12/2014 at 23:39:59
I know he's a nipper and that but Barkley needs fire in his belly, to play at pace and command games. FFS, I thought he was gonna be the new Messiah / Alan Ball, etc... He stands still most of the time. We looked better with Kone up front, though, cos he must be used to playing RM's 'back to goal' shite.
Mike Hughes
115
Posted 28/12/2014 at 23:41:54
One final thing: I'm really looking forward to Ken Buckley's report on this one. I always feel like I've been sitting next to him and I like his perspective on things. He walks the line between telling it as it is and the over reactions which many (myself included) are guilty of.
I'll be interested to read his take on recent developments. I hope Roberto reads those reports.
John Raftery
116
Posted 28/12/2014 at 23:35:18
We're shit at the back,
We're slow in attack,
The School of Science is losing the knack.
The competition for worst player today was ferocious with McGeady, Barkley, Barry and Eto'o all in strong contention. We desperately need the manager and players to get back to the basics of the game with simple defending, passing and shooting. Stop asking players to do things they are not comfortable with. Above all let's have some bloody effort from the whole eleven on the pitch.
Phil Walling
117
Posted 28/12/2014 at 23:39:34
If we cannot improve on the form of the last twelve months, it looks like we shall struggle to pick up more than another 20 points before season's end.
That will put us on 41 and only in season 2002-03 has that not been enough to survive. But there is little margin for error and BK will be a brave (reckless?) leader to continue to entrust the entire future of this great club in Martinez's hands.
Whilst Tony Pulis may be the only known contender available at present, a short-term punt on him would seem to be a safer bet than the car crash that the Catalan presents at this moment.
Paul Hewitt
118
Posted 28/12/2014 at 23:56:57
We are walking into relegation here. Bobby, PLEASE CHANGE!
I can't take this.... we are better than this.
Craig Mills
119
Posted 28/12/2014 at 23:55:43
We know Martinez has a style of play, nothing wrong with that... but let's not forget it's the players who are letting us down.
Example? surely Baines, an experienced international knows when to put his laces through the ball and get rid, just because Martinez maybe says he wants the ball played out surely does mean every fucking time. Same with Howard, why roll the ball to Distin when he knows he will be put under pressure within seconds of receiving?
So many goals are conceded from poor individual decisions and mistakes, it's almost comical. So, to me, it's back to basics, defenders need to defend first and foremost; if this means putting it in Row Z, I'm fine with that – goals will come and luck must change at some point. I hope Martinez can pull us through, but with every defeat the challenge becomes harder, my worry is that he has been here before... and we all know what happened at Wigan....
Tony Draper
120
Posted 28/12/2014 at 23:57:40
Mike @115 – Absolutely right, mate! Barkley was continually "jogging along" behind their players exerting no pressure whatever when HE had lost possession.
AND if Mo Besic saw his arse and stormed out then I'm encouraged that we at least have ONE first team player with some fuckin' fire in his belly!
OR Roberto has incredible powers of foresight to predict that Mo was about to be stricken by such a rapidly debilitating virus as a direct consequence of reading the teamsheet.
Patrick Murphy
121
Posted 29/12/2014 at 00:07:45
Two clean sheets at home (Swansea/Villa) one clean sheet away from home (WBA) in the Premier League spells trouble. It means we have to score at least two goals in every game to earn a victory and that is almost impossible in this league. Good sides are built from the back, Roberto doesn't believe in that and he is wrong, wrong wrong. Messing about with the ball in dangerous areas is a sure-fire recipe for disaster it adds unnecessary pressure to a team short on confidence.
If we persevere with the current way of playing it is hard to see us getting enough victories / points to stay away from the lower reaches of the league. We have lost fortress Goodison and we are starting to concede regularly away from home. Martinez won't turn it around if he continues to operate in the same way for the next five months, he might get away with keeping us in the Premier League but it will be touch and go and I'm not sure my nerves could take it.
Add to that the rumour that Coleman may end up at Manchester United for 㿅m, it has been a pretty dire end to 2014.

Patrick Murphy
122
Posted 29/12/2014 at 00:20:12
Craig - the players are letting themselves down no doubt about that but if the Boss asks them to do certain things they will do them as they are professionals they want to keep their jobs and will follow the managers lead. If your boss asks you to do something at work in a particular way even if you vehemently disagree with it what would you do?
David Israel
123
Posted 29/12/2014 at 00:22:52
When Martinez was hired, I remember that the main worry around here was Wigan's awful defensive record under him, and I shared that. It now seems to be coming true...
Not that it is necessarily a credible source, but the Daily Mail is touting Steve McClaren – yes, he of the brolly!
Paul Hewitt
124
Posted 29/12/2014 at 00:26:20
I think players should ignore Bobby and play their own way.
John Raftery
125
Posted 29/12/2014 at 00:22:22
Patrick,
Seamus is a shadow of the player he was last season. He has gone from being great to ordinary, so I can't see anyone offering 㿅M for him.
Patrick Murphy
126
Posted 29/12/2014 at 00:31:21
John,
But perhaps that is why he has lost form... he is contemplating a move away from Goodison? I agree that at this moment in time he looks anything like a 㿅M player and he has had a really poor season by his own high standards.
James McGlone
127
Posted 29/12/2014 at 00:32:22
Yeah, the players should just ignore the manager and play their own way! Lol! Did I really read that? Does anyone think Martinez encourages them to pass the ball to the opposition?
I'd love to see what those who castigated Moyes for his 'negative approach', week-in & week-out, would have to say.
Maybe we should try for Mourinho next...
Chris Butler
128
Posted 29/12/2014 at 00:33:54
There's something seriously dodgy going on at Everton, I've never seen an Everton team show such little effort. The team seem completely lost and don't have a clue what they are doing.
Look at the last minute, Coleman running down the wing in the 92nd minute rather than crossing the ball in, decides to just run into a Newcastle defender.
Barkley seems to have lost the ability to run, every time he gets the ball he just stops and loses the ball.
McGeady is completely useless; Del boy wasn't perfect but at least he crossed the ball rather than just passing backwards and losing the ball.
I don't believe the players believe in Martinez anymore; you can see a lot of the players are deeply unhappy. I would try to bring in Bilic – a manager who actually cares about whether his team wins or loses.
James Marshall
129
Posted 29/12/2014 at 00:49:12
We'll be alright and finish mid table. Everyone needs to calm down a bit.
The manager won't be sacked either. Who would take over for a start? Can't see it myself.
The team is struggling, clearly and that's saying something but we had 5 players missing today which didn't help.
We've had a very unsettled back four all season, various injuries in midfield and struggled for consistency since day one. This has now transformed us from a strong defensive unit into a very fragile one, but there are enough teams in the division that are worse than us so we'll be OK.
The concern is players like Barkley and McGeady who have massive problems with concentration and doing the basics right.
The manager needs to look at the system too because it's so easy to play against and Lukaku is shit with his back to goal and being made to look second rate. I blame Martinez for that.
Macca is the only player (aside from Besic) who dares make a tackle too and our soft centre is all too evident. Toughen the fuck up and stop making lazy mistakes.
Anyone else looking forward to Hull?
Paul Ward
130
Posted 28/12/2014 at 23:41:31
Martinez is a quiet gentle man who is obsessed with his Barcelona-style dream. He believes his dream will come true without a pre-season fitness program or assessing any previous games' mistakes. He ignores the need to improve on any set-pieces for or against his team.
Now we have a team of old men who are bereft of any fight whatsoever. Our style of play now is a lazy, receive the ball and pass back or sideways to your nearest team mate, even if he is marked. I'm all for fairness but to see Eto'o in a scoring position kick the ball out because an opponent had gone down is the epitome of our competitive edge.
Some fans on this site think these old men will be back as new and our manager will turn it all around. Well, they won't get any younger or braver and Martinez has stated he will not change.
Before it is too late, Everton need to bring in a manager with passion and feeling for this club again. A man who knows the club and players, and was considered last time was Alan Stubbs.
Joe Kaliszczak
131
Posted 29/12/2014 at 00:57:24
Jay@92, you should have been on the team jet on the way back! My ex, Fer Nominal, listened in awe, as Roberto spoke to his players:
"We now have the stats and the bonuses for this month P7 W1 D1 L5 F6 A11, Clean Sheets 0; if it hadn't been for poor refereeing decisions, cold weather, a few slight disagreements with most of my squad, etc etc, the results would have been different.
"I have, therefore calculated how many points we should have got; we should have won 6, and drawn with Man City, so we're paying out bonuses on this basis.
"Just to make it clear, if decisions go against us in January, and they are due to the likes of refereeing decisions (i.e. nothing to do with me), we shall be paying January bonuses on the same basis as for December...
"Oh, and Sam, I know the 𧶨,000 net that you get for December is less than you're used to, so for January I'm introducing a bonus for all the squad for each backwards pass made.
"(PS lads, don't worry about the punters: they're like sheep going to the slaughterhouse! Oh, that reminds me, I wonder what that leak is like on my ceiling?)"
Si Cooper
132
Posted 29/12/2014 at 01:00:56
The manager needs his fair share of the blame for the way the team is performing, but to suggest that they are somehow hamstrung by a a set of instructions that they fear to 'exceed' is laughable.
Someone tried to explain our current problems as though asking our players to play effective possession football is akin to asking someone like me to play exclusively with my 'swinger'. How does that work??? Professional players should be capable of passing to feet over 20-30 yards easily. When they fail to do so because they rush it or seemingly lose concentration, then I blame the players first and foremost.
Whatever the specifics of the manager's particular tactics, it will boil down to pass to your own players, clear the ball from danger areas, keep possession but strike when the opportunity arises.
Confidence seems to be the problem that the manager can't solve at the moment, with too many inconsistent performances throughout the squad. Never the easiest thing to do but a true test of management ability.
Ray Griffin
133
Posted 29/12/2014 at 01:14:52
I totally agree, Paul (post 131) with all your observations & in particular Eto'o kicking the ball out of play just cos someone copped one in the nether regions. If I'd have done that playing Division 3 junior football 30 years ago, my manager would have given me a right bollocking.
No fight, no passion and apparently now (according to Tim Howard's interview in the Sunday Times today) we are a sophisticated team who lead the way in the stats as the team who works the ball from box to box the most... That means fuck all when it allows the opposition to casually regroup as we fanny about passing the ball sideways over and over just for the sake of it.
I've been a supporter for many years now & I have to admit I can't remember feeling this frustrated at the mediocrity of our current performances, particularly as this group of players should be capable of so much better.
Today was an ideal day to expose Newcastle for what they are; a team that gets swatted by good sides and who possess the worst centre back in the Premier League in Colloccini and yet they waltzed through our useless defence time and time again.
I watched the game today with a group of mates and they kept asking me: "What's happened to Everton, why have they become so crap lately?"
"Fuckin' embarrassing" – my answer was – "Martinez is chasing the Barca job so the tiki taka style of football that he's deploying is in his view, above criticism, and when he eventually gets sacked he'll blame the players for not being good enough to follow his master plan."
Joe Kaliszczak
134
Posted 29/12/2014 at 02:08:05
Fer Nominal asked me to correct that — it was the Team Jet she was on!
Mike Price
135
Posted 29/12/2014 at 01:58:35
I've never seen a softer, 'nicer' Everton ever, and it was obvious ages ago. No leaders, no aggression, no nastiness, no verbals, it's utterly pathetic, players and management alike.
We need at least an average goalie and a few gobby, aggressive bastards really quickly, or we'll be in a major 'negative spiral'. People keep criticizing a Joey Barton or a Cahill but we need some men and characters to change the dynamic. Trouble is, I don't see our manager stooping to such a pragmatic place as its against his philosophy and he wouldn't get on with that type of character.
I think we're all in a bit of shock after the promise and hope of last season but the manager was lazy with regards to signings, contracts and preseason. We could end up paying a very big price.
Tony Draper
137
Posted 29/12/2014 at 01:56:24
I'll admit that I'm deeply disappointed with many results this season.
BUT they really aren't a cataclysmic departure from our "mid table security" of the last decade, are they ?
Face facts, last season really was in many respects, bloody great... So, this season we're back in Europe and have looked solid there. Every other EPL club in European competition IS expected to drop a few places in the PL compared their previous season. But not Everton ?
Then let's look at some evidence.>Defensive injuries THIS season... Oviedo is not yet fully recovered after a NASTY leg break, despite indomitable attitude; Stones is still recovering/just lost full fitness AGAIN; Coleman began season with injury and has really only just returned to solid fitness; Hibbert... when WAS he last 100% fit?; Jagielka is almost ever present regardless of injury or discipline but missed a few, now missing again; Distin is still the fastest player at the club, has had a few niggles this season too;Baines you can virtually put him on the teamsheet without even thinking, but NOT this season.
THEN in terms of other "defensive concerns" this season

Barry, a couple of knocks; McCarthy, likewise; Gibson, no surprises here; Besic, his first season in the PL; Osman (and let's be bloody honest as "Defenders" go we really are stretching here, but given the extensive foregoing list, not exactly completely out of the picture) carrying a few injuries this season.
What I'm saying quite badly is that if ANY of the "media babies" were going through our "Injury Crisis" the media would be CRYING out for 50M>100 to be spent upon interim cover.
TBH, I expected us to drop a shade or two this season (being in Europe)
We have been shit recently, but not FFS some of you lot need to grow a thicker hide and grow up. We really have seen far worse with NO excuse.
FAR worse.
Name me ONE club who could be better placed with ALL our enforced defensive alterations this season ?

Go on.......ONE ?
I still think that we really have stunk, and far too often this season, but that's not completely Roberto's fault.
Can't blame a man who can't/hasn't been able to retain a consistent defence, nor blame the available players.
(FFS a nearby club's current excuses are that a) they sold one player for a club record payoff, b) the England manager INJURED their other striker by rushing him back into training 24 hrs too early... and that was MONTHS ago and the "tender flower" hasn't "bloomed again" since)
Paul Ward
138
Posted 29/12/2014 at 02:39:15
Tony, surely your not suggesting we are the only team with injuries. Just check out the many injuries other teams that have beaten us have had.
Steve Brown
139
Posted 29/12/2014 at 03:23:41
15 Everton players have made defensive errors this season that led to a shot on goal, and nine have made mistakes that led to a goal. Where do you start with that!
Mark Andersson
140
Posted 29/12/2014 at 05:52:29
James Marshall, the only people looking forward to the Hull game play for Bruce. Those who think Martinez will overcome the issues are as deluded as he.
What lessons has he learnt from taking Wigan down? There will be plenty "I told you so"s come the end of the season.
Tom Bowers
141
Posted 29/12/2014 at 06:40:56
It's currently a disaster, as we all know, and I am sure all those employed at Goodison Park are worried about their jobs, including the players. Make no mistake about it – this is as bad as it has been for many a season, even under Smith and Moyes.
Defensively they are a shambles, even with 10 men behind the ball. Don't laugh but only QPR have conceded more goals at present. Seems like every game is a mountain to climb even when they score first.
The Hull game is the first of the New Year and and any repeat of the last 3 would be unacceptable to even the most patient of fans.

Laurie Hartley
142
Posted 29/12/2014 at 06:32:12
I haven't been able to watch the replay. While I was uhmming and ahrring whether I was going to watch the Foxtel recording this morning my missus hit the delete button and said something like "That's how you get rid of misery out of your life – hit the delete button". You've got to have a laugh every now and then don't you. I am smiling as I type this post – she is a very tough and pragmatic women, my missus.
It may be synchronicity but I have just heard Tim Cahill commenting on Australia's forthcoming Asia Cup match. He said, and I quote: "I don't care how we win as long as we win."
I like that – a sense of urgency.
Can someone tell me who had the captain's armband, please.
Steve Brown
143
Posted 29/12/2014 at 08:20:22
This reminds me of Joe Royle's final season. We'd just qualified for Europe and acquired good players – Speed, Kanchelskis, Barmby. The season didn't ignite, but from Xmas our form completely slumped and before you knew it, Joe was gone. A very good squad fell apart and the best players left. I reckon that set us back a decade, so for those clamouring for RM to be sacked – be careful what you wish for.
He does need to adapt to more pragmatic tactics, select players who will put a shift in and battle for results. That means that Barkley, Lukaku, McGeady are not right for the line-up. Our team against Hull will be a strange one, but subject to fitness I would go with: Robles - Coleman - Stones - Alcaraz - Garbutt - Besic - Barry - Baines - Naismith - Kone - Mirallas.
Allan Barratt
144
Posted 29/12/2014 at 08:35:14
The captain yesterday was Barry.
Even the Official site is full of comments calling for Martinez's head. The delete button must of broke at Everton HQ.
Alan Clarke
146
Posted 29/12/2014 at 09:44:32
Steve Brown, surely the point wasn't the sacking of Royle but the management of the club after that? Getting rid of Martinez isn't the worry, it's the next appointment after him. But if we're going down with Martinez, what do we have to lose by replacing him?
Christopher Dover
147
Posted 29/12/2014 at 09:36:09
The injuries must count against us but we are not alone, we have two centre backs that have not just appeared so the manager knows the backup we have, is happy with it as did not want to bring anyone else in.
The players are trying to play the system A, as said here no system B, so they cannot be blamed for trying to follow instructions.
I do not pretend to be a manager or even pretend to know tactics but even I can see what has happened and will happen in every game: the opposition will push up to stop the short passing, forcing the ball back or long punt up the field to be given away.
My concerns are having a relegation dog fight (which I do not think we would win) the older players who have played well in the past should be used as subs or to help the younger players but not so many in a team that it slows it down even more.
My biggest concern is the good young players will look kindly on a big money move away come January and end of season as they will see no hope of Everton pushing for top four, and will not want to be in mid table to relegation fights each season, it's hard enough to retain the top players with the money on offer from the millionaire clubs anyway. We could well end up with the older players and journey men brought in to replace the leavers.
One big hope is if the new ground is in anyway a possibility the last thing the directors will want is a poor performing team in a relegation battle, I would like our Manager to stay but he has to alter and have plans A.B & C when things go wrong, and boy have they gone wrong.
I always thought I was not a very positive person and found the manager's positivity very refreshing, but the way the team are playing and the tactics employed, it has become farcical to the point of annoyance when he is so positive in the many defeats we have had. Here's hoping we turn it around, but not being very positive we will.
Max Wilson
148
Posted 29/12/2014 at 09:59:43
I think RM will be safe until we fail in the Cup and get knocked out of Europe; after that, the overwhelming failure for a Club like us will do for him. Right now, he has some convincing excuses – injuries, having to play players out of position, mistakes by them etc.
Does he have or will he be given any money in the New Year to shore up our failing, over-the-hill defence? The award of renewed long contracts to ageing and very average players will figure on his indictment if he is sacked.
Paul Smith
149
Posted 29/12/2014 at 09:58:30
Another Wiganesque performance yesterday; with each passing game, we look more like them every time. I'm afraid a few of these players need shipping out for good. My team for Hull would be (if they're fit):
Robles
Coleman
Stones
Browning
Garbutt
Mirallas
Besic
McCarthy
Baines
Kone
Lukaku
This team would give us good energy and we need to start by trying to keep clean sheets and nick the odd goal. The likes of Barkley and McGeady are not trustworthy enough and should be used sparingly from the bench.
The only bright spots from yesterday were Kone and Garbutt. For me we need to start pushing higher up the pitch and playing in the opposition half instead of our own. This is why Barry would not be in my team as it all seems to stem from him and he hasn't got the legs to press higher up the pitch.
I'm not expecting any change though as Roberto seems to be a stubborn one-trick pony manager whose tactics have been found out and are easy to play against.

Ray Roche
150
Posted 29/12/2014 at 10:12:38
Everton's problems stem from a pathetic pre-season when players were given too much time to "recover" from a few World Cup games, poor pre-season match opposition and lack of fitness.
The old saying that "Fitness makes an average player look good and a good player look great, but lack of fitness has the opposite effect" has never been more apt. I have never seen an Everton team as unfit as this one. Martinez must get them fitter or do one.
James Marshall
151
Posted 29/12/2014 at 10:11:04
Mark Anderson (#141),
For the record, I was one of those who was livid when Martinez arrived. I was also hugely apologetic last season when he felt like the Messiah.
Where does that leave me now? I'm not sure sacking him would help, partly because A) We're still 6 points off the relegation places, and B) Who would take over? C) Changing managers mid-season rarely has the desired effect. And D) I still think we'll make the top 10 – which was my prediction at the start of the season anyway.
Last season now feels like a 'season in the sun' for Senor Martinez, one which surprised all of us and raised expectations. Normally after a long-term manager leaves, the next incumbent struggles (Man Utd/Moyes?) so I'm trying to look at this as second-season syndrome, let him keep his job and reap the rewards in the next few years when he turns it around.
Didn't Moyes struggle with us initially? Ferguson at Man Utd almost fired after a year? History says managers need time... and we all know how important it is to know yer 'istory.
James Marshall
152
Posted 29/12/2014 at 10:22:59
One other thing. Get Besic in the team. Fuck it, make the kid captain so him and Jimmy Mac can tear up some midfields and teach players like Barkley to man the fuck up and stop whimpering around the pitch.
Barkley has talent to burn, but he's a lazy fucker with a bad attitude from what I've seen lately. Defensively we play with about 9 men at times. Lukaku another one.
Eddie Dunn
153
Posted 29/12/2014 at 10:21:50
Ray, do you remember when Rob took over, that there was this big deal made of training pre-season with the ball. They came up with figures proving that ball work as opposed to fitness training, was better for you.
I wonder if that was a load of tosh, and we just are not as fit as we were?
The margins are very fine in the Premier League, it has been noticable when a player has come back from injury, just how ill-equipped they are, due to that small percentage that match practice brings, and when you consider how many guys have been "rushed" back, to our detriment, you can see how important it is to be fully fit.

Patrick Murphy
154
Posted 29/12/2014 at 10:28:46
I'll be honest, I don't think that Roberto will be able to turn things around at Goodison; whether he should remain in charge for the rest of this season is another question.
But what Everton have lost during his time at the club is the team ethic: defend or attack as a team win, lose or draw as a team. Roberto doesn't say that he prefers to highlight the positives of individual players and inflate their egos to make them feel better about themselves which leads to those individuals seemingly believing that they are doing OK when as a team it is obvious they are not doing OK at all.
We have had less talented squads in the recent past who knew their strengths and weaknesses and who compensated for any shortcomings with hard work. That is what the team needs right now a willingness to work hard for each other and run until they can run no more, this allied to the ability within the squad should be enough to gain the necessary wins in the second-half of the season.
If the team fail to re-discover that work ethic we might be in far more trouble than many would like to believe. Let's hope that the team can become a team in 2015 and not a collection of individuals wearing the same coloured shirts.
On another note, I see that Mourinho has said that there is a campaign against his club from the officials – he wants to have a go at managing Everton to see how it feels to be on the wrong side of decisions in every game it plays.
Paul Hewitt
155
Posted 29/12/2014 at 10:30:53
Bobby can change the team all he wants – it won't work. The players don't have a clue how to play his way. This is only going to end badly, I'm afraid.
Thomas Surgenor
156
Posted 29/12/2014 at 10:26:42
While I believe that we have a number of players needing replaced, some due to age, others purely lacking ability – Howard, Robles, Hibbert, Distin, Alcaraz, Barry, McGeady, Pienaar, Eto'o – we do not have the funds to do that in one fell swoop this January.
However, I am not in the Martinez Out mob. Martinez is the best man available on our budget to take us forward.
People need to see the long-term gain here and stop focusing on the here and now. (Yes, yes, I hear you "the here and now is what gets us 3 points". But this season's league is over for us, we will end up in no-man's land.) This season is a write off, but no worse than OFM's 2nd season though!! Then we had that amazing 3rd season under OFM.
Martinez will learn from this season. Do we want another team to profit from his education with us? Remember when SAF nearly got sacked in his second season at Man Utd?
IMHO the blame is more with the players than with Martinez. He didn't tell McGeady to be useless. This all started with a lack of discipline shown by one of our more senior players, Distin, if he was playing at a club with more funds (like a Man Utd under SAF) he would have been released then and there. The players lack the heart, the desire etc, not Martinez!
I'm Rambling here, but basically if anyone thinks the Wally with the Brolley, Roy Keane, Tony Pullis, Neil Warnock, Ali McCoist or any other manager out of work could do a better job, then they are deluded!!! They're out of work for a reason and I'm not sure many would come highly recommended by their former clubs.
Martinez, on the other hand, would get another job in a heartbeat! Martinez is not the problem here! it's the players and it all stems from Distin's lack of discipline. End of.
Matt Butlin
157
Posted 29/12/2014 at 10:53:06
Simple things can help rather than stubbornly sticking to this passing mentality. If we're under pressure on the edge of our own box, I'd happily swap that position for something where the opposition have the ball in their own half and we can reposition and press them from there. Rather than clearing our lines, the inevitable happens (McGeady) as we carry out the boss's instructions, trying to pass our way out of trouble.
As many people have said, our fitness isn't there and teams are going to be all over our passing game. They don't even have to hit us on the break anymore.
Rob Halligan
158
Posted 29/12/2014 at 10:44:52
I don't know if this has been mentioned anywhere above, but we have lost an amazing 15 points from winning positions, while only gaining a miserly 2!
Leicester – 2 points dropped.
Arsenal – 2 points dropped.
Hull – 2 points dropped.
Spurs – 3 points dropped.
Palace – 3 points dropped.
Newcastle – 3 points dropped.
Liverpool – 1 point won
Sunderland – 1 point won.
Even West Ham and Burnley managed to equalise before we forced winners.
At the moment, we are not able to hold onto a lead. This is because of all this fannying around at the back. When we fall behind, it's clear we don't have the ability to pull the game back. This is because of all the fannying around at the back.
"Keep possession, we must keep possession!" Teams know when they push right up on us, we will panic and give the ball away. Distin and Jags are not Beckenbauer and Bobby Moore. They don't have the ability to bring the ball out of defence. Once teams go in front against us, they know we will just fanny around at the back, and make no attempt to get forward with some urgency until it's too late.
One other thing: Southampton went on a losing streak of 5 games until we played them. Newcastle were on a 4-game losing streak until yesterday. Who's next? Probably West Brom!!!
Daniel A Johnson
159
Posted 29/12/2014 at 11:22:54
Hull have the worst home form in the league....
Who's next???? Everton, of course.
Ray Roche
160
Posted 29/12/2014 at 11:31:46
Eddie, yes, I remember all that stuff about training with a ball; however, I remember Ron Yeats and Tony Hately managing and training a team I was playing for, and the training, almost all the time with a ball, was brilliant.
BUT, they made sure we were fit BEFORE the training balls were introduced. We had to be fit to start with. I don't think Everton are fit and our preparation is amateurish. Worse than amateurish, actually.
Rob Halligan
161
Posted 29/12/2014 at 11:35:45
Cheers Daniel!! Am I wasting my money already?
Christopher Marston
162
Posted 29/12/2014 at 11:37:21
We can analyse this all we like however the one question that still needs to be answered is...
Which other top 5 team would ever dream of appointing a man who has just got a team relegated with a defence that regularly conceded 5 goals or more to average opposition?!!!
Daniel A Johnson
163
Posted 29/12/2014 at 11:42:20
Everton??
Anto Byrne
164
Posted 29/12/2014 at 11:26:11
Mr Kenwright, Please appoint Joe Royle as Director of Football.
Joe Royle personifies Everton – its history and traditions, his Dogs of War could play a bit and put it about when they had to. If Stoke want a battle, Joe is up for it. If we play the RedShite, Joe makes sure those players know the score. No fucking prisoners.
Mr Nice Guy Martinez needs a mean streak, uncompromising no fucking passengers. The team resembles Roberto – an easy touch, bit of a pushover. Time for the manager to get some support, a word in the ear: "This is Everton, mate... don't fuck with it. Don't fuck with the supporters."
Kenwright, you need to look after your man; he is drowning... get your finger out and throw him a lifeline. The players have a job to do and the powers that be need to make sure they fucking well know the shite they are serving up is unacceptable.
If they are not good enough, fuck them off. Robles, McGeady, Distin, Eto'o, Hibbert, Osman, Pienaar and Barry. Not fit to wear the blue any longer. Sad but true.
Thanks and so long.
Kev Wood
165
Posted 29/12/2014 at 11:25:22
As I left the Top Balcony on Boxing Day a couple of lads were trying to get back into the seasonal spirit and singing 'Let It Go' from Frozen- that was the only thing to cheer me up all afternoon.
I missed the trip to Newcastle and only heard how things were going via the radio, but a couple of guys in barcode shirts and a plain clothes fan arrived in the pub I was drinking in hot foot from the match. I asked them how bad they thought we were and their view was that, all things considered, there wasn't much in it and if we'd got a second early on, things would probably have been different. They did add that they bossed us for much of the time after we scored though. The plain clothes guy was an Evertonian who had gone to the game with them. His view was that we were dismal- so we consoled each other and agreed we had no choice about where our heart lies.
Most people here know what's wrong with us at present and it grates to hear Roberto talking about fine individual performances. Get 'em fighting as a team!
Christopher Marston
166
Posted 29/12/2014 at 11:44:48
Daniel, I said, 'other.'
Daniel A Johnson
167
Posted 29/12/2014 at 11:46:30
Chris (167) LOL
Ray Said
168
Posted 29/12/2014 at 11:23:17
To me, the squad has the stink of relegation all over them. They look beaten in the warm up — no fight, no urgency, no desire, no balls! The opposition must look over at them and think 'We can have this shower today'.
They can't defend, they can't fight, they can pass and some of them look like they can barely run any more... Yes, I am looking at you, Barry and Barkley – jogging around like a 50-year-old.
27 points from the last 75 points available to us is the killer statistic and any board worthy of the responsibilities invested in them reading that statistic alone should be demanding the manager's head. He can't turn things around now; it's too late and the team are in free fall.
The key question is: "Can we afford to take the chance of not sacking him and giving a new manager the opportunity to make changes in the transfer window?"

Patrick Murphy
169
Posted 29/12/2014 at 11:52:36
Andy Gray – speaking on TalkSport – has said that Roberto has made Everton soft in his attempts to get the team to play from the back and thinks that the manager should address the situation as Everton don't look too good when not in possession of the ball.
The Echo reported that Gray watched the Newcastle defeat alongside former Everton team-mate Peter Reid and said: "I have strong connections with the club and I sat and watched the game with Reidy and I can tell you that neither of us was impressed with what we were watching."
Barry McNally
171
Posted 29/12/2014 at 12:07:22
27 from 72, 24 games. Don't mention the fact that we won the previous 6 in a row to that stat.
Nick Page
172
Posted 29/12/2014 at 12:06:04
Great article:
http://theexecutionersbong.wordpress.com/2014/12/29/why-a-lack-of-pressing-is-costing-Everton-dearly/?
Shows how "soft" we've become. And its awful.
Rob Halligan
173
Posted 29/12/2014 at 12:04:01
At the same time, I will also say poor refereeing decisions have gone against us in the last three games.
Southampton's first goal came from a corner, which wasn't a corner, but I suppose could have been a penalty. Stoke should have been down to ten immediately before they scored. Cisse shouldn't have been on the pitch yesterday after that cowardly elbow right into Seamus' face, before he scored the equalizer.
Poor excuses, I know, before anybody puts me down, saying referees don't defend poorly or try keeping possession of the ball before giving it away, etc etc etc!!
Nick Page
174
Posted 29/12/2014 at 12:15:26
Rob, read that article I just posted. Too fucking nice, we've become.
James Stewart
175
Posted 29/12/2014 at 12:11:17
@156 Agreed.
The team selection is irrelevant. The system is truly mad and is creating utter chaos. I'm really curious what it is those that think Martinez should stay see in him?
I see no redeeming qualities whatsoever. The man can't even organise a basic defence. Every good side is built on one.
Max Murphy
176
Posted 29/12/2014 at 11:52:15
Thanks to our joke of a manager, the terrible displays, the lack of passion and fight, we deserve to get relegated.
Dan Hollingworth
177
Posted 29/12/2014 at 12:16:04
Ray @ 169
I have to agree with you on fitness, the players look like they are blowing with 20 mins to go and in some cases opposition players are just waltzing past some of ours like they are not there. I know that Steve Tashjian left at the end of last season and below is a snipit of a Greg O'Keeffe Q&A in the Echo in May where it was noted how much he will be missed.
Steve Tashjian recently left – how big an impact do you think his departure will have on the team?

Greg: He will definitely be missed. Tash is a functional conditioning expert at the top of his game. He's a popular guy around Finch Farm and I was lucky enough to see first hand how effective his methods are.

I also wonder about Stubbs, who was working a lot with the defence last season; has his departure affected things there?
Nick Page
178
Posted 29/12/2014 at 12:21:06
http://thisisnotfootball.co.uk/2014/12/21/southampton-and-shawl-collars-and-that/#more-6738
Brilliant piece.
Harold Matthews
179
Posted 29/12/2014 at 12:00:29
We don't close down quick enough or get tight enough and we are forever ball-watching when guys like Cisse make themselves a bit of space. He was awake. We weren't. Are you listening Seamus? You were marking him.....and why did you give the other guy room to shoot it through your legs? As pointed out by fellow pros on the box, you weren't tight enough. You and your mates should have been all over him.
Before the game, Pardew explained how we play and how he would exploit our dodgy defence. Seems we don't frighten anyone any more.
Rob Halligan
180
Posted 29/12/2014 at 12:31:53
Too soft, Nick? The girls in the St.Trinians Great Train Robbery had a more evil streak about them!!
Ray Said
181
Posted 29/12/2014 at 12:37:32
Rob @181,
They also showed more running power and had more up front!
Sean Kelly
182
Posted 29/12/2014 at 12:44:14
My grandson's chant since yesterday is still ringing in my ears:
"Is he gone yet?"
"Is he gone yet?"
"Is he home yet?"
Steve Barnes
183
Posted 29/12/2014 at 12:42:02
I for one must have a lucky telly. How I didn't end up hurling something at it watching that performance is beyond me.....
Like most, I thought Robles (Joel, Robles, lets call the whole thing off) is poor, Baines has lost the plot, McGeady probably never had it and Barry is on a personal campaign to get as many yellow cards as humanly possible. Kone actually impressed as did Kev. Really not sure about booting out RM, but think that his style is crippling us at the moment.
Change or go, Roberto.
Do they care? Who knows. Only those in the inner circle will know who is really hurting. We seem to have a glut of players near end of EPL life and a few that have got in a rut. We need inspiration and/or a kick up the arse asap.

James Marshall
184
Posted 29/12/2014 at 12:56:23
We need to do at least two very simple things, immediately.
Hussle our opponents when we don't have the ball, and clear it when we have the opportunity in an old fashioned manner - ie, lump it away.
Once we do those two simple things to clear the ball and win the ball, THEN you pass the ball about.
Plan B? Yes, we need one and what is it? Well the inherent problem with playing possession football, is that the opposition can sit back and watch us play in pretty patterns, going nowhere against 9 or 10 men massed on their 18-yard line, so you have to let them have it a bit more, or learn how to draw them out...
We do neither – we come up against two banks of four all the time... we struggle to break teams down... we're easy to play against.
Simple.
Steve Pugh
185
Posted 29/12/2014 at 13:15:54
I am trying to keep a positive mindset and think we can win the Europa League... after all, Wigan did win the FA Cup with Martinez.
That does, however, lead to the question: Who was the last team to feature in the Champions League having been relegated to the second tier of domestic football? If indeed it has ever happened.
Gavin Johnson
186
Posted 29/12/2014 at 13:10:17
I've not read the other posts on this thread so apologies if I repeat any one else.
I actually took a few positives away from yesterday. Yes, the defending was abysmal, but how can any one expect anything different with Distin paired with Alcaraz. I don't know what Dennis Lawrence does with the defenders on the training field but maybe the answer is, to bring back someone like Waggy or Weir. The same same as Wenger did a couple of years back when he brought Steve Bould back into the fold, as a defending coach when Arsenal were leaking goals for fun. We've seen how these specialist coaches can work at other clubs this season, namely Sherringham coming in at West Ham to help answer their lack of goals of goals from last season. Yes, they've got better strikers now but I wouldn't discount the influence of a Sherringham there also. Of course we've already got big Dunc coaching, but I think our problem isn't scoring, it's clearly the back four who have looked like they would be better suited performing in Billy Smart's Circus than an EPL side. I don't think it's any accident neither, that Distin always seems to be in the starting 11 when we concede a sackful of goals. If we'd have had settled pairing of Stones and Jags I don't think we've had conceded anywhere near as many. With the amount of fixtures you can't rely on 2 players alone. Luckily Distin and Alcaraz are out of contract in the summer. We've got the promising Galloway and Browning coming through, but I think we need an established defender in immediately in the shape of Winston Reid, Ron Vlaar or Ashley Williams, all of which are out of contract this summer. This needs to be addressed now. I could go on about the goal keepers and lack of quality wingers but I can't see us making major changes in the next window. So I've just mentioned the area which is of most concern to me.
The positives I took were the inclusion of Kone, Garbutt, and moving Baines further forward. What puzzled me was that Baines wasn't playing wide left and was playing more centrally. While I'd normally welcome this as a bold tactical move, as has been previously discussed with Baines moving into the centre of the park. I can't believe this would be done when Miralles was sitting on the bench, Martinez opting instead to play Samual Eto'o more as a winger. Surely Eto'o would be better served playing off Kone, or vice versa. Had Kevin Miralles started (giving us more natural width) I'd have welcomed Baines playing in this role.
It's very grim at the moment but once we have Stones back to full fitness, with an additional quality centre back coming in next month. I can see us turning the corner. Of course I'm beginning to have doubts Martinez see's any problem continuing to ask the inadequate Distin to play the ball out form from the back, so who knows whether we'll address the bleeding obvious.
Barry McNally
187
Posted 29/12/2014 at 14:37:39
Steve @ 186, Leeds for a start and they even went won better by being relegated to the third tier! I'd say there's a few more across the continent e.g. Juventus although be it as a penalty.
Barry McNally
188
Posted 29/12/2014 at 14:42:03
Sorry Steve, read the question incorrectly!
Max Wilson
189
Posted 29/12/2014 at 14:55:50
Thank you GAVIN, some intelligent analysis I think. We've now gone 9 games without a clean sheet, leaked 31 goals so far this season-last season it was 39 for the whole season! RM should have got us at the very least one new experienced defender at the start of this season to address our ageing defence. He needs to do it in January in my opinion. Or we will continue to leak goals.
Keith Meakin
190
Posted 29/12/2014 at 15:00:34
Instead of analyzing the last game Bobby should maybe go to the Goodison archives grab a few dvd's from last season sit down and watch. Remember how we played great fast flowing football were players played in their correct positions and Lukaku was able to attack the ball instead of constantly receiving it with his back to goal. To many players out of sorts this season can only be the Managers fault. Baines and Coleman don't become rubbish players all of a sudden the Managers confusing their heads.
Damian Nolan
191
Posted 29/12/2014 at 14:59:40
Re Barry @172 - Barry, you refer to the stat I posted re 27 out of 72(as you put it but I believe it is 75) you refer to the 6 wins prior to that. On the basis that you were being serious as opposed to tongue in cheek I will give you that and update it to read 45 out of 90 (or 93 I believe) I trust you are now content. This is remoniscent of the apathy that pervades EFC at the highest echelons so you are in vaunted company at least.
Harold Matthews
192
Posted 29/12/2014 at 15:08:06
Interesting post Gavin but your 2nd paragraph was a bit too long for my dodgy eyesight. Sorry mate.
Patrick Murphy
193
Posted 29/12/2014 at 15:14:11
Keith - Given the performances of most of the players this season is it even possible to pick Everton's best eleven players when they are all fit and available? Perhaps that's what the manager should do at this juncture - decide upon his best 11 and stick with them for half-a-dozen games regardless of results. I would give Barry a month off and see if that helps him to recapture his form - if things continue to go awry we will need him at full throttle in the final months of the season, not burnt out and ineffective as he appears to be at this moment in time.
Keith Meakin
194
Posted 29/12/2014 at 15:20:52
Please don't play Eto'o anymore the guy's not up to it, maybe he needs a good two week break, as for McCockup please don't play him against Hull. I'm dreading the Hull game and will definitely have a hangover from the night before. I will be going drinking around the old town of Hull with the wife where all the real ale pubs are so if anybody's doing likewise let me know and I will tell you where the best pubs are.
Andrew Ellams
195
Posted 29/12/2014 at 15:41:15
Steve @ 186, I would guess it's never happened because this season's change in the Europa League rules probably means it's the first time it has been feasible.
Paul Dark
196
Posted 29/12/2014 at 15:29:39
Just been listening to RM on the OS: it's fascinating psychologically, less interesting from a supporter's point of view.
Love him or loathe him, Roberto is an ideologue. He lives life by certain (fixed) ideas and if he lets them go, one feels that he feels that he has let everything go. I must say that, like Moyes, he doesn't come across as being the sharpest tool in the box. If his methods had led to remarkable success, then that would be one thing. The relegation with Wigan was a headline - underneath that, was an abundance of cavalier and poor performances, usually leading to defeats and a lot of conceded goals.
Until now, I have given him my support. However, the lack of coherence in his decisions is unacceptable. Why are Pienaar and Oviedo on the bench but the hopeless and hapless (I'm being polite) McGeady on the pitch, even for one game? There are many more unanswered questions, not least of all why players are consistently being played out of position (when it consistently and spectacularly hasn't worked).
As a chairman, Kenwright needs to get answers to these questions and base his next steps on those answers and his judgement of them. I fear he is too weak and timid to do that - unless his self-preening popularity is questioned, of course.
What is currently going on is quite unacceptable. Martinez's post-match interviews are unequivocally cringeworthy. He says in the above interview that we were controlling the game in the second half, and elsewhere he says that there were some 'incredible performances' yesterday from us. There were - but not in the sense he means. We look totally lost - Baines had no idea where he was playing yesterday - with individual players trying to impose themselves frantically (Mirallas, Baines, most notably).
Robles, McGeady and Alcatraz are simply appalling acquisitions, simply appalling. They have no place in the PL. But it comes back to what I said at the beginning of this post. Martinez is an ideologue, and he would rather lose football matches than admit he is wrong.
Everton deserve more.
Jamie Barlow
197
Posted 29/12/2014 at 15:42:21
Max, we already have 3 experienced centre backs. Experience isn't the problem. It's the set up. It's asking players to do things they can't and stopping players doing what they do best.
I'm at a loss as to what the coaches and manager do with us on the training groung. Everything we do is so slow. We can't cross a ball, whether it be from a corner, free kick or in open play. In fact, we struggle to put 5 passes together unless it's Howard to Jags to Distin and back again.Our defenders are all over the place or don't have a clue where they should be. We can pass the ball nervously all day at the back. As soon as we go over the half way line, we struggle.
If Martinez stays, which I hope he does, I hope he has a good look at his back room staff because they don't seem to have a clue what's going on or how to solve the problems.
Daniel A Johnson
198
Posted 29/12/2014 at 16:05:14
We have already conceded 31 goals at the half way stage of the season.
In the whole of last season we conceded just 39 goals, only Manchester City and Chelsea boasted a better record.
That's the problem right there we are defensively shite and playing Russian roulette in front of our goal with the tippy tappy stuff. Teams pushing up high and getting at our back line is killing us.
Max Wilson
199
Posted 29/12/2014 at 16:07:13
Sorry Jamie, I meant the older players are getting past 90 minutes of PL standard playing. Loads of us have aired this opinion. I'm not original.
Daniel A Johnson
200
Posted 29/12/2014 at 16:10:10
the main fear with Evertonians was that Wigan were defensively shite and cavalier.
However, it seems that these fears were justified.
2nd worst goals against in the league, only QPR worse than us incredible...........
Andy Walker
201
Posted 29/12/2014 at 16:14:36
If you were in a relegation battle would you appoint Martinez to get you out of it?
I wouldn't.
Andy Walker
202
Posted 29/12/2014 at 16:17:16
Paul 197, I agree with everything you say, I just hope BK feels the same and takes action quickly.
I think at this stage we can still attract a decent manager, leave it too long though and that may not be the case - heaven forbid, but can just imagine if we are in the bottom 3 with 10 matches to go, then we'll end up with Pulis or something similar.
Frank Crewe
203
Posted 29/12/2014 at 16:19:32
@Dan201
Wigan may have been defensively shite and cavalier but we are just defensively shite. At least if we were cavalier our play might be more acceptable.
Gavin Johnson
204
Posted 29/12/2014 at 16:21:01
At the end of the day. Martinez is too much of an idealist to completely change the idea of passing from the back. We did it successfully last season. We've also kept a few clean sheets and have looked pretty solid when Stones and Jags have been paired together.
In my other post I've argued the merits of bringing a defensive coach in, but I think it's probably more to do with the players, as exemplified by us looking sound when Stones has played with Jags. It's no coincidence that Stones is the most comfortable on the ball. So unless we sack Martinez we need to work within that system, like last season. So we urgently need to bring in an established defender this window, because the promising defenders (Galloway & Browning) aren't ready, and (Distin & Alcaraz) are too old and shite, plain and Simple!
Paul Tran
205
Posted 29/12/2014 at 16:31:15
If these players can't 'pass it from the back', how come they did it last year? Surely not the lasting influence of Moyes?
Passing from the back is fine in its place, when it is done well and when there is movement in front of the passer. There is no movement, no taking of responsibility from players who have previously done this, hence the passing is 'poor'.
Our problems are running far, far deeper than the players' ability to pass, the 'system', tikiiiii-takiiiii, or whatever the phrase of the week is.
In any walk of life, you ask yourself what you do when you perform well, what you do when you don't and then compare the difference. That difference between this season and last season is huge!
Jamie Barlow
206
Posted 29/12/2014 at 16:36:57
Fair enough Max, I wasn't having a go. I just think it's the set up and the way we play that's the problem. With the money we have or haven't got, any new players we get in aren't going to make any difference.
The bigger problem is Martinez doesn't even think we need to strengthen in defence. Didn't he say the younger lads are adequate and he won't be buying in January?
Paul Tran
207
Posted 29/12/2014 at 16:40:33
I wouldn't either, Andy, but remember that he did it two years running (I think) at Wigan and the perceived wisdom the third time was that he'd do it again.
Phil, could you find out from the pie-eaters the difference between when he avoided the drop and when he didn't?
All redundant, as we won't get relegated. If you disagree, spare me the vitriol and go to the bookies. The odds are tempting but you'll lose your money.
Steve Brown
208
Posted 29/12/2014 at 16:24:26
Alan 147, Royle wasnt sacked. He resigned when the board would not back him to reverse the sudden slump by signing two players - one being Jan Age Fjortoft. What followed was a succession of shit managerial appointments and poor management by the board. We've already got the latter - and judging by some of the names being quoted on TW (Pullis, McLaren, Eddie Howe) we might have the former soon as well.
From the day Martinez was rumoured to join us, I posted on here asking why would a Top five club possibly hire a manager who just got his team relegated. But as far as I concerned, his top five position last season buys him time to sort this. The alternative of removing him might seem like a sort term fix, but how often has it actually improved in the long-term for a club? It certainly didnt for us when Joe left.
Karl Jones
209
Posted 29/12/2014 at 16:30:00
We may have better players than some of the teams below us, but my main concern is the lack fight and determination to not lose games. Even Burnley at the bottom as with all PL teams, produce fighting displays. That should be a given at this level. Could anyone see this Everton squad coming back from 2 down at Man City?..Burnley will get a few more wins and so will most of the teams below us. The way the heads went down after the second Newcastle goal was alarming. I've not seen that for a long time.
Everton have become far too nice under Martinez .Whereas under Moyes we were acknowledged to be one of the hardest teams to play and score against, we've now become an easy touch with little passion.
You just couldnt see Martinez passionate and angry in the dressing room after some of the rubbish performances this season. He seems a man in denial and needs to be replaced before our nightmares become a reality.
Andrew Ellams
210
Posted 29/12/2014 at 16:47:20
The difference between this season and when it was going well last season is the speed of the passing. They weren't playing this come and get it crap that cost us so badly yestereday. I have never seen any team play such suicidal football in my life.
Steve Brown
211
Posted 29/12/2014 at 16:48:22
So where do the players stand in all this?
ERRORS LEADING TO GOALS THIS SEASON (PREMIER LEAGUE ONLY)
Everton - 10
Sunderland - 6
Liverpool - 6
Newcastle - 5
Crystal Palace - 5
West Brom - 5
Aston Villa - 4
Leicester - 4
Arsenal - 4
Tottenham - 3
West Ham - 3
Manchester City - 3
QPR - 3
Hull - 2
Southampton - 2
Manchester United - 1
Burnley - 1
Chelsea - 1
Stoke - 1
Swansea - 1
Steve Brown
212
Posted 29/12/2014 at 16:51:45
I am pretty sure Martinez has not told the players to slow the speed of passing or press less in our own half. What he has been guilty of is 1) being too loyal to players whose form and attitude have dropped 2) pardoning errors by his senior players while dropping less established players as soon as they make a mistake 3) not adjusting the tactics to reflect the reality of 1) and 2). He finally seems to have lost patience with some of them and recognising that his tactics need to change till we get some form back.
Paul Dark
213
Posted 29/12/2014 at 16:52:29
Andy - agreed.
Listening to Garbutt on the OS, his performance in front of the camera is as accomplished as on the pitch. I think he could be an even better prospect than Stones. Let's see.
We really do need to get together players playing well who are up for the fight (Garbutt and Besic included, among others) and build a team, a formation and a shape around them. We must give Rom support and encouragement; he can help to get us out of this crisis (I dare use the word, yes). He's a class act who is out of sorts.

Ray Roche
214
Posted 29/12/2014 at 17:04:13
Steve Brown#209, Wasn't it the fact that Royle was prevented from signingTore André Flo that led to Royle's departure?
Steve Brown
215
Posted 29/12/2014 at 17:15:54
I stand corrected Ray. A far better player than Fjortoft as well!
Patrick Murphy
216
Posted 29/12/2014 at 16:58:28
I don't get the reasoning that Roberto has changed his tactics at all, not once, not even for a brief period during a game. He may have altered the players involved but I haven't seen any change of tactics. I think he may have lost patience with a few players but that isn't the same as addressing the core reason for conceding goals - didn't he say last year that making mistakes was an acceptable thing as long as the player was trying to play the right way or as he may have said in the correct manner.
I think there is more fear instilled in this current Everton set-up than there ever was in previous regimes good or bad, last season was a getting to know you period for the players and incoming staff and things went well so nobody learned too much about how players and staff would react in a crisis.
Both sides of the divide have found that out this season and it hasn't made pleasant viewing and it has also raised many more questions about the methods of the manager and the abilities of the players.
DM for all his faults managed to keep the players upbeat and sent them out with a simple mantra work hard and you will win points. I know that many of us wanted more from Everton FC but perhaps this season we have tried to run before we could barely walk causing the current loss of confidence and belief. Please god we get a decent result at Hull City and follow it up with a few good performances by the end of January.
Ray Roche
217
Posted 29/12/2014 at 17:18:15
Steve, we could do with them now! Royle AND Flo.
Joe Clitherow
218
Posted 29/12/2014 at 17:10:14
Paul 208 and Andrew 211
I don't think the differences between last year and this necessarily lie with Everton. As others say, other teams have worked us out. That's not hard but it is coupled with the "one size fits all" approach Martinez seems to have. Moyes again was often criticised for focussing too much on the opposition but it seems to me Martinez does not do any homework at all, just turns up. See Garbutt's astonishing comments for confirmation of that. It is no coincidence that every team we play turns up with the same game plan to counter us. Even Spurs! Effing Spurs outworked us.
I think this rot first started with the hammering by the RS last year when Martinez was like a rabbit in the headlights and seemingly couldn't move a managerial muscle to change things when every Evertonian I know could see what was being done to us.
Far more stubborn and limited than Notes ever was, just dressed up in a different way to fool our chairman.
Andy Crooks
219
Posted 29/12/2014 at 17:18:55
Andy Walker we ARE in a relegation battle and we have the worst coach in the history of our club to get us out of it. I would have WAlter Smith back with the instructions to keep us safe. Then appoint Laudrup.
Steve Brown
220
Posted 29/12/2014 at 17:24:04
agree Ray 218, big Joe would sort this out in a week.
Joe Clitherow
221
Posted 29/12/2014 at 17:24:01
Ironically given the nature of my post , "Moyes" came out as "Notes" in my predictive text!
Steve Brown
222
Posted 29/12/2014 at 17:28:39
Andy 220, you are the first Evertonian I've ever met who wants Walter Smith back!
Andy Crooks
223
Posted 29/12/2014 at 17:32:31
Steve , that is how dejected I feel.
Tom R Owen
224
Posted 29/12/2014 at 17:31:46
Andy 220
You are obviously not old enough to remember Gordon Lee- now he REALLY was awful!
The other point is - who really would you want for the second half of the season?
James Marshall
225
Posted 29/12/2014 at 17:27:02
Aside from the dreadful mistakes, I still think it's the tactics that lie at the heart of our current plight.
By the time we get anywhere near the opposition goal, they have 9 or 10 men behind the ball, two banks of 4 lined up and simply wait for us to struggle to get through them, or round them.
There are few other teams who play like us - City, Chelsea and Arsenal are the only others as I see it, and they have much better players than us - like it or not. Arsenal have struggled a bit this season, but the other two are doing just fine - because they have better players than us.
We have Barkley running headlong into 3 defenders at a time, Lukaku with his back to goal because the area of play is way too small for him to face defenders and run at them (which is what he's good at), and he struggles to hold the ball up (the thing he's shit at).
Martinez seems to think that this will work - it won't. We're piss easy to play against because of it. You can all see it, I can see it, and the players can see it, hence their lack of confidence, perhaps not in their ability, but certainly in a system that simply doesn't work unless you have Diego Costa, Fabregas, Hazard etc, or Toure, Silva, Lampard, Aguero etc all tapping it about.
We have Mirallas, and I'd say he was about the only player who can handle the system, which is evident in him being the only (apparently) decent player on show of late.
We need to learn to do other things, like playing on the break, sometimes going long (yes, long to Lukaku), letting teams have the ball more so they come out of defence and leave gaps for Lukaku, Coleman and Mirallas to run into. It's not fucking rocket science.
The area of the pitch we play in, in an attacking sense is tiny, so compressed around the opposition 18yd box it's unreal. It's also not working.
Patrick Murphy
226
Posted 29/12/2014 at 17:34:51
I just came across an article written by Mark O'Brien on Dec 30 2005 for the Daily Post

IF ANYONE knows how to stop Everton's present slide then please, don't be shy in coming forward.
David Moyes seems to have tried just about everything, in terms of the shape of his team and the personnel, but the end result doesn't seem to change, no matter who we face at the moment: we keep getting hammered. Earlier in the season it was the lack of goals scored that was the greatest concern, with all eyes on the January transfer window and the opportunity to hopefully bring in another striker. However, it is now abundantly clear that the problems run far deeper than that.
Most alarming is the way that this Everton side seem incapable of matching their opponents physically, especially in midfield. The central defenders aren't playing well, but they would look a lot better if opponents weren't walking straight through us. The likes of Mohamed Sissoko and Steven Gerrard were too strong on Wednesday, but the signs were there a while back, when the likes of Damien Francis dominated the middle of the park for Wigan at Goodison. In the coming months we're going to need to scrap for every point if we're to stave off the very real threat of relegation, and that means winning the physical battles first and foremost, and to coin an old cliché, to win the right to play football. Last season that was what we were so good at, bullying teams and breaking their will, but it seems that maybe we are feeling the loss of characters like Lee Carsley and Alan Stubbs just as much as the more celebrated talents of Thomas Gravesen. We look doomed at the moment, but there are a lot of points to play for and, remarkably, we still have some breathing space between ourselves and the drop zone, although it is being whittled away with every passing week. The next three league fixtures, then, are simply immense. Any side in our position harbouring any thoughts of saving themselves must be looking to take more or less maximum points off Sunderland, Charlton and Portsmouth. There's simply no two ways about it. Regardless of who we do or don't bring in during the transfer window - and indications are that we shouldn't be expecting any of star names that were bandied about earlier in the year - it's what the present crop do in the next fortnight or so that could decide our Premiership fate. Hopefully the players feel that just as acutely as the fans.
Everton had played 19 Won 5 Drawn 2 and lost 12 scoring just 10 and conceding 30 with 17 points on the board. We have been here before unfortunately and this was also after having had a good season - some things just don't change do they? Everton won their following four league games so let's hope we can do the same thing in the coming weeks.
Ray Roche
227
Posted 29/12/2014 at 17:37:22
Tom, under Lee we finished 3rd, 4th, 19th and 15th.
But we didn't go down. I'd accept 15th now, wouldn't you?
Keith Meakin
228
Posted 29/12/2014 at 17:41:49
Anyone think we are missing Stubbs from the coaching staff?
Roger Helm
229
Posted 29/12/2014 at 17:40:53
The problem with the passing game is that it requires a lot of confidence. On a losing streak, confidence goes so players don't show for the ball, and muscle tension makes passing accurately and controlling quickly more difficult.
So will RM have the flexibility to change the pattern? What we need now is results like gritty 0-0s away and ugly 1-0s at home, with the players scuffling and fighting for every ball. No team can succeed without a strong defence and ours is the second-worst in the division.
We also need a PL-quality goalie and a commanding CB in January but tbh I can't see any of the above happening.
James Marshall
230
Posted 29/12/2014 at 17:47:28
No Keith - we're not missing anything, we just have a stubborn manager with blind faith, and no Plan B.
Alex Fox
231
Posted 29/12/2014 at 17:37:40
Truly baffling tactics from the manager yesterday. He talked about the need for 'balance' before the game and then proceeded to play the ancient Eto'o wide left and Baines in the number 10 role. What followed was the most annonymous display of Baines' career, the sight of Cameroon's top goalscorer spending most the game as a utility left back, and a league debutant in Luke Garbutt increasingly confused as Baines kept attempting to drift back over onto his natural flank and into the youngster's space.
Half the team looked like they weren't sure what they were meant to be doing. They couldn't even keep the ball. Conceding possession and playing on the counter is a perfectly legitimate tactic (plenty have beaten us doing just that), but it won't work if the ponderous Eto'o and McGeady are the outlets. And what exactly is Gareth Barry's role right now? Several times Newcastle broke away into a good 40 metres of space between our midfield (camped ineffectually as ever around the opposition 18 yard box) and the centre backs. Surely Barry is meant to sit back and fill that gap?
Martinez is likeable, ambitious, and has earned time to get things right for his first season achievements. For all our struggles I wouldn't bet against him guiding Everton to victory in the Europa League. However, the concern is that last season's league exploits are looking worryingly like the work of a David Moyes-purchased and coached team given a temporary confidence boost by an optimistic and passionate new boss.
Moyes left Everton with its strongest squad in two decades; the team that took to the field against Newcastle (4 relegated Wigan alumni, 3 players who ought to be considering retirement, 1 league debutant, 1 Aidan McGeady, and two full backs enduring the worst form of their careers) is simply not good enough, and I'm not convinced of his judgement in the transfer window to put it right.
Worrying times.
Andy Crooks
232
Posted 29/12/2014 at 18:16:47
Tom, I remember Gordon Lee well, and I,d have ahead of the current clown.
Phil Walling
233
Posted 29/12/2014 at 18:20:11
Andy, I notice that he was an unused sub yesterday so he has not exactly been frozen out of the dressing room. I guess he's miffed at being overtaken in the pecking order by Garbutt.
James Stewart
234
Posted 29/12/2014 at 18:32:32
The RS got the Spanish waiter. We got the Spanish idiot.
'Half the team looked like they didn't know what they were supposed to be doing'
Looking more and more like a Martinez trademark
Paul Tran
235
Posted 29/12/2014 at 18:32:27
Phil, the worst thing is that when he came on against United, he ran at them like a man possessed and we suddenly looked threatening. I thought that was just what we needed and he's hardly been seen since.
Sean Kelly
236
Posted 29/12/2014 at 17:21:58
I think the problems we have are all down to Roberto:
(1) we are not fit. After a shite pre-season, we see players puffing and panting after an hour. Surely if it's pass pass pass and pass again the ball is doing most of the work. We are not bursting forward at speed because we are not fit.
(2) Players are playing our of position to accommodate Roberto's Barcelona mindset. Naismith, Barkley and Eto'o are not wingers and yet time and again we see them there.
(3) players are not suited to the way Roberto wants us to play. Lukaku cannot play with his back to goal. He can't trap a ball or hold it up. He's better playing on the shoulder of a defender and running on to a through ball. Distin and Jagielka cannot play the ball out of defence. Hoofers the pair of them.
I said before on a difference thread that we are an Aldi / Lidl Barcelona. We promise much but the quality isn't there. It's boxed well but inside it ain't so good.
The last thing I lay at Robertos door is why when someone shows some decent form they are dropped to the bench for his favourites. Besic had played well in Macca's absence. When Macca came back he was dropped even though Barry was playing shite constantly. Garbutt is the same after the Europa he was dropped again while Baines was playing shite.
The players are decent players in the main but are being asked to play in a system they don't understand or being played in positions they are not right for. Unless Roberto has a road to Damascus moment and admits its not working I fear we will be sucked in to a relegation battle. Either Roberto changes or Billy will have to make the change for the clubs sake. I thought Roberto might be the one to take us forward but with him stuck on an iffy Plan A and no sign of a Plan B or C ice just can't drift on and see where he takes us because that may be in the Championship.
Phil Walling
237
Posted 29/12/2014 at 18:23:26
Meant to add that Gordon's reign was not always as bad as has been reported here. He won almost 40% of his games and signed some quality players like Dave Thomas, John Gidman, Colin Todd and Graeme Sharp.
I also remember him including 'flair' players like Andy King, Martin Dobson and Duncan McKenzie in his early games and, of course, he also inherited Bob Latchford.
In his first two seasons we finished third and fourth before sinking to nineteenth in a twenty two team First Division. The team was in fifteenth position when he was sacked with gates down below 20,000 in 1981.
I often thought his biggest sin was his dour Black Country accent and who now remembers Jim McDonagh being in goal for his final game?
We've had worse !
Tom R Owen
238
Posted 29/12/2014 at 18:46:29
Ray
I would DEFINATELY take 15th come May
I'd like to think we can turn things round by the time the red shite arrive in February
John Malone
239
Posted 29/12/2014 at 16:04:16
I feel like Martinez is not demanding enough from his players and the fear factor which all top managers have is not there. The out and out fear off failure or of costing the team then facing the wrath of the gaffer just isn't there, Barkley's reaction after giving away the third goal say's it allhe is not even arsd an no one is bollocking him. I never thought I'd say this but I wish Phil Neville was back in that dressing room, he mite not have been a talented footballer but he is the type of character we badly need right now someone who will talk organise and keep on everyones back on the pitch and not let standards slip.
The proof is in the pudding now even a blind man could now tell you McGeady, Distin, Alcaraz, Robles and yes Samuel Eto'o are not good enough for this team now let's see if Martinez has got the nouse andthe balls to do the necessary!
Andrew Ellams
240
Posted 29/12/2014 at 19:01:14
If Garbutt is overtaking Oviedo then rightly so in my opinion. He is probably the best all round fullback at the club. By that I mean his ability to defend and go forwards
Colin Glassar
241
Posted 29/12/2014 at 18:58:23
Stop being a revisionist Phil. Yes Lee had those players and yes he built a great title challenging team and yes he broke it up for the simple reason that he hated flair players!!! He's a criminal in my eyes.
Phil Walling
242
Posted 29/12/2014 at 19:02:54
John; Neville is playing pundit at the moment so would be open to a call from BK ! Weir and Round are unemployed whilst Irvine will soon be so. Stubbs is learning the trade in Scotland and Lumsden is on the point of joining Moyes in Spain.
All were talked of last time round but I think our leader will go for McLaren or Pulis.
What think ye ?
Colin Glassar
243
Posted 29/12/2014 at 19:12:34
Mclaren, Pulis and Neville, that's a real house of horrors that one.
Phil Walling
244
Posted 29/12/2014 at 19:12:03
Hey Colin, you're on the warpath again ! Talking of 'breaking up', you could say the same about Catterick but, in both cases, the players' quest for money had a lot to do with it. The common factor was the careful housekeeping of a certain business mogul !
Richard Lyons
245
Posted 29/12/2014 at 19:08:23
Hmm - I've often wondered, if RM and BK don't read ToffeeWeb, how would they know how crap the team really are...
"But he hasn't got anything on," a little child said when he saw the Emperor...
Reacting to RM's statement that some of the players played "magnificently", this quote from Ian Wright: "I watched the game and sometimes I had to leave and it was then that this 'magnificent' play happened, because I didn't see anything magnificent."
Do you think they listen to 5 Live?
Jackie Barry
246
Posted 29/12/2014 at 19:12:26
Best squad of players in 30-yrs somebody wrote, give me a break. We have an OK squad consisting of a couple of good and OK players, nothing more nothing less. Certainly not top-4.
Paul Hewitt
247
Posted 29/12/2014 at 19:21:10
Not top 4 Jackie yes but much better than we doing now.
Phil Walling
248
Posted 29/12/2014 at 19:20:54
Linking the posts of Colin and Jackie AND extending the time scale to 35 years, don't you think Lee had a more TALENTED squad than this ?
It's not the talent it's what the bloody managers do with it that counts !
Louis Parr
249
Posted 29/12/2014 at 18:54:55
Lets take a look at the overview of the game. This will show you how poor the players and manager were. Firstly, who the hell puts Distin and Alcaraz at the back? One of them is as old as the Loch Ness monster and the other seems to have his head in the clouds every game. They play 20 yards apart. Take a look at John Terry and Gary Cahill. They are never more than 5 yards apart. The only mistake the two of them have made all year is this weekend and how did that happen? They were too far apart.
Secondly, why was Eto'o on the left and Baines in CAM? It was Luke Garbutt's Premier League debut and he sticks a player who has hardly ever played there. If he had switched Baines for Eto'o I wouldn't have minded as much. Eto'o isn't even left footed.
Thirdly, stop moaning at referees, Martinez. Sure Cisse shouldn't have been on the pitch but, for God's sake, get a grip. You're worse than Houllier.
Let's have a look at the goals. First goal: Why was the cross allowed to come in? Surely you should close down the cross? Then, who was marking the two at the back post? Then Robles gets sucked to the ball and Coleman just drifts away from Cisse. Most likely too scared to be elbowed again.
The second goal reminded me of something that I see watching Wrexham. Firstly why doesn't Robles catch it? Then Barry makes a crap clearance. Then Baines should just get rid but decides to give the ball to McGeady and then gives it to their player. Then we've got 5 men around the ball and the ball slowly goes past Robles.
Then the last goal. It's okay to make a mistake but to casually jog back is annoying. If that was Rooney he would have after that. And what was Alcaraz doing? So if you think he shouldn't get the sack then you must be mad.
Colin Glassar
250
Posted 29/12/2014 at 19:25:42
A lot more talented Phil. But Lee couldn't stand the likes of Mckenzie, King, Dobson etc...as he thought they were show boaters and didn't work hard enough. He was a miserable sod who made OFM look like krusty the clown.
Colin Glassar
251
Posted 29/12/2014 at 19:39:59
Can't complain with anything Carra just said. We've got an ageing defence who's age is starting to show.
John Britton
252
Posted 29/12/2014 at 19:36:44
Roberto certainly is the most positive manager around, but there comes a time when you just can't keep spinning the same record over and over again. His lack of plan B is alarming. Confidence looks shot and teams playing us now have sussed it out. Never thought we would need to win at Hull to keep our season alive, but thats what we are facing.
I know lots of people don't rate him but Tony Pulis would get some organisation back and get rid of the dead wood. We are carrying to many passengers . It looks like a hard long winter ahead!
Paul Tran
253
Posted 29/12/2014 at 19:38:35
Lee gave first to to Wembley, first derby win. First two seasons saw great play and lots of goals. May have won the league with a good keeper. Very unlikely in the cups.
I'd love a manager like that now.
Peter Bell
254
Posted 29/12/2014 at 19:52:17
Paul, Lee took over Binghams team for the second leg of the semi final at Bolton, you can hardly give him the credit for getting us to Wembley in 77
Colin Glassar
255
Posted 29/12/2014 at 20:19:00
He had our best goalie ever Paul, Big Georgie Wood. He was even better than Big Nev IMO. He, Lee, probably didn't like George either.
Paul Dark
256
Posted 29/12/2014 at 20:23:10
Col - I loved George Wood, but behave ... . Nev is (arguably) the best of all time anywhere.
He is probably our best ever player.
Tom Evans
257
Posted 29/12/2014 at 20:26:38
Gordon Lee.
Best remembered for coining the phrase "sniff of the hot dog" as we were winning our way to Wembley.
Peter Bell
258
Posted 29/12/2014 at 20:27:19
Colin, George Wood better than big Nev ?
You havent been on the sherry have you ?
The year we could have won the league was when we had not lost a game until christmas.
We had a very cold Winter, this was before everyone had under soil heating.
We seemed to play and lose on icey pitches, when everyone else got games postponed.
Suddenly everyone had three games in hand and we had not gained any extra points.
He was always complaining to the press was GOrdon Lee.
It gained him the nickname the " Lee sa Mona"
Colin Glassar
259
Posted 29/12/2014 at 20:29:48
I used to stand on the street end just behind big George, Paul and he was so big he didn't have to dive or jump he just stuck out a foot or hand. Nev was great but Georgie combined greatness with Hollywood looks. We all had a big man crush on George back then. Don't think Nev had that kind of impact.
Mike Oates
260
Posted 29/12/2014 at 20:34:20
Watching Liverpool , quick balls, pressing , pace ... EGM isn't that what we used to do
Paul Dark
261
Posted 29/12/2014 at 20:36:25
Col - ah, let me not intrude on private grief, mate ... :-)
There was something quite gentlemanly about Wood - not sure what.
Colin Glassar
262
Posted 29/12/2014 at 20:35:44
Tom, he also said "if I want to see stars I just have to look up into the sky". Now I know why Phil W dislikes Martinez so much, he's from the school of Gordon Lee and OFM. Two dour bastards.
Peter Bell
263
Posted 29/12/2014 at 20:34:20
Tom, I can still remember that rain soaked night in the open end at Bolton when we got to Wembley.
Throw in taken on the left by Dobson, down the line to Goodlass, cross on a postage stamp for Latchfords head in the 6 yard box.
Got the blue streak train home and got in about 2am
Colin Glassar
264
Posted 29/12/2014 at 20:38:56
Plus, he had a great baritone voice Paul. If the lads were quiet on the st end he'd lead us off on a sing song. Nev was good but there was only one Georgie Wood (even rhymes).
Peter Bell
265
Posted 29/12/2014 at 20:44:43
Wood, Pejic, Todd, Lyons, Darracott, King, Dobson, Latchford, McKenzie, Thomas.
I am missing one I cannot recall.
Colin, any ideas ?
Colin Glassar
266
Posted 29/12/2014 at 20:52:58
Gidman for Darracott, Peter. That was some team.
Colin Glassar
267
Posted 29/12/2014 at 20:54:28
Oh, and you're missing Bruce Rioch.
Tony Twist
268
Posted 29/12/2014 at 20:40:54
Moyes and Martinez are very similar in their ways, very stubborn, like to advertise themselves but have no plan B. Moyes at one extreme, defence being the priority and Martinez at the other end of the scale, with offence being the priority. We need a manager in the middle who is willing to bring out the creative side but without losing a steely defensive win at all cost mentality to our play. Unfortunately my choice would be Slaven Bilic but he is not going to give up the good life in Turkey for the poison chalice of the Goodison Park hot seat. Tony Pulis will do for the rest of the season to see if he can salvage something.
Peter Bell
269
Posted 29/12/2014 at 20:56:56
Thanks, Colin, I was thinking Buckley.
Colin Glassar
270
Posted 29/12/2014 at 20:59:15
I hate making comparisons with our RS neighbours but there are certain similarities between what happened to Brenda and what is happening to us.
A few weeks ago a lot of their fans were calling for his head using the same arguments a lot of us are using now e.g. Tactically stubborn, clueless, no plan B, over reliant on certain players, bad buys etc... But now it looks like he's slowly turning things around and the self belief is coming back.

Rodgers stuck by his guns and is starting to see a mini revival. Why can't we do the same?
Raymond Fox
271
Posted 29/12/2014 at 20:44:51
Louis 251, so who are you going to play instead of Distin and Alcaraz? Someone your going to spirit from somewhere! Luke Garbutt had an excellent game along with Kone who has been slagged off continually.
Oh and now we shouldn't complain if we get screwed 2 weeks on the trot by crap/biased refs, which cost us points, possibly 6 pts. Martinez should go nuts and get fined if that's what it takes to get some decisions which we're entitled to.
Your not mentioning it was wonder boy that showed rubbish control and lost the ball to Colback, who promptly scored! Again, the manager's to blame.
I appreciate its open season on Martinez but let's talk sense.
Mike Oates
272
Posted 29/12/2014 at 21:22:12
Colin 272# Liverpool have youngsters , Sterling, Lallana, Coutinho, Moreno who deliver , our ageing squad don't. Look at Liverpool tonight,pace, pressing. Did you see Eto'o, Barkley, McGeady press anyone yesterday - no.
Liverpool's average age must be at least 6 years younger than ours.
Colin Glassar
273
Posted 29/12/2014 at 21:28:49
Apart from Distin, Alcaraz, Barry and eto'o that was hardly a team of geriatrics Mike.
A few weeks ago the same arguments were being used by them as are being used on here now about Martinez. Their board gave him time to sort things out which he is slowly but surely doing and I expect Martinez will also be given time to turn things around.
Mike Oates
274
Posted 29/12/2014 at 21:36:38
Totally agree Colin, we don't want knee jerk reaction . The manager doesn't suddenly lose it over the year, but it was a bad summer and we haven't recovered. He's made mistakes which hopefully he's learning from but at least Brenda had tried things, different systems etc to sort it out and has found one which works. I want Martinez to do something different, realise that his system is working with the players current form, but for goodness sake he needs to do something. He does need a clear out this summer , the age profile is alarming.
Mike Oates
275
Posted 29/12/2014 at 21:42:35
Sorry meant to be " his system isn't working "
Andrew Hawes
276
Posted 29/12/2014 at 21:32:26
Wish people on here would give it a rest about "School of Science, Howard Kendall etc,etc.." This is 2014-15 NOT Everton Football Club going along some parallel universe which will soon see us witness a repeat of the glory days of 30 years ago!!
If last season we played some of the best football since that era, then this season we are playing some of the worst. This side is a couple of defeats away from a serious crisis!!
Reports today about Man Utd in for Coleman for 㿅 million??Put yourself in his shoes?? Away like a rocket!!...

Ian Linn
277
Posted 29/12/2014 at 21:45:24
Named my Budgie George after George Wood.
Colin Glassar
278
Posted 29/12/2014 at 21:51:20
Good on you Ian. Georgie Wood is a legend.
Mike, I think Martinez tried to change the system from the Stoke game to the Newcastle game but as one of the players said, they didn't have time to practice it (less than 48 hours).

I think Baines will stay in MF and Barry might move into the defence to be replaced in MF by Besic etc... They will need to practice this over the next few days to get it to work. Hopefully, Kone will start again.
James Marshall
279
Posted 29/12/2014 at 22:13:18
"They didn't have time to practice"
Hahahahahahaha! Brilliant, Colin!!
Patrick Murphy
280
Posted 29/12/2014 at 22:17:41
It's a good job the other lot aren't doing this season what they did last season it's bad enough hearing that they won never mind reading about how slick they were or how they passed with precision. The only thing that matters at this moment in time is how well or not Everton are doing and what our results are in the forthcoming matches, whatever the other lot do until they play us is as relevant to me as how St. Mirren or Doncaster are playing.
Colin Glassar
281
Posted 29/12/2014 at 22:48:06
So Patrick, you can't use other teams as examples? Yesterday, for example, I watched how Chelsea hunted down the Southampton players like a pack of hungry wolves. Or how Burnley never gave up against city, getting that draw through sheer guts and desire. Two key traits we've been missing all season.
Patrick Murphy
282
Posted 29/12/2014 at 22:56:33
Colin of course other teams can be used as examples but we can see with the evidence of our own eyes what Everton are missing and where they are lacking we don't really need to compare ourselves with anybody else to confirm our opinions do we?
Colin Glassar
283
Posted 29/12/2014 at 23:10:35
Fair do's Patrick. But if Brenda, big Sam even Pardew were given time to change things at their clubs why can't we do the same?
Paul Andrews
284
Posted 29/12/2014 at 23:14:18
I agree 100% Colin.
To praise Martinez for managing a team that finished with our best ever points total since the Prem started, then shout for him to be sacked after less than half of the next season is absolute madness.
Colin Glassar
285
Posted 29/12/2014 at 23:20:45
Paul, there are two very divided camps now in the Everton family and I feel we are in the minority right now. At the end of the season there will be "I told you so" moment. I just hope for the good of the club it's the pro-Martinez camp which is feeling justified in maintaining the faith.
Ray Roche
286
Posted 29/12/2014 at 23:14:12
Colin, if you think Georgie Woods (Scotland's, Scotland's No 1) is better than Nev.....go and lie down, son. But read Brian Viners "Looking For The Toffees" first, it has a whole chapter on Georgie Wood and may also give people a better idea of what Lee was about. Good read.
Patrick Murphy
287
Posted 29/12/2014 at 23:13:50
Colin - I'm in two minds about the future of Martinez as Everton manager, I would love him to succeed as I think would many Blues, but until or unless he realises that his game plan isn't working and that it hasn't for quite a number of matches then serious consideration about his position would be appropriate.
If he can somehow get the players to produce more cohesive performances then hopefully good results will follow, but if those results don't come quickly and often he will have to be relieved of his duties for the good of the club not because of some personal dislike of the man.
Hull is virtually a must not lose match and Man City at Goodison is always going to be difficult given the tightness of the title race, West Brom will have a new manager by the time we play them, so it isn't going to be easy to steady the ship - but somehow he has to find a way of taking points from those games otherwise the pressure will grow to intolerable levels. Perhaps his style of management isn't suited for the dog-fight that we could become involved in and although I don't think we will fall out of the division - it gets more scary looking at the table after each passing game.
Rob Halligan
288
Posted 29/12/2014 at 23:30:47
Irvine sacked by West Brom. Pardew given permission to speak to Palace. I always think things like these come in threes.... although technically Pardew hasn't been sacked!!!
Colin Glassar
289
Posted 29/12/2014 at 23:29:39
Read it Ray. Brilliant. Just kidding about George being better than Nev btw.
Martinez has frustrated the hell out of me this season Patrick. I think he totally underestimated the challenge this season by being away in Brasil for too long, not preparing pre-season correctly, messing around with the shape of the team, the demands of European football etc...but also not being prepared for an uncanny amount of injuries to so many key players. I don't think he was prepared for the expectation and desire of the fans that this season had to be even better than last. He never had that pressure at either Swansea or Wigan where survival was seen as an accomplishment.
However, I believe he is a young, talented manager who probably feels a bit overwhelmed right now but I honestly feel he will get things right sooner rather than later and will come out of this a much better, stronger manager.
Mike Hughes
290
Posted 29/12/2014 at 23:40:19
WBA to get a new manager, palace potentially to get one.
Potential uplift for both.
Added to the list of injuries here, poor form, confidence and rumoured in-fighting, the next couple of months looks like some kind of perfect storm for us.
So much for a dry January.

Philip Bushell
291
Posted 29/12/2014 at 23:39:43
Why would he take Kone off and replace him with Lukaku when we are losing? Shouldn't both be left on unless Kone was injured.
One up front is not working and Barkley in the midfield is a waste.
Paul Ward
292
Posted 30/12/2014 at 06:19:37
(Keith Meakin 229) I would certainly like to see Alan Stubbs make a return for many reasons. He would be a perfect defence coach, he knows everyone at Goodison and was successful at Youth and Under 21 level.
I think he was an applicant for the job with Martinez. In fact if things get any worse and Martinez gets the sack BK could consider Alan for the top job. It would be a cheap way out to buy Stubbs contract at Hibs.
Max Wilson
293
Posted 30/12/2014 at 09:43:55
Has everyone read 237 by Sean K? If not, please do so! But the problem remains our defence leaks goals. At Southampton we could not even defend against crosses into our box. We should have bought a new 25/26 year old CB at the start of the season and begun to weed out our old farts.

Peter Morris
294
Posted 30/12/2014 at 12:32:59
I agree that Martinez was trying to change the system at Newcastle, but I feel Gareth Barry's experience (and lack of pace!) should now best be used marshalling the back-line, which is constantly getting caught out of shape when our useless players ahead of them loose the ball or give it away in dangerous positions.
McGeady giving the ball to Tiote at such a place and point in the game is nothing short of criminal, and I for one would avoid selecting him for the foreseeable – he surrenders possession too often and fails to work hard enough or effectively at retrieving the ball.
Besic is a solid defence biased midfielder, who I think having struggled to adjust to the pace of the Premier League, is getting better and is worth a run in the first team. My back four would be Coleman, Stones, Barry and Garbutt, with Baines ahead of Garbutt in midfield trying to make up for the loss (as that is what the situation is) of a potent Pienaar.
The case for Oviedo should not be ignored but I fear he is a bit lightweight for the fight we face at the moment. The rest of the midfield would be (if fit) McCarthy and Barkley, with Mirallas, and Kone or Lukaku up top.So many of these guys are nursing nagging knocks though.
Just keep McGeady away from the first team squad Bobby lad. He is a fucking liability we can't afford.
Colin Glassar
295
Posted 30/12/2014 at 19:44:39
Excellent post Peter. I think Barry moving back into the defence, alongside Stones, could be a great move. I really like Jags but he struggles with the ball and he now seems to find it difficult to jump.
Jon Cox
296
Posted 30/12/2014 at 22:47:35
Tony Twist 270.
Thank god someone else has seen the light.
Ask Michael to do the research. I was harping on about Slaven Bilic three years ago at least!! I've always thought that this guy is what we need.

The reason why? He's a football human being made from a footballing block of ice. In terms of his team, he takes no prisoners. He has no favorites. If you are out of form or playing the ego maniac then you may as well have a half severed leg off the somalian coast with you're only company being a great white!
He is for me the archetypal Mr freeze.
If I had to choose between Tiki Taka Latina and go for the jugular Eastern European style football then the gospel according to Mr Modric and Mr Bilic will do me every day of the week.
I liked this guy but like everyone else, it didn't take long to suss him out.
Football is like cooking. Whatever you cook do the simple things correct and you wont go wrong.
PS Paul Tran, are you referring to the statos when talking about the pie-eaters? Reason I ask is that you could be talking about fellow Evertonians, in which case if you are, then don't, because these guys do an awful lot of research for us on this website that I and people like you can't be bothered to do. They do this for the love of our club and to me they can eat what they like because at the end of the day they, will still as big as me as in they love EFC.
To close, I would like to hear 5 reasons why Bilic would be worse than RM
COYB
Patrick Murphy
297
Posted 30/12/2014 at 23:31:41
"Whatever style you play if you're not strong enough in both boxes you'll find it difficult to get consistent results. At the moment we've been losing too many games and we need to correct that.

"But there are reasons for it and none of them are the style – it's how you apply the style
." Roberto Martinez tonight in the Liverpool Echo
Looks like the manager has decided to throw down the gauntlet to his players it will be interesting to see how they react in the next month or so.

Paul Smith
298
Posted 30/12/2014 at 23:40:49
When an unstoppable force meets an emovable object. The players and Martinez right now. Let's hope one of them if not all of them can see reason.
Anto Byrne
299
Posted 31/12/2014 at 03:42:24
I worked at Vauxhalls in the 70s and they would have people come and talk in the lunch rooms. Joe Mercer, Laurie McMenemy and Gordon Lee. We asked Gordon why he was not interested in bringing in players from Europe and his answer was "They don't speak our language". How things have changed since those days – we even have a foreign manager. Even so, some things never change... he don't speak our language.
Steve Brown
300
Posted 31/12/2014 at 05:16:24
Big Dunc, Stubsie, Pullis, McLaren, Bilic, Moyes II... stellar line up of managerial talent being touted on here to replace RM. We've sadly missed out on Pardew as well!
Steve Brown
301
Posted 31/12/2014 at 05:25:32
After getting sacked by Lokomotiv Moscow, Bilic moved to Besiktas. His managerial honours = zero trophies.
Wiki says, "Known to be a big fan of music, Bilic relates his teams motivation to such, often encouraging them to listen to inspiring music before and after games. He went on to state "I cannot do my job without music, I need it to relax."
I assume he'll fire up the current team with a hearty chorus of "Send in the Clowns" before the game.
---
Add Your Comments
In order to post a comment, you need to be logged in as a registered user of the site.
Or Sign up as a ToffeeWeb Member — it's free, takes just a few minutes and will allow you to post your comments on articles and Talking Points submissions across the site.
© ToffeeWeb