BSC Young Boys vs Everton
Europa League Preview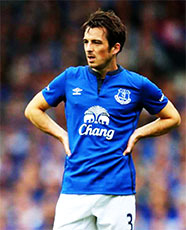 Leighton Baines misses the trip to Bern because of injury
Everton step back onto the road to Warsaw this Thursday as their Europa League campaign resumes after a two-and-a-half-month hiatus with a trip to Switzerland to face Young Boys.
In the interim period since they sealed quailfication to the round of 32 as winners of Group H, the Blues' domestic form nose-dived but has now stabilised and Roberto Martinez will, no doubt, be hoping that a return to Continental competition can provide the spark that finally turns the season around.
With their impressive wins over Lille and home and away against Wolfsburg, it has really only been on their European exploits that Everton have looked anything like the free-flowing confident side they were for much of last season. And there is confidence in the camp despite the tricky away leg they must negotiate in Bern this week.
It's been many, many years since Everton have played a competitive match on artificial turf but Blues of a certain vintage will remember how much of a scourge plastic pitches were for us in the 1980s before they were banned by the Football and Premier Leagues. Trips to Loftus Road, Kenilworth Road and Boundary Park became dreaded affairs because of our players' inability to properly adapt to the hard, bouncy plastic surfaces.
The technology of astroturf pitches has moved on since but the surface at Stade de Suisse will be sufficiently different that Martinez has reportedly had his charges training on a similar pitch at the home of Widnes Vikings Rugby League club. The manager said this week that he has been watching Young Boys a lot recently because he has been "interested to see how they adapt to playing on artificial turf. That is something we need to adapt quickly to."
If there is an advantage, it has translated into an impressive run of home form in the Europa League. From the third qualifying round on, they won all of their home games, beating Sparta Prague and Napoli and tying their record win in UEFA competiiton (5-0 over Slovan Bratislava) in the process. Plus, they've only lost twice at home in the league this season but hopefully, the Blues can mitigate that home turf advantage through preparation beforehand and concentration on the night.
Martinez will again be without Leighton Baines and Aiden McGeady, two players who missed both the Merseyside derby and the trip to Chelsea because of injury and, citing the longer recovery times that are apparently associated with the surface, the Catalan has decided not to risk Arouna Kone on the artificial turf .
Under-21s striker Courtney Duffus has travelled with the squad in the Ivorian's stead, however, and Christian Atsu is back in the squad after returning from the Africa Cup of Nations with a player of the tournament award in his back pocket. The Ghanaian's last appearance was his ill-fated start in the final Group H game against Krasnodar which he limped out of with a hamstring injury.
The manager says that he has one eye on Sunday's game with Leicester City when it comes to team selection but it's likely he will go with his strongest possible XI in Bern, meaning few changes from the side that lost narrowly at Chelsea. James McCarthy is likely to come back into the side and if the Stade de Suisse pitch is a concern in terms of availability for the weekend, it could be Gareth Barry who retains his spot against Young Boys given that he is suspended for the next Premier League match.
Assuming Martinez doesn't opt for the defensive three-man defensive midfield he deployed against Liverpool, that would mean Muhamed Besic dropping to the bench. Elsewhere in the side, Ross Barkley could make way for Kevin Mirallas who has revelled in the big Europa League games when fit and would be a good bet to get the nod after starting the defeat at Chelsea on the bench.
Martinez has said that his side will be gunning for a first-leg victory which would be a priceless advantage to take back to Goodison Park for the return leg next week. In reality, an away goal and avoiding defeat are the first priorities and, given their form in this competition thus far, that is a realistic goal.
Kick off: 6pm
Full coverage: ToffeeWeb Match Reports
Reader Comments (60)
Note: the following content is not moderated or vetted by the site owners at the time of submission. Comments are the responsibility of the poster. Disclaimer
Nick Entwistle
1
Posted 18/02/2015 at 20:19:40
Ooooph, don't need reminding of Oldham. Roger Palmer and Andy Marshall doing the business was it? Horrendous.
Colin Glassar
2
Posted 18/02/2015 at 20:32:19
Too much hype for these Swiss boys. I'm confident we can win both games.
Keith Harrison
3
Posted 18/02/2015 at 20:53:59
Colin, new 'forum' on here now mate. Type 'Offside Forum' in the google search bar above and you can join in the irreverent fun.
Chris Jones
4
Posted 18/02/2015 at 20:56:37
OK, I'll go first at selection for this one:
Howard
Coleman; Stones; Jagielka; Oviedo
McCarthy; Barkley; Barry
Mirallas; Atsu
Lukaku
Would like to see Garbutt get some time, but I reckon Roberto will prefer Oviedo.

Colin Glassar
5
Posted 18/02/2015 at 21:03:31
I'd like to see:
Howard
Coleman, Stones, Jagielka, Garbutt
Mirallas, Besic, Barry, Oviedo
Barkley
Lukaku.
Ant Summers
8
Posted 18/02/2015 at 21:51:39
1-1 or 0-0 draw nailed on for me. Never been more confident that we will get a draw. I'd rather be playing this lot than the team the Redshite have got. I definitely see them getting beat.
Jay Harris
10
Posted 18/02/2015 at 22:06:49
Colin,
I'll go with that.
Give Garbutt a run out, McCarthy a rest before Leicester and retain strength in MF.
Having played at Preston, Luton and QPR (when it was astroturf) I am a little concerned about the speed the ball kicks up off the pitch and injuries from hitting that stuff. Even top players will struggle on that surface.
Mark Andersson
11
Posted 18/02/2015 at 21:59:24
I can't see us getting anything from this game, I just hope we don't pick up any injuries. Sunday is the more important game.
The fact that the Redshite are in this competition makes the whole thing a farce.
Colin Glassar
12
Posted 18/02/2015 at 22:11:59
I think my team has balance and attacking flair Jay. Seamus and Kev down the right, Garbutt and Oviedo down the left with Besic and Barry covering the defence. Also this team allows Ross to get in or near to the box where he's most effective.
Ross Hutchinson
13
Posted 18/02/2015 at 22:08:58
I think tomorrow night could be a bit of a banana skin for us. I know it was a few years back, but they gave Spurs a scare on that pitch in 2010 I believe. They went 3-0 up within 30 minutes, even though Spurs did bring it back to 3-2 by the end but the danger is there if they come out firing on all cylinders.
We're going to have to concentrate and I'll be happy with an away goal and a score draw and bring them back to Goodison to finish the job.
Ian Bennett
14
Posted 18/02/2015 at 22:17:48
Howard (although it should be Robles)
Coleman
Oviedo
JagieIka
Stones
Besic
McCarthy – probably will be son in law Gaz Baz
Barkley
Atsu
Mirallas
Lukaku
Clarence Yurcan
15
Posted 18/02/2015 at 22:25:18
We will definitely win the Europa League. I am so confident of this, I've already booked my flight to Warsaw for the last week in May. And I can't get a cheap Ryanair flight like you in the UK, it's a bit more expensive from New York.
Nonetheless, that's how confident I am. I'll see you in Poland in a few months time.
Tom Bowers
16
Posted 18/02/2015 at 22:44:49
It's not going to be easy, all things considered, but, apart from Basel, there's not much strength in Swiss football worthy of special mention – although they did get through the group and cannot be underestimated.
Hopefully Everton will show the same discipline as they have in recent games in the Premier League and get a good result for the second leg.
If the Blues can grab a goal early then it may just put the Swiss side out of their stride.
Anthony Lamb
17
Posted 18/02/2015 at 22:45:48
I suppose the one point that leaps out at me is the "citing the recovery times associated with the surface....Kone will not be risked". So yet another so-called "elite" athlete in this pampered,over indulged world of football will not be asked to earn his ludicrous thousands of pounds per week unless the grass is sufficiently green?
Is actually deemed to be grass? Is no more than two inches high across at least two thirds of the pitch? Is guaranteed at least two weeks recovery time before he is next asked to actually do the job for which he is paid? In the name of heaven when is this indulgent nonsense going to stop?
Peter Murray
18
Posted 18/02/2015 at 22:48:17
The artificial pitch could be a crucial issue here – in our favour. It should suit our possession/passing game.
I expect the Blues to cut loose, keep a clean sheet tomorrow and win 4-0 over the 2 games.

It's also good to see the fan-friendly, detailed travelling information from the Swiss police.
Colin Glassar
20
Posted 18/02/2015 at 23:38:39
Just read Roberto's comments about the pitch. It could be a problem for us.
Brian Hennessy
21
Posted 18/02/2015 at 23:56:54
Oh the mention of an artificial pitch, brings back memories.
I seem to recall and FA Cup match in the 80s away to Luton Town, being beaten 2-0 before Adrian Heath came off the bench to score twice to give us a replay.
Are my memories correct, guys?
Andy Crooks
22
Posted 19/02/2015 at 00:29:13
Clarence, that's the best post on here for a while. I logged on to post some negative fears about the game, but, you know what – I think I'll go with you. Good stuff.
Paul Ward
23
Posted 19/02/2015 at 00:48:39
Clarence, you are dreaming.
Brian Cleveland
24
Posted 19/02/2015 at 02:25:23
That wouldn't be Clarence the cross-eyed lion from Daktari would it? I reckon he has more chance of seeing the final than we do!
;-)
James Flynn
25
Posted 19/02/2015 at 03:20:44
Anthony (17) - Take a pill.
Kone isn't spoiled anything. To get the most out of what's left of Kone's knee, Roberto has to be careful.
Nothing more to it than that.
Paul Ferry
26
Posted 19/02/2015 at 03:32:03
Clarence, I've done the same thing from Chicago mate – booked the flight to Warsaw for the final – although I'm a little ashamed to admit that my ticket is 75 per cent refundable!!! Still, I booked tit, needless to say, because I believe that we will be there.
Brian Porter
27
Posted 19/02/2015 at 05:57:25
Besic MUST start. He'll scare the Swiss to death. Kone is once again being turned into a joke by Martinez. Either he's fit or he isn't. All this talk about longer recovery times because of the pitch is rubbish. If he can't play on the surface but the others can then he's no damn use at all.
Ajay Gopal
28
Posted 19/02/2015 at 06:03:19
I will go with:
Robles
Coleman Jagielka Stones Garbutt
Besic Gibson Barkley Barry
Mirallas Lukaku
4-4-2, don't risk McCarthy unless absolutely necessary.
Subs: Howard, Alcaraz, Browning, Oviedo, McCarthy, Naismith, Atsu
For Leicester:
Howard
Coleman Stones Jagielka Oviedo
Lennon Besic McCarthy Naismith
Lukaku Kone
Subs: Robles, Garbutt, Alcaraz, Gibson, Atsu, Barkley, Mirallas.
Richard Lyons
29
Posted 19/02/2015 at 06:24:05
Brian (24) - cross-eyed lion from Daktari: that made me laugh! (Both showing our age?)
Clarence, I salute your optimism, but I'm afraid I can't share it. We're just too fragile this season...
Andy Meighan
31
Posted 19/02/2015 at 08:32:15
Mark (#11) summed it up. It's a farce. What are the Redshite doing in it? Haven't they been knocked out of Europe this season? In fact, it's that farcical, Celtic have been knocked out twice and they're still in it.
It'll just be like them lot from across the park to get to the final, them jammy bastards... always come up smelling of roses. Laughable.
Anthony Flack
33
Posted 19/02/2015 at 09:21:44
I think we might see Atsu, probably rest Naismith, Barry, Barkley and Besic will start..
Gibson on a plastic pitch, if he is protecting Kone, I doubt Gibson will be allowed off the plane....
James Stewart
34
Posted 19/02/2015 at 09:21:58
I hope to see Garbutt play and I'm interested to see Atsu play a part after his exploits for Ghana. Oviedo has disappointed me since his injury.
Dave Burke
35
Posted 19/02/2015 at 09:55:37
I understand the surface is different and Young Boys have more experience on it but having played on artificial turf in the US for many years, it should not be an excuse. The surface is flat, fast and should not bring any surprises, this is not the shit stuff down at the local soccerdome.
Get the ball down and play. Get Kev out wide and on the ball as much as possible and feed Lukaku in the 12 yard box. Have McCarthy, Barry and Besic bossing the middle and another solid display from Stones and Jags.
A score draw will do me nicely and we can rip them a new one at Goodison!
Paul Burns
36
Posted 19/02/2015 at 10:42:59
I'm not confidant at all. Nothing we have done for the entire season suggests we will go through to the next round and the pitch is a ready-made excuse.
I expect a pathetic slow start, ponsing around like we're playing on an ice rink and leaving a mountain to overcome in the home leg and the lack of any pace or momentum in our game all season will render it a lost cause.
Phil Walling
37
Posted 19/02/2015 at 10:42:16
For those who follow the money, Everton are favourites to win tonight with 6/4 on offer at Coral. Young Boys are offered at 2/1 whilst the draw is 12/5.
For those optimistic enough to see us winning the trophy outright, 18/1 is available and 9/1 against reaching the final.
Place your bets!
Conn Prosser
38
Posted 19/02/2015 at 11:47:34
I am feeling the Warsaw vibe.
Keith Harrison
39
Posted 19/02/2015 at 12:03:50
Just sent my mate a message to bring me the "Everton on Tour - Wankdorf at Young Boys" T shirt back. I think we'll win 2-1 tonight.
Colin Grierson
40
Posted 19/02/2015 at 12:31:00
I run a kids team and we train on our 1st team's pitch which is a FIFA approved 3G surface. Technology has come on a lot since the QPR-style 'astro' turf pitches. The bounce shouldn't be too different from normal and the speed with which the ball travels over the surface is similar too. There really should be no reason to cite the pitch if we don't perform.
The only thing I would say is a slide tackle on a dry pitch still gives a nasty burn.
Adam Luszniak
41
Posted 19/02/2015 at 12:45:45
It's a shame Lennon is cup-tied as I've liked the look of him so far. Aching to see Mirallas and Lennon on opposite flanks with Barkley and Lukaku in the middle. Some pace in the forward positions there!
I think we will get the following team tonight:
Howard
Coleman Stones Jagielka Oviedo
McCarthy Barry
Naismith Barkley Mirallas
Lukaku
I would prefer to see this though:
Robles
Coleman Jagielka Stones Garbutt
Besic Barry McCarthy
Atsu Lukaku Mirallas
For me, Barkley has not been at his best so I'd leave him out. Play three DMs to allow the front three to do what they do best. I know Atsu has not been convincing but it seems he had a good Afcon so worth a punt in the absence of another true winger.
With Besic, McCarthy and Barry in the middle, we can really put pressure on the ball in the middle of the park. Plus going forward, Barry can drop in between the CBs and we play a 3-4-3 with Coleman and Garbutt providing width.
Andrew Ellams
42
Posted 19/02/2015 at 13:37:05
Tonight could be the perfect excuse to play our short passing game due to the artificial surface as long as we shape up a bit in and around the box. As Harold is always saying on here, cross the damn thing and results will come.
Dave Pritchard
43
Posted 19/02/2015 at 14:06:32
Adam (41), first time I've heard of 'aching' used in the forum. I've ached for a few things but not usually to do with an Everton selection!
Clarence Yurcan
44
Posted 19/02/2015 at 14:25:43
Paul, that's great! I hope to see you there.
Bill Gall
45
Posted 19/02/2015 at 14:51:30
James # 25
To get the most out of whats left of Kone's knee .Roberto has to be careful . Well I guess by leaving him on the bench and not playing him is the ultimate in being careful .
Andrew Clare
46
Posted 19/02/2015 at 14:55:59
Good luck to the Blues tonight and to our fantastic supporters who have made the trip as well as all of the Blues that couldn't make it.
This will be a difficult game but over the two legs I am sure we will prevail.
Tony Marsh
47
Posted 19/02/2015 at 14:55:10
Is this competiton worthy of our concern? I don't think it is.
Can we possibly win it? I don't think so. To be honest the whole thing is a sick joke. The Champions League flops are waved in and while the CL is now down to the last 16 we are still at the 32 stage in the Europa. Why?
All this competion is for is to give the CL bums another chance to pick up silverware. There is hardly a mention of the Europa League in the media ubtill the Redshite and co drop in. What's it all about ? You get knocked from one cup and allowed in to another because you are shite.This then
renders the EL as a farce.
I don't really care what happens tonight. If we win, great. If not, I wont be launching the remote at the telly. It's just not that important...The EL is Zenith Data of Europe. Remember that?
Peter Barry
48
Posted 19/02/2015 at 15:01:09
COYB lets at least give us something to cheer about this in this dismal season
Ross Edwards
49
Posted 19/02/2015 at 15:36:23
At lease we have our scapegoat if we go out. On your head be it Clarence!
Colin Glassar
50
Posted 19/02/2015 at 16:09:37
This is important info.
Tonight's referee has a reputation of being card happy. In his last five European games he's shown 18 yellows and 3 reds. We are going to have to be very careful.
Tony J Williams
51
Posted 19/02/2015 at 16:11:59
Amen, Tony.
Tony J Williams
52
Posted 19/02/2015 at 16:17:14
Barry will be sent off then, Colin.
James Hughes
53
Posted 19/02/2015 at 16:28:01
Watching BT sports at the moment doing a Europa catch up from group stages, just showed Young Boys beating Napoli. Nice to see our goals again too
We are in for at test tonight, no walk in the park or even walk on artificial surface. I believe we will get a draw tonight 1-1 and go through 1-0 at home
Mike Childs
54
Posted 19/02/2015 at 16:36:03
Absolutely right on Tony about the CL rejects with the free drops. It definitely taints this tournament. Still it would be quite an achievement provided we stay up.
Real makes the points we gave Hull etc. hurt more that we must first and foremost do all we can for the PL instead of going all in on Europa.
Sure would be great if the TV people and refs' dream final is us against the shites.
Craig Walker
55
Posted 19/02/2015 at 16:46:59
Let's hope Everton beat Young Boys.
That doesn't sound right does it?
Phil Walling
56
Posted 19/02/2015 at 16:42:49
Well spoken, Tony Marsh. The Europa is totally de-valued by the inclusion of these losers whether they include RS or not.
I've no idea as to how many times one of the late-stage entrants have won it but it is a totally misguided concept aimed at protecting 'the sacred few.'
No tears from me if we make an early exit. I won't even blame Roberto !
James Hughes
57
Posted 19/02/2015 at 16:49:50
I totally agree with Tony M. and the safety net offered to CL teams, it's a bad idea and devalues the competition.
But I still want us to win it - COYB
Steven Telford
58
Posted 19/02/2015 at 16:55:34
Admittedly, it's been years since I kicked ball around on astro-turf, but how much has the technology changed? Tell me if I am wrong, but I doubt it facilitates the sort of tackles we like to see the men in our engine room making?
Eugene Ruane
59
Posted 19/02/2015 at 17:01:06
Steven (58) - I played at Loftus Rd when they had it (early 80s).
Admittedly it was early days but it was a shocker.
The bounce of the ball was staggering (you could finish a ciggy waiting for the bounced ball to come down).
Plus it just skidded and popped all over the show - horrible.
By the way, I wasn't playing at any high level, but when they put that surface down, you could book it for a game most days of the week, so 22 of us decided to book it, just to say we'd played on a 'proper' ground.
Anyway, off to the pub - up the Toffees!
Stephen Brown
60
Posted 19/02/2015 at 17:20:40
So right, Tony Marsh!
Ian Jones
61
Posted 19/02/2015 at 17:10:57
On the point of teams dropping down to the Europa League from Champions League. Chelsea won it when they dropped down. Wasn't too impressed by that but hey ho when we win the Europa League this year, qualify for Champions League, finish 3rd in group stages next season and drop down to the Europa League, we better not drop down.
How about next year the best 8 winners of the Europa league groups get promoted to the Champions League....seems fair !
Nick Entwistle
62
Posted 19/02/2015 at 17:11:50
I remember the my school covering the 12 or so tennis courts in astro-turf. A wise choice considering the pro-circuit rarely play on shale. But the PE teachers never gave a heads up on the downsides to sliding tackles and so the new astro was a sandy horror show. The astro eventually had a top layer, a new surface made up entirely of skin. I've still got scars on both elbows where I went to head a ball Dave Phillips style. Completely missed.
Jamie Barlow
63
Posted 19/02/2015 at 17:36:10
I don't think the Zenith Data cup was worth up to £30 million if you won it.
Course it's worth it.
Stephen Brown
64
Posted 19/02/2015 at 17:48:17
Don't know if this has been mentioned - why are RS on itv 1 ??
Clarence Yurcan
65
Posted 19/02/2015 at 17:53:54
Ross Edwards #49: I fully accept that!
Paul Burns
66
Posted 19/02/2015 at 20:15:20
Nice to be totally wrong and I'm claiming I cried it in.
---
Add Your Comments
In order to post a comment, you need to be logged in as a registered user of the site.
Or Sign up as a ToffeeWeb Member — it's free, takes just a few minutes and will allow you to post your comments on articles and Talking Points submissions across the site.
© ToffeeWeb