Everton's Euro dream extinguished in Kyiv
Dynamo Kyiv 5 - 2 Everton (6 - 4 on aggregate)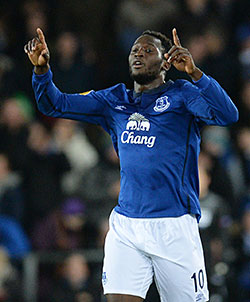 Romelu Lukaku scored for the fourth straight match in Europe but couldn't keep Everton in the tie
Everton joined the ranks of chastened Premier League sides to fail to reach the quarter finals of European competition as they were thumped 5-2 by Dynamo Kyiv.
The Blues travelled to the Ukrainian capital with a 2-1 lead from the first leg but also with the knowledge that they would likely need to cancel out Oleg Gusev's away goal from a week ago if they were to have a realistic chance of progressing.
Romelu Lukaku grabbed that all-important goal just before the half-hour mark with a beautifully finished equaliser that restored Everton's aggregate advantage but a defensive collapse shortly thereafter tilted the tie irrevocably in Dynamo's favour and Roberto Martinez's side couldn't recover.
Indeed, it would get worse, with Gusev weighing in with the fourth goal, before Phil Jagielka scored with eight minutes left to make it 6-4 on aggregate but it would amount to scant consolation in the final reckoning.
With Kevin Mirallas out injured with a dead leg and Aiden McGeady presumably not deemed fit enough to play having just returned to full training, Roberto Martinez handed Christian Atsu his first start since the home game against Krasnodar and restored Gareth Barry to the XI at the expense of Darron Gibson.
John Stones made the trip having recovered from a stomach virus but, in a decision that should come back to haunt the manager, Antolin Alcaraz continued in central defence alongside Phil Jagielka. Steven Naismith replaced Arouna Kone up front playing in the forward three with Romelu Lukaku and Ross Barkley. Leon Osman dropped back to the bench as well despite his impressive display against Newcastle last Sunday.
Though Gusev would have the first opportunity when headed over the crossbar, Everton quickly grew into the game and were looking the more dangerous side. A succession of crosses from the right flank couldn't find a blue shirt in the middle, though, and it was Kyiv who took the lead in spectacular fashion in the 21st minute as Andriy Yarmolenko was allowed to cut in from the right flank and smash a shot into the top left corner from 25 yards.
Four minutes later it was so very nearly 1-1 when Barkley sprung the offside trap and hammered a shot across the goal but it cannoned off the far post. And in what would prove to be a warning sign that would go unheeded, Alcaraz badly mis-judged a bouncing ball that he allowed to go over his head and Tim Howard had to make a sprawling one-handed save to deny Yarmolenko.
The game was almost half an hour old when Lukaku struck, taking down a ricochet from Atsu's shot and then curling a wonderful shot around the 'keeper and inside the post. 1-1 and Everton were back in front. Lukaku and Naismith almost combined to double the Blues' lead on the night but the Scot's first-time shot was saved before awful defending allowed Dynamo to first level the aggregate scores and then take the lead.
Another ball sailed over Alcaraz's head and Lukasz Teodorczyk rammed it through Tim Howard's legs 10 minutes before the break. Two minutes later it was 3-1 on the night. Miguel Veloso, the man who had helped to put the Blues out of Europe while playing for Sporting Lisbon, took advantage of both Everton defenders being beaten in the air in their own box to lash a deflected shot into the net from distance.
A single goal at that point would have put Martinez's side through on away goals but their defensive frailties would undermine the best efforts of their attackers. Barkley crashed a stunning shot off the woodwork in the second half, Atsu forced a terrific one-handed stop from Oleksandr Shovkovskyi and Lukaku would help take Everton's tally of shots to 18 on the night but the Blues were undone by more calamitous work at the back that ended with Gusev firing the ball in off the post after Seamus Coleman had blocked his initial shot.
And Antunes would put the game beyond the visitors with one more impressive strike, a dipping piledriver that flew over Howard from 25-30 yards out. There was also time for Yarmolenko to strike the bar himself with another fiercely-driven effort.
Jagielka scored with an impressive but rare header off an 82nd-minute corner but Everton were unable to stage a late rally to fray the nerves of the boisterous home crowd.
Martinez refused to blame defensive errors for the defeat – thereby ducking the inquest into the managerial decision that saw Alcaraz preferred to the superior Stones – choosing instead to laud some impressive long-range finishing from Sergey Rebrov's outfit. Two of Kyiv's goals were spectacular but the three that came from defensive calamity were crucial in dumping out of the tournament that has been the manager's priority all season.
It leaves Everton to focus on doing enough to preserve their Premier League status but the question marks over Martinez's long-term future at Goodison Park will multiply in the wake of a sorry night in Ukraine.
Full coverage: ToffeeWeb Match Reports
Reader Comments (165)
Note: the following content is not moderated or vetted by the site owners at the time of submission. Comments are the responsibility of the poster. Disclaimer
Brian Porter
3
Posted 20/03/2015 at 06:15:25
What a humiliation! What the hell was Martinez thinking of with his weird team selection? I can only say he totally proved his naivety and inexperience in all things European with the way he approached this match. Most, if not all top managers, at this stage of a European competition, would have sent out a team selected to defend the lead we had from the first leg, frustrate the opposition and maybe hit them with a goal on the break.
No, we go there and try to play them at their own game, a surefire recipe fir disaster. Alcaraz should never pull on an Everton shirt again. He was diabolical. Did anyone see the faces of Naismith and Lukaku in close up after the 2nd and 3rd goals went in? They couldn't re believe what was going on behind them. Any good work they were doing up front was being systematically destroyed by the woeful defence. Now that we only gave our PL status left to play for, surely it is time to say goodbye to our clown of a manager, who proved himself to be woefully inept in team selection yet again. Gibson could have put paid to much of their midfield threat with his forward passing, but no, Barry was there again.
Why leave Alcaraz on at half tome when Stones was warming the bench. And why leave it so late to bring Osman on? His experience might have helped unlock the Kiev defence much sooner than the last ten minutes. Didn't Martinez say himself the other day what a difference it made to have Ossie fit again? The fans who made the long trek to Kiev were simply cheated by a manager who simply had no idea how to send a team out to defend a lead.
Kiev were not world-beaters, but we made them look like it. I'm sad for my club this morning, and only wish Kenwright would do the right thing and dispense with the services of our inept, useless joke manager. We were, without a doubt humiliated and made to look like a Sunday league team last night and I never thought I would say that about an Everton team. Even my wife who knows little about football, was laughing at our shambolic defending. Her damning words, "Aren't they at least supposed to TRY to stop them?" will ring in my ears for a long time to come.
Stu Smith
4
Posted 20/03/2015 at 06:35:36
I can see this result resulting with players leaving. Mirallas I think will defiantly go.
Brian Porter
5
Posted 20/03/2015 at 07:02:31
I agree, Stu. I see a mass exodus on the horizon, and who will we replace those who leave? A team in the bottom half of the Premier League, if we survive, with no hope of European qualification under the current manager is not the best recipe for attracting top players, so we will be reduced to bringing in second rate players as our decline continues, until we replace the manager with someone who can lift and motivate a completely demoralised squad. Bad times ahead, I fear.
Jim Bennings
6
Posted 20/03/2015 at 07:13:30
I said recentlythat you are now going to see the Everton of the early 1990's returning.
Poor league positions for a few year's, relegation battles, better players leaving and replaced by dross, from next season the attendances will be significantly down on this season due to far less season ticket holder's....Who is going to pay 30 plus pound on a regular basis to watch this Everton side under a clueless manager?
The only thing that brought back the fans in the mid 90's was winning the F.A Cup.
The fans now know that all we have here is a group of players with a losing mentality, it's been proved time and time again when faced with a big occasion.
Crystal Palace at home last year?
Arsenal in their qaurter final?
Too many more to mention.
The fans have had enough now.
Andrew Laird
7
Posted 20/03/2015 at 06:58:58
Whatever these fabled video sessions are of Roberto's, I can guarantee he doesn't watch his Everton sides.
Naismith and Barkley in the same team, Barry straight back into a winning side and only Atsu providing width again from the attacking 3 making one side of Everton redundant and thus easier to stifle by Kyiv.
At times it looked like McCarthy and Barry were playing CB they were so deep, this in turn created a huge distance between defence and attack and left an unmarshalled defensive area 25-40 yards out where Kyiv scored from nearly every effort at a criminally flat-footed Howard.
Alcaraz has had injury problems for 3 years and yet plays 3 games in a week with no sign of Distin, who although has been poor this season has pace and is good in the air, both traits we could of done with last night as Alcaraz has neither. Why did Gibson watch on from the sidelines after playing 90 minutes on Sunday to once again select "I have the tapes of Roberto at sea-world" Barry, Alcaraz was deemed fit enough.
If Martinez does not get the hook then the so-called Defensive coach should, someone, anyone! A disorganised shambles.

Paul Gladwell
8
Posted 20/03/2015 at 07:21:36
Brian, my thoughts exactly, I'm scared for next year when players leave.
No matter what we thought about Moyes, he left a good squad and obviously last year was partly down to that, I'm petrified for next year when that squad becomes fully Martinez players.
I can handle us getting slaughtered, it's happened enough times down the years, but I cannot handle a clown coming out after it, the leader of that team telling us it wasn't the defenders fault, I'm sick to death of him, it's Mike Walker. All over again only at least he had an excuse of a poor squad of players, thIs deluded clown hasn't.
Chris Regan
9
Posted 20/03/2015 at 07:31:42
Martinez has to go! Although his 5yr contract will keep him at the club for at least the next two years until its wound down enough for the board not to quibble over paying out his contract.
I never wanted him but Kenwright seemed to just plum for this fella even though he had just been relegated. Did we learn nothing from previous experiences i.e. Joe Royle (pains me to say it as Joe is a better Blue than me).
As for Alcaraz he is one of the worst signings I have ever seen at Everton and the first Everton player I have ever actually hated.
And hate is a strong word.
Ian Bennett
10
Posted 20/03/2015 at 07:31:05
It wasn't just the defeat, it was the manner of the defeat. The defence was a shambles, whilst the midfield never had any control what so ever. Last night was a night to shut up shop at 0-0, and 1-1. Bobby knew best showing any lack of tactical acumen.
Alcaraz showed his true ability, which highlighted the glaring omission of keeping Stones on the bench. Frankly if some of the players leave or the manager goes I won't lose any sleep. A club on the road to nowhere.
Jim Bennings
11
Posted 20/03/2015 at 07:40:41
Paul
Moyes was a far better manager than Martinez, we just didn't see it at the time because he had gone stale after being here 11 year's.
Moyes at least always had his team physically fit and more often than not organized the defence.
People will say we got drubbing's under him but when your in the job a decade that's going to happen, did Alex Ferguson not lose games heavily at Manchester United?
Moyes may never have won us a trophy but then your seeing now that the same drawbacks exist with "getting over the winning line".
Martinez has been completely ignorant of working on the defence and the fitness sides of our game, that's been plainly obvious all season.
He has been making bad decisions for a year now going right back to when he took a team to Anfield that lost 4-0 , but for a missed penalty we could have lost that game 9-0.
He is Mike Walker all over again, trying to adopt a playing style that you just can't get away with at Premier League level.
Walker tried it and failed and to me the similarities with that era are as clear as day.
We will eventually get relegated under Martinez, if he's here four more year's, we will certainly be in relegation battles.
The Wigan fan's warned us this would happen yet Kenwright was so willing to appoint a manager that had just successfully relegated a team, that fact alone gives me a cold shiver knowing the man in the seat could make such a reckless decision.
I have no faith left in anyone at this football club.
Chris Regan
12
Posted 20/03/2015 at 07:58:07
Jim Bennings 11 You're spot on.
Unbelievably Martinez is in the echo defending Alcaraz!
But Martinez, who opted to keep John Stones on the bench, emphasised that the same defence had kept a clean sheet in Sunday's 3-0 Premier League win over Newcastle, and that a similar one, again featuring the Jagielka-Alcaraz combination, had only conceded once in the first leg against Dynamo.
That misses Alcaraz's pass back to Howard, early on against Newcastle, that nearly resulted in a goal. And the fact that the first goal we conceded against Kiev was as a result of an Alcaraz mess leading us to concede a corner. From which he just smiled and walked away.
Geoff Evans
13
Posted 20/03/2015 at 08:04:39
The passion's gone.
Mike Rourke
15
Posted 20/03/2015 at 07:52:32
I'd been keeping my powder dry on Martinez all season, as long as all was well in the Europa and we had that sniff of glory then I was content to bite my tongue.
After last night's...whatever that was ( topped off with another excruciating post match interview that had me on the brink of setting fire to my TV ) to get an idea of how bad I feel about all things EFC right now I would willingly hand David Moyes another 11 year contract! Yeah, that bad.
Obviously it needn't be that drastic in real life. Simply sack the clown and hire someone with a record that shows they might have some clue as to what they are doing.
I would be very happy with Bilic and content with dare I say it Steve McClaren, infact pretty much anyone listed in the running at the bookies would represent a vast upgrade on the lunatic that we've currently got running the asylum.
Oh Bill, for once, do the right thing. Please.
James Martin
16
Posted 20/03/2015 at 08:07:16
Jim you're right Moyrs had us well above our spending power brushing shoulders with Spurs and Liverpool etc. Towards the end we actually got better in the cups as well Wigan debacle aside. There was just this assumption that a manager was going to walk in and we'd start smashing top sides away, winnung trophies, getting into the top 4 etc. Martinez has proven that was the more unlikely of the two possible directions. We still don't win any, ANY big games, we're still rubbish in cups and now we don't even have a good league position.
Given this group of players we'd probably be fifth under Moyes and have exited the cups at the same stage (probably without the 5-2 drubbing). You know what you get with Moyes. I can buy the argument he wasn't enough for Everton but I will never buy that he was worse than Martinez. He's in a different league to Roberto who has produced some of the worst football and Everton performances i've ever seen.
Guy Hastings
17
Posted 20/03/2015 at 08:06:28
'Sometimes the margins are so small,' says the man. Yup, a 5-2 margin. That's practically microscopic.It's one thing saying that to the press, it's another to return to Finch Farm actually believing it, which he undoubtedly does.
Geoff Evans
18
Posted 20/03/2015 at 08:20:55
The excuses are laughable.
John Crawley
19
Posted 20/03/2015 at 08:35:03
After reading his comments in the Echo the only way you can describe Martinez is delusional. Alcatraz was all over the place in the first half at home against Kyiv. Yes he did play well against Newcastle but they didn't have a recognised centre forward on the pitch and their players already had their feet up for the summer break. He needs to be sacked straight away and someone brought in until the end of the season.
Andrew Ellams
20
Posted 20/03/2015 at 08:54:54
To try and be a tiny bit positive, how good is Lukaku looking right now though. He's virtually carrying the rest of them.
James Hill
21
Posted 20/03/2015 at 08:44:52
Has anyone given any thought that Premier league is in decline. Yes we are shit and Martinez needs to go. I've watched all the European games and I have say in the past I have seen English teams who technically are not as good as the European teams, very few times have I seen them physically bullied and out gunned when it comes to real effort and fortitude.
Everton last night were truly pathetic and you could actually see players looking for others to blame.Dare I say Lukakus body language was not great.

I think our league is becoming to dominated by the non contact bridged and it shows when we are in Europe.

Kiev pissed all over us in everyway last night,
Jim Bennings
22
Posted 20/03/2015 at 08:59:40
The only reason Alcaraz and the rest of the team looked half decent on Sunday was because in the main Newcastle looked half arsed.
Any other team that we have played this season that has wanted it more than us has picked up a result against us.
Leicester wanted it at Goodison and almost won.
Stoke played with passion and beat us easily.
We gave a poor Arsenal side a comfortable afternoon.
Then Kiev last night simply wanted every loose ball more than us and they got the win they craved.
Its the same old story.
When opponents need a result or try hard, inevitably we don't win.
We only beat sides who underperform on the day or are simply shite.
Tony Hill
23
Posted 20/03/2015 at 09:08:39
Another glimmer of light was Barkley who in the last 25 minutes (too late of course) looked like something had gone off in his head and reignited the player we hope he can be. Only a glimmer.
Lukaku is excellent now but is that because he wants to go? I sincerely hope not because in the last 4 games he's looked top notch including his control - much work still to do but at least he doesn't look like a flop for the 㿈m.
Rob Dolby
24
Posted 20/03/2015 at 09:09:07
The game summed up our entire season in 90 mins. We looked comfortable in certain areas of the pitch and looked a threat going forward. Some real amateur defending and midfielders not tracking the runners punished us. We then look more and more desperate as the game goes on. That's us for season 2014-15.
We need to move out some senior players as they aren't offering us anything. Howard has been dreadful all season. Alcaraz isn't up to premiership standard and being preferred to Stones and Distin seriously questions Martinez judgment. Barry has has a very poor season compared to last year. Gibson and Besic deserve the spot ahead of him.
We had a decent run in the Europa League but now we have a massive game against QPR a defeat there and we are right back in the dog fight.
Max Wilson
25
Posted 20/03/2015 at 09:12:22
The appalling team selection lost us this match. Even his team mates were berating Alcaraz during the game, the amount of space the duffer was leaving or not covering was astonishing. Martinez defending his defence "strategy" is also amazing. We have some of the most talented players in the PL and our manager sits them on the bench in the face of top European competitors.
What does the Chairman think now? His continued silence is perhaps an indication of what he thinks, after all, he is a fan like us ,but with a lot of money at stake. Martinez has to be on a final warning the way things are going.
Tony Abrahams
26
Posted 20/03/2015 at 09:15:36
Haven't read any posts yet, so apologise if anyone has already mentioned it but, how can you play a defensive game at home to Liverpooo but be so open in Europe when you have a lead to protect?
We started this game like we was losing. We were wide open, and as anyone of our first team, ever heard the shout, "stop the fucking cross"?
Jim Bennings
27
Posted 20/03/2015 at 09:27:12
I wonder if after the final game of the season at home to Spurs whether the players and management will have the courage to do a lap of honour?
I honestly don't think it will be very advisable given what's gone on this season and the general ill-feeling that has existed.
It should be more like a lap of apology with them all on their knees in front of the Street End begging for forgiveness and hoping the loyal fans decide to return next season.

Brian Harrison
28
Posted 20/03/2015 at 09:23:58
Well surely even his most ardent fan will have by now seen through this charlatan. I don't think I have seen a more tactically inept manager, he is always in complete denial of any failings he has. I think BK will stick with him till the end of the season and like the rest of us hope and pray that we get enough points to keep us safe.
Sometimes you don't appreciate what you had till its gone, yes Moyes had his failings but I always expected us to finish in the top 7 with him in charge. I remember Charlton fans saying they wanted rid of Curbishley they were 11th at the time, how they wish they were in the Premiership never mind 11th.
Ken Buckley
29
Posted 20/03/2015 at 09:12:13
Last night summed up for me the reason for our less than adequate performances all season as well as the fact we can't handle the pressure occasions.
We have some good and talented players but we don't have a well drilled team. To me that is a damning failure of the present management and a major part of our problems thus far.
We must now hope we don't become that team that spirals down to the dreaded third from bottom slot and that chairman and board take an interest as all us fans can do is worry and hope urgent action is taken on training ground and in dressing room to see us over the line.
Still we can try and lift the lads from the stands because WE ARE EVERTON.
UP THE BLUES

Brian Porter
30
Posted 20/03/2015 at 09:22:46
Paul Gladwell 8. Hundred percent with you. Like you, I believe Moyes left a good squad, and Martinez was able to benefit from that in his first season. This is my 56th year as a fan, was 62 last weekend, and never seen such an abject display from an Everton team. Harry Catterick must have been turning in his grave last night.
Let's face it, all teams have bad days, but even managers like Mourinho and Wenger have the guts to say so when their players let the club down, which is not often I know. If Martinez us convinced his defence wasn't at fault then he should be man enough to say, "It was my fault. I picked the team, the formation and the tactics, so I must be held responsible."
Will he...no, of course not, because in his little delusional world, everything in the garden is rosy and he thinks Alcaraz had a phenomenal game.. Enough said!
Paul Burns
31
Posted 20/03/2015 at 09:37:32
Seamus Coleman was as bad as anyone last night, absolutely diabolical.
I don't think I've ever seen a more inept defensive display from Everton, Kiev had to do nothing to score, just lob hopeful balls into the box resulting in chaos.

And where were the defensive duo of McCarthy and Barry closing down outside the box? There were acres of space for Kiev's players to attack with no great pace.

This Kiev team were bog standard with no real pacy or tricky players and they didn't even have to sweat to score five, a shocking indictment on the amateurish way our club is being run.
Colin Glassar
32
Posted 20/03/2015 at 09:34:57
We have a loser mentality throughout the club. From the chairman down through the players and on to the terraces we don't really expect to win big games, do we?
Before the game, on the live forum, quite a few people were saying we were going to lose this one, the pessimism is overbearing. Martinez before the game was bigging up the opposition, as Everton managers tend to do, using the pre-game excuses e.g. Poor pitch, long distances involved, heavy prem schedule etc...were all being spouted.
Bill Shankley used to tell his players that the opposing team were shite, our managers must tell our lads that the opposition are supermen so losing becomes inevitable. Until we change this we will never achieve anything and that is a worry as now this 'mentality' is part of our DNA.

Dave White
33
Posted 20/03/2015 at 09:55:01
Never said this before, and never said it for the entirety of Moyes' tenure, but the manager has got to go. The name Antolin Alcaraz will be written on Martinez's managerial headstone.
Paul Hughes
34
Posted 20/03/2015 at 09:50:05
Kevin Ratcliffe on the ITV commentary gave the most vicious criticism of a player (Alcaraz, obviously) I have ever heard broadcast. Funnily enough I trust his opinions on defensive capabilities rather more than the idiot of a manager. Martinez is a coward, his position is now untenable.
Paul Dark
35
Posted 20/03/2015 at 09:59:20
Does anyone have any insight into the club and know what the Board thinks of Martinez and whether he's likely to be sacked?
Paul Dark
36
Posted 20/03/2015 at 10:04:39
By the way: the defence weren't to blame (Martinez). What a thing to say!
Martinez needs to be dismissed today.
Chris Regan
37
Posted 20/03/2015 at 10:06:43
Paul 38, I doubt it, all as you will here is rumour and not genuine fact. Kenwright was very patient with Walter Smith. Which worries me loads.
Sergey Chernyshov
38
Posted 20/03/2015 at 10:08:18
Dear Everton FC and their fans!
It was a big pleasure that you visited our country and this match. I want to thank you for the respect you showed during the match and during our communication in the beer bar "Bavarian house of beer" near the stadium. Definitely, you are much more better than french Guingamp we had met on previous stage. I wish you and your team all the best and a lot of ukrainian fans really like your team. I hope Everton FC will take the high place in the table sheet.
Thank you, with great respect from Ukraine. You and your players are really good.
Andrew Ellams
39
Posted 20/03/2015 at 10:15:13
Didn't Phill Walling assure us that somebody had told him in the lounge a few weeks back that Martinez would be gone if unsuccessful in Kiev?
Alan Bodell
40
Posted 20/03/2015 at 10:12:17
Paul #34, Kevin Ratcliffe was brilliant with his no-nonsense comments and I'm not joking when I say I'd like him to replace the idiot with the brown shoes.
On the few occasions he has guested on a game he speaks so much sense whether for or against the team he graced for so many years.
Tony Abrahams
41
Posted 20/03/2015 at 09:49:11
Stupid of me to post without reading and then write what I did, because how can this thread be about, anything but the amateurish way we set out to play last night?
The manager said he thought we would have tightened up once we scored? It didn't look like the players had talked about it to me, because we just carried on playing the same way.
The major concern is the future now and the worry of relegation has not yet been extinguished, but the club can never move forward until things change behind the scenes.
I think the masses will vote with their feet unless there is a change of manager, but is that what we really want for Everton?
We have stood still for years as a football club, but as this year has shown, once you start going backwards it's not easy to stop. Things have got to change fast or the final demise of An English Institution, won't be too far away.
Colin Glassar
42
Posted 20/03/2015 at 10:23:21
Tony, while this board of charlatans remain in place we will go nowhere. They are quite happy to remain in the prem at minimum cost with the highest possible return.
Our managers are not expected to win anything. There is no real pressure on them to do so so why bother. The manager knows this, the players know this and I imagine the majority of fans, deep down, know this as well.
Brent Stephens
43
Posted 20/03/2015 at 10:20:31
I watched Distin for U21s earlier in the week. Looked fit , fast and firm. If Stones wasn't fit, Distin should have been on the bench. If Stones was fit, he should have been on from the start; at worst soon after the toss for who kicks off.
Alcaraz is a Roberto player in that he is comfortable (and I'm not saying good) in possession. What was called for in defence was - defence.
Paul Thompson
44
Posted 20/03/2015 at 10:13:04
As someone said on another forum with reference to the post-match Martinez comments - with Moyes at least you felt that you'd been watching the same game.
'The whole team didn't defend well' is basically a cover for one of the most calamitous decisions/performances any Everton manager has ever made - playing Alcaraz. I don't know about 'white men can't jump', but he certainly can't. Beyond that the setup and selection was wrong. Too deep, too many defensive midfielders, lack of balance. But what can we expect - this has been the pattern most of the season. If I wasn't an atheist I'd be reduced to praying for our PL survival as I certainly don't trust Martinez to get us out of his own mess.
Ian Brandes
45
Posted 20/03/2015 at 10:23:20
Last season I foolishly thought RM was going to come through for us until our fight for a CL place petered out with worrying signs to see.
I was then less impressed when he was allowed to swan off to the World Cup to the detriment of our pre-season.
And, as we all know, things went fro bad to worse, and then from worse to last night.
The fact that we made the opposition look like superstars via our shambles of a defence, bolstered largely by a lacklustre midfield, made me wonder what this continental clown does for his money.
In any other career,apart fro banking, this delusional buffoon would be shown the door along with all the players he brought apart from Lukaku, and maybe McCarthy.
At times in the past, I dreamed of Moyes getting the push, so it proves the saying 'Be Careful. What You Wish For.'
Looking back this morning makes the Moyes era seem like glory days.

Nelly Verdonghan
46
Posted 20/03/2015 at 10:36:54
I cannot believe his after match comments...was he not watching the game????
I'm afraid Martinez is kidding himself... his team selection cost us the tie tonight make no mistake and Alcaraz (who is no better than a poor Sunday League player) cost us THREE goals as well as being at fault for the one last week when he headed a cross (he didn't even need to touch) over his own cross bar to concede a corner from which they scored. Had he had left it then Jags would've headed it away down the field.
How Martinez can justify his team selection tonight is beyond me and almost every Evertonian who witnessed this pathetic surrender. The worst part is they are as gutless as Martinez is tactically clueless. Alcaraz was an embarrassment & Atsu (who hasn't played all season) no more than a passenger for the time he was on the field. How he didn't change things at 1-1 or at worst 1-2 is completely baffling & the fact that Barry was on the pitch before Gibson was absolutely astounding.
Roberto, get real... their finishing wasn't the difference. Your team selection and our comedy defending was!!
Jim Bennings
48
Posted 20/03/2015 at 10:44:47
It now seems foolish of people who scoffed when I was advocating the signing of Ryan Shawcross last summer.
Jags is coming to end of it too, Alcaraz was awful last night but watch the game again if you dare, Jagielka wasn't much better.
Stones should have played but he wouldn't have stopped the first, fourth or fifth goals anyway, much in the same way he couldn't keep us in the cup away at West Ham with more shit goals being conceded.
We had two defensive midfielders last night who offered no protection at all aswell so they should take some responsibility also.
Nelly Verdonghan
49
Posted 20/03/2015 at 10:42:02
Brian #30...If Harry Catterick was turning in his grave then what about Sir John Moores...do you think he would have put up with the abject shite that we've dished up this season...I think not
I hope he comes back to haunt Kenwright to remind him what this club was once all about...
I really wanted Martinez to succeed I honestly...I was secretly hoping he would turn out to be our Sir Alex Ferguson...I've even stood by his this season but no more after last night...his after match comments beggar belief...If this is not a man with his head in the stand thaen I don't know what is.
AlcaTRASH should NEVER wear an Everton shirt ever again...Good managers are not afraid to make tough decisions and this fella just can't do it...he sticks by the same under performers week in week out and if he doesn't get us relegated this season then he surly will next season.
His Wigan team couldn't defend and look what happened to them....now his Everton team can't defend...can you see a pattern developing.
Michael Upton
50
Posted 20/03/2015 at 10:49:14
I've read so many posts and Tweets since last night talking about how Martinez was tactically naive and should have shut up shop, but both those views miss the point.
Roberto presumably knew that his defence can't be trusted to keep a clean sheet so he would need to attack and score. And to be fair, Barkley (twice) and Atsu came very close to adding to Lukaku's goal.
But that game was won and lost because of two things - Dynamo scored two brilliant goals (undefendable, I would contest), and three awful ones.
It is not, repeat not, Martinez's fault that four international defenders and an international keeper screwed up three times or that his two defensive midfielders seemed largely incapable of the getting hold of and keeping the ball.
I know some people, especially it seems ToffeeWebbers, love nothing more than Martinez bashing but once that side goes onto the pitch it is their responsibility to do their jobs, something most of them failed to do.
Where Martinez is to blame is in picking and sticking with Alcaraz, who should at least have been hooked at half time in favour of Stones.
It doesn't matter how defensively you play or try to shut up shop at 0-0 or 1-1, if you can't defend a long cross or a Moyesesque hoof you're going to come unstuck.
John Gee
51
Posted 20/03/2015 at 10:12:12
After 20 minutes it was obvious we were struggling. Martinez would have been justified in making a double substitution then. But, managers are reluctant to do that so I hoped we could at least get to half time with a respectable scoreline then shore things up for the second half.
Neither of those things happened. 3-1 down at half time and no changes. What did Martinez see in the first half that made him think we should not make a change? This isn't an armchair manager rant, I am truly baffled as to what he saw.
All season we've played 4231 sometimes 433 and all season we've been exposed. The defence is all at sea, the midfield is usually just Naismith and there is no link up play anywhere on the pitch.
4-1 down, Ross picks up the ball, tries to take a player on and have a run at goal, cut to manager on the sideline bellowing "Ross, just relax." We're 4-1 down and going out you fucking cretin.
In the second half Alcaraz played like a spare man, not someone who is supposed to play one of the most disciplined positions on the pitch. His team mates were yelling at him telling him where to position himself. He's 30 something! He must have played that position for 10 years at least! Why doesn't he know what to do?
If it wasn't for Jagielka at the back and Lukaku up front we'd already be relegated. I'm done blaming the players. No matter how well or badly they play we'll always lose more games than we win if we're unfit, don't press, don't work on defence, don't practise corners, chop and change for no reason, field unbalanced teams, employ upto 3 players to play the same position at the same time, ignore width, back off the opposition and play as 11 individuals.
If Martinez was the right man to address these issues, he would have done it by now. Actually, he's the root cause of all these problems. He should have gone in December. All the pundits are saying well be safe but where are the points coming from? We were lucky to get a draw at home to the bottom club.
The club needs to face reality, this man is taking us down. Even if by some miracle we stay up well have to put up with a manager next season who has failed to learn a single thing from the huge number of mistakes he's made.
Martinez out, ASAP.
Tony Abrahams
52
Posted 20/03/2015 at 10:38:27
Colin we could end up in the championship? Let's face it Moyes was paid a fortune to keep Everton mediocre. People might disagree with that quote, but if coming round about seventh, and never winning a cup isn't mediocre for a club like Everton, then I don't know what is.
The fact of the matter is we tread water, and the excitement of last year kidded everyone. Not least the chairman, who thought he had cracked it again, and even put a Saddam Hussein like Muriel, of our manager, on the side of the stand. Ten minutes after giving him a new five year contract!
People say Kenwright loves Everton, "how could I disagree" but if the main reason for him being chairman, is to keep us out the clutches of a really bad owner, then standing still is a miracle, but still, it's only delaying the inevitable.
Saying that Kenwright doesn't pick the team, and make the tactics, so he's not entirely to blame.
David Hallwood
53
Posted 20/03/2015 at 10:28:00
I think last night you heard ratters the fan(and top class CB btw) rather than the analyst. Because like me he couldn't believe what he was seeing either, but last night was Everton's season in 90 minutes.
What I wish I could arrange is all twebbers in one place to watch this seasons games and what we'd witness is schoolboy defensive howler after schoolboy howler without a single game in which we were opened up a la cittteh vs Barca.
What made last night even worse was the inter v Wolfsburg game with Wolfsburg being 1goal better than us. What did they do? Well they denied Inter space, pressed the ball y' know all those things you were taught when u was 10 and has been the blueprint for protecting leads for the last 50 years.
I'll now join the chorus is saying that he's got to go, he's supposed to be a student of football; I don't know maybe he throws a bit of abstract art into his studies because he defiantly doesn't see the world as other people see it.
Paul Washington
54
Posted 20/03/2015 at 10:53:40
It's in our DNA. As me arl fella say,s "Everton always let you down "

Colin Glassar
55
Posted 20/03/2015 at 11:02:39
Tony, we are now well and truly in that group of 'biggish' clubs, along with Villa and Newcastle, where survival in the prem is more than enough.
In any job minimum standards are required, the Everton manager is expected to keep us in the prem, have a few decent cup runs and nothing more. I can't imagine slimy bill saying to any manger, "achieve this or else". This isn't the Everton way, being nice and cuddly is enough by the looks of it.
James Lauwervine
56
Posted 20/03/2015 at 11:13:56
I've defended Martinez all season and believed he would get it right eventually. I've been critical of people slating Martinez on here to the point of joining the editor's banned list. But last night was a disgrace, just so excruciating and embarassing. I'm sure any of us would have taken scoring two goals last night and assumed that would have seen us through. But the team selection and tactics were all wrong.
When I saw the team I though 'oh for fuck's sake'. This feels like a point of no return for me, a bit like when we lost to the RS in the semi-final a few years back, which was the point I lost faith in Moyes. Last season was so exciting and everything felt fresh and positive. This season has been the worst I can remember and the way things are going it could be the worst possible.
Watching the game with my three sons last night and seeing their horrified disappointment I actually felt bad for forcing them to be blues (we're 200 miles from Liverpool). That's how shit last night was.
Andrew Clare
57
Posted 20/03/2015 at 11:15:24
A lot of people have mentioned the compensation problem with Martinez's contract amounting to a huge payout but I would think this would not be a problem considering the millions of pounds clubs are receiving from TV money. Also clubs spend fortunes buying players so paying off a manager who is failing is no big deal.
Since December after almost every lost game I have been expecting to read that RM has been sacked,now even if we lose to a dreadful QPR team on Sunday he will still probably be in the job.

Oscar Huglin
58
Posted 20/03/2015 at 12:02:01
Martinez will not be sacked this season. He will be given the chance to start again next season, which is
good
. A lot of clubs wouldn't give him a chance, and I'm proud that we're the kind of club that will.
He's one of the most promising young managers in football, and he took us to our highest ever points tally last season. He also took us to the last 16 of the Europa League against all expectations.
Last night was shite, but we were also hugely unlucky. They scored two absolute wondergoals, and without those we would have gone through on away goals. We went to Kiev and had more shots and more corners, as well as hitting the post twice, but it felt like every 50/50 and every bobble and deflection went their way.
On another day we would have coasted through.
Get behind him and maybe he can surprise us in a good way next season.
John Gee
59
Posted 20/03/2015 at 12:10:57
Oscar, 58, what is the one thing Martinez has done this season that makes you think he should be given longer in the job?
I can't think of a single positive to hang my hat on.
Kevin Rowlands
60
Posted 20/03/2015 at 12:06:36
AC #57, It's not just the amount we have to pay him to fuck off, remember we also paid Wigan compensation to sign him, so it's a double hit to the Everton coffers. Another in a long list of monumental Kenwright fuck ups was the decision to give him the extension last summer on the back of one decent season, add that to the Wigan comp and it's the only reason Martinez is still the manager today.
Alan McMillan
61
Posted 20/03/2015 at 12:16:40
Have you seen this video on the official site?
The man is fucking deluded!
Link
Alan McMillan
62
Posted 20/03/2015 at 12:18:12
I don't think money is the issue in getting rid; the amount of compensation due would be pretty small in comparison to the TV money we receive each year. It's about BK not having the bollocks to do it, not having a plan in place and not knowing who to get in to fill his brown shoes
Mike Childs
64
Posted 20/03/2015 at 12:11:48
Sad Sad Sad. What else needs to be said.
Jim Bennings
65
Posted 20/03/2015 at 12:22:41
It would have been Everton v Fiorentina...
Ahh well...we can just celebrate staying up now then eh?
Andrew Ellams
66
Posted 20/03/2015 at 12:26:24
Oscar @ 57, I'm sorry but the last 16 of a competition that has very few strong teams in it is a poor return, knocked out of both domestic cup competitions at the first hurdle is a poor return and the league form and position is a disgrace.
You cannot be a one trick pony, refuse to move when that trick isn't working and be a good football manager. He had his chance, he is blowing it and I can't see him reappearing in the Premier League soon if Kenwright pulls the trigger
Jay Wood
67
Posted 20/03/2015 at 11:27:19
I hope everyone reading TW today takes time to read the post @ 29 by the respected and always balanced view of Ken Buckley.
"Last night summed up for me the reason for our less than adequate performances all season as well as the fact we can't handle the pressure occasions," Ken writes.
I concur. Our EL performances have papered over the considerable cracks in our domestic results. Eliminated from both cup competitions at the 1st hurdle, still in the relegation vortex in the league.
Sadly, as was inevitable, last night we finally replicated our true form this season - our league form - in the EL.
Ken adds: "We have some good and talented players but we don't have a well drilled team. To me that is a damning failure of the present management and a major part of our problems thus far."
Again, I agree. As recently as last season we had a well drilled team, as we have had for the last decade, that kept it's shape and both the individual players and the collective team knew, understood and played their roles in an overall strategy. That discipline is completely absent this season.
"We must now hope we don't become that team that spirals down to the dreaded third from bottom slot..."
Amen to that, Brother Ken.
"... and that chairman and board take an interest as all us fans can do is worry and hope urgent action is taken on training ground and in dressing room to see us over the line."
To that I would add, as much as he is reviled and maligned (with some justification), BK does have a close relationship with his players.
My belief is BK will not take action on the manager's position before season's end, hoping we have enough to avoid the drop.
But in reviewing the season he will canvas his senior players and others for their confidential assessment of this season's events.
Because IMO BK has a HUGE decision to make. Continue to believe in and stick with Martinez and entrust him with the summer's transfer kitty. (Which risks alienating players disillusioned with Martinez or those unwilling to renew expiring contracts as long as he remains).
And should he remain will RM's 3rd season be like his 1st, his 2nd, or somewhere in between? None of us can say with absolute certainty.
Or does BK cut the club's potential losses and pay RM off? Again, IMO, any compensation payment to RM would be peanuts against the loss of earnings should Everton be relegated from the cash cow that is the PL.
Then there is the question of RM's replacement. Many insipidly claim no high profile manager would take the Everton job. I vehemently disagree with that claim.
Sunderland, in the dire straits they are in, at the arse end of the season, the very worst time to recruit a manager, appointed Dick Advocaat within 24 hours of sacking Poyet. He's got a pretty decent CV!
The PL is awash with money and a draw for the very best players and managers alike. Nobody will convince me Everton, with the players we have, the facilities at Finch Farm and our well respected academy, does not represent a more attractive proposition than, for example, Sunderland.
Make no mistake. There will be plenty of top quality managers, domestic and foreign, eager to take the Everton job should it become available.
Of course, any managerial appointment carries risk. But this single decision - stick or twist with RM - will potentially largely determine the next 5 -10 years for EFC.
I believe it is that critical.
Kevin Rowlands
68
Posted 20/03/2015 at 12:27:18
Alan 62, disagree mate, when it comes to Everton it is always about the money, why do you think every transfer negotiation we have is so excruciating, and every transfer window so fucking frustrating?
I very much doubt whether Kenwright will fire him given the financial implications due to the comp paid bringing him in and then the comp having to be paid getting rid, plus it would make him look a complete fool for giving him that extension in the first place.
I think this is going to be spun along the lines of second season syndrome and Bobby will get it right just have patience etc, until it all goes tits up next season of course!
Oscar Huglin
69
Posted 20/03/2015 at 12:29:40
John #59 - He got us to the last 16 of the Europa League. At the beginning of the season the consensus from fans was that we'd do well to get out of our group.
I'm not saying Martinez has been perfect, of course he hasn't, but he did enough last season to deserve another throw of the dice. This season has been rubbish domestically and I'm as pissed off at the rest of you. But you have to look at the bigger picture. Who would we hire if we sack Martinez? Ferguson? Redknapp? Moyes? I would be much more worried going into next season without Martinez than I would be with him.
As I said, he is one of the most promising managers in football and did enough last season to deserve another chance. Let's not turn into Newcastle fans.
Colin Glassar
70
Posted 20/03/2015 at 12:42:31
If BK was going to pull the trigger he would've done it last night so forget all this 'who's going to be our next manager?' speculation.
Kenwright will give him until Xmas to see how he reacts to this abysmal season so say what you want about chairman Bill but he does show a lot of patience with his managers.
I'm not saying he's right or wrong, it's just the way he is.
Tony Hill
71
Posted 20/03/2015 at 12:42:40
Jay (67), correct. The critical point is whether the players support him, and that has been the key for some time. He won't be sacked this season - though if we got stuffed on Sunday the pressure would crank up hugely - and BK will want him there next season, at least for the start. But if the players really want him out then I agree that it is difficult to see how he can survive.
I also agree that this decision in the summer is one of the most important in our history given the money coming in to the PL and the danger of our sliding into obscurity - by which I mean the mediocrity of mid to lower table at best or, at worst, the slump of a Leeds, Sheffield Wednesday etc.
We will be here whatever, most of us on TW, and longer term I remain optimistic because we have to be as Evertonians. But the stakes have never been higher.
Matt Muzi
72
Posted 20/03/2015 at 12:33:44
I'm going to e-mail the club sending a well written non-offensive e-mail outlining my serious concerns about Mr Martinez. You can do it on the website, contact us section, which clearly states that you can use the facility to contact the club about anything to do with Everton.
While I don't think my concerns it will achieve much on their own, maybe if all of us who think Mr Martinez is out of his depth contacted the club it MAY achieve something... stranger things have happened!
Chris Regan
73
Posted 20/03/2015 at 12:52:28
Colin, my thoughts exactly. Depressing aren't they?
Steve Guy
74
Posted 20/03/2015 at 12:44:51
Oscar, he WAS one of the most promising managers ....past tense. He has severely damaged that reputation with the utter bollocks we have witnessed every week since last August.
No doubt he may repair the damage to his CV in time, but why do we have to be the mugs who put up with his "learning" of basic management skills ? All another season will do is prolong the agony for all parties as he has do strayed time and again that he isn't learning from his mistakes.
Your approach is unfortunately the one that The Dear Leader will take hoping like you, in best Denis Norden tradition, that it'll be alright on the night. It won't.
Paul Hughes
75
Posted 20/03/2015 at 12:43:27
My first time on ToffeeWeb, I read all the comments and I feel I had join to express my concern for our great club. I am a fan from Northern Ireland, have been from the age of 8, I attended my first match at the age of 18; Walter Smith was the manager. Ever since then, I have been coming over every year.
For the last 12 years, me and few mates travel over 3 times a season twice before Christmas and once after Christmas. We have cancelled the Burnley game we were meant to attend on April 18th because the football we are playing is crap.
After attending the Crystal Palace and Swansea games before Christmas, I left Goodison Park disgusted. the great atmosphere before and during the match wasn't there and I don't blame the fans – I blame brown shoes for his sideways backwards tic-tac shit he plays. It doesn't get the crowd involved. He has to get sacked or else he could take us down.
I will miss coming over on the 18th; Liverpool is a great city and we have met many fellow Evertonians over the years who we now call great friends but I feel we have to make a stand!
ROBERTO OUT, PLEASE!!!
Craig Walker
76
Posted 20/03/2015 at 12:54:42
Where to start? Atsu is one of the worst players I've seen in a blue shirt. Right up there with Nyarko. What has he ever done for Everton? Hopeless. He was at fault for their 2nd goal last night. I lost count of the number of times Coleman just ran into their full back. Alcaraz will have two decent games and then have an absolute shocker as he did at Anfield last season. You can't play a centre-half in the modern game who looks like he's running in treacle. Barkley wants a ball of his own. A few times last night we got into great positions and the player wouldn't get his head up. Lukaku did it twice. Barkley does it a lot. Naismith runs around a lot and has a big heart but so too did Mark Pembridge. Doesn't make him a good player and is the bare minimum I expect from an Everton player. Our goalkeeper doesn't inspire confidence. He couldn't do much about the goals but he needs to go.
To sum up how bad it is, people were saying that Osman should have been brought on earlier. A guy who has been one of the most derided players on this website for years is now the saviour.
I knew that we need a 2 or 3 goal cushion in the home tie.
There's one constant with Everton: they always let you down.
Gavin Johnson
77
Posted 20/03/2015 at 12:46:51
I admire your optimism Oscar, but how will things change next season?
Martinez isn't tactically astute to look at the things that could make the difference in small margins. He doesn't care if his teams concede goals - That's why we couldn't park the bus last night. He doesn't know how to set his teams up to defend. All good managers know that tactics need to change in certain games. Look how Mourinho got Chelsea to park the bus against the RS last season, but in other games he's got them playing good football where they score lots of goals.
So if other teams have worked out how we play who should adapt and alter their tactics.. Should Martinez realise that he needs to revise his methods, swallow his pride and concede he needs to look at the dark art of defending...or do we expect other teams to accommodate us so Martinez can play the attacking football that worked last season??
In my opinion there's no chance of either happening so how can he continue as our manager, Oscar?
I was in the minority on TW who continued to support Martinez. I'm not a fan of Moyes so last season was a breath of fresh air. I put all the above concerns at the back of my mind because I was clinging on to the hope we could win the Europa, get CL qualification and the kudos of that would maybe attract investment, so we could sign better players who could execute Martinez's philosophy. Well that dreams over and we're just left with the nightmare.
Dan Nulty
78
Posted 20/03/2015 at 12:52:56
I really, really hate being a football fan who changes their mind on people. I like to think that I give people a chance and support as best as I can. I often criticise when it seems to be the managers who take the stick for everything that goes on at a club. I certainly think that Martinez can't take all the blame this year as the players certainly haven't helped him at times.
However, for me, I firmly believe that last year was down to a mixture of the legacy Moyes left (fit, well organised) and the more attacking approach and confidence Martinez seem to instil in the players. Whoever organised preseason is partly to blame, however, the players are professional sportsman. If we truly have the school of science back their testing should have shown that fitness levels were not at the right level and training should have been adjusted. The players perhaps should have done extra sessions to make up for the fact that the training being done was more skill based than fitness. They have plenty of free time when they can be out running.
My next point is that Martinez at times has had his team selection horribly wrong given the formation he has tried to fit them into and at times almost seems pig headed and stubborn. To be a good leader you have to recognise that what you are doing is wrong and change it. Carrying on doing the same thing gets you the same results after all. I am not convinced by his judge of player either. For me, Alcaraz is causing all the problems in defence. When the holding midfield players, Jags and Coleman are all having to keep one eye on Anton and his positional player and what he is trying to do with the ball rather than concentrating on their own job it is no wonder they can't attain the level that they did last year. The man is a liability and a complete waste of his wages. I'm sure he is a terribly nice chap but we don't want that at Everton, we want winners. McGeady is also a waste of wages, he gives the ball away so much and does not work hard enough off the ball.
What I will say though is that last season we were in a far better place in terms of hope and expectation. That was greater than any hope or expectation I experienced under Moyesy even the season we qualified for the champions league. I just hope that Martinez is man enough to recognise where he has gone wrong and change it. I worry he is too stubborn. Those calling for his head though are wasting their breath, I honestly only believe he would go if were actually in the relegation zone and Bill was left with no choice.
It would really be great if we could have a good transfer window, get business done early and get some exciting talent in. I don't think signing Lennon will be the way forwward though. I don't believe once he got his contract offer he would work as hard - I hope he proves me wrong
Steve Moe
79
Posted 20/03/2015 at 11:22:06
I became an Everton fan last season, because of the love the players showed for Martinez. I remember the moment big Rom scored and ran over and bear hugged RM.
Well, my second season as a Toffee fan is an eye opener, no hugs for the manager who seems to over-think and out-coach himself on a weekly basis. KISS (Keep It Simple, Stupid) — RM should follow this motto.
David Hallwood
80
Posted 20/03/2015 at 12:30:56
Oh oscar! Oscar. Give him a chance to do what. Let's look at the first of the 'wonder' goals;great strike but I think when I was in my prime, if the opposition had given me the freedom of the park I'd have scored like that.
What's happened to 'close the space' 'show them on their weaker foot' when did 'sir' coach you that at school 8? 10? 12?
And don't get me started on what Ratters called the comedy of errors; the 2nd & 3rd goals. Ok let's assume that it was a bad day at the office and that Alcaraz had a mare-stuff happens.
BUT put it in context: we'd just got back to 1-1 and therefore we were through, and a player was allowed to knock a ball into the area with no pressure on the ball-a Martinez trait that we witnessed all season and scarily reminiscent of Wigan.
In short Martinez is not a young manager per se this isn't his first appointment and he's brought the same mistake laden football that he served up at Wigan
Yes it was right for him to given a chance to prove himself at a top 6 club rather than firefighting at the bottom. But he's turned the meanest defence in the EPL into a shambles. Sorry he's been given the chance with a talented top side and blown it.
Tony J Williams
81
Posted 20/03/2015 at 13:21:01
How often do you see other managers radically change a winning side just fro the Hell of it?
Easy win on Sunday, Lennon can't play so replace him with someone, Bob's your Uncle......unfortunately Bob's our manager who wants to tinker with everything and prove he's "dead clever like"
He's been doing it since the Palace game last season which effectively did for our chase for fourth and he's been doing it all this season just to get his mates back into the side.
Useless manager with no tactical awareness of what it takes to a) win a game or b) shut out a game when we have the advantage.
Even at 1-1 last night we could have calmed it down and suppressed them, but no Kiev knew all they had to do was punt the ball long in between the two dopes at centre back and wait for the keystone cops rendition
James Joseph
82
Posted 20/03/2015 at 13:30:33
Dab (78) says 'The players perhaps should have done extra sessions to make up for the fact that the training being done was more skill based than fitness. They have plenty of free time when they can be out running.'
Distan employs his own personal trainer during the summer to ensure his fitness level is similar to the younger members of the squad when they return to pre-season training. Having such a professional attitude didn't do him much good did it?
James Joseph
83
Posted 20/03/2015 at 13:37:21
Sorry, I meant Dan not Dab - think my brain's still scrambled from last night.
Milos Milenkovic
84
Posted 20/03/2015 at 13:16:05
Dear Oscar, after finishing 5th last season and not loosing single player during the summer we were all hoping for top 4 in the league plus all cups were looking as a winnable adventure. So this is far from success and to say that we had consensus that we will go out in the group is untrue.
One more thing about "being proud that we are not that club" who is going to sack manager after 2 seasons. Oscar we should be ashamed not proud by accepting seasons like this. Moyes haven't won single thing for 11 years and we still think he was a great manager. Would Liverpool be satisfied with anything similar? United, Chelsea? I was very satisfied with fans reaction during home game against Kiev. That was reaction of people who are sick and tired of the constant failure. We should set the tone for our club. If we except mediocrity, you can be 100% sure that managers and players will not raise above that.
Denis Richardson
85
Posted 20/03/2015 at 13:32:11
'Who would we hire if we sack Martinez?'
It truly amazes me that people honestly think that football managers are so rare a breed that we shouldn't get rid of one that is seriously underperforming becasue we might not find another.
Wake up! ANY established premiership side is capable of attracting a decent manager because there aren't that many clubs and dozens of talented managers would jump at the chance given the opportunity. A name like Laudrup went to Swansea ffs - bet he didn't even know where Swansea was before the job became available.
Should the Everton seat become vacant there would be a queue around GP of candidates wanting the job. Established club, average 35k+ gate, history, sleeping giant about them and ....................a truck load of sky money about to be dumped into it!
Please spare me the 'who else would/could we get' nonsense.
Jay Wood
86
Posted 20/03/2015 at 13:51:25
Denis @ 85. Seconded!
I argue the same in post 67.
Bill Gall
87
Posted 20/03/2015 at 13:41:21
First off yes we had a great season last year with good attacking football and strong defensive play. People on here talking about a record number of points in the league as if it was a spectacular achievement that was something our previous manager was never capable of doing should have a look at the stats for that season. Everton finished with 9 pts more that season than the previous season, they had 1 goal less against them and scored 6 more goals than the previous season, and finished 1 place higher.
The difference for Martinez was, last season he had a solid defensive unit that with some good loan players and a couple of purchases was a platform for a good season with the chance to start introducing his philosophy slowly into the squad. This season with his time at the world cup the poor pre-season he tried to introduce his full philosophy system all at once and even after a couple of months that showed that it was not working simply refused to except that fact and continued with his style that eventually got us in this predicament .
If Martinez was willing to except responsibilities for what has gone on this season I believe he should be given another chance but, as he seems to stubborn to any sort of change I do not think he should be given any more time to ruin the club.
I do not think it is a money problem to fire him as I think B.K.is as stubborn as Martinez and is to stubborn to admit to another of his many mistakes since becoming chairman.
Jay Wood
88
Posted 20/03/2015 at 14:09:24
And as a bit of distraction from today's gloom, a very good piece on BBC Sport about how sport can impact on our happiness.
One line in particular in the article could define to a T what it is to be an Evertonian:
"The best way to be as a fan is to have the maximum emotional investment in a team but the least expectation of success..."
Christopher Dover
89
Posted 20/03/2015 at 14:16:38
One positive, we scored from a corner!!!
Patrick Murphy
91
Posted 20/03/2015 at 14:17:56
Christopher #89 in hindsight I wish Jags had saved that for Sunday, it'll probably be another 18 months before we score from the next one.

Dominic Tonge
92
Posted 20/03/2015 at 14:19:11
Well, I thought it was bad enough, then I walked into work. The lads are all saying that's the worst display they have seen from us and are genuinely worried we will go down, and these are Kopites, who want us to get rid of Martinez , because otherwise they reckon the biggest game in the league will be the game vs United, or as they refer to it, El plastico , Kopites, worried for us, really plumbing new depths
Patrick Murphy
94
Posted 20/03/2015 at 14:24:54
Dominic - I wouldn't pay much attention to your workmates they are probably similar to the regular dark side supporters, faux sympathy but deep down they are laughing their arses off as would we be if the shoe was on the other foot.

Brian Cleveland
95
Posted 20/03/2015 at 13:49:42
I really thought the only thing keeping Martínez in his job was that we were still in Europe. Fully expected to wake up this morning to see him gone. Went searching for the headline, not there... must be some mistake.
Maybe the upcoming press conference will be used to announce his resignation?
We live in hope.
Alan Bodell
96
Posted 20/03/2015 at 14:21:32
Christopher #89, it was the only corner Baines never put into orbit.
Frank Crewe
97
Posted 20/03/2015 at 14:11:15
@Milos Milenkovic 84
They probably would as long as they continued to be in the top 4. Before last year Arsenal hadn't won the FA cup since 2005. Nine years. They haven't won the league since 2004. Eleven years. But they have finished in the top 4 for 17 going on 18 consecutive seasons and all under the same manager. They've also moved from a ground that held 38,000 to one that holds 60,000 while we have been coming up with one failed scheme after another. Riverside, Kirby, now its the park up the road. Bollox!!
The fact is that these days lack of silverware will always be forgiven just as long as you get into the CL because that's where the money is. This has completely distorted PL football and when push comes to shove cups will always be sacrificed for a top 4 finish.
Christopher Dover
98
Posted 20/03/2015 at 14:32:02
Alan#96. Totally agree, do you think they will learn from it?
Or be told it's to direct and not in the RM spirit?
Paul Dark
100
Posted 20/03/2015 at 14:42:30
Dear Sergey (38)
All respect to you and your team too. you will have seen from our fans and players that we play with respect (too much respect sometimes!). We re not like the other teams in PL who like to win at any cost - usually by feigning, cheating (Chelsea and Man Utd are the principal but not sole culprits). We have a sense of history and of values. But our team is not in a good moment with our manager (and chairman) as you will see if you read these posts. We all very much hope things will improve soon.
I'm a great Russophile (in the board sense of the term!) and wish you, your team and your country all the best. You deserved the win last night.
All best
Paul
Oscar Huglin
101
Posted 20/03/2015 at 15:11:52
I understand where you're all coming from and I knew I'd get this response by posting in support of Martinez. I'm not going to change my opinion though - I honestly believe there is no better alternative to Martinez, and I honestly believe he deserves another chance based on last season.
If Mourinho was available and said he'd love to manage Everton I might think differently, but we don't live in a fantasy dream world. There is no one better than Martinez who is available at the moment. Sacking him would create a downward spiral that could take this club into a dark, dark era.
Again, I completely understand all of your frustrations and why you have said what you've said. I just completely disagree with sacking Martinez.
Bring on QPR.
Patrick Murphy
102
Posted 20/03/2015 at 15:21:17
Oscar #101 You are so right in saying that we don't live in a fantasy dream world - unfortunately for us as Evertonians it appears that the manager and the team do occupy that sphere of existence.

Paul Dark
103
Posted 20/03/2015 at 15:26:53
Martinez is an ideologue in the worst sense the word. His ready-made beliefs come
before
reality and aren't affected by it. Such people can be very determined and do well for a short time, but they tend to fiddle while Rome burns.
If we go down, he won't be shaken a jot and will eventually walk away, citing some obscure and wholly irrelevant statistic (more square passes in a season than ever before - or something as quirky as that) as a mark of his excellent performance and of the enduring efficacy of his footballing philosophy (in as much as he has one!).
He is deluded, hyperbolic and totally inept at tactics, motivation, team selection and self-assessment. For everyone's sake, he must be relieved of his duties ASAP.
Colin Glassar
104
Posted 20/03/2015 at 15:34:46
Oscar, I love your optimism and I've been trying to defend Martinez all season. I really, honestly, devoutly, earnestly hope this is just 2nd season syndrome but after steadying the ship, somewhat, after Xmas last night was a return to the pre-Xmas mess (I haven't watched the game, I'm about to, so I'm just going on what I've read) .
I am prepared to give him another 9 months, till December, to see if he is indeed the real deal or is in fact the snake oil selling, fake charlatan many claim he is. Only time will tell I suppose.
Jay Wood
106
Posted 20/03/2015 at 15:42:47
Oscar @ 101 (an appropriate number).
I'm genuinely intrigued.
When you say "There is no one better than Martinez who is available at the moment. Sacking him would create a downward spiral that could take this club into a dark, dark era."
Could you give us a lesson # 101 as to why you believe this?
Nicholas Ryan
107
Posted 20/03/2015 at 15:50:55
Taxi!!
Jim Bennings
108
Posted 20/03/2015 at 15:59:10
No such thing as second season syndrome, at least not with an entire team, maybe one player but not collectively like the problems we are experiencing.
Martinez is not willing to budge on his own stubborn principles and I fail to see how that will change between the months of June to August going into next season.

Tony J Williams
109
Posted 20/03/2015 at 16:15:10
Sacking him would create a downward spiral that could take this club into a dark, dark era
Not exactly all sunny and light at the moment, is it?
David Hallwood
110
Posted 20/03/2015 at 16:13:57
Oscar (#101) most managers get the gig because unacceptable results and usually have to chage things around or do a complete rebuild. Whereas Martinez inherited a top half side with a decent squad and an exemplary defensive record.
His job was to build on solid foundations and take us to the next level; in fact he said that . I don't like clubs that sack managers at the drop of a hat; stability is everyth
Trevor Peers
111
Posted 20/03/2015 at 16:22:09
Oscar room #101. How can you defend the manager after last nights shambles ? Howard Kendall crucially writing in todays Echo can't understand why he made 3 important changes to a winning team.
It's a particularly irritating trait he has shown all season usually with the same depressing outcome. In other words he can't be trusted . Of course a change of manager would benefit us the alternative next season would be chaos.
David Hallwood
112
Posted 20/03/2015 at 16:45:16
Sorry my not so smartphone submitted too early. Stability is everything but ineptitude is just that. For how long do you have to see the same defensive errors being repeated to realise that this ain't going to get better anytime soon.
A man totally out of his depth-get shut
Charles Barrow
113
Posted 20/03/2015 at 16:46:54
There is a lot of bullshit being talked here about Moyes and how this type of game wouldn't happen to him as he organised the team well and the players were fit and up for it. Well remember that game again Dynamo Bucharest in UEFA CUP 2005 ... 5 - 1 if my recollection is right! And the manager was ...
Tony J Williams
114
Posted 20/03/2015 at 16:54:18
Charles, the mitigating factor was that we had just been raped by a bent ref and that sent shock waves through the team for about 10 games afterwards too.
Charles Barrow
115
Posted 20/03/2015 at 17:05:36
Tony - I well remember the game and the team played just as badly then as last night - in fact a lot worse. Last night the defence was shcoking and I agree with all the comments about it being unacceptable - but at least we had some energy going forward. In the Bucharest game we were second best all over the park.
Tony J Williams
116
Posted 20/03/2015 at 17:09:20
Not really defending them Charles, especially the comical Nuno Valente Superman impression, diving AWAY from a shot.... but I would imagine that their heads weren't right at that game after how we were buttfucked by Collina
Charles Barrow
117
Posted 20/03/2015 at 17:10:09
Actually I'm not defending Martinez. i'm really suggesting we shouldn't look back at the Moyes regime as if it was some golden era.
Chris Regan
118
Posted 20/03/2015 at 17:12:33
Martinez truly is clutching at straws now with this gem on the BBC website.
Everton manager Roberto Martinez says a winter break could help Premier League clubs competing in Europe.

From Everton's point of view good defending would have been far more helpful than a nice winter break.
Brin Williams
119
Posted 20/03/2015 at 17:13:23
Martinez on Winter breaks -
"It can make a big difference in a squad that is playing domestically in two cup competitions, when others are playing one cup competition."
No need to worry there then as there is little likelihood of us being involved in ANY cups in the foreseeable future.
Jay Wood
120
Posted 20/03/2015 at 17:11:19
I agree Charles. The performance in Bucharest was the absolute pits.
However, the personel and quality (on paper) of the team that night and the squad available to RM last night cannot be compared.
Lest we forget, we scored 2 away goals last night, hit the woodwork twice and their keeper made a blinding save from Atsu. That alone should have been enough to ensure our passage to the last 8.
It is glaringly obvious what is the primary problem under RM's tenure at Everton. He has twice publicly declared it to the world, most recently on the eve of last night's match:
"Everton is not set up NOT to concede goals."
This man is not for changing. Stick with him and it will be more of the same next year.
Paul Dark
121
Posted 20/03/2015 at 17:12:36
Moyes was (is) a dour man, was hopeless in tactics and team selection and put himself before the club at almost every turn. There's no point looking back to him and comparing him with the equally ludicrous Martinez.
Why can't a dignified club like ours have a cogent, coherent, genuinely decent man as manager? There are a few out there, and we do pay good wages etc.
It's such a shame that Kenwright ru(i)ns our club.
Mike Price
122
Posted 20/03/2015 at 17:37:35
I actually feel guilty for the overwhelming joy I got from Moyes' nightmare and Gerrards slip last year.
Feel like I'm getting a nasty dose of karma; Everton make you pay even for a little bit of schadenfreude!
Phil Walling
123
Posted 20/03/2015 at 17:53:49
Charles Barrow; so you'd rather be twelthish than seventhish ? Some funny buggers on here !
Colin Glassar
124
Posted 20/03/2015 at 17:59:00
Don't forget the Benfica, Arsenal games/massacres Charles. Oh, I forgot, we had terrible teams/squads as well.
Andy Crooks
125
Posted 20/03/2015 at 18:01:17
I have had a bit of time to calm down and reflect on that shambles so this is my reasoned view.
I believe that Martinez is the biggest threat to our club in it's history. He will relegate us and move on without a thought. Kenwright has a chance to, for once, do the right thing. Sack this arrogant charlatan immediately.
Jim Bennings
126
Posted 20/03/2015 at 18:20:42
Paul Dark,
A man like the passionate budding Tim Sherwood perhaps?
I'd actually love to see someone with Sherwood's passion and brutal honesty in charge of my club.
Jim Bennings
127
Posted 20/03/2015 at 18:25:46
Latest statement from Martinez
"We now have 11 cup finals remaining"..
Does this guy ever actually think before he speaks at all?????
Talk about antagonizing the situation regarding the fans already worn patience..
Also we have Baines with "We must finish the season strongly."
Just shut the fuck up.
Robert Workman
128
Posted 20/03/2015 at 18:36:57
So would you rather:-
a) Be involved in a match with 7 goals - 3 from wonder strikes, end-to-end action, fantastic viewing for millions of neutrals, shots hitting posts, dreadful refereeing etc.
or
b) A boring 0-0 draw with no real action – followed by a last 8 match against Fiorentina?
Glen Garrett
129
Posted 20/03/2015 at 18:27:13
Oh well... at least our neighbours across the park are going to be getting another chance at Europe next season. At least Brendan Rogers shows heart towards their fans and gives his all – more than I can for Martinez & Kenwright got no heart.
Why doesn't BK just give it all up & sell Everton up to a sinking rich tycoon with passion for success to be Number One?

Paul Hughes
131
Posted 20/03/2015 at 18:35:49
I see the fucking idiot is now blaming fixture congestion and saying we need a winter break! We HAD a winter break – we played no recognisable football between November and March – didn't do us any good.
When is he going to be big enough to hold his hands up and stop with the excuses?

Mike Hughes
133
Posted 20/03/2015 at 18:40:14
Everton manager Roberto Martinez says a winter break could help Premier League clubs competing in Europe.
I've just seen that comment and nearly choked on my chips.
To me, he's deflecting away from his own short-coming. He's either:
(a) completely without self-insight (to see the long list of faults closer to home).
(b) so full of his own self-importance that he thinks he's a big cheese in the footballing world (ala his Brazil World Cup stint) and that people want to hear his opinion.
(c) Both.
Please God:
1 - We survive this season in the PL.
2 - RM is a stain on our history by the second Bank Holiday in May.

Denis Richardson
136
Posted 20/03/2015 at 19:09:20
If we have '11 cup finals left' and there are only 9 games left in the season, what am I missing?
Have we been gifted a couple of extra games out of pity?
Brian Burns
137
Posted 20/03/2015 at 19:02:49
Hmmmm.... wants a break, hey? Well didn't they shoot off to Dubai for a week and then have another week off a few weeks back cos we weren't in the cup? Tell yer what, have a big fuck off one from our club!!!!
Joe Foster
138
Posted 20/03/2015 at 19:14:24
The guy is a moron. His comments stink of self delusion. I wonder if we can get him sectioned.
Kevin Rowlands
139
Posted 20/03/2015 at 18:55:53
For me, the single worst decision he has made this season, and there have been many, was dropping Joel Robles for that crab, absolutely unforgivable and put me firmly in the Martinez out camp.
Was I imagining it or could Howard have done a lot better with some of their goals last night? That first one was a good strike but he just stood there frozen and made no attempt whatsoever to save it, he really is fucking useless.
I just don't know why the thin Spanish waiter can't see that but most everyone else can, he has to go – and please take the bearded fool with you.
John Williams
140
Posted 20/03/2015 at 16:51:55
I'm another of those who sat on the fence regarding Martinez, but last night I jumped. Hoping for us to progress further in the EL clouded my judgement. I agree with other posters: our club reeks of mediocrity from top to bottom. Whether it be the Board's inability to sell the club and sign embarrassing commercial deals, a manager who is tactically inept who plays a system which is flawed, to a squad of players some of whom are either past their sell by date or plainly not good enough to play for Everton.
I very much doubt Martinez will be sacked this season but, if he's here next season and brings in the likes of Cleverly, I'll probably commit hari kari because another season of watching absolute shit football again would be unbearable. There are coaches out there who would jump at the chance to manager us and if BK had any vision he'd have a short list now.
Anyone can see we have the spine of a very good team with Stones, Barkley and Lukaku who have the potential to be top top class. We don't know whether Robles, Garbutt and Besic cut the mustard because they never get a long enough run in the team due to 'The Leaders' being recalled at the first opportunity but for me I'd put the rest on the market and flog who we can.
Okay, then... this would mean a massive rebuild,lots of in's and outs but I believe Evertonians would give a new manager time, a season or more if they see progress at work. So for me this rudderless shambles of a manager has to go!

Roger Helm
141
Posted 20/03/2015 at 19:51:43
He is a strange hybrid - at the same time a stubborn man who refuses to consider a Plan B and at the same time a Tinkerman who can never leave well alone.
All Black method - never change a winning side, always change a losing side. Not that they lose much.
David Greenwood
142
Posted 20/03/2015 at 20:01:14
Some terrific posts here.
Roger, John, Joe... spot on.
Bobby Thomas
143
Posted 20/03/2015 at 16:57:06
James Joseph (82)
"Distan employs his own personal trainer during the summer to ensure his fitness level is similar to the younger members of the squad when they return to pre-season training. Having such a professional attitude didn't do him much good did it?"
Outright nonsense. Distin, until last season, was playing to a high standard in the Prem, at 36. I'd say it did him plenty of good.
He would still have been more than capable of doing a job as a squad member this season. However since January he has been bombed out by a manager that cant organise a team defensively or provide a hint of discipline, shape or cohesion. All our defensive players have gone backwards.
Paul Dark
144
Posted 20/03/2015 at 20:53:21
Jim, 126
I'm not so fond of Sherwood.
I think Laudrup might be the man. Klinsmann would overhaul the club and instill an enthusiasm but without Roberto's fluff and doctrinaire rigidity.
I'd love to see Duncan as No 2, to a hungry foreign manager. That would be perfect.
William Twigg
145
Posted 20/03/2015 at 20:28:34
I love reading ToffeeWeb for one primary reason: it is the platform for Evertonians who care to express why they care. Whether negative or positive, the fact remains we are a breed that have belief and remain steadfast "no matter what".
So, I sat watching my team last night thinking "Please, Everton, give me what I crave – a result that will make me get up on Friday morning a smile on my face and the euphoria of thinking that we did it, we are in the next round." What I witness was the most embarrassing capitulation I think I have endured as an Evertonian.
I look for reasons why; Was it an off day? Was it the occasion? Was it because it was Thursday? Any plausible reason would have given me some small consolation! But, no matter how I try to find a reason that is remotely acceptable, I keep coming back to the fact that the man in charge got everything about the performance absolutely wrong!
Selection – why Alcaraz? Tactics – why no Osman or Gibson? Why do we have to pass the ball a zillion times when Kiev penetrated our defence with three/four swift and decisive passes.
The whole matter comes down to direction, which is also the root of the problem and Mr Martinez you are too blame without a shadow of doubt. The result itself will not stop me following my passion it has been with me for many many years, but for the first time in as many years as a very proud Blue I do not think I have felt this despondent! Is it going to get any better under the current regime? I fear not...
Keith Harrison
146
Posted 20/03/2015 at 21:24:59
If my mate Bill Twigg is roused to comment, there are serious doings afoot at Goodison. No direction is the cry, but it's leading us in one direction at the moment, downwards. Grow a pair Bill K, and do the necessary while there is still (barely) time to save our season.
Drew Shortis
147
Posted 20/03/2015 at 21:17:00
I was very much in the pro-Martinez camp when he came from Wigan and I would still love to see him turn it around, but even the eternal optimist has their limits and I'm pretty near mine.
I though his first season in charge vindicated my faith. Most Premier League points, close to a Champions League spot and qualified for Europa. Lukaku, Deulofeu, Barry and McCarthy in and no key players out. Then this summer he somehow convinces Kenwright to part with 㿈m for Lukaku who is going to be one of the great Premier League strikers. Besic looked like a good bit of Moyes like wheeling an dealing. Stones and Barkley playing regularly. Were on the up!
Then the season begins and it is one defensive lapse after another. Playing well but throwing away points because of a poor pre-season and a lack of organisation. These poor results then seemed to knock out confidence and we seemed to loose our fighting spirit and togetherness. Europe seemed like the possible salvation of a wretched season, but last night we threw that away too.
I would love to see Roberto turn things around as I really brought in to his vision, but I'm getting to the stage now where I can't help but nod my head in agreement with nearly every comment on ToffeeWeb. I do think patience is a virtue and chopping and changing managers is counter productive. If he stays on I pray that he learns a harsh lesson from this season, gets the team fit, gets the defence organised and learns to be more tactically flexible. If he can't do those crucial things then he has to go before we get ourselves in real trouble!
William Twigg
148
Posted 20/03/2015 at 21:33:16
Mr Harrison as always you are the oracle, a man with a direct sense of "tell it how it is".
John Gee
149
Posted 20/03/2015 at 22:02:00
If any stragglers are on the fence, the QPR performance will persuade you. I'm hoping we fluke a result but the team sheet will tell you if he's learned any lessons. We haven't displayed any bounce after a defeat this season and I can't see that changing.
He's lost the fans and, by all accounts, the dressing room too. Lose against QPR and surely BK will be forced to do what he should have done months ago.
Dave Kelly
150
Posted 20/03/2015 at 22:29:56
Please God let us get the win at QPR! I still cannot believe that weird display last night, I say weird because we actually produced some great attacking moments.
I have been in the 'Bobby out' camp for a while now but I just hope he has enough left in him to pick a winning team for Sunday. Gibbo, Stones, Lennon and Robles MUST start if we are to stand any chance. Didn't he once go on about trying Baines in a central midfield role? Try it! Garbutt is a capable left back.
I haven't actually rated McCarthy for a good few months now but he is much better than Barry. I do worry about Besic, he always looks like red card ready to happen but I think he should start. Hands clasped in prayer already!
Jim Wilson
151
Posted 20/03/2015 at 23:04:45
Your European dream came to its inevitable end last night, Bill, so you can remove Roberto now, the dream is over.
The tactics for last night were incredible. We started the game leading, so pick a 5-man midfield, keep it tight, and catch them on the break. But no, Martinez chooses to pick his suicide 4-3-3 formation, never learning from the away games at Southampton, Hull and Stoke etc, and give Kyiv all the space they needed to run through our midfield and down the flanks.
And if there was ever a game to play the passing game and keep ball, this was it... but amazingly this did not happen, And Kiev were not that good, they were given the game. If ever there was a match that showed that Martinez is out of his depth and lacking in any common sense this was it.
And no one can tell me Alcaraz is a better option than Distin or even Hibbert being moved inside. He is horrendous and causes panic in the defence every time he plays.
I can't see us beating QPR with Martinez in charge as he hasn't a clue and I don't think we will be motivated enough. We need a sensible 4-4-2 or 4-5-1 formation and we need a disciplined performance. Something that won't happen with Martinez in charge.
And with no more 'Gimme' games left like Newcastle we are nowhere near clear of danger in the Premier League.
Phil Walling
152
Posted 20/03/2015 at 22:56:31
Drew Shortis,
Do you really believe that Everton is the club for trainee managers? You say you'd 'love to see him turn it round' as though the mess was of someone else's making. And then you go on about his learning lessons.
This is Everton we are talking about, mate, not bloody Wigan!
Kevin Rowlands
153
Posted 20/03/2015 at 22:59:42
Team for Sunday should be:
Robles
Coleman
Stones
Jagielka
Garbutt
Lennon
Gibson
McCarthy
Baines
Osman
Lukaku
Play that side we win going away, and with real strength coming off the bench, but of course he won't, football genius my arse!
Ian Riley
154
Posted 20/03/2015 at 22:47:01
What planet is our manager on? I just cannot listen to him anymore. The lack of accountability shown by him for such a poor season is the reason he has to go. Our defending, set plays and lack of fight reflects our manager. Players like Coleman and Baines have looked shadows of last season.
If the manager stays, players will leave and average players come in. The same model at Wigan and they will be playing in the third tier next season. Your call, Mr Chairman!
John Gee
155
Posted 21/03/2015 at 00:32:50
Phil Walling, to the best of my knowledge I didn't challenge you last season when you told all and sundry we had a poor manager who would revert to type. If I did have a go, I apologise. You've called this guy right.
In fact, with hindsight, even your low opinion of him has turned out to be optimistic. I know for a fact you don't take any joy from this. Usually in football a manager is safe up to the point the fans turn on the board.
Kenwright out!
Patrick Murphy
157
Posted 21/03/2015 at 01:00:48
I logged off the internet and was going to see what the TV had on offer to rid myself of all thoughts about Everton and what comes on Film 4 but a spaghetti western entitled El Topo.
It is described as an excessive stylish and surreal take on the genre, it has two actors called Alcaraz and another called Martinez "El Borrado" which apparently means The Eraser. Is there no escape from Alcaraz?

John Gee
158
Posted 21/03/2015 at 01:17:48
Patrick, if you think that is bad, I've just injected heroin into my prostate and I'm having visions of a cowboy called el boberto who moseys around different frontier towns fucking anything in his path. Especially anyone wearing a blue shirt.
Eugene Ruane
159
Posted 21/03/2015 at 01:38:04
John Gee (158) - "I'm having visions of a cowboy called el boberto who moseys around different frontier towns fucking anything in his path"
I used to have visions of a red-haired cowboy named Dave who would moysie around.
John Gee
160
Posted 21/03/2015 at 02:12:39
Eugene, the dour cowboy of the county. There's a song in there, somewhere.
Eugene Ruane
161
Posted 21/03/2015 at 03:11:06
John Gee, after his 'knives to a gunfight' comment before that City away game, the original title is probably more apt.
Harold Matthews
162
Posted 21/03/2015 at 04:02:16
He definitely had the right idea. A clean sheet was never on. 2 away goals should have been enough but a deflected shot and poor defending cost us dearly.
3 games in 7 days proved to be too much for Alcaraz but others were half asleep at vital times. As Jags said later, "We were not good enough."
David Barks
163
Posted 21/03/2015 at 04:58:41
Harold,
Sorry but what planet are you living on? He had the right idea?? His gameplan was shocking and the team was completely unprepared, and his boys Alcaraz and Barry were to blame time and time again.
We were losing 4-1 for most of the match. Our second goal came in garbage time, and their goal count of 5 really could and should have been much more.
All season he's had the wrong idea, he's a clown. Martinez must not be allowed to continue as manager after this season.
Jim Bennings
164
Posted 21/03/2015 at 07:47:25
A good column I read about the paucity in quality of Everton's corner-kicks.
The corners have in the main deteriorated but perhaps it's all dead-ball situations even free-kicks because Baines for example was once a expert and whipping the ball up and over the wall from free-kicks, can anyone tell me the last time Leighton Baines even as much as hit the target with a free-kick let alone scored??
Is this also down to being out of practice? It's well known Martinez doesn't work on set-pieces, anyone who has read players interviews or extracts from Osman's book tells you that.
Apparently Osman questioned coach Graeme Jones about why the players no longer worked on dead-ball situations such as corners? Jones's answer was that you don't score many goals from them to make them worthwhile wasting time on in training.
Harold Matthews
165
Posted 21/03/2015 at 07:27:54
David. I've wanted him gone for a very long time but, unlike you, I don't let my emotions take a hold of my brain. If you think he should've gone for 0-0 then it is you who are living on another planet. The professional way they scored their away goal at Goodison suggested more of the same on their own patch. He had to go for goals and we scored goals. Yes, they could have scored more but so could we. I seem to remember we twice hit the post.
At the end there was only 2 goals in it but our general performance didn't merit a victory. Why single out Alcaraz and Barry when Naismith, the fullbacks and others were not tracking back, not following their man and not stopping crosses? We were poor all over the pitch and in the modern game the defending starts high up.
After listening to the rubbish spouted by my old hero Peter Reid, I wouldn't call Martinez a clown. In fact, I've never felt superior enough to call anyone a clown.
As the manager, he is responsible for our lowly league position and where things will go from here is anyone's guess. The players looked cheesed off and weary the other day and I only hope we get things together before the QPR game. We're out of Europa now so forget it. Things didn't go right so what. It's not the end of the world. The sun is shining outside and I'm about to enjoy a cup of tea and scrambled eggs on toast. Cheers.
Jim Bennings
166
Posted 21/03/2015 at 08:47:26
Paul
I'd absolutely love Jurgen Klinsmann, that would be a dream for me and he would attract players from all over being the famous name he is. Sadly I don't see it ever happening, I don't see him leaving the Hollywood lifestyle over there to come to a club financially restricted with no European football and no state-of-the-art stadium.
Laudrup? For me, I'm pulled both ways on that one to be honest. I think he could be a bit similar to Martinez in that he likes this slow build up and seems to have his philosophy that he will be rigid on. I also think he's a bit of a short termer. I know he won a cup with Swansea but hey we have already made that mistake haven't we?
I'm not sure who the next man will be, I just hope Kenwright will be bold and ambitious and attempt to force this club out of the doldrums it's in at present, don't allow it to fester on and on for 6 or 12 more months.
Chris James
167
Posted 21/03/2015 at 09:16:38
Just looked on the Everton official site, curiously there's not one 'approved' comment on any of the recent articles, not even from the 90% of supposedly happy supporters.
Thank god for ToffeeWeb is all I can say.
Bobby Thomas
168
Posted 21/03/2015 at 09:57:06
Cannot believe the shouts for Laudrup.
Klinsmann & Klopp are fantasy land.
Unfortunately, with this board, think small.
We all have our views. No doubt many will disagree but I think it's a possibility Lennon could be a good fit.
He's managed a big club, European experience at the sharp end, worked to a budget and his sides have a toughness and are organised. The latter should be standard. Plus he has personality, character and could handle the job.
Kim Vivian
169
Posted 21/03/2015 at 10:40:33
Harold, it is nice to see a more subjective post than most on here which is not just lambasting RM, rightly or wrongly. Like you, I see it as we lost a match. End of. Kiev are not dross and knew what they had to do, and did it. We also knew and did not....
However, with 4 goals in a two-leg tie, including two away goals, I would not expect to lose, and as a team – we lost. The fault lies with both the players and the manager but I do believe the manager's personality is having a huge detrimental effect on the players' drive, notwithstanding team choice and tactics – all of which exacerbate each other.
Personally, I cannot make my mind up about RM. Right now, I do think he is best gone from our club but I am not sure we will not see a different RM sometime, somewhere in the future and we might be wishing that was with us. I think many of the players are maybe intimidated by a control-freak personality which we do not see, and I speak from experience when I say that some outwardly charming and charismatic personalities can hide a quite intimidating dark side.
Some strong personalities will stand up to, and confront that, only to find themselves sidelined – I give you Eto'o, Distin, Pienaar and any others you might care to think of including backroom staff, physios etc.
I think this may actually be the root of the problem and what actually leads to the evident obstinacy we see. Think about that.
Phil Walling
170
Posted 21/03/2015 at 13:17:32
Colin, If all whinging was banned on here and restricted to 'true supporters' like your goodself, the current 'Mailbag' would be more than 500 posts lighter and the Editors looking for something else (more rewarding?) to do with their time.
Those who feel comment should be restricted to praise of the board, manager and players (it's CLAIMED elsewhere that over 90% of Evertonians are happy !!!!) should find a less permissive outlet... whilst those remaining continue to study the league table!
Harold Matthews
171
Posted 21/03/2015 at 13:33:56
Good shout, Bobby, but I don't expect a change.
Phil Walling
172
Posted 21/03/2015 at 14:31:57
Merson saying on Soccer Saturday that Everton are beginning to look like Wigan.
Now there's a fecking surprise for you!
Drew Shortis
173
Posted 21/03/2015 at 14:47:21
@Phil Walling.
"Do you really believe that Everton is the club for trainee managers?" – True, and last season I was convinced we had found the right man. Some harsh lessons 'learned' with Wigan, but also some success and a lot of potential.
I'm now coming to realise he does not seem to have learned those harsh lessons from Wigan and I can see why many are now comparing us to them. It does appear our defensive solidity was more down to what Moyes ingrained in our back four than anything Martinez introduced.
I'm not suggesting these problems are not of his own making, from the poor pre-season to the rigid possession tactics and failure to organise a solid defence. I accept all of these things, I wish he would too! That does not stop me from having brought into his philosophy (call it sales patter if you like) for the future.
I WOULD love to see him adapt and succeed. Not so I could personally feel vindicated for my faith, but because that would be best for EFC. Do I still have faith that he can change? At the moment I have gone from religious fanatic to agnostic. Atheism is only a small step away!
Jim Bennings
174
Posted 21/03/2015 at 15:00:08
Ralf Rang-Nick to tell Bill he chose the wrong man in Roberto back in June 2013.
Seriously though it's all hindsight but you do wonder what Ralf Rangnick or Victor Perreira of Porto would maybe have done to differently if given the chance when interviewed to become our next manager.
As we say it's totally 'if's, 'but's and 'maybe's but you can't help wonder if things may have been different.
Phil Walling
175
Posted 21/03/2015 at 15:37:02
Jim, BK 'went foreign' (sort of !) for his last appointment so I think his next one will be much closer to home grown talent – although plying his trade in another country (sort of ).

Joe Foster
176
Posted 21/03/2015 at 15:47:37
North of the border Phil?
Harold Matthews
177
Posted 21/03/2015 at 19:03:40
Kim #169. After going into detail about a Finch Farm interview with Roberto Martinez, Colin Murray of Talk Sport was asked to describe our manager in one word. Without hesitation he replied."Ruthless"
Certainly there are times when his eyes darken in the manner of a Reptilian Shape-shifter and I'll bet Mr Murray got out of Finch Farm in a hurry.
Yes, his refusal to budge has almost certainly cost us points but my main problem has always been his insistence on Premier League experience before form and ability. This causes players like Howard and Barry to walk back in even when their replacements are doing well.
It also limits permanent signings from abroad and gives no chance to promising youngsters.
Personally I would have got rid when he said he was carrying on with the slow-motion tippy tappy stuff but BK will probably hang on for a while.
Tony Hill
178
Posted 21/03/2015 at 20:36:18
Harold, I think he is ruthless but, as you suggest, that can still mean he's hopeless of course. Real steel and authority have to be used with intelligence and I fear he's just in a world of his own. There have been too many obviously stupid decisions but Kenwright will indeed stick with him, especially since the results today mean that relegation is very unlikely.
The only question is whether the players will try to get rid of him in summer and whether BK will ignore them. There's a hell of a lot at stake.
Harold Matthews
179
Posted 22/03/2015 at 06:43:42
A lot at stake indeed Tony.
---
Add Your Comments
In order to post a comment, you need to be logged in as a registered user of the site.
Or Sign up as a ToffeeWeb Member — it's free, takes just a few minutes and will allow you to post your comments on articles and Talking Points submissions across the site.
© ToffeeWeb