Defensive nightmare ends Martinez dream
By Michael Kenrick
19/03/2015

Comments (458)
jump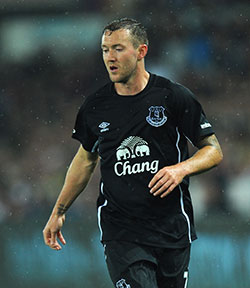 (Stu Forster/Getty Images)
Dynamo Kyiv 5 - 2 Everton (6 - 4 on aggregate)
Everton hoped to be the only British club to make it into the quarterfinals of European competition this season as they took on Dynamo Kyiv but it all went horribly wrong.
Roberto Martinez rang some changes for the second leg in Ukraine, with Steven Naismith, Gareth Barry and Christian Atsu in the starting XI. Leon Osman dropped back to the bench with Darron Gibson and Arouna Kone. John Stones was apparently well again but Antolin Alcaraz continued in central defence alongside Phil Jagielka. Aiden McGeady travelled with the squad but was not selected after only two full training sessions.
With a massive and vocal 70,000 crowd, the match had the atmosphere of a major European game. Everton kicked off but the home side soon built the first attack, a deep cross that Gusev headed over. Antunes was next to fire across goal off a throw-in.
Everton responded, however, Barkley driving in a low shot, scuffed a little, and Naismith trying to release Lukaku down the channel. The physicality of the game may have surprised the Blues, with Barkley in the wars, Naismith scrapping and Jagielka getting caught by Sydorchuk. That saw some sustained pressure from Everton, with blocked shots from Barkley, Naismith then McCarthy, Everton looking anything but intimidated by the noisy locals.
Baines was forced to concede the first corner, taken short and defended away. Atsu had the chance to set Lukaku free but his pass was intercepted too easily, which led to a period of Kyiv pressure.
A superb strike from Yarmolenko finally broke the deadlock, as he was given room to run at the Everton defence as Barry tried in vain to block him and Howard stood motionless, watching the ball fly past him to turn the tie on its head, because of that early away goal in the first leg.
Barkley got free on a great ball from Naismith and scampered off, taking it perhaps one touch too far and cutting it across goal to strike the far post, Atsu unable to grasp the follow-up. Kyiv were right back up the other end, a horrible bouncing ball beating Alcaraz and Jagielka, gifting Yarmelenko another glorious chance that Howard did well to parry behind for another corner.
Atsu's shot in was parried and this time Romelu Lukaku was very alert to pick up the blocked ball and curl a wonderful strike into the top corner, his NINTH goal in the competition, and the best, most vital so far. A tremendous response that gives Everton a huge fillip in the game.
Naismith was next to get forward off a great ball by Lukaku and won Everton's first corner, delivered too deep but wining a second that Baines put into the danger area, but it was headed out and a surging attack saw another defensive mistake at the back, and a poor clearance from Atsu that was returned with interest to the back post were it bounced off one attacker and fell easily for Teodorczyk who smashed it home with Howard again nowhere.
And seconds later it was a stunning 3-1, Jagielka heading out nicely for Velso hammer home a shot that deflected off Coleman's thigh and over Howard into the Everton net in a sequence of horrific Everton defending that may well have lost them the tie.
The Blues were visibly stunned by the turn of events, with the home side now in complete command of the tie, and of the possession stats, their determination to take advantage of the defensive errors to blow Everton away in a tumultuous first half that raised then stunningly crushed Royal Blue hopes of being the only Premier League club in the quarterfinals.
The early exchanges after the break were scrappy with Everton trying to press forwards but getting called for too much physicality, the Ukrainians doing an effective job of winning these decisions. Everton tried to play possession football through the middle and Naismith's ball for Lukaku almost came off, but the Blues would need to be more direct to catch out the determined home side.
But more horrific defending and pathetic goalkeeping saw a fourth given up far too easily, Gusev getting two bites of the cherry and poking in a rebound off Coleman to effectively end the tie for Everton with over half-an-hour left.
Atsu did lash in a tremendous goalbound shot but Shovkovsky pulled off a a brilliant save to deny him. Baines looped his corner way too deep and Kyiv were on the attack again.
Barkley tried his best to do a Yarmolenko with a superb strike but it smashed into the frame of the goal again. At the other end, Veloso drove wide with a fifth goal on the cards, as Martinez decided to make a double change. Osman and Kone replaced Atsu and Naismith.
Lukaku looked to have powered into the Kyiv area but is clearly impeded; however, it's given the other way by Ref Deniz Aytekin. But Everton were showing signs of life, Osman the next to be clearly impeded, but again, no penalty.
At the other end, Teodorczyk got behind Alcaraz but this time Howard, who had advanced, stood firm to parry over.
If it wasn't bad enough, another unbelievable strike, this time from Antunes in acres of space with no-one pressing him, bamboozled Howard and underlined a sad and sorry night for the Blues to make it 5-1. Everton "just playing for pride, now," as they say... Really?
Yarmolenko came close to making it 6, lashing a vicious shot off the face of the bar, as the Blues tried to play out the last 10 minutes with damage limitation as their priority after being roundly humbled by the kind of superior opposition may believed would show up the almost criminal defensive frailties Roberto Martinez has made such a central part of the team.
Jagielka scored a lovely header off a Baines corner, their fourth of ten in a goal-crazy tie. Osman won a dangerous free-kick with some clever footwork and Baines forced a save at the second attempt off the free-kick.
Osman tried a shot that was saved easily. Barkley played in Lukaku but he could not beat Shovkovskiy with his low shot. Lukalku tried another low shot in added time but it was totally lacking any power. Besic picked up a silly late yellow card before the sad but all too inevitable end to Everton's European adventure.
Scorers: Yarmolenko 21′, Teodorczyk 35′, Veloso 37′, Gusev 56′, Antunes 76'; Lukaku 29', Jagielka 82'
Dynamo Kyiv: Shovkovskiy, Danilo Silva, Khacheridi, Dragovic [Y:84'], Antunes, Rybalka, Veloso, Yarmolenko, Sydorchuk (65' Buyalsky), Gusiev (90' Kalitvintsev), Teodorczyk (74' Kravets).
Subs not used: Rybka, Garmash, Burda, Mbokani.
Everton: Howard; Coleman, Jagielka, Alcaraz, Baines; Barry, McCarthy (78' Besic), Naismith (65' Kone), Atsu (65' Osman), Barkley, Lukaku.
Subs not Used: Robles, Garbutt, Stones, Gibson.
Attendance:
---
Reader Comments (458)
Note: the following content is not moderated or vetted by the site owners at the time of submission. Comments are the responsibility of the poster. Disclaimer
Nick Entwistle
1
Posted 19/03/2015 at 17:06:58
What works in Europe stays in Europe. Back to 2 up front in the Prem please. As for tonight, I'm steadily eating my body weight in toffee today so to make us impervious to defeat... oooh mint!
Denis Richardson
2
Posted 19/03/2015 at 17:07:09
Really can't say I'm impressed by the starting xi. With no Gibson or Osman in the side I fear there's going to be little link up play between the CDMs and AMs.
Looks like a side mainly set up to defend which doesn't instill me with any confidence.
As usual with Everton. I hope I'm proved wrong.
Brian Hennessy
3
Posted 19/03/2015 at 17:12:06
Barry starts with no Gibson or Osman, Barkley and Naismith in the same side again, Roberto obviously has learned nothing.
At least we have some width with Atsu but not the team I would have liked.
Ray Roche
4
Posted 19/03/2015 at 17:19:10
No, Brian, you have to wonder where the inventiveness and guile will come from, I can't see any link up play possible. Still, it's his philosophy, innit?
Plato Stavrinos
5
Posted 19/03/2015 at 17:21:35
Osman and Gibson not fit enough for 3 games in a week so I am happy with starting line-up.
COYB
Bill Gall
6
Posted 19/03/2015 at 17:19:54
Played with 2 creative midfielders on Sunday that made up a more balanced side now he reverts to defensive midfield and players playing out of position, just doe's not make sense.
Wrong place to go to for a defensive game, we need 1 goal at the start, and I feel this team selection is more for containment. Hope I am proved wrong.
Jon Withey
7
Posted 19/03/2015 at 17:23:56
Set up for the counter attack then.
I wouldnt be relying on the defence myself – at least not too much – we concede a lot of soft goals so we need to score some.
Plato Stavrinos
8
Posted 19/03/2015 at 17:26:10
Barkley, Atsu, Naismith and Lukaku is not that defensive in my eyes.
Let's hope Barkley plays the creative midfielder role tonight...
Chris Gould
9
Posted 19/03/2015 at 17:26:10
Can't believe he's reverted back to that system? Well I can believe it but I'm still stunned. Nobody to play a decisive pass, and Naismith or Barkley out of position. No balance. Nothing learned. Dammitt!!!
Alex Jones
10
Posted 19/03/2015 at 17:26:34
Maybe we'll win well and I'll have to eat my words but this is clearly what this fucking fradulent clown thinks is our best team!
McCarthy and Barry have not worked since halfway through last season and yet still he persists. Naismith and Barkley up top has never worked and yet still he persists. He changes winning teams, alters successful styles but yet always comes back to this same shit formation and shit selection. What is wrong with him?
Garbutt should also still be playing in this comp as he doesn't deserve to be dropped.

Jim Bennings
11
Posted 19/03/2015 at 17:37:13
Time for Atsu and Barkley to really step up to the plate and erase the poor form they have shown this season.
I'd have been inclined to start with Osman ahead of Atsu because he will hold the ball more intelligently but as I say it's down to Atsu himself to prove us wrong and prove he is not just a player that shines for Ghana.
The big concern for me is Gareth Barry getting sent off and landing us in a world of shit.
Andy Meighan
12
Posted 19/03/2015 at 17:45:43
I think Alex 10 has pretty much nailed it for me. Why fix what isn't broken? Backs-to-the-wall job. Hope I'm wrong... my god, he loves that Barry.
Chris Wilson
15
Posted 19/03/2015 at 17:51:38
In my opinion, a game like this needs players on the field who all have the ability to play all the way to penalties if necessary. I don't think Gibson, Osman, or Kone could do that for us. Not to mention that if the field is as bad as described; it might not be the best match for guys coming back from ligament injuries.
And let's not forget, we still have a game Sunday. I know majority of our focus is on this one, but we also need to look ahead. Gibson and Osman will be needed to breakdown QPR.
David Booth
16
Posted 19/03/2015 at 17:49:58
Nothing against Barry, but disappointed he's right back in, after impressive – and more progressive – changes in his absence with Gibson and (amazing admission for me, Osman).
Don't like Naismith in midfield and hope Barkley he is pushed up to aid Lukaku as the very good finisher he is, instead of competing for oxygen in the middle. He's a penalty area finisher and should be up with Lukaku.
Disappointed for Kone too, as I think he's have stretched them tonight. But all too late now. Here we go. COYB. Play like you can and get us through. These really are nothing to be over-concerned about, as you should know from last week – if you get into them.

Ajay Gopal
17
Posted 19/03/2015 at 17:59:56
Almost the team that I had – except for Naisy coming in for Besic. I have a feeling that Atsu and Barkley will have stormers.
Subs: Kone for Lukaku when everything is done and dusted, Besic to provide additional protection in place of Atsu, Osman for Barkley.
2-1 today, 4-2 overall
David Harrison
18
Posted 19/03/2015 at 18:21:23
Why would you allow their best player so much space?? We have defensive midfielders all over the place .
Paul Carsley
19
Posted 19/03/2015 at 18:23:11
Same old rubbish. Does Barry have a lead weight in his shorts?
Vineet Sood
21
Posted 19/03/2015 at 18:29:09
....I love Lukaku right now - all you critics eat humble pie!!

Vineet Sood
22
Posted 19/03/2015 at 18:32:42
....and all you Alcaraz critics......you are absolutely right
Steven Telford
23
Posted 19/03/2015 at 18:36:18
If you had John Stones fit, why the fuck would you play Alcaraz??!?!
Fucking sleepy sloppy defending...
Gavin Johnson
26
Posted 19/03/2015 at 18:37:59
Get Alcaraz off for Stones now! How many more mistakes..WTF!!
James Byrne
27
Posted 19/03/2015 at 18:39:01
What a pile of fucking bollox..........the Martinez strategy to defending!

Logan Shave
28
Posted 19/03/2015 at 18:41:34
"Too often Alcaraz is a danger inside his own half" – ITV commentator.
Too fucking right! Why did he start?!? To be honest, I don't understand the team selection in general.
Also, where the fuck were our defensive midfielders for any of their goals?
Logan Shave
29
Posted 19/03/2015 at 18:46:31
Is Alcaraz playing right wing now?
Robin Cannon
31
Posted 19/03/2015 at 18:51:50
Well, this is painful.
Leung Chi Ho
32
Posted 19/03/2015 at 18:50:25
Solution: Barry out, Gibson in. Alcaraz out, Stones in. Naismith out, Kone in.
Steven Telford
33
Posted 19/03/2015 at 18:50:50
Atsu has been a bit wasteful also.
Roger Helm
34
Posted 19/03/2015 at 18:54:19
Not a time to panic - KITANO and we are through.
Lukaku is the real deal.
We need a proper CH in the summer to partner Stones.
Get Alcarez off and Stones on.
Barkley hasn't been in the game. Get Gibson on.
Jim Bennings
35
Posted 19/03/2015 at 18:58:56
Fucking typical Everton!!
Does any club do self destruct like US??
Atsu and Alcaraz shouldn't be in an Everton team again.
Embarrassment this under Martinez.
The man cannot do defending.
Craig Mills
36
Posted 19/03/2015 at 18:58:55
Such poor defending......we don't deserve anything if you cannot defend simple balls hoofed into the box unfortunately Jags and Alcaraz just haven't been able to cope.
Terry McLavey
37
Posted 19/03/2015 at 19:01:51
Leung (#32), good idea, can't get any worse (or can it?!)
Do Wigan want Alcaraz back? They probably wouldn't want him anyway!
Ian Riley
38
Posted 19/03/2015 at 18:59:48
How the feck can we defend so badly with two holding defensive midfielders! Gibson and stones? Our defending is so bad, they could score 5 or 6 tonight. Second half, here we go!
David Holroyd
39
Posted 19/03/2015 at 18:49:26
Why was Alcaraz picked in the first place slow yes and worse then that Stones is on the bench. What has Distin done to be replaced by that pile of crap. We have been lucky in Europe let's be honest every team has made chances against us.
The tie is not over but surely Martinez's tenure is coming to a close, would you trust him with what transfer kitty we have? This season has been one of the worst since Kendall's third stint.
Just looking at Martinez just starting the second half he looks lost . Kiev look to be faster, stronger than us.
Every time the ball goes near them green boots, I worry as its Alcaraz.
Steven Telford
40
Posted 19/03/2015 at 18:55:42
We are a fucking mess!
Fucking Martinez... how did it come to this?
James Byrne
41
Posted 19/03/2015 at 19:15:37
Found out big time, team selection a joke. Get rid of this manager once and for all ffs.
Terry McLavey
42
Posted 19/03/2015 at 19:16:54
What a fuckin' shambles! Maybe now something will be done!
We are a laughing stock! It could be a rout!
Jim Bennings
44
Posted 19/03/2015 at 19:12:17
This has to be Martinez's last game tonight. Watershed moment.
We are the Wigan team that lost 9-1 at Spurs under Martinez's stewardship.
Kiev have done nothing special yet we have gifted them 4 goals, this echoes the Arsenal match last season in the FA Cup.
Martinez has truly lost me now. I honestly hope we lose at QPR if only to get shut of this amateur clown...
Only Barkley and Lukaku can hold their head up tonight
Andy Crooks
45
Posted 19/03/2015 at 19:21:32
Leung, common sense. Why can you not be our coach?
Alex Parr
46
Posted 19/03/2015 at 19:25:26
Good shot there of Atsu, Besic and Robles on the bench. Must be wondering as a trio what they have to do.........
Andy Crooks
47
Posted 19/03/2015 at 19:25:22
It seems that the only reason that the fraud has not been sacked is about to go.
Steven Telford
48
Posted 19/03/2015 at 19:26:07
This constant going down too easy looking for penalty is doing us no favors; if we do have a ligit call, it could go against us.
Si Mar
49
Posted 19/03/2015 at 19:29:45
This is a result that has been waiting to happen in Europe all season. i'd see how it goes on Sunday; a defeat and I'd have to get rid...
Jim Bennings
50
Posted 19/03/2015 at 19:30:56
The galling thing is Kiev haven't even been very good, they have simply wanted it more.
Too often in the Martinez era, motivation and desire have been questioned – and none more than tonight.
Martinez will never be a good motivator... FACT!
Christy Ring
51
Posted 19/03/2015 at 19:22:36
Game lost before we started with his team selection. Barry and Alcaraz a pure joke and both left on.
Time to go... and bring Tim Howard with you; embarrassing.
Steven Telford
52
Posted 19/03/2015 at 19:35:40
Humiliation.
Paul Webb
53
Posted 19/03/2015 at 19:37:35
Martinez – close the door on the way out.
John Maddock
54
Posted 19/03/2015 at 19:35:04
If I was crap at my job, I'd be sacked, no questions asked.
If we can't get rid of Martinez, can Bill not just sack Alcaraz and Howard for being crap, then Martinez will be forced to play better players?
Thanks for the Birthday present Bob, I only asked for a result and a decent performance.

Jim Bennings
55
Posted 19/03/2015 at 19:37:10
Typical Everton!!
Always the same story..
NO HEART NO COMMITMENT
Martinez needs to GO NOW..
Gary Carter
56
Posted 19/03/2015 at 19:39:40
Please pleas now can we get rid of this total fucking idiot, he can take his back room staff, Alcaraz, Robles, Atsu, Barry and Kone with him!!!
Robert Johnson
57
Posted 19/03/2015 at 19:37:42
What an embarrassment! Never felt so embarrassed that I have turned the TV off even though it's after so many years Blues are playing in Europe and don't know when will be the next!
And there are still "Mr Phenomenal" apologists here who are saying it's not over yet. Their level of delusion is unbelievable!
I said the Kyiv game will be a totally different ball game than Young Boys who defended like a bunch of clowns.
Waiting for next set of excuses from this fraud of a manager's apologists.
Jim Bennings
58
Posted 19/03/2015 at 19:41:39
What has happened to Seamus Coleman??
He has been utter shite this season.
Terry McLavey
59
Posted 19/03/2015 at 19:39:12
I suffered watching it at home, I feel for the Blues who went over to watch this shite! EFC should pay them compensation!
I think whatever the result we need a clear out and have to regroup.
"I'll get you Champions League" ... Oh fuck off! Fine words indeed. Fall on your sword, Roberto, we don't deserve you!
Stephen Brown
60
Posted 19/03/2015 at 19:46:13
He's lost me now too. Inept coaching to allow a team to defend like this !
If Alcaraz plays for Everton again, it is a travesty! Horrible performance defensively. What a shit season.
Luke Dunn
61
Posted 19/03/2015 at 19:46:58
For sale: back 5.
Man Utd still want Coleman? How crap has he been? Not worth 㿨 grand, I say.
David Holroyd
62
Posted 19/03/2015 at 19:37:32
Who ever is the manager next season has a lot of work to do. Howard, Distin, Alcaraz, Barry, Hibbert, Atsu, McGeady all need to go. Mirallas, and Coleman also need to go as they will give us some money. Kone might as well go also.
Howard has not got near any of the shots tonight; he has already gone.
Paul Jeronovich
63
Posted 19/03/2015 at 19:50:56
Bad defending, really, really bad. What have the players been working on tactically?? Fuck all probably.

Jim Bennings
64
Posted 19/03/2015 at 19:48:32
We seriously do have to shift this man out of the club immediately because the vast majority of support has turned against him now, why make the fans suffer more of this?
Martinez was known throughout his time at Wigan for these exact problems.
I don't want to see anymore of this, I don't know about the rest of the fans but I have had enough now.
Brian Hennessy
65
Posted 19/03/2015 at 19:39:18
Right that's Europa finished so can we now please get rid of this excuse for a manager?
Apart from his flawed footballing philosophy and team formations, the first thing you ask your manger to do is to pick the best players available.
To select Howard, Alcaraz and Barry when there are obviously better options available (Robles, Stones and Gibson). To play Barkley and Naismith in the same side week after week.
He will probably say Stones isn't fit but can you just imagine how many headers Distin would have won tonight if his manager didn't exclude him from the squad.
Martinez is just plain useless; get rid now, please!
Neil Cremin
66
Posted 19/03/2015 at 19:45:48
This man does not know how to organise a team defensively. In one year he has dismantled 10 years of work to make us a hard team to beat.
Laurence Evans
67
Posted 19/03/2015 at 19:55:58
Why can't Martinez see how bad some of Everton players are?Alcaraz is not a Premier League player. Howard playing awful McGeady rubbish. Barry too slow now. Has our manager got tunnel vision? Just get rid of Alcaraz to start with please.
Paul Jeronovich
68
Posted 19/03/2015 at 19:54:55
Agree with comments on here regarding Alcaraz, he has been at fault in both legs, what has happened to Distin?
Stephen Brown
69
Posted 19/03/2015 at 19:53:24
I can't believe the defending! We scored 2 and hit post twice with any sort of decent defending we would have won.
Shambles at the back! I called, along with many others for us to go after Shawcross in August! There's no way we are conceding 3 of those goals with him in the side!
Defending is an equal part of the game of football which needs equal consideration to attack – pathetic.
John Gee
70
Posted 19/03/2015 at 19:51:56
Kenwright should have sacked him after the Southampton game. Well, you've just watched a repeat of that game, Bill.
If Martinez has any honour, he'll resign tonight.
Gavin Johnson
71
Posted 19/03/2015 at 19:54:05
Good performances from Ross and Rom from a team of otherwise abject performers.
Alcaraz shouldn't have been on the pitch after half time. Was Stones half fit?!? He must have been to stick with that lump who can't head a ball.
Terry McLavey
72
Posted 19/03/2015 at 19:57:15
How come we always get a sense of urgency in the last ten minutes? Try doing it in the first ten and we might get somewhere!
Max Wilson
73
Posted 19/03/2015 at 19:56:02
It's already been said tonight above my posting. I concur with every point made. Alcaraz, the whole Wigan wagon must go.
I stopped and thought for a minute or so what it must be like for our talented players, several of whom were not in the starting eleven, to have to put up with all this shit game after game, week after week. Our chairman really needs to realise now he's producing a flop show; in his world he'd have acted with more speed.
Roger Helm
75
Posted 19/03/2015 at 19:48:50
Well, fair play to Kiev, I thought they were a good side and may win the competition. It's such a shitty place to live I don't begrudge them what happiness they can find. We never had the quality to trouble the better sides.
Offensively we did okay and we competed in midfield, but our defence was hopeless. The problem is I don't believe Martinez is the man to sort it out. BK has to get rid of him or if he can't afford that, insist on a defensive coach. Simple things like marking tight, not allowing crosses, tracking runners, not backing off so much, working on set pieces. A League Two coach could organise that.
Mike Price
76
Posted 19/03/2015 at 19:57:38
Howard never takes pressure off the defence, is often poorly positioned, shrinks to his knees for long shots, dives backwards reducing his silhouette and never bails us out.
Taken in isolation it's not all his fault tonight, but it's the whole season he's completely wrecked. Of course he makes the occasional save but never, ever enough.
Jim Bennings
78
Posted 19/03/2015 at 19:56:51
I'd rather lose on Sunday and get Martinez out than win and hear the crap about our season turning around.
Our entire season has been a total embarrassment from day one and even now it's equally as bad.
What can we seriously expect to achieve with this manager?
It's plainly obvious that last season was primarily down to David Moyes leaving the club in a relatively stable state.
Since the turn of last year, Martinez has slowly stamped his mark much in the same way he did at Wigan, after Steve Bruce kept them defensively strong.
Martinez has killed us.
Faisal Bhayat
79
Posted 19/03/2015 at 20:03:11
How bad were we tonight!?! Martinez Out!
Tony Draper
80
Posted 19/03/2015 at 20:03:04
Defence was weak.
Defence starts when the opposition gains possession.
Lukaku was great, well done Big feller, well done.
Ian Riley
81
Posted 19/03/2015 at 19:55:04
It's over, quality side, pace, movement and defended as a team, all we are not! Sadly, unless a change of manager in the summer, European football will be many years to come. Sadly our defending reflects of a manager that relegated a Premier League club after 4 years in charge. I actually forgot we went with a lead into that game! Our defending is that bad the manager does not believe we can keep a clean sheet! God help us!
Bill Gall
82
Posted 19/03/2015 at 19:20:00
This is what happens when you play your league form in a Europa competition. I guess is was not far wrong with my comments #6 .
Martinez continuing with chopping and changing is not working and I cannot understand why he doe's not realize it. How many more times doe's he have to continue with Barry as first name on the team sheet and Barkley and Naismith on the same team that has never worked.
I do not like to see people lose their job but how long are the Chairman and Board going to put up with the same problems game after game not addressed?
Tony Hill
84
Posted 19/03/2015 at 19:54:45
A sadly predictable collapse brought about by horrible defending. We can all see the problems and I think we delude ourselves if we think a change of manager will suddenly transform us. Though I should add that Martinez looked bewildered again tonight.
There is an awful lot of dead wood in that side and we have very few genuinely good players. The decline in our full backs is extraordinary.
We're a poor side at the moment and it's a long road ahead I'm afraid. Get safe this season and then some ruthless, deep thinking is required. Whether we get that is, of course, doubtful.
Gavin Johnson
85
Posted 19/03/2015 at 20:04:46
Jim, it won't matter if we lose on Sunday. Bill can't afford to pay out on that whopping contract he gave Martinez after he over achieved last season.
Terry McLavey
86
Posted 19/03/2015 at 20:04:41
Jim (#78)
I'm with you on that one I hope we get reamed, but BK would have to admit he'd made a wrong decision, and what's the chances of that? They all have the mentality of a Word War One general, never fuckin' wrong!!
Andrew Wilson
87
Posted 19/03/2015 at 19:58:04
Martinez... the contemporary Kevin Keegan. His teams will always concede a bagful of goals, as defending is just not in his thinking. For this reason, I don't see why he should be allowed to continue, as it won't change in the long term. If anything next season could get worse.
Good attacking football is fine, but you simply can't ignore the defensive side of the game, which he clearly does.
James Flynn
88
Posted 19/03/2015 at 20:00:20
Can't deny that the better team won.
All these games into this season, I do wonder; what exactly do we train on at Finch Farm? Because it looks like, EPL, Europa, or Cups; our philosophy is "Go get em boys." We deserve better than that.
Stephen Brown
89
Posted 19/03/2015 at 20:07:16
I tend to agree with Tony (#84) as, if you really start to analyse our team, then maybe we are where we should be?
Howard – gone;
Alcaraz – crap;
Barry – too old;
Naismith – a trier but limited;
Coleman and Baines – found out.
Which players are really top drawer?
Depressing!!!
Eddie Dunn
90
Posted 19/03/2015 at 20:06:22
The game started, and we were strolling around like it was a day out in Bognor. We should have raced out of the blocks hitting every white shirt in sight! Coleman was awful, and Alcaraz unbelievable.
Barry too slow, and Tim was beaten by a couple of super strikes but for one he was on his arse on the line as the ball whizzed past him off a post. He made a couple of saves but he is poor. Naismith was dreadful. Barkley was great and that is all.....
Sack Martinez now please.
Mohammed Horoub
91
Posted 19/03/2015 at 19:55:38
Please, Mr Kenwright, put us and RM out of our and his misery. Send a message that failure is not an option. If you don't sack him it means we accept as a club to concede 3 goals in 1 half. It means we accept playing 6 pointers to stay in the Premier League in late March. He fooled you and he fooled us. We were blinded by his shiny FA Cup. Do the right thing and sack him on Monday.
You have 10 days to put a management team in place to get us over the line and rebuild in the summer.
My heart goes out to the supporters that travelled to Kiev tonight. You are Everton FC. One day we will get a manager who matches your and our expectations and loyalty.
Roberto you're a nice man but you are not good enough for this level. You put all your eggs in one basket and handed it to players like Barry, Alcaraz and Howard. These guys already have enough money to retire and don't care. We need young and hungry players and most of all we need a manager who knows how to keep a squad fit and organized.

Today's score is not normal. You are not normal.

Conceding 6 at home to Chelsea is not normal. Bringing Howard back after a string of clean sheets is not normal.
Playing Barkley and Naismith in the same team is not normal.
Throwing Atsu into the biggest game of the year was not fair.
I just want normal. Moyes was arrogant and I would never want him back but there has to be a middle ground somewhere. If we are depressed how does the team pick itself up for Sunday. QPR will show no mercy...
It is out of our hands; only Kenwright can change things now.
Robin Cannon
92
Posted 19/03/2015 at 20:09:36
Hateful to watch. There are many times I've been disappointed by Everton, there are few times I've been embarrassed by them.
Kyiv are at best an OK team, with one very good player. And they battered us.
Jermaine Jennings
94
Posted 19/03/2015 at 20:07:18
All I want is my Everton back.
RM is slowly killing Everton so he needs to go. Inept coach, Inept tactican. The players are confused with his philosophy and they need to be told what to do and need to be coached in all aspects.
I would rather get safe with two or three wins and then sack him. I cannot stand to see Graeme Jones and RM on that bench, they both wind me up. They are both clueless.
Trevor Peers
95
Posted 19/03/2015 at 20:13:01
And the PL survey had the cheek to say overwhelmingly Everton fans across the board in all categories support the way the club is being run. Where is that coming from after that totally predictable performance?
Neil Roberts
96
Posted 19/03/2015 at 20:12:21
Utter shit. That was phenomenally shit.
I'm sick as a parrot but should've expected it....
Fuckin' Alcaraz... fuck off and take Martinez with you.
Tony Draper
97
Posted 19/03/2015 at 20:07:22
5-2
You can not dress that up and make it look good.
5-2.
Cos.
5-2 is 5-2.
And no amount of "philosophy" will spin that into "plenty of positives".
5-2.
It's still, 5-2.
And realistic managers don't throw away a 2-1 advantage with a 5-2 defeat.
Peter Reid was FUCKING LIVID !
Thanks Reidy.
Jay Harris
98
Posted 19/03/2015 at 20:05:08
Five things we learned from tonight
Martinez must go.
We defend like a non-league team.
Martinez must go.
Alcaraz and Kone are not Premier League standard.
Martinez must go.
Patrick Murphy
99
Posted 19/03/2015 at 20:06:20
I really can't imagine any Everton manager apart from Roberto starting with Naismith, Barkley and Atsu away from home in a European tie, regardless of the result from the first-leg. Roberto disrespects his opponents and disrespects Evertonians.
Yes, we could have scored a few more but we could also have conceded a few more as well. As somebody said on the live forum – it was only a matter of time before the opponents started finding the net with so many chances on offer. Wolfsburg could have easily racked up five at Goodison and the other games presented plenty of opportunities for our rivals.
To make a mistake is human; to keep making the same mistakes over and over again stinks of incompetence. Loftus Road is not a happy hunting ground and right now I would happily take a point but, if our defence keep on giving so many chances away, we could be in for a horrible end to the season.

Mark Frere
100
Posted 19/03/2015 at 20:12:22
Gavin (84), that is bollocks! Every league position is worth nearly ٠ million. How much do you think it's costing the club finishing just above the relegation zone instead of top 6? You do the maths!
Seb Niemand
101
Posted 19/03/2015 at 20:16:30
Is there any reason now, for us to keep this hopeless fraud of a manager in charge of our cub? (Was there ever?)
Let him go, let him go now... and let us never speak his accursed name again.
Patrick Murphy
102
Posted 19/03/2015 at 20:16:19
BBC Ceefax aren't dressing it up as a valiant failure... they report:
"England's last remaining team in European competition were eliminated as Everton were hammed in their last-16 tie against Dynamo Kiev....."

Gavin Johnson
103
Posted 19/03/2015 at 20:12:19
Why oh why, was Baines even playing? Garbutt had been one of our biggest attacking outlets in the first leg. I don't think Baines should have necessarily been dropped. He wouldn't have done worse than Barry in midfield, or played in a 3 with McCarthy and Barry. Surely Baines and Garbutt can play in the same team.
Michael Polley
104
Posted 19/03/2015 at 20:08:05
Woeful comical defending.I thought we showed some courage going forward, but our defence was shameful. Ok 2 of the goals were wonder strikes, but schoolboy errors are always going to get punished particularly at this stage of the competition. Alcaraz is a nightmare. Where was Stones ?
I've mixed emotions about our exit. With our poor league position I always thought the EL was a distraction for us, but at least it did give us something to cheer about in an othewise bleak season. I feel it could be a while before we see European football at Goodison again,and that's a pity.
We need to focus on the league and start gathering points. 3 against QPR on Sunday will do.
I agree with a previous comment - come the summer RM needs to do some serious rebuilding & rethinking. Whether he is the man to do it is questionable !!!
One thing is for sure if results/performances don't improve during the early stages of next season he sholud go
Tony Hill
105
Posted 19/03/2015 at 20:14:17
Mohammed (90), you're right about QPR. We cannot afford to get beaten there, and sickening though tonight has been we cannot let it cripple us for the next few games. We just cannot afford that .

Oliver Molloy
106
Posted 19/03/2015 at 20:15:19
Jim @ 78
You would rather lose at QPR on Sunday!

Joe Foster
107
Posted 19/03/2015 at 20:20:07
I don't even feel angry any more just feel resigned to this now. I can't even be bothered with my usual Martinez out rant.
Richard Harris
108
Posted 19/03/2015 at 20:11:30
Regardless of the team selection and the tactics, Martinez and his bunch of Wigan cronies just can't work out how to defend.
He blames individual errors, bad luck, incorrect decisions from officials, how we just need to gain momentum and the results will come, Europa League games affecting Premier League form, etc – rather than admit he just can't get the basics right. He should have been sacked after the Christmas debacle.
That's me done for going to any more games this season and I seriously doubt whether I can make the effort and find the money if Martinez is still there next season....
Brian Burns
109
Posted 19/03/2015 at 20:13:17
I am speechless.
Gavin Johnson
110
Posted 19/03/2015 at 20:19:13
Mark, the post was black humour mate. I still don't think he'll be gone in any a case, BK will see how we start the new season. He won't want to look like he's made the wrong appointment.
James Stewart
111
Posted 19/03/2015 at 20:19:17
Martinez you sir are an absolute disgrace! You can take your incompetent band of ex Wigan fuckwits and leave our great club asap. In a lot worse state than you found it I might add. Enough is enough. We are only going in one direction under this clown. Martinez out!
Tony Draper
112
Posted 19/03/2015 at 20:22:24
Joe, I haven't started my RM rants yet.
So fuck it, fancy a pint mate ?
David Hallwood
113
Posted 19/03/2015 at 20:09:13
Call me old fashioned but in a two leg game if you're going into the second game with a one goal lead, you pick a team that parks the bus and if possible nick one on the counter.
RM comes out and says he isn't going for a 0-0 (got yer wish there Bobby) and defends like a Sunday league team. It's now obvious that the man doesn't do defence; or that defence is down to possession, rather than boring concepts like closing men down or tracking runners.
This has been obvious all season as goal after goal has been conceded not by brilliant play from the opposition, but a disregard to what I call the basics of football.
We're in a depressing place at the moment.
James Bradley
114
Posted 19/03/2015 at 20:21:05
I was hoping against hope we would pull a result out of the bag tonight but failed miserably. I've supported Everton all my 36 years through thick and thin (mostly thin in my recent memories) and the way we played tonight was the most embarrassing performance I have had the displeasure of watching, ever.
Bob has taken Moyes's hard work and turned us from a fit and hard-working team with a strong youth policy and scouting network into this shower in 18 months. I was so hoping he could build on Moyes's excellent foundations. He's just been found wanting too many times now. Not a proud night to be an Evertonian!
Joe Foster
115
Posted 19/03/2015 at 20:27:46
It's enough to drive a fan to drink Tony
Darren Hind
116
Posted 19/03/2015 at 20:24:00
If Martinez has any dignity left, he will resign tonight.
Shameful, shameful night.
I feel physically sick
Brent Stephens
117
Posted 19/03/2015 at 20:28:10
David agree totally. Solid back four and midfield of three. Hit them on the break.
Patrick Murphy
118
Posted 19/03/2015 at 20:19:15
The single biggest reason that Roberto has to go - if not immediately - then at the end of the season is because he believes that Alcaraz is good enough to play at this level - he might be good for the odd fill in game but not for a run of games. Roberto also thinks that playing relatively inexperienced players in the white heat of competition is also a good thing, it isn't it can break young players. The only player that he has bought to the club with any real potential is Lukaku and even I had misgivings about him when he signed but he has proved to be a decent lad and not a bad player. But I wouldn't expect Lukaku to be at Goodison next season - the lad wants to play in Europe and he won't be doing that on a regular basis with Martinez in charge.
I do agree that the back-bone of the team is over the hill and it is going to be very difficult to replace those experienced professionals in the short term all Kenwright's chickens appear to be coming home to roost simultaneously.

Oliver Molloy
120
Posted 19/03/2015 at 20:24:33
Richard @ 108.
We did have bad luck tonight, otherwise we would be in the hat for the next round.
The Europa League has indeed affected our league performances. Other than that... it is down to the manager and the players.
Andy Crooks
121
Posted 19/03/2015 at 20:21:33
That was as bad as I have seen for a long, long time. Inept team selection and truly shameful performances. Martinez and those players who shamed the club should compensate the Everonians who paid a lot of money to endure this so spineless disgrace.
Martinez will relegate our club. If he had any respect for the supporters he would resign. He is an arrogant, bewildered, out of his depth fool.He is a real danger to the future of our club and must be sacked. Who could replace him? Anyone.
Mike Powell
122
Posted 19/03/2015 at 20:13:09
That's it for me now. I won't, can't watch them again while that buffoon is in charge. I'm sick of being depressed watching this shambles every week... enough is enough. Please do the decent thing for once and resign.
Joe Foster
123
Posted 19/03/2015 at 20:29:24
Remember the days when Howard let in a goal he would go full Tourette's? Tonight he had some sort of "Ah well" look about him.
Carl Taylor
124
Posted 19/03/2015 at 20:26:44
As we know Billy Liar won't get rid of the manager, we need to bring back my favourite buzz word of Everton Managers past and call tonight a 'watershed' event. Alcaraz, Howard and Atsu must never wear the shirt again, and bring in a defensive coach (Bring back Weir?). If these things don't happen, then we can look forward to mediocrity at best!
Bill Gall
125
Posted 19/03/2015 at 20:24:46
The biggest problem now is, apart from the travel, we will have to go to QPR who will be fighting against relegation and our confidence with this defeat will be shot.
Tony J Williams
126
Posted 19/03/2015 at 20:29:52
Fucking clueless. Let's change a side that has registered the first league win in months to bring back a player who has been piss poor all season.
If Stones is fit enough for the bench, he's fit enough to play. Fucking Alcaraz... What was the point of the Besic sub... saving Jimmy for Sunday? Fuck off!
Dan Parker
127
Posted 19/03/2015 at 20:33:05
I often wonder whether our players played so well last season because they were vying for world cup places. A combo of that, Rom on loan and running on fumes from the Moyes days.
Richard Harris
128
Posted 19/03/2015 at 20:27:43
When we didn't take our chances in the first leg and went into the second leg 2-1 up I thought we would probably concede one goal and go out on the away goals rule. Then when I read this:-
"We would never come out trying to protect the lead. We will try to be ourselves."
Then I had an awful feeling it would go horribly wrong. There are times to take chances and times to keep it tight but Martinez has never understood defending. We will not achieve success as long as Martinez is manager and Kenwright still holds on to his trainset.

Stephen Brown
129
Posted 19/03/2015 at 20:29:36
What are Alcaraz's strong points? Why is he at Everton? He can't head very well! He's not strong or pacy! People say he's good on the ball but I've never seen that and quite frankly you can be the best player in the world on the ball but if you can't win headers, tackle and defend you shouldn't be in the team in defence!
He really shouldn't play ever again! Browning or Galloway cannot be worse than that!
Also was he under orders to play right wing for the last 10 mins?
This is sounding like a character assassination now but didn't he also previously spit at someone? Oh dear! Never again!

Peter Carpenter
130
Posted 19/03/2015 at 20:36:48
How much is a taxi from Kiev back to Wigan? That's it for me:
If the manager thinks Alcaraz is a better bet than Stones and won't change it at half-time when the evidence is piling up in front of his eyes.
If he thinks that the older, less agile goalkeeper is still better than the younger one who kept three clean sheets in a row last time we saw him.
If he thinks that getting away with Naismith half-filling-in on the left instead of an authentic left-sided midfield player is okay.
If he thinks playing 4 players who will not contribute defensively will work. If he can't organise a team to defend better than a pub team.
It's time to take his half-baked, dreamy, idealistic ideas somewhere else before he does some real damage. He is squandering the best squad we have had for years. Richer clubs will come calling soon and we will be back to square one. He has got no more idea than I have. He should go, hanging his head in shame at that clownish effort.
And he should take the head-in-the-clouds, lovey-dovey, over-emotional Chairman with him. Replace them with someone with a basic tactical brain and a hard-headed business background.
Utter, utter, utter shite and it didn't have to be like that.
Mark McDonald
131
Posted 19/03/2015 at 20:30:05
Oliver - we did have some bad luck when you consider that if Barkley's 2 shots had off go in instead of hitting the post at 6-6 we would have gone through on the away goals but we would just be papering over the cracks. The defensive is a mess and how much further would we have gone in this competition?
PL survival is paramount now and a huge task ahead of BK as he ponders RM's future!
Joe Foster
132
Posted 19/03/2015 at 20:36:35
Definitely Moyes's influence had some say in last season's results. It seems so long ago now.
Leung Chi Ho
133
Posted 19/03/2015 at 20:05:55
I have a few comments for the whole team:
Howard: Shit!! Responsible for the 2nd and 4th goals, poor positioning in both goals. Feel sorry for Robles.
Alcaraz: Shit 180 mins against Kiev. Even not good enough for Wigan at this moment. The weakest link of the team. Responsible for the 2nd and 4th goals too.
Jags and Baines: You must be joking if a team concede 5 goals in Europe have 2 starting defender for the mighty 3 Lions!!
But fair to say, their performance is up to their standard. You cant do anything better with teamates likes Howard and Alcaraz in your team.
Coleman: I hope it is true that Bayern Munich want him for 㿄M, in my eyes, he is worth not more than 㾶m. Responsible for the 3rd goal (deflection) and 4th goal. Still need to work for his cross.
Barry: Too slow. He is one of the main reason why we play so shit this season. Responsible for the 1st goal.
Wonder why use him instead of Gibson when Gibson had a good game in last match.
McCarthy: Try very hard in the game, not 100% yet!
Atsu: Try hard but not suit into our system, some fans thought he is shit in this match, but I think he had a decent game. But that clearance lead to our (2nd or 3rd?) conceded goal...
Naismith: Try very hard but not up to our team standard. Should play Kone instead of him.
Barkley: feel sorry for him to hit the post twice. The 2nd one remind me that goal against Man City.
Lukaku: Apart from the goal he scored, he is shit in the match. I don't know why he cant win any header in the match with his strength, height and body? Stupid to get that yellow card too.
Gavin Johnson
134
Posted 19/03/2015 at 20:30:42
Rom will be gone in the summer. I don't think we'll lose any money on him. Mirallas will be gone too. I just hope the ageing deadwood like Howard, Distin, Alcaraz go too. It'll be a decent transfer for a rebuild, whoever's the manager next season.
Jay Woods
135
Posted 19/03/2015 at 20:25:04
Nicely embarrassed in front of the rest of Europe. Thank you Roberto - and Bill.
Jim Bennings
136
Posted 19/03/2015 at 20:15:23
Baines is and has been past his sell by date for 12 months, the moment I realised that was when Oviedo came into the team and showed us a different dimension.
Coleman is clearly set on a move away, perhaps he's not that good or perhaps he just doesn't buy into this Martinez philosophy.
Certainly Distin didn't agree with Martinez, the only reason I can think of the crazy exile the Frenchman is currently in when we have to suffer Alcaraz.
Bringing Besic on at 5-1 down?
Leaving Barry on the pitch? Is he shagging him??
What is the point of Atsu?
Why sign McGeady?
Is Tim Howard really Osama bin Laden?
Why drop Robles after three clean sheets?
Roberto Martinez is the modern day Mike Walker.
The man should have been sacked on New Year's Day after the Hull debacle.
Gavin Johnson
137
Posted 19/03/2015 at 20:42:09
A decent transfer kitty, should I say
Bobby Thomas
138
Posted 19/03/2015 at 20:35:55
Genuinely disgraceful performance, that neatly exhibited everything that's wrong.
Big problems lie ahead. The squad needs to be turned over. How we do that and remain competitive with this fella in charge I don't know. We're so.....weak.
A few seasons of struggle may be upon us.
Graham Mockford
139
Posted 19/03/2015 at 20:32:22
Joe Foster
Unfuckingbelievable! Tim had nothing to do with tonight's result, in fact it could have been 7-2.
This is a team without direction without purpose and without a fucking clue.
There is only one person responsible for the shambles this season.
I watched the Sky Premier Years programme yesterday for 2012-13. There was an interview with Martinez with five games to go were he says " the players at this club are phenomenal" and my favourite " we are not in a relegation fight".
The man is a fraud, we need to sack him now, fuck the compensation. My fear is that avoiding relegation will be some sort of achievement this year. He's had two full years, we are worse than we have been in fifteen years.
All this style of playing is bollocks, fans want winning football, nothing more nothing less.
Martin O'Sullivan
140
Posted 19/03/2015 at 20:44:19
Just gonna keep it simple
SACK HIM HE IS RUBBISH
AND RUINING OUR CLUB
Peter Laing
141
Posted 19/03/2015 at 20:46:34
Any manager worth their salt would have gone to Kiev, parked the bus and let the frustration from the shirtless Ukrainian Neanderthals seep down from the terraces and then hit them on the break.
Martinez is clueless and his loyalty to Howard, Alcaraz, Baines, Barry, & Kone will hopefully result quite rightly in his dismissal.
Joe Foster
142
Posted 19/03/2015 at 20:47:35
Really Grahem? Nothing at all to do with any of the goals. That's a different perspective.
Paul Smith
143
Posted 19/03/2015 at 20:36:33
I really want RM gone. Ratty was flabbergasted by Alcaraz's inclusion; the defending or lack of it and the: "We'll score one more than you" attitude.
Everyone can see it, everyone!!!!
Jay Wood
144
Posted 19/03/2015 at 20:10:48
Chickens coming home to roost.
The truest guideline to our form this season has been our league results.
We have consistently failed to reproduce the good form and performances we've shown in the EL in the league.
It was inevitable that, eventually, our true form this season - our league form - would be reproduced in Europe. That's exactly what happened tonight.
DK are a very tidy team, but far from top drawer. In key areas across the pitch they marked tighter, defended better, pressed harder, passed more incisively and were more clinical and lethal in front of goal.
People shouldn't go all shouty about Howard conceeding five goals. He was beaten by a couple of worldy strikes and had little or no protection for the other goals suffered.
Other than the mad 3 minutes when we conceeded 2 goals, Jags had another fine game. Alcaraz, by contrast ...
In recent weeks people have bemoaned the immediate recall of Howard and Baines on return from injuries. You would think that Martinez would place John Stones in that category, but instead he opted for Alcaraz who was already badly exposed in the 1st leg.
In yesterday's pressie, Roberto repeated the statement he made during our woeful run at the turn of the year: Everton is not set up to NOT concede goals.
Never mind what we as Everton supporters feel about that statement. How many professional coaches in Roberto's sphere will hear that and scoff, snicker and sneer at such naivety?
The hardest task in football is scoring goals. If you do not work on PREVENTING goals, you task in scoing enough goals to actually win or even draw a football game is more difficult. A solid defence gives you a sound foundation on which to build and play more elaborate football. Currently, we have neither.
It's on record. From Roberto's own mouth. From revelations by the players. Roberto Martinez doesn't do defence.
Well I'm sorry, but such purist 'philosophy' equates to dereliction of duty by a professional coach IMO.
It's likely we will avoid relegation this season, more by dint of the inadequacies of 3 teams being worst than us, rather than by our own efforts.
At season's end BK has a decision to make, there's no doubt about that. And it's my belief that come the start of next season, Sr. Martinez will still be in situ at EFC.
And then ... who knows what his 3rd season will bring? The joy of his 1st season, or the despair and frustration of this?
Given his history to date, I'm inclined to the latter rather than the former. And if that is the case, how much longer can we allow Roberto to remain in charge at Everton?
And for anyone offering the inane response "but who could we attract better than Roberto?" The PL is awash with money. It's an attractive challenge both financially and professionally for managers and players alike. There will be no shortage of attractive candidates, domestic or foreign, have no fear of that...
Oliver Molloy
145
Posted 19/03/2015 at 20:41:01
Mark @ 131.
I agree with you, that is what I basically said. Whoever is managing Everton come the start of next season has a job on their hands, for like a lot of fans have already pointed out, we do have a lot of players that are not good enough, and we will find it hard to hold to big Rom now I think.
If true, that a Champions League clubs come calling and offer Kenwright a profit, I think he will be gone. I believe the current manager will be given maybe 10-12 games to restore confidence in the chairman, the players and the fan base. If he can't, he will be gone.
Chris Gould
146
Posted 19/03/2015 at 20:42:32
I thought that perhaps Martinez was starting to learn, then I saw the team selection and knew that he hadn't. No more chances, just go. You are bringing shame on our club. I will never forgive you for this awful season.

Terry McLavey
147
Posted 19/03/2015 at 20:45:14
Get rid of the Wigan shite with the exception of Robles who did okay when given a chance (but only a few games on trial! and anyway who else would we get?) and Jimmy Mac.
But It really strikes me that EFC must be like a lot of work places... if your face fits? This has become blatantly apparent!
David Morgan
148
Posted 19/03/2015 at 20:44:09
40% possession, so its safe to say that we simply are not playing the way Martinez wants to. Yet Martinez carries on week after week doing the same thing. Its quite clear the general consensus is that Alcaraz, Atsu, Kone and Howard are not wanted. But in fairness to Baines and Coleman I think they look bad because they have zero protection in-front of them and therefore no one to play off when going forward.
The back line drops so far back when out of possession that the two defensive midfielders are a million miles away from the front four. In my opinion we need a high back line and play 2 regular midfielders instead of deep lying midfielders. Have two wingers who track back (as lennon has) and then let Barkley and Lukaku do the damage. Get rid of all the dead wood in the summer and get young players with something to prove. oh and don't forget a high tempo.
Joe Clitherow
149
Posted 19/03/2015 at 20:44:57
Sorry I can't agree with the comments on Baines being poor due to his poor form. He was left exposed, doubled up on and in no-man's land because he was constantly outnumbered and it is no coincidence that this happens every time Naismith plays - nominally - at least as the sort of left sided player. No coincedence that when Osman played there against Newcastle, even though he isn't a specialist there, Baines looked twice the player, in both attack and defence. Football is a team game not a bunch of 11 individuals and done properly the whole is greater than the sum of its parts; just one of the simple facts our manager does not understand.
It's not a criticism of Naismith either. The guy is a forward constantly and repeatedly asked to play in a position he has zero aptitude or feel for because the guy asking him to play there has no fucking clue about anything in terms of football or playing a balanced team.
Anthony Jones
150
Posted 19/03/2015 at 20:42:55
Deeply disappointed for the players. Especially those that didn't play in front of Barry and Alcaraz. They beat the favourites for this tournamen twice. Martinez doesn't appear to work on defense. He picks favourites regardless of form. His standard playing style is increasingly predictable and laboured. Certainly had me fooled last season.
Gavin Johnson
151
Posted 19/03/2015 at 20:50:31
Graham, are you sure you're not Tim Howard's chief cheerleader who always try's to start the U-S-A chanting on the Park End?
Howard pulled off a good save tonight, but we have to look at the bigger picture, that he, along with Alcaraz and Distin are not up to standard. And it's Martinez's fault for not sticking with Robles and not purchasing a top CB in January.
Alan McGuffog
152
Posted 19/03/2015 at 20:26:10
Until recently I was reluctant to join the Martinez Out brigade on ToffeeWeb. I figured that we were too classy an outfit to join the managerial merry-go-round that exists in the Premier League and that a thoughtful, insightful coach like Roberto was the type of leader a club of our standing should have.
I then started thinking that this is all in my head. "A club of our standing." What standing would that be? We have been disgraceful, as a team and a club, for nigh on 30 years. Why should we believe that we deserve to have a tactical genius as our manager?
Maybe it's all the fault of aul arses like myself, brought up on Catterck's teams of the 60s. Maybe we have indoctrinated too many younger fans with concepts such as Nil Satis Nisi Optimum. Maybe it's time for a reality check... apologies for the cliche.
We are nowhere near the best on or off the field. Sorry I'll retract that a little, much of our work in the community is exemplary. Even today we were aiming to win hearts and minds in the Ukraine.
Until recently I was one of those who thought the likes of Mark Hughes, Tony Pulis, Steve Bruce were never of the right "stripe" to manage a club of our class and history. But therein lies the rub. Whilst we have history we have bugger all class on the park.
Tonight we were out-fought, out-muscled and out-classed by a decent Kiev side. A side that was very beatable in my opinion. We were woeful in defence and sloppy with our passing. We appeared unfit, unathletic and lacking in belief.
Forget De Boer and forget about exotic sounding coaches from Spain and elsewhere. When Roberto is shown the door he will be replaced by a workaday coach who will know the value of fitness and running off the ball.
And, please God, someone who knows the value of having a bloody big yard dog at the back who can head the ball, marshall his defence, and scare the shite out opponents and team mates alike.
Tony Abrahams
153
Posted 19/03/2015 at 20:13:43
Disagree they battered us Robin, although I wouldn't win many arguments considering the scoreline. I actually thought Everton attacked quite well, but defended like school kids.
Everything that Martinez has done this year, as been wrong, and the same defensive frailties that blighted the start to our season just haven't been addressed. I'm all for giving managers time, but I'm afraid that mine has ran out tonight.
Hate losing any cup tie, but when the opposition are not great, and we beat "our fucking selves", it's even more painful. For a team that can't defend crosses, why don't we even try and stop the cross in the first place?
Darren Fellows
154
Posted 19/03/2015 at 20:49:53
I haven't posted any comments for a while but, after watching Alcaraz put in the worst performance I have ever seen a player in an Everton shirt, his positional play is awful his heading ability is awful commitment non-existent, distribution amateur-like... should have stayed in the Championship, we need big changes next season.
Kone looks out of his depth; not a Premier League player. Barry looks like he is in a light training session. no passion. Bring back Moyes ....
Paul Thompson
155
Posted 19/03/2015 at 20:43:12
I've been desperate to see this clown sacked for months. But I will never hope we lose at QPR or anywhere else (Jim Bennings, above). Even if if we do lose on Sunday, I suspect the time to get rid of RM has gone. I'm gutted that we've been been put in this situation.
Colin Glassar
156
Posted 19/03/2015 at 20:50:57
I've just got home (from work, not Kiev) and as I didn't see the game (I followed it on the live forum until the 75th min) it's hard for me to comment. But the result says it all, doesn't it?
BK's got a massive decision to make. Either sack him now, tonight on the way back preferably, or come out and support him. Slimy Bill has been unusually low profile this season unlike last season.
My biggest concern is, where do we go from here? Can we keep our better players for next season? Will Martinez have the balls to clear out the deadwood? Will he have the funds to radically change the team?
I've supported Martinez as much as I can but after tonight's result I've lost faith in him. I think he's an honest, well intentioned guy but I now feel like he's out of his depth and he's been unable to overcome the loser mentality which permeates our beloved, but sad, club.
Tom R Owen
157
Posted 19/03/2015 at 20:50:32
If RM had any balls he would resign
The spineless twat chairman we have wont sack him after tonight
Graham Mockford
158
Posted 19/03/2015 at 20:54:31
Joe
A different perspective? Trying to blame an individual for what is an endemic lack of purpose is crazy. Tim had no chance for any of the goals in fact he made two great saves. Tonight Alcaraz was terrible but he was bought by the manager.
This is the worst side I have seen for 15 years and that's not much of a comparison. The man is a fraud, the players don't believe in him. We could still get dragged into relegation especially if we get beat on Sunday. Still at least the School of Science has been reopened.
Mike Rourke
159
Posted 19/03/2015 at 20:53:20
If John Stones had been on that pitch spraying shit all over the place it would have been a less disgusting sight than watching the Alcaraz show this evening.
Martinez should be sacked purely on the basis he didn't sub him at half time (let alone for the fact he is just a Spanish Mike Walker who likes to pass it around at the back a bit).
As a fan (supposedly), even BK must surely be tempted to pull the trigger after tonight.
Obviously I think Martinez, and Alcaraz for that matter, might do the honourable thing and at least consider committing seppuku at our next home game.
Whatever happens just get 'em out of our club.

Stephen Brown
160
Posted 19/03/2015 at 21:02:12
I too fear that we will lose our few good players! Lukaku, McCarthy Mirallas, Coleman – will they stick around? Doubt it!
Brian Harrison
161
Posted 19/03/2015 at 20:41:43
Well, if ever a game showed the deficiencies of our manager, then this was it. When you are playing against a very tall centre-forward, you try and hold the line as high as possible, but to fall back into your own 6-yard box is inviting trouble and that's exactly what they got. They had no great pace in their forwards yet we defended to deep all night.
I said in a post before the game kicked off that Yarmelenko was a threat and unfortunately he proved me wrong with their opener. I am sure QPR having watched the game will be throwing balls into the box and looking for knock downs.
Regarding crosses has the charlatan told Coleman not to cross but always try and dribble past the defender. There were times tonight an early cross could have caused them a problem, but this refusal of Coleman to cross a ball early has gone on all season. I think the only time he has crossed first time this season we scored against Newcastle away.
I just hope and pray that we get enough points to keep us in the Premier League and if we do it will be in spite of RM and not because of anything he has done.
Andy Crooks
162
Posted 19/03/2015 at 20:56:01
Why give Martinez ten games next season? Ten minutes is too long. He is the worst I have ever seen at our club. He oozes bewilderment and relegation. What is to be gained by having him pollute the club another day?
Kevin Jones
163
Posted 19/03/2015 at 20:49:19
Don't forget a lot of managerial contracts have a clause of 1 years full pay if we sack you.
Fucking fed up with the lot now. Been fed up with it plenty of times but this is just getting me down. That lad crying at the game just shows what football can do to you. Didn't see any players crying.
Got .00 put away for mine and my grandson's season tickets, looking very suspect now.
Steve Hogan
164
Posted 19/03/2015 at 21:06:50
In the midst of an awful night for Everton Football Club, I love this one liner from Andy Hunter of the Guardian, who was at the match:
"Dynamo prospered from an identical route less than two minutes later. Alcaraz was making a habit of heading thin air and lost out to Miguel Veloso while challenging for another long ball out of defence>"
Says it all really...
Dave Abrahams
165
Posted 19/03/2015 at 20:41:05
I feel so sorry for the fans who travelled to watch that very poor performance. I am more than worried how we will perform on Sunday, I don't know how they will react to that defeat.
The season is not over, we are getting closer and closer to relegation and we do not have anyone who looks like they can stop this happening.
Wasn't interested in this "Handicap Cup" – that's all that it was to me, but I wanted them to win tonight, simply for the fans who went there.
Won't say anything about the manager because I think it's pointless, he's for the rest of the season, even if he takes us down. The whole club is in a very bad way.
Patrick Murphy
166
Posted 19/03/2015 at 21:07:33
We can't even be assured that Roberto has ten more Premier League games left in his tenure if we don't get enough points from the nine remaining fixtures.
He should have been fired in January and we may pay a heavy price for indulging him, but it's not the fans decision to make, so we have to hope the team can get those points and reach safety as quickly as possible.

Robert Johnson
167
Posted 19/03/2015 at 21:08:24
Blaming luck, individual mistakes etc. game after game is nothing but deflecting the blame from this pathetic excuse for a football manager!
Why are these players making mistakes week in week out? Because there is no defensive organization thus forcing them making mistakes.
Why is there no defensive organization? Because the Charlatan in charge doesn't know how to organize a defense!
Is it a surprise that during his 4 years at Wigan, on average they conceded 15 goals more than the previous 3 years when you hear this Fraud says working on defensive shape is a waste of time?
He is a snake-oil salesman, a fraud of the highest order! Bill, just get shot of this fraud before he takes this great club to administration a la Wigan.
Darren Fellows
168
Posted 19/03/2015 at 21:03:15
He sets his tactics up like we have Messi, Bale and Ronaldo in his team. Wth Stones Gibson Besic in the team, we could have locked them out for the game and hit them on the break.
Trying to out-score the oposition away from home in front of 77,000 fans and a team that hasn't lost all season... what a fool!
Andy Peers
169
Posted 19/03/2015 at 21:09:49
Hope to wake up to Martinez being fired and our new caretaker manager to be Ken Buckley.

Brian Burns
170
Posted 19/03/2015 at 21:10:18
He doesn't agree that we defended badly. Difference was, their chances went in but ours didn't!!!!
He's mad!

Graham Mockford
171
Posted 19/03/2015 at 21:06:22
Gavin
We communicated earlier, you were trying to argue that all is well under the Martinez regime, maybe you are not quite so confident tonight.
You are right my season ticket is in the Park End, never tried to start a chant though. However, if you want to lay blame at Tim's door for tonight, or in fact this season, you are nuts. This manager does not know what he's doing, he needs to go.
Joe Clitherow
172
Posted 19/03/2015 at 21:10:54
Martinez post-match :
"I agree there were instances when we could have defended better but there is not a lot you can do about goals that go right into the top corner."
Except, perhaps, Roberto, close the twats down so they don't have the time and space to shape up to shoot in the first place. Has that ever occurred to you? No, didn't think so.
David Hallwood
173
Posted 19/03/2015 at 21:11:45
Watch Wolsburg, it's a joy to behold Inter have to scrap for every ball, chances snuffed out, the defending is outstanding. Plus I'd sell the team for De Bruyner(?)
Pete Edwards
174
Posted 19/03/2015 at 21:06:07
I don't know how anyone can point the finger of blame at Tim Howard tonight, no chance with their goals and made some decent saves, it seemed most of what they struck went in although poor defending for three of them at least.
If only we had the same fortune, the two Barkley chances only needed to be have been 2 inches to the left and we are probably talking about going through and who we would get out the hat next round!
Roll on QPR and let's now concentrate on getting as many point as possible!
Phil Sammon
176
Posted 19/03/2015 at 21:12:38
I don't believe it. He's actually claiming we lost because of their 'world class' goals. He's on another planet. Time's up Roberto. Off you fuck.
Ernie Baywood
177
Posted 19/03/2015 at 21:04:59
The phrase "Alcaraz a liability in both legs" could have been written at any time since he signed.
Andy Peers
179
Posted 19/03/2015 at 21:13:47
Howard was not to blame directly for the goals but I feel that if Robles was in goal that the back line would have been more confident and would have not let in 5 goals. Also at half time with no more than 45 minutes of football to play and only needing to score 1 goal then at least 2 subs should have been made, Stones for Alcaraz and Gibson for Barry.
Patrick Murphy
180
Posted 19/03/2015 at 21:17:24
Ernie - Alcaraz has a liability in both legs they can't seem to produce enough energy to get him above three inches off the ground.
Matt Muzi
181
Posted 19/03/2015 at 20:56:13
I agree with many on here, tonight was an absolute disgraceful performance, why Alcaraz was still on the pitch after their third goal went in & certainly for the second half is unbelievable. Barry starting???
My biggest concern is this idiot will get us relegated this season. I know some people think that there are at least three teams worse than us, but it only takes one of them to go on a run like Sunderland did last year & Roberto to carry on with his awful team selections & tactics, lack of training and we could be in serious trouble.
My other concern is we are already carrying a lot of deadwood, McGeady, Alcaraz, Distin, Gibson with his injury problems, Howard, Atsu, (Alcaraz & Distin will be released & Atsu will go back to Chelsea) & Kone, with his injury problems, Barry, Jags who has come good recently is no spring chicken and it looks increasingly likely that Garbutt is going to be off in the summer for nothing. Add to that Miralles wants out, we need a major rebuild of the team and I dant want Martinez to have anything to do with it.
Pete Edwards
182
Posted 19/03/2015 at 21:16:06
Stephen (#160) – would that be...
Mirallas hot and cold and seemingly couldn't give a toss most of the time.
Lukaku just finding some form more than 2 thirds in to the season.
Coleman, looks like the player who first arrived at the club.
McCarthy the only one who busts a gut and puts it in every game.
The players have to take responsibility as well whether they don't like or don't agree with the tactics or formation, effort shouldn't drop just because they are sulking.
James Martin
183
Posted 19/03/2015 at 21:20:23
One of my lowest points as an Evertonian. Literally leaves you questioning, will this spineless shower of a club ever win a big game again? We are one of those making up the cannon fodder for other big teams to play with.
I never thought I'd lose my pride of Everton but they were an embarrassment and a disgrace tonight. Not once did it look like any player or manager wanted to do anything about us going out. Accepted it meekly like the perennial losers they are.
I'm so glad half of these clowns will be in the retirement home by the time our next bottling opportunity comes round.
Gavin Johnson
184
Posted 19/03/2015 at 21:04:48
Colin #156 That's a big comment coming from you. I always look out for your posts because you've always try to look at the positives. This is what I've tried to do. After all Martinez got us to our highest points tally since 88, so he's had a lot of good-will from me. If you look at the likes of Fergie and HK they had the rough patch before the transition. But I can't keep believing that after tonight's performance.
Keeping Alcaraz on was the biggest boo boo for me. Martinez and Dennis Lawrence clearly know nothing about defending, for firstly thinking Alcaraz was good enough in the first place for Everton, and secondly why they thought he should be still on the pitch when he couldn't even head standard crosses out of the box, even a Sunday league player knows you need to attack the ball on a cross.
We'll have a big transfer kitty in the summer because I think the Belgium's will be gone. As will the deadwood like Distin and Alcaraz. But I'm not sure Martinez is the manager to undertake the necessary rebuild.
We should go all out to try and turn Koeman's head and hope he can spend the money as wisely as he has done at Saints.
Phil Walling
185
Posted 19/03/2015 at 20:55:49
We might have missed out on the Euro final rounds but now we can look forward to no less than NINE finals in the remaining weeks of the season!
No more excuses, we need to see at least TWO more wins to avoid the lowest number achieved in Everton's ENTIRE history and then we have an exciting pre-season to look forward to as the manager goes into his third season. And he will!
You see how Roberto's positivity is rubbing off on me now that I've taken note of all who have dubbed me a curmudgeon. Europe isn't everything after all. (Although it does provide a ready excuse for the abysmal showing in the Prem. I wonder what the excuse will be next time.)
Craig Mills
186
Posted 19/03/2015 at 21:09:30
Kevin 163, take the kids to EuroDisney with your season ticket money, the kids won't ever resent you for dragging them there!,
John Malone
187
Posted 19/03/2015 at 21:11:49
Get the fraudster out!
Darren Fellows
188
Posted 19/03/2015 at 21:20:40
I just hope when RM finally gets sacked or fucks off, all our best players haven't left. I can't see Rom or Garbutt sticking around for long. Maybe he will sign some Leicester players when they go down.
Milos Milenkovic
189
Posted 19/03/2015 at 21:22:48
At least many of posters here can now relax and concentrate on the league. This has been "distraction, small, meaningless" cup, so I suppose you are happy tonight and for some time we will not be bothered with this.
One more thing, I went totally crazy seeing Everton playing with 3 defensive midfielders. Actually, if any new manager, think for a second to use more than one defensive midfielder can right go himself.
Tony Abrahams
190
Posted 19/03/2015 at 21:22:38
Anyone who says that you can't blame Howard for tonight should read post 161. Not saying it was all his fault, but I've never seen a keeper continuously let his centre halves drift into the six-yard box, as much as Howard.
Alcaraz missed the header for the second goal, but surely to god, Howard should have been punching his fucking head off, when the ball was in the air.

Ben Dyke
191
Posted 19/03/2015 at 21:31:37
Martinez has managed to turn so many players into shells of themselves and then shouts 'Relax' to them when they are playing.
Gavin Johnson
192
Posted 19/03/2015 at 21:27:13
Graham,
My stance on Roberto as manager as always been very clear since the 'Roberto Out' faction started: He had my support while we were still in the Europa League.
We're not in the Europa now. So if he's sacked, so be it!
David Israel
193
Posted 19/03/2015 at 20:54:20
I want this season to end quickly but, at the same time, I fear what we may be looking at next time round. Eddie Howe anyone?
And, to cap it all, Loftus Road is far from a happy hunting ground for us. The first time I went there, back in October 1975, we got a 5-0 thumping!
Tony Hill
194
Posted 19/03/2015 at 21:21:54
The lack of steel in the team is crucial. Martinez lacks it too, but there is still no-one in the team who can calm us and direct the game. It's happened throughout this season, there are no hard men in our side and no leaders when, as tonight, we're under pressure.
Jags has been excellent over the last few weeks and has done his best to drive us on by example but he just hasn't got the authority and nastiness that captains must have.
Frail in our management and frail on the pitch. Someone's got to sort that out pronto as our first objective.
Patrick Murphy
195
Posted 19/03/2015 at 21:30:18
Roberto Martinez – Pre-match Press Conference:
He says: "We have to be attack-minded and when we are on the ball, we need to be a team that wants to score goals and make it very much eye to eye and an open game.
"That's what I'm looking for tomorrow, that we can make it a game full of chances for us and, of course, that will bring chances for them.
"I don't want it to be a game where they are a home team, and let them see if they can break us down. That would be a big mistake."
Roberto Martinez – Post-Match Press Conference:-
"I don't think it was a case of being in a position where we couldn't impose ourselves. Once we scored the away goal, I thought we would be stronger and tighter in our performance but it was the kind of night where everything they tried went into the back of the net.
"We always looked like a threat going forward and that we could score goals but the type of game it was, there were opportunities for both sides and our chances didn't go in."
Confused? A little perhaps. My nightmare scenario, Everton go into the last game of the season needing a point to ensure safety. Roberto says we mustn't fall into the trap of out-and-out defending and, due to a wonder goal by Barkley, the Toffees take the lead with a quarter-of-an-hour remaining but, instead of booting the ball in every direction aka Blackburn Rovers circa 1995, Alcaraz and Stones get into a tangle and allow Spurs to equalise and a minute from time a careless error from TH allows the ball to squirm under him from a back-pass....
Noooooooooo! I can't take any more.
Michael Polley
196
Posted 19/03/2015 at 21:25:19
QPR is a big game. The players need to refocus (easier said than done), but QPR look a team already relegated. We need to capitalise on that.
As long as Alcaraz is not playing we've got a chance
Teddy Bertin
197
Posted 19/03/2015 at 21:34:08
I'm not sure about this Robles over Howard debate. We need a new goalie but I don't know if Robles would have been the answer to changes the last few games. Alcaraz over Stones though I don't think any of us will ever understand that one. The closest Alcaraz has to a strong card is his passing but Stones is better on the ball and a better passer, oh and better at everything else.
Ben Dyke
198
Posted 19/03/2015 at 21:36:42
This season has been a nightmare from pre-season onwards.
Bill Gall
199
Posted 19/03/2015 at 21:05:33
If we do not want to lose our young better players it is no use waiting till the end of the season or 8 or 10 games at the start of next season to change the manager, as so far with the season practically over, no cup games to look forward to, and a manager who has not shown anything but a stubborn attitude to change, "Why wait?"
Even bringing in a interim manager with a hard nosed attitude should see us safe and this time BK may look for a manager that is not a recommendation from a pal, but do a thorough background check for a experienced proven manager with a winning record, not someone with a philosophy that he believes may work, but cannot do anything else when it does not.
Martinez this season reminds me of the designers of the Titanic who said it was unsinkable as it was going down at the bow.
Denis Richardson
200
Posted 19/03/2015 at 21:36:15
I remember what happened after we were stuffed by Bucharest. The players need to pick themselves up for QPR and sharpish – lose that and we're in real trouble.
Would take a point now to continue the crawl to 35 points.
I am not going to comment on the game tonight – I'm glad I was stuck in a plane and missed it.
Gavin Johnson
201
Posted 19/03/2015 at 21:35:42
David, I think we could do a lot worse than Eddie Howe. It would be a bold move and he's not proven at the top level, but I've never been so impressed by a young manager.
My only red flag would be whether he could cope with the big ego's in the dressing room (something I suspect has been a problem for Martinez) but the way we're going a few of those big names will be gone so he could be the right appointment in the long term. Someone will snap him up and I'm sure he'll make a top Premier League manager.
Matt Muzi
202
Posted 19/03/2015 at 21:24:52
Gavin@184 I don't think we'll have a big transfer kitty if Lukaku & Miralles go this summer.
Miralles has one year left on his contract he isn't a regular starter for the Belgian team & anyone who does some research on him will realise he's injury prone and inconsistent, I can't remember the last time he played a full 90 minutes. He'll go for 8-10 mill absolute tops.
As for Lukaku were paying Chelsea installments for him, so whatever we get, will go to paying them off first and I do not believe the press rubbish that Wolfsburg will pay 㿍 mill for him this summer.
If there is any decent transfer kitty most likely it's going to come from the sale of Coleman, Barkley, Stones or McCarthy and that's if the board release all the money from player sales.
We need Martinez out, a new manager to oversee a clearout & the board need to put up the funds for a team re-build with what I fully expect to be the sale of at least one of our key players.
Craig Mills
203
Posted 19/03/2015 at 21:28:24
Results like this will push the likes of Lukaku, Mirallas, and maybe even Barkley out of our club. Lukaku and Kevin will be off to a Champions League team, Lukaku maybe to Wolfsburg, Mirallas to anyone who will have him.
I can also see Man City making a big money move for Ross to help their rebuilding process; there is no way our top players will stay working with Martinez
Guy Hastings
204
Posted 19/03/2015 at 21:34:39
As I've said on different threads/posts/whatever you young people call them, what the fuck do they do at Finch Farm all week? Lukaku may have upped his game in the past few matches but for all his weight (I can't call it strength), he still tries to turn his close-marking defender way before the ball is near him.
And that's just one thing, of many, about a bloke who I thought was getting his fucking act together. As for the rest of them... Again, I ask, what the fuck do they do all week?
Martin O'Sullivan
205
Posted 19/03/2015 at 21:38:18
Has he been sacked yet???
Please god say yes!!!
John Gee
206
Posted 19/03/2015 at 21:17:25
Martinez is the closest Everton have ever got to the Southampton signing Souness made from the recommendation of "Georgie Weah".
If you told me now that RM is a paid agent of one of our rivals, I'd believe you unquestionably. How can one man make the so many mistakes when he has the opportunity once or twice a week to put it right? It beggers belief. There isn't a single professional manager who could be more of an omnishambles. The man doesn't understand the basics of football. He's destroying some very capable players. Howard and Alcaraz aside.
Baines was one of the worlds best in his position, he's now been completely blunted. Barry is an experienced, intelligent player with a good range of passing, he and McCarthy are forever dropping back into the space left by the centre backs being told to split, Coleman was progressing at a Bale rate, he's now had his confidence destroyed. Barkley tried to take the game to them, RM shouted at him to relax. Jagielka is a great covering defender, he's now firefighting an overworked defence and trying to find space on the left wing where RM should be playing someone Jags could pass to.
Fuck me, how many times has he played 433? It doesn't work with the players we have. In fact, I'm not sure it has ever worked unless it's a 4-3-3 with genius players like Suarez/Messi/Neymar. But, to play 4-3-3 with one winger and two No 10s is idiotic. It doesn't even need to get off the paper onto the pitch for it to be obvious that it won't work. He's been doing it all season. IT'S FUCKING MARCH, YOU CLUELESS DICKHEAD, IT DOESN'T WORK!
His selection decisions have been bizarre. Taking out a 3 clean sheet Robles to play an out of form Howard? Dropping Gibson? Eto'o on the wing? Barkley on the wing? Naismith on the wing? Alcaraz over Stones? No subs at half-time? No subs at Southampton?
So who should we get in? How about we look at Paul Jewel and Steve Bruce, who did a better job than him at Wigan, in the first instance and then lift our sights slightly higher for anybody else. Hoddle, Reid, Pearce, Smith (yes, that one), Royle or ANYBODY who has a basic understanding of how to set a team up. Because, I'm telling you, if we stay up this season it will be because of luck.
UNACCEPTABLE.
Andy Crooks
207
Posted 19/03/2015 at 21:34:03
Matt, in my view Sunderland are the only worse team in the league. If their new coach gives them a lift we are in trouble. The QPR game is the most important for many years.
Terry Downes
208
Posted 19/03/2015 at 21:39:41
I've supported Martinez all season but, unless Gibson and Stones were carrying knocks, to leave them out tonight was criminal; I can't work out the reasoning behind it?
For that reason, Mr Martinez, you're out.
Conor Skelly
209
Posted 19/03/2015 at 21:34:56
Fuck it. End of a mediocre and agonisingly frustrating era since Moyes first arrived. We are never going to break the glass ceiling and have our glory while we still have no money.
What difference does it make anymore. I think we should just leave Bobby at it for another few years and see what happens. Just totally dejected at this stage. I feel like the Everton of the last ten years gave it us hope. When I look at it now, I think we might take years to recover and becoming a West Ham or Sunderland that constantly change manager in pursuit of midtable isn't an option for me.
Give Martinez four years and play it out. If he can sort the defence and organization out I think there is something to work with that might, just might give us an edge over mediocrity in the coming years.
Take care blues. It's a hard night for all of us. If anybody has the number for an Evertonian helpline post it up there.

Sean Patton
210
Posted 19/03/2015 at 21:44:50
6-4 on aggregate is not a thrashing despite what the BBC says there is a big overreaction here to the FIRST bad game we have played in Europe this season.
The frustrating thing is Kiev are not that good but we made them look like Real Madrid. If you look at it from their perspective they scored two belters from outside the box but were given 3 goals by the opposition, who also hit the post on two separate occasions, and got every decision going from the officials; fine margins for me.
Pete Edwards
211
Posted 19/03/2015 at 21:48:18
John Gee, you're suggestions of manager are UNACCEPTABLE.
I get people are upset but come on have a little think at least before posting such shite.
Matt Muzi
212
Posted 19/03/2015 at 21:43:20
I completely agree Andy, but some fans, even on this forum seem to think that there are at least three worse teams than us.
I have (and you can look at my previous posts) for some time had a massive fear this idiot is going to get us relegated.
Paul Tran
213
Posted 19/03/2015 at 21:48:02
The big question, Phil, if you're right and he is staying, is will you have another bet on us finishing 7th?
Sad to see two giants of the great 1985 side making the obvious points that all bar one person can see.
I'm guessing he left Stones out due to his mistake that led to the red card. One mistake would have been a vast improvement tonight.
Kevin Jones
214
Posted 19/03/2015 at 21:48:25
No thanks Craig, I've been visiting a Mickey Mouse outfit all season.
Jamie Barlow
215
Posted 19/03/2015 at 21:48:34
I know there's a few on here that are upset and rightly so but give it a fuckin rest with the "I hope we get beat on Sunday" bollocks will you. Dickheads!!
Andrew Laird
216
Posted 19/03/2015 at 21:45:50
John Gee, fantastic post.
Max Murphy
217
Posted 19/03/2015 at 21:43:19
If something is working, then break it! Martinez's philosphy.
Drop Robles after 3 clean sheets; decent display on Sunday, so change half the team – just a couple of examples.
The most inept defensive performance I have witnessed since playing at Stewart Road playing fields in 1960 for St. Winnies. Please God, I pray to you to get rid of that Catalan Clown.
Steve Barnes
218
Posted 19/03/2015 at 21:49:19
I really, really don't understand why anyone in their right mind would willingly let that idiot Alcaraz lose on a football pitch wearing an Everton shirt for more than NEVER.
Please Mr Kenwright, get rid of Alcaraz, Kone, Barry, McGeady and (I hate saying this) possibly Martinez before the lot of them really, really screw up this wonderful football club.
Andrew Laird
219
Posted 19/03/2015 at 21:53:43
Pete #211 in your opinion and perhaps using factual based evidence why are John's manager listings unacceptable?
Andy Ellis
220
Posted 19/03/2015 at 20:50:59
Alcaraz must be the worst Everton defender since Glen Keeley (at least we only had to endure half an hour of him). It was obvious we needed a centre-half last summer, remember we all expected a signing when Duffy left. But there are so many things wrong dating back to the worst pre-season I can remember.
Our great club is broken right now and it is all down to Martinez. He should have gone months back and wouldn't have survived at any other club. His team selection and set up tonight once again showed how clueless he is.
Andy Crooks
221
Posted 19/03/2015 at 21:54:56
Jamie, Who would want us to lose on Sunday?
John Malone
222
Posted 19/03/2015 at 21:51:07
I'd offer Gary Neville the job tomorrow. I've never heard a man speak so much sense and truth about football. He's got the right character he's won everything and he hates the Redshite. He could bring Phil the shite commentator as his coach and bring Rooney back for a swansong!
John Maddock
223
Posted 19/03/2015 at 21:39:44
Bill, well said and spot on.

Ross Edwards
224
Posted 19/03/2015 at 21:53:42
That was embarrassing. We made ourselves look like the laughing stock of Europe and let the country. Bottled it yet again. Capitulated in a shameful way.
And to make it worse, Brugge are going through and if Kiev get them in tomorrow's draw, it'll make tonight's humiliation even more difficult to take.
Martinez won't be sacked now. It's far too late. He'll get the start of next season. If it's a continuation of this season's pitiful form surely he'll be sacked.
To play Alcaraz in a big European game when he's at best a Championship player was a shocking decision, one that has cost us massively.
The same typical crap spouted after the game too. The season is over. Now we need to ensure survival and sort it out in the summer. A massive transfer window for Martinez.
Colin Malone
225
Posted 19/03/2015 at 21:58:58
Until the old lady gets a sugar daddy, this is has good as it gets.

James Morgan
226
Posted 19/03/2015 at 21:52:52
Same old shite. Can't handle the pressure when it's on regardless of who is in charge. Nevertheless, I've said Martinez should go since before Christmas. They were hungrier, sharper, more organised, better drilled and classier.
What will be the managers excuse tonight? Tired? Bad pitch? Injuries? Osbornes budget? The eclipse?
I've had enough. We are a laughing stock!
Si Cooper
227
Posted 19/03/2015 at 21:53:43
Can't be bothered wading through ALL the bile and over-reaction. There are plenty of half-baked morsels to make me nauseous.
Go there and park the bus! Are you serious? Did you see the two goals they scored that we didn't just gift them with comical defending?? Would anyone bet against something similar happening if we sat back and invited them to take pot-shots all game???
I think the manager was right in his assessment that simply trying to defend a one-goal lead (with the away goal as the trump card) would just have led to us chasing the game at some point sooner or later anyway, and I thought that before the game so there is no hindsight coming into play.
Kiev are a decent side (there are plenty of their players I would be interested in, including their whole back FOUR) and had the tools to make the most of good balls into the box. Yes, the defenders could / should have done better but I am not convinced Stones would have done any better against the aerial route they exploited. Distin at his best may have, but when did he last display that? Alcaraz lacks pace and spring and they worked on that and finished clinically.
Baines or Garbutt? Against Yarmelenko (their main threat) I'd probably go for my most experienced defender too, but I would have put a strong mobile player on that flank as well to really try to isolate him. I think Besic instead of Naismith would have been a better option.
I don't think Barry did an awful lot wrong, and I can't believe the stick Coleman is getting. He has struggled for a lot of the season but has been back to his best recently and worked his socks off again tonight. Atsu is not the wing-man he needs / merits.
The scoreline flatters them. There was a lot less between the teams on the night than it suggests. Either of Barkley's efforts that struck the woodwork go in and, at the time they happened, the momentum could have swung to us completely. Same for Osman's stonewall penalty, which (if converted) would have put us one decisive goal behind with 20 minutes to go.

Jamie Barlow
228
Posted 19/03/2015 at 21:59:21
I don't know how many, I stopped reading after posts 78 & 86. Unbelievable.
Roger Helm
229
Posted 19/03/2015 at 21:40:28
Our better players need some of hope of improvement at the club - i.e. - Martinez out - before the transfer window opens, or they will all jump ship.
Peter Carpenter
230
Posted 19/03/2015 at 21:53:05
There was a moment in the West Ham replay when Robles came off his line towards the edge of the penalty area, went right through Stones and the West Ham forward, hurting them both and punching clear. That should have been the moment when everyone, Martinez included, realised that he was the better bet in goal, not least because he gave the defenders confidence by doing it.
Howard may not have made any direct howlers tonight but he is yesterday's man. If Martinez can't see that he should go. Actually, he should just go anyway.
Paul Smith
231
Posted 19/03/2015 at 21:59:55
"If John Stones had been on that pitch spraying shit all over the place it would have been a less disgusting sight than watching the Alcaraz show this evening."
Mike (#159) most succinct synopsis of tonight's debacle. I salute you.
Pete Edwards
232
Posted 19/03/2015 at 21:59:07
Andrew, read the list... How long bar two of them have they been out of the game from a managerial perspective!
Reid, a playing legend but bar a couple of seasons at city hasn't done anything;
Smith (yes that one) I don't need to explain surely;
McLaren, doing okay in the Championship and has in his defence won things abroad but historically not done too well in England's top flight as a No 1;
Pearce, not long been sacked by forest for a very poor record;
Paul Jewel...another Idon't really need to explain;
Joe Royle, again a club legend but a mangerial one too but that was 20 years ago, managing now is a different proposition than then.
They are my reasons and what I base my comment on.
Tony Abrahams
233
Posted 19/03/2015 at 22:02:55
Agree with most of your post, Si, but I thought Coleman looked shell-shocked from the off tonight.
Stephen Brown
234
Posted 19/03/2015 at 22:04:21
John Mallone 222 - yes please! I didn't think of him! He'd go for it too!
Peter Mills
235
Posted 19/03/2015 at 21:45:50
Really, what did the Kyiv manager have to do to prepare his team?
"Lump some high balls into their 6 yard box, they'll panic. Run into their defensive midfield, they've got no pace. Shoot hard, looping shots from distance, you'll get the space and their goalie is not very agile".
Any of us could have said it.
Kunal Desai
236
Posted 19/03/2015 at 22:05:18
I never really thought we'd get beyond the quarterfinals. I think many were getting too head off themselves thinking we could win the competition. At least now we can focus on getting 4/5 more points to stay in the Premier League.
Personally I'd kick Martinez off the park as soon as we are safe. He simply hasn't got a clue, unfortunately for us all he will be here next season. I would think at the very least he should be sacked if we are not in the top 8 come the first 10 games of next season; however, I don't think he'll go even then. The unimaginative board and Kenwright will be content if he keeps the club in the PL. How do we sack Kenwright is the question?
Steve Davies
237
Posted 19/03/2015 at 21:56:19
The line-up – leaving out Stones, Gibson, Kone and Osman, his tactics... playing his love 'children' Barrie and Howard – where do you start? The guy is clueless.
Does anybody on the evidence of our performance in the Premier League, and tonight which was an accident waiting to happen, honestly believe that he should still be at our club next season?
Most of us have been banging on about it for months. He doesn't learn... he didn't play his love child against Newcastle because he was suspended. He has made a good effort of taking us down this season, but give him another season and he will finish the job.
RM and his backroom staff are incompetent. This is a good squad but RM is a dreamer and doesn't know how to manage them.
He has had two years and I cannot see how it will get better. Just get rid of him now, BK. Stop dreaming and wake up and see what most of us have seen all season.
He is a salesman and not a football manager... let him be positive and take his philosophy, momentum and bullshit to somewhere like Blackpool. Show this halfwit the door.
Si Cooper
238
Posted 19/03/2015 at 22:08:24
Tony (233) - Atsu wasn't doing enough to help him out, imo. I also thought McCarthy was patchy tonight. When he is bossing the opposition, Seamus gets a boost.
Jamie Crowley
239
Posted 19/03/2015 at 22:12:17
I can't be bothered to read the 215+ comments...
But...
WTF!!! Alcaraz was absolutely dreadful and at fault for the 2 goals that broke our back. He was fucking awful!
And...
It's time for the worm to turn for me. WHY OH WHY ROBERTO did you start him in front of Stones?? Was Stones still sick? WTF?
Fucking hell if Barkley's 2 beautiful shots go in and don't hit the post! But no excuse we were horrific defending - and ON THE ROAD PROTECTING A ONE GOAL LEAD!!!
Honestly!
Season over. Fucking hell. Just pissed!

John Malone
240
Posted 19/03/2015 at 22:08:53
Just watching highlights: if you look at it with a clear head, it's Alcaraz... and that's it. If Stones or Distin play, it's a totally different scoreline!
Patrick Murphy
241
Posted 19/03/2015 at 22:07:58
Si, you do speak some sense about not just sitting on the edge of the area and waiting for Kiev to score but as soon as Lukaku scored our away goal, Roberto should have altered his game plan, we could afford to lose by the odd goal and still progress but he didn't alter anything, shape of the team, individual players nothing he just let it drift as he always does – that is the reason we went out of the competition.
He could have brought Besic on for Atsu or Barkley before half-time he should definitely have made a change at the break but he didn't and we paid for it.
Yes on another night the bounce of the ball could have favoured us but let's be honest we've had our share of luck in the previous matches in this competition and if a team is relying on luck then it's unlikely to win many matches on a regular basis and certainly not a tough competition like the Europa League.

John Crawley
242
Posted 19/03/2015 at 22:16:26
"Defensive nightmare ends Martinez dream" - feels like it was just a matter of time before that headline was written!

Andy Crooks
243
Posted 19/03/2015 at 22:08:21
Si, I admire your defence and agree about Coleman. Also, I think the selection of Atsu was just lamentable. You seem to suggest a few what ifs, well , it seems to me that we were thoroughly outplayed and got what we deserved.
It is a good thing to have someone try and take a different perspective. However, how many times over the last months has this been necessary? I honestly believe that it is not an over-reaction to describe Martinez's management his season as totally inept. Martinez might be the nicest guy in the world but to believe he is not fit to manage our club is not bile.
John Gee
244
Posted 19/03/2015 at 22:00:57
Pete (211), all the managers I've listed have done a better job than our current manager.
Reid took Sunderland to 7th, until last season Martinez had never finished in the top half. Smith Managed the club under agent Johnston. Hoddle was bombed out of football because he had medieval beliefs in something called "god" that used to be big with primitive fuckheads in the 16th century. Jewel and Bruce all did a better job, albeit without a flukey cup, in the league.
Anyone is more capable than a man who has made the same mistakes, to his and our detriment, for 11 months. I don't want another ban for questioning the support of a fellow ToffeeWebian Evertonian but, how can you support the club from your current position of denial? Seriously brother, wake up, anyone could do a better job.
When a frog feels threatened it stays stock still and keeps it's eyes wide. I'd take Kermit over Martinez. Same side line behaviour but at least we'd get a song.
Kase Chow
245
Posted 19/03/2015 at 22:13:01
Wouldn't mind if we have lost to a great performance tonight but our defending was atrocious.
Why does Martinez make the same mistakes continually? No proper shape, Barkley and Naismith together, plays an unconvincing Alcaraz, Barry ahead of Gibson, only 1 up top
Boring, pedestrian, unimaginative and our defensive shape lacks discipline and true ruggedness
Under Moyes, a clean sheet every 2 or 3 games was inevitable. Under RM its a friggin miracle.
Would love to change the manager but we all know Billy boy isn't about to pay him to walk away having already paid ٤m to get the did AND having given him a new contract.
We're stuck with this fool folks. Sorry.
Andrew Laird
246
Posted 19/03/2015 at 22:11:06
Pete #232 Do you honestly think football has changed that much over the last 10 years that none of them would be an upgrade on someone who is trying to play international football from 7/8 years ago?
Football is a simple game made complicated by idiots. Fitness levels have improved and the premier league games are faster but the basics are the same, just what fantastic evolutionary and futuristic tactics did Kiev use tonight?? Long shots at a keeper who does not use his feet or hands and long diagonal balls to a big lad up front, fucking transcendental.
Successful football has the right balance of graft and flair, always has and always will and it has been around for over 150 years.
Neil Pickering
247
Posted 19/03/2015 at 22:12:48
I want Gary Monk!
David Morgan
248
Posted 19/03/2015 at 22:08:02
@#227 You sound like a happy loser.
Nothing but the best!!! conceding 5 goals to any team is far from the best. I, like many others, actually wanted to win something that was very winnable. 9 finals in a relegation battle is just a disgrace. (It will be more like 9 dismal performances and saved by others being worse.)
Season over till August (see post 148, for my opinion Si if interested)
Jamie Crowley
249
Posted 19/03/2015 at 22:14:46
Imagine being Besic - subbed into that shitstorm!
One of our most promising players basically being completely embarrassed and belittled being brought into that game probably to save "better players" for the weekend.
That's just fucking crap. Roberto's lost me.
Atsu, Alcaraz, and fucking Barry starting in a must win, save the season game. Put your best players out there Roberto! Couple that with Howard in net who's been shite...
I can't support this man any longer despite my love of his vision for the club. This game's just lost me.
HORRIFIC. AHHHH!!!!
Tony Abrahams
250
Posted 19/03/2015 at 22:18:13
Si fair enough, but just looking at his face, told me enough.
His position for their second goal, had nothing to do with anyone but himself, and he just never looked like he had any confidence in himself tonight.
Jamie Crowley
251
Posted 19/03/2015 at 22:24:50
John Malone -
Alcaraz wasn't even GOALSIDE (!!!) for their second goal. That's like elementary defending 101.
WHAT THE FUCK!
I have to rant... apologies.... GODDAMMIT!
Pete Edwards
252
Posted 19/03/2015 at 22:20:31
Who's in denial John? I'll support the club through anything, managers come and go as do players but the club will always be the club
You think any one from your list would do a better job, I don't! A fluke cup win? Did they win it? I'm prepared to give next season a chance to see what Martinez can do. He's marmite at the moment, I don't like marmite personaly but Martinez I do and my opinion is that he can and will turn it back around but if he doesn't will admit to being wrong.
Si Cooper
253
Posted 19/03/2015 at 22:18:42
Patrick - at half time we just needed to win the second half one-nil and we were through. Not sure bringing Besic on would have improved our goal threat. Unfortunately, they scored the next goal which the players should have prevented irrespective of who was on the pitch at the time.
Even then we had a chance all the way up until their unbelievable 5th.
Like I said, the scoreline flatters them. 3 goals were absolute gifts and therefore, preventable whatever the players do in training.
Matt Williams
254
Posted 19/03/2015 at 22:21:18
Chris Jones [Burton]
255
Posted 19/03/2015 at 22:19:41
The back seven let us down tonight, and when you consider we have two guys sat in front of the back four, to shield them, it's incredible who we'd conceded three times by the half-way stage.
If you look at the stats on the BBC website, we had 20 shots to their 19, both teams managing 8 on target. They buried five, we netted twice and hit the bar twice. Both keepers made at least one good save each. We had nine corners to their 5 (if memory serves).
As I said, it was the defence that lost us the game. While I am losing patience with Martinez, I think tonight is down to the players. Some of them just aren't good enough. Considering Jags is an England player, it's disappointing he can't be more commanding in the box, even with a numpty along-side of him.
So, whatever happens, we will have no European football at all next year. It's a domestic only season, hopefully in the Premiership, Sunday's game is a 6-pointer now.
Martinez promised us Champions League football. Nearly two years in, we know that can't now happen until his fourth season in charge. Whether he deserves or will get even a third must now be in question. Unless we see a marked improvement in the last nine games he has to go in the summer. If, heaven forfend we lose to QPR I for one will be tempted to say get rid now and find a caretaker to see us to safety.
John Gee
256
Posted 19/03/2015 at 22:21:06
People keep talking about Martinez pay offs. Why? You don't pay people off who have fucked up. You pay people off to buy their silence. He's been shite as a manager, surely there is a clause about minimum expectations. If he hasn't fallen short of a target then I am perfectly happy to donate both of my pink balls to the next snooker world championships. They might be over sized but, whatever it takes to get rid of that future "i'm a celebrity get me out of here" clown.
Jay Wood
257
Posted 19/03/2015 at 21:50:59
I know tonight is the darkest of a drab, grey season to date, but even so I don't subscribe to the absolute defeatist attitude of Connor at 209.
At the inception of the PL - instigated by our very own chairman (Phil Carter) and chairman of the old 4 divisions that constituted the Football League remember - we were part of the 'Big Six' who lobbied for the creation of an elite league - Everton, the 'poo, Manure, the Arse, Spuds and Villa. Arguably, of all 6 lobbyists, we have failed to take full advantage of the commercial riches the PL has delivered.
All the others have refurbished, extended, modernized or even moved stadiums. Their corporate facilities and commercial deals puts us to shame. All have benefitted from changed ownership.
In that same time frame you have seen clubs from the 3rd and 4th rank of England's league system rise to the PL on the back of a clear business plan and strategy. Some fleetingly, some yo-yo clubs, some now consolidating their PL status in new stadiums, with great academies, effective scouting and recruitment, and on solid financial footing, such as Southampton and Swansea - 2 clubs Everton is likely to finish behind this season.
Their starting point was lower than Everton's 24 years ago when the PL came into being. Chelski and Shitteh were the poor relations of their more illustrious neighbours. But with a plan, a vision, look where they are today.
RM and the players have vastly underperformed this season. Any one still disputing that is in denial.
That said, I have to believe that under the right ownership and management, my club, your club, our Everton, can again compete for trophies. That we can break that glass ceiling Conor speaks of.
I for one am not for calling quits on my hopes, ambitions and aspirations for the (still, in my eyes...) the mighty blues.
Jamie Crowley
258
Posted 19/03/2015 at 22:32:24
But Chris -
The cardinal sin was playing Alcaraz in front of Stones, no?
It was Alcaraz directly responsible for us conceding 2 goals. Martinez chose him over Stones.
It may be down to the players but one of those players was chosen by our manager ahead of England's brightest defensive young star.
End of. Correct?

Stew Marsland
259
Posted 19/03/2015 at 22:20:56
The time to get rid of martinept has long passed and is now urgent,we have been embarrassed throughout Europe by his ego and IT IS ENOUGH BEYOND BELIEF,this idiot must not be allowed to be in charge any more - kenwright are you as dense as people say? YOU SAY YOU LISTEN TO FANS NOW IS THE TIME TO ACT
Anthony Hawkins
260
Posted 19/03/2015 at 22:24:49
Martinez simply does not know what his strongest team is or how to allow them to play to their strengths.
The ideal Martinez is trying to play towards is great if the team has the right players. The current team hasn't got those types of players - the Arsenal/Barcelona type of players. In the absence of that skillet the team has to be setup to focus on its strengths and it simply does not do that.
John Stone on the bench - why? The best period of last season was with Stone and Distin as the CB pairing. Some of the most solid games this season had Stones as CB.
Howard has been a liability for the last few seasons. Yes, he's had good patches but a solid defence in front of him saved him last season. Robles looked far more in control than Howard ever had this season.
Lukaku is/was a great signing but we rarely play to his strengths. Why leave him isolated? He requires service which he's desperatly been lacking this season. Yes, he's been lazy at times but all strikers need the ball passed to them.
Midfield is far too full of good Central players being asked to fight for too few positions or be played out of position. The team is crying out for proper wingers who know how to supply crosses. Yes Lennon is a winger but I'd never have classified him as quality. He's always been about style over substance with the final ball always lacking.
We're out of the Europa which means we can focus on fighting a relegation battle which the team should never have been in and are likely to survive purely because others are worse.
Marines surprised me last season but enough is enough.
Michael Polley
261
Posted 19/03/2015 at 22:36:30
Just saw the highlights again. Alcaraz should do one. I hope he never wears the Blue shirt again. A total disgrace. Get out now !!!!
Tony Abrahams
262
Posted 19/03/2015 at 22:35:46
Definitely correct Jamie. You really have to wonder what the man was thinking. Unless Stones wasn't really fit and he was brought along so people didn't ask why Distin hadn't travelled. That's how bad this decision was, I'm looking for conspiracy theories !
Ray Roche
263
Posted 19/03/2015 at 22:37:02
Come on lads, all you posters giving Alcaraz some stick, Martinez says it wasn't the fault of the defence.
So, Roberto, apart from yourself, who's fuckin' fault was it, then?
Pete Edwards
264
Posted 19/03/2015 at 22:36:30
Andrew, yes I do as it has changed that much over the last 10 years which is a generation in player terms, a manager who has been out of the game for that long will struggle with methods on the training pitch and match set ups
John Gee
265
Posted 19/03/2015 at 22:33:24
Pete Edwards, 252, he's been making the same mistakes for almost a year! You want to give him more time? So he can do what exactly? Make more of the same mistakes?
Please Pete, don't debate me we'll go round in circles.
How any Evertonian can defend Martinez after witnessing our season in microcosm is beyond me and my powers of reason.
Patrick Murphy
266
Posted 19/03/2015 at 22:41:02
ITV summed it up at the end of their programme - No Escape from Alcaraz!

Chris Jones [Burton]
267
Posted 19/03/2015 at 22:35:13
Jamie, correct me if I am wrong, the defenders picked tonight are all international footballers, being paid wages commensurate with their status.
Between them, the back 4 and keeper have, wait for it, 218 caps between them!!!! They ought to perform better than that. For two of the goals in the first half the defenders were all at sea with balls knocked into the box. You expect international footballers to be able to do better. Baines and Jags are England regulars FFS - SIXTY THREE ENGLAND CAPS BETWEEN THEM (sorry to shout). They simply must do better.
I agree my preference would've been to see Stones play. I can only imagine he is not fully fit, or the manager is not 100% sure he is.
Peter Carpenter
268
Posted 19/03/2015 at 22:39:17
I can cope with a defeat, but not when we help the opposition so much. Martinez - you twat.
Paul Hewitt
269
Posted 19/03/2015 at 22:39:46
Asking for Martinez to be sacked is pointless no way will BK do that.So we just have to hope we get enough points between now and the end of the season
Phil Grayston
270
Posted 19/03/2015 at 21:58:04
It's been a long time since I last took a whack in the nuts but I can't remember it being as painful as this. I've tried to stay on board with RM, but tonight has shown me the error of my ways. Throwing in a youngster who's hardly played all season for such a big game is bad enough, but leaving out your star kid and going with an accident waiting to happen in his place is inexcusable.
The worst thing is, though, he made us all dream last year. Now that it's all come tumbling down, can we realistically expect a replacement for him that would attract/keep the type of players that can offer us more than mid-table mediocrity? Were we really calling for Pullis a few weeks back? Is the choice really between being Wigan or Stoke? Please, someone apply an ice-pack to my wounded Blue soul.

Bill Gall
271
Posted 19/03/2015 at 22:33:38
If they were watching that performance and understanding that Martinez's game plan on Sunday will be the same C.Austin and B.Zamora will be licking their lips. There is one thing loosing but another thing in loosing with the amount of goals conceded poorly.
We may have been unlucky hitting the post twice but overall the team selection with players playing in positions that has not worked before, and lack of a creative midfielder is simply poor management decisions and this late in the season is "simply unacceptable "
Tony Abrahams
272
Posted 19/03/2015 at 22:44:51
Well you have certainly got a different opinion than the manager Chris, because he's not looking to blame his defence. He talks about Kiev gaining momentum, the same thing he took out of his own defence, the minute he brought Tim Howard back.
Paul Taylor
273
Posted 19/03/2015 at 22:37:05
What has happened to this team this season is unforgivable for all the reasons analysed on TW. This incompetent must go ASAP before it is too late.
Our next home game is against Southampton, so what about using the "Sunderland" method ? If we are playing the usual crap with the usual crap player choice and are drawing or losing then we all just leave at half time.
Then maybe BK and the money men will have a rethink? Threaten their income and they will capitulate. Premier league survival is paramount.
Of course I hope the other Everton turn up and we thrash them, but I am not optimistic...
John Malone
274
Posted 19/03/2015 at 22:31:17
Jamie Crowley, I'll be honest mate the thing that worries me the most isn't that Alcaraz is shite and should never play for Everton again it's tne fact that the man in charge brought him to us from his previous club who got relegated and shipped more goals than a Sunday league team. What the fuck does that say about Martinez?
I never wanted him and was worried sick when BK brought him in, but if you think about it logically like an intelligent sane person we've just gave the most important role at our club to a guy who's who survived relegation on the last day twice then took them down playing PIATB tactics repeatedly even when they were conceding 4's and 5's!!! He won the Fa cup but so what anyone can get to a final and have the luck on the day the bread and butter the day to day graft is the league. Why on earth would you put our great club in the hands to of this blagger!
The guy is well out of his depth he is not a premier league manager like Alcaraz is not a premier league player. Get him out quick!
Pete Edwards
275
Posted 19/03/2015 at 22:48:15
John, you think one thing I think another if you question my comments I will come back with my opinion(s) if you don't want me to or to not debate then ignore me
And yes, I think last season has given me a bit of hope that this is a blip, but will only know if we carry on like this season or start getting back to last seasons form and results
Jay Woods
276
Posted 19/03/2015 at 22:52:25
I'll get roasted for this, but I'll say it anyway. I have a son, he's almost 4 years old, and I will not permit him to support this festering turd of a club. In fact, I'll encourage him to have interests other than football. However, if he insists in following the game, I will insist he supports a properly run club, maybe Bayern Munich or someone else who won't saddle him with a lifetime of annoyance.
Jim Bennings
277
Posted 19/03/2015 at 22:45:07
I will be a happy man if I wake up tomorrow to the headlines of "Martinez leaves Everton".
Lets face it, what's the point really in hanging on to the guy when the vast majority are against him and his playing styles, even his own players don't entirely agree with the principles.
Once you lose the fans, there is no going back, just ask Paul Lambert. Aston Villa knew the time had come to act and it's saved their season by the looks of it getting shut of Lambert for a fresh new hungry manager in Tim Sherwood.
Ant Dwyer
278
Posted 19/03/2015 at 22:46:39
I'm truly sick of saying it as most knowledgeable Evertonians are in complete agreement, but I will say it all again because I feel I'm going insane.
Roberto Martinez is a fraud, his signings are useless baring three players, two of which we paid top dollar for and are no-brainers. The sooner we can get him gone, the better. Bill needs to grow a pair and get a manager in with a brain, then if that man can get us back into top half of the league again (where we clearly should be may I add) then we need to continue to address the situation and work out if we have options to employ a better manager at that particular time.
I say this because we are back to a lower band of manager than what we may have had a choice of a few months back when we were still in the FA Cup and Europa League, we're as now we may struggle to attract a top foreign manager. Players like Howard, Osman, Pienaar, Distin, Hibbert and Barry have had their day, whereas players like Alcaraz have never and will never have his day.
We have too many players who will not ever get us into the Champions League, like Kone, the hard-working but not good enough Naismith, the useless McGeady. To top this, Martinez has destroyed Ross Barkley this season by playing him out of position too many times at the expense of Naisy and he's wrecked his confidence as a result.
There is so much wrong inside our club it's untrue, he has to go asap so as we can begin to rebuild.

Brian Wilkinson
279
Posted 19/03/2015 at 22:55:26
We will win Sunday, Barry suspended; all being well Gibson back in along with Stones and Mirallas.
Tonight's gone, surely even Martinez will revert back to how we set our play up against Newcastle.
What will hack me off is getting a win against QPR, then Barry walking straight back into the team again.
Totally shocking tonight, I really feel for the loyal Blues who travelled and had to witness that shocking performance, you did us proud, shame the same could not be said about our team.
Andy Crooks
280
Posted 19/03/2015 at 22:57:46
Pete #275, I believe we urgently require a motivator until the end of the season. I just cannot accept that coaching and team set-ups would be a problem. Certainly not the problem it seems for Martinez. Does he look or sound remotely inspiring or motivating to you?

Si Cooper
281
Posted 19/03/2015 at 22:28:33
I tend to agree with what Neville Southall has said, in that I can't really work out what is going so wrong this season.
Time after time we are let down by players failing to do the basics but I can't see the common thread when so many many of the mistakes seem to be of the type that you wouldn't expect experienced players to have to be coached in.
It just looks like stage-fright. I don't believe the manager's philosophy is endless, aimless passing in our own half, nor that the players are coached to continually pick the safe option. Last week, when we started so poorly against Kiev at home you could clearly see Martinez saying that the ball had to go forward quicker, and I think that has always been the way he has encouraged the players to play. I think they have failed to carry through what they have obviously done in training into games, rather than faithfully carrying out a flawed approach.
Of course the manager is ultimately accountable. Part of what he has to deliver is the players consistently performing at their best, but I personally don't believe he has coached defensive nouse out of the players or only rates our performances on possession stats.
At the end of the day he is reliant, however, on the players performing as required and if he feels there are a couple of stalwarts who at least stick to the game plan then you can understand he may become over-reliant on them when faced with so many players producing unforced errors throughout the season.
Andrew Laird
282
Posted 19/03/2015 at 22:48:10
Pete (#264) "A manager who has been out of the game for that long will struggle with methods on the training pitch and match set-ups."
Or seemingly Martinez who has been IN the game, I am pretty sure we do not practice set pieces whatsoever and I am also pretty sure that coaches would be involved with I know they were when I was being paid to play. You seem to be clutching at straws in an ambiguous and uninformed way in which only a bisexual guitarist could understand. Like I said, football IS a simple game and it is made complicated by morons with NFL playbooks. Just how can you expect someone with 2 or less GCSEs to remember the entirety of a tactics notepad which is thicker than War and Peace?
You are aware that David Moyes had players running up sand dunes and on beaches until they puked? I can assure you that this "method" of training has been around for a long time.

Daniel Kyles
283
Posted 19/03/2015 at 23:00:59
He is a fraud. He was doing a university course in Manchester years back and paid one of my mates to do all his essays and that. Everything about him is complete bollocks. I was embarrassed tonight, he needs to go.
Paul Hewitt
284
Posted 19/03/2015 at 23:03:53
Jay@276 no matter how bad things get there is only one club worth supporting and that's EVERTON
Ian Smitham
285
Posted 19/03/2015 at 23:01:46
Not being funny but a few on here critisised the previous incumbent for setting an initial target each year of 40 points. Is that an aspiration now at this late stage for this season??

Kevin Tully
286
Posted 19/03/2015 at 23:05:32
It's all OK lads - Evertonians are officially the happiest fans in the Premier League... apparently!
Fucking shambles of a performance, we couldn't even try a bit of tippy-tappy shite! I really cannot see any future with Roberto, we looked so disjointed and seemed to have players just wondering about the playing field in any position they wanted to take up.
Now where's me Bourbon? (Straight up.)
Michael Polley
287
Posted 19/03/2015 at 23:04:37
Just seen images of that young Evertonian crying in the stadium. I felt for him. Felt like crying myself. Hopefully 3 points on Sunday will put a smile back on his face.
We need to put this disappointment behind us. We need to bounce back because we are still in a relegation battle. Can't afford to dwell on it. However, I believe the fabric and heart of the team is being destroyed by RM.
Needs to be major changes in the summer, or God help us!!
Patrick Murphy
288
Posted 19/03/2015 at 23:07:14
Ian,
This season we have no choice but to accept that 40 points is the minimum requirement, you would be hard pressed to find an Evertonian who thought that would be the case at the start of the season.
As for setting targets that 40-point mark should always be the starting point for most PL clubs and once a club like ours gets to that point they can then re-jig their targets accordingly.
What we have at the moment is a team that has forgotten to do the basic things correctly and because they can't control or pass the ball correctly or cannot provide cover for each other they compound it by making huge errors of judgement. So, from that perspective, I will be a very happy blue if and when we reach 40 points. Jags thinks we are a good team who didn't play well – I disagree with him because a good team doesn't make basic errors in every game that it plays.
Brian Hennessy
289
Posted 19/03/2015 at 23:06:20
The scariest though I have tonight is just how many of our best players will leave in the summer if this fool Martinez is still at our club.
I mean what player in the right mind would want to spend another season playing for this guy, unless of course your name is Tim, Gareth or Antolin and haven't got a hope of being picked by any other Premier League manager.
David Sheen
290
Posted 19/03/2015 at 23:14:46
To be fair to Martinez, Alcaraz was exceptional against Newcastle. Everton kept a clean sheet, won 3-0. There was no reason to bring Stones back when Alcaraz played so well. BUT, that was the only game I have seen him play well all season. Maybe because Newcastle were dire. Tim Howard also had a decent game.
But playing Atsu? Our midfield was none existant. No wonder they played long balls when Naismith and Atsu were our midfielders. They aren't the tallest. Playing Lukaku upfront on his own and usual formation does not work.
He should have changed it earlier. That's what was dissapointing the most. Alcaraz should have been took off far earlier.
Ian Riley
291
Posted 19/03/2015 at 22:53:44
Let's all be honest, the manager is going to be our manager next season. The chairman will give him another chance. Why? The manager had a good season last year and will do better next season will be the statement.
How lucky is Mr Martinez, his charm and smile has been his biggest asset. Can you see the chairman sacking him? Only Championship football next season will see to that. I don't see us going down, so he will be here next season. What baffles the feck out of me is when people think the big two in Spain will come calling for his services.
Eugene Ruane
292
Posted 19/03/2015 at 23:11:44
Jay Woods (#276) - "I'll get roasted for this, but I'll say it anyway. I have a son, he's almost 4 years old, and I will not permit him to support this festering turd of a club. In fact, I'll encourage him to have interests other than football. However, if he insists in following the game, I will insist he supports a properly run club, maybe Bayern Munich or someone else who won't saddle him with a lifetime of annoyance."
Permit him?
Hold on, I thought Evertonians were... chosen.
This is very confusing.
Alex Jones
293
Posted 19/03/2015 at 23:09:56
Aside from Alcaraz, who had a woeful game in every sense, our worst performer was McCarthy. He got beaten by every opposition player who went near him, he lost runners all game and never got close to closing down their midfielders when shooting just outside the box. Considering his only attributes are defensive; just what does he offer? Him and Barry were both as bad as each other defensively, but at least Barry made a few decent passes. Why does McCarthy, who's been one of our worst performers all season and cost 㾹 mill, avoid criticism all the time?
Besic, Gibson, Osman, Barkley are all better deep midfielders than him, both defensively and offensively, and we have Ledson coming through. I'd get rid to Spurs in the summer, that's if they've not watched him this season and still think he's good! As much as we Barry is clearly passed his best, he has no sell on value whereas this fraud does. Of all the players we could sell to bring in funds, he'd been missed the least, in fact we'd be better off without him.
David Sheen
294
Posted 19/03/2015 at 23:21:38
When I have a kid, I'll let them make their own choice in a football club. I didn't get that opportunity. My dad burnt a Liverpool shirt given to me by the other side of the family (his brother in law). Still glad I'm not a kopite though.
Ian Brandes
295
Posted 19/03/2015 at 23:20:39
Can we all please stop calling Martinez a fool, or even branding him with worse?
None of them can do justice to this festering clueless manager.
Yearning for a sky sports newsflash announcing his immediate dismissal.
Joe Clitherow
296
Posted 19/03/2015 at 23:25:05
Does the allowance for the club's medical team not stretch to a pack of Imodium? That could have made all the difference to us tonight.
Seems the only turd that was kept in tonight was Alcaraz in the centre of defence.
David Sheen
297
Posted 19/03/2015 at 23:27:31
Gibson and Osman were the reason why we beat Newcastle 3-0 because majority of passes were actually forward and not sideways or backwards. If Martinez really wanted us to attack Kiev. Then why did he not choose at least one of those players and why did he not put Kone upfront with Lukaku?
Martinez is full of shit even when it comes to explaining his gameplay before a game, let alone after.

Jay Wood
298
Posted 19/03/2015 at 23:11:53
Jay WOOD to Jay WOODS @ 276...
"I have a son, he's almost 4 years old, and I will not permit him to support this festering turd of a club."
I can celebrate the fact that the only thing vaguely similar thing we have in common is our names, 'cos I most certainly do not agree with your opinions and attitudes on Everton and parenting.
Tony Hill
299
Posted 19/03/2015 at 23:30:55
Alex (#293) I agree he was poor tonight and the lack of closing down was indeed a factor but McCarthy is already a top class defensive midfielder who will get better. At his best, he is up there with Matic. The last thing we should do is think of selling him.
Andrew Laird
300
Posted 19/03/2015 at 23:25:10
David (#290) and after nearly 3 years of injury problems, why is Alcaraz playing 3 games in 7 days? This was a fucking criminal decision by a man who should only have nostrils left with the amount of times he has cut his nose off.
You will have noticed that Darron Gibson was on the bench after 90 minutes on Sunday and Distin (who scored for the U21s) was not even in the squad if Stones was not fit enough. Let's call a cunt a cunt, or is that spade a spade?
Victor Jones
301
Posted 19/03/2015 at 22:52:25
Never mind second season syndrome. How about third game syndrome. We win two games, then Martinez rings the changes and we are thumped. We win comfortably against Newcastle. Martinez messes about. And we are out played tonight. Why does this manager insist on changing a winning team. Surely Gibson, Osman and Kone were not that knackered after one game of football, that they couldn't play tonight. Why was Stones on the bench. Why was Alcaraz on the pitch. Why was Barry on the pitch. Why did Atsu feature. Why is Martinez still our manager. Same old questions. And sadly, the same old answers.
So that is that. The last hope of a trophy that some supporters were hanging on to, has gone. Martinez's saving grace, this season. Has now gone. What now? In the end, we were thumped. Martinez had no clue on how to win that game. Similar to our FA cup defeat to Arsenal last season. Hopeless. We now go into a must win game against QPR. And can anybody really say what Everton team will turn up? Can anybody guess what team Martinez will field? Will he adapt his Tippy Tappy nonsense. And try to bore QPR into submission. Cause I give up trying to guess what Martinez will do.
Does Martinez study the opposition?. Does he do his homework on the opposition.? Does he study their weaknesses and strengths?. Does he set up accordingly? Of course he doesn't. Why do you think that this is such a bad season? Because Martinez has not got a clue. He thinks that his philosophy will conquer all. Bollocks. You need to set up to beat teams. You need to show some nous. You need to show some tactical awareness. You need to be smart. You need to know what your best team is. You need to drop out of form players. You need to stop playing favourites. You need to have your players fit and on top of their game. You need to have your players practice set piece moves. You need to do your homework on the opposition. Does Martinez do any of these? Does anybody trust Martinez to do any of that next season? I don't. Lets hope that BK also doesn't.
Hard work supporting Everton. But I live in hope that one day, B. Kenwright will get his act together. And appoint a top class manager. I now have no faith in Roberto Martinez. Heres hoping that we beat QPR, but only because I support Everton FC. I don't care anymore what happens to Martinez.
Jay Woods
302
Posted 19/03/2015 at 23:20:58
Eugene, I know, I know... I was 100% compos mentis writing that too. Maybe I should have said "try to persuade him to support another club".
Life is too short, yet change in football is glacially slow. I can see why the Americans have the system they have in the NFL to try to spread the joy around. Better still, just don't follow football.
Alan Bodell
303
Posted 19/03/2015 at 23:35:49
Eugene #292, I seriously hope this is a drunken rant mate and you wake up with remorse in the morning.
Yes, we have had a load of shite given us by this joke of a manager but to call our club what you have done is fucking unbelievable.
Andrew Laird
304
Posted 19/03/2015 at 23:43:09
Did you drink the whole bodell Alan? Which word of Eugene's post are you referring to? Permit? Very? Confusing?....
Patrick Murphy
305
Posted 19/03/2015 at 23:46:24
Alan - Re-read Eugene's post and you will see that those words aren't his he has merely quoted somebody else's post and posed a question about it.

Chris Leyland
306
Posted 19/03/2015 at 23:18:38
Si Cooper - do you inhabit a different planet from the rest of us? Your posts (AKA excuses) are full of 'ifs'. If Barkley's shot hadn't hit the post etc, etc. Guess what? it did hit the post. There is no way that scoreline flattered them, if anything it flattered us. They looked like they could score at will. We looked like we could concede at will.
The manager patently picked the wrong line up tonight. If he (and you from your posts) genuinely believe that we could not have played a for a 0-0 then that is a sad indictment of his and the players abilities. He could have set us up better for the counter attack. Oh, and by the way, he picked 7 defensive players tonight despite not thinking we could hold out too. Or, if he believed we should try and out-gun them then how abut trying a 4-3-3 or a 4-4-2 even rather than the tried and failed 4-2-2-1 shite he has persisted with? Or maybe how about starting the two players who can actually retain and use the ball i.e. Gibson and Osman? But instead we are treated to Barry and Atsu.
The manager is a busted flush with zero credibility left in the bank. He no longer has the Europa League excuse to hide behind. All goodwill from last season has long since evaporated with some of the shameful performances this year (Southampton away, Hull away, Stoke away, etc etc etc) and the sooner he is moved on from this club the better. Ask yourself this, what other club supposedly aspiring for the top echelons of the league would accept this level of under-achievement? Answer – NONE OF THEM
Alan Bodell
307
Posted 19/03/2015 at 23:49:34
To you lads above posts about me about on to Eugene, sorry to say the 'festering turd' thing referral upset me.
I maybe missed some early traffic here but that just fucking rattled me, apologies if I missed something here earlier but I'll have a look-see soon.
Victor Jones
308
Posted 19/03/2015 at 23:43:48
Eugene..292. Don't be giving up on Everton. I watched some rubbish through the 1970s and early 1980s. Then along came two league titles, cup finals and a European trophy. I wouldn't have missed those for anything.
Football today is all about money. But I also believe that it comes and goes in cycles. Stick with your team. We will come good some day. Cherish every little victory.
Remember that Martinez will be long departed from Everton. But us supporters, and the club will always be here. Everton will be here forever. Kenwright might someday do the right thing and sell up. FOREVER EVERTON.
Brian Furey
309
Posted 19/03/2015 at 23:46:25
How many of you, from outside Merseyside have encouraged your kids to support Everton?
Ben Dyke
310
Posted 20/03/2015 at 00:07:54
Eugene, it seems that the lack of speech marks has confused a few!
Alan Bodell
311
Posted 20/03/2015 at 00:01:53
Eugene (#292), so sorry mate I just re-read the thread you was about and I totally am with you about Jay Woods, I came in late and mis-read it.
We are all in this together.
Tony Hill
312
Posted 20/03/2015 at 00:09:42
I don't think there's a single person who posts on TW who will not always be a Blue. It's still a joy to follow the club even on shitty nights like this. We'll be fine.
Andrew Laird
313
Posted 20/03/2015 at 00:11:11
Clearly we are not all chosen.
Ciaran Duff
314
Posted 20/03/2015 at 00:05:14
I think that things are going to be very difficult for Martinez now. I was listening to the Everton Live radio commentary and even Graeme Sharp was critical of the tactics, selections and substitutions (eg, bringing on Besic rather than Gibson when we were chasing the game).
If Graeme Sharp, who very much toes the club line, is being openly critical then you know you have problems. I am wondering how the players will react to the defeat in terms of the end of the season and their overall playing future.
Simon Berrey
315
Posted 19/03/2015 at 23:23:47
Like most of you I was filled with trepidation from the moment I saw the team sheet tonight. And what an absolute shocker ! But it's been a good trip while it lasted. Now let's get back to the serious stuff...
What really makes my blood boil about this disastrous season is the lack of progression for our youth. By all accounts we have a burgeoning wealth of talent beneath our first team, but there they remain, rotting away. Out on loan here, there and everywhere, until we eventually have to let them go with no real frame of reference as to how good they actually are. I could almost, and I stress "almost", except this sham of a season if we had brought on the likes of Ledson, Kenny, Browning, Galloway, Long et al.
But instead we continue to bumble along with the same old worn out, ever predictable faces, running down their contracts and taking us nowhere. If we are never going to use our youth players what is the point of spending money running academies in the first place?
Surely they are the future. On this years dismal showing, please Roberto "Give youth a chance"!
Phil Walling
316
Posted 20/03/2015 at 00:04:35
What staggers me is that there are still Evertonians who rate Martinez. Only had time for a swift pint this evening but, whilst I was out - and sounding off – I was accosted by a guy who asked me 'How many managers have ever got us to fifth? How many have got us to late March still in Europe?'
Could the questioner have been Bill Kenwright? I think not, but I suspect that's the great man's thinking as he sinks to justify a decision almost as daft as the one that said no to King's Dock!
Si Cooper
317
Posted 19/03/2015 at 23:55:31
Chris Leyland - excuses? What are you on about?
I've said where I differ from the line-up the manager chose, but I honestly don't think we could have simply decided to stop them from scoring with any of our defenders / defensive midfielders and it would have necessarily come to pass. I think that is over-estimating our current squad and under-estimating Kiev as well.
I also didn't see anything 'shameful' (as some are calling it) in the performance of any of the players tonight, just embarassingly inept at times. And despite the cock-ups I thought there was a glimmer of hope of getting within one goal of their total until pretty late in the game. If you thought they looked like they could score at will whilst we simply floundered, then your perspective seems very skewed to me.
I was arguing in September that we needed more strength in depth in at least midfield and central defence (and I meant players in their prime not at either end of their careers) so maybe I am just not as surprised as some that we have weaknesses that other teams may be able to exploit, but the hyperbole being written about what was a poor performance by a couple of players rather than an overall awful team performance is, imo, an over-reaction (no doubt fuelled by season long disappointment and anxiety over our current league position).
Is a player who is nominally a defender playing defensively if they spend more time than the average in attacking positions. To say we had 7 'defensive' players on the pitch and, therefore, Martinez wasn't even looking to match the opposition goal for goal doesn't say much for your observational skills if you were watching last season.
Alcaraz deserves the finger pointing, and the manager takes the blame because he picked him to play. To state that Stones wouldn't have made any mistakes or been troubled by their tactics and therefore the manager was negligent in his choice seems to be stretching it a bit to me.
Andy Crooks
318
Posted 20/03/2015 at 00:28:37
Sometimes the best articles one comes up with are the ones that you don't hit the submit with. I very, very nearly wrote a piece insisting that Alcaraz must start against Kiev. Why should Stones walk back into the side I was prepared to muse.
Thank God no one knows that I felt that Alcaraz would get better and better with game time and would be vital for victory tonight.
Paul Smith
319
Posted 20/03/2015 at 00:32:07
Clearly when we're on a bad run, fewer of us are chosen. Keep the faith everyone, new manager soon.
Colin Glassar
320
Posted 20/03/2015 at 00:17:55
I cannot bring myself to watch the game (I have it recorded), so I might watch it tomorrow in the cold light of day when the sadness has abated slightly. I want to see these 'wonder goals' and the Alcaraz show. Then I'll make my own mind up.
Ross Edwards
321
Posted 20/03/2015 at 00:39:58
Forget 'We are chosen'... in #276's case, it's 'Everton: If only I permit you'
Andrew Laird
322
Posted 20/03/2015 at 00:44:33
Eraserhead by David Lynch as a viewing will make more sense Colin.
Gavin Johnson
323
Posted 20/03/2015 at 00:15:38
There's got be questions being asked at board room level now. At the start of this thread. I would have said that Martinez will be manager next season come what may – He would have stayed on the strength of his achievements from last season and the board would have seen how we started the new season before making any decision. But will they trust him with a transfer kitty now? I'm starting to think that he might be gone if we don't get something against QPR.
I'm sure that even some of Martinez's biggest critics were clinging on to some 'Roy of the Rovers' fantasy that we would go to Warsaw – win the Europa and be in the Champions League next season (being an optimist it was what I believed in) BK is a bit of a romantic and I'm sure that he hoped that the Europa dream could solve all our problems in one foul swoop – actually win a trophy, Champions league kudos and investment. More worrying for Martinez is whether any of the players believe in him any more. I get the feeling that the Europa dream was the only thing keeping them onside.
Where are we now compared to the start of the season when we were on the BT Sports adverts for the big fixtures on the Premier League calender... When we made a signing that showed our intentions of being back where we belong?! Well, it's gone completely tit's up and when you look at things in the sum of it's parts there's only one person who can be held responsible.
Chern Lee
324
Posted 20/03/2015 at 00:52:32
Hopefully Man Shitty sack Pellegrini in the summer - he'd be my no 1 replacement for the Catalan Clown.
Gavin Johnson
325
Posted 20/03/2015 at 00:53:04
Andrew, you've given me the only laughs tonight with that Eraserhead post and the other asking Alan if he'd drank the whole Bodell. TW always has it's moments... even when the football's shite.
Wes Schmidt
326
Posted 20/03/2015 at 00:49:01
A US blue here. I've been watching Everton since 2009. This is the worst it has ever felt.
What do these things all have in common:
● Martinez's lineup
● Martinez's subs
● Lukaku's touch
● Antolin fucking Alcaraz?
They are all shit. Absolute and indefensible shit. Roberto out. The dream is over. We will avoid the drop because there are some utterly abject teams below us, but make no mistake: this season has been a disaster, and it is down to the manager. Out. Fucking out now.
Joe Ainsworth
327
Posted 20/03/2015 at 00:24:58
If the Chairman has got the balls to get rid of Mr Phenomenal right now, there is still the chance to turn all of this around.
Martinez has ruined the two best attacking full-backs in the league by planting a bunch of headless chicken wingers in front of them so they can't cross the halfway line. He's ruined Barkley by completely mismanaging him and his obsession with Gareth Barry is borderline stalker territory. Not to mention the fact that he thinks Alcaraz actually resembles a professional footballer...
But, if you sack him now and bring in a manager with a degree of sanity, be it Koeman or someone else who doesn't think Tim Howard has had an 'amazing' season, then the spine of a very good side is still there. Get rid of the on-loan deadwood, useless pricks like Riverdance McGeady and all of the abysmal Wiganers he brought to the back room and the 1st XI and you might just be left with the bones of a team that could do something next season. But not with that brown-shoed twat in charge.
Minik Hansen
328
Posted 20/03/2015 at 00:53:34
For Christ sake, we are Everton. Can't evaporate just like that. Let's all be on track and help pushing. If big name players are to leave, let them, we always seem to find gems, and get back up there. It's a grand old team, COYB.
Kieran Carr
329
Posted 20/03/2015 at 00:36:55
I think (hope) we will survive this season, but next season could be horrible. We need to add 5 or 6 players to our squad just to stand still. Mirallas will go and can we keep Lukaku, McCarthy, and Coleman. Barkley & Stones may also be up for grabs and even Garbutt has not yet signed.
We have no keeper and our spine is still Howard, Jags, Barry. Naismith & McGeady under contract, an ageing Baines and Osman and a crocked Gibson. Kone our second striker. Lennon and Atsu on loan, won't stay. That leaves us with Robles, Hibbert, Distin, Besic, Oviedo (if ever fit again) and the kids. Sorry we need to add 15 to squad.
Steve Davies
330
Posted 20/03/2015 at 00:44:48
274 John Malone was bang on the money. Of course we should have not appointed him based on that record. However, I confess I did want him to join our beloved club.
I wanted him out before Xmas. He talks bollocks and anybody who still thinks he should be at this club seriously needs their head examining.
Unlike the Spanish incompetent BK should admit he made a mistake and unlike RM learn from it. Only a fool does not learn from their mistakes. RM like Lambert and Poyet has now lost the fans, the local reporters and even Graham Sharp now.
All we needed to do today is defend and keep a clean sheet. RM for once mate this should have been OUR PRIORITY. Are you seriously that clueless? You pick an out of form goalie, Alcarez and Barry!! Everybody could see at the Newcastle game that Gibson and Osman with Kone up front made a huge difference and we actually won. So you drop all three, you halfwit.
I wouldn't let him run my lad's Sunday league team. What position was Alcarez playing in the second half? He has turned this team into a dis-organised rabble. No wonder we cannot defend.
Why would you give this chancer another year? Just sack him off.....
Wes Schmidt
331
Posted 20/03/2015 at 01:04:54
Minik 328:
Those gems you speak of were always found by David Moyes.
Andy Crooks
332
Posted 20/03/2015 at 01:02:36
Wes, how much would you wager on us beating any of the teams below us? We are as abject as any of them. They have the advantage of not having the worst coach in the Premier League. We have worse teams above us, Newcastle for example, however, we seem demotivated and fearful. There are sleepless nights ahead if we are relying on Martinez getting us out of what he has got us in to.
Andrew Laird
333
Posted 20/03/2015 at 01:02:48
I am glad someone is smiling, Gavin; Everton FC the sadomasochists choice.
Jay Wood
334
Posted 20/03/2015 at 00:39:07
Si Cooper, on the one hand you admit you "Can't be bothered wading through ALL the bile and over-reaction. There are plenty of half-baked morsels to make me nauseous..." but then dismiss
en bloc
the opinions you haven't even read.
Then you glibly say "The scoreline flatters them. There was a lot less between the teams on the night than it suggests..." which totally ignores the additional 3-4 very good scoring ops they had.
Then in the same breath you say "3 goals were absolute gifts and therefore, preventable whatever the players do in training..." which clearly implies that in defence at least DK were vastly superior to us.
And then you say "Time after time we are let down by players failing to do the basics but I can't see the common thread when so many of the mistakes seem to be of the type that you wouldn't expect experienced players to have to be coached in."
Unwittingly, perhaps, in that last statement you have identified the crux of Everton's problems this season.
It is understandable that at any time of the season 2-3-4 players can lose form for a number of games or weeks, but when it is en masse with nearly every player playing way below par over many months you have to identify a common denominator as to why it is so.
And in Everton's case the single common denominator has two words. One commences with R, the other commences with M.

Wes Schmidt
335
Posted 20/03/2015 at 01:14:55
Andy, I don't disagree! I'd wager nothing on this side, sad to say.
Frank Crewe
336
Posted 20/03/2015 at 00:42:22
"Whom the Gods would destroy they first make mad"
And Martinez has gone mad.
This season has been a disaster from the very beginning. RM dicking around in Brazil instead of working on his squad. The almost total lack of additions. PL and EL to cope with plus the cups and RM added only one player, Besic, when he himself said we needed six or seven players for an adequate squad. Yet he chucked away 28 million quid on Lukaku.
Then there was the half baked, almost farcical pre season. An almost total lack of preparation for the hard long season to come. The early season draws with Arsenal and Leicester from winning positions and the hammering from Chelsea. We have simply never recovered from any of this as proved by the early exits from the domestic cup competitions and the shameful xmas/new year debacle.
The constant persisting with this 4-2-3-1 formation without the players to do it and being completely oblivious to the fact that it simply won't work. Relentlessly picking favourites regardless of form. Always playing players out of position just to get them into the team.
Then there's the Europa Cup. Our one little bloom in this garden of weeds. The distraction that allowed Martinez the opportunity to ignore the stinking pile of dogshit that was right under his nose. The dogshit that he created with his own inept tactics, poor man management, and lousy player acquisitions.
Well we finally came up against a side who actually took the chances they created and rogered us good and proper. Phenomenal!!
All we can do now is hunker down and try to scrape enough points to avoid relegation. I seriously doubt that RM will get the boot because it would cost too much to sack him along with the rest of the Wigan deadheads he brought with him.
My one bright spot is that, should we avoid relegation, next season there will be no World Cup, and no European distractions. Just one PL game a week. A fixture list that our small squad can actually cope with and we can forget about grandiose ideas about taking Europe and the top four by storm. Get in a few decent players. Maybe bring through one or two of the youngsters. Although Martinez will have to go in favour of a more realistic manager who'll play to our strengths.
Patrick Murphy
337
Posted 20/03/2015 at 01:25:43
I'm just watching the game again and it could and probably should have been 5-2 at half-time. I thought it was a poor performance when I watched it live but, up until their fourth goal it was an absolute mess of a performance. The defence was dragged all over the place, there was no protection from the midfield or apparently any communication between the two departments so it's little wonder that we found ourselves chasing our tails.
As usual with Roberto's teams, they didn't start playing until the game was almost up – not good enough for a so-called professional football team. Sorry Roberto but more of the same or similar in the last nine matches and we will be visiting some old haunts next season, but at least we won't have to play at Anfield, Old Trafford, Emirates, White Hart Lane or Stamford Bridge unless we draw them in the cups.

Kevin Rowlands
338
Posted 20/03/2015 at 01:28:23
Totally agree Frank, he has to go but the biggest mistake that has been made in the past year, among many btw, is that idiot Chairman of ours giving this faker a 5-year contract extension on the back of one decent season, if that had not of happened he would be gone now but we are not Man Utd or any of the other money clubs, we don't do multi-million pound payoffs!
Kelvin Leung
339
Posted 20/03/2015 at 01:35:53
John Malone 222:
I am intrigued by your suggestion of appointing Gary Neville. In fact, I had a similar sentiment for a while.
Read his book, "Red". I was thoroughly impressed by his attitude. The man had to give 200% to maximise his 70% talent, and you don't get to stick around SAF if you're a mug. A real student of the game, too; as we can see with his brilliant insight week-in, week-out.
The question is, whether G Nev has the connections and/or know-how (Martinez lingo, haha) to set up scouting networks, squad management, etc.
But please, an unequivocal NO to Phil Neville having anything to do with our club ever again.
Victor Jones
340
Posted 20/03/2015 at 01:32:13
Well said Frank Crewe. My sentiments exactly. No excuses next season for not having a proper go in the domestic cups. And maybe with the right manager, we can push again to get into Europe. I believe in this squad of players. But I have lost all faith in Martinez. That was a shambles tonight. And yes Barkley hit the post twice. But they also missed a number of chances. The result could have been worse.
No more excuses for this manager(and I am reluctant to call him a manager). No praise should he save Everton front relegation. He put us there. Is Kenwright brain dead. To still have this Wigan nonsense at Everton. Pay them off. Get them off the payroll. Everton will benefit in the long run. The Sky money will soften the blow,
Alcaraz and Atsu playing tonight? In what universe did Martinez think that that would work. I have tried to like Alcaraz, but he keeps messing up. And Atsu has simply not performed for Everton. Never. The tactics tonight were all wrong. And nobody turned up. Heres hoping that they remember to turn up on Sunday.
Gary Hughes
341
Posted 20/03/2015 at 01:08:40
Most comments on TW understandably concentrate on team selection, tactics & formation when trying to make sense of the latest debacle. For months, I've been doing the same myself, complaining about the same things until a few weeks back when I suddenly became aware of the deep routed nature of our demise.
It became apparent to me that tactics, formation, team selection, substitutions etc. are all irrelevant; it no longer matters who plays where or in what formation the outcome is generally the same. The problem lies in a complete lack of urgency which results in a mundane pedestrian tempo which in turn turns what should be blood & thunder encounters into glorified training sessions.
Martinez has developed the perfect formula for silencing a crowd, unfortunately it only seems to work during home games. I've come to the conclusion that Martinez see's winning as secondary to principle, he's already relegated one club by refusing to budge from his dogma so why shouldn't he do it again?
Every game follows the same pattern, dominate possession without creating anything then we fall behind from the first meaningful attack. We then carry on the same, casually passing between defence & midfield as if we're protecting a three-nil lead while showing no urgency whatsoever to get back into the game. Substitutions are generally like for like which means nothing changes & we then play out a miserable defeat accompanied by a post match hard luck story.
Our team is like a rudderless amateur set up, tonight everyone is slating the likes of Alcaraz & rightly so but why have rock solid consistently top performers over a number of seasons like Jagielka, Baines & Coleman suddenly become so bad? I would say it's because the basic principles of defensive drills & defending set pieces & working on attacking set pieces have gone out the window & been replaced by some sort of Utopian idealism that will (supposedly) eventually come good. Except it won't because in the real world the Allardyce's & Pullis's of the premier league will laugh you out of town.
John Lennon said, "You may say I'm a dreamer, but I'm not the only one" – well, he was right... because his mate Roberto is all set to dream us into oblivion.

Brian Dagnall
342
Posted 20/03/2015 at 01:29:29
I do agree with most of the comments above but feel many are OTT. There are many on this site who have difficulty handling defeat, and then wish to slag off everyone, even our club.
Kiev were excellent and murdered us. Switching Alcaraz for Stones, Barry for Gibson etc etc, may well have produced a better effort, but the truth is our style and quality of play was and is inferior to Kiev's. They play passes forward to foot and to head stretching our defenders .... our guys mostly go sideways and hardly ever win headers attack-wise.
Our general quality is not up to this level and I see no point in slagging off individual players, but it is the manager whose job it is to ensure that our team has the quality and style of play required. Frankly Roberto's CV does not make impressive reading and maybe Bill should look at his current performance and cut his losses, bidding farewell to the entire ex-Wigan brigade we took on 2 years ago.
Paul Holmes
343
Posted 20/03/2015 at 02:05:00
After watching tonight's performance, it's official: Everton are the new Wigan in the Premier League. Great going forward but can't defend!
Martinez had years at Wigan but never sorted the defence out, so don't hold your breath about Howard, Alcaraz and Jags being dropped after calamity defending for at least 3 of the goals. (They scored 5 ffs!)
Martinez philosophy is great if your in charge of Barcelona, but as we saw tonight, we have not got them sort of players, look at the league table it does not lie. Robles would be a better alternative to Howard because he comes off his line for crosses and would help out our rubbish centre halves who can't clear the ball properly.
Martinez out for me, and get a defence coach in, and clear out the other hundred or so coaches at the club because, on this season's performances, we are following Wigan !.
Jason Lam
344
Posted 20/03/2015 at 01:25:27
It's likely Martinez always had in his mind to rest tonight's players from the Newcastle game, and to also ease back Gibson and Osman to full fitness.
The whole season we've been playing with only one recognized centerback: Jags. He's been trying to bail us out on his own. Martinez's 'philosophy' of a gazillion passes should not come at the expense of a solid British core of two proper centerbacks and a number 4 protecting them.
Alcaraz is another one of his pussy footing players and should not be called for in a match such as tonight. In retrospect, Barry would've been a better choice, seeing his legs have gone in midfield.

David Barks
345
Posted 20/03/2015 at 02:24:14
Our snake-oil salesman of a manager is actually saying that the margins were small in that match. No Bobby, you made us look pathetic, we were slaughtered by a Ukrainian side. That's pathetic.
If Barcelona does that too us, I could at least say Barca can do that to the best. But Dynamo???
This man has got to go. Just sack him now, send a message to the players and supporters and next manager that this is completely unacceptable at Everton.
Colin Malone
346
Posted 20/03/2015 at 02:02:37
Will Bill stick or twist? As a business, will season tickets sales fall? Most probably...
RM's record in the Prem? Not good. Young manager who wants to learn by mistakes made, will he? Has he got too much say at the club?
Do we need a Director of Football to challenge his philosophy if he stays?
Stick or Twist? Stick, just.
Patrick Murphy
347
Posted 20/03/2015 at 02:23:47
Brian - Did you watch Brazil in last year's World Cup, they were an ordinary group of players with a couple of star players who believed that they were superior to what they actually were and got found out by the first good team they met. Well, Everton have been a little like them in this year's Europa League, so from that point of view you are correct.
I also think that we lost the tie in the first leg at Goodison when it took nearly half-an-hour for the players to wake-up and eventually made Kiev look exactly what they are – a pretty ordinary team but with very good technical players. If Kiev had have scored five goals of real quality I might share your view but three goals were from rank bad defending which would have been punished by most professional teams.
The biggest mistake the Everton players have made is listening to the rubbish that Roberto spouts before, during and after matches. A good manager would realise the limitations of his players and devise a pattern that suits those players – that doesn't mean it has to be ultra-defensive but it must have a method that helps to shield the players from looking a lot worse than they actually are.
There is a time to be brave, but sometimes being brave can make you look very foolish and tonight the whole team looked complete fools for the first hour of the game and if they had started the way they finished the game they might have got the job done – my pet hate is that somewhere in among that group there is a decent team waiting to get out but Roberto will never ever find it.
Victor Jones
348
Posted 20/03/2015 at 02:18:27
I agree with your comments Brian (#342). Kiev did play us off the park. And being honest, I am not that annoyed that we are now out of the Europa League... Although I must stress that I did not want us beat tonight. But we were beat by a good team.
My problem with Martinez is the fact that he could not set up his players to beat Hull, Stoke, Leicester, WBA, West Ham, Southampton, Newcastle (away). They are hardly of Dynamo Kiev's standard.
And Martinez talked nonsense after those games. No urgency shown. And Kenwright said nothing. Again no urgency shown... And some of the players now look as if they are ready for their summer holidays. Again no urgency. WTF is happening at Everton. This is bordering on the poorest season I have ever witnessed. And still no urgency..
And still some people want to give Martinez money and time next season. Jeez-U-S- Christ..
Susong Hermawan
349
Posted 20/03/2015 at 02:41:14
MARTINEZ out!!
Paul Harwood
350
Posted 20/03/2015 at 02:49:42
Poor performance, especially by our defence.
Wrong tactics??
Wrong team, wrong and/or late changes??
No urgency.
DK faster on the tackles, passing quicker and better, our last pass again was shit!?!
Simon Davies
351
Posted 20/03/2015 at 02:57:14
I have backed Martinez through what is currently the worse season since the really bad days of Wimbledon & Coventry, on the basis that European football was suited to our style of play. I really thought we could go all the way in the competition... How wrong could I be?
As soon as I saw the line-up the writing was on the wall. Why on earth was Alcaraz playing? This man has no right to wear the Everton shirt, not since the days of Glen Keeley has there been a more inept centre-half playing for our historic club!!!
Martinez has to take full responsibility for allowing us Evertonians to endure another pathetic defensive display against an average team at best.
I, like most Evertonians, will give time for Everton managers to assert their managerial style and last season appeared a breath of fresh air; however, the defensive frailties became quickly apparent. Martinez has no idea how to defend.
I'm sorry but this is the final straw, we cannot allow this famous club to be dragged into the lower regions of English football by a manager whose ideologies on football are masked by his lack of ability to do the basics. BK please do not be blinded by the Spaniards alleged vision. This man has to go now!!!
Ian Jones
352
Posted 20/03/2015 at 04:08:12
Joe @ post 172.
Worth reading. Thanks. Made me laugh. So true.
Peter Barry
353
Posted 20/03/2015 at 04:34:56
The same old, same old. Roberto's Everton can't defend and our defense used to be the rock on which we built. He has turned us in to Wigan and it looks like we will be joining Wigan in the Championship soon too if we don't GET RID ASAP.
Barry Earley
354
Posted 20/03/2015 at 05:04:15
If you "learn from your mistakes".....
Then Martinez must be a genius by now.
Alan Ross
355
Posted 20/03/2015 at 05:09:50
"I will never be afraid of making the right decision." Of course not, Roberto. No-one is afraid of making the right decision. It's the fucking wrong ones you should be afraid of.
I hope someone is keeping tabs on these quotes cos' there's a book in it someway down the line.
Laurence Evans
356
Posted 20/03/2015 at 05:48:15
If Martinez realy thinks Alcaraz is good enough then he should resign. Barry is now to slow and poor old Howard is just not anywhere near is best, too static these days. McGeady like Alcaraz are not Premier League standard.
We have a good squad of players but someone keeps putting the wrong team out....
Anyhow, Mr Martinez, listen to what is said and react now. All the above players are doing their best, of course, but in some cases that's the problem. Please just get rid of Alcaraz – the crowd have the jitters, let alone the players around him.
Mark Tanton
357
Posted 20/03/2015 at 05:48:34
Progressing this far in the Europa League has been a disaster. It has allowed Martinez to remain in post and buried the fact we are absolutely awful.
Norman Merrill
358
Posted 20/03/2015 at 06:34:21
What time is Billy Bluffs press conference?
Alan McMillan
359
Posted 20/03/2015 at 06:55:04
Alacaraz and Barry are stealing a living from our club and should be told they are not welcome any more. And to our deluded manager, "comical Ali" has more credibility; if he'd any dignity he'd resign. Why do we always self sabotage?
Eddie Dunn
361
Posted 20/03/2015 at 07:49:03
As the dust settles after last night's humiliation and all the fingers point to the hapless Alcaraz, I reflect on the last two transfer windows.
Many of us wanted a goalkeeper, others a big centre half and a creative midfielder.
It is true that Alcaraz was party to us conceding two of those goals. However, it was the whole defence that sat too deep, so why didn't our experienced keeper tell them to get out from under his feet?
Answer; he wasn't confident of sweeping up behind them, and wasn't going to come out and catch.
Also Captain Jags surely could see how deep they were. Our former Captain Rat spotted that our midfield was falling so deep that MaCarthy was behind the centre haves at times.
In other words, the whole defence was a mess. Coleman(as on many occasions this season) was pulled out of position, as Atsu was too far away, and Alcaraz was reluctant to fill the gap ( perhaps he was afraid of the gap between himself and Jags being exploited). Baines too was exposed as they cut indside time and again.
The defence knew that they would come under pressure, and anyone looking at the teamsheet knew that Barry would be done for pace.
I don't really know where Naismith was supposed to be playing, or why he stayed on for so long.
So many weird picks for such an impotant game.
I don't blamr Martinez for playing Alcaraz, after Newcastle, I thought that he was worth a punt, but without a dominant keeper, or a tomem pole centre back, and poor midfield cover, he was going to be found out.
Stones is good in the air, and has height, and speed, so would have been better equipped. However, he is far from perfect and who knows what would have happened.
The manager made so many poor selections, and sent them out with a weak, flaccid attitude. They were waiting to concede, playing without any tempo, hoping that Lukaku would steal them an away goal to take the pressure off.
This boss doen't learn from HIS mistakes, he picks players who don't deserve to start, and he doen't know how to set a team up.
Surely it is plain to see that Martinez has failed, and should be sacked.
If we survive this term, then I pray that he will not be given another year to frustrate and annoy me.
Andrew Ellams
367
Posted 20/03/2015 at 08:37:18
So he thinks the defeat wasn't down to defensive error. Just fuck off and fuck off now. Even the shite wouldn't tolerate that level of delusion.
Christopher Timmins
368
Posted 20/03/2015 at 08:34:32
A very sad day for all blues supporters!
Geof Thompson
369
Posted 20/03/2015 at 08:32:59
I must be honest and say that I was on Martinez's side. I thought he would be the one to take us somewhere. But clearly the time has come to say it: Martinez Out! And not at the end of the season. Right bloody now!!!
Getting beat I can take. I'm a bluenose of over 40 years; if I could not take losing, I'd have topped myself years ago. It's the manner of the defeats. Headless chickens. Spineless defending. Genuinely it was like watching a car crash last night. I actually pitied them!
I don't even blame the players. It's not Alcaraz's fault that he's shit. I'm shit at defending too. But that's why I don't play for Everton and neither should he... ever, ever again.
But, for me, the biggest sin is hearing Martinez actually defending that performance. Good grief. Enough already! Put big Duncan in charge for the rest of the season........ Hell, put Mr Blobby in charge at least that would be entertaining.
'Sin miedo', my arse! More like mucho miedo. Which I know is probably wrong but fuck it.
Pete Edwards
370
Posted 20/03/2015 at 08:49:32
Andrew I'm clutching at straws in an ambiguous and uninformed way in which only a bisexual guitarist could understand? So I presume you know they don't practice set peices then? They have been shocking granted but you have no proof .... do you!
Oh and keep the personal insults to yourself we have a differing of opinions that is all
Brian Hennessy
372
Posted 20/03/2015 at 08:48:07
Only one question needs to be answered from here on,
Is he gone yet?
Ray Roche
373
Posted 20/03/2015 at 09:23:19
Some posts have made the point that Alcaraz played well against Newcastle, however, he was gash against Kiev last week and they must have been delighted to see his name on the team sheet and not that of Stones, England defender and supposedly fit again. Terrible team selection and Besic brought on when chasing the game? WTF?
Do one Martinez.
Tony Abrahams
374
Posted 20/03/2015 at 09:39:35
Alan 303, I am also a bit confused by Eugene's post.
Jay Woods, head went for a minute, it's what Everton do to us, because they always let us down. Eugene's post sounded more like a mocking Liverpudlian to me?
Alan Bodell
375
Posted 20/03/2015 at 09:49:23
Yeah, Tony I just hadn't read the earlier post when I came in and just got the red mist at the wording, launched one at Eugene by mistake - I think the Yanks in war call it a ' Blue on Blue'.
Colin Glassar
376
Posted 20/03/2015 at 10:07:53
The manager admits that he's not interested in clean sheets, he's not interested in the dark art of defending, he's not interested in set pieces, he's not interested in building stamina levels. Add all these ingredients together and you have a recipe for disaster.
If I was slimy bill, who's shit scared of sacking his manager, I'd appoint an assistant manager (Irvine?) who would be responsible for reinstating these basic skills and let Roberto carry on with his media duties.
Matthew Mackey
377
Posted 20/03/2015 at 10:32:59
Two questions here...... (1) Why did Martinez bring Alcaraz to our club and (2) Why does Martinez play him? The guy is shocking, absolutely shocking. He is like a poor mans David Luis (players that have ALWAYS got a mistake in them) They eventually learnt at Chelsea that the further you play Luis away from the back four then the better it will be. Maybe the best place for Alcaraz is the fukin car park behind the Park End. I for one am getting sick and tired of this joker putting on the Royal Blue shirt of Everton. Honestly, David Moyes must be pissing his pants with laughter after all the shit he took for creating a team from the back first. Roberto....you are treading a fine line right now and the notorious "Everton patience" is fast starting to run out.
Kevin Elliott
378
Posted 20/03/2015 at 08:26:30
The"sub's not used" list on the original post says
It all for me.
Mike Keating
379
Posted 20/03/2015 at 10:49:00
Simon @ 351
I think Per Kroldrup was probably worse than Alcaraz but the real question (which I asked the minute I saw the line up) was why Alcaraz was on the pitch with Stones on the bench and Distin playing for the U21s. Also why did Gibson sit out the game when we needed to get forward?
I have tried to avoid the 'RM must go' response this season partly because I'm even more terrified of who might get the job (some of the suggestions on here are scary) but he proved last night that he hasn't got a clue.
Mike Doyle
381
Posted 20/03/2015 at 11:02:30
1/2 an hour to go and chasing 2 goals - and we stick with 2 holding midfielders... but wait! ...a phenomenal new strategy ... Alcaraz leaves the back 4 and starts popping up in odd "attacking" positions. Ratters was baffled - so was I.
(and who was the blue the cameras spotted in tears pulling his hoodie over his head?... surely not Ken Buckley?)
Tony J Williams
382
Posted 20/03/2015 at 11:16:20
How fucking shite were the other players in the ACoN for that fucking donkey to win player of the tournament?
Learn from your mistakes? When's he going to start then?
I posted on an other site......back to the "normal" team then?
Lo and behold a "normal" result.
Fuckwittish team selection and tactics as usual.
Jay Woods
383
Posted 20/03/2015 at 11:19:19
So, Martinez wasn't sacked last night / this morning? What would he have to do to get fired? Commit murder?
Sid Logan
384
Posted 20/03/2015 at 11:31:53
When Alcaraz had played his first game for us and had not then showed how erratic he could be, Martinez famously said "if Alacaraz had been fit during the final part of Wigan's season - Wigan would never have been relegated."
What further proof, if proof were needed, that the Martinez has the ability to suspend reality whenever it suits him. If we can survive he must surely go and save us from having to look forward to another season of dire mediocrity and of the stupidly of ignoring the obvious in the name dogma!
Nick Entwistle
385
Posted 20/03/2015 at 11:54:14
Had to miss the game last night so just watched on itv player.
Two word review?
Shit sandwich.
Sid Logan
386
Posted 20/03/2015 at 11:52:24
Best quote ever from Matinez in today's papers "It is not the personnel at fault but the team."
Somewhere in there is a justification for not picking the players he should have done!
Tony J Williams
387
Posted 20/03/2015 at 11:57:13
Why would you put yourself through that Nick?
I would rather wash my tessies with sandpaper...
Daniel A Johnson
388
Posted 20/03/2015 at 11:52:12
We blatantly have a manger who's not up to the job.
The only question right now is when will Kenwright see it?
Whats going on behind the scenes, that impresses kenwright so much? Whats "Sold" him on the Martinez vision? Kenwright will feel the need to back him this season, BUT next season is the acid test and Martinez knows this and so must Kenwright.
Every year spent with Martinez will ruin us even more.
For me irreparable damage was done over the Xmas period after the Hull and Newcastle defeats. The players don't trust him or want him there the performances on the pitch speak volumes, despite the pre rehearsed sound bites in support of El Martino. The treatment of Distin is puzzling to the extreme, made to train with the U21's.
Let Martinez see out the season and move him and clear ALL his backroom staff as well including big Dunc.
A fresh start is needed
Sid Logan
389
Posted 20/03/2015 at 11:57:15
Colin #376
Good call - I've always thought he was nothing more that a glorified PR man.
Nick Entwistle
390
Posted 20/03/2015 at 12:06:08
Tony, I avoided the result. I've also got a shed load of texts I avoided. I wonder what they'll be about...
Sam Rangle
392
Posted 20/03/2015 at 12:47:38
Do not not dare think last night came out of nowhere.
This was a symphony of bad ownership, under-investing in the team, stripping the team of its assets and an absolute farcical coach who needs to be put out to pasture...
If you "buy" players on frees, extend contracts for players over 30 because you don't want to buy new ones, this is the trash that comes with it. We cannot be surprised as this performance and season has been in the making for 10 years.
Jim Hardin
393
Posted 20/03/2015 at 11:52:42
Peter,
There was a moment in the Crystal Palce game when Robles got his feet and mind tangles up and stood on his post instead of comoing out, then wnet to his knees and the ball was chipped over him and only Jags' incredible clearance saved a goal for a ball 9/10th over the line. then there were two moments in the Liverpool game where Robles on the first came out stopped in no man's land and left the goal wide open. only Sterling not pasing to one of the two wide open Liverpool players in the box saved a goal. The second moment was again, caught in decision making and abandoned the post and stopped and again only Sterling refusing to pass a ball saved a goal (he shot it from almost the end line right intoo the side netting.
the defense actually played more confidently with Coleman pushing up when Howard came back in. I cannot beleive the plonkers on here blaming him for every goal that happens from the Chelsea game forward. incredible when you watch QPR and Leicester and see the bobbles spills and other unforced errors and yet if Howard doesn't make a surpeme effort to make a save that is near impossible he is trash because Robles somehow would have been better. Fact is, if you don't practice defending and don't put men on the posts, and your mids/wide players don't come back to help, it doesn't really matter who is in goal as a clean sheet is almost impossible. Tell me the last two games that howard did not pull off two one v one saves to halp the team.
Jay Woods
394
Posted 20/03/2015 at 14:07:07
Next season we're giving him 10 games to prove he isn't the incompetent that this season has already proven him to be? Goodison is turning into an open air lunatic asylum.
Dave Abrahams
395
Posted 20/03/2015 at 14:38:17
Jim (393), you can go on for ever, you like Howard and so you defend him, me I'm biased, never thought much of him. He couldn't have been faulted for a couple of the goals, but he just doesn't command his area. He is off his line when the ball is thirty yards away and is always liable for a shot from distance, when centres and corners come in he is glued to his line.
He is a total liability at the moment, worse than he has ever been, if he remains in goal we are much more likely to go down.
He is not the only concern, Martinez is like a mad professor with a new project and just doesn't know what he is doing, If Kenwright leaves him in control we will go down.
Frank Crewe
396
Posted 20/03/2015 at 14:50:18
As I have already pointed out on this thread next season with no euro complications we will only have to play one game a week. Also there will be no World Cup nonsense in the summer so we should have a proper pre season and not the cobbled together, play the kids fiasco we had this season.
This also means that next season will be just like RM's first season. Our main competitors having to play CL or EL games while we can prepare properly before each game.
If the dimwit currently managing our club can see the error of his ways and learn from the fundamental mistakes he has made this season hopefully next season we can make some progress.
If we can get rid of the considerable deadwood and bring in 7 or 8 decent replacements we should be able to put together a decent squad. We have a nucleus in Robles, Stones, Garbutt, Coleman, McCarthy, Barkley, Gibson Lukaku. We have experience in Jags, Baines, Osman. We need another decent CB, attacking midfield players, and another forward to help Lukaku.
Our football should be high tempo and direct. No more of the pedestrian tippy tappy play it around rubbish. It plainly doesn't work unless you have exceptionally talented players and we patently do not.
If these things are done then hopefully next season should be a lot better than this one, although it's hard to see how it couldn't be, as long a Martinez accepts the need for change. If he can't then it's bye bye and thanks for nothing.
David Harrison
397
Posted 20/03/2015 at 15:18:03
Bloody Hell, Colin @346. Can I play pontoon with you mate?
Patrick Murphy
398
Posted 20/03/2015 at 15:18:37
Frank - There is just one slight problem with your analysis, but a crucial one nevertheless and that is with 9 games remaining we don't yet know which League we will be playing in, so any planning will have to be done after we have secured our PL status, a lot will depend on this weekend's results.
David Harrison
399
Posted 20/03/2015 at 15:20:12
So many ifs Frank. He's had so many opportunities to change but he can't/won't. He played the same way at Wigan. The defensive disorganisation is criminal and has been for most of the season. He simply has to be relieved of his duties before he drags us down any further
Anthony Hughes
400
Posted 20/03/2015 at 15:14:26
If we going to get rid then it must be done at the very latest as soon as the season finishes. We would need a new management team in with plenty of time to offload players and bring in the players that the new manager would require as well as organising a proper pre-season. The idea of giving Martinez money to spend in the summer then a period of games at the start of next season and watching him fail then sacking him and leaving the new manager with no funds in the January transfer window is insane.

Callum McNab
401
Posted 20/03/2015 at 15:17:37
Frank, he has had more than enough chances to put things right and failed miserably.
Personally I would of dumped the idiot after the Southampton away game. Not to use one sub was criminal and should of been enough for Kenwright to dump the prick. But sadly Billy liar was hoping he was going to bring him that shiny egg that he brought his last chairman, but ended up with yoke well and truly over his smug grid.
I was gutted like so many others last night, but to see the faces on those poor buggers who had travelled was sickening. If Martinez and his so called players had an ounce of dignity in them, they should meet everyone of them before the next home game with the biggest apology ever given.
I thought it was anger that I was feeling last night but honestly it was Embarrsement. They looked like they didn't have a clue what they were doing out there. Any manager worth there salt would of took Alcaraz off for the second half. The fact this wasn't the first game we have been in this position should be more than enough to call time on the prick.
Andy Meighan
402
Posted 20/03/2015 at 15:25:51
Frank great post and you make some good points but with Martinez, if he's still in charge – and it's looking likely that he will be – has made the dynamic midfielder Tom Cleverly one of his top targets for next season. So as for your attacking midfielders... forget it.
Just imagine in a couple of games next season, a midfield of Barry Besic McCarthy and the dynamic Cleverly. God help us!!!
Tony J Williams
404
Posted 20/03/2015 at 15:37:41
Callum, my anger just faded away into resignation.
Fully expected a pathetic showing as soon as I saw that he had referred back to his "winning formula" team with Barry, Nais and Barkley shoved into the team.
Watched it with my arl fella and I very rarely swear in front of him but I probably made up for the 40+ years of biting my tongue. Alcaraz has a lot to answer for.
I have noted this season too on ToffeeWeb that I am swearing a lot more too.
Good job I am swerving my season ticket next year and I may end up being like my dad and checking the scores at 4:55 (why are we always one of the last to finish?)
Bobby has done what Walker and Smith failed to do, he has fully sucked any enjoyment I felt about football and Everton out of my body.
I can see now how Tony Marsh felt when he used to go on his tirades about Moyes.
Jay Woods
405
Posted 20/03/2015 at 15:34:47
Just a quickie comment on the poor sods who travelled out there to watch that nauseating display of ineptitude from our band of institutional losers. How many of them, might one surmise, got into debt / trouble with their wives / trouble with their bosses / etc., to go and be humiliated out there? And then ask, how many of the millionaire players or management staff (or board) gives so much as a whiff of a toss about them? Do you think any of them are trawling the web, reading threads like this and expressing their despair? Or are they staring into their smartphones, wondering about whether they should take another selfie, or where to invest this week's vast dollop of cash, or what kind of little goldigger they'd like to text for some post-match fun this weekend, blonde and leggy or redhead and busty?
Tim Sarken
406
Posted 20/03/2015 at 15:17:13
I know RM does not yet have all the answers, but let's face it, if he promoted a pleasing style of football AND had all the answers, he'd be managing elsewhere. I'm evaluating RM like I would any young player: the results/performances may be up-and-down at times, but is he learning? I'm not sure, but I'm willing to wait a bit longer to see. The fact is, if we want Everton to compete at the highest levels, we need top-quality players, and RM seems to be able to attract them. Will that attraction continue after this year, I don't know, but I hope so. The club could cut our losses and revert to some defense-first manager, but we'd lose all attraction to top talent, and be back in the situation of hoping to find hidden gems who will play for us for a few years until others realize their potential and they move on to wealthier clubs (for all his failings, Moyes excelled at finding those talented bargains).
To me, the four biggest mistakes RM has made this year have been inadequate preparation (off- and pre-season), team selection, inflexibility in tactics and an apparent lack of drilling in basics and defending. I'm willing to wait until the start of next season to see if he's learned the lesson of preparation. I think some of the team selection issues were dictated by injury, but it is down to RM to use the remainder of the PL season to display that he's learned lessons, especially the need to drop experienced players from the starting XI when they are showing sub-par form (I'm least convinced that he's learned this lesson...) I'm hopeful that he's learning that the squad he has now is not suited to his tactics. If he has learned that lesson, then I'd like to see him either change tactics this season, or stick with it and make serious personnel changes in the off season to build a squad better suited to his tactics (a winger or two who can actually cross the ball and a midfielder who can pick a pass who's not on the downside of his career?) And I'd love to see RM add an assistant coach responsible for drilling in basics and defending. I don't need RM to be all things and control all drilling, but I hope he will see the deficiencies in his training methods and bring in someone to bolster those areas (and set pieces too?) If he's learning these lessons, I'm willing to be patient, but I'd like to see more evidence of improvement than I'm seeing right now.
I think RM's embracing of the history of our great club was wonderful last season, but I haven't heard that from anyone this season. Perhaps RM himself needs a refresher course in that history and tradition, to start infusing the side with the spirit of the club. In the meantime, let us see some of the talent we have coming up the ladder, and let's all get behind the team and cheer them on to as respectable a finish as possible in the PL in the hope that we will remain a potentially attractive destination for top talent in the next few years.
Nicholas Ryan
407
Posted 20/03/2015 at 15:54:10
Not only is Alcaraz not better than John Stones ... he isn't better than a pile of stones!
Tony J Williams
409
Posted 20/03/2015 at 16:10:42
"I'm evaluating RM like I would any young player: the results/performances may be up-and-down at times, but is he learning? I'm not sure, but I'm willing to wait a bit longer to see."
6 fecking years Tim and he hasn't altered his views once.
Stuck with his "philosophy" until Wigan were relegated and is now sticking with his "philosophy" now....let's hope history does not repeat itself.
Patrick Murphy
410
Posted 20/03/2015 at 16:19:28
Roberto discussing the plight of the PL teams in Europe this season - he advocates a winter break and says
"You need to understand our league is the best in world . By that I mean if you are at 70 per cent you are going to lose. That shows how competitive it is."
Unfortunately Roberto your team did have a winter break between Wolfsburg away and last week against Kiev - obviously our lads must have been playing at 70% and below for the best part of the season, let's hope they have the legs to produce a few wins in the last quarter of the season.

James Martin
411
Posted 20/03/2015 at 16:16:06
Put simply no matter how bad it got under Moyes I never stopped wanting to watch Everton. Even aftwr the lowest of the low the Wigan 0-3, the game after was brilliant. It was a rollercoaster with plenry of lows but enough highs to keep a sucker interested.
This season there have been countless weekends I haven't even bothered watching. Win or lose its tediously boring to watch. Absolute dirges of games with the outcome dependent on whether Lukaku can score a flukey one before Howard throws the ball in his net. I can't be bothered watching on Sunday it's that simple. Martinez has taken the enjoyment out of Everton.
I can't even get behind some of the players. Mirallas isn't bothered, Kone irrelevant, Barry plays like its a retirement home, McCarthy just doesn't do anything, equally Besic has been Robertofied into another passenger, Atsu Lennon Mcgeady are just following Deulofeu on the conveyor belt of useless temporary wingers, Alcaraz and Distin are a joke and Howard is a clown.
The only players I have any affinity for are Jags Stones Baines Oviedo, Gibson, Osman. Pienaar, and Lukaku. Naismith and Coleman usually as well except they've stunk this season.
I want Everton back. Ferguson or Cahill powering headers in for big wins. Arteta Baines Pienaar and Osman just tying teams up with interplay, a proper solid defense with our boss full backs, Carsley Gravesen, Fellaini, even Neville slamming into tackles getting Goodison off its feet literally changing the course of seasons. That is the real Everton. Not this boring metronome. Even last season most of the games were boring but at least we were winning. This season has been the worse in my living memory and easily the most emotionless and boring. Even losing doesn't hurt that much because its inevitable as we're playing so badly. Going one down away at Stoke and having to watch Barry and McCarthy crab their way up the pitch in the knowledge we will never get back in the game was soul destroying.
David Barks
412
Posted 20/03/2015 at 16:31:29
Martinez confuses quality with parity. Yes, anyone in our league can lose to anyone, not because everyone is so good, but because so many are so average. A break would do nothing, as has been pointed out English teams have played the exact same amount of games or less than the Spanish clubs. This clown just keeps looking for excuses for his shite management. He's destroyed the defensive foundation of this team. Everything starts with defense, everything. If you can't defend, you're worthless.
Liam Reilly
413
Posted 20/03/2015 at 16:46:43
I'm convinced that if we'd started with an empty space instead of Alcaraz, we would not have conceded 5 as it would have meant a more defense minded display.
I've backed RM to the hilt but at 1-1 away in Europe, with an away goal and 1 foot in the next round; why the fuck would you put 8 of the players forward for a corner.
Tactically naive trying to win the game inside the first 1/2 hour and it cost us dearly.
Jay Wood
414
Posted 20/03/2015 at 16:25:17
Tim @ 406
"The fact is, if we want Everton to compete at the highest levels, we need top-quality players, and RM seems to be able to attract them. Will that attraction continue after this year, I don't know, but I hope so. The club could cut our losses and revert to some defense-first manager, but we'd lose all attraction to top talent."
Two things here Tim. RM may well have been a determining factor in recruiting the top talent you allude to, such as Lukaku. However, seasons such as this don't do much in retaining such players, regardless of your name, reputation or how personable you are. Or did you miss the murmurings from Mirallas and Lukaku about new challenges at the highest level, away from Everton?
In this scenario, it could just as equally be argued persisting with RM will drive away our existing 'top talent' and make other 'top talent' less likely to join us.
Secondly, why presume if we dumped RM we would revert to some defence-minded manager as the only alternative? We could equally land a more competent and better upgrade than RM.
Spurs, Southampton and - yes! - even Villa with the appointment of Sherwood (not everyone's cuppa, I acknowledge) are examples of the many positive alternatives out there.
The managerial world is not inhabitated by Big Sam or Tony Pullis types only.
Mike Price
415
Posted 20/03/2015 at 17:07:24
James #411. Top post, agree with every bit of that.
Matthew Williams
416
Posted 20/03/2015 at 17:17:08
We have had some poor games this season but we should not be too quick to kick Martinez out. I am quite shocked to see some of the posts on Facebook and twitter. depicting Martinez as Mr bean and Frank Spencer and other offensive posts aimed at his character. I thought Evertonians had more class than that, well I know I do anyway.
I think there are a few reasons for the poor season besides some of his stubborn team selections, I feel now there are 5 or 6 players who are past there peak now and should be kicked out. Howard,Distan,Jags,Barry,Baines have not been at the standard of previous seasons. I said at the time we should have cashed in on Baines and I think we are going to regret that now.
I hope and believe Martinez will address certain aspects of the squad to make us stronger, I also think with a better pre-season we should start the season with guns blazing. I will give him ten games of next season before making a judgement on whether he should stay. his performance last season deserves that at least.
Ken Williams
417
Posted 20/03/2015 at 17:27:36
I wake up every morning hoping Martinez has been sacked.......
Dave Abrahams
418
Posted 20/03/2015 at 17:09:19
Sam Rangle (392), Sam your post summed Everton's plight at the moment perfectly for me, been coming for a long time.
Patrick Murphy
419
Posted 20/03/2015 at 17:29:06
I don't understand all of this give him ten games of next season to see how he will do and then get rid - He's either good enough to be Everton's manager or he isn't.
I couldn't work somewhere full-time for 18 months become the top salesman for 9 months and then a low achiever in the next 9 months and expect to keep my job because of what I achieved in the first period, granted I might have a boss that I get on with and he might speak up for me but given there were no mitigating circumstances to my slump in performances I would expect to be replaced without question. Martinez has one game or perhaps two to save his Everton career but in my opinion he should be gone asap.

Joe Clitherow
420
Posted 20/03/2015 at 17:20:33
A pint of what Tim Sarken is smoking for me please.
You say " if he promoted a pleasing style of football AND had all the answers" like one or the other of these is a true statement??
No offence intended mate but I am starting to think many people posting here don't even watch Everton play, i.e. anyone at all who still thinks the Catalan Clown has anything left to offer. Then the next batch of delusional posters cannot bring themselves to construct their defence without liberal sprinklings of "ifs" and "hopefullys" throughout their posts. It's like they see what is happening but still don't quite want to believe it.
Glad to see Colin Glassar has finally seen the truth for what it is - welcome aboard Colin.
Tony Abrahams
421
Posted 20/03/2015 at 17:43:42
Ten years since we got embarrassed in Bucharest we do the same in Kyiv. Good luck against the Italians Serg, because if nothing else, these teams always know how to defend.
James Martin
422
Posted 20/03/2015 at 17:30:23
Matthew its getting difficult to say its not Martiinez's squad though. He's had four full transfer windows. Why give him a fifth when I consider only Robles and Lukaku to be good buys and even then he won't play Robles. His first choice back 5 are still all Moyes players. The one defender Martinez has bought? Alcaraz.
McCarthy is ok but in my opinion its not ridiculous to ask for more from a 13 mill player than a lot of running. Besic equally looked good until Roberto took all his aggression out of him. Barry is awful. We're still holding out hope that Gibson or Osman will be fit every game (again two Moyes players). The one player who could inject attacking impetus into the midfield is Barkley but despite running the show in our best home win of tge season against QPR he hasn't been trusted there since.
Mcgeady, Atsu, Lennon all look below standard. I'm not going to make out se have an illustrious history of wide players but the truth remains that when fit and inform Mirallas and Pienaar are our best wide options (both Moyes players). I don't even want to discuss why Etoo, Naismith, and Barkley have been used in those positions. I haven't got enough blood left to boil.
Up front Lukaku is obviously claas but for 30 mill so he should be. 6mill isn't a pittance either but Kone is 30 permanently crocked and offers what exactly? Our next source of goals is Naismith who has barely played upfront and is also a Moyes player. Etoo was a bizarre signing.
So to sum up apart from Lukaku what position has Martinez strengthened in 4 transfdr windows? Ironically ptobably the keeper but Roberto doesn't see it that way. Who are the rumoured targets for summer? Cleverley and Ayew. Another defensive mid and useless winger.
Quite simply I don't trust him to replace Moyes' crop. Where is he going to find an Osman or Pienaar? When he thinks Naismith or Barkley can do the job? I don't trust him to replace Jagielka if he thinks Alcaraz is of a suitable standard and it was ok to play half a season with Distin in the team. I don't trust him to buy the right player to cover for Gibson when he inevitably gets injured.
Quite simply why give him another winfow when he has messed up the other 4? I would say thankyou for Lukaku but here's the door. The core players of the squad are too valuable to be diluted by Martinez's trading. The thought of him selling a Stones or Barkley and using the money is frightening.
Trevor Peers
423
Posted 20/03/2015 at 17:38:43
Agreed Patrick some good points. Just how does Roberto conjure up such blind loyalty amongst some of our fans?
He's possibly been the WORST manager in our history this season. Another 10 games next season would be like playing Russian roulette with our PL status that would be madness.
Eddie Dunn
424
Posted 20/03/2015 at 17:33:58
Tim (#406), It has taken the media until the last two weeks or so to start mentioning that EFC and Martinez have problems. As usual, we are below the radar of most phone-ins and Sky chit-chat.
At last, the penny has dropped with the media that were so keen on all the hype of last season. The media darling that is our manager has now been exposed as the bullshitter that he really is. I've been fed up with him all season,and it is his obstinacy that adds insult to injury.
If a team gets walloped I like a manager to hold his hand up and admit that he got it wrong. I don't expect him to slag off his players, but just to explain why we lost and how he is going to put things right.
He treats us all to his nonsensical utterances, that are baffling. "I can't blame the team, it's the personnel". That is the bloody team!
Anyway, he may well have been a factor in attracting Lukaku to the club, but now everyone knows that things are not all rosy in Mr Martinez's garden, he will find it much harder to attract anyone decent until next January, when he might have put things on an even keel.
For me, he can go at the end of the season.
He has insulted all of those hardy souls who travelled to Kiev, and all the loyal fans who have been patient with him.
I know for a fact that the players in general have no faith in him or his methods. I have a cast iron source and I have mentioned it on here before. The players don't trust him, and think he is two-faced and a bullshitter.
He has lost the confidence of the team, and when he has gone, we will learn just what a cesspool Finch Farm has become. I hope that the tit doesn't take us down before he takes his bullshit roadshow elsewhere.
Patrick Murphy
425
Posted 20/03/2015 at 18:03:23
Eddie - Not surprised in the least about what you have revealed. I may be wrong but I don't remember any Everton player this season stating how they have let the manager down... Perhaps it is not allowed under this regime but usually some player will say it, even if they don't really mean it. I could be wrong, of course, and perhaps some player has said it.

Eddie Dunn
426
Posted 20/03/2015 at 18:08:48
Patrick, It was interesting to hear Baines commenting in the first leg, about corners and whether the players should go more direct. He tried to keep schtum, but let out hint or two.
Martinez gives off an impression of beatific charm, but underneath lurks a control freak of the highest order. I know Moyes was, and Sir Alex, but they didn't pretend to be Mr Nice Guy. He is a ruthless bugger, just look at poor old Distin!
John Crawley
427
Posted 20/03/2015 at 18:29:56
He's a busted flush, I would sack him after the QPR game and install a caretaker manager. They will have 10 days or so to sort out the team and I'm sure that anyone with a decent bit of organisational skills will stop the rot and see us safe.
He's also a hypocrite who doesn't treat younger players in the same way as he does the older pro's. He makes the case for playing Alcaraz because he's had a bit of good form (!) against Kiev and Newcastle and the defence has looked good. So he doesn't bring young Stones back in even though he's been playing well and is clearly a better player than Alcaraz. Robles concedes one goal in 4 games, the defence is looking solid for the first time all season and he brings Howard back because he's a senior pro.
Joe Clitherow
428
Posted 20/03/2015 at 20:20:18
Spot on, James (#422).
Great post!
Darren Fellows
429
Posted 20/03/2015 at 20:21:18
I for one think we should offload RM and see if we can bring back DM. I fear the longer Martinez stays, the more damage he will do.
A few players will retire and leave at the end of the season; I dread to think who he would bring in to replace them. This guy has had the best squad and largest transfer fund Everton have had for many years, I just wonder where we would be now with a decent manager at the helm.
I fear Martinez has set us back 3-5 years at least; this team needs a large cash injection and someone who can buy the right players. But, as it stands, I fear for our clubs future...
Colin Glassar
430
Posted 20/03/2015 at 20:28:26
Well I bit the bullet and just watched the game for the first time. What can I say? First of all, Howard wasn't to blame for any of the goals. Two of them were worldies and the other three from shambolic defending. If Ross's efforts had gone in (plus a clear pen disallowed) we'd be celebrating right now but that doesn't excuse some terrible defending by Coleman and Alcaraz plus the MF players going to sleep at crucial times.
I thought the ref was shite and they conned him throughout with their play-acting.
Positives? Very few. Barkley and Lukaku played well(ish) and were a threat. Also, I think Alcaraz might have a future as a winger.
Colin Glassar
431
Posted 20/03/2015 at 20:36:41
Oh, and one last positive (scraping the barrel here) unlike the abject surrenders in Bucharest, London and Lisbon, at least they kept going until the final whistle.
Guy Hastings
432
Posted 20/03/2015 at 20:52:39
Eddie 426 - as I've posted before (can't remember where), suddenly Lukaku gets to be penalty taker. It's not as though he was on a hat-trick either.
Oliver Molloy
433
Posted 20/03/2015 at 20:56:21
Colin @ 430.
I totally disagree regards Howard. He was at fault for their second goal. He should have came and punched and taken everybody and everything with him. But Howard has no balls as I have said before.
What penalty should we have got? Yes, we had no luck with hitting the bar and post and it is fine margins, but Howard is done like a lot of this current team. I really believe that had Robles been in nets with his extra height he may have saved at least one of those shots.

Patrick Murphy
434
Posted 20/03/2015 at 21:12:05
Colin,
I agree that the Referee was not totally impartial and you wonder if we had have somehow managed to get level would he have given them something to ensure they went through.
I don't agree with your summary, though. Everton didn't start playing until the fourth goal went in and as pessimistic as I am when Everton are playing, I never for one moment thought before the game that we would concede five goals and I'm still in a bit of shock 24 hours later.

Frank Duffy
435
Posted 20/03/2015 at 21:57:49
I just heard our manager defending Alcatraz. Says it all.
Sam Rangle
436
Posted 20/03/2015 at 22:49:13
James Martin – fantastic as usual, sir.
Eddie Dunn
437
Posted 20/03/2015 at 22:48:57
Colin, for Christ's sake! We went 5-1 down... Five-One!!! And Howard was too far off his line for the two long range ones, and on his arse after not saving a shot that was blocked by a defender, when the ball clipped a post and sailed past him as he flapped at a fly!
Robles may have saved one of the worldies, and a determination to go out and catch the ball would have meant that our centre-halves would not have been so cruelly exposed.
They also hit the bar and Howard made a couple of saves, and there were defensive blocks on goalbound shots. Our attack did pose problems, but apart from Roms' goal and the late Jags effort, we were not clinical enough.
Also their keeper, who looked dodgy at Goodison, pulled his finger out and made saves.
Warren Hayward
438
Posted 20/03/2015 at 23:00:44
I feel soooo sorry for the Blues who traveled. This was a fucking shambles. a total humiliation. Why didn't he stick to the tactics that got us there? We should have defended the lead we had. What the fuck was the team selection?
As a Blue for 40 years i feel sooo disappointed and let down. If we had won, our season could have been in turnaround; now it's a relegation battle.
Alcaraz has to fuck off now as does Martinez. Second season syndrome my arse, he has been found out. Moyes must be laughing his head off.
As Alan Hansen said in his Telegraph Column 2 years ago, the impact Moyes had won't be appreciated until he has gone. Total disgrace, shambles. Give the traveling Blues their money back.
Dan Parker
439
Posted 20/03/2015 at 23:56:31
Has he been sacked yet?
Dave Long
440
Posted 20/03/2015 at 23:10:07
BK should fire him today and make a statement by appointing the biggest blue around, my old schoolmate Sean O'Brien, aka the Dancing Man.
Anto Byrne
441
Posted 21/03/2015 at 05:58:47
The first goal was a cracker but would have been prevented had the man in blue tracked back and got behind the ball. Lukaku's goal was a real gem.
In my mind, a 1-1 result would have been a fair result had we put men back and shut down the space in front of them. The other goals were gifts and poor positioning from the keeper. Pity we didn't have a big commanding CH in the middle to deal with the high balls.
You don't get anything from hitting the post but clear cut chances were few and far between. Time for David Weir to come in and assume control as caretaker, sort out the defensive side of the game. Amen.
Colin Glassar
442
Posted 21/03/2015 at 08:19:44
Well Eddie, Patrick, it reminded me a bit of the Chelsea game. We weren't overrun or battered (as the scorelihe would indicate) but we were punished by every mistake and, almost, every attempt on goal.
Rubbish defending, individual and collective mistakes, shite refereeing, and some bad luck contrived to defeat us. Plus some fucking awful, unforgivable, decision-making by Martinez re team selection and tactics. Why didn't he go for a draw? Even a score draw if he knows we can't defend?
Eddie Dunn
443
Posted 21/03/2015 at 08:49:17
I know it is easy to be wise after the event, and I guess few of us would have fancied us to park the bus. We would surely have conceded a goal, lost one-nil and be out anyway. However, it was normal service, as we strolled around waiting to go behind, before rousing ourselves to equalize. Once we got level, we switched off again (mentally deciding that they had to score twice... so job done).
I think Rebrov must have looked at our vids between games, as they knew that they could cut in across Baines and find space, and they knew that diagonal crosses would freak out our slow centre halves, and our keeper would not want to come out and catch.
Also, they must have noticed that Tim stands too far off his line in open play, in case he is required to join in the tippy-tappy back line stuff. They also knew that Tim has been beaten by a fair amount of long-range shots this season.
The homework paid dividends. Let's face it, we would all have pretty good ideas how to beat our team.
Chris James
444
Posted 21/03/2015 at 06:54:12
Generally in total agreement with the tone of comments above; at any other club, Martinez would be on borrowed time now and, if we lose at QPR, which I think is highly likely off the back of this shambles, then Martinez has to go immediately. I'd be happy enough with Dunc or Sheedy as caretaker till the end of the season, at least we'd play with some fight.
The one thing I won't accept is stupid remarks like Connor (I think #218) saying "Fuck it. End of a mediocre and agonisingly frustrating era since Moyes first arrived."
David Moyes was far from perfect but he did an incredible job for this club on a negligible budget. We'd been in the wilderness for many years before his arrival with the likes of Walker, Smith and Kendall Mk 2 and 3 promising much but delivering little and having us involved in relegation scraps more often than not.
Moyes came in and immediately added some solidity to the team, making us hard to beat first and foremost (would've been in handy in Kiev that, no?) and building a platform season upon season that established us as a top 6 or 7 club who were in a position to challenge for Europe every year (Of 10 years we were 4th, 5th twice, 6th twice, 7th three times and 8th once with just two seasons outside the top 10 in 11th and the difficult season in 17th). He got us our only slot in the Champions League, a couple of Europa League outings and a tilt at the FA Cup.
In that time he did also progress the playing style, in the last 2 seasons (and in plenty of games before then) we played a lot more attacking football and brought in exciting players.
Obviously fans are fickle and always want more. Despite the stark financial realities that had been stated time and again by the Moyes defenders which saw the teams above us (and below) spending multiple amounts on one player than our entire net transfer budget.
In the first season of RM's reign it looked like he may be able to deliver that, grafting possession football and flair on top of the defensive base that Moyes had built. We surprised the Premier League that first year who'd expected something different from us, but as we've since this year we only had one trick which has since been thoroughly found out. As Martinez progressively enforced his vision at the business end of last season, it became clear that the rest of the league could see right through it and we seemed lacking in Plan B. What's more, it became clear that we were dismantling the solid platform that Moyes had spent years building and instilling.
These trends have accelerated this season and coupled with apparently atrocious pre-season planning, some questionable signings and a lack of Plan B have essentially fast-tracked us into Wigan Mk 2, with a very real danger we'll go the same way if any of the bottom 4 can get their act together.
In some ways it's a relief we're out of the Europa League as it at least prevents the repetition of the glorious failure narrative he lived out at the DW, combining a cup win with relegation.
Ultimately though, I think we have to accept the Martinez miracle is over; this false dawn was enabled by specific circumstances that no longer exist. The defence aren't clear what they should be doing and are susceptible to simple counter tactics, we don't seem to want to practise corners or crossing and the passing game secures nice percentages but not goals or results.
The way forward is clear to us all:
1. Martinez has to go.
2. We need a manager who's actually done something in the Premier League or elsewhere.
3. Barry and Alcaraz have to be pushed back to support status rather than first-team picks.
4. We need to freshen the side in the summer with a creative midfielder, some genuine width and a new central defender as cover for Stones and Jags (with Alcaraz and Distin phased out).
5. We need to focus back on the basics that work in the Premier League, not La Liga – proper defending and quick counter-attacks.
Andrew Clare
445
Posted 21/03/2015 at 09:14:52
Chris (#444),
We have been in the wilderness since Kendall left after the last Championship win. Since then, we really haven't found an adequate replacement. For a club with Everton's standing at the time we just let it all go to pot.
Getting back to Martinez, for one moment against Newcastle (who admittedly are a poor side), I thought that Martinez had got it right. I now realise after the Kiev debacle that he is never going to get it right.
He actually should have gone in December but, as our club is run by people without any ambition whatsoever, I think the mediocrity will continue. Until a new owner comes in, nothing is going to change.
QPR are another very poor team – if we lose that one and Martinez is still here, I think we will be relegated and just fade away.
Phil Walling
446
Posted 21/03/2015 at 09:34:07
Chris and Andrew: As someone who has railed against Martinez since his appointment was announced, I see NO prospect of his dismissal regardless of the QPR outcome.
The facts are that the Catalan gave us one of our best seasons in the Premier League followed by our longest run in Europe for 30 years. Whilst it's easy for me to agree with your comments, I doubt Blue Bill will see it that way and, as yet, be prepared to admit to what, inevitably, will prove to be a very expensive mistake.
I tell you, like it or not, we are stuck with the bugger!
Alexander O'Brien
447
Posted 21/03/2015 at 10:01:47
Phil, (#446), correct me I'm wrong but didn't we make the last 16 under Moyes's tenure, losing narrowly to Fiorentina? I Completely agree with the fact the our manager will be here next season and will be given time to turn it around. I believe, if he can bin off Howard and get a quality replacement in that will give us 10-15 points next season.
Coupled with Distin's contract ending and the marvellous news I read about this morning that Alcaraz's contact running down at the end of the season, I hope lessons will be learned and we'll be better for this awful season. IF he buys the right players of course.
Patrick Murphy
448
Posted 21/03/2015 at 10:03:01
Phil - Just a small point but Everton reached the last 16 of the EL in 2007-08 when they lost on aggregate to Fiorentina. Everton have only reached the Quarter-finals or better on 2 occasions, 1971 and 1985 which for a club of our so-called stature is pretty abysmal.

Ernie Baywood
449
Posted 21/03/2015 at 10:03:00
We occupy a strange place here where someone can say that they "railed against Martinez since his appointment". Outside of the Internet who really does that?
You have an opinion, you give it, then you hope you're wrong and see how it pans out. You might even change or doubt your initial thoughts from time to time. In conversation you might acknowledge pros, cons and general thoughts.
On the Internet it's black and white forever. People stick by opinions regardless of what's happening, and make sure they crow about it if and when they're right.
People are suicidal after defeats and can't even talk about good points in the game. You wouldn't haven't a beer with a bloke like that would you?
Ray Roche
450
Posted 21/03/2015 at 10:13:12
I see Tim Howard played for Derby last night.
vhttps://www.youtube.com/watch?v=jV1iqMTlhfw
Tony Draper
451
Posted 21/03/2015 at 10:13:12
Whilst I've said for some time now that RM should be replaced, I do not have a single shred of doubt that he will be in charge when the new season begins.
No matter just how close we get to relegation, I don't see it happening. But far more importantly I believe that BK doesn't see it happening.
So, we will begin next season looking pretty much the way that we do right now, minus a few of our better players picked off by better performing clubs.
The real mess will be next autumn, and our current predicament will be as nothing compared to that.
Dave Abrahams
452
Posted 21/03/2015 at 10:59:11
Alexander (447) lot of sense in your post, but why on earth is Martinez still picking Howard? It's obvious to most on here that the goalkeeper is way past his best.
Trevor Peers
453
Posted 21/03/2015 at 11:04:38
The ominous silence from BK about Roberto means only one thing He's going nowhere. The next 9 games will give a good indication therefore if we have any hope at all next season. A good indication will be his team formation at QPR and of course the result.
We can only hope for the best as were powerless to alter situation it's very frustrating but I hope we win.
Phil Walling
455
Posted 21/03/2015 at 12:46:46
Ernie, I've often wondered why I'm always buying the rounds. But they don't mind me repeating myself then, do they?
Joe Foster
456
Posted 21/03/2015 at 13:10:54
Anyone reckon RM will drop Alcarraz tomorrow or will stick with him as he only makes "the right decisions"
Paul Burns
457
Posted 21/03/2015 at 14:06:54
How many angry posters on here were guilty of giving the Blue Union stick for trying to change the way our club is being mismanaged from the boardroom?
That is where the true blame lies and the only way things will ever change properly for the better is if we, the fans, get together and force our current fraud of a board to end the never-ending cycle of absentee mismanagement.

Martyn Thickitt
458
Posted 21/03/2015 at 18:36:53
The man is delusional; he says things so often he actually believes what he is saying. Next step: the Championship.
---
Add Your Comments
In order to post a comment, you need to be logged in as a registered user of the site.
Or Sign up as a ToffeeWeb Member — it's free, takes just a few minutes and will allow you to post your comments on articles and Talking Points submissions across the site.
© ToffeeWeb