Lennon strike secures important win at QPR
Queens Park Rangers 1 - 2 Everton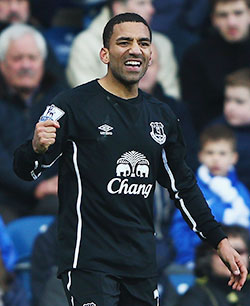 Aaron Lennon's first goal for the club earned a vital win at Loftus Road
(GLYN KIRK/AFP/Getty Images)
Everton took a huge step towards securing their Premier League status with a narrow, hard-fought victory over Queens Park Rangers at Loftus Road.
On-loan winger Aaron Lennon popped up with the winner 13 minutes from time after Eduardo Vargas had cancelled out Seamus Coleman's excellent first-half strike.
Roberto Martinez opted for the same formation that had been so successful against Newcastle United a week ago, deploying Arouna Kone up front with Romelu Lukaku and making one change from that line-up by drafting John Stones back into the side at the expense of Antolin Alcaraz.
They proved to be a prescient moves as Stones mostly stood up well to the physical approach and hold-up play of Bobby Zamora and Kone played a vital role in the opening goal.
Leon Osman had fired narrowly over from a corner with the Blues' first attempt in the ninth minute before Kone advanced down the Everton left in the 18th minute and cut the ball back for the 33 year-old midfielder outside the QPR area. He worked the ball wide to Coleman on the overlap and the Irishman despatched a crisp side-foot shot in off the far post.
Nine minutes later, penalty claims for a clear handball by Joey Barton that stopped Darron Gibson's goalbound shot from testing Rob Green were waved away by referee Jonathan Moss. At the other end, Tim Howard momentarily flapped at Charlie Austin's deflected shot but managed to gather at the second attempt and Zamora came within inches of connecting with his strike partners' whipped cross from the right.
Rangers came out of the dressing room for the second half in fighting mood and Junior Hoilett had Howard's crossbar reverberating with a powerful shot that rebounded back into play with the 'keeper beaten and Matt Phillips put the ball into the net from an offside position.
Everton, meanwhile, almost carved out a second but Romelu Lukaku's pass to play Osman in was a touch heavy and Mauricio Isla was able to make a crucial last-ditch tackle. Gibson then bobbled a shot narrowly wide from 20 yards before Lukaku pulled up with a sore hamstring following a gut-busting run down the right channel that ended with a poor ball inside looking for Kone.
While the Belgian tried to run the injury off, QPR attacked and were level two minutes later. The Blues had looked vulnerable to aerial balls all afternoon and when they failed to clear a corner, Zamora's knockdown in the box wreaked havoc in Martinez's defence. Caulker's choked half-volley bounced into the path of Vargas at the far post and he rammed it home from close range to level the match.
Lukaku was replaced by Ross Barkley while the match restarted and QPR briefly threatened to turn the match on its head as Zamora drove the ball over the bar after shaking off Stones's attentions but it was Everton who came up with a vital winner.
Coleman had made another foray down the right flank and he crossed looking for Kone in middle. When the ball was blocked by a home defender, the rebound fell invitingly to Lennon about 10 yards out and he tucked his shot past the goalkeeper to notch his first goal since joining the Blues on transfer deadline day in January.
Kone was injured in the incident and hobbled off to be replaced by Steven Naismith and while a couple of promising counter-attack situations came to nothing for the away side, the final two chances fell to QPR's Adel Taraabt. First he bounced a shot inches wide of the post with Howard scrambling to cover and then, in the third minute of five minutes of stoppage time, he crashed a shot off the woodwork.
So three important points for Everton that lifts them into 13th in the table and nine points above the bottom three. It leaves Martinez's side six points short of the magic "40-point" threshhold, although few observers believe survival will require that many points this season.
The team now has a fortnight's break due to international week to take stock of the latest injuries and prepare for the run-in where they will be looking to make up some lost ground between them and the top half of the table.
Full details: ToffeeWeb Match Reports
Reader Comments (27)
Note: the following content is not moderated or vetted by the site owners at the time of submission. Comments are the responsibility of the poster. Disclaimer
John Keating
1
Posted 22/03/2015 at 21:31:43
Lennon worth nowhere near 7 million but could well have saved us losing 70 million.
Very poor performance but invaluable 3 points and in the state we're in that's all that counts.
James Hughes
2
Posted 22/03/2015 at 21:31:42
I would just like to thank Tim Howard for the two consecutive wins as promised. We are right back up there as he said,we are 13th.
Tim Is that why you only review performance at the end of the season?
Douglas McClenaghan
3
Posted 22/03/2015 at 22:36:31
Hi James, I'm nt sure I'd be thanking Howard. If I read the phrase 'Howard flapped...' one more time my brain will explode. We'd be better off with the Elephant Man in goal.
Ant Dwyer
4
Posted 23/03/2015 at 00:08:00
Howard has been a loyal servant of Everton Football Club and should be shown respect. He's always done his best but the problem you now have is clearly his best is no longer close to being good enough.
Again Martinez is at fault as he should have kept Robles in goal, everyone knows it bar that idiot at the top.
Darryl Ritchie
5
Posted 23/03/2015 at 01:05:22
If a person had been in a coma for few years, and was at Loftus Road, he'd of said " Yep, that's the Everton I remember". Then he'd look at the sidelines and see RM..."Who's the hell is that?".
Tippy-tappy was nowhere to be seen.
They had one corner...one!! It ended up in the back of the net! Poor positioning and Howard crawling to the far post nearly cost us 3 points.
The early goal was the difference, they were always chasing, and didn't really have enough to make it happen.
Still, a good win.
Victor Jones
6
Posted 23/03/2015 at 02:07:02
Yes that was a Moyes type of a performance. Or dare I say it, a dogs of war type of performance. So much for Martinez's philosophy. What a load of crap. The only philosophy in football , is a winning philosophy. Start winning a few football matches, and confidence will follow. When confidence kicks in, then good football should follow. Score goals, and win matches. That's my philosophy.
Lennon is not worth 7 million. More like 3 million IMO. But he is a good addition to the squad. He brings more to Everton that McGeady and all the other players that have been stuck out on the wings. (Barkley, Naismith and even Pienaar this season). His goal today has eased the pressure on Martinez and Everton. Think that Lennon will do ok in an Everton team set up similar to todays. But how long will it take until Martinez decides to play him in an alien position.? Its happened all the attacking players.
Good goal today though. So credit to all. COYBs.
Tony Draper
7
Posted 23/03/2015 at 02:22:49
3pts was todays sole objective.
Objective achieved.
NO a beauty pageant display. BUT the books will only record that EFC secured 3pts.
Football is about VICTORY, then it is about style and at its most visceral it is about saving dignity.
Today was one step above the visceral. ONE.
David Ellis
8
Posted 23/03/2015 at 02:30:20
Victor #6 "The only philosophy in football is a winning philosophy"...what does that even mean. Do you mean the John Terry surround the ref philosphy; the cynical Mourhino philosophy; the dogs of war philosphy; Watford long ball of the early 80s; total football of the Dutch in the 1970s; the W- M of Arsenal in the 1930s; the all out attack of the Hungarians in the 1950s (that demolished the W-M formation of England); 4-4-2; tika tacca that won Spain and Barcelona everything?
There's lots of philosophys out there and a number of them are "winning". But I do think we need a philosphy to get lasting success, and it needs to evolve as counter-tactics are developed.
Alan Freese
9
Posted 23/03/2015 at 02:47:54
I remember us doing a shit job against QPR at home 3-1 with another not so good performance. A lot of people saying it was a win but a team to pick up 3 points and not play well is great? We have only won once since December and again it was against bottom of the league. The only time I think we played well before was against West Ham in Nov or Burnley in Oct I think.
Martinez has failed, his comments are also getting more ridiculous as time goes on. His philosophy has proven not to work, the players don't agree with THIS philosophy he does and neither do the fans. I have never wanted to see a Everton manager leave but this guy has just ruined what Everton means! We have always been the dogs of war type battlers. After 11 years of building such a strong squad he WILL take all that away from us by the end of next season if he stays.
Brian Porter
10
Posted 23/03/2015 at 06:33:29
Am I the only one who hates international breaks? Two league wins in a row, confidence maybe slowly building, then this stupid break in continuity. I've noticed previously, that instead of coming back from these breaks fit, fresh and raring to go, we always look tired and half asleep. Says a lot about the training doesn't it? So again, our gathering momentum is interrupted and God (and Martinez) only knows what we'll look like against Southampton. The only change I'd make would be Naisy in for Kone who still looks poor to me, failing to look up and assess his options and getting into trouble on the ball as a result . Meanwhile, BK should do the decent thing, get rid of The Joker, and install a new manager who would have time to decide who to keep and who to release before the summer . Somehow I don't think he will.
Steve Harris
11
Posted 23/03/2015 at 07:20:57
Can't wait for all the posts off the 'We love Martinez' brigade stating how they told us that "he'll turn it around!" Lol
Charles Barrow
12
Posted 23/03/2015 at 07:25:33
Yes a poor disjointed performance but the Three points were desperately needed and I suppose for that we should be thankful.
I was in block y5 row k. Anyone know if the old lady in row j seat 116 or 117 is ok? She unfortunately was accidentally injured when we scored the first goal.
Tony Hill
13
Posted 23/03/2015 at 07:50:16
Coleman's face after he scored his excellent goal was interesting. he looked very annoyed with something: himself, the manager, the criticism he's had, our season? He's been a mystery for a while now. I hope he stays with us but I'm not sure he will. That applies to quite a few of them.
Steve Davies
14
Posted 23/03/2015 at 07:28:35
Steve Harris post 11, I agree with you totally. We have have had two wins against Newcastle and QPR.....hardly Nil Satis Nisi Optimum? These wins don't convince me.
However taking a leaf out of RM's book the positives are that we got 6 points. He put out the team I personally thought was his best option, apart from Howard in goal. We needed a win and we got a win.
What did we learn? Maybe that Stones is better in defence than Alcarez, Kone and Lukaku are best together up front with Lennon on the wing, players should be in the team on merit and form, and when Barry doesn't play we win...and we still need to learn how to defend from corners..we have been saying this on this website for months.
What did he learn? I bet absolutely nothing. Our arrogant Spanish leader will still put Barry on the field at the very next opportunity and change a winning team (he may have to due to injuries to be fair), keep faith with Howard, and we will be no better at corners as I am certain they don't practice them at Finch Farm.
After seeing the team he put out in Kiev, and his antics and tactics this season, this guy does not seem to be capable of learning from his mistakes......end of.
I still say, get rid in the summer.
COYB
Jim Hourigan
15
Posted 23/03/2015 at 10:14:39
Brian, how on earth will Naismith improve the team? Just because he runs around a lot, falls over and gets in the referees face? What happened to ability, skill, touch and passing? All of which he is sadly lacking in.
Kone may not be much better, which is a sad indictment of Martinez, but he does offer more with his presence than Naismith. Personally I would get rid of both of them!!
Victor Jones
16
Posted 23/03/2015 at 12:45:37
D.Ellis. You have rattled of a few successful teams. Those teams were successful because they played to their strengths, they adapted tactics that suited their players, they scored goals, they had attitude, they did what was necessary to win football matches. Nothing to do with any philosophy. This is only football, not bloody rocket science, FFS!
Most of the teams you mentioned never used the word 'philosophy' to describe their football. They just set up to win football matches. This 'philosophy' nonsense is just modern claptrap. Set your team up right, with good tactics, have your players knowing what they are supposed to be doing, have your players fit, defend... Score goals; win football matches. No need for any pointless philosophy. Just win football matches.
Please feel free to tell me what philosophy Howard Kendall bought into in the mid 1980s. Cause in my humble opinion, it was just a plain old winning philosophy. And as you know we won a football match yesterday. We won an ugly match. We were lucky. What philosophy did our resident genius adhere to yesterday? Let me guess. A winning one. At all costs.
I don't believe in any stupid philosophy. This is only football. Not some university campus. I believe in good management, good tactics, good players, skillful players, good attitude, high level of fitness. And winning football matches. Not a philosophy in sight. Apart from a winning one. Or should I say, a winning mentality.
Victor Jones
17
Posted 23/03/2015 at 13:11:41
Sorry to bore everyone. But as stated above, I don't have much faith in any footballing philosophy. On his day David Moyes had Everton playing some great football. He had Everton passing the ball. He had little combinations all over the pitch. They were good to watch. Did I hear anyone say anything about any philosophy.? No. Roll on now to Martinez. He has his players passing the ball aimlessly about in their own half. He has 70 per cent possession, but still loses a game. I am loathe to call that a philosophy. I can do without it.
Stephen Daniels
19
Posted 23/03/2015 at 15:06:56
I think we were very lucky to win the other day against a really crap team. I agree with some of the posts on here that Lennon is not worth ٥M but definitely for ٣M I'd sign him and get rid of McGeady Alcaraz, Barry and Kone (all of Martinez's signings apart from Lukaku and Besic) the rest are crap. Oh and the manager can go as well – I've had enough of his lies.
Matthew Williams
20
Posted 23/03/2015 at 16:04:10
4-4-2 and we won! Who'd've thought it, eh? Our play is still shocking to watch, the ball spends way too much time in the air and we still can't put a decent passage of passing play together.
Watching El Classico later on was like watching a completely different sport at times! We will be also-rans for years to come unless BIG changes are made or happen outta the (Royal) Blue... both look very unlikely at present.
Peter Fearon
21
Posted 23/03/2015 at 20:22:49
You don't have long to wait, Steve Harris. Yes, this has been a disappointing season. Moyes's second season saw us barely escape relegation. He was given another nine years.
I'm not suggesting Martinez be given that long but what he achieved in his first season should be enough to tell us he us a capable manager and able to build a winning team playing attractive attacking football. He should be given two more seasons before the haters and graffiti writers come out.
I look back at some of the admiring posts from last May and they're from the same people who are now saying he's the worst manager in the Premier League. He did not go from hero to zero in a few months. He is still the manager who came within a whisker of getting us into the Champions League in his first season.
In his place some people want some untested manager who had had a slightly better than average season in the Championship? Ridiculous!
David Barks
22
Posted 23/03/2015 at 20:37:02
Peter,
I swear to God I'm so sick of people posting that line about Moyes's second season and comparing it to Martinez's second season. The two situations are so far from comparable, it's a joke. Moyes had taken over a club and squad that was legitimately near that level, we were a bottom-half-of-the-table club during that time. Our squad was a joke, we lacked talent.
Martinez inherited a squad that was a top-half-of-the-table team, battling between 5th and 7th most seasons. He inherited a squad with one of the best defenses in the league. He inherited two of the best attacking fullbacks in the league.
Now he has taken that team with a solid defense and turned us into one of the worst. He's taken those attacking fullbacks and turned them into sideways passing defenders. He's loaded a team with at least two defensive midfielders and many times now three defensive midfielders.
You say he needs time to build his team, but at the same time say that last season's team was an accurate reflection of Martinez's managerial capabilities. Well, if last season was down to Martinez's ability as a manager, then why does he need to build a team going into season three? That just doesn't make sense. The more apparent reason for last season's success was down to the team having that defensive foundation still firmly planted in their game, but that has eroded and continued to get nothing but worse, both toward the end of last season and throughout this season.
Martinez has shown zero ability to adapt a game plan, to change a game in a positive fashion. The team looks more lost at the end of his second season than they did to start his first. That's a clear indication that he is failing at his job. And all you have to do is look at the years he had at Wigan to build a team, but see that every season it actually just got worse. He has a track record, it's one of failure and relegation.
Trevor Peers
23
Posted 23/03/2015 at 20:40:18
Peter, it looks like you're getting your wish for Roberto to have a third season so we will see if he makes a fist of it or not. He needs to cut out the tic-tac nonsense for sure and buy some classy creative midfielders. I see he's reportedly in France buying another winger ? Do we really need one.
John Keating
24
Posted 23/03/2015 at 20:53:50
David, spot on.
Pete, thank God we didn't get in the Champions League – can you imagine the embarrassment going out in the qualifying round against Lichtenstein Rovers 10-0 on aggregate!
As David says comparing Martinez's second season with Moyes's' is ridiculous. He inherited a good team and has shattered it
Ian Riley
25
Posted 23/03/2015 at 20:01:42
That should do it! How we play is not important now, wins are! The team have played well shit really all season. Too many changes in team selections have caused a lack of continuity. The quality the team has should be winning team's in the bottom three.
The manager will be here next season and deep down you all know it. The chairman had ups and downs in the league with Moyes during his early years. Why should this be any different? The manager must learn from his mistakes. He is still young and if you cannot change now, there is no future in football management.
There are factors that have affected our season. The World Cup affected the players physically and emotionally. Players came back lacking confidence and, with no break, fitness would be a problem early on in the season. The Europa League, three games a week, with injuries something will give. Last season, the manager came in the top five in his first season with no Europa League... just a coincidence?
The Europa League has affected other clubs, Spurs being one. They would be closer to the Champions League places if not for Thursday night football. This summer, players will have a break, no European games next season. The manager will have a full pre-season to buy and sell players. All factors must be considered before changing the manager.
Anyone up for giving our manager another chance?
Gavin Johnson
26
Posted 23/03/2015 at 21:16:16
I think that Martinez has taken a lot of the criticism on board regarding how perilously close we were sitting near the bottom three. He has changed things round over the last two league games. With formation as well as a lot less onus on ball retention – the possession statistics bear this out.
For me, it's an encouraging sign. My worry is not that Martinez will continue as manager next season – because he'll be gone before New Year if we play like the majority of this season. My worry is how strong will next season's squad be?
If players leave this summer, I want it to be the manager's decision. Nobody is expendable, but I'll be happy if we can retain the services of Lukaku, Barkley, Stones, McCarthy and Garbutt.
While Garbutt might not be high up in every ones list of players they wish to keep, I think it would be a major blow if we lost a player with this much potential for a couple of million development fee compensation. It would show how far we have fallen in such a short length of time. Compared to the the following year when we tied all our other young player up on long-term deals.
Matthew Williams
27
Posted 24/03/2015 at 14:50:19
This is how it should go next season: Three-point plan:
1. Win the League Cup.
2. Win at Anfield.
3. Finish in a Europa League position.
If none of the above are achieved... your sacked, Bobby lad. We need to crawl as a club first before we run, all of the above are possible, just do one of them...
Nothing else matters but WINNING, folks!!!
David Harrison
28
Posted 24/03/2015 at 17:05:38
We have 34 points from 30 games, trail Stoke by 8 points, have witnessed shite football, piss poor defensive organisation and team tinkering from a manager who pursued the same philosophy at Wigan, yet after 2 wins against Newcastle and QPR people are calling for him to be given more time, and no doubt funds. Unbelievable
---
Add Your Comments
In order to post a comment, you need to be logged in as a registered user of the site.
Or Sign up as a ToffeeWeb Member — it's free, takes just a few minutes and will allow you to post your comments on articles and Talking Points submissions across the site.
© ToffeeWeb