How to play on the back foot and win!
By Michael Kenrick
22/03/2015

Comments (151)
jump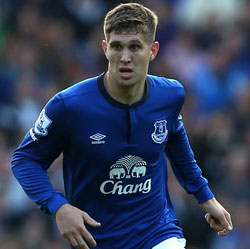 John Stones came back into the side after Antolin Alcaraz's struggles in Kyiv.
Queens Park Rangers 1 - 2 Everton
Roberto Martinez goes back to the formula that was so successful against Newcastle last weekend, restoring Arouna Kone, Leon Osman and Darron Gibson to the line-up and deploying Aaron Lennon wide on the right.
At the back, John Stones comes back into the side in place of Antolin Alcaraz who drops to the bench along with Steven Naismith and Ross Barkley.
QPR kicked off with Everton playing in all black, hopefully not too much in mourning for the dreadful Kapitulation in Kyiv, as the bright Springtime sunlight of Loftus Road. No real shape to the play, until a rollout from Howard to McCarthy immediately saw pressure and a poor forced clearance to Barton and QPR were sniffing out a shot on goal. Crazy nonsense play from Everton.
Another was to follow as a severe warning, Barton heading on to Zamora who clipped over with only Howard to beat... but he was offside.
Everton mounted their first real attack, McCarthy blocked firmly as he set to shoot in after Lennon's cutback to Lukaku. From the corner, a brilliant nearpost flick from Osman that deserved a goal, such was it'sf delightful invention. But Zamora was a constant danger at the other end, getting behind the Blues line again, but offside.
All the early impetus was with QPR, encouraging some brilliant defending by Stones who had his work cut out to keep the striker in his pocket. What a tremendous young player he is becoming. Gibson tried to play in a good forward ball to Lukaku but it did not come off, but Everton were otherwise struggling to get out of their half.
But an exceptional move of brilliant forward-playing passing football at pace, involving Kone, Osman, Lennon, and Coleman saw the Irishman fire Everton in front with a great shot in off the far post, a very nicely constructed goal!
QPR were still getting into the danger area all too easily, and Everton were riding their luck somewhat at the back as the ball was generally running in their favour. But a route one clearance flicked on by Lukaku to Kone got the Blues forward at pace again, only for Barton to throw himself at Gibson's drive to deny a goal attempt, perhaps illegally with a raised arm, but at very close range.
Everton, though, were looking lively on the counter, with Kone, Lukaku and Lennon enjoying some space to run at the QPR defence... perhaps too much in Lennon's case, as he ran miles offside.
At the other end, Austin sent in a fantastic cross for Zamora to score... but the glance he got on the ball was nowhere near enough to put the ball on target, thankfully! But the fear and trepidation in the Everton defence was all too palpable and an equalizer seemed to be on the cards.
Everton did finally put together a better sequence of forward play, applying some pressure on their hosts, without constructing a real chance to test Green. When Everton did get the chance to break again, Kone was far too hesitant and the chance for a break evaporated. Hoilett saw yellow for a 50-50 clash with Lennon.
Apart from the goal, it had been a pretty scrappy first half, Everton nervously unable to control the game despite taking the lead. and having to repeatedly pull out the stops at the back to keep Howard's sheet clean.
After the break, QPR get forward quickly, Hoilett beating Howard with a tremendous shot but hitting the bar, Phillips heading the rebound goalwards, Jagileka getting back brilliantly to block off the line but the flag was up for offside as QPR followed up to score, only for the play to be called back. What a let-off for the Blues. Phillips was only very marginally offside...
QPR continued to press for a goal to level the game as the Everton defence lived on its wits, having to react by scrambling the ball away time and again. Kone did get the ball forward to Lukaku and Osman could have done better but Isla did well to get his foot on the ball and prevent any shot from an excellent forward position.
Yun got booked for a late tackle on Lennon. Everton constructed a rare attack from the free-kick but Kone's control was not good enough and the move ended with a rather lame shot from Gibson that dribbled wide.
While Everton continued to look shakey at the back, QPR continued to pump balls forward in an effort to exploit the weaknesses so evident last Thursday night. But it seemed to be a question of pride for Stones especially, who had decided They Shall Not Pass. What help would Martinez provide to give the home side more to think about as another determined attack was blocked away by Gibson? Barkley perhaps...?
Lukaku was clutching his hamstring, but seemed determined to run it off as another QPR attack develop, with a corner, and finally they did score from a scramble as Everton's massed defence seemed static,.. substitute Vargas lashing in the ball home from close range, ripping into the roof of the net, as Lukaku limped off, to be replaced by Barkley. Never, in the history of football, had a home-side goal been so on the cards...
Clinging now to a valuable point, Everton won a rare corner that Baines lunched in too low and then got himself offside on the follow-up.
Substitute Henry infuriated the Everton players with a studs-up challenge on Osman, but it won the ball, forcing the Everton player to jump out of the way, and Zamora was off to the races, firing over. QPR kept pushing forward, Everton kept backing off, unable to change the relentless one-way traffic toward their goal.
But another great passing move, literally out of nothing, Kone, Lennon, Gibson, Coleman, Kone, back for Lennon to fire home. Fantastic stuff, such a contrast to the rest of the match! Kone hobbled off after the challenge that stopped him scoring from close range off Coleman's excellent cross.
From an Everton corner, defended away, Tarrabt ran at the Everton defence and fired inches wide, Gibson went down in the play, and looked to be done, but trotted off as Besic readied himself on the sideline. But Gibson came back on and seemed to be moving quite freely.
QPR still pressed, Stones pulling off another incredible block to deny Austin. They were throwing everything forward but the Everton defence were surviving the test so far, and looking to take home a vital 3 points.
In added time, from where Coleman had scored, Tarrabt struck a superb shot that beat Howard but clipped off the bar near the angle, as Everton continued to live very very dangerously but eventually cling on to win. A game of very very close margins that will perhaps relieve the pressure a little on the loquacious Everton manager.
Scorers: Vargas (65'); Coleman (18'), Lennon (77')
QPR: Green, Caulker, Phillips, Onuoha, Yun, Isla, Sandro (71' Henry), Barton, Hoilett [Y:40'] (60' Vargas), Zamora (81' Taarabt), Austin.
Subs not Used: McCarthy, Ferdinand, Hill, Kranjcar.
Everton: Howard; Coleman, Stones, Jagielka, Baines; McCarthy, Gibson; Osman, Lennon; Kone (82' Naismith [Y:94']), Lukaku (64' Barkley).
Subs not Used: Robles, Browning, Alcaraz, Garbutt, Besic.
Referee: Jonathan Moss
Attendance: 17,706
---
Reader Comments (151)
Note: the following content is not moderated or vetted by the site owners at the time of submission. Comments are the responsibility of the poster. Disclaimer
Kevin Rowlands
1
Posted 22/03/2015 at 15:20:30
FFS, just shipped 5 goals but guess what, I like the rest of the team though.
Harold Matthews
2
Posted 22/03/2015 at 15:28:01
Very attacking line-up. Almost too much. Would have felt safer with Besic starting and Ossie for the last half hour. A big gamble and I hope we pull it off.
Victor Jones
3
Posted 22/03/2015 at 15:21:41
That's the team that I was hoping to see. But there are no guarantee's that it will work. Nothing is straight forward with Everton. Lets hope that the stupid passing game in our own half is dropped. Lets hope that Ossie and Gibbo are on their game. And link up play to the forwards. Forward passing at all times. Pepper the QPR box. Lets hope that Lennon turns up. And Kone and Lukaku also turn up. Lets hope that Martinez uses his subs wisely. Barkley and Naismith to run a tiring QRP into the ground. And keep Alcaraz on the bench. That looks a positive Everton team today. Don't know what Martinez was trying to do on Thursday night. And I guess , like everyone else, we never will know. But this team looks better. COYBs.
Nick Entwistle
4
Posted 22/03/2015 at 15:35:24
What formation is this? A diamond? 4-2-3-1 Kone on the wing? Can't figure it out...
Tony Twist
5
Posted 22/03/2015 at 15:36:52
Same old same old, Garbutt should be playing on the left in midfield, instead of Osman, he would get some crosses in to the two strikers. Otherwise Robles instead of Howard then that would be the team I would pick. Good luck to the blues today but this clown of a manager has to go.
Mick Wrende
6
Posted 22/03/2015 at 15:42:33
At least that side won last week. But the big worry for me is the donkey between the posts. He doesn't fit my job description of a goalkeeper.
Alan Bodell
7
Posted 22/03/2015 at 15:41:33
Whatever, just so long as Barry ain't involved.
Mark Frere
8
Posted 22/03/2015 at 15:47:17
It will be 4-4-2 Nick, the same formation and team that beat Newcastle 3-0. The only difference is Stones replacing Alcaraz (thank fuck!).
We just need the 3 wins as soon as possible to secure our PL survival, then it's time for the 'Martinez out!' banners. This season is a shambles and it ain't gonna get any better next season with this Spanish cretin!
Victor Jones
9
Posted 22/03/2015 at 15:39:38
It should be just a straight forward 4-4-2 formation. But Martinez plays wingers in midfield, he plays forwards and midfielders on the wing. So who knows what master stroke of a plan ,this is. I suspect its 4-1-2-3. But who knows? And as much as I like the positive approach(on paper anyway). The full backs are yet again exposed. Especially Baines. But I still think we should have enough nous to be able to get a good result today. Lets hope that Martinez realises that fact also.
Pete Owen
10
Posted 22/03/2015 at 15:47:59
I like it, counter attack for away games? Then this is the team and formation, 4-3-3 but Knoe will have to put a shift in on the left like Lennon did v the Toon.
"Predictions? I don't do predictions and I never will."
Come On You Blues!
Dave Long
11
Posted 22/03/2015 at 15:50:00
BBC saying that Alcaraz's name had been scribbled out from the team sheet and Stones written in.
Chris James
12
Posted 22/03/2015 at 15:50:32
Yep, this is pretty much the team we wanted you to pick Robbie... you're just 4 days late.
Michael Polley
13
Posted 22/03/2015 at 15:51:23
Like the line-up. Attack minded. Hopefully we can get a result, and we're not suffering from a hangover from Thursday's result. Need 3 pts, and something to cheer about. COYB. Let's get stuck in.
Victor Jones
14
Posted 22/03/2015 at 15:49:32
Must go folks. Last comment for now. Win, lose or draw today. Barry will be straight back into the team when available. So we need to take our points now, when we can. Robles and Garbutt will not feature again this season, except as cover for injuries. That's life under Martinez. Oh the joys of being an Evertonian.
But a Win today will help.
Dan Nulty
15
Posted 22/03/2015 at 16:10:29
So pleased he has dropped Alcaraz, shows that the talk to the media was just protecting his player in public. I'd have been livid if he'd have picked him again. There is hope...
Terry McLavey
16
Posted 22/03/2015 at 16:14:18
Good to see Stones back, apparently dropped for fucking around in the hotel? What's the punishment for all the others who fuck around on the pitch every week?
If they had a decent striker they'd be 2 up by now. What the fuck was Howard doing kicking it out to one of them, I know they're in blue and white Timmy but.....
Terry McLavey
17
Posted 22/03/2015 at 16:19:23
Missed the goal typing post 16!
Maybe go for a piss for the next one? Seems to work!
Andy Meighan
18
Posted 22/03/2015 at 16:42:03
So much for my prediction that we won't score another away goal from open play this season.
I'll, er, get me coat.
Dave Pritchard
19
Posted 22/03/2015 at 16:44:00
Terry, maybe go for a Number 2 for and we'll get Number 2.
Steven Telford
20
Posted 22/03/2015 at 16:47:06
Not exactly clinical, are we?
Having swapped that magnificent Kiev stadium for Loftus Road, you can smell the season's anticlimax, survival points are the game.
Paul Hughes
21
Posted 22/03/2015 at 16:54:34
Great goal, good build-up play, and wonderful strike from Seamus.
Stones playing well... where was he on Thursday???
Terry McLavey
22
Posted 22/03/2015 at 16:51:44
Dave #19 I can't work miracles mate, but the game does look a little more promising, apart from Kone who's taken on the ex Wigan player mantle of "My turn to have a shit day" !
Jim Bennings
24
Posted 22/03/2015 at 17:27:51
Surprise surprise we blow the lead again!!
Everton are fucking shite, this has to be the worst Everton team I can remember from recent year's.
QPR will win this now.
Get ready for the usual bollocks of from Martinez about small margins and it being "a fascinating game"
I really really hate this Everton side.
Jim Bennings
25
Posted 22/03/2015 at 17:33:31
Fucking 2-1 Lennon...
NOW COME ON EVERTON..
FUCKING DEFEND THIS!!
Steven Telford
26
Posted 22/03/2015 at 17:52:57
Could very easily have ended differently, ultimately there was little on view there to suggest that we are not exactly where we deserve to be this season.
Paul Jeronovich
27
Posted 22/03/2015 at 17:53:46
Ground out a valuable win. Well done lads. Don't really give a fuck about how we play at this stage, 3 points is all that matters.
Tony Hill
28
Posted 22/03/2015 at 17:55:50
Great good fortune but that keeps us safe now. Lukaku looks like he might be out for a while. A wretched season but let's be thankful that, unless there is some utter disaster, we will be in the PL next season.
Brian Burns
29
Posted 22/03/2015 at 17:56:52
Relatively safe now... Wow! Get Long back and sack Martinez. Be the end to a very good weekend.
How we won that, I don't know... but who cares!
Teddy Bertin
30
Posted 22/03/2015 at 17:55:16
Shaky again but credit to Gibson for the pass that set up Coleman to put the ball into the box before second goal. Everyone else in the squad apart from Osman would have taken a touch there before putting out wide or coming back on themselves but the one touch pass gave Coleman that extra second just enough to cause QPR to panic. Need more of that fast accurate passing or teams will continue to frustrate us. Good to have Stones back too.
Teddy Bertin
31
Posted 22/03/2015 at 17:55:16
Shaky again but credit to Gibson for the pass that set up Coleman to put the ball into the box before second goal. Everyone else in the squad apart from Osman would have taken a touch there before putting out wide or coming back on themselves but the one touch pass gave Coleman that extra second just enough to cause QPR to panic. Need more of that fast accurate passing or teams will continue to frustrate us. Good to have Stones back too.
Rahul Sreekumar
32
Posted 22/03/2015 at 18:01:39
I'll take the victory! Deserved or not! Especially after having been at the wrong end of so many "better performance but zero points" games.
Lennon – well deserved goal for all the effort that he's been putting in....
Defensive struggles – when will they end?
John Gee
33
Posted 22/03/2015 at 18:01:18
Lucky against the worst side in the division.
The stream I watched had Ray Houghton as commentator. One of the most biased commentaries I've ever heard. He was clearly rooting for QPR all game. Why do we always have to have a former RS player? It's not as if any of them are actually any good either.
Jack Plant
34
Posted 22/03/2015 at 18:06:15
Well I think he should have gone after Stoke, and again after Kiev, but now that hasn't happened lets get behing the team. 8 games to go, 24 points, we can still finish 4 points above the red shite. COYB!!
Mike Childs
35
Posted 22/03/2015 at 17:54:11
I took the game off. Superstition I guess. I wasn't home for the start. We were up 1, the first score I saw. So maybe they do better if I'm not watching. I'm sure I'm not the only one who has tried a superstition for the 3 points.
Sue Brown
36
Posted 22/03/2015 at 18:01:56
A win is a win, I'll take that even with a shit performance all day. And the positives.....Kone injured again, hopefully we won't have to see his poor (less than 1%??) passing rate again this season.
I just hope Rom's isn't a bad hammy, thought it was too much to see him sprint like that!
Great goal by Seamus and good work by Jags and Stones, to keep us in the game.
Kevin Tully
37
Posted 22/03/2015 at 18:05:33
After a heavy defeat in Ukraine a few days ago, we have to give the players some credit for grinding out an ugly win today. We were quite lucky, but it's about time the coin landed on the Everton side for a change.
Let's get to the end of the season, then hopefully we can identify what has gone wrong this season. Whether that's the manager and his tactics, the established players who don't like his methods, European distractions, or whatever other excuses come out for this abomination of a season.
Whatever happens, I just hope this is the last season Tim Howard is in the Everton goal. Utterly useless and has cost us big time this season.
Phil Walling
38
Posted 22/03/2015 at 18:04:48
Good. All talk of relegation can be forgotten and my recent wager -a double forecasting Everton to finish 12th with 41 points - looks to be a good bet.
No prospect of Roberto being replaced in the immediate future so the only excitement the summer will bring will surround who is staying and who is coming in.
I've decided today to move to slightly warmer climes for the next few months so no more talk of Wigan and their ex-manager can be expected from me. BK has made his bed now he can LIE in it – even if it's only to himself!
Have a great summer!
Patrick Murphy
39
Posted 22/03/2015 at 18:13:46
I found it curious that Jon Moss was once again in charge of our game at Loftus Road – wasn't it him who sent Pienaar off a couple of years ago? The best team lost but that was probably our most important 3 points of the season so I'm not grumbling about it. Perhaps if Kone and Lukaku are out for the next game a youngster could be given a go, we have to rescue something from this terrible season.

Dan Nulty
40
Posted 22/03/2015 at 18:15:52
Just had a look at our remaining fixtures, a real opportunity to finish on a high and start the summer with some positivity. Just hope we can take advantage.
Ross Edwards
41
Posted 22/03/2015 at 18:24:00
Good result but an absolutely shocking performance. 3 points doesn't gloss over that.
Patrick Murphy
42
Posted 22/03/2015 at 18:24:58
Phil - Enjoy your sojourn, if you meet any Billionaires where you are going don't forget to give them BK's number.

Mike Childs
43
Posted 22/03/2015 at 18:22:54
Game at a time. Phil, I'll light you a candle on that double.
Don't buy those season tickets yet it's the only bargaining tool fans have.
Tony Hill
44
Posted 22/03/2015 at 18:26:59
If both Lukaku and Kone are out then we are struggling up top. Naismith to play presumably but it's fortunate that these injuries didn't happen 4/5 games ago because we've been light up top for a while.
Michael Polley
45
Posted 22/03/2015 at 18:34:32
It was backs to the wall, but we defended well. Two good goals on the counter-attack. I hope the injury to Lukaku isn't serious.
Keith Glazzard
46
Posted 22/03/2015 at 18:24:03
Phew!
Praise be that Stones was back. Lennon is earning his corn now, and I don't just mean the goal. Gibson for Barry, let's hope that's permanent. But ...
Does Howard inspire anyone with confidence? And Kone got a couple of things right, but how many times did we lose possession when he passed?
Not too far off safety now, and then? Changes have to come surely. And it doesn't have to be expensive. I don't see why we can't have Garbutt and Baines on the same starting line-up for example.
Patrick Murphy
48
Posted 22/03/2015 at 18:34:22
MK Loquacious - A wonderful adjective for Roberto and his constant talk.

Colin Glassar
49
Posted 22/03/2015 at 18:39:07
Phil, so you're leaving Wigan for warmer climes? I didn't think Warrington would be a lot warmer than Wigan at this time of the year.
Paul Thompson
50
Posted 22/03/2015 at 18:36:14
Can't really indulge in too much moaning after a ground out win following a draining Thursday night game. And two good counter-attacking goals. But no getting around the fact that we were lucky against one of the worst teams in the league.
Got to hope that Rom isn't badly injured as watching the rest of the season without him would be even less fun.
And finally, hope you have a good time in warmer climes Phil. You'll be missed!
Graham Mockford
51
Posted 22/03/2015 at 18:35:06
I think Kevin Tully has nailed it. Give the players some credit for grinding out a result after a long trip and a horrendous defensive display.
My opinion is that Martinez is not the answer but we probably should face facts and realise the cold hard reality, his job is safe for this season and probably at least until the end of the year.
And most of all credit to those Blues who made the trip today, I salute you to a man and woman. To watch Thursday's omnishambles and make the trip and support the team wholeheartedly is an example a few on here could well heed.
Amit Vithlani
52
Posted 22/03/2015 at 18:26:31
I know we should be safe but there cannot be complacency with home games against Manure, Spuds and Saints to come and we have PRIDE to play for. Treat the run in as a mini league season and with tests against 3 CL hopefuls we need to see maximum effort from the players.
Martinez looks doomed in my eyes but even he must know that home defeats against sides we have a good record against will be the end of him. Wins against piss poor Magpies and QPR sides cannot mask the dreadful inadequacies of our defensive set up, which was so cruelly exposed in Kiev.
Ian Brandes
53
Posted 22/03/2015 at 18:47:44
A win is a win, and a real cause for celebration, even if the victory owed more to Moyes style of play than Martinez.
Although driving 150 miles today, so not much time for footie, caught a glimpse of the RS today, and concluded that they are a terrible team, but lucky..
On the other hand, under the tutelage of our mad manager, we have simply been terrible, but without the luck.
Apart from today, that is.
Keep on grinding out wins,lads, and leave the better times to next season..
We can but hope....
Mark Frere
54
Posted 22/03/2015 at 18:58:53
A fucking dreadful performance! Stones and Jags kept us in the game, McCarthy did do a good job of helping out our two centre-backs, but he played a little too deep which left Gibson isolated at times. Gibson displayed some nice passing and some very wayward passing but at least the intent was there to play a forward pass.
I'm really not a fan of Lennon at all. Today again, his passing and crossing was poor; he does work hard (which I applaud him for) but he really is just a headless chicken. The thought of him and Cleverly coming here in the summer doesn't inspire me with any hope. We need much better players than those 2.
I just can't wait for this nightmare of a season to end. It looks like we are stuck with Martinez for another season (unfortunately) but I just hope he signs some creative players in the summer and has a big clear out of the deadwood.
Gavin Johnson
55
Posted 22/03/2015 at 18:54:41
A wins a win! It was a gutsy performance a good riposte to the capitulation against Kiev. This hopefully puts the relegation talk to bed and Martinez will have the summer to try and rebuild the team and his reputation.
Mike Hughes
56
Posted 22/03/2015 at 18:45:59
3 points was all that mattered. Sod the performance.
Well done EFC.
All the results went well for us this weekend.
And I mean ALL of them (snigger).
38 seconds on the pitch and Stevie Me is sent off.
After his slip last season, I never thought I'd say that I'm starting to warm to him (cackle).
I often abstain from drinking on Sunday night (mainly because of Monday morning) but I've got a bottle of Fursty Ferret in and a full bottle of wine.
It hasn't happened much this season but MOTD2 and Singing The Blues ......

Ian Brandes
57
Posted 22/03/2015 at 19:03:22
Mark F
Agree completely, but can we trust the delusional half-wit to sign any decent players?
I would not give him my money.
Mike Hayes
58
Posted 22/03/2015 at 19:03:25
Great to get a win but unfortunately keeps the clown in charge until the end of season no doubt still only another 8 arse clenching games to go
Paul Hughes
59
Posted 22/03/2015 at 18:59:14
A win's a win, and we should now be safe. Listening to 5Live Extra - Clive Allen (ex-QPR) was summarising and to be fair was pretty even-handed. We sounded pretty awful, always defending too deep, but it seemed Everton's best 2 players were Osman and Stones. Picked a game too late? I'd be interested in the views of the brave 1,500 who were there.
Andrew Oxton
60
Posted 22/03/2015 at 18:57:48
3 points, phew. Take it every week. I am not trying to single anyone out, really im not, but Howard looks like he is struggling. I lost count of how many headers Mccarthy, Stones and Jags made on the edge of the 6 yard box. He rarely takes the pressure off. QPR knew it and kept bombing it in there.
Ian Brandes
61
Posted 22/03/2015 at 19:10:09
I was not there, but it doesn't surprise me that Leon was one of our two best players.
He is a light in a very dark tunnel, despite what some folks say.
Mark Frere
62
Posted 22/03/2015 at 19:07:09
Probably not Ian, but hopefully he's learned a hard lesson this season - that's wishful thinking of course... but I'm just praying he signs a couple of playmakers.
Peter Mills
63
Posted 22/03/2015 at 19:12:20
Pretty awful, take the 3 points and run.
John O'Brien
64
Posted 22/03/2015 at 19:10:07
I'm really disappointed by the season we've had and certainly mistakes have been made but let's remember also the record season we had last year and get behind the team. I believe the majority of season ticket holders still support the manager myself included.
He does need to learn from this moving forward and if he does we can still achieve success under his reign.
Brian Hennessy
65
Posted 22/03/2015 at 19:05:49
Glad we got the 3 points pushing us closer to safety, but Roberto seems to have drained me of my passion for this club.
I will probably get slack for this, but a tiny part of me wanted us to lose and Roberto get the sack tomorrow (and of couse I want us to stay up with his replacement).
The thoughts of RM, Howard, Barry and Alcaraz being around for another season is depressing to say the least.
Ian Brandes
66
Posted 22/03/2015 at 19:16:13
If I thought he had learned a hard lesson, as you say Mark, and profited from it, Then maybe we could keep him for seven or eight games next season.
I am not holding my breath though.
Brent Stephens
67
Posted 22/03/2015 at 19:07:35
Looks like we've avoided the nightmare relegation. But we'll end up getting less dosh for our finishing league position than we should, so we won't be bringing in anything spectacular by way of new signings. And anyway after a season like that our attractiveness to prospective new signings is diminished. Could we even lose some of our better players, if they see Roberto as being the problem?
And if he is the problem, at what point does Bill get rid? And who would we attract?
So depressing.
Paul McGinty
68
Posted 22/03/2015 at 19:10:22
Watched on TV... Jags, Stones and James Mac were the pick for me. Lennon worked his socks off. Coleman came though twice... a goal and a key cross. Our only guile game from Osman.
More like a Moyes performance than last year's edition. Long clearances... very little in the way of midfield control or hold up play. The players seem to realise the situation they are in; at least that much has got through.
We are in the crapper, Every high ball into our box is an adventure... is it me or can Tim bail out the defenders once in a while and come for a high ball? Even a low one!
Still, the points were the key; thank the lord we got them, particularly for the traveling support. Who knew this season would be back to worrying about relegation.
Amit Vithlani
69
Posted 22/03/2015 at 19:20:52
Off topic but it can't be that often that a week-end program of 10 games produces no draws?
Phil Walling
70
Posted 22/03/2015 at 19:12:44
Don't mention Warrington, Colin! Needless to say my family are fighting over my Warriors tickets rather than what's left on my EFC card!
I've made the decision to pull down the curtain early on Everton's season as there's nothing left to play for. Let's just hope next season will see our club back where it belongs..........
Fighting to finish sixth!
Tony Cheek
71
Posted 22/03/2015 at 19:18:41
After a shitty energy-sapping trip to Ukraine, and the mental side of losing and letting in five to boot, that win was scrappy, anything but classy but showed a lot of character. Definitely safe now and gives us a bit of breathing room to finish the season without looking over our shoulders.

Patrick Murphy
72
Posted 22/03/2015 at 19:24:42
Well spotted Amit - I'll try and do some research to see if it has ever happened before. I wish I'd been brave enough to back 3 away wins for today's games and four if you count Rangers at Hibernian.

Bill Gall
73
Posted 22/03/2015 at 19:18:48
Missed the game today but reading the reports it makes grim reading when we are being called lucky to get a win against a team that are not only looking relegation candidates but today's result means they have only 1 win out of the last 10.
Haven't listened to Martinez's comments but I suppose that will come up with the usual, phenomenal ,showing character and QPR are a strong team plus the rest of his bullshit comments that make supporters who were there wondering what game he watched.
Cannot wait for May to come and hopefully we are safe and maybe the 8ft snow drifts around my house will be gone. (Doubt very much if Martinez will be gone as well.)
Paul Smith
74
Posted 22/03/2015 at 19:25:36
On my way back from the game. Jags and Lenon the stand out performers for me. Kone was awful and the fans couldn't of left him in an doubt that they knew it. Nervy at the end but happy with the three points. Well done lads. Gibbo was over the moon with the victory.
Jim Hourigan
75
Posted 22/03/2015 at 19:31:25
Only watched it on the box, which is always deceptive, but a poor performance and 3 points is the only way we will avoid trouble. Lets not kid ourselves there is no magic tap that will turn this season around - hard work, commitment and a bit of luck is what we need. If we keep it up for 3 /4 games then confidence might return, along with some better performances. My great fear is that some of them will think job done now and put their flip flops on.
Gibson was my MOM with Stones and Jagielka not far behind. The rest were average but did show some genuine determination, which was evident the way some of them celebrated the final whistle - good to see. Thank god Naismith didn't play and Ross needs to be used sparingly for the rest of the season and we might be more balanced.However, Osman's complete lack of pace and strength when played out wide is a nonsense to me and I would rather see someone from the reserves given a chance.
Patrick Murphy
76
Posted 22/03/2015 at 19:39:55
Amit - The last time all ten Premier League fixtures ended with no draws was Boxing Day 2014; The weekend of the League Cup Final on March 1st this season also saw no draws for any of the Premier League games.

Ernie Baywood
77
Posted 22/03/2015 at 19:35:38
Thought we played better in Kyiv! Difference being that Austin and Zamora aren't of the standard to punish our mistakes.
3 points makes everything feel better though.
Colin Malone
78
Posted 22/03/2015 at 19:43:14
Without JAGS we would be FUCKED
Paul Dark
79
Posted 22/03/2015 at 19:43:48
Delighted with the three points, but Martinez must go. Hearing his voice (and what he says) makes me feel physically sick.
Kenwright and he must be the most sickly-sentimental-delusional combination in world football.
I see the press and RM are giving Kone great praise = staggering.
It's all staggering.
There is no sanity any more.
Charles Brewer
80
Posted 22/03/2015 at 19:19:24
All in all, a good, if ill-deserved result. But there are a whole series of major problems.
Kone is not up to much, but despite his poor play, he seemed to give everyone else more space just by being around. A problem, but not a big one.
Osman remains lightweight, but his skill and ability to twist and turn fairly often results in effective forward movement.
Seamus Coleman is one of the saddest sights on a football pitch. From the very beginning I have liked his 'get-your-head-down-and-run-at-them' attitude and his willingness to attack defenders and get into the penalty area. He has a lovely uninhibited attitude. Which has now been crushed into a "don't lose the ball at any costs" approach which means he turns and passes backwards most times. I want my Seamus back!
But the worst, by an astonishing degree, is Howard. He looks like the school playground goalie - the last player picked - who hasn't got a clue. He doesn't come for the ball, regularly a defender retreats into the penalty area sheltering the ball from an opponent, and when he turns and expects the goalie to pick it up, there's no one there. His entire goalkeeping tactic appears to do a star jump and fall backwards. He never attacks the ball, he never tries to catch in the goal area, and it appears that Everton's entire defence tactics consist of Jagielka and Stones diving in with blocks or stopping shots on the line.
His positioning stinks - if I were an opposition manager, I'd be targetting Howard from the first minute: "No matter where you are, have a shot", and "Any crosses more than 6 yards out will not be contested by the goalkeeper", and "If you are 20-25 yards out try lobbing him". Essentially, provided you don't shoot directly at Howard (who will be trying to get out of the way), you will beat him.
Finally, just how unfit is this team? I'm 62 and I do 90 minutes of taekwondo 2-3 times a week, we warm up, we run, we go up and down the hall kicking stuff, we do axe kicks (high kicks bringing down the foot onto an opponent's head), side kicks, back kicks, jumping rotating kicks ... and although it's all explosive movement, injures are rare and I have seen only two hamstring injuries in 6 years. Lukaku, one third of my age and in much better form, runs 20 metres at reasonable speed and does a hamstring. I'd be looking very hard at the training staff.
Patrick Murphy
81
Posted 22/03/2015 at 19:42:29
It's a pity that we couldn't have ground out a few victories last season similar to today's especially at the tail end of the campaign, deep down I don't think that Martinez will be happy with the type of game we played and to be honest it's not the sort of game we want to see on a regular basis but sometimes it's needs must to get the job done. If only we had shown similar organisation and concentration in Kiev. We still need to ensure that we win a couple more to achieve safety mathematically but it would take some strange results to see us drop after today.
Kevin Tully
82
Posted 22/03/2015 at 19:44:23
A little perspective on the QPR performance, they knew this was probably the end of their survival hopes if they lost today. It was always going to be a difficult game from that point of view. Add our travels and no preparation time into the mix, and I would say it's a great 3 points despite the way we played.
Barry Stevens
83
Posted 22/03/2015 at 19:44:12
Poor performance but 3 points is 3 points. Jags and stones top draw. Lennon worked hard. Kone was poor.
Big respect to the blue nose who spent the 2nd half in just his pants!
Paul Thompson
84
Posted 22/03/2015 at 19:45:25
Stones was so much better today than Alcaraz was on Thursday that it makes you wonder whether we might have sneaked a result in Kyiv if the clown hadn't picked the latter.
Mohammed Horoub
85
Posted 22/03/2015 at 19:34:37
Great result. 3 pts closer to safety with some good individual performances on the pitch. Lennon, Jags and Stones were the best but Coleman, Osman, Gibson and McCarthy deserve a mention.
I agree that Kone is now at best a championship player but he basically hurt himself trying to get the win for us. Lennon doesn't get the goal if Kone doesn't bravely go in and sacrifice himself. Hope he's OK and recovers to play on with another team.
The reason I bring Kone up is because I'm sick of 2 cowards that we have on our team. Howard and Barkley are not fit to play for Everton and the sooner the 2 of them are gone the better this team will be.
I figured Rom would pick up the dreaded 'Belgian end of season hammy' but I'm not surprised as these injuries usually appear with nothing to play for.
Really want to stuff Southampton in 2 weeks to get back at them for the loss last year which basically ended our CL hopes. I think now with 1 game per week the pressure is off but June and July will be the most important few months for the club in a long time.
Brian Harrison
87
Posted 22/03/2015 at 20:00:00
I only listened to the Radio City commentary delighted with the win but my nerves are in shreds, in the second half it sounded as they would score with every attack. Graeme Sharp was saying the front men should be working harder to hold the ball up. Obviously we probably need just another win to ensure Premiership football next season. But I have no faith in the charlatan being allowed to spend whatever transfer kitty we have got. Many have said give him till next Xmas to see how he does, but if he has spent our transfer kitty what does the new manager have to spend if the charlatan gets the sack.
I know it would be brave of BK to sack him at the end of the season but I hope he does, that would give the new man a pre season and a transfer kitty and time to assess the squad rather than wait till Xmas and if we have to wait till then for BK to sack him then that will mean we are in the bottom 3.
Andy Meighan
88
Posted 22/03/2015 at 20:07:08
We must be the only side who's played shit and won. Get real – it happens to every team. We can forget the spectre of relegation now... we're safe. I suppose the only downside is it keeps the Spaniard in a job until next season but you just know when Barry is next available he'll walk back in the side, and that's criminal. That's why I can't stomach the man. He's a coward. Gibson is a far far better player. All-in-all, though, what a day! A Redshite loss in the cup final / league title decider and a blues win. Now all I need is for that buck toothed bastard to get a hat-trick in el Classico. Now that would be some end to the perfect day.
Dave Abrahams
89
Posted 22/03/2015 at 20:12:25
I didn't see the game, but I'm made up with the three points. A lot on here think we are safe, and I pray we are, but, with Howard in goal, don't bank on it. Why can't Martinez see how poor he is, and that he has the defence a bag of nerves?
Brent Stephens
90
Posted 22/03/2015 at 20:12:28
I think Bill has to interview Roberto again, for the job of manager (or see it perhaps as his biennial appraisal). He should ask: tell me (again) what were you longer-term aspirations? for the first two seasons, what were your interim aspirations, your plans and fall-back positions in terms of players available, your tactics? to the extent that things went wrong, why? to the extent that things went well, why what have you learned from that? what will you continue to do next season and long term? what will you change next season and long term? what colour shoes will you wear next season?
Unless Bill gets an answer that satisfies him (especially on the shoes)...

Ian Brandes
92
Posted 22/03/2015 at 20:01:18
Charles B
Great post, especially about the training staff. There. Is something greatly amiss about their methods. Who are they?
Did they come with the manager? I do recollect some kind of exodus from Finch Farm a while back.
Generally though, the team's fitness levels may not be up to scratch.
Winston Williamson
93
Posted 22/03/2015 at 20:29:49
Mike (35)....to be fair, I think this season is mine and my sons fault... Last season, my boy wore his Baines home shirt pretty much every time we won. I got him a new Lukaku away shirt and he's worn it all season, up until the Newcastle and QPR games, where he's switched back to his Baines shirt!
Sorry guys! He's wearing the Baines shirt for the rest of his life now!!!
Tim Michael
94
Posted 22/03/2015 at 20:01:48
The three points is only real statistic of the game that matters. After a promising first half an hour the game became panicky and scrappy. We started retreating defensively from the start of the second half and this is where a good goalkeeper comes into play. Howard should be dominating his six yard box and therefore should be vocally moving his defenders out. Instead were right on top of him and that's how their equaliser came about.
Howard has become very much a line keeper with no interest in travelling out for a ball. I believe this to be the biggest contribution to his terrible record this season. Martinez needs to either buy a keeper in the summer or put his faith in Robles, a player he bought! De Gea had an early torrid time at Man Utd but has matured into a fine keeper. Can Robles also do that?
Stones and Jags together with McCarthy's help did a job. Besides his goal, Lennon's workrate was excellent and does so until drops. I agree that Kone was poor but along with Lukaku, early in the game they did show you can defend from the front.
Where does this leave Martinez with Gareth Barry? Nowhere really. QPR home and away and last Sunday's game show his name should no longer be on the team sheet apart from injuries. I see no point in playing him for the remainder of the season. The same goes for Mirallas who doesn't make a 90-min contribution. If Martinez can isolate Distin (unreasonably in my eyes) then he can do the same to Barry and Mirallas.
Let's just try and look forward to the final games of the season.
Paul Smith
95
Posted 22/03/2015 at 20:32:19
Too true Colin.
There were a number of Yanks at the game today who couldn't believe they were actually seeing the great man in the flesh.
Ian Brandes
97
Posted 22/03/2015 at 20:37:31
Brian H
You are correct about entrusting the quarter-wit the transfer dosh. He will buy shite.
Colin Glassar
98
Posted 22/03/2015 at 20:39:25
I mentioned the LA Clippers as they used to be the worst team in the NBA. Not sure if they still are.
Jack Plant
99
Posted 22/03/2015 at 20:49:52
If Rom is out I would like to see Barkley play up front, he doesn't work hard enough to win back possession to play in midfield IMO. I think he could be a real threat leading the line
Mike Hughes
100
Posted 22/03/2015 at 20:50:24
Brent #90 - nice idea - however, with the way RM goes on (and on and on and on), I fear that will be the longest interview of all-time. Perhaps call The Guinness Book of Records first, just so we get some free marketing for the club.
Patrick Murphy
101
Posted 22/03/2015 at 20:53:53
Mike #100 You make a good point and this close season is pretty short between 31st May and August 8th so there may not be enough time for the first answer never mind the whole interview.

Brent Stephens
102
Posted 22/03/2015 at 20:56:10
But he won't be commentating overseas this summer, Patrick, are you factoring that in?
Brian Burns
103
Posted 22/03/2015 at 20:47:59
Paul (79) I have just stopped laughing. Class post and in my opinion, the best /funniest but truthful one I've read on here. Doffs cap!
Tim Michael
104
Posted 22/03/2015 at 21:01:01
Even in his post QPR match comments Martinez still believes we were unfortunate in Kiev. Unbelievable. When is this narrative going to stop???
Kevin Rowlands
105
Posted 22/03/2015 at 20:57:03
What does De Gea, Cortois, Mingolet, Hart, Begovic, Cassillas, Cech, Sczheny, Jaiskelinain have in common? They all are/were No 1's at their clubs and all have been dropped because of poor form. Why the fuck is Howard immune from the same treatment? he's nowhere near as good as any of them, it blows my fucking mind. I pray an MLS team makes him an offer he can't refuse this summer!
Jim Hardin
106
Posted 22/03/2015 at 20:55:51
Paul and Charles, nice to see you wrote your posts before the game so you could get in the "Tim Howard has to go" material. Apparently you missed the game entirely? You wanted him to come out for high balls and he did that when appropriate.
Problem is you want a keeper like Lloris who roams and Howard doesn't play that style. I admit there are different styles and be honest for once about the style you want in the box. BTW, Robles the Savior is not that style either. Go watch his Wigan appearances and his U-23 Spanish appearances and tell me what you see please.
I don't mind people not liking a player when they are honest about it. Please don't try to disguise it by manufactured "fact".
Andy Crooks
107
Posted 22/03/2015 at 21:04:19
Brent # 90 , sadly it is Impossible to imagine Bill asking anything of Martinez. Keep us in the division , don't ask for a transfer kitty and spout mindless babble to the media, the job is yours for as long as you want.
Patrick Murphy
108
Posted 22/03/2015 at 21:12:15
A new toy has emerged on the German Market and it's based on our Manager - Bobby Bunny is the name!
Bobby Bunny
Colin Malone
109
Posted 22/03/2015 at 21:10:34
If Rom is out, get the lad Long back from Brenford, Kone shit, who else?
Eugene Ruane
110
Posted 22/03/2015 at 20:16:56
Glad of the points, appreciated the work of Jags and Lennon, what brains we showed came from Osman, but I thought overall (particularly given the position of the opposition) we were shocking.
Easy to gauge too - I watched in the pub and every 20 seconds there was a pained cry of (take your pick) of "Jesus wept!!" "For fuck's SAKE Everton" "Get fucking RID!!" etc
(Oh, and one "Come and collect it you Taliban headed twat!")
As for Kone, the only acceptable explanation for that performance would be if someone had covered him all over in those flippers you get on pinball tables.
Graham Mockford
111
Posted 22/03/2015 at 21:02:07
Charles Brewer #80
You are wrong about Coleman, Osman and Howard. But it was nice to hear about your tae kwon do, especially as a sixties exercise class is so relevant to Premier League football.

Roger Helm
113
Posted 22/03/2015 at 21:10:13
Delighted with the win and relieved we won't be relegated but angry we are in this position to begin with. A team of full internationals, the seventh or eighth (I think) highest paid in the division in a relegation scrap?
In the summer we need a clear out - Howard, Osman, Hibbert, Barry, Distin, Pienaar (too old and/or slow), Mirallas, Barkley, (too lazy), Alcaraz, McGeady, Atsu, Kone (not Premier League quality).
But is Martinez the one to trust with a transfer kitty? Of his signings, Lukaku and McCarthy are PL quality but way over-priced, Besic and Kone are squad/bench players, again over-priced, and Atsu, Alcaraz and McGeady should never have worn our shirt and Robles is one for the future. As for Barry – a three-year contract for a 33-year-old? The rest of the football world must have been pissing themselves!
But we are stuck with him for another season at least. I am disappointed as I imagined that with his European contacts we would have a stream of cheapish high-quality Latin imports.
Colin Glassar
114
Posted 22/03/2015 at 21:22:55
Kone's 'knock' will probably put him out for the rest of the season. Fortunately, we have Nessie and Ross who can play higher up the field. Lukaku would be a far more serious loss to us.
Mike Hughes
115
Posted 22/03/2015 at 21:32:02
Patrick #101 - that can't be right.
The bunny looks like it's doing some kind of fitness regime. Won't be our kind of thing. We're above that.

Colin Glassar
116
Posted 22/03/2015 at 21:34:40
Tamhas, really? When I lived in the states the Clippers, Nuggets, Nets and Timberwolves were the worst teams. Michael Jordan's Bulls were the top dogs closely followed by Phoenix Suns and Utah Jazz. How times change.
Phil Smith
117
Posted 22/03/2015 at 21:47:26
Graham (111) - haha.
Relieved with the points and hopfully that lifts a bit of pressure from the lads. Hope we can go out and get as many points as possible now and forget this season ever happened!
Barry Jones
118
Posted 22/03/2015 at 21:58:34
Why did the ball turn into a bar of soap every time it arrived at the feet of Kone? How anyone can say he had a decent game is beyond my imagination. He conceded possession with virtually every touch and when he did manage to control it, his passing was dreadful. Yes we were over-run in midfield but Kone consistently giving up the ball did not help or inspire confidence.
Patrick Murphy
119
Posted 22/03/2015 at 22:03:18
Imagine how frightening the run-in would have been if we had been beaten today - possibly no recognised striker for the next game with the likelihood that Kone won't play again this season.
We may already have enough points in the bag to survive this season but it is very scary to see how it may have panned out with only a few more bad results. It's a good job the fans got angry at Goodison, as it seems to have given just enough motivation for the team to gain those most valuable six points in the last two games.
Gavin Johnson
120
Posted 22/03/2015 at 21:49:29
Charles #80 I really enjoyed reading your post. It was funny I was just thinking yesterday that we'd seemed to have turned the corner in regards to all these hamstring injuries. Looks like I thought too soon.
By the way, your assessment on Howard was spot on. Howard is ruining his legacy as being our best GK in the last 30 years behind, Southall and Martyn. I'd take Richard Wright back as a safer pair of hands than him right now. The thought of him remaining in goal for another season will give me an ulcer.
Tony Hill
123
Posted 22/03/2015 at 22:25:14
Yes Patrick (119), very tight margins indeed. We have been fortunate that this season has produced really poor sides in the bottom third and that we have scratched two away wins against Palace and now today when we could very easily have lost on the balance of play.
Tony Marsh
124
Posted 22/03/2015 at 22:22:01
Utter shite performance to match the utter shite season. Howard again at fault for the goal. One clean sheet since he returned and that was against 10-man Newcastle.
I hate watching us play and I hate listening to Bobby bullshit. With this squad we should be smashing teams in the bottom half.
I give up.
Ross Edwards
125
Posted 22/03/2015 at 22:37:03
The fan who goes in just his speedos is an absolute embarrassment to the club. It was funny the first time but now it's just cringeworthy.
Patrick Murphy
126
Posted 22/03/2015 at 22:40:07
Ross - It might have been Phil W on his way to warmer climes! Sorry Phil :)
Ross Edwards
129
Posted 22/03/2015 at 22:44:29
Ha, where is Phil going I wonder? Spain maybe? Catalonia perhaps?
Paul Smith
130
Posted 22/03/2015 at 22:47:43
Ross he was doing it to raise money, mate. He had a sign up all game displaying a charitable aim (I was a few rows back from him). I agree it's not about fancy dress.
Tom Bowers
131
Posted 22/03/2015 at 22:43:46
Getting the points was more important than the performance today. The Blues have played much better in many games and got nothing. The glaring weaknesses are still there and one doesn't know if that will ever change under this manager. Everton desperately need two wide midfielders who can win the ball and surge forward consistently and not just for the first 20 minutes.
What we have seen this season has not been good enough and that includes Ross Barkley. Everton are not that bad when in possession but when not they are all over the place chasing shadows forcing too much pressure on the back four. This was so evident yet again today against a side like QPR.
As someone posted earlier, Everton somehow contrived to make QPR look like world beaters. If they play like that in the next game against the Saints, they won't be so lucky.
Ross Edwards
132
Posted 22/03/2015 at 22:52:51
Ah, thank you Paul. I didn't know it was for charity. I just thought he was doing to attract attention.
Brian Wilkinson
133
Posted 22/03/2015 at 22:45:10
No need to give players credit after Thursday's performance, we set out like this against Newcastle and won, we should have stuck with the 4-4-2 and kept faith with Osman and Gibson last Thursday, too little too late now.
We all know Barry will be brought back in next game, I would love to get over the Polaroids Barry has of Roberto, pass them on to Bobby on condition he sticks with Gibson.
I am just waiting for a player to get injured in training, or bobby catching a midfielders foot in the door, to allow Barry to come straight back in.

Charles Brewer
134
Posted 22/03/2015 at 22:58:41
Graham #111, in the first place, I am, by about 10 years, the oldest in my tkd class; most are under 25, and no quarter is given (or asked). I regularly get battered by teenagers, yesterday for example. I do my best to return what I receive.
More importantly, in what way am I wrong about Howard (an flappy, cowardly liability saved from serial ignominy by Jagielka and Stones), Coleman (a proven excellent, intuitive player crippled, it would seem, by managerial instructions) or Osman (does get knocked off the ball, so lightweight, but does work well in tight situations).
Peter Creer
135
Posted 22/03/2015 at 23:36:45
Today's game was a great away win and was the type of game that we should have had in Kiev. It started and ended with the spine of the team; Stones and Jagielka, Gibson and McCarthy and Lukaku and Kone. My man of the match would have to be John Stones who, as usual, was calm and controlled, mopping up whenever there was QPR attack.
The past two weeks have unequivocally confirmed for me that Gareth Barry should not be the 'go-to guy' for Martinez. He is too slow and does not contribute in the final third. Gibson was excellent and deserves to stay in the team for the long term. His partnership with McCarthy continues to flourish with the pair being able to play off each other really well. At Newcastle, McCarthy ventured forward and today that was true for Gibson.
I now hope that Lukaku's hamstring was not so badly injured. For all of the comments about the training staff and how 'unfit' the team is we have to agree that these players are playing at a level that very few (if any) of us understand. Lukaku started that run in his own half and was going full out past the eighteen yard line (not 20 metres).
Let's get behind our boys and push them on up the table. COYB's

Paul Kelly
136
Posted 23/03/2015 at 00:06:06
Sigh of relief after that one.
Another step closer to safety, more down to QPR's ineptness. But that is the luck we need.
This clown can't be in charge for much longer surely.
Gavin Johnson
137
Posted 23/03/2015 at 00:16:13
I'll give Martinez his due for effectively playing a 4-4-2.
I remember watching a show on the BBC about Swansea last year and there was segment where Martinez was interviewed. He said many Swansea fans would say they needed to go back to 4-4-2 once they got promoted to the Championship. His reaction was that 4-4-2 didn't fit with how he thought the game should be played.
So I'll give him credit for the last 2 league games, although I bet that part of him is secretly seething that this formation that he probably deems as archaic is grinding out results. Long may it continue.
Andy Crooks
138
Posted 23/03/2015 at 00:23:30
A nerve-wracking afternoon with the vital three points gained. I thought we were poor but it'll do. We are not safe quite yet, in my view, because I believe since Christmas and right now we are the worst team in the Premier league.
I just want us to scrape past the post and get rid of Martinez. I suspect, though, that this piss poor show today is enough for our formless chairman to start next season with our fool.
Mike Dolan
139
Posted 23/03/2015 at 00:42:34
A good win today considering the team never got in from Kiev until 2 in the morning and had to pick themselves up from the mugging last Thursday. I thought Jags and Stones were really good, Osman such a smart player who over the years has been so under appreciated on this site just needs to play most of every game.
I hope Martinez is given at least one more season because either this season or last season was an aberration and non of you know really which one it is so I'd be very careful your not to quick to throw the baby out with the bath water. He is either the total clown that some of you think he is or he's solid gold genius like he was last season. All I know is that there were times last season when we were a total joy to watch, easily the match of teams that have resources that are massive compared to ours. I think you would all do well to remember that.
Patrick Murphy
140
Posted 23/03/2015 at 01:28:18
Mike - I agree that last term did provide some decent performances but it also had its fair share of what we have seen this season, the biggest difference from this season to last has been our defensive frailty causing us to drop points we may have gotten last season.
There were as you say a few memorable games last season, Arsenal home and away; doing the double against United, the Goodison derby, the display at Villa Park and perhaps the crucial first win of the season against Chelsea, now I'm struggling to remember any more outstanding performances from the last campaign.
We also saw a surrender in the FA Cup at the Emirates and abject performances at Southampton, Cardiff and Palace. Notice how well we did against most of the top teams last season and how relatively poor the results and performances against most of those teams have been this season.

Given that most of our victories this term have come against teams from the lower half of the table, I can't see how we can take any view other than we have fallen down the pecking order in the Premier League.
If Martinez does remain in charge, I hope he does manage to get us back to where we think we should be, but seeing how most of the decent sides have sussed our style out this season - last season we caught most of them on the hop - I think our days of top eight or better being almost guaranteed are possibly over unless of course we happen to bring in better and hungrier players in the next window and the manager picks the right combination to maximise Everton's chances of beating our opponents.

Paul Ward
141
Posted 23/03/2015 at 01:23:35
Can't add much to the majority views of 3 points is 3 points. The thing that does baffle me is why has it taken posters so long to realise what a second-rate goalkeeper Howard is. For the last 3 seasons, he has made mistakes that have in most cases not affected results but little criticism was seen on these pages; now, it seems the penny has dropped. The Man Utd reject has never been anything but a shot-stopper.
Eddie Dunn
142
Posted 23/03/2015 at 07:59:04
The result was a relief, but we hardly threatened Green's goal. Howard only came and caught a couple near the end but was again at fault crawling on the ground for their goal.
Stones and Jags were great, so why, oh why didn't the boss start with them in Kiev? And as for his comments regarding adapting to Europe! I wonder what planet he is living on.
Graham Mockford
143
Posted 23/03/2015 at 08:41:09
Charles #134
You are wrong because the root of the problem is not the players you like to vilify but the system deployed and the management of the club.
All the players you single out have proven their abilities over a number of years, and in the case of Ossie and Tim, two players who are amongst the highest number of appearances for this club ever.
My natural reaction to such players is to support them and challenge some of the ridiculous over the top criticism that is spouted on here. A goal hasn't gone in in the last couple of months where Tim is not getting the blame. Thursday he gets beaten by two worldies and he's badly positioned. I would freely admit he's not been at his best at times but I also think he has not been helped by the players in front of him.
As for you suggestion I should support Liverpool
(which I may point out is a big no no on here and has seen people banned) let me quote Malcom Tucker.
"When I want your advice, I will give you a special signal, that will be when I am sectioned under the Mental Health Act"
Gavin Johnson
144
Posted 23/03/2015 at 11:52:52
I don't think anyone on TW holds Tim Howard personally responsible for our woes and realise the problem lies with Martinez for continuing to pick him when we have a perfectly good goalkeeper who doesn't move on his line like a crab whenever a cross or corner comes in. Many are baffled why Robles was benched after keeping 3 consecutive clean sheets.
Michael Polley
145
Posted 23/03/2015 at 13:19:25
I thought we defended like Bravehearts considering QPR threw everything including the kitchen sink at us. Jags & Stones were pretty solid.
We showed some character & spirit considering this was on the back of a shambolic performance on Thursday & a 3,000-mile roundtrip from Kiev. Well done.
Thank fuck Alcaraz wasn't playing. Hope he never wears the Blue again.
Roger Helm
146
Posted 23/03/2015 at 15:43:21
In previous posts I may have inadvertently given the impression that we are a complete shower led by a charlatan and doomed to relegation.
Of course, we were never in danger of the drop, our lads defend magnificently and the manager is adaptable enough to get a result when it counts.
Mike Dolan
147
Posted 23/03/2015 at 15:22:23
Patrick #140. I have to say from the outset that I think Martinez has the potential to be a great manager. He inherited a decent if aging squad of players from a good manager.
Everton under Moyes had settled into a level where it was accepted that we would never be good enough to break into the elite little bunch at the top but we would always just good enough to finish somewhere in the top 10. How many times did Moyes say that his first goal was to secure 40 pts?
Unless you catch lightening in a bottle, it takes several transfer markets before you can really say that the team on the field is any given manager's team but I think it's pretty obvious that the group of players that we have today is a massive improvement on the team that Positive Bob inherited.
The jury I agree is still out on the preparation and coaching but I think that just given time and the overhauling of the center of the defense, this same group of players and manager would produce a vastly improved style of play and consistently better results.
Charles Brewer
148
Posted 23/03/2015 at 15:39:34
Graham #143. A goalkeeper has one major job to do, and a couple of minor ones. The big one is to stop goals. The Squawka site has stats on footballers, using Opta stats to evaluate. http://tinyurl.com/lktrcqf
Each player is evaluated as a defender, an attacker, and in possession. The only one of any consequence for a goalkeeper is in defence. Mingolet scores 392, Fabianski 494, Foster 110. Tim Howard scores –100, yes, minus 100.
For some opaque reason he scores 67 for "possession" (a bit of a mystery given his almost invariable 'punch to the opposition' style of goalkeeping). As such, he is the lowest scoring keeper in the Premier League. His positioning is terrible, his commitment is absent, his goalkeeping style 'star jump and lie down' is shocking, and exactly why he was crawling around on the ground when QPR scored yesterday is a total mystery.
What exactly poor Robles has done wrong is beyond my understanding. He started nervously but was clearly improving and gaining confidence with every game he played. He may not be another Neville Southall, but he's almost certainly the best mature goalkeeper on Everton's books at present.
As for Osman, I think he's an excellent player, but there isn't much of him and he usually comes off second best in any kind of physical competition and he's getting on a bit so playing him for 90 minutes is probably not the best tactic.
It's not criticism, it's like saying that since Messi is 5-ft 7-in, he can't be expected to win many Duncan Ferguson style contested headers from corners in the penalty area.
James Hughes
149
Posted 23/03/2015 at 16:28:55
Mike #147 re your first sentence, which is -
"I have to say from the outset that I think Martinez has the potential to be a great manager."
Mate, you either have the driest humour ever or need some caffeine in the mornings.
I can't slag RM off anymore because it's beginning to feel like I am bullying him. So I will just echo the comments of Roger (#146): Tally-Ho chaps, pip-pip, hurrah and 3 cheers for good old Bobby he's a smashing fellow
Mike Dolan
150
Posted 23/03/2015 at 16:57:17
Lets look at it this way:
Center of the defense:
Jags suffered from a World Cup hangover at the beginning of season
Distin just got too old all of a sudden
Howard goes kind of mental... is it age?
Barry, never fast, became glacial this year,
Creative Midfielders:
Pienaar hasn't played
Osman hardly played
McCarthy missed a lot of the season
Gibson hardly played
Barkley missed a lot of the season
Barry too slow
And we wonder why we are not in the top four?CWhich manager would have done better do you think?
---
Add Your Comments
In order to post a comment, you need to be logged in as a registered user of the site.
Or Sign up as a ToffeeWeb Member — it's free, takes just a few minutes and will allow you to post your comments on articles and Talking Points submissions across the site.
© ToffeeWeb