First Goodison goal could be a turning point for Kone
by

50 Comments [Jump to last]
| 10/08/2015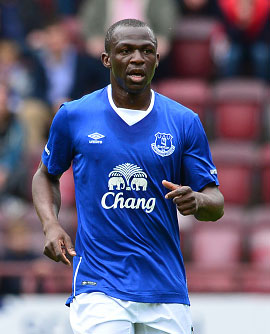 (Mark Runnacles/Getty Images)
Roberto Martinez admits that Saturday was the first time he has seen "the real Arouna Kone" since he arrived at Everton two years ago and he predicts his vital equaliser against Watford could prove to be a transformative moment.
The Ivorian striker was Martinez's first signing as the Toffees' manager when he drafted him on from his former club Wigan for Ł6m but following a disappointing pre-season, he was struck down with a serious knee injury that almost ended his career.
Kone battled back to fitness after well over a year on the sidelines but while he managed to register his only other goal in a Blue jersey in a 3-2 defeat at Newcastle in the final match of 2014, he failed to show that he was a capable deputy for Romelu Lukaku.
Despite giving him this summer to again stake his claim for more regular first-team action, Martinez appeared to come to the same conclusion as many Everton fans when he announced that he had added a striker to his list of transfer priorities before the 1st September transfer deadline.
Nevertheless, he turned to the 31-year-old on Saturday when the Blues were trailing Watford 2-1 and his striking duo combined for Kone to score his first goal in front of the home fans to earn a 2-2 draw.
"It's great to see Arouna grabbing the responsibility of wanting to impress at Everton and I know what he can do," the manager said in the Liverpool Echo. He clearly changed the game for us and it could be a turning point for his career at Everton.
"Since the day he arrived it's been one thing after another for him and it's been a big mountain for him to climb.
"I must admit I haven't seen the real Arouna Kone that I know he can be until Saturday.
"First he misses a header and you think nine times out of 10 it's in the back of the net but then he took his chance and he was clinical.
"Sometimes as a player you need to accept what's around you and I think he's done that.
"I think he's been a great example to every youngster at the football club because nothing was going his way but he kept showing himself and believing in himself and the other players and staff tried to help him along."
---
Reader Comments (50)
Note: the following content is not moderated or vetted by the site owners at the time of submission. Comments are the responsibility of the poster. Disclaimer
Anthony Jaras
2
Posted 10/08/2015 at 07:46:26
I must admit, I've always wondered why Kone was selected and even in Saturday, I wondered why he was coming on.
One thing I've never done though is boo him and I thought it was disgraceful the way he was booed as he came on to the pitch against Watford.
Do fans think that's gonna help matters?
Embarrassing behaviour.
Jim Bennings
3
Posted 10/08/2015 at 07:52:53
I agree Anthony, I have seen some bad players over the year's at Everton but I have never booed an individual player.
As it turned out he came on and at least looked like the more valuable striker than Lukaku, who again was frustrating to put it kindly.
I was very pleased for Kone of course and I want to see him do well but it's still massively important that we sign a top quality striker, it's imperative because if Martinez is going to persist with this 4-5-1 formation, and it looks like he will, then for me Lukaku really isn't your man.
He just can't play the lone striker role well and the sooner our manager see's this the better.
Paul Jeronovich
4
Posted 10/08/2015 at 08:02:48
I've given Kone a lot of stick over the last few months, quite justified if I'm honest but I wouldn't boo him. I'm not getting over excited either as we still need another striker and Martinez needs to big him up to save his own arse as he signed him and put him on big wages.
Eddie Dunn
5
Posted 10/08/2015 at 08:08:01
As Roberto praises the lad he will be lining-up his replacement.
Gary Hart
6
Posted 10/08/2015 at 08:13:51
Those boo boys are an absolute disgrace, an embarrassment to our club and should hang their heads in shame. Booing at half time in the first game of the season, then booing a sub coming on - unbelievable. Wish they'd stay away.
Peter Howard
7
Posted 10/08/2015 at 08:27:17
"......sometimes as a player you need to accept what's around you.........."
Quite!
John Jones
8
Posted 10/08/2015 at 08:28:57
What's going to be the turning Point for Martinez? One goal is not going to enough...
Anthony Flack
9
Posted 10/08/2015 at 08:29:25
Eddie, more worryingly I suspect Kone will be presented as just like a new signing.
I have nothing against him, but to date he is evidently not good enough.
Stephen Brown
10
Posted 10/08/2015 at 08:33:56
Booing any Everton player is really counter productive. I don't wish to play amateur psychologist but I'm sure the grumbles and groans of the crowd have a huge affect on Ross Barkley!
Pleased Kone scored a goal but I still think we desperately need another option upfront! Lukaku will score goals but I hate to say I get the impression he thinks he's doing us a big favour playing for us!!
Craig Fletcher
11
Posted 10/08/2015 at 08:38:27
It would be great if Kone this season becomes a game-changing option from the bench. How many times over the past decade have we bemoaned a lack of options on the subs bench when we're trying to chase a game?
Phil Walling
12
Posted 10/08/2015 at 08:41:25
I'm too far away to boo anybody but it's good to see the lad has, at last, shown why Roberto felt he was worth spending £6M for. No doubt that 30 minutes of excellent contribution to the cause will provide a reason to avoid spending money on a striker. BK will be rubbing his hands !
Trevor Peers
13
Posted 10/08/2015 at 08:56:18
Kone only operates best in a 4 4 2 system, a system not likely to be employed too often by Roberto.
Even then he's heading ability is poor and he lacks strength and pace. Pleased for the lad scoring his first goal though, because he's had a wretched time since we bought him.
Overall he's just not good enough, despite what Roberto said in his usual OT optimistic manner, which smacked of desperation.
Dave Abrahams
14
Posted 10/08/2015 at 09:06:18
I'm not against booing but I've booed an individual player only the team for lack of guile and effort.
I wrote last week that I thought Kone wasn't fit and didn't think he would ever regain full fitness again. There was no doubt in my mind that Kone when properly fit is a good player, I still don't think he will ever be 100 per cent fit but credit the lad he came on and played well, he even livened Lukaku up and maybe gave life to the fact Lukaku plays better with another striker alongside him.
Darren Bailey
15
Posted 10/08/2015 at 09:07:39
It's like a new signing!
Jim Bennings
16
Posted 10/08/2015 at 09:08:54
Trevor
You can argue that Lukaku only operates well in a 4-4-2 formation also, I personally have no idea what Martinez see's when he plays Lukaku as the lone striker but it must be very different to what I have witnessed and those who watch him every week.
To put it simple, 4-5-1 hasn't been a real roaring success since the day's of Marcus Bent or Andy Johnson playing up top with Tim Cahill running in behind late.
It worked briefly in the first season under Martinez but we lost our way at times that season because of no plan B and two seasons on, well nearly every other side in the league now knows how to stop Everton's plan A and still despite last season's struggles Martinez persists at home to Watford with the same tried and failed Plan A of the 4-5-1..
I'm asking myself is this now part of the Everton Football Club DNA??
What's Latin for "they must play 4-5-1 at all costs".
It only improved when he went two up front but will he be bold enough or even intelligent enough to actually try starting a game on the front foot with that two forwards?
I very much doubt it!
Steve Cotton
17
Posted 10/08/2015 at 09:19:57
To be fair to Lukaku he had not kicked a ball in anger since the 'heavy legs' incident and players like him need regular football to stay sharp, so hopefully he will sharpen up by the next game.
As for Kone, okay, he is a smaller more limited version of Big Rom but he knows where the net is when he is fit and looked better in a front 2 on Saturday.
Also it surely forces the opponents back when you have 2 strikers on the pitch, which therefore means that the midfielders can harry faster andkeep the pressure in the opponents half. We actually looked dangerous for a good period there. Learn the lesson, Roberto.
Dave Abrahams
18
Posted 10/08/2015 at 09:23:08
At (11) that should have read. I've never booed an individual player.
Tony Abrahams
19
Posted 10/08/2015 at 09:25:54
In the modern game of football, I think it's only possible to play two strikers in 3-5-2 formation. The other reason I want to play like this is because our fullbacks don't look like they are being instructed to cover the Centrebacks.
The present system, exposes too many players defensively, it's plain to see. It actually doesn't do a lot for us offensively either, because we never get many players into the oppositions box.
Alexander Sterpikov
20
Posted 10/08/2015 at 09:56:26
Kone was heavily involved in us coming back in the game, with one assist and one good. He deserves to be recognised for that. We should support our players, and if Kone - with our support - can bag 10-15 goals (like he did at Wigan), it will be a great supplement to the goals from Lukaku, Mirallas and co.
Shane Corcoran
21
Posted 10/08/2015 at 10:00:02
In fairness the booing may have been for Martinez's choice of sub rather than booing the player himself. I think that's a subtle difference.
Kone's first touch for Barkley's goal shouldn't be anything more than is expected from a player at his level but it becomes relevant relative to Lukaku's.
Trevor Powell
22
Posted 10/08/2015 at 10:00:58
Sorry but for me the old adage "One swallow does not make a summer".
Kevin O'Regan
23
Posted 10/08/2015 at 10:12:36
A lot of catch up work to be done yet by both manager and player to get out of this hole - but booing is simply not on. Any subtle differences are lost on those involved. If our starting point of next match is the 2nd half of Watford game then I'm happy for now, but no way 2nd Watford goal should have come. If your 2 centre back are throwing themselves into stopping an attack then sooner or later they will be found out. At least one of them needs to stay on their feet. Still, came back twice, and good goals for 2 men starving of confidence.
Jim Bennings
24
Posted 10/08/2015 at 10:14:12
Alexander
I just can't see Kone getting 10-15 goals mate, I love your positivity but it's not going to happen.
He's scored a good goal there Saturday but it's the first time he's looked like hitting the net all year plus he's not going to be on the pitch enough.
I don't even see how Lukaku is going to get 15 this season playing the way we do.
People harp on about his 20 tally of last season but he got 10 in the league and that was a real struggle for him.
I think a more realistic expectation would be 11 or 12 at the very best from Lukaku and maybe 5 or 6 from Kone.
Is that good enough? No it's not but it's about realistic.
Conn Prosser
25
Posted 10/08/2015 at 11:11:18
Everyone's pleased with Kone's contribution. Most likely, he'll hit a purple patch and score three or four in the next few games, thus ending our need to buy another striker. Then he'll be out for six months with niggling hamstring problems.
Wow, that was bleak. Apologies for that.
Julian Exshaw
26
Posted 10/08/2015 at 11:11:44
To be fair to Kone, I don't think there has ever been a case of him not trying ( which may be the only reason to boo anyone)and he has been dogged by injury and poor form. In the best case, he will be a useful sub as he was on Saturday. Good luck to the lad and let's support him.
Bobby Thomas
27
Posted 10/08/2015 at 11:29:29
Lukaku is dying on his arse in this system, style & tempo.
Why sign him to play like this?
Will never happen but swap him for Bony at City. In fact when Bony fet fed up of playing no football there, flog Rom & get Bony in. His back to goal play is fantastic.
Jim Bennings
28
Posted 10/08/2015 at 11:53:39
Bobby
I'd love Bony at Everton, I don't think he's outstanding enough for clubs wanting to win the Champions League but for a team like ourselves and Swansea he'd offer a more all-round complete striker than Lukaku.
There's no way it's going to be a swap deal though.
Anthony Jaras
29
Posted 10/08/2015 at 11:59:15
I sit right at the front of the Gwladys, well, about ten rows from the front and some of the things I hear around me have me cringing badly.
Worse part about it, often it's middle aged men shouting stuff you'd expect to hear in a primary school playground.
Funniest thing from last season was a bloke in his thirties literally frothing at the mouth shouting and swearing at Sergio Aguero because when he was warming up, his feet went onto the pitch ha ha!!
With regards to Lukaku, I've been a critic but Saturday showed me that with help up top, he can link well. Same with Barkley, he can to life with Kone to look to.
The sooner we play two strikers, the better.
Dave Whitwell
30
Posted 10/08/2015 at 12:06:27
I don't think either Kone or Lukaku have a particular issue playing as a lone striker, more to the point I think is the issue in the way we play it.
It seems perfectly clear to me that the Barry / McCarthy partnership is offering nothing to us defensively as we still keep shipping goals, it definitely adds nothing offensively. For me this is the area that is killing the team.
We should have McCarthy playing the defensive role, 2 wingers and 2 advanced central midfield players. Then I think the forwards would show us a bit more.
Does anybody remember when a midfield player could do it all, rather than being boxed into defensive / box to box / playmaker?
Jim Knightley
32
Posted 10/08/2015 at 12:24:54
It's not the formation that causes issues for Lukaku - it's the way we play. I can't believe we will see have people who think sticking two strikers up front is an effective way around things. Teams typically play variations of 4-3-3 and 4-2-3-1 - Barca play 4-3-3, Real play one of the two, Bayern play one of the two, Chelsea play 4-2-3-1, Arsenal 4-2-3-1 etc etc. They play it for a reason, and two strikers has died as the formation of choice for a reason. An attacking midfielder can provide danger from running from depth, give an addition to the midfielder and give greater creative options.
The problem for Lukaku, and any other striker up top, is the nature of our service. As I've argued plenty of times before, anyone who knows this team knows we need a different kind of attacking midfield player. Mirallas, Barkley, Deulofeu and McGeady all play with their head down too often. They take too many touches, and they mess with the speed of play. Watch Swansea play the passing game Martinez should play - their players move it on quickly and efficiency, and play forward. They play with one touch. Our attacking midfielders take an age on the ball, and we are forced to play back and sideways as a consequence. Our defensive midfielders are ball winners and not playmakers. Any striker playing in front of our midfield will suffer because the inconsistent and speed of service. Lukaku needs the ball played to him quickly - whether that be pull backs (which he thrives on), crosses, or opportunities to get him one on one with players. But we play at a snail's pace, unless teams come onto to us with cavalier tactics (Wolfsburg) and Martinez decides they warrant a counter attacking strategy.
Lukaku will score the goals he can score when we play a better system. In my opinion, that system should see Cleverley installed in place of Barry next to McCarthy, and an attacking creative midfielder who can play centrally and out wide brought in. Let Deulofeu, Mirallas and Barkley and whoever else compete for the place next to a genuinely creative presence who can control our tempo and get us in behind. Glimpses of Gibson and Osman's performances demonstrated just how much better we'd be with more creativity/passing ability, and neither are exactly fantastic players.
The sooner Martinez sorts out the creative issue, the better for the team as a whole. We need a backup senior CB, but we desperately need a creative midfielder and for Martinez to see that it's not the DM issues which are leaving us weak at the back. It's the absurd positioning and freedom given to the CBs, and work done by the attacking players. With a little more restraint and discipline, with the installation of a talented creative player, and with a quicker approach our first 11 would once more be legitimate top 6 contenders. Where Martinez can see beyond his bizzare and stubborn approach to team formation is another question.
Good news on Kone for a the goal. He should not be booed - it's counterproductive and unfair. An injury has derailed him, and it's doubtful that he will ever get back to his best Levante and Wigan form at the age of 31. But a fit and more confident Kone will be better than the shadow of a former player we've seen. If he can get half a dozen league goals from subs and occasional starts, and perform in easier cup games, then he will be a benefit to the squad. I'd like to see another young striker come in though, along with the priority playmaker and CB.
Jim Bennings
33
Posted 10/08/2015 at 12:25:33
Dave
Tell that to Martinez who seems to have a pathological fear of losing that makes David Moyes look like an attack minded genius.
Martinez came with this label of being an attack minded manager but as you say, two defensive midfielders,? At home to Watford?
What's that all about really?
I agree with your point, McCarthy and Barry clearly offer nothing in the way of defensive protection, we are hardly clean sheet experts.
Harold Matthews
34
Posted 10/08/2015 at 12:40:30
Spot on Jim. Can't beat a bit of realism. With the present line-up and slow build up, Lukaku will do well to reach double figures. I'm not sure about Kone, a player I've supported since day one. Martinez has never claimed he was a goal scorer and he isn't. He said Kone's main strength was his ability to read the movements of his team-mates, as he demonstrated when linking up for our goals against Swansea, Burnley and Watford.
Watching the game on Saturday, it seemed that he and Cleverley were the only people trying to do things in a different manner to the usual predictable stuff.
As I have mentioned on another thread, we paid a fortune for a very left-sided striker and carefully set things so 80% of his service comes from the right. We now need to alter things or sign a top right-sided striker.
Trevor Peers
35
Posted 10/08/2015 at 13:03:44
Harold if Kone isn't a goal scorer, what would your and Roberto's description of the player be?

How about Player Without Portfolio? I'm sure Roberto would be chuffed with this new name and further add to his reputation as a soccer visionary.

All nonsense of course he's a striker and is expected to score lots of goals, so far he hasn't.
Dave Pritchard
36
Posted 10/08/2015 at 13:13:04
Will Lukaku and Kone ever get a run in the same side? They linked nicely for Kone's goal and although one goal doesn't prove anything it would be interesting to see what happened if we played them both for a while. I don't think Lukaku can play as a lone striker, not with the way we play anyway
Tony Abrahams
37
Posted 10/08/2015 at 13:14:12
Jim if you think that the Centrebacks, have absurd positioning and too much freedom, then what do you think of our fullbacks?
Agree with you on Lukaku, but if we speed up the crosses, I'm not sure the big fella would get there. He just doesn't attack the goal enough for me.
Drew Shortis
38
Posted 10/08/2015 at 13:47:01
Well done Kone, good effort. 2-2 was dissapointing, but 1-2 would have put us all into a real downer.
4-4-2 was once pretty much the default formation for English teams, but it fell out of favour as more foreign managers started coming in, and teams had to adapt their tactics.
However, in recent years it seems to have been making a return to the Premier League as teams learn to cope with the lone striker and attacking midfielder systems. Clearly the lone striker system can work with someone like Drogba, Costa or Benteke leading the line, but it doesn't suit every player or every team.
Lukaku IS a very good striker but lacks the first touch and holdup play to pull it off every week. He needs a partner who is willing to make run and open up space for him. Get the ball to him in the box and he is a deadly finisher.
I would like to see Lukaku and Austin (or whoever) up front, two wingers, McCarthy and Cleverly in midfield and Everton playing a bit more directly at suitable times of the game.
If we can find this illusive number 10 who can split defences with a pinpoint pass then by all means use the 4-2-3-1, but until that happens we need to adapt our tactics to suit the personnel at our disposal.
John Malone
39
Posted 10/08/2015 at 13:53:49
If the manager took his head from out of his arse and played a different system with Kone and Lukaku up top together I guarantee we would score goal's and be a lot more exciting to watch!
Harold Matthews
40
Posted 10/08/2015 at 13:56:40
Nice one Trevor. Yes, as a striker he is expected to score goals but he definitely improves our link-up play and is involved in most of the good moves. His first time pass to McCarthy in the build-up for the Mirallis tap in against Burnley was top drawer stuff. He read McCarthy's run before he made it and put the ball on a sixpence.
I'm not saying he is the answer to our goal drought but Martinez knew he would make a difference and he did.
Of course, we would prefer a younger, fitter, faster player with the same ability to read team-mates movements whilst scoring 15 goals a season but these lads don't come cheap. They are also difficult to find. If they do become available the money clubs sweep them up in an instant.
Tom Bowers
41
Posted 10/08/2015 at 14:00:03
Let's hope and see what happens.
We certainly need players who were a disappointment last season to step it up this season if they can.
Kone took his goal well at a vital time and coming off the bench could be the key.
Phil Smith
42
Posted 10/08/2015 at 17:52:19
I don't think they were booing the player but the manager's decision...
Trevor Peers
43
Posted 10/08/2015 at 18:13:17
Excuse my sarcasm Harold, couldn't resist. Of course your right top strikers don't come cheap that's for sure.
Let's hope for a deadline day bargain to add to our strike force.
Nigel Munford
44
Posted 10/08/2015 at 18:14:54
It worries me that we have four across the back and two defensive midfielders and we are still conceding goals.
Peter Fearon
45
Posted 10/08/2015 at 21:17:18
I am happy for him that Kone scored on Saturday but distraught that it means that he probably keeps his sinecure as Everton's back up striker for another two seasons. The booing was not at Kone particularly. It was for the decision to bring him on and not Naismith which would have been the obvious choice. It is a crime that Naismith has become so marginalized. He is one of he few creative players we have willing to take on a defender and beat him with the ball at his feet.
John Zapa
46
Posted 10/08/2015 at 21:26:41
I suppose it would only be right to reward him with a bumper 4 year contract as he will be crucial to the future success of the club...
James O'Connell
47
Posted 10/08/2015 at 22:27:28
Would still love us to sign Austin. I know many would argue he isn't proven or not good enough but I remember similar comments about Timmy Cahill and for me Austin has the same attitude which could be the heart the team needs.
Ant Dwyer
48
Posted 11/08/2015 at 09:25:32
I'm far from a fan of Kone but his introduction to the game at the weekend was the closest thing to a positive we had.
He is not a good striker and he can not play up front on his own, but he can take defenders away from Lukaku and Barkley and make space with his selfless runs.
Lukaku needs Kone to start with him as he did not get one single chance during the 90 minutes played v Watford.
Something has to change.
Michael Polley
49
Posted 11/08/2015 at 10:23:53
Agree we need another front man to support Lukaku, but all credit to Kone he saved our skin on Saturday.
Anthony Jaras
50
Posted 11/08/2015 at 12:16:30
Austin? Eighteen Premier League goals in a rubbish side is proof enough for me.
I am surprised the top ten teams aren't queuing up to sign him.
Mark Tanton
51
Posted 11/08/2015 at 12:19:33
I can't see us pulling a move for Austin.
Erik Dols
52
Posted 11/08/2015 at 12:54:19
Austin has the fighting spirit we seem to lack currently. Worst case scenario: he will be on the bench because the competition made Big Rom regain his goalscoring form. At this point Rom has no serious competition at all.
Add Your Comments
In order to post a comment, you need to be logged in as a registered user of the site.
Or Sign up as a ToffeeWeb Member — it's free, takes just a few minutes and will allow you to post your comments on articles and Talking Points submissions across the site.
© ToffeeWeb