Fighting-fit Lukaku promises big season
by

52 Comments [Jump to last]
| 17/08/2015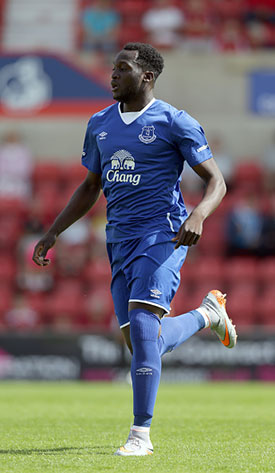 (Clint Hughes/Getty Images)
Romelu Lukaku says he is ready to reap the rewards of his hard work during pre-season and rediscover the form that made him one of the most highly-regarded young strikers in the game.
The Belgian got off the mark with two well-taken goals at the St Mary's Stadium as Everton beat Southampton in impressive fashion on Saturday, a personal display that he ranks among his three best for the club so far.
He admits that he wasn't ready for the start of last season thanks to a summer disrupted by the World Cup and uncertainty over where he would be playing his football in 2014-15 but now he feels primed to help fire the Blues to better fortunes this season.
"I felt strong on Saturday, I scored two and was in the build-up for the other one and I was good at running in behind the defence and holding the ball up. So that performance was definitely in my top three.
"I've started well compared to last season. Without any pre-season I wasn't ready for the league and it took me six months to get to my level but now I am fit so there is no excuse to perform like I did last year."
The 22-year-old is also predicting better things from team-mate Ross Barkley whom he has tasked with scoring more goals himself this term. Like Lukaku, Barkley has two goals to his name already thanks to a goal in each of Everton's first two games so far.
"Ross was brilliant on Saturday," the former Chelsea man said in the Liverpool Echo. "The midfielders made it so much easier for me, Ross and Arouna. We had that freedom to inter-change position and defensively we tried to help as well"
"I am told him at the start of the season that he needs to score more and make more assists.
"He is 21 years old, nearly 22 years old, and he needs to be up there with the best players in the League because he has the qualities."
Manager Roberto Martinez, meanwhile, was fulsome in his praise of his record signing after Saturday's win.
"I always say that Rom can be as good as he wants to be," the Catalan said. "He has that sort of talent.
"As a player, you're always chasing and trying to catch up because everyone finds their level eventually. But Rom is a No.9 who can play back to goal, he is like a winger when he runs with the ball, he has the talent to finish with his left or his right foot, he's powerful in the air, very intelligent with tactical concepts.
"[I]n the last two games, he has been mature. [The Southampton game] reflects some of the best performances we saw in Europe last season, and if he can carry on doing that in the league on a consistent basis, I think we will see a player that can fulfil his potential."
---
Reader Comments (52)
Note: the following content is not moderated or vetted by the site owners at the time of submission. Comments are the responsibility of the poster. Disclaimer
Paul Andrews
1
Posted 17/08/2015 at 06:48:58
It's all down to how far he wants to go.
On his day he is unstoppable.

Jim Bennings
2
Posted 17/08/2015 at 07:56:51
Well Rom, I truly hope this is the type of performance that you set you standards by this season and keep it going.
I have been one of Lukaku's critics and it's performances like the devastating one on Saturday, knowing how truly unplayable the lad can be, makes me so mad that we see so many disappointing displays from him.
The player that Rom is with his abilities, his pace, strength, he should never have games where he's on the periphery of it and bullied.
That on Saturday, Rom, has to be the level most weeks this season; if you do that, then both yourself and us are going to be a hell of a lot better off.
Colin Glassar
3
Posted 17/08/2015 at 08:11:24
It was clear that last season he wasn't fit. After 10 minutes of play he was usually gasping for breath and sweating like a pig and many of us commented on it at the time.
Let's just hope he stays injury free and turns in more performances like this.
Trevor Peers
4
Posted 17/08/2015 at 08:17:52
Part of Lukaku's lack of form has been due to the lack of quality service he has received. Kone can help in this respect, that was the biggest plus to be taken out of Saturday's win.
It was obvious that Kone is more suited to playing deep, almost as an extra midfielder, he was excellent providing much needed creativity.
It also gave Barkley more time on the ball and he grew in confidence; this has to be the way forward... hopefully Roberto sticks to this gameplan.
Andy Mack
5
Posted 17/08/2015 at 08:48:47
I'm stating the bleeding obvious, but a totally different player when he isn't the only one up front. Play and attacking or counterattacking game with a couple of forwards and he's a real handful. Play one up front and let two defenders mark him and his touch isn't good enough to escape their attentions.
Kone and Lukaku, the new Sharpy & Heath. We can only hope!
Tony Abrahams
6
Posted 17/08/2015 at 09:11:49
He's had his critics (deservedly so, for me), but sometimes we have to realise how old some of our kids are.
If you put that type of effort in each game Romelu, you will get your rewards. We love centre forwards at Everton. keep putting the effort in, and you will also be loved!
David Chait
7
Posted 17/08/2015 at 09:32:15
Lukaku shows a lot of leadership for someone so young. His pushing Barkley is spot on, not giving him excuses for not delivering, but saying he is ready not to deliver and should deliver.
He acknowledges when he doesn't perform, but looks right up for it now. An early win and that confidence grows.... hope it isn't a fragile one.
Paul Mackie
8
Posted 17/08/2015 at 09:45:06
Talk is cheap and all that, but Lukaku certainly seems fired up this season. I think the game against City is going to be an absolute belter as long as we don't revert back to the tippy tappy stuff and one up front.
All of the best performances under Roberto have been when we have a front 3 with the freedom to change about and cause headaches for the opposition. Hopefully he'll name the same team!
Craig Fletcher
9
Posted 17/08/2015 at 10:05:01
In ten years time, Rom will be regarded as one of this generation's finest strikers. I'd love to see him spend all, or the majority of his career with Everton, but that fate will ultimately be intertwined with our future success / or lack thereof.
Yes, he's by no means the finished article at the moment and because of that he will frustrate on occasions and go through poor periods, last season being the obvious example.
But it's frightening just what a fit, hungry and motivated Romelu Lukaku could be capable of on a football pitch with the benefit of a few more seasons' experience.

Tony Draper
10
Posted 17/08/2015 at 10:18:42
Great performance on Saturday from all the lads Lukaku, Barkley and Kone were a joy to watch.
Great to hear the Big Feller talking with confidence, drive and ambition which also points to an honest self appraisal.
Very clear from Saturday's game that getting the ball ahead of Rom when he can use his pace, strength or momentum favours the outcome.
Murdo Laing
11
Posted 17/08/2015 at 10:47:58
I agree with pretty much all the comments on here, a fit and motivated Lukaku playing in the right attacking formation is a handful for any defence. What Roberto has got to do is set the team out with that hunger, no matter who the opposition are, and whether we be home or away.
Last season, there were too many games where too much respect was given to the opposition, and we lacked ambition, almost a 180-degree change from season 2013-14.
Injuries: they have crippled us for well over a year. All sorts of reasons for players' absences, from the training ground hamstrings to the serious and long-term (Oviedo, Gibson, Pienaar and now Baines). If we can maintain some form with 17 fit players , free of carrying injuries, then we might see the "real" Everton.
Rom is clearly an intelligent young man; I think he realizes the commitment levels the fans expect, and Saturday showed him in all his rampaging glory. I just hope he (and Ross) can continue at this level.
I am encouraged by the number of our young lads starting to show at this level also; that was badly needed, and they are invigorating the squad.
Paul Jeronovich
13
Posted 17/08/2015 at 11:11:13
Best striker we have had for years. Would be made up to see him smash the RS in a few weeks, come on big man.
Jim Bennings
14
Posted 17/08/2015 at 12:01:44
The key components for me are not his age but most importantly of all his hunger and his aggression.
We saw a seriously charged Romelu Lukaku on Saturday, possibly the best moat passionate and hungry I've seen him since he first joined on loan two year's ago.
He had a big point to prove two year's ago to Chelsea and Mourinho in particular.
I think, infact I know, Lukaku has to be charged up and play the game with hunger to see the best of him.
He's not a player that looks anything at all when he's strolling and ambling about whilst we play snail paced football, which is also why we need the tempo to be so much quicker.
We haven't got players that are suited to slow possession based football, the likes of Lukaku, Barkley, McCarthy, the game needs to be quick.
John Malone
15
Posted 17/08/2015 at 12:02:47
People need to not get carried away with hysteria after one good performance! It's one game against a weakened Southampton team, the league is a marathon not a sprint!
I will however have no problem getting excited if we could pull off a shock result against a firing Man City team full of quality.
This game will show if Martinez really is as good tactically as he says, we have plenty in our locker to hurt City but they have a lot more so it will be interesting to see how he set's them up. I'm fully expecting a five man midfield and an important role for the increasingly impressive Tom Cleverley!
Liam Reilly
16
Posted 17/08/2015 at 12:11:45
Good to see the confidence returning to the big man and if Sky are correct he's just moved into the top 100 all-time Premier League goalscorers list. Not too shabby.
He does play better with support upfront but horses for courses and I suspect we'll revert to one upfront against Man City for the first 60 mins anyway. Need to stop Silva running the show; which he will do if he's given freedom in the centre of the park that losing a body there will create.
Tony J Williams
17
Posted 17/08/2015 at 12:15:20
Big Rom: "but now I am fit so there is no excuse to perform like I did last year".
Best thing I have read in ages.
Showing he is fully aware that his performances last season were seriously lacking.
Dave Pritchard
18
Posted 17/08/2015 at 12:20:08
The truth about the two games this season is that Rom was pretty bad against Watford and great against Southampton. I would hope that the reason for the improvement was the style of play with Kone and Barkely in particular providing more support.
It was also encouraging to see him use his physical strength more as well as giving a bit of verbal stick to Fonte. Which Lukaku will we see in the next game?
John Crook
19
Posted 17/08/2015 at 12:27:55
Superb performance from Lukaku. If he is at 80% for the majority of the season of the level he set on Saturday, then he will hit that elusive 30-goal barrier this season.
Tom Bowers
20
Posted 17/08/2015 at 12:39:50
Consistency is the key and we cannot get carried away. Whilst we don't expect him to score in every game, we do expect a high performance from him and the other players for a lot of them as they are getting paid well enough to do so.
All the games in the Premier League will be tough and any complacency from any player will be found out and may cost the team as a whole. The next few games against Man City, Spurs, Chelsea and Swansea will certainly provide a yardstick.
Brent Stephens
21
Posted 17/08/2015 at 12:42:33
Didn't he have to have injections for a foot injury in order to play many games last season? Hopefully that was the main thing holding him back.
Thomas Surgenor
22
Posted 17/08/2015 at 12:47:34
Get the ball in front of him and he will score! He just simply cannot play with his back to goal.
What impressed me was the fact he is aware that he wasn't up to his high standards last season and was man enough to admit it.
An additional note IMHO is that I'm happy for him to take penalties as that could help him challenge for top scorer and fill him full of confidence.
Pete Edwards
23
Posted 17/08/2015 at 12:54:43
John, a weakened southampton team? Can you eloborate on your point?
Ernie Baywood
24
Posted 17/08/2015 at 13:15:28
As always there's a bit of nonsense in the interviews. He can play with his back to goal? Maybe if there's no-one within 5 yards of him.
Sometimes you have to accept a player's limitations and play to their strengths. If we focus on his back to goal work we'll make him less awful in that area, but if we focus on his exceptional strengths then he can be great in those areas. Maybe even world class.
Rom's limitations haven't suddenly disappeared; we simply played to his strengths. And what strengths they are!
I'm happy to get excited about that performance. When was the last time you saw a better forward display in a blue (or at least an Everton) shirt?
Ernie Baywood
25
Posted 17/08/2015 at 13:17:46
Pete, don't they only have Fonte left from last season's back line?
It's a valid point. This could be like the day Watson, Ferguson, McFadden smashed Leeds and it turned out that they were actually in decline.
Bobby Thomas
26
Posted 17/08/2015 at 13:50:19
Rom is up and down.
He may be better suited to playing away from home where we can play on the break & teams aren't so deep. We can get the ball ahead of him more & arrive on things.
His most consistent asset is his mouth.
John Malone
27
Posted 17/08/2015 at 14:19:47
Pete, they had Bertrand, Alderverield, Schneiderlin missing. I'm not taking anything away from the lads but let's keep it in context.
Where we hurt them is where these players were missing as in Coleman ran riot on the right with not much coming back at him, Lukaku and Barkley were left with no pressure and gaping holes in the middle of their defence!
Like I said, not taking anything away from a good performance but not jumping on the over-the-top comments bandwagon after one away win!
Win Sunday I'll be dancing!
Mark Riding
28
Posted 17/08/2015 at 14:33:16
They weren't missing John, they sold them ! So it's a daft argument. It's like saying Bale, Walcott, Oxlaide-Chamberlain, Lallana, Lovren, Lambert, Chambers, Clyne... We're missing. Their goalie, Forster was the only one actually missing.
Mark Boulle
29
Posted 17/08/2015 at 14:39:36
Only thing is, every other Summer, for as long as we have him anyway, Rom's pre-season will be disrupted by either the Euros or the World Cup, assuming Belgium keep qualifying for them...
He and whoever the Everton manager is will need to find a way to give him a proper amount of rest and yet still the fitness training he requires to be effective in the seasons following summer international tournaments.
Graham Mockford
30
Posted 17/08/2015 at 14:52:26
John #15
'Twas ever thus on here. Last week we were doomed, our manager was an incompetent buffoon, the squad was threadbare and we were most likely heading into a relegation battle.
This week we have a squad of bright young players who have now displayed some tactical flexibility and bring on City.
As usual the truth lies somewhere in between and it probably won't be until Christmas given the relative unbalance of tough games early on before we can really see how the season is going to pan out.
Still it feels a whole lot better this week.
John Malone
32
Posted 17/08/2015 at 15:14:38
Mark, they were missing from the team that beat us 3-0 and performed so well last year thus calling them 'weakened', so I wouldn't call it daft and I'm not arguing with anyone I'm just giving my point of view!
Mike Powell
34
Posted 17/08/2015 at 16:19:55
I have always said it: play to his strengths and he is unplayable. Martinez had him playing out wide most off last season and, as everyone could see, that was not his position; play him through the middle and he is as good anyone in the Premier League. Keep it up Rom. COYB
Mike Childs
35
Posted 17/08/2015 at 16:24:00
I agree with John's point about them being weaker and couldn't have summed it up any better than Graham. More of the same please!
Mark Riding
36
Posted 17/08/2015 at 17:21:45
John, fair enough mate. Typing those names out that Saints have sold is frightening BTW. What an attacking side they have sold!
Neil Thomas
37
Posted 17/08/2015 at 17:24:24
Got rid of those heavy legs then....
Jon Cox
38
Posted 17/08/2015 at 19:14:32
Well I'd call playing Southampton without Baines, Mirallas and Deulofeu "seriously weakened". Wouldn't you?
Peter Gorman
39
Posted 17/08/2015 at 19:21:46
Mark Riding - you beat me to it. Southampton were missing Bale so that does take the gloss off the win somewhat. Though on the other hand we were missing Rooney.
Graham Mockford
40
Posted 17/08/2015 at 19:41:50
Peter #34
Not sure how you forgot to mention Le Tissier.
Raymond Fox
41
Posted 17/08/2015 at 20:31:29
Lukaku is a big lump and consequently being less than 100% fit shows up more, he was doing some huffing and puffing on Sat.
It does make you smile though when 22-year-old sportsmen admit that they weren't fit when the season starts, there's really no excuse unless you're injured.
Sunday's game against Man City is going to be a real nail-biter; if we're to win, we're going to have to score 2+ goals... Aguero is possibly the best striker with the ball at his feet I've ever seen, god knows what he's worth if he was sold!
Garry Corgan
45
Posted 17/08/2015 at 21:23:10
As pleasing as this is to hear, I wish I was paid thousands of pounds at work to underperform for a year. At our place, I'd be out of the door in a month. It's a charmed life modern footballers lead.
Victor Jones
50
Posted 17/08/2015 at 22:03:20
I like Lukaku. He scores goals, and that is what I want from an Everton forward. Is he a Royle, a Latchford, a Sharp, Gray, Lineker or a Ferguson? Time will tell. Moyes ruined a few very good forwards by playing 4-5-1 at all times. Lukaku seems to perform better in a 4-4-2 set up. With a specialist hold up forward alongside him. Lets hope Martinez realises this, and allows this 4-4-2 formation to flourish. Thus allowing Lukaku to flourish. Most forwards like a partner. Most would flounder playing up front alone. Lukaku will be good for Everton given the right service.
Two results have always stuck with me from two seasons ago. The three nil win over Arsenal. And about ten days later the 3-2 defeat to Palace. Martinez for no reason tinkered with a winning team. Let's hope that he has learnt from past mistakes. Let this first eleven have a go at Man City. No need to tamper.
Everton, with the right service.
Jay Harris
53
Posted 17/08/2015 at 22:30:55
I think Lukaku's performance was a reflection of the change in structure and tactics more than anything.
Even a full strength Southampton would have had a tough game.
Let's just hope RM doesn't revert to type against Man City and we play 4-1-4-1 again with Barry sitting in front of the back 4 and McCarthy playing further forward.
Pete Ellingham
55
Posted 17/08/2015 at 22:43:05
Yes I agree, it has to be the same formation and same squad against City. I do believe we could get something out of the game. If we play without fear and keep up the tempo we can do well this season. We cannot afford to play slow football, if we do we will have the same problems as last season. I actually think we will get something out of the game.
David Hallwood
56
Posted 17/08/2015 at 23:36:38
Agree Peter & Jay (48&50) but I think RM will be a bit more pragmatic and put an extra midfielder, possibly Besic (if fit) to follow Silva to the toilet if necessary.
Jay Harris
57
Posted 17/08/2015 at 23:55:33
David,
I would prefer Aguerro to be shackled but was thinking along the same lines seeing as Besic kept Messi so quiet in the World Cup.
Andrew Presly
58
Posted 18/08/2015 at 01:25:46
Boring from Rom. We've got unashamed mercenaries leading the line. He wants yada yada yada.
When we found you......you were alone, friendless.... in West Bromwich.
Bob Parrington
59
Posted 18/08/2015 at 01:38:28
I posted late last season that Rom needed to shed some weight and get fitter. Having missed the Watford game while on holiday, the first thing I noticed vs Soton was that he looks like he has worked hard on achieving just this. Well done, lad!
Jim Jennings
60
Posted 18/08/2015 at 01:58:52
Jay #52,
Messi ran unchallenged from the halfway line and scored in that game while Besic fell over his teammate when Messi went to shoot. It's a bit like saying Peter Reid kept Maradona quiet in 86 except for that time he left him and five others for dead to run 60 yards and score.
Jay Harris
62
Posted 18/08/2015 at 03:32:26
Jim,
Messi got the ball passed to him about 10 yards from the Bosnia box and Besic tracked him all the way across the edge of the box and would have seen him away but for his team mate going down in front of him and tripping him up.
I understand what you say about Maradonna's goal but this was not that similar IMO.
Anyway it was widely reported that Messi had his quietest game for some time thanks to Besic so I still believe in Besic ability to man mark someone.
Brent Stephens
64
Posted 18/08/2015 at 06:41:21
You're right, Jay #48, Besic tracked all the way back and was obstructed by his own man (but it was only a bit-player, Messi, who scored!). An impressive performance by Besic in that game.
I was one who saw Besic in his first pre-season games and drooled over what he could bring to us. Unfortunately his first season didn't quite fulfill that promise. But I still have hopes.
David Ellis
65
Posted 18/08/2015 at 11:19:24
Peter Reid was not fully fit in that game against Maradona - otherwise we would have nailed him at the start of that run.. As would Bracewell if he had been able to play in that World cup.
Meanwhile, we were lucky to play Southampton whilst they were missing Mick Channon - the best striker in England ....in 1976
Victor Jones
66
Posted 18/08/2015 at 11:52:56
I agree that we should try to shackle Man City. But we also need to play our own game. Crowding our midfield with DMFs is surely only looking to get a draw from the game. We should try to be on the front foot from the start. Maybe get a lead. Then late on play to stifle City.
We should accommodate a stopper / wrecker in the four-man midfield. Maybe Besic in place of Barry. Also McCarthy. With instructions to stop them playing.
I don't fear Man City. Everton on their day can take any team. But I stress "on their day". What Everton team will turn up?
Stop City playing. But not at the expense of not giving ourselves a chance of winning. We don't need to start parking buses this early in the season. Let them worry about our playmakers. COYBs.
Barry Jones
67
Posted 20/08/2015 at 00:13:29
Marvellous performance by Lukaku and also Kone..........but one swallow does not make a summer. If we can string four or five of these perfomances together, then as the Monkees said..."I'm a believer".
Add Your Comments
In order to post a comment, you need to be logged in as a registered user of the site.
Or Sign up as a ToffeeWeb Member — it's free, takes just a few minutes and will allow you to post your comments on articles and Talking Points submissions across the site.
© ToffeeWeb