Shift in mentality persuaded Mirallas to stay
by

84 Comments [Jump to last]
| 15/09/2015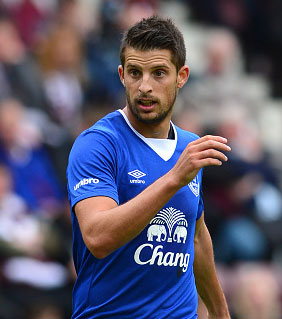 Kevin Mirallas says that Everton's demonstrated desire to keep its best players at Goodison Park is one of the biggest reasons why he signed a new contract.
The 27-year-old appeared to be unsettled earlier this year and possibly heading for pastures new following comments he made to the Belgian press and subsequent speculation linking him with Tottenham or a move to Spain. He penned a new deal with the Blues this summer after all, however, and he says he is happy to have stayed.
Rumours of a minor rift with manager Roberto Martinez following his decision to break ranks and assume penalty-taking duties against West Bromwich Albion in January were denied but the writing appeared to be on the wall when he later articulated his desire to join a Champions League club at the end of last season.
Everton took up the option of adding another year to his contract over the summer to preserve his transfer value in case he did decide to move on but Martinez was able to convince him to sign a new deal instead, something Mirallas puts down to a change in the club's modus operandi.
"When I saw the team keep their best player, I said this was a change in mentality," the Belgian international says in an exclusive interview with the Liverpool Echo during the player's visit to the Everton Free School today with Everton In The Community.
"It's possible last season, or the season before, that Stones goes to Chelsea, McCarthy goes to Tottenham, and I go to another team. But now it's changed.
"It's a strong club and a strong team, and when you see the chairman signing new deals for players, you think this season is the season."
Mirallas admits to being a little disgruntled in the second half of last season as he waited for new terms to be offered by Everton while there was interest from other teams in his services but he says he was happy to sign a new contract once it was offered to him over the summer.
"[The manager] told me to wait for a new contract and I waited, but it was not coming and I was a little bit angry," Mirallas continued.
"Now, after the pre-season, I played hard and worked hard and had a good talk with the manager, he said it was a good opportunity to sign a new deal, and I'm happy. So is my wife!"
While the former Olympiacos forward was one of the stand-out performers in pre-season, he has managed just two starts so far this season – against Watford on the opening day and at Barnsley in the League Cup where his goal began the Blues' fight-back in a match they eventually won 5-3 despite falling behind 2-0 in the first half.
An injury picked up against the Hornets meant that he wasn't risked the following weekend against Southampton and, in the interim, Arouna Kone's form and and Martinez's tinkering with formations has limited his opportunities.
He acknowledged, however, that it's a long season and other players being in form can only be good for the team.
"When you see Naismith come off the bench and score three goals [against Chelsea], it's a very good mentality for him and the rest of the group," he said.
"It's important we play the same type of game as we did last week, and we'll have good results for this season."
Read the full article: Liverpool Echo
---
Reader Comments (84)
Note: the following content is not moderated or vetted by the site owners at the time of submission. Comments are the responsibility of the poster. Disclaimer
Paul Jeronovich
1
Posted 15/09/2015 at 19:53:55
In fairness, Kev, you didn't look that happy at the time Naismith scored. However, you should follow suit and have a worldly against Swansea!!!
Colin Glassar
2
Posted 15/09/2015 at 19:55:29
It's nice to hear he's picked up the lingo.
Oscar Huglin
3
Posted 15/09/2015 at 19:59:43
Best thing I've read in a while. Kev has been the most worrying in interview for a couple of years now, and if our stubbornness in the transfer window has got to him then we have to assume it's got to everyone, and there must be a real positive atmosphere in our dressing room. This season could be a real surprise.
Maybe embarrassing Chelsea on and off the pitch was just the start.
Victor Jones
5
Posted 15/09/2015 at 20:15:15
That is good to hear because I still think that Mirallas can do a job for Everton but he needs to realise that he is a only a part of what is becoming a very good squad. He has a part to play but it is after all a team game. He is a cog in a very big wheel, the wheel being the Everton family. So welcome aboard... although, don't let him take any penalties.
Barry Lambert
6
Posted 15/09/2015 at 21:30:54
Paul,Victor,Agree 100%.I kopped his face after naisy's second goal .Very disappointing.Needs to trim his inflated ego and knuckle down like the rest of the SQUAD .
John Hughes
7
Posted 15/09/2015 at 21:36:18
Pleased that we've kept our best players eh Kev? Pity you're not one of them. Another one who does things on his own terms. Give me the likes of Nais any day. COYB.
Danny Broderick
8
Posted 15/09/2015 at 21:37:13
Agreed about his face after our 2nd goal. Ability-wise, he should be in our team. Hopefully he will take his opportunity when he gets it, a bit like Naismith did the other day...
Eugene Ruane
9
Posted 15/09/2015 at 21:52:53
Ffs.
'It's possible last season, or the season before, that Stones goes to Chelsea, McCarthy goes to Tottenham, and I go to another team. But now it's changed'
Yeah right, 'another team.'
But who Kev?
Real Madrid maybe?
Barcelona?
Dynamo Eggandchips?
Because the thing is, I don't remember any bids for you and maybe because there wasn't any bids, your arse started to go, you realised at 27 your best bet was to shut the fuck up and sign a new deal with us.
Seriously, just get your head down, shut your grid and do what you're incredibly well-paid to do.
Brian Williams
10
Posted 15/09/2015 at 21:59:55
Yeh, but what are you trying to say Eugene? *LOL*
Tony Draper
11
Posted 15/09/2015 at 22:02:34
Eugene @8 Flawless! Utterly Flawless!
Nick Entwistle
12
Posted 15/09/2015 at 22:44:30
There are very few teams abroad who can now match or even beat an average PL team for financial clout. Keeping our best players is easier but is not really the point.
The point is a team's ability to bring in better players. And if that's how the transfer window is to be viewed then we didn't do very well. But luckily for Kev, that is the case, and he and his Mrs will be very happy.
Peter Gorman
13
Posted 15/09/2015 at 22:47:14
Nah, won't have a bad word said about his ability, he is probably our most dangerous player and has been for a while. John Hughes, Nais is a good lad but not even close to Kevin. An opinion presumably you've long held since Saturday.
Chris Williamson
14
Posted 15/09/2015 at 22:56:42
Glad he stayed. But for heaven's sake, will these footballers treat the fans with some respect, and stop the lying spin? Our "best player" was bid for and retained long after Mirallas signed his contract.
This sort of tripe works with elections because most voters only half-heartedly listen to the news and they have short memories – but fans take their sport seriously.
Alex Kociuba
15
Posted 15/09/2015 at 23:07:43
Eugene, I think it was acknowledged that the team interested in Mirallas was West Ham. I agree he needs to do his talking on the pitch; last season he created only 3 assists in the league - not good enough.
Jay Harris
16
Posted 15/09/2015 at 23:16:49
Chris
that was a point I was going to make too.
If his contract was signed before the Stones affair how could that have influenced him.
However, I remain convinced that Kev is one of our most lethal players and as such a very valuable member of the squad, despite some of the abuse he gets on here.
John Daley
17
Posted 15/09/2015 at 23:55:09
I think the 'lying' charge is a bit over the top. Okay, he might be laying it on a bit thick, as players often do in these situations, but at least there's always a chance there's
some
truth to it... unlike the claim that his new contact was signed "long after our best player was bid for".
Mirallas signed his new contract on August 7th, by which point Chelsea had seen two bids rejected, Everton had set their 'not for sale' stall out and everybody was already bored off their tits by the whole saga.
Sean Kelly
18
Posted 16/09/2015 at 00:03:38
Eugene, are you sure you made your point? Spot on lad. Hope Kev doesn't run into you anytime soon for his sake. Fucking prima donna. Him not you.
John Daley
19
Posted 16/09/2015 at 00:23:06
Alex @14 is right. West Ham were supposed to have had a £6m bid for Mirallas rejected in July.
Surprised you don't recall it though, Eugene. Seem to remember you advocating a 'you can shove your mucky melons and muff money' stance at the time!
Harold Matthews
20
Posted 16/09/2015 at 00:31:40
Talented 70-minute player when it suits him. Martinez has his number and he knows it and doesn't like it. He also knows he wouldn't get a better wage elsewhere. Weird lad but one of our main goal threats and I'm glad he's still here.
Peter Gorman
21
Posted 16/09/2015 at 00:55:08
Hmmm. I see a player who might show inconsistency but is otherwise, as Harold says, one of our major goal threats. Also his hard work tracking back, a la Pienaar, can be seriously undervalued sometimes.
Not sure Martinez has his number at all. Still not entirely sure Martinez knows his own number. Can't criticise Mirallas when he isn't played; so far this season he has 1 goal in 2 starts.
Drew Shortis
22
Posted 16/09/2015 at 02:18:49
So glad he signed the new deal as he is a quality attacker. I'm not to worried about his lack of involvement in the past few games. He was left out against Chelsea for tactical reasons and he will get his chance. Its a long season and everyone in the squad will need to be ready to preform when called into the team. I think its good to have this competition and have other options for certain games, for tactical reasons or off the bench. Players hungry to play and desperate to impress and stake a claim.
Although we missed out on the number 10 the window was very successful for the reasons Kev has outlined. It sends a message to players that we mean business and aren't just a feeder for the CL teams. If we can maintain our current form and reinforce in the January window who knows what we can achieve this season!
Abhishek Saha
23
Posted 16/09/2015 at 03:22:15
Agree with all the Blues above, who said that this season could be "the season". Everything about the team, both on and off the pitch, tells me that we're gonna roll like an all-conquering force. COYB
Mark Andersson
24
Posted 16/09/2015 at 03:59:51
I like the fact Maralis is a bit of a premadonna odd ball. Even if he wasn't happy watching the game we can only hope he has a fire in his belly to prove a point when he does get a game. Look at how Besic reacted to his injury, he was up for that game.
It's that kind of attitude that wins games on a cold wet winters night.
After Saturday's game there is renewed optimism, even on TW.
Lewis Barclay
25
Posted 16/09/2015 at 05:39:01
If Mirallas's talent was half the size of his ego then we'd have a real player on our hands!
Super Kev will need to step up at least a couple of gears in the Premier League this year to be worth keeping hold of.
Still, at least his wife "is happy".
Darryl Ritchie
26
Posted 16/09/2015 at 06:31:46
At times, Kev can be a game changer; the best player on the pitch. Other times he can be selfish, moody and completely invisible. An enigma in a blue shirt.
He can score a goal or two. He is a good player. He's just not as good as he thinks he is. He's too one-dimensional. When Mirallas has the ball any where near the 18 yard box, head down, he's going to shoot. If he could only have a look for the open man beforehand, and slip a teammate a pass once in while, my opinion of him would rise considerably.

Dave Pritchard
27
Posted 16/09/2015 at 08:25:32
Big talent that shows on occasions. Big ego that shows most of the time. On Saturday he was overlooked to start and twice as a substitute when Besic and then Kone were replaced. Hope when he gets his chances he realises that he needs to put in some decent performances.
Eddie Dunn
28
Posted 16/09/2015 at 08:27:14
The problem with Kev is he rarely lasts the full 90, and is best used as an impact sub.
He possesses great skill and good pace but his decision-making can let him down. However although Darryl (#24), is correct in Kev's selfishness, it is a trait I don't mind in him, as over the last year we have lacked a player who just takes a pop instead of shirking responsibility and moving the ball on sideways for a mate to try.
Kev should be grumpy on the bench, waiting, hoping for an injury, I mean that is the only way he is going to get a run-out, as the wingers only seem to get on in the last 6 minutes.
Mike Corcoran
29
Posted 16/09/2015 at 09:14:38
In fantasy land but maybe last season was sacrificed in order for the team to learn some essential lessons from the season before when pissing about at the back cost them vital goals and short passing and possession were not up to scratch.
This season, they look solid on those fronts and are now working on incisive play in the final third. It will be interesting to see if Kev plays with his head up and improves his decisions. Just saying like...
Geoff Evans
30
Posted 16/09/2015 at 09:23:21
We're the biggest and best club for Mirallas if he ups his game and shows he's worth the money he's getting.
Brin Williams
31
Posted 16/09/2015 at 09:36:02
Harold (#19), Once more an accurate assessment of the man; Moyes also had his number but pampered to him more than Martinez is prepared to do.
John Hughes
32
Posted 16/09/2015 at 09:45:37
Peter Gorman – what I meant by that was the comparison in attitude between the two players. Mirallas is a sulker and has continually hinted that his future lies away from GP. Naismith, on the other hand, keeps his head down and gets on with it.
I'm not saying that Naismith is the best footballer in the world, just of the opinion that I'd rather have him in my squad than moody Kev. And for what it's worth, I've held that opinion long before last Saturday afternoon!
Eugene Ruane
33
Posted 16/09/2015 at 09:58:49
Alex (#14) – 'Eugene, I think it was acknowledged that the team interested in Mirallas was West Ham. I agree he needs to do his talking on the pitch; last season he created only 3 assists in the league – not good enough'
But... acknowledged by who?
I'm not saying there definitely was no interest, but where did the figure of ٤m come from if there was no bid?
(Answer: the Sunday People.)
John (#18) – "Surprised you don't recall it though, Eugene. Seem to remember you advocating a 'you can shove your mucky melons and muff money' stance at the time!"
Well, I remember a thread that mentioned West Ham and a figure of ٤m but again, I don't remember any actual bids.
To be honest, though, even if there had been an actual bid of ٤m, my outrage would more likely be outrage at the amount (or, to put it another way, if they offered 15 million nicker's worth of mucky melons and muff money, I'd have their arm off).
Nigel Gregson
34
Posted 16/09/2015 at 10:49:54
I was done with him when he lost us 2 points at West Brom singlehandedly. If I were manager, I'd have banished him from the team for the rest of the season and sold him as soon as a bidder came in with a sensible valuation (yep, even West Ham at £6M). But Martinez seems a bigger man than I am.
Paul Cherrington
35
Posted 16/09/2015 at 10:50:05
I think we would see a much more effective and happier Mirallas if he played as a striker or just off one. That's really his position; he just got converted to a winger when Moyes brought him here. He might even last a full game then... ha ha!
Brian Wilkinson
36
Posted 16/09/2015 at 11:52:26
Mirallas is a game changer, yes hes moody, yes sometimes greedy, but a class player all the same.
I am made up he signed a new contract, before this season ends, people will be singing from a different hymn sheet in regards to Mirallas, his time will come, when it does, be thankful he signed a new contract.
Tom Bowers
37
Posted 16/09/2015 at 12:31:53
The lad, like Lukaku, has his faults but is a dangerous player, much like Naismith on his day. He hasn't shown the consistency, though, and needs to show a lot more to be a regular starter especially with pressure coming from Kone, Nasmith, Deulofeu and Lennon.
Tony Abrahams
38
Posted 16/09/2015 at 12:43:19
Think Harold, as called it right, with his WHEN IT SUITS HIM, statement. That's the thing; if Mirallas can just change his attitude just a little bit, he would become a top player. Let's hope the fact that harder working, but not necessarily better players, are getting on the pitch before him, can make him see reason.
I doubt it to be honest, but if he could just shift his own mentality, then this thread would be all about what a fantastic player Kevin Mirallas is.
Eugene Ruane
39
Posted 16/09/2015 at 13:00:08
Brian (32) - 'Mirallas is a game-changer. Yes, he's moody; yes, sometimes greedy... but a class player all the same.'
Moody is absolutely fine with me. (My all time favourite player was Alan Ball and his disposition was hardly sunny.)
I also have no problem with greedy, in fact if you have the ability, the greedier the better for me (most of the time).
But before I'm going to regard him as 'a class player', I'm going to have to see some consistency and for him to show he gives a shit about the club/team (something other than him – it's a team game for ffs).
I remember watching Ryan Giggs for the first time live (at Goodison).
From the highlights I'd seen of him, he just looked like a traditional, slight (very good!) winger.
Jesus, when I got a good look at him, his work rate was incredible (and he was so good, they'd probably have played him if he just stood on the line with his hands on his hips waiting to be played in).
Brian Harrison
40
Posted 16/09/2015 at 13:09:10
Harold & Tony,
You both say that he only plays well when it suits him. Well, let's face it, he sits next to one of our coaches who only played when it suited him.
Brian Wilkinson
41
Posted 16/09/2015 at 13:14:11
Hard to get consistency when you are either sat on the bench or no matter how well you are playing, you get dragged off.
Before Suarez put him out of the Goodison derby, he was ripping their defence to shreds,
It's very rare he gets more than 60 minutes, I am sure I would be pissed off as well being taken off, when the likes of Osman and Barry are on their knees after 60-odd minutes, and kept on.
Until Mirallas is given more game time, we will never know. But like I say, if Mirallas starts, you can guarantee unless injury elsewhere, Mirallas will be the first to be subbed.
Julian Wait
42
Posted 16/09/2015 at 14:55:40
He has signed a new contract to 2018 ... when he will be 30. So either he plays out of his skin to win something here and/or get in the CL, he plays out of his skin to get to a (another?) CL team, or he sits and takes the money for 3 years. I don't see the latter happening. He is a competitor, (but he's shown some mental lapses and he tends to get selfish when the going gets tough). So hopefully he plays out of his skin for us (and is smarter about it).
I think the reason he gets subbed a lot is partly him and partly tactical. Partly because forwards get subbed more in general, and partly because there are limited alternatives to Barry and McCarthy (I think we should try and sign a DM in January if possible, else next summer, or maybe bring one through from the U21s? - Barry is approaching his sell by date and cannot play 60 games a season, which is what we should be hoping for from this team; not wholly convinced by Besic just yet, although I like him).
If KM has more confidence in the players around him, he could take his great ability and workmate, and be very very effective for us, either from the start or off the bench, and most likely a mix of the two. He also needs to be a bit smarter in terms of dodgy fouls and leaving a foot in, as he gets old that's going to get himself more injuries ...
But against certain opposition, he's the reason we will get 1 point instead of 0, or 3 instead of 1 (or 0). Glad to have him in the squad, now it's up to him to prove himself and demonstrate he's as good as he thinks he is, and can be.
Michael Penley
43
Posted 16/09/2015 at 15:21:22
I don't know if you can explain his performances by 'work rate' and such. When he came on vs Spurs at half-time, I forgot he was on until the final whistle.
I've never seen such an anonymous performance, but when I watched bits of the game he didn't look like he was lazy or sulking. He just wasn't in the game at all. I don't know if Martinez or anyone else has figured out why this happens, and why in some other games he's near brilliant.
Eddie Dunn
44
Posted 16/09/2015 at 15:47:05
Surely one of the problems we have is that Kev is another whose game is not best suited to possession football.
So many of our lads have looked like different players from last season, when playing one the counter at pace.
Perhaps the Chelsea game would have suited him? I remember away at West Ham in the Cup, when he was amazing. Cup football, end to end, jumpers for goals isn't it?
Tony J Williams
45
Posted 16/09/2015 at 15:51:55
I always said that I think he is a good player but thinks he is so much better than he really is. The bullshit odometer nearly blew up when he made those utterances.
The reason why he is still here is because no-one of any note came in for him. Tail between legs, he signed a new contract.
He is a good player and can be a game-changer but he is a lazy get and will not enforce himself into games; he is more than happy to sit on the wing and let the game pass him by.... occasionally spooning the ball over when a nice pass would have sufficed.
Dave Pritchard
46
Posted 16/09/2015 at 16:41:08
Brian (40). It had to come, a dig at Osman. Don't think he's played in the first team this season has he?
Duncan McDine
47
Posted 16/09/2015 at 17:17:55
Whatever the reasons, I can only see it as a good thing that he signed for another few years. Despite his very 'French-Belgian' body language, I think he's a fierce competitor that adds a lot of strength to our team.
At the moment though, Kone is keeping him out of the starting XI... How many of us would've predicted that?
Stephen Brown
48
Posted 16/09/2015 at 17:31:05
He's one of the first names I look for on the team sheet. Especially at home!
Jamie Barlow
49
Posted 16/09/2015 at 17:44:24
Well this is definitely a new ToffeeWeb. 47 posts on a Kevin Mirallas thread and no mention of his gold Bentley.
Peter Gorman
50
Posted 16/09/2015 at 18:03:03
John Hughes - reading back your original post I probably should have got that you were comparing attitudes, sorry about that.
Still, Mirallas just is one of our best players and one of the few who can change a game. He did it on his rare start against Barnsley and I was bloody grateful. He also works hard (maybe 'when it suits him' but you don't get many levelling that against the Golden Vision, which is a stretch of a comparison I know but still).
Goal aside, Nais didn't have the best of games against Barnsley so we can all find faults when we selectively remember bits and pieces. Compare the two over time and it is obviously that Mirallas is better for the team no matter how top a lad Nais may be.
His supposedly over-inflated ego must be the reason he pretty consistently turns it on in the games against the so-called big clubs. Sure, they are all doing now but how many over the last few years?
And now I learn he has a golden Bentley too. Good. He deserves it.
Tony Abrahams
51
Posted 16/09/2015 at 18:39:06
Fair enough Brian, I see what your saying, but I don't think Duncan Ferguson picks the team.
When players with less ability, get in the team before you, you can act in one of two ways. Spit out your dummy and sulk, or work harder, to prove the manager wrong.
I said I don't think he will learn, I hope I'm wrong, but usually players like this, learn when it's too late. Ask the coach Brian, and ask him if his place was ever under real threat when he played for Everton?
Kase Chow
52
Posted 16/09/2015 at 19:25:53
Super player on his day and more dangerous than any other player in the squad
Simon McKeown
53
Posted 16/09/2015 at 19:26:27
I'd like to see him converted to an out-and-out striker. He's shown glimpses of real quality there and, let's face it, we need the back-up in case Rom gets crocked.
James Stewart
54
Posted 16/09/2015 at 19:36:36
Should be starting every week on the left wing where he is most dangerous cutting inside. Just once, maybe we will be treated to Mirallas on the left and Lennon on the right... maybe!
Dave Ganley
55
Posted 16/09/2015 at 19:43:24
Spot on Eugene @38 about the work rate, although you could level that accusation against a whole host of players in the league and not just at our club.
I guess there's a reason why the likes of Giggs, Beckham et al played for the champions on numerous occasions and why Barcelona win so much. It's because their work rate off the ball is immense in tandem with their obvious talent.
I really hope that Kevin finally can understand this so he is able to showcase his obvious talents. Having him here at the club is such a plus, as others have alluded to; on his day, he can win a game on his own. If he can finally show desire without the ball, then we really will have an asset on our hands.
Jim Jennings
56
Posted 16/09/2015 at 20:12:35
Pretty much agree with everything Harold says. A match winner on his (rare) day but would love to see a stat on how many times he has lasted 90 mins in his time here.
Moyes (if memory serves me right) made a comment about his head not yet being right in his first season and I haven't seen anything yet to show that it's now right. That said, I would sooner have him in our squad than not as he's one of our few genuine goal threats.
Very much seen as an impact player but his biggest problem may be that he will end up competing with Deulofeu and Naismith for that impact sub role.
Jimmy Sørheim
57
Posted 16/09/2015 at 20:24:48
I agree with James, I want Mirallas on the left wing NOW.
We finally have decent wingers, but Martinez selects not to use them.
I would prefer Mirallas and Deulofeu or Lennon as wingers going forward this season.
John Hughes
58
Posted 16/09/2015 at 20:45:48
Peter @ 49.
I understand where you're coming from and certainly take the point regarding Alex Young. I think my frustration is that I get the feeling that, no matter what Naismith might do for the team or achieve individually, he just isn't going to get the credit that he deserves.
Take Saturday; a perfect hat-trick and a game changer but nonetheless doesn't even get a mention on the post match analysis on Match of the Day! And I bet he hasn't got a gold Bentley! Good.
Graham Hammond
59
Posted 16/09/2015 at 21:36:03
Totally agree with Brian Wilkinson (#40) regarding Kevin Mirallas. Looking at last season, strip out the penalties (they could have been taken by anyone) scored by Romelu Lukaku and on a goals-to-minutes-played ratio, who was our top goalscorer? None other than Kevin Mirallas!
So, we have a situation where our top goalscorer either isn't in the starting eleven or, as Brian correctly points out, is always the player hauled off to make way for a substitute, regardless of his performance.
For my money, any professional worth his salt would be and should be unhappy with this scenario. Play KM either as a No 10, as a striker or as one of a strike pair.
Stephen Scofield
60
Posted 16/09/2015 at 21:45:08
I'm chuffed. That's why I said he did it!
Eddie Dunn
62
Posted 16/09/2015 at 23:54:24
John 55,
Match of the day, with three great strikers and they didn't say how well our Nais has done. The perfect hat-trick, and as a sub to boot!
It sums those three up really. Little insight, and all too obvious. Shearer has to be the dullest dude on TV. And Wrighty thinks that Arsenal are Barca. As for Lineker, he is all filler — no killa.
John Daley
63
Posted 17/09/2015 at 00:14:24
That right, John and Eddie?
I haven't watched Match of the Day for god knows how long, but how can a player score a hat-trick and not even merit a mention? That's just bizarre.
Darren Hind
64
Posted 17/09/2015 at 04:05:02
I watched a recording of Match of the Day last night.
If you had only listened to Alan Shearer's report you would be forgiven for thinking only one team played in this game... and they played very badly. That he never mentioned Naismith should come as no surprise at all. What a gormless twat.
"Wrighty" was a lot nicer to us. In his thirty-second account of John Stones's performance he managed to mention him along side two all-time greats (Cruyff and Coldoaldo [Who? — Ed]).
If that superb passage of play, where John Stones came out of defence waltzing past three Chelsea players, had ended up with an Carlos Alberto type strike, Shearer would still have concentrated on how the "out of sorts" Chelsea should have prevented it.
Fuck him. I hope he spends the rest of the season bending over backwards to point out how poor our opposition have been.
Darren Hind
65
Posted 17/09/2015 at 04:09:38
BTW. Eugene (8) nails this one for me.
John Voigt
66
Posted 17/09/2015 at 12:19:15
Kevin Mirallas is very much an important player for the Blues!
It's simple. He scores GOALS!!! I don't care if some think he can't go an entire match. He scores GOALS!!!
The Blues can't reach their potential without proven goalscorers and the only two on the squad that fit this bill are Lukaku and Mirallas. Checking previous seasons in the Premier League bears this out.
He's worth a new contract where others (my opinion) aren't. I'll never go negative on Lukaku or Kevin, cause they are proven GOAL SCORERS!!!
Cheers (from the yank that lives in North Carolina).

Tim Wardrop
67
Posted 17/09/2015 at 19:16:36
One of the best players in our squad; he should be one of the first names on the teamsheet.
Colin Williams
68
Posted 18/09/2015 at 15:53:31
Mirallas lacks any sort of game consistency AND he doesn't deserve a place in the team. Also, the guy's a big-headed fucker! And deserves to be knocked down a peg or two.
I was hoping we got rid of this odd- ball; he doesn't care two fecks about being a team player... get ride in January. We have better performing wide players who appreciate being at our great club.
Darren Hind
69
Posted 18/09/2015 at 19:25:19
I'm not sure if your old enough, Michael, or my poor spelling threw you out: Clodoaldo was a regular starter for the legendary 1970 Brazil team.
In an age when defenders and defensive midfielders were generally rated by how high they could kick the forwards, this cheeky bastard would regularly send out dummies or dribble with the ball in and around his own penalty area.
Those who were not born, or haven't seen it, should do themselves a favour and YouTube "greatest goal". The name Carlos Alberto will almost certainly spring up. Right at the start of the build-up to that famous goal is some mesmerising play from Clodoaldo.
When Ian Wright compared Stones to Clodoaldo after his dribble out of defence last week, he was paying him the highest compliment.
Michael Kenrick
70
Posted 19/09/2015 at 06:19:08
1970? I think my attention was otherwise engaged... as a callow youth, some young girl had entwined me with her wily wiles. It would take quite a while to get untangled...
Eric Myles
71
Posted 19/09/2015 at 06:40:08
Colin #66 "We have better performing wide players who appreciate being at our great club."
Maybe that's the problem, he's being played out of position, he was a centre forward when he was top scorer in Greece.
Trevor Peers
72
Posted 19/09/2015 at 07:56:11
Kev must be happy as an impact player; coming off the bench on most occasions will be his role this season, barring injury. I still think he would and could move on if the right offer turns up.
Meanwhile, keep on knocking the goals in, Kev; that will add to his value and our league position.
Colin Williams
74
Posted 19/09/2015 at 09:10:36
Eric (#69),
You may be right about that, although Robbie seems very reluctant to play him there. Which has surprised me due to his obvious offensive attributes in that position high up the park; but it doesn't change the fact that the guy want's to move!
His body language stinks with it; his performances stink of it. When you play the game, your performances tell you much about the player's attitude and desire for the club he plays for... eg, Jagielka. He doesn't deserve to be playing along- side players like Jags, whose attitude and desire for the club must be embarrassing for the guy.
This guy should have been sold before now... big mistake!
Peter Gorman
75
Posted 19/09/2015 at 11:02:55
Colin 66 and Eric 69
Maybe the problem is that what you write isn't actually true.
Better performing wide players at the club? Name them.
His body language stinks of wanting a move? Qualify that.
His performances stink of wanting a move? No evidence of that; he has hardly played and when he did (at Barnsley) he got us back in the game. Even gave a roar to the fans to boot.
I hate to use the word, because obviously we all have our opinions, but Colin, yours appear to be shite.
Dave Abrahams
76
Posted 19/09/2015 at 11:11:19
Peter (72), if you hate to use a word then don't use it.
Eric Myles
77
Posted 19/09/2015 at 11:40:32
Peter, sorry but I'm not wrong, Mirallas was playing as a centre forward in Greece when he was top scorer.
Paul Tran
78
Posted 19/09/2015 at 11:48:34
The thing about Mirallas is the he's very talented, not as much as he thinks he is. While good, arrogant footballers are paid great footballer's wages it will ever be thus. I get the impression he think he's better than us, but no-one else seems to think so and that's why he's still here.
So in that respect, Harold is spot on and Martinez clearly has Mirallas's number.
Colin Williams
79
Posted 19/09/2015 at 12:23:38
Peter!... Thanks for the garbage you just spouted out!
Haven't you been involved playing for a team, when there was a player who wanted to leave your club?...moans, attitude changes on the pitch, performances become inconsistent, talks himself up, etc? I have! And this stinks of it!
Better players! Anyone who plays there! ANYONE! Why?... The guys not worthy of a place! Why? Well, just looking at his performances as a team player, it stinks! Even as an individual he does feck-all when he plays!!
Also, he has been so piss-poor when he plays, even Robbie has had a titfull!...
So, from being a regular every game to a constantly unused sub... "I wonder why this is?" Maybe it's because... Kevin he wants to give everyone a game? Maybe, he's tired? Yea right!...
Peter Gorman
81
Posted 19/09/2015 at 14:28:49
Eric, you are right of course, I was just borrowing your phrase. Have nothing to argue with you there.
Dave, as much as I hate the word it seemed the best fit at the time. This is a poster who has referred to the man as a 'big headed fucker' no less. One who doesn't deserve a place in the team, presumably because there are 'better' wide players available, like McGeady ffs.
Nonsense doesn't quite do it justice.
Peter Gorman
84
Posted 19/09/2015 at 17:08:54
I take your point Dave.
Colin, still not sure your argument holds water. Do you honestly think anyone deserves to start ahead of him simply because you think he wants to leave (based on your reading of his stinking body language)? Ok, fair enough, who should we be playing instead of Stones? Anyone I assume, but who specifically? Browning? Barry? Should we recall Jordan Thorniley from Stockport?
Btw, do you think Deulofeu has been 'piss poor' when he plays? Because I haven't seen much of him so I guess I should conclude Martinez has had a 'titful'.
Maybe you should conclude Martinez doesn't want to play him because he thinks Kone and Barkley are better options out wide as we saw today. Not sure many would agree.
ps: I am aware Mirallas got sent off today but that doesn't change anything.
Colin Williams
86
Posted 19/09/2015 at 22:24:57
Peter, what the feck are you on about? I was talking about Mirallas only! What I said about the guy is very obvious from where I am watching things: he doesn't give enough to the team or club. His two-minute cameo today did not surprise me one bit!... Fecking clown!
Buy the way, what's all this about Stones..ect what are you on about?
Also, looking at the players Robbie chooses to pick instead oF Mirallas in wide positions... it shows the manager has very little faith left towards this player. (Actions speak louder than words!)
Myself, looking from the outside in... It's just what I see and feel about the way he portrays himself in the public eye. Now, Robbie and his team see the player day after day...
So, after hero to zero status... there are some major issues about this guy's overall performances in which Bobby will keep to himself! Which is understandable. Look, Robbie does not trust the guy anymore, very obvious by the time he is giving him on the pitch.
You obviously think Mirallas should be playing? Fair enough... I think he's a fecking liability! And it seems like Robbie's swaying to my opinion... and even if he didn't agree with my point of view!! Who cares a feck! I still believe he's a massive liability for many reasons.
One point that sticks in my chest is... I feel he's disrespecting our great club. IMO, he's someone we don't need and someone we wouldn't miss.
Peter Gorman
87
Posted 20/09/2015 at 00:18:28
Colin, we'll agree to disagree then but since I appeared to have expected too much I can clarify in my last post I was talking about;
a) Stones handing in a transfer request and how you feel a player such as him 'disrespecting' the club should be handled. I mean, if Mirallas's body language is enough to condemn him, how about Stones and his fax machine? Is Stones alright by you because he is still playing for us? If so, should I point out Mirallas has signed a new 3-year contract?
b) Martinez, by your logic, not rating Mirallas because he doesn't play him. It seems he doesn't rate Deulofeu or Lennon either since they also can't get a sniff of playing time. Do you actually believe this is true? Do you believe old Robbie thinks Kone, Barkley and even Mo Besic are the best wide players at the club?
Actually, scrap that last question, I wouldn't put it past him.
Dave Pritchard
88
Posted 20/09/2015 at 12:06:26
After his latest babyish behaviour, I would think that any half-decent offer in January will see him sold. We have enough wingers and can do without the whingers.
Penalty incident last year, miserable face when we go 2-0 up against Chelsea... and now this. Shame really as, on his day, he is an excellent player.
Jim Knightley
89
Posted 20/09/2015 at 12:18:35
Martinez is not playing wingers at the moment because he stuck with a winning team since the Southampton game. It is not surprising, and it is a decent way to run a football team in my opinion.
However, as others have pointed out, and as I argued during the summer, Mirallas is our biggest goal scoring threat from midfield. His goals and assist ratios per minute played is great, and better than anyone else in that midfield and possibly our side. Him and Deulofeu are very dangerous and explosive players, and when our fixtures ease I expect we will see them appear more and more often.
However, there is a clear issue. Barkley, Mirallas and Deulofeu all hold onto the ball too long (Barkley has improved in that respect this season). We can't accommodate all three, and Kone and Barkley's form has left only one spot, which Martinez often likes to accommodate with a central player, especially in harder games. I expect that we may see Kone dropped more often when our run changes, and one of the central places also possibly displaced by one of the three wingers.
Whatever happens, Mirallas is an incredibly dangerous asset (no pun intended) and him staying is good for this football club.
Attempting to read body language re a player is pure baloney in my opinion. Colin - do you watch Ronaldo much? His body language suggests he doesn't want to play for Real at points, but is that the truth of it? Robben too? Not all players are the same. Jagielka gives his all for the club and, like the likes of Tevez, Vidic, Terry etc, is a completely committed player whose loyalty is connected with the effort he gives.
But it's bullshit. Suarez played in such a fashion, but wanted out of Liverpool. Anyone watching Stones playing for us would never have inferred that he handed in a transfer request in late August. But he did. You are simply looking at Mirallas play as he always plays. He is a flair player, who plays in spurts, like plenty of players in world football.
Eric Myles
90
Posted 20/09/2015 at 15:15:39
Peter #77, it wasn't my phrase actually, I was quoting Colin at #66.
Ian Riley
91
Posted 20/09/2015 at 20:56:21
I have always thought Kevin thinks he is better than Everton FC. Sorry, I would have sold him in the summer! Surprised the club offered him a new contract.
I feel he needs to step up but feel his attitude will be that of a teenager. When his attitude is right, he can be a game changer.
A big pay rise, Kev... start earning it! Oh after the three-game ban of course!
Add Your Comments
In order to post a comment, you need to be logged in as a registered user of the site.
Or Sign up as a ToffeeWeb Member — it's free, takes just a few minutes and will allow you to post your comments on articles and Talking Points submissions across the site.
© ToffeeWeb