Everton seal signing of young Swiss forward
by

31 Comments [Jump to last]
| 07/01/2016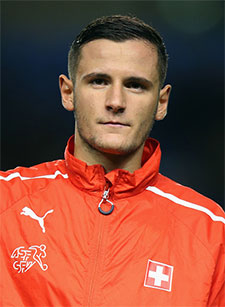 (Bryn Lennon/Getty Images)
Everton have wrapped up the acquisition of Shani Tarashaj and have loaned him back to Grasshopper Zurich for the remainder of the season.
Tarashaj underwent a medical on Monday after agreeing personal terms and is believed to have cost Everton around £3m. A delay in paperwork had pushed the deal back by 24 hours but the club completed formalities today on his four-and-a-half-year contract before unveiling the new signing at Finch Farm.
The Blues agreed to a condition of the deal allowing the 20-year-old to finish the season in Switzerland on loan so he could complete his national service.
"I first found out Everton were interested two or three months ago and now I am here," he told evertontv. "For me that is the the best thing about Mr Martinez wanting me - his belief in young players.
"I heard that he was a good manager and works well with young players individually – this is what I want to make me a better player."
Tarashaj, whom David Prentice in the Echo says is regarded in his homeland as being a better prospect than Xherdan Shaqiri was at the same age, made his debut for Grasshopper in 2014 but his career in their first team didn't ignite until earlier this season when he scored five goals in four starts. That earned him a new four-year contract in September and attracted the attention of Everton's chief scout, Kevin Reeves, as well as the likes of Juventus and Inter Milan.
Tarashaj is of Albanian descent but Swiss born and has been capped by Switzerland at U21 level. According to his Wikipedia entry, Albania haven't given up hope of eventually persuading him to represent their country at senior level.
Roberto Martinez was pleased to get his second signing for the month completed after the arrival of Matty Foulds and he said he is looking forward to when Tarashaj will join the group full time in the summer.
"Shani is an enormous young talent in Swiss football who, without a doubt, will have a great future," Martinez said. "We're delighted to have found a young player who believes our Club is the perfect step for him to enhance his quality and to grow his career.
"He fits in really well to our style and the way we want to play the game. He is a family boy, hungry and he is desperate to fight for his place in our talented young squad."
---
Reader Comments (31)
Note: the following content is not moderated or vetted by the site owners at the time of submission. Comments are the responsibility of the poster. Disclaimer
Trevor Lynes
1
Posted 07/01/2016 at 16:03:15
Not an exciting move and again it is one for the (uncertain) future.
However, if as reported that this signing is all the business we will be doing in the January window, then I will be really angry if we sell Naismith without immediate replacement.
Bringing in untried youngsters who will not be part of the rest of this season is OK if we retain our squad. But if Naismith who has value is allowed to leave then we are surely a weaker squad. We now have Cleverley, McCarthy and Coleman injured from the defence and midfield. No one is sure about Lukaku's knock yet.
Once more we are taking chances before we strengthen...what is up with this boardroom ?
Jim Bennings
4
Posted 07/01/2016 at 16:38:25
Hopefully a good one for two or three years down the line but it doesn't solve what we do to ease the goalscoring burden on Romelu Lukaku or fill in promptly if he's missing for any number of key matches.
Can we afford to really sell Naismith this month now?.
James Marshall
5
Posted 07/01/2016 at 16:51:57
Leandro Rodriguez and David Henen should be hitting the first team before him anyway, so we do have some cover. Also, Mirallas is worth a punt up top alongside Kone when Rom needs a rest.
Dan Aspinall
6
Posted 07/01/2016 at 16:53:34
I see Man Utd have recalled Januzaj... he can be quality and plays on the left, surely better than what we have at the moment (given Mirallas isn't getting a run and he's unwilling to give Baines a go there with Brendan at LB).
If we could get him on a Lukaku-style loan and nab him in the summer it would look a pretty impressive and more balanced front line.
Lyndon Lloyd
7
Posted 07/01/2016 at 17:21:53
Trevor (1): "
Not an exciting move
"
How on earth would you know? I'm completely with you that we need to sign striking cover for Lukaku but I'm encouraged to see us landing this kind of highly-regarded talent at a young age.
We've done a great job of scouting fantastic young defensive talent here in England but haven't picked up many gems from the Continent, in part because it's harder to get them to relocate and the German clubs tend to have closer ties. If this is the start of us getting this kind of player in young and cheap, then I'm all for it.
Peter Gorman
8
Posted 07/01/2016 at 17:25:26
As much as I have a dislike for Martinez, he really has brought some talented young players to the club.
Besic, Galloway and Deulofeu all have something else in common; they are exceptionally strong characters.
I wouldn't be surprised if the same goes for Foulds, Rodriguez and this lad. Welcome to the club.
Jim Bennings
9
Posted 07/01/2016 at 17:43:38
I wouldn't bother with Januzaj, he's way too lightweight, not even the player that Leon Osman is!
Apparently a report in Germany from his time at Dortmund suggests he is rather weak mentally, hence why the Germans were happy to send him back.
I don't have qualms with all these future prodigies but if we really want to get anywhere anytime soon we need players in their 20's, experienced who have either plied their trade in the Premier League or in the top leagues abroad and have some pedigree.
Peter Laing
10
Posted 07/01/2016 at 18:02:28
Tend to agree with you, Lyndon, we seem to do well picking up Defenders, usually British / Irish but seemingly struggle to recruit forwards.
Gordon Roberts
11
Posted 07/01/2016 at 18:12:29
Great to see young, talented and apparently, sought after players coming to Goodison. Let's hope the manager is given sufficient time for his plans to come to fruition.
Conor Skelly
14
Posted 07/01/2016 at 18:32:33
This guy looks a cut above anything we have in the U21s. I wouldn't be surprised to see him in the first team squad before the end of the season. He's fast, skillful and can finish. Watch this space I think we have a player on our hands.
Steve Carse
15
Posted 07/01/2016 at 18:35:40
Doubt it, Connor -- he's returned to his current club until the end of the season.
Norman Jones
16
Posted 07/01/2016 at 20:04:04
I don't think we can get too excited until we see this guy in first team action. He may turn out to be the ideal replacement for Romelu next season or he may be yet another 'wonderboy' who fades into obscurity like so many others.
But he is part of the 'Martinez Project' so will have a couple of seasons to prove his worth.
Harold Matthews
17
Posted 07/01/2016 at 20:12:19
Hmm, Like Januzaj, Shaqiri, Xhaki, Behrami and many others, an Albanian choosing to play for another country. How Albania managed to qualify for the Euros is beyond me. Seven away games and not one goal conceded. A record which will be difficult to equal.
Anyway, this 5'-9" lad is a secondary striker in the Kone / Naismith mould. Average speed, average strength but quite skilful with an eye for goal. Of course, the chief scout and Martinez can see things in him that we can't. His intelligence and character being top of the list.
He is also dead right about Martinez giving him individual coaching. Besic went the same route and has spoken about it. How Martinez helped him build up his physical strength and coached him for the No 6 role. We all saw the results against City although the No 6 role will not be properly implemented till McCarthy returns and Barry is allowed to be subbed after 60 minutes or so.
We now have competition between Henen, Leandro Rodriguez and Shani Tarashaj with Unsworth and Joe Royle searching for Academy lads to better them. In all my years, I've never known such a buzz around the youngsters. Most will move to smaller clubs but hopefully one or two will make it with Everton.
I watched the England U19s not so long ago. We had both fullbacks, Kenny and Connolly with Ledson coming on in midfield for the 2nd half. The rich clubs had no-one. Our boys excelled and Connolly was MotM.
Jon Withey
18
Posted 07/01/2016 at 20:21:14
He wants to win the Champions League. I like him.
Fully behind Martinez in building for the future by buying young and developing them to play in the club style – it was a decent strategy for Arsenal.
There's always a richer club trying to buy your finished articles (Ronaldo, Bale, Suarez), so just make sure you've got more coming through.
Unless we've got money to burn, we can't buy a Lukaku every window.
Jon Withey
19
Posted 07/01/2016 at 20:23:58
In fact, even Arsenal sold Cole and Fabregas in the end.
Jamie Crowley
20
Posted 07/01/2016 at 21:56:37
Trevor, I have to echo Lyndon's thoughts and disagree with you. I'm excited about this signing – on a macro level.
We now, unlike previously to be sure, have what I would deem a "business plan." We're buying young and affordably – kids who our scouts and manager feel have the quality to rise to the next level. They either make it with us, get sold for one hell of a profit, or get discarded with very, very little economic exposure.
We're creating a production line. It's absolutely fantastic business, fantastic business acumen, and a fantastic way for a club our size to move forward.
Long, long may this type of signing continue and if you can't see more than the next game into the future opposed to 3 to 5 years ahead, I suppose you won't understand this approach and will be underwhelmed.
Not me.
Trevor Lynes
21
Posted 07/01/2016 at 22:31:17
Jamie, I do not see the lad as an exciting signing as he is staying with Grasshoppers this season!
What about my main point? If Naismith is allowed to go, should we not have a signing in place before letting him go?
I see this kid from Albania as perhaps future potential but not ready for the first team until he has spent some time with us at the end of the year. Even then he may not make it.
Henen is with Fleetwood so is out of the picture. Holgate and Foulds look good and both have English league. experience and are more ready to play.
If we let Naisy go before we sign someone ready for the first team then I find this ridiculous.
Joey Brown
22
Posted 07/01/2016 at 22:42:29
My thoughts exactly Jamie. It only takes one or two of these to be a huge success for it to be well worth it. Aguero, Lewandowski, Reus, Suarez, countless others were initially bought for very small fees before later garnering huge transfers and of course quality on the pitch.
The club's financial position compared to even a few years ago is absurd in comparison. And having some of these players break through will keep it that way, even if the Premier League money bubble bursts at some point.
Tim Locke
23
Posted 07/01/2016 at 23:28:12
Trevor - hold that anger: he is our second signing of the window, so he's not going to be the only business we do.
Tim Locke
24
Posted 07/01/2016 at 23:30:17
Did Bobby forget on yesterday he said "The squad is still really, really large," he explained, "because it was a squad built for European football so we've got two or three bodies that haven't able to get as much football as they needed or as they wanted."
Jamie Crowley
25
Posted 08/01/2016 at 01:01:48
Trevor,
It's not exciting he's staying with Grasshopper. I agree. And digressing, what kind of fucking name is that for a football club??
It's exciting we have a plan which adheres to a "conveyor belt of potential and young talent."
Regarding Naismith he's got to go. I love the guy but he's not playing and we'll do better to save on his wages and sign young kids like we've done with Tara.
I don't see the criminality of letting go of Naismith. Emotionally I've never seen a guy work as hard and I love him. But our lineup is just fine without him.
If Lukaku got injured and was out for weeks, I personally feel we're no worse off with Kone leading the line than Naisy. I'm also entirely comfortable with Mirallas popping up top. Holgate would work fine in a pinch.
The thrust of my post is the approach now being taken by Everton. It's one eye to the future. We really are buying well – it's like prospecting. And some of these lauded kids will come good. I think it's a fantastic business model for us. And Tara is a shining example of that.
Steve Jenkins
26
Posted 08/01/2016 at 02:13:35
Looks a player to me, will need time to settle but I reckon he should start to show us what he's capable of around this time next season.
I think he'll be used more as wing that comes inside and links or 10 rather than an out an out striker
David Ellis
27
Posted 08/01/2016 at 02:15:14
I agree there is a risk in selling Naismith now...but we have to balance it against the reward – £8m smackers. Frankly we should bite off Norwich's hand and use the money (and headroom in the wages bill) to hang on to our first team players or look for a longer term like for like cover for Lukaku. We don't really need Naismith.
Of course if we had a long term injury to Lukaku we might struggle a bit – but Naismith is hardly a like for like replacement anyway and I think we have enough talent in Kone and Mirallas who are just as effective as Naismith.
Of course what we really need now is a replacement for Kone as a more reliable back for Lukaku – but going back a few seasons we would have been delighted with Kone leading the line, back then it was Jelavic, and before Jelavic... Count Dracula??, Tim Cahill/Fellaini pressed into service? We've come along way boys.
Eric Myles
28
Posted 08/01/2016 at 03:11:22
Tim #19, I don't see us splashing out big monies on proven players while under due diligence, more likely to be bringing money in, or sell to buy so there's no nett effect.
Drew O'Neall
29
Posted 08/01/2016 at 07:08:35
Looks ok.
Pity we couldn't get Demerai Gray from Birmingham.
Trevor Lynes
30
Posted 08/01/2016 at 11:32:51
Drew, that Gray lad is going to Leicester!
I am sick of us letting players leave before bringing players in. I want us to use the money that was not spent on Yarmolenko on a player ready for the first team.
Ernie Baywood
31
Posted 08/01/2016 at 19:50:38
I've rehashed an old mistake and gone and watched him on YouTube. First thing that leaps out is that every finish is calmly selected and sidefooted. He doesn't blast a single one. I like that.
But if he's an, erm, "fox in the box" who's he playing with? We must play one up front at every age group?
Colin Glassar
32
Posted 08/01/2016 at 20:13:19
I'd love us to go for Moussa Dembele (Fulham). The kid is going to be a star.
Gavin Johnson
33
Posted 08/01/2016 at 22:16:57
Colin,
He's a player I'd love us to sign too and mentioned a few times on he forum. I think he fits the brief for a Martinez signing (a young rising star with bags of potential) we've been credited as one of the clubs who will be in for him. And like Sam Byram, he's in the last season of his contract so only a development fee to pay this summer.
The way Rom's playing I think the possibility of him leaving is pretty certain unless we actually win a cup and the mooted American takeover happens.
I think Embolo could potentially be a good replacement for Rom if he was to leave. But whether he goes or not, I think Dembele should also be signed whatever the outcome.
Tony Hill
35
Posted 08/01/2016 at 22:38:41
It is very peculiar that Martinez is building such a promising pool of emergent talent and is setting such store by youth – an entirely admirable policy – and yet is apparently incapable then of managing the first team to best effect. Indeed, his preference for established figures is the main obstacle to our progress.
That's Bobby for you. A fine scout and youth development coach who finds himself managing a Premier League team. A man for one-off successes in cups but not for consistent competitiveness.
I hope he gets it all joined up and urgently. That would be nice.
Jamie Sweet
37
Posted 12/01/2016 at 02:21:00
Looks the real deal to me (on YouTube).
I actually saw more to like watching this kid coolly slot them in than I did watching Yarmolenko with all his fancy step-overs, turns and drag backs.
If he's got the right attitude (and that certainly seems to be something that most of Bobby's signings have in common), then I have high hopes that we will see him banging them in at Goodison in the 2016-17 season.
Add Your Comments
In order to post a comment, you need to be logged in as a registered user of the site.
Or Sign up as a ToffeeWeb Member — it's free, takes just a few minutes and will allow you to post your comments on articles and Talking Points submissions across the site.
© ToffeeWeb